This post contains affiliate links, which means that if you click on one of the product links, I'll receive a small commission. Thank you so much for clicking through and helping to support this little blog business of mine! Read more about our site, privacy, and disclosure policies here.
Love the perfection that is a boxed brownie mix, but want something homemade? These fudgy, chewy, cakey brownies are super easy to make and taste just as good as your favorite box mix brownies … dare I say, even better?!
Guys, maybe I'm weird, but I kind of LOVE box mix brownies. It's actually one of the few packaged baking mixes I'll reach for. (Seriously, don't ever make cake from a box mix again. Crazy cake is stupid easy and SOOOOOOOOOOOOOO much better. I wish I had a megaphone right now.)
But brownies … brownies are a different story. Box mix brownies are kind of fantastic. I know. I said it. Sorry, mom.
And I reeeeeally love brownies. When I want something sweet, I crave a brownie.
But I do like my baked goods homemade, and I like to know EXACTLY what goes into the food my kids are eating; soooooo, I was determined to find a better-than-box-mix brownie that I could whip up at home.
Lo and behold, I think I've found it! The brownie recipe to beat all box mix brownies. This one is cakey, yet still fudgy, gooey, rich, and delicious. And these brownies are super easy to make; which I think matters, when trying to battle against the awesomely good box mix version.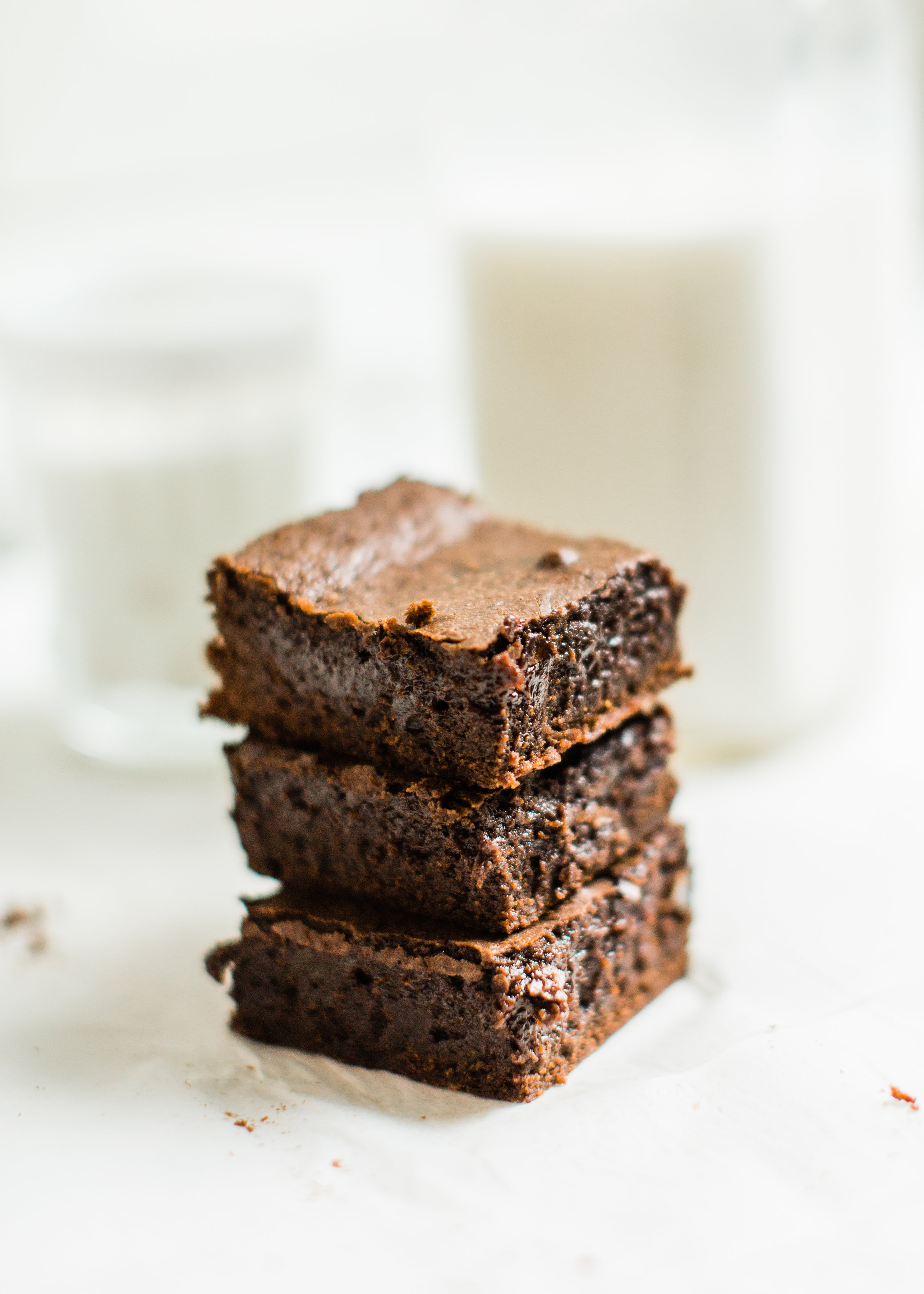 Plus, with Valentine's Day just around the corner, I've got chocolate on the brain. Ooey gooey, fudgy, chewy, cakey chocolate, to be exact. So making homemade brownies was a no-brainer.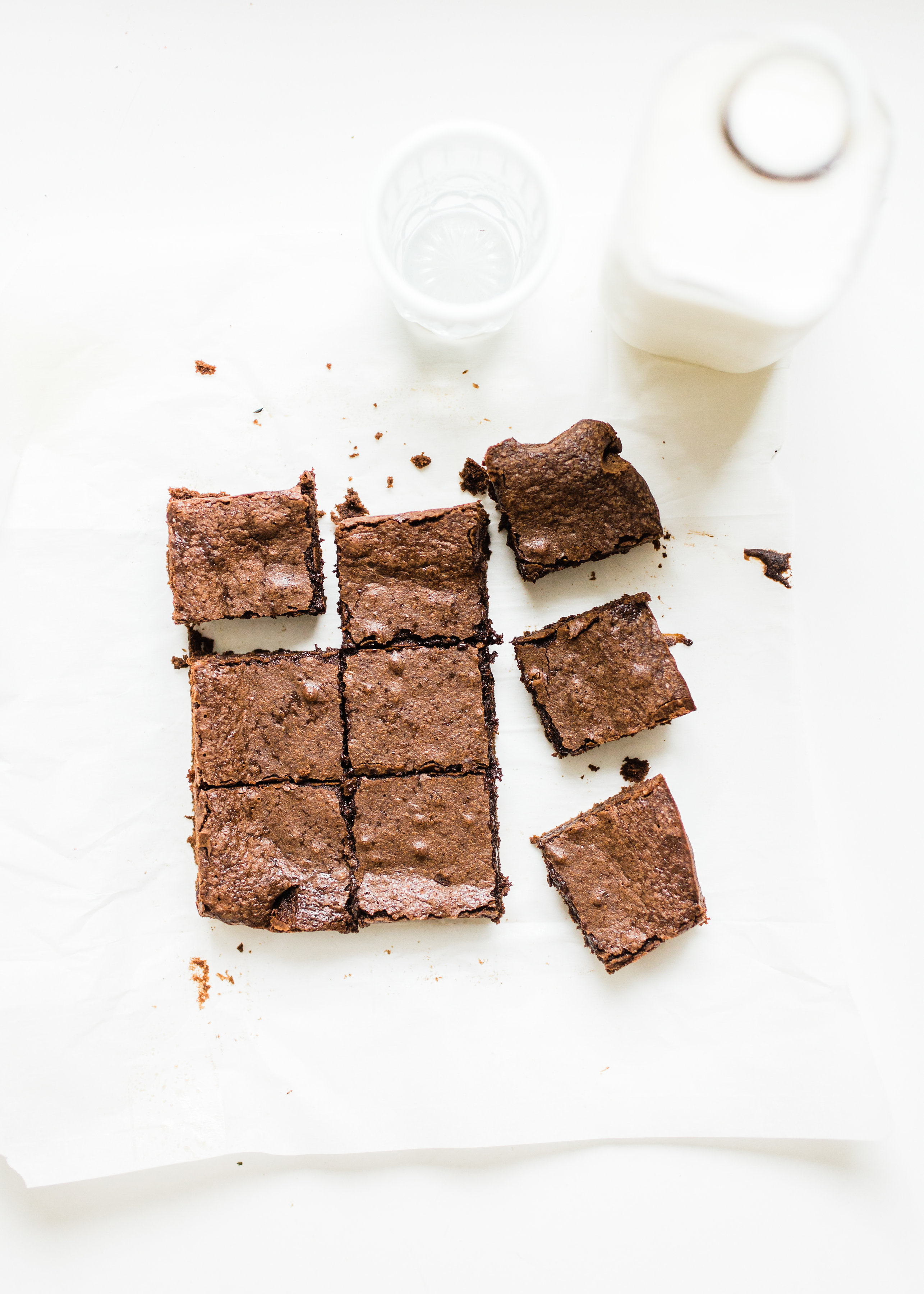 These better than box mix brownies have all of the elements of a PERFECT brownie: a crusty top, ooey gooey, fudgy, chewy center, that's still moist and cakey – enough adjectives for ya? – plus that intensely rich chocolatey flavor that I think every brownie demands.
And these brownies really are the no fuss, easy kind. There's no melting of chocolate on a stovetop, no temperature measuring, no waiting for things to refrigerate, etc. These are the perfect brownies to bake up to bring to your kids' school, a bake sale, a party, you name it. Easy peasy.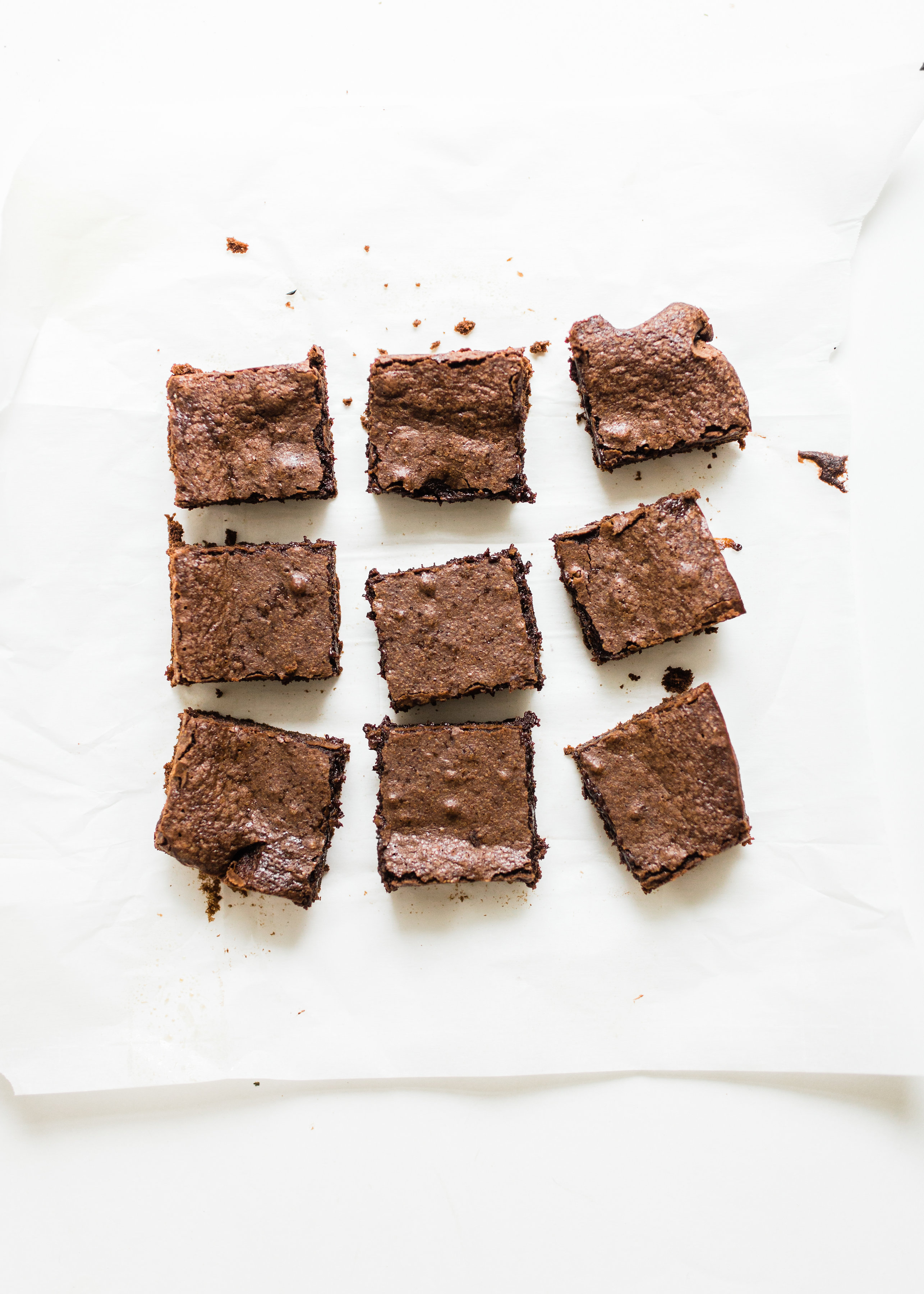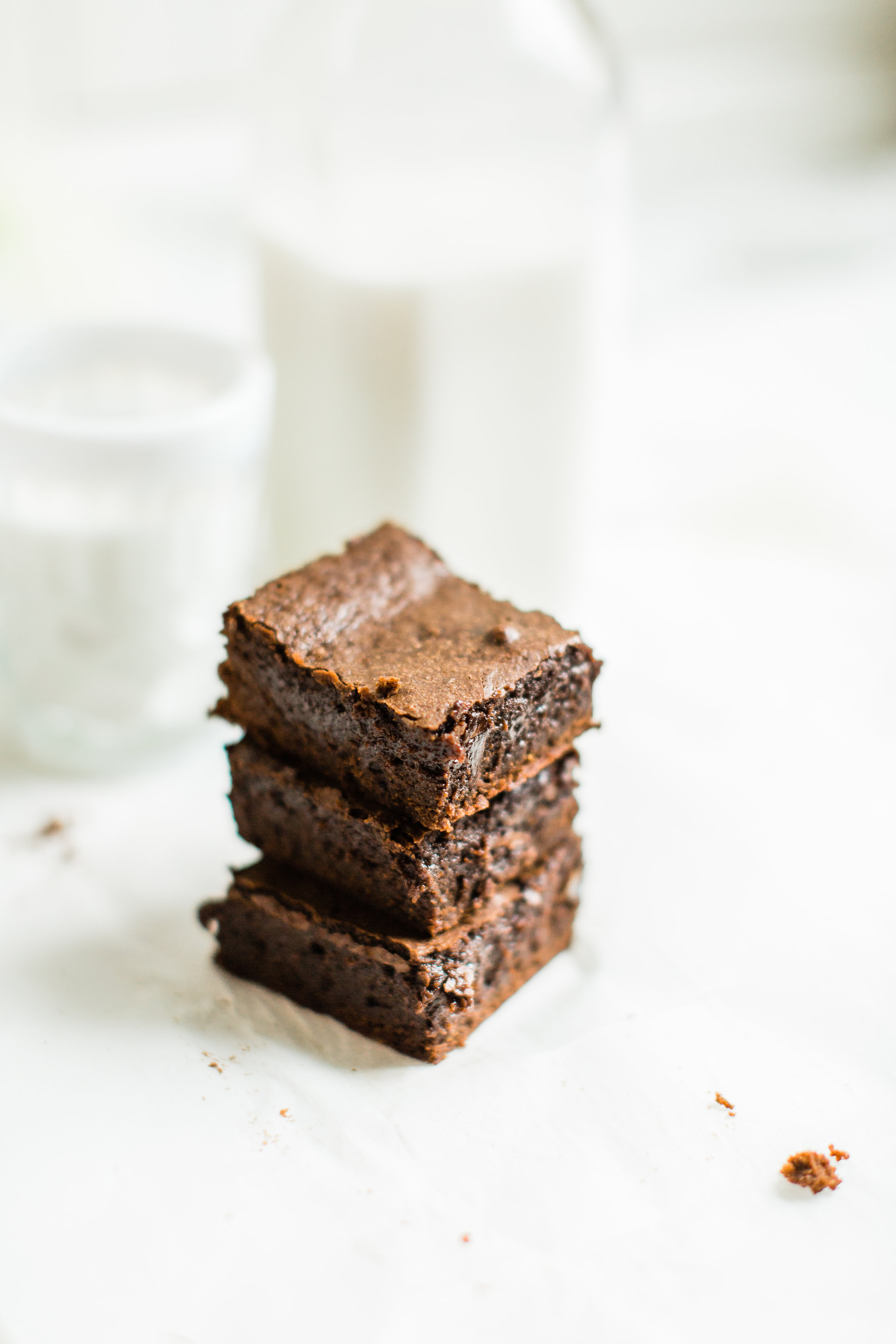 How to Make Easy, Fudgy, Chewy, Cakey, Better Than Box Mix Brownies
Yield:

12 brownies
Easy Fudgy Brownies (Even Better Than a Box Mix!)
Ingredients
3/4 cup vegetable oil or canola oil (melted coconut oil will also work)
1 1/2 cups sugar
1 1/2 tsp vanilla extract
3 eggs
3/4 cup all purpose flour
1/3 cup + 2 1/2 tbsp cocoa
1/4 tsp + 1/8 tsp baking powder
1/4 tsp salt
Instructions
Preheat oven to 350 degrees. Line a 9×9 square baking pan with parchment paper and spray it with baking spray (or grease it with a little oil or butter.)
Mix together the oil, sugar and vanilla extract. Add eggs and mix until well combined.
In a separate bowl, mix the flour, cocoa, baking powder and salt.
Slowly add the dry mixture into the wet mixture until well combined.
Pour the batter into the pan and spread evenly. Bake for 25-30 minutes, or until a toothpick comes out with some crumbs.
By the way, you can also make these with dark cocoa for extra rich, extra chocolatey brownies. YUM.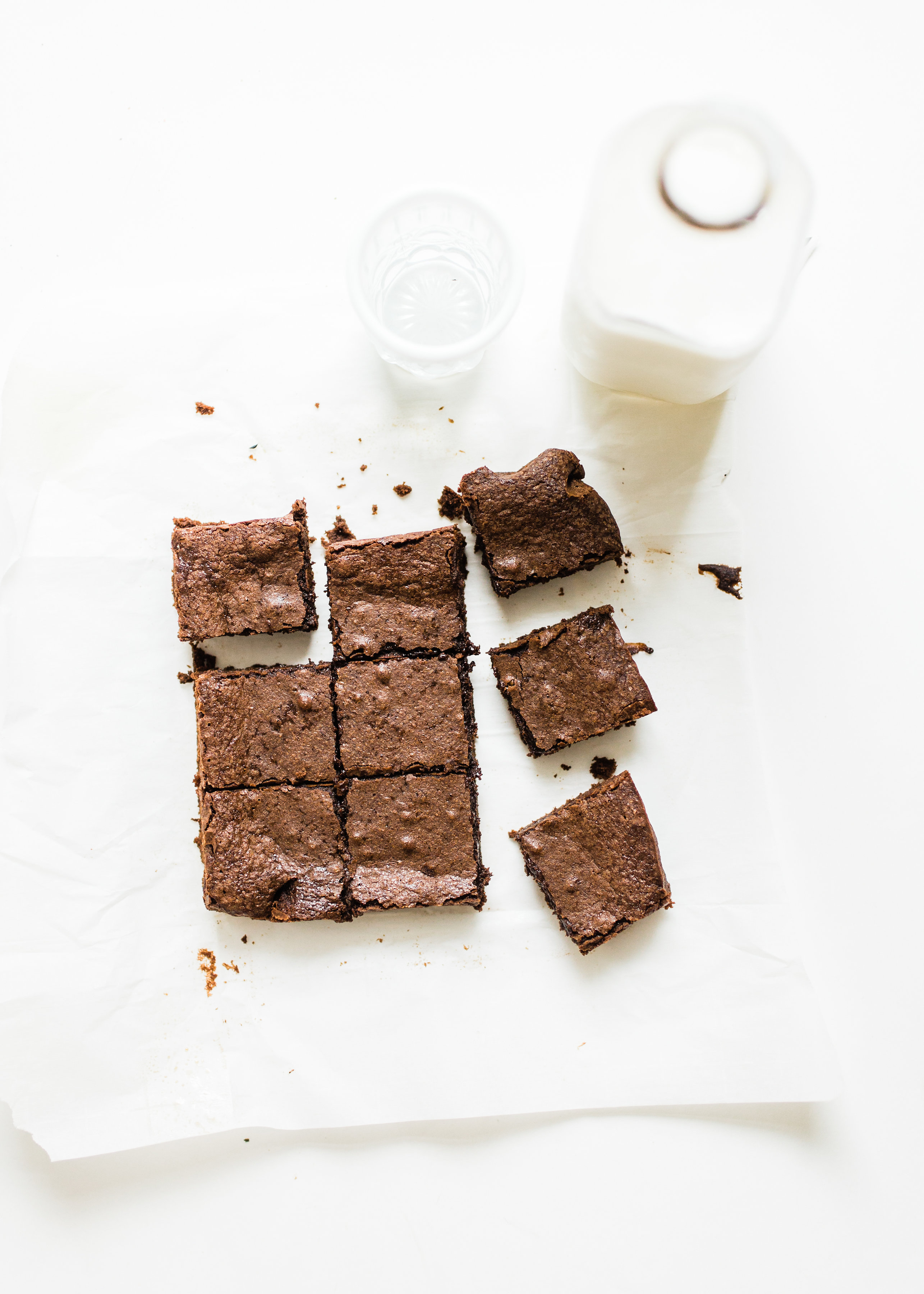 Serve these brownies up with a big glass of milk or top a warm brownie with vanilla bean ice cream, and OMG, chocolatey heaven.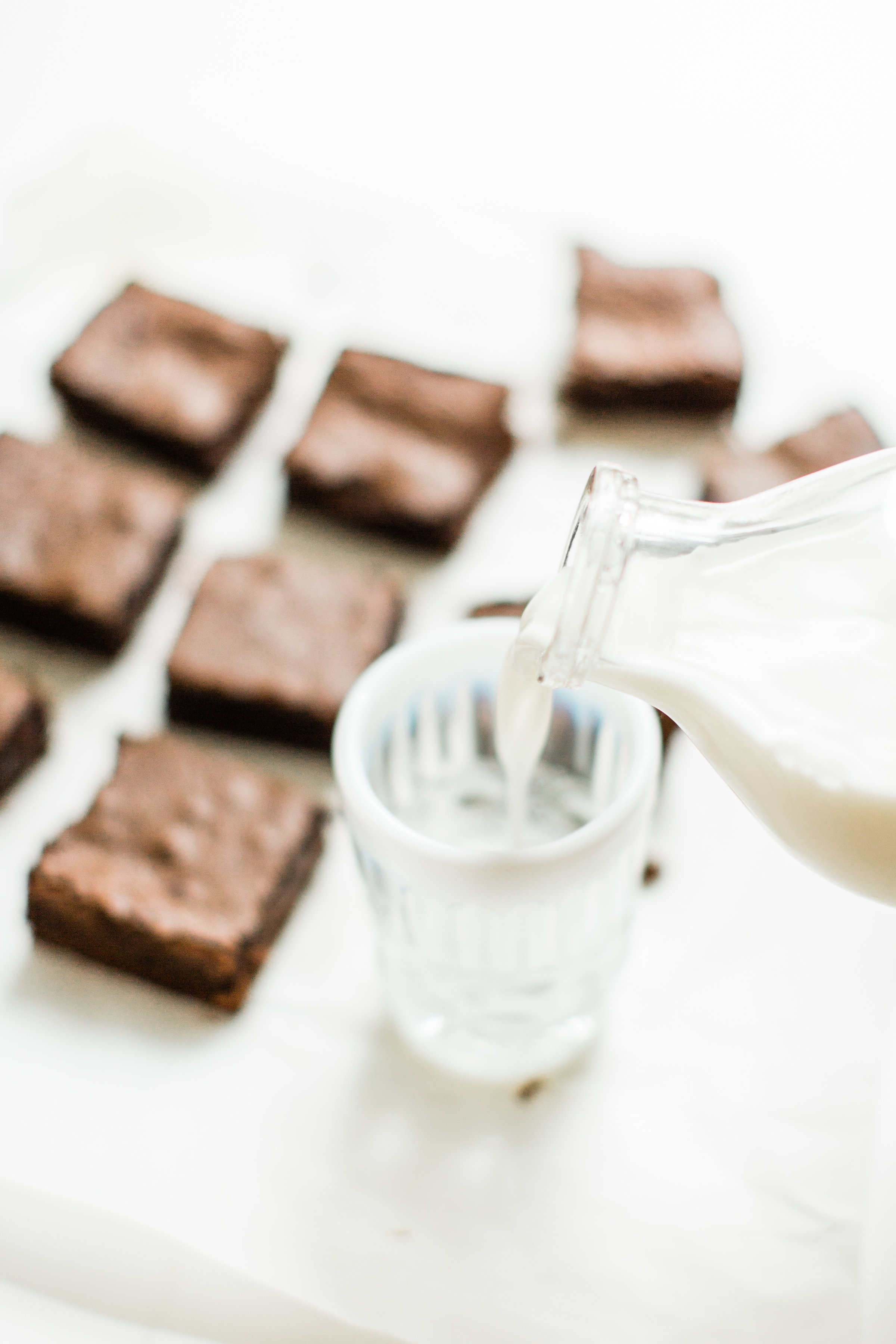 I love the texture of these – and I think Annie totally captured it here. They are on the cakier side as far as brownies go, but they still manage to be super fudgy, with just the rigt amount of chew we all love in a great brownie.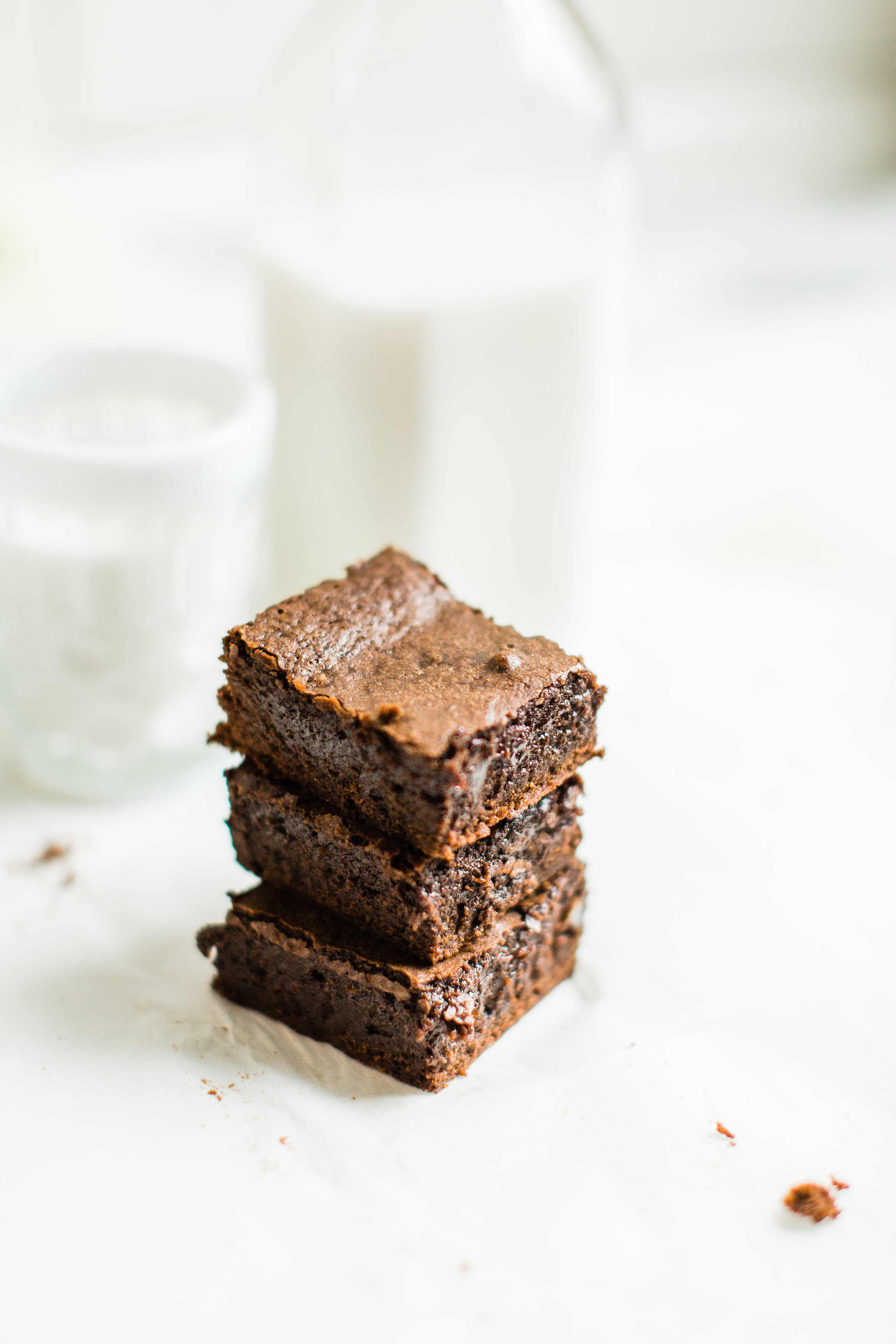 I mean …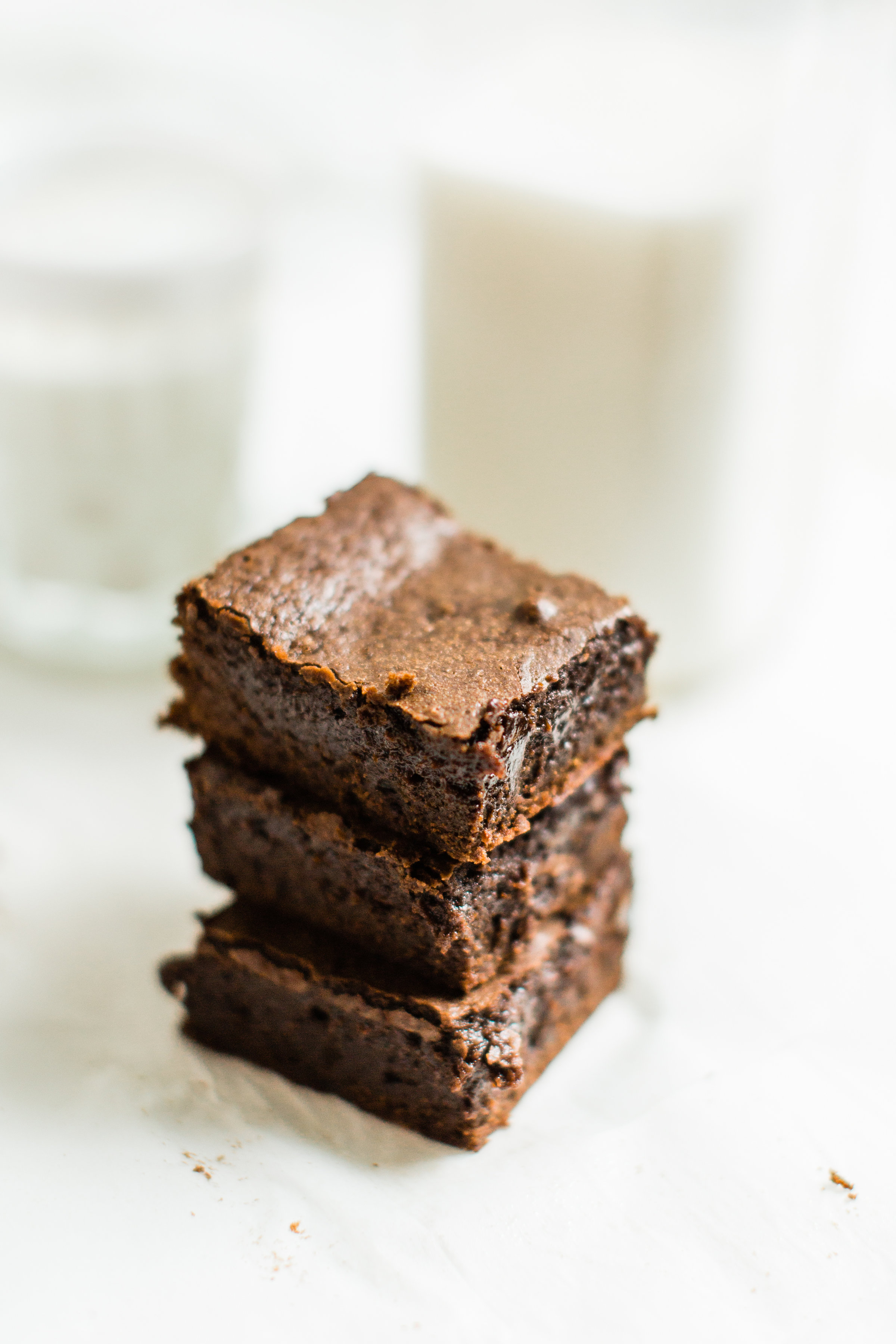 SO.GOOD.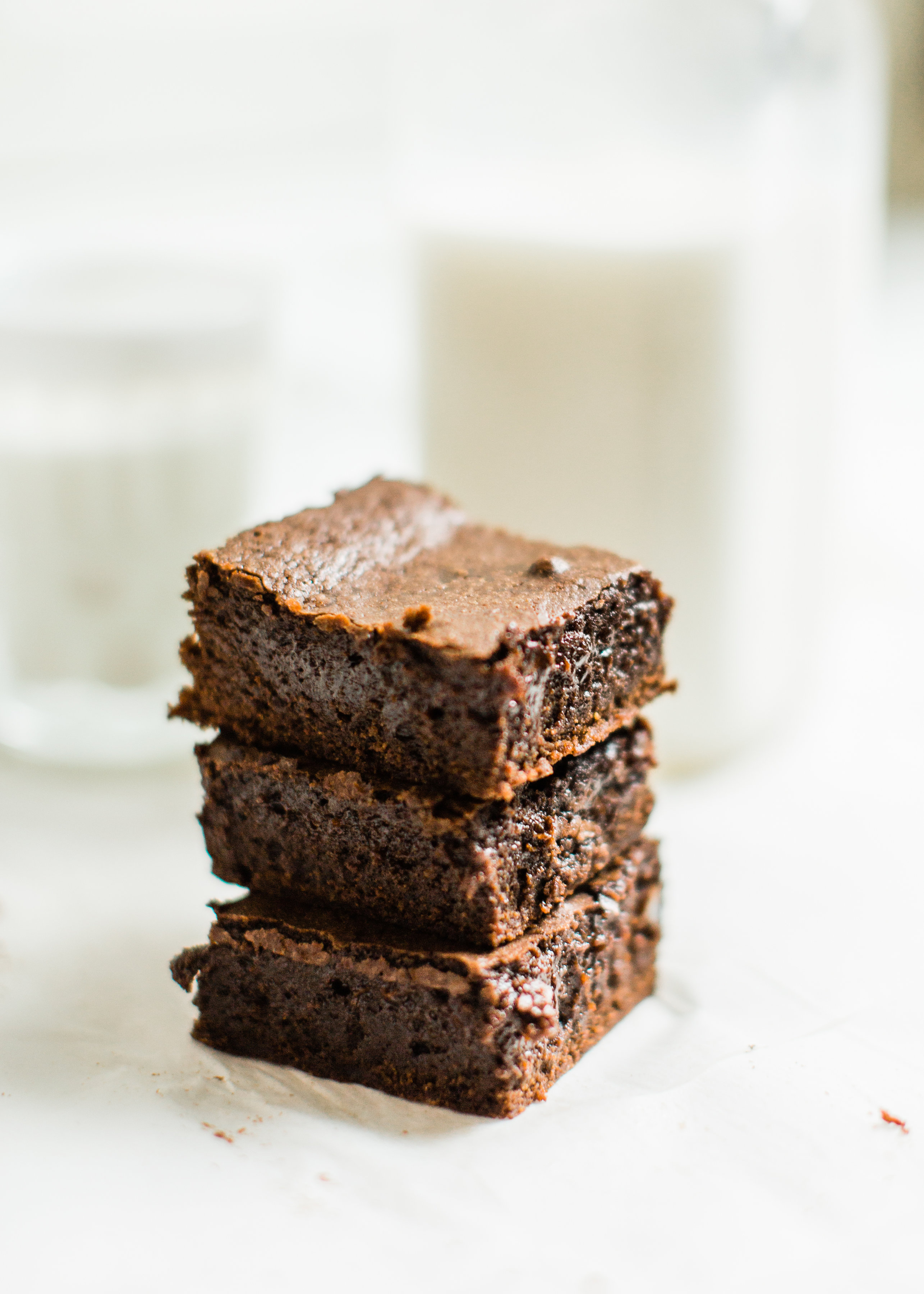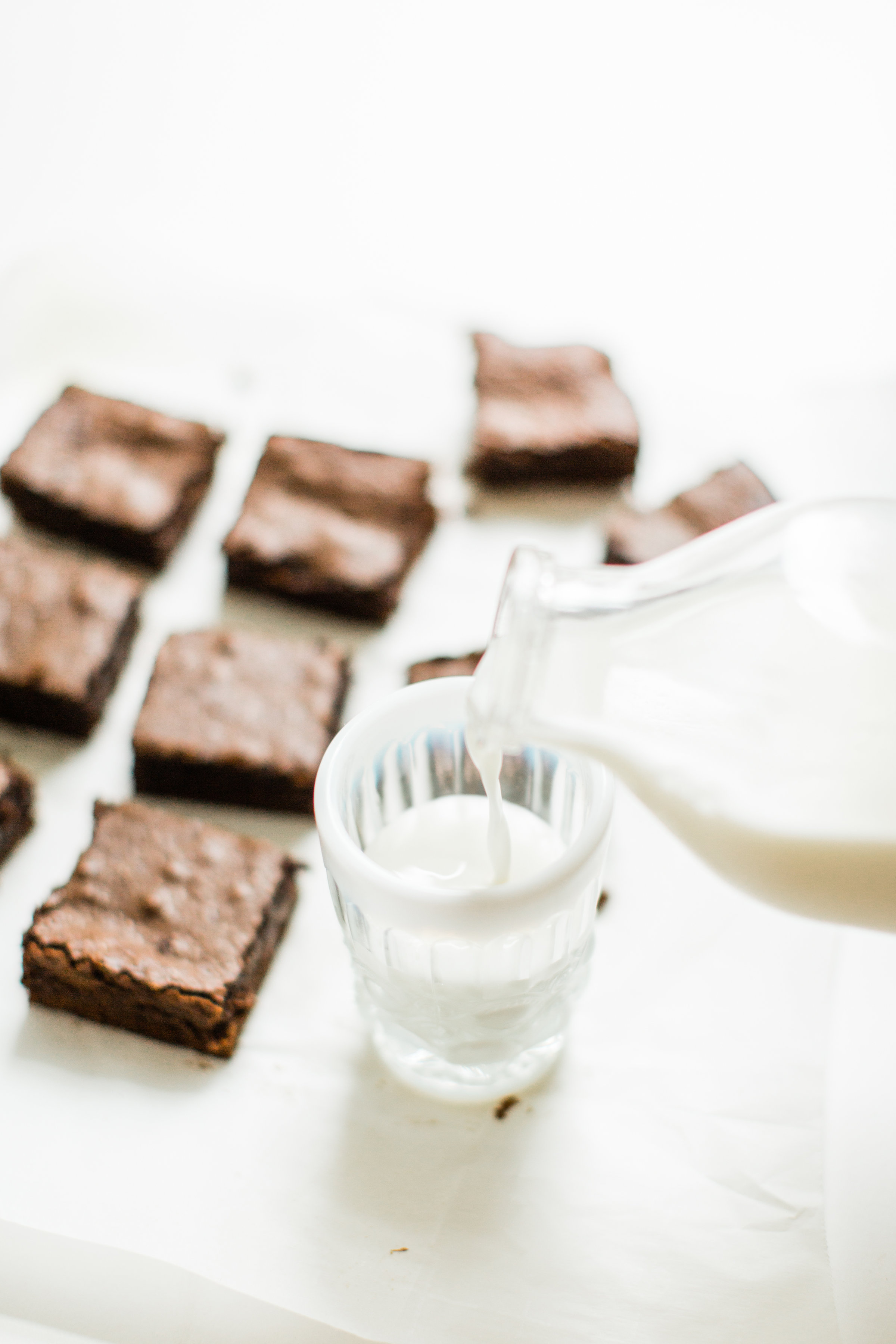 So what are you waiting for? Make these brownies or pin them for later!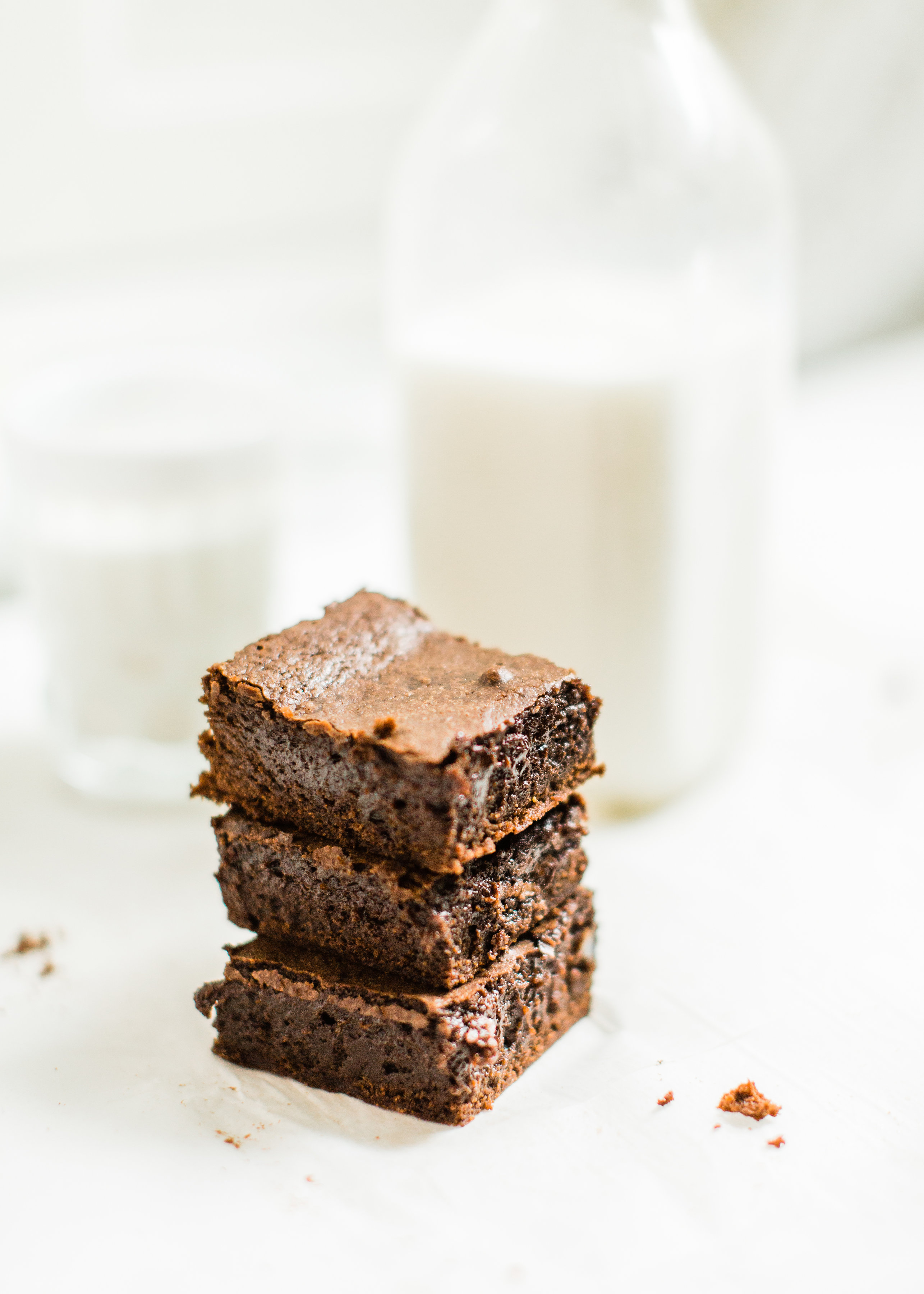 If you make your own better than box mix brownies, be sure to tag me on social media (@glitterinclexi) so I can live vicariously through all of your sweet creations!
More Yummy Dessert Recipes from Glitter, Inc.:
the best sugar cookies for decorating
chocolate and nutella covered strawberries
homemade raspberry marshmallows
marbled graham cracker toffee bark
copycat Levain Bakery chocolate chip cookies,
SHOP THE BROWNIE POST | CLICK LEFT & RIGHT ARROWS TO EXPLORE

Love these easy, fudgy, chewy, cakey better than box mix brownies? Head to our recipe page to check out what else we're baking up in the kitchen! 
Photos by Annie Timmons Photography for Glitter, Inc.