This post contains affiliate links, which means that if you click on one of the product links, I'll receive a small commission. Thank you so much for clicking through and helping to support this little blog business of mine! Read more about our site, privacy, and disclosure policies here.
Need quick and healthy dinner recipes for busy weeknights? This recipe roundup has got you covered with more than 50+ easy and healthier dinner ideas!
I feel like every Sunday night, I find myself back to square one trying to come up with simple, well rounded, and yummy dinner recipe ideas that the whole family will love. You know the ones: 30-minute meals, packed with protein, a good serving of vegetables, superfoods, and more, that magically make everyone in the family happy – kids and grownups alike.
And guess what? Healthy, tasty dinner recipes do exist!
I polled my blogger and recipe developer friends and scoured my own recipe database here on Glitter, Inc., and came up with this pretty extensive list of recipes – everything from sheet pan meals to cast iron skillet dinners to soups and stews to vegan and vegetarian options, salads, lightened up pasta dishes, keto, gluten-free, Whole30 approved, and paleo recipes, and so much more, perfect for your next quick and healthy dinner.
I'll be sure to update this post whenever I stumble across another great healthy dinner recipe. If you try and love any of these quick and healthy dinner recipes, be sure to tag me on instagram @glitterinclexi or leave me a comment below!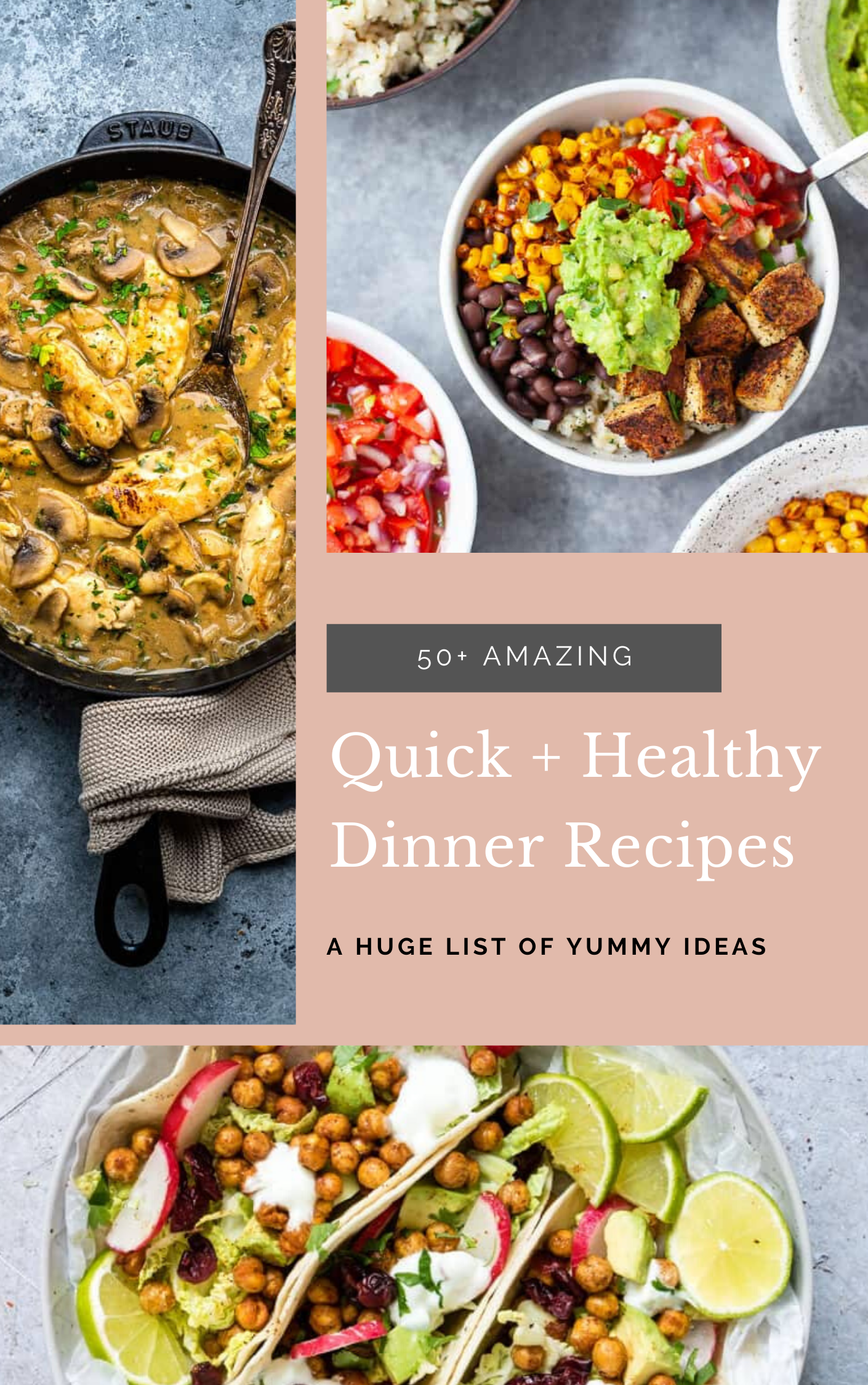 Healthy Dinner Recipes Roundup
Make this week's meal planning a breeze with this huge list of easy and healthier dinner recipe ideas.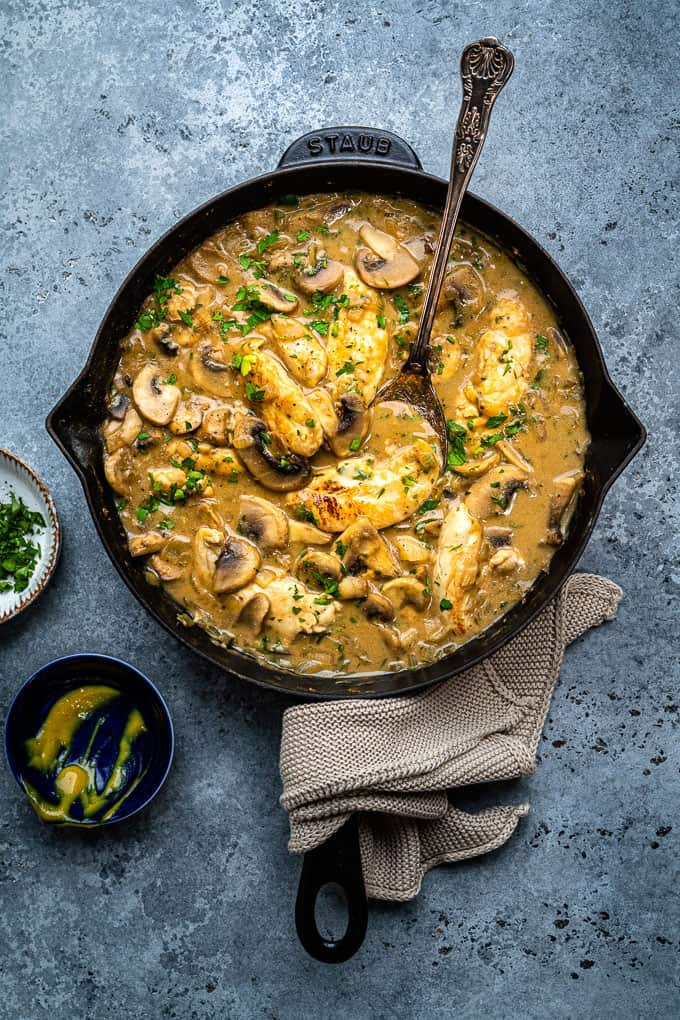 Everyone will fall in love with this Chicken Stroganoff. It's easy, quick and thoroughly yummy. No one will know that this is actually a healthy chicken recipe that's ready in 30 minutes.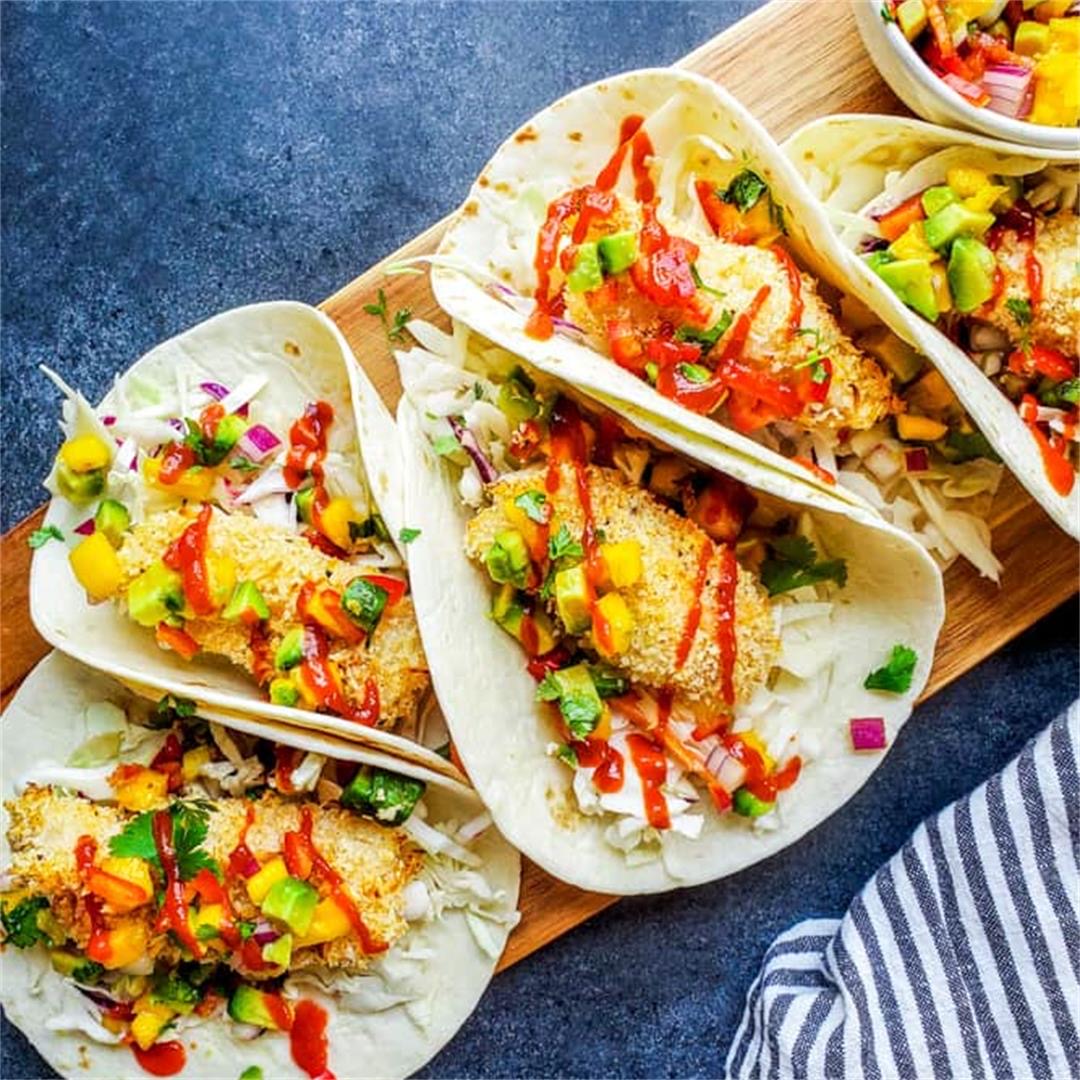 Healthy meets delicious with these Baked Coconut Crusted Healthy Fish Tacos! A wonderful combination of flavors and ready from start to finish in just 30 minutes! So perfect for busy weeknights and pleases both kids and adults.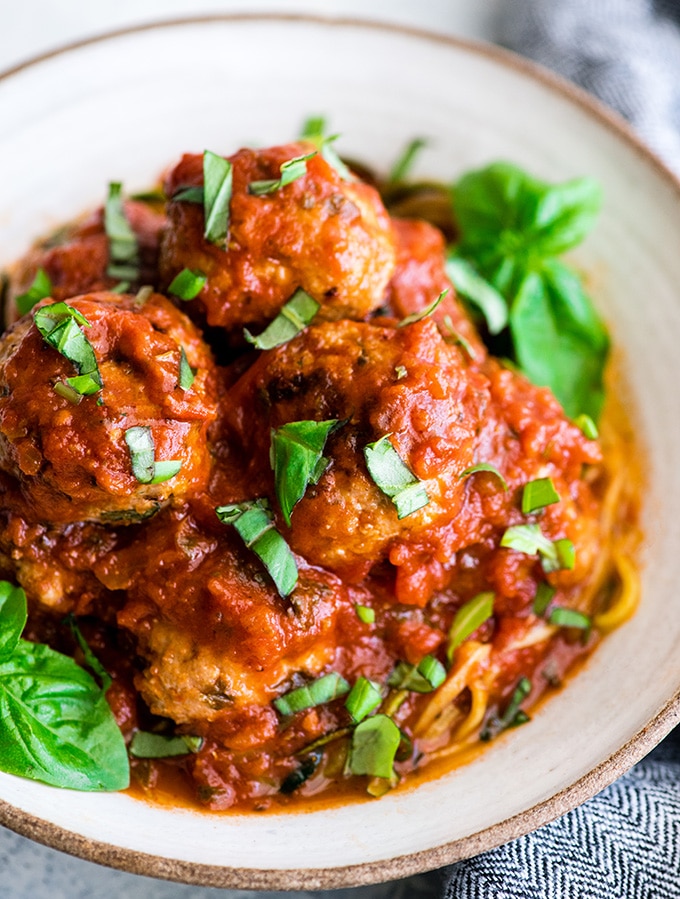 These Italian Healthy Turkey Meatballs are flavorful and moist! They're bound together with oatmeal (no breadcrumbs). Gluten-free, dairy-free, and very easy to make with only 8 ingredients in under 30 minutes!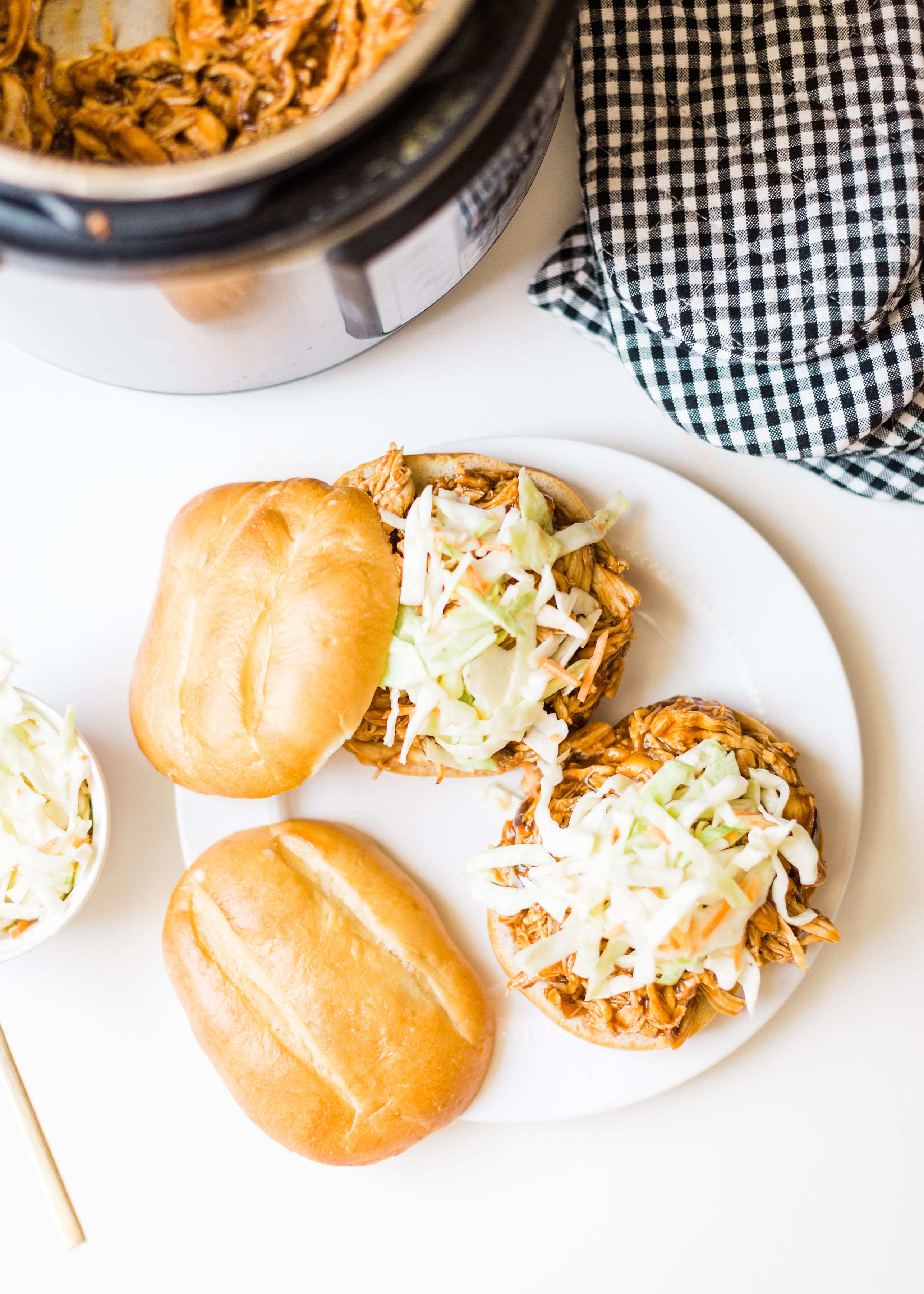 Skip the hot grill and make delicious, sweet, and tender barbecue pulled chicken in your slow cooker! Just throw a few ingredients right in the pot and let your crock pot or instant pot do the rest. Yum!
NOTE: Sometimes I'll make a big batch of the shredded barbecue chicken and serve it with corn on the cob or roasted sweet potatoes. Other times I'll use the pulled chicken to top pizzas for the best ever at-home barbecue chicken pizzas. We also top salads with this pulled barbecue chicken (add corn, beans, tomatoes, avocado chunks, and ranch dressing for a delicious bbq chicken salad … YUM!). And sometimes I'll make these yummy barbecue chicken sandwiches, topped with coleslaw, for a hearty and delicious BBQ chicken sandwich. Any way I serve it, everyone in the family approves!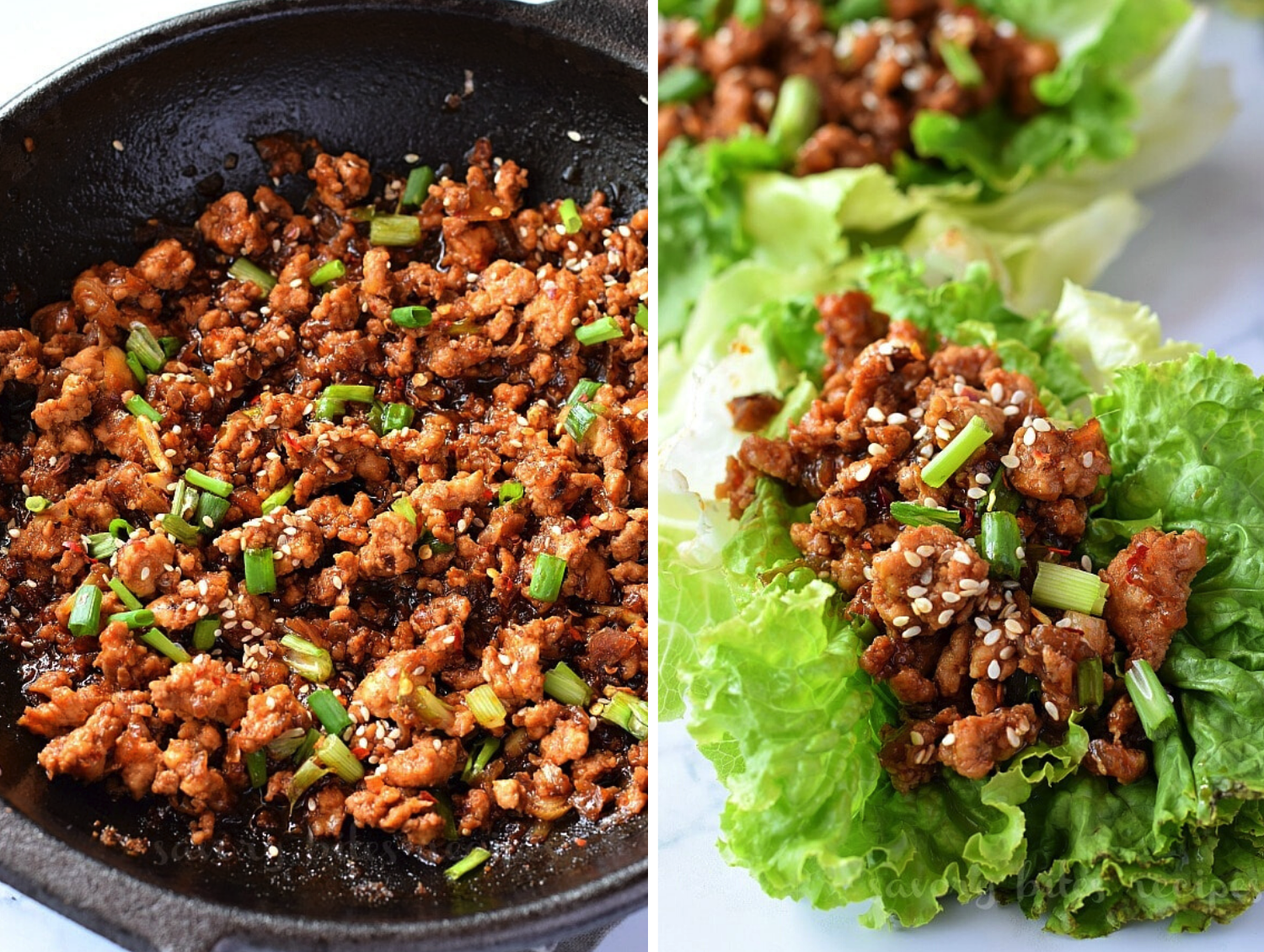 Healthy and takes just under 30 mins to create these Asian Chicken Lettuce wraps – perfect for a healthy dinner. Just like P.F. Changs chicken lettuce wraps, only better.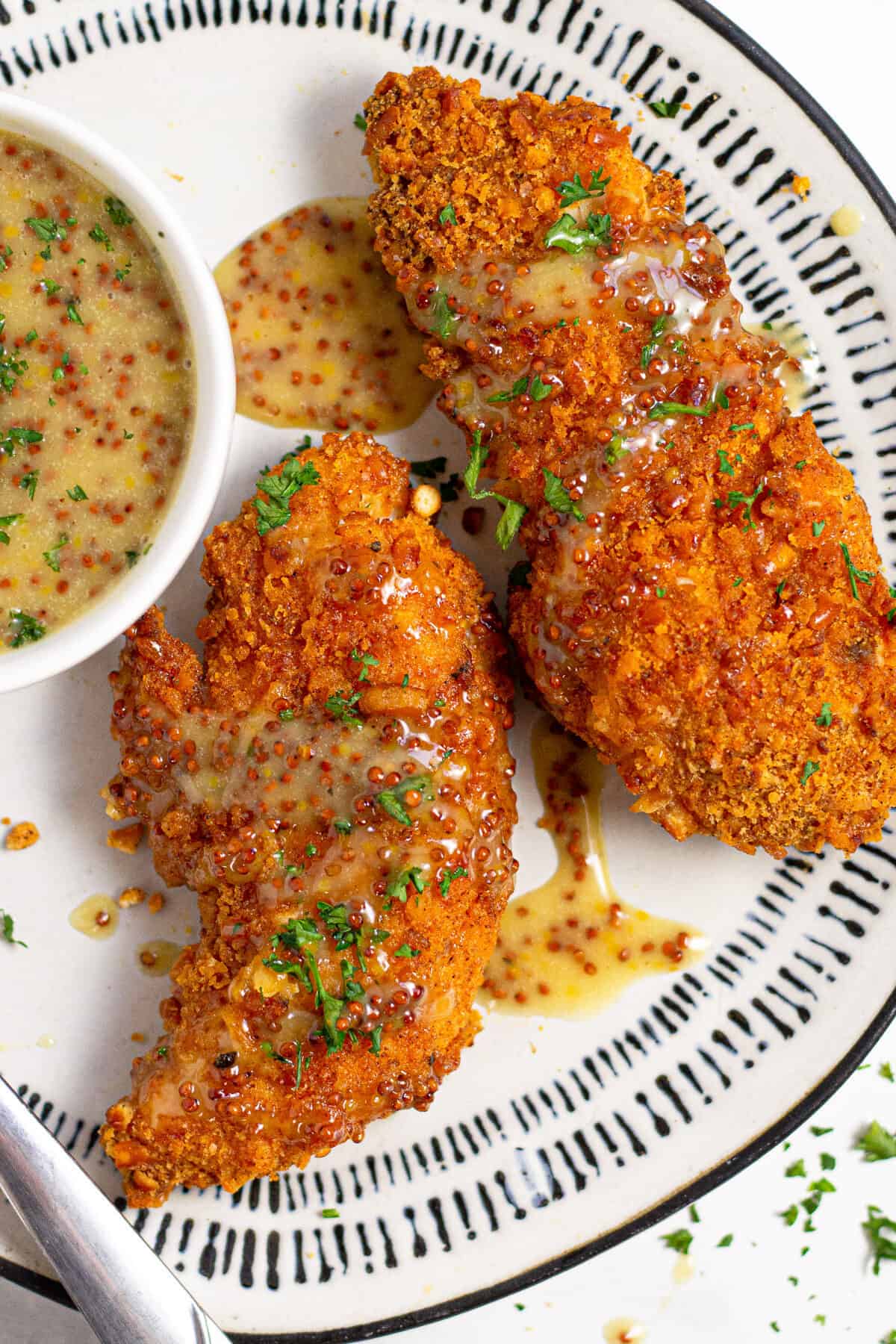 Make room in your monthly meal rotation for these baked chicken tenders ASAP! Just 7 ingredients and 30 minutes from start to finish. These chicken tenders are quick and easy to throw together. Your family will love the familiar flavors of Cheez-Its and pretzels!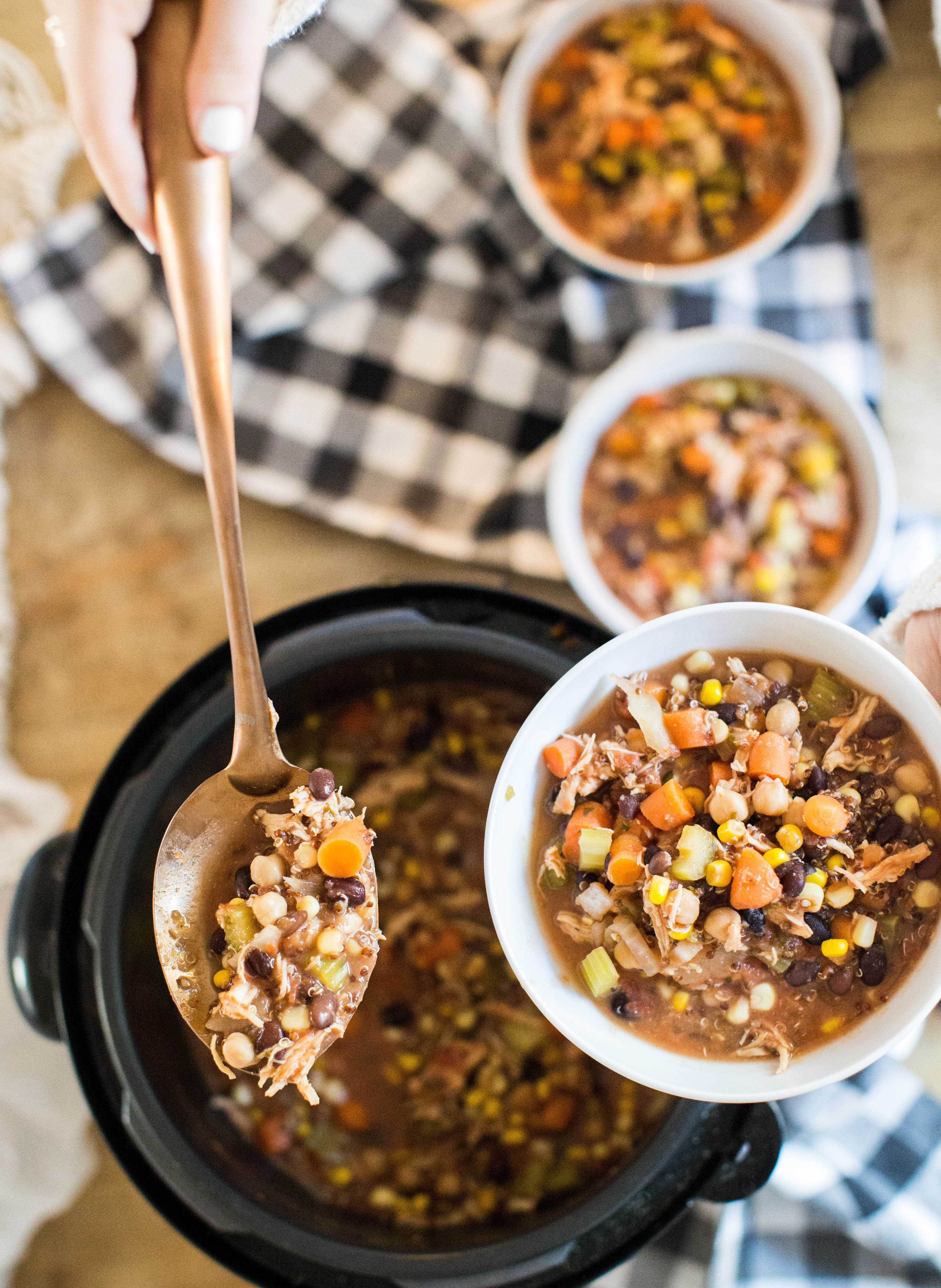 Our favorite crockpot chicken vegetable and quinoa soup is the perfect end to these easy and delicious weeknight dinner recipes for busy parents. It is healthy and hearty and requires so little work it's kind of embarrassing. This meal is packed with flavor, and tastes even more amazing topped with a bit of shredded cheddar cheese.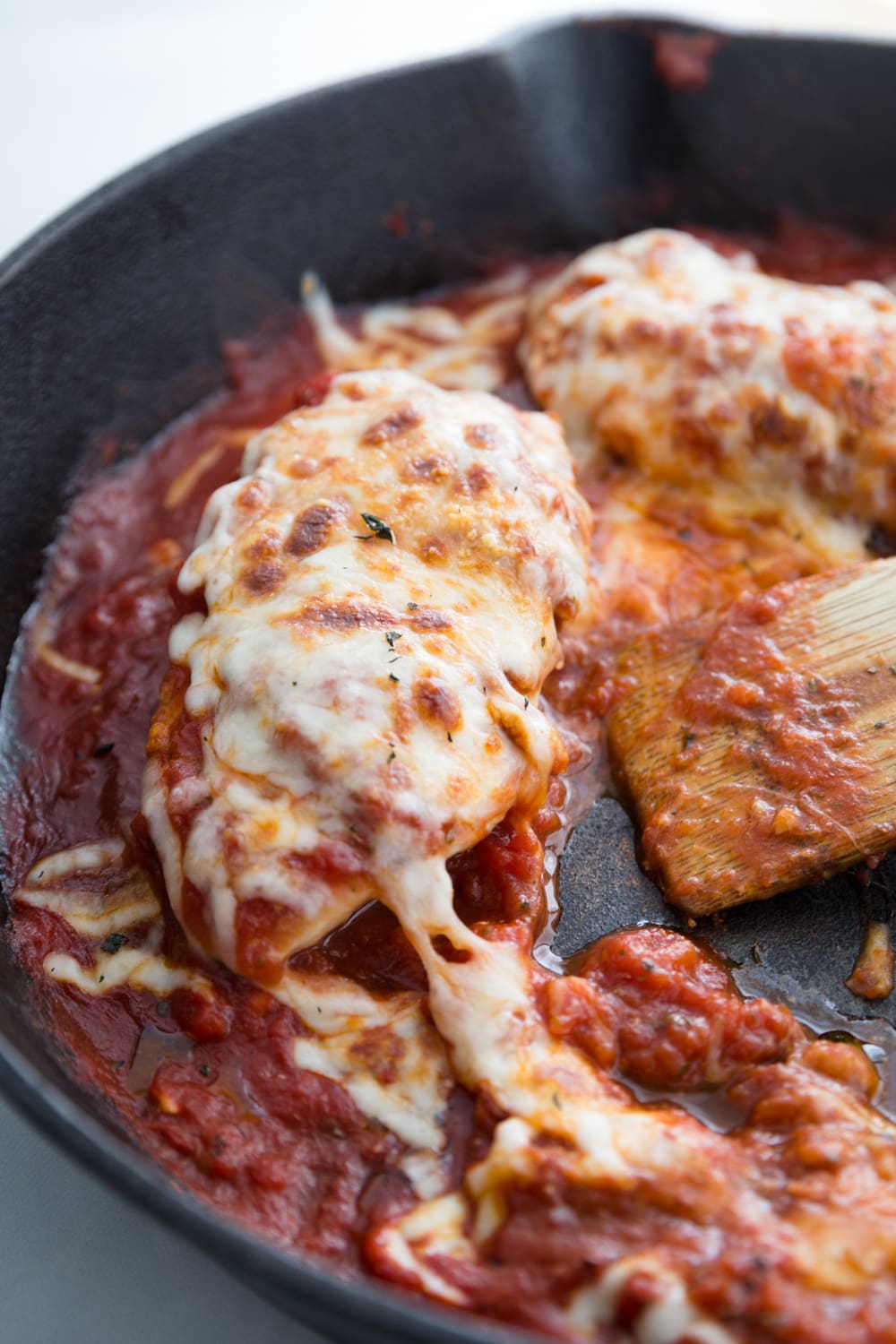 Dinner in 20 minutes? Totally possible with this easy and yummy Italian Chicken Skillet! You only need a few ingredients, too, so this one is a TOTAL win for all the crazy busy nights!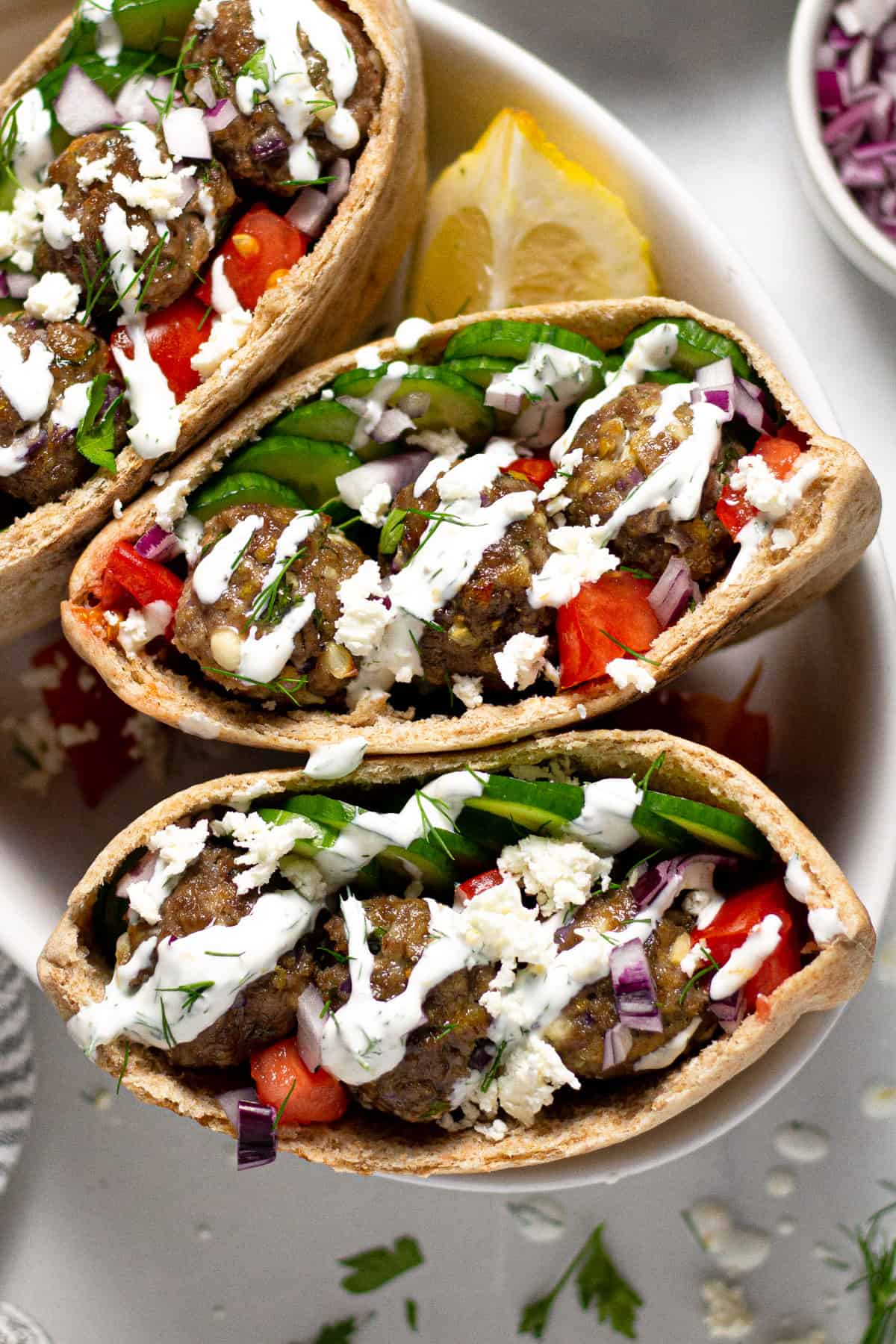 These Greek meatball gyros are loaded with all your favorite Mediterranean flavors and baked in the oven. Which means, you'll get perfectly round meatballs with just 10 minutes of prep time and 15 minutes of hands-off cook time!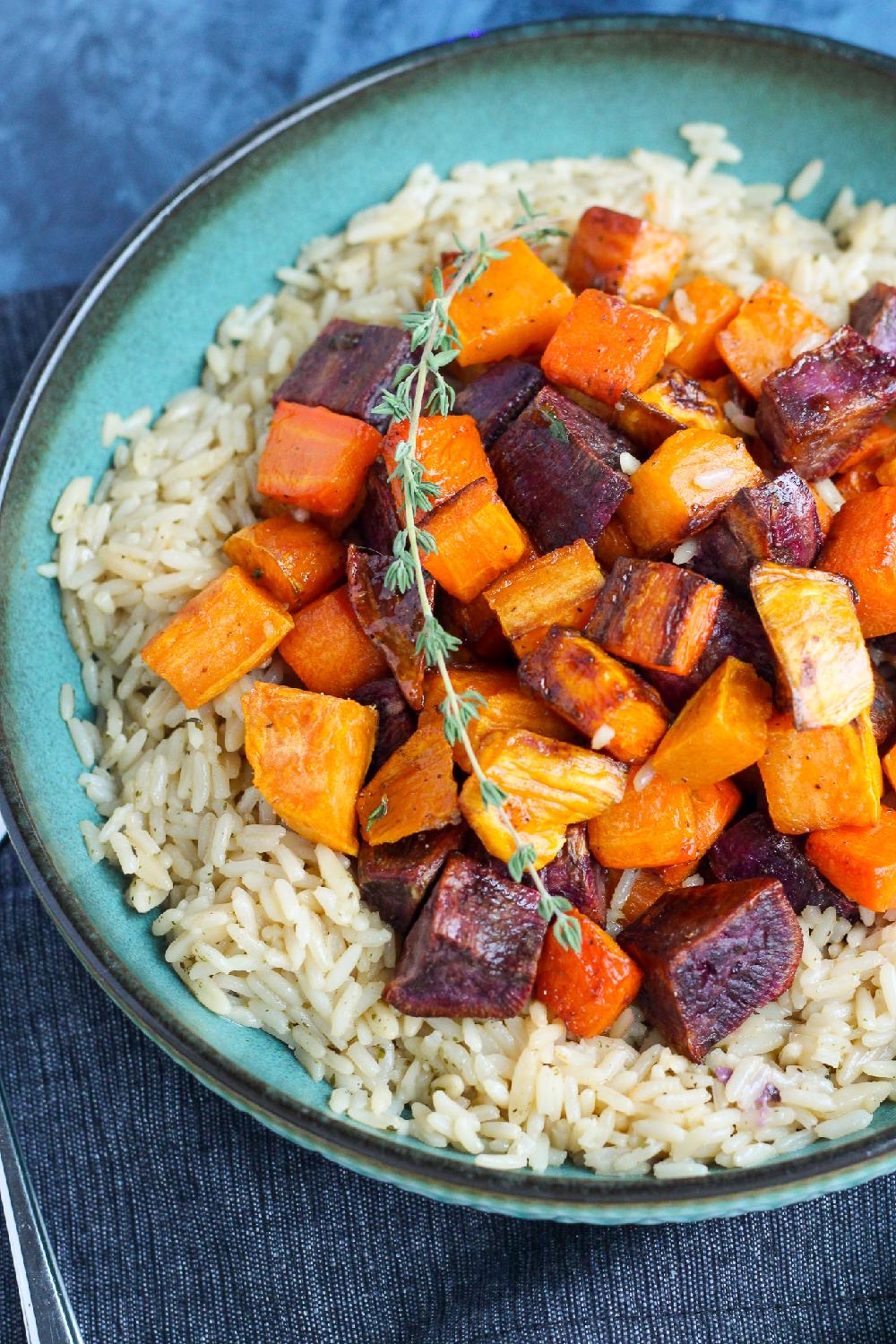 This simple, hearty vegan dinner is ready in about 30 minutes! Great for busy weeknights.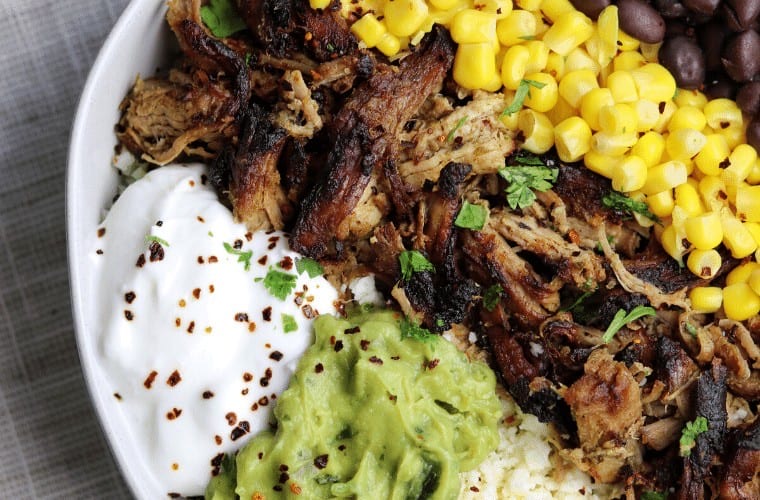 Perfect for meal prep, this recipe transforms lean pork tenderloin into tender and crispy carnitas all in one pot thanks to the Ninja Foodi. You can make nachos, tacos, burrito bowls, salads, and more! Recipe includes instructions for Instant Pot or other pressure cookers.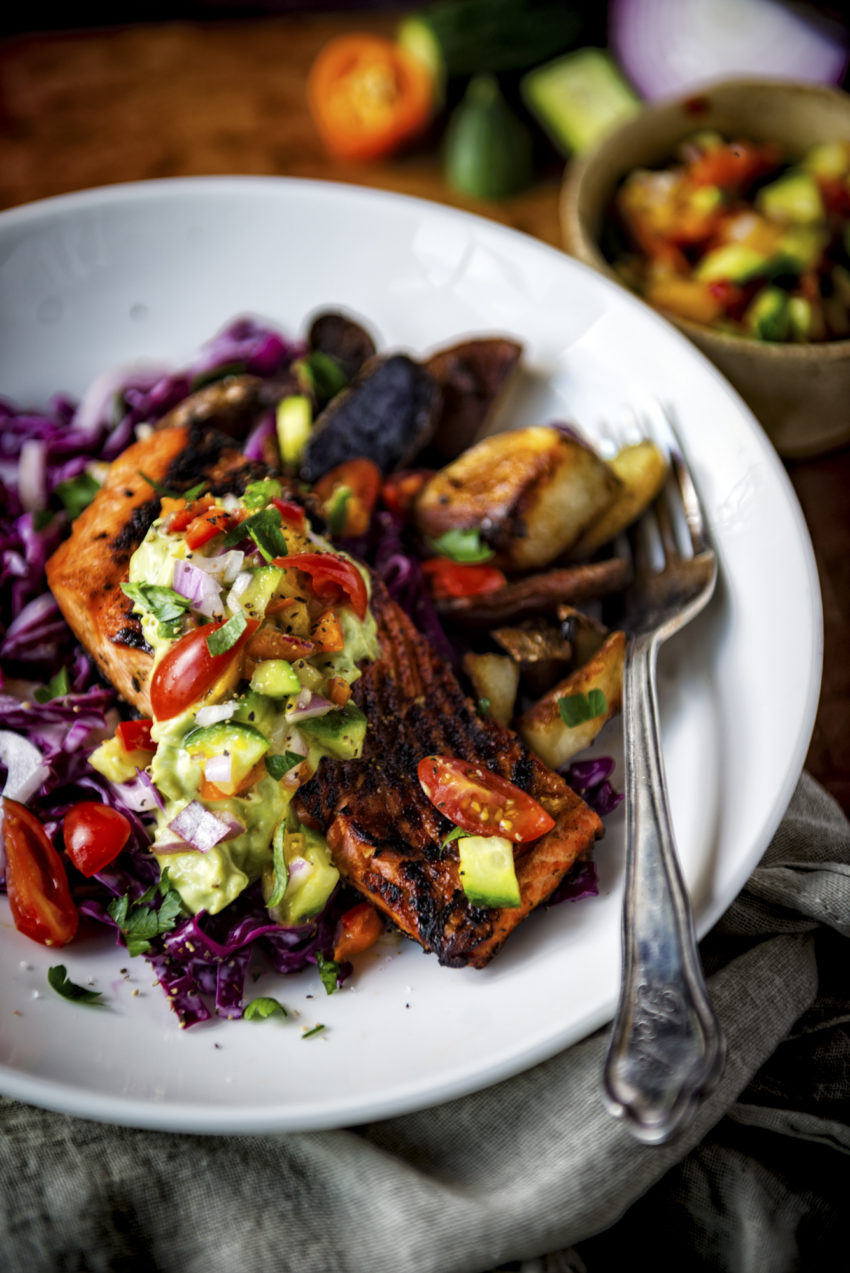 Crazy delicious cast iron blackened salmon with a fresh cucumber and mango relish. Done in under 30 minutes and totally restaurant quality except homemade and healthy!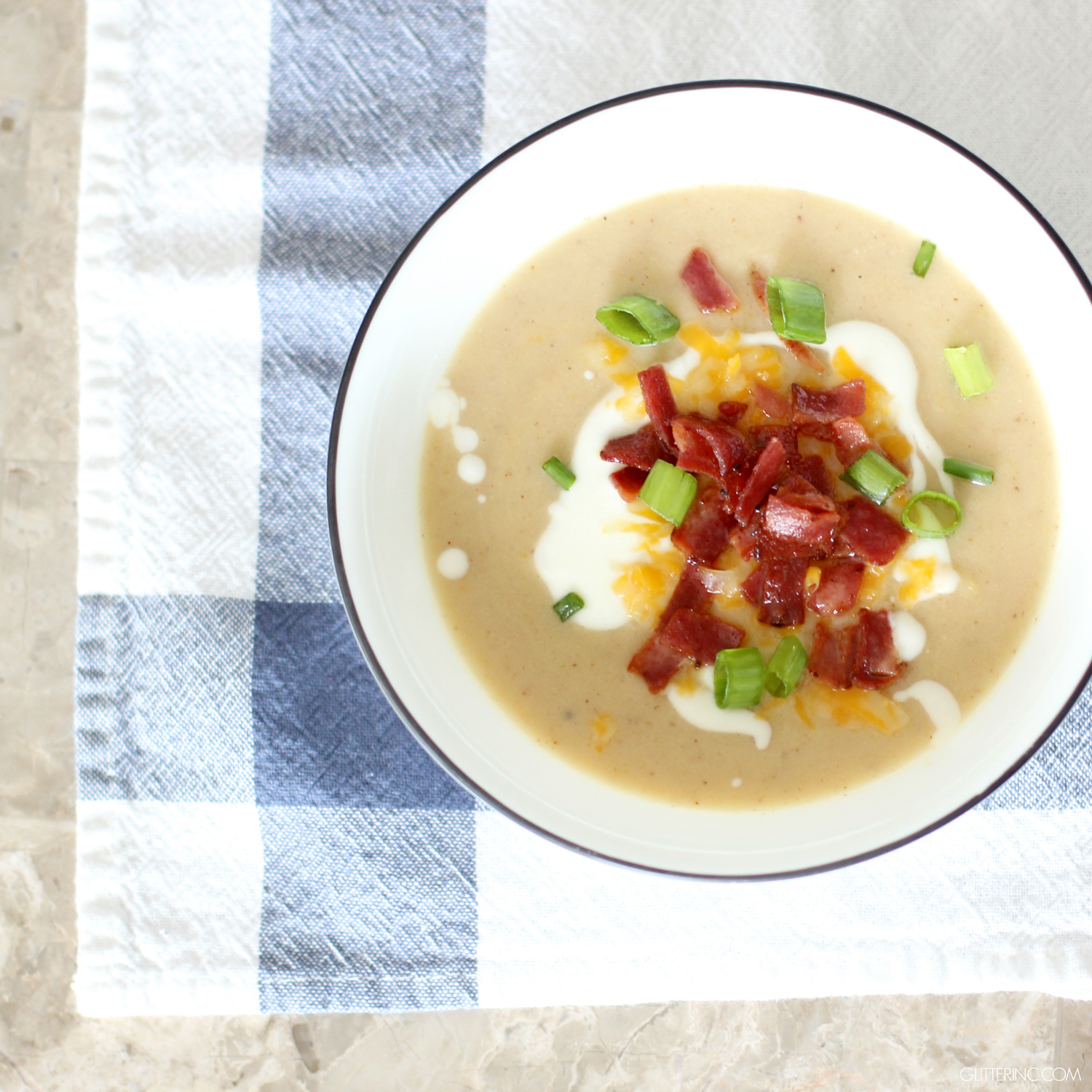 A "healthified" version of one of my favorites – loaded baked potato soup (using cauliflower instead of potatoes). This one tastes amazing.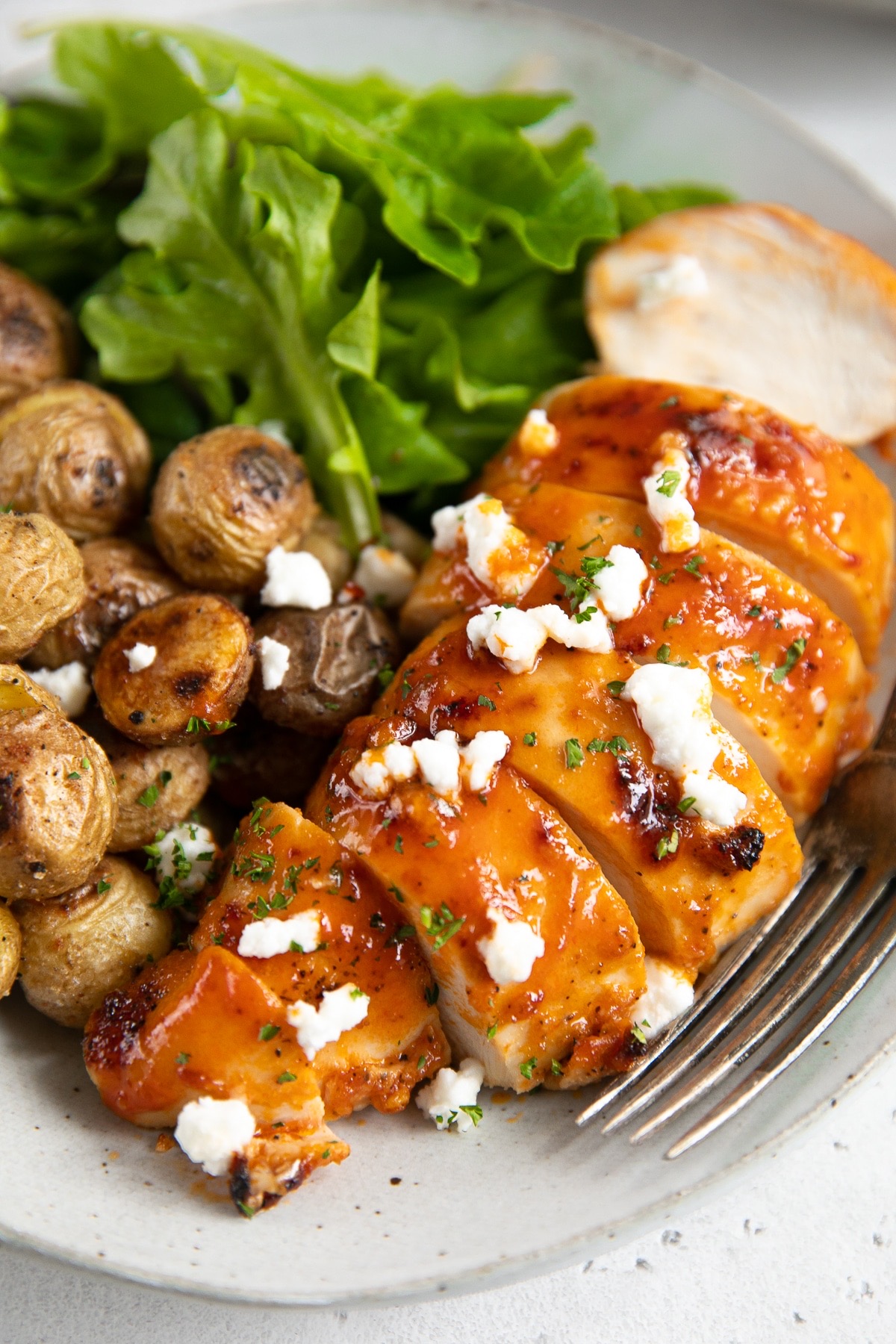 This Buffalo Chicken Recipe is a fun and delicious anytime dinner made with just a handful of simple ingredients. Including, juicy chicken breasts, hot sauce, honey, garlic, and butter. Ready in under 30 minutes. Enjoy this low-carb and gluten-free baked buffalo chicken with all your favorite sides or chop it up and add it to this reader-favorite Buffalo Chicken Dip recipe.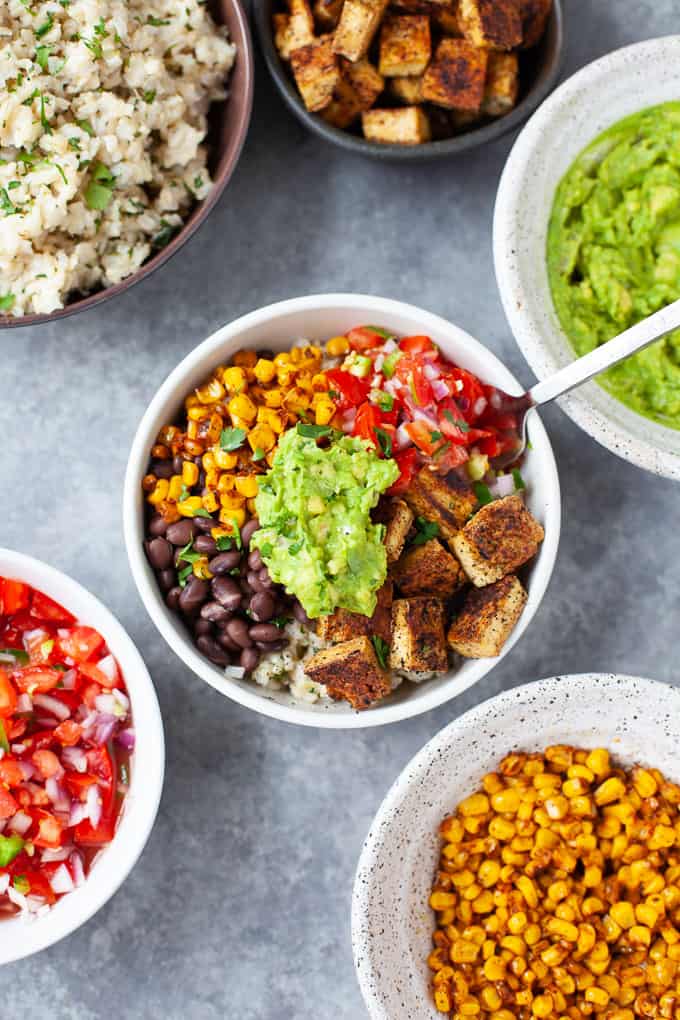 A Chipotle inspired vegan burrito bowl that's bursting with spices and flavor and is more delicious (and easier on the wallet!) than take-out!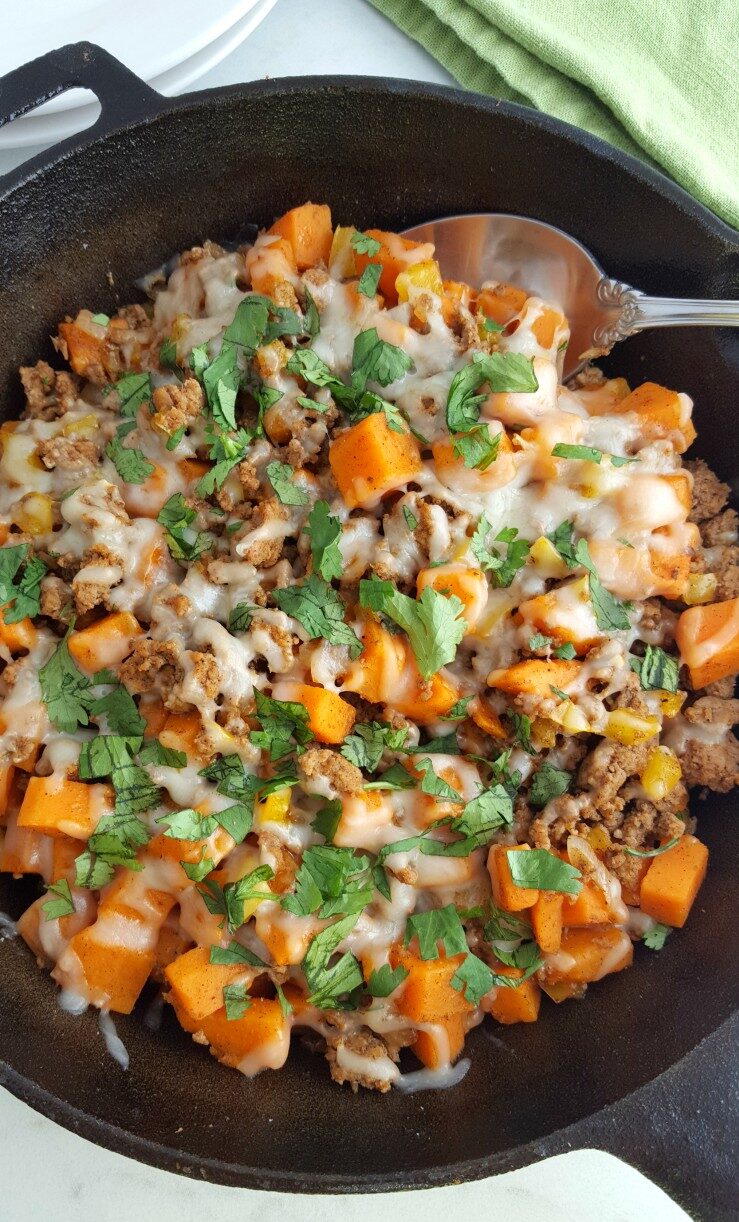 This ground turkey sweet potato skillet recipe is simple, delicious, and packed with lean protein, color and nutrition. (Yummmmm to sweet potatoes!) It's made in one skillet and can be ready in less than 30 minutes.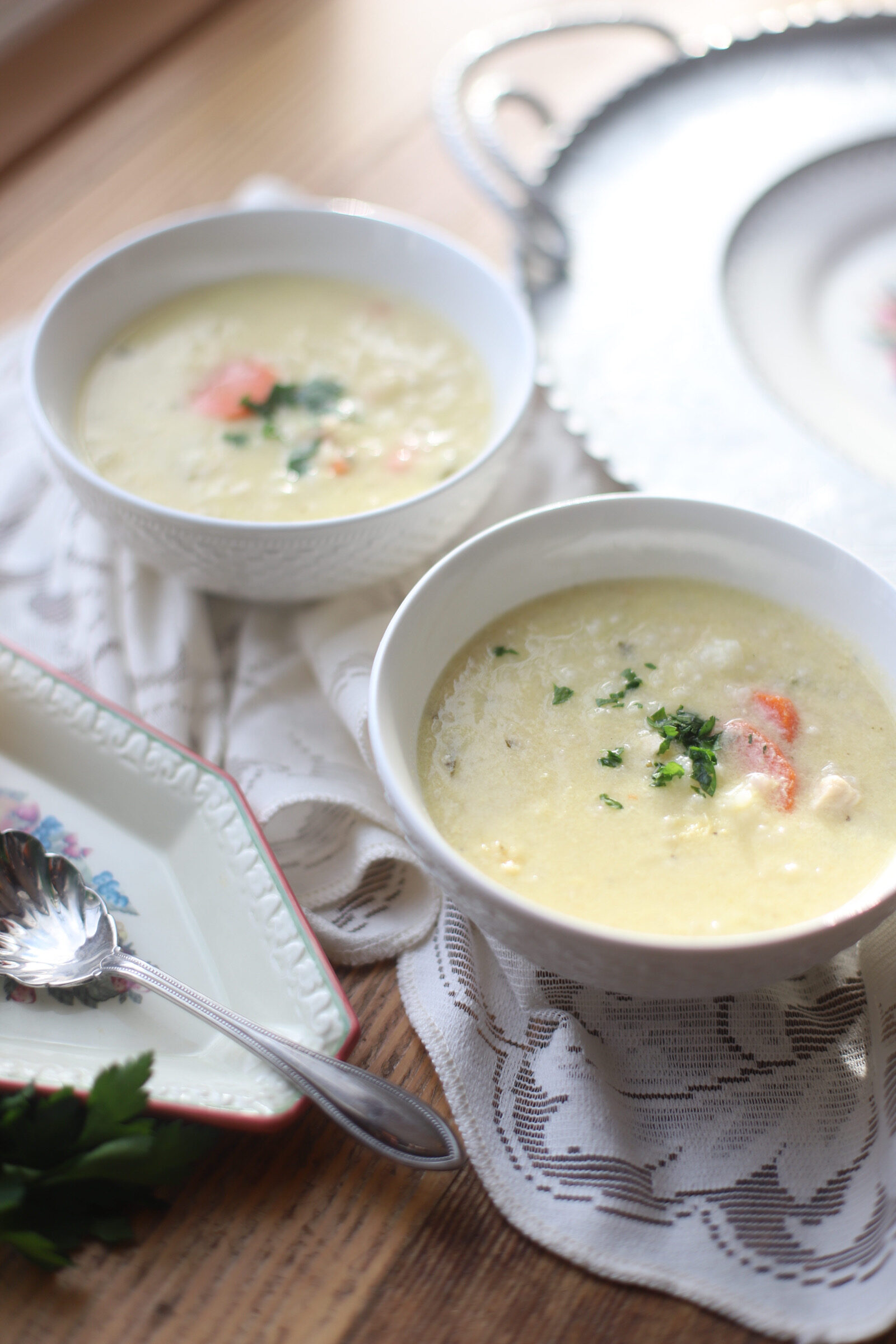 Chock full of hearty veggies, rice, and tender chicken in a bright lemony broth, this Greek lemon chicken soup is COMFORT in a bowl! Plus, it's a totally easy weeknight dinner because you can use a store-bought rotisserie chicken to make things just a little bit easier.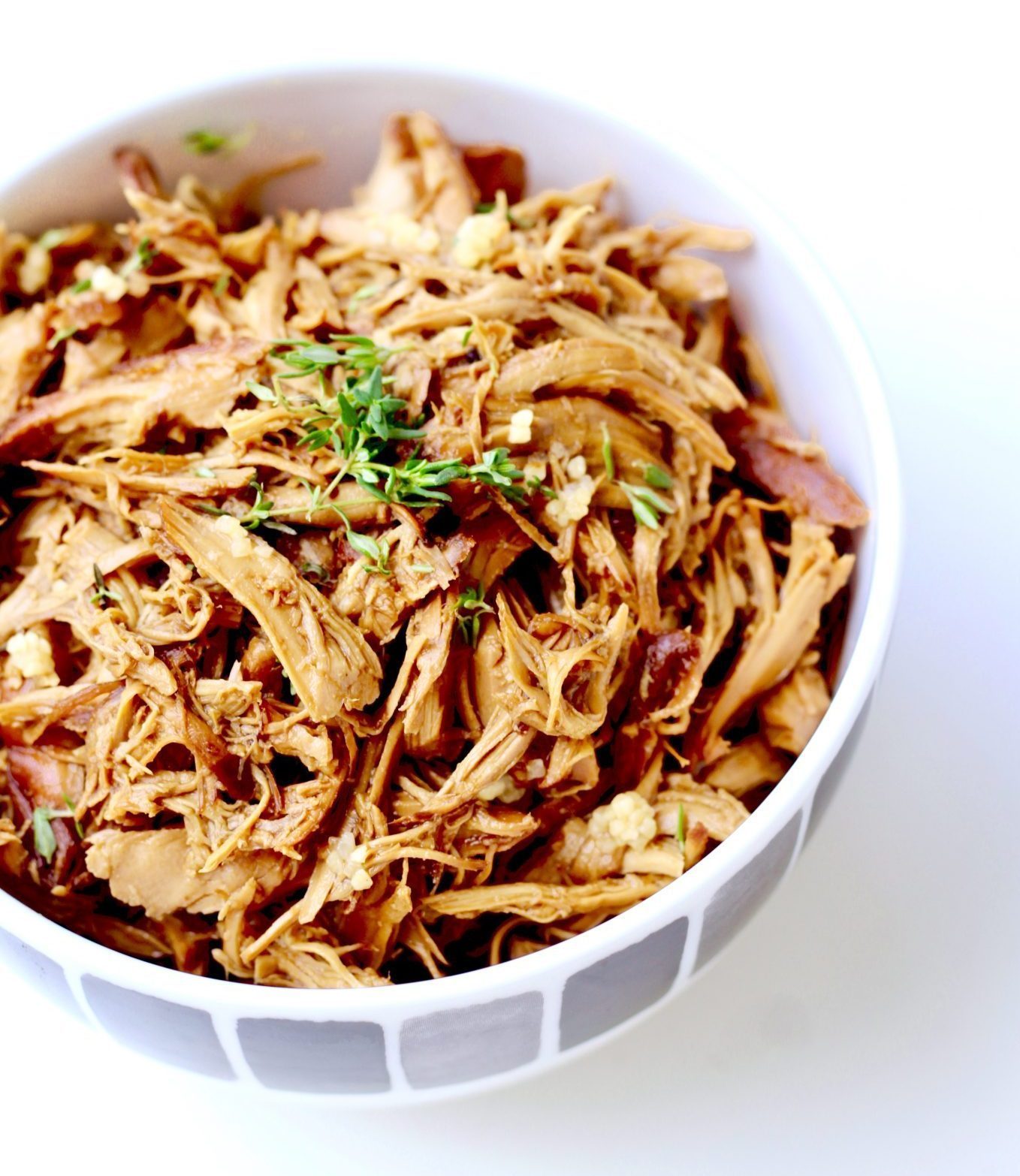 This healthy 5 Ingredient Honey Garlic Chicken recipe takes no time to throw together using your crock-pot or slow cooker. Perfect for meal-prep, an easy weeknight dinner, or potluck!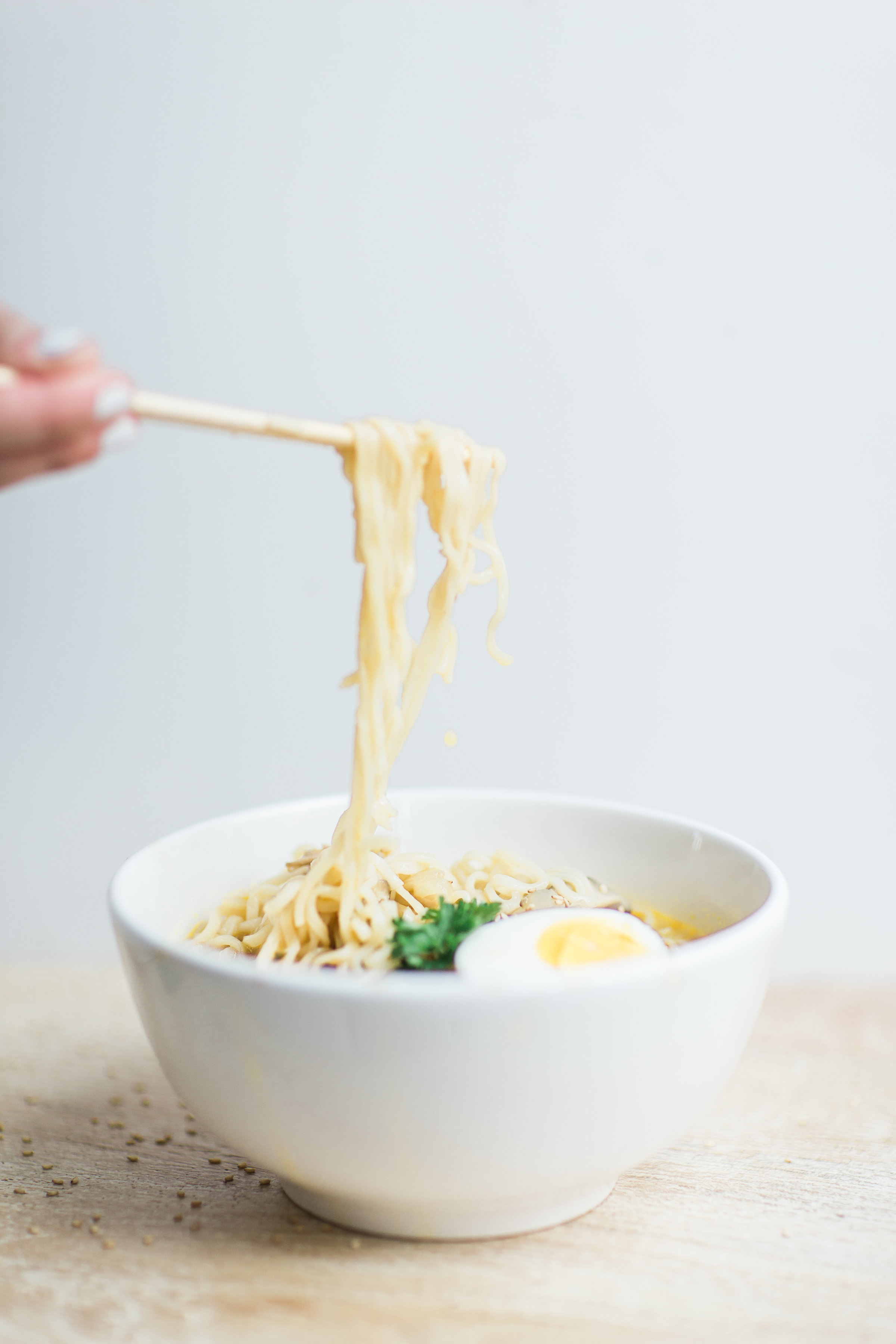 When you just want a bowl of hearty noodles (because, carbs) covered in endless topping options that give you the power to make a bowl your very own, this simple ramen noodles recipe (made in under 15 minutes) might just be the key to at-home ramen bliss.
These Avocado Chicken Wraps are a delicious and healthy 10-minute meal! You read that right. 10 minutes!! These wraps are loaded with avocados (of course), shredded chicken, grape tomatoes, cilantro, a spritz of lime, and a blend of Mexican spices.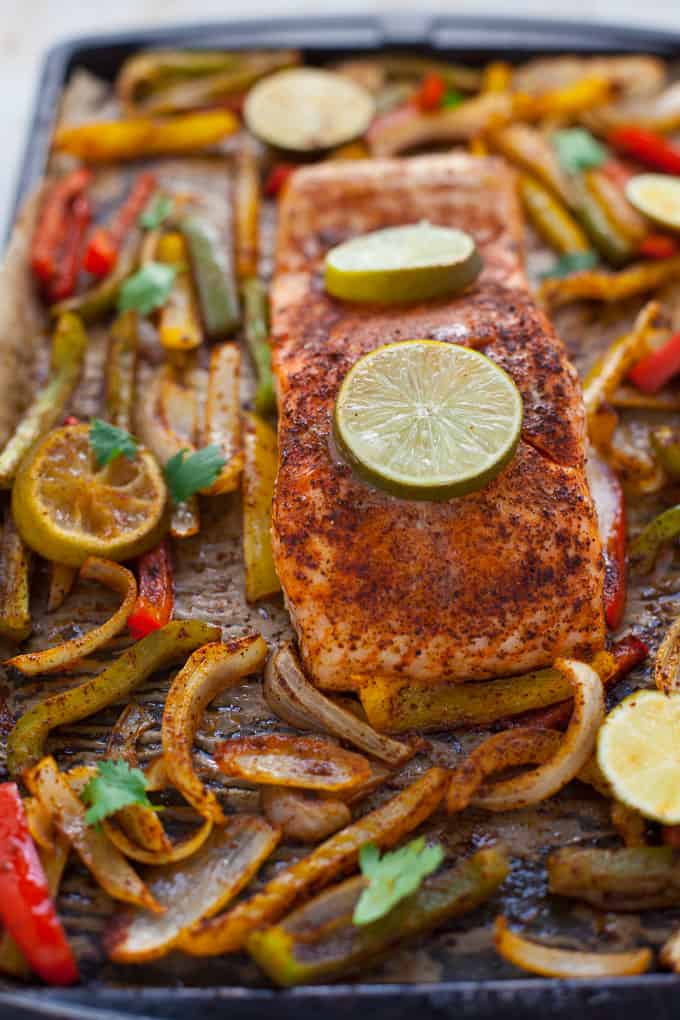 These sheet pan salmon fajitas are perfect for a quick weeknight dinner with minimal cleanup! Can you say Taco Tuesday? Or, better yet, Fajita Friday?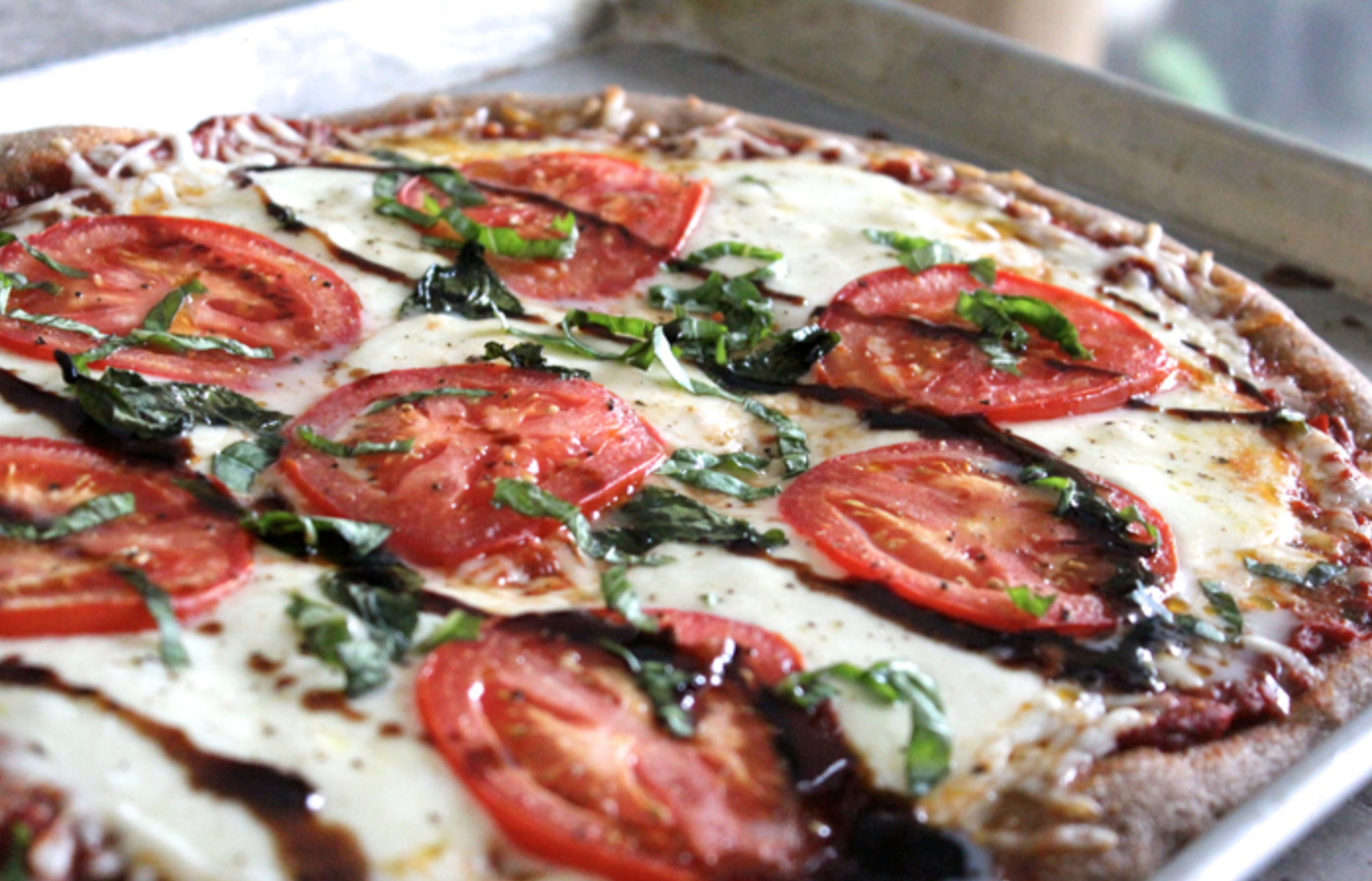 Our kids love pizza night, especially when we make our own. We buy Trader Joe's pre-made pizza dough (extra easy), and top it with our favorite toppings. This caprese pizza with basil, fresh mozzarella, tomatoes, and a simple-to-make balsamic glaze is always a winner. And tastes amazing!
The BEST quick and easy chili recipe! Made in 30 minutes on the stovetop, this beef chili is a delicious family-friendly dinner to enjoy in the fall! It's made from scratch (no packaged seasoning)!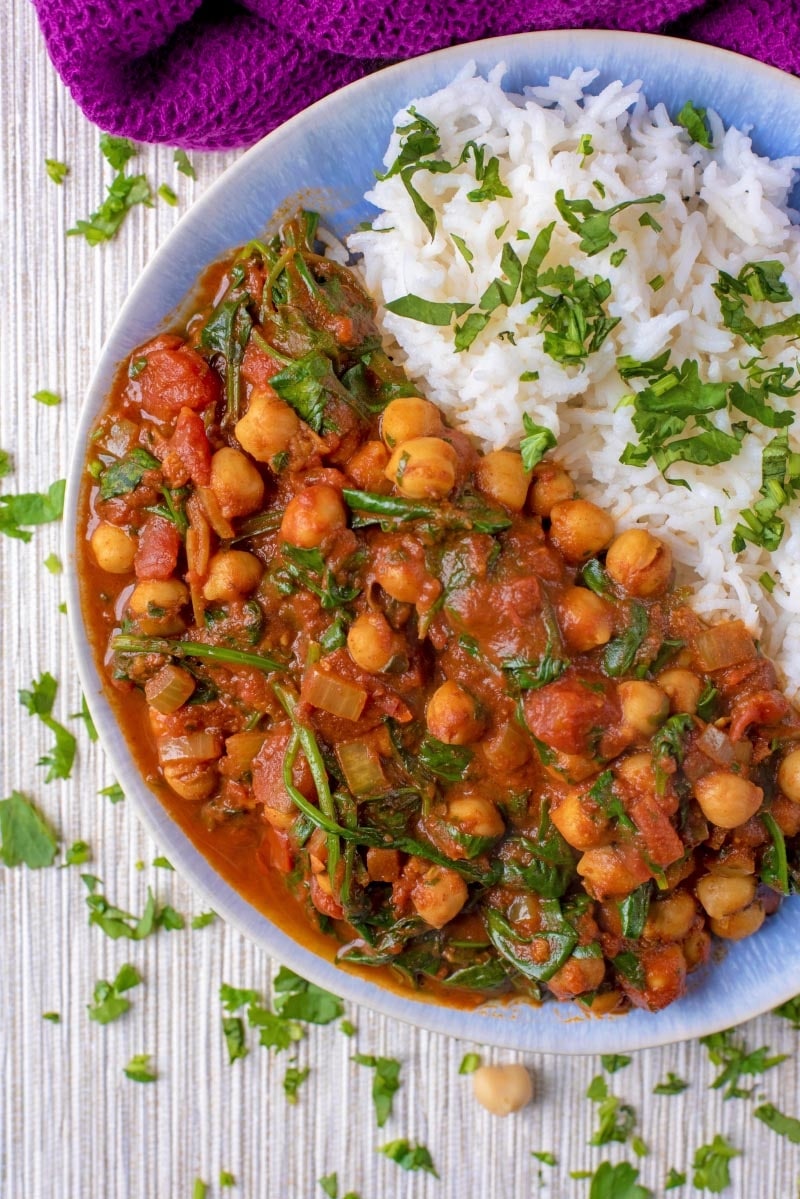 This delicious one-pot 10 Minute Chickpea and Spinach Curry is an easy vegan curry that you need in your life. It's low in calories and fat (just 123 calories for a big serving) and you just tip everything into the pan and it's ready less than 10 minutes later. Bursting with iron-rich spinach and protein-packed chickpeas, this curry freezes well and it's easy to adapt depending on how spicy you like it.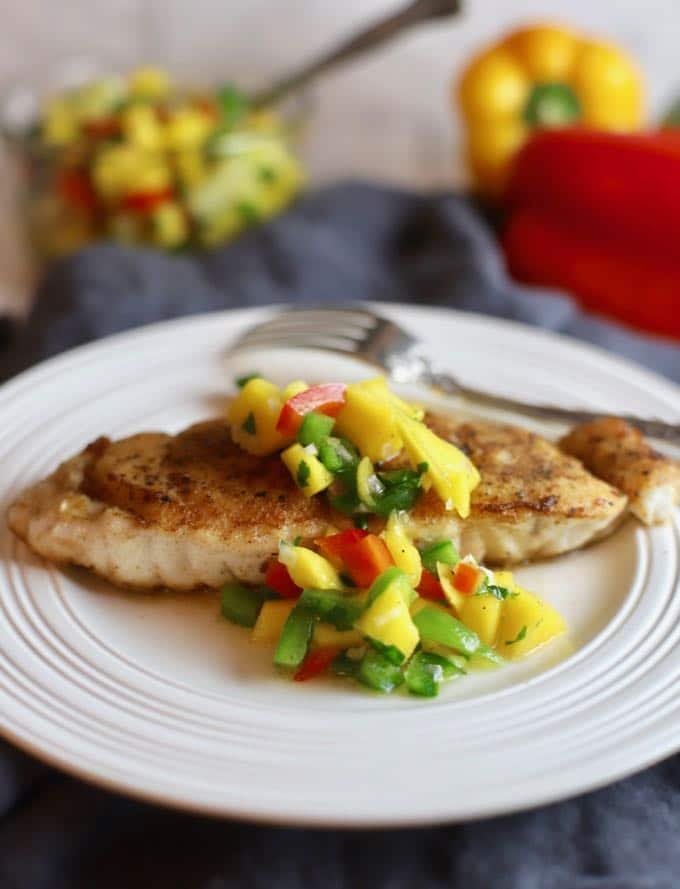 Pan-Seared Red Snapper with Mango Salsa is an easy restaurant-quality main dish, which you can have on the table in less than 20 minutes. This healthy and flavorful red snapper recipe is perfect for a quick weeknight dinner. It's also a show-stopping dinner party entrée.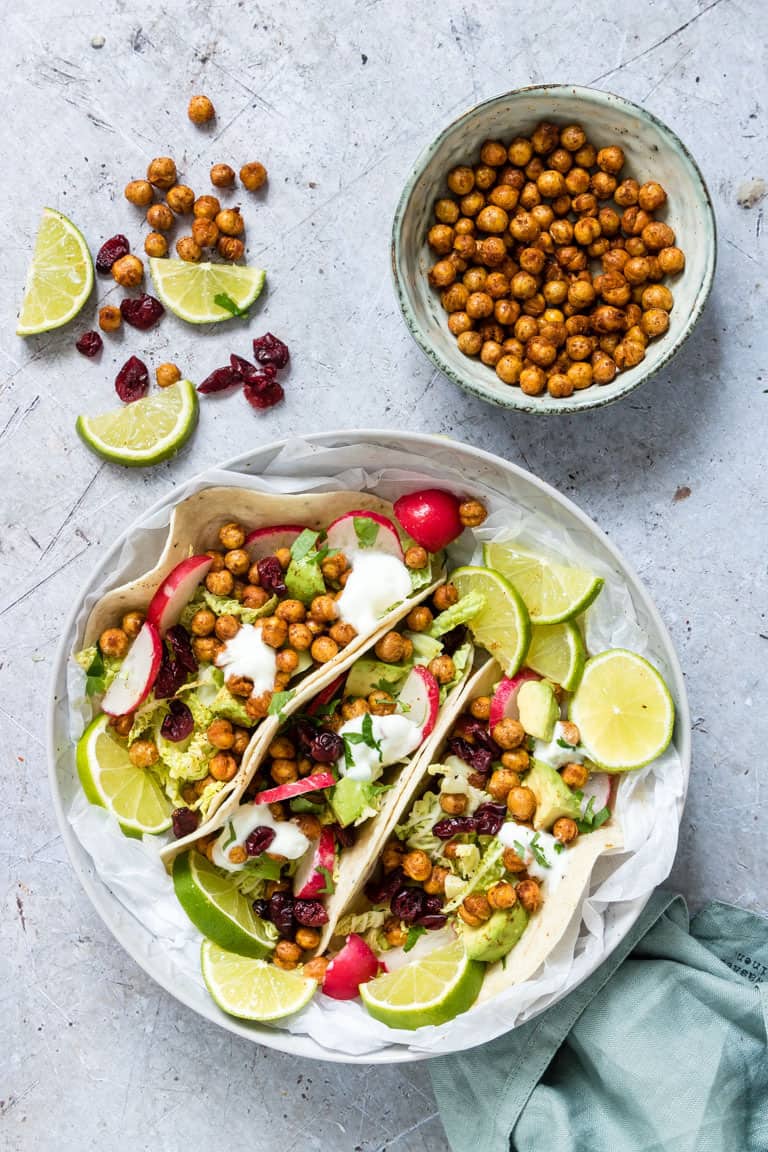 These delicious Air Fryer Chickpea Tacos are flavourful and colourful and quick to whip up. It's an easy vegetarian dinner that uses everyday pantry ingredients and is perfect for weeknight dinners!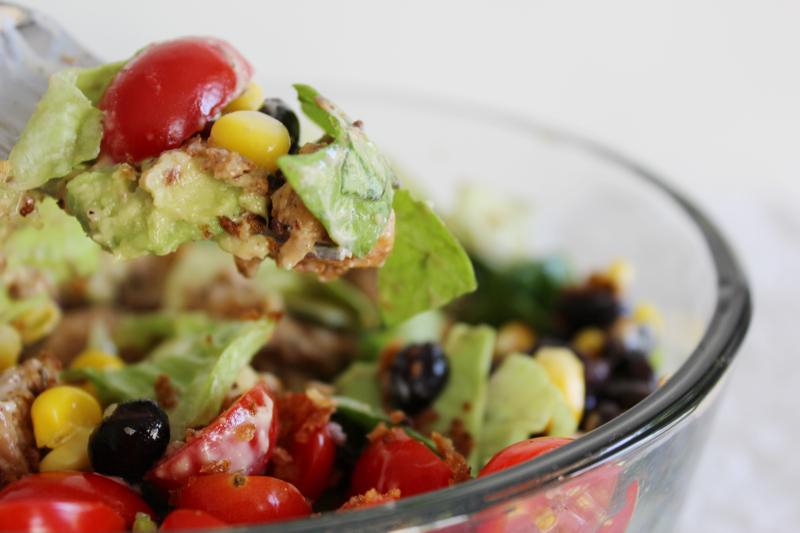 This is one of those salads that tastes great every time (the dressing is SO GOOD). And because it's a salad, it's really customizable; i.e., if you don't like spice, no need to make the chicken spicy, etc.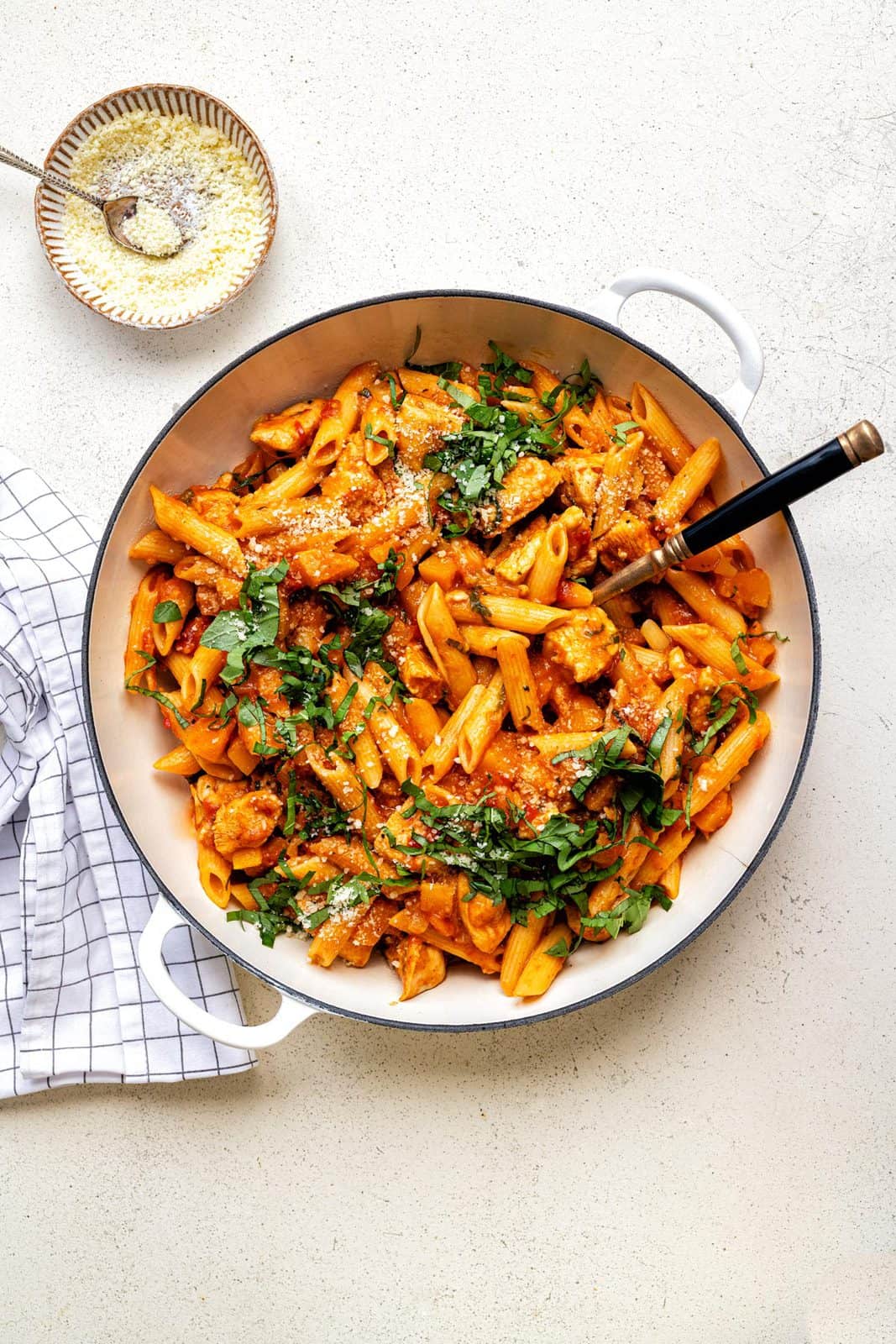 This Cajun Chicken Pasta ticks ALL the boxes. It's quick, easy, delicious and slimming friendly! A simple one-pot chicken pasta recipe made extra healthy with the addition of butternut squash. The whole family will love this. Ready on the table in 30 minutes.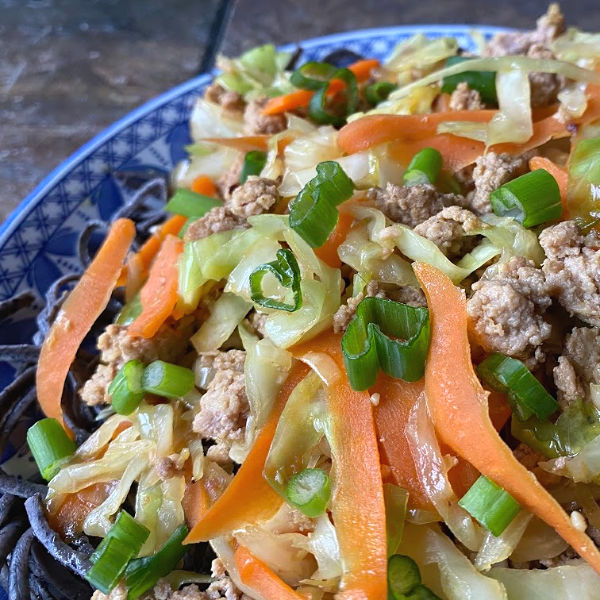 Serving this 30 minute Egg Roll in a Noodle Bowl with black soybean noodles keeps it low in carbs. However, it adds filling fiber, protein, and texture!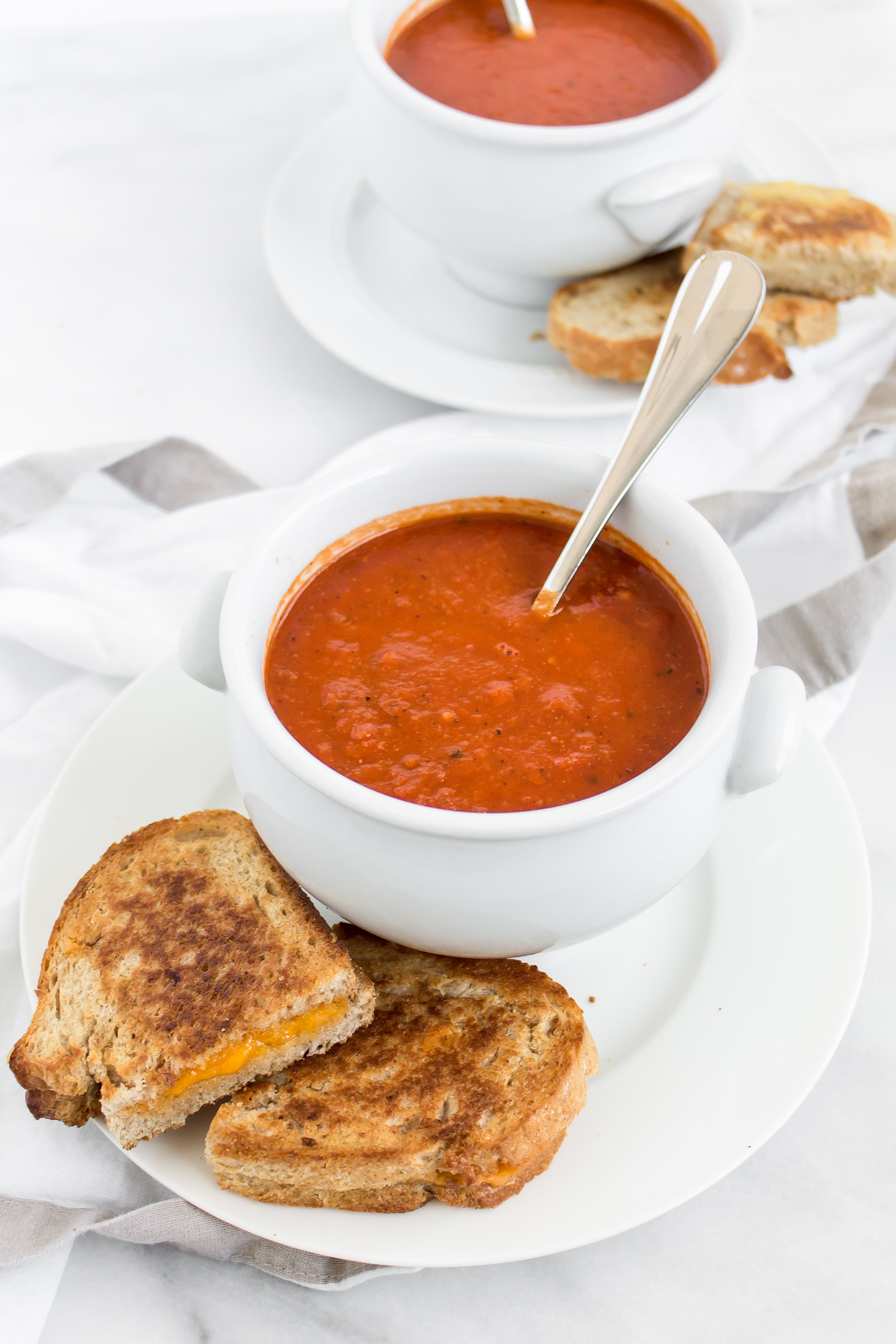 Looking for an easy and delicious healthier soup for dinner tonight? Look no further than this spin on classic tomato soup, made healthier and protein-packed. And, bonus: it can be made in a slow cooker or instant pot!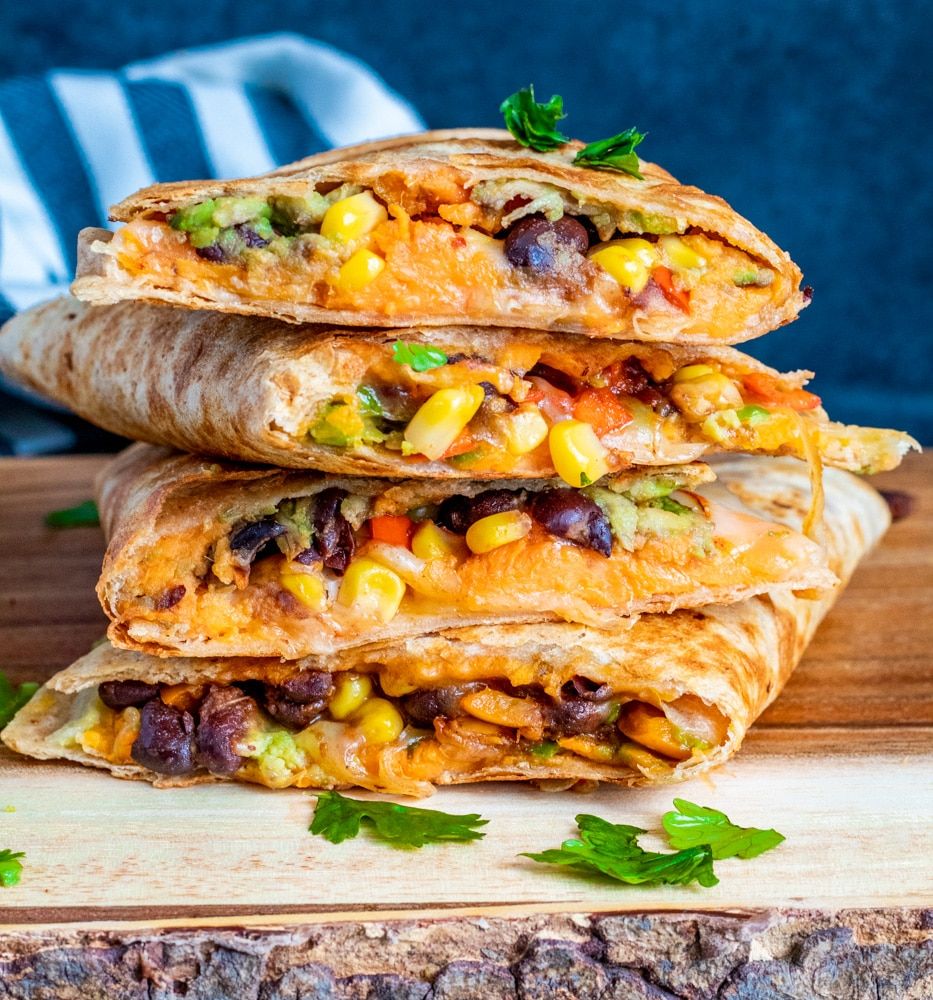 The BEST healthy Vegetarian Quesadillas for lunch, dinner or an appetizer. Filled with black beans, sweet potato, avocado and cheese you won't even miss the meat!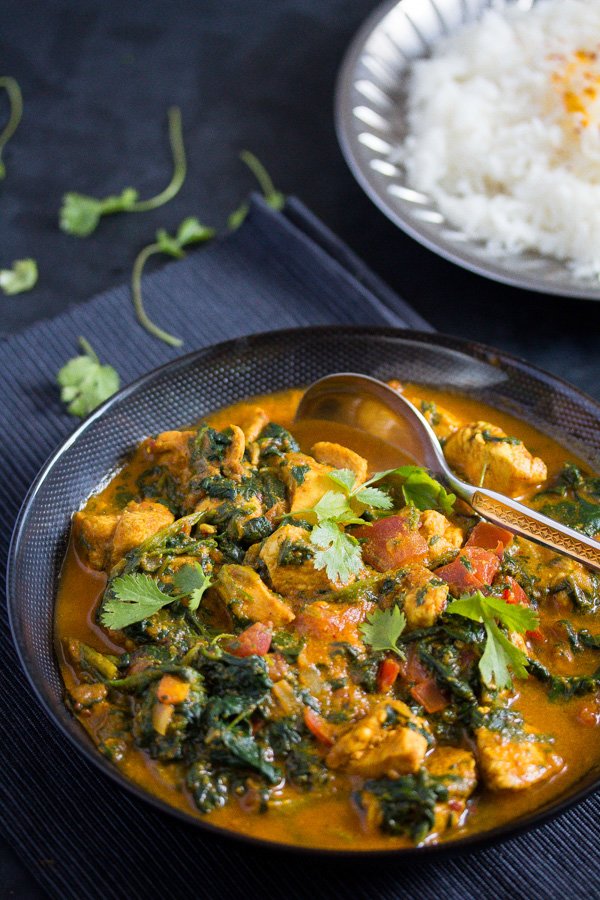 A healthier and simplified version of the famous chicken saag. This easy spinach chicken curry will definitely satisfy your curry cravings.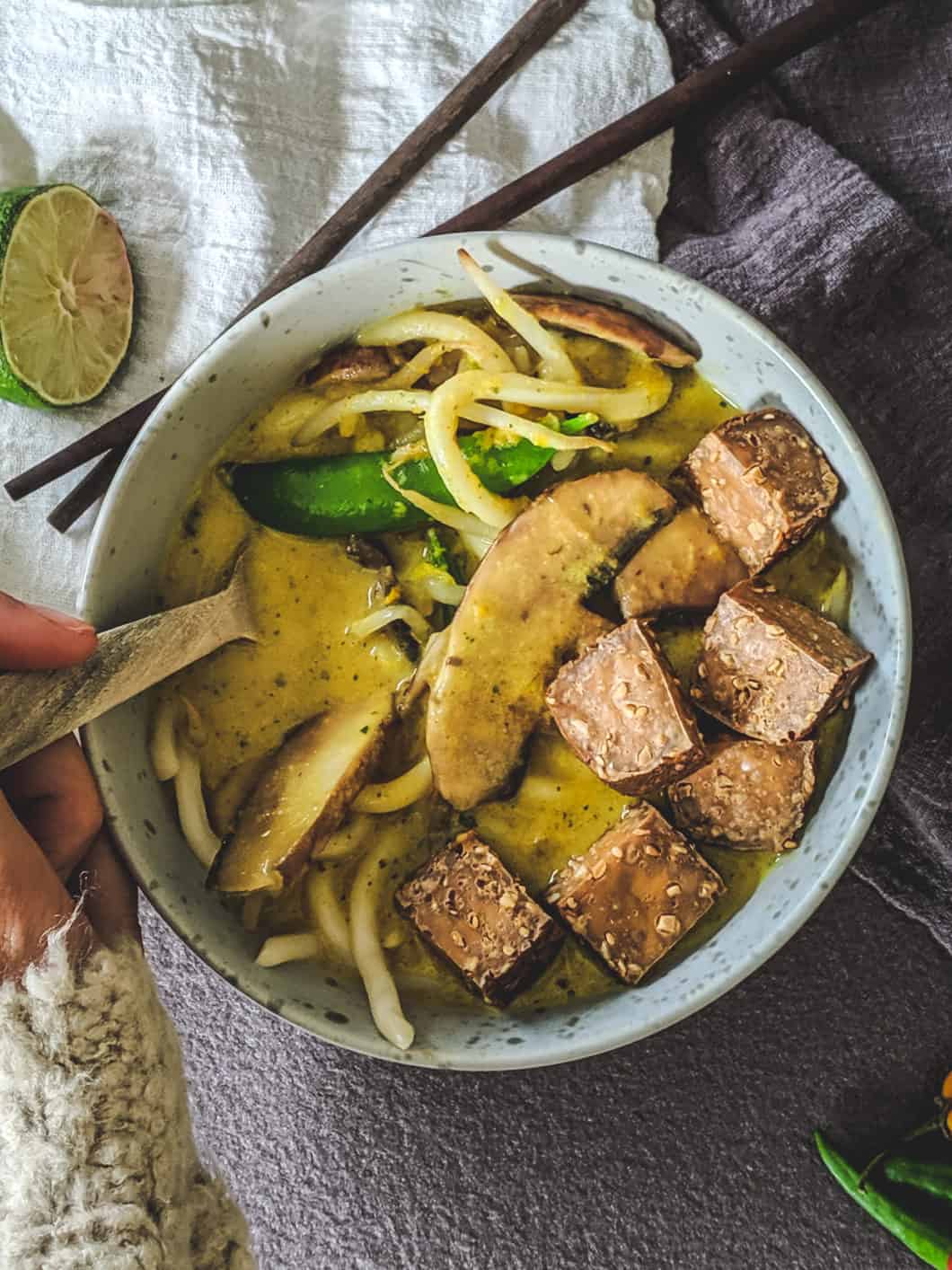 This vegan laksa noodle soup looks ultra-fancy but is takes less than 20 minutes to put together. Packed with nutritious vegetables, crunchy tofu, thick udon noodles, and with a creamy, spicy coconut milk broth. This is a delicious go-to meal for any night of the week.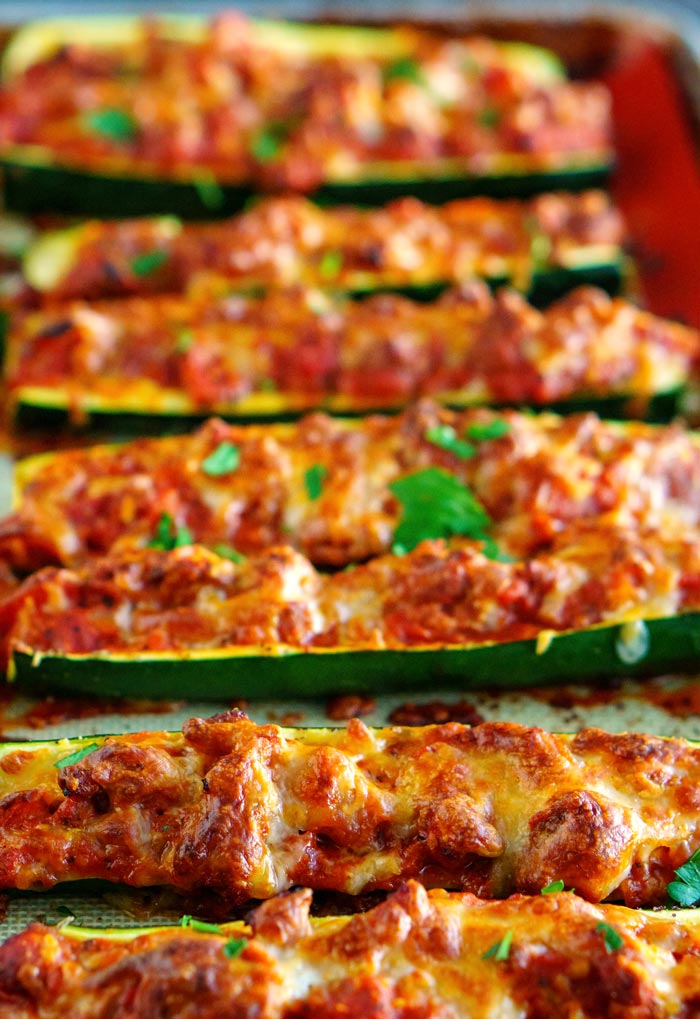 This easy Italian Zucchini Boats recipe is easy to make and healthy, too at just 240 calories per serving. This recipe is gluten-free, low carb, and keto. Plus it costs just $10.76 for 6 servings!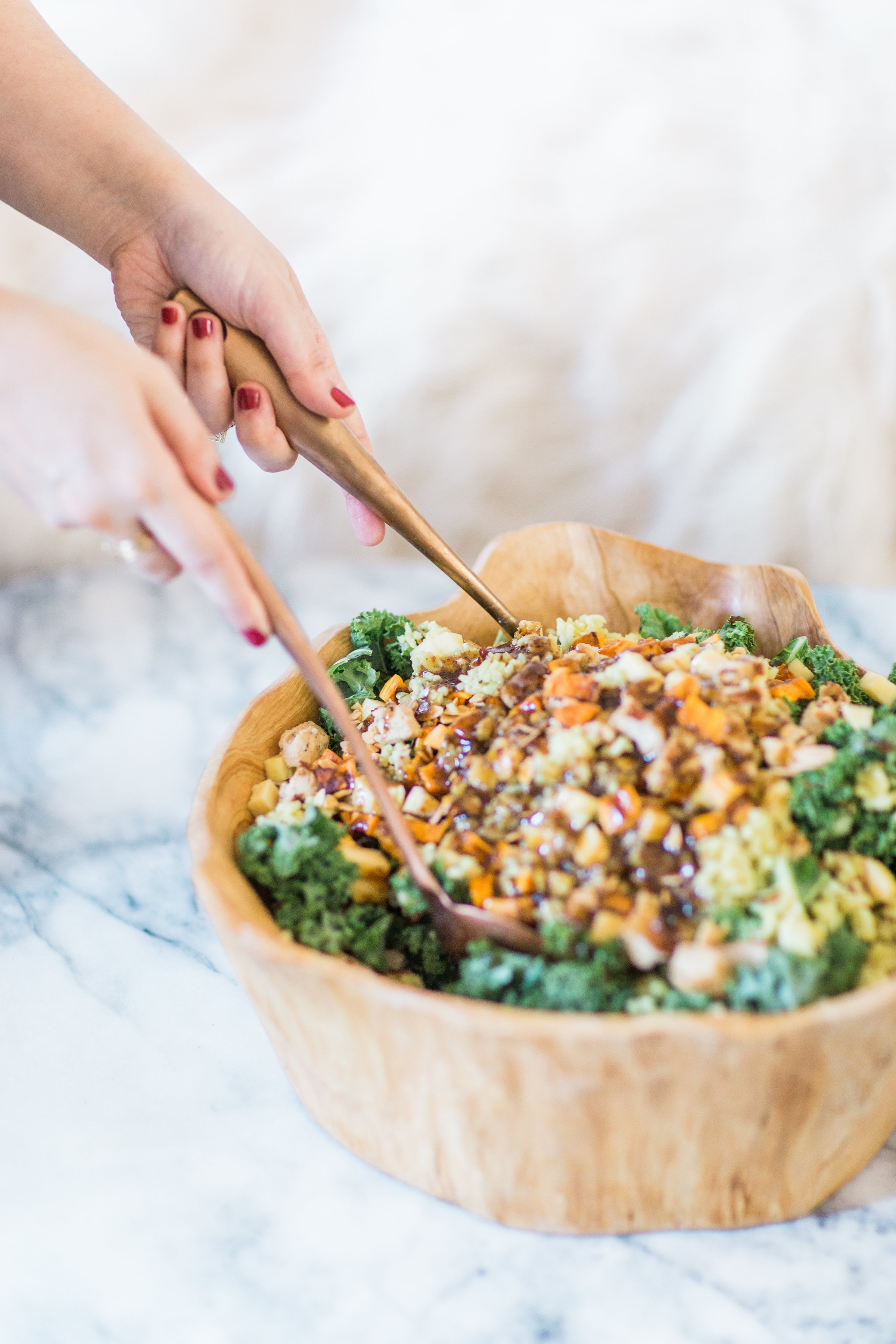 sweetgreen's harvest salad is easily one our favorite salads. And here's exactly how to make your own copycat sweetgreen version right at home.
Everyone in your family will love this easy Asian Chicken Rice Bowl! It tastes like carry out, but is much cheaper and ready in about 20 minutes.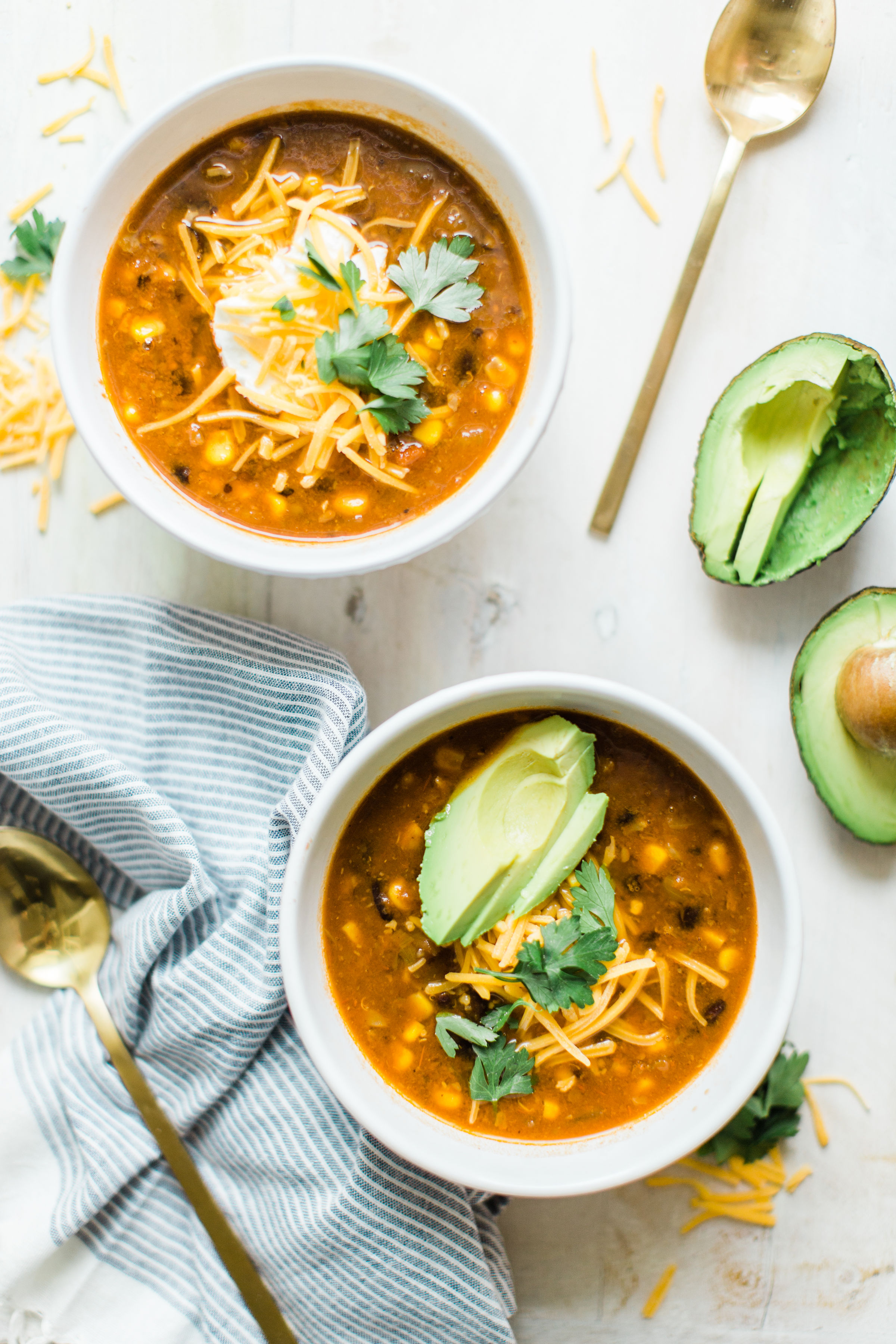 Obsessed with Trader Joe's Harvest Chili? Looking to whip up a delicious family dinner on a budget? Make your own easy copycat crockpot Trader Joe's harvest chili. (Say that three times fast!) This soup is vegetarian and so yummy.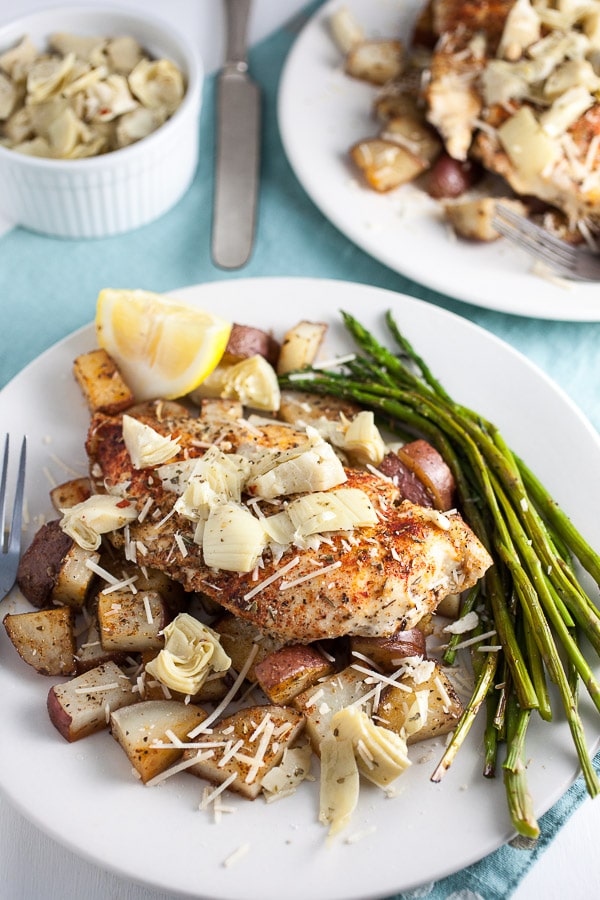 This Sheet Pan Mediterranean Chicken and Potatoes recipe is so easy to make! It's a simple healthy weeknight meal with zesty lemon and artichokes.
With just 10 minutes of prep time, this silky smooth vegetarian curried cauliflower soup is loaded with vegetables and seasoned with a winning flavor combination. This soup is the perfect way to sneak more veggies into your family's diet!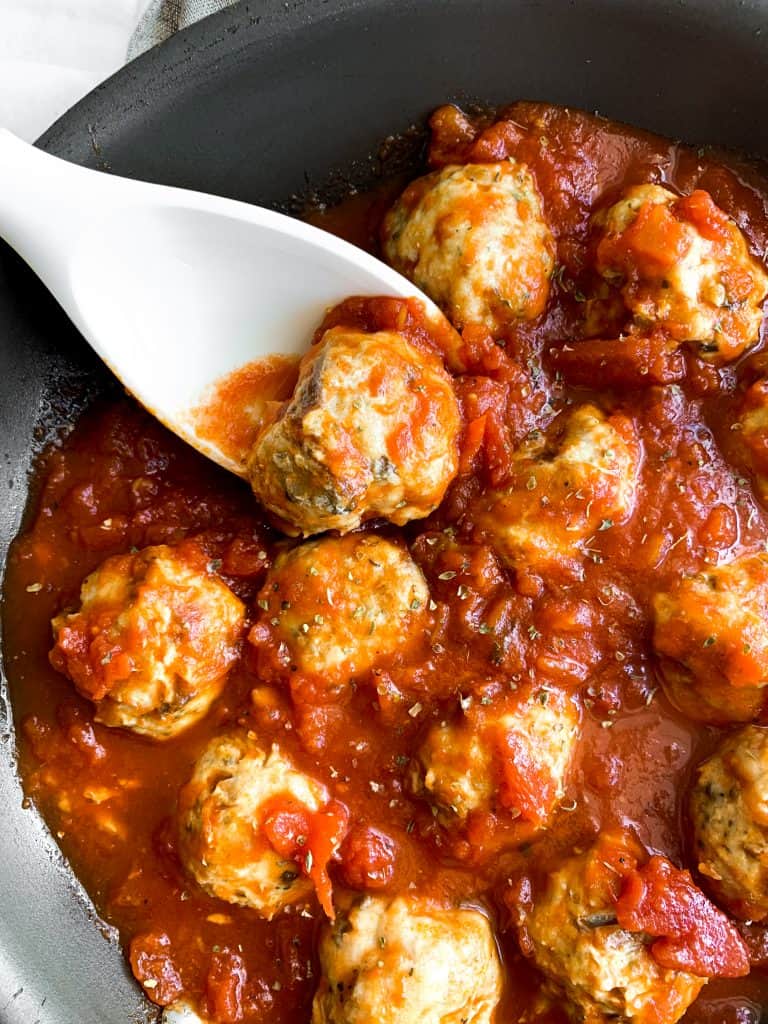 Oven-Baked Keto Turkey Meatballs that are also gluten-free, Whole30 approved, and paleo? Sign me up! These easy and healthy turkey meatballs require just 6 simple ingredients. Packed with protein, and perfect for meal prep!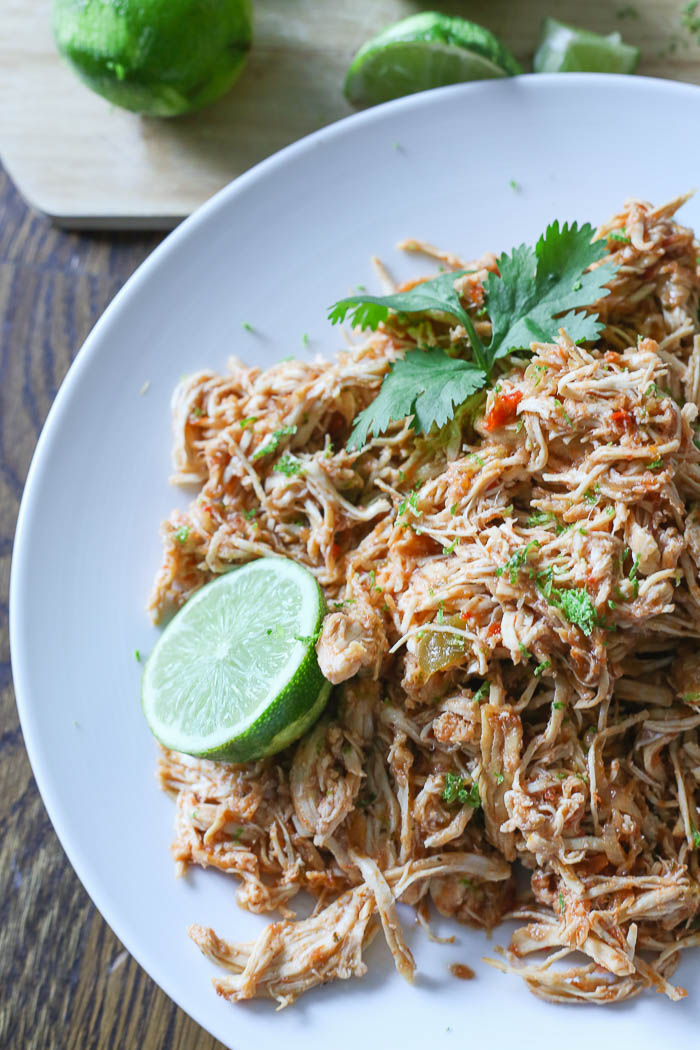 This 3-INGREDIENT Salsa Lime Chicken is a fantastic way to prepare seasoned chicken for pretty much anything! Use the Salsa Lime Chicken in tacos, over a bed of greens as a salad, or in rice or quinoa bowls.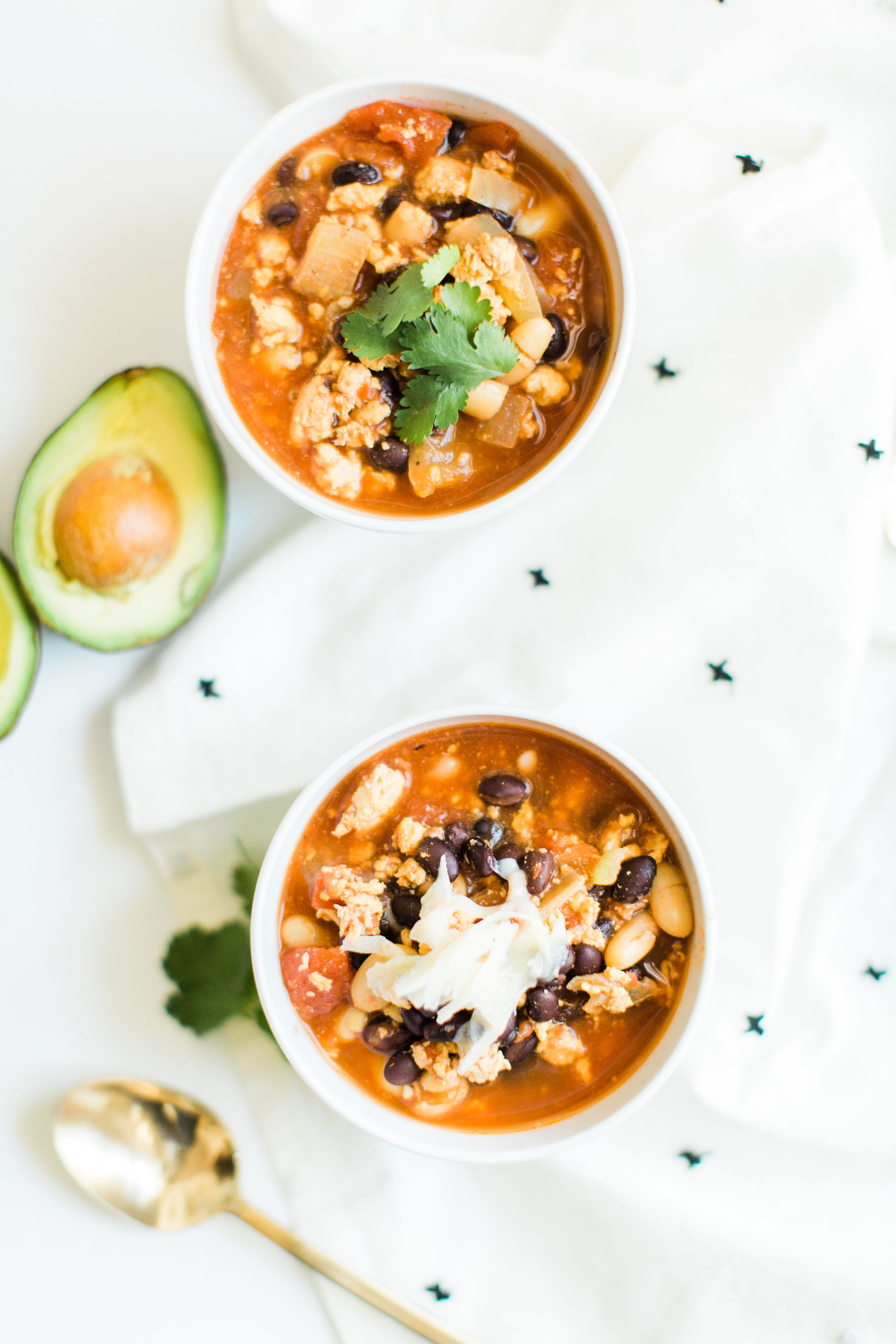 This super yummy ground chicken chili is one of our family's favorite meals. And the best part, it all comes together in an Instant Pot or crockpot. Serve this made ahead chili with yummy toppings and a side of cornbread and you've got yourself an incredible, hearty, healthy, and simple dinner.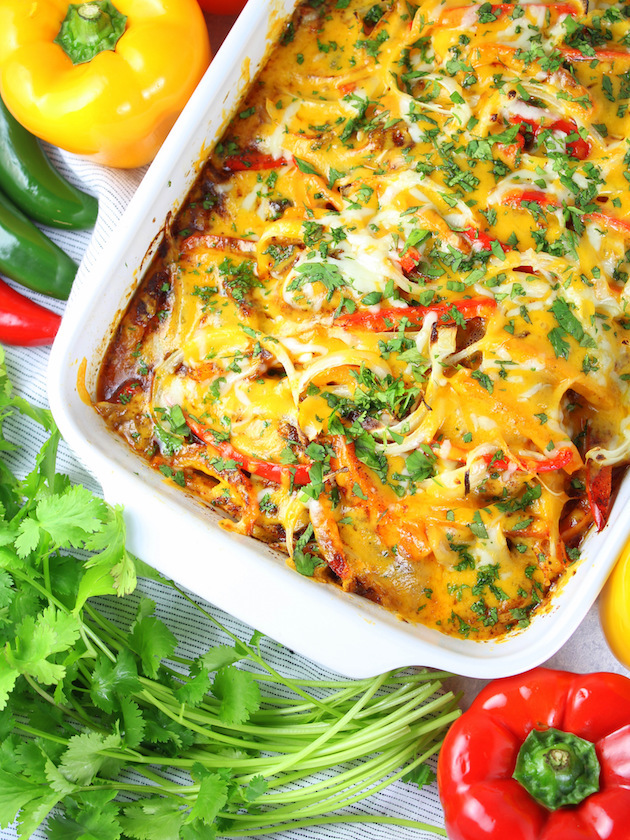 Mexican Chicken Casserole is everything you want in a weeknight recipe: quick, easy and delicious! With lean chicken, healthy veggies, and perfectly balanced zesty flavor… this one-pan meal will definitely be making a regular dinner time appearance!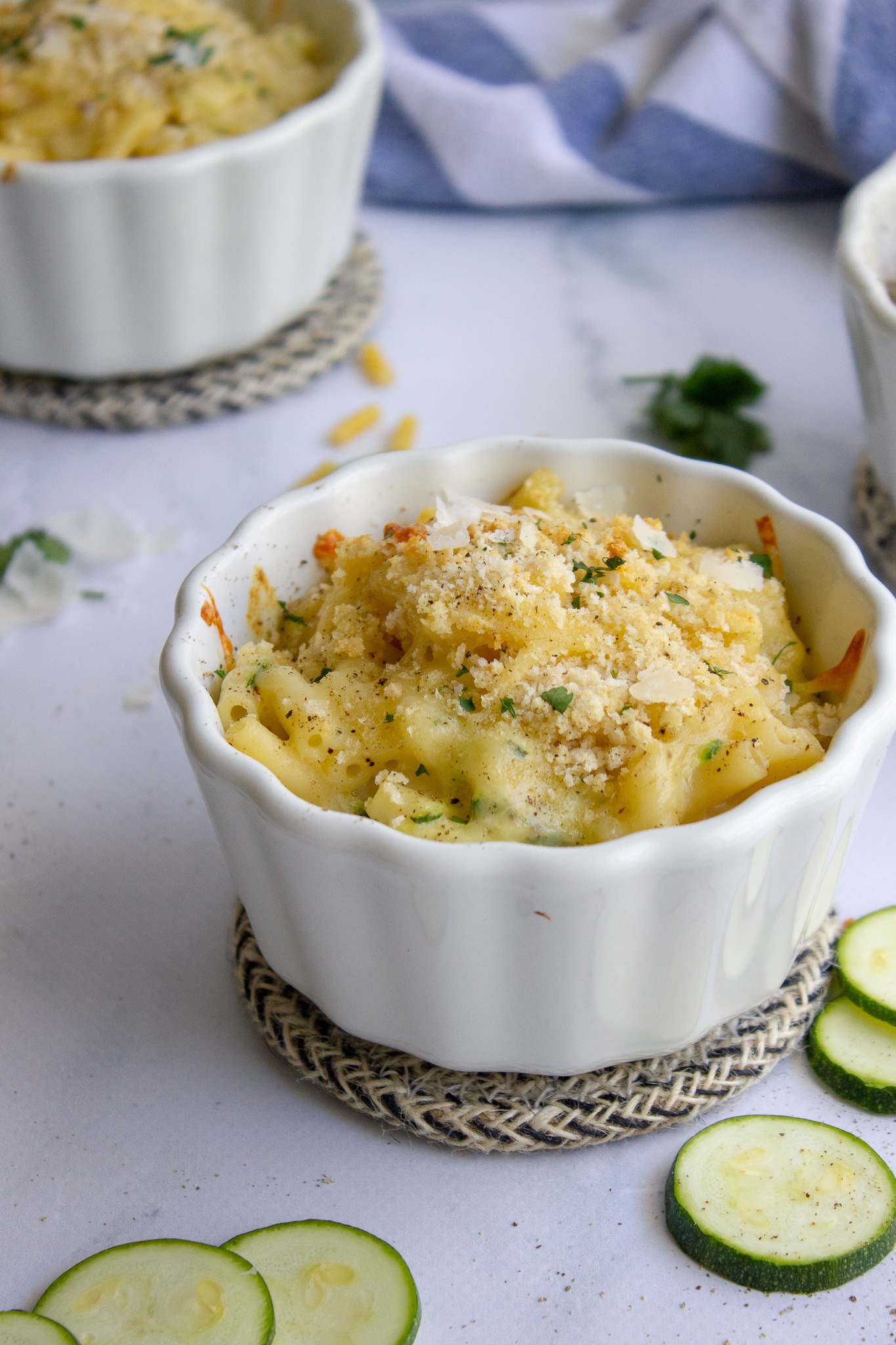 This simple kid-friendly Zucchini Macaroni and Cheese comes together in no time for a quick weeknight meal that the whole family will adore.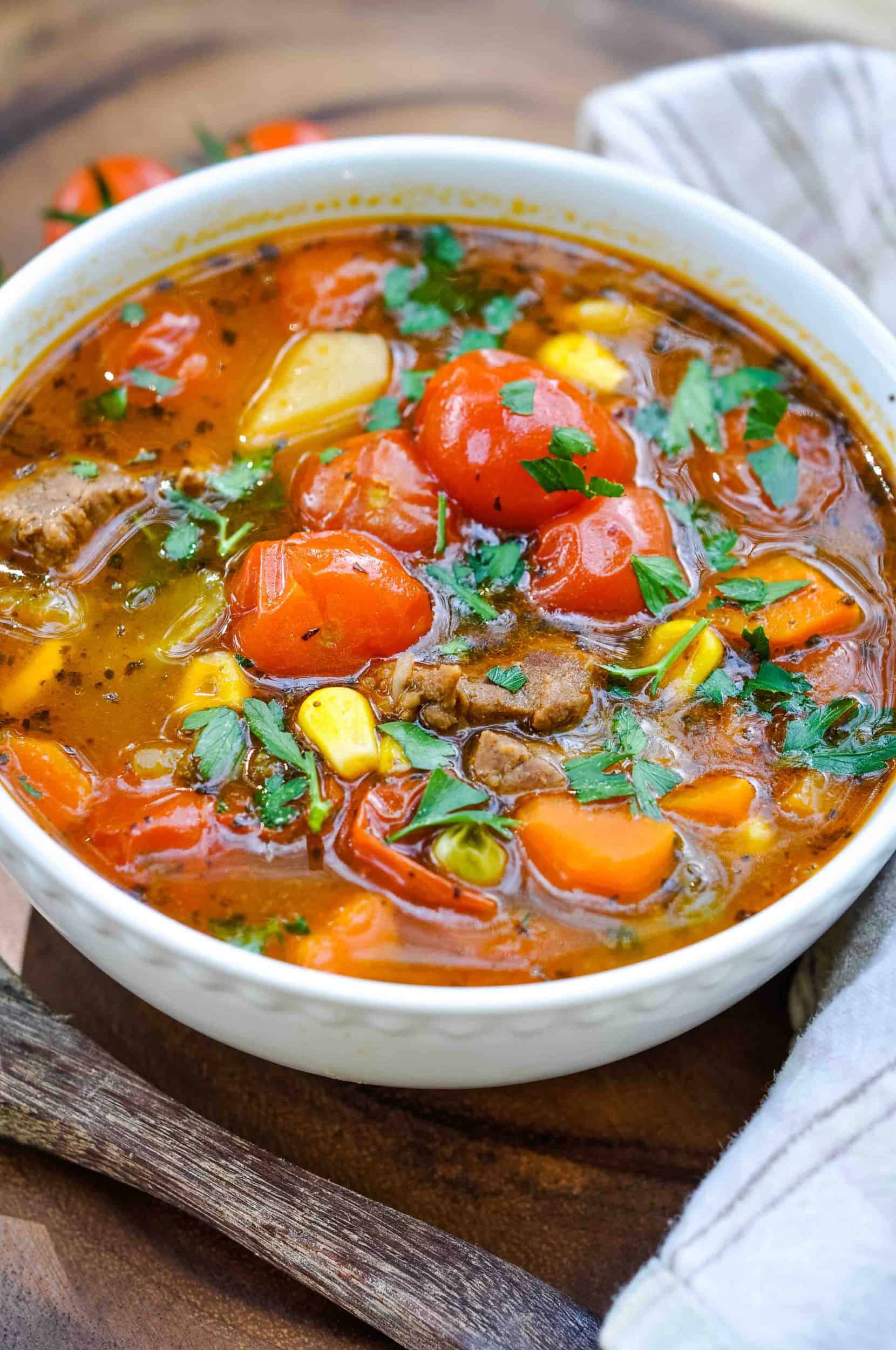 Made with tender chunks of beef, a variety of veggies and potatoes, plus super-sweet cherry tomatoes, this soup is cold-weather comfort food at it's finest. Cooking it in the Instant Pot makes the flavors meld together fully and the meat fall-apart tender.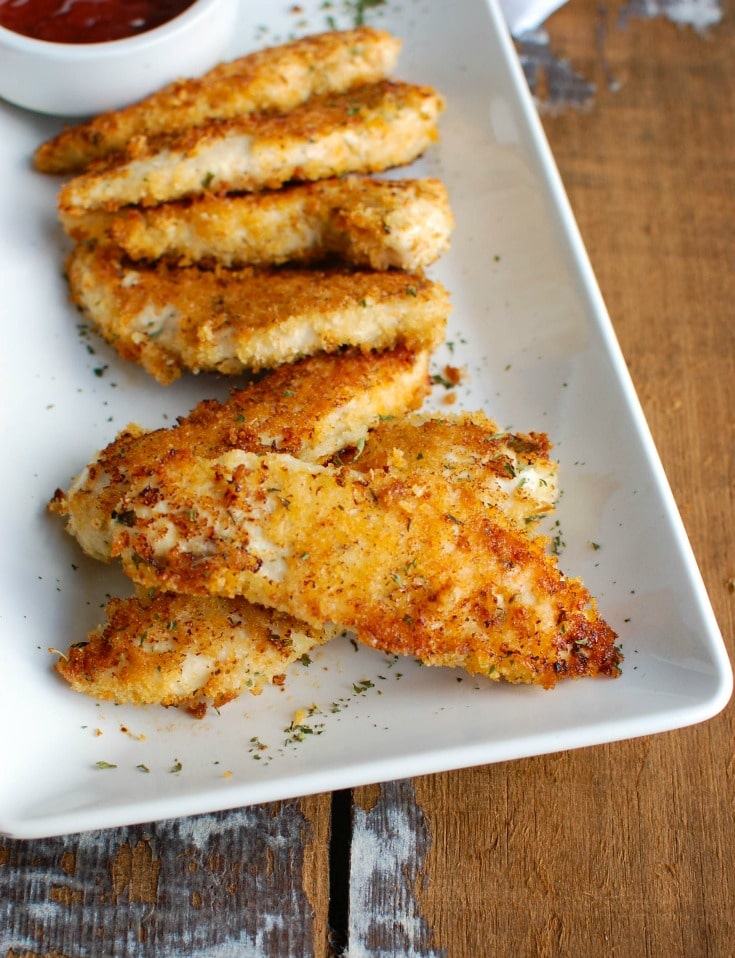 Healthy Chicken Fingers are oven-baked to create healthier chicken tenders. The panko crust is crunchy, but you can sub in regular breadcrumbs. In addition, it has good flavor from the spices. These are a kid and adult favorite!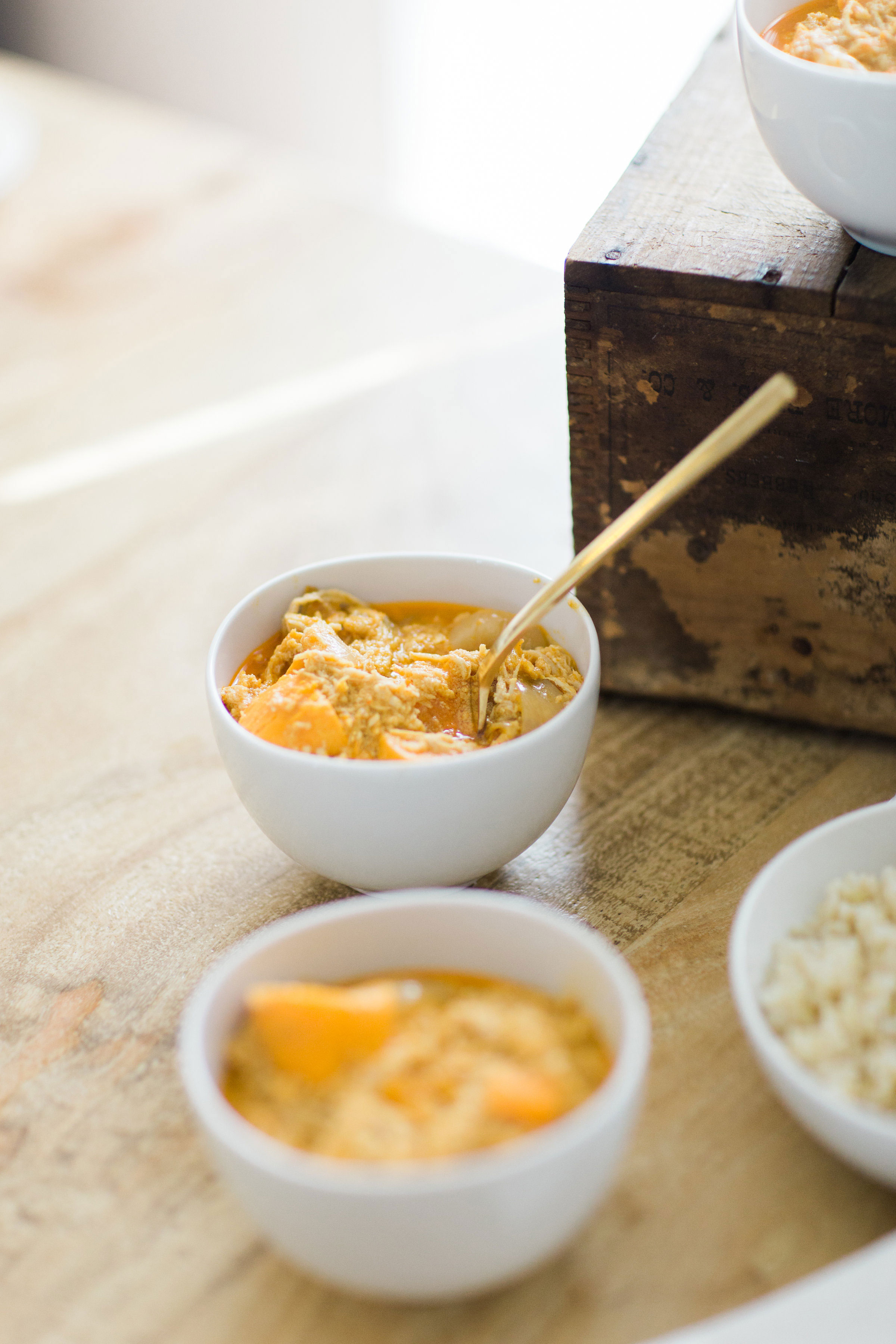 This 3-Ingredient Trader Joe's Thai coconut curry chicken recipe – in addition to being unbelievably easy to make – is one of our family's favorite recipes, any night of the week. I think it takes all of 5 minutes to prepare. Maybe less. And the very best part? The whole thing can be made in your slow cooker. As in, you throw all of the ingredients in. Let it slowly cook up into something magical. Lift the lid when you're ready to eat, and dinner is served!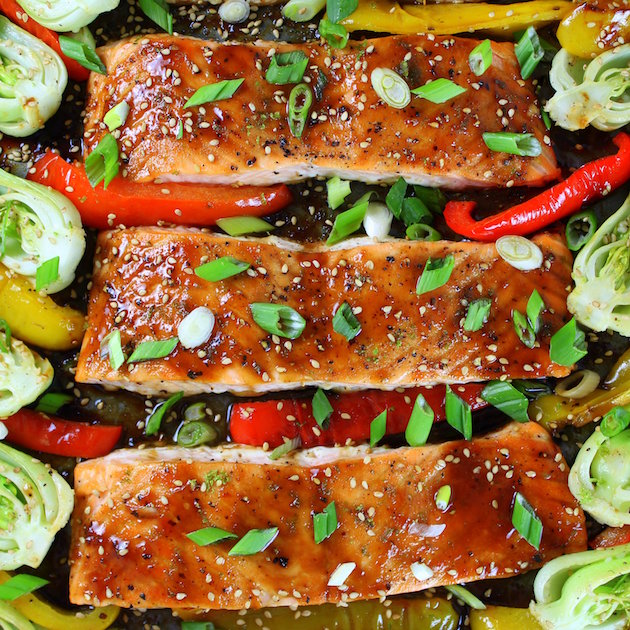 Honey-Lime Roasted Sheet Pan Salmon and Vegetables. Add this one to your list of delicious and easy weeknight dinners! This quick and simple meal has tons of flavor and healthy ingredients like red and yellow bell peppers, bok choy, fresh lime juice, garlic and salmon.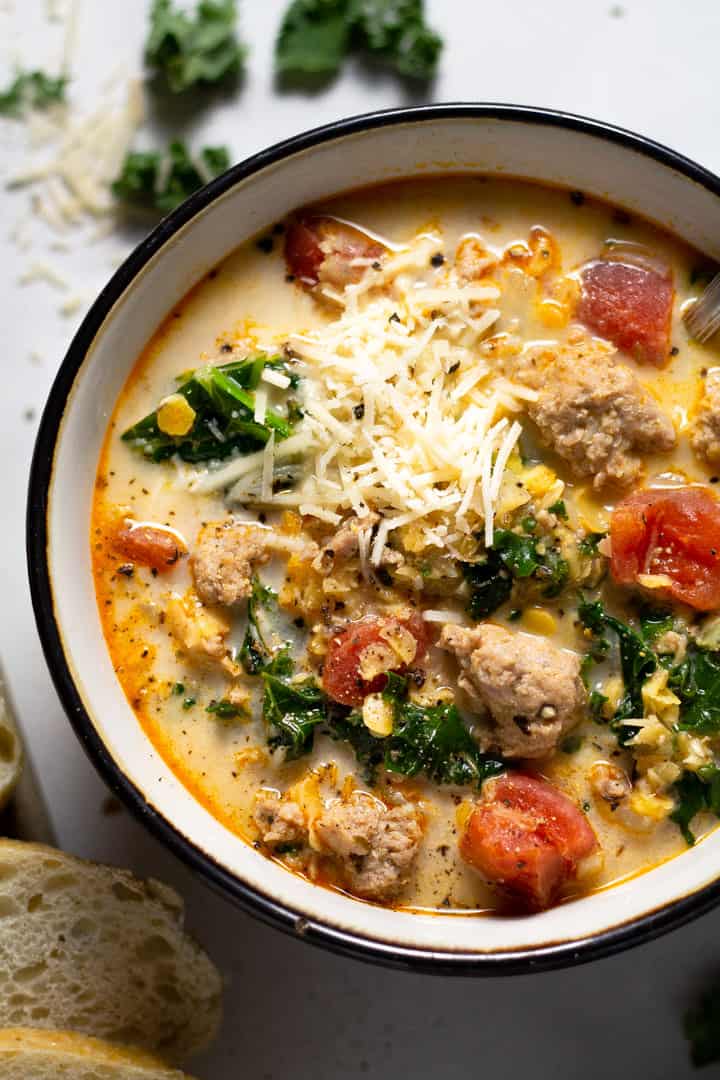 30 minutes and 11 simple ingredients is all it takes to get this sausage lentil soup on the dinner table at the end of a long day. Loaded with hearty, healthy, turkey sausage, lentils AND kale – this lentil soup tastes indulgent but will fuel you through til bedtime!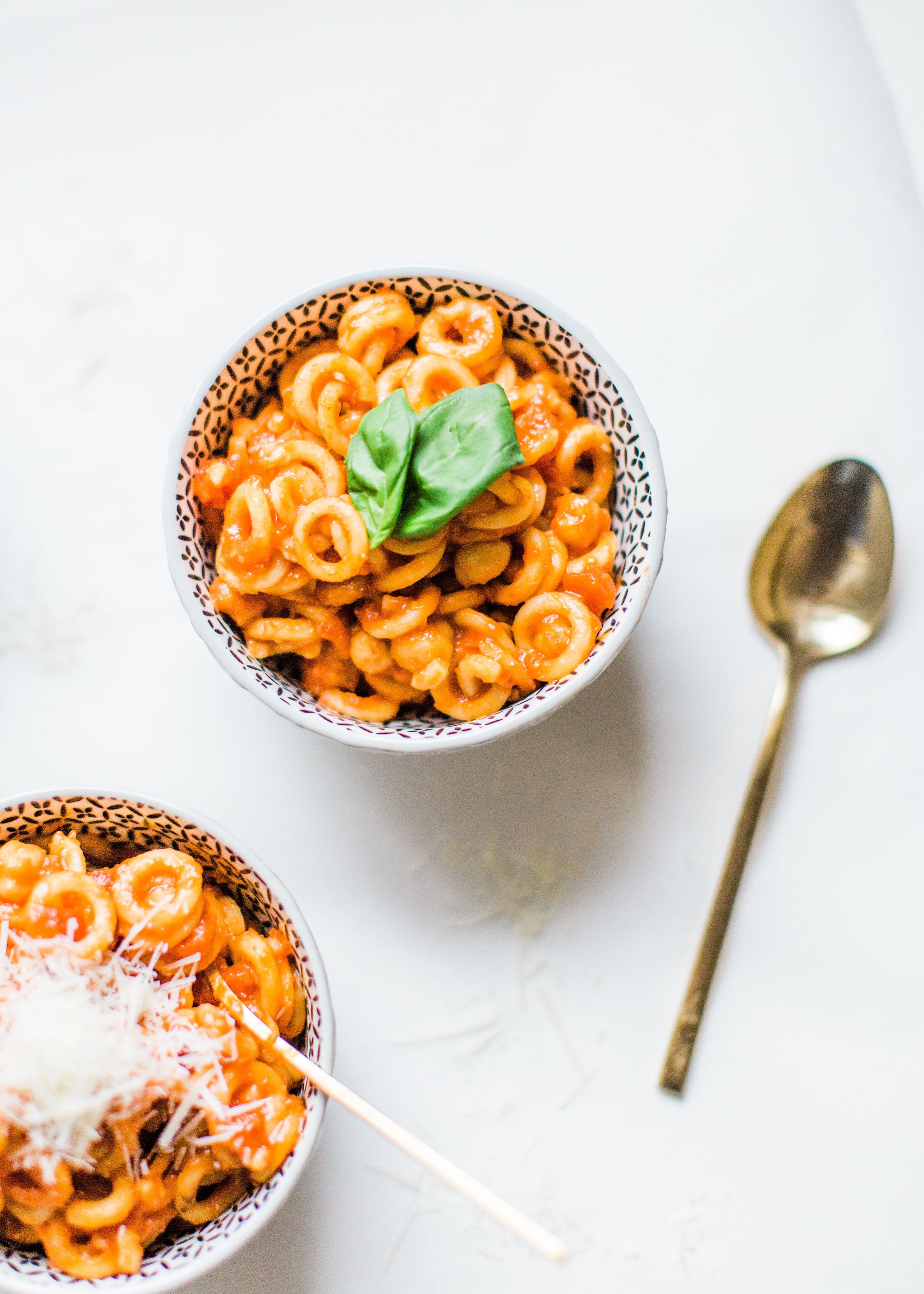 Looking for a delicious one-pot 30-minute vegetarian dinner your whole family will love? Pasta e Ceci; a.k.a., the classic Roman recipe for hearty pasta and chickpeas are the modern-day healthy Spaghettios. And OH MY GOSH, they are good!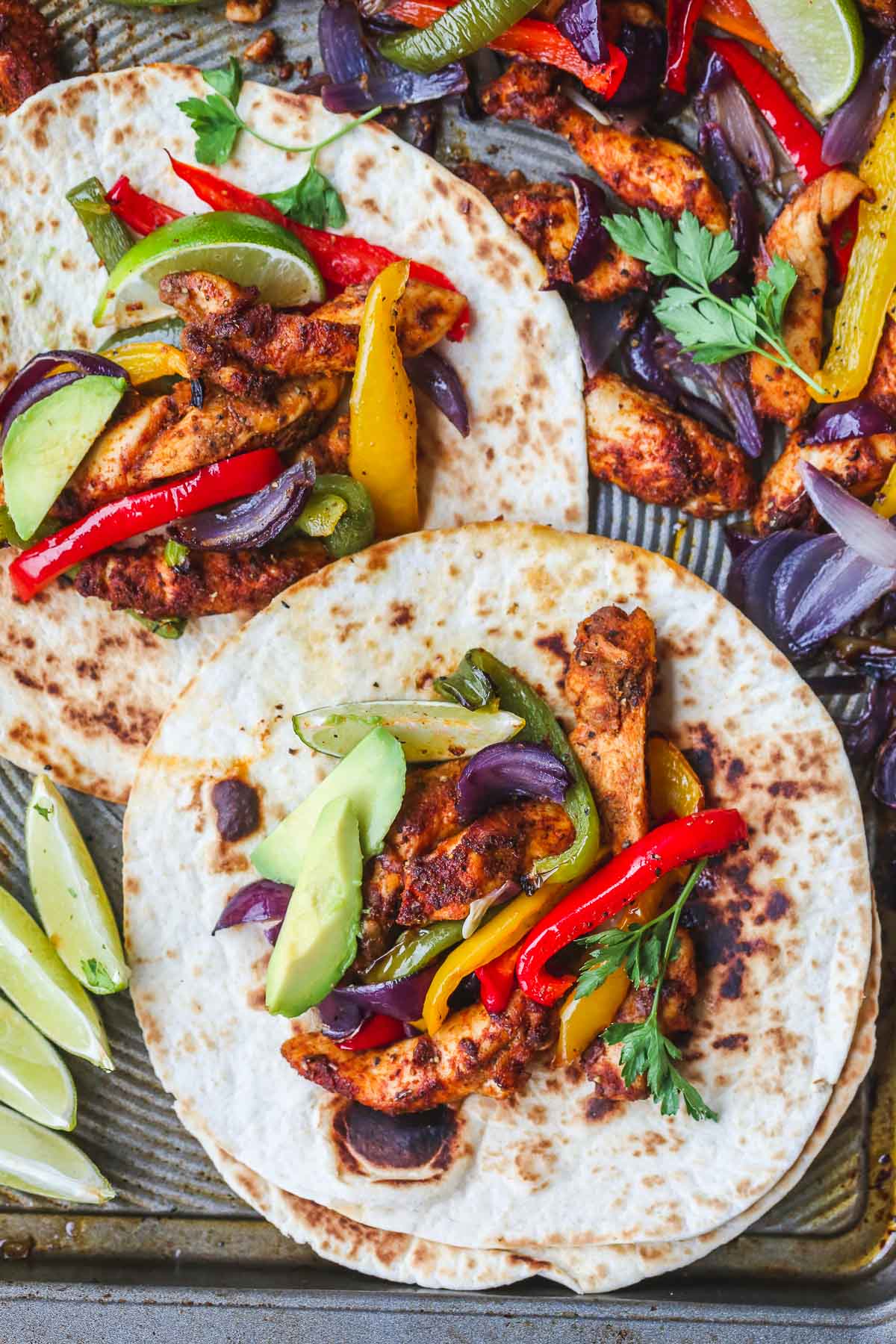 These baked chicken fajitas are so easy and quick to throw together, that they'll quickly become on your regular dinner rotation. In addition, they're healthy, full of flavor, low carb, paleo, low fat and whole30 compliant.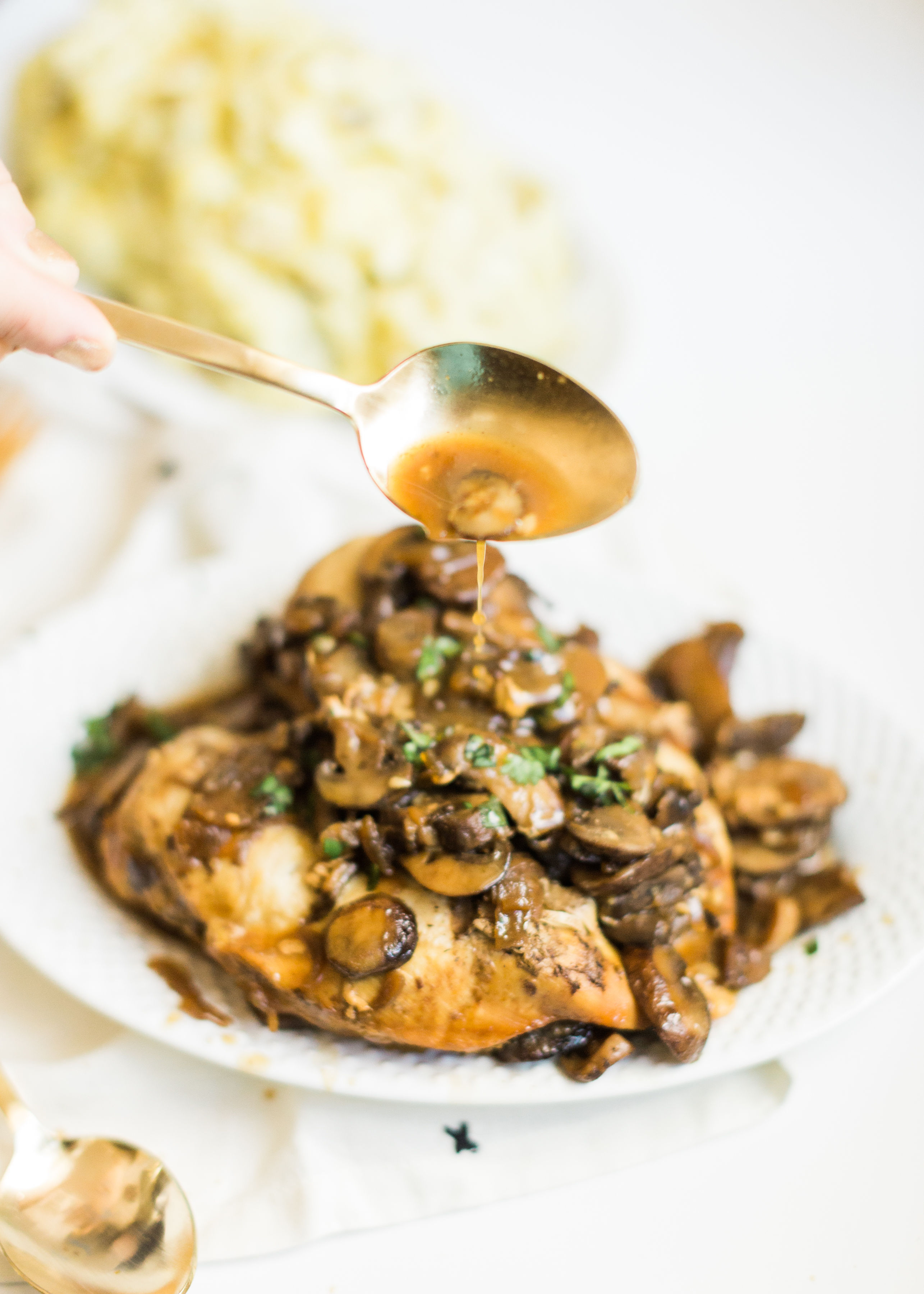 This easy and tender Instant Pot chicken marsala is an explosion of flavor. Seared chicken breasts in a rich mushroom and onion gravy. All thrown together in minutes in your crockpot or instant pot. So no extra pans required. Serve it with mashed potatoes for a knockout dinner the whole family will love!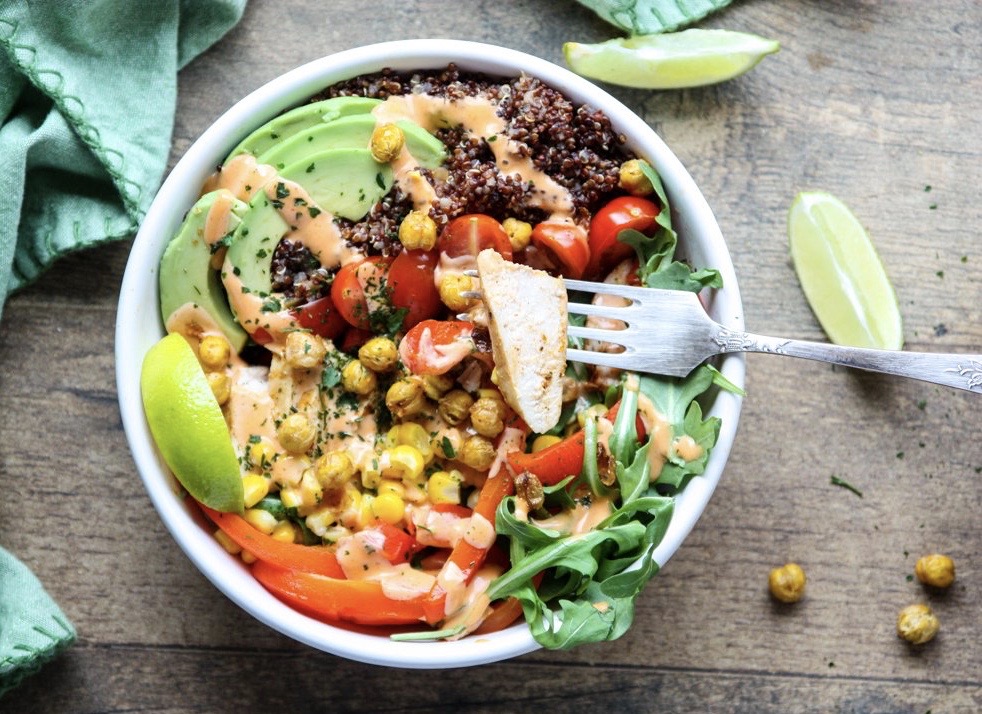 The ingredients for these healthy burrito bowls start out on a sheet pan. Everything gets roasted together, including the crispy chickpeas, before being assembled in bowls.
What about you? What easy dinner recipes does your family love? I'd love to hear what your favorite simple and healthy meals are! I'm always looking for new ideas!
SHOP THE QUICK AND HEALTHY DINNER IDEAS POST | CLICK LEFT & RIGHT ARROWS TO EXPLORE

Love this Quick and Healthy Dinner Recipes Roundup? Head to our recipe page to check out what else we're dreaming up in the kitchen!