This post contains affiliate links, which means that if you click on one of the product links, I'll receive a small commission. Thank you so much for clicking through and helping to support this little blog business of mine! Read more about our site, privacy, and disclosure policies here.
This classic and easy chocolate fudge recipe is made with just 3 ingredients, and whips up in five minutes or less, is perfect to serve at a party or to give as a gift, and has such a delicious, rich chocolate flavor!
I recently re-discovered my love for rich chocolate fudge, and oh my gosh, I can't believe I ever stopped loving the classic dessert. It all started on one of our recent trips; we fell into the most adorable old-timey candy shop/general store, and on a whim, hubby and I split a piece of classic chocolate fudge. It was melt-in-your-mouth good, and the two of us kept saying to one another, "Why do we never eat fudge? It's sooooooo good."
Once home, dreams of the decadent chocolate treat kept replaying in my head, so I took to the internet to figure out just how to replicate that dreamy classic fudge. For my first trial run at home in my own kitchen, I decided to stick with a more classic fudge recipe, using sweetened condensed milk, and funny enough – the recipe required just three simple ingredients.
I whipped up the easy chocolate fudge recipe, not entirely sure what to expect, only to be met with the yummiest end result.
You guys, this chocolate fudge is incredible. It's got the perfect fudgy texture, holds together so well, works really well cold or at room temperature, and tastes heavenly. And honestly, part of the beauty of this classic chocolate fudge recipe is its simplicity.
Not only does 3 ingredient classic chocolate fudge take just a few minutes to make, but this super delicious dessert is totally easy to make, no baking involved.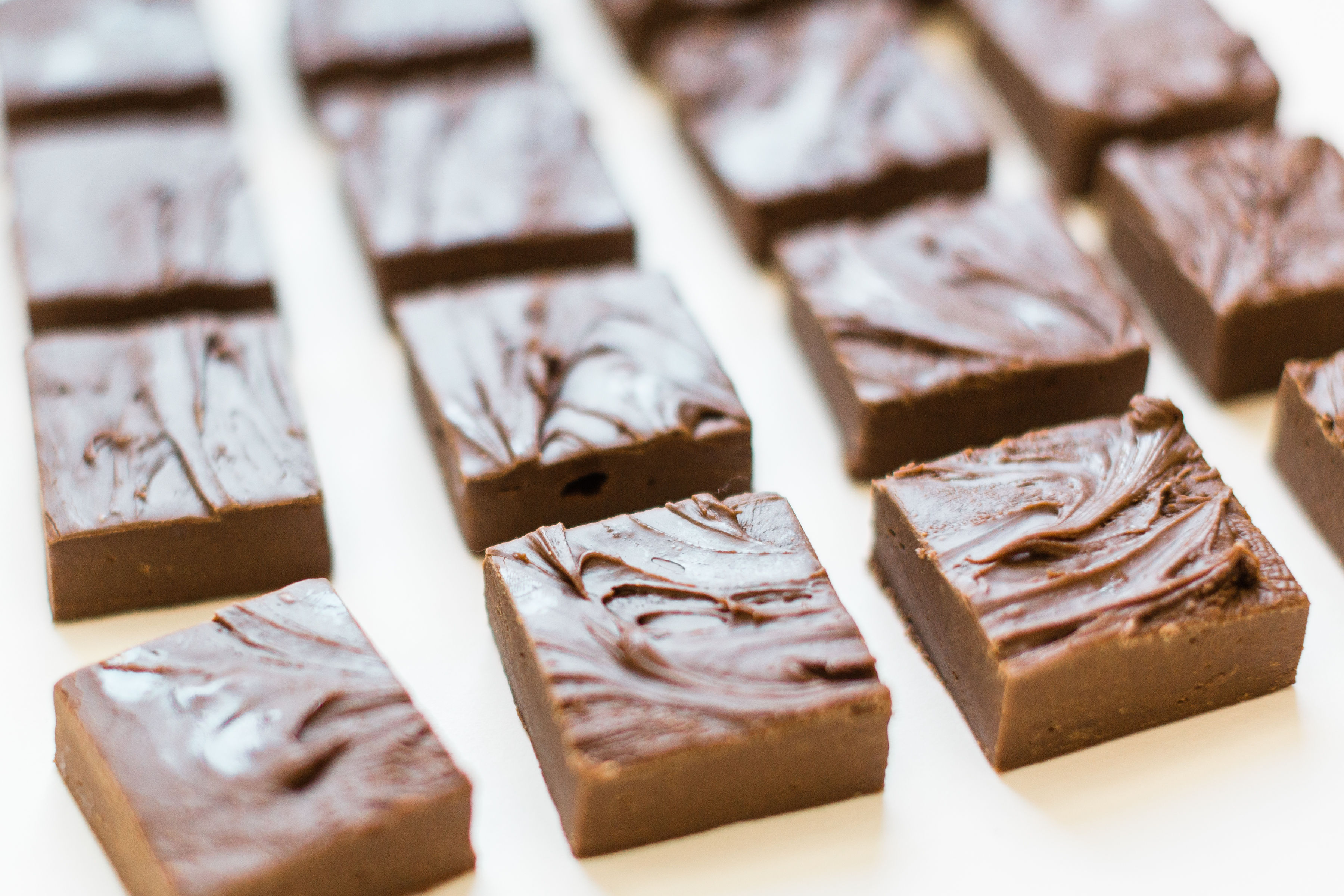 And wouldn't you know it: fudge makes a great homemade gift (perfect for the holidays, teacher gifts, etc.) and to bring to or serve at your next party. It's yummy, portable, and totally nostalgic, and everyone loves a square of classic fudge.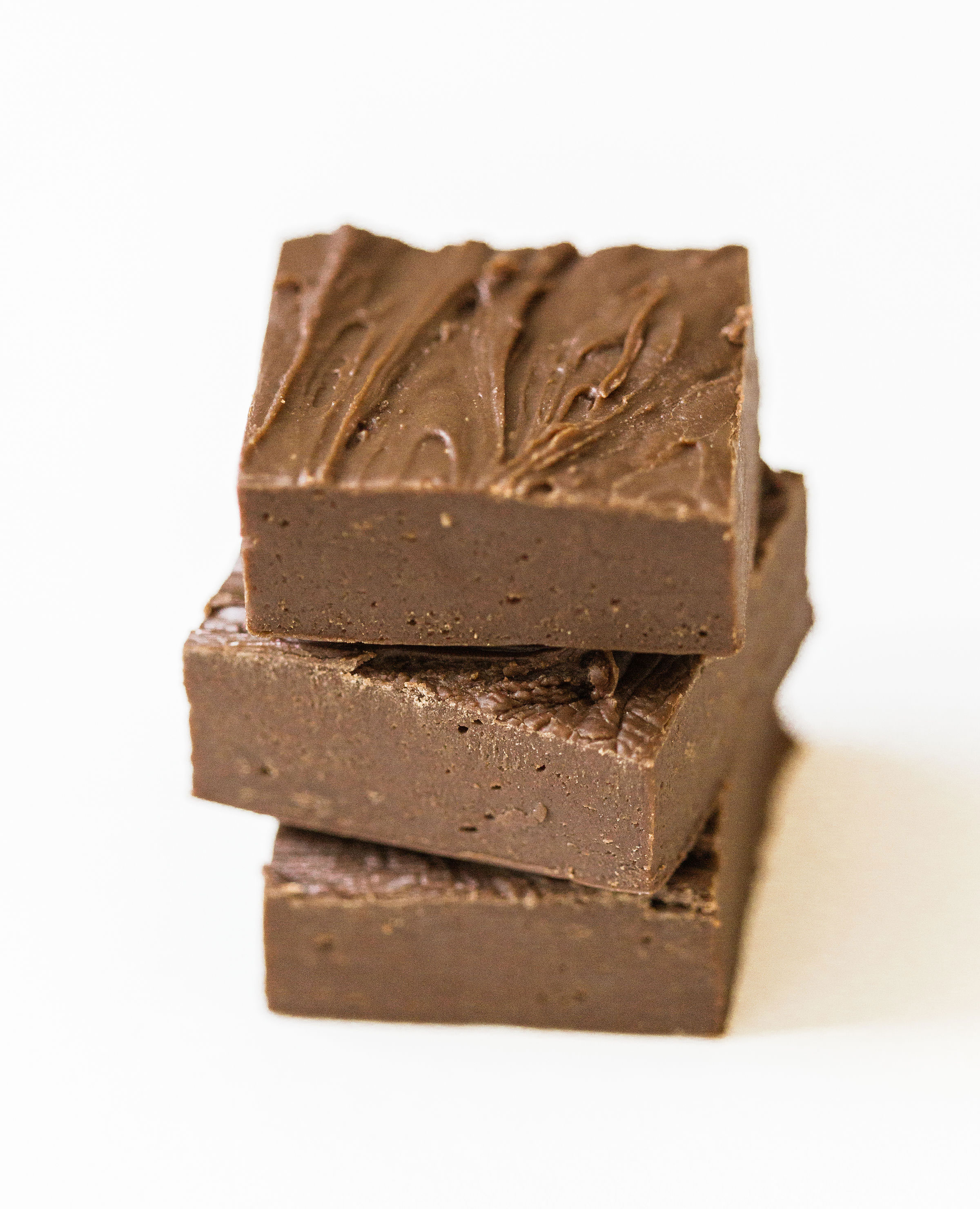 How to Make Easy Classic Chocolate Fudge With Just Three Ingredients
Keep the three simple fudge-making ingredients in your pantry to whip up a batch of delicious classic chocolate fudge for just about any occasion or gift, and pat yourself on the back five minutes later for a spectacularly sweet job well done!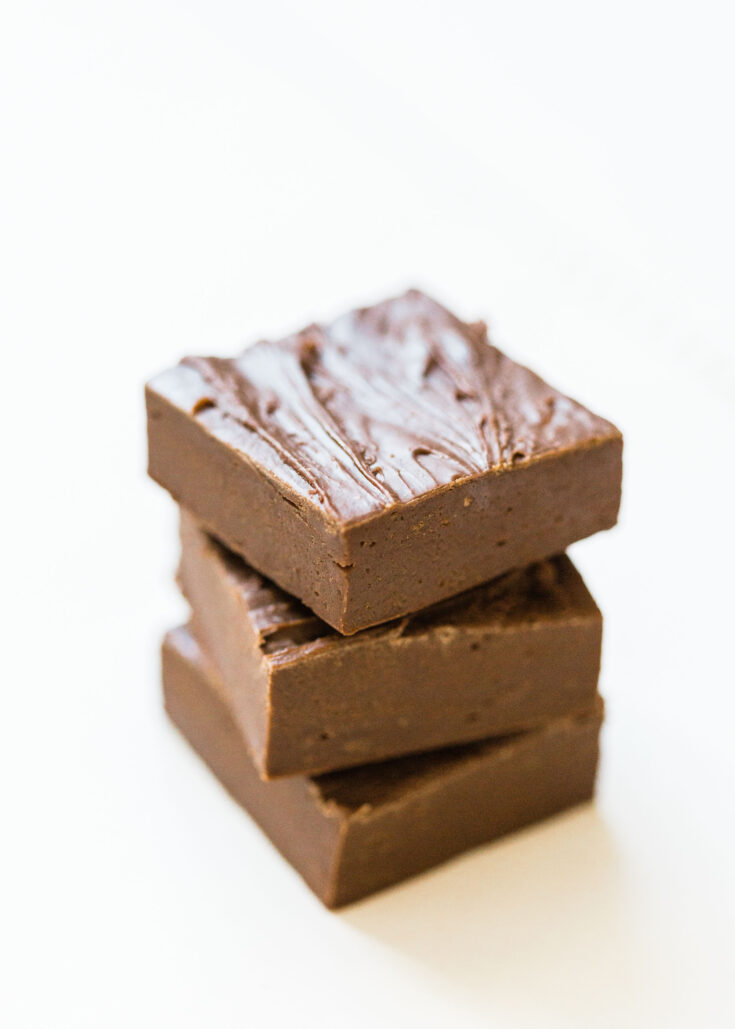 Yield:
3 Ingredient Classic Chocolate Fudge
Ingredients
2 cup Semi-sweet Chocolate Chips
14 oz Condensed Milk
1 tsp Vanilla Extract
Instructions
Line a 9" x 9" pan with foil or parchment paper and spray with baking spray.
In a large microwavable bowl or glass bowl, microwave chocolate chips and condensed milk uncovered on high for 1 minute; stir with a wooden spoon or metal spoon. If the chocolate isn't smooth, microwave for another 30 seconds, and stir again. Repeat as needed, in 30 second intervals, but watch the time; you don't want your chocolate to burn. (Typically it takes a total of 1 minute and 30 seconds for the mixture to be stirred smooth.)
Fold in the vanilla until combined.
Pour smooth chocolate into the pan and refrigerate for at least an hour.
Once the bars are completely solid, remove the entire sheet of foil or parchment paper with the slab of fudge on it and place it on a cutting board or solid surface. Cut into 1" x 1" squares, serve, and enjoy.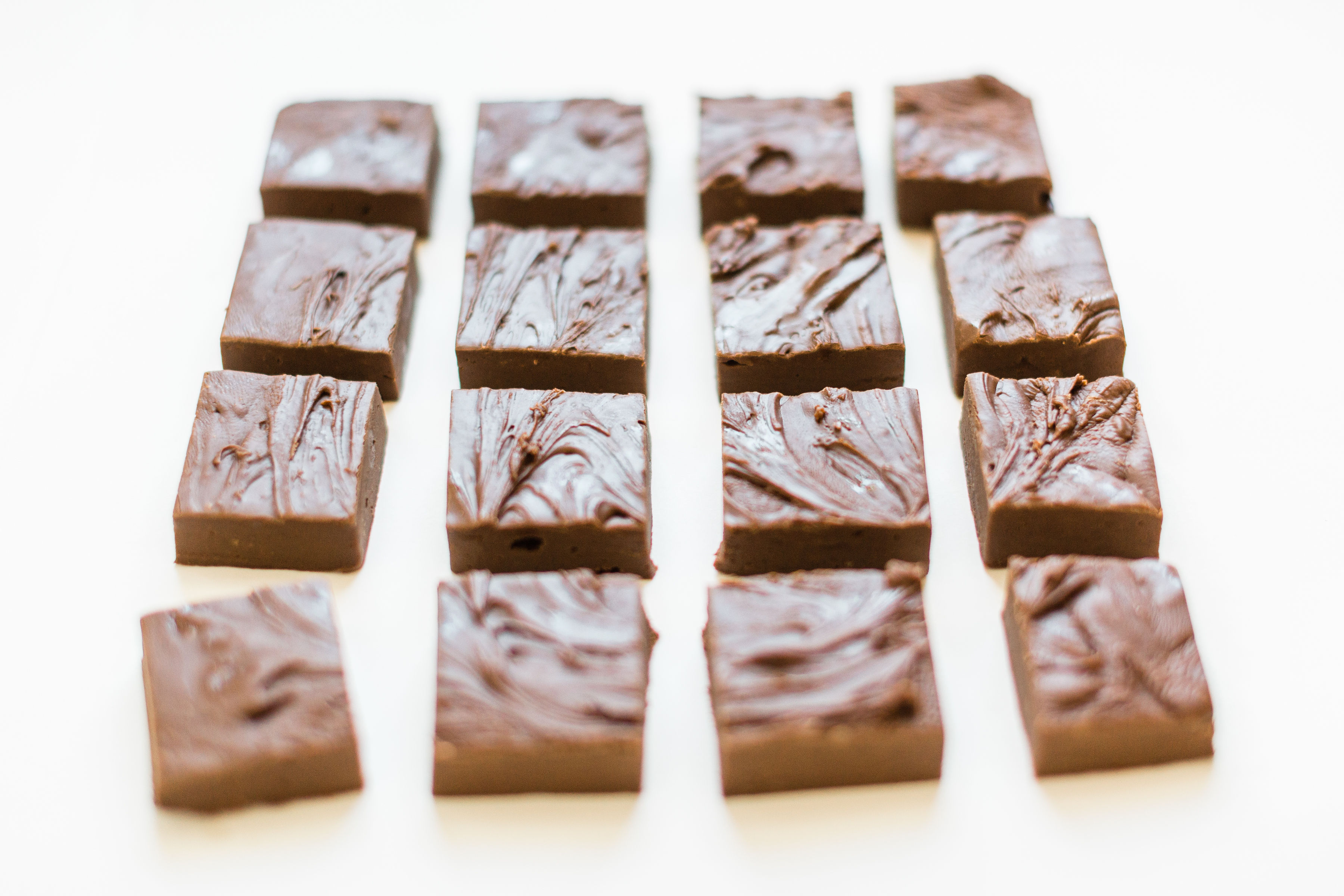 Don't let this recipe's simplicity fool you, this 3 ingredient classic chocolate fudge is incredible, and will totally impress your family and friends.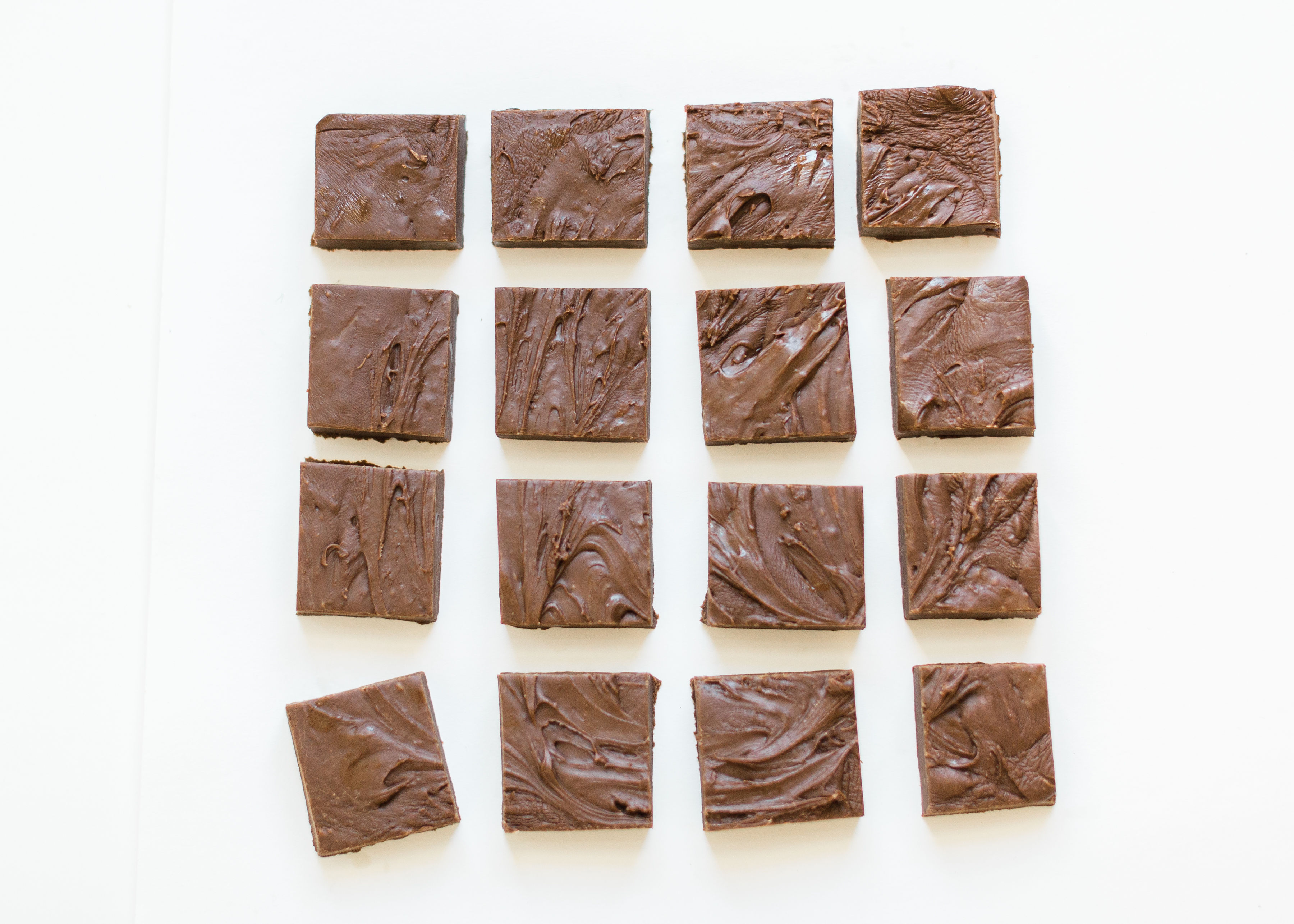 If you make your own 3 ingredient classic chocolate fudge, be sure to tag me on social media (@glitterinclexi) so I can live vicariously through all of your sweet creations!
More Delicious Dessert Recipes from Glitter, Inc.:
our favorite chocolate chip oatmeal cookie bars
quick strawberry fruit bread with strawberry glaze (so good!)
the most incredible s'mores cookie cups
the best sugar cookies for decorating
sheet pan chocolate peanut butter oatmeal cookie bars
copycat Levain Bakery chocolate chip cookies
positively addictive classic puppy chow
SHOP THE POST | CLICK LEFT & RIGHT ARROWS TO EXPLORE
Love this yummy 3-ingredient classic chocolate fudge? Head to our recipe page to check out what else we're baking up in the kitchen! 
Photos by Annie Timmons Photography for Glitter, Inc.