This post contains affiliate links, which means that if you click on one of the product links, I'll receive a small commission. Thank you so much for clicking through and helping to support this little blog business of mine! Read more about our site, privacy, and disclosure policies here.
Classic (and delicious) "Puppy Chow" Muddy Buddies are the sweet and salty snack you never knew you needed in your life! The positively addictive dessert comes together in minutes, is totally no-bake, and can be made up in big batches – perfect for gifting!
Nothing beats a classic. Especially when it's drowned in peanut butter, chocolate, and a whole lot of powdered sugar. I wasn't actually introduced to Chex muddy buddies; a.k.a., puppy chow, until I moved to the South. Our very first babysitter here in North Carolina taught me all about the magic behind this dessert "crack."
And I realized the other day, while searching for the perfect, simple recipe to make up in big batches for my oldest daughter's teachers to say "thank you" before winter break (along with a Target gift card for each of her teachers, because WHO doesn't love Target??), that the ideal recipe was right under my nose: classic "puppy chow" muddy buddies. This addictive snack is sweet and salty, incredibly easy to make in huge batches, travels and boxes up well, and I've yet to meet someone who can resist. Plus, it's all decked out in powdered sugar, and you can easily toss in holiday M&M's or sprinkles to make your muddy buddies even more festive! (Psst … check out how I dressed up our Halloween muddy buddies right here.)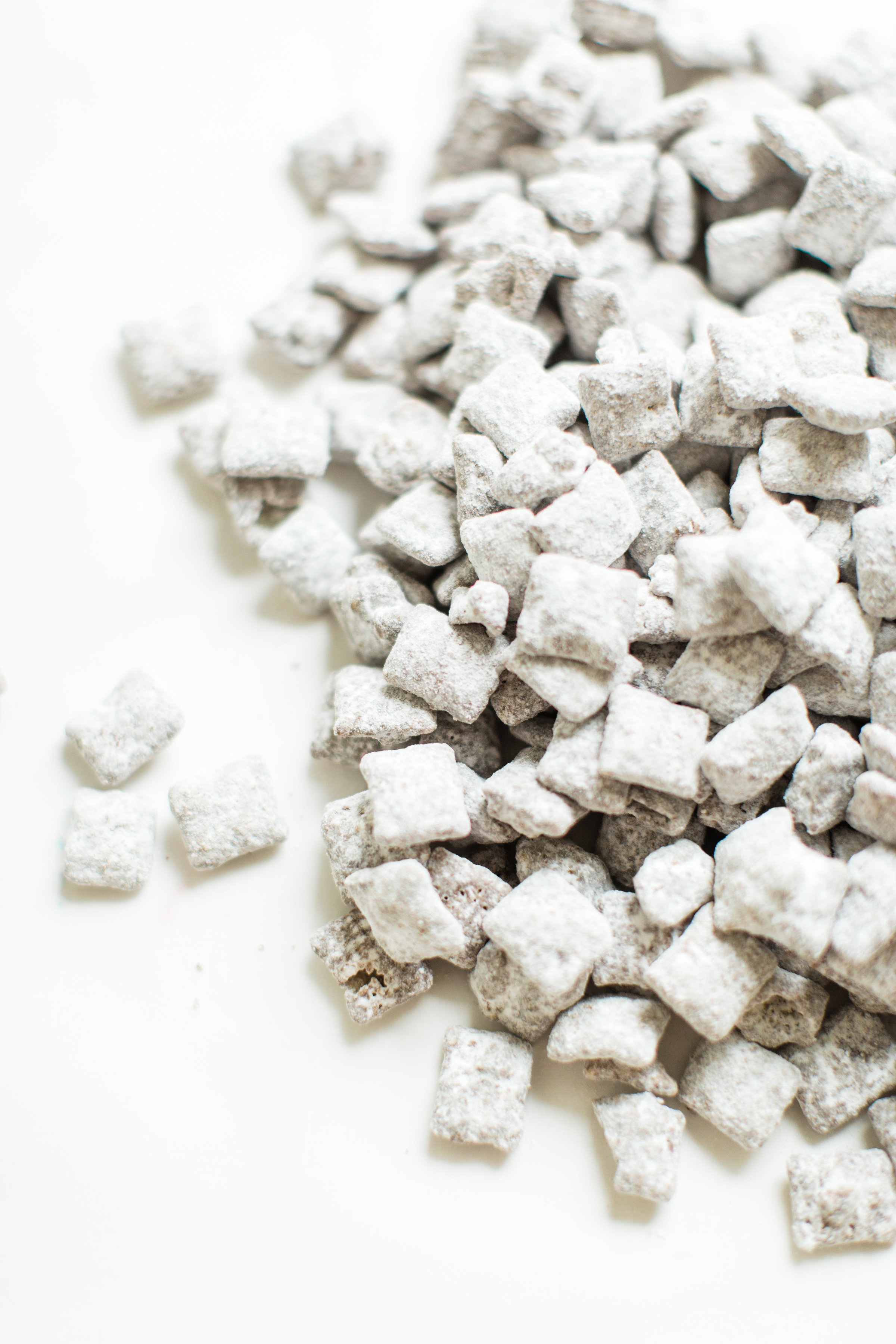 By the way, one of my favorite things about muddy buddies is that they can easily be made dairy-free and vegan, which is huge for us since Scarlett has MPIES (milk-protein induced enterocolitis syndrome.) Just swap out regular butter for dairy-free or vegan butter – we love Earth Balance sticks – and use dairy-free chocolate chips, like Enjoy Life semi-sweet chocolate chips, and no one will ever be the wiser. Seriously, you cannot tell the difference.
Scarlett can't have any milk protein, so we're always experimenting with vegan and dairy-free recipes, in case you want to check them out!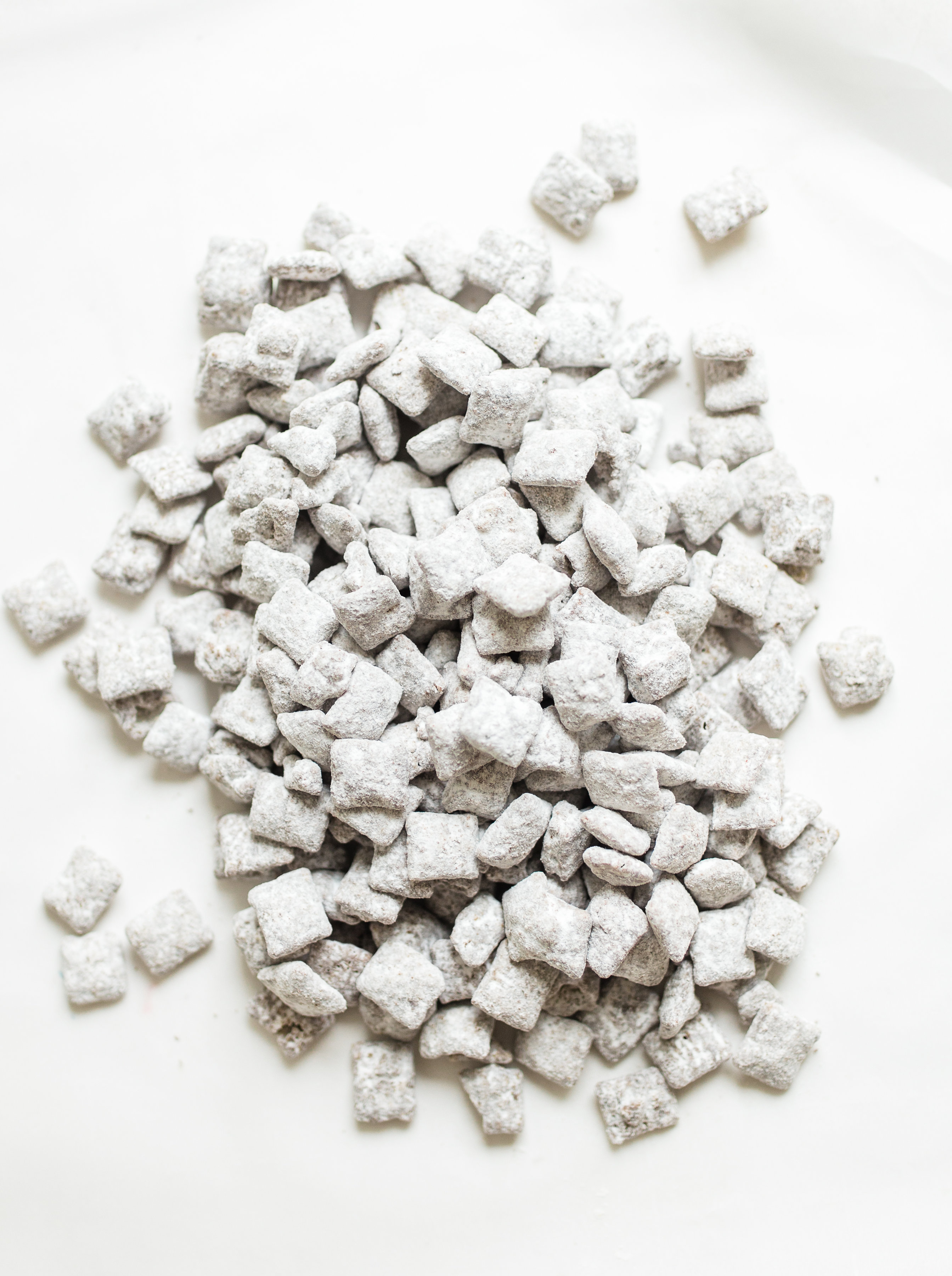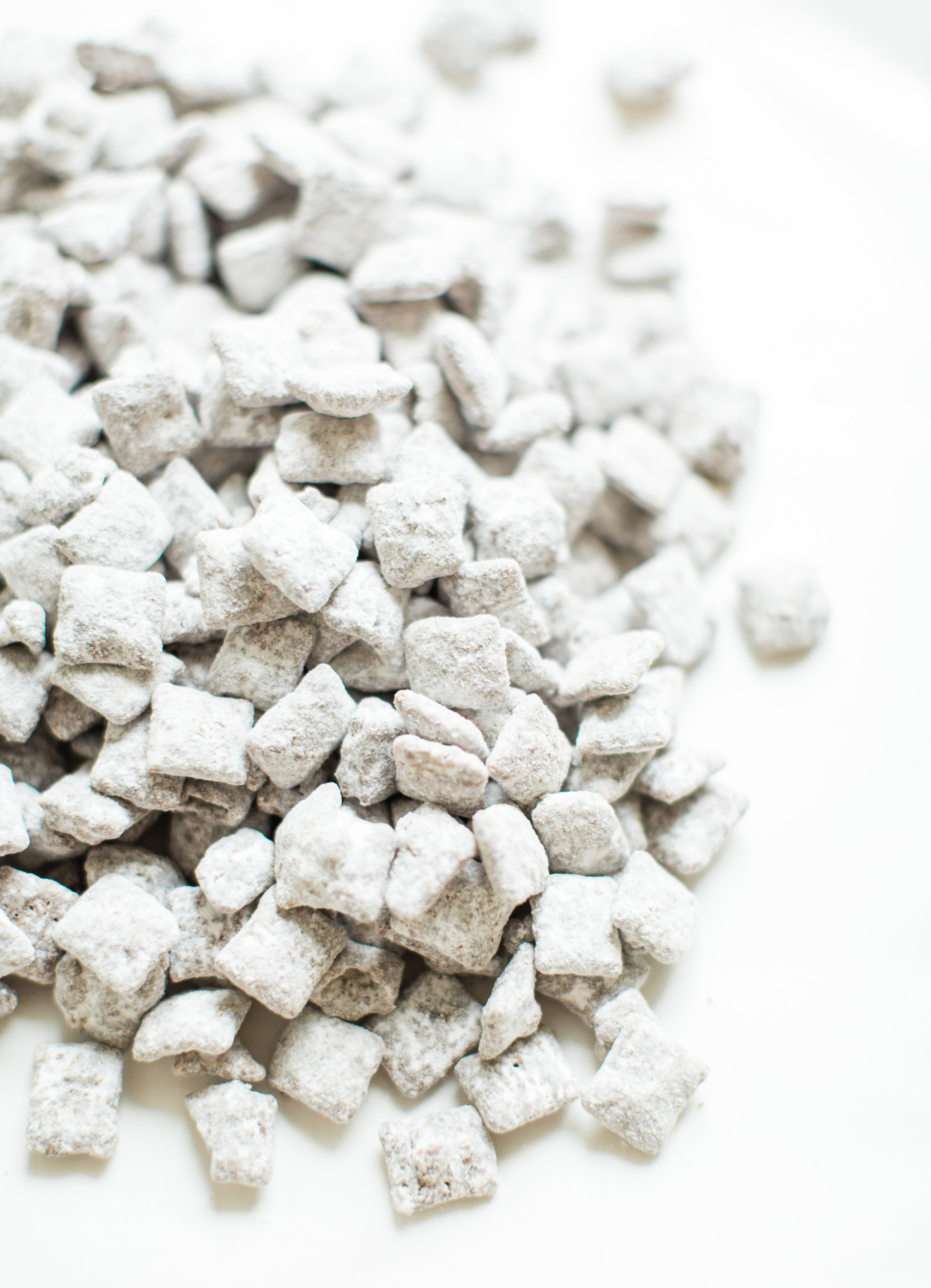 How to Make Classic "Puppy Chow" Muddy Buddies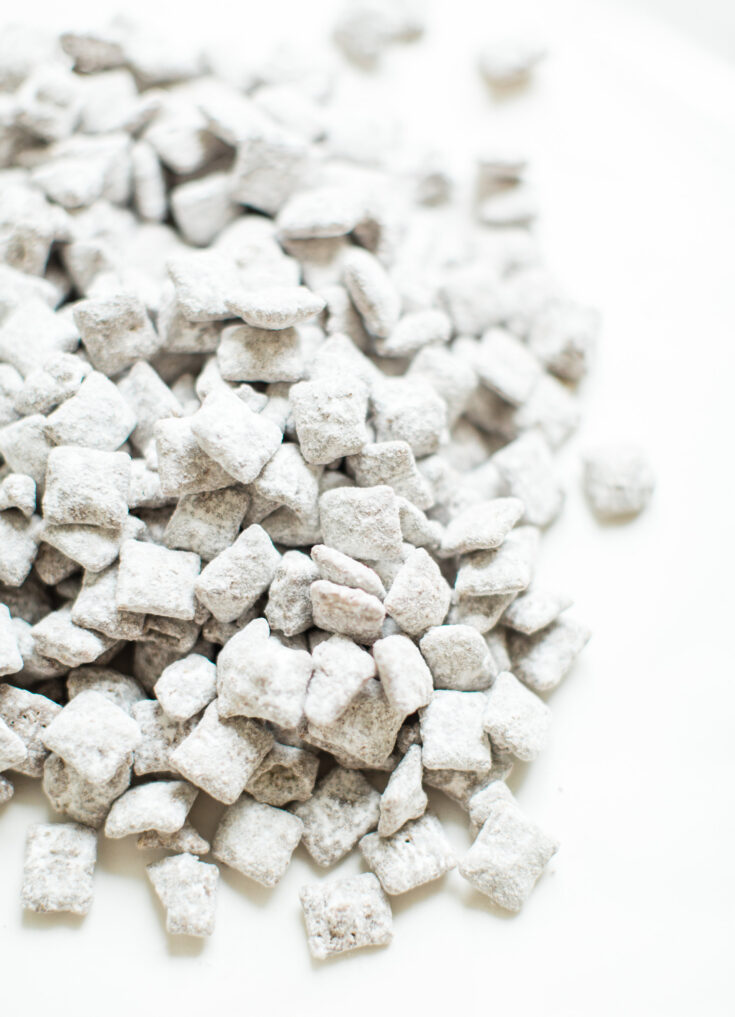 Yield:
Classic "Puppy Chow" Muddy Buddies
Ingredients
9 cups Rice Chex or Corn Chex cereal 
1 cup semi-sweet chocolate chips or Enjoy Life semi-sweet chocolate chips (to make these dairy-free)
1/2 cup peanut butter
1/4 cup butter or margarine or Earth Balance Butter (to make these dairy-free)
1 1/2 cups powdered sugar
Instructions
In a large bowl, measure cereal; set aside.
In a large microwavable bowl, microwave chocolate chips, peanut butter and butter uncovered on High 1 minute; stir. After that, microwave for about 30 second intervals, stirring the mixture between each, until the mixture can be stirred smooth. Pour mixture over cereal, stirring until evenly coated. Pour your chocolate-peanut-butter coated cereal into a 2-gallon resealable food-storage plastic bag. (We often divide it into two ziploc bags to give the mix plenty of room to shake up and get coated in powdered sugar; next step.)
Add powdered sugar. Seal bag; shake until well coated. Pour your mix into whatever bowl you plan to serve it in.
You can store your muddy buddies in a ziploc bag or an airtight container in the refrigerator. Wrap up servings in cellophane, in tins, or cute airtight containers to give as gifts!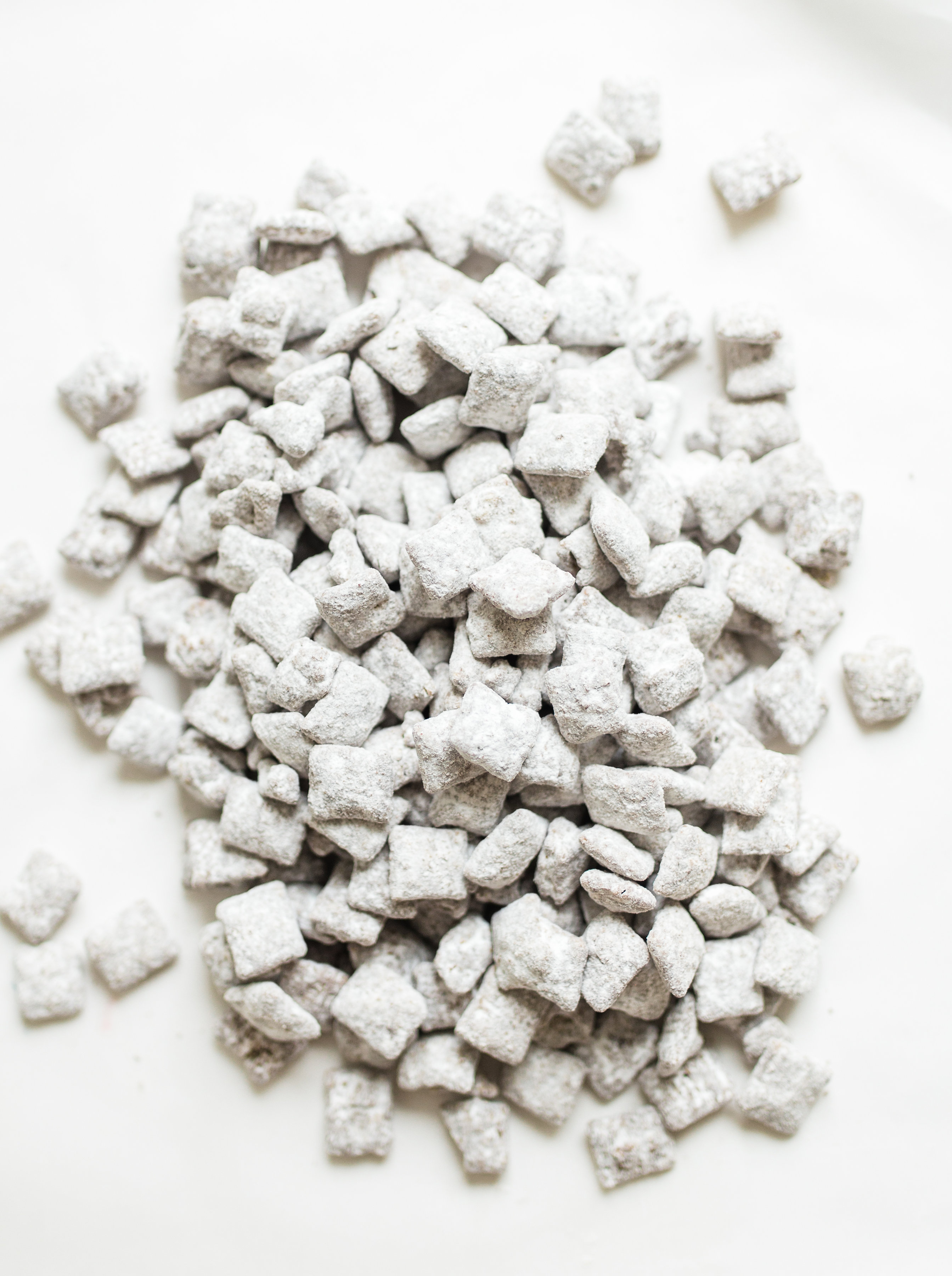 NOTE:
If you plan to add sprinkles, etc., remember, the candy and sprinkles are gently tossed in AFTER you've coated your Chex mix "puppy chow" in the powdered sugar. If you try to mix/shake everything at once, your candy will get coated in the powdered sugar as well. And it will be hard to see.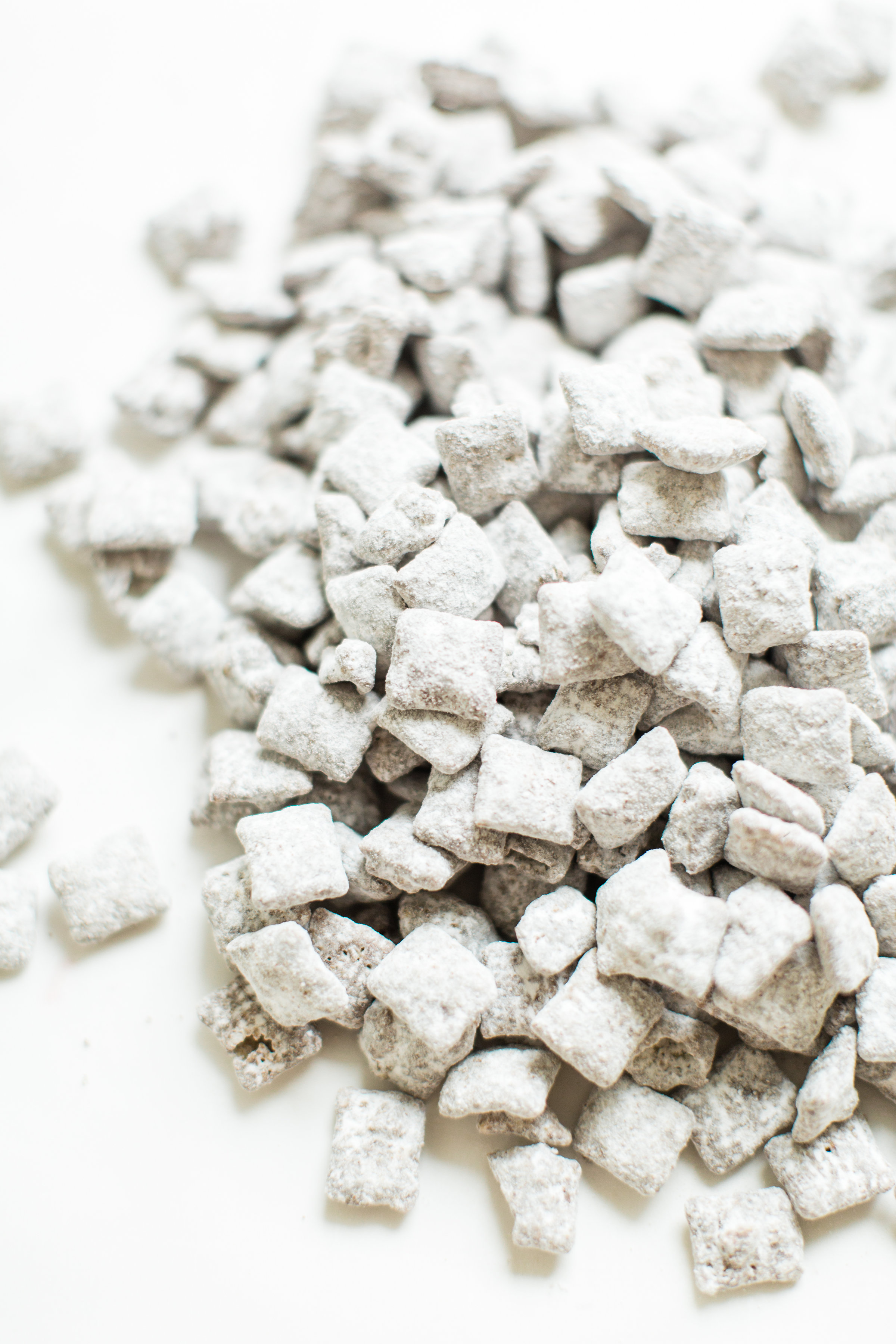 You can easily wrap up heaping servings in cellophane, in tins, or cute airtight containers to give as gifts!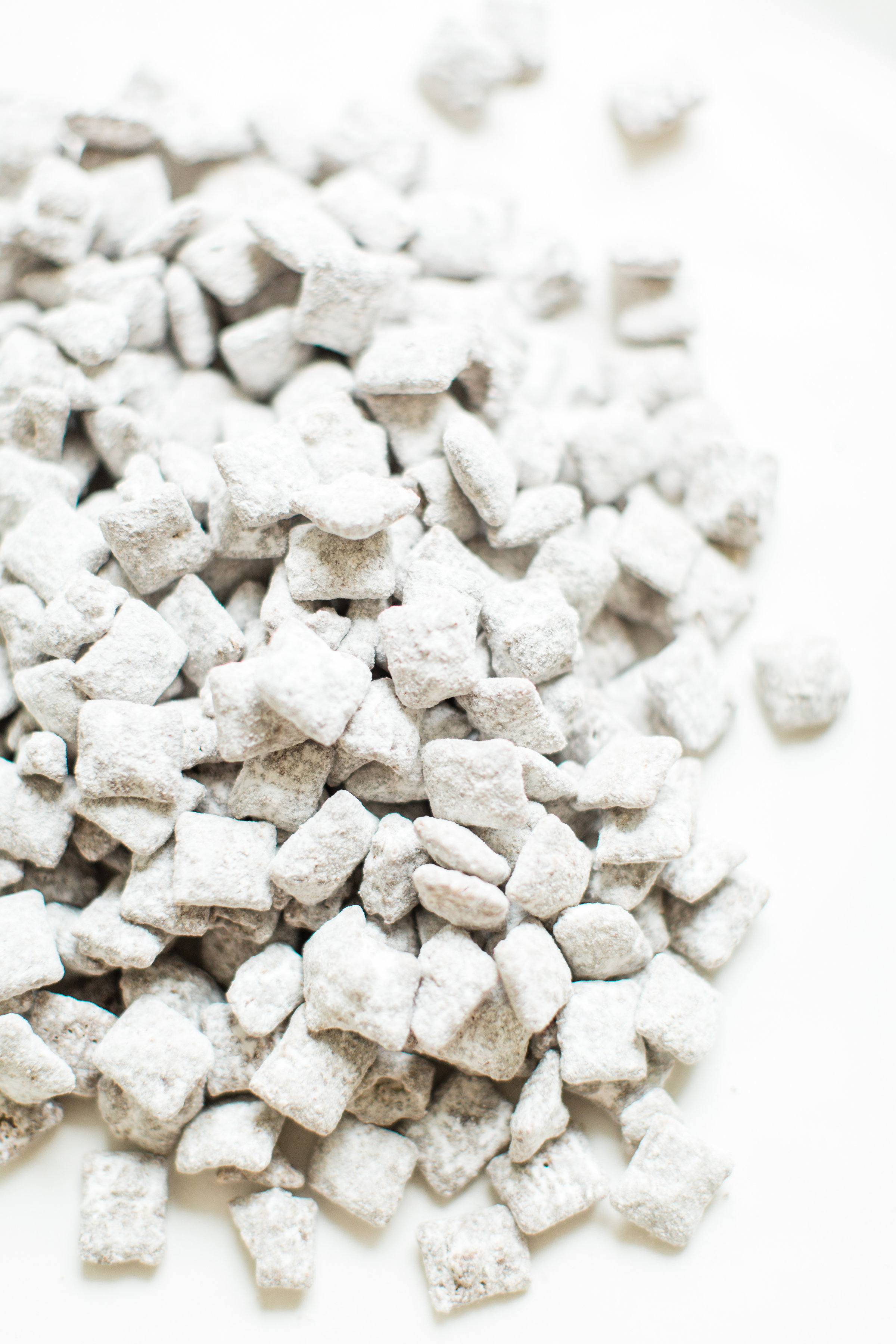 Just looking at these pictures makes me want to ship up a batch. Soooooo goood.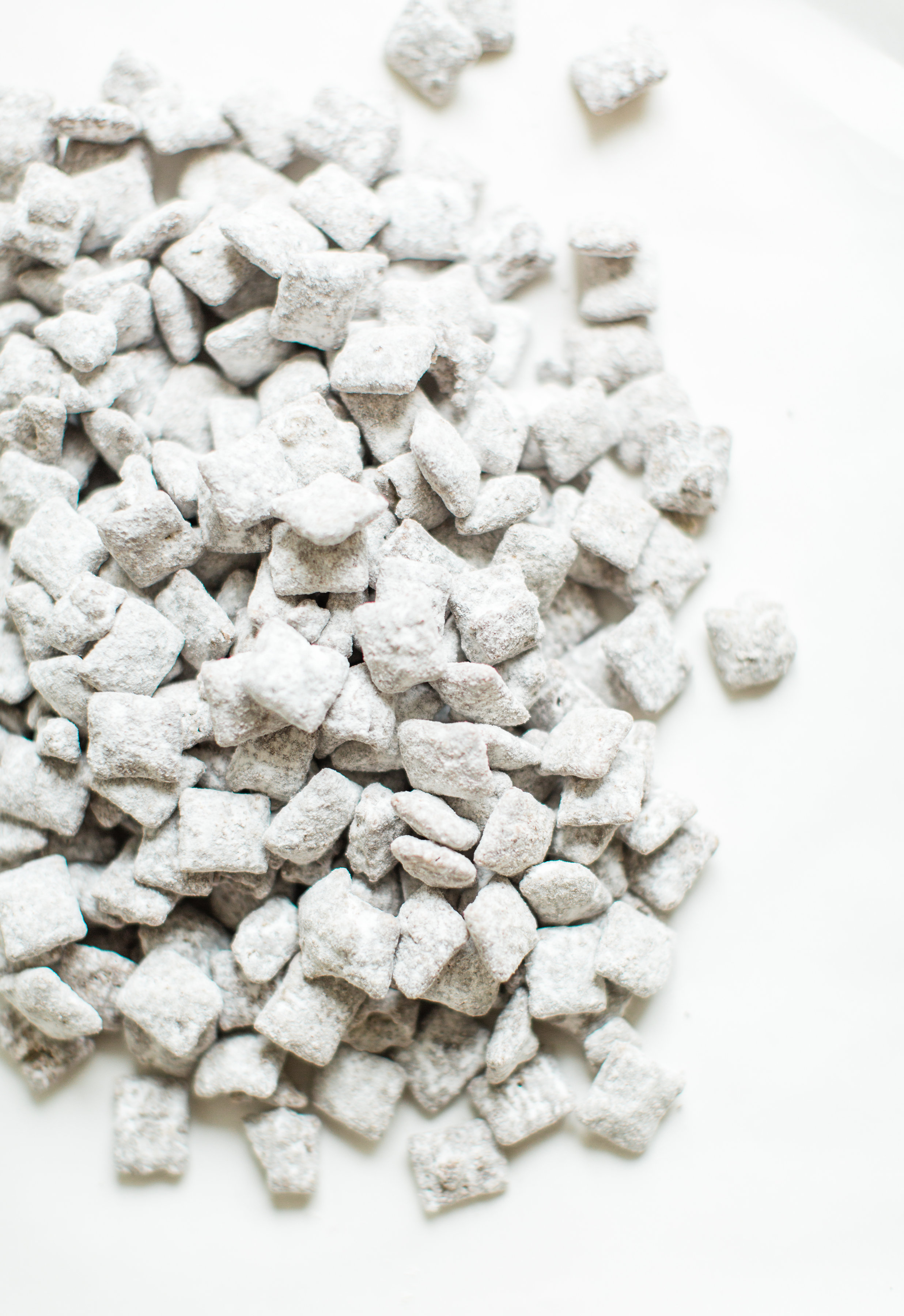 Have you ever made classic puppy chow, a.k.a., muddy buddies? Are you a fan of the crispy sweet combination?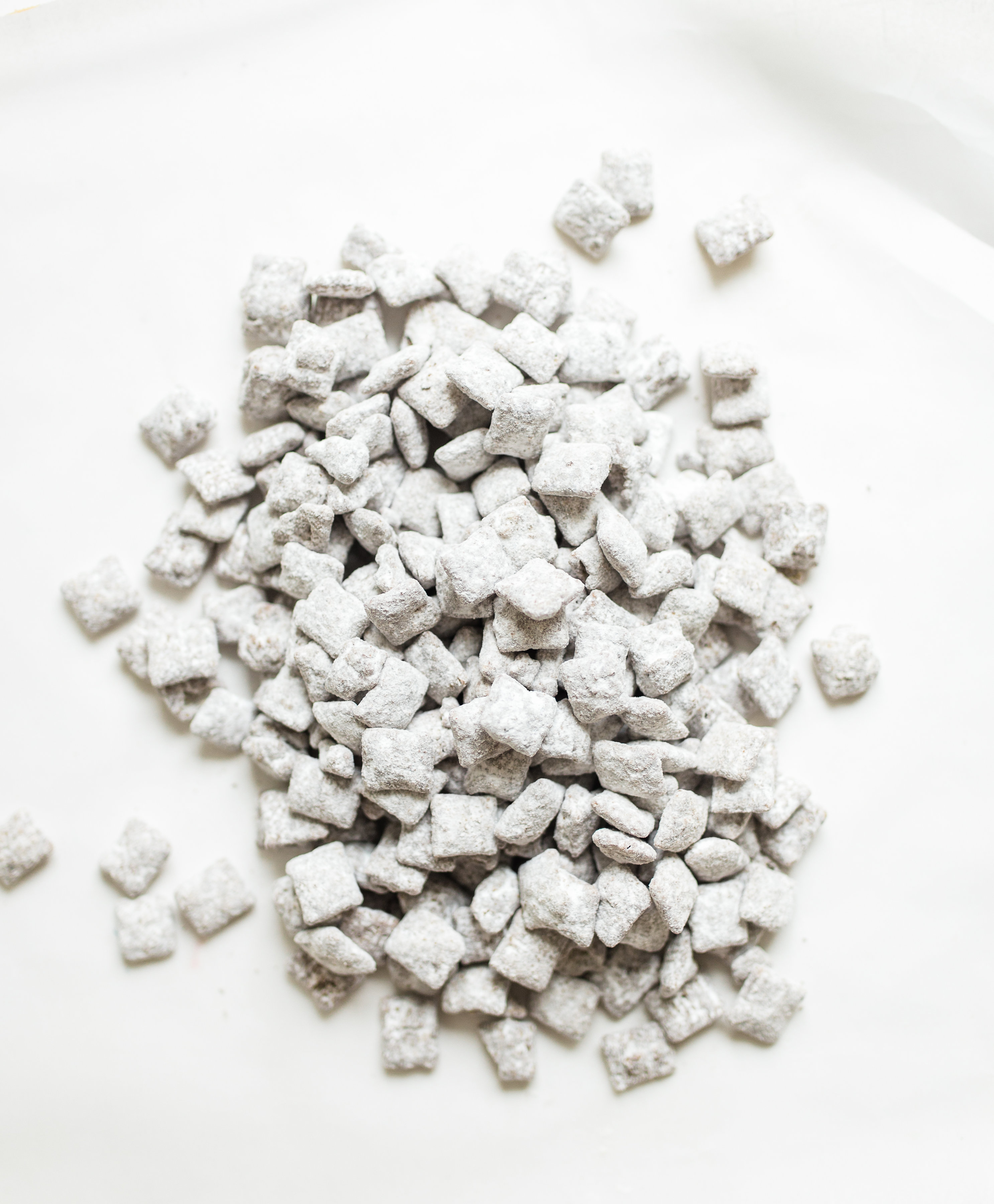 Love this recipe for positively addictive "puppy chow" muddy buddies? Head to our recipe page to check out what else we're dreaming up in the kitchen!
SHOP THE "PUPPY CHOW" MUDDY BUDDIES RECIPE POST | CLICK LEFT & RIGHT ARROWS TO EXPLORE
Photos by Annie Timmons Photography for Glitter, Inc.