This post is done in collaboration with Biltmore. Biltmore sponsored our weekend stay. This post may contains affiliate links, which means that if you click on one of the product links, I'll receive a small commission. Thank you so much for clicking through and helping to support this little blog business of mine! Read more about our site, privacy, and disclosure policies here.
Planning a family trip to Biltmore in Asheville, North Carolina? We're sharing all about our long weekend vacation at Biltmore, and how to have the best time ever with your kids.
Yay! I am so excited to share our humongous recap of our long weekend vacation at Biltmore in Asheville! If you have plans to visit, you do not want to miss this super helpful guide to vacationing at Biltmore with kids.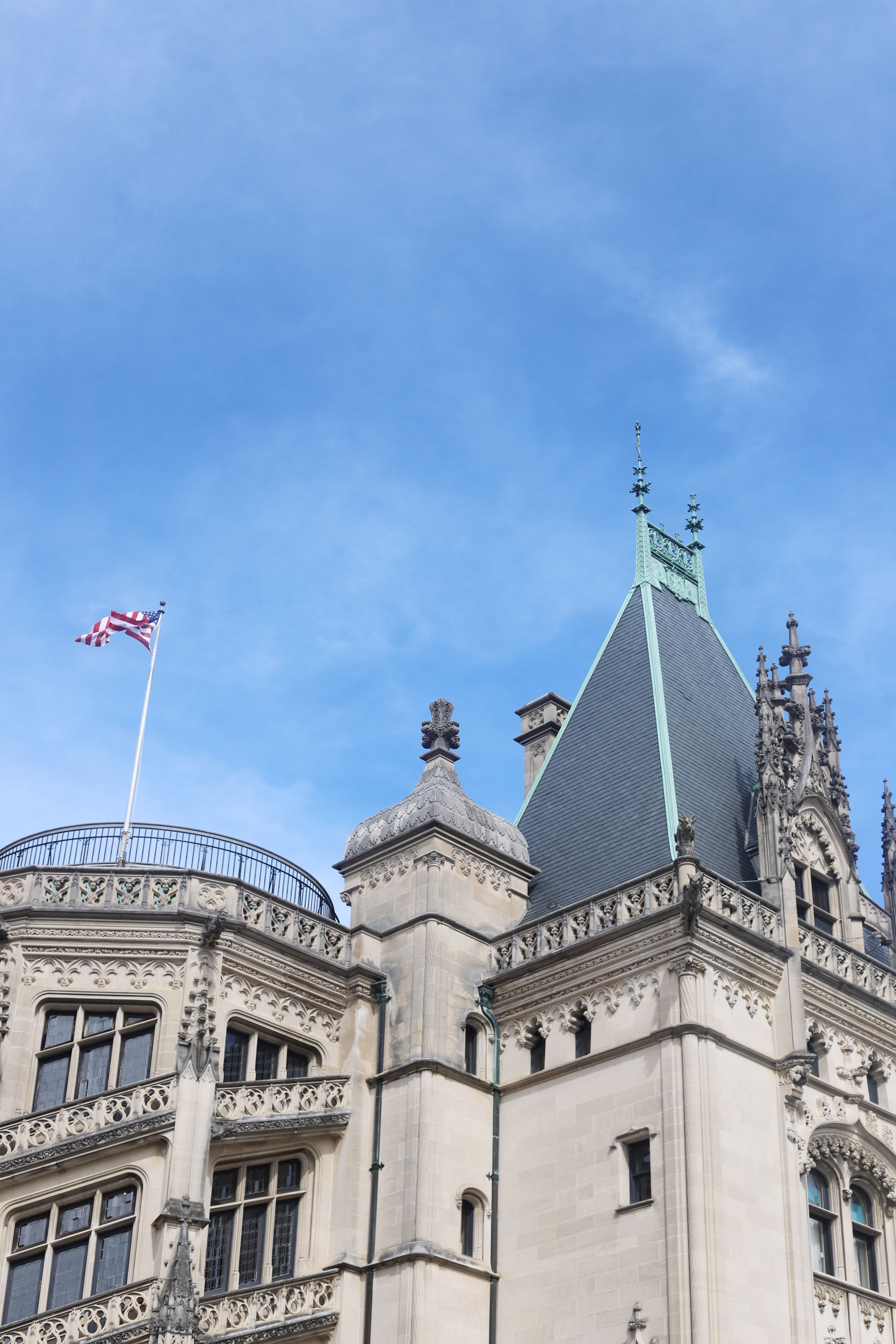 Vacationing at Biltmore in Asheville!
We stayed at The Inn on Biltmore Estate, which served as our home base. The Inn is located on a hilltop above Antler Hill Village, located a few miles from Biltmore House.
The beauty of Biltmore is that no matter which property you stay on, complimentary guest shuttles run throughout the day and stop at the estate's major areas, including The Winery, Cedric's Circle in Antler Hill Village, Village Hotel on Biltmore Estate, The Carriage & Trail Ride Barn, A Gardener's Shop for Garden and Conservatory visits, and of course, Biltmore House. The shuttle also goes to and from downtown Asheville, which is kind of awesome, since parking in downtown Asheville can sometimes be pretty tricky.
I was amazed at how such an upscale resort was SO incredibly accommodating of and wholly perfect for kids.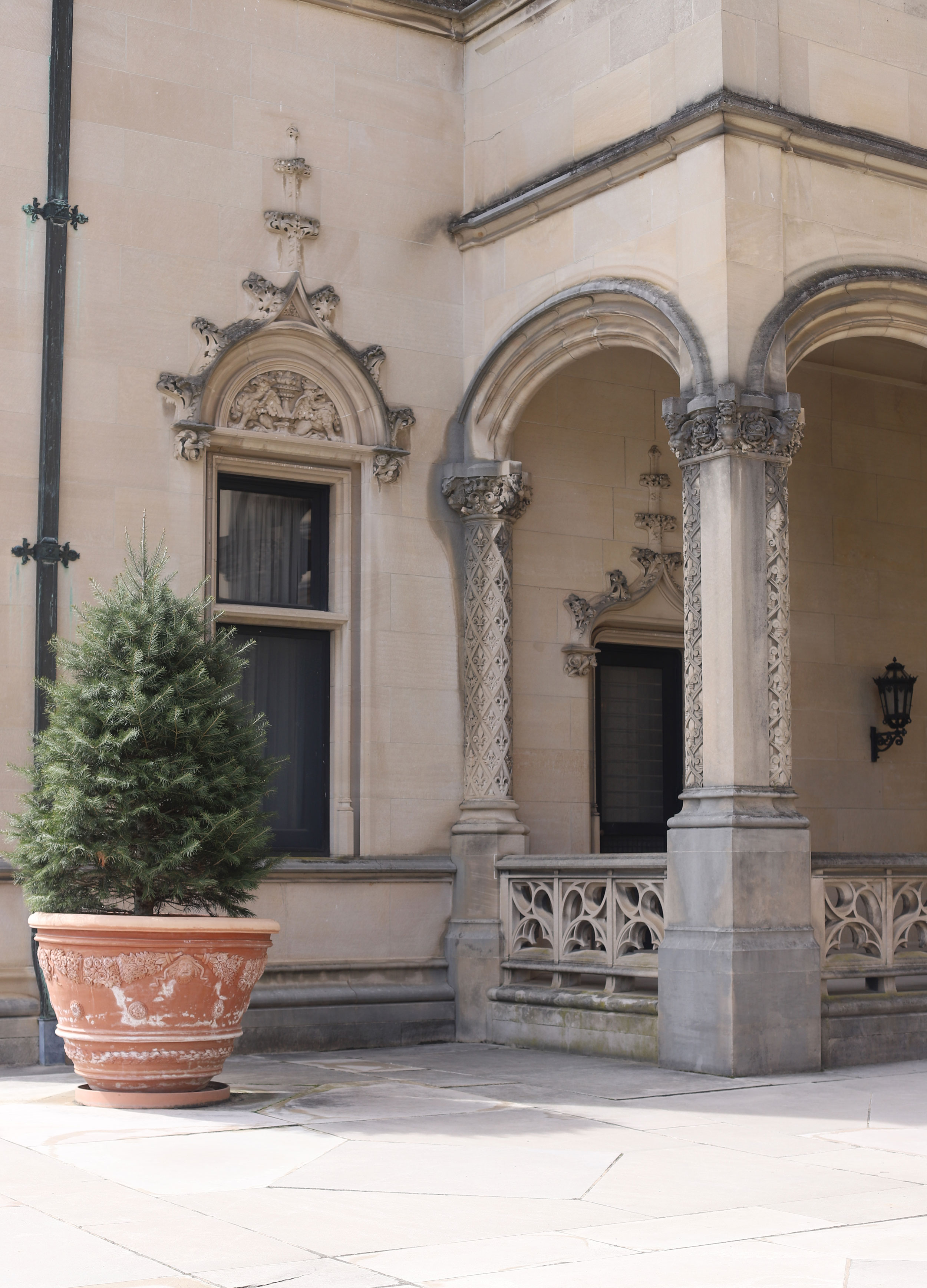 Vacationing at Biltmore in Asheville with Kids
So without further ado, I'm breaking down our long weekend itinerary and hitting the highlights of vacationing at Biltmore in Asheville with kids, visiting Biltmore House, a peek at their newest exhibition, A Vanderbilt House Party – The Gilded Age, what we loved, where we ate, and our favorite activities and exhibits.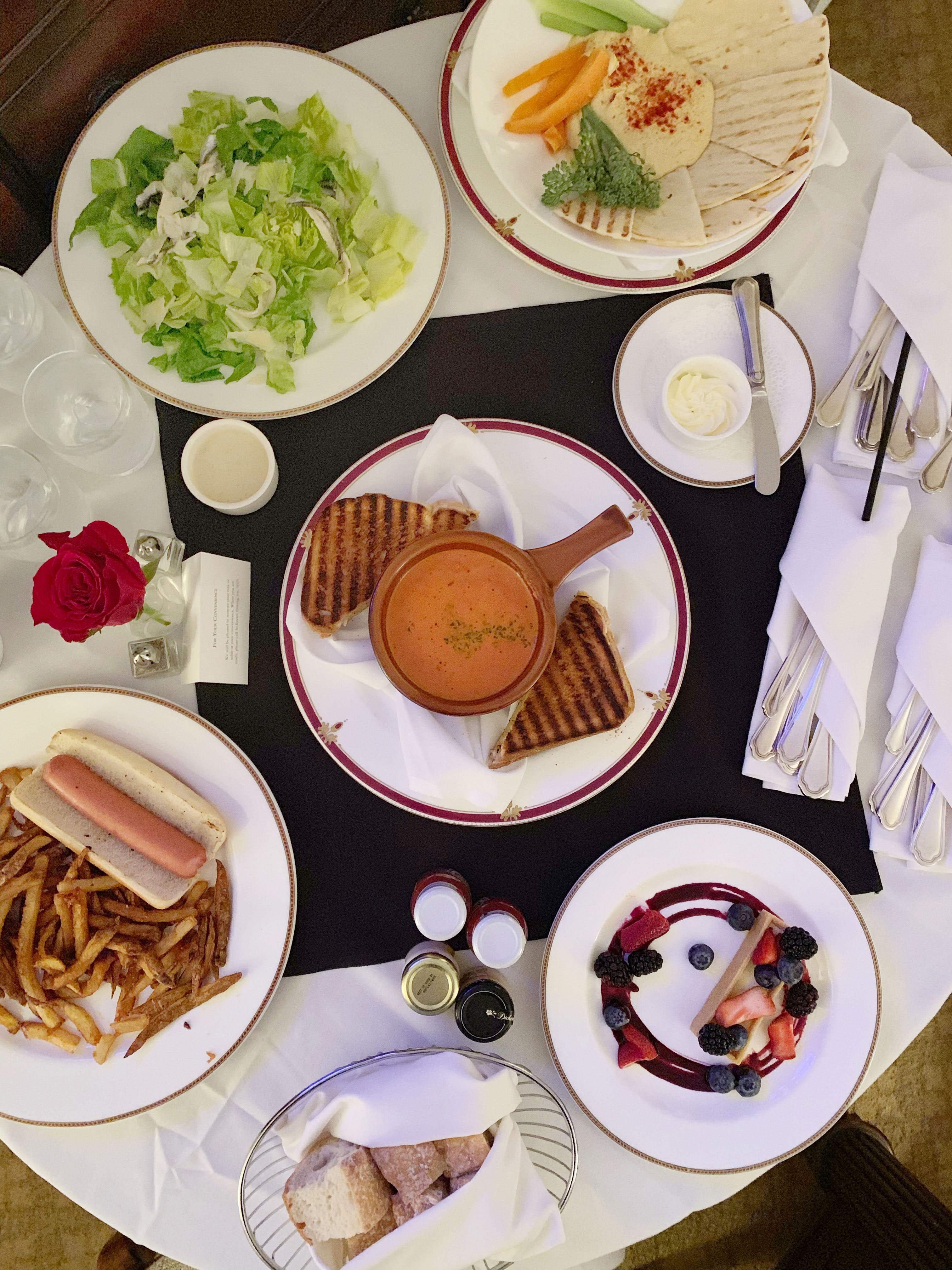 Room Service
We checked in late Friday night. Gotta love that residency schedule. But hey, I felt lucky that we were able to sneak away for a weekend to begin with, so getting in late at night was totally worth it.
When you have little kids, and especially when you're traveling late into the night – i.e., flight lands late, you've been driving all day – sometimes your best bet is to just check in, get everyone in their pajamas, put on a hotel room movie, and order room service. And let me say, The Inn on Biltmore Estate's room service did not disappoint.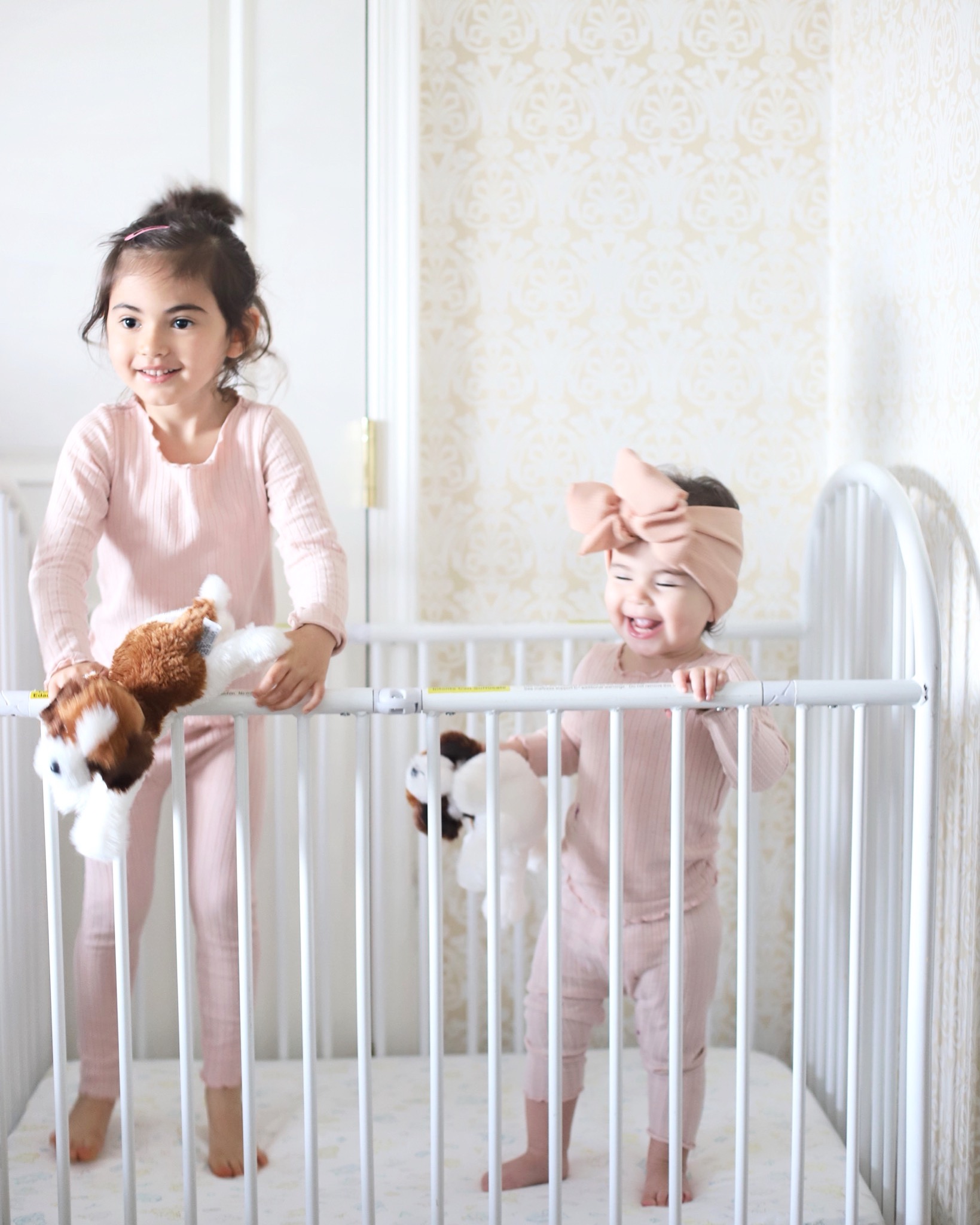 We woke up Saturday morning ready to take on the day. Of course, it took us a good hour to mobilize the troops, but we were so cozy in our plush white robes and the prettiest room, so we took our sweet time.
Biltmore also left us the sweetest basket stuffed with goodies, including my new favorite coffee mugs and these plush dogs that the girls are now completely obsessed with. You may spot their pups throughout the long weekend photos.
Saturday morning we woke up early to seize the day. Also, fun fact: little kids never ever sleep in on vacation. Ohhhh well.
Lucky for us, there are SO many amazing things to do at Biltmore, I was actually glad to be up early each morning to tackle as much as we could.
Coffee helps too.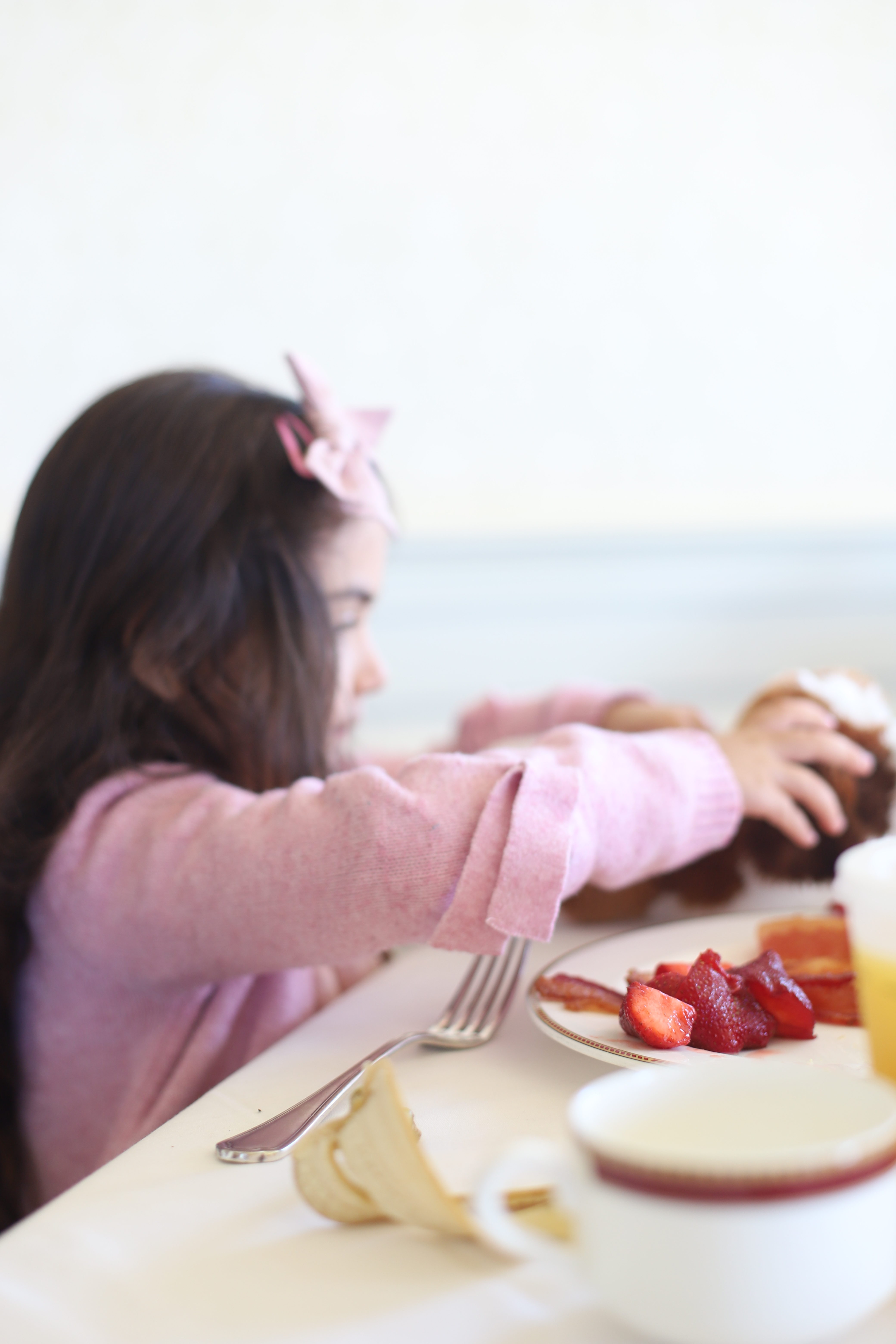 Breakfast at The Chef's Buffet in The Dining Room at The Inn
I'm fairly certain that The Chef's Buffet in The Dining Room at The Inn was our family's favorite meal. I mean, we did have breakfast there TWICE. Honestly, once Scarlett realized she could have unlimited bacon and strawberries, she pretty much refused to try breakfast anywhere else. Same goes for hubby, only I think he's still dreaming about the freshly made waffles.
I'll admit, I'm not typically a buffet lover, but oh my goodness, there was not a single bad thing at The Chef's Buffet. Such an incredible breakfast/brunch. The options were endless, which really helped with the kids. As a mom of two sometimes picky eaters, having so many SUPER yummy options, with a nice balance of healthy choices, was a big bonus for me.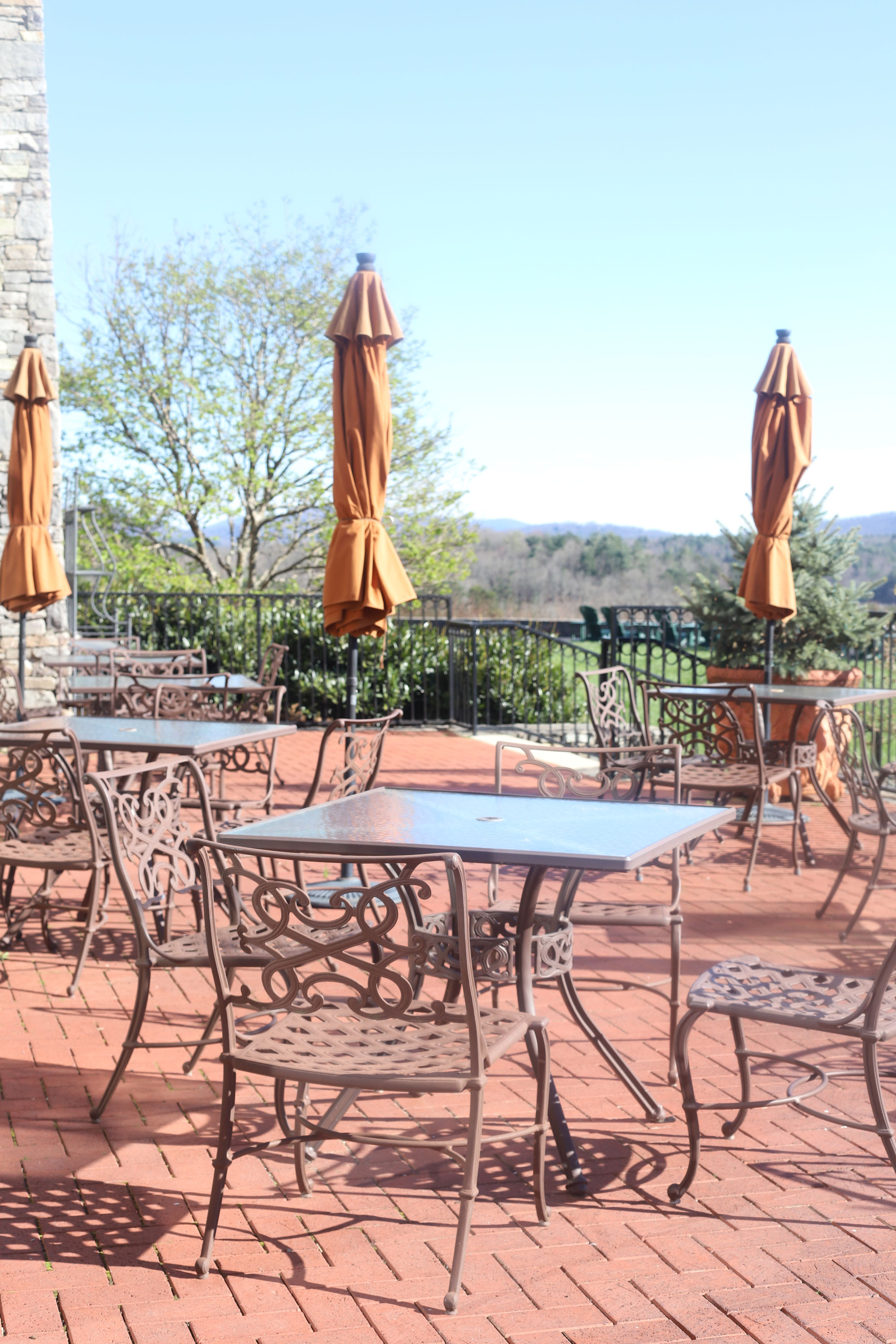 It was a little too chilly when we visited to eat breakfast outside. But seriously, the views from Biltmore are spectacular. I could not stop drooling over the property. (More on that later!)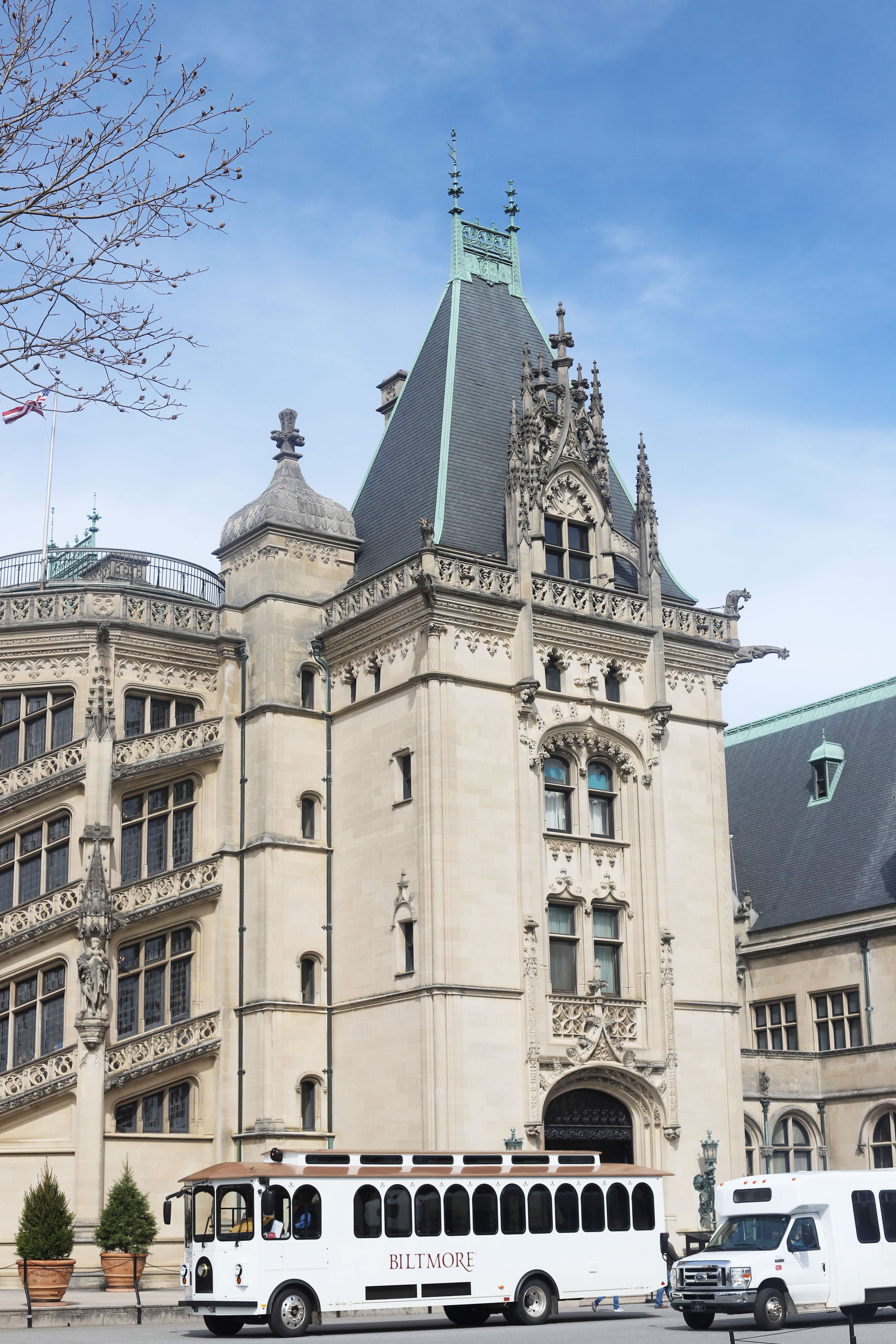 Biltmore House Self-Guided Tour
After breakfast, we took a shuttle from The Inn on Biltmore Estate over to Biltmore House, where we took a self-guided tour. A self-guided tour is perfect for a young family because you can go at your own pace, visit what you want to see, and take breaks when you need them.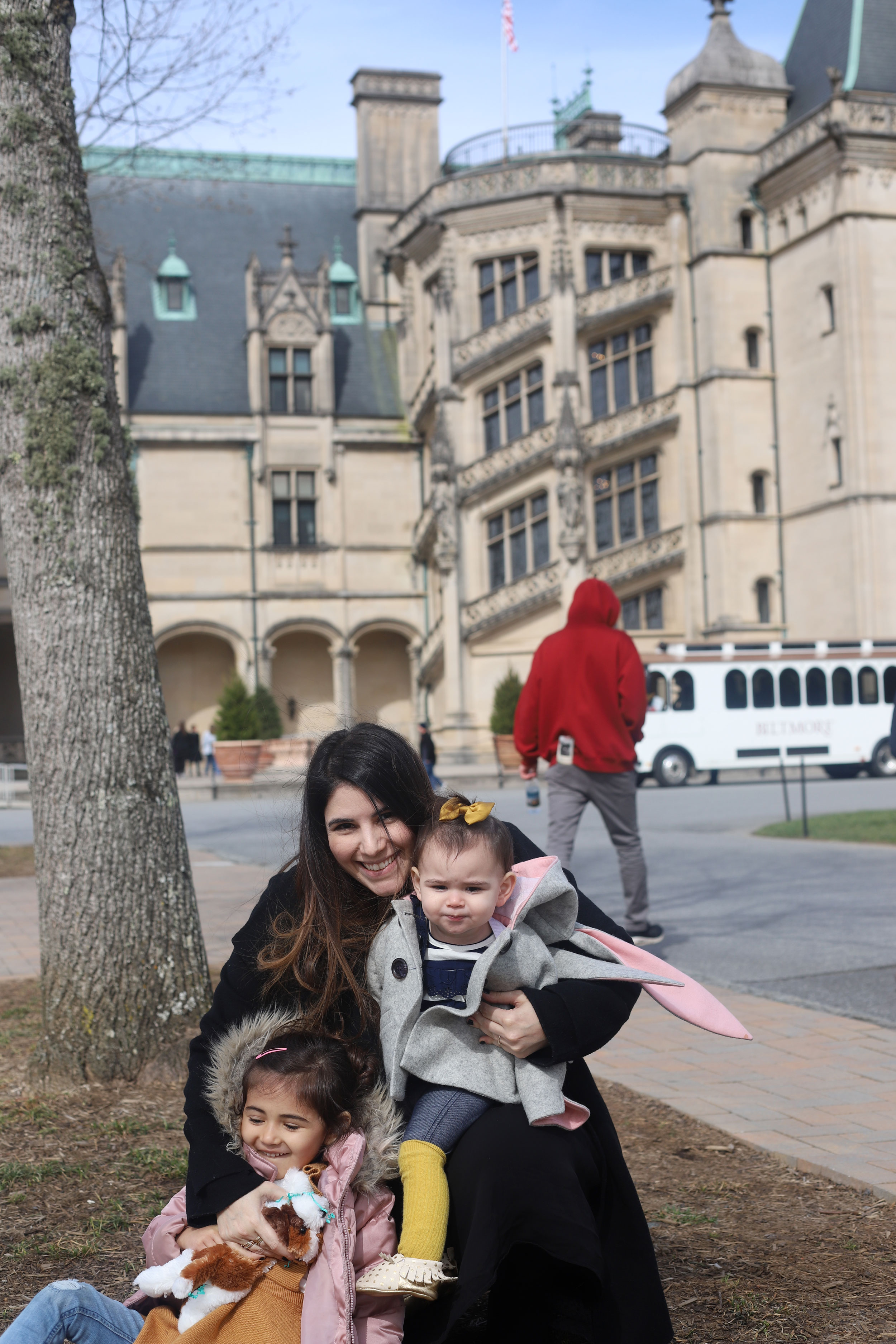 By the way, if anyone discovers the secret to getting all kids to smile in unison for a photo, pretty please send them my way. Though let's be honest, the one time I get both girls to pose on cue, I'll probably be talking or sneezing or something and ruin it anyway. So I'm just going to call these photos a success! 😂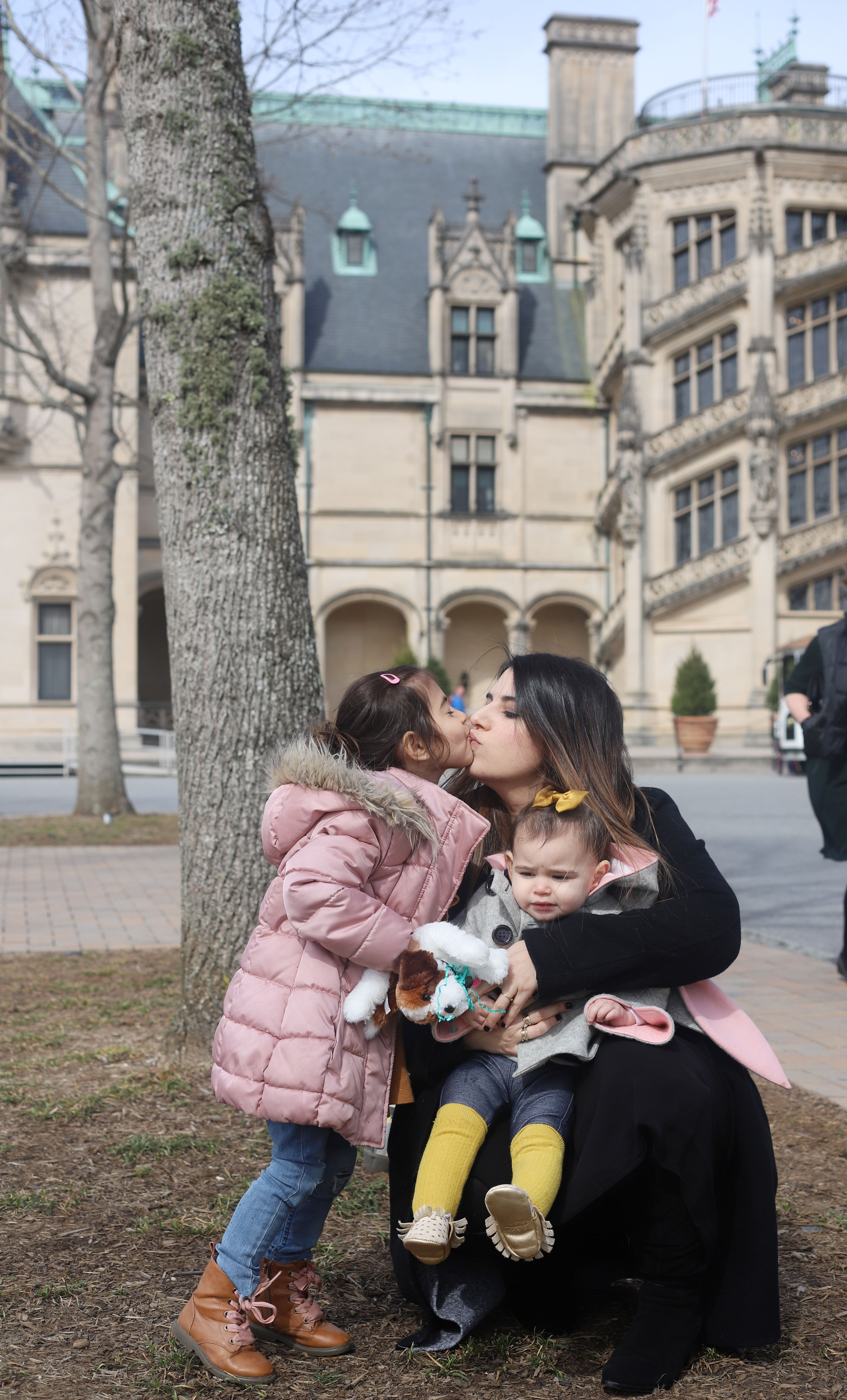 If you've never toured Biltmore House, it's an absolute must.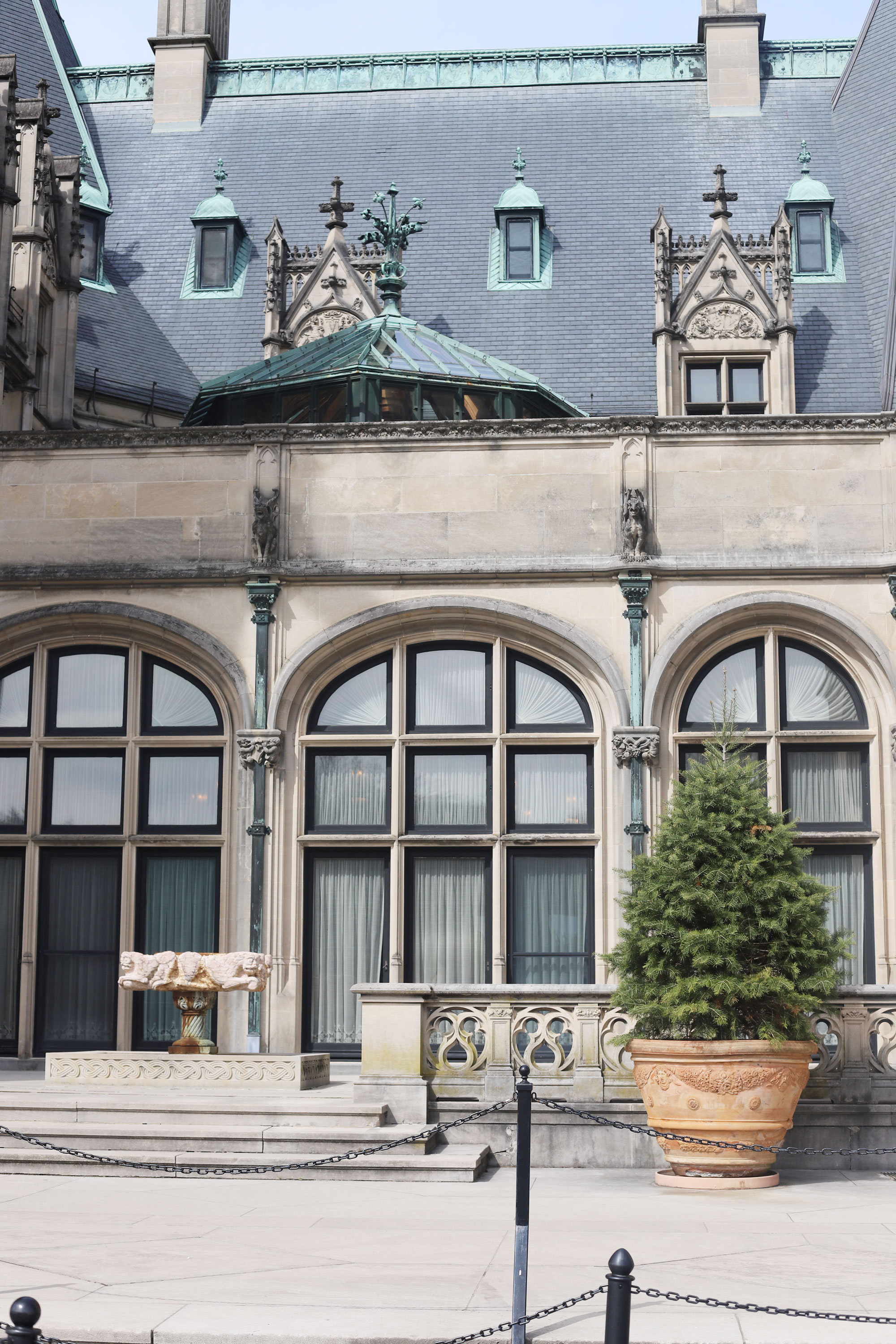 Today, George Vanderbilt's historic estate is a National Historic Landmark boasting America's largest home. More than 1 million guests visit annually to tour the 250-room Biltmore House and its grounds.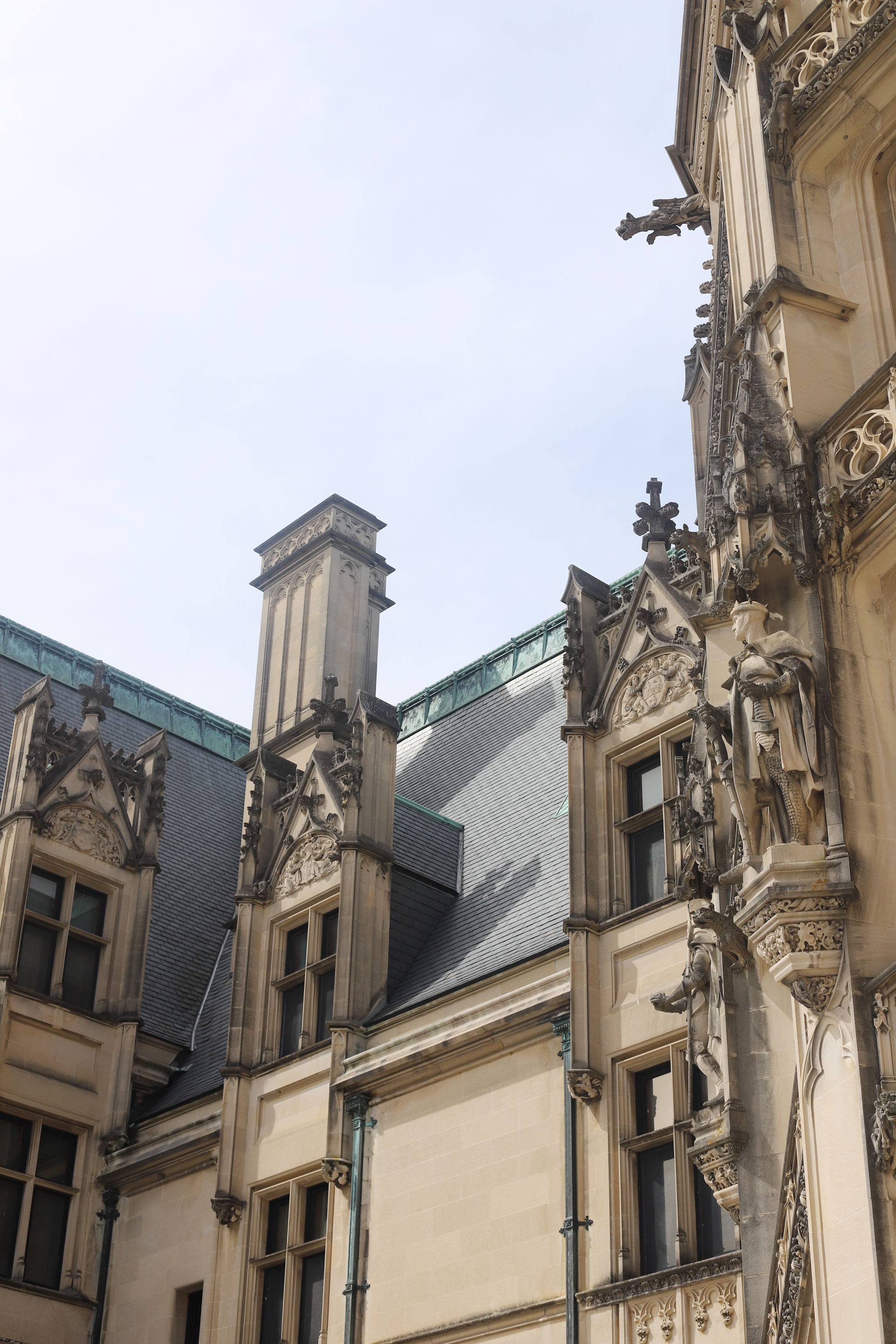 I've now been to Biltmore House a few times and though it's always crowded, I'm ever amazed at the new things there are to see. And we somehow always wind up making friends with other young families in line; i.e., instant tour BFF's for our kids!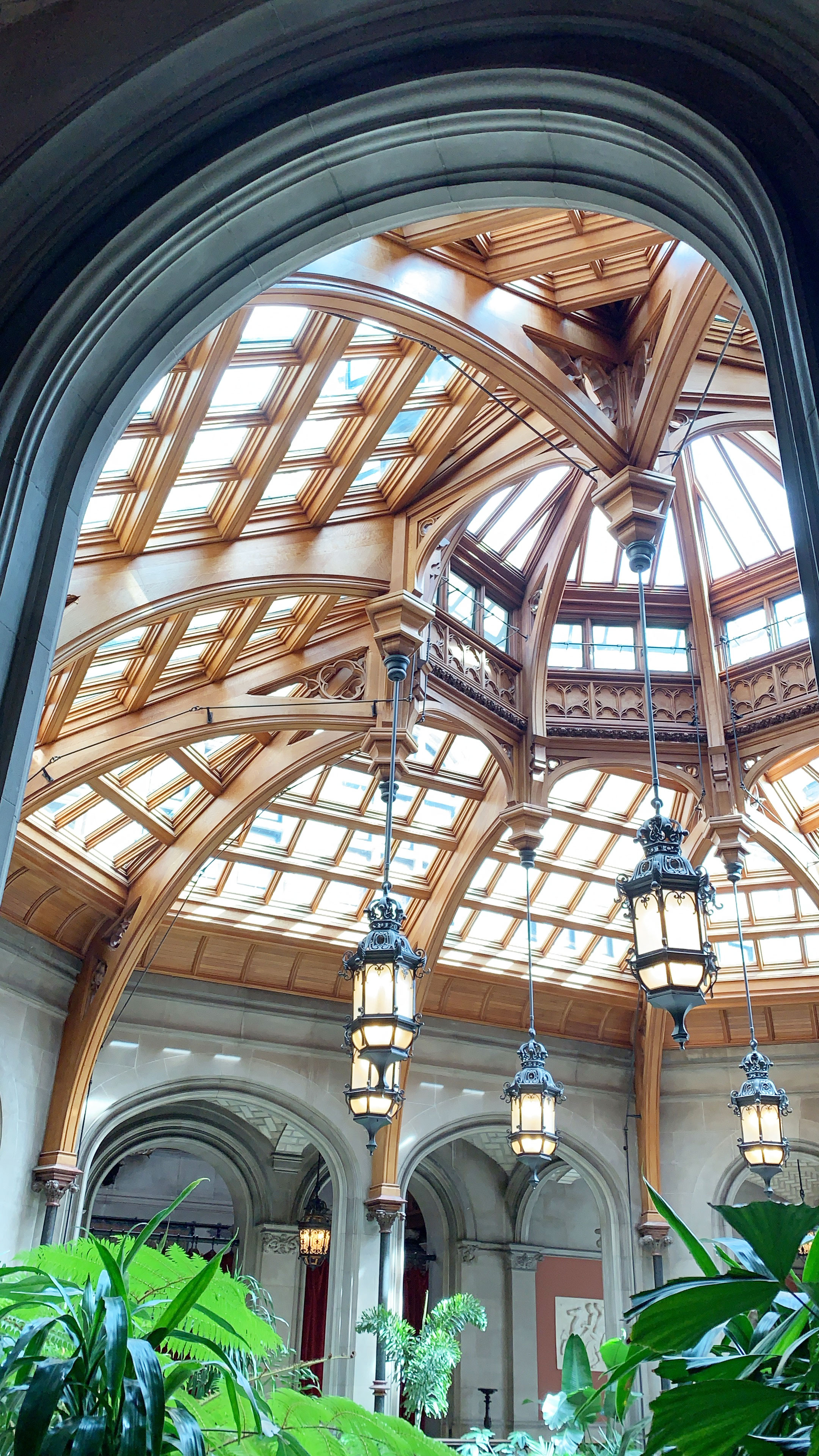 This is the atrium where you'll start your tour. It's packed with lush plants and flowers and it truly is a sight to behold.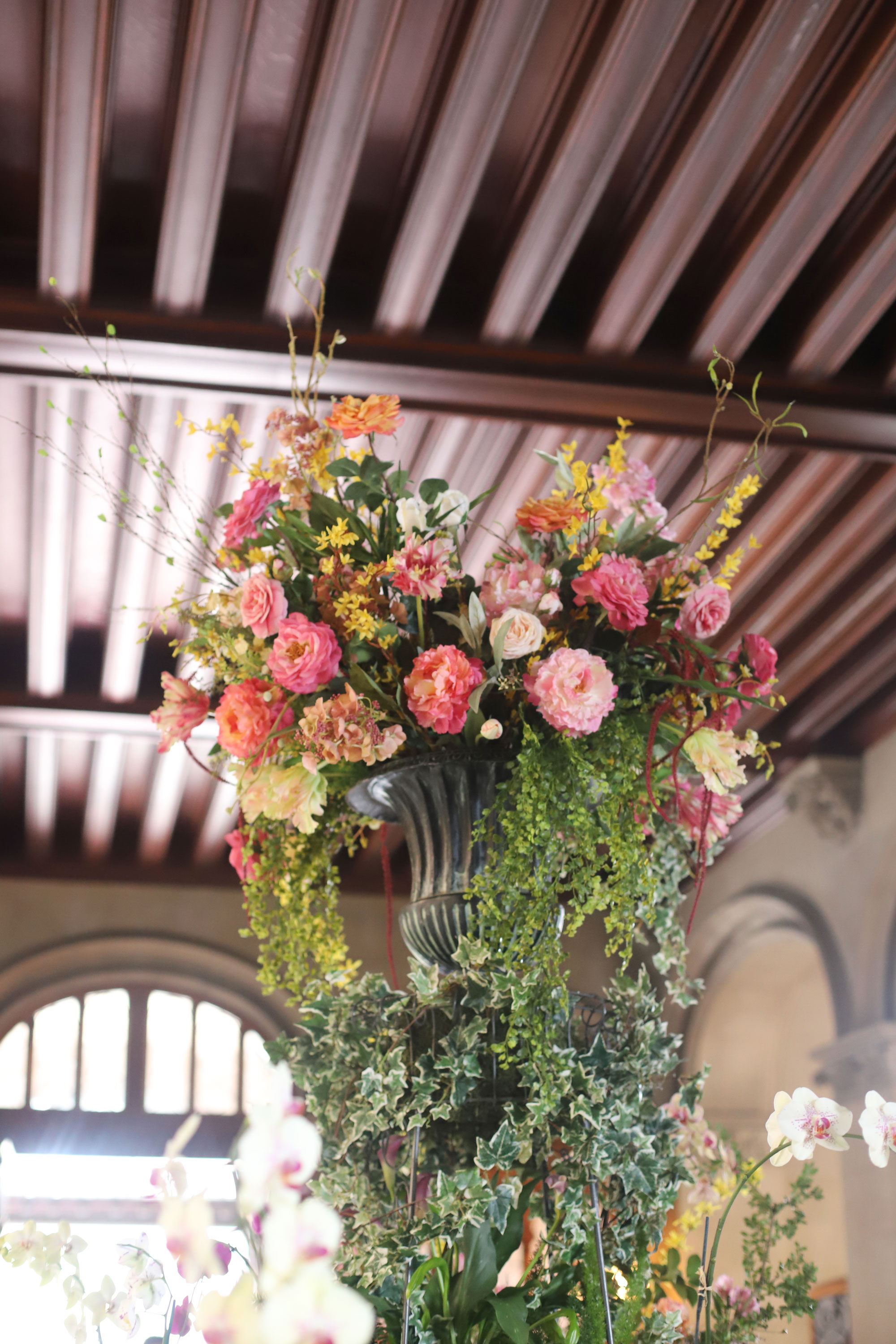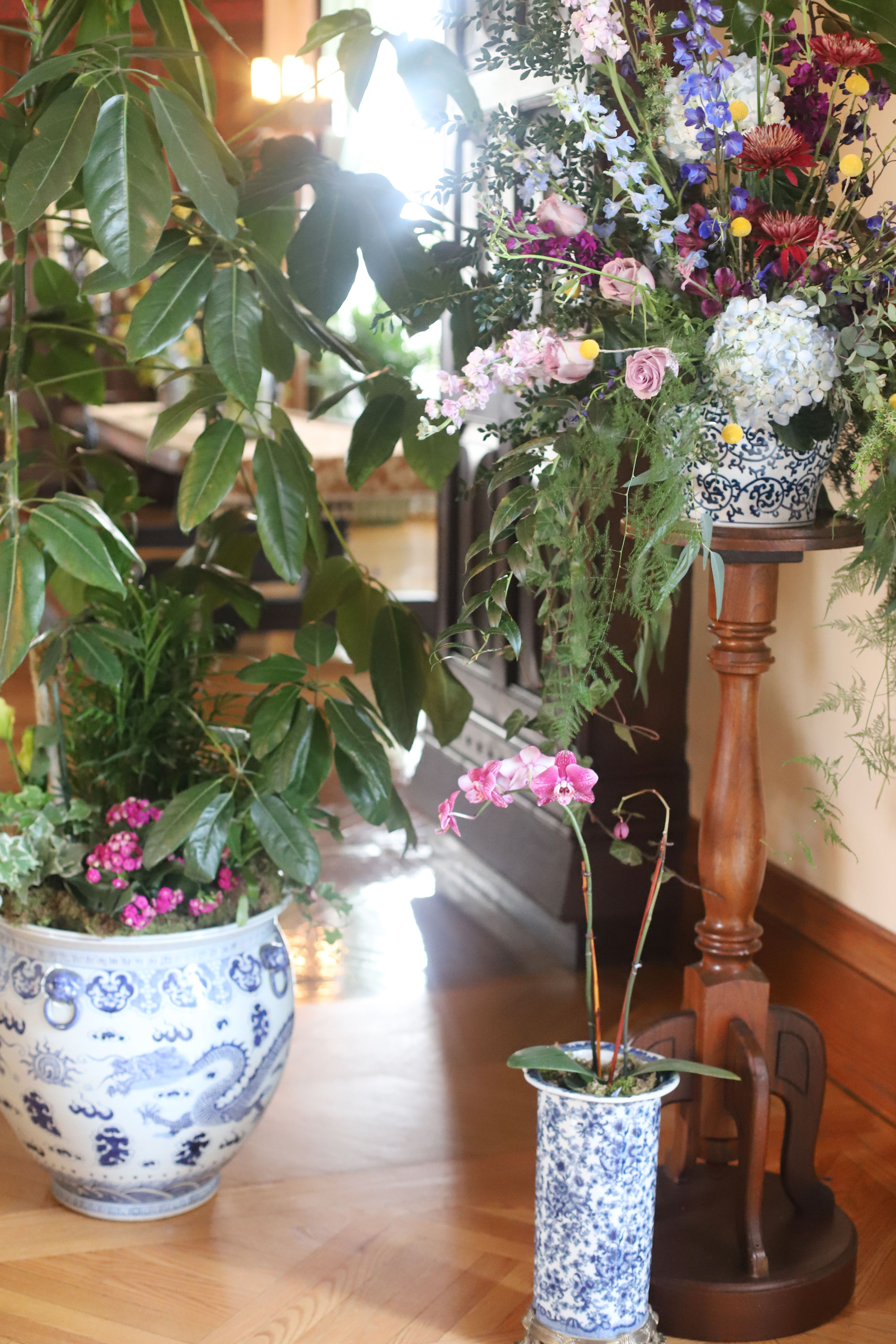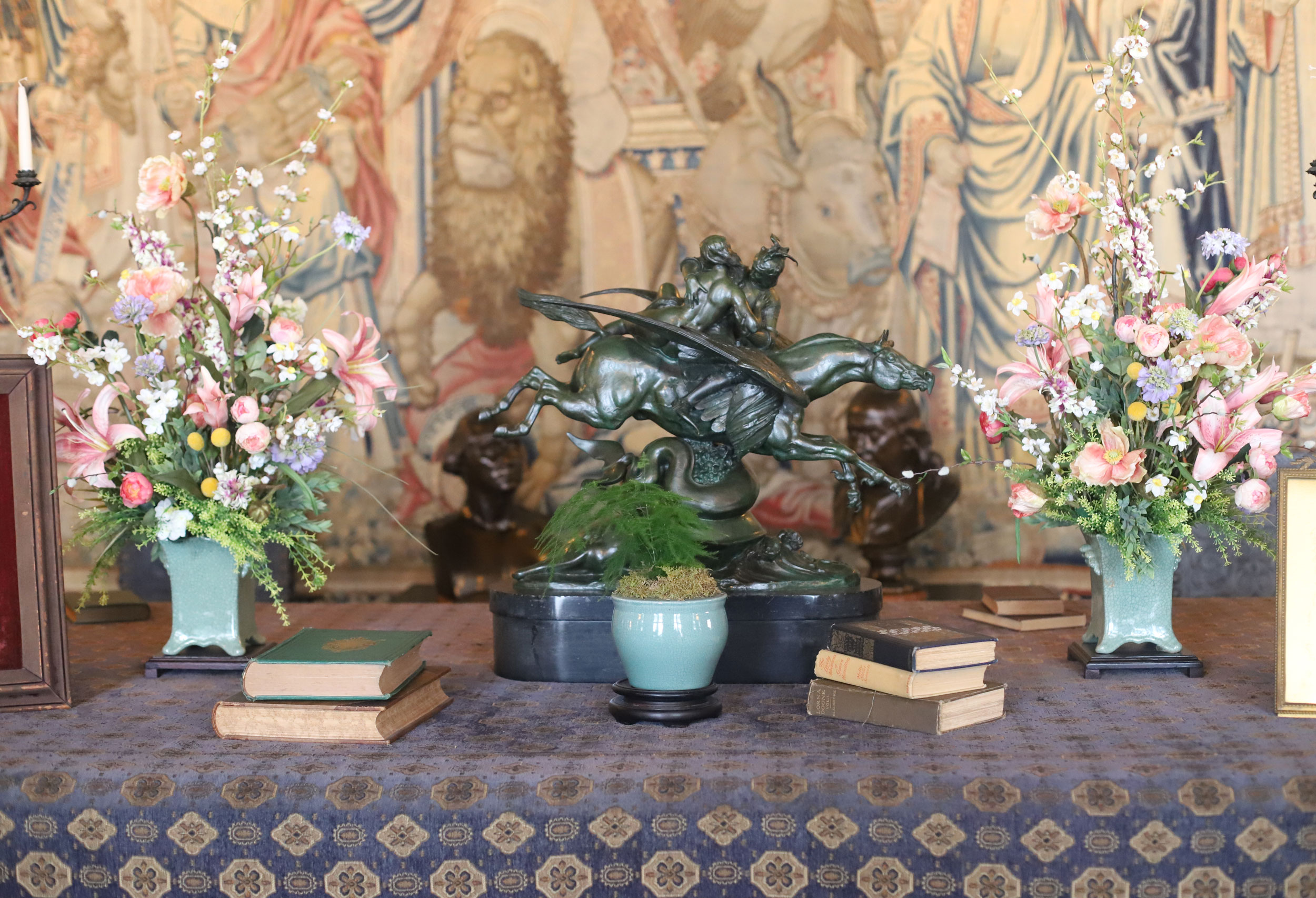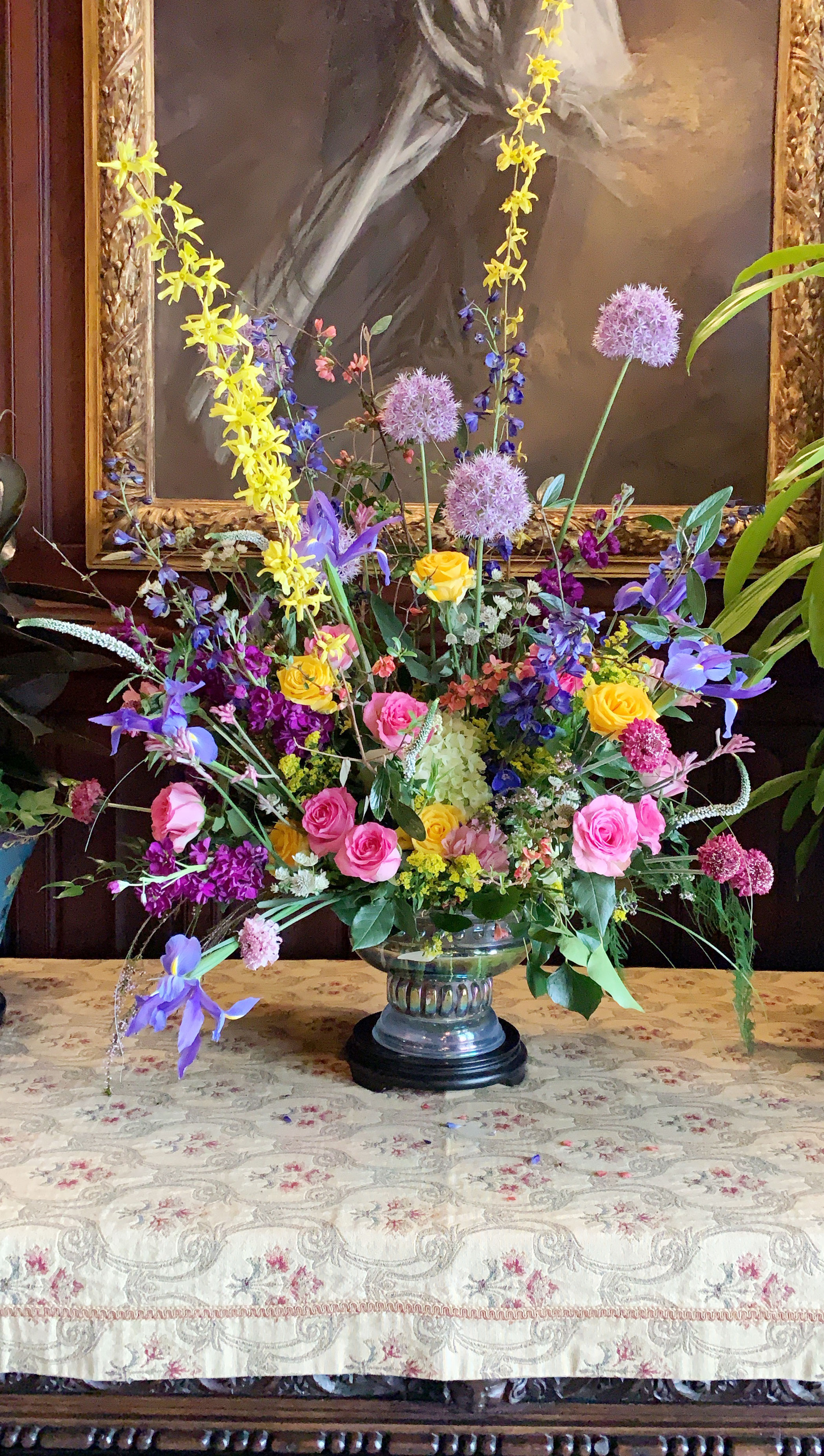 This visit was no exception.
The Biltmore House is spectacular, and it's made all the more incredible with beautiful exhibits and stunning fresh flowers EVERYWHERE.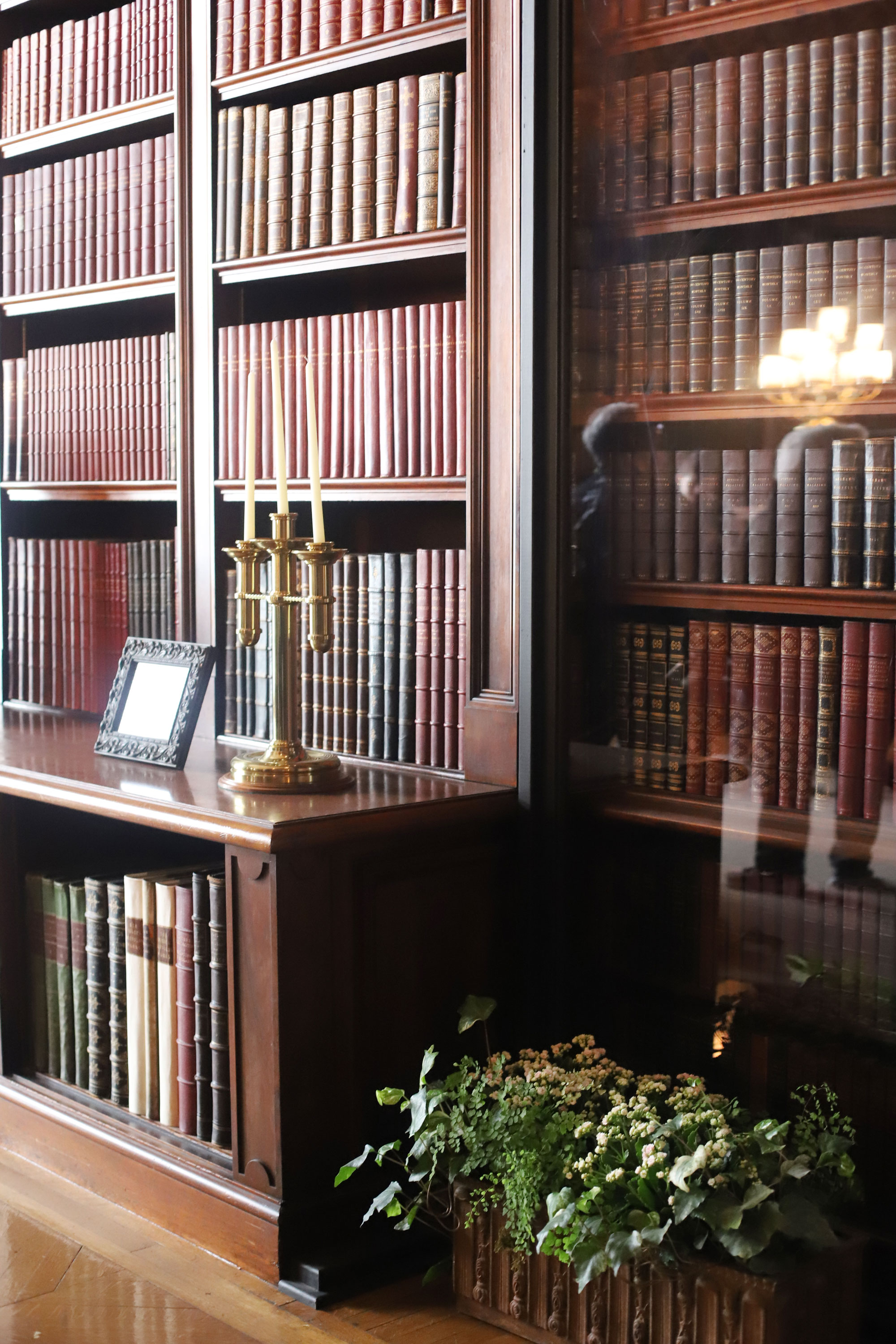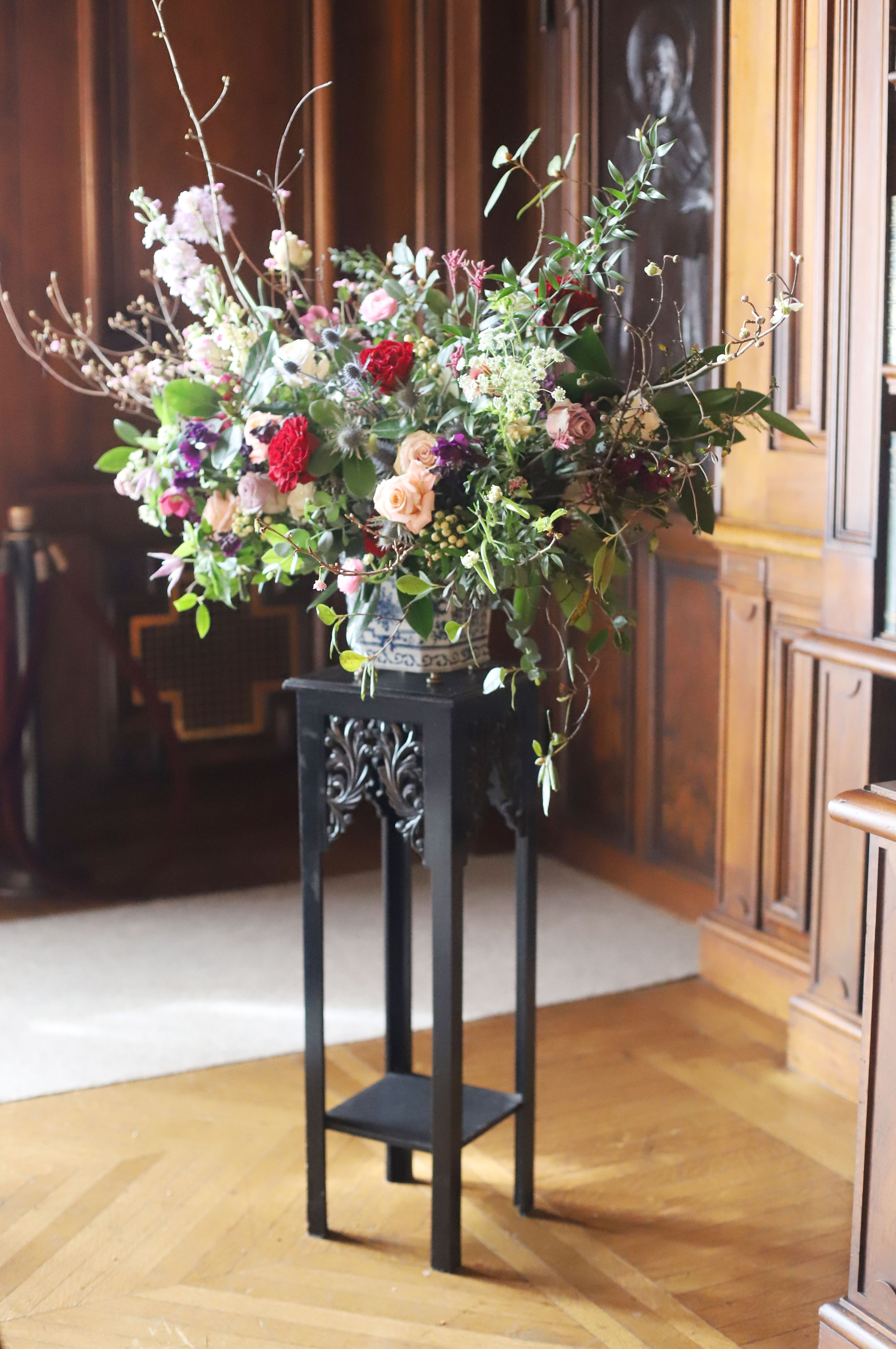 I could move right into the library.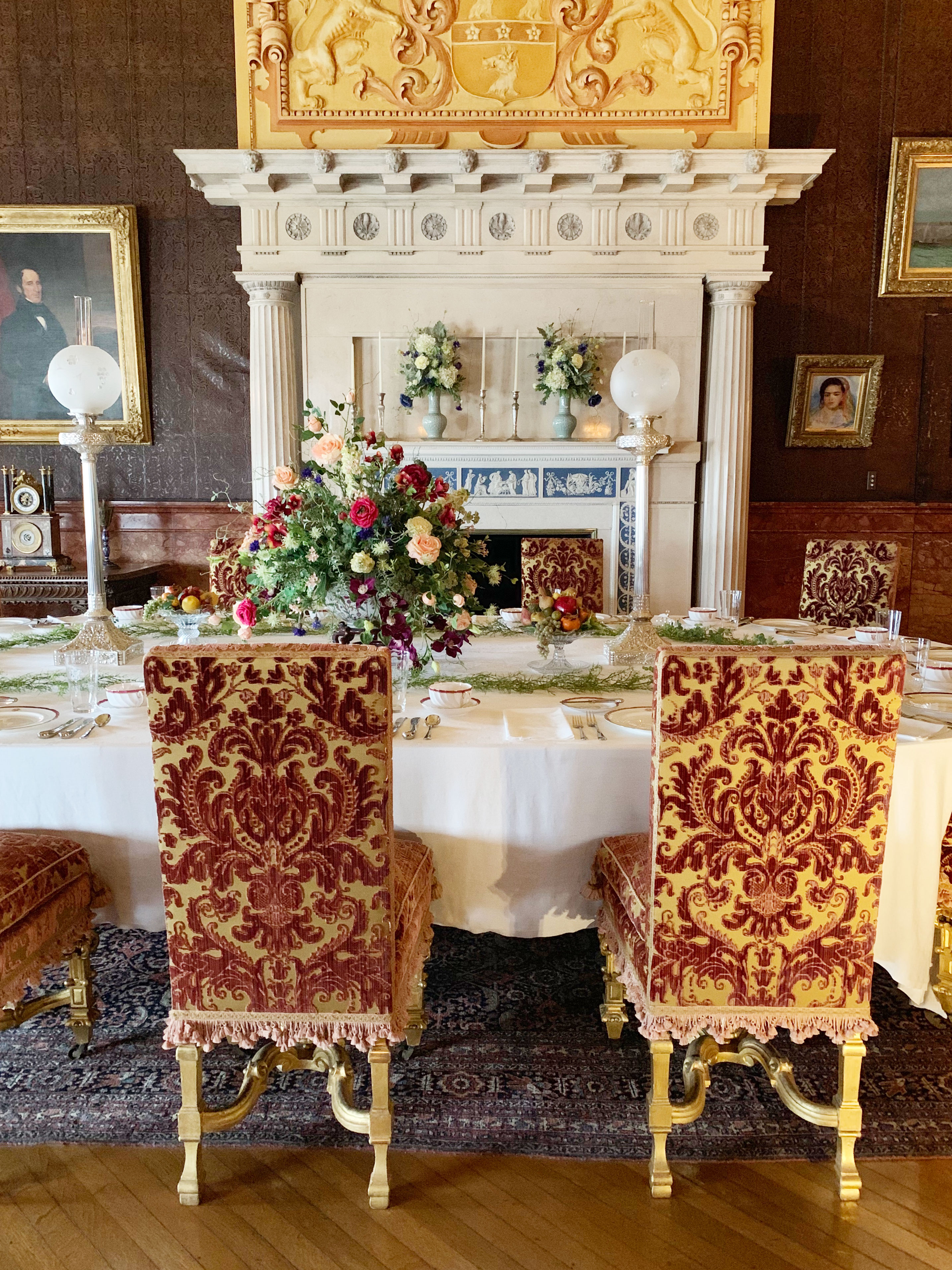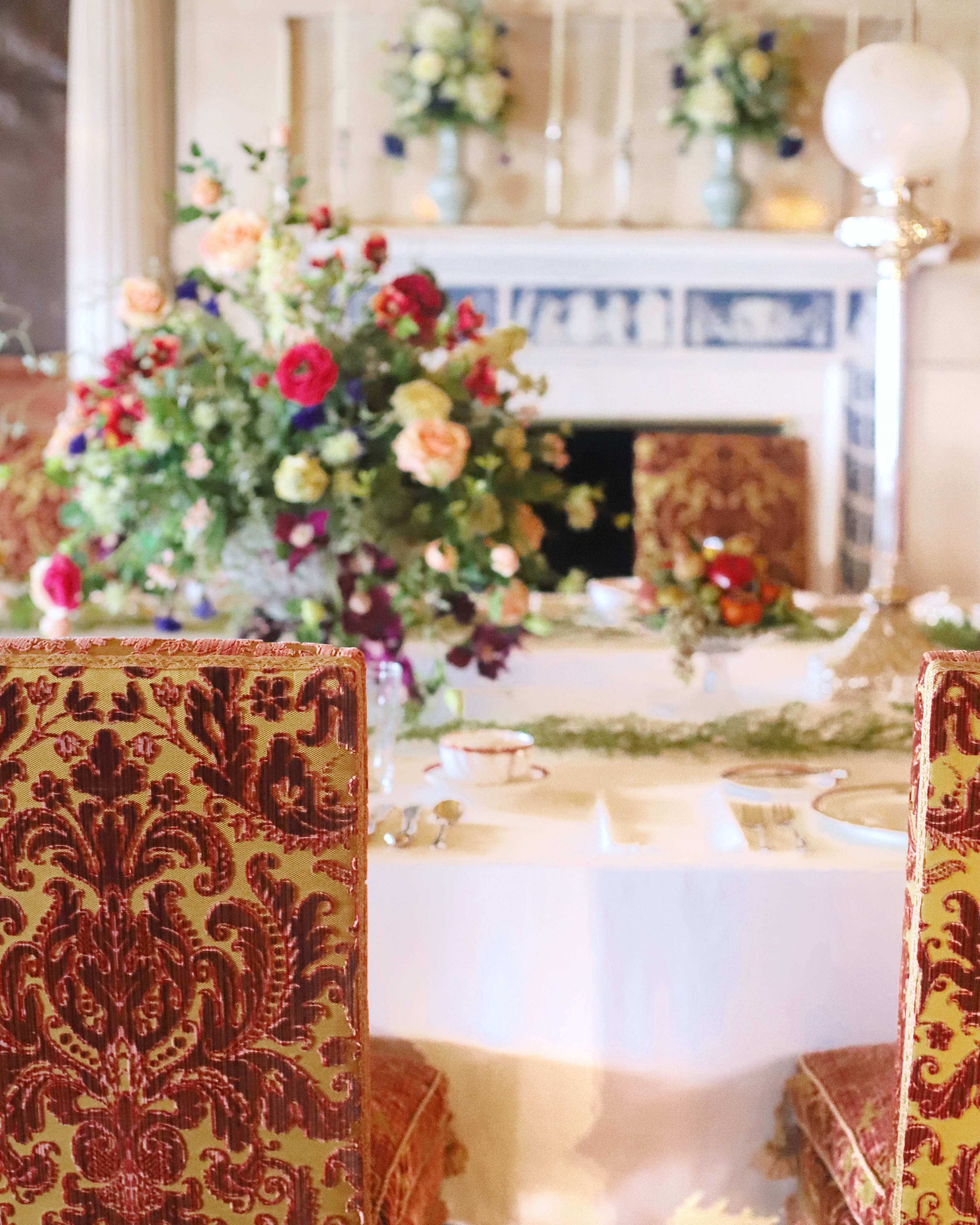 Every time I visit, I want to throw at least ten dinner parties.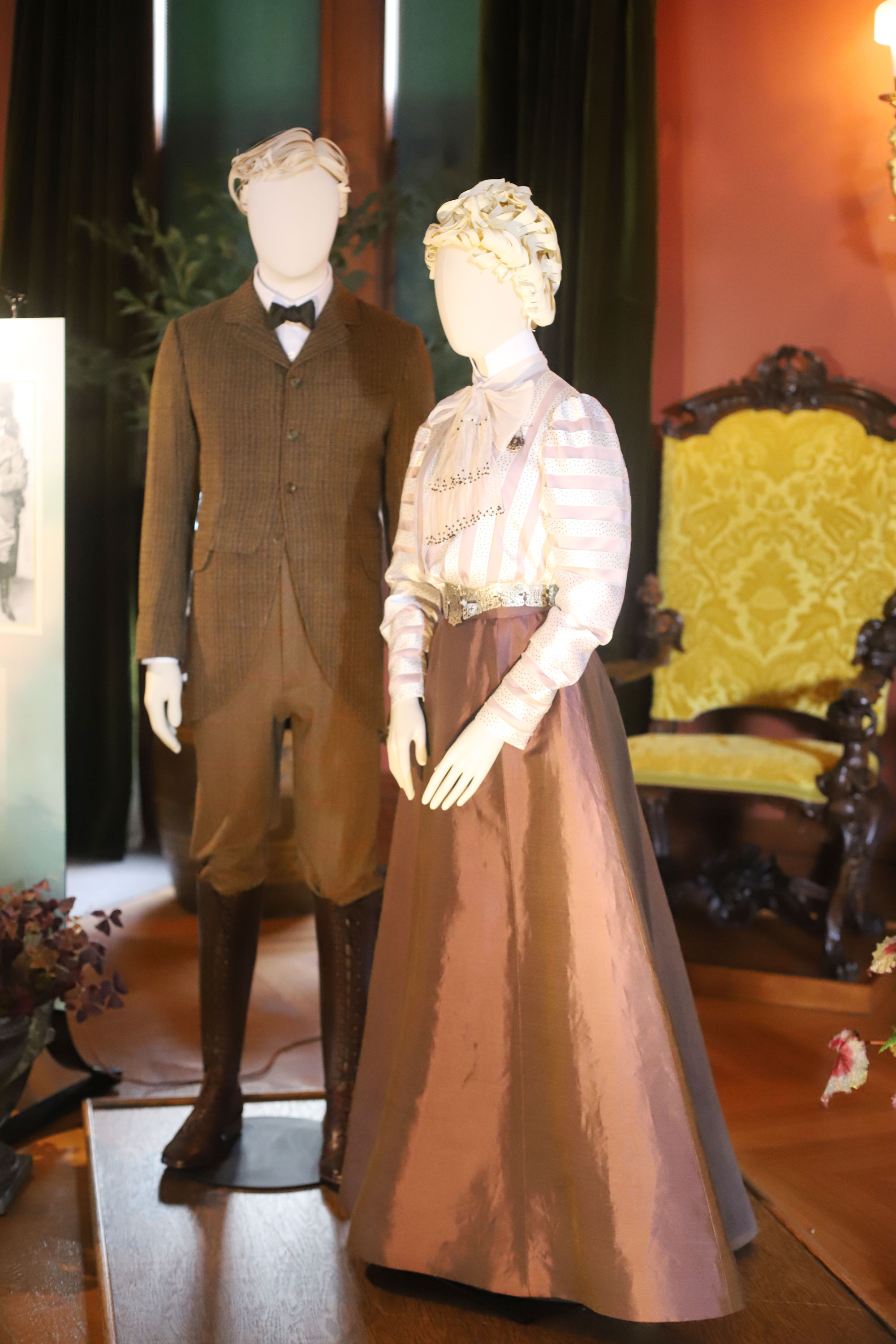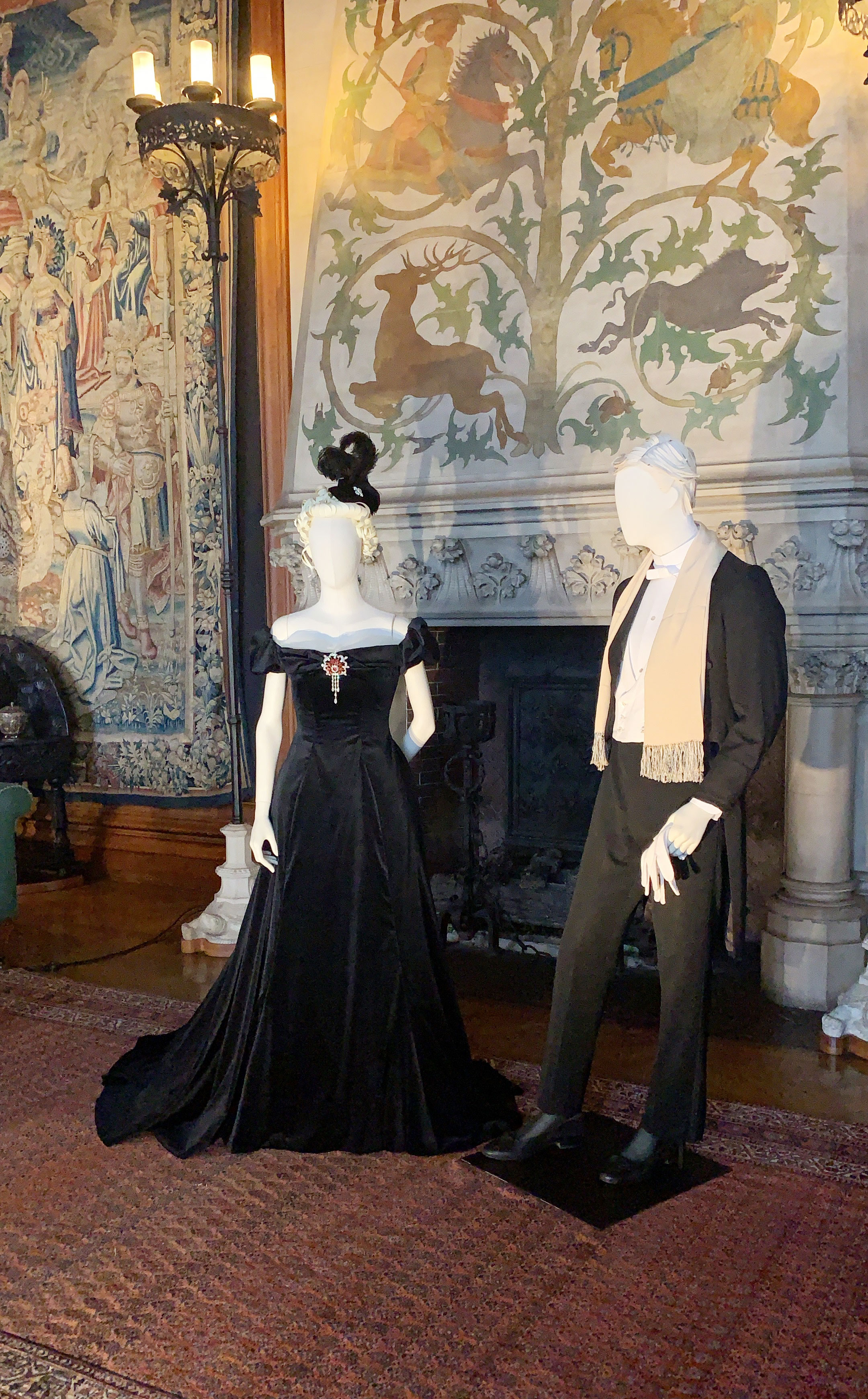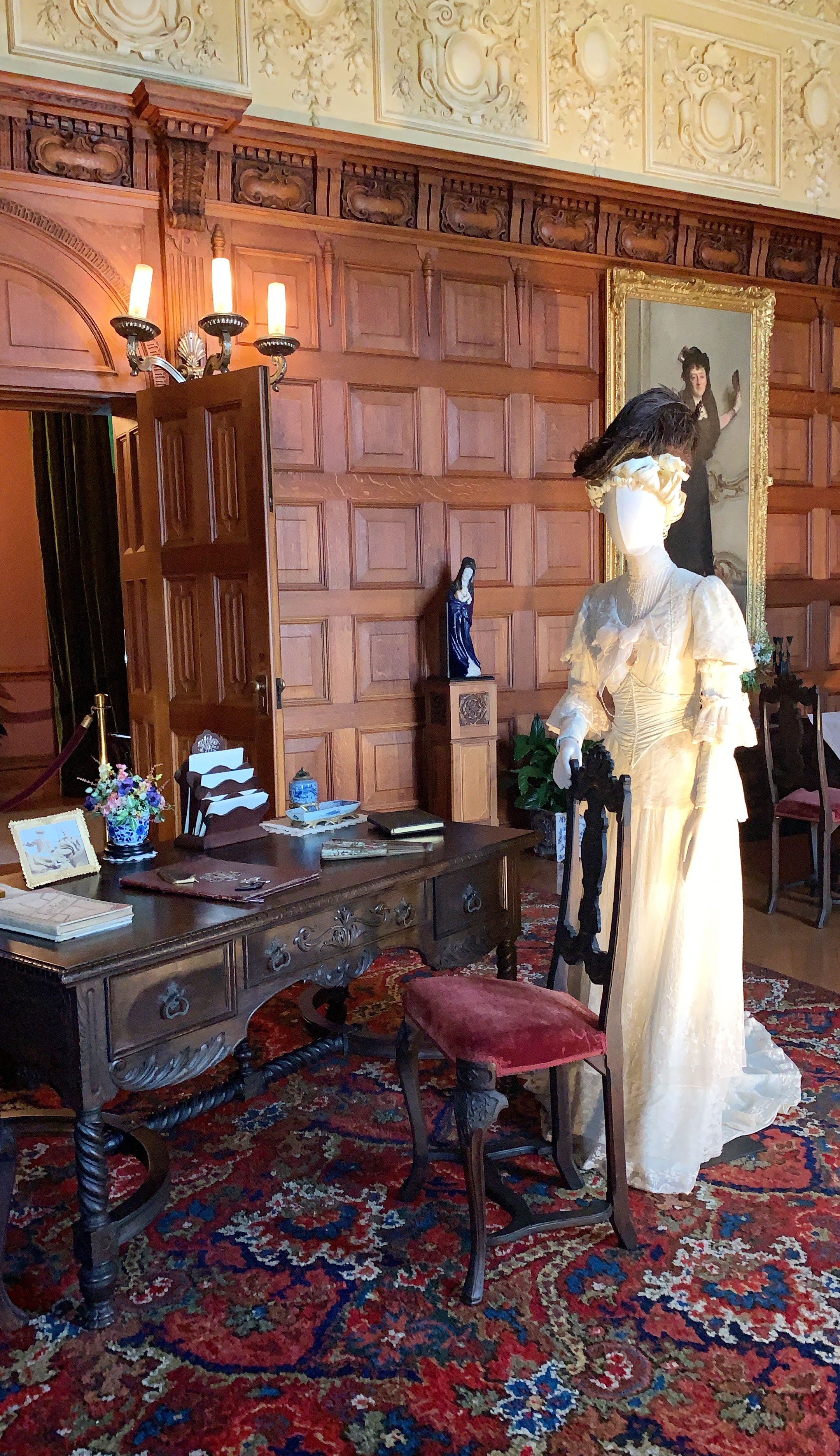 I was most excited to visit Biltmore House this trip for their newest exhibition, A Vanderbilt House Party – The Gilded Age. The exhibition features Gilded Age-era clothing as worn by the Vanderbilt family re-created by Academy Award-winning Costume Designer John Bright.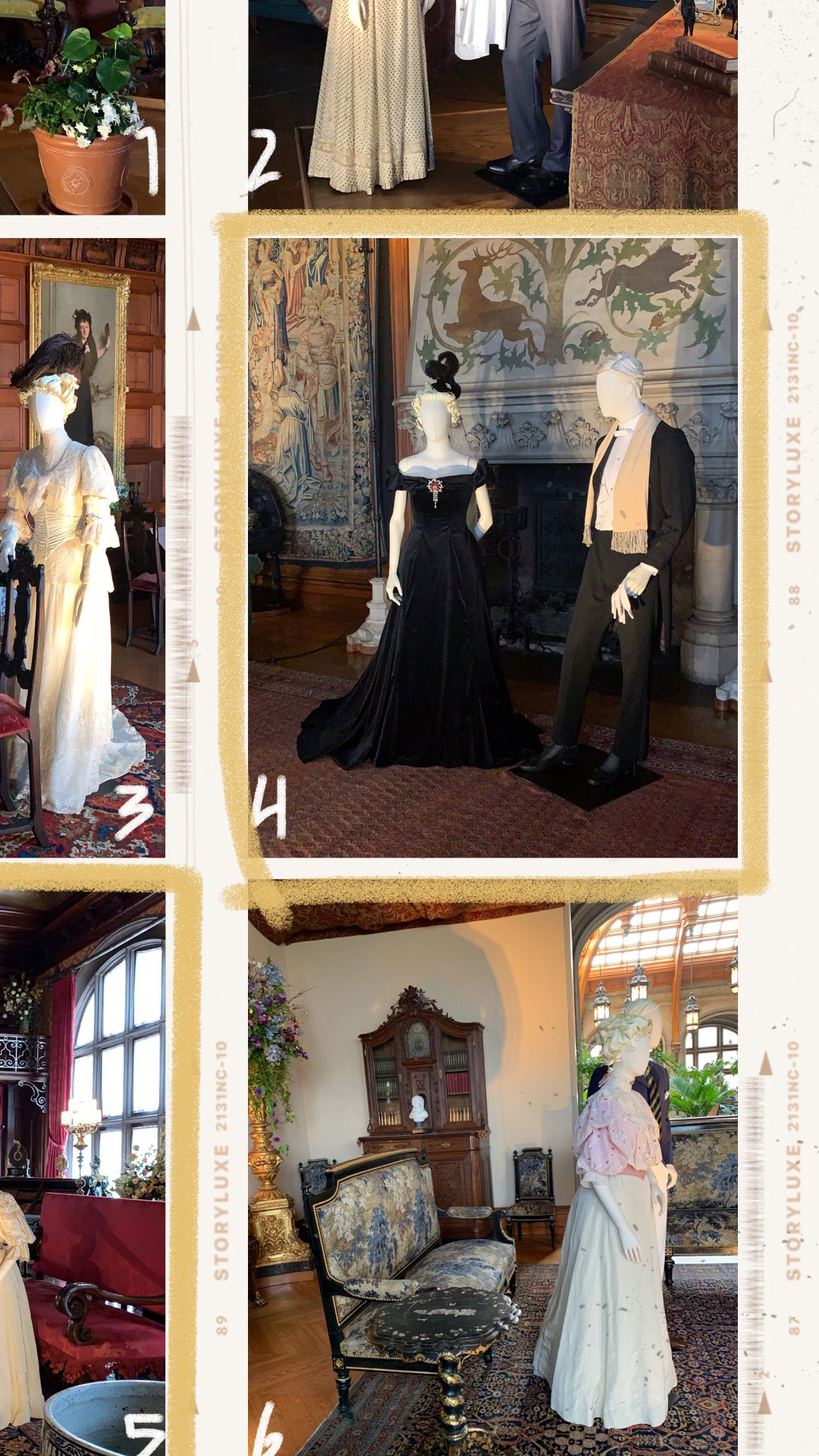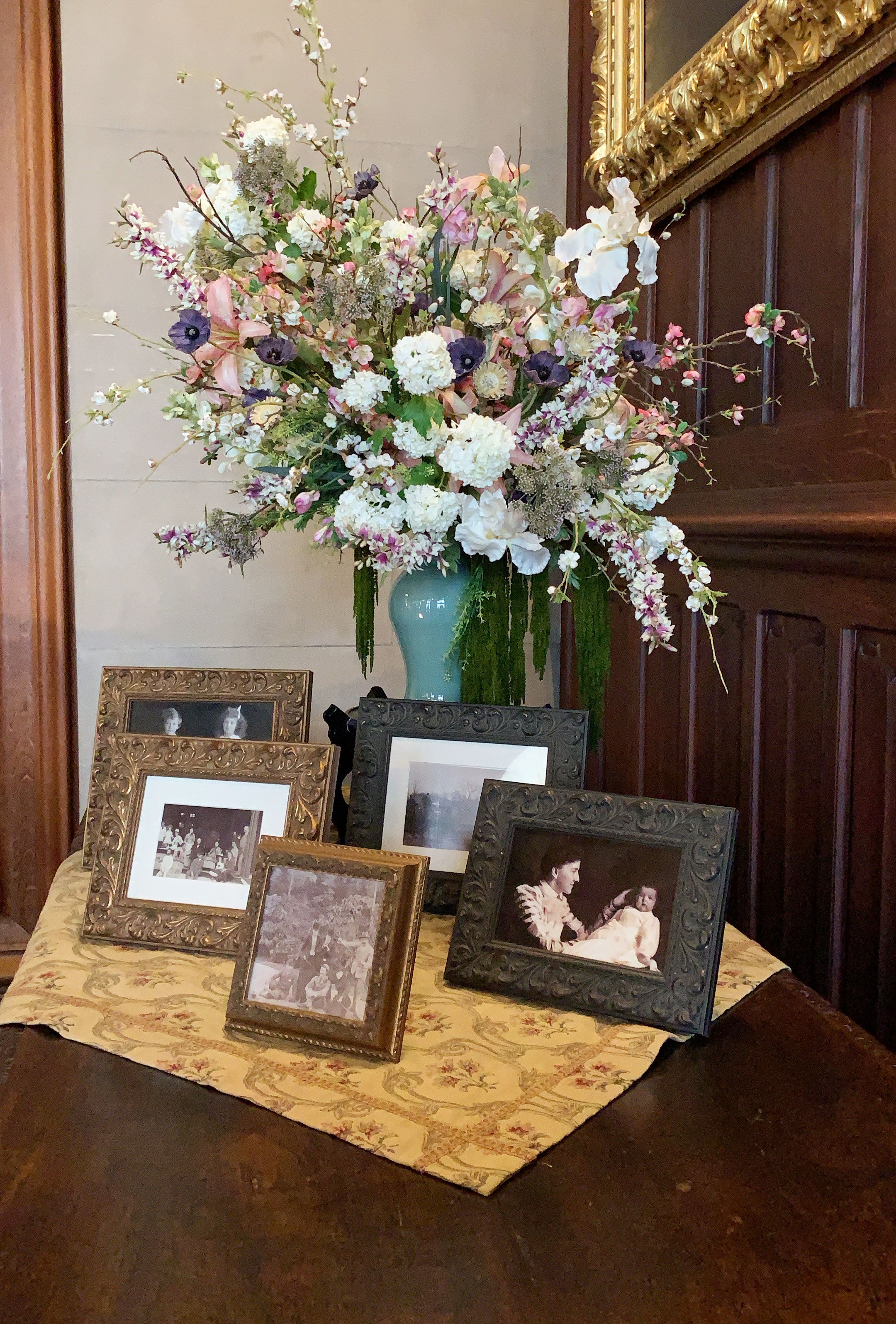 I couldn't stop drooling over the gorgeous clothing, and having the chance to see some of their most loved pieces up close, alongside photos of the Vanderbilt family wearing everything, was really incredible. As a total fashion lover, this was easily my favorite exhibit.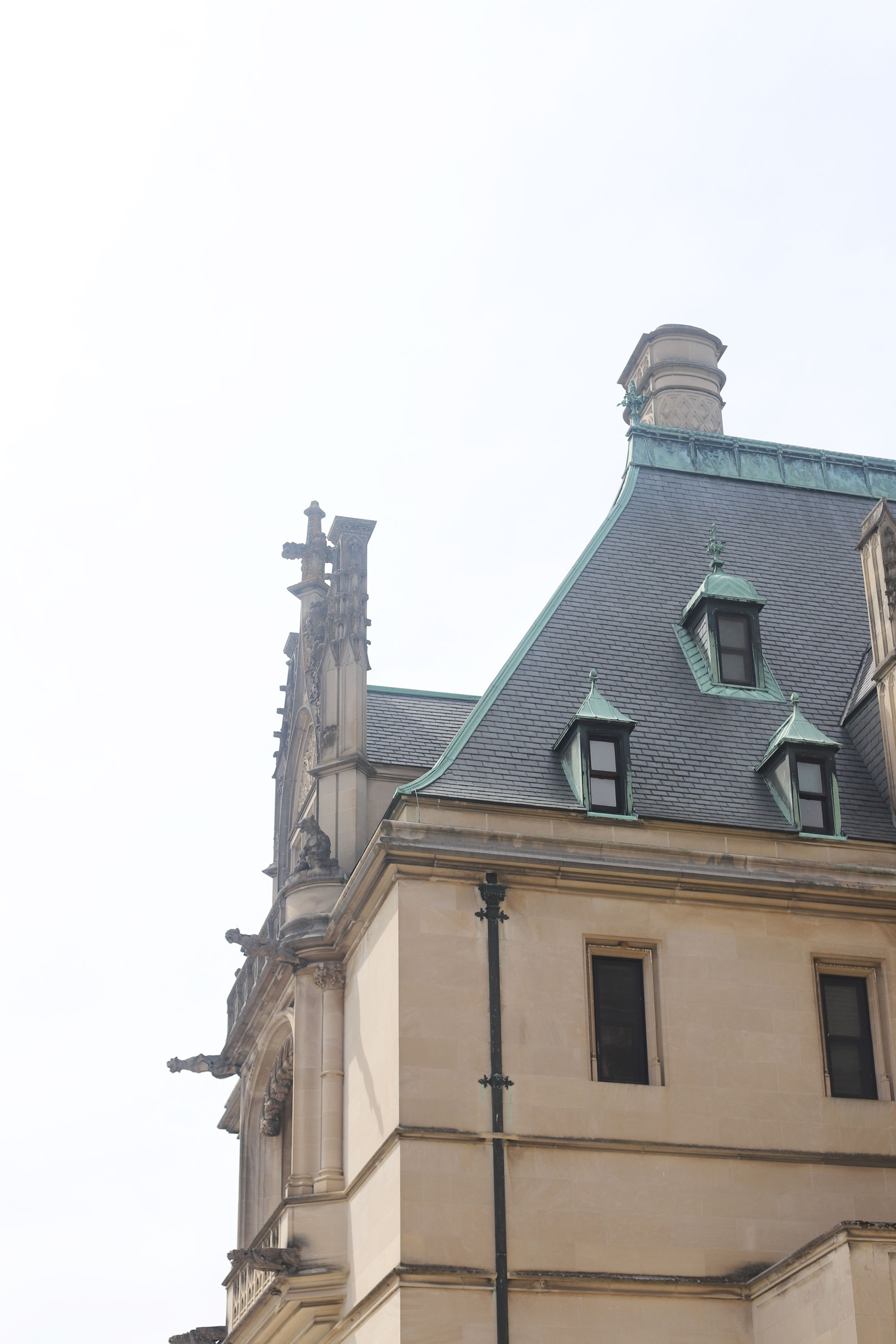 After you tour the inside of Biltmore House, be sure to take in the grounds outside (they're just as impressive, as is the architecture.)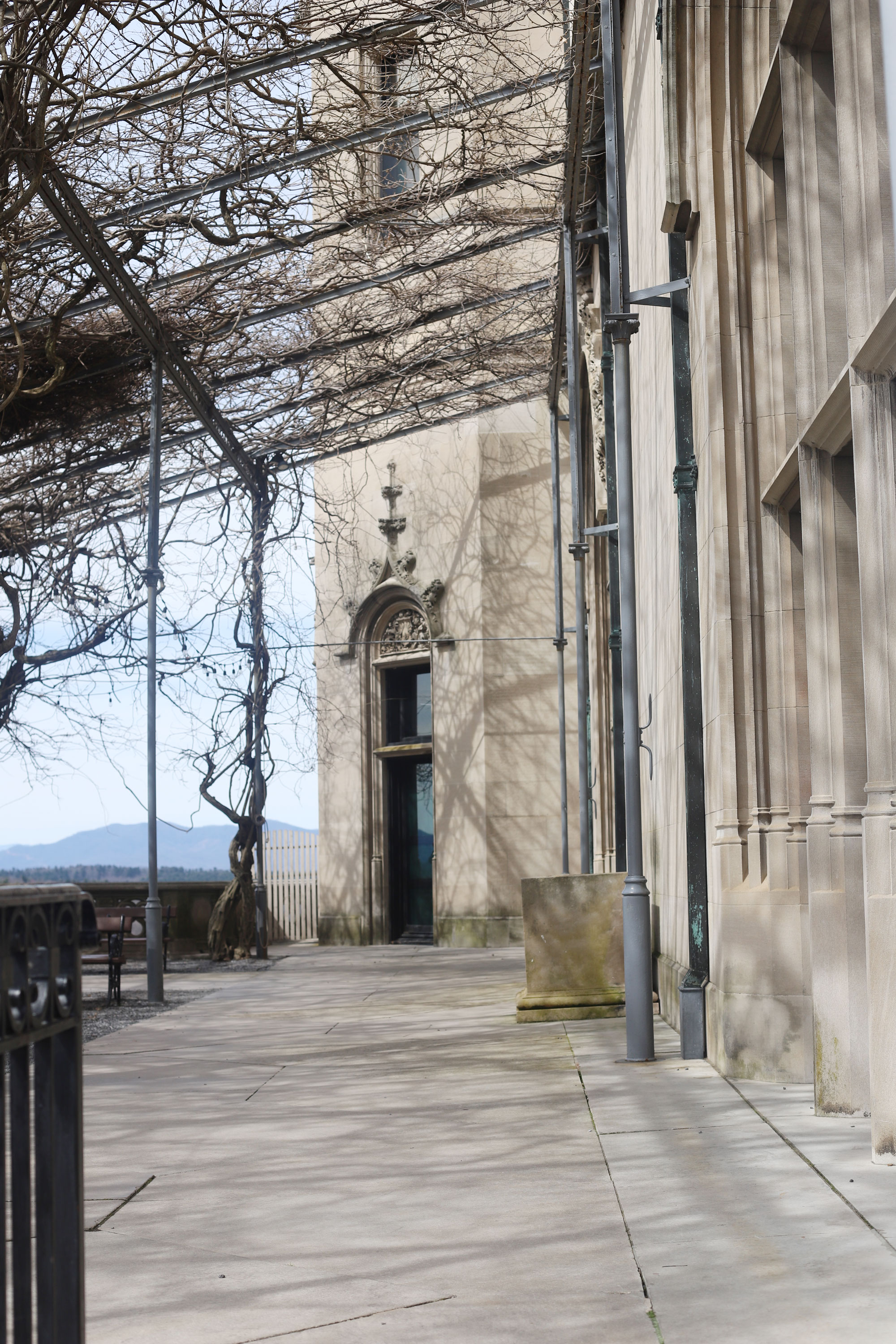 Biltmore House & Gardens Shopping
Then make your way over to Biltmore House & Gardens Shopping where you'll find the Carriage House full of the most beautiful gifts, including things to pick up at a book shop, an adorable toy store, a confectionery, a beautiful Christmas shop that's open year-round, several restaurants, and so much more.
We had lunch at The Stable Café, which is right next to Biltmore House in the Stables Complex (reservations aren't required, and it moves pretty quickly). Stable Café is housed in what was originally the estate's horse stable; converted horse stalls hold cozy booths, and the menu features slow-cooked rotisserie chicken, smoked pork, and more.
If you're looking for a truly Southern treat, get the warm pimento dip as an appetizer. It's epic, as is ALL of the food at Biltmore.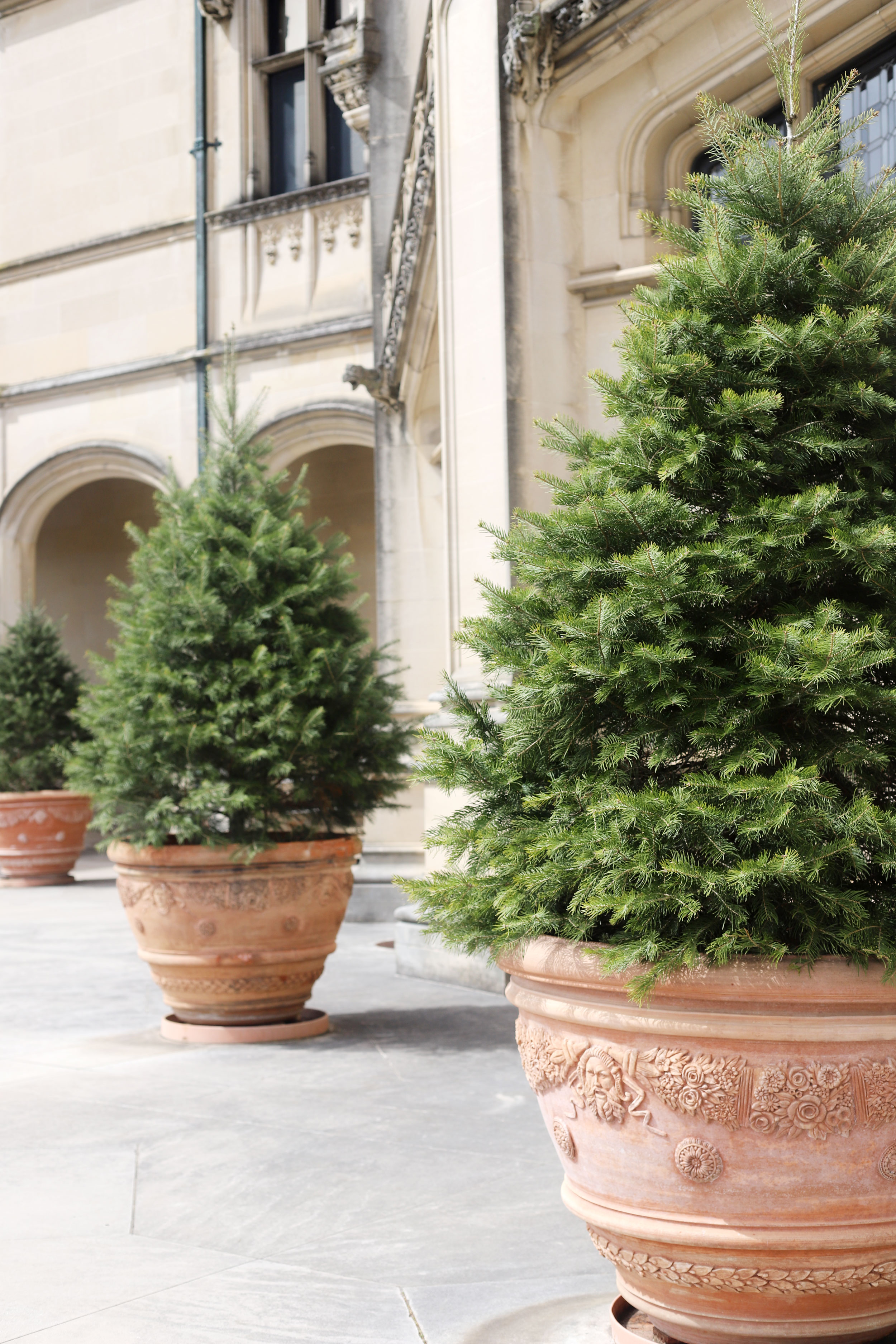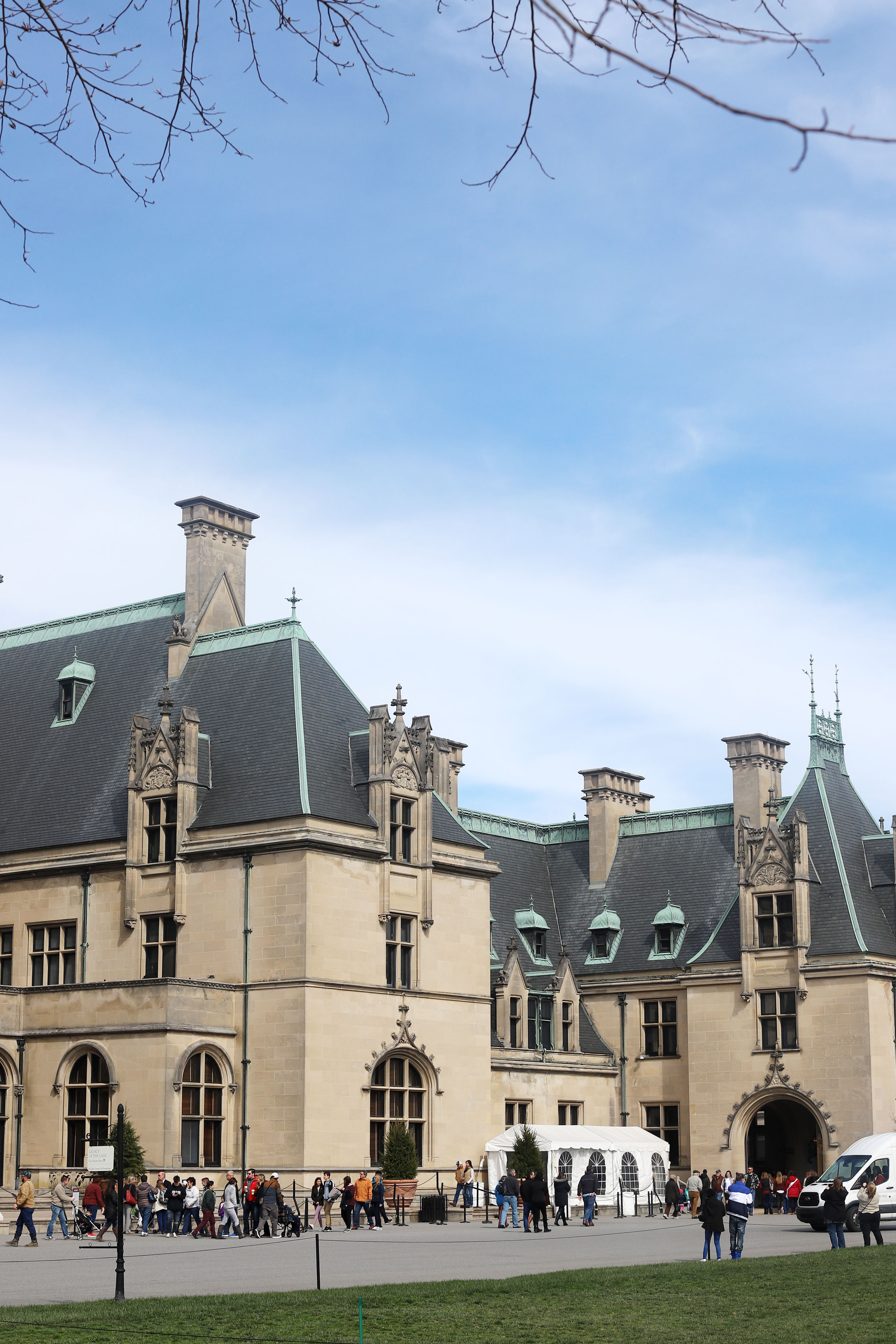 So worth the visit!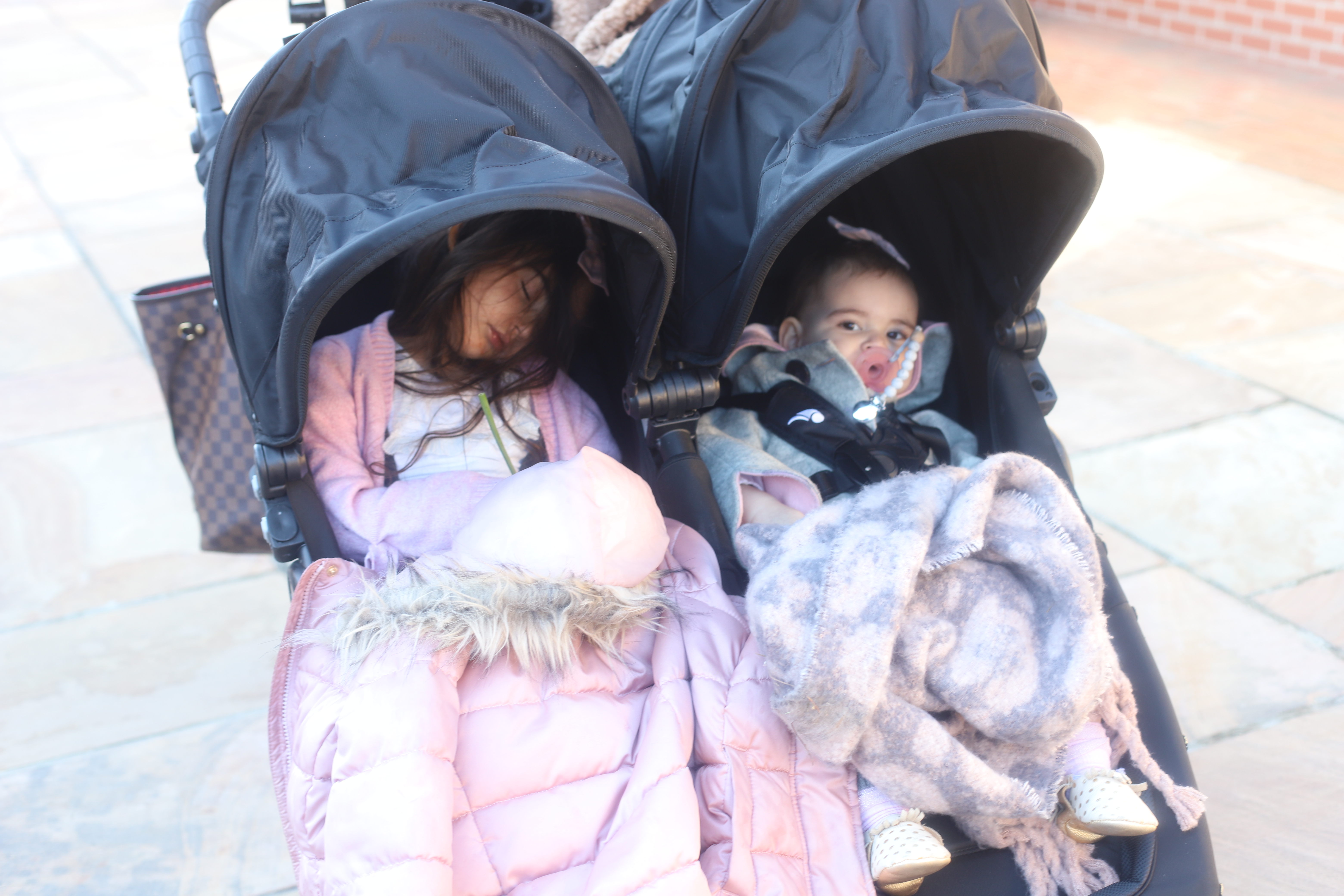 STROLLER TIP: You can take a stroller, including a double stroller, through most of the exhibits in Biltmore House, and there is a really cool vintage elevator that you can use as well. Some of the rooms at the top floor aren't stroller accessible, but everyone at Biltmore House is SO nice and helpful, and they'll happily hold your stroller for you while you visit those rooms. We were a bit worried about how we would navigate with the double-wide stroller, but it honestly wasn't an issue at all.
We found ourselves happy to have a double stroller to accommodate both of the girls through much of Biltmore's property, since it's such a huge place. The shuttles helped with that as well, and we were able to easily fold up and bring the stroller on the shuttles too.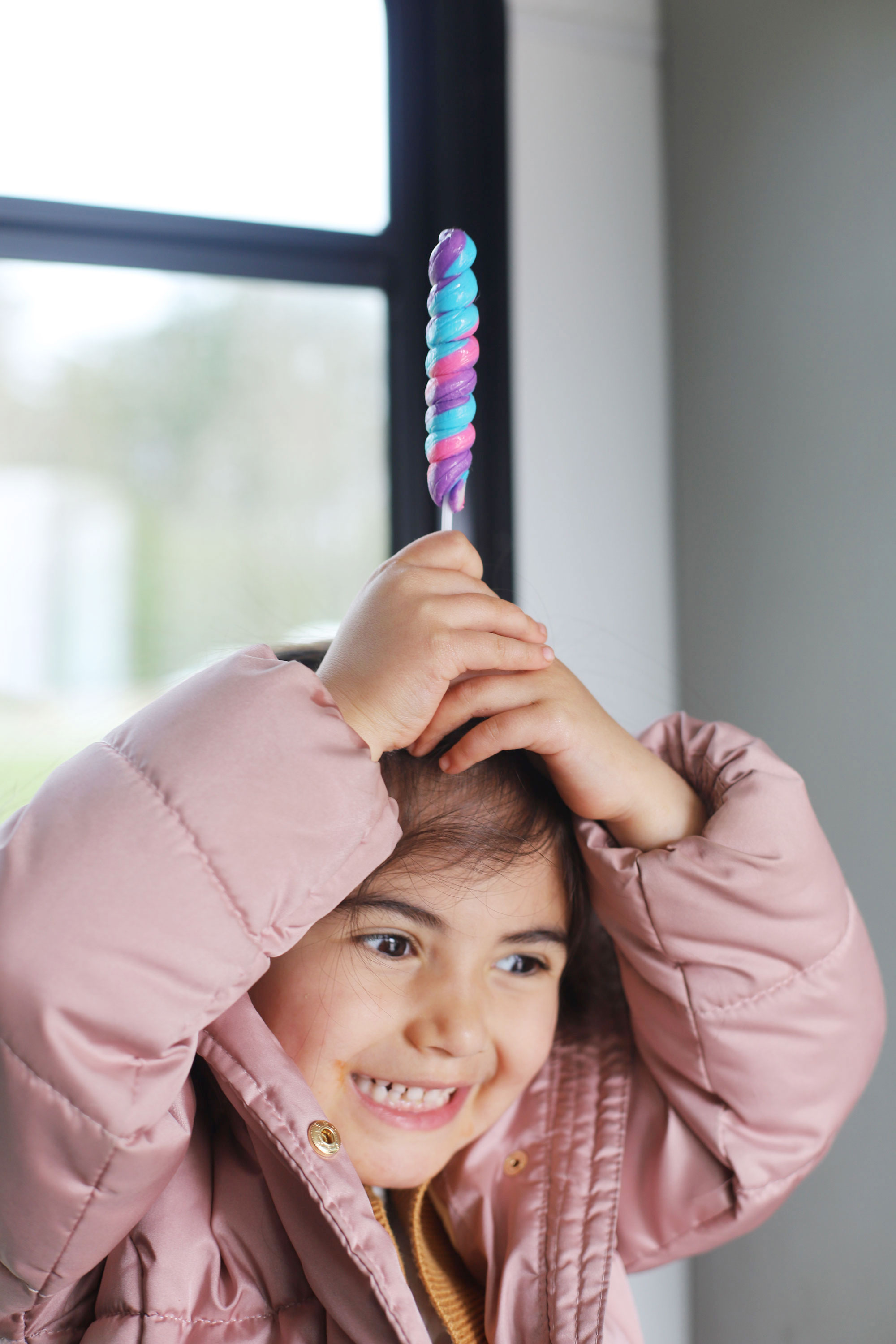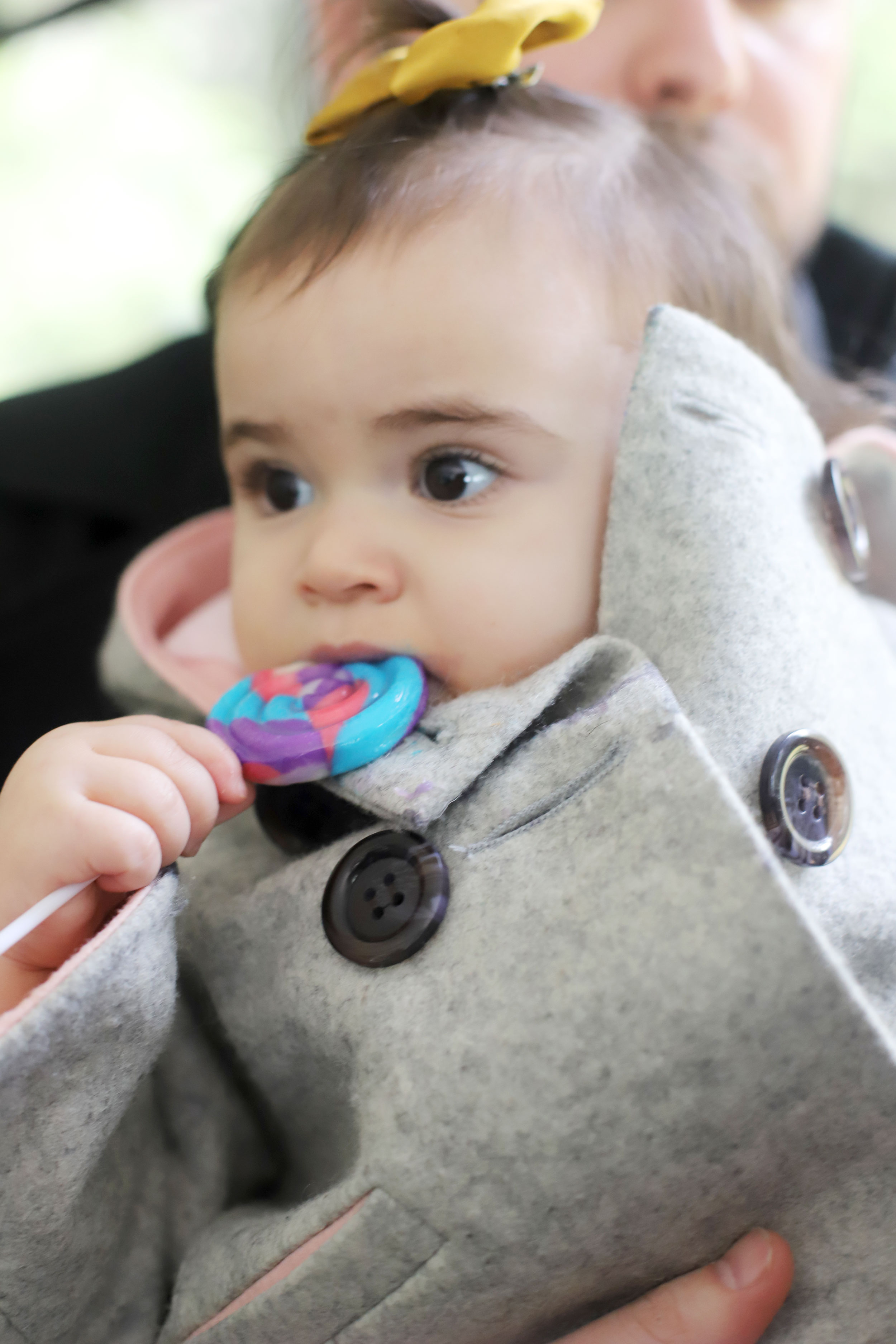 Shuttle rides are always fun, especially when you get to break out the lollipops you got at the Confectionary.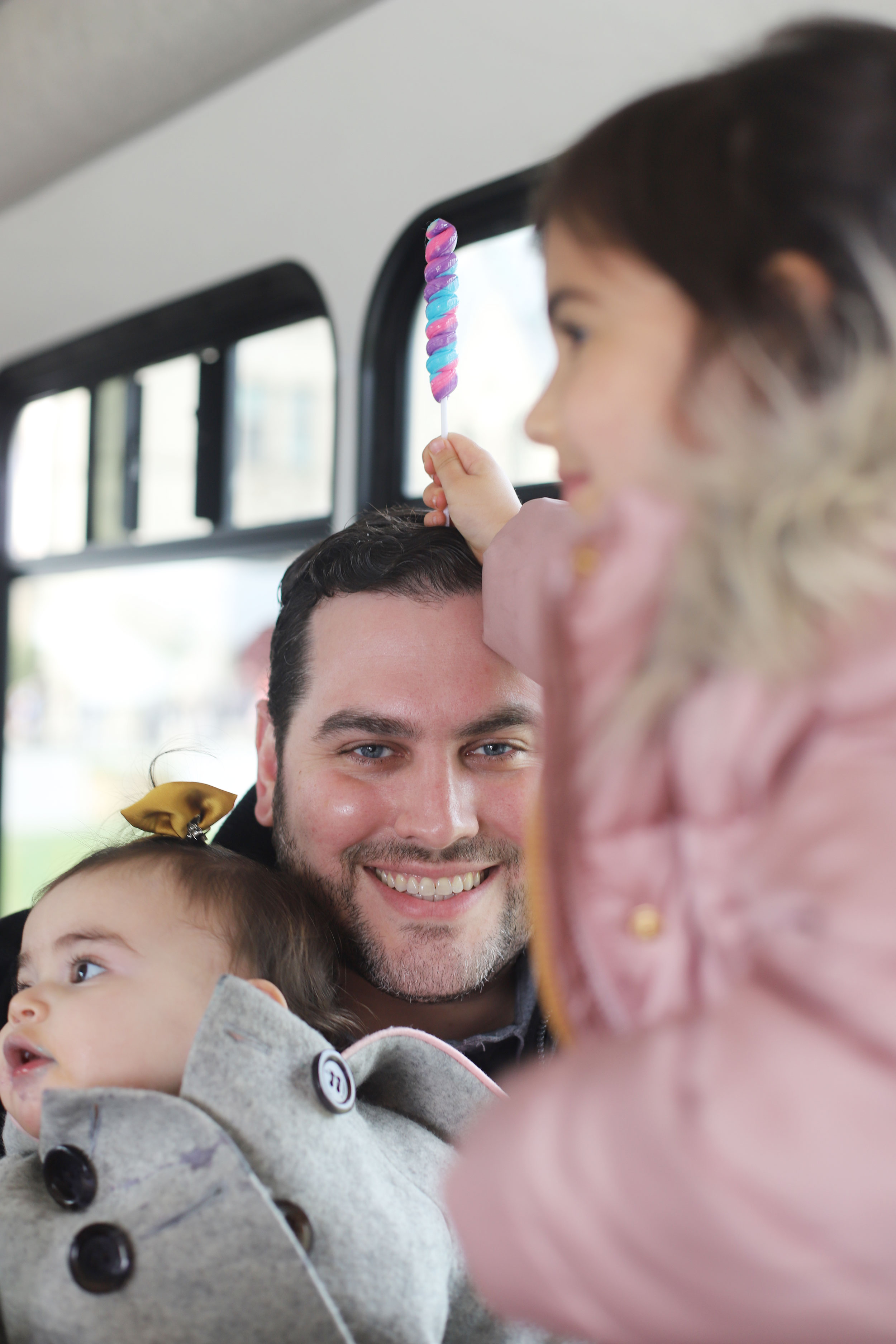 Daddy makes a magnificent unicorn.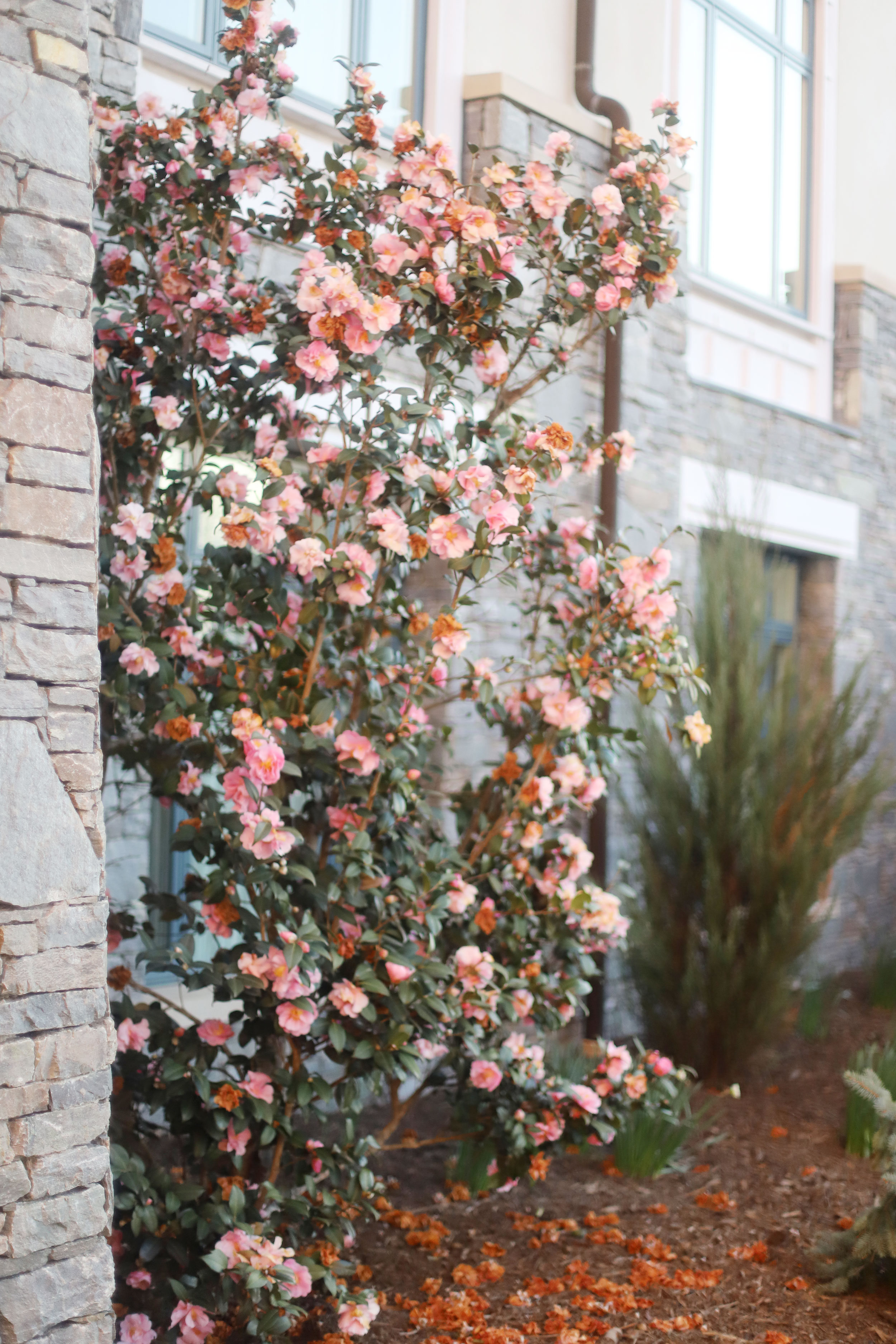 The Spa at the Inn
Once back at the Inn, we split up. Hubby took the kids to see the animals at the Farm, and I made my way to The Spa at
the Inn. I had The River Rock Estate Experience with Collagen Face Masque and it was absolutely incredible. If you ever get to experience any of the treatments at the Spa, ask for Bear.
He was so kind, unbelievably good at what he did, and made me feel so relaxed. It's so rare that I do anything for myself, and getting the chance to spend a whole two hours away, focusing on relaxing was pretty amazing.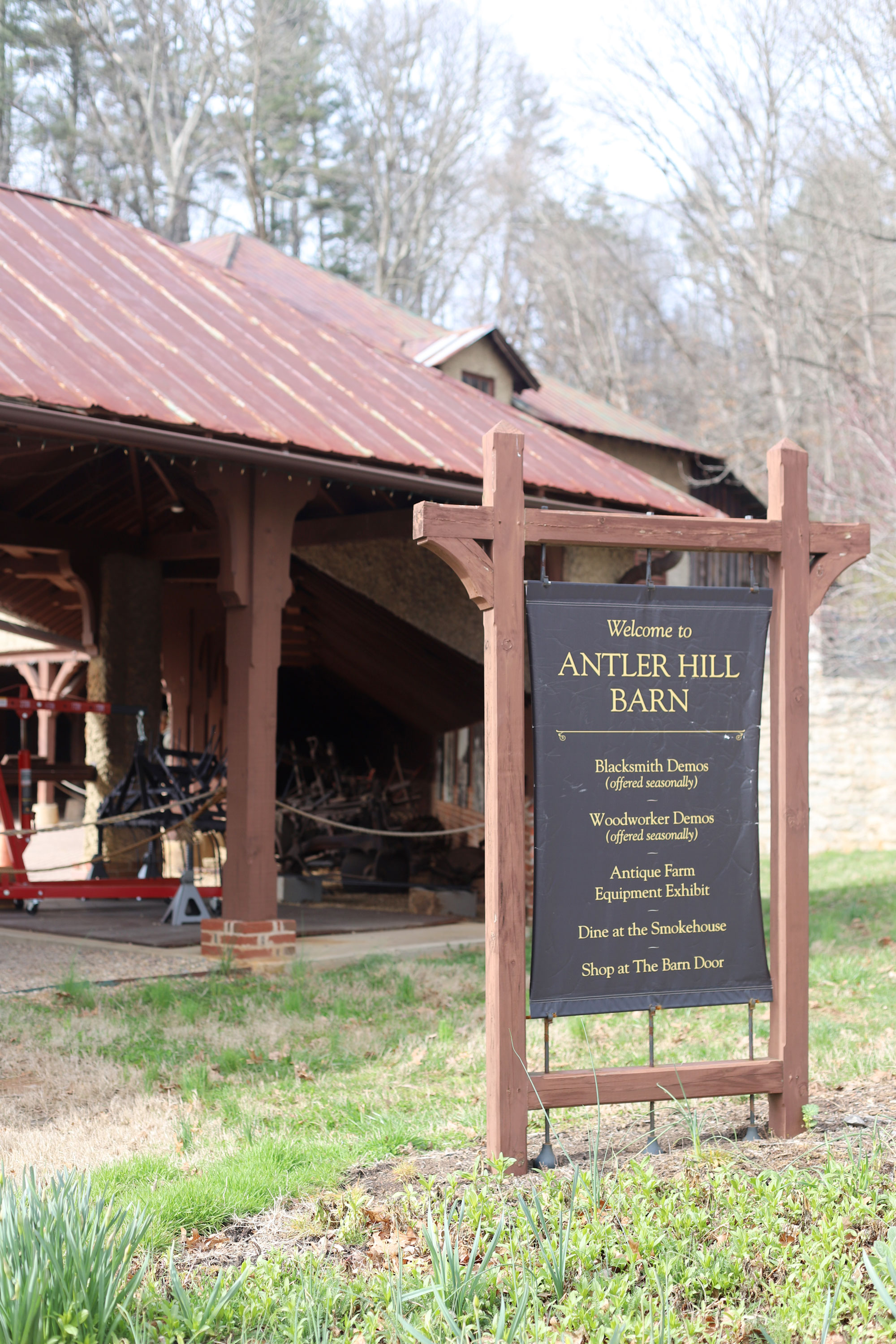 Fun at the Farm in Antler Hill Village
While I relaxed away at the Spa at the Inn, hubby and the girls played at the Farm in Antler Hill Village.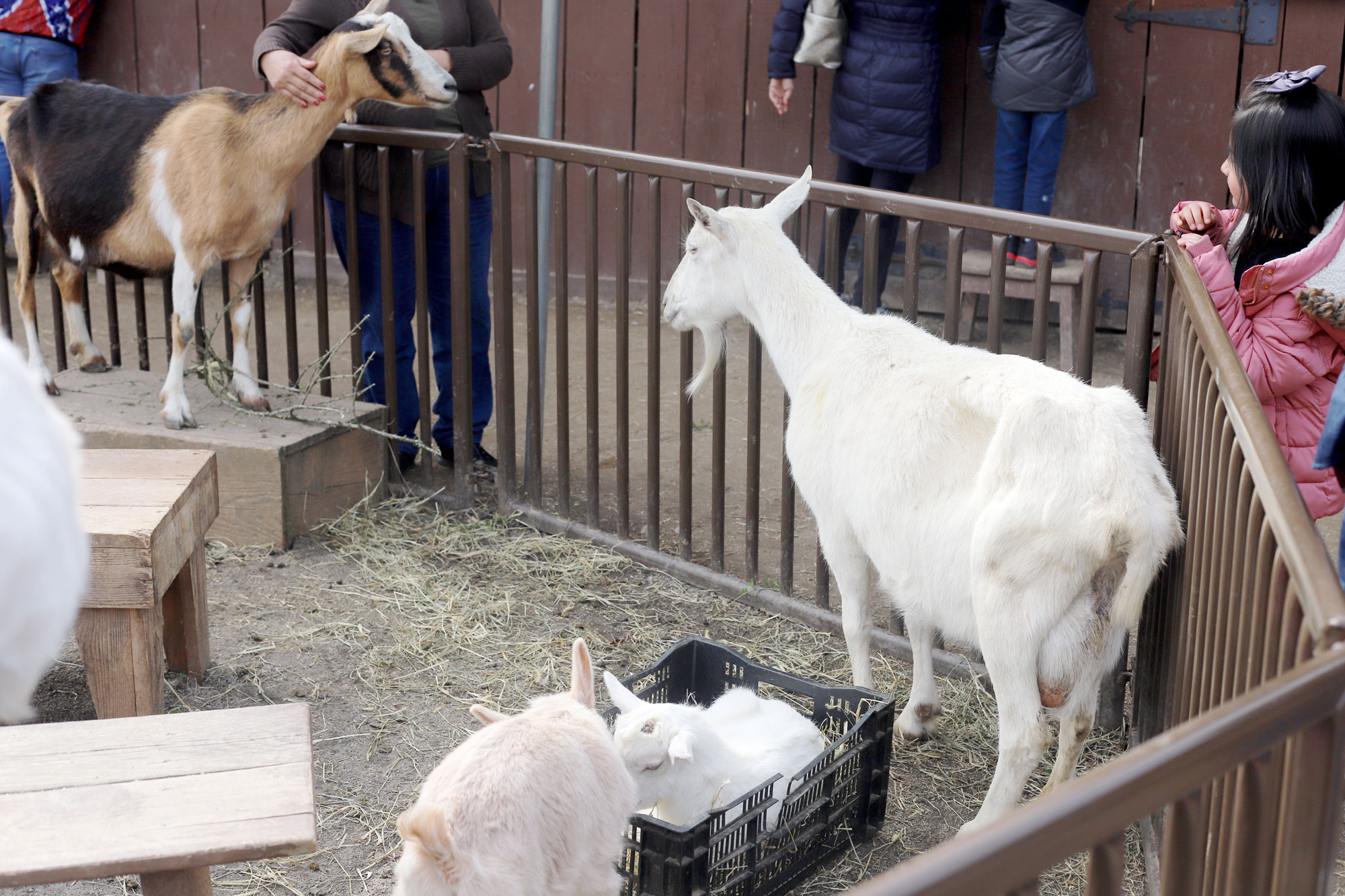 There really is so much for kids to do all around the Biltmore property:
o Antler Hill Barn: This is the site of the original farm at Biltmore. There's a really cool assortment of antique farm equipment, including an antique tractor that's totally "climbable".
o Visit Biltmore's Blacksmith: Antler Hill Barn is where you'll find blacksmith Steve Schroeder demonstrating traditional techniques, telling stories and answering questions in the estate's original smithy shop. Woodworking and broom making demonstrations will also be taking place in the same area. Demonstrations start at 11 a.m.
o Explore the Farmyard: A great introduction to farm life for young children, the Farmyard is home to a representative group of farm animals that were an integral part of life on the estate. Here you'll find laying hens, lambs, calves, goats, and draft horses. Estate experts are on hand to talk about farm life on the estate, and how the animals are cared for. (Open 11 a.m. to 5 p.m.)
o Handicrafts for Kids: Children can learn traditional Appalachian crafts and make a toy or souvenir to take home with them. Crafts such as off-loom weaving, creating corn shuck dolls, quilt design and limberjacks (a folk instrument) were popular during the time of the Vanderbilts. (Offered 1 to 6 p.m.)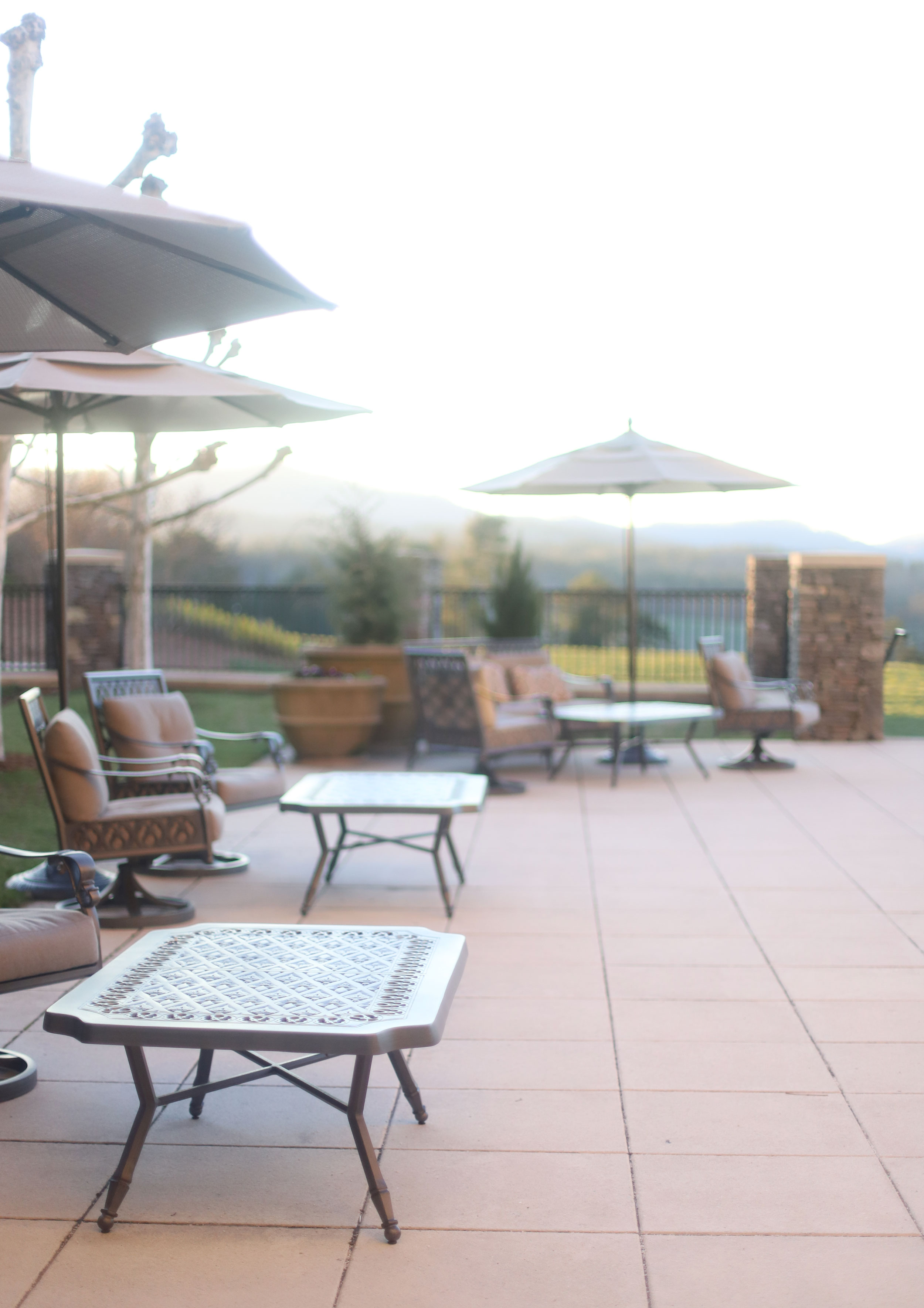 Romantic Dinner at The Dining Room
On Saturday night, hubby's mom, who happens to live in Asheville, came by and babysat the girls for us so that we could go on a little romantic dinner date at The Dining Room at the Inn. The Dining Room is probably the most upscale dining experience on the property, and features an incredible menu using weekly food deliveries from the estate's production garden and farm. White linen tablecloths, Vanderbilt china and crystal, and impeccable service add to the experience, and hubby and I felt totally spoiled by our amazing waiters.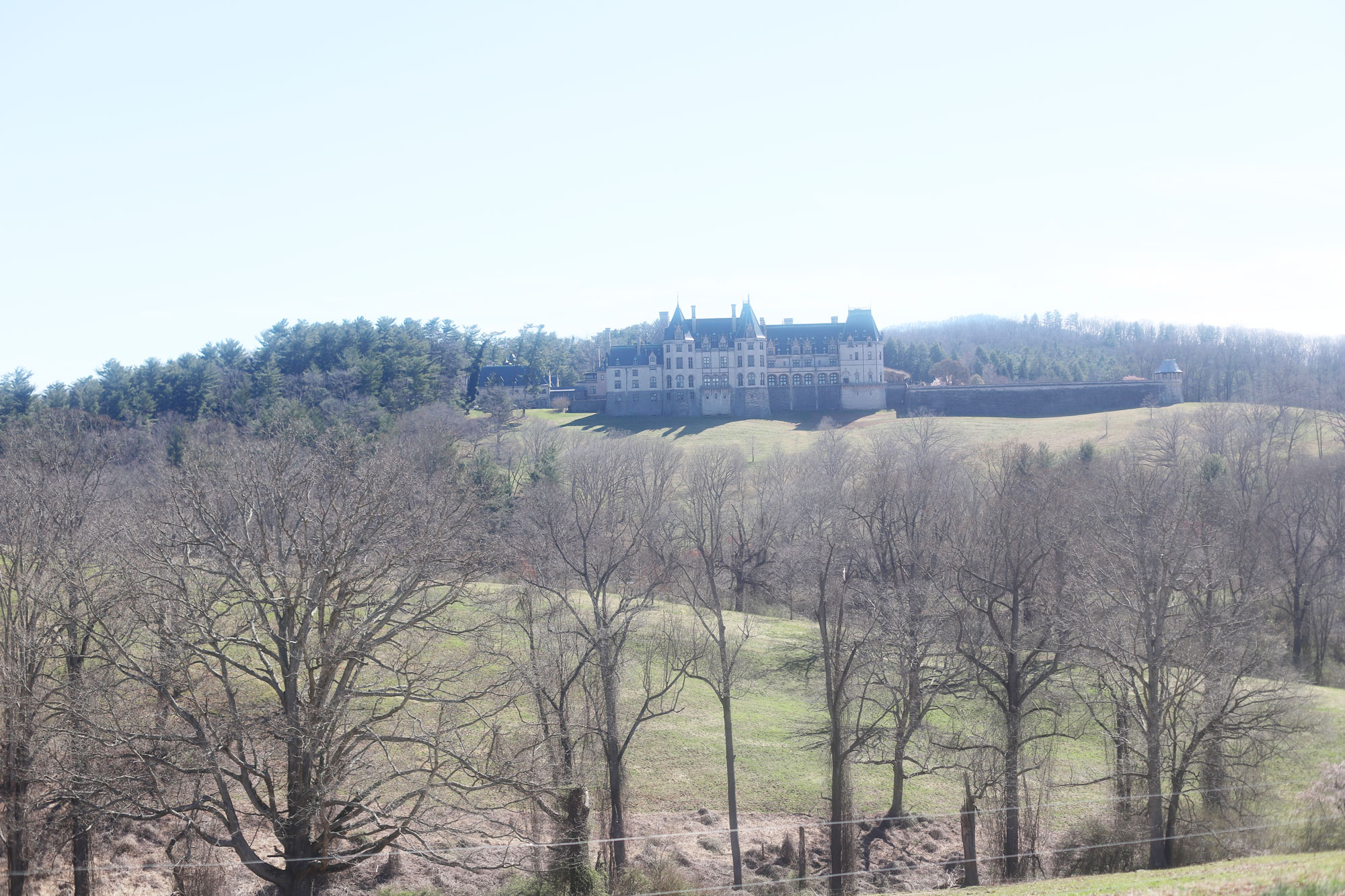 Carriage Ride from Deerpark Trail Barn
Sunday morning, after breakfast, we took a shuttle ride over to the Deerpark Trail Barn for our Carriage Ride. The girls were probably most looking forward to meeting the horses, and this did not disappoint.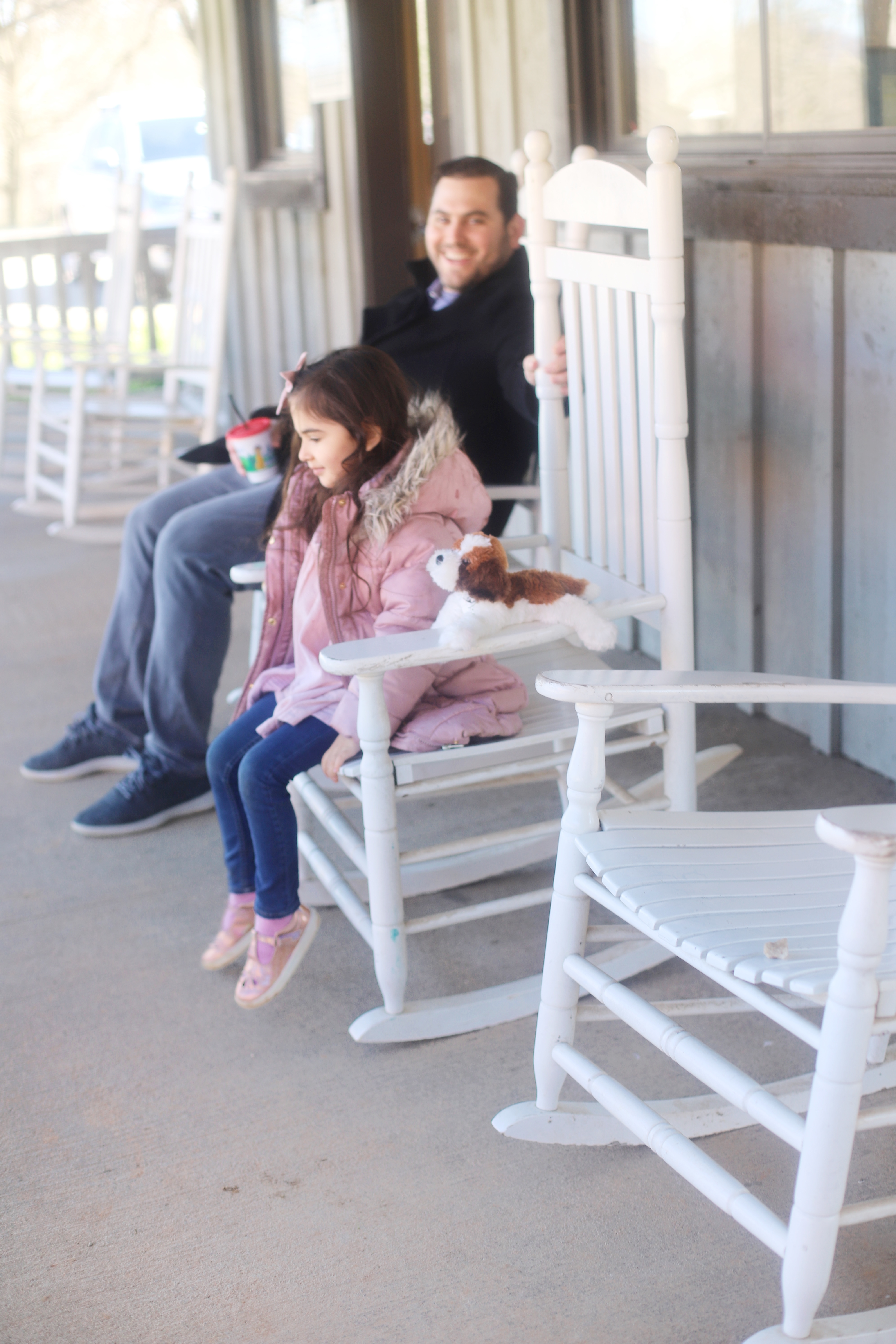 The horses were amazing and so well cared for, and the girls were bursting with excitement over meeting them.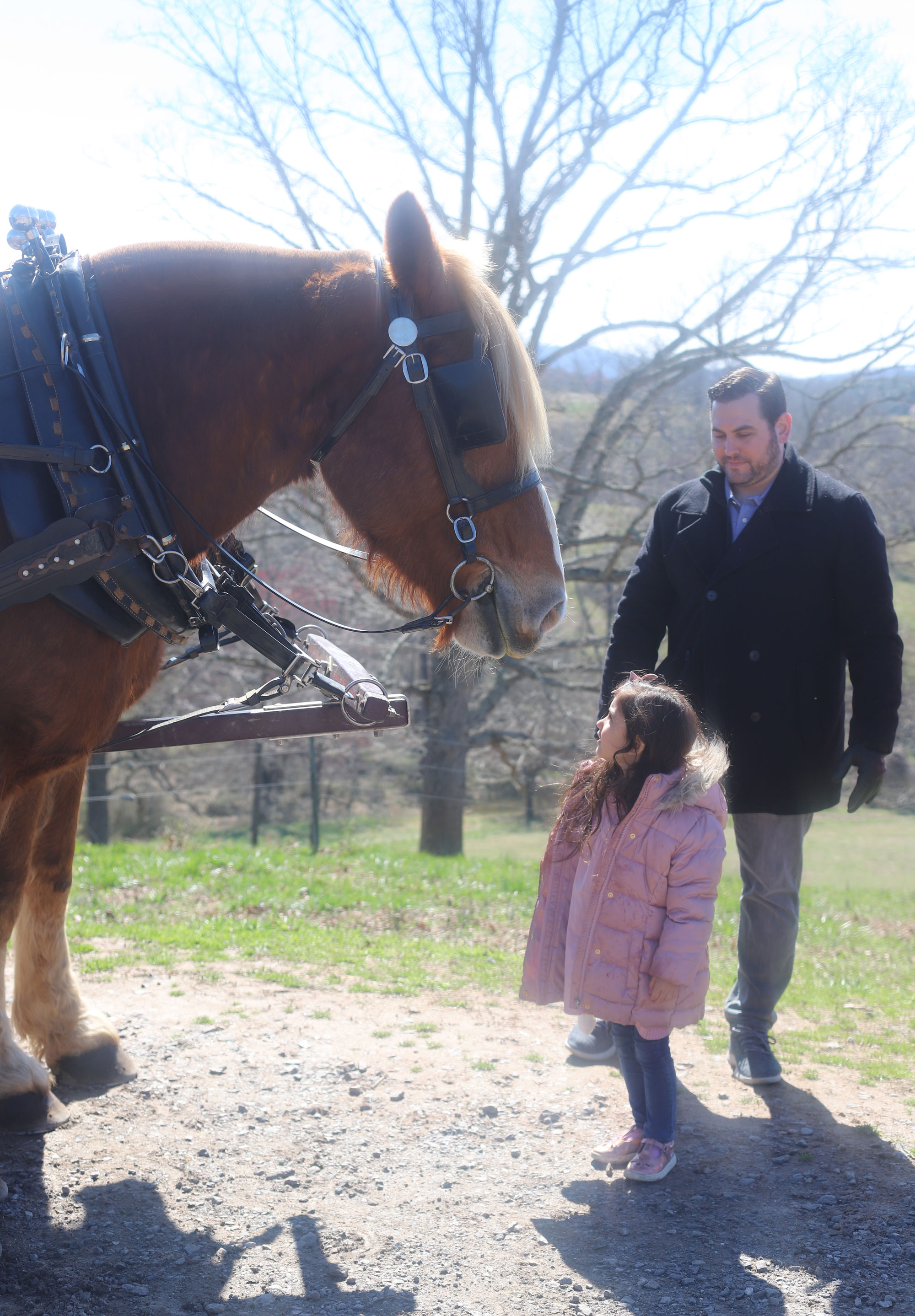 We all absolutely loved this experience.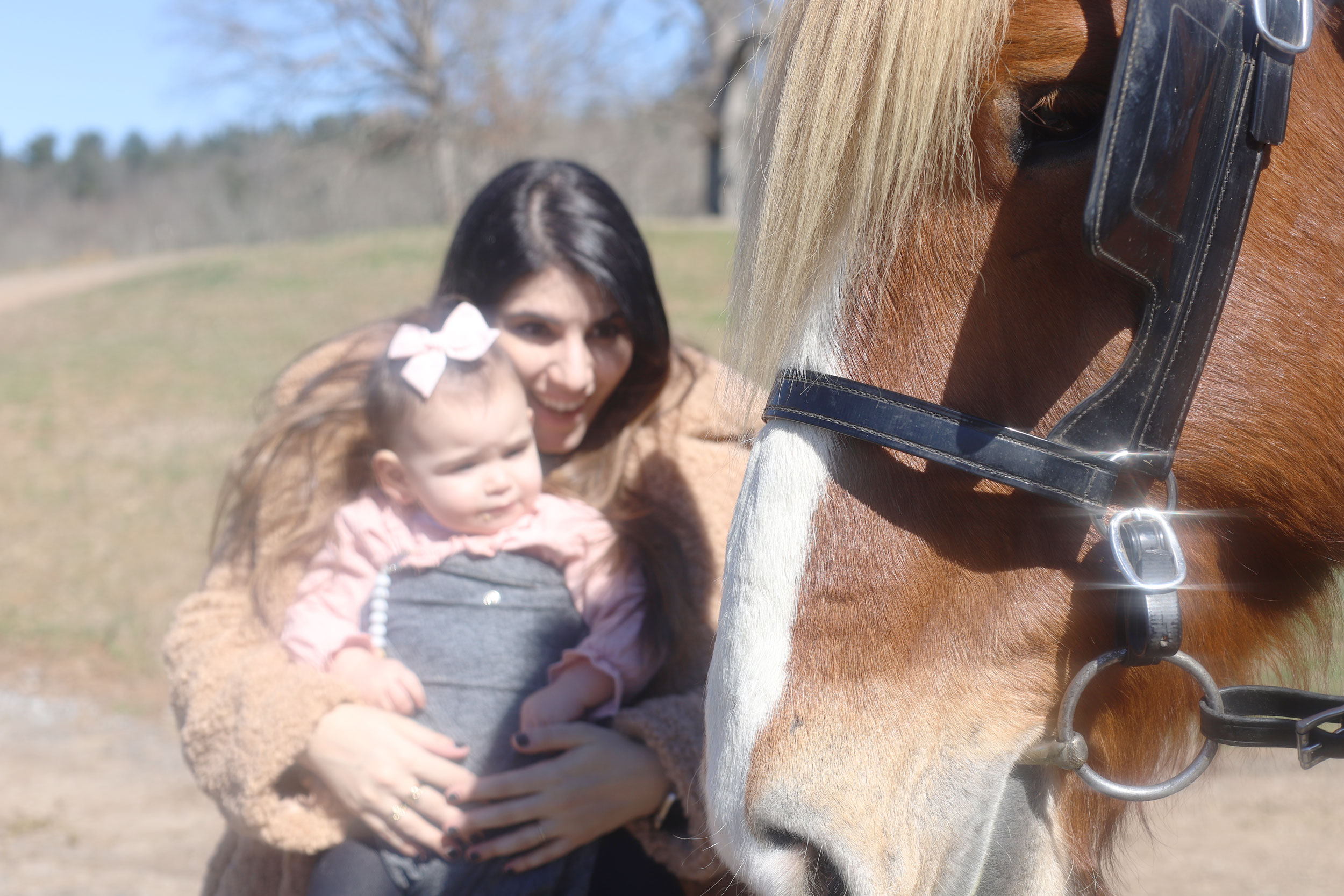 The carriage ride takes you all around the Biltmore estate property. You get to enjoy unforgettable views of the estate while traveling on a horse-drawn, eight-passenger wagonette as it meanders along estate roads.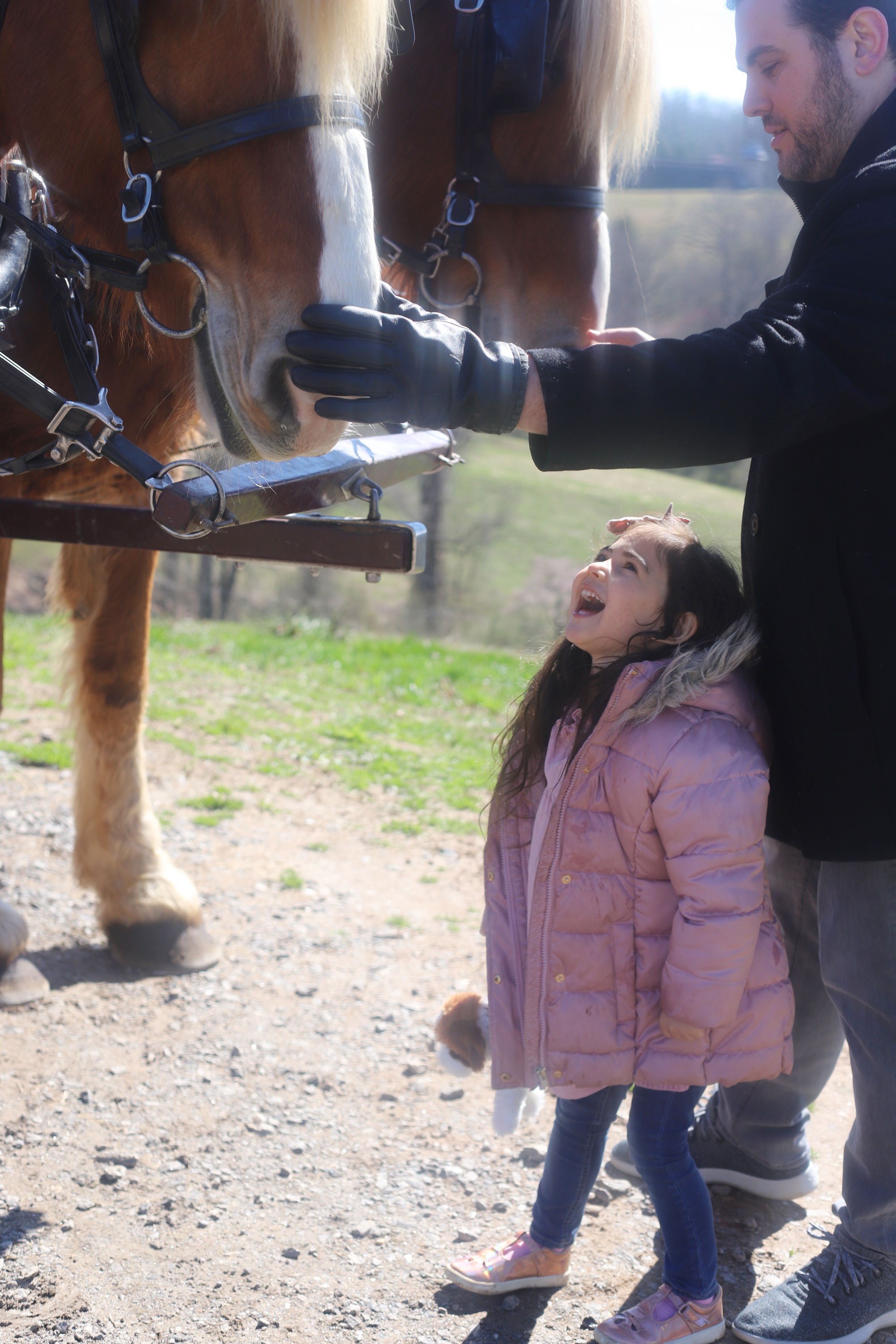 There's even time to stop and chat with the horses, which obviously went over big with our kids, and take photos of the magnificent views of Biltmore House.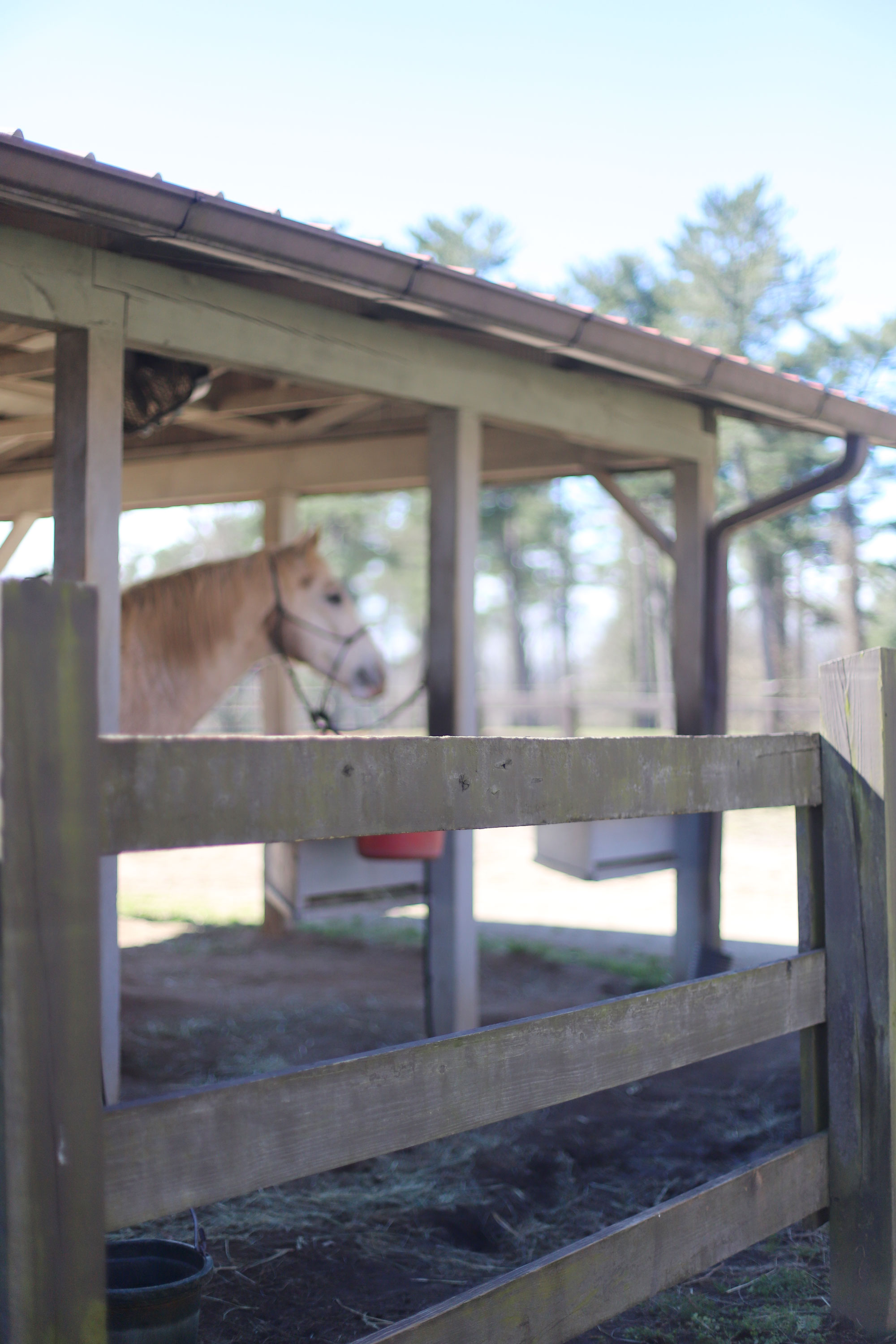 Long after the ride, Scarlett continued to point out horse shoe prints in the ground and talk about her new friends, the horses.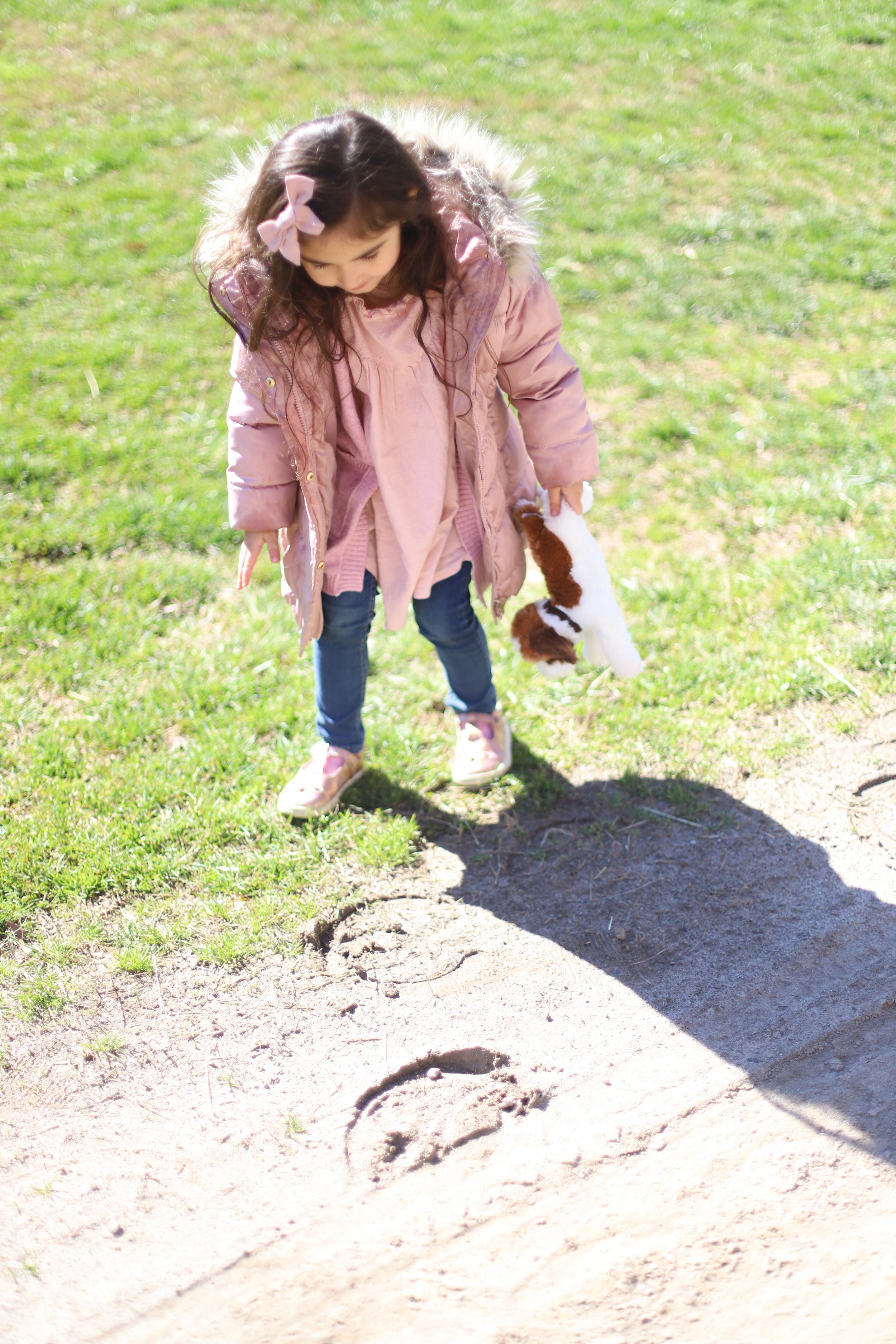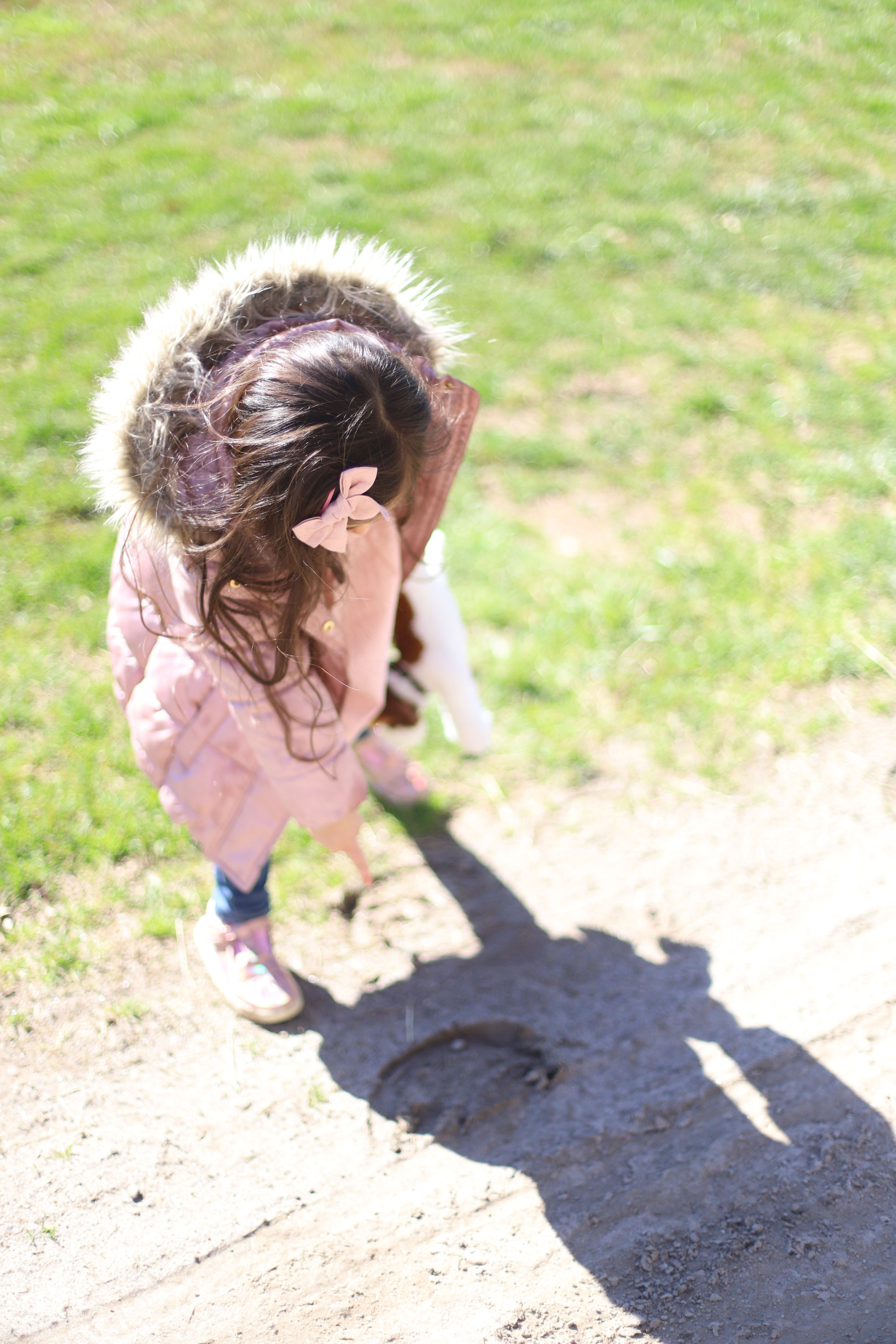 If you're headed to Biltmore with kids, I highly recommend the Carriage Ride. This was easily one of our kids' favorite memories from the trip.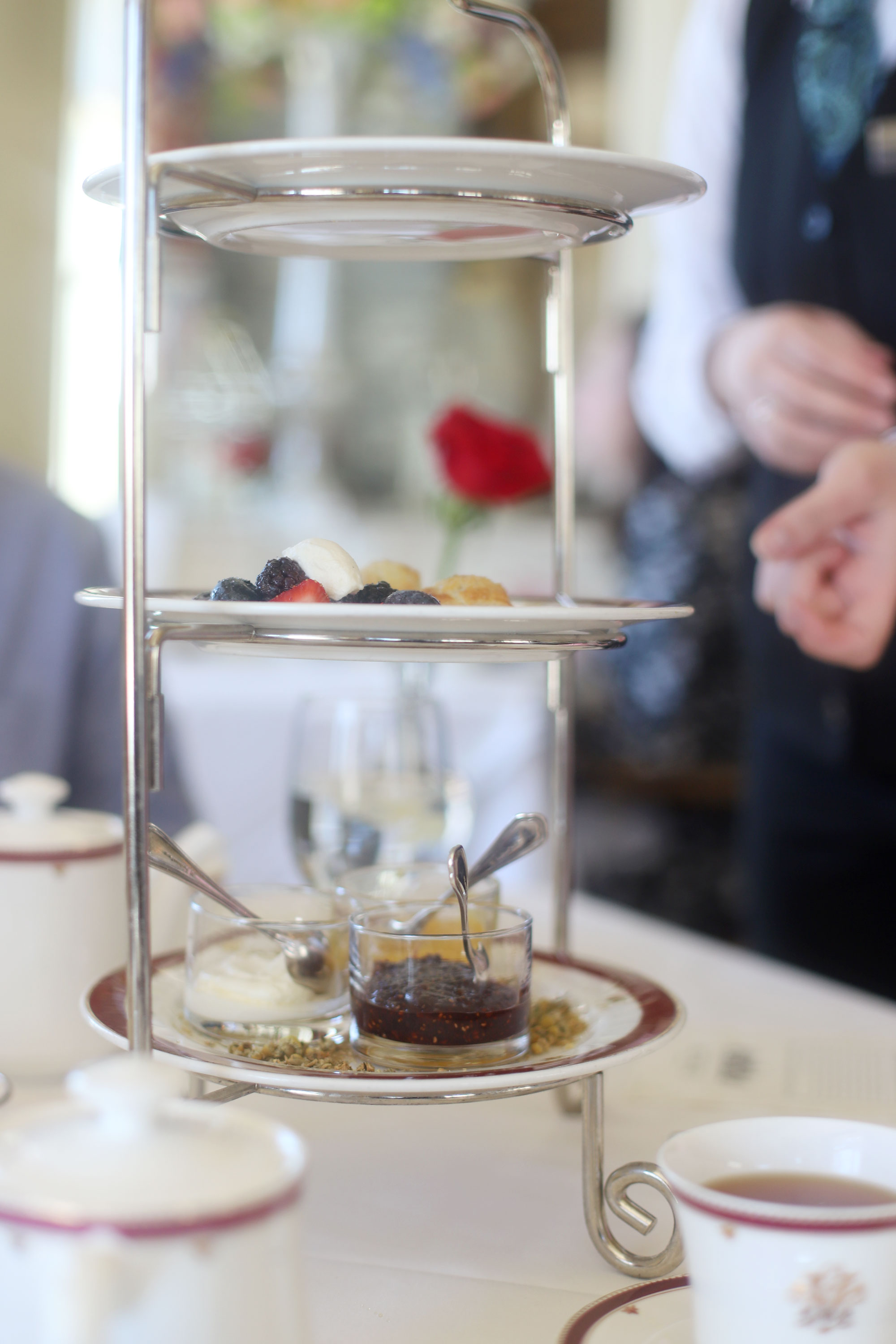 Afternoon Tea in The Dining Room at the Inn
Next up, we went to Afternoon Tea in The Dining Room at the Inn. (If you plan to have tea at Biltmore, be sure to make a reservation. This is a popular one, and for good reason.)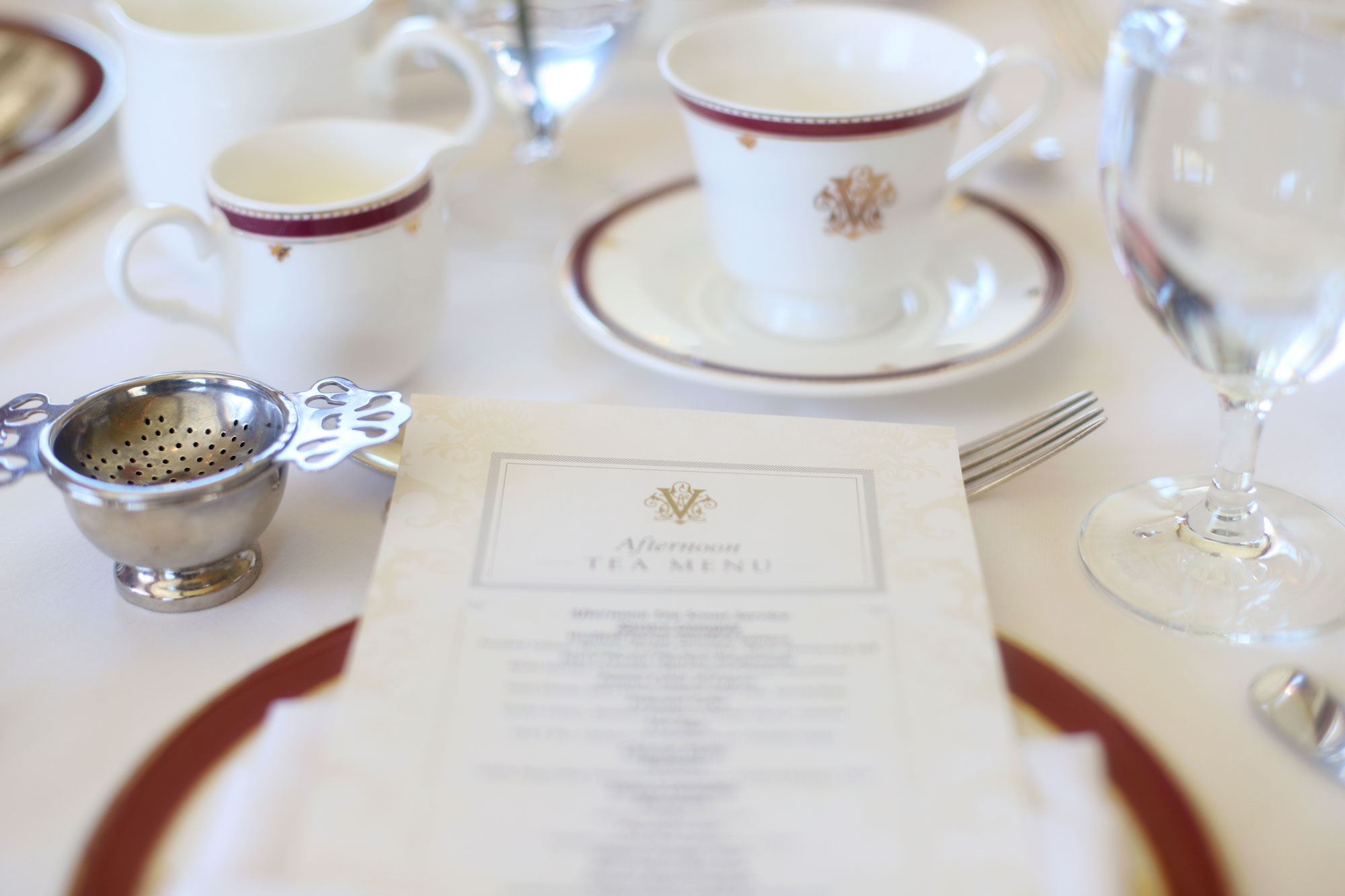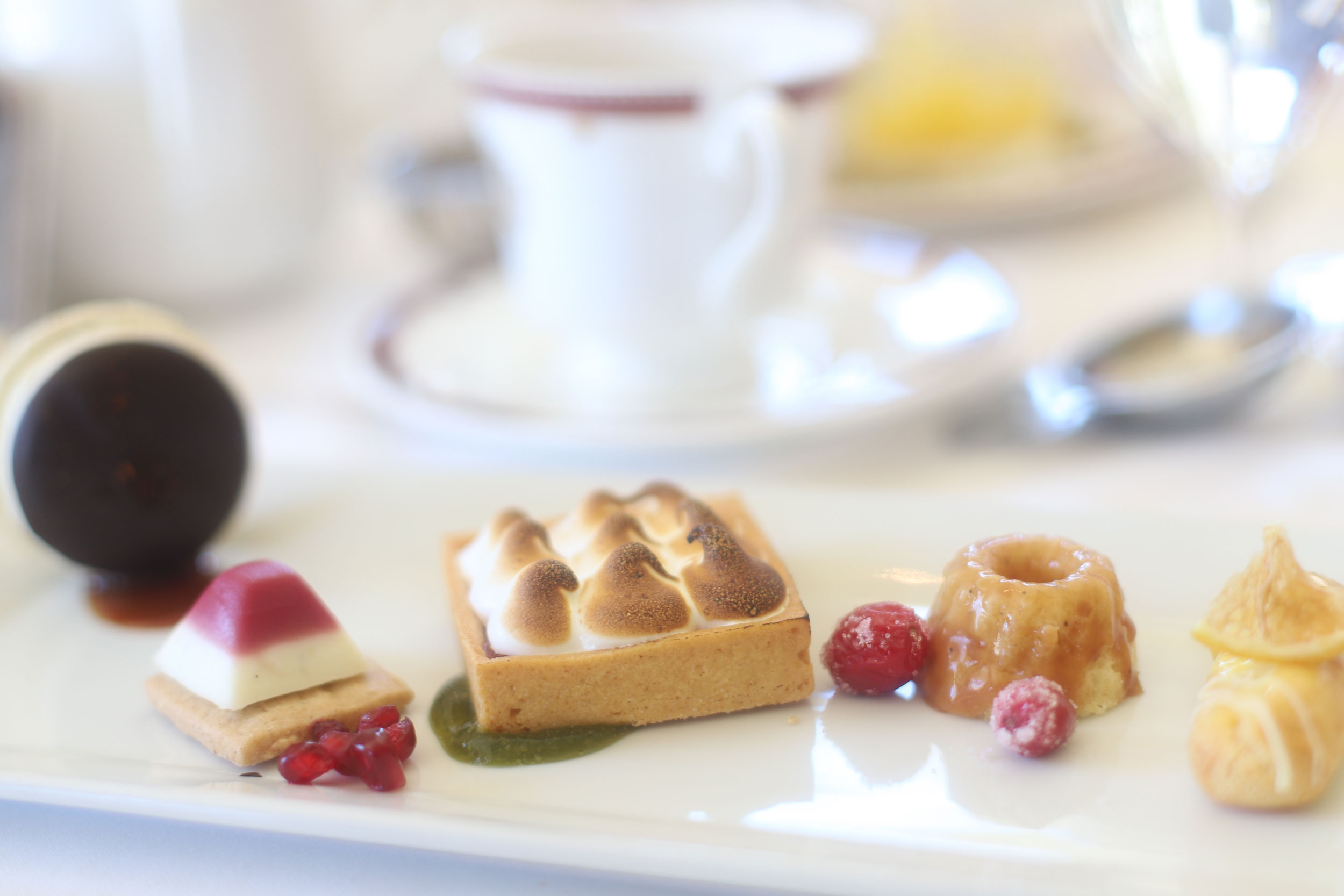 I loved, loved, loved Afternoon Tea. Everything was beautifully done, the tea and food was all delicious. Seriously, still dreaming about the scones and those desserts.
The girls felt like princesses and it was extra special that they had their own special kids tea service. The Inn was even able to accommodate a vegan tea service for Scarlett, complete with mini sandwiches and a chocolate raspberry cake for dessert – ALL vegan. That totally made my mama heart happy.
Emme also very much approved of the chocolate cake.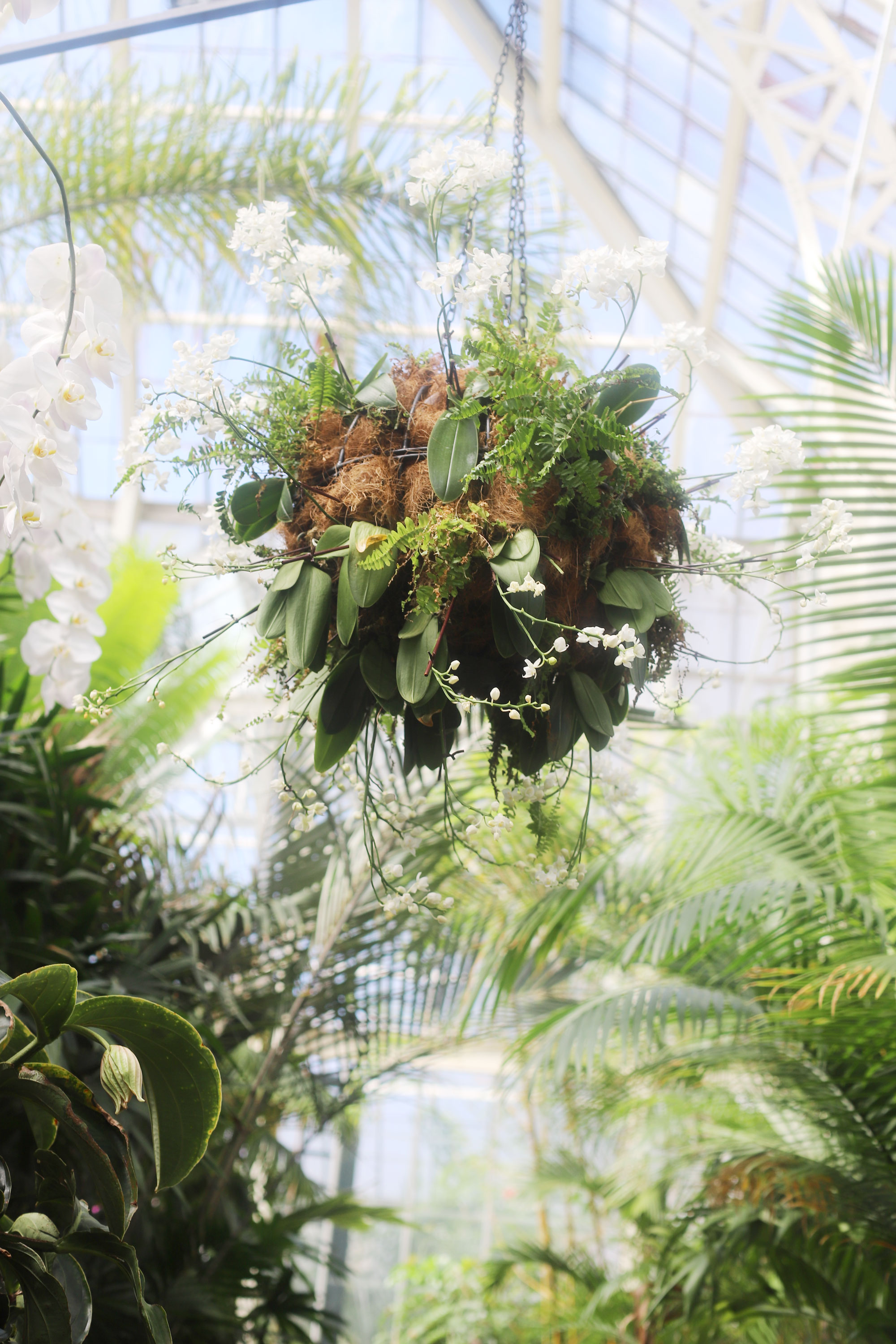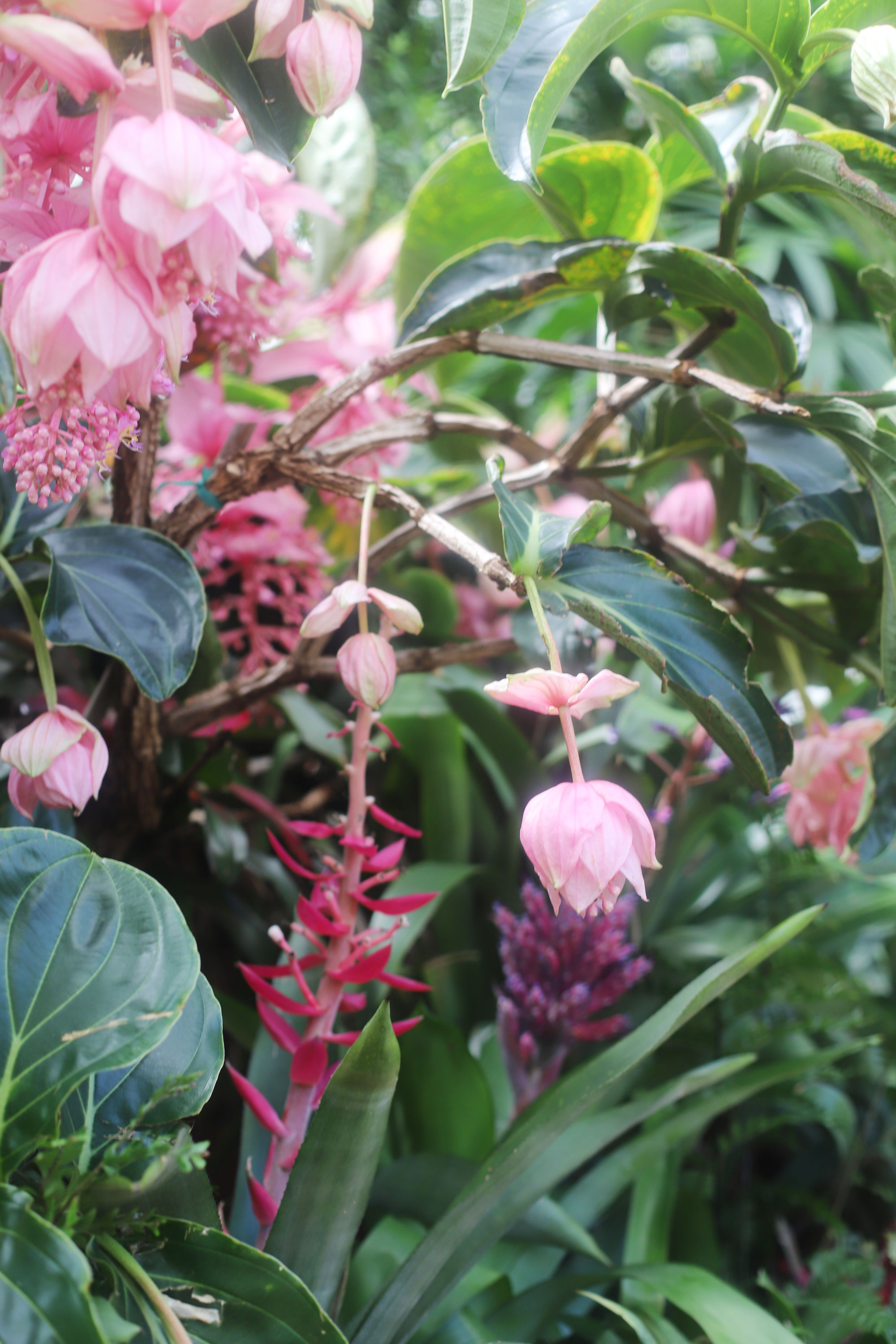 Conservatory & Gardens
I was absolutely blown away by all of the spring blooms throughout Biltmore Estate, and in particular, the flowers in the Conservatory are absolutely breathtaking. I honestly had NO idea that so many dramatic and beautiful varieties of orchids even exist.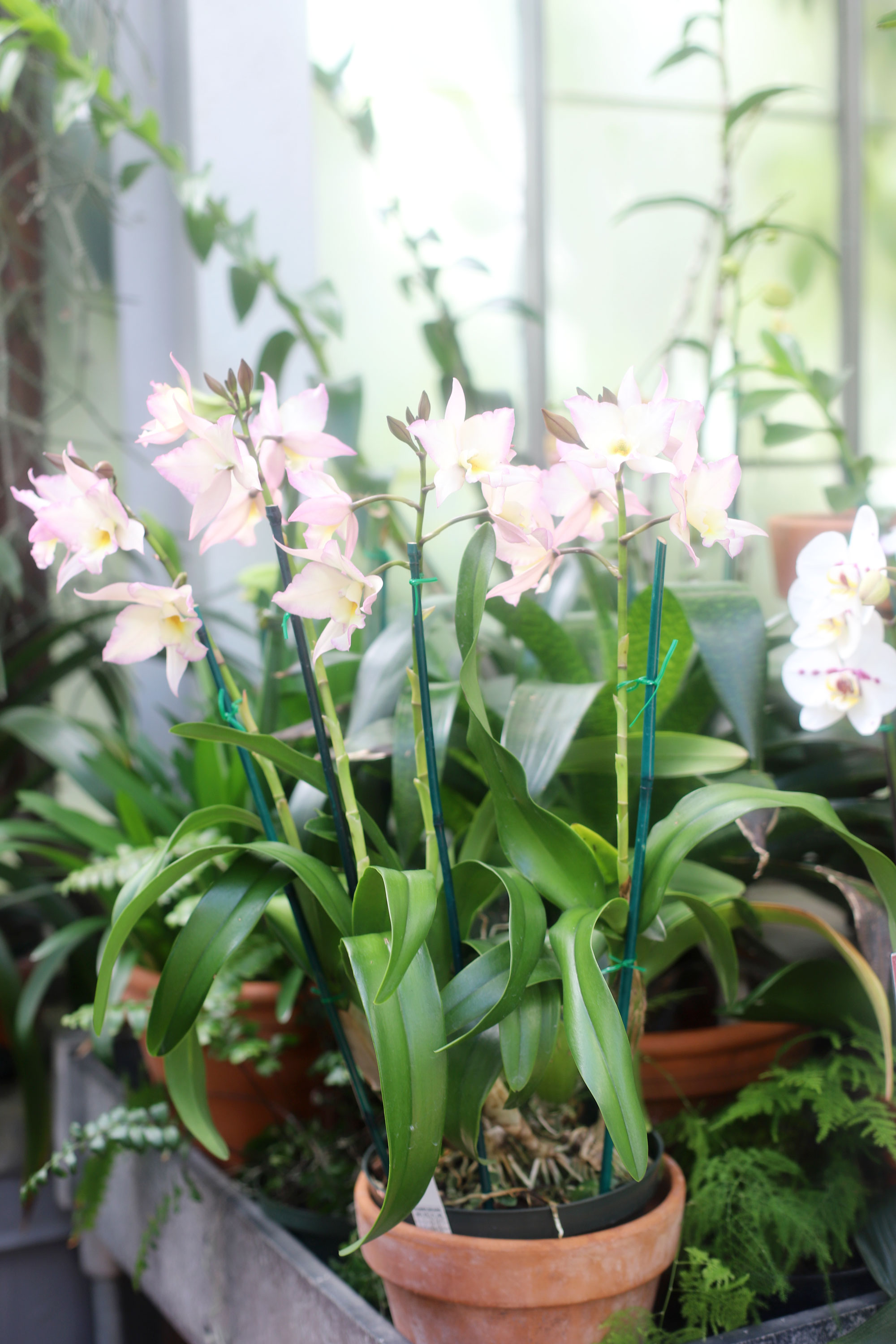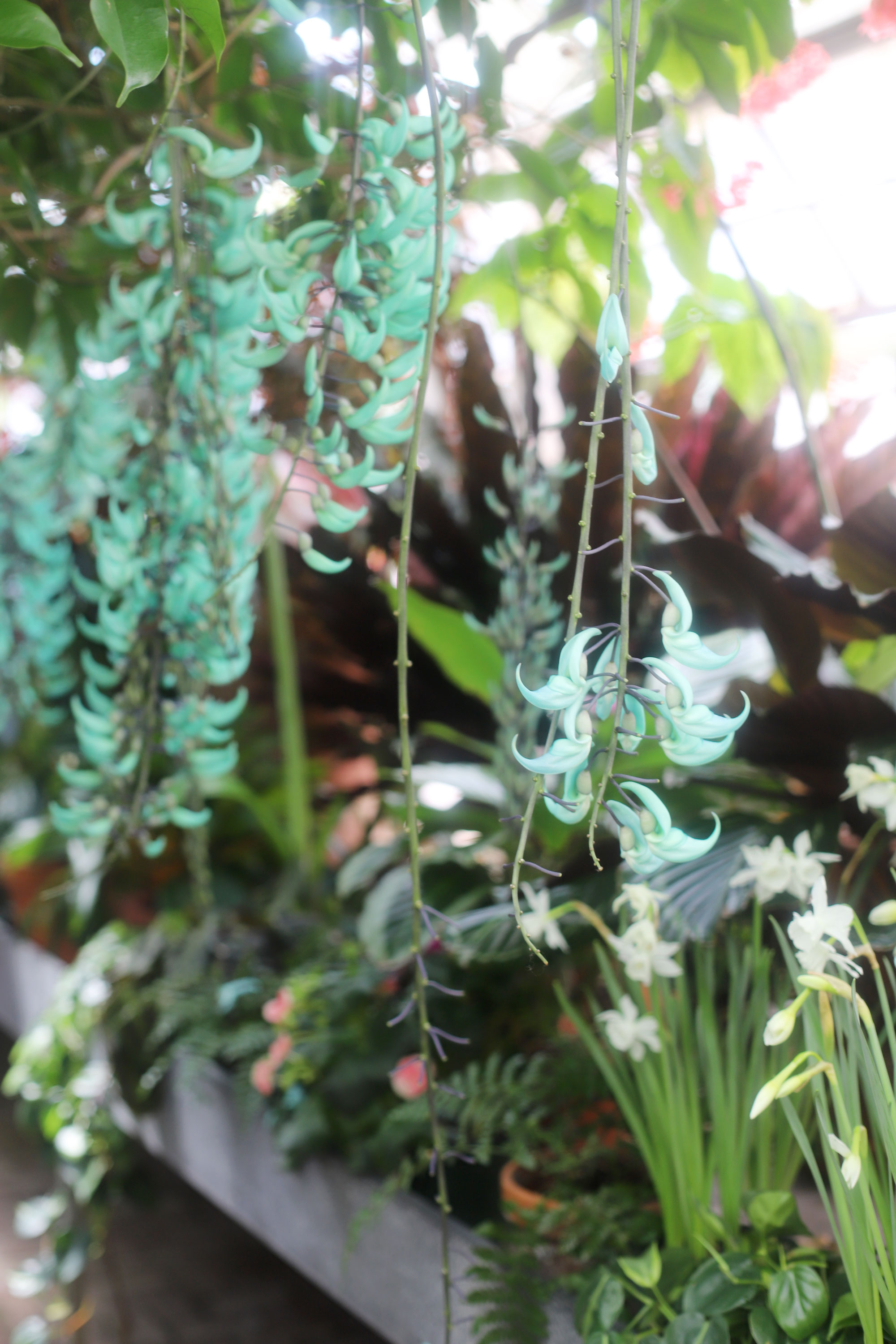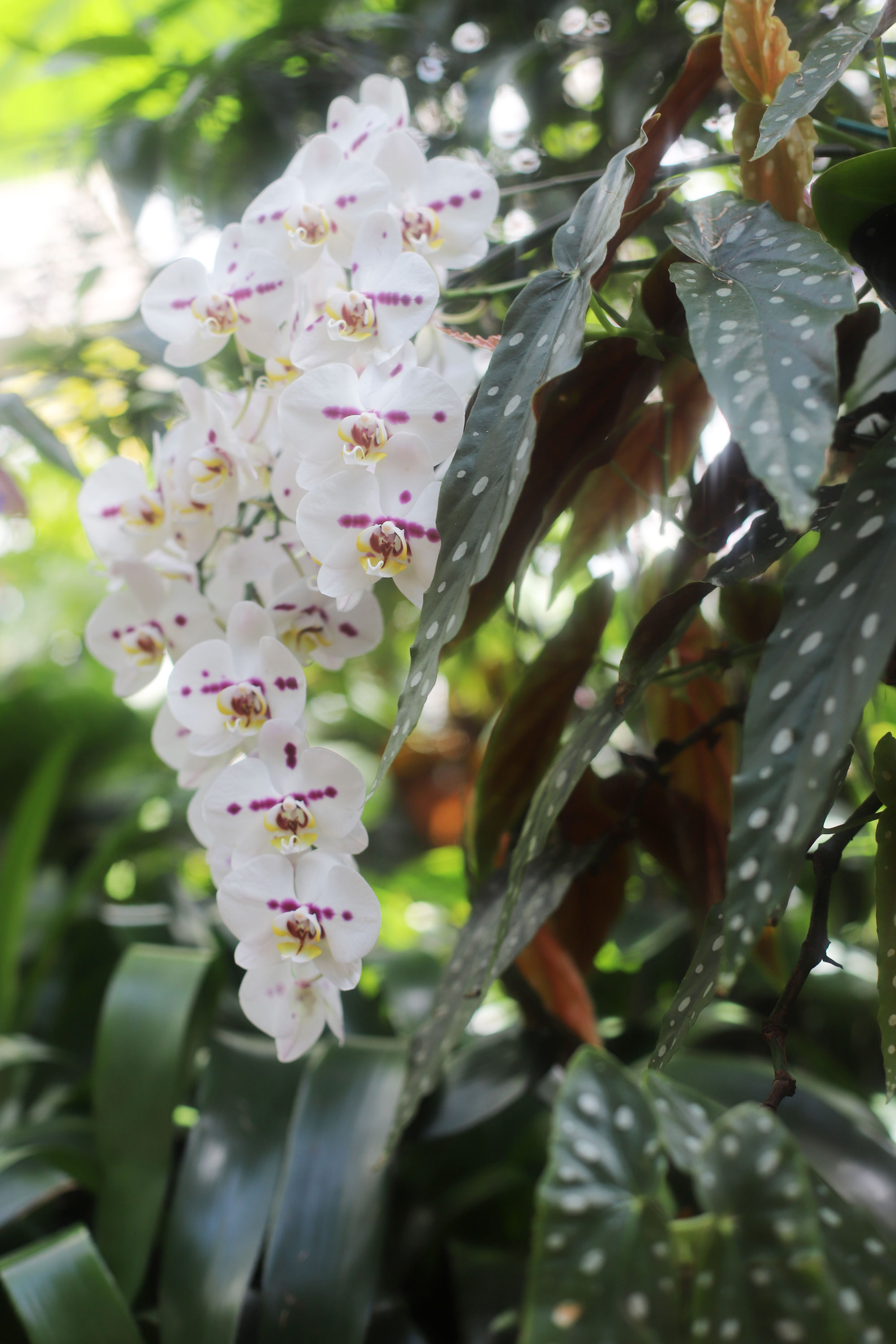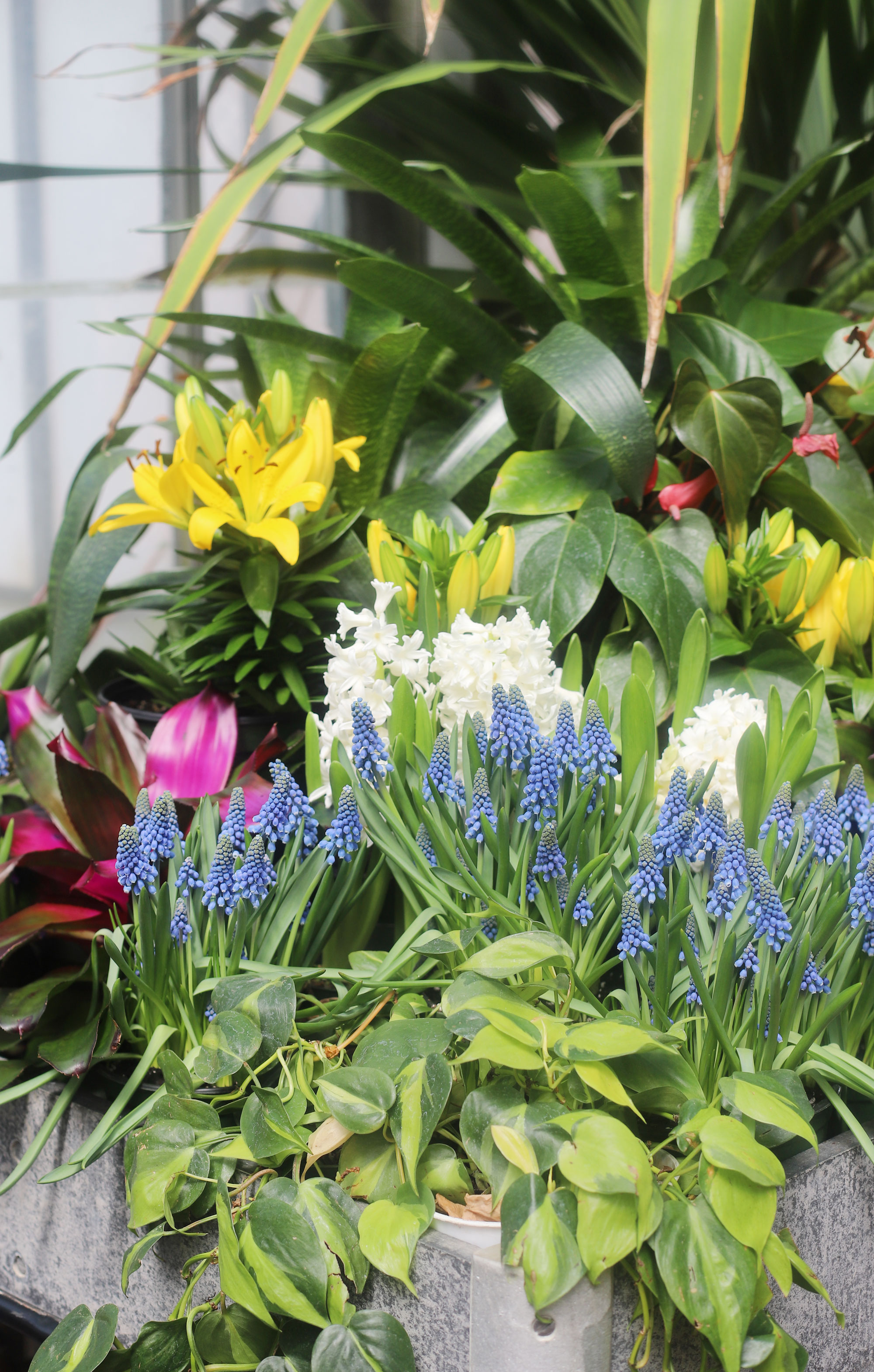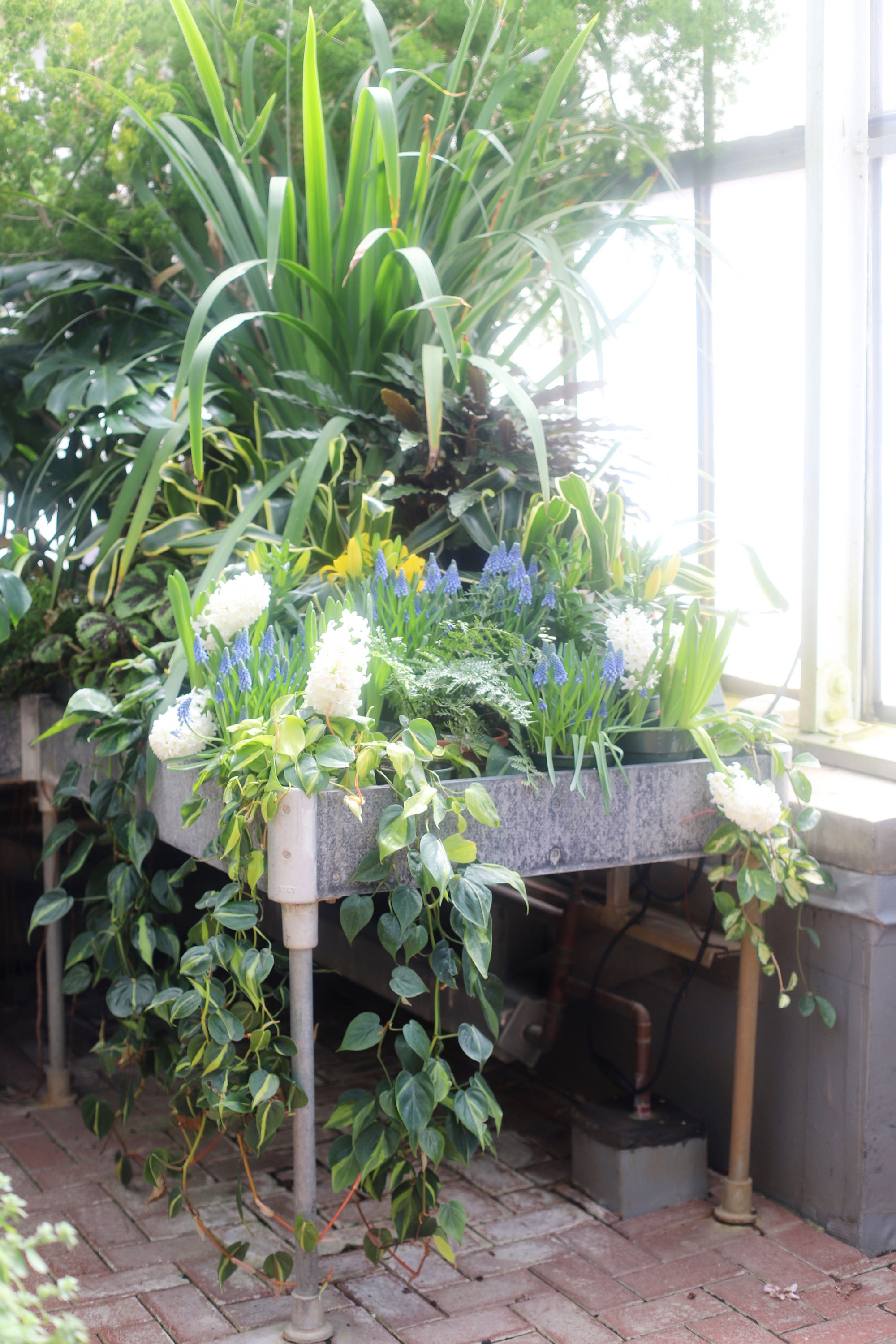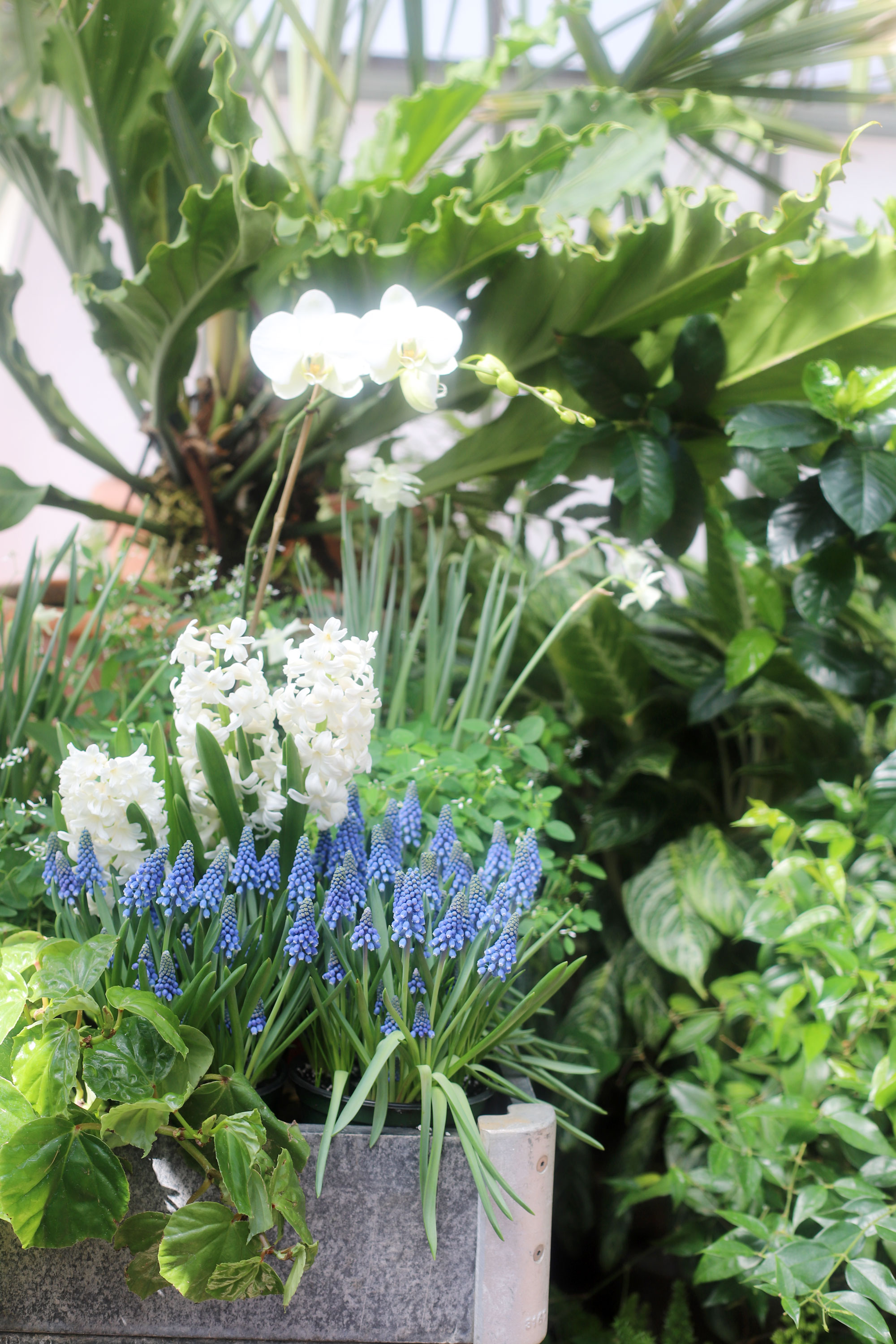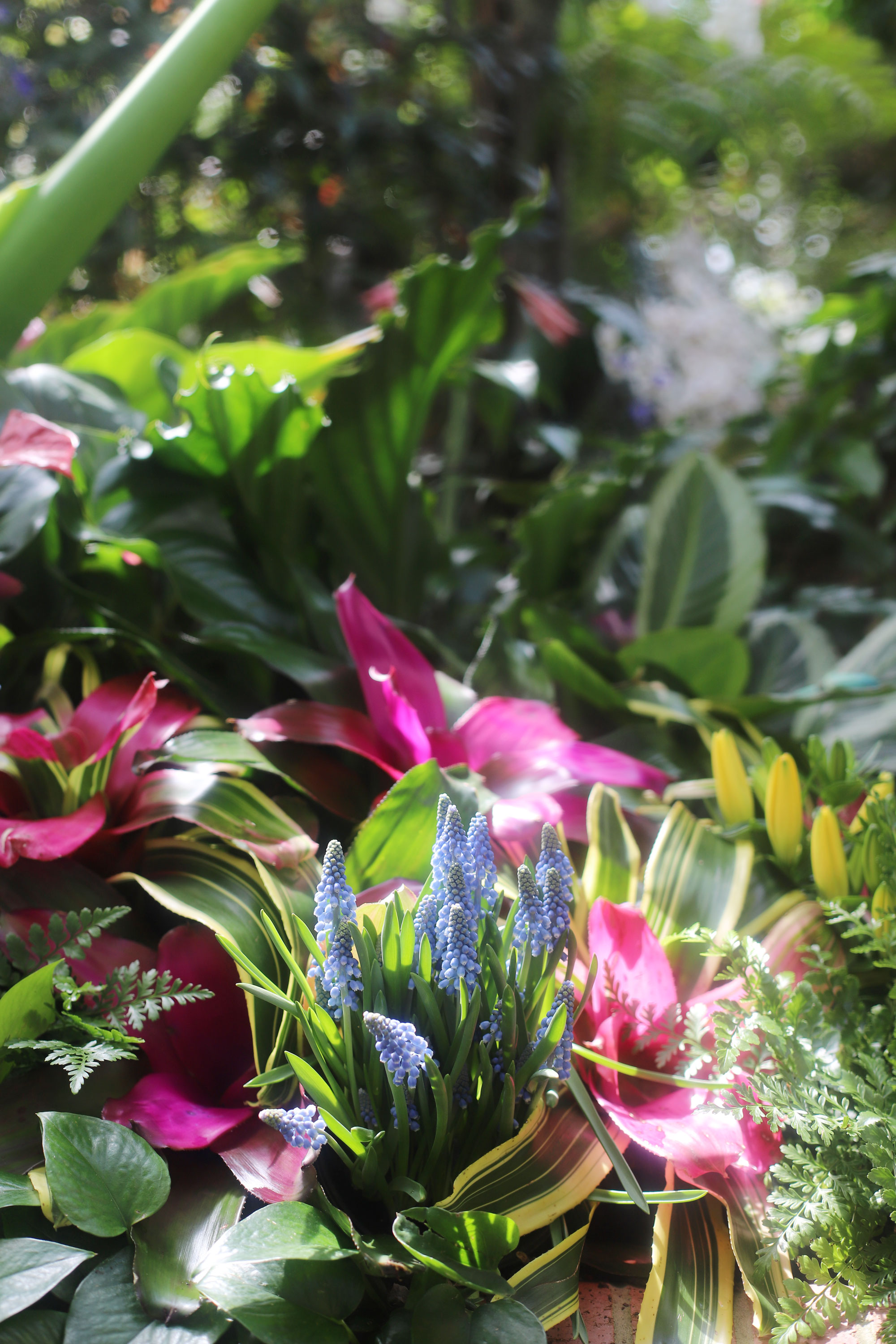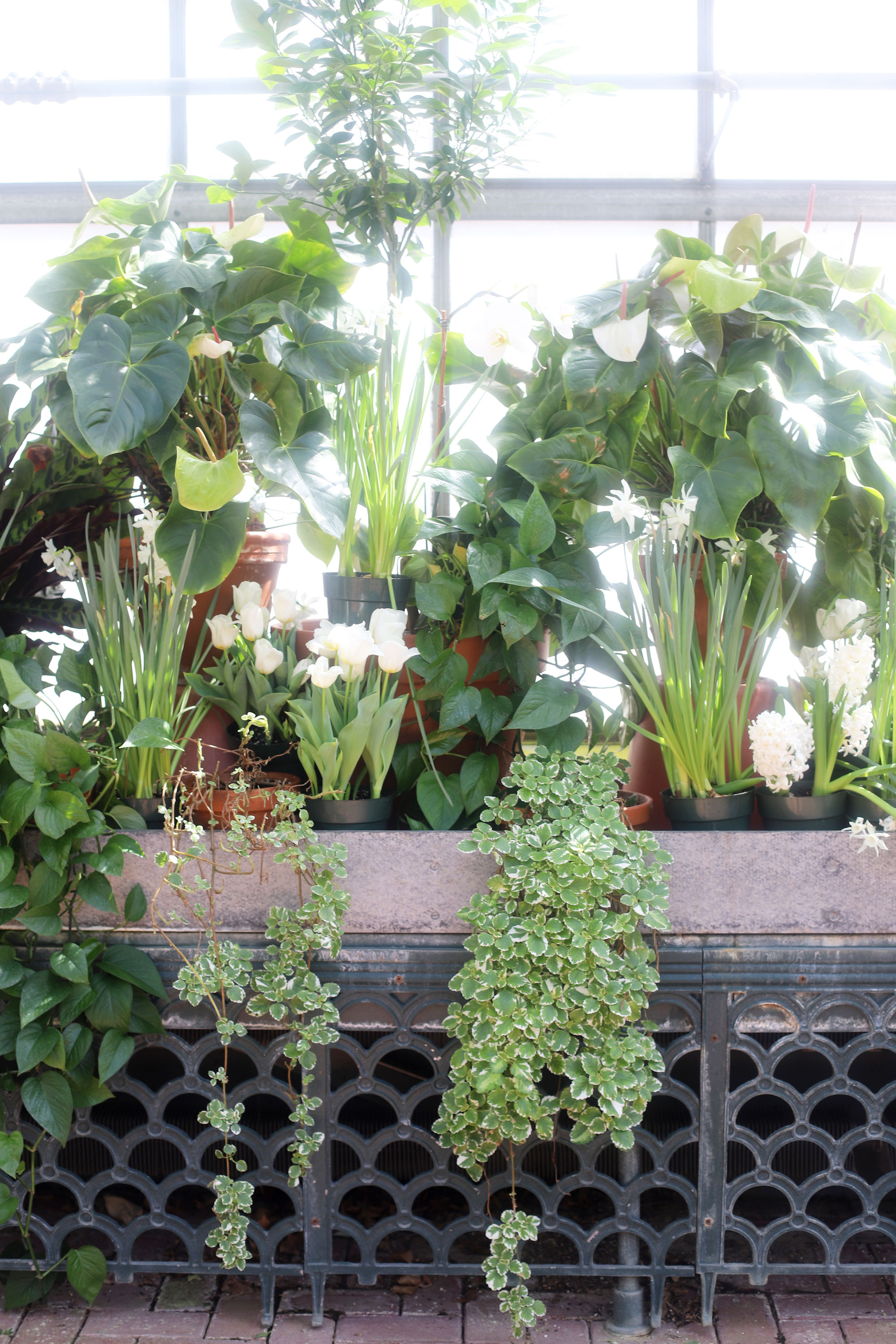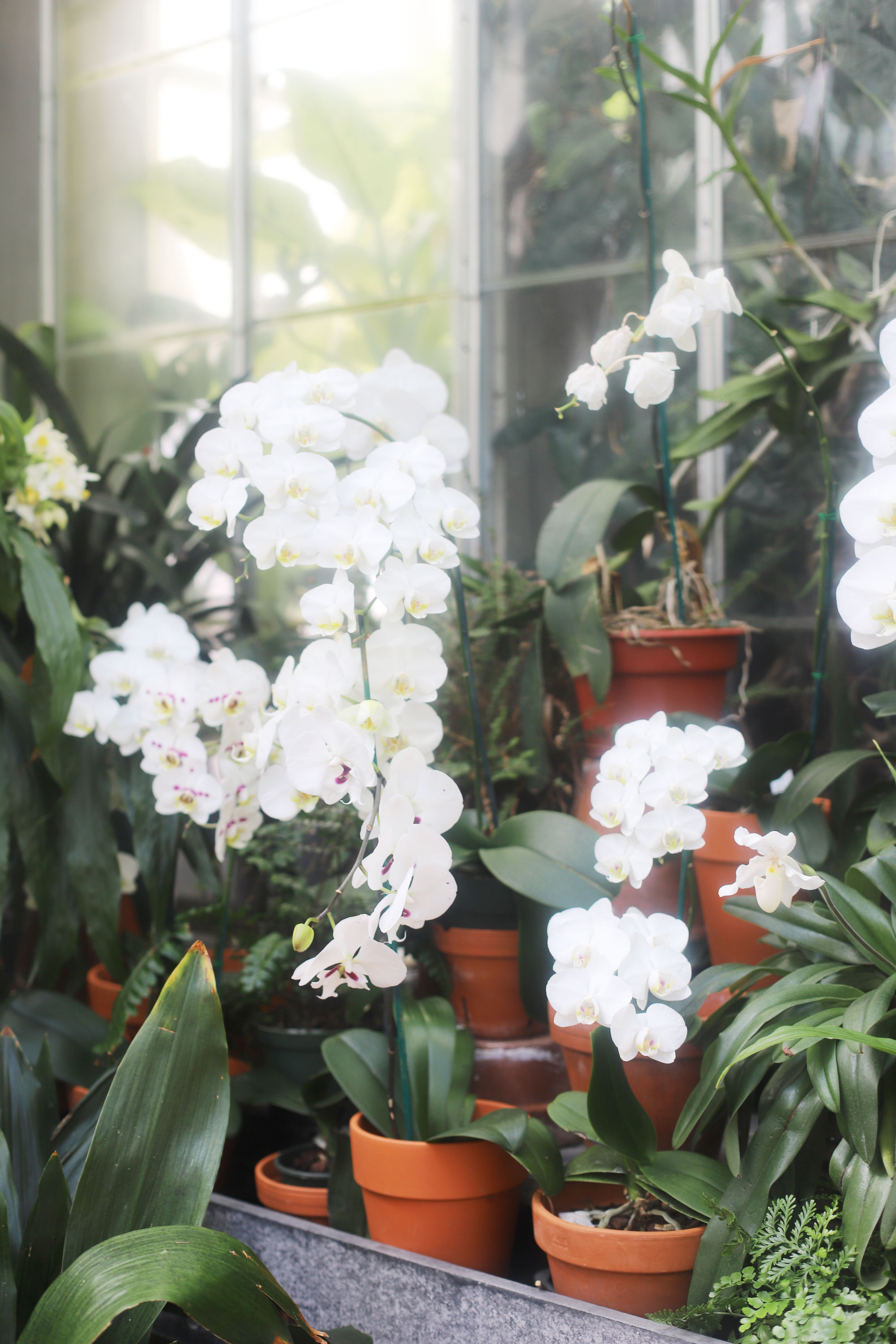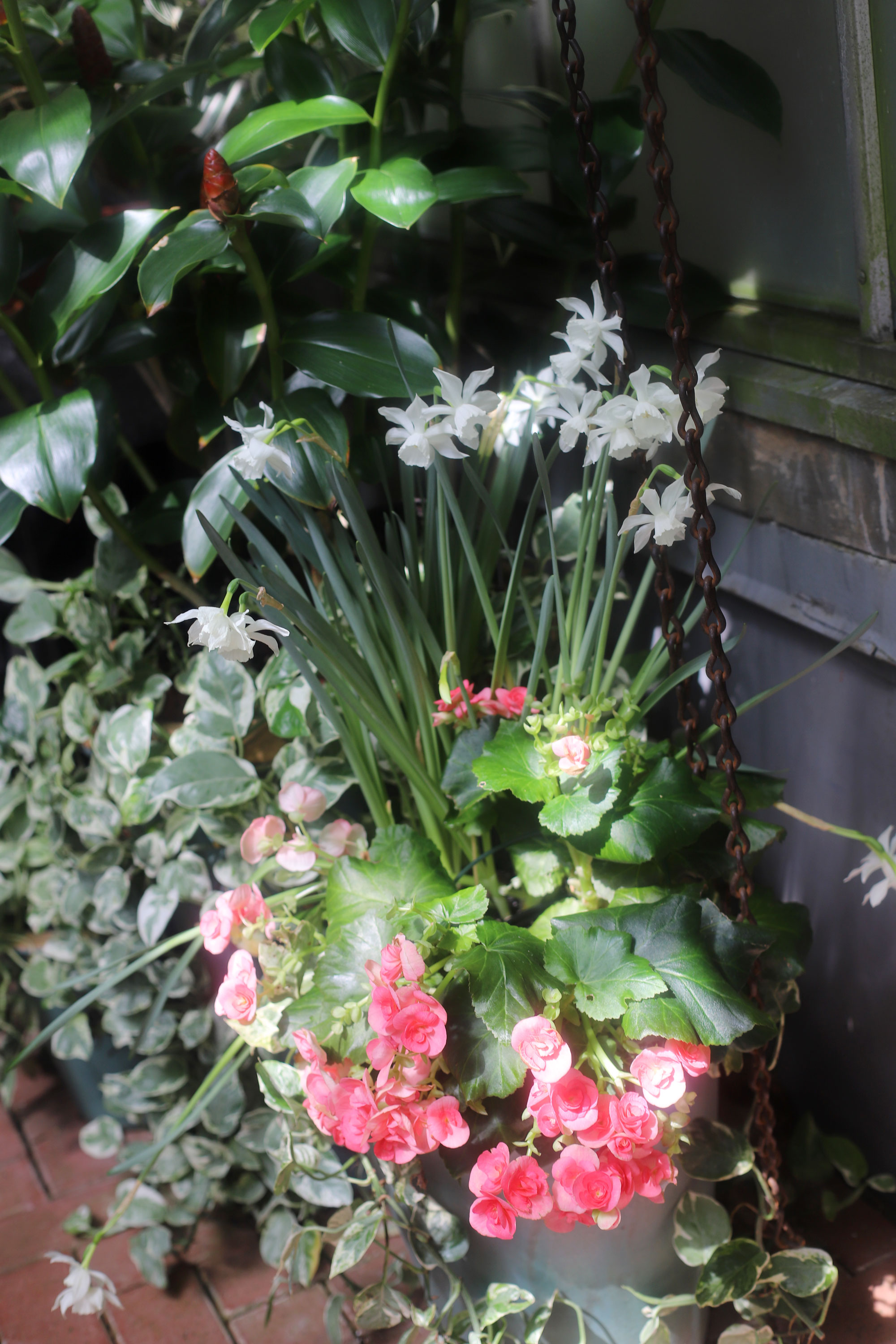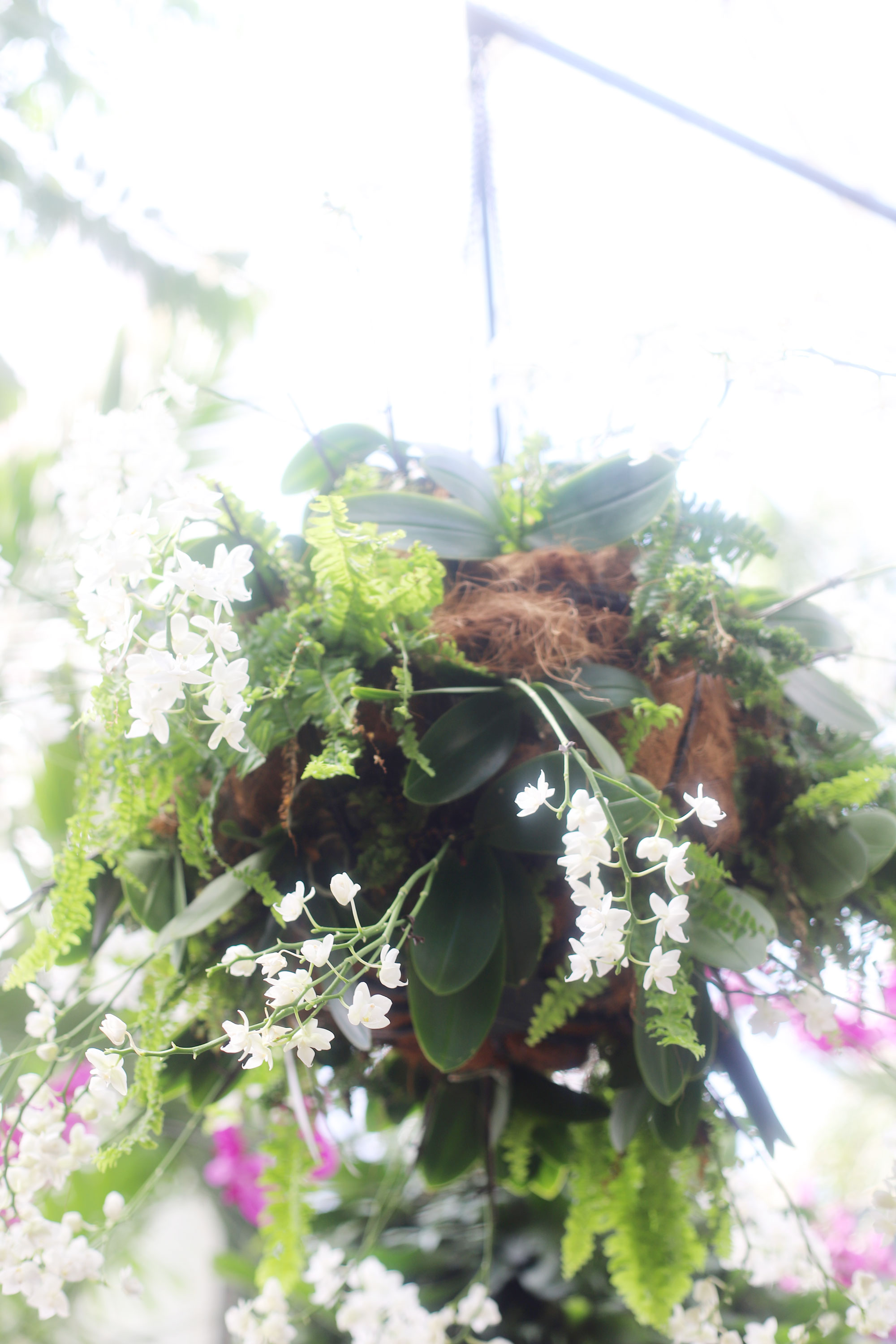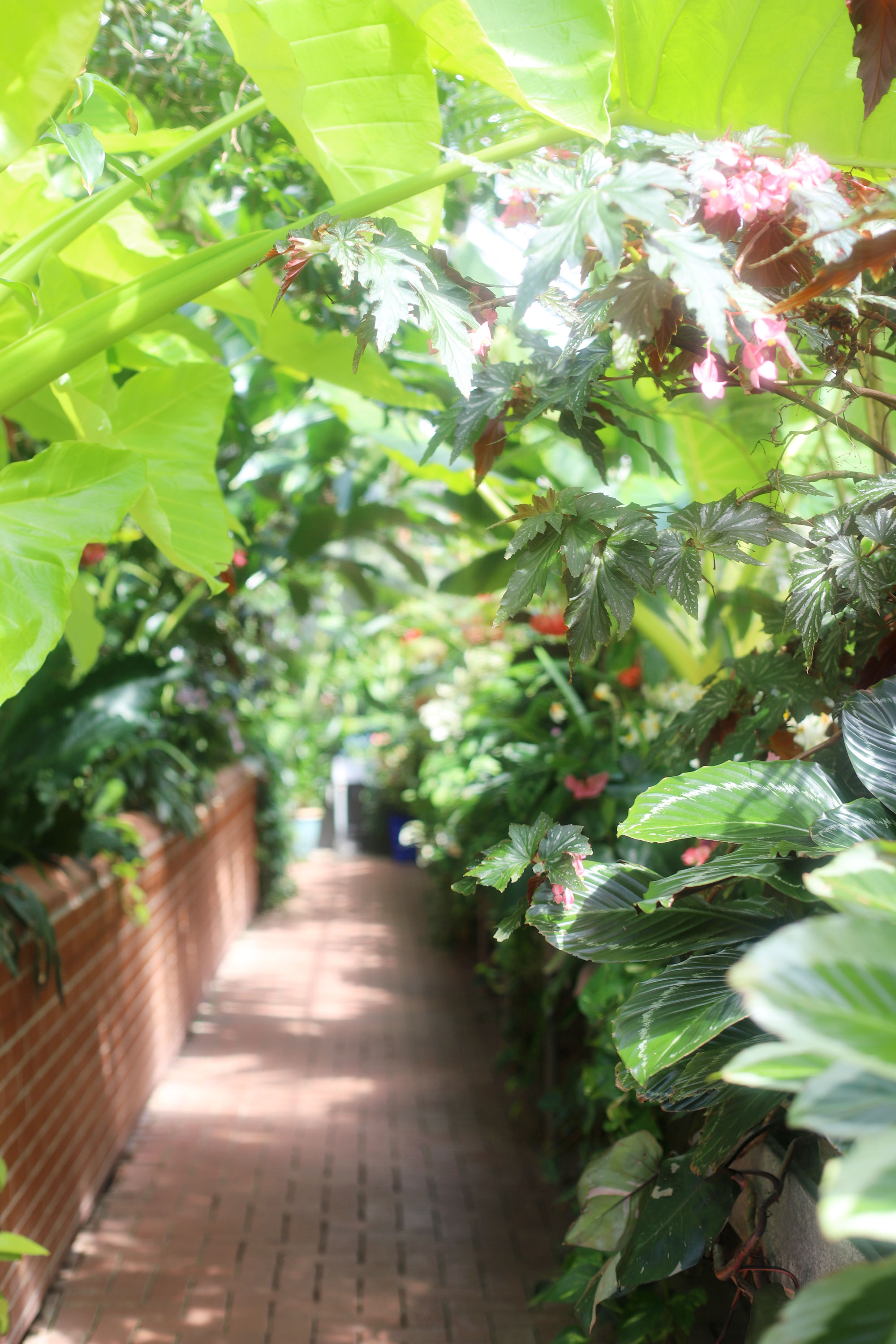 There is also a really cool train that runs through one of the many, many flower-filled rooms that the kids loved.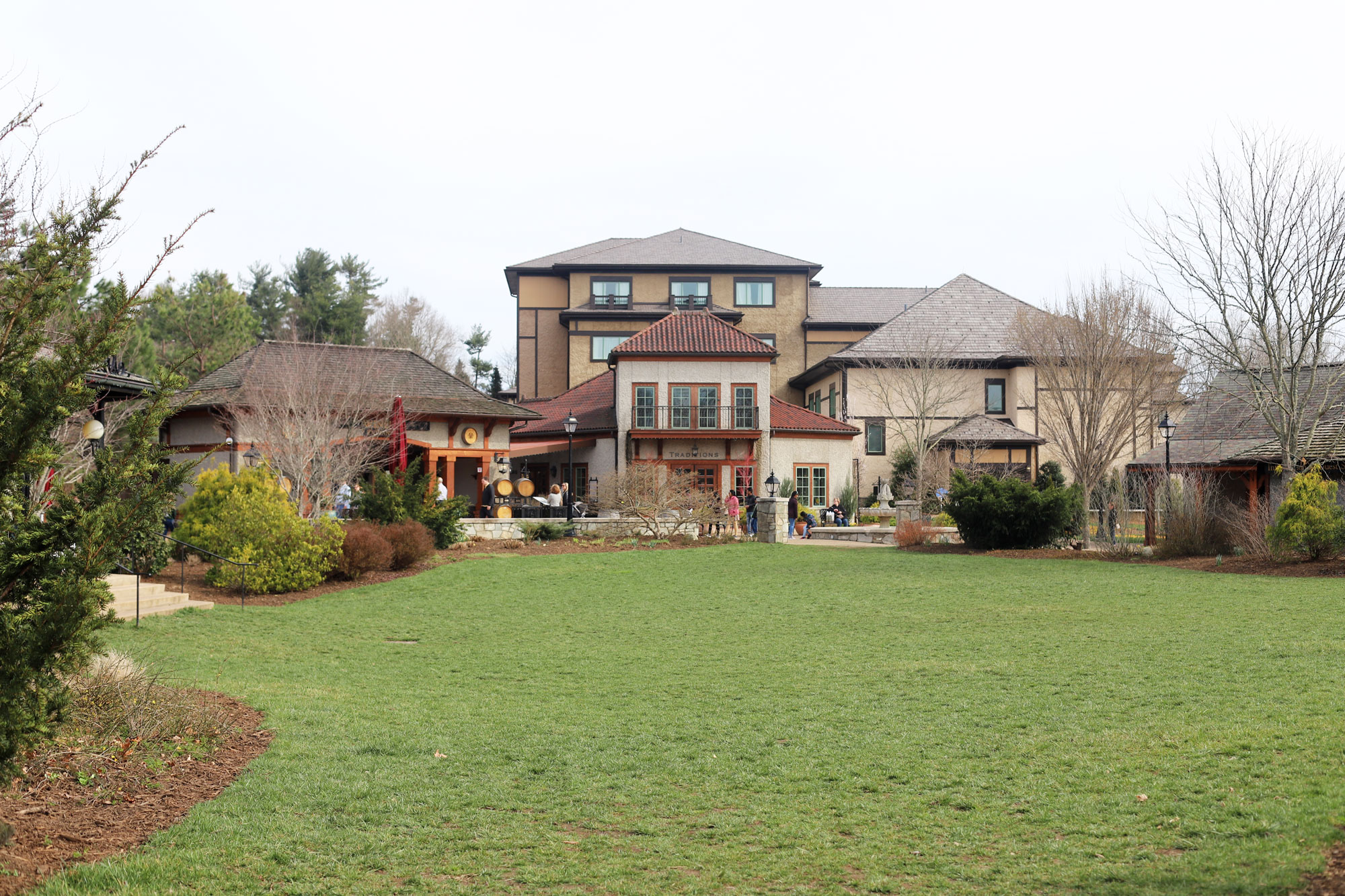 Antler Hill Village
On Sunday evening, after exploring all of the beautifully manicured garlands, we hopped back on the shuttle and we made our way over to Antler Hill Village. There are even more restaurants, an ice cream shop, and the winery over in the village.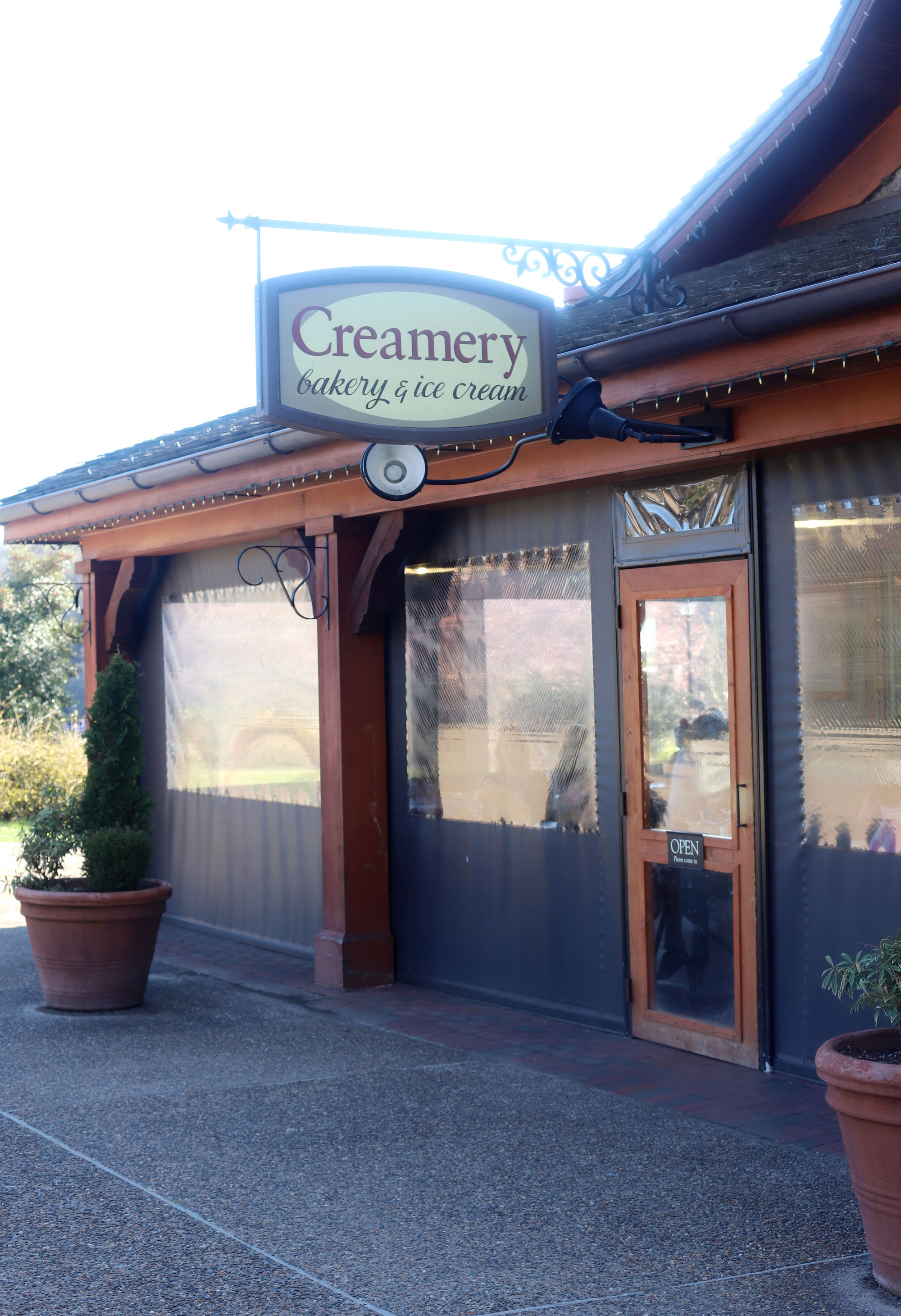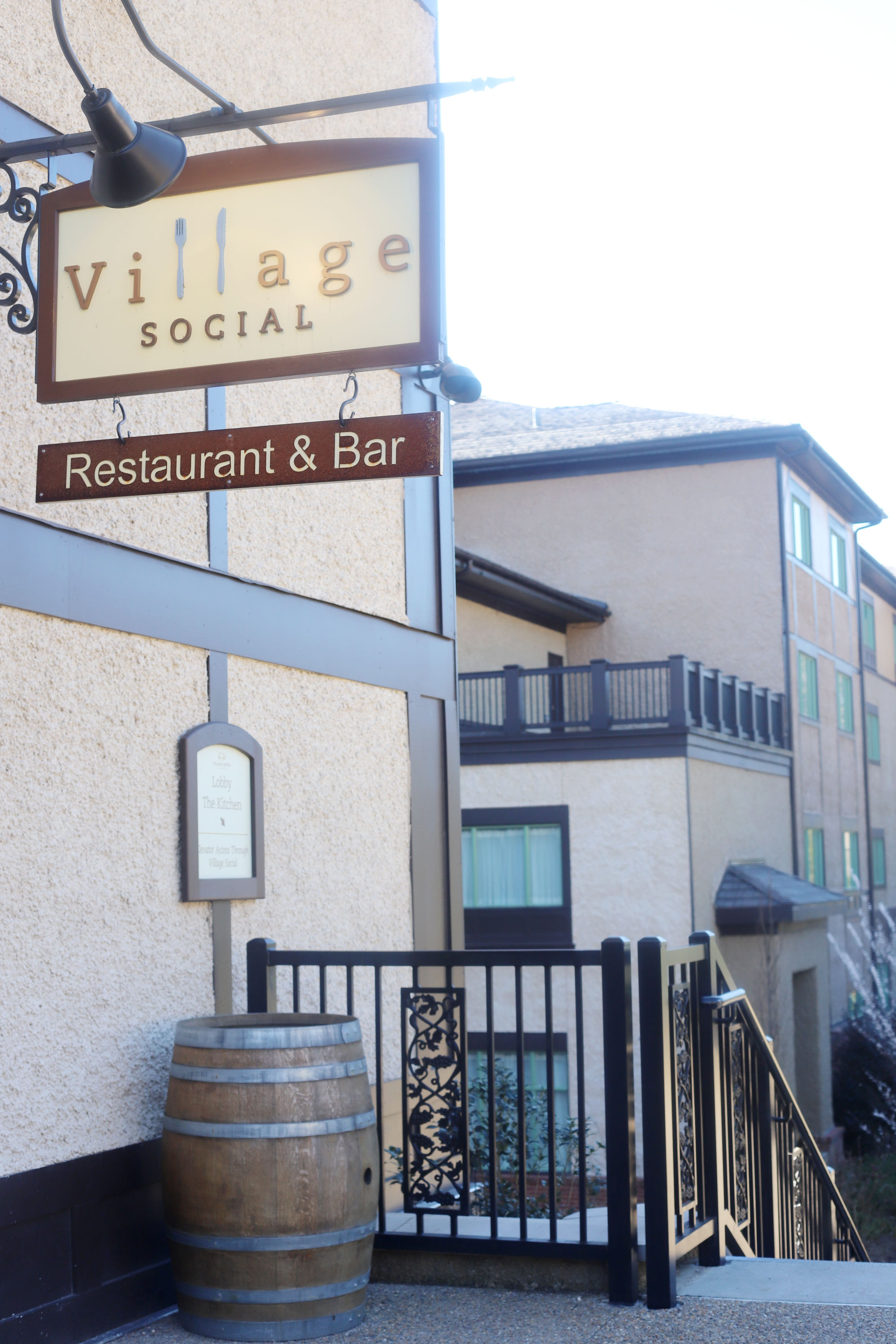 Dinner at Village Social
We had dinner at Village Social. Village Social is known for its delicious sustainable seafood selections, with local and regional farm and garden products. Village Social turned out to be the perfect place to unwind and snack on deliciously unique small plates. Everything we had there was completely delicious, especially the seafood fondue. (OMG, still dreaming of the seafood fondue.)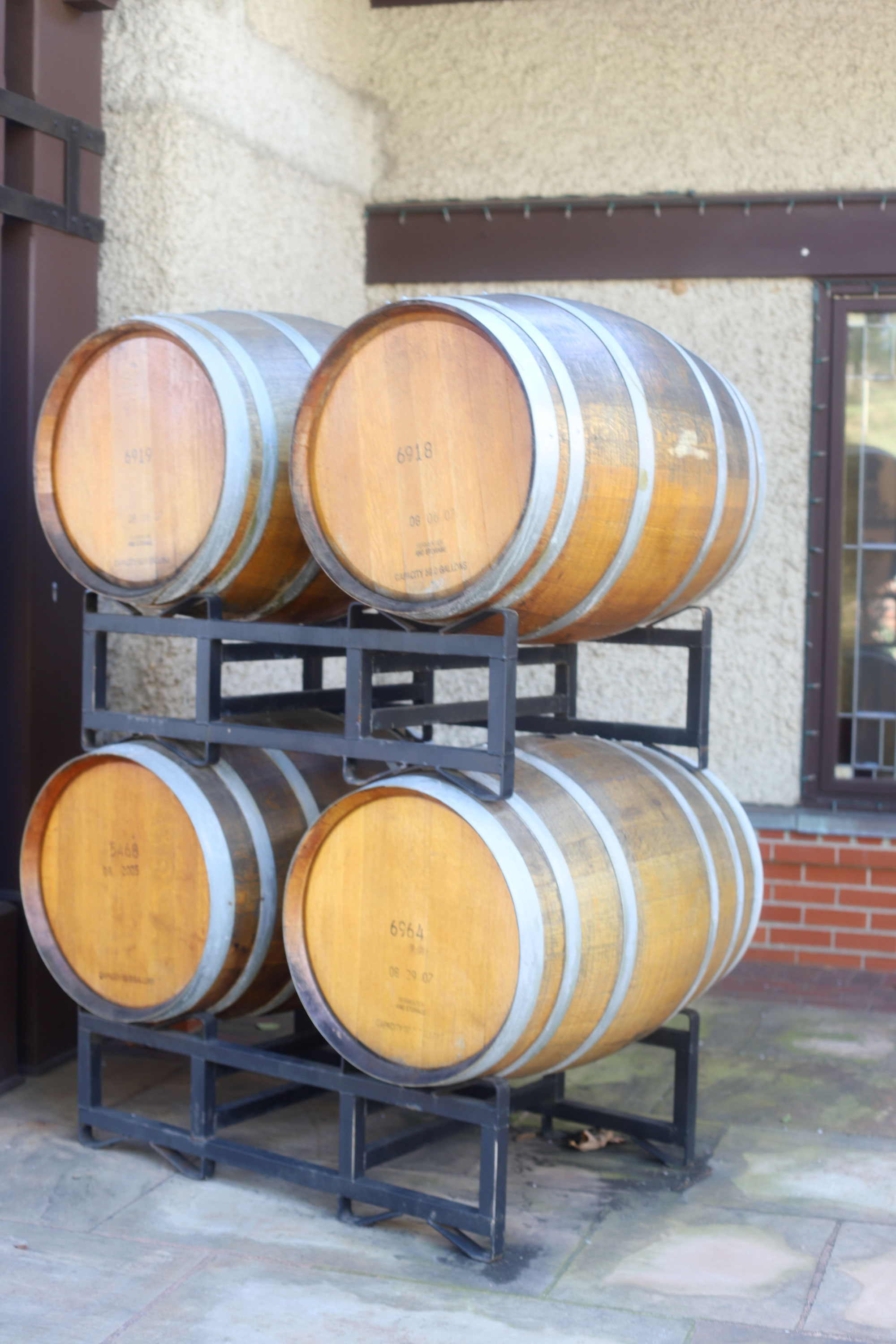 Biltmore Winery
A super popular attraction at Biltmore, the Biltmore Winery offers all-day complimentary wine tastings. You can sip your way through Biltmore'sdistinctive portfolio of multi-award-winning reds, whites, and rosés. The knowledgeable wine hosts help guide your selections from among more than 20 handcrafted vintages. There's also a really cool wine store where you can pick from awesome wine choices, plus really gorgeous homewares and kitchen items to take home.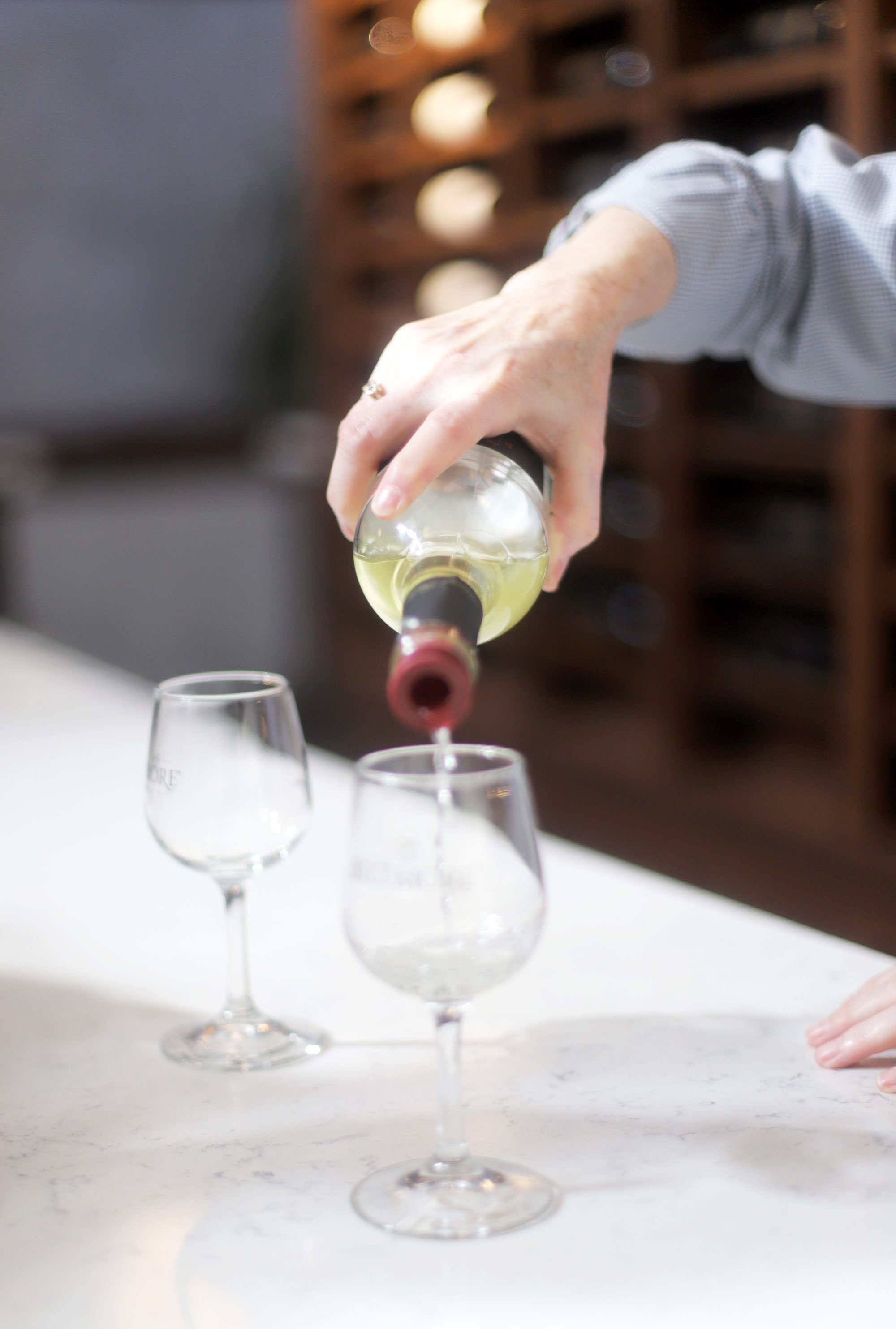 Downtown Asheville
Biltmore shuttles also take guests to and from Downtown Asheville throughout the day and evening, so if you want to venture into town, Biltmore makes it super easy.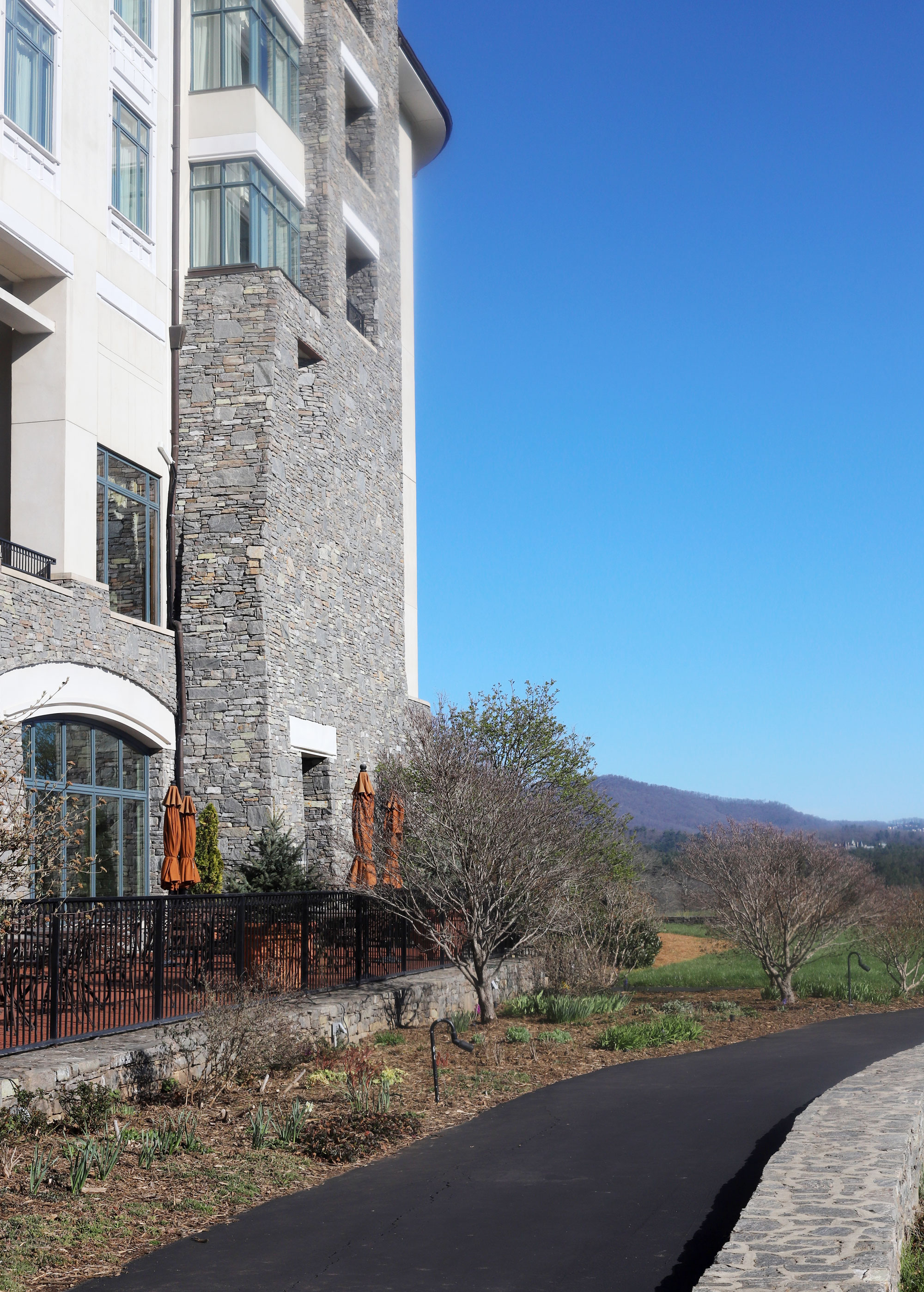 There is SO much more to experience at Biltmore, and their exhibits and seasonal activities are ever-changing, but I wanted to give you an idea of some fun ways to spend a long weekend at Biltmore with kids. Let me know if you're ever headed to Biltmore! I'd love to hear your vacation plans.
SHOP OUR BILTMORE LONG WEEKEND TRAVEL POST | CLICK LEFT & RIGHT ARROWS TO EXPLORE
IF YOU LOVED THIS POST, YOU CAN SEE MORE BEHIND-THE-SCENES OF OUR LIFE WITH TWO LITTLE ONES HERE, AND CHECK OUT SOME OF OUR FAVORITE TRAVEL DESTINATIONS HERE.