This post contains affiliate links, which means that if you click on one of the product links, I'll receive a small commission. Thank you so much for clicking through and helping to support this little blog business of mine! Read more about our site, privacy, and disclosure policies here.
Because we absolutely adore our ever-growing book collection, we are sharing a whole bunch of our favorites; a.k.a., the board books we think work best for the baby and toddler years, the ones that will create memories; some you may remember from your own childhood, and plenty of newer books that you'll find yourself falling for instantly.
I've always been an avid reader, sometimes devouring whole books in a weekend, and even in my busiest seasons, I still make time for reading. Not much has changed; as a little girl, books were my happy place. My parents read to me (and all of my siblings) from the get-go, and we've actively tried to do the same for both our little girls. I fell in love with books like Matilda, Amelia Bedilia, and later, Little Women, authors like Judy Blume, Jane Austen, Anne Rice, Anita Shreve, and basically any other book I could get my hands on.
I love that books can transport you to a different time and place.
The stories stick with you, and even now, as a parent myself, reading some of my favorite books as a child to my own kids brings me right back to a place and time when my own parents read to me.
We read books to the girls every night before bed, throughout the day when it's just Emme and I (while Scarlett is at school), and in the afternoons with both girls. We have book shelves in practically every room of the house. Each of the girls have book shelves in their rooms, hubby and I have our own bookshelf in our room, and there's an entire row of cubbies in the living room dedicated to the girls books – a mix of children's books and board books, which they can easily reach.
As Scarlett, our oldest – now four years old – has gotten older, she's starting to venture into books with a bit more text, and even a handful of simple chapter books that she really loves. (More on those books coming soon!) Emme, on the other hand, is at that yummy age – around 17 months – where she's just starting to become truly fascinated by books, the language and colors and pictures and alliteration and cadence. And that's just what a good board book for babies and toddlers does – it entertains. I love a children's book that really plays on and builds upon rhymes and sound. Books with moments of exclamation and a rhythm that's fun for both parent and child, lines we sign-song throughout the day, and a sweet story that sticks with us – those are the books we reach for again and again.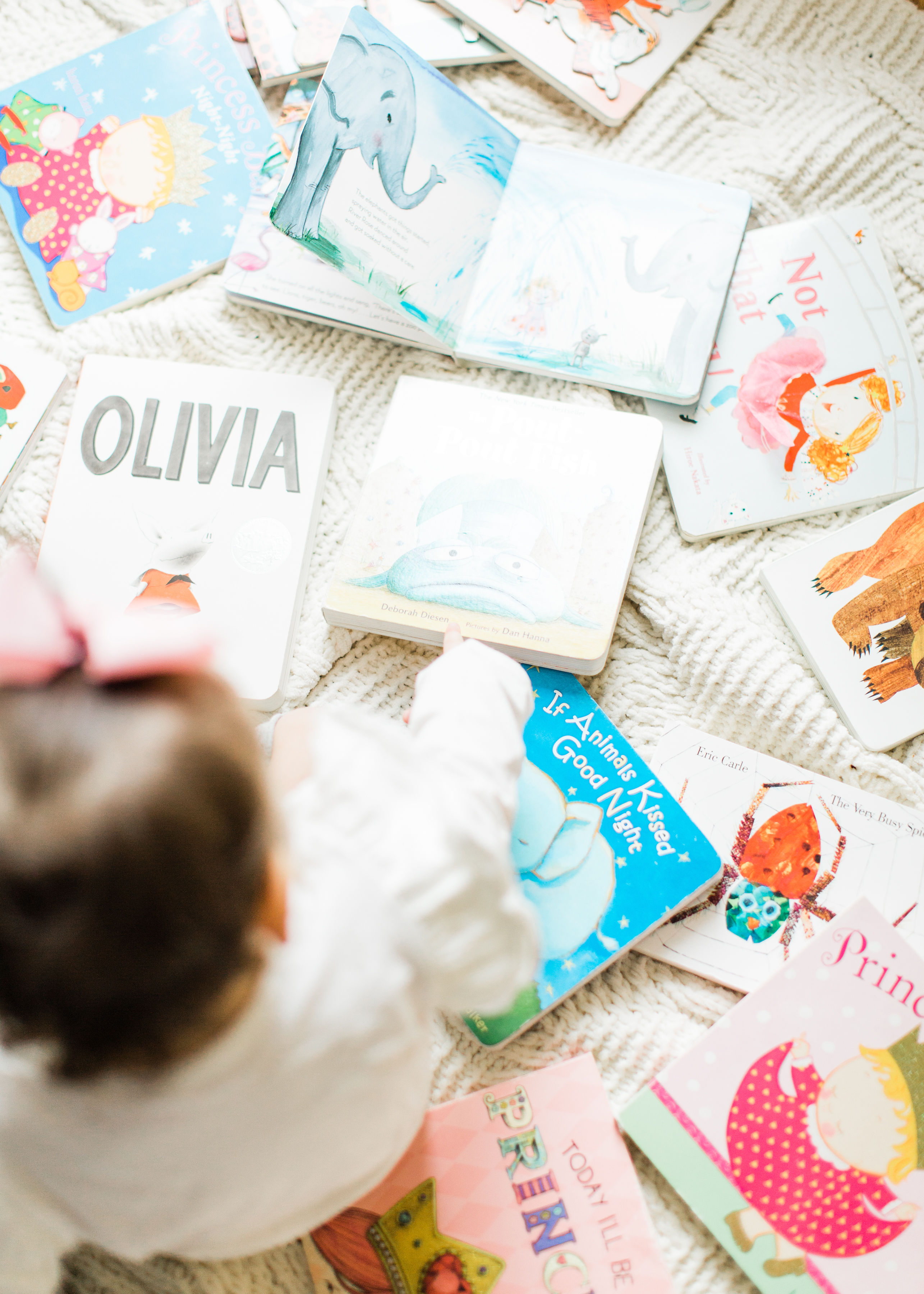 And it really does work.
When we delve into a great book, Emmeline is absolutely mesmerized. She points at the pictures and mimics my sounds and brings me book after book to read to her.
Lately, she's been shrieking, "book-uh" and practically throws the board books at me, eager for me to read yet another one to her. And I'll happily oblige. Instilling a love of books, and watching that love unfurl within our kids, is something akin to magic.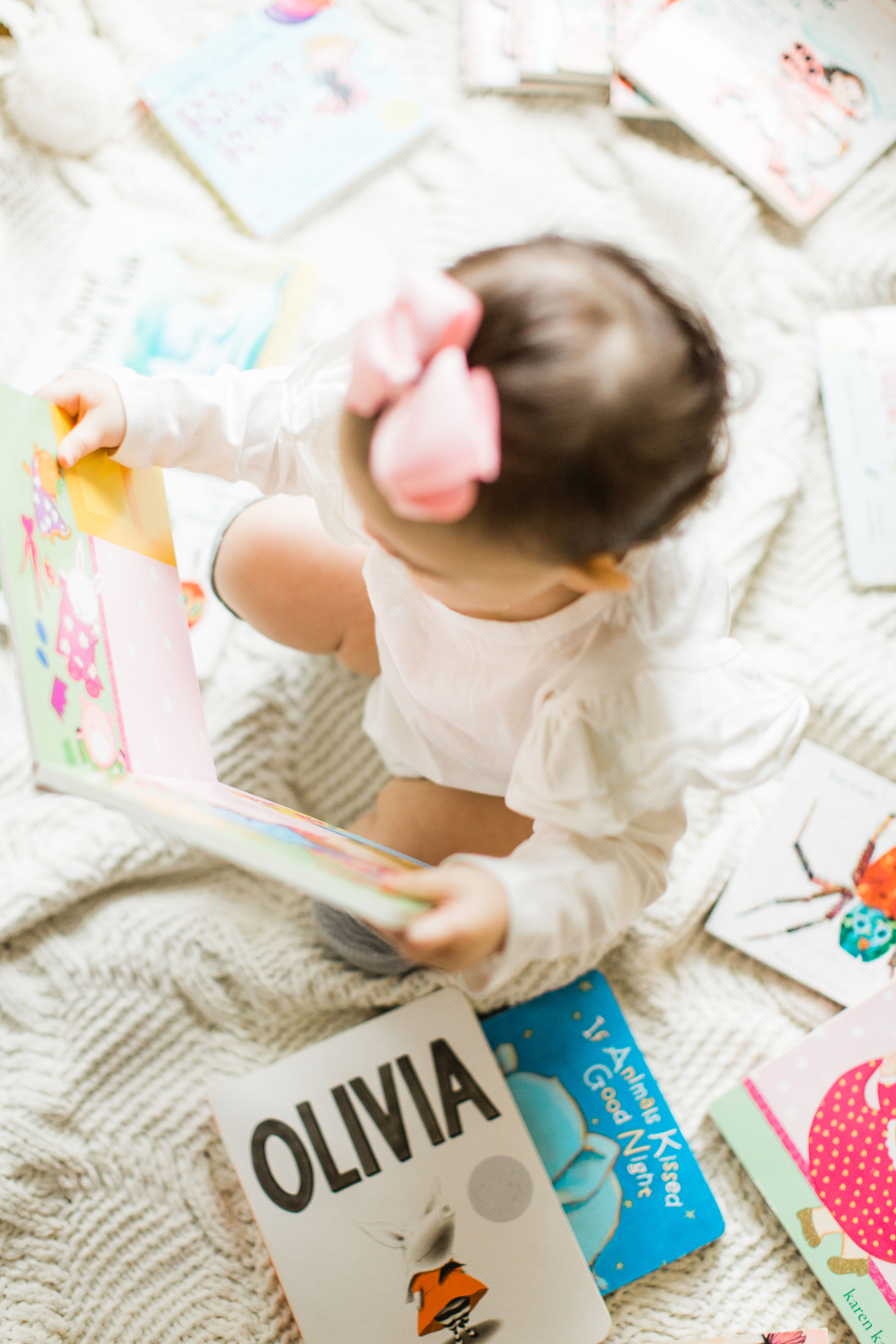 So today, because we absolutely adore our ever-growing book collection, and have worked hard to curate a selection of our favorite board books*, I'm sharing a whole bunch of our favorites, and the board books we think work best for the baby and toddler years. These are the books that you can create memories for your little ones with; some you may remember from your own childhood, and plenty of newer books that you'll find yourself falling for instantly.
*I'm sharing board books for this age range – from baby through around two to three years old – because little ones can be pretty destructive, and we've quickly learned that baby slobber and thin paper book pages do not mix. These board books are indestructible and wonderful.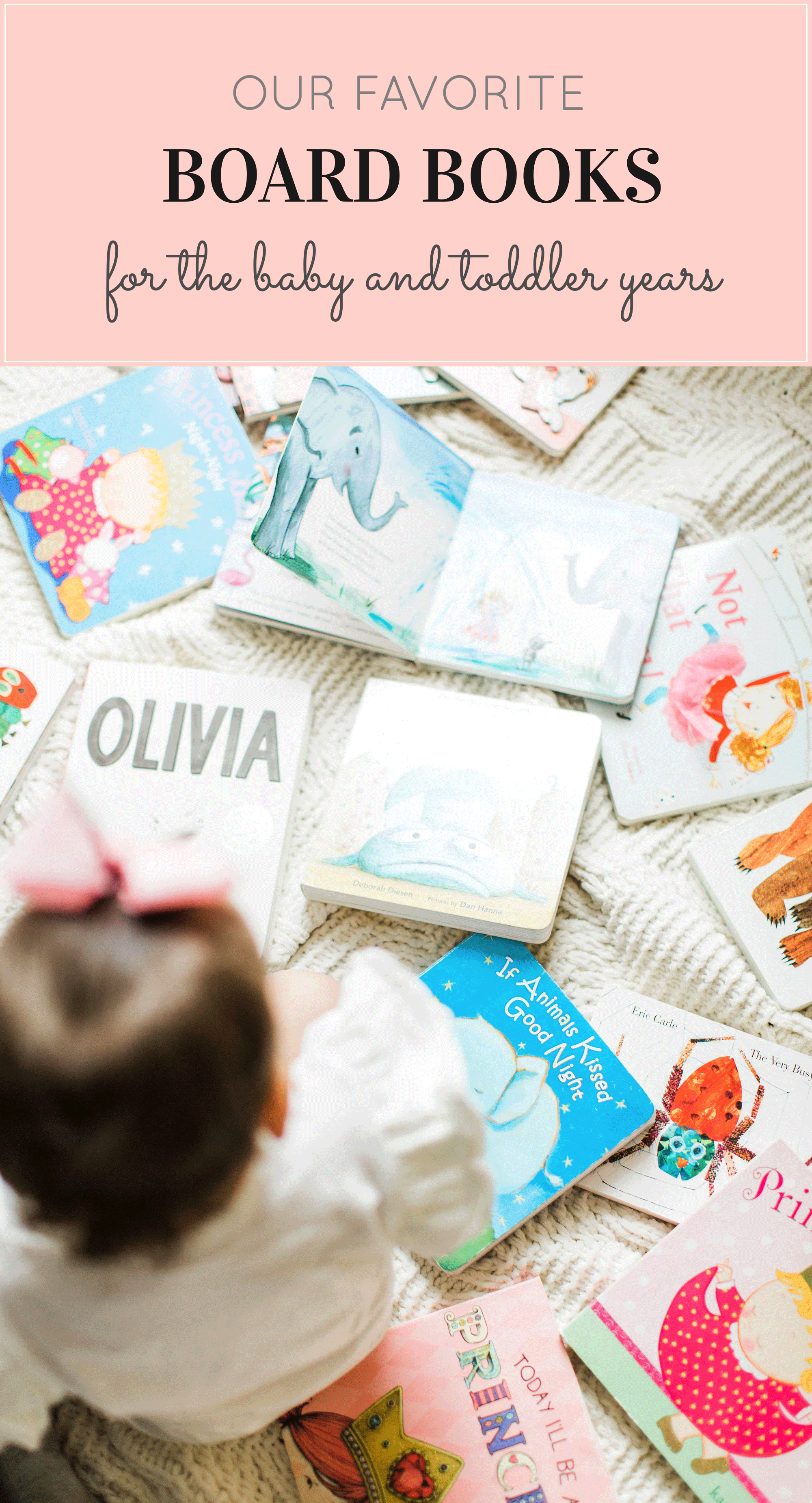 The Best Board Books For Babies And Toddlers
This one is a classic, and my own parents read it to us as kids. I'm convinced this book taught our oldest her colors and animals. It's a favorite for good reason. Simple, rhythmic, beautiful illustrations – we love it.
I think because Scarlett has and loves her tutus, this book has always made her smile and laugh. The sweet story and subtle rhyming is perfect, and Scarlett loves yelling, "Not again!" as we read through each playful page of the story.
This has been one of Scarlett's favorite books for years. Bright ocean colors and a tongue-twisting playful rhyme make this board book both fun to read and truly special. It always makes our girls smile.
This has to be one of our favorite board books to read. In a perfect bedtime story, a mom explains to her little girl how animal families might say good night. The rhythm and colors of this book are mesmerizing, and for days after reading this book, Scarlett insists on kissing like sloths to say goodnight. It's perfect.
Another classic, this one is especially perfect in it's board book format. We love the colors, the art, the way the pages get larger and smaller. Our girls love pointing out and counting what the caterpillar ate and adore all of the illustrations.
Our girls love the fun words and colorful illustrations in this book series. Princess Baby is spunky and strong, and insists on being called "Princess Baby."
This simple and sweet book packs a beautiful story line with beautiful pictures to match. I love the gentle rhyme, plus it's an easy read on nights when you're tired.
The perfect book for sleepy princesses, and a darling companion to the original Princess Baby; we actually love this story even more than the first. A princess bedtime routine is very important, and actually helped teach our girls about their own nighttime routine.
I love this classic story about a spider who spends her day weaving her own web, despite all of he farm animals who want to play with her instead. Her dedication and determination is lovely, and the illustrations are just as colorful and sweet.
The classic New York Times #1 bestseller is now available in a sturdy board book format perfect for babies and toddlers alike! Our girls love the sweet, strong-minded little pig who puts her own flair on everything.
I bought this book on a whim one day shopping at Target, and admittedly, I was drawn in because Kelly Clarkson wrote it! Oh my goodness, am I impressed. The story is colorful and wonderful and the illustrations are some of my favorites. The book comes complete with a link so you can listen to an original lullaby written and performed by Kelly herself. My girls insist I play the song every time we finish the book.
Gerald the giraffe wants nothing more than to dance. With sweet rhymes and adorable illustrations, this story is inspiration for every little one with dreams of greatness.
This was one of my brother's favorite books ever. We read it SO many times growing up, and so much of that nostalgia is there for me when I read it to our girls. Such a sweet book.
This classic story is all about the boundless love a parent has for their child. The board book version is newer and the size is especially great for little hands.
This board book is adorable! Follow a zany pack of very high-spirited piggies as they romp from fingers to toes and then off to bedtime. Interactive and adorable, we give this one an A+.
This adorable board book is hugely popular for good reason. It centers around a creative little one named Duncan, who solves his crayons' complaints by thinking "outside of the box." Your kids will ask to read this one again and again.
This simple and sweet book is the perfect way to teach your child about their body. The brightly colored board book features bubbly drawings and each body part is hidden behind a wide, easy to maneuver and sturdy flap.
Another classic favorite childhood book for many, the board book version is full of lovely illustrations and the design of the book itself, with the illustrations alternating between black and white and color, full page spreads, and multiple panels on some pages, is perfect for little ones.
Silly Sally is a cute story where Sally meets different animals on her way into town. The rhyming words are fun and interactive for babies and toddlers alike, and the pictures are vibrant. Kids will be reciting this one on repeat.
This award-winning book is about a beautiful fish who finds friendship and happiness when he learns to share. The colors make this book particularly fun to look at and read along with.
Possibly the most gifted baby gift of all time, Goodnight Moon is everyone's favorite, and now that it comes in a board book format, well, you know you need it. I love the ritual of reading this book to little ones just before bed.
The longest-running picture book on the New York Times bestseller list, this interactive children's classic is now available as a sturdy, durable board book. Perfect for little hands and little imaginations, this book is amazingly interactive and fun.
When all the letters of the alphabet race one another up the coconut tree, will there be enough room? This classic turned board book is loads of fun, teaches the alphabet, and is full of great illustrations.
This cute book is all about how much a mama loves her little boy, even if her child were a smelly skunk, scary ape, or bug-eating green alien. We love the board book version. It's a fun one to bond and laugh over.
This sweet bedtime counting book is perfect for your littlest readers. One by one the stars come out in the night sky as cute and cuddly animals go through their bedtime routines. This board book will encourage your babies and toddlers to turn the page with interactive and engaging rhymes, and will take them through their own bedtime routine.
This adorably sweet book counts out kissing your baby from head to toe. So darn cute.
Our girls love this one. This short and sweet board book indulges a little girl's princess fantasies, but does such a great job of gently reminding little girls that they can also play in the mud. Our own mud-loving princesses totally identify.
This adorable peek-a-boo book invites little ones to play along with their favorite animals, with simple rhymes and darling illustrations. The flaps are perfect for little hands, and though it's simple, little ones seem to love it.
You'll probably find yourself chanting the catchy rhymes from this book for days after reading it, but so worth it. Love when books are really fun to read to babies and toddlers.
"On the night you were born, you brought wonder and magic to the world. The moon stayed up till morning. Polar bears danced." The detailed illustrations, paired with the sweetest message of unconditional love, makes it clear why this board book is a bestseller.
Honestly, I can't get through this book without tearing up. My own parents read it to us as kids, and of course, the plot is just so lovely and beautiful and bittersweet. Recently released in board book format, it contains every word of the original. Such a perfect keepsake.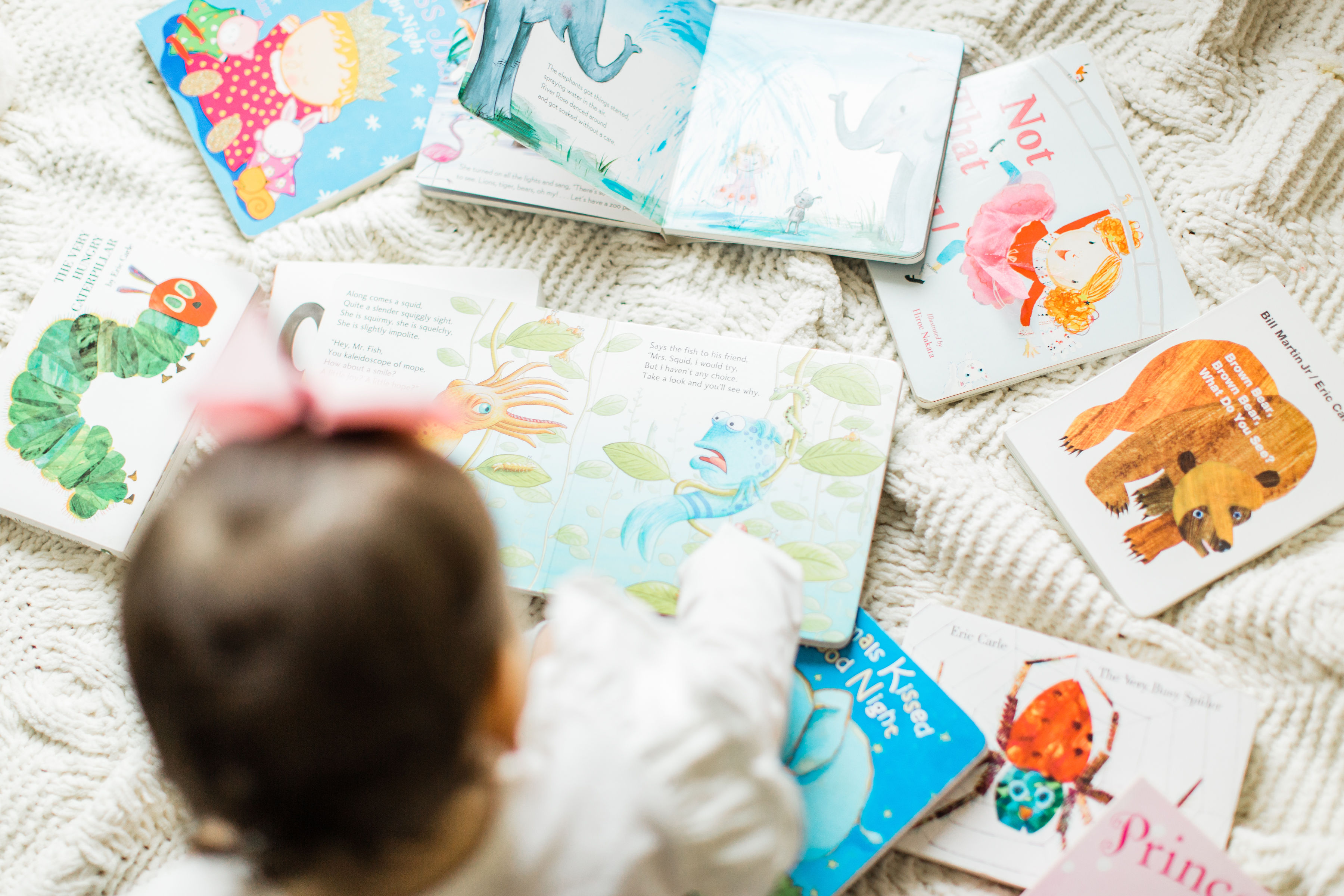 So there you have it – our favorite tried-and-true board books, perfect for the baby and toddler years.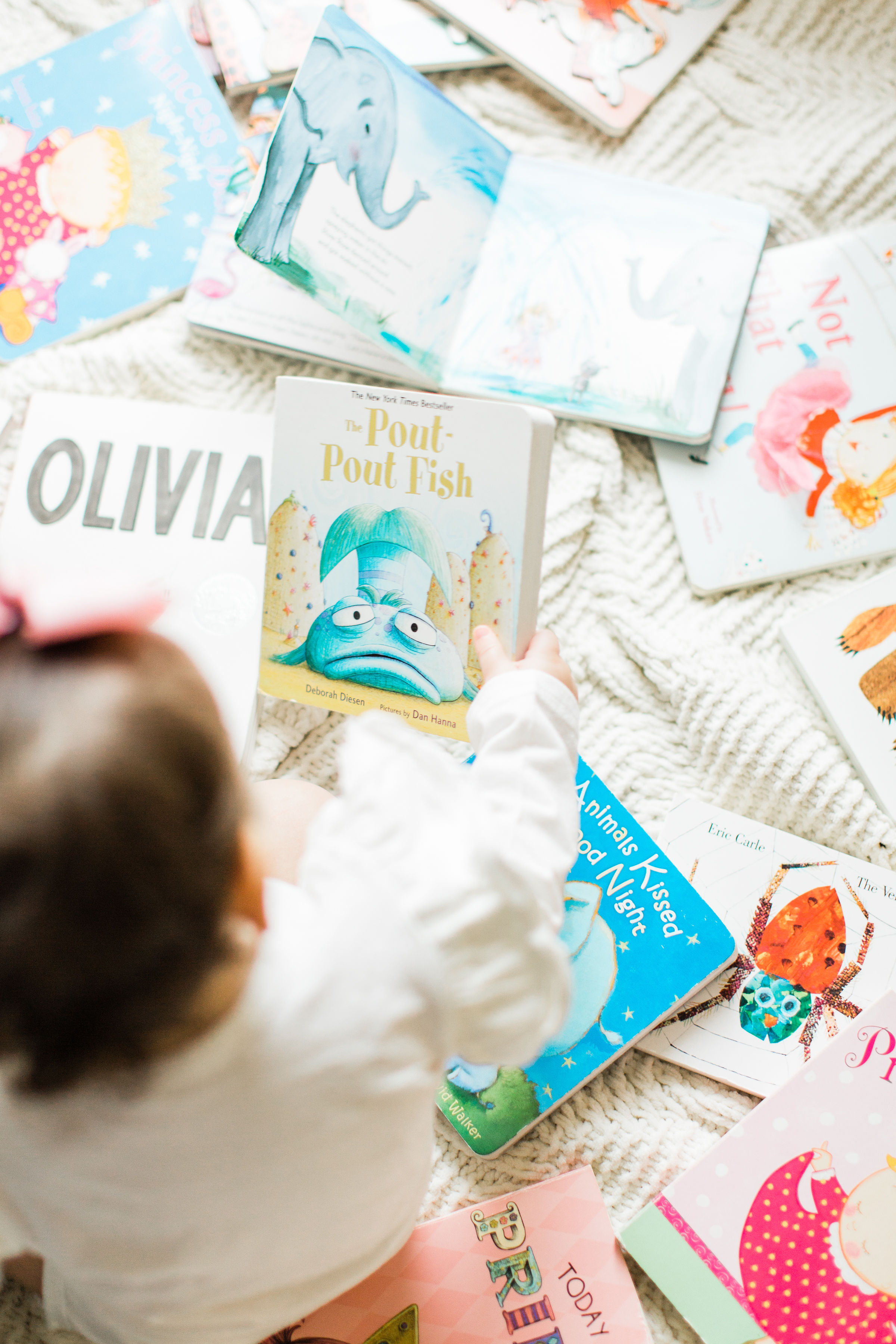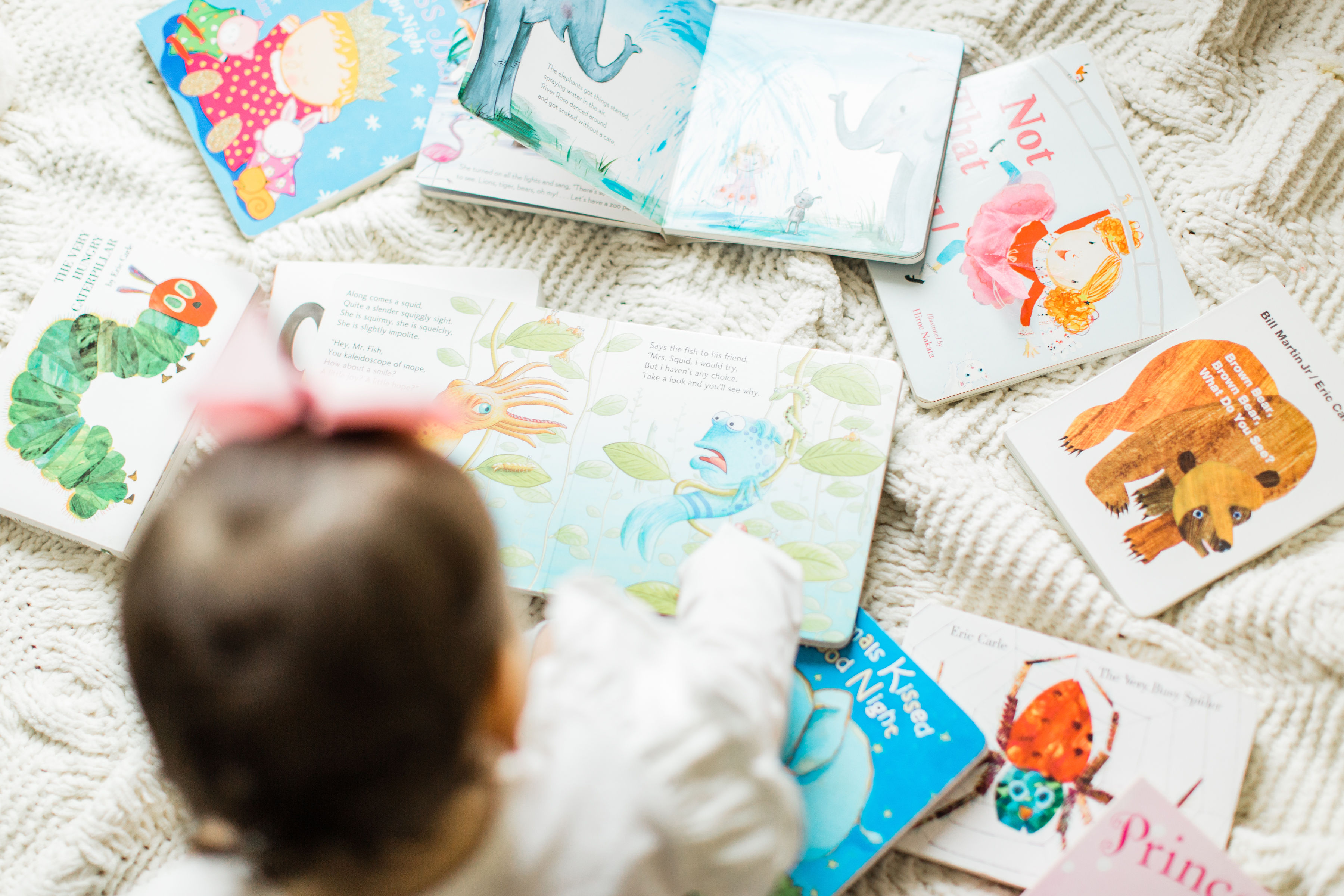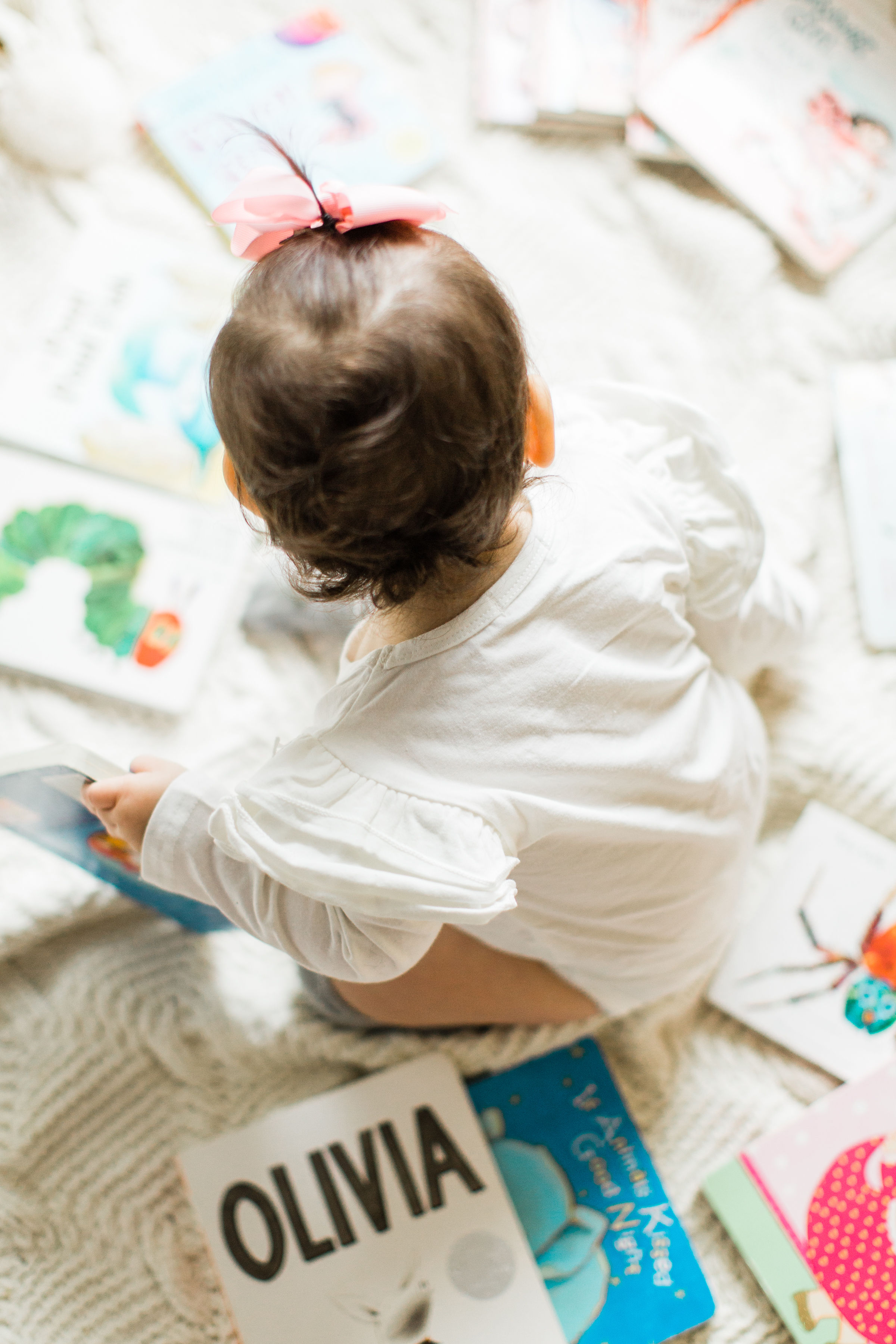 Do you have any favorite board books and/or classic baby books that you love reading to your babies and toddlers? Do your big kids get involved in sharing the sweet stories with your littlest ones?
IF YOU LOVED THIS BABY BOARD BOOKS POST, YOU CAN SEE MORE BEHIND-THE-SCENES OF OUR LIFE WITH TWO LITTLE ONES, PLUS OUR FAVORITE PARENTING HACKS HERE, INCLUDING: 
How I Keep My Purse and Diaper Bag Organized
The Best Toys and Activities to Bring on a Plane for Kids, Toddlers, and Babies
How to Travel with Young Kids: 10 Tips for Smooth Road Trip or Flight
How we Taught Our Baby to Sleep Through the Night (this post is hugely popular!)
The Best Snacks to Bring on a Family Road Trip
How to Make Your Own First Birthday Smash Cake
7 Tips for Helping Babies with Acid Reflux
How we Transitioned Baby from a Bottle to a Sippy Cup
Must-Have Baby Items for the First Year: What You Really Need on a Baby Registry
How to Create Healthy Snack Bins for Kids
SHOP OUR FAVORITE BOARD BOOKS | CLICK LEFT & RIGHT ARROWS TO EXPLORE
SHOP EMME'S LOOK
Photos by Annie Timmons Photography for Glitter, Inc.