This post has been sponsored by Del Monte®. All thoughts and opinions are my own.
Looking to simplify snack-time for your family? Create these healthy snack bins, a.k.a., a healthy snack station, stocked with awesome, easy, portable snacks kids and grown-ups alike will love!
Coming back from the holidays always takes a bit of readjusting; and with kids, getting back into our routine is even trickier. From juggling carpool lines to ballet class, play dates, grocery shopping, and getting back into the swing of my own work schedule, figuring out how to jump back into all of that busy family structure after weeks of playing (and vacation with our whole huge family!) can be a challenge.
As both of our girls grow, snacks are a big priority for them. Not two minutes into our ride home from school every day, Scarlett is already asking me, "What's for snack, Mom?" Even my husband comes home from the hospital each night completely starved. We joke that first thing he does when he walks in the door, after hugs and kisses, of course, is "forage for food." I'm typically mid-way through making dinner, so he's stuck trying to find anything to snack on.
This year, I've vowed to make healthy snacking easier on our whole family. My secret? Creating the ultimate healthy snack bins for kids (and grownups, too!)—basically, a super convenient healthy snack station. The goal: to have grab-and-go snacks that I know are a good choice for our whole family.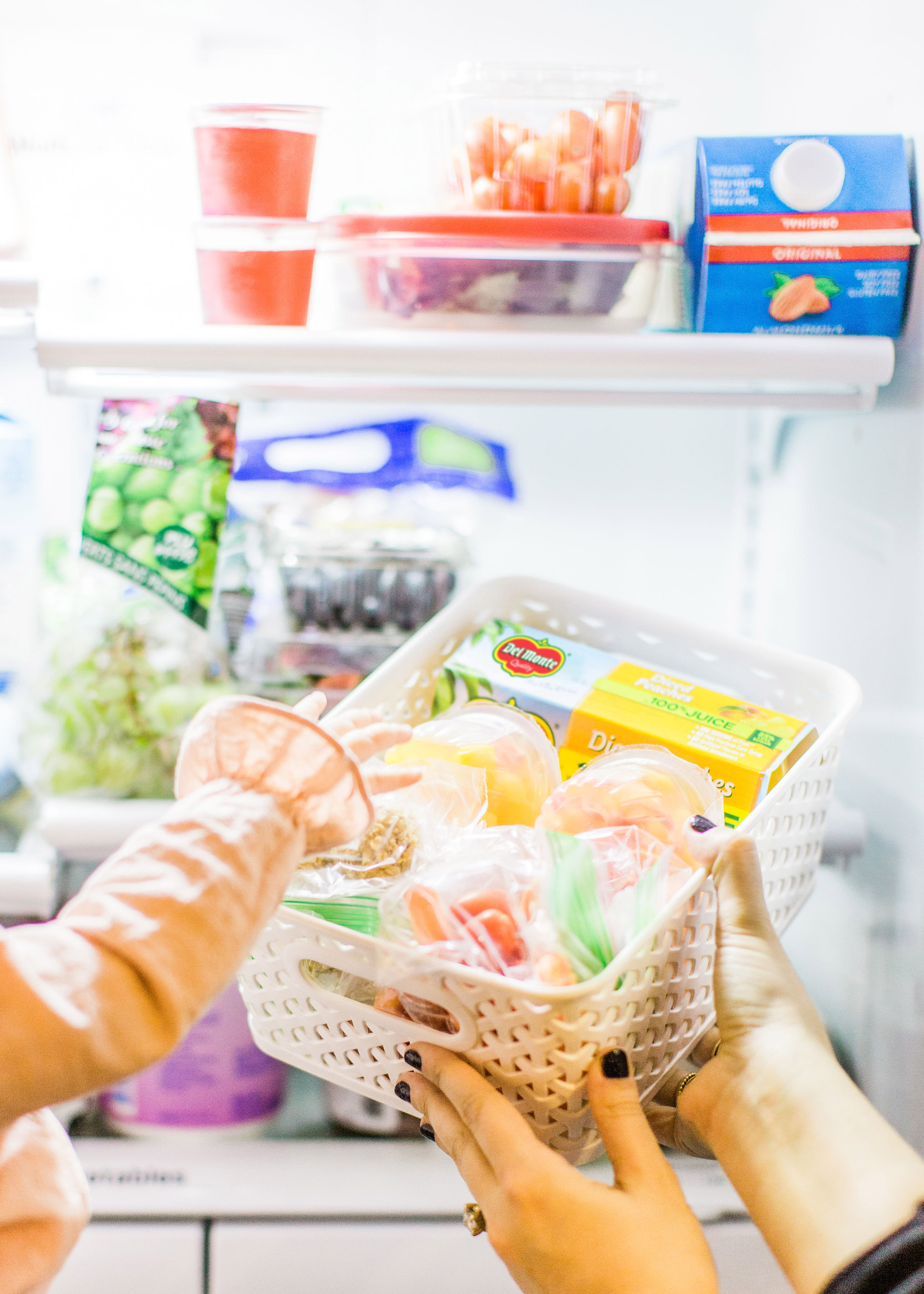 How to Create Healthy Snack Bins for Kids
I started by finding a plastic bin that fits perfectly on a shelf in our refrigerator. Each week, I stock it up with healthy snacks that are also portable, convenient, and loved by everyone.
Since discovering that both of our girls absolutely love Del Monte® Fruit Cup® Snacks, those have become a regular in our healthy snack bins.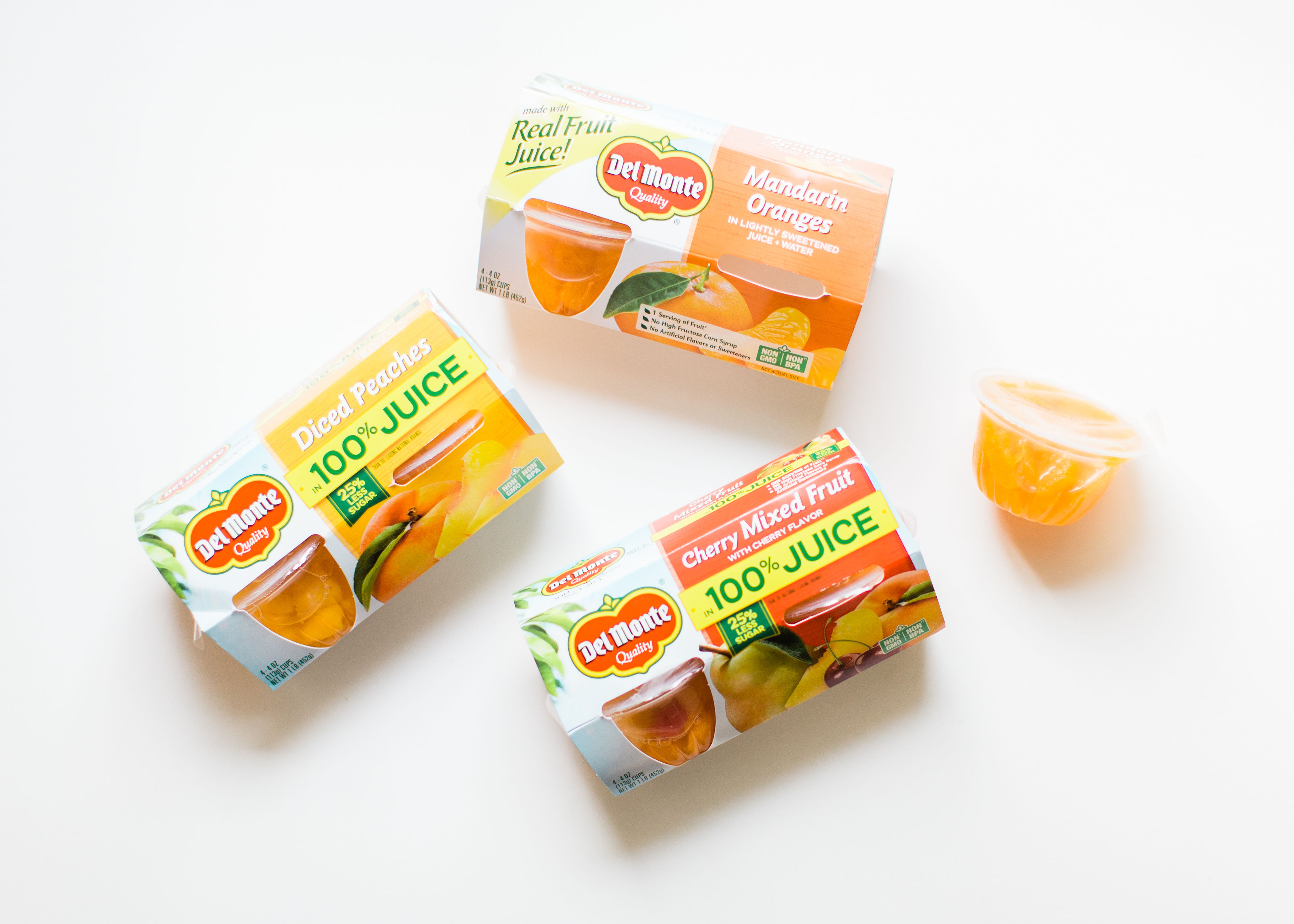 Scarlett, our oldest, is obsessed with the Del Monte® Mandarin Oranges, a.k.a., "delicious tiny orange slices,". And, Emme, our 1 year old, seems to love the peaches best. I'm happy because in addition to being portable and so easy, Del Monte Fruit Cup snacks are nutritious and now in 100% juice with 25% less sugar than the national leading brand*. Even I find myself reaching for them when I'm hungry.
By the way, we stock up on Del Monte Fruit Cup snacks at Walmart. You can find them in the fruit snack aisle; and, there's this great coupon offer going on right now: Save $1.00 on any two packs of Del Monte Fruit Cup snacks.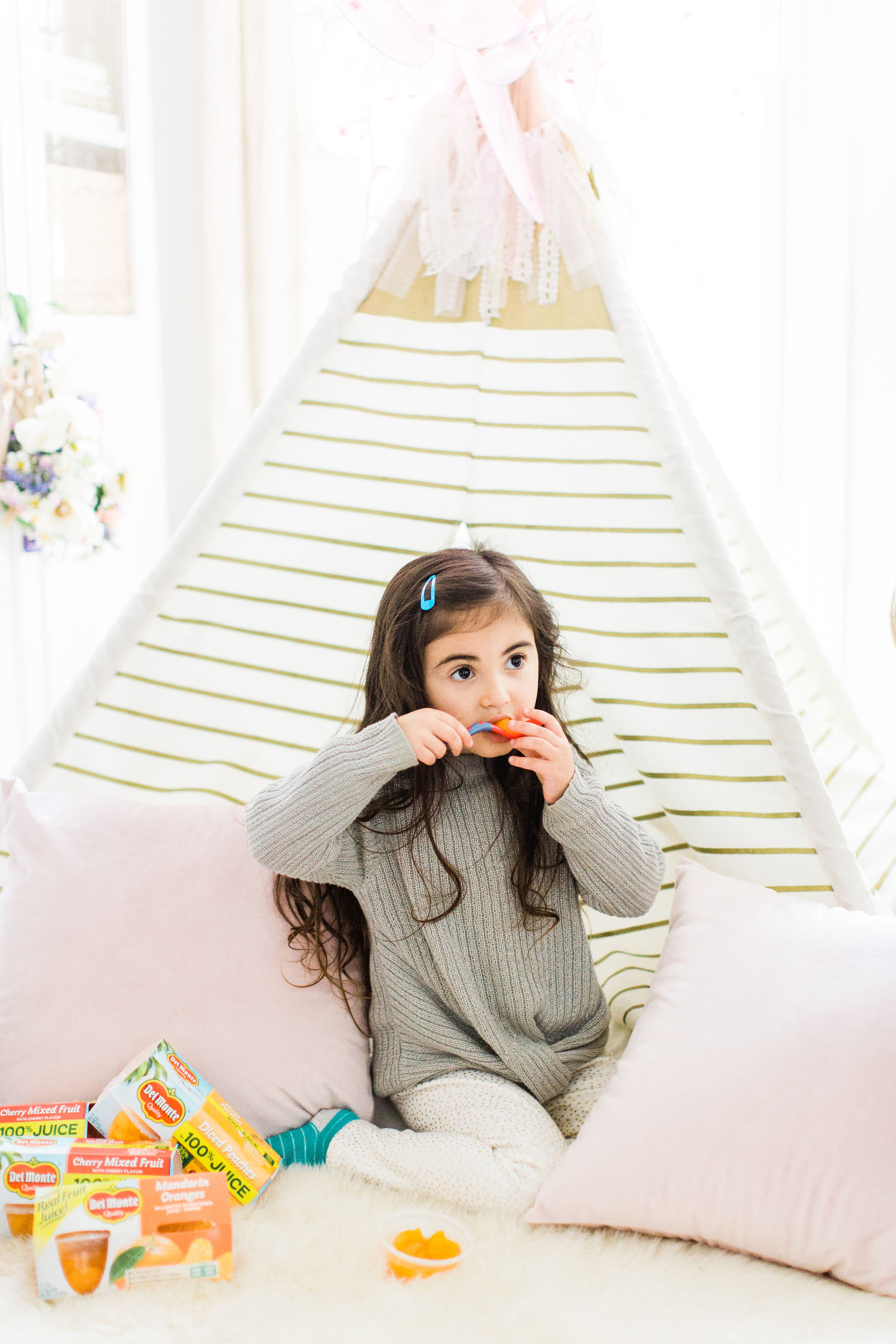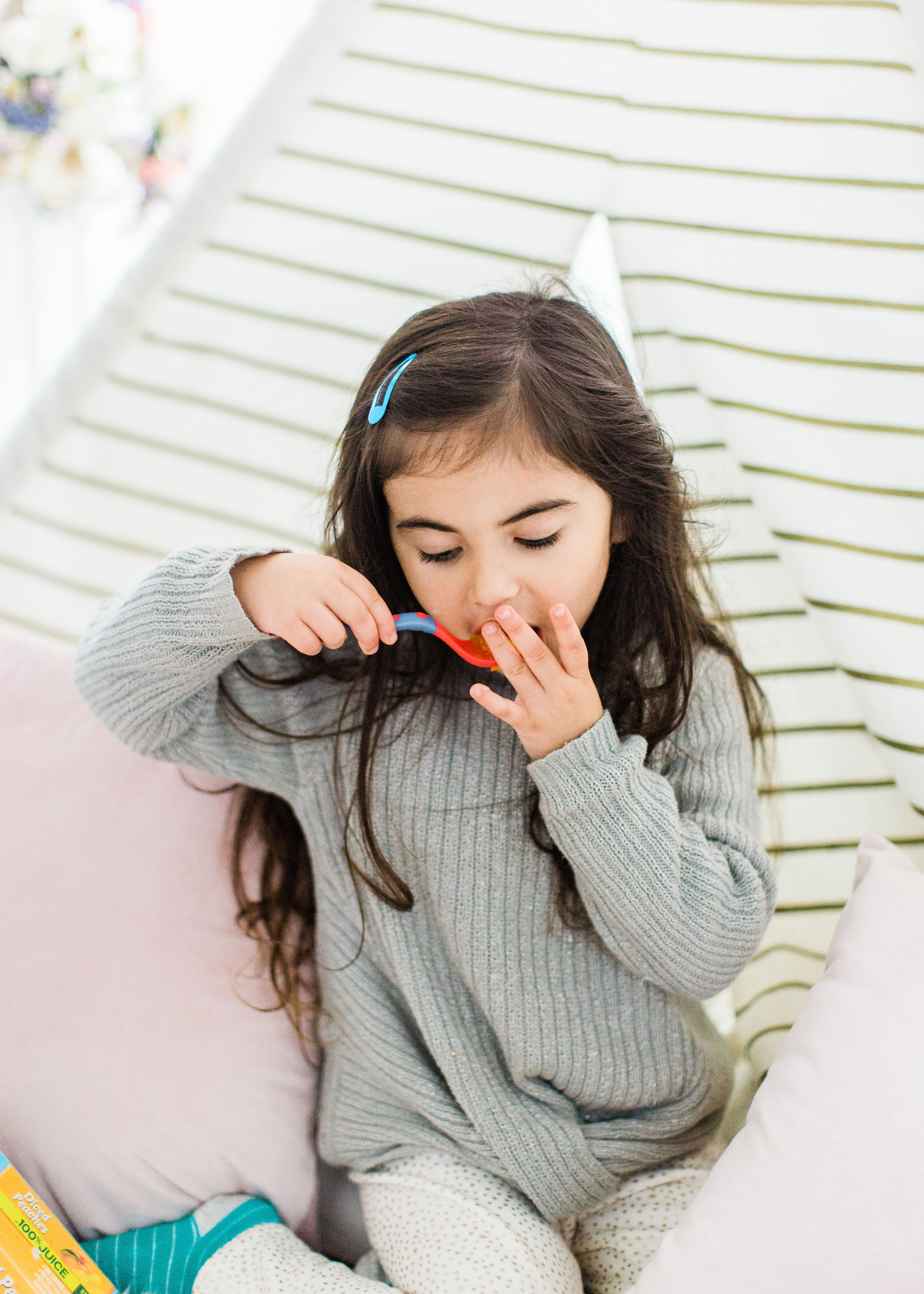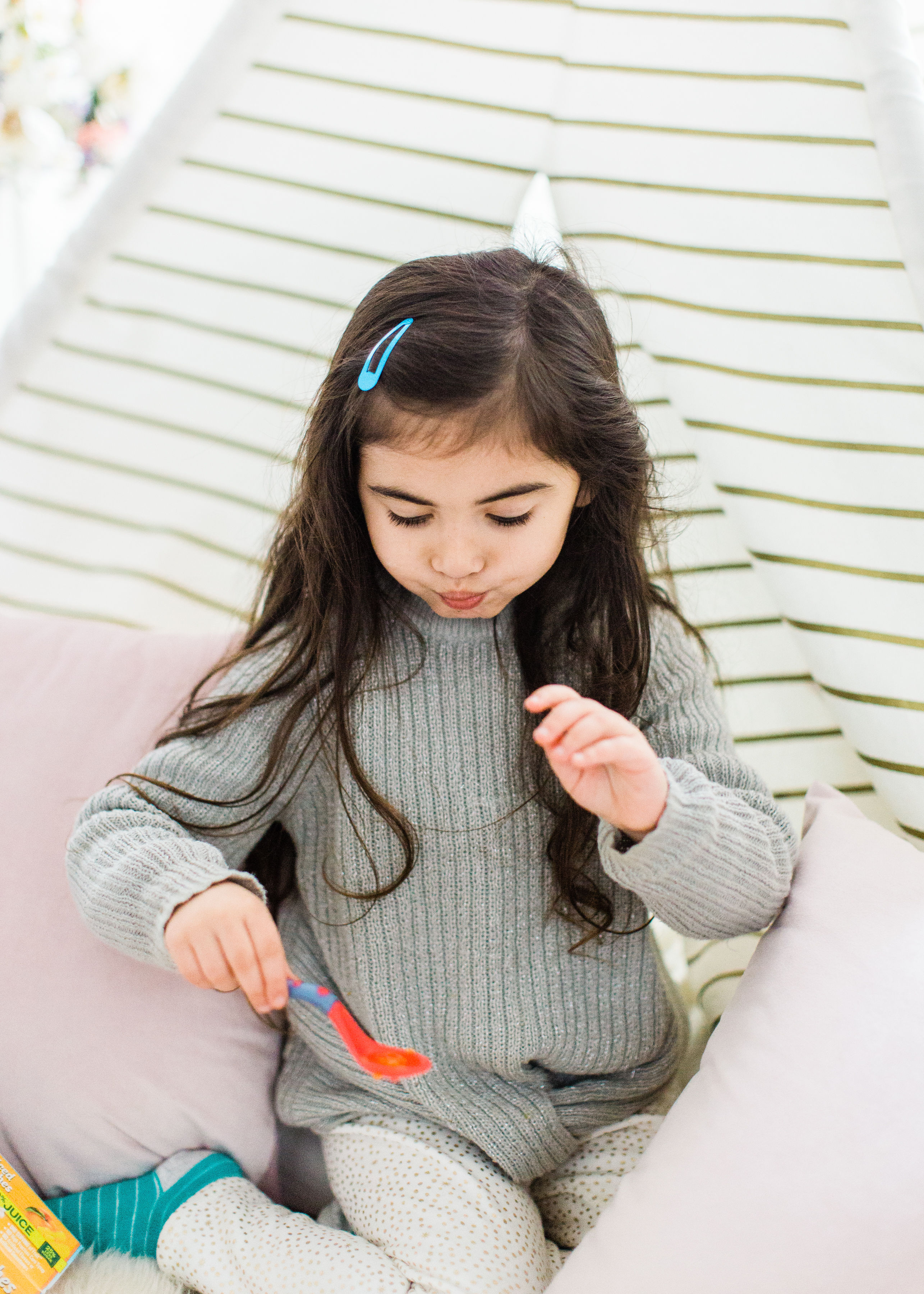 I mean, just LOOK at how happy this little one is eating fruit.
Not that it's a huge stretch; our girls loooooove fruit. Seriously, I can't ever seem to keep enough in the house—which is why having convenient Del Monte Fruit Cup snacks on hand all of the time is such a victory.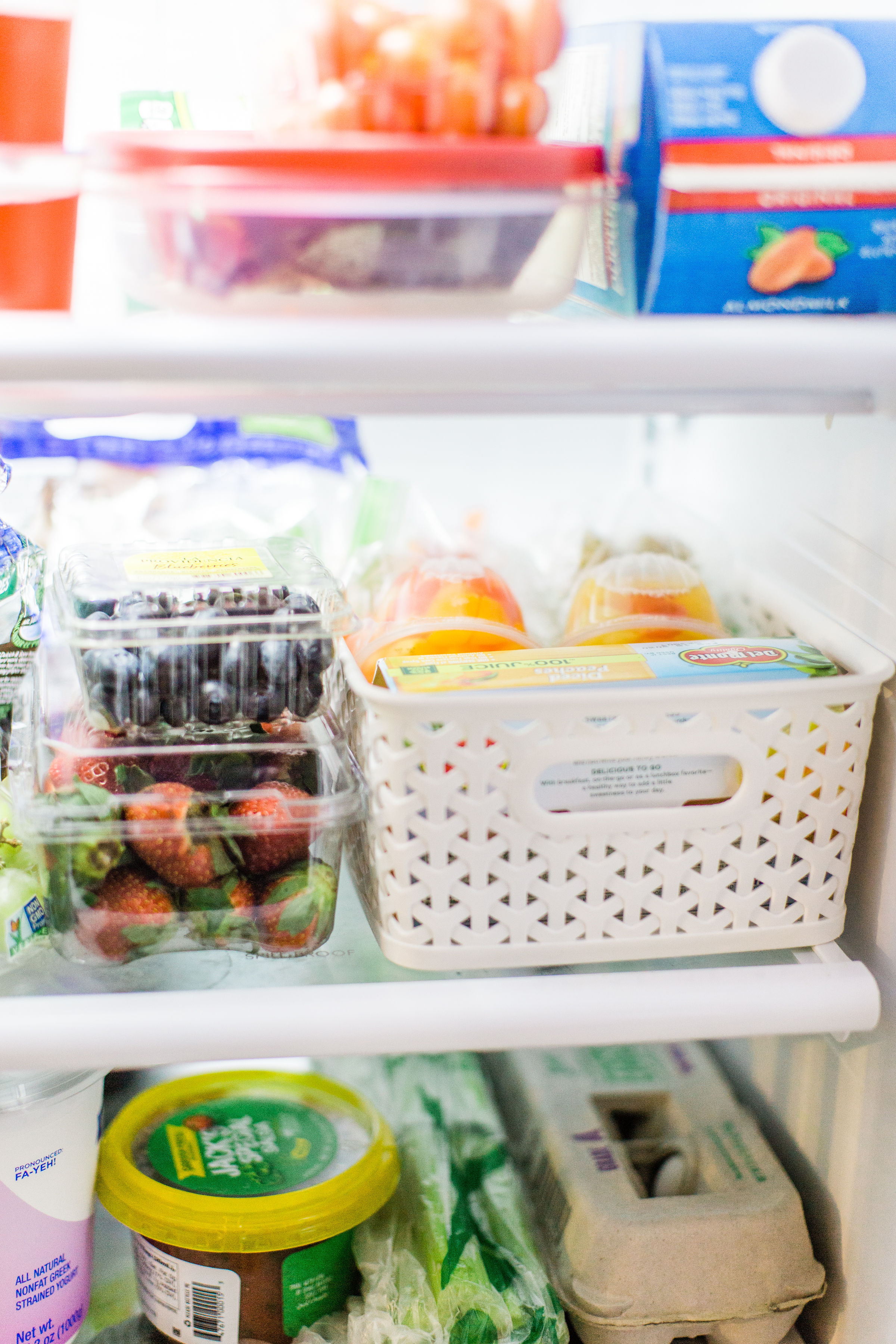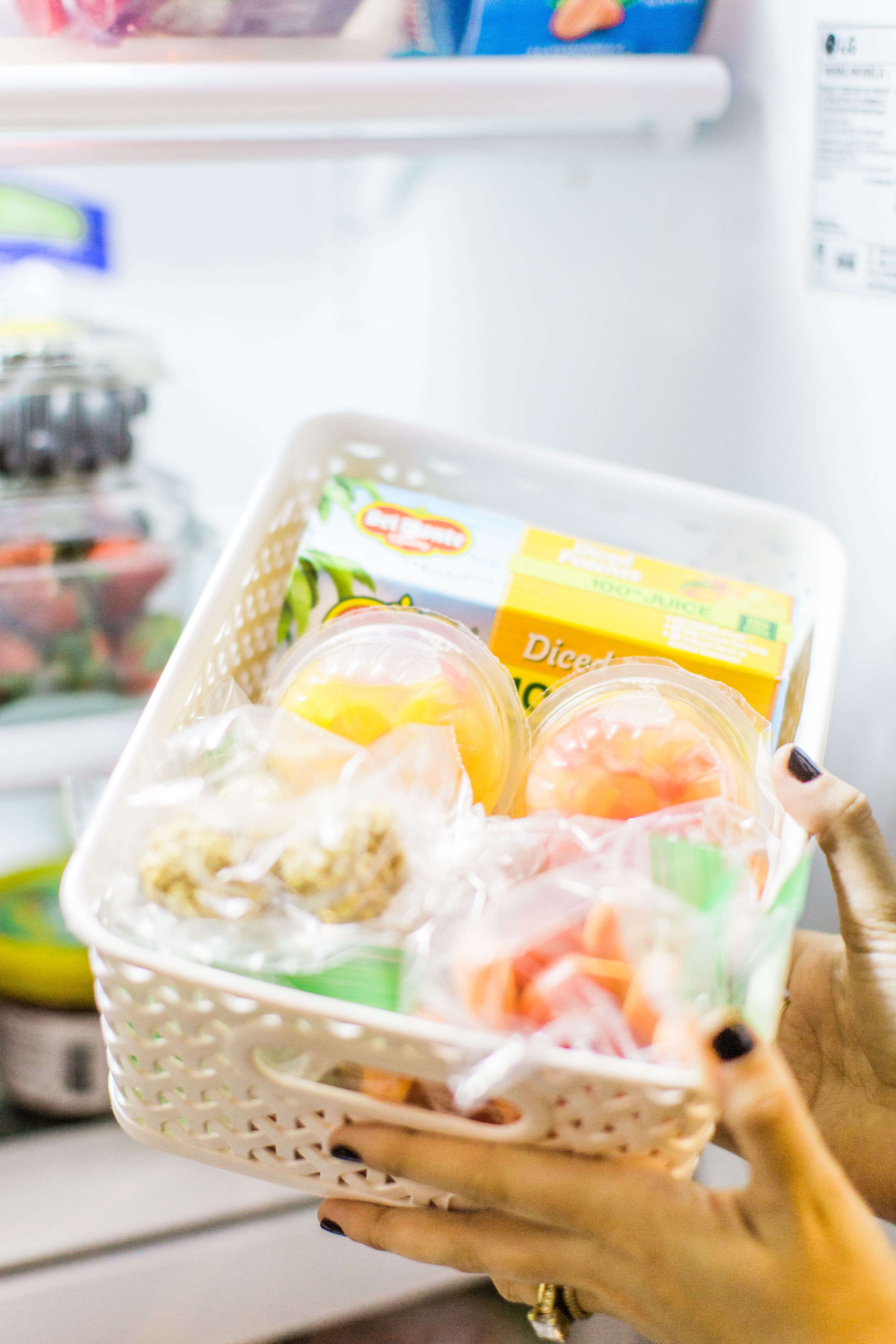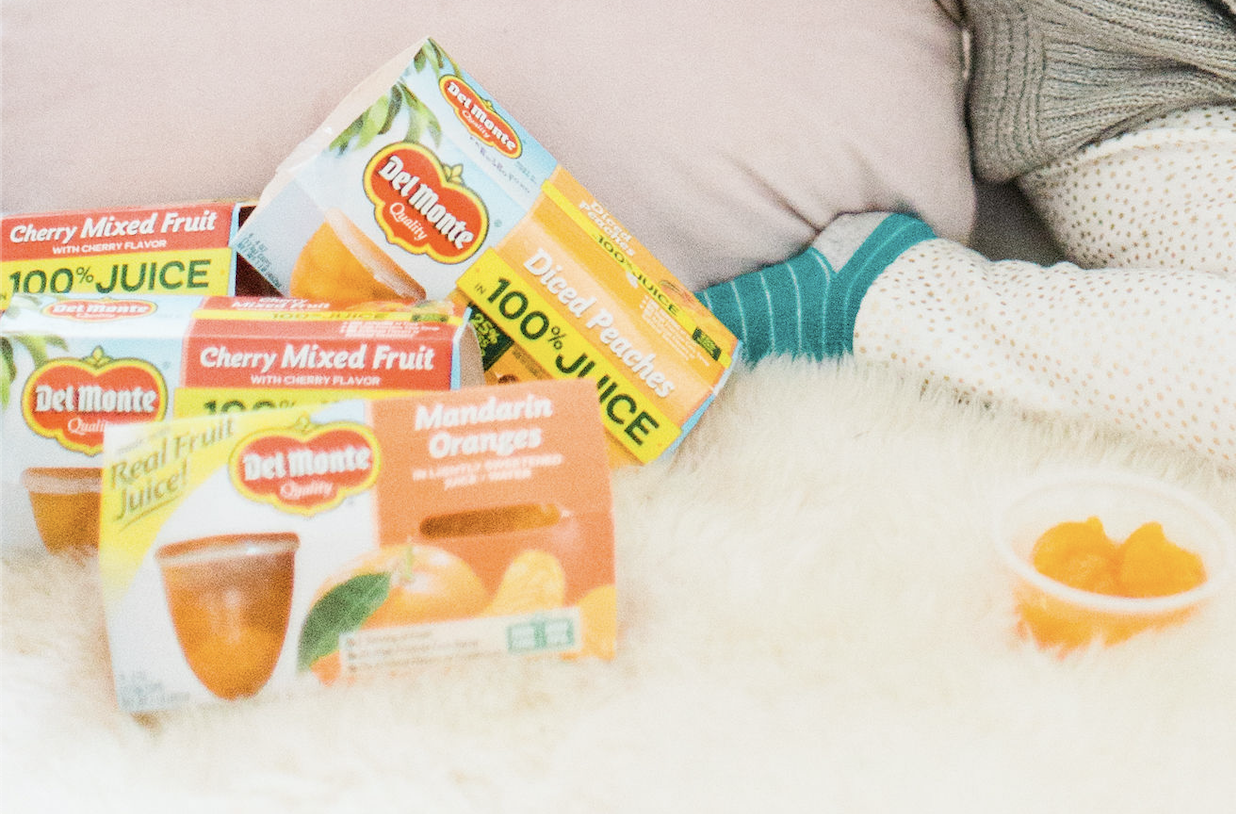 Other than that, I like to rotate through healthy snacks that are easy to grab—i.e. cut-up vegetables, hummus cups, veggie straws, salsa and corn chips, homemade energy bites (a.k.a., no-bake cookies), etc. I try to separate everything into portions at the beginning of the week. I find that if I do this, it's much more likely to get eaten. Also, it keeps the portions healthier for us grownups who are prone to tired over-snacking.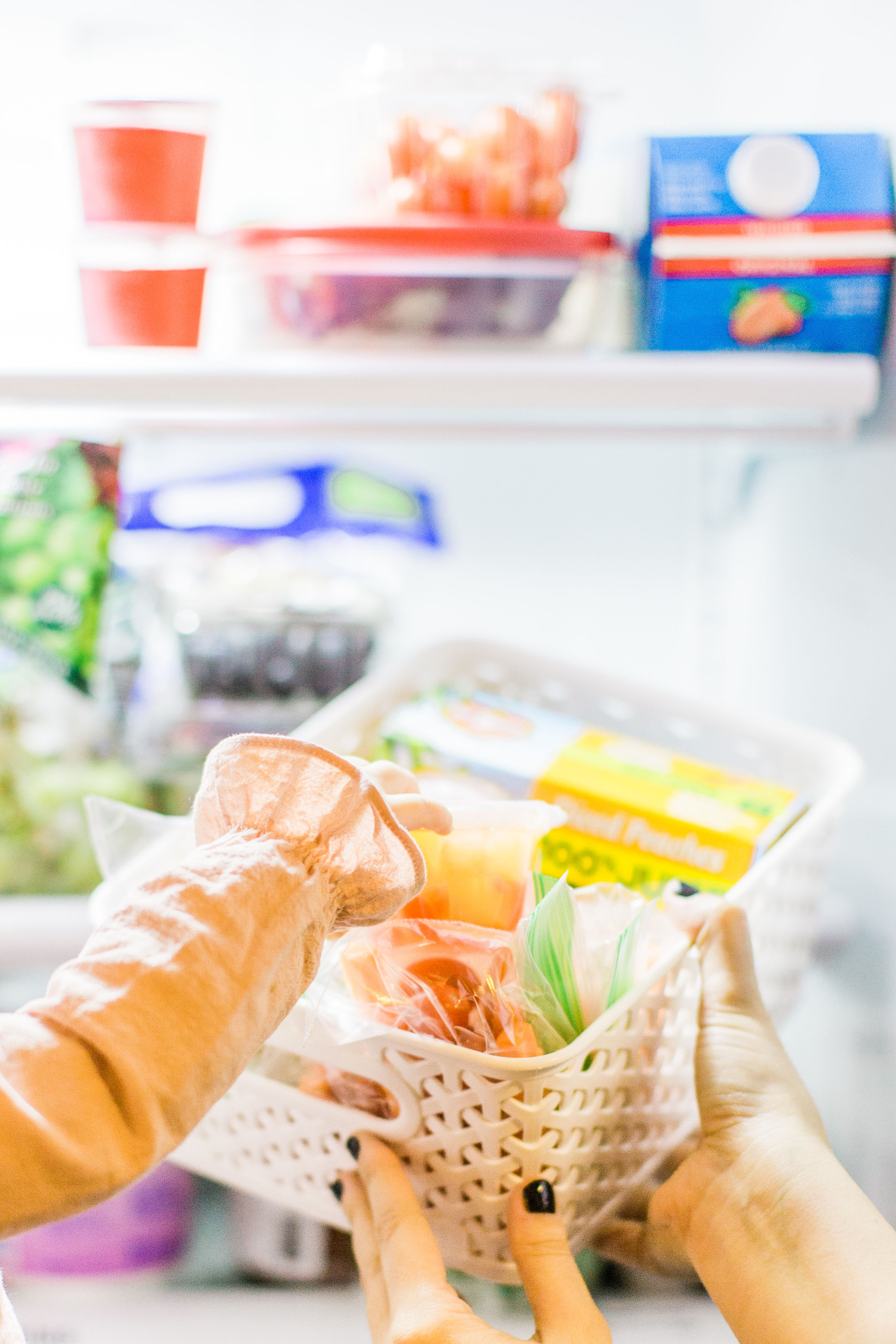 I'm amazed at how much having these healthy snack bins helps our family. Making sure healthy snacks are never out of reach keeps everyone fed, happy, and healthy. Also, it's removed the snack-time stress off of my own shoulders—helping us all ease right back into our daily routine. How's that for a "mom win"?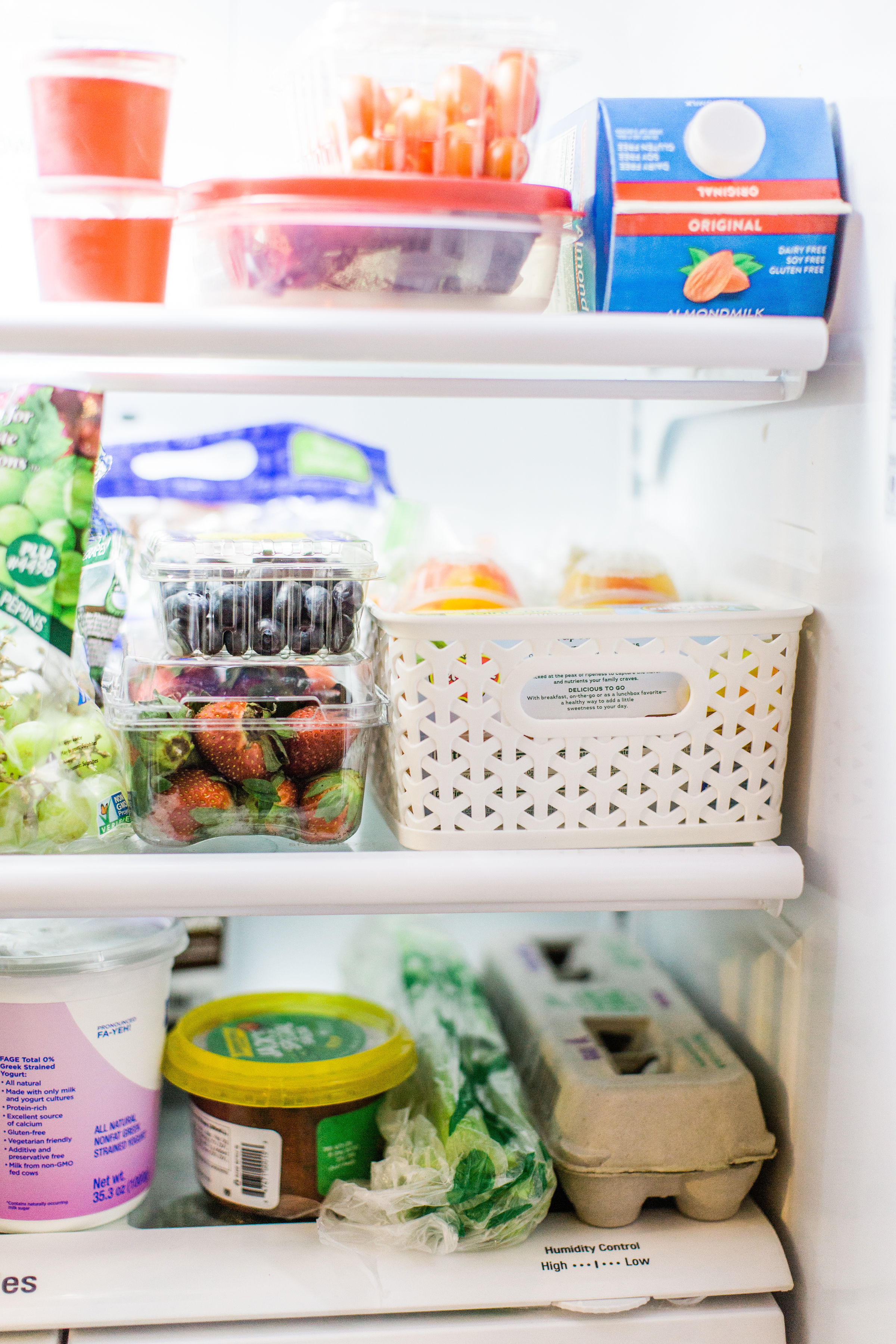 *Contains 13g of sugar per serving compared to 18g of sugar per serving in the leading national brand.
IF YOU LOVED THIS HEALTHY SNACK BIN POST, YOU CAN SEE MORE OF OUR PARENTING HACKS, PLUS LIFE WITH TWO LITTLE ONES, HERE.
Photos by Annie Timmons Photography for Glitter, Inc.