This post contains affiliate links, which means that if you click on one of the product links, I'll receive a small commission. Thank you so much for clicking through and helping to support this little blog business of mine! Read more about our site, privacy, and disclosure policies here.
We've traveled with our kids a ton, so we're sharing a huge list of the very best toys, games, and activities to bring on a plane for your babies, toddlers, and kids.
It's no secret that we travel a lot, and having kids really hasn't slowed us down. Now, we're just traveling parents! Between residency and more recently, fellowship interviews, hubby's many medical conferences, Boston (Have you heard the news!?), visiting family in New York, Miami, and Maine, and trips for my blog, we find ourselves taking road trips and flights fairly often each year. Now that we've flown with our little ones as babies, toddlers, and kids, we've really gotten a handle on how to manage flying and driving with kids and babies in tow.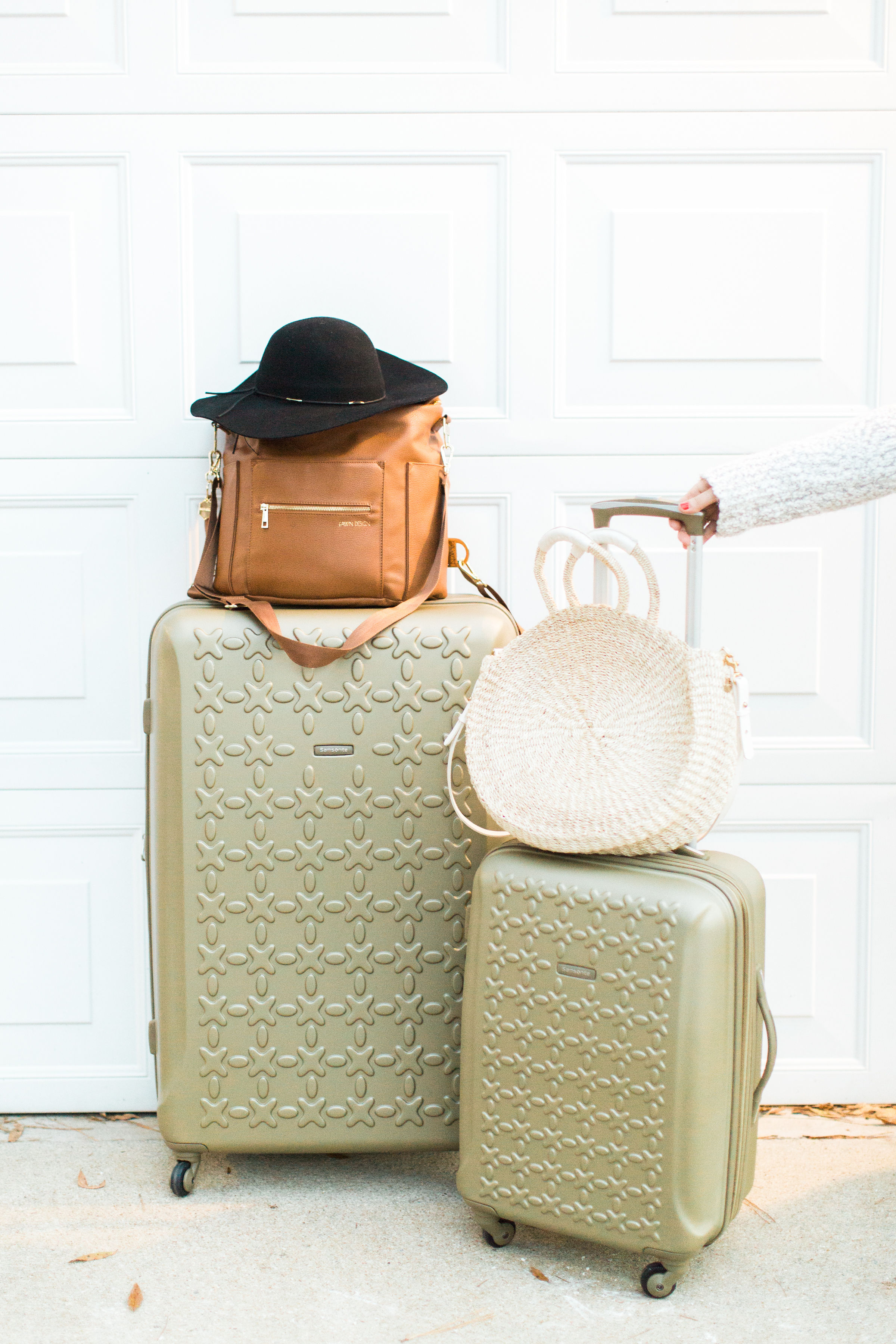 Of course, traveling with kids can be tough and if you're flying for the first time with a baby, toddler, or kid (or some combination of those!), the very idea can feel really daunting. The stress of what to bring, getting to the airport on time, having the right documents to travel, staying organized, keeping everyone happy (your kids, yourself, and fellow passengers included), and worrying about how your little one will handle the flight, is a lot. I know.
But honestly, traveling with kids is actually totally doable. You'll quickly learn that you can't make everyone happy, and your best bet is to just focus on you and your kids. The key to traveling with kids, and my VERY BEST advice, is to be prepared. In case you missed it, be sure to read this pretty comprehensive post all about how to travel with kids, including my 10 best travel tips for a smooth road trip or flight. Today's post in particular, is an in depth list of all of our favorite toys to bring on a plane for kids and babies.
And planning is key.
Think about what your baby, toddler, and/or child likes. Do they have any preferences? A favorite character?
Does your baby or toddler have any comforts like a pacifier or favorite lovey?
How much can you realistically bring with you? Two activities per child is probably plenty. Choose things that are lightweight, easy to travel with, mess free, quiet and simple.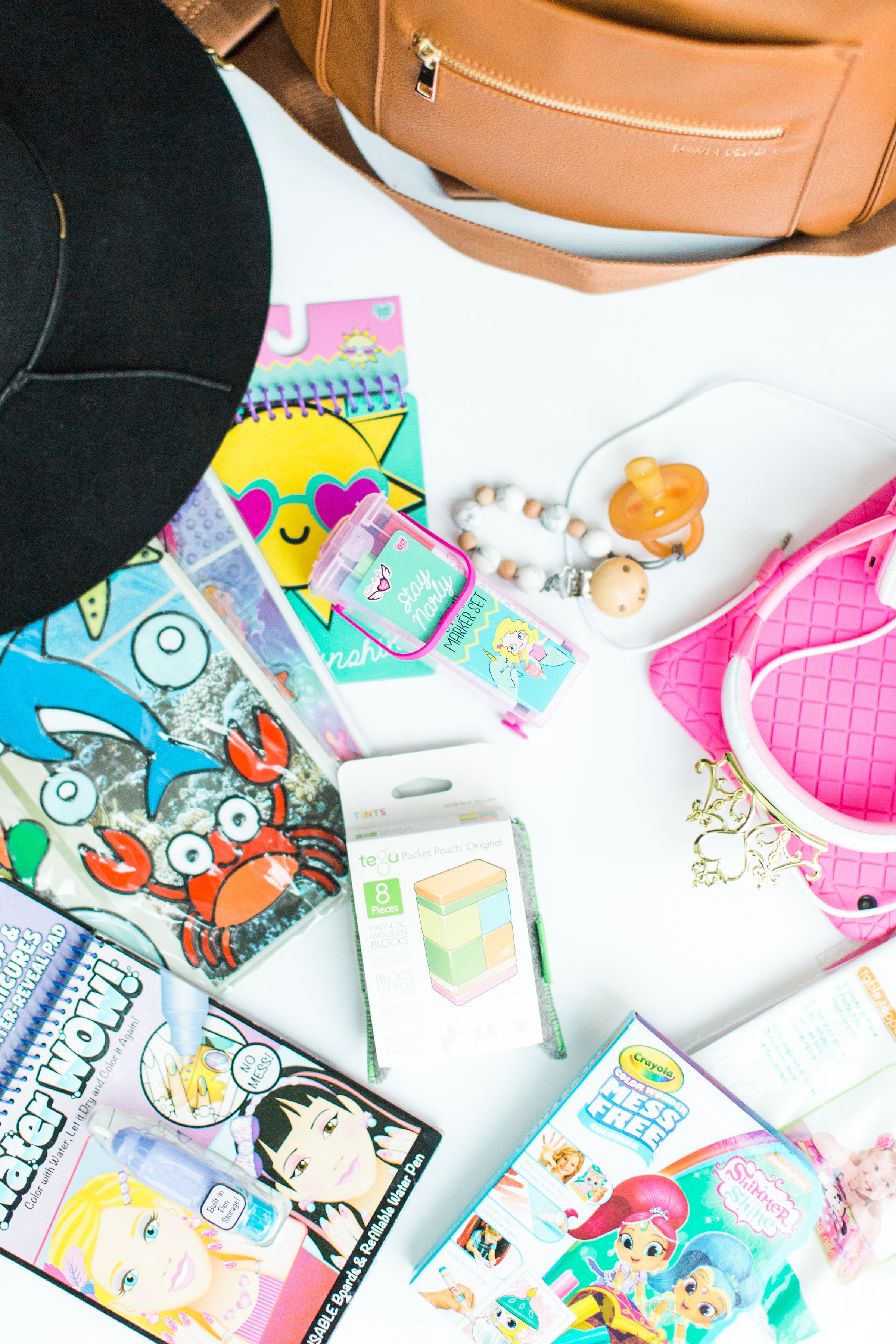 So let's talk about what toys and activities to bring on a plane …
These are the toys that truly keep kids entertained on flights and help make family travel a whole lot easier. I'm talking 30+ awesome toys, games, and activities your kids will love! Of course we don't bring all of these, but each big trip, we do pick a few to order beforehand and I keep them under wraps in my carry on bag. (Once the kids have opened their travel toys, my oldest daughter, Scarlett, likes to keep her toys in her own travel backpack or little roller suitcase.) My mom always used to travel with "car prizes" and "plane prizes" and I love carrying on the tradition. The anticipation and excitement tends to really help in keeping our kids happy and excited for travel, and most of these toys entertain our kids anywhere from 30 minutes to an hour at a time, keeping our family, flight attendants, and fellow passengers happy!
Pro Tip: Anything that comes in a box will probably travel better, and take up less space, if you take it out and put it in a bag before you leave home.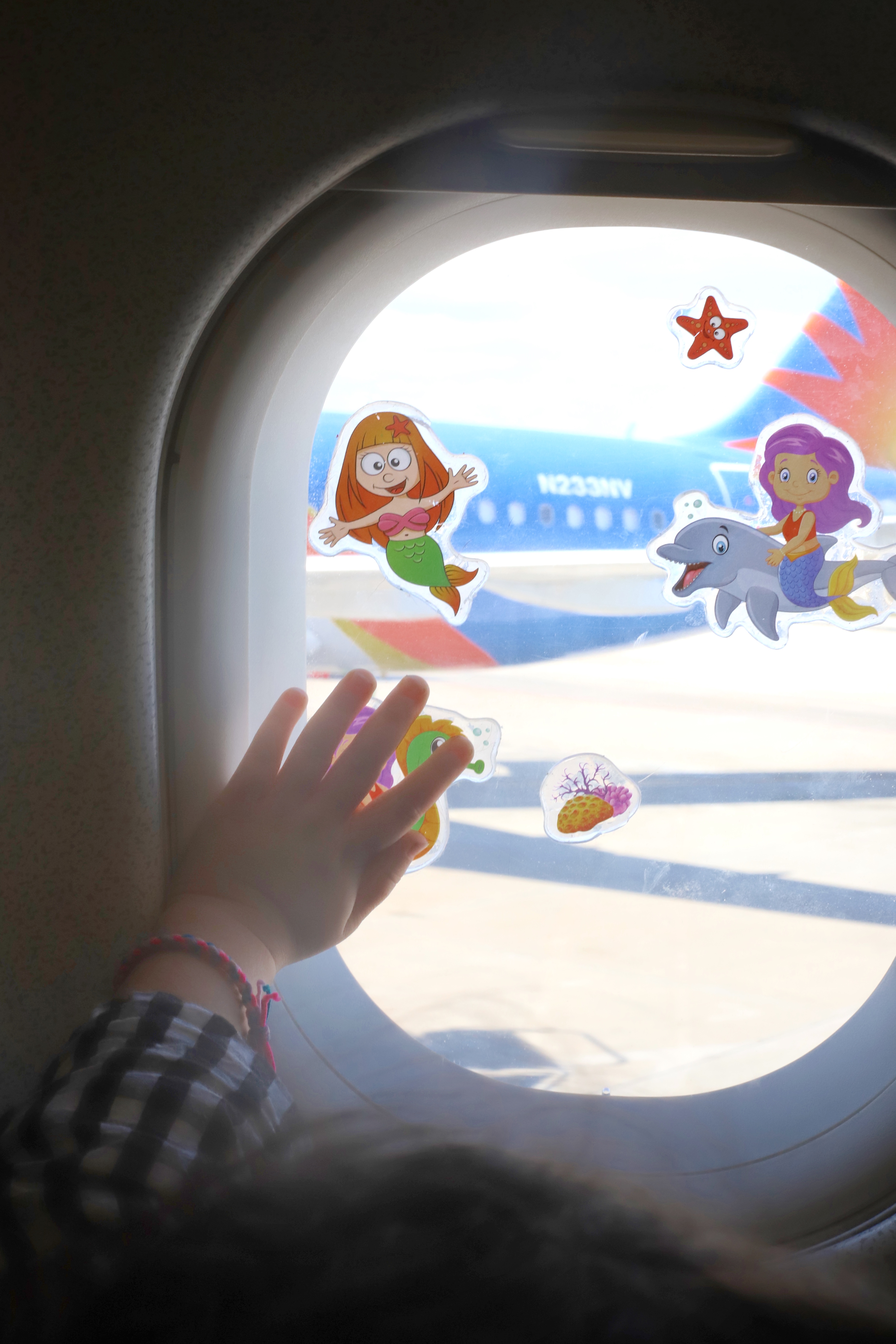 The Best Toys and Activities To Bring on a Plane For Kids, Toddlers, and Babies
I did my best to break down the different kinds of toys and travel games kids love based on what ages they would work best for, though to be honest, we would use a lot of these for both our baby (14 months old) and 4 year old, and we used many when our oldest was a toddler. Just be sure anything with a stylus or pen or anything with small objects are solely for the bigger kids and not the babies.

Toys for Babies
These are perfect for little hands just learning to experience things like zips and ties. They are also lightweight and don't take up much space in a bag.
I really like that this baby book zips up and has a little toy bunny that interacts with each of the soft pages. (We also have and love this little girl dress up book.)
Buckle toys are great for babies and toddlers. These sweet little toys help toddlers develop fine motor skills, cognitive skills, hand eye coordination, problem solving, and keep them entertained for a good amount of time, whether they're on your lap or in car seats.
These sweet toys are perfect for baby. They're also small, but not too small, and there's something about the soft clicking sound the toys make that babies love.
Granted, this one is not quite a toy, but snacks are essential on any kind of airplane travel. This snack cup keeps everything fresh and sealed, and also cuts down on mess and losing snacks.
Toys for Toddlers
We have SO many of these. They're especially great for toddlers and younger kids (around 2 – 3). Our 4 year old still enjoys them, and likes finding the hidden pictures, but they were particularly great when she was a little younger. Mess free, lightweight, and fun! Perfect for restaurants, travel, plane rides, and more.
We LOVE Tegu blocks. They fit into this great, portable carrying case, and I rarely leave home without it. It fits perfectly inside a pocket of my diaper bag, the blocks are durable, and babies, toddlers, and kids love them. (If your little kids love things like magna-tiles, you could also easily just put a handful of your favorite magna-tiles into a zip-top bag, like a Bumkins zip travel pouch – just don't bring too many magna-tiles, since they can get heavy!)
These gel window clings are THE BEST. They stick to airplane windows, car windows, etc. and can be used again and again. They don't tear easily and seem to entertain our kids for a good amount of time on flights and car trips. We actually just got a set of the sea creatures and mermaids for our upcoming cruise; I figured they would be great for the kids to stick to the glass balcony doors while we get ready. I may also scoop up the gel cling letters for our next big road trip. (Note: Be sure to get the "gel" clings, rather than the "foam" clings. The gel clings are much more reusable.)
I wouldn't bring ALL of these along on a trip, but bringing a few bears and cups will keep your toddler entertained and sorting for quite some time. (This Montessori game would also probably work for a baby closer to age 2 as well as toddlers.)
These books are educational, fun, reusable, and are small enough to fit in your purse or diaper bag.
Similar to Water Wow!, these are great little mess free coloring books. My only gripe is, unlike the Water Wow! "markers," we always seem to lose the caps to these Magic Ink markers, rendering them pretty useless after one trip. (You can find a ton of different characters here, and Melissa & Doug makes a very similar ColorBlast! version.)
These work well for younger kids, especially because the "pen" stays attached.
I remember these from childhood. They're simple and sweet, and fun for kids who love planes.
Always be sure to take these out of the box. Store them in a ziploc bag or Bumkins zip travel pouch. These matching games are great because they are a fun game to play at the hotel too.
Glow sticks are great on a nighttime flight. Pack a few with you for your next late night flight, and as it starts to get dark, and the kids are getting restless, give your kids a handful of glow sticks and help them create shapes, jewelry, etc. (These are great for toddlers and kids!)
This playset comes with 50+ magnets, two different scenes for kids to play on, all in a convenient and light carry case. (So far, I've seen Minnie Mouse, Star Wars, Royal Kittens, The Lion Guard, Sofia the First, Frozen, and Spider-Man.)
Breaking out a bag of figurines or animals always seems to entertain our kids. I try to find animals or figurines that are at least 3 inches tall, so that I'm not so worried about our 14-month old putting them in her mouth, and even then, I still watch her like a hawk with small-ish toys. (I will say that figurines are great for toddlers and kids! Most kids can sit quietly playing with animals or figurines for a long time.)
Toys for Kids
Particularly when taking on international travel, or in our case this holiday, a cruise, letting the kids have their own "passport" to color and decorate and make their own is so much fun.
The same goes for these DIY luggage tags; let your kids decorate their own luggage tags, and then when you land, attach them to their carry-on bag so that they can show off their newest travel accessory.
We actually just ordered these after a friend was using one with her son. They're the perfect size to fit in a purse or diaper bag, and according to the reviews, kids LOVE all of the questions. (Note: You might want to order a level up, since many of the reviews say the questions aren't all that challenging.)
I just stumbled upon this adorable activity for kids recently; basically, Rory's Story Cubes is a pocket-sized creative story generator, perfect to help your little ones' creativity along. Each jumbo 1″ cube has 6 images or icons, with a total of 54 all-different hand-inlaid images that can be mixed in over 10 million ways. You roll all 9 cubes to generate 9 random images and then use these to invent a story that starts with "Once upon a time…" and uses all 9 elements as part of your narrative. How clever is that!? Plus, it's just $8 on Amazon Prime with free same-day shipping! 
Stickers are always a win on our family trips! I usually buy a booklet of stickers from the Target Dollar Spot, and then bring along a small, inexpensive notebook, so the girls have somewhere to stick their stickers, and voilà! (This airport sticker book is also super cute, under $2, and small.)
I love these little postcard booklets because they don't take up much space. Bring along a pack of crayons or markers and let the kids write postcards to everyone they'll be visiting or anyone they want to send postcards to from their big trip. They can also decorate their postcards with stickers. This is such a great tray table activity.
Coloring books are always a good idea. Pair a new coloring book with crayons makes the activity shiny and new for kids. Our kids love these Crayola Twistables Crayons because unlike markers, they're mess free, and unlike crayons, can't break easily; plus, they don't take up much space.
Take a few matchbox cars out of the box and bring 2 to 3 cars. Also bring a roll or two of washi tape, and let your kids create "tracks" and "roads" on their tray tables to play with the cars. (This Classic Rail Train Track Tape would also be super fun with miniature toy trains.)
Let the kids create whatever they want – in puzzle form. Draw pictures, or write math problems, alphabet letters, words, etc. Be sure to take them out of the box and put them in a ziploc bag or Bumkins zip travel pouch before you travel with them.
I love that this toy is small and portable, is a perfect tray table activity, is a STEM game, has 360 puzzles/patterns for kids to try, and the pieces are magnetic, so they won't easily fall all over the floor.
If your little one is learning to read, these sight word books are great. The individual books themselves are really small and lightweight; take a few out of the box to bring with you on your next flight. (These BOB Books are also great!)
WikkiStix are great for molding and shaping, creating scenes on a tray table or plane window, and making all sorts of creations. They're also mess free, lightweight, and quiet.
Our 4 year old recently got into scratch doodle art. They're fun and colorful, and fit easily in a purse or diaper bag.
These little sticker activity sets are super lightweight and flat, so they fit easily in a back pocket of a diaper bag. The stickers are reusable and kids play with them on little scenes. (There are the mermaid, princess, and fairy sets and the farm, safari, and chipmunk sets.)
This writing "tablet" is super popular and for good reason; the simple LCD magic ewriter allows kids to draw, practice writing letters and numbers, and easily erase to start over again.
We've never tried this one, but I'm thinking of scooping it up for our next trip. This is probably best for kids ages 4 years and up, since it can be kind of challenging for younger kids to get the tape lines straight, etc.
Whether you let your kids listen to music, watch a show or movie on the screen at the back of the seat in front of them, or you break out the ipad or tablet for a movie or fun game, don't underestimate the power of electronics. Traveling with kids is all about survival. Normally, I'm not a huge fan of long stretches of tv, etc., but when it comes to traveling, I err on the side of whatever keeps them content and happy.
Don't forget to download any shows or movies to the tablet before you leave home, since wifi won't be so easy to come by mid-air. If you have things like Amazon Prime Video and/or Netflix, you can download most shows and movies to the tablet on a wifi connection.
By the way, both the headphones and ipad or tablet are great for toddlers and kids!)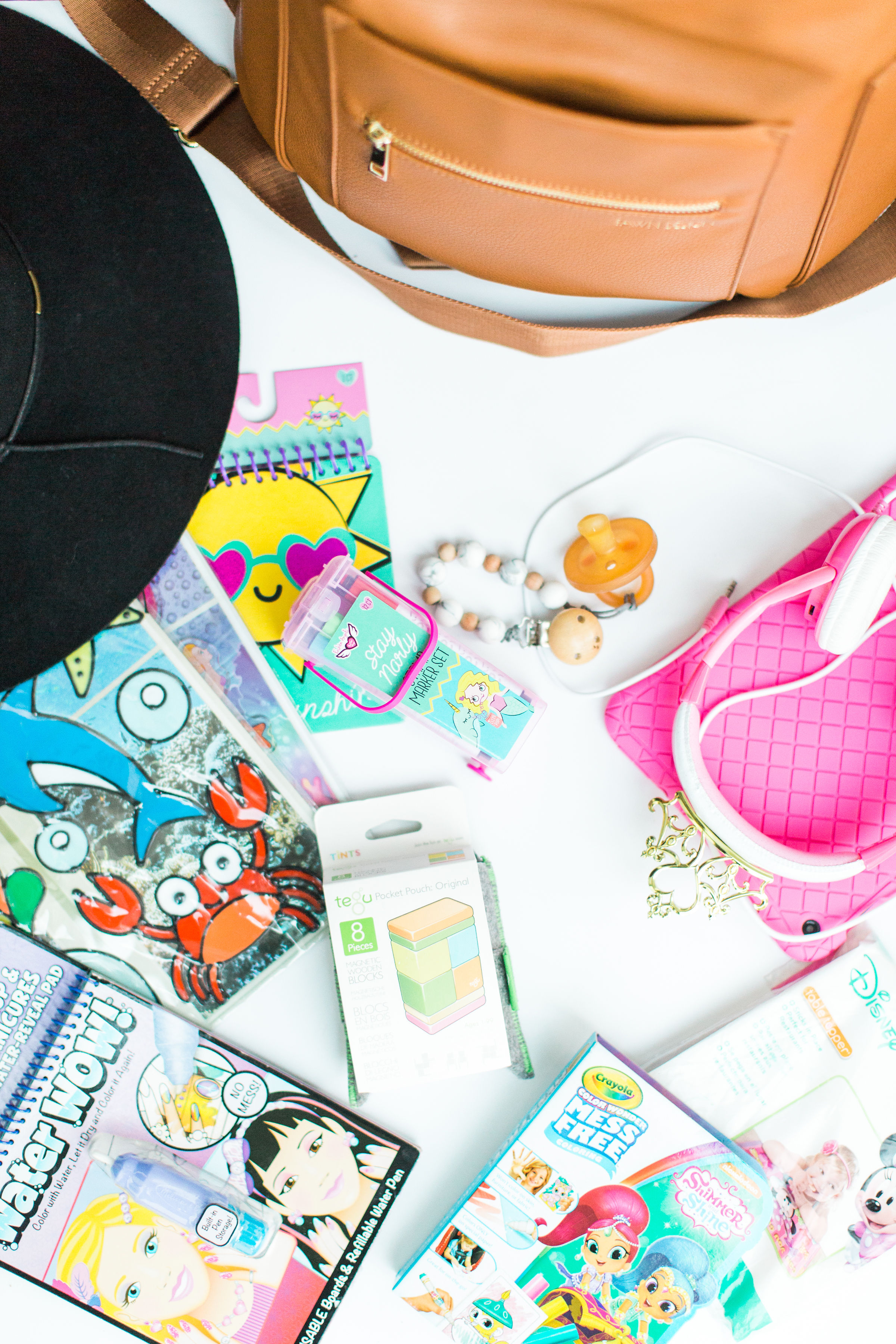 SHOP THE BEST TOYS TO BRING ON PLANES | CLICK LEFT & RIGHT ARROWS TO EXPLORE
What are your favorite toys, games, and activities to bring on a plane? Do your kids have any flying must-haves?
IF YOU LOVED THIS POST, YOU CAN SEE MORE BEHIND-THE-SCENES OF OUR LIFE WITH TWO LITTLE ONES HERE, INCLUDING A REVIEW OF ONE OF OUR FAVORITE TRAVEL STROLLERS – THE UPPABABY VISTA.
Photos by Annie Timmons Photography for Glitter, Inc.