This post contains affiliate links, which means that if you click on one of the product links, I'll receive a small commission. Thank you so much for clicking through and helping to support this little blog business of mine! Read more about our site, privacy, and disclosure policies here.
Looking for a little inspiration for baby's first birthday cake smash photo shoot? We're keeping it simple and adorable for Emmeline's cake smash, plus, we're sharing our favorite dairy-free vanilla crazy cake; a.k.a., the perfect smash cake recipe!
The other day I had our amazing photographer, Annie, shoot a few photos of our sweet Emmeline, who just turned one years old! I still can't believe our baby is a year old. My plan was to share the photos with family and that's it, but the pictures are just soooo stinkin' cute; I had to share. Plus, I figured it was the perfect opportunity to post our favorite smash cake recipe.
We love you sweet Emmeline Harlow!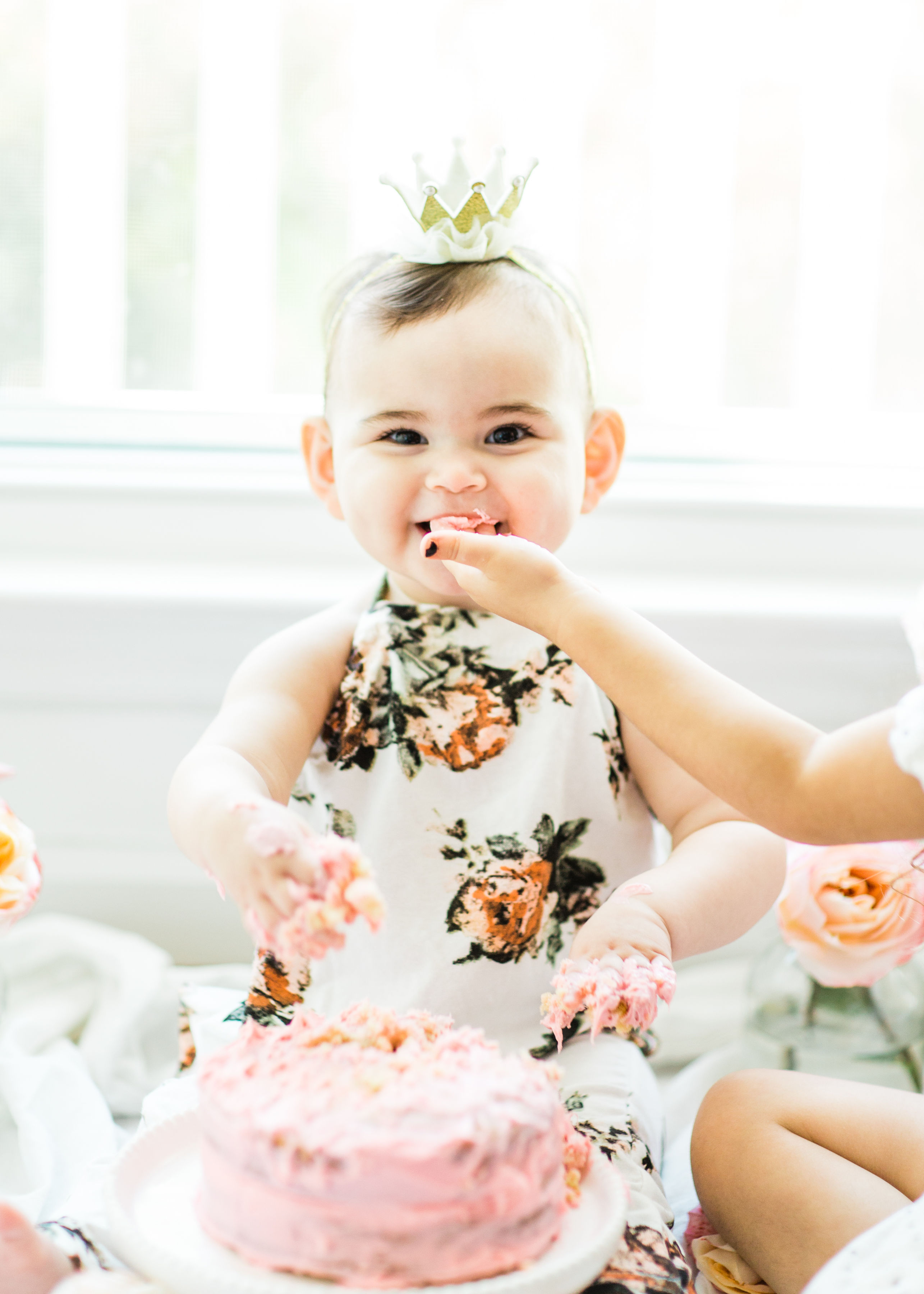 Emmeline's First Birthday Smash Cake
For Emme's 1st birthday cake smash photo shoot, I kept the cake smash set-up simple:
I made an easy dairy-free vanilla layer cake (using our favorite crazy cake/smash cake recipe) that we all love and topped it in pink frosting.
Ever heard of crazy cake? It's crazy good, dairy-free, SUPER SIMPLE to make, wayyyyy better than a boxed cake mix (especially since it isn't full of weird ingredients), and I'm sharing the recipe below, in case you're interested!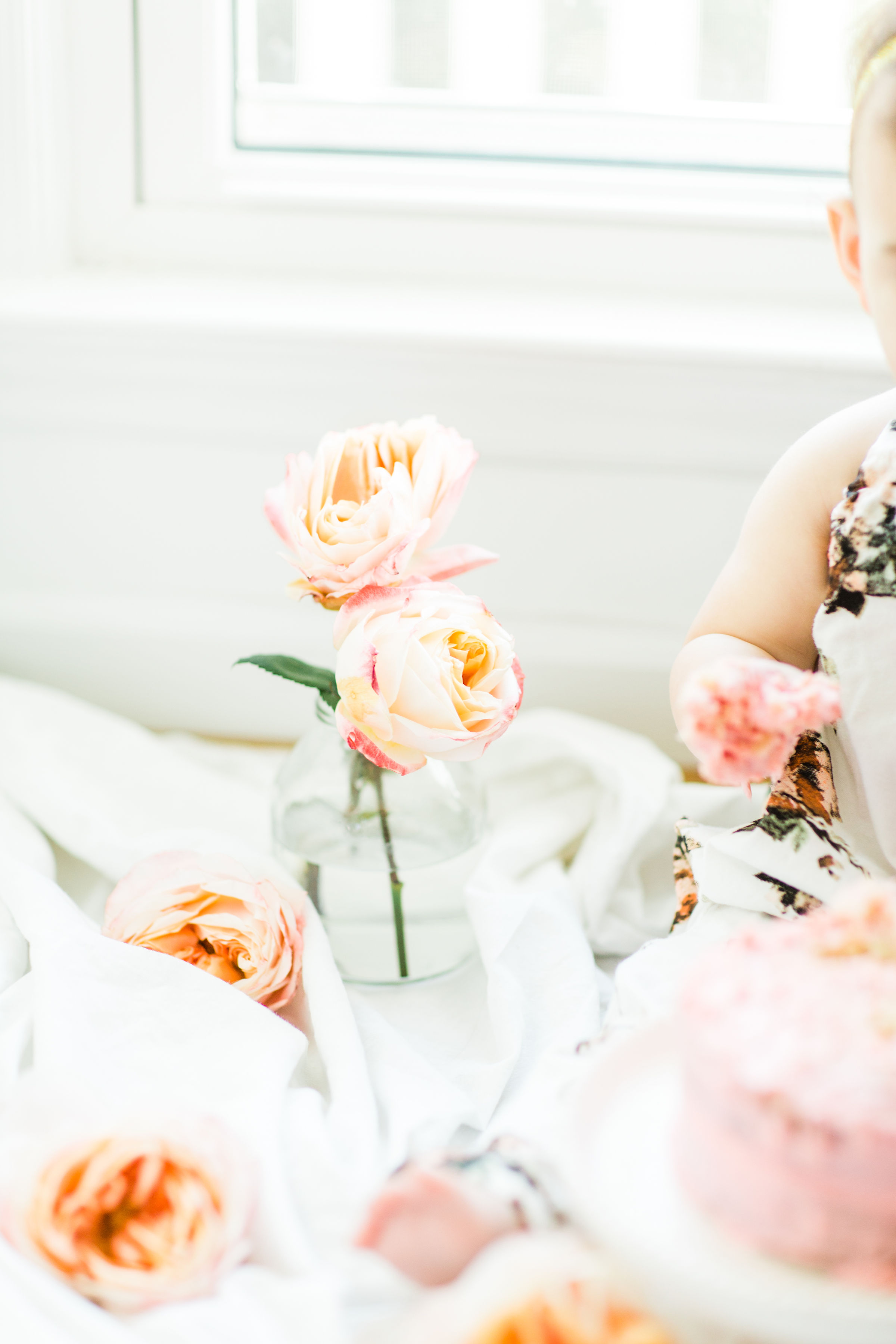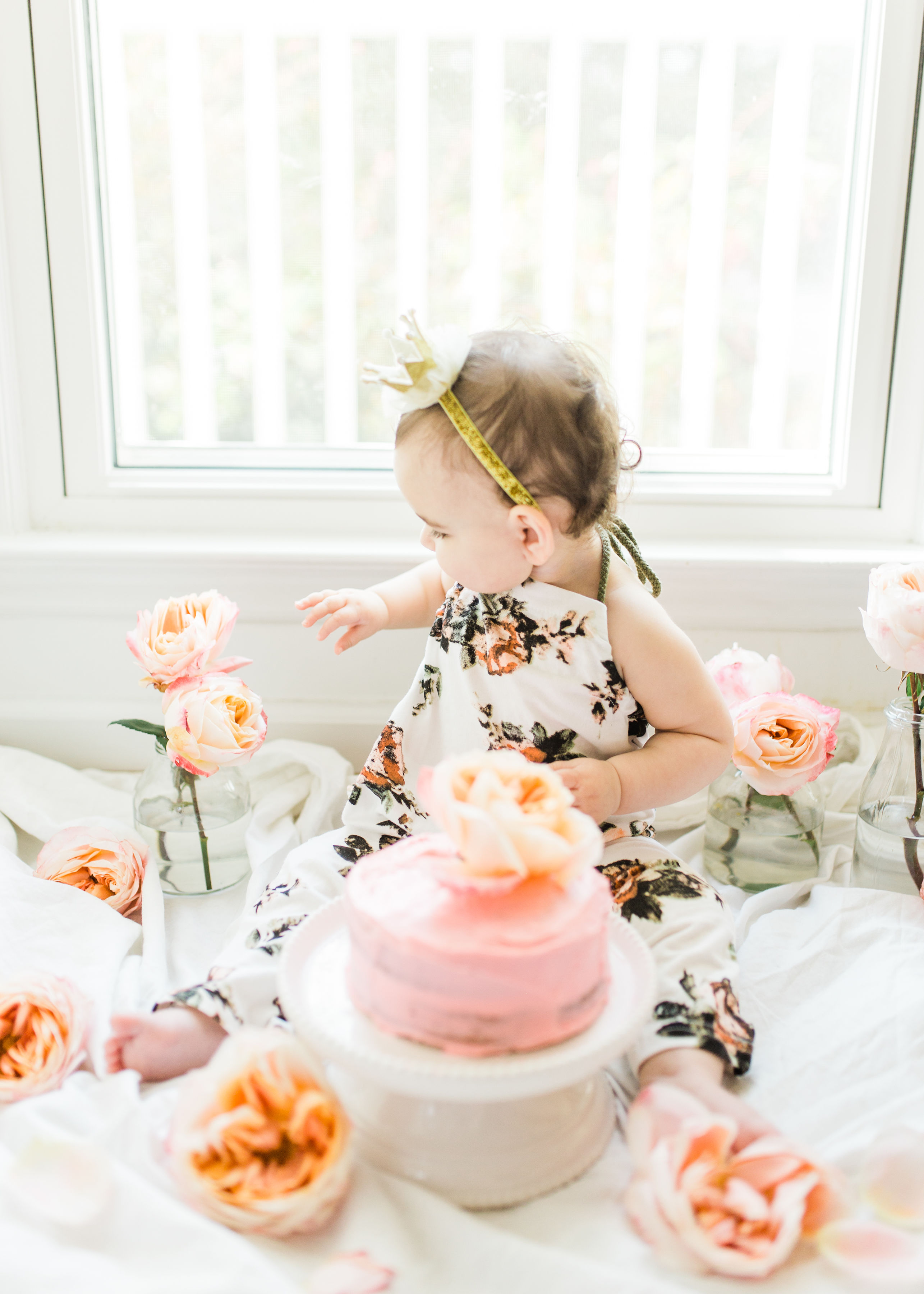 What Is A Smash Cake?
A smash cake is essentially just a small layer cake that's made specifically for a baby's 1st birthday to do whatever they want with it. Typically, babies just smash their hands into the cake, lick frosting off of it, pound and smoosh it, and make a big, joyful, crumbly mess.
Mostly a fun photo opportunity, smash cakes can also be an adorable way to introduce babies to their first real taste of sugar. The ensuing photos are always super sweet.
Why Make Your Baby's 1st Birthday Smash Cake?
I love making our babies' smash cakes because I can control exactly what goes into them, which was especially helpful with our first baby who had/had a dairy allergy. Plus, cakes from a bakery are kind of pricey; a tough pill to swallow when the smash cake's sole purpose is to get … well, SMASHED.
Lucky for all of us, this crazy cake smash cake recipe is super easy to make and SO yummy!
It was also the perfect "real" taste of sugar our second baby girl got, and it was a hit.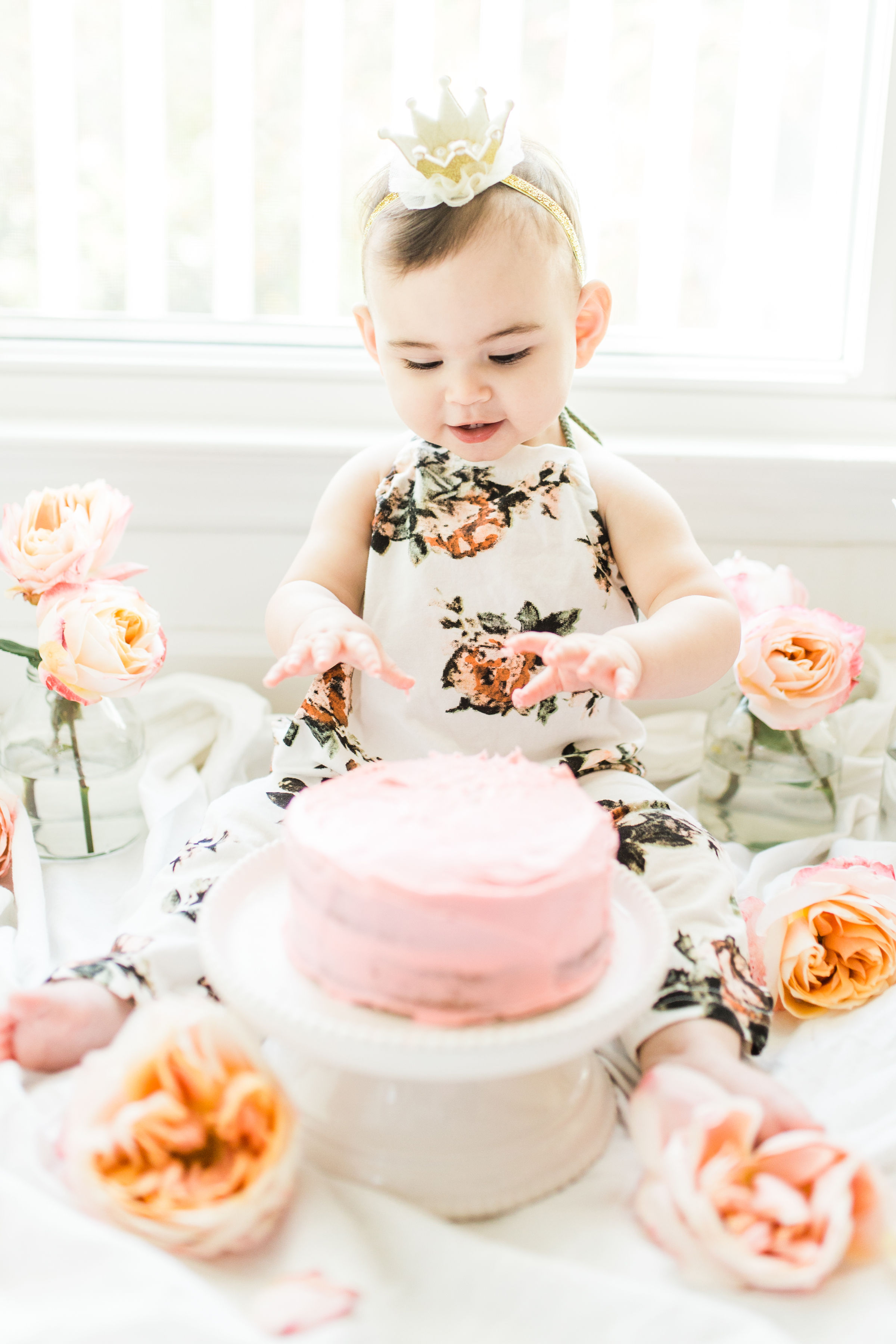 Now back to the smash cake setup …
To set up a smash cake/photo shoot spot, I put down a sheet – because I knew mess was coming, scattered a few roses, put a few roses in milk jars/vases – and really, any flowers would work, set our girls (we have two little girls) in front of our pink-frosted vanilla crazy cake (pink per her big sister, Scarlett's request), and let her and her sister go to town on Emme's birthday cake.
If your little one loves cars or trains or sesame street, as a few examples, set a few of their favorite things (that you wouldn't mind getting covered in frosting), around them on the sheet. It will brighten up the scene, and make for an adorably styled photo shoot setup.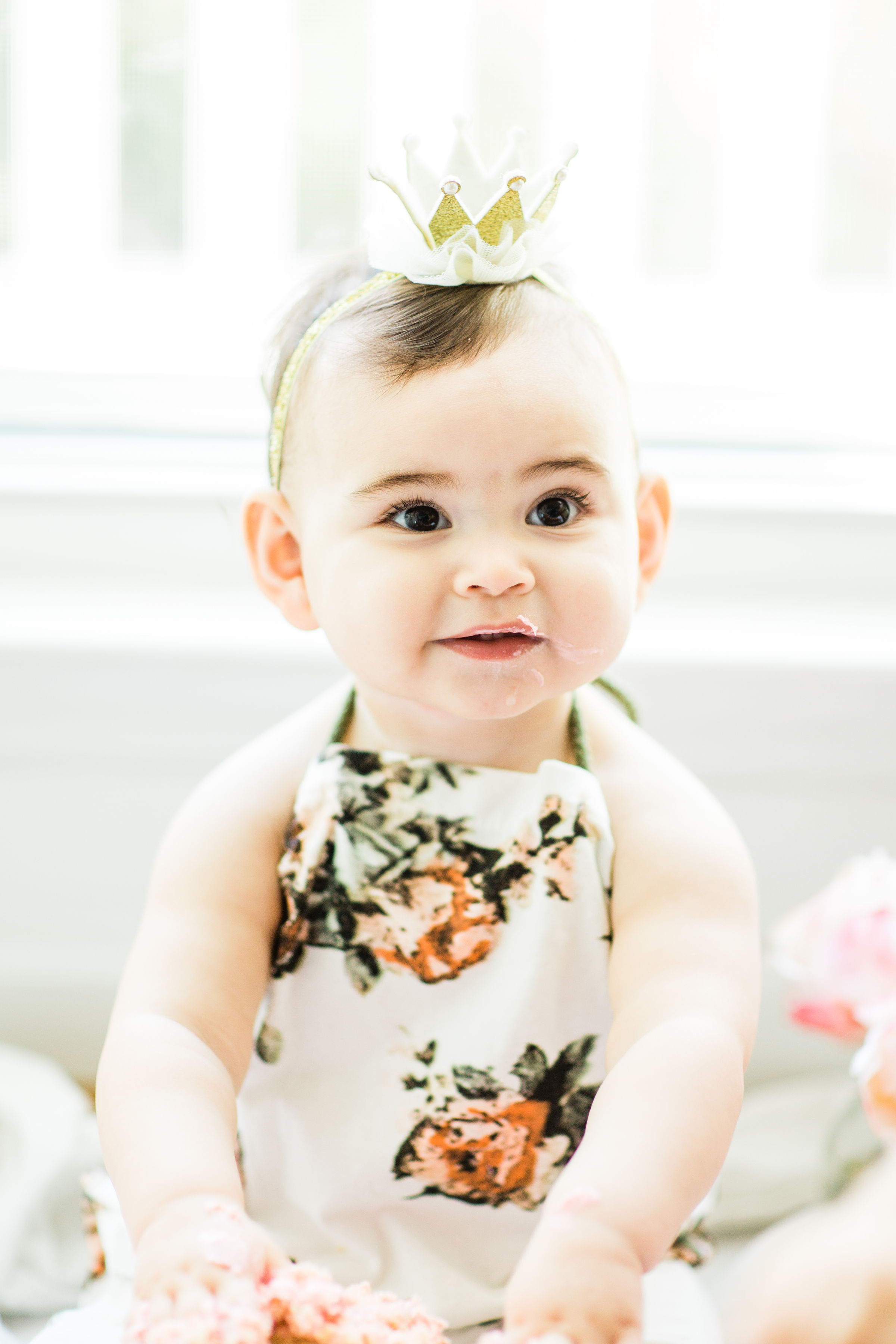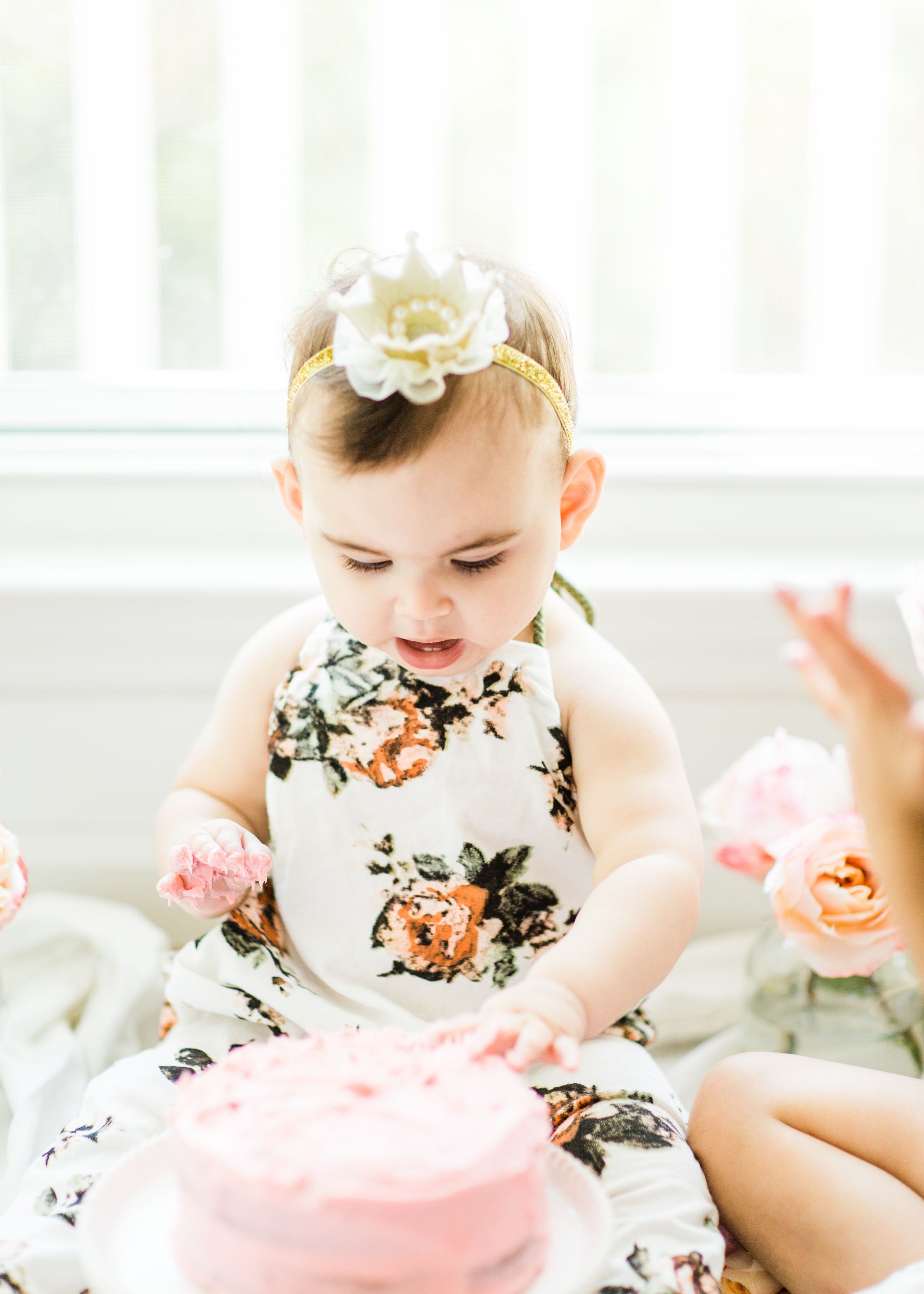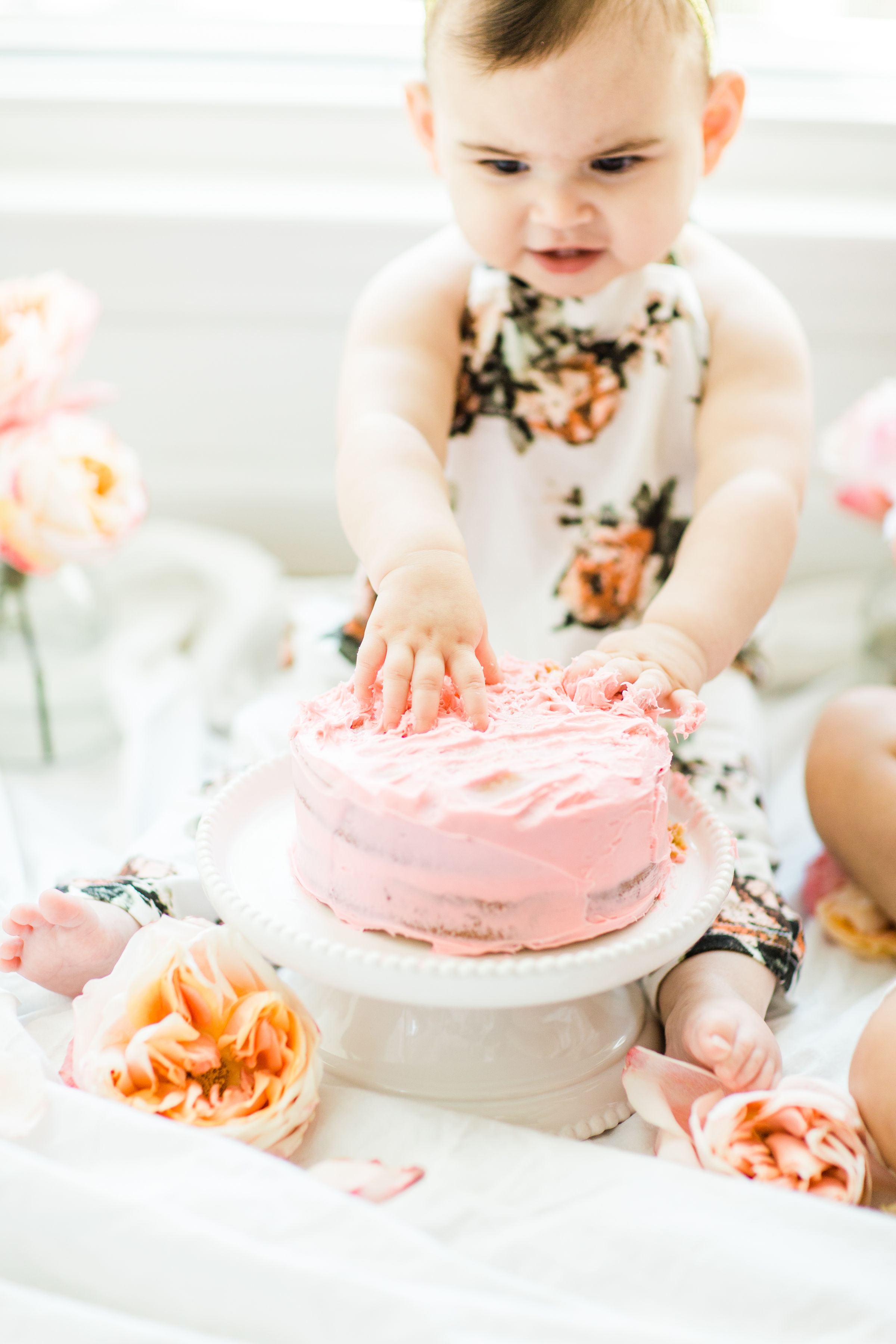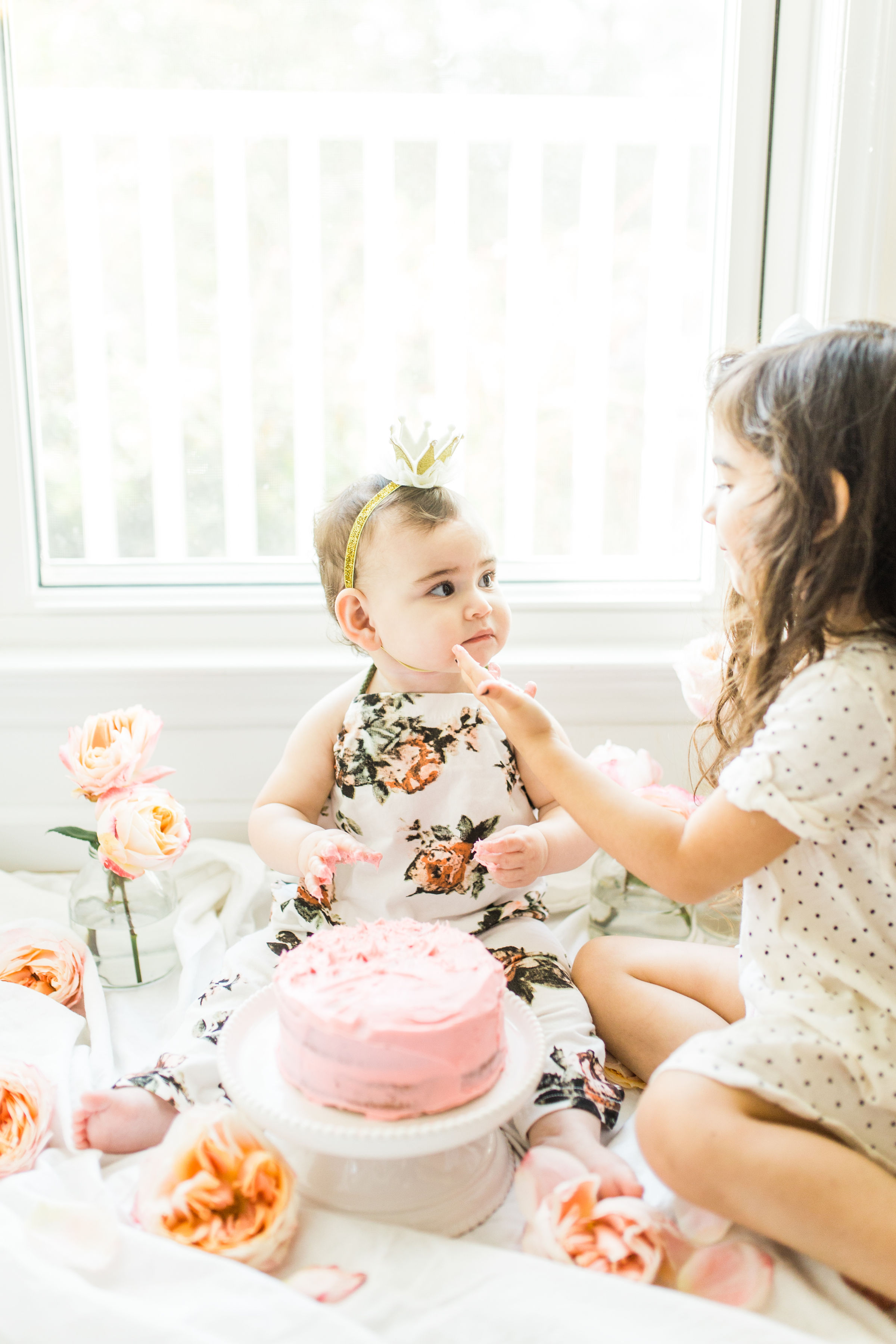 Emmeline's smash cake wound up being the daintiest cake smash I've ever witnessed. She delicately tapped on the cake, and panicked when she realized her hands had gotten dirty (mind you: with delicious frosting). She was not having it.
Thankfully, her big sister saved the day and helped smash – and eat – that birthday cake in no time. Once Emme got the hang of it, she seemed a little less trepidatious, and even smiled at her big sister's cake smashing antics, but I think she was relieved when we took her to the bathroom to wash her hands; mess free and much happier.
I think she preferred her cake slice on a plate, with a kid fork, thank you very much. 🤣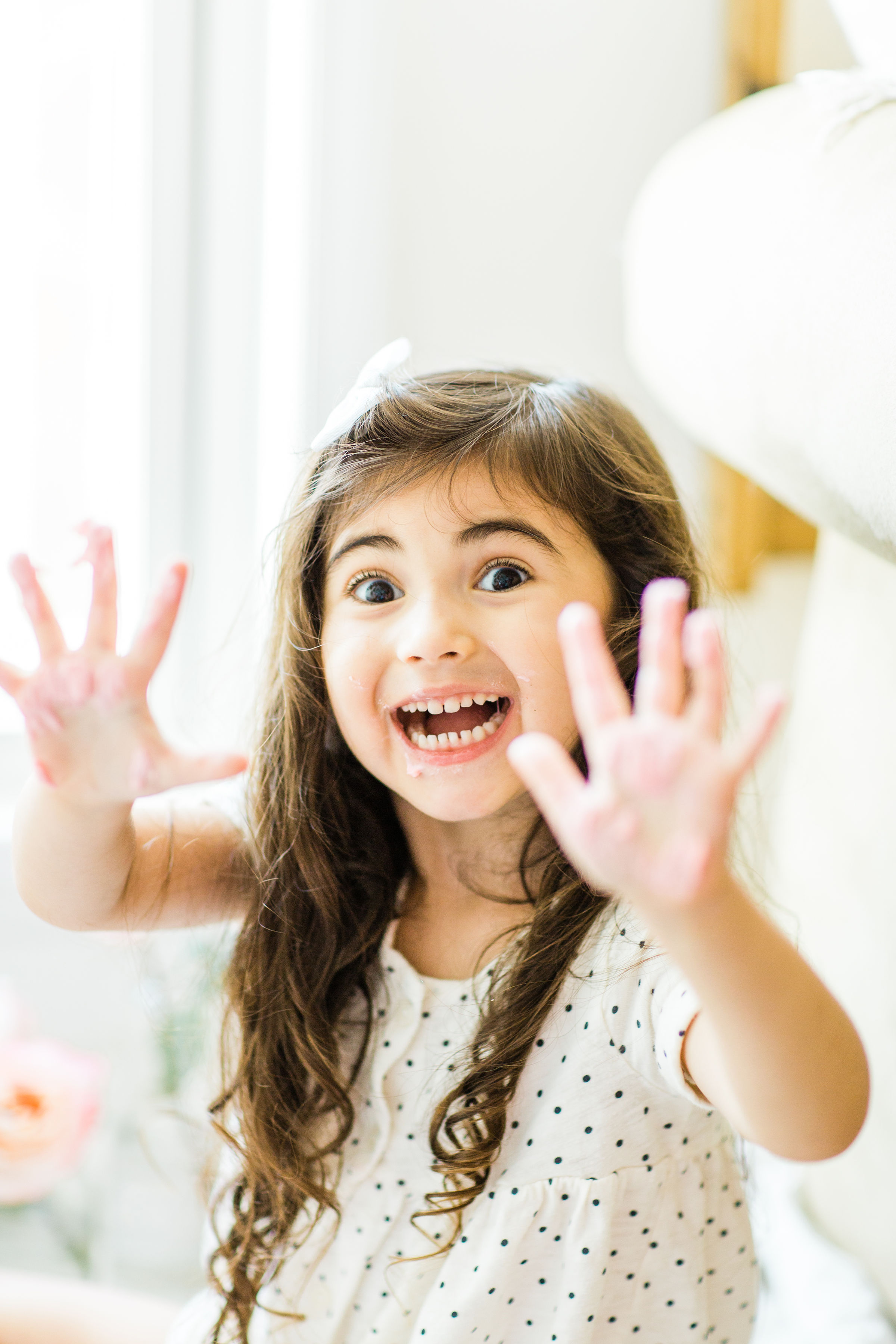 Scarlett LOVED the cake smash. She was more than happy to destroy, and eat, an adorable pink-frosted birthday cake.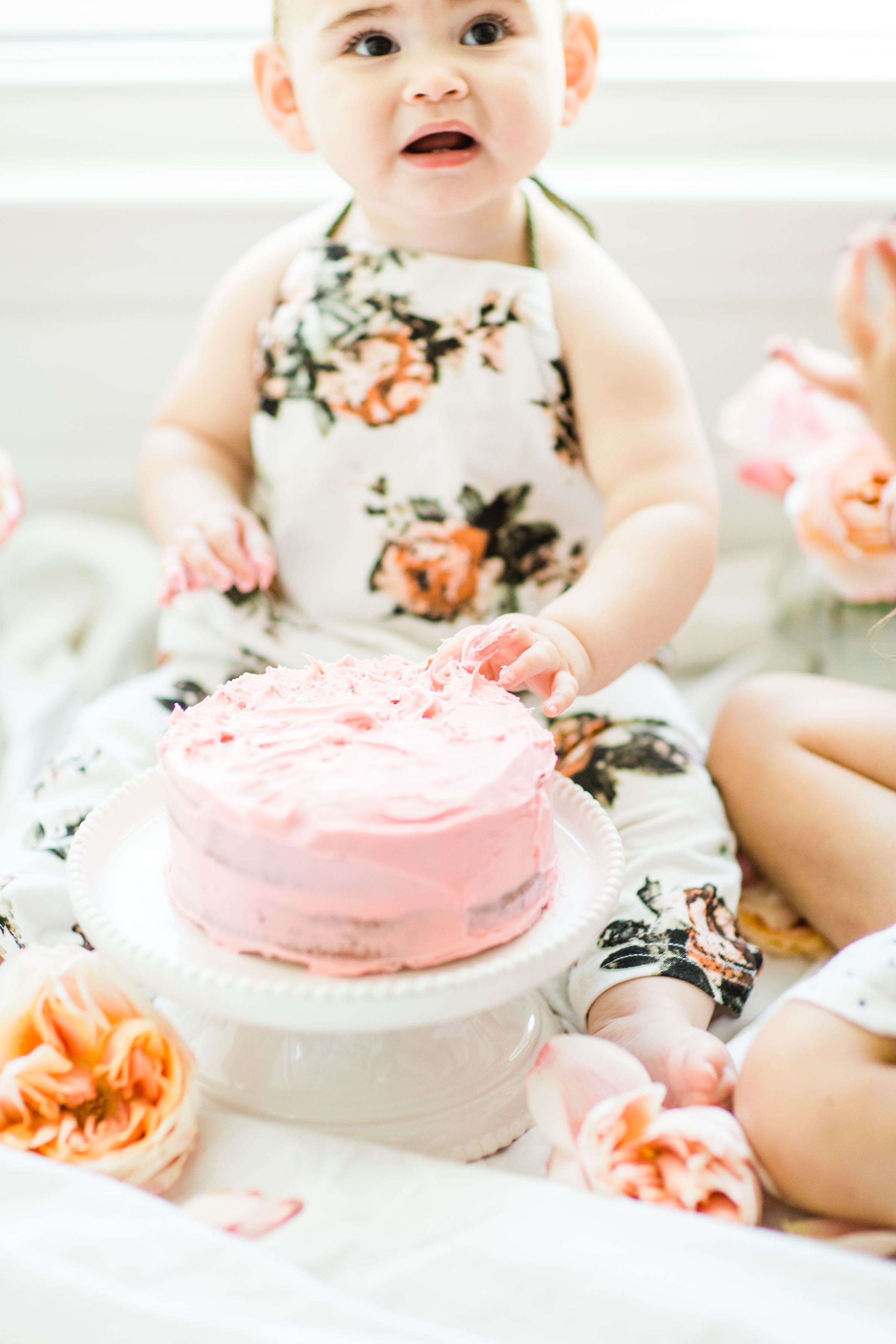 I think this was the point where Emme realized that frosting stuff is MESSY. 😂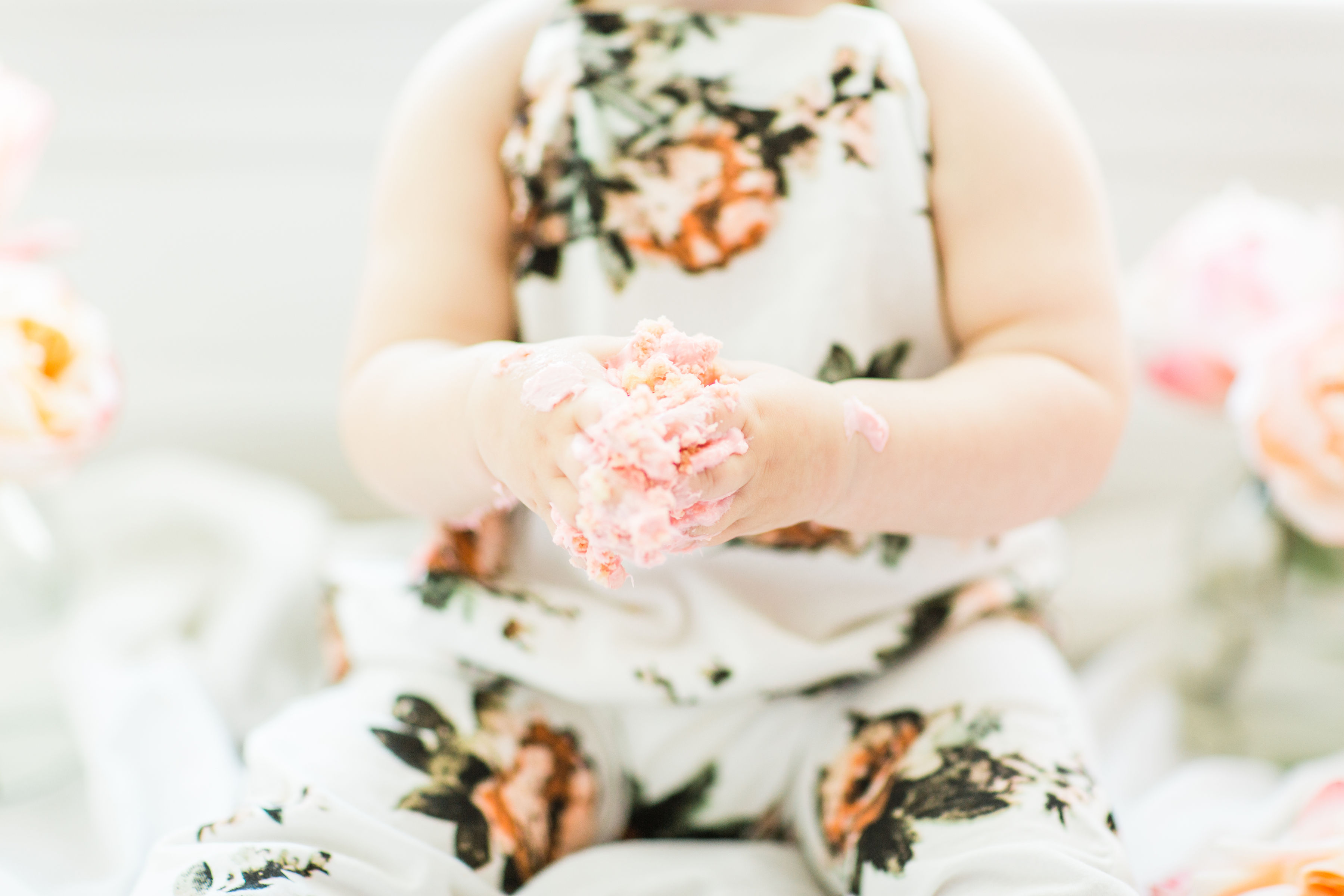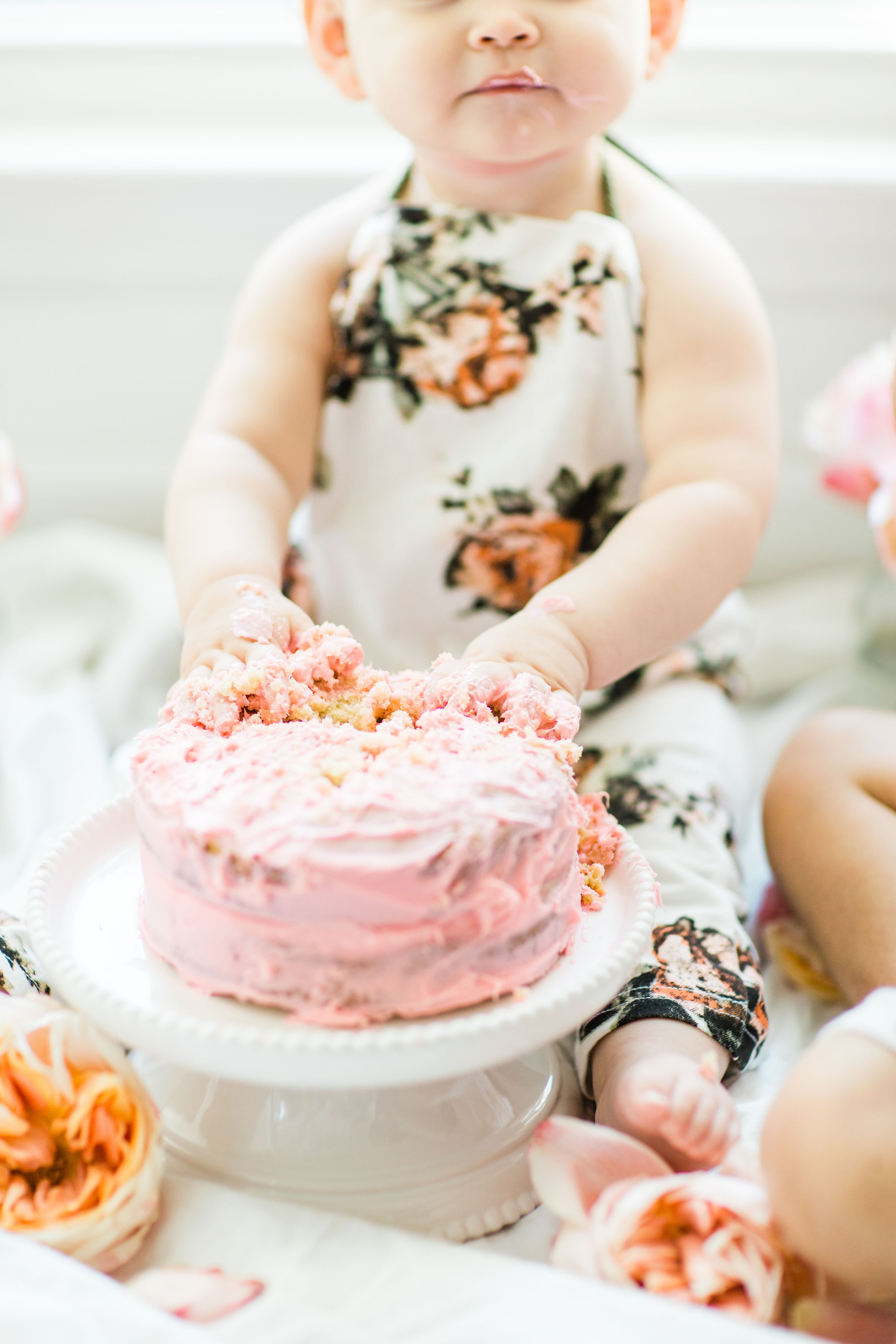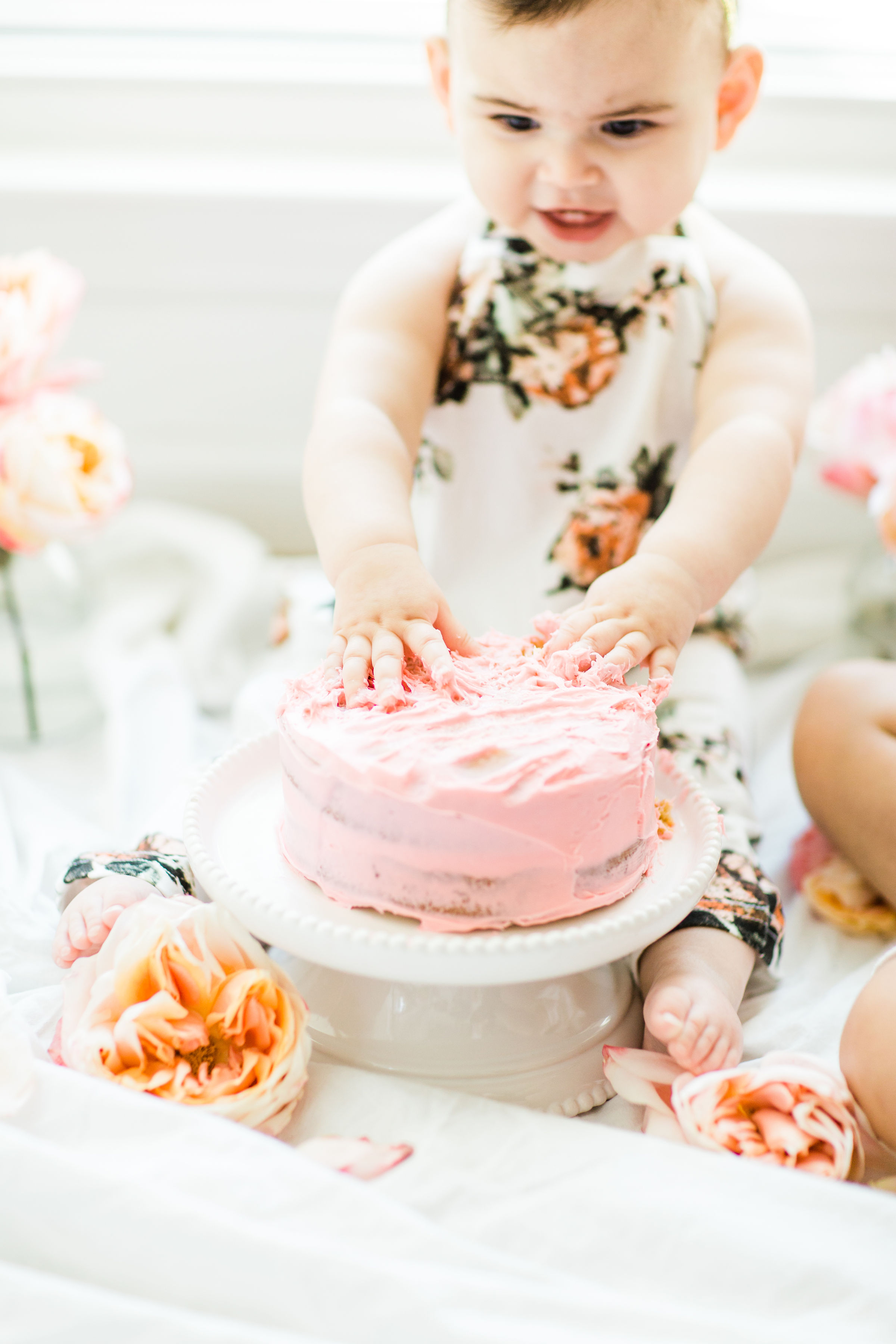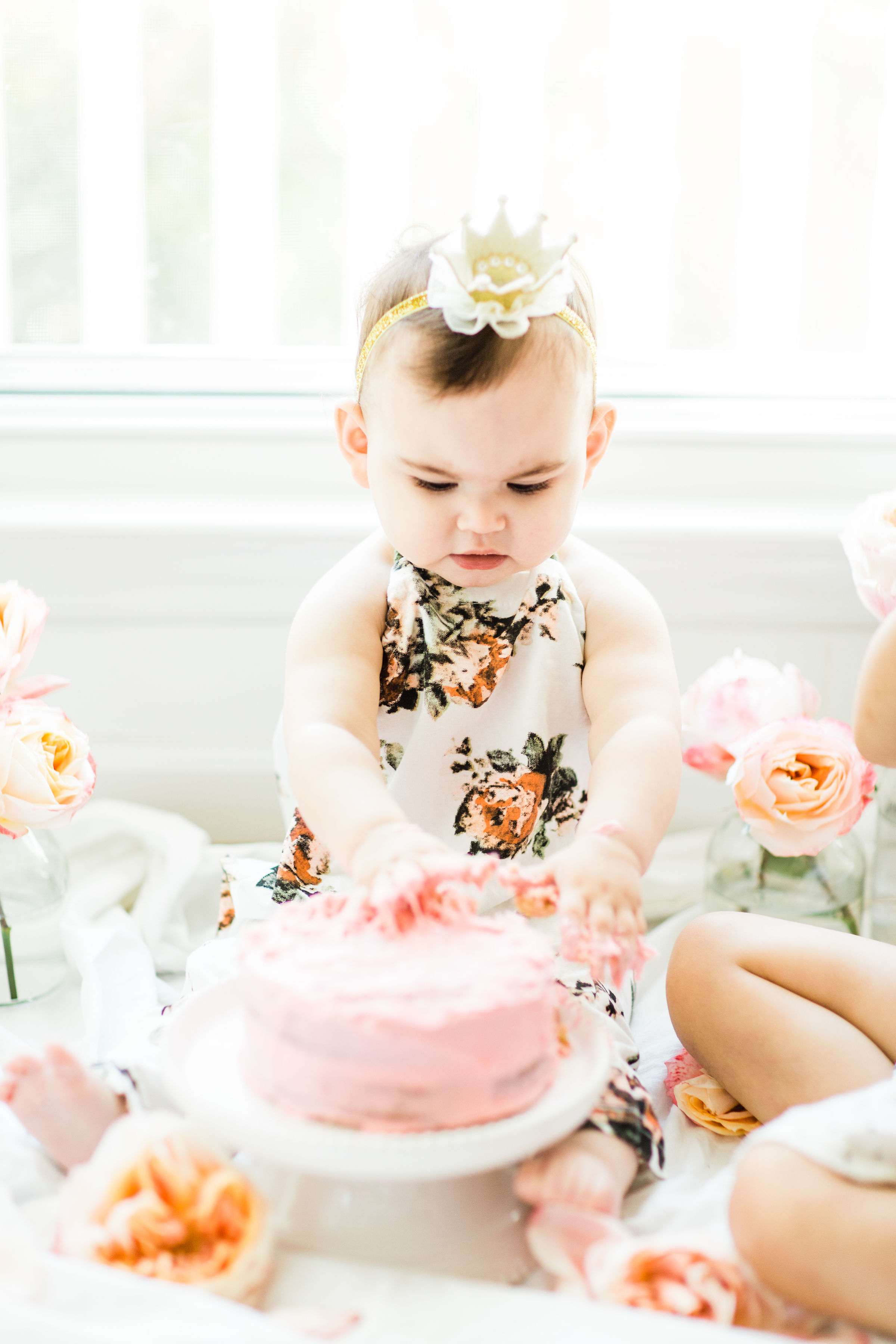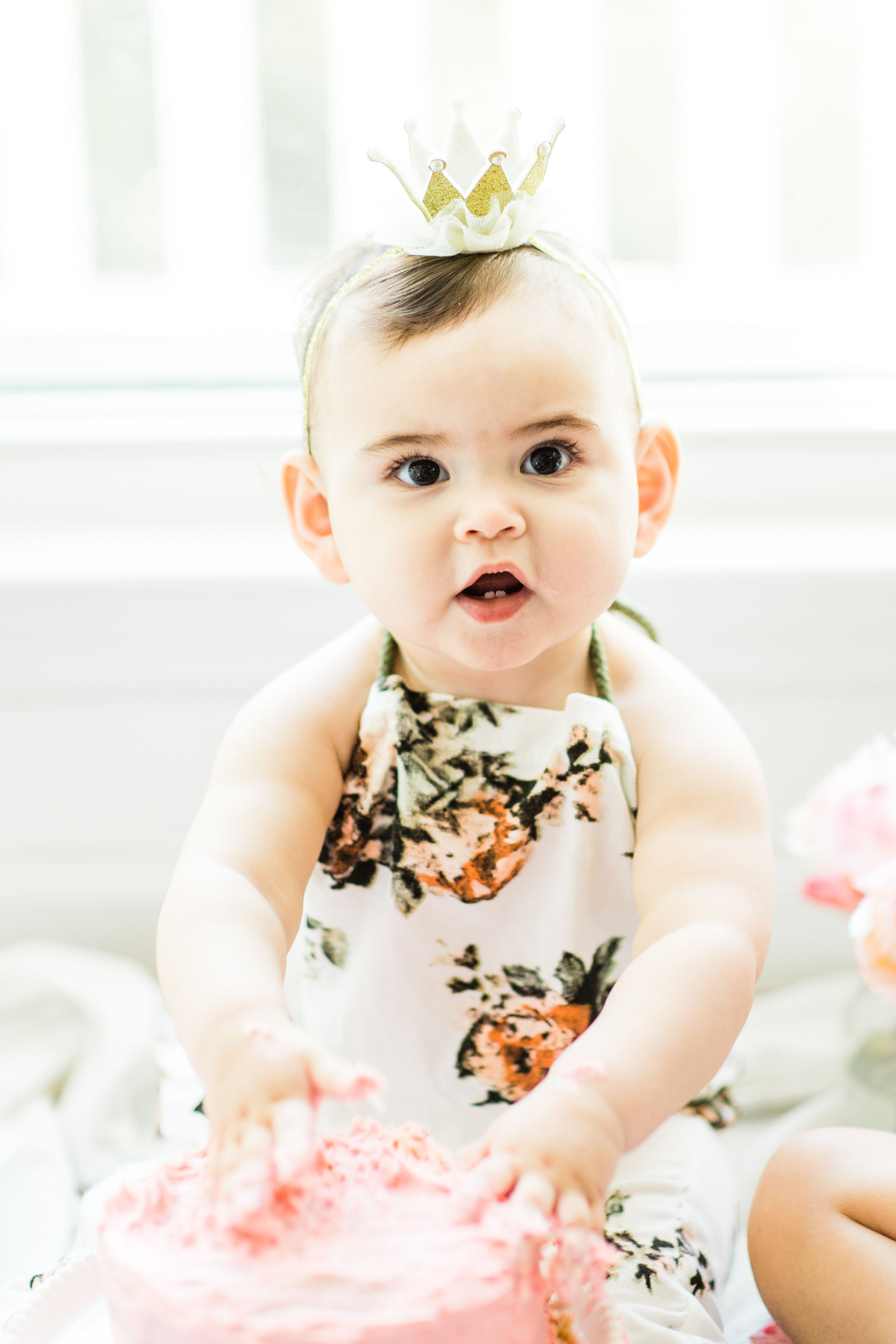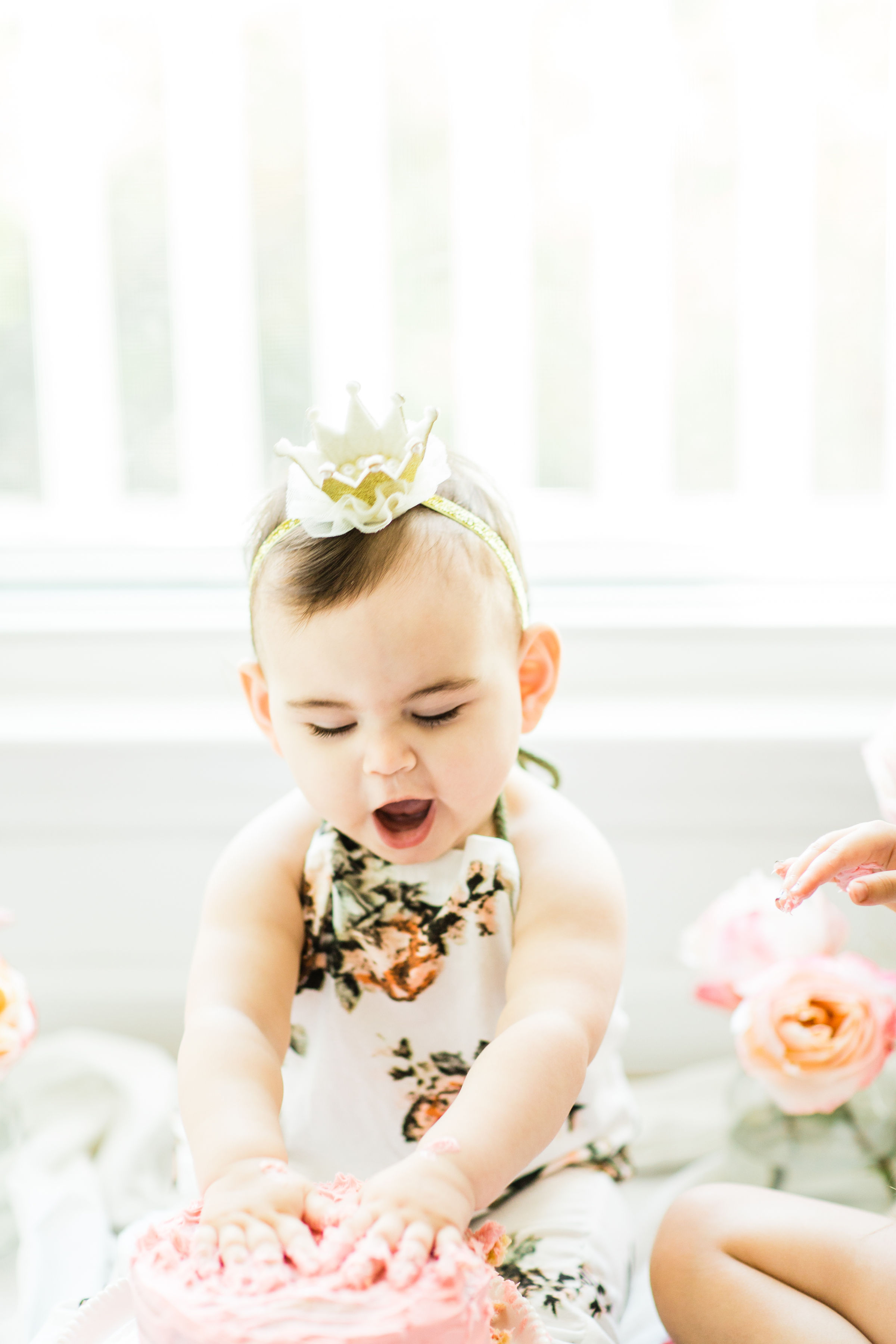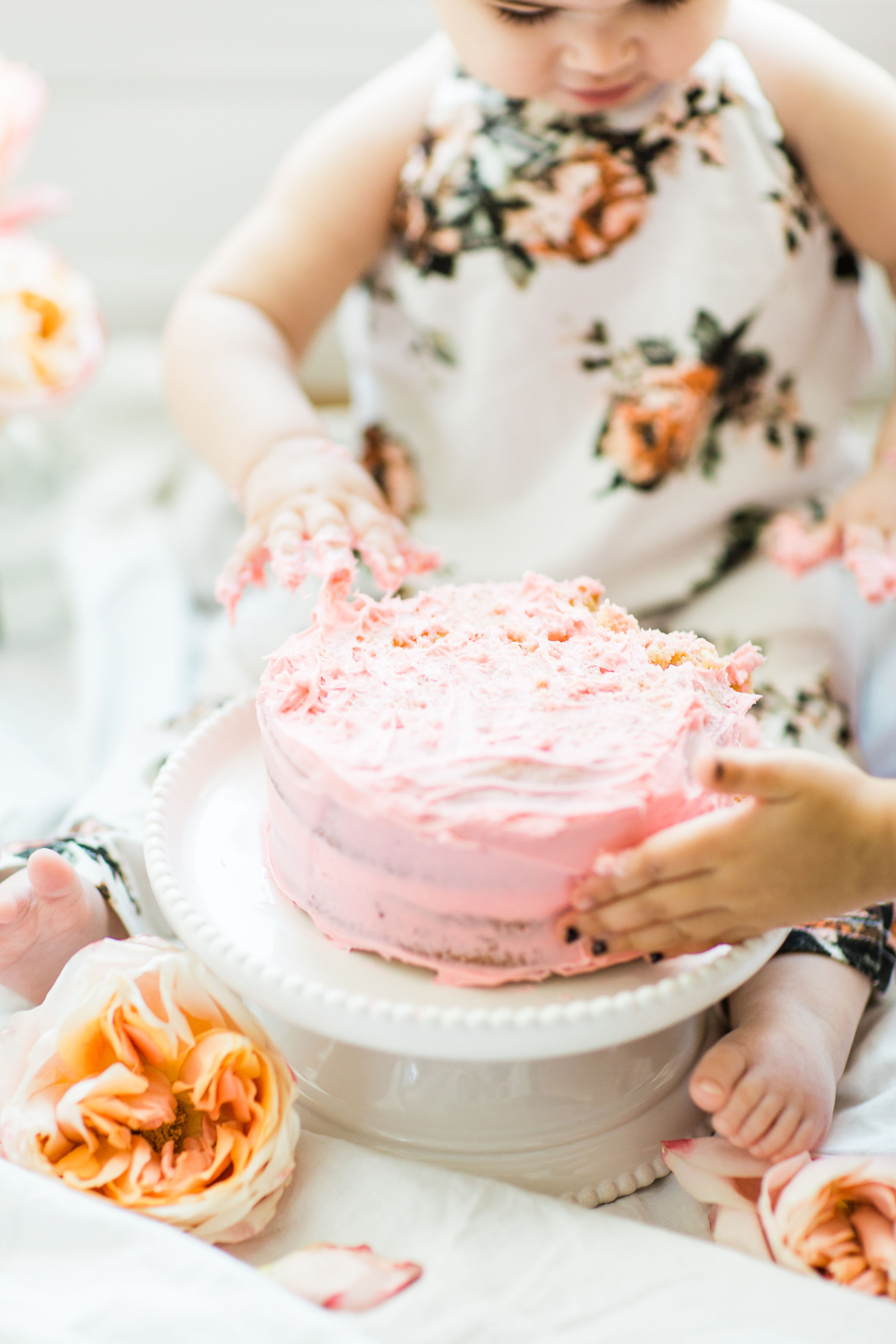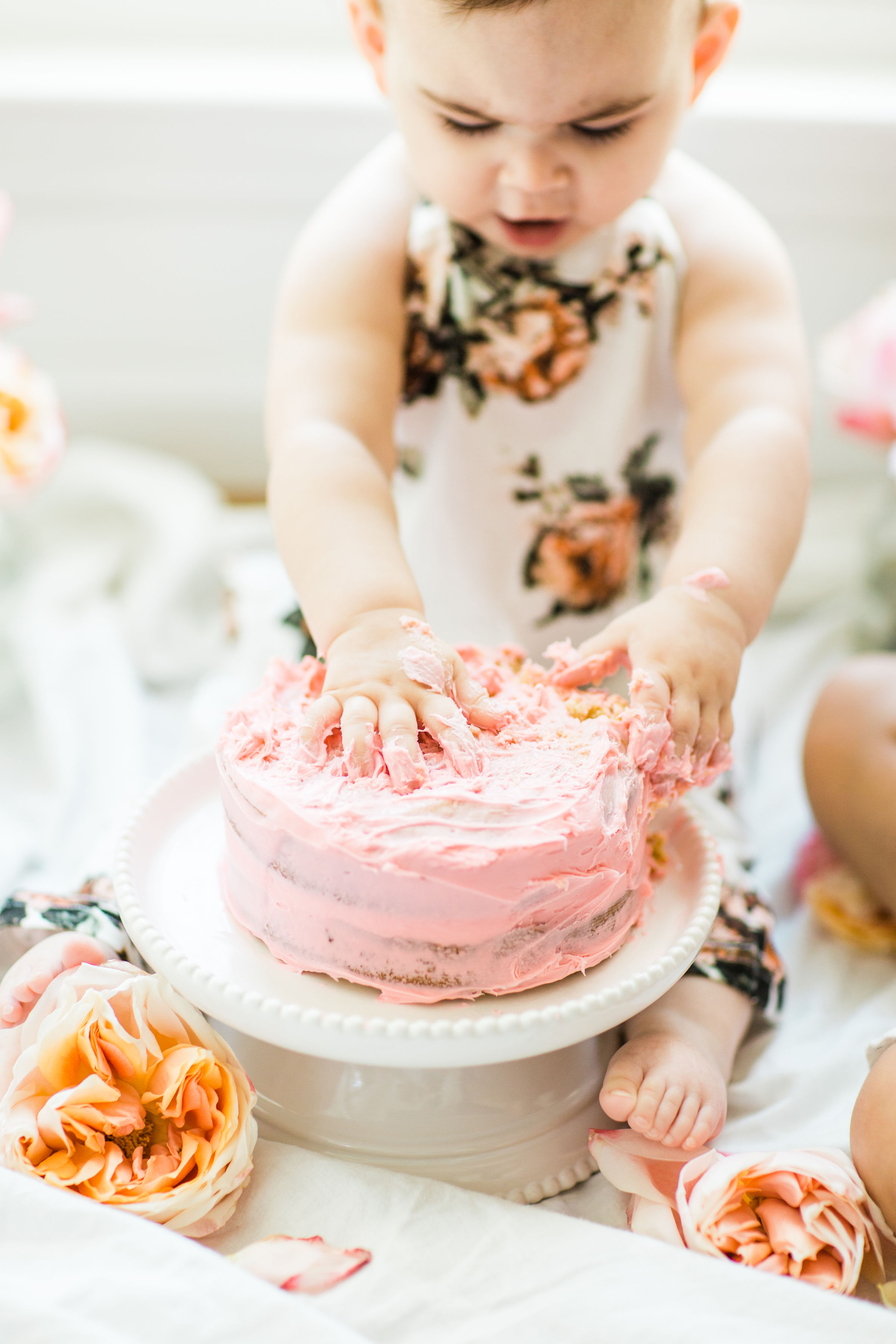 And I'll honestly cherish these first birthday cake smash photos forever.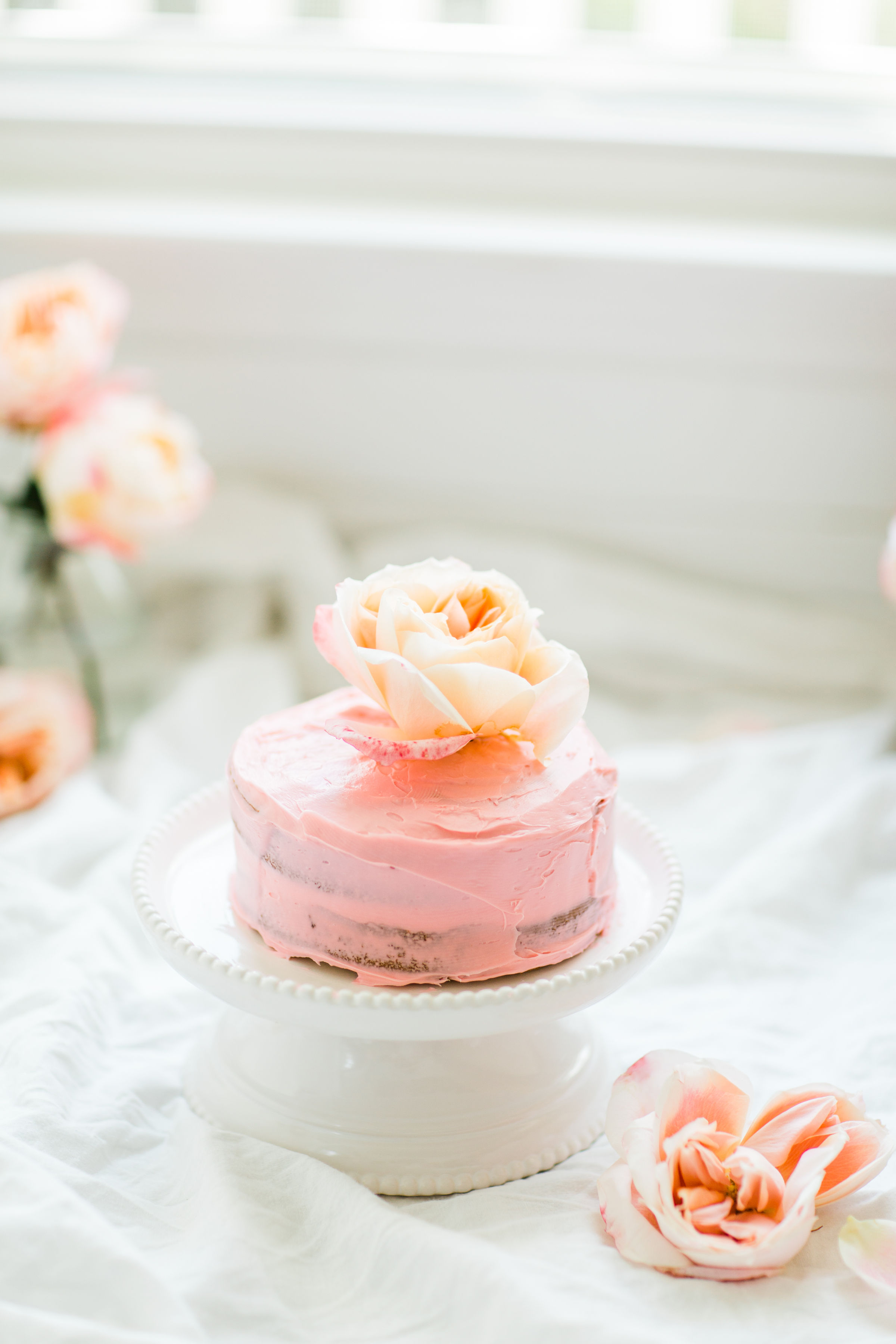 Our Go-To Vanilla Crazy Cake Recipe; a.k.a., How To Make A Smash Cake
A bit about our favorite vanilla crazy cake:
Crazy Cake, also commonly referred to as "Wacky Cake" and "Depression Cake" (because the recipe actually dates back to the Great Depression) – has no eggs, milk, or butter, can be mixed and baked in one pan (or in an electric mixer … totally your call!), and still miraculously comes out super moist and delicious every single time. You can also easily double the recipe for a bigger layer cake.
This is our go-to recipe for egg/dairy allergies and it's a really fun cake to make with kids. Also, because it's dairy-free, I thought it would be the perfect cake recipe to use for our smash cake. (That way, both of our girls can enjoy it!)
And, fun fact: my husband is OBSESSED with this cake. He says it's the best vanilla birthday cake he's ever tried, and that's saying something! (That man loves cake.)
Smash Cake Recipe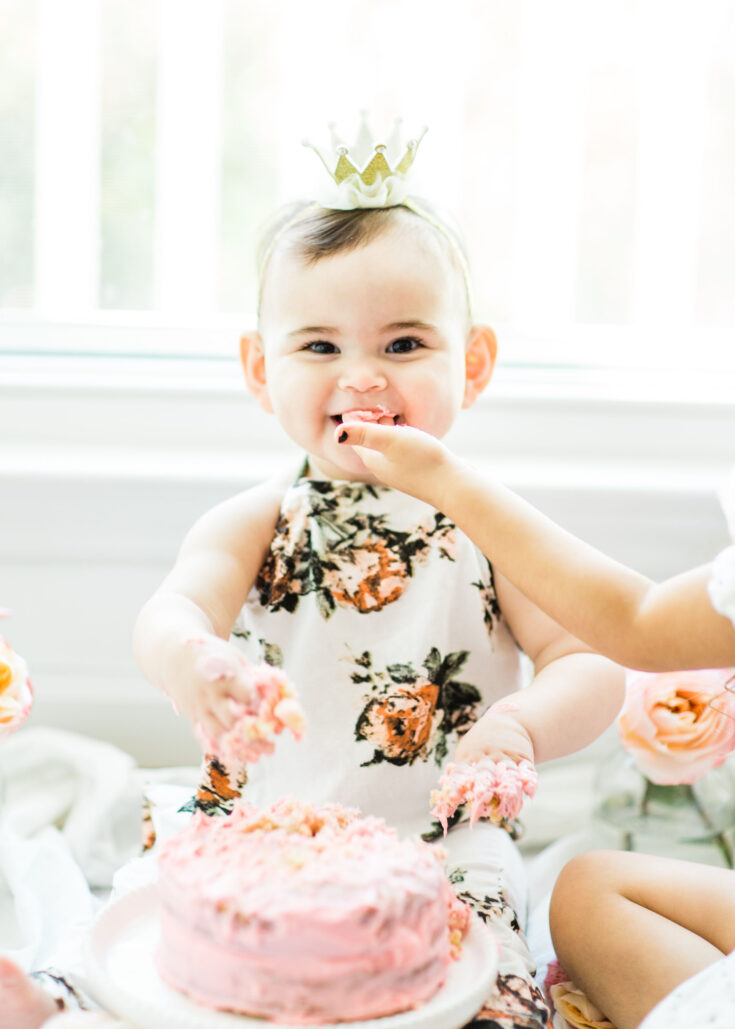 Yield:
Vanilla Crazy Cake
Ingredients
1 1/2 cups + 3 tablespoons all-purpose flour
1 cup white sugar
1 tsp. baking soda
1/2 tsp. salt
1 tsp. white vinegar
1 1/2 tsp. pure vanilla extract
5 tbsp. vegetable oil or canola oil 
1 cup water 
Instructions
Preheat oven to 350 degrees F.
You can either create this cake IN one 8″ square baking pan, or use an electric mixer or mixing bowl to make the batter and pour into round baking pans (as I did here.) To make in a mixing bowl or mixer, mix the first 4 dry ingredients in your bowl. Make 3 depressions in dry ingredients – two small, one larger (see #3 in photo below). Pour vinegar in one depression, vanilla in the other and the vegetable oil in third larger depression. Pour water over all of it. Mix well until smooth. (To mix everything in your baking pan, follow the same steps in a greased 8″ square baking pan, mix the first 4 ingredients in the greased pan, add the wet ingredients as above, pour water over everything, and mix.)
If using two small cake pans - like my 6" mini round cake pans - bake on middle rack of oven for about 22 - 24 minutes. If using the 8" square baking pan, bake on middle rack of oven for 35 minutes. Check with toothpick to make sure it comes out clean.
Allow to cool completely before frosting. Top with your favorite frosting and enjoy!
NOTE: For those asking, I used two 6 inch mini round cake pans to make this cake. The 6″ round cake pans were the PERFECT size for a first birthday smash cake!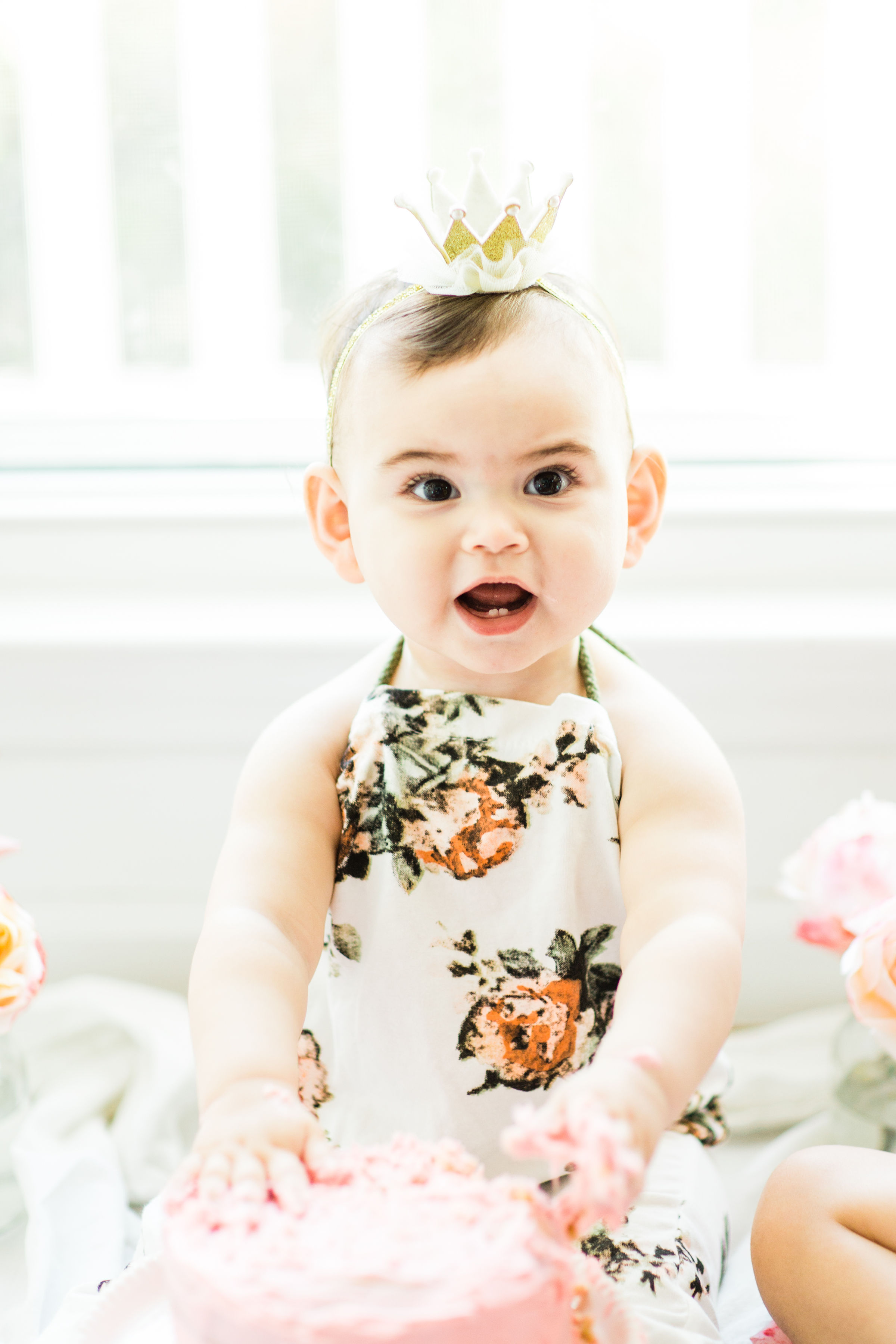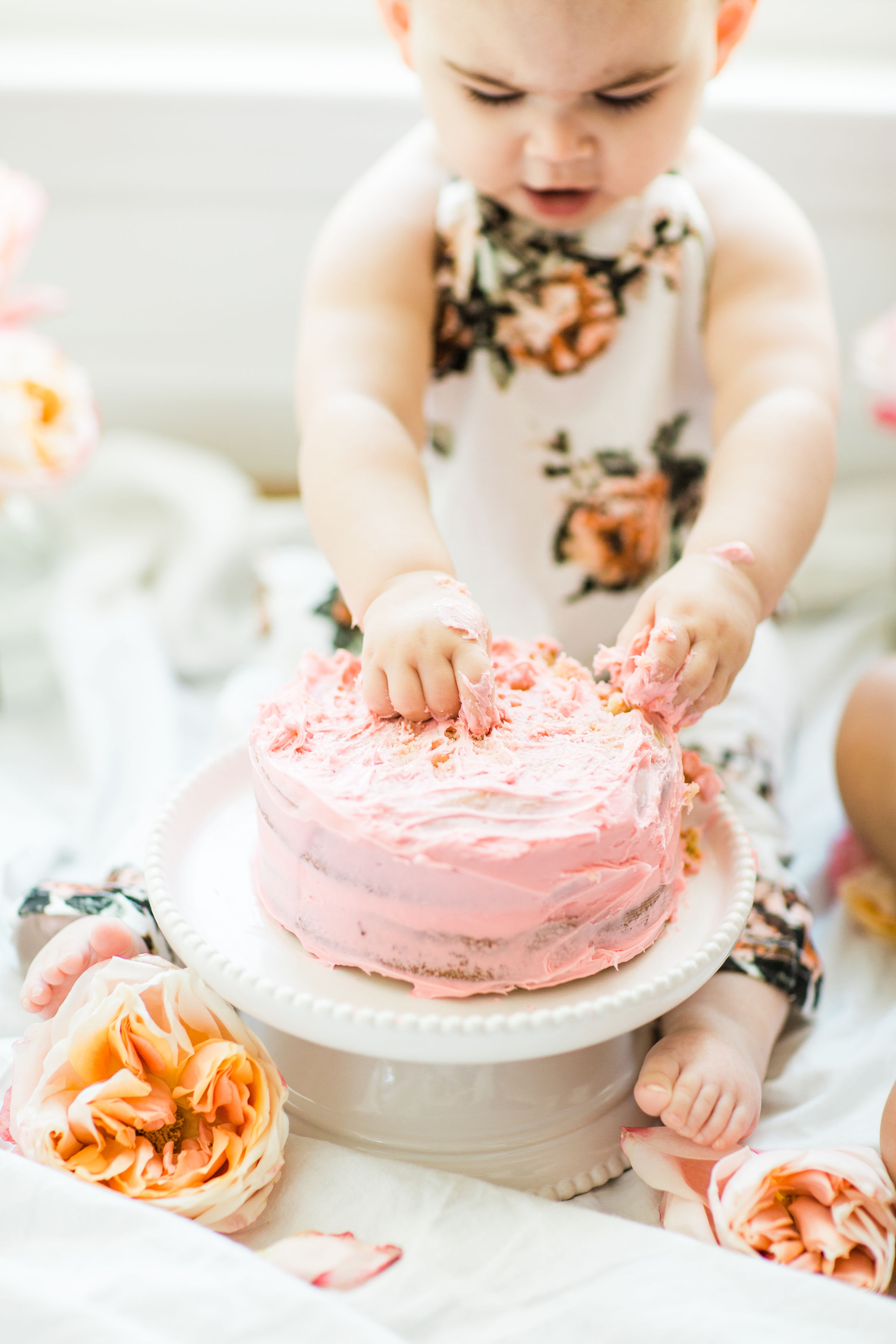 Love this sweet 1st birthday celebration of our baby girl? Check out all of our parties here and head to our recipe page to take a peek at what else we're dreaming up in the kitchen! If you style your your own first birthday party shoot for your baby (especially if you use a smash cake) or make your own vanilla crazy cake, be sure to tag me on social media (@glitterinclexi) so I can squeal over the cuteness!
SHOP EMMELINE'S FIRST BIRTHDAY CAKE SMASH PHOTO SHOOT | CLICK LEFT & RIGHT ARROWS TO EXPLORE

Photos by Annie Timmons Photography for Glitter, Inc. // Flowers Provided by Fifty Flowers