This post contains affiliate links, which means that if you click on one of the product links, I'll receive a small commission. Thank you so much for clicking through and helping to support this little blog business of mine! Read more about our site, privacy, and disclosure policies here.
Overwhelmed by all of the STUFF you find yourself toting around as a mom (or parent?) Looking to get a little organization going in your diaper bag or purse? You're going to love my hack for an organized diaper bag!
I am NOT a minimalist mom. I wish I could say that I was. I wish I could say that all I do is throw a diaper and wipes in my lightweight purse, and off I go! HA. Nope. I am an overpacker to the extreme. I always have been. And motherhood has made my hoarding all-of-the-things tendencies so much worse. But with good reason, I say. I cannot stand being stuck somewhere without "fill in the blank."
Seriously, though, ever find yourself with a soaking wet baby without that change of clothes? Or sitting at a fancy restaurant with a toddler who is conveniently melting down long before even a bread basket will be miraculously dropped off att your table? Or trapped under the burning sun without sunscreen or a hat? I have just the thing – in my GIANT diaper bag. There's no shame in my mom stash game. Even my husband is impressed by how prepared I am at ALL times. I mean, sure, everyone's got jokes about my overstuffed bag – but when someone needs a bandaid or a snack or a coloring book, I'm your mom.
Because I am a card-carrying member of over-packers anonymous, I've truly honed in on the craft of preparedness. And though it may seem simple, I've got a purse and diaper bag organization trick that keeps me sane and organized, to boot.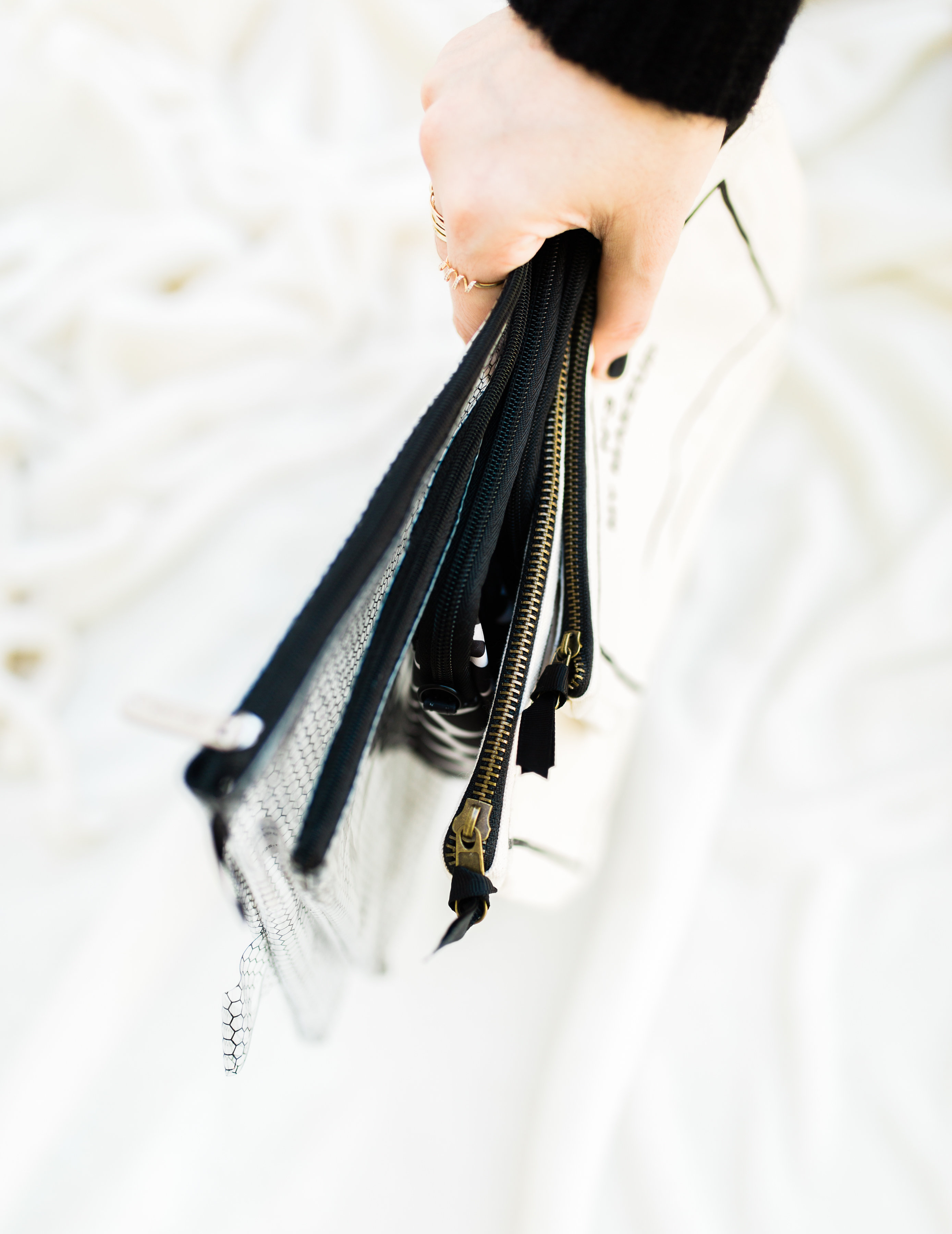 My Purse and Diaper Bag Organization Hack:
Pouches.
I kid you not – forget all of the diaper bag inserts and organizers. They're okay, but eventually become just another endless pit of stuff … with pockets.
Pouches and zip-top bags will save your mom-packing life.
The key to packing in pouches for your purse or diaper bag, is to separate things that you use most often, and together.
What do you put in your diaper bag pouches?
I ALWAYS have my biggest pouch filled with a changing pad, diapers, wipes, diaper cream, an extra pair of panties for my toddler, and a change of clothes for the baby. I love having the designated "changing pouch" because I can just pull out this one bag when we need to make a bathroom pitstop. I definitely don't want to be caught in a public restroom, with my diaper bag splayed out on the floor, searching frantically for a thing of wipes while my baby wails. The "changing pouch" is also super helpful for travel: especially on planes and in small bathrooms.
I like to have a pouch for just mommy stuff and random beauty items, like makeup, eyedrops, extra clips and hair ties, tampons, sunglasses (for mommy and mini), a small hair brush (we love these!), etc.
There's ALWAYS a pouch for snacks. Think applesauce squeezes, individually wrapped cookies and crackers, small containers of nuts and dried fruit, a handful of lollipops (for bribery purposes!), and so on.
I recently put together a pouch for activities, and it's been a lifesaver. If I'm running in somewhere with just the baby, or we're headed in for just a quick visit, I can easily take that pouch out and leave it in the car. Right now, our "activity pouch" has a mini coloring book, Crayola Mini Twistables Crayons (My toddler LOVEs these! She knows they're only for when we're out/travel, which makes them extra special. Plus, she can't break them.), stickers, a few small toys, and a teether for the baby. I also have my eye on this Tegu Pocket Pouch Magnetic Wooden Block Set. It's portable and so cute, and I think both the baby and toddler would enjoy it!
I have a mini "first aid" type pouch that fits easily into a small pocket on the interior of most diaper bags with things like bandaids, neosporin, sunscreen, antibacterial, Shout wipes, Tylenol, Advil, and antacids for mom and dad, etc. (I recently saw this itty bitty first aid kit on Amazon, and I thought it was genius. If you don't want to put together your own, this one's the way to go!)
Side note: though it's not a pouch, this mini umbrella, that comes in it's own zip case, is AWESOME, super tiny, and lightweight. I never go anywhere without it.
You can see more of what's in my diaper bag right here!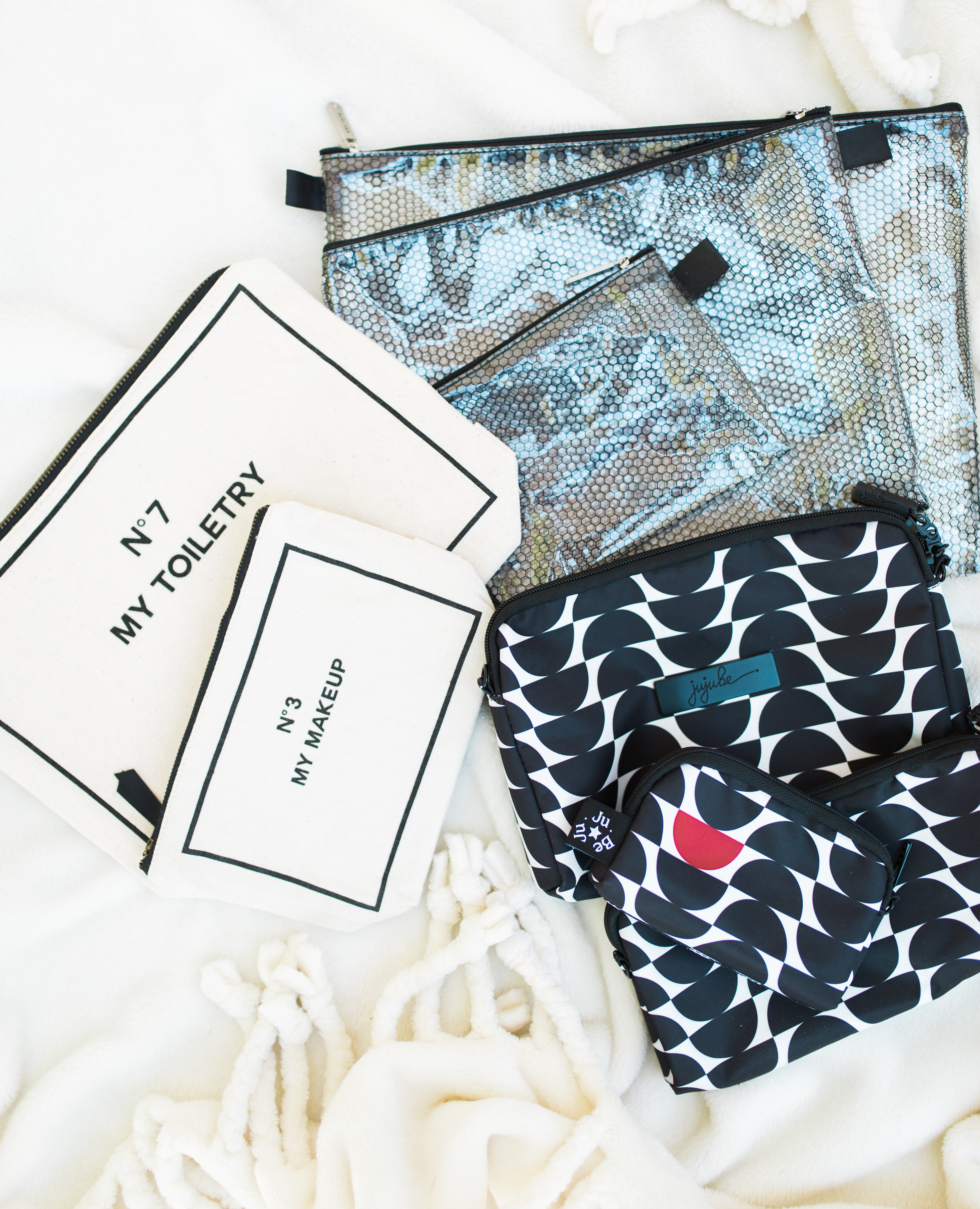 What are your favorite pouches for organization and travel?
There are a few pouch brands that I'm a big fan of for purse and diaper bag organization.
I like to use these Travelon zip pouches for everyday use (and especially for travel) to keep extra organized. They have a super thin profile so can slide in and out of narrow spaces in your bag, and are water resistant and completely wipable.
If you do any research on diaper bags, you will probably have seen mention of cult favorite Ju-Ju-Be bags. Seriously, every mom on YouTube swears allegiance to Ju-Ju-Be. Their bags come in loads of cute colors and prints, are machine washable, have Teflon treated outer fabric so that stains don't stick, and their clip on straps are great for using as a wristlet or to attach to the stroller or bag. I bought the Ju-Ju-Be Be Set (in Onyx), and have used them religiously for about a year now. I also have and use the Ju-Ju-Be Paci Pod Pacifier Holder (attached to the outside of my diaper bag) to store a handful of pacifiers. If you're new to Ju-Ju-Be, start with the Ju-Ju-Be Be Set.
I also like to rotate in a few Bag-all pouches. I really love the makeup pouch – it's lined and just so darned cute. They're bags in general are ideal for travel. I'm a big fan of the Bag-all toiletry bag (which is surprisingly roomy), travel laundry bag, beach stuff bag, and tall boot bag.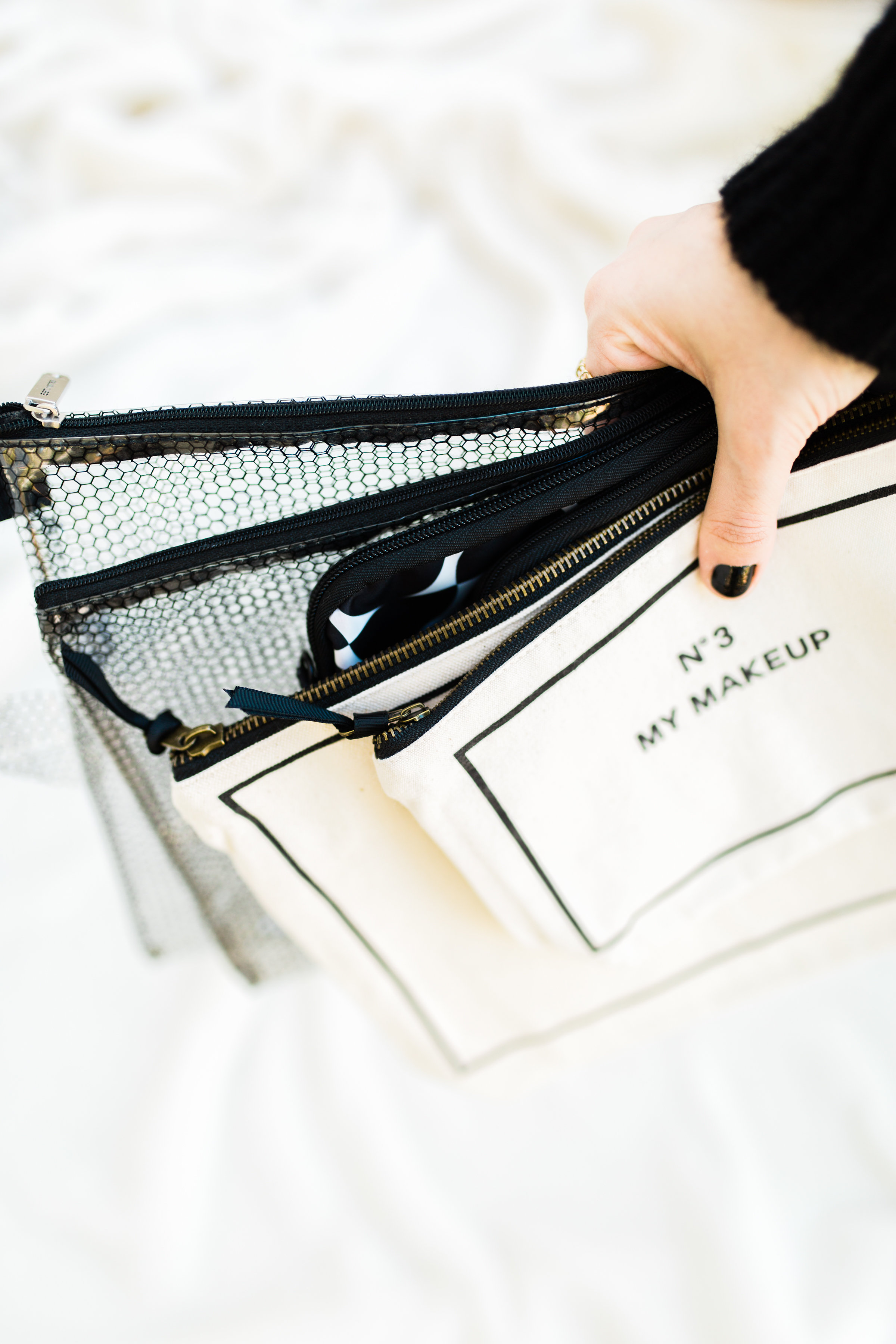 Whew! So there you have it: my favorite purse and diaper gag organization hack. Pouches may be a totally simple concept, but when you're a busy parent, with a lot to juggle and remember (namely, remember to bring), having everything organized in it's proper pouch is a total game changer.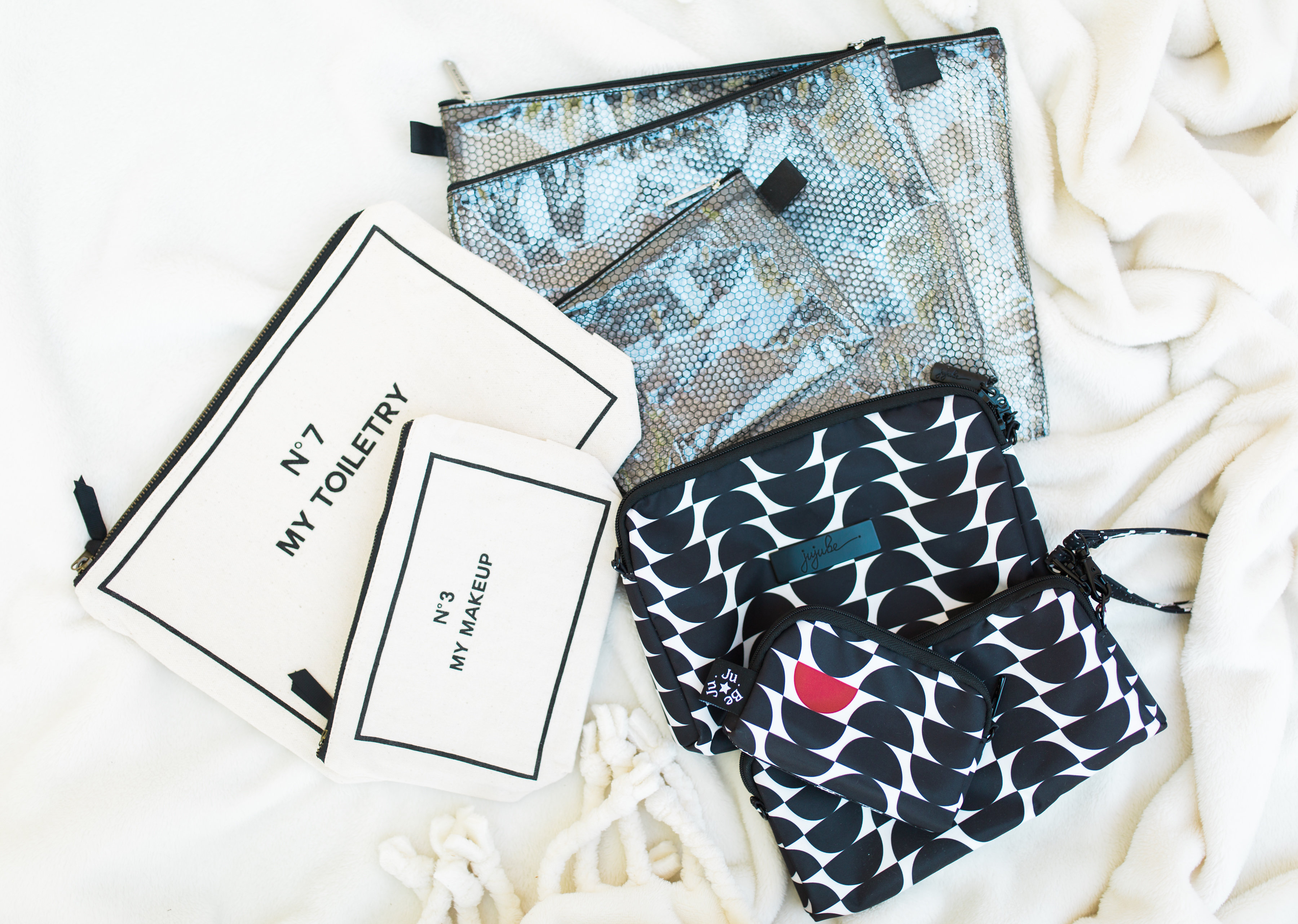 SHOP MY FAVORITE DIAPER BAG HACK | CLICK LEFT & RIGHT ARROWS TO EXPLORE
Love my purse and diaper bag organization hack? Don't miss our hospital bag essentials checklist, and more of our life with two little ones here.
If you have any favorite diaper bag organizing tricks, or awesome pouches and/or inserts you think are a mom must-have, be sure to share them with me! I LOVE to hear from you!
Photos by Annie Watts Photography for Glitter, Inc.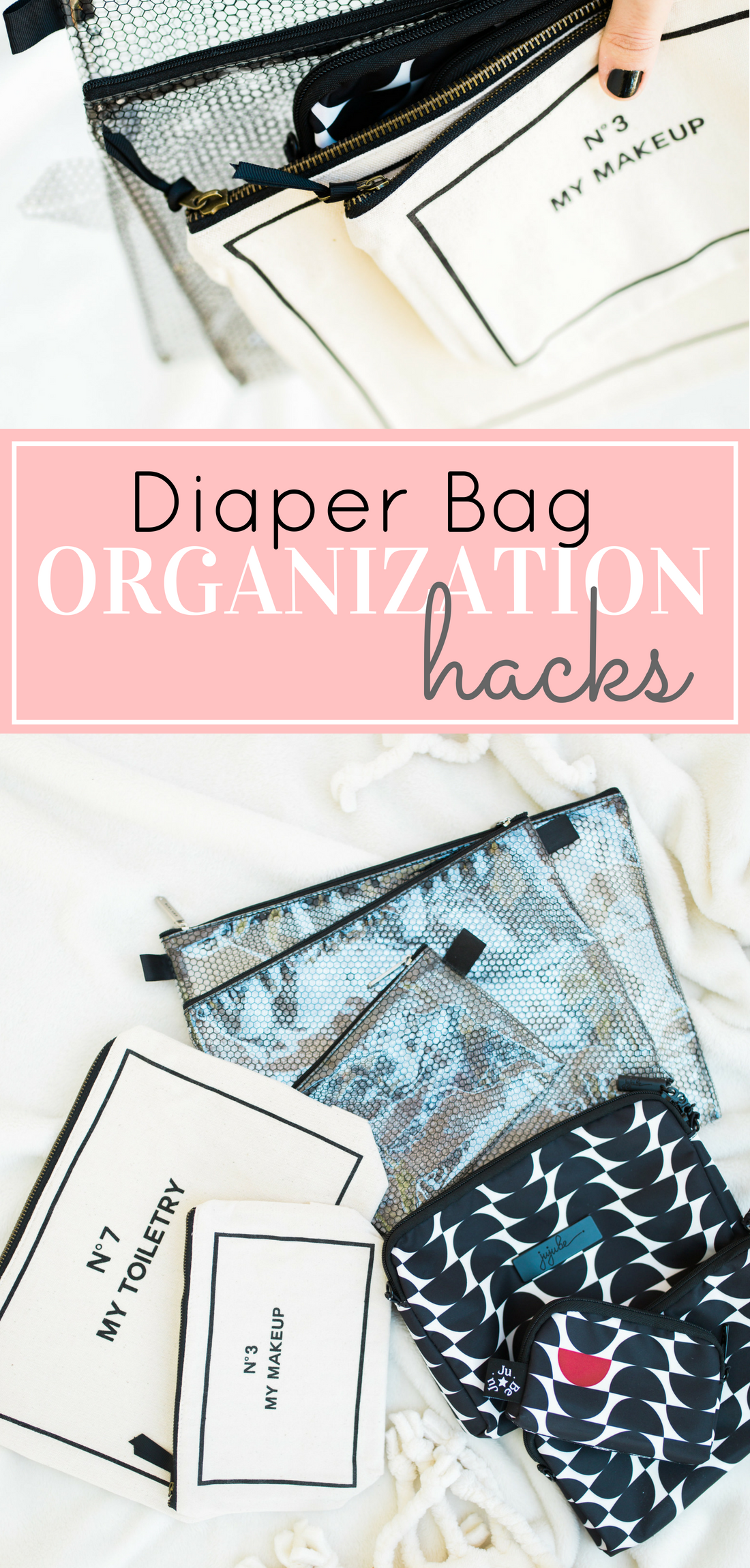 SaveSave
SaveSave
SaveSave
SaveSave
SaveSave
SaveSave