This post contains affiliate links, which means that if you click on one of the product links, I'll receive a small commission. Thank you so much for clicking through and helping to support this little blog business of mine! Read more about our site, privacy, and disclosure policies here.
I am SO excited to be sharing an ALL NEW mama series with you! Starting TODAY, I'll be teaming up with a few other mom bloggers who I totally admire – Caitlin of The Mama Notes, Mandy of Momma Society, and Arin of Happily Inspired – to bring you posts all about motherhood, babies, and kids! And you guessed it: this week, it's all about Must Have Baby Items For the First Year: What You Really Need on Your Registry. If you'd like to see anything particular, please be sure to comment below! I can't wait to delve even further into all things motherhood with this great group of mamas!
Baby Registry Must-Haves
Now that our sweet Emmeline is 12 months old, and of course, she's our second baby, I can pretty confidently share just what baby items were must-haves and essentials for a baby's first year, including our suggestions for what you'll definitely want on your baby registry (versus the few things we honestly really didn't use! I promise to share those too.)
Truth is, baby stuff can be SO expensive and it can feel pretty overwhelming when you're registering for baby simply because there is so much baby stuff (and gear) out there. It can be hard to know what you'll really use. And for us, since we knew we wanted more than one baby, we tried to really choose and register for things we would be able to use again and again. Seeing just what it was we immediately took out of storage for baby number two, or splurged on an upgraded version for baby number two, was really telling as well; it meant we loved it and definitely wanted to use it again (and again.)
I live to research!
I swear I think the reason I got through law school and the bar exam was because I am an avid researcher/note-taker. So like most things in life, I went to friends, the internet, books; you name it, I researched it. To find out what we would really need on a baby registry, I polled friends, scoured Facebook mom groups, and used our own four years of experience as parents to two sweet little girls.
So today, I'm sharing the baby products and baby gear that we used again and again for both of our babies. These are the tried and true baby items and essentials I would recommend to all of our friends, and used for each of our babies, and should definitely be on your baby checklist. I hope this list of must have baby registry items for the first year helps to make your life just a little bit easier, because goodness knows you're about to set off on a wild ride!
In case you're curious, here are 9 of our nursery must-haves!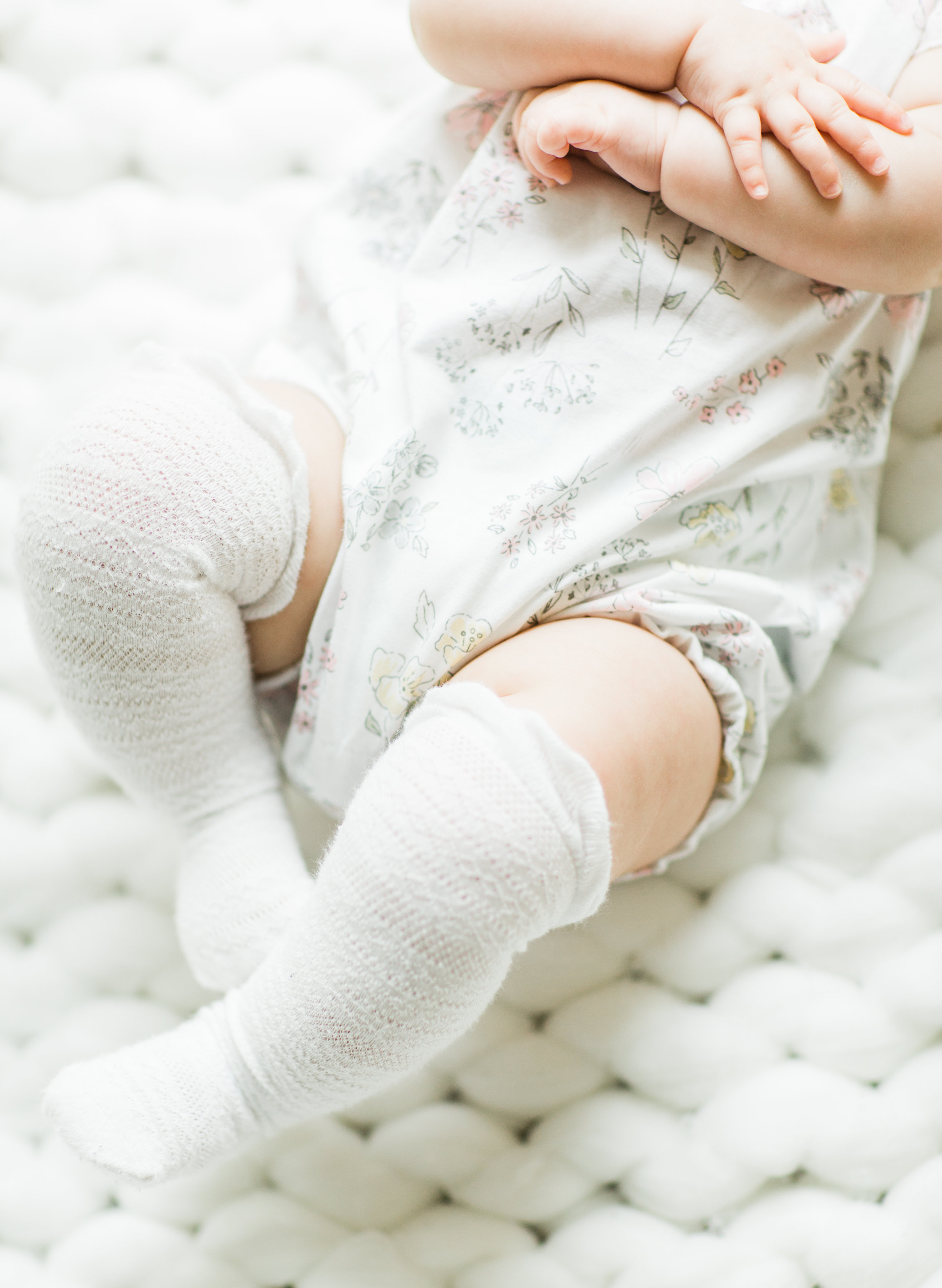 Must Have Baby Essentials for the First Year: What You Really Need
These are the baby items we found to be essential for baby, and the things we would 100% tell friends and family with a baby on the way to put on their own baby registry.

Diapers and Wipes
This one is a given, but do take all of the diapers and wipes you can get. You will go through diapers in record time, and wipes even faster than that. Same goes for cloth diapers. Stock up.
Baby Clothes
You will be gifted the world's most adorable baby clothes. Everyone loves buying cute baby clothes; some more practical than others. If you're registering for abby clothes, ask for the practical stuff: onesies and pajamas with zippers (trust me on this one; zippers on pj's in the middle of the night make life so much easier!)
Socks and Booties (that stay on)
My Bubby always insisted that a baby's feet be covered, so I'll admit, I'm a bit of a nut about keeping our babies feet warm and covered. I love footie pajamas and Zutanos are a great sock/bootie hybrid that really stay on. After a few months, we always start putting our girls in Freshly Picked moccasins. They stay on and are just so darned cute. They also hold up really well. Emme wears Scarlett's old pairs (already 4 years old now.)
Baby Swing or Mamaroo
Somehow we never got a baby swing with our first baby. My mom had one at her house for Scarlett, but we were tight on space (in a little apartment in Miami) at the time, so we skipped the swing. We did have a 4MOMS Mamaroo. When baby is small, you really just need a place to let baby rest – and to give your arms a break – while they rock (or swing) peacefully. Anything to buy you a few minutes. Here in North Carolina, with our second baby, we bought a baby swing second-hand and it was a lifesaver. Both of our babies loved to swing, and the little lights and toys that glide above their heads totally mesmerizes them.
Plus, most swings allow you to put the baby on a bit of an incline, which was huge for us since our oldest suffered from reflux. (By the way, if you have a baby suffering from acid reflux, a good swing or the Mamaroo should be at the tippety top of your list. I shared 7 tips for helping a baby with acid reflux, that actually work – and it's been one of my most popular posts of this past year.)
Baby Seat
There are a few variations on the baby seat, and though you need different seats for different periods of time which may seem a bit like overkill, it really is so nice to have a place to sit baby while you're brushing your teeth, throwing dinner together, putting on your clothes, etc. We used a lightweight rocker that we could pick up and move from room to room for baby's first few months and then eventually switched to our tried-and-true Bumbo Seat once baby wanted to sit up but wasn't quite able to on her own. (This sit-me-up floor seat is also a really popular alternative to the Bumbo Seat.) I've also heard rave reviews about the BABYBJORN Bouncer Balance Seat, and we might invest in something like that if we were to grow our family again.
High Chair
This one is going to be all personal preference and your own design aesthetic. We have and ADORE the Stokke Steps High Chair with the attachable baby seat and tray. We've had ours for four years, is easy to clean, grows with your baby well into the toddler years, and looks gorgeous; a.k.a., it isn't an eyesore.
Boppy Pillow
It seems so simple, but a supportive pillow for feeding and breastfeeding, like a Boppy Pillow, is a lifesaver. Your arms will thank me later! We first used ours under our arms as we fed baby, and later used it to support baby as we fed her.
DockATot Baby Lounge
When baby is at her tiniest, we loved using the DockATot to literally dock baby. I kept baby in a DockATot on the sofa or floor with me, and she would often fall asleep in there, just beside me, while I worked on my laptop. We didn't use it for long naps or night-time sleeping, but it is a great place to literally"dock" your baby when you're trying to get things done!
Exersaucer
Again, another baby gear item for baby to stay put in, but also, a baby in a jumper or exersaucer is just about the cutest thing ever. Our girls loved bouncing away, and it kept them occupied and safe.
Play Gym
I don't think a play gym is 100% necessary, but it is a sweet place to play with your little one. If you're short on space, I think you can skip this one. Laying baby on the floor or in their DockATot and waving toys over their head works too. 😉
Bassinet
We LOVED using a bassinet for both of our girls. For the first few months of their lives, before we taught our girls to sleep through the night in their own crib, we slept the girls in a bassinet in our master bedroom. With Emme, we had a moses basket, which I loved (and we actually brought along when we traveled her first few months). If we went for baby number three, I'd love to get a Halo Bassinet that swivels to the bed or BABYBJORN Cradle, but our moses basket did the job and sure was pretty.
Pack 'n Play
I LOVE our Pack 'n Play. We bring ours everywhere we travel and it works as a portable crib for years; and with the bassinet and changing table attachments, it was literally a multi-purpose solution for baby. In the beginning, we even keep the pack 'n play in the living room as our sleep/change station during daylight hours. I honestly think Scarlett slept in the pack 'n play on trips until she was around three years old. Our Pack 'n Play is a total workhorse.
Pacifiers
This one is totally optional, but we found that both of our babies loved pacifiers. I was a thumb sucker as a kid and it was a hard habit to break (it's not like my mom could hide my thumb from me!) Pacifiers really helped our baby girls (who both have reflux) as well. I am a huge fan of Nookums Paci-Plushies because baby can easily find them in their crib, they make a great lovey/comfort object, and the plush animal is removable so you can easily wash them and attach them to any pacifier they prefer. I also really like these Ecopiggy Orthodontic Natural Pacifiers, and we add them to either a Nookum plush toy or to a teething pacifier clip. (How cute is this marble clip?)
Baby Carrier
I could write a whole novel on baby carriers. I love baby wearing; particularly in baby's first year. Especially once you have more than one child, being able to wear baby while chasing after other kids (say, a very active toddler), is a lifesaver, and pretty much the only way to go. For the first few months of baby's life, I really love a ring sling. A sling makes breastfeeding so easy, and because a sling is just one piece of fabric that you slip on and tighten, it's really easy to take on and off. I lived in my LÍLLÉbaby Ring Sling with Emme. In those beginning weeks and month, a Baby K'tan is also easy to put on and keeps baby nice and secure up against your chest. As baby gets heavier and more wiggly, I prefer a LÍLLÉbaby Ergonomic Baby & Child Carrier. We have this exact one and both myself and my husband wear it to carry baby around. It provides way more back support, and allows you to baby wear for years.
Baby Monitor
You will 1,000% need a baby monitor on your baby registry. We love using a baby monitor so much, we actually have two different sets: an audio baby monitor with a talk back intercom and this Project Nursery HD WiFi Video Baby Monitor System with Sound, Motion & Temperature Alerts. (You can see a full review of our baby monitor set-up here.) Piece of mind with a new baby those first few months is everything.
Baby Bottles and Sippy Cups
If you plan to use baby bottles, you may have to do a bit of trial-and-error. Each baby is different and not all babies like the same bottle. Scarlett, our first, did great with Dr. Browns Baby Bottles, while Emmeline has done really well with Comotomo Baby Bottles. Don't register for too many of one bottle until you've tried them out with baby.
If you formula-feed with baby, check out these Mixie Baby bottles. They were an absolute lifesaver with Emme, and I only wish we had known about them for late night feeds with our first baby. (Also, don't miss our tried-and-true baby formula feeding hacks and most common questions answered.)
At around 8 months old we slowly start to introduce a sippy cup, and prefer a straw cup for our babies making the transition from bottle to sippy cup. (More on that in a post coming soon!) We've had a lot of luck with the Lollaland Lollacup and Zoli Bot Weighted Straw Cups.
Baby Gear (Stroller and Infant Car Seat)
I love baby gear and have tested out a whole lot. It's definitely one of the perks of this job! You can see all of our most popular product and baby gear reviews here. Register for a travel system: a stroller and infant car seat combination that can grow with your family. We have LOVED our UPPAbaby VISTA Stroller and MESA Infant Car Seat, particularly because it turns into a double stroller and can accommodate our growing family, and you can read a full review of the UPPAbaby Vista here. We also use a backseat car mirror to keep an eye on our rear-facing baby in their car seat, and a mommy hook and stroller organizer for the stroller.
Once baby is old enough to transition out of the infant car seat, we move our babies to the Graco Extend2Fit 4Ever All-In-One 4-in-1 Convertible Car Seat. I LOVE that the Graco car seat grows with your child. Scarlett is four years old now and we plan to keep her in that seat for many more years.
Changing Station
You will need at least one changing station set up in your home, if not more than one. You'll have the changing station in your baby's nursery, but you may also want to have a changing station with changing pad, diapers, wipes, diaper cream – Aquaphor for the win!, etc. nearby wherever you sleep for middle-of-the-night changes. We also really like having this Hatch Baby Grow Smart Changing Pad and Scale in baby's nursery to keep track of baby's weight gain.
Baby Bath
Although baby will only need a baby bath for roughly the first 6-8 months (before they can sit up on their own), a baby bath that supports their head and neck makes bath time a lot easier. Don't forget the bath products!
Hooded Towels
Regular towels work too, but I can't get over the sweetness of a baby wrapped up in a hooded towel. Buy oversized hooded towels and they'll last your little ones for years to come. Our four year old is just now growing out of her hooded towels.
Thermometer, Nail Trimmer, etc.
You will definitely need a thermometer. We've loved this one for both kids. We used baby nail clippers for Scarlett but received this ZoLi BUZZ B Electric Nail Trimmer as a gift for Emme and really loved how much less terrifying it was to use on baby's tiny little fingernails.
Breast Pump, Nipple Cream, etc.
If you plan to breastfeed, first go through your insurance to see if they'll cover a breast pump for you. If not, register for that breast pump!
Gas Drops, Baby Tylenol, and Baby Vicks
Have them on hand. You'll be glad you do, rather than having to make a CVS run at 2am.
Diaper Bag
I am a total collector of diaper bags. My favorites include the Freshly Picked Diaper Bag, Lily Jade Diaper Bags (beautiful, but a little heavy), and Fawn Design. Go to Nordstrom and try on a few different diaper bags and choose the one that's right for you. I like a really roomy diaper bag that's easy to clean and can be worn as a backpack for hands-free living.
You can see exactly what's in my diaper bag and how I organize it all here; plus, in case you're curious, these are my hospital bag essentials.
Swaddles, Blankets, Bibs, and Burp Cloths
We have a whole basket of lightweight swaddle blankets and burp cloths and use them a ton, especially in baby's first year. (Honestly a good muslin swaddle blanket can do it all – burp cloth, swaddle blanket, nursing cover, car seat cover, etc.) I'm also a fan of these nursing covers that double as car seat covers when we're on the go. As it gets colder, we've loved these super soft blankets for stroller and car seat rides. And of course, bibs. ALL of the bibs.
Sleep Sacks
I'm that mom who is always nervous about her babies being too cold, so we've opted for sleep sacks for both of our babies. Scarlett slept in a sleep sack for nearly her first two years before we ever introduced a blanket. I know our baby is safe and warm in a sleep sack, and added bonus: it keeps our babies from trying to climb out of the crib as they get older. (For baby's first few months, these Miracle Baby Swaddles are great for keeping baby's arms in, but after the first few months, we switch to an arms-free sleep sack.)
Humidifier
Our vaporizer/humidifier is a lifesaver any time the kids are sick. (This is also a great humidifier.) I always add a few drops of eucalyptus. The steam really helps un-stuff our poor babies.
Walker
Both of our girls have been late walkers, so this one for us came at the end of the first year. A Sit-to-Stand Learning Walker is a really great way to help baby learn to walk, and we find both our four year old and 12-month old playing with it.
Sound Machine
Honestly, we never really used a sound machine with either of our girls, but plenty of parents swear by them. We do have the Hatch Baby Rest Night Light & Sound Machine and use it for the nightlight for Scarlett – she loves that she can easily tap it on and off and choose her color for the night. (Many moms also recommend the Baby Shusher.)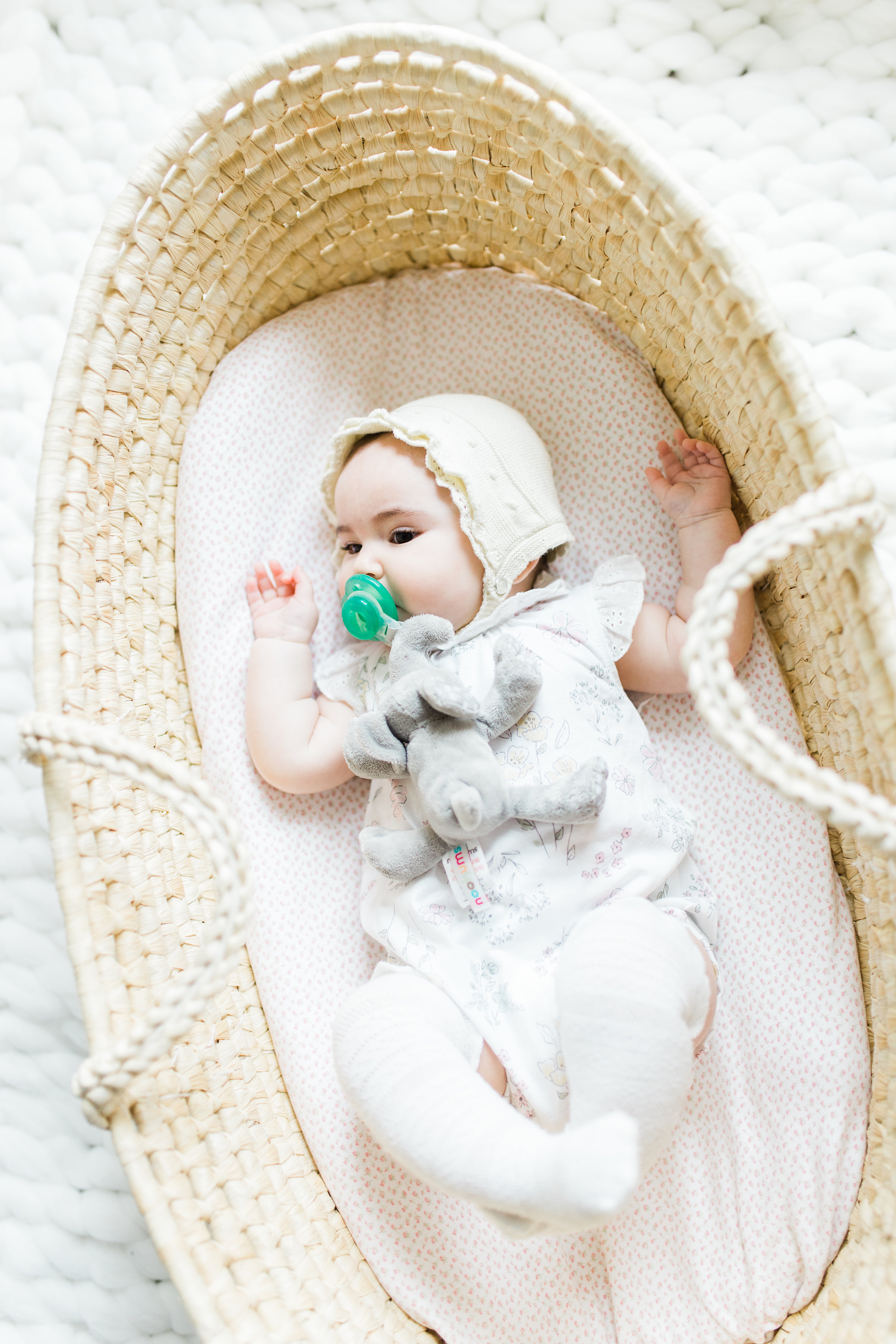 Are you a mom or mom-to-be? What are your baby registry must-haves? Anything you found absolutely essential in baby's first year?
SHOP THE BABY REGISTRY MUST HAVE POST | CLICK LEFT & RIGHT ARROWS TO EXPLORE
BABY GEAR
Psst … I wrote a pretty enormous post all about baby sleep, and how we taught both of our babies to sleep through the night … because, like I said, this girls looooves to research.
IF YOU LOVED THIS BABY POST, YOU CAN SEE MORE OF OUR LIFE WITH TWO LITTLE ONES HERE.
Photo by Annie Timmons Photography for Glitter, Inc.