This post contains affiliate links, which means that if you click on one of the product links, I'll receive a small commission. Thank you so much for clicking through and helping to support this little blog business of mine! Read more about our site, privacy, and disclosure policies here.
Traveling with your family on a big road trip? These are the best snacks for the whole family, with healthy and homemade options, plus how to pack them, and what you can use to make your road trip just a little bit easier with babies and kids!
It's no secret that we love to travel and we're pretty much always on the go. Over the summer we went on a pretty huge road trip to Boston and Maine (from North Carolina), we drive to visit family in New York and Miami every years, and we take mini road trips to Asheville pretty regularly. Now that we have two kids in tow, road trips have really become the main way we travel both near and far.
By the way, In case you need help traveling with kids, I shared a giant post with 10 tricks for a smooth road trip or flight with the whole family. I mentioned in that post that we always pack a ton of snacks to make it through our travels. I love bringing snacks on road trips for the whole family. Sure, we stop for breaks and lunch, but snacks help stretch the time between stops so that we're not stopping constantly, and cut down on trip costs, which we all know can add up fast.
Who really wants to buy overpriced gas station and convenience store snacks?
Sure, grabbing a bag of candy at the first rest stop is fun – or using it as a way to buy a little good behavior with the kiddos; i.e., everyone who does well for the next few hours can pick a treat at the convenience store – but eating gas station snacks over and over again over several days loses it's novelty pretty fast.
In addition to all of the little tricks I talk about in this post, bringing plenty of snacks to keep everyone in the family happy for long car rides is always a good idea. So today, I'm sharing our favorite road trip snacks for hitting the road!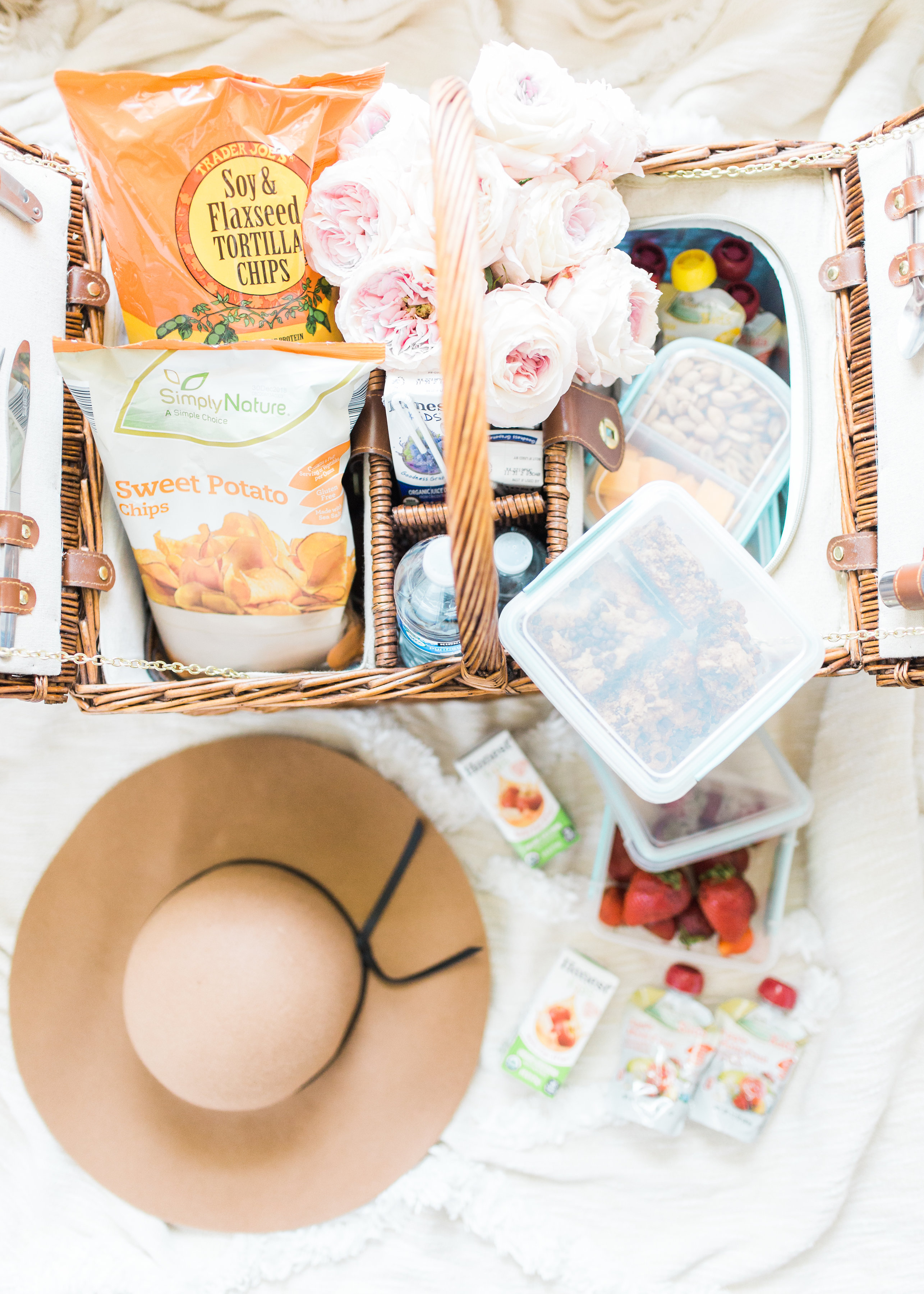 The beauty of a great road trip snack is that you can bring a bunch of everyone's favorite store-bought snacks (grocery stores, Target and Costco for the win!) or you can make your own at home! I like to bring a combination of the two, including plenty of healthy snacks. Trying to buy everything along the way can get expensive and pretty unhealthy. I actually start to get really sick of fast food, and rest stop and gas station junk food pretty fast, so having an arsenal of healthier options stocked up in the car really makes things easier on me and better for my whole family.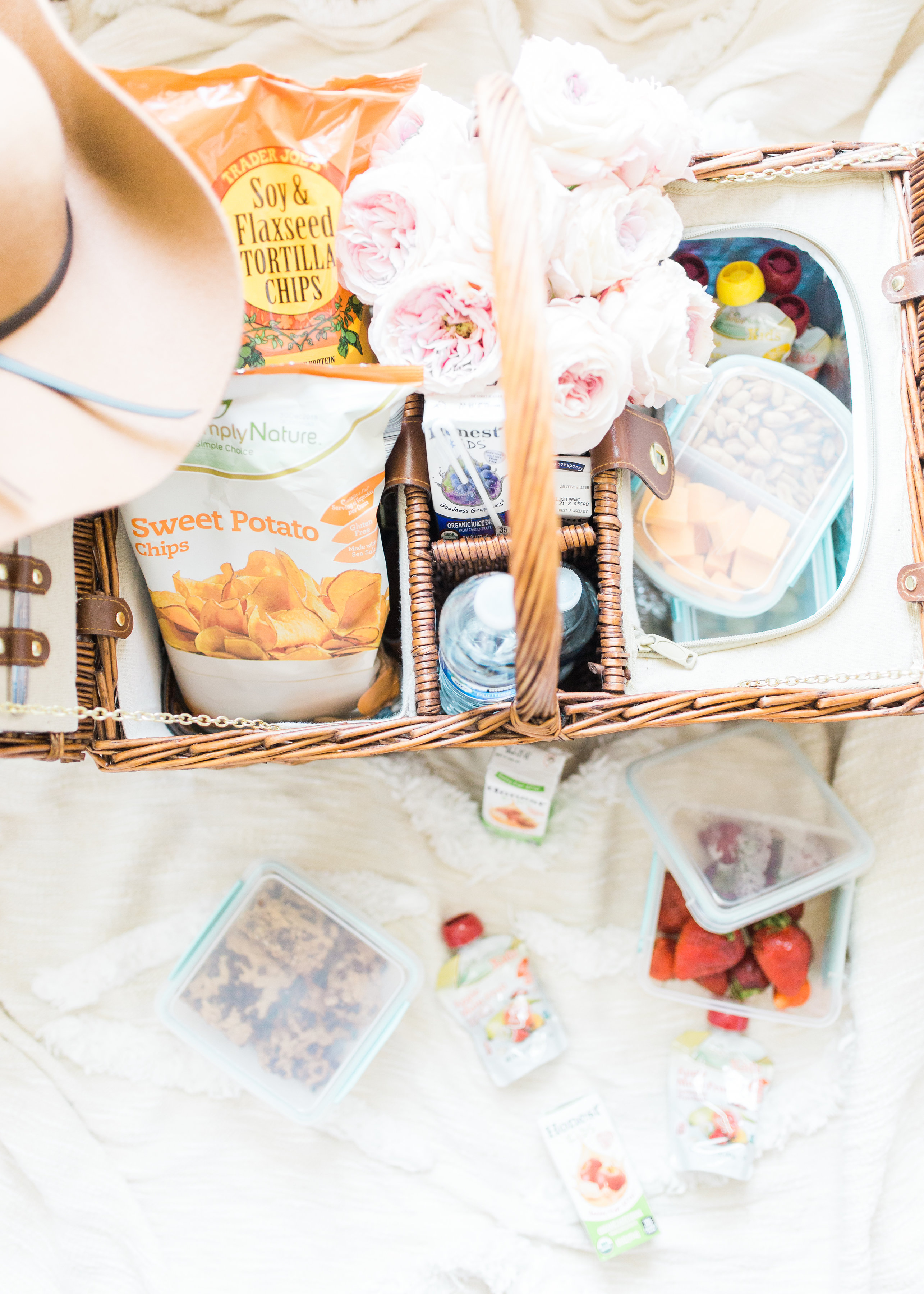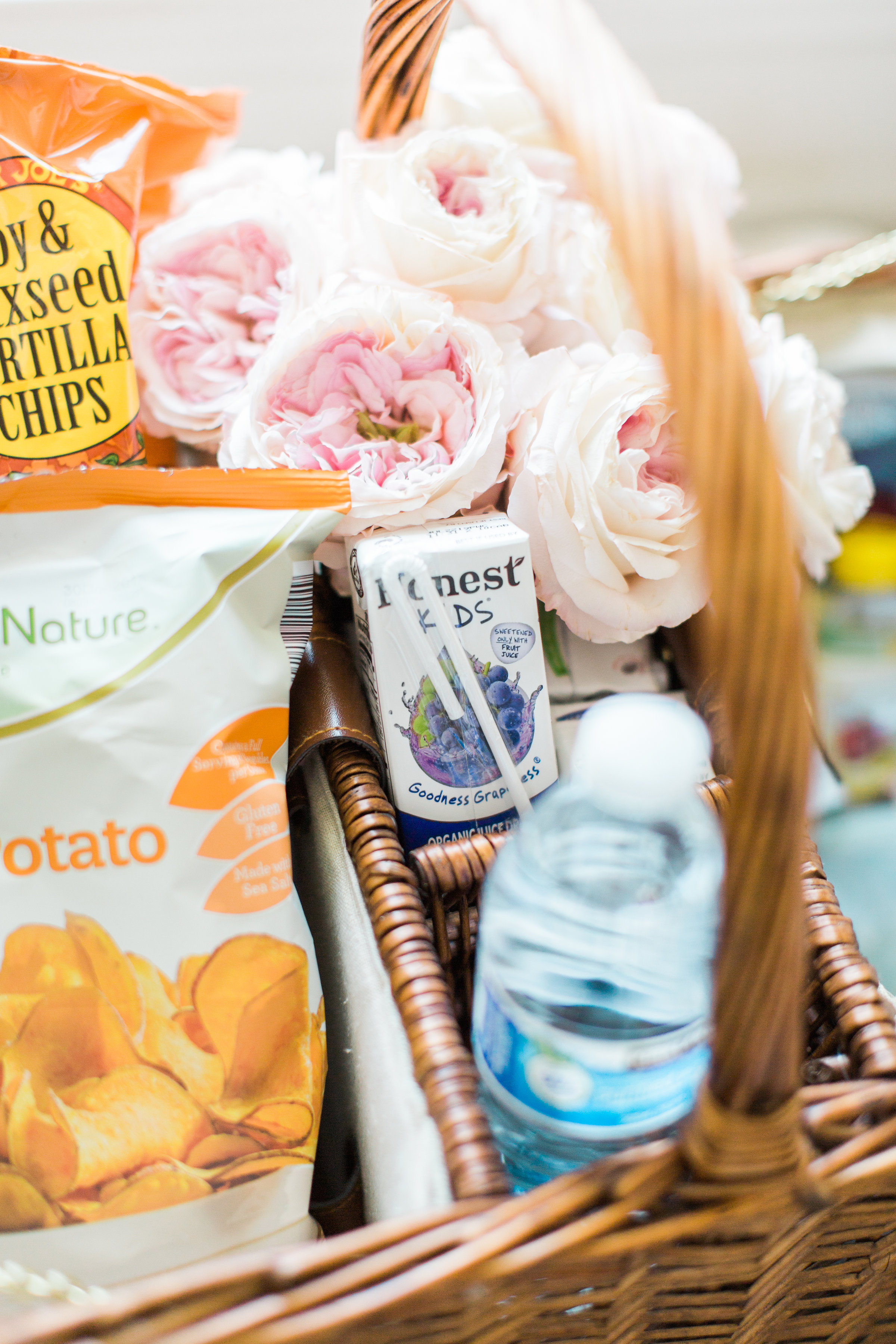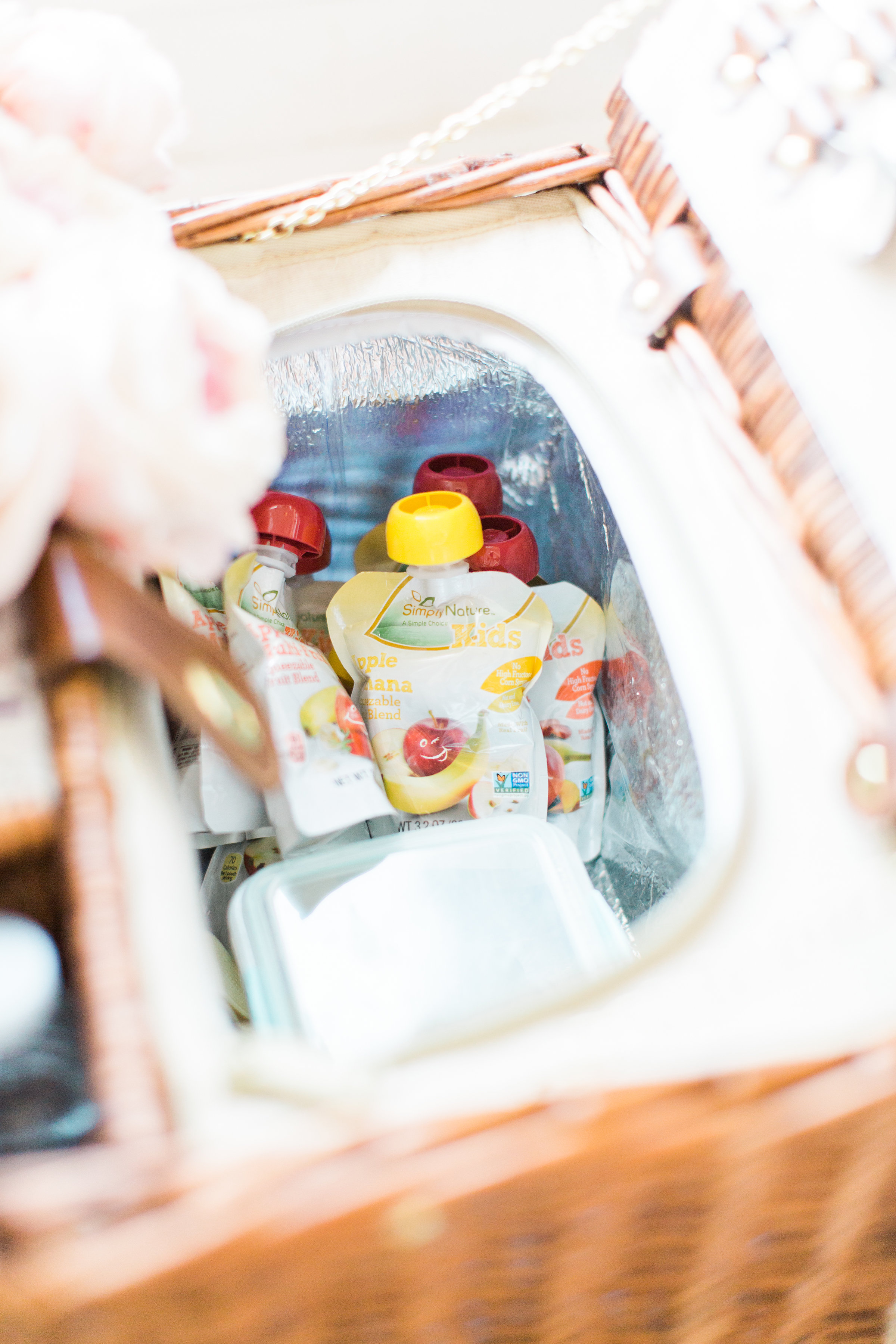 Snacks To Bring On A Road Trip
Fruit
Cut up strawberries, grapes, bananas, apples, etc.
Dried fruit, raisins, apple rings, banana chips, etc.
Squeeze pouches (i.e., applesauce)
Protein
hard-boiled eggs (make just enough for the first day; they won't last longer than that)
cubes of cheese, cheese sticks, etc.
nuts, including peanuts, almonds, cashews, sunflower seeds with no shells, pistachios with no shells, etc.
Trail mix (I like to make our own big container of trail mix specifically for the trip with peanuts, raisins, almonds, and our favorite dairy-free dark chocolate chips or dairy-free chocolate candies … similar to M&M's.)
individual packs of nut butter and peanut butter
Sweet & Salty Snacks
veggie straws (both of our girls LOVE these and they sell them in individual packs as well)
granola bars (I like to home-make our own chewy granola bar squares and store them in a container for the trip)
crackers
sweet potato chips, tortilla chips, potato chips, etc.
Homemade Snacks
I don't know why, but I always like to bake up at least one "road trip snack". If you're going to bake something to bring along for a family road trip, try to make things that aren't messy, crumbly, etc. Go for cookies and bars and things that should last a few days, even without refrigeration.
chewy granola bar squares
vanilla caramel corn popcorn
healthier zucchini muffins
candied cinnamon-roasted almonds
vegan chocolate chip cookies
our favorite oatmeal raisin cookies (you can use chocolate chips instead of raisins if that's what your gang prefers!)
classic nutty granola
dark chocolate chip oatmeal cookie bars
Drinks
water
fruit juice
sodas
iced tea
Pro Tip: Stop for coffee and bathroom breaks between meals when you need a stop. Getting an iced coffee or your favorite coffee drink can feel like a treat and helps to break up a long day of driving.
Tips For Packing Snacks For Road Trips
It's always best to keep all of your snacks in one place for easy access. I like to put everything into a large reusable grocery bag – like the kind you can buy for a dollar at the front of Michaels, Trader Joe's, or Whole Foods – or, lately, I've been packing all of our family road trip snacks into a picnic basket. Guys, a picnic basket is kind of the PERFECT way to bring road trip snacks on any trip! Everything is contained.
A picnic basket fits snugly just behind the front row center console, between and behind the parents; and I'm able to easily turn around, reach into the picnic basket, and grab whatever I need for the kids or me and my husband. Our picnic basket also has all of these compartments, so I can keep the water bottles and juice boxes, for instance, in their own spot for easy access. The flaps on the top of the picnic basket also help to keep everything cool, and ours is actually an insulated cooler on one side to keep our cold snacks cold longer!
You can see how we pack the girls' lunches here! and these reusable sandwich bags and snack bags are awesome for portioning out snacks for the kids. Also, these Take & Toss Snack Cups (with lids!) are also great. Being able to hand the little ones' something to hold, filled with their snacks, is super helpful. I'll even try to keep two or three reusable snack bags in the glove compartment so that any time we're out, I can just pour a few of whatever snacks we're munching on into one of the bags and hand it on back. You don't want to be passing crackers back one at a time to a messy toddler. These toddler snack cups are also great for younger toddlers and spill-prone kids, though we've found there is a learning curve for babies.
As for drinks, sometimes I feel like we've tried every thermos and sippy cup under the sun. For long trips and school, and anywhere we want the kids' drinks to stay nice and cold, we really love these Thermos Funtainers. They're also particularly great for road trips because they fit in the cup holders of the girls' carseats.
Speaking of keeping things cool, I always pack a freezer pack or two into the cooler, picnic basket, or bag we use, for things like bottles, fruit, and cheese, and we do try to choose hotels that have at least a mini fridge for overnight trips. Just don't forget to bring your picnic basket into the hotel at night to get everything nice and cold again!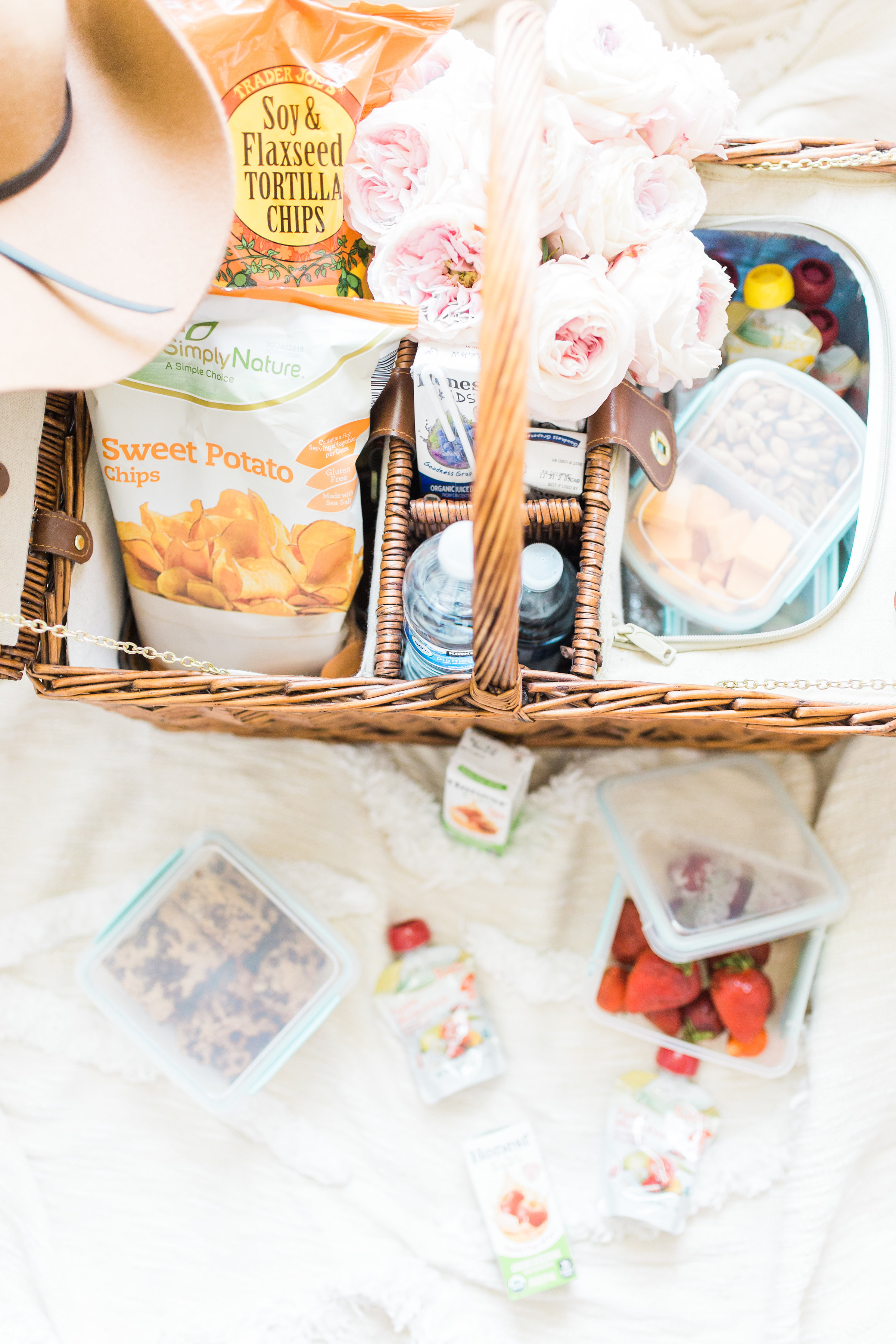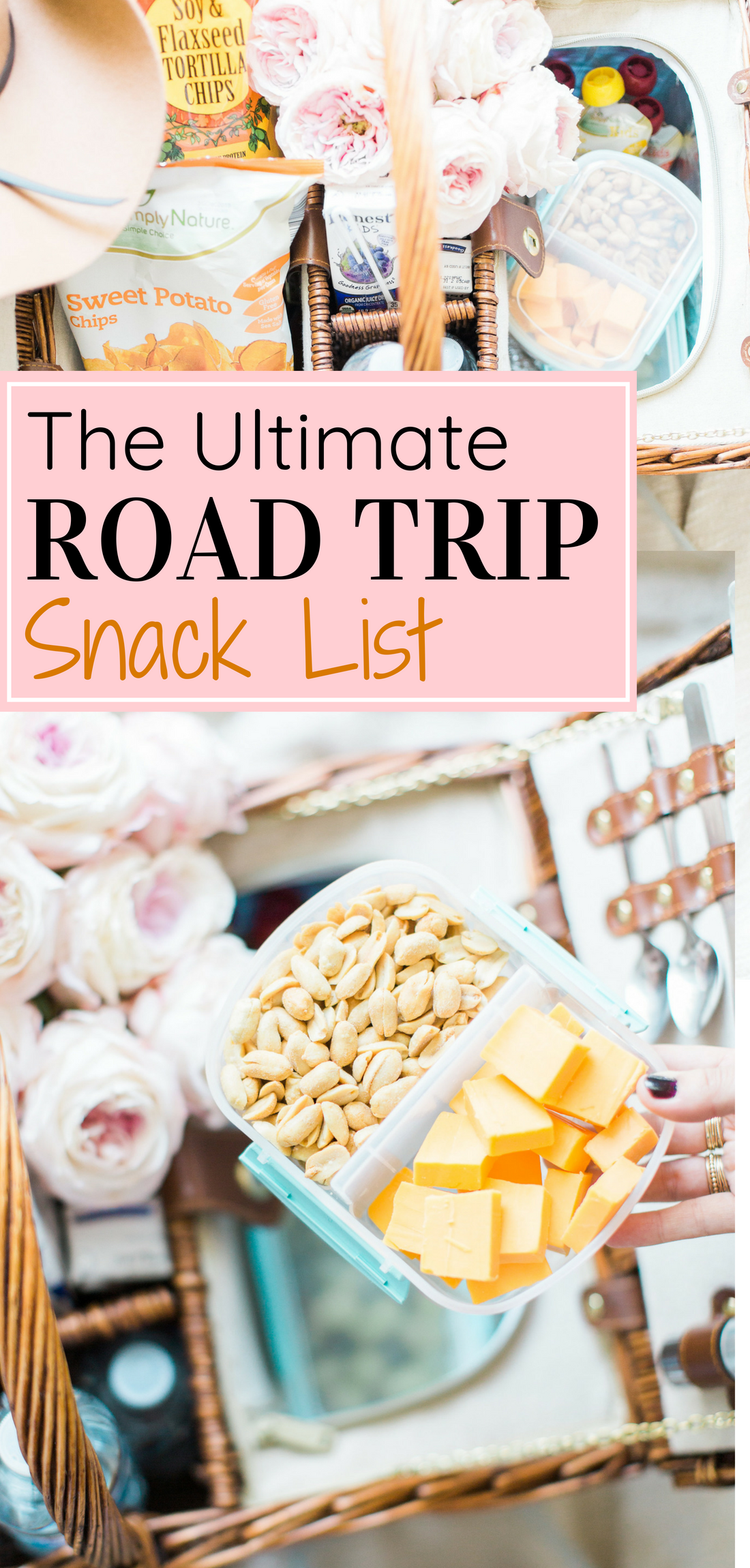 So there you have it: the best snacks to bring on a family road trip. Be sure to check out this post, 10 tricks for a smooth road trip or flight with the whole family, to get even more super helpful travel tips.
SHOP THE FAMILY ROAD TRIP SNACKS POST | CLICK LEFT & RIGHT ARROWS TO EXPLORE

Do you travel a lot with your family for vacation? Do you take many road trips? Any awesome tips (or great road trip snacks) for long days on the road?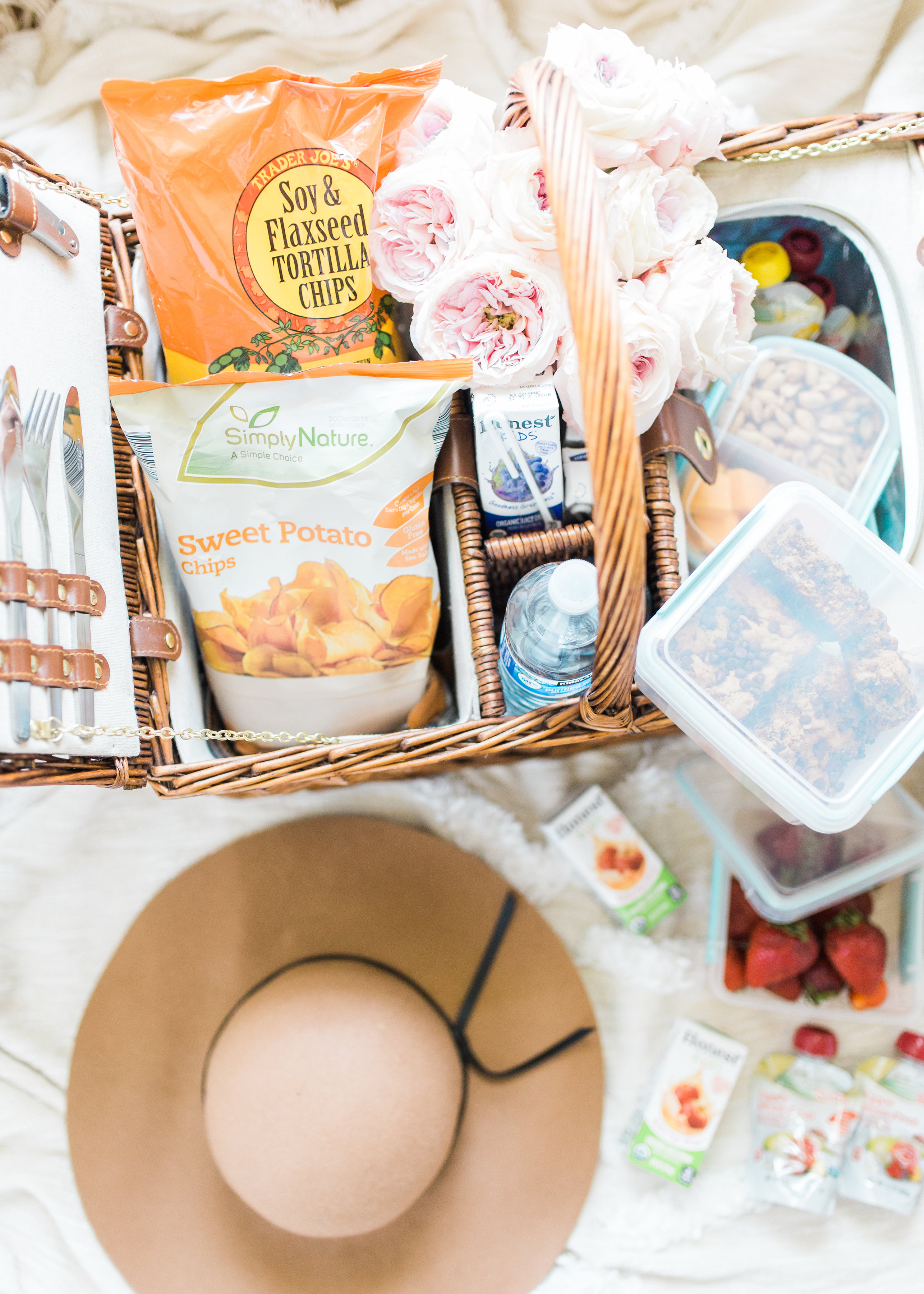 Photos by Annie Timmons Photography for Glitter, Inc.