This post contains affiliate links, which means that if you click on one of the product links, I'll receive a small commission. Thank you so much for clicking through and helping to support this little blog business of mine! Read more about our site, privacy, and disclosure policies here.
Let's talk traveling with kids! We're sharing how to travel with young kids and our 10 best tips and tricks for a smooth road trip or flight, including how we get our kids to sleep in a hotel, how to stay on a nap and bed-time schedule, flying with kids, how to plan without planning, what I pack in our family overnight bag and my diaper bag for travel, and our road trip secret weapon.
Some might say we're a bit crazy, but having kids hasn't slowed down our travels one bit. Since our oldest, Scarlett, was born, and then of course, we added our second little girl, Emmeline, to the mix, we've flown, driven, and cruised all over the place. I know that the idea of traveling with kids brings cold sweats to many, but I promise you, with the right planning, traveling with kids can actually be both easy and fun!
Traveling With Kids Made Easy
I will admit, that most of my tricks for traveling with kids are ideas I "borrowed" from my own mom, a total pro at traveling with little ones; i.e., in our case, growing up, my mom and dad traveled absolutely everywhere, with four kids in tow. I'm so grateful that my parents instilled in us a love of travel, because now that hubby and I are parents, we're smitten with adventure and relatively fearless about packing the kids in a stroller and heading on our way.
So why travel?
I love the opportunity that traveling provides for our family. Every trip we learn something new, and I always feel that both leading up to a trip – and looking forward to the adventure – and during the trip, we have a chance to bond, rejuvenate, and dream big. My husband and I always joke that on road trips, especially once both girls have fallen asleep, we tend to use the time to talk about our dreams and goals. My mom and dad used to always use road trip time to plan the year ahead. It's a surprisingly great time to really focus on your partner and what lies ahead.
Travel broadens our horizons.
Also, travel exposes us to other people, places, cultures, and history. It helps to broaden our perspective, enhances our world view, and allows us to experience new things. I want our kids to know how beautiful and full of wonder our world is. And I want them to appreciate both what they have and what they may someday aspire to have. I want them to know and love adventure. We're all just a small part of a great, big world, and I love showing that to our kids first hand.
Travel teaches our girls patience, manners, how to communicate better, and more. I'm amazed at how well our kids can communicate what they need and want. Scarlett is a total pro these days at letting us know when she needs a potty break, she's learned how to play quietly and entertain herself, and even the baby has really adapted to travel. She never cries in the car anymore, probably because she's just so used to us bringing her EVERYWHERE. 😂
I also love all of the sweet memories, and photos (!!!), that we can cherish forever.
Getting over the fear of traveling with kids.
I'll admit, with each new baby, I was somewhat nervous about how a flight or road trip would go, but we've always just gone for it, heading on a two-day road trip with our second baby girl, Emmeline, as early as two months old.
The real secret is to just GO! Enjoy, travel, eat, and teach your kids to be adventurers.
I will say that traveling with kids takes a bit of practice, and a whole lot of preparedness, so I thought I'd share how to travel with kids, plus our 10 tricks for a smooth road trip or flight.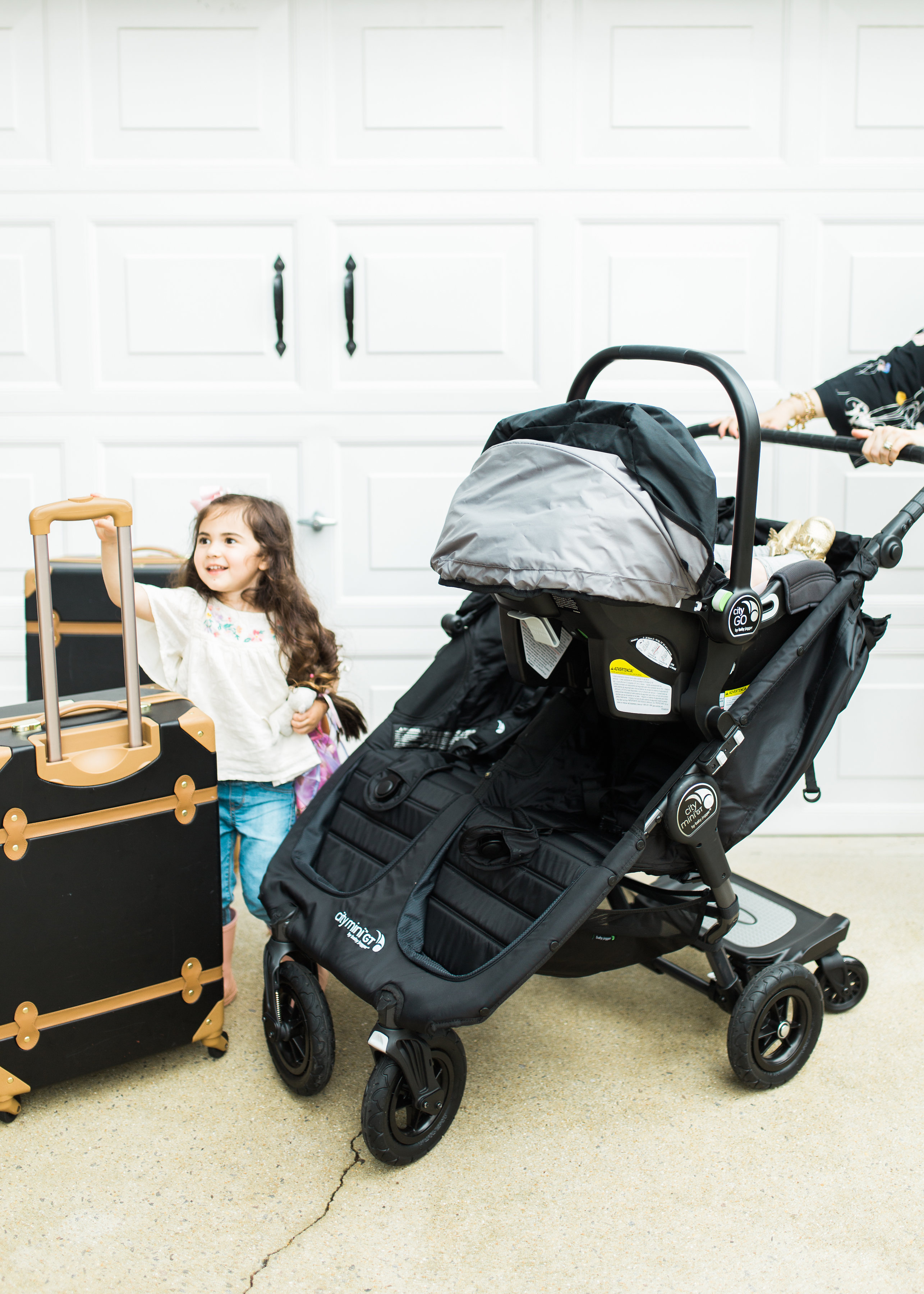 How to Travel With Kids: 10 Tricks for A Smooth Road Trip or Flight
ONE.

Get the whole family excited about the adventure.
For weeks leading up to a trip, we tell the girls that we're going on a big adventure. Whether it's a weekend at the beach or a two-week jaunt around Europe (a girl can dream!). We talk a lot about where we're going, who we're seeing, what we'll be doing. This makes it fun for the whole family, and extra-special for your kids when the times finally comes. Scarlett is positively bursting by the night before vacation, with all of her dolls packed and ready by the door. It's totally adorable and also provides for a little extra positivity and good behavior. Win, win.
After vacation, we also talk about how much fun we had, our favorite parts of vacation, where we'd like to go next, what trips we're planning for the future, etc.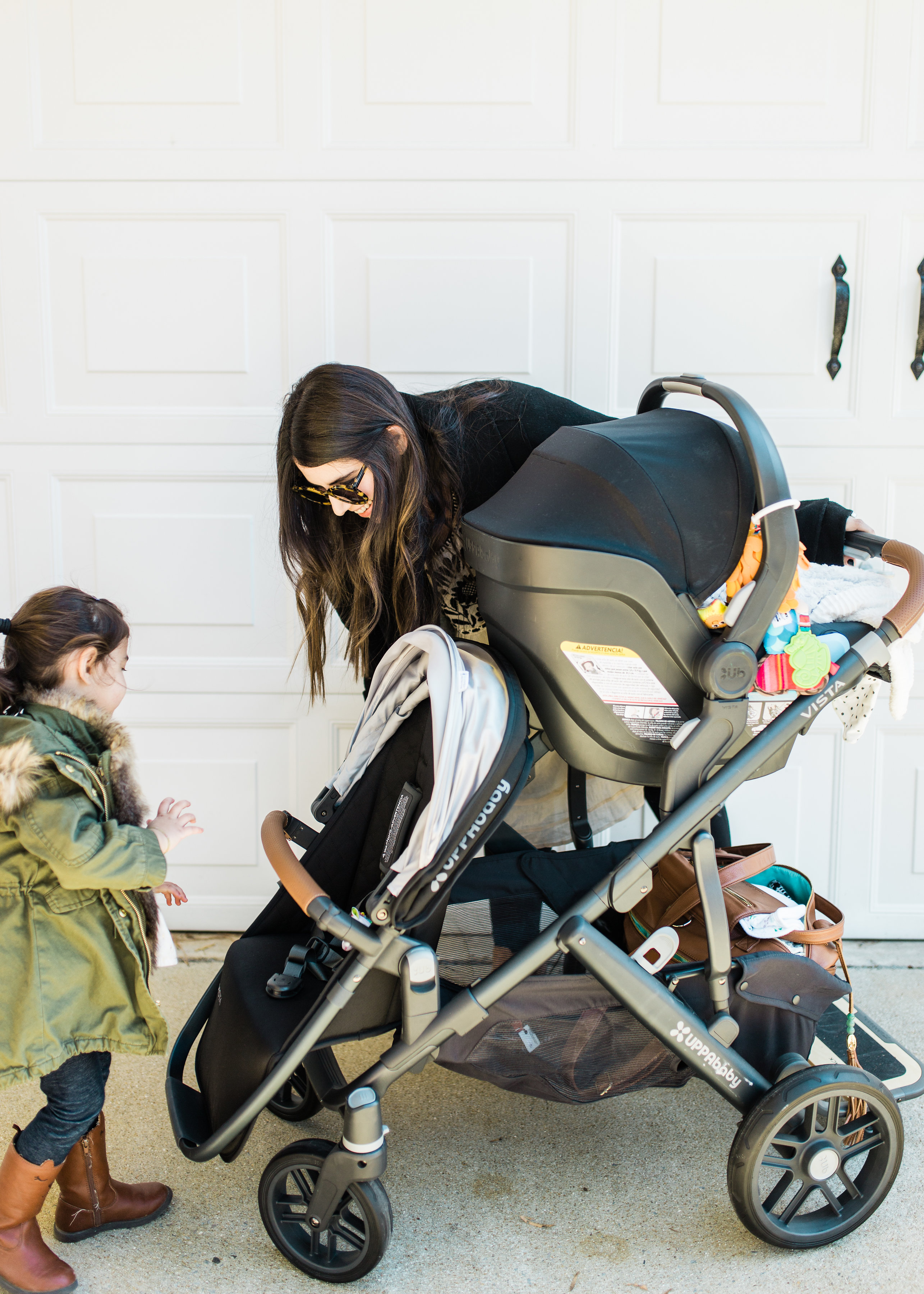 TWO. Bring the right baby gear.
If your kids are under the ages of about 6 or 7, I say, invest in a good travel system. Having a work horse of a stroller when we travel is HUGE for us. We currently have a 4 year old and a 10-month old baby. When we travel, especially when flying, we like to travel with a stroller that can work as a double stroller and can hold an infant carseat. Granted, the infant carseat won't last forever – and typically only fits our babies until about 14-ish months old, but when your baby is young, having an infant carseat that clicks into a stroller and can also easily be seatbelted into a cab or Uber, is key.
(You can read more about our Baby Jogger City Mini GT double stroller here and our UPPAbaby Vista double stroller here. We use both as travel systems, and choose which to bring based on what kind of travel we'll be doing, what cities we're visiting, room and maneuverability where we'll be staying, etc.)
If we're flying, we let our oldest walk alongside the stroller or ride the scoot/ride-a-long board before boarding for a bit, to get some of her wiggles and energy out. The stroller also serves as a great place to haul stuff, like a heavy diaper bag, ready for travel, laptop bags, etc.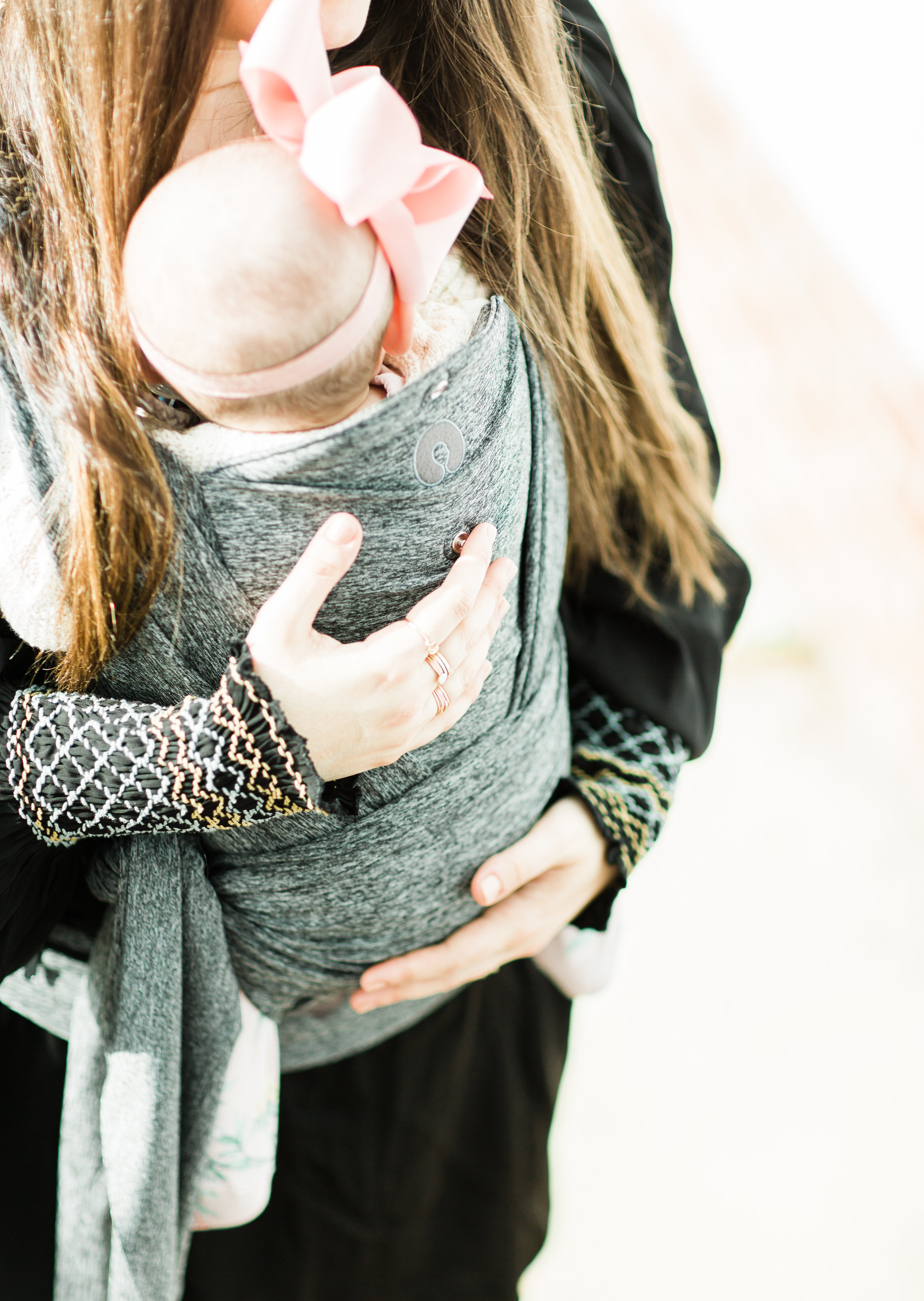 I always bring a good baby carrier
So I can wear the baby when she gets fussy. (My favorite baby carriers are the Boppy Comfyfit, LILLIEbaby Complete Baby CarrierLILLIEbaby Complete Baby Carrier for something more structured, and the LILLIEbaby ring sling for when baby is young.) Wearing the baby onto planes is really the only way to get on and off a plane, if you ask me. It's too hard to keep hold of a busy toddler or child. Plus carry a diaper bag and/or travel bag. And once you hand over your stroller at the gate, baby wearing becomes vital to juggle it all.
THREE. Stick to a nap-time and bed-time routine.
I know it may seem tough, but I think one of the hardest parts about traveling with kids is getting out of a routine. When our girls miss a nap, or go to bed way too late at night, they act like tiny, sleep-deprived maniacs. For road trips and flights, we try our darndest to schedule around nap-time, and make sure to arrive at a hotel or final destination BEFORE bed-time. The nap may get bumped a bit, but we really try to get the girls sleeping by 8pm, at the latest. If we plan to have the kids nap on a plane or in the car, we do our best to feed them first.
We also make sure the car has a full tank of gas, mom and dad have coffee, and we have a nice, long stretch of drive or fly time to help encourage a nap. Bring a lovey, pacifier, or anything else your kids might need to help them nap. Bring back-ups as well. (Truth: we have totally had to get off the highway, find the nearest Target, and buy a pack of the kind of pacifiers our daughter liked, when we lost our only "car pacifier" once upon a time.)
For our oldest, getting her to nap also means no screen time, no toys, just quite time. She won't always nap anymore, so we won't force it, but we do at least try to encourage rest. This is also important to give her baby sister a bit of quiet time for her own nap.
In a hotel room
Even if we're all sharing one room, we try to designate off a part of the room for the kids to sleep. We turn the lights off in that area, and put the girls down for bed. Mommy and Daddy stay up a bit longer, but the girls know it's their bed-time. We stick to all of the normal pre-bedtime routines as well: brushing their teeth, reading a book (that we bring in the overnight bag or luggage), etc. Points for hotels that offer a "suite" style room. Even just having a dividing wall between our bed and the pull-out couch/sofa bed and crib makes a world of difference.
If you'll be traveling to a different time zone, try to keep your kids up to fit the time zone you will be staying in.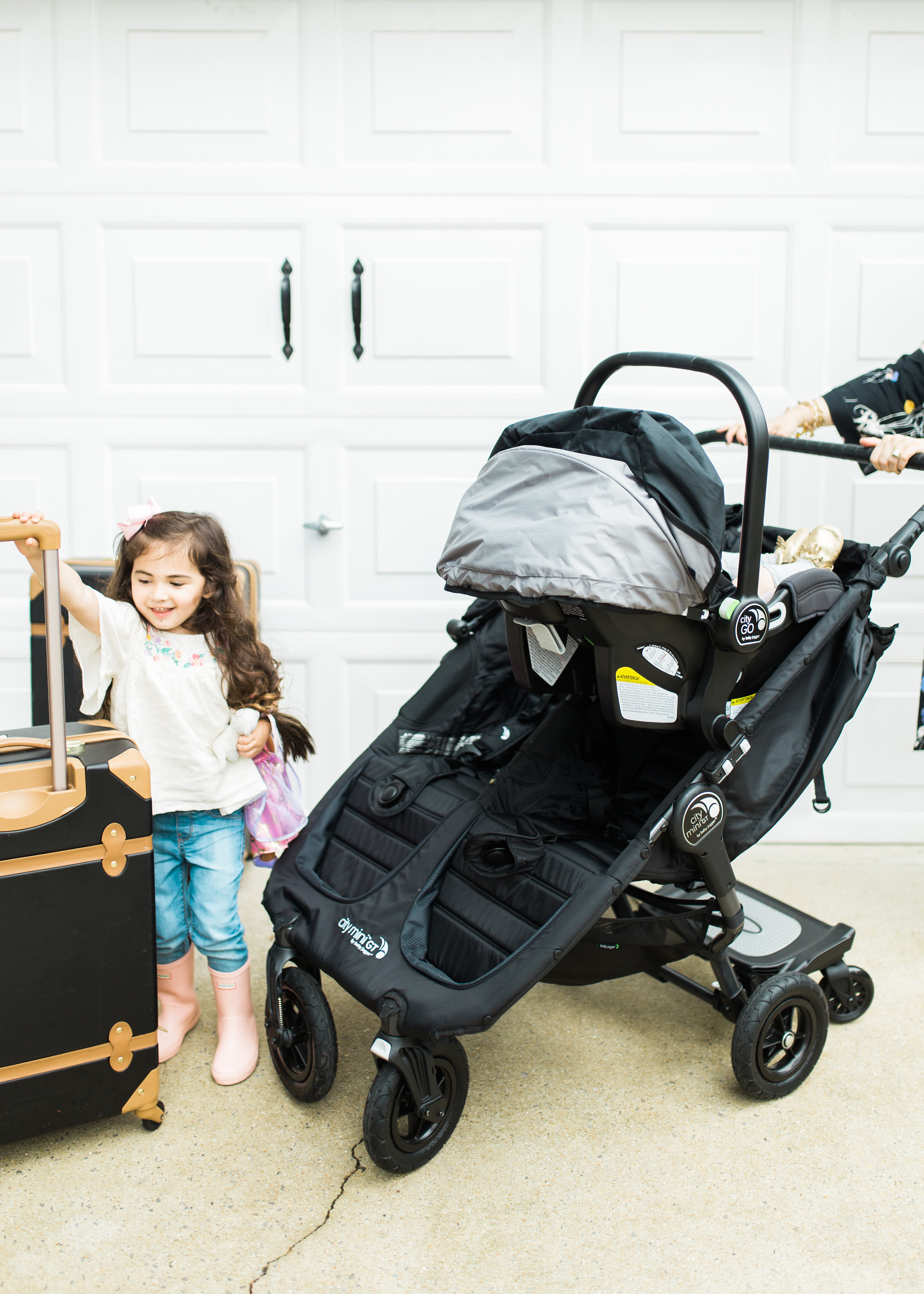 FOUR. Pack smart.
THE OVERNIGHT BAG
If you're going to be staying in a hotel room or at a family or friend's house along your road trip path, pack an overnight bag, duffel bag, or carry-on sized luggage with enough for just one or two nights for the whole family. It's so much easier to just bring in one duffel bag to a hotel, rather than a heavy luggage (or two). In our overnight bag we pack pajamas and a change of clothes for each family member, toiletries for everyone, a bedtime book to read to the girls before bed, and any blankies or lovies.
THE DIAPER BAG
Pack your diaper bag smart as well. Though some may call it over-packing, I'd rather be prepared. I use pouches to organize and divide up my diaper bag; more about that here.
I ALWAYS have my biggest pouch filled with a changing pad, diapers, wipes, diaper cream, an extra pair of panties for our oldest, and a change of clothes for the baby. Also, I love having the designated "changing pouch" because I can just pull out this one bag when we need to make a bathroom pitstop or do a quick change in an airplane bathroom (the worst!). I like to have a pouch for just mommy stuff and random beauty items, like makeup, eyedrops, extra clips and hair ties, tampons, sunglasses (for mommy and mini), a small hair brush (we love these!), etc. There's ALWAYS a pouch for snacks. Think applesauce squeezes, individually wrapped cookies and crackers, small containers of nuts and dried fruit, a handful of lollipops (for bribery purposes!), and so on.
A pouch for activities is especially helpful on trips.
Right now, our "activity pouch" has a mini coloring book, Crayola Mini Twistables Crayons (My toddler LOVEs these! She knows they're only for when we're out/travel, which makes them extra special. Plus, she can't break them.), stickers, a few small toys, and a teether for the baby. Also, I have my eye on this Tegu Pocket Pouch Magnetic Wooden Block Set. It's portable and so cute, and I think both the baby and toddler would enjoy it!
I have a mini "first aid" type pouch that fits easily into a small pocket on the interior of most diaper bags with things like bandaids, neosporin, sunscreen, antibacterial, Shout wipes, Tylenol, Advil, and antacids for mom and dad, etc. (Recently, I saw this itty bitty first aid kit on Amazon, and I thought it was genius. If you don't want to put together your own, this one's the way to go!) And last but not least, though it's not a pouch, this mini umbrella, that comes in it's own zip case, is AWESOME, super tiny, and lightweight. I never go anywhere without it.
For trips, we also bring a bit of tech to help get our oldest daughter through the long travel days; that includes headphones for our oldest (if we're flying), and an ipad or fire tablet (this car headrest mount for tablets is brilliant, works on just about every car and tablet combination, and is just $11.99!)
FIVE. Plan for breaks.
If you're driving, add at least two hours to your scheduled day, knowing that kids need to stop longer than just 15 minutes at a time. We take a lot of road trips, and before we head out, we map out how many hours we plan to drive that day. If we want to make it halfway to our final destination, say 8 hours, we call that 10 hours, because we know that stops with kids just take longer. The days of jumping out of the car to use the restroom and grab an iced tea at the rest stop are long gone. We know that when we stop, the girls need to sit down to have a meal or snack, even if it is fast food.
They love the chance to stretch their legs, play a bit, eat a snack, etc. Bonus points for a stop with a playground or grassy area for the kids to run around in. The beauty of a flight is you won't really need a break. Though I will say that even at airports, I try to make a up a fun game like "I spy" or find a little alcove off of a terminal where the kids can run around and play a bit before being cooped up on a plane.
SIX. Bring Snacks.
I'm going to be sharing more about our favorite road trip and travel snacks in an upcoming post, but for now, I will say that snacks are key to a successful trip with kids. I try to pack a few favorites in individual containers with lids and/or ziploc bags (make sure everything is resealable), plus a few interesting and new snacks to add in a bit of excitement. We always pack grapes, crackers, popcorn, almonds, and sometimes, something homemade special for the trip. Also, plenty of drinks, water, and juice boxes. I also like bringing a few disposable cups or bowls, so that I can easily pour a portion of whatever snack I'm handing to the kids for easier access.
SEVEN. Bring blankets.
We love traveling with blankets. We try to keep them lightweight so that they don't take up too much space. When the kids get tired, putting a blanket on them really helps them to fall asleep, a blanket can keep the kids warm on a chilly plane, and we use blankets to sit down onthe grass during road trip breaks.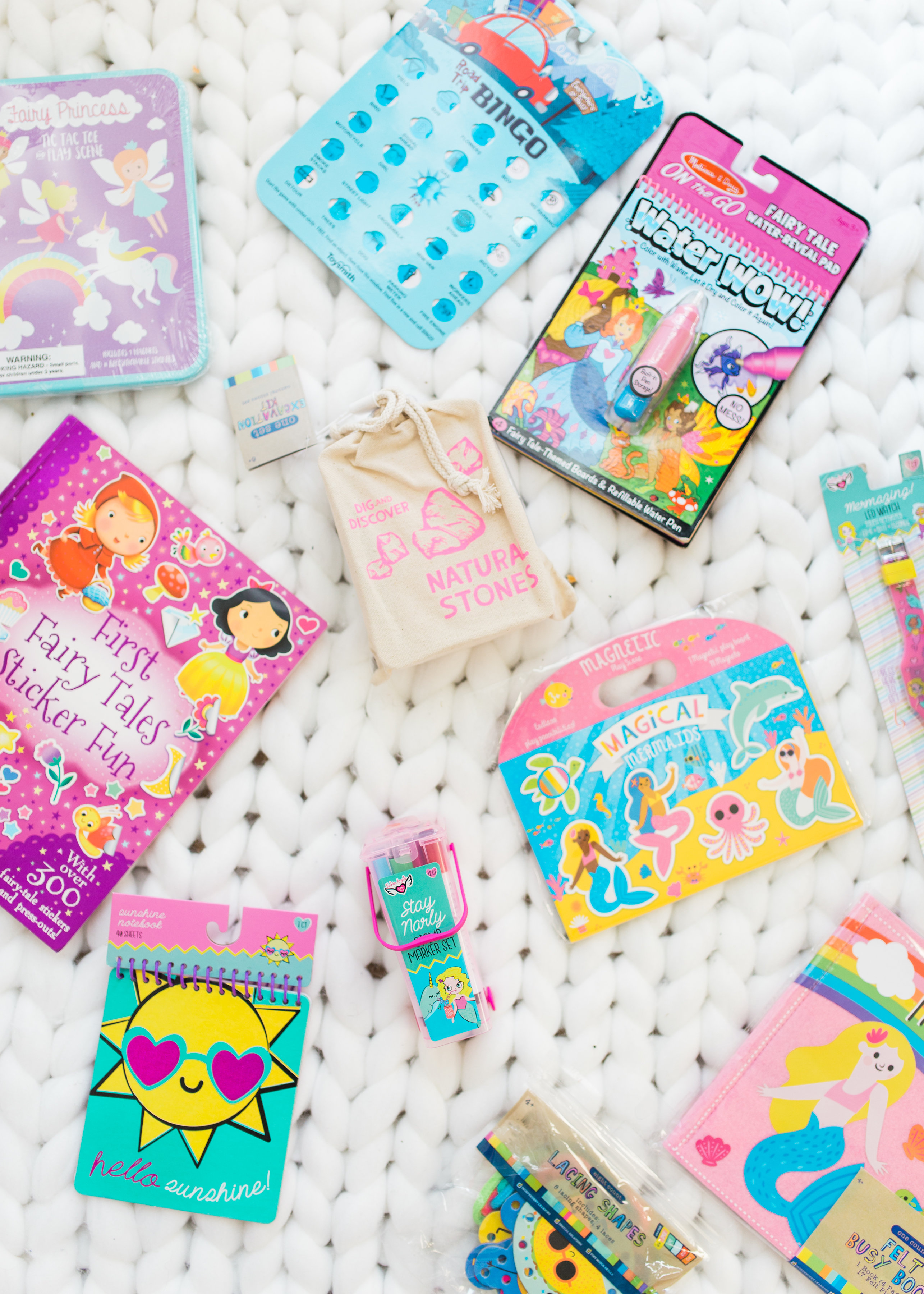 EIGHT. Our road trip "secret weapon": pack travel prizes.
My mom was the queen of the road trip prize. She used to pack a whole stash of road trip surprises. If we were good, we got a special toy or activity, typically in the early afternoon of a day of road-tripping. On the last day of a road trip, my mom held what she liked to call, "Clearance!" That's when we got to raid whatever toys and prizes were left in her road trip bag of goodies. She did this for years. Even as a teenager – I was the odlest of four – she managed to find me cool friendship bracelet kits, a great new book, a CD (Does anyone even use CD's anymore?), etc. I swear road trip and travel prizes kept us on best behavior.
For our own kids, both young, I typically raid the Target Dollar Spot at the front of the store, and the dollar store is also a good option, for road trip prizes. Especially in the summertime, Target has a TON of great toys under $3; all perfect for a road trip or flight. This year, I found SO many great prizes at Target, and I bought a ton to stock up for the next few trips.
NINE. Make a loose schedule; i.e., plan without planning too much.
I always type up a trip itinerary with flight details and/or road trip details. If we're flying, I try to have all flight information, car rental info, etc. in one place. If we're driving, I try to map out how many hours drive each day will be. I book the road trip hotel stay ahea d of time, so that we're not scrambling at 7pm with a car full of tired, cranky kids to find a hotel. Having the hotel already booked also helps with an end goal. We know roughly what time we'll get a break, have somewhere comfy to rest, etc.
This is especially important during Summer and Christmas-time travel, when everyone is on the road and the hotels can get pretty booked up. We'll sometimes plan ahead if there's a great restaurant in the city we're staying overnight in, but if everyone in the car is getting started, it's okay to scratch that plan and pick up a pizza to eat in the hotel room instead.
Once we're at our vacation destination, I like to have a list of places we'd like to visit, and I'll often type up on what day we can do what; i.e., on Tuesday we're going to try to go to this museum and eat at this restaurant for lunch since they're near one another. Sometimes my Tuesday gets pushed to Wednesday, etc., but having a loose schedule and plan of things we'd like to try to do helpsto keep the momentum of the vacation, and ensures that we hit at least a few of the attractions.
TEN. Be flexible and forget "perfect".
Your travel days won't be perfect. The kids will cry, naps may be missed, you'll miss your exit on the highway or your flight will be delayed. Same goes for vacation days. Adapt, break out the snacks and car prizes, have a day dedicated to down-time, and try to enjoy the adventure. To us, likely because we're always working when not on vacation, even a travel day or a slower day or a day spent mostly in the hotel counts as vacation, so even if it's a bit of disaster, we're still all together, we're away from the normal hustle bustle of life, and we're ON VACATION. Make the best of it and have fun!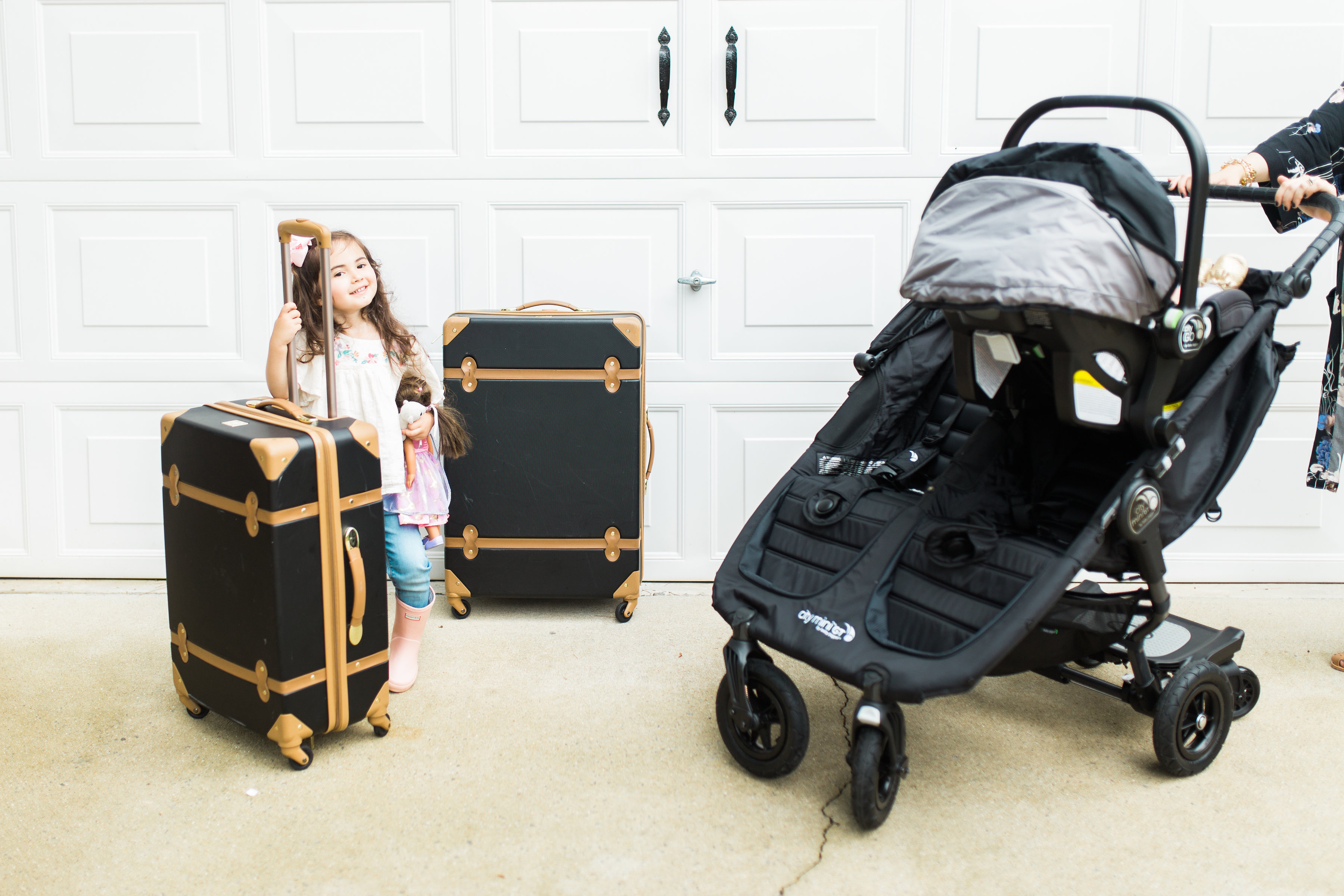 IF YOU LOVED THIS HOW TO TRAVEL WITH YOUNG KIDS POST, YOU CAN SEE MORE OF OUR LIFE WITH TWO LITTLE ONES, PLUS ALL OF OUR FAVORITE BABY GEAR, HERE.
And if you're traveling with a baby or kids, don't forget to read this: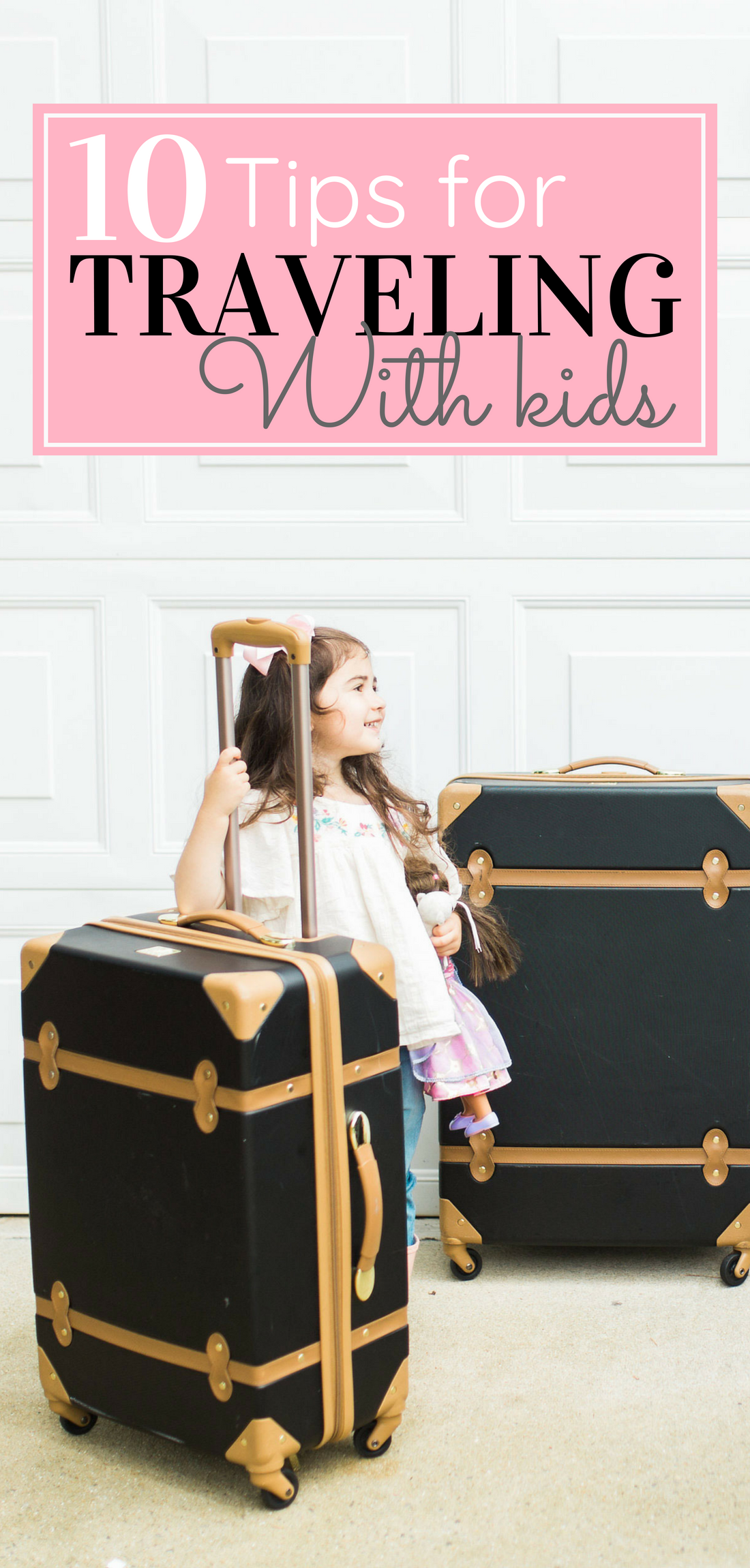 Photos by Annie Timmons Photography for Glitter, Inc.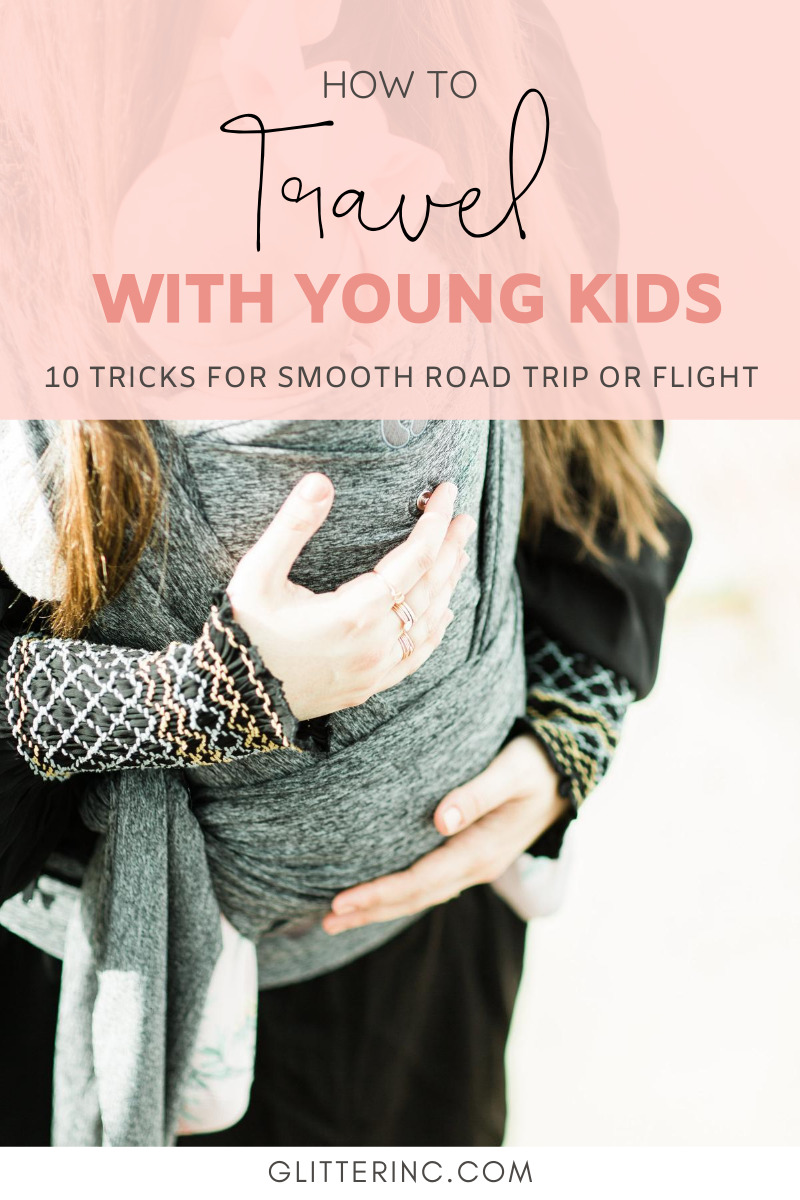 SaveSave
SaveSave
SaveSave
SaveSave
SaveSave
SaveSave
SaveSave
SaveSave
SaveSave
SaveSaveSaveSave
SaveSave
SaveSave
SaveSave