I received product and compensation from Mead Johnson Nutrition to create this post written by me. All experiences and opinions expressed in this post are my own and not those of Mead Johnson Nutrition. You can contact Mead Johnson Nutrition with product related questions or comments toll free at1-800-BABY-123 (1-800-222-9123).
Transitioning your baby from a bottle to a sippy cup can be stress-free and fun; and we're breaking down exactly how you can make the switch in just a few easy steps. You've got this, mama.
Visit Enfamil online to learn more about NeuroPro™ and request a free sample.
Feeding our babies has always felt like a really special time for the girls and me. We all lead such busy lives, and I'll admit, it's not always easy for me to take the time to slow down. With each baby, I've loved feeding time because it's a chance – even if just for a few minutes – to sit with our babies and quietly feed them. I love that when feeding time comes, I nestle into our favorite spot on the couch, and focus on our sweet baby girl.
Now that Emme is a little bit older, I've been working on transitioning her from a bottle to a sippy cup; but I didn't want to lose that special bonding time she and I share during feeding time. We've found ways to both transition from a bottle to a sippy cup and continue to bond during feeding time, and I'm so proud of Emme for slowly making the big switch!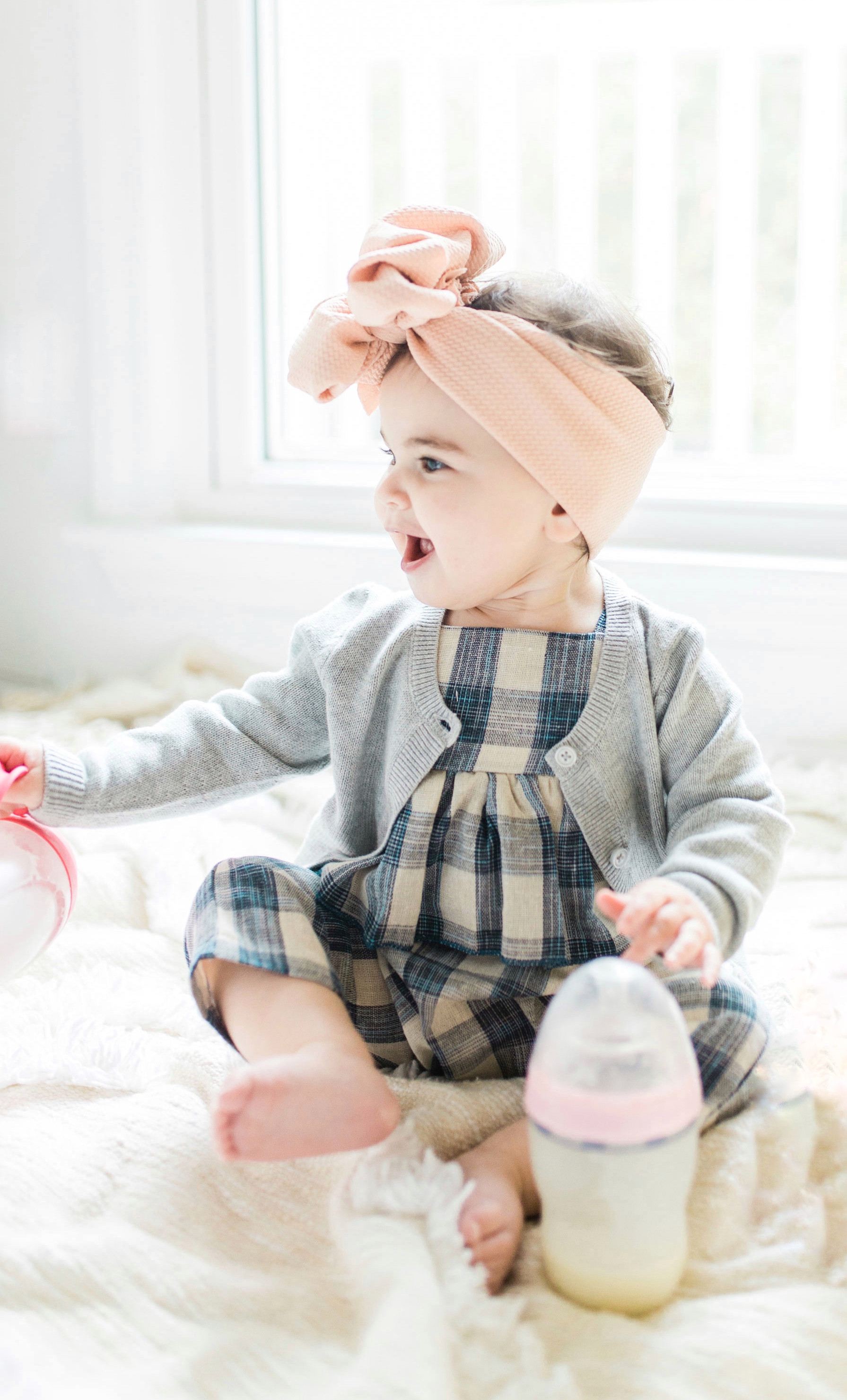 How We Transitioned From a Bottle to a Sippy Cup
The bottle to sippy cup transition can feel like a daunting task for both babies and parents. Introducing any kind of change for baby, especially when you finally feel like you've gotten into some sort of rhythm, can feel monumental. I mean, really, who wants to mess up the routine you've strived so hard to create? Still, somewhere towards the end of baby's first year, most parents start moving from a bottle to a sippy cup. And trust me, we're all stressing about the shift. (Just check into any mom group on Facebook!)
Most babies are ready to start drinking from a sippy cup between 6 and 9 months old, according to the American Academy of Pediatrics, and by baby's 12 month check-up, the majority of pediatricians will be suggesting making the switch. For both of our girls, we slowly started to introduce the idea of sippy cups between 7 and 12 months.
Making the leap from bottle to sippy cup doesn't have to be that stressful though; and now that we're two kids in, with one babe (I'm looking at you, Emmeline!), who resisted the sippy cup for several months longer than the other, I can pretty confidently say that making the switch from a bottle to a sippy cup is achievable — it's all about finding what works best for both you and your baby.
Enfamil® is the #1 brand of infant formula recommended by pediatricians and has been trusted by hospitals for over 25 years. Enfamil® is dedicated to understanding the nutritional benefits of breast milk, and NeuroPro is born of that dedicated focus. Also, Enfamil® is backed by decades of research on breast milk and multiple clinical studies on its brain building power. Enfamil NeuroPro has a brain-building fat-protein blend of MFGM and DHA previously only found in breast milk*. Enfamil NeuroPro™ is the first formula that has a uniqueMFGM and DHA blend for brain building benefits similar to those of breast milk*.
MFGM has been clinically shown to help close the gap in cognitive development between formula-fed and breastfed infants**. Enfamil NeuroPro™ is the first and only formula to add MFGM as an ingredient in amounts supported by clinical research. *In amounts supported by clinical research. As measured by Bayley cognitive scores. **As measured by Bayley-III cognitive score at 12 months in a different formula with MFGM added as an ingredient
You can visit Enfamil.com or call 1-800-BABY-123 (1-800-222-9123) for more information and to request a free sample.
So now I'm sharing how we transitioned our baby from a bottle to a sippy cup in just a few simple steps, all while still bonding and holding on to that special feeding time we all love.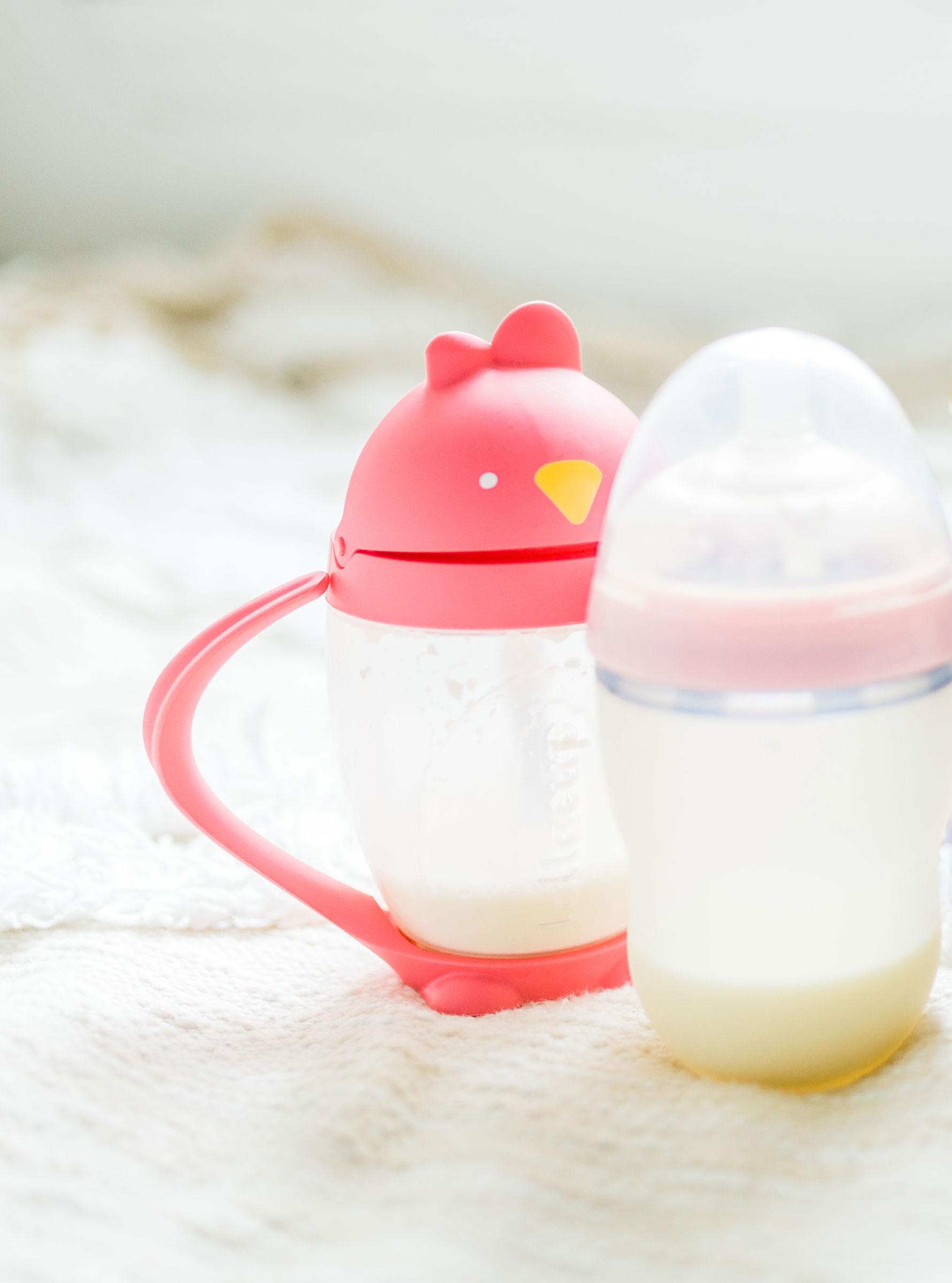 Decide Why and When You Plan to Make the Switch
Every parent has different reasons for deciding to make the switch from a bottle to a sippy cup. Often daycares require that babies be switched to a sippy cup by a certain age (typically by 12 months), parents are ready for free hands themselves, babies show signs of sippy cup readiness (i.e., reaching for mom or dad's drink, etc.), pediatricians recommend making the switch, or some combination of those things.
Before you start transitioning your baby from a bottle to a sippy cup, be sure there aren't any other stressful events or big changes coming up that might disrupt other routines, such as a family move, a vacation, the birth of a new sibling, etc. Too many changes at once can really throw a wrench into already changing routines, and your baby may cling to familiar objects (like a bottle) much more.
One you feel that you and your family are ready for the transition, choose a start time and slowly introduce the idea of a sippy cup. The process may take months, so don't fret. More on that below.
And remember: it's okay to start as early as 6 months of age, around the time you start introducing solid foods. The introduction can be as simple as setting a sippy cup of formula, water (or very watered down juice as they get older to make it more enticing) on their tray every time they eat, so they begin to associate the cup with meal times.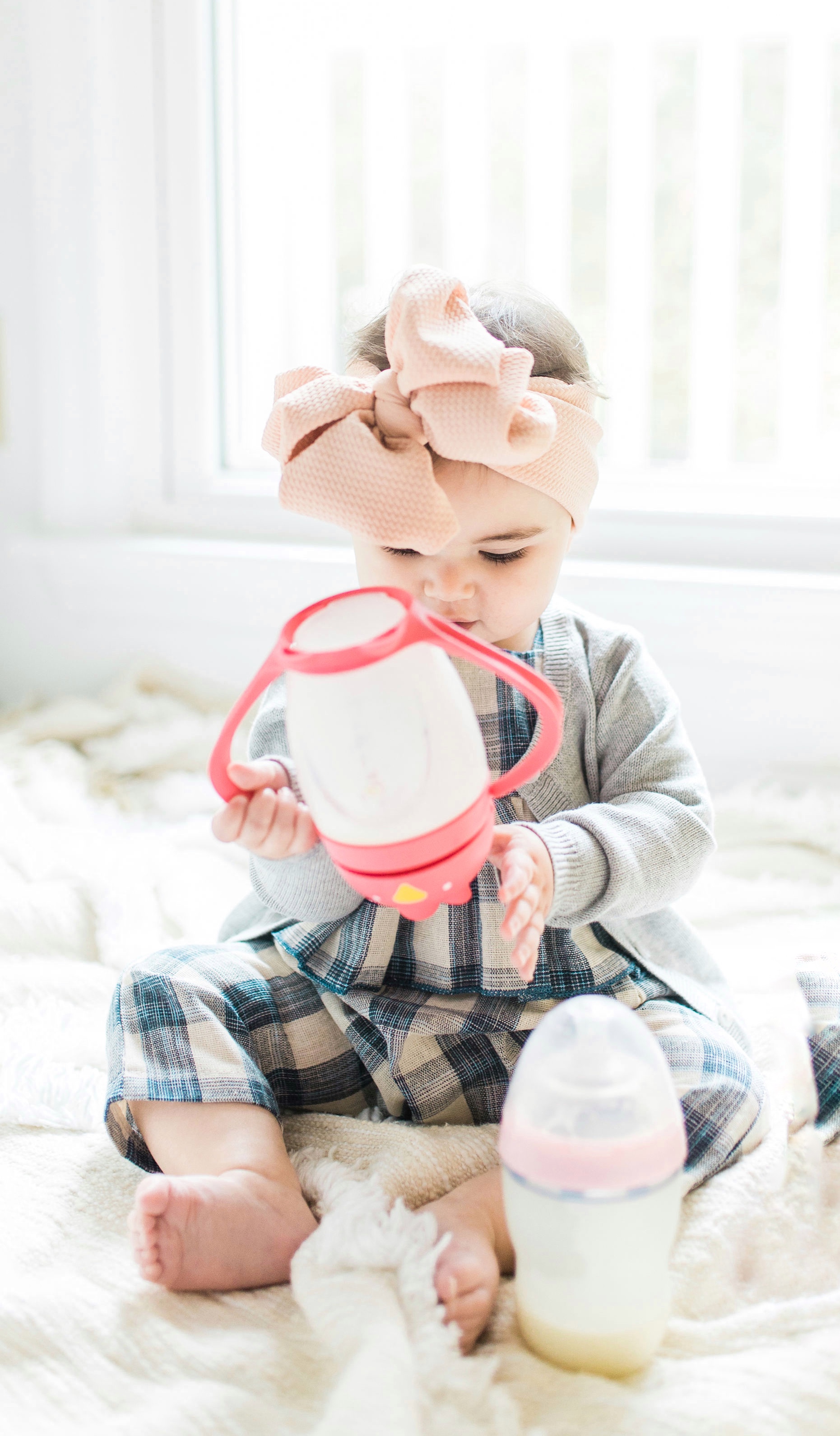 "Teach" Your Baby How to Use the Sippy Cup
It may sound silly, but show your baby how to use a sippy cup. Drink from a straw or regular cup in front of baby, make sucking sounds, hand them their drink and "cheers" with them, and then show them how you drink. We still "cheers" with our 4 year old to this day, and she LOVES it. Put the sippy cup to baby's lips and try to squeeze out a little formula into their mouth. If you're using a cup with handles for baby, hold them so that your baby sees how to maneuver them herself and then put the handles in baby's hands.
Babies learn by example and at this age, they're beginning to mimic everything you do. Make drinking from a cup something fun so that they WANT to use their sippy cup just like Mommy or Big Brother or Sister, etc.
For us, it especially helped to have Emmeline's big sister, Scarlett, drink in front of her as well. Emme wants to do EVERYTHING her big sister does. Perfect!
Use Trial and Error When Choosing the Right Sippy Cup
You'll be amazed at how many sippy cups you may have to try before you find "the right one."
We chose to transition both of our babies from a bottle straight to a straw sippy cup; though of course, every parent and baby is different. Back when our oldest was a baby, a friend of mine, who also happens to be a speech pathologist, recommended skipping sippy cups with spouts and going straight to straws. She explained: straws are better for oral motor development, speech development, and dental health. She also told us that learning-wise, straw cups are one less transition to deal with because we use straws as adults (so there's no learning a sip spout first only to have to train them on a straw later.) Again, every parent is different and transitioning to the right sippy cup is all about trial and error for each baby, based on their preference. Remember: every baby is different.
When it comes to finding the right straw sippy cup, remember, a larger straw is going to be harder for baby to pull a drink through because the wider the straw, the more suction baby needs to generate to pull liquid up; same goes for sippy cups with anti-spill technology or valves – often babies have to bite on the spout or straw or require a lot more suction to get liquid to come through, and that may prove an unnecessary added hurdle to learning how to drink through their cup.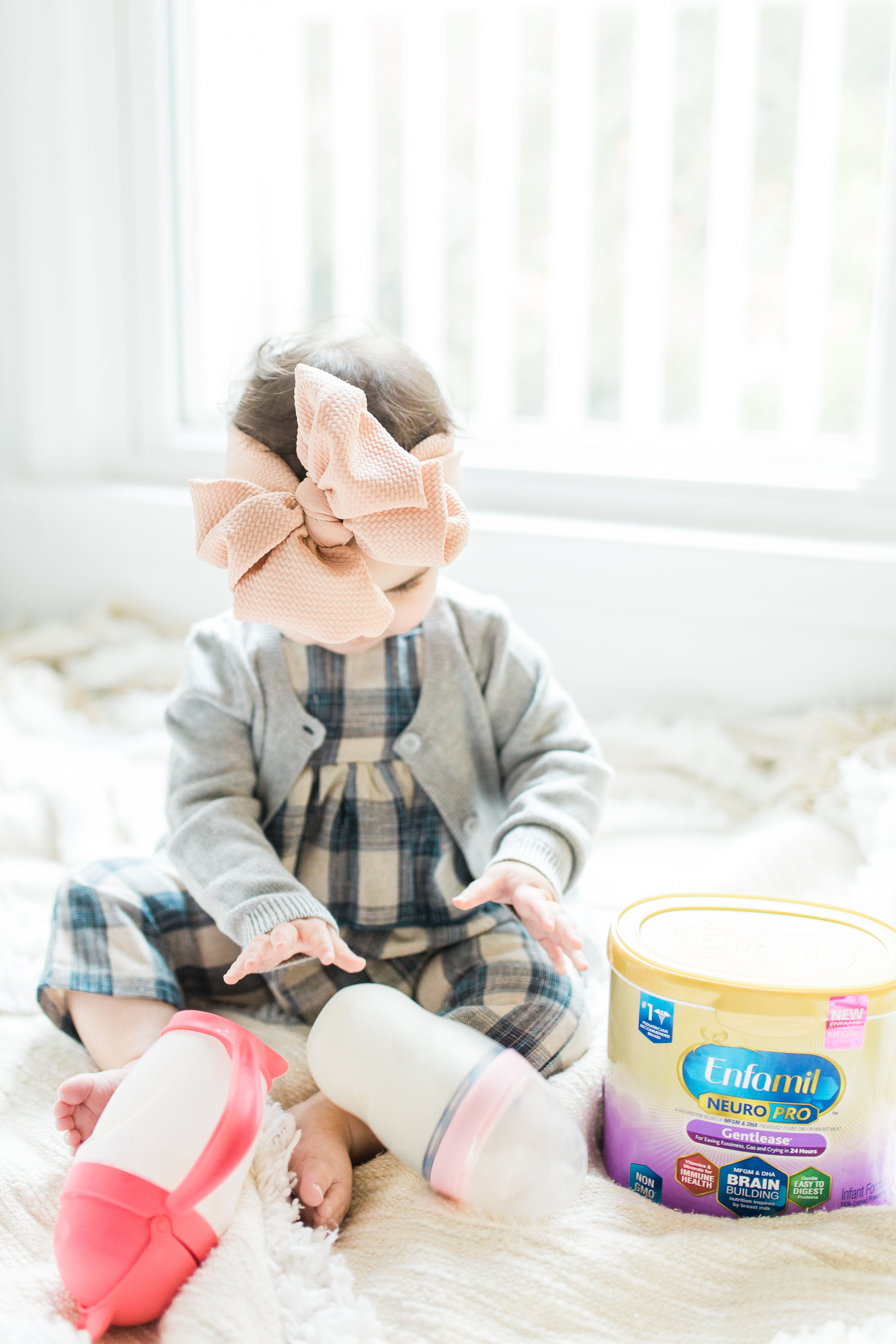 Continue to Teach Using a Sippy Cup with Both Formula and Other Drinks
We transitioned from both of our girls' bottle to a sippy cup (slowly) using the drinks they'd already come to know and like. The process may take weeks or even months, but I promise you, your baby will get there. Be patient, have fun with it, and try not to change too much at once.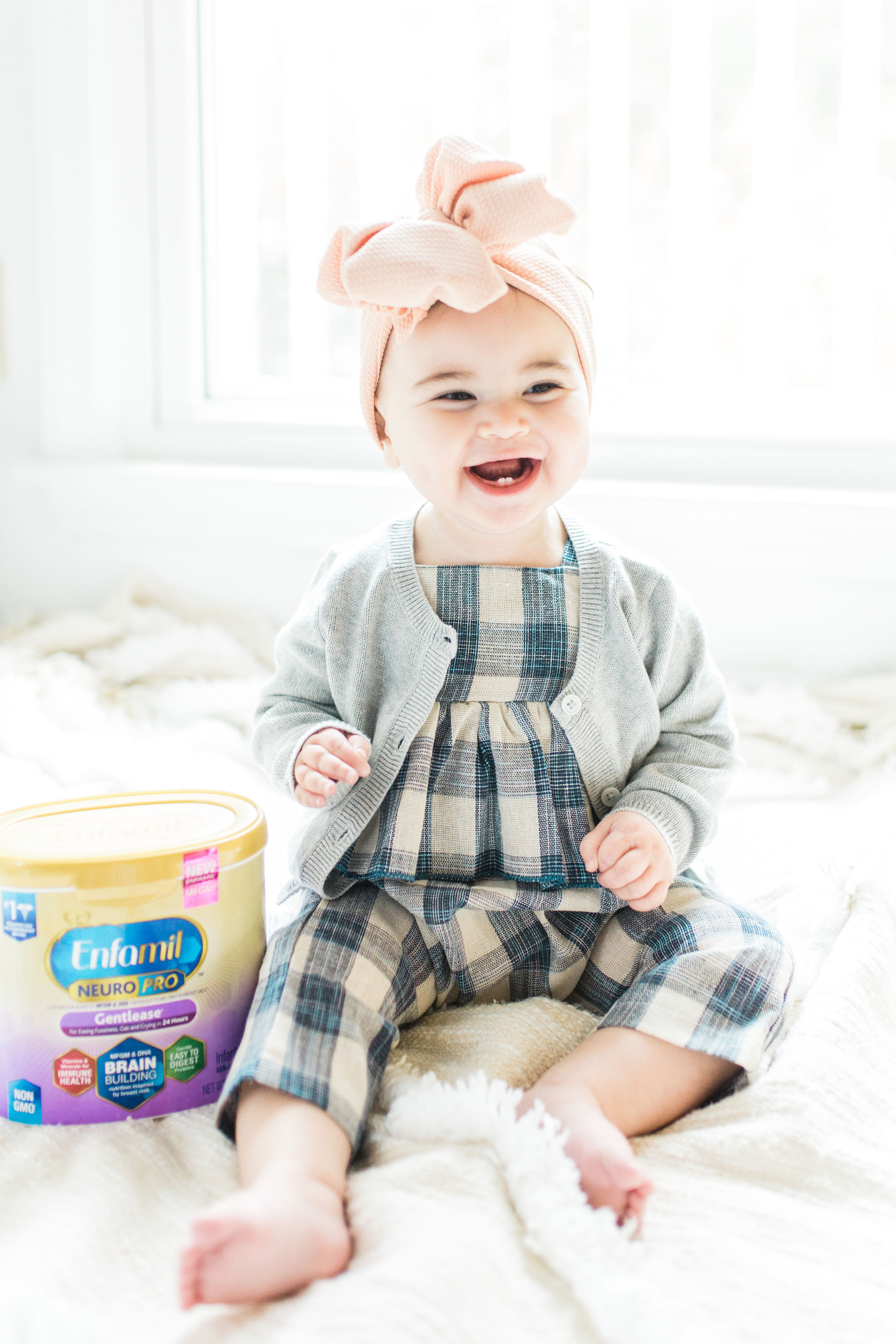 As I've heard from other parents, weaning from the bottle to a sippy cup worked with some drinks – like water and watered down juice, but Emme fought drinking her formula out of the sippy cup more. We kept at it though, by starting with one sippy cup offering a day. For instance, if she drinks 3 bottles a day, I switched the mid-day bottle to a sippy cup, with her formula in it. I also offered her other drinks throughout the day in a sippy cup, so that it became a sort of novelty for her. It took a few months, but she eventually learned to accept the sippy cup for both her formula and other drinks.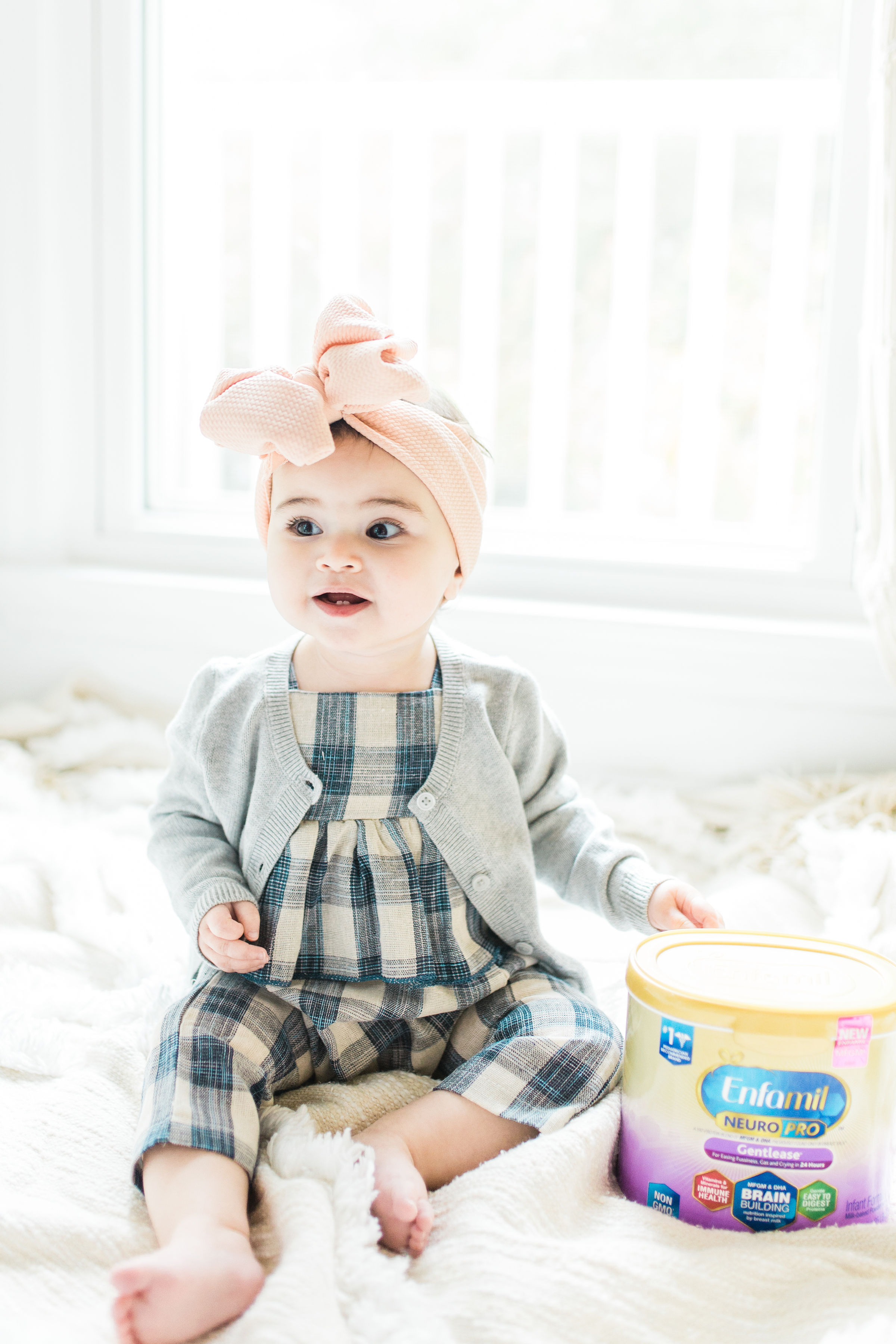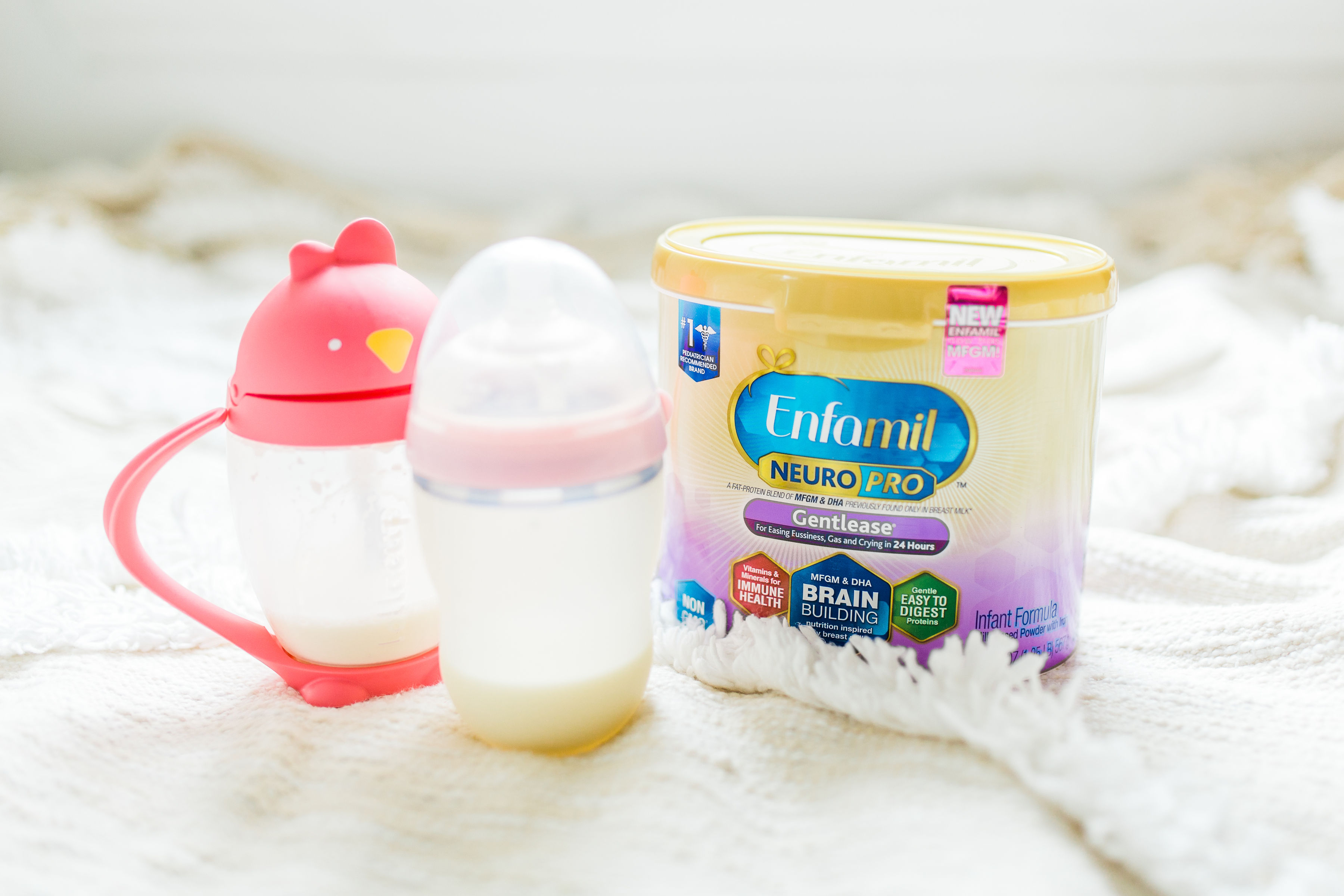 By the way, don't panic if you feel like baby is drinking less milk as you introduce the sippy cup. Between 6 and 12 months, as your baby eats more solid food, the amount of milk baby drinks will naturally decline anyway; so while baby may in fact be drinking less as he or she figures out how to use a sippy cup, baby will probably be taking a keener interest in food and eating more.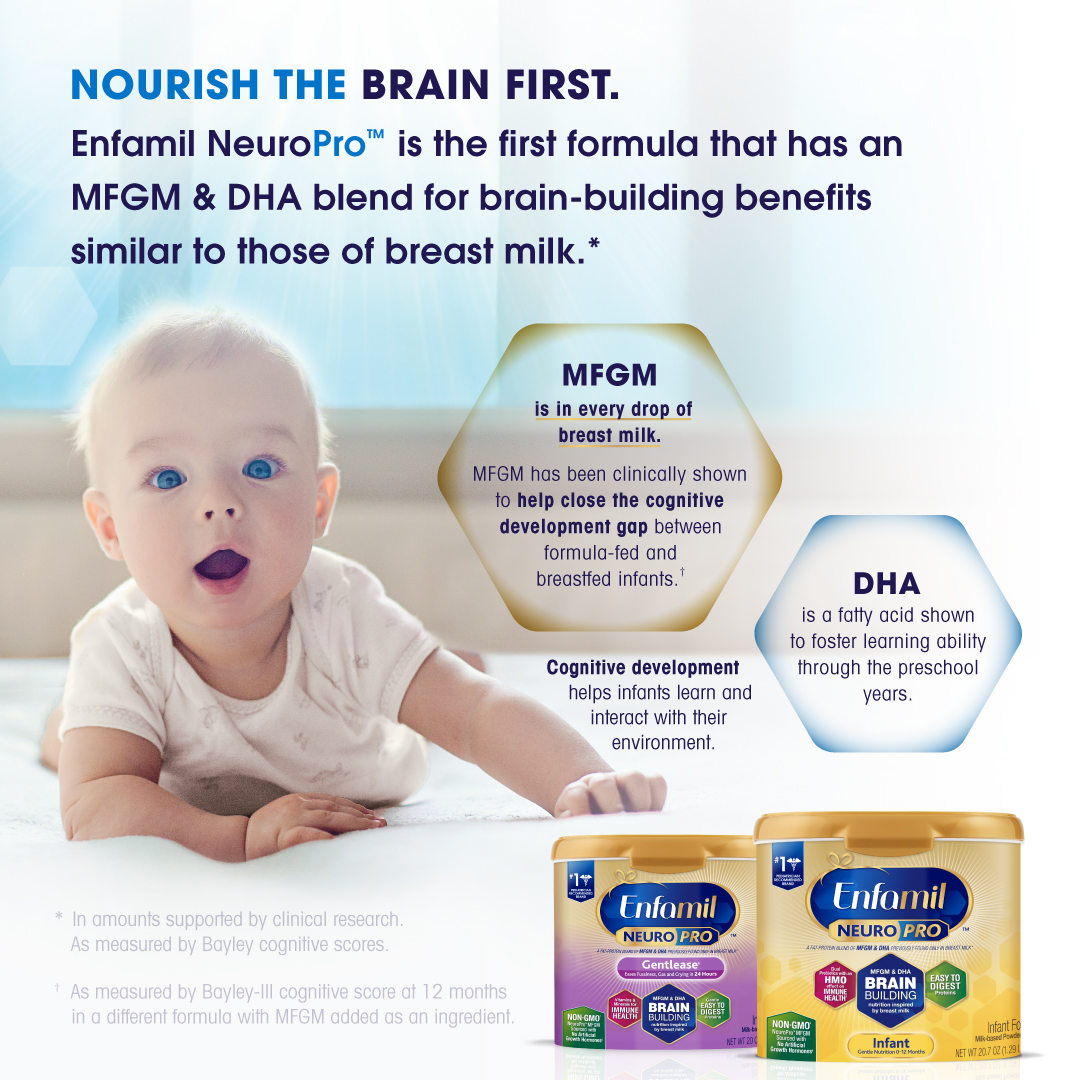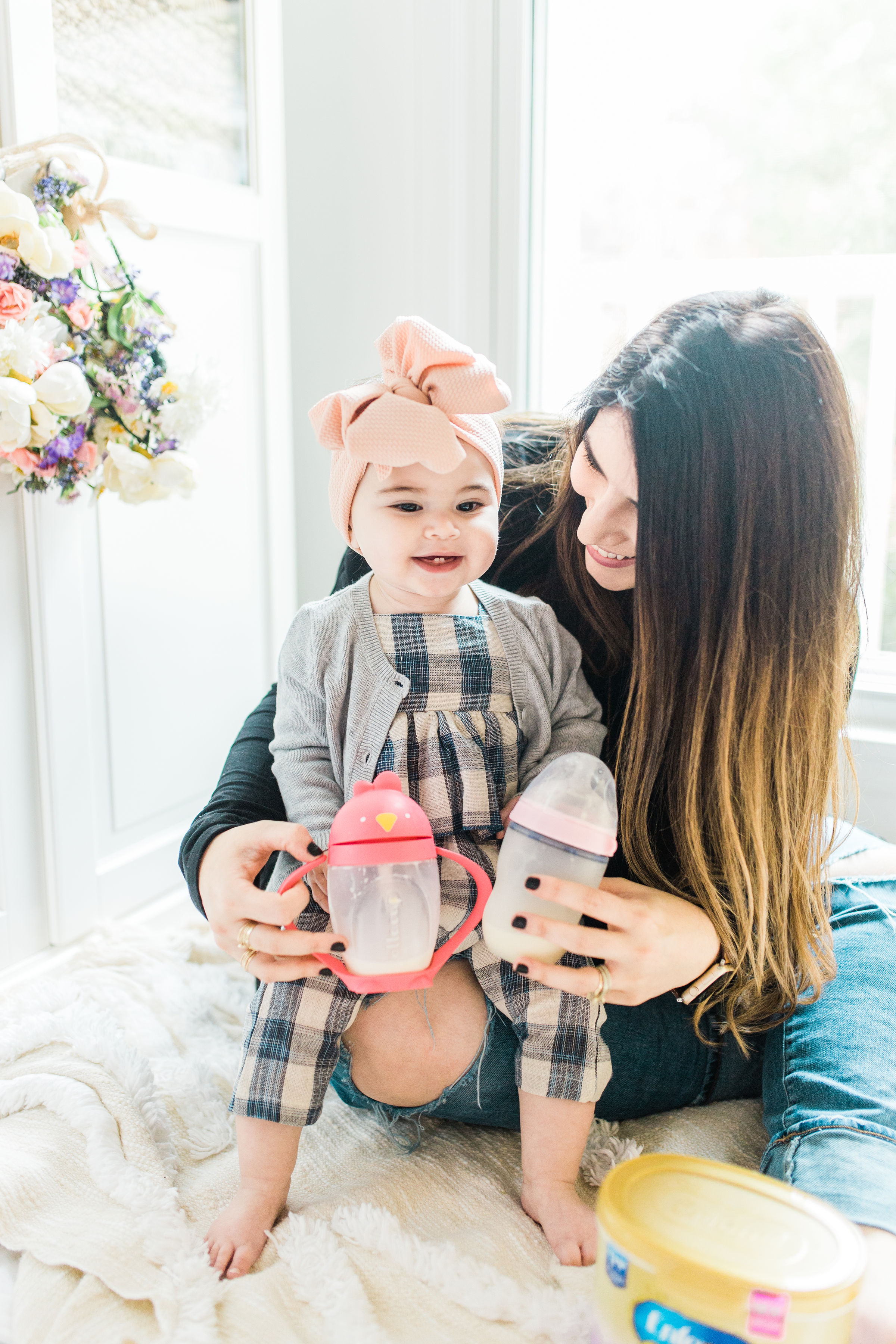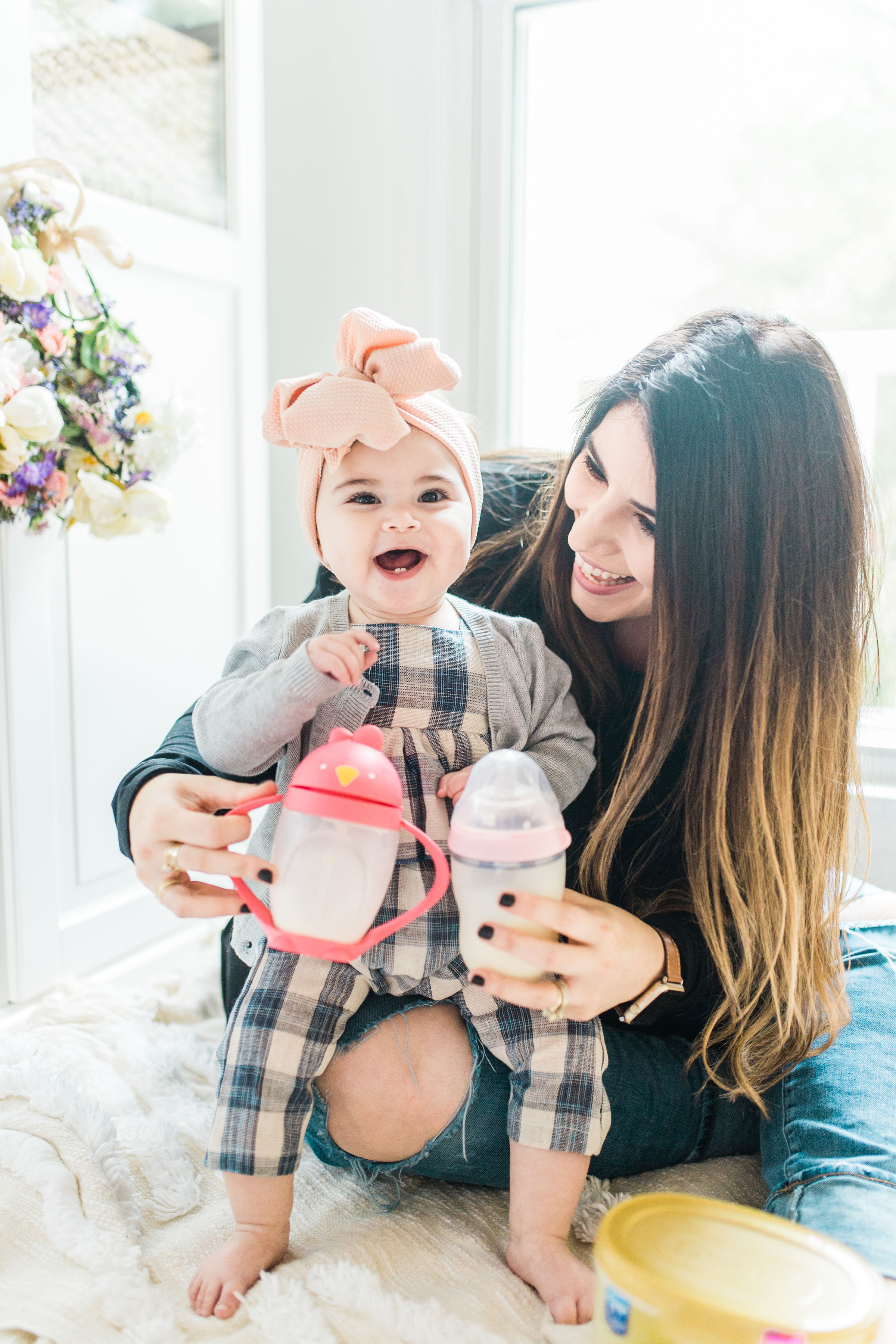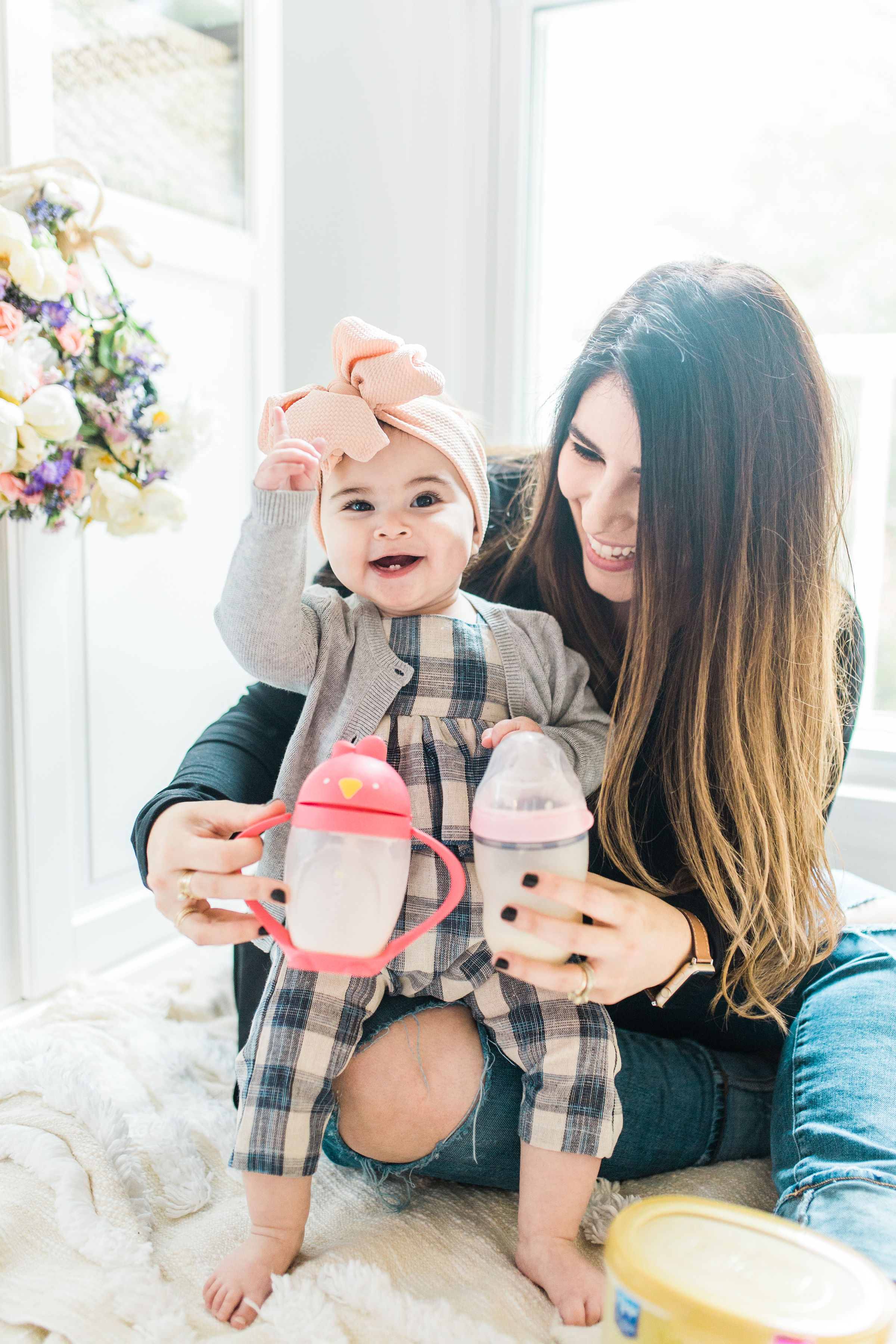 Keep Feeding Time a Special Bonding Activity
I think one of the reasons I was reluctant to give up the bottle and transition our baby to a sippy cup was because I was fearful of losing that special bonding time baby girl and I share during feeding time. In some ways, I feel like I become just as attached to the bottle and bottle-feeding as baby does in the early stage of baby's life. And transitioning from a bottle to a sippy cup is another reminder that baby is entering the toddler stage – and is no longer a baby.
Thankfully, by our second baby, I've learned to keep feeding time special and important. If anything, to change as little from baby's routine as possible when making the switch from a bottle to a sippy cup, I tried hard to mimic our morning, mid-day, and evening feeding routine with both a bottle and a sippy cup.
Which Bottle to Eliminate First, and So On …
Most babies tend to be more attached to mom or dad in the early morning and in the evening/closer to bedtime, so they'll likely put up more of a fight if you try to take their bottle away at those times. Start the transitioning process by subbing your baby's afternoon bottle first, and then slowly work your way through the other bottles.
At first, Emme was taking one sippy cup with formula at mid-day, and continued to use her bottle in the morning and at night. She also uses a sippy cup throughout the day for water; a change that she took to easily. After that, I switched her morning bottle to a sippy cup, and a few weeks after that: her evening feed.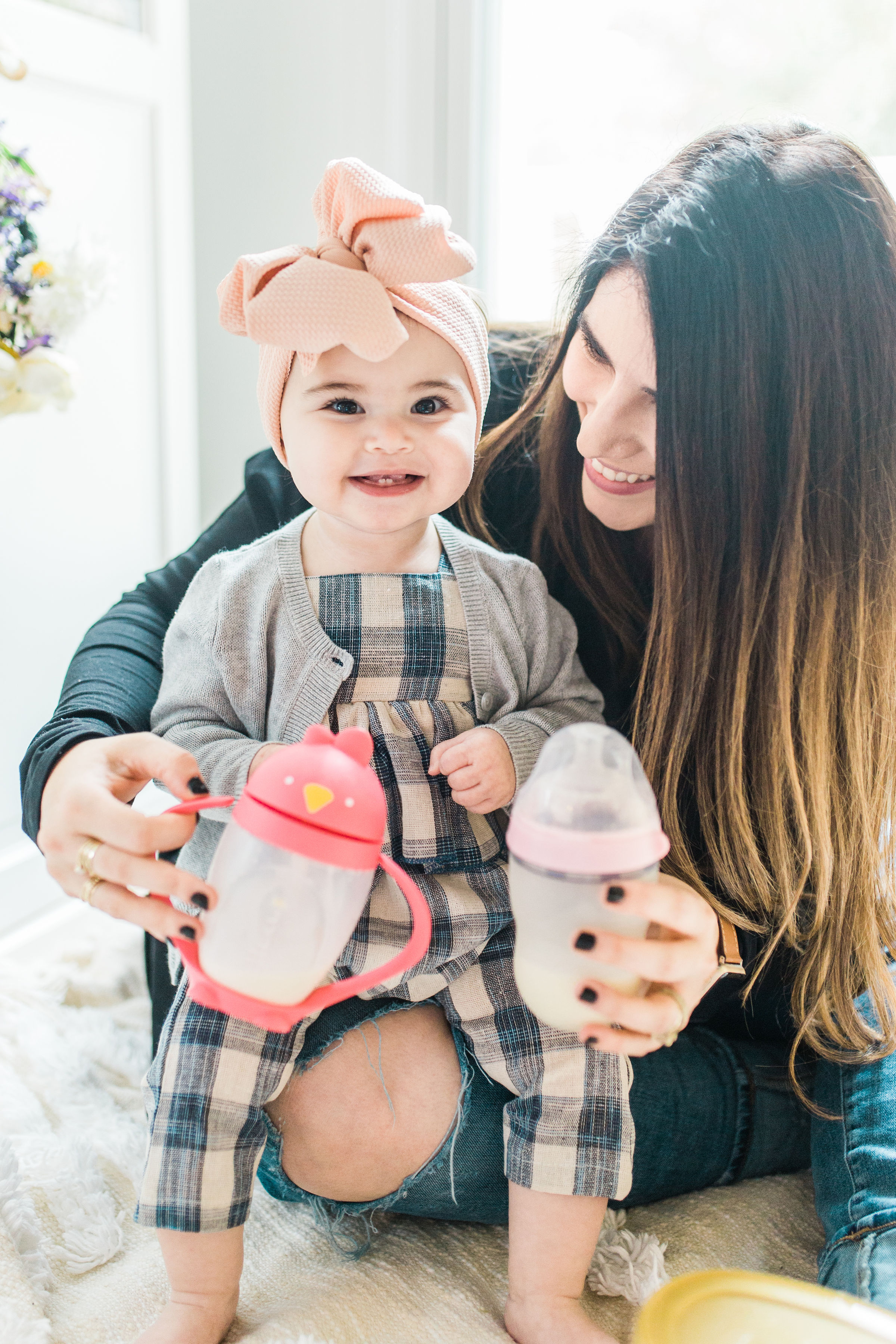 We sit quietly during feeding time. In the mornings, we talk about our day and I tell her what we'll be doing. Even if she doesn't understand everything just yet, I've always talked to our babies, especially during feeding time. Each feeding time is a time that's just us. I still hold her in my lap, rub her little cheeks and ears, talk to her, and marvel over her perfect little features.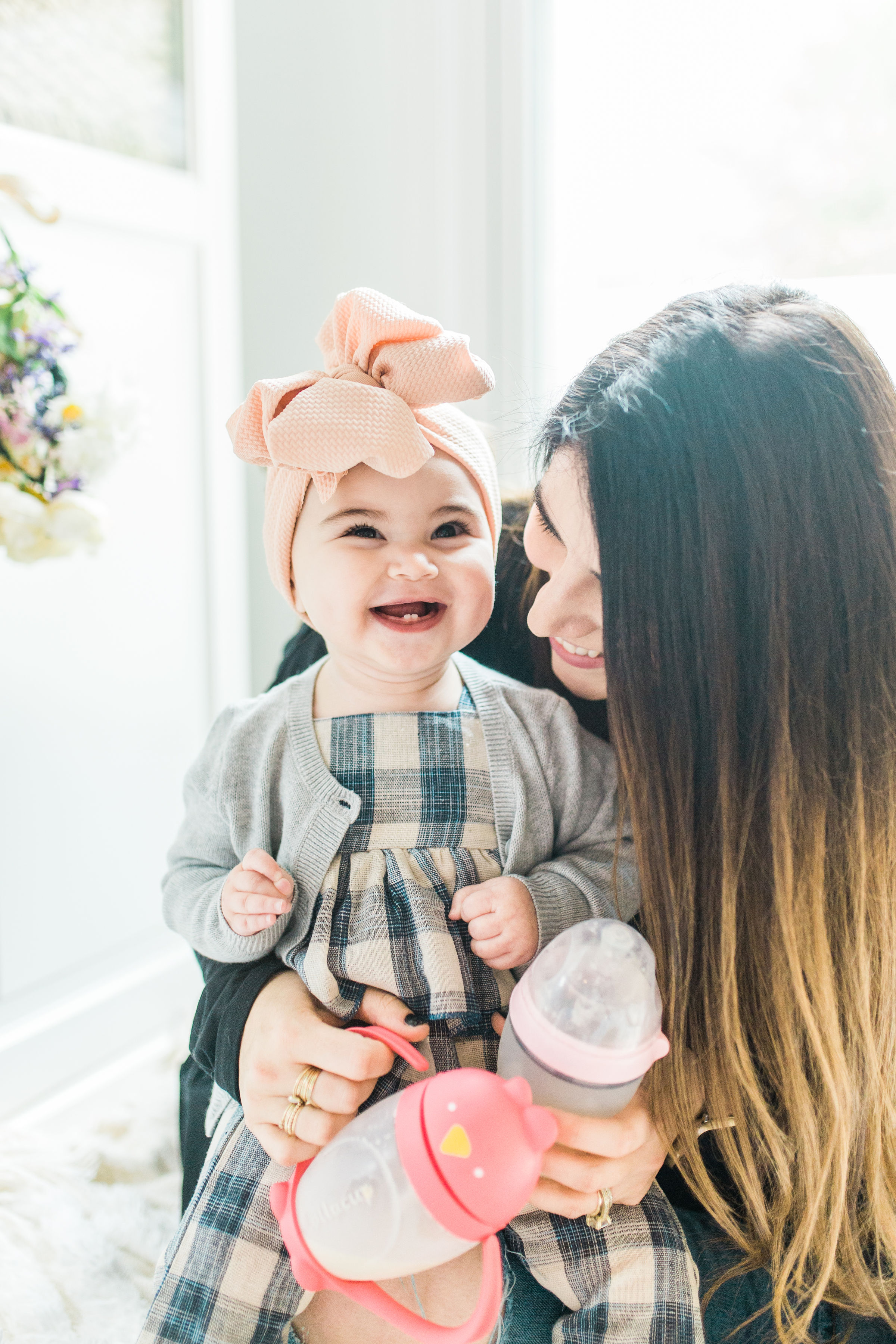 Anyone else love feeding time with baby? Isn't it just the best?
IF YOU LOVED THIS BABY SLEEP POST, YOU CAN SEE MORE OF OUR LIFE WITH TWO LITTLE ONES HERE.
Photos by Annie Timmons Photography for Glitter, Inc.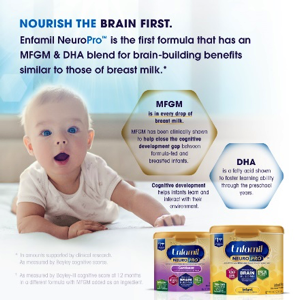 This is sponsored by Enfamil® Infant Formula.