This post contains affiliate links, which means that if you click on one of the product links, I'll receive a small commission. Additionally, as an Amazon Associate I earn from qualifying purchases. Thank you so much for clicking through and helping to support this little blog business of mine! Read more about our site, privacy, and disclosure policies here.
Somehow it's already December, the holidays are in full swing, our annual family vacation is weeks away, and it's time to pull our latest family photos into this year's holiday cards to send to family and friends.
I'm extra-obsessed with this year's holiday family photos because we've added a newest girl group member – our little Adelaide – to the girl gang (plus Mike). 🤣🥰
This Year's Holiday Family Photos in Beacon Hill
After our sweet photographer, Sarah, moved back to North Carolina with her family earlier this year, I knew I needed to find a new, amazing photographer who would be a good fit for our family. Especially because these annual holiday family photos mean so much to us.
Sam of Golden Hour Photography actually took the photos for Emmeline's recent birthday costume party and we loved her so much, we had her take this year's holiday family photos as well. So glad we did!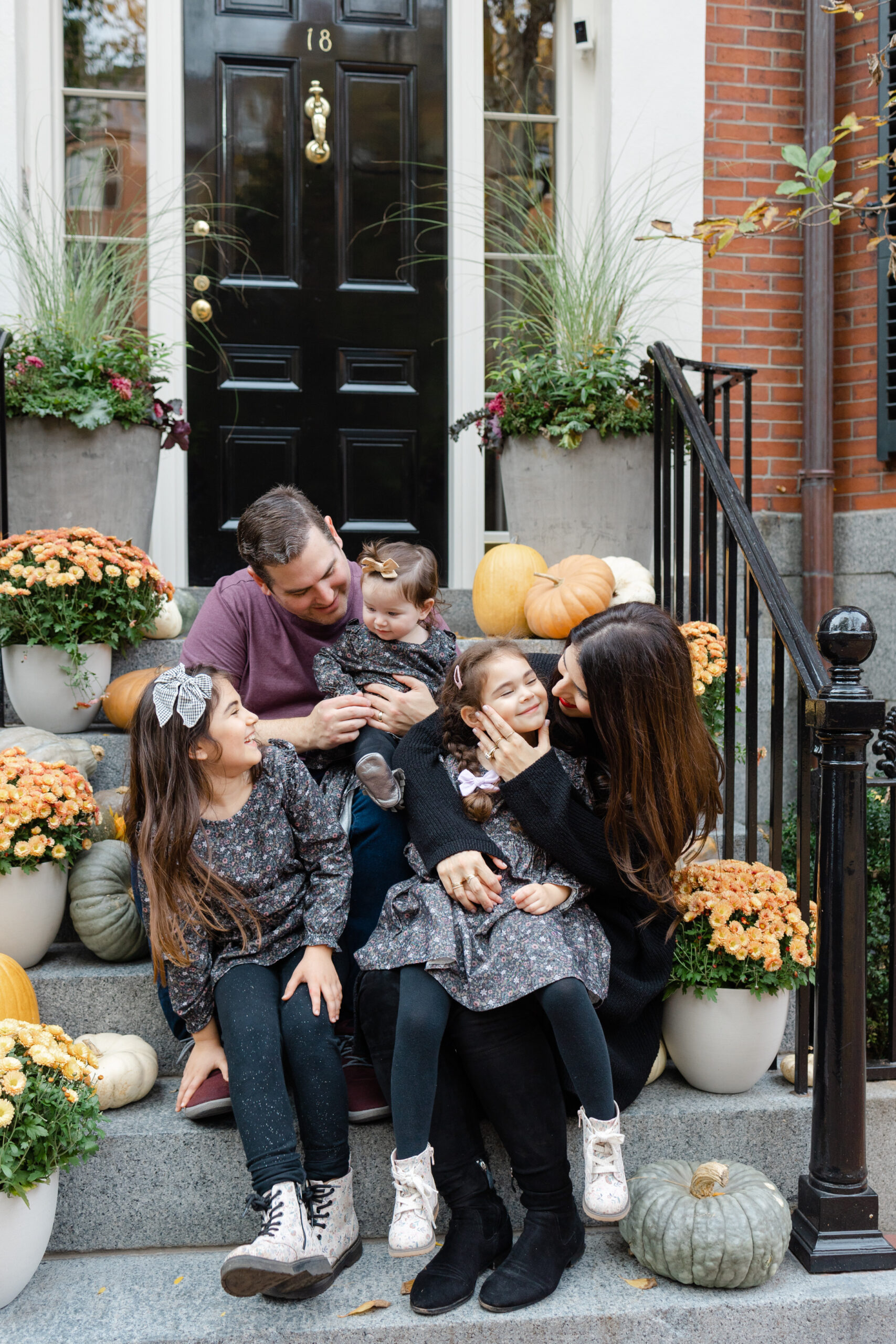 We had Sam take these photos in the fall, when all of the pumpkins were out, and it was surprisingly still somewhat warm outside. The timing could not have been better, because in year's past, we've taken photos in the miserable cold; a.k.a., not so fun.
We went more casual this year, and it was nice to not feel SO much pressure to get the perfect photo and look down pat. Our girls were comfy, and everyone was (mostly) smiling.

This Year's Family Photo Outfits – The Details
Once I stumbled upon these adorable Jamie Kay pincord dresses for the girls, the rest of our outfits just sort of took shape around that color scheme.
I also can't say enough about the Free People Coco Sweater Pullover Dress. It's so unique, the material is gorgeous and soft, and it looks way more expensive than it is. I'll be wearing this one all winter long.

Using a Professional Photographer for Family Photos
I've learned over the years to schedule family photos with a professional photographer at least once a year (if not more, if we can swing it!), because I cherish these tangible memories so much. Typically, I'm the one behind the lens, taking all of the photos of our growing babies. To actually get our whole family gussied up, and intentionally capture beautiful memories, with mom in the pictures, feels so extra special to me.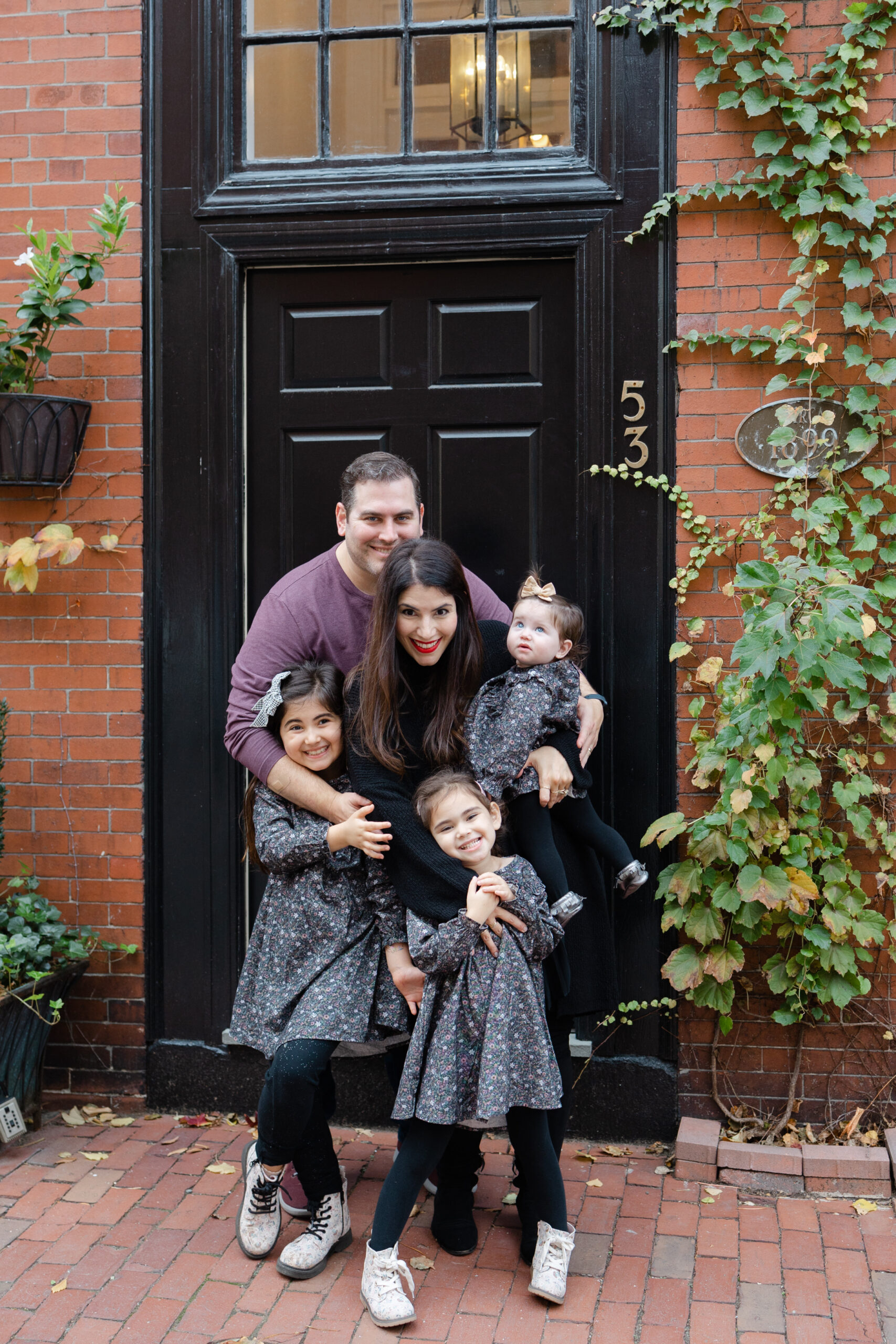 Annual Family Holiday Cards
Plus, we always use our family photos for our annual holiday card, a tradition I've loved keeping up year after year, especially as we've moved all over the country for Mike's medical journey. Holiday cards are the perfect way to say hello, to share big news (like buying a house and having another baby girl!), and to capture the memories forever.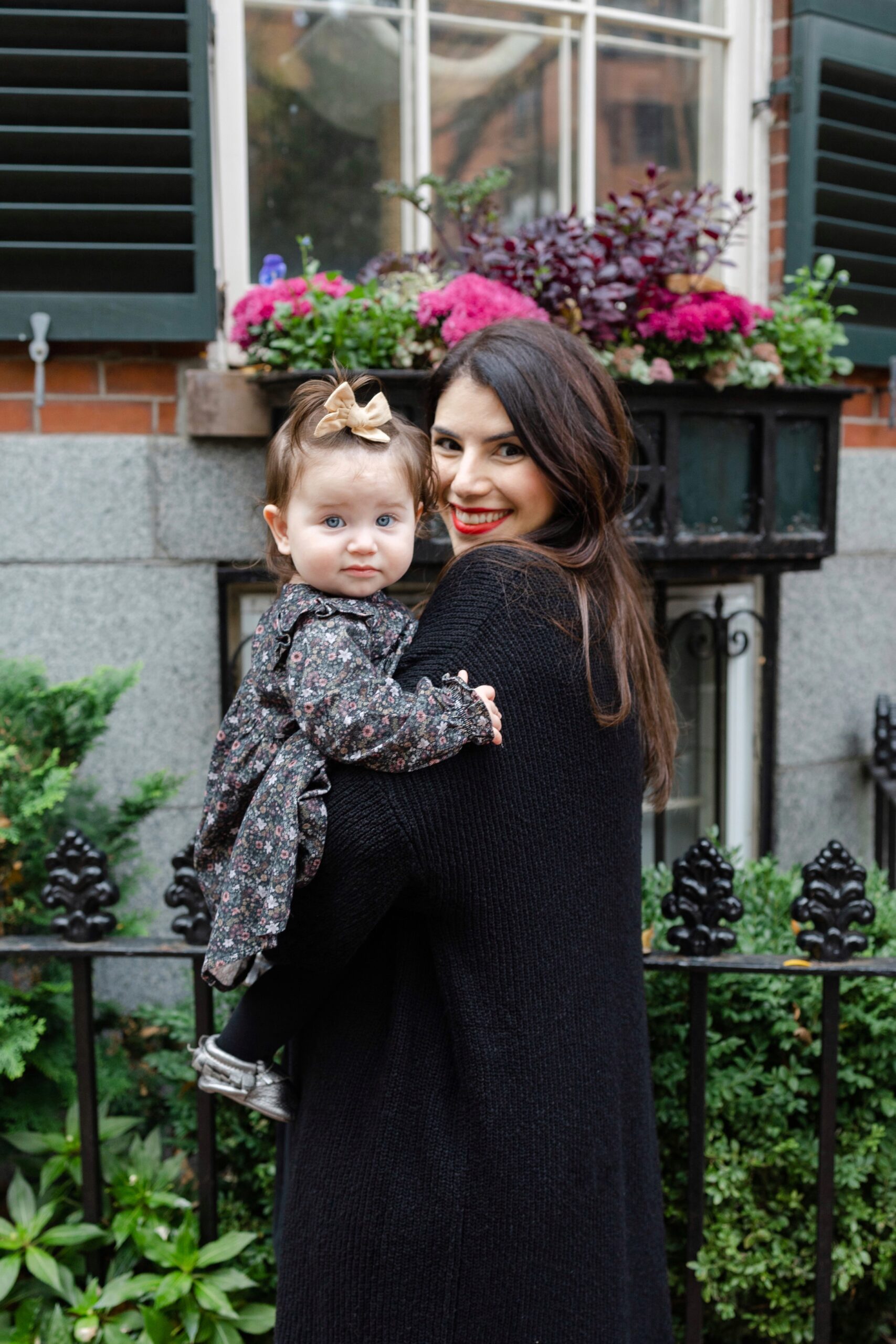 And goodness, our newest baby girl has grown so quickly!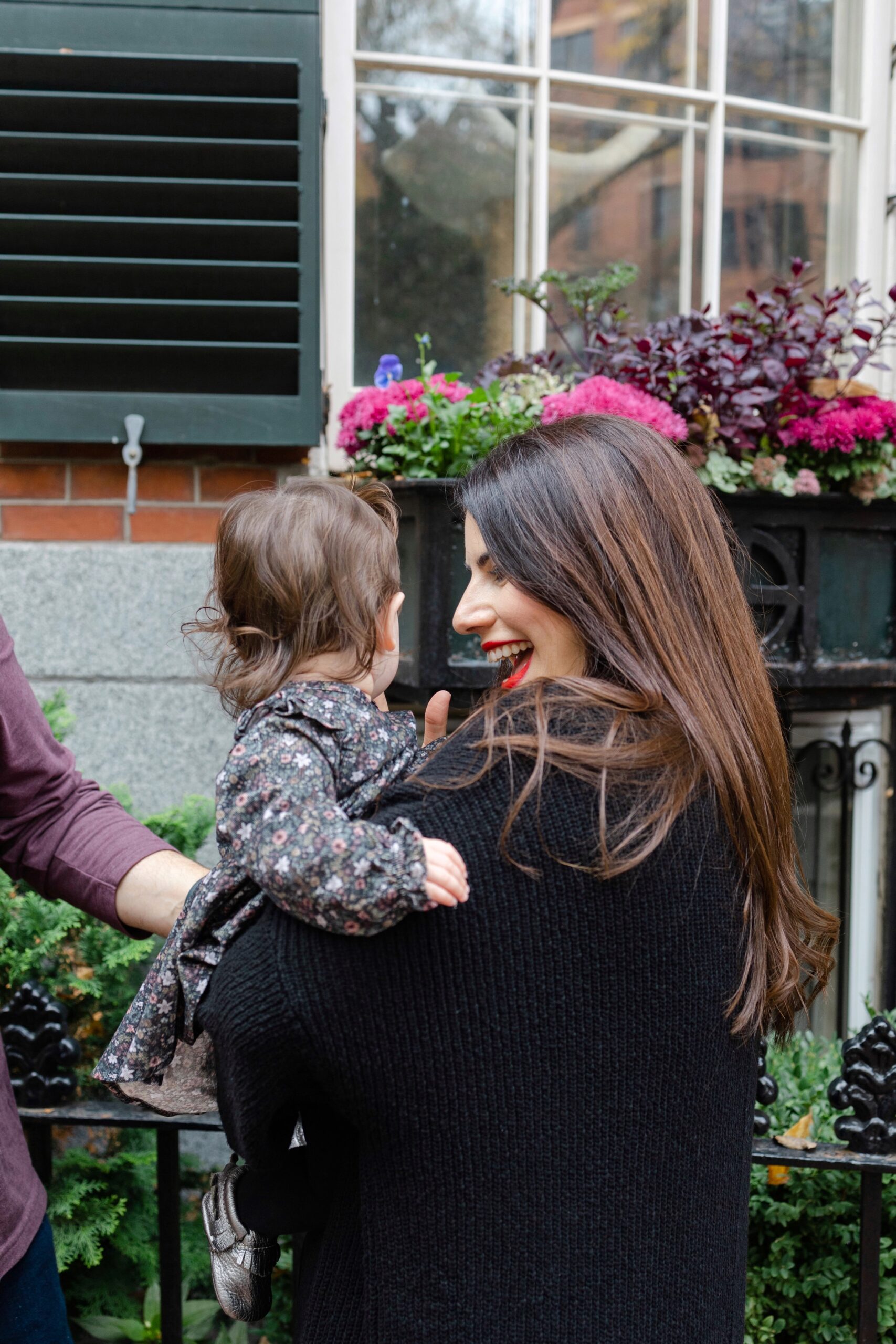 Do you send holiday cards this time of year? I feel like, growing up, we always received dozens and dozens of Hanukkah and Christmas cards, and in years past, the popularity has sort of trickled.
Luckily, in the last few years, we're getting more and more cards once again, which I am loving!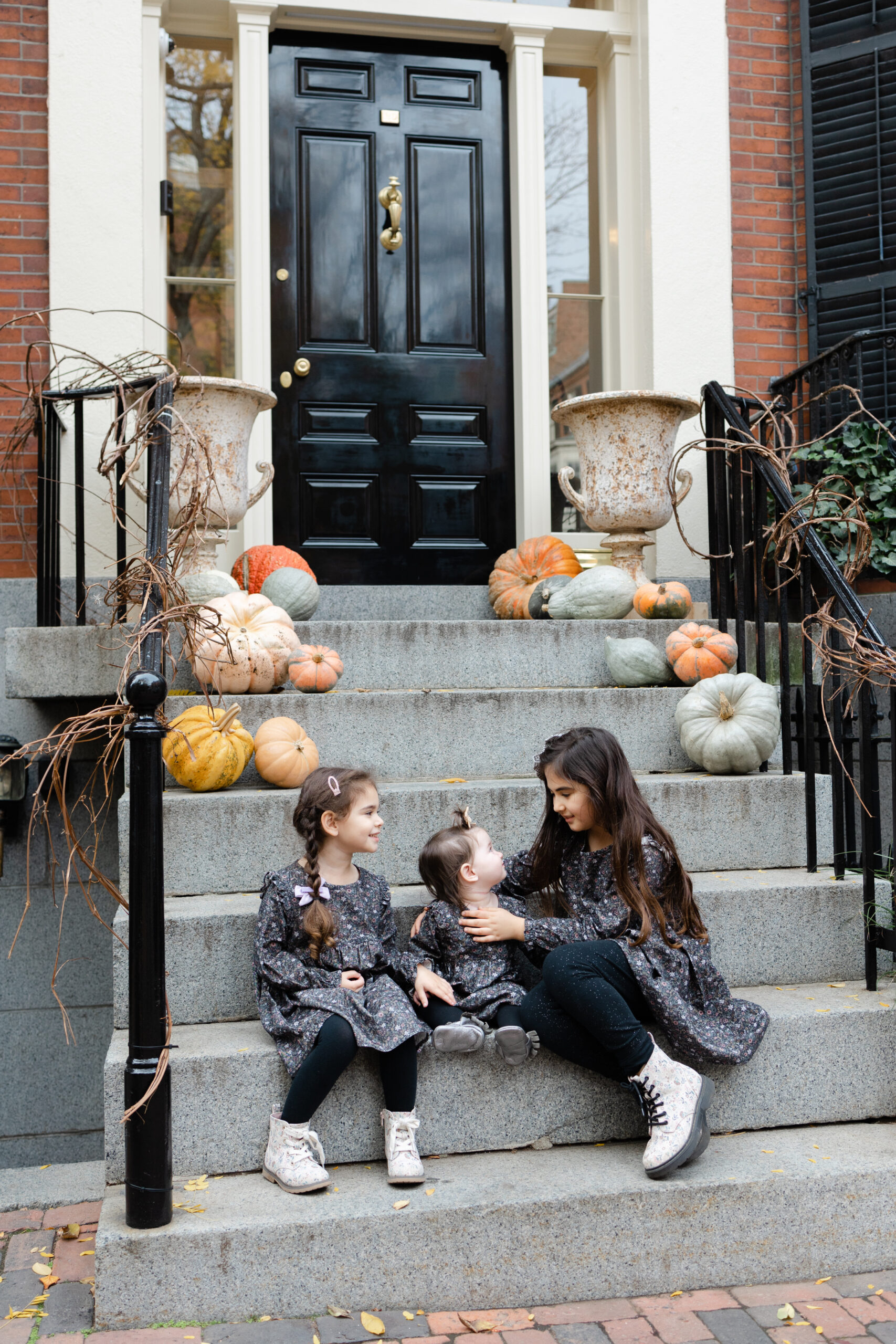 Plus, its the perfect excuse to dress my family up in the name of pictures!
And goodness, do these ever make me happy. 🥰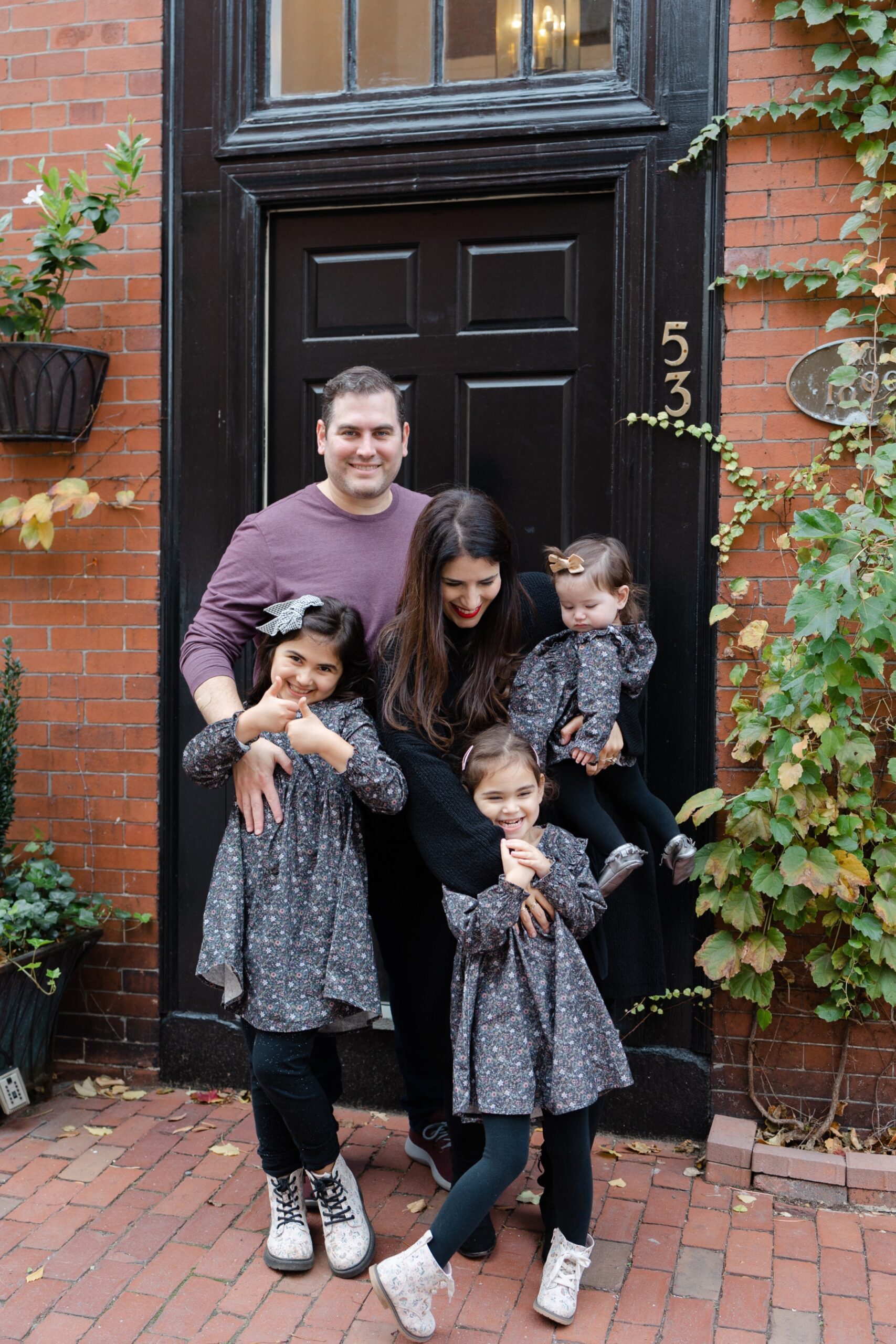 Have you taken Holiday family photos yet? Do you plan to?
SHOP THE HOLIDAY FAMILY PHOTOS POST | CLICK LEFT & RIGHT ARROWS TO EXPLORE

IF YOU LOVED THIS POST, YOU CAN SEE MORE OF OUR LIFE WITH TWO (SOON TO BE THREE) LITTLE ONES HERE OR FOLLOW ME ON INSTAGRAM TO SEE THE LATEST UPDATES.
Want even more holiday content? Right this way! And in case you're curious, here are our holiday family photos from 2020, 2019, 2018, 2016, and 2015.
Photos by Golden Hour Photography in Beacon Hill for Glitter, Inc.