This post contains affiliate links, which means that if you click on one of the product links, I'll receive a small commission. Additionally, as an Amazon Associate I earn from qualifying purchases. Thank you so much for clicking through and helping to support this little blog business of mine! Read more about our site, privacy, and disclosure policies here.
At the end of October we threw Emmeline a 5th birthday party! We wound up having the party in our backyard the weekend of Halloween, though Emme pretty consistently told us that she didn't want a "Halloween party; just a costume party". She had probably had enough of my endless Halloween decorations by the end of October. 🙈
I was all for throwing an adorable costume party, and once we narrowed in on a few special touches – a costume dress-up station, face painting, and cupcake decorating – the rest of the party really fell into place.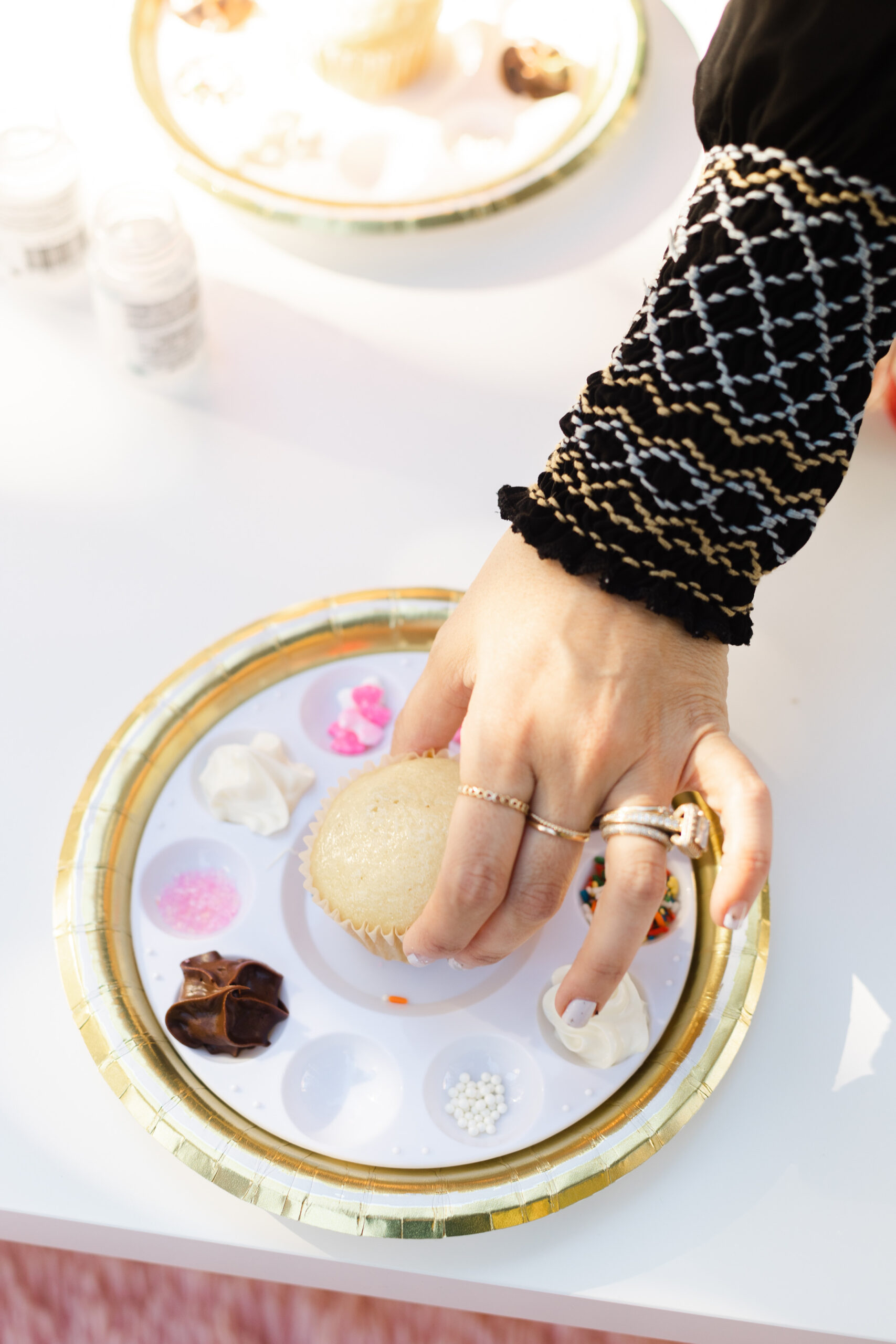 As for having Emme's party at home, I'm hoping one of these years, the girls will get on board with having a party outside of the house (you know, where we go to a gymnastics place or a pottery studio or a bakery, and someone else takes care of all of the details!); but as of now, each and every party, my girls insist on a party at home. They're big fans.
And let's face it, I'm a pretty big fan of throwing these adorable parties, so it's a win-win.
Emmeline's 5th Birthday Costume Party
We threw a royal costume party fit for our little princess. Complete with our very own costume dress-up station, face painting with gems and glitter tattoos, and the cutest cupcake decorating setup, Emmeline's 5th birthday party was memorable and perfect.
Read on for all of the darling details!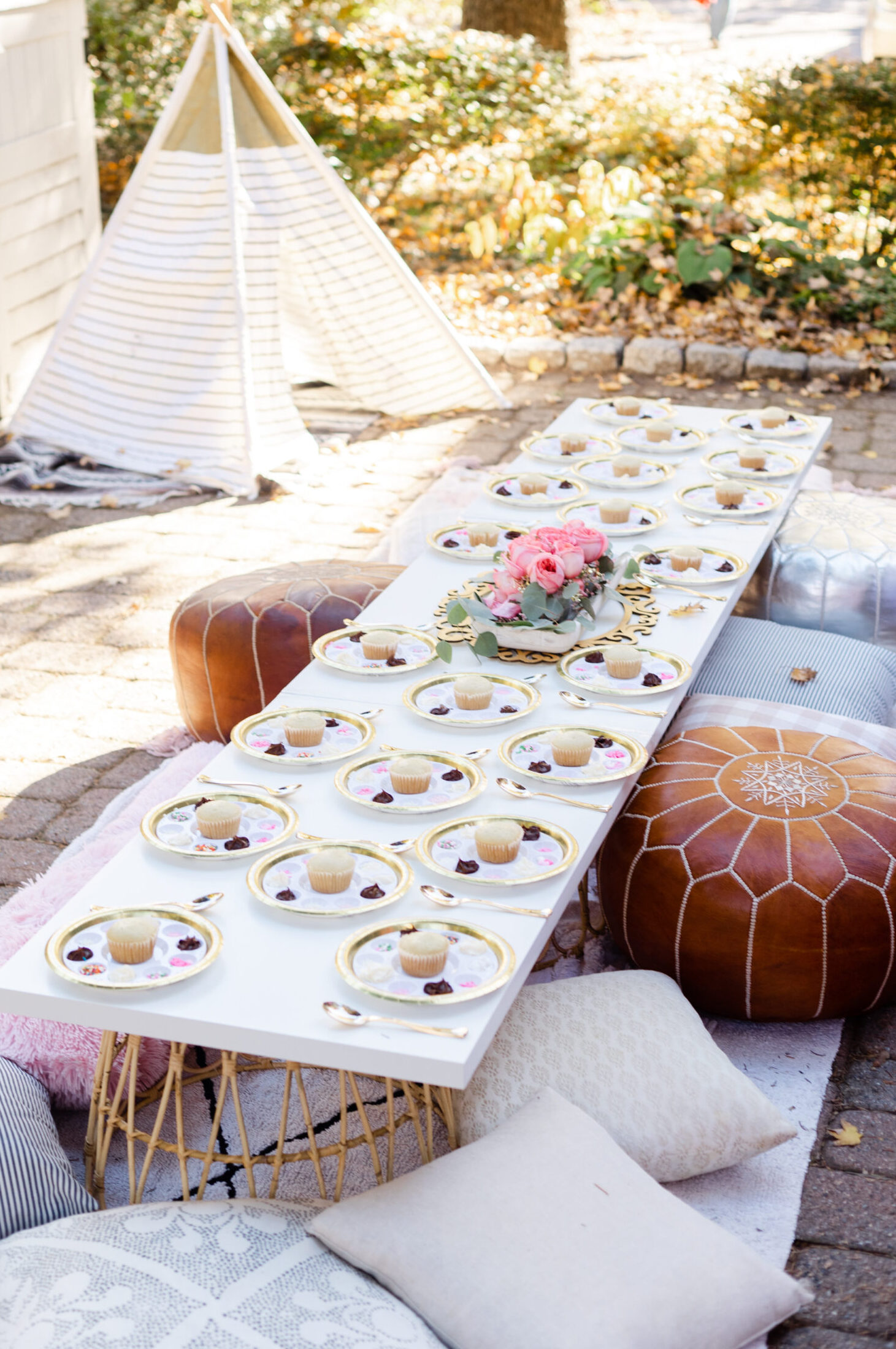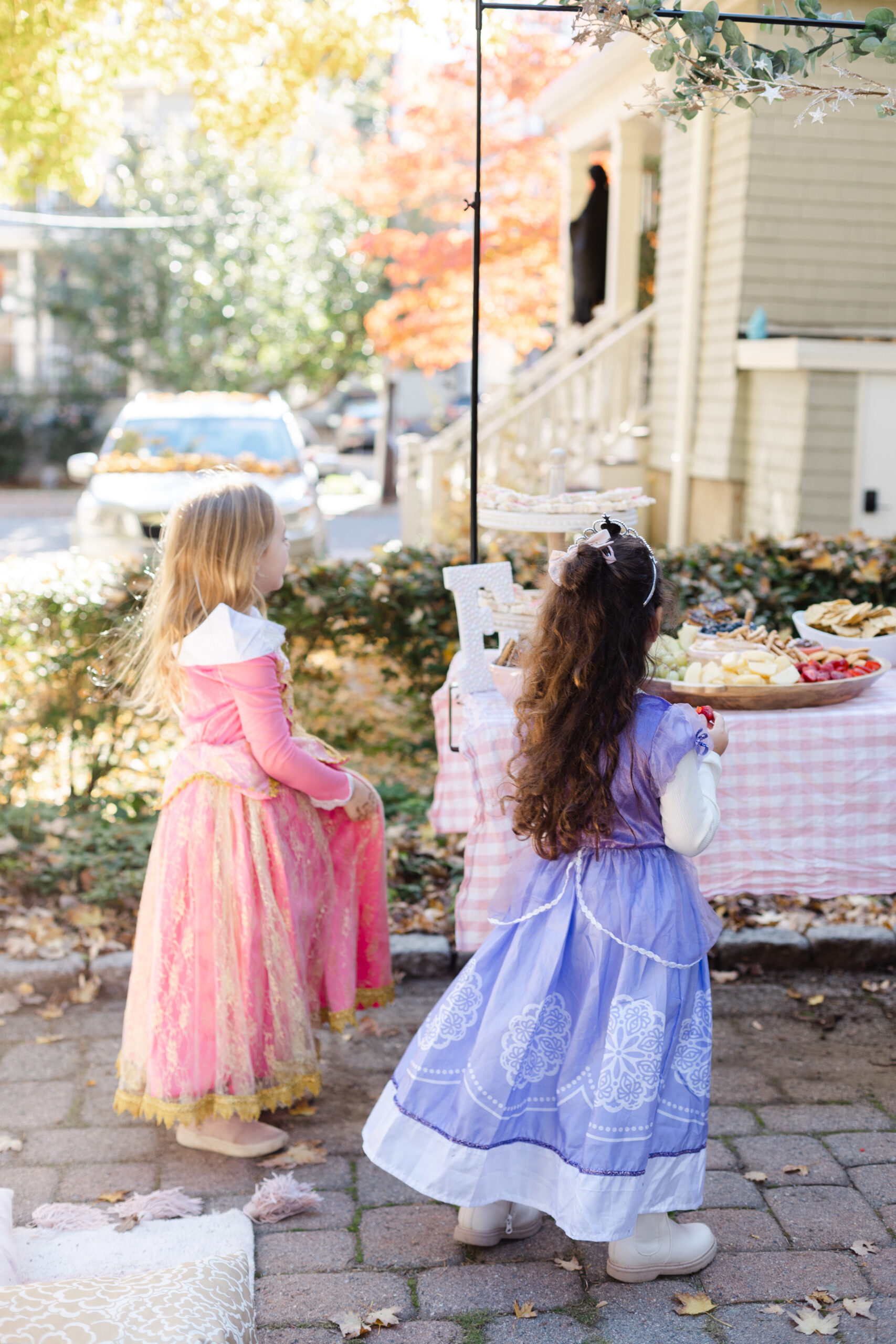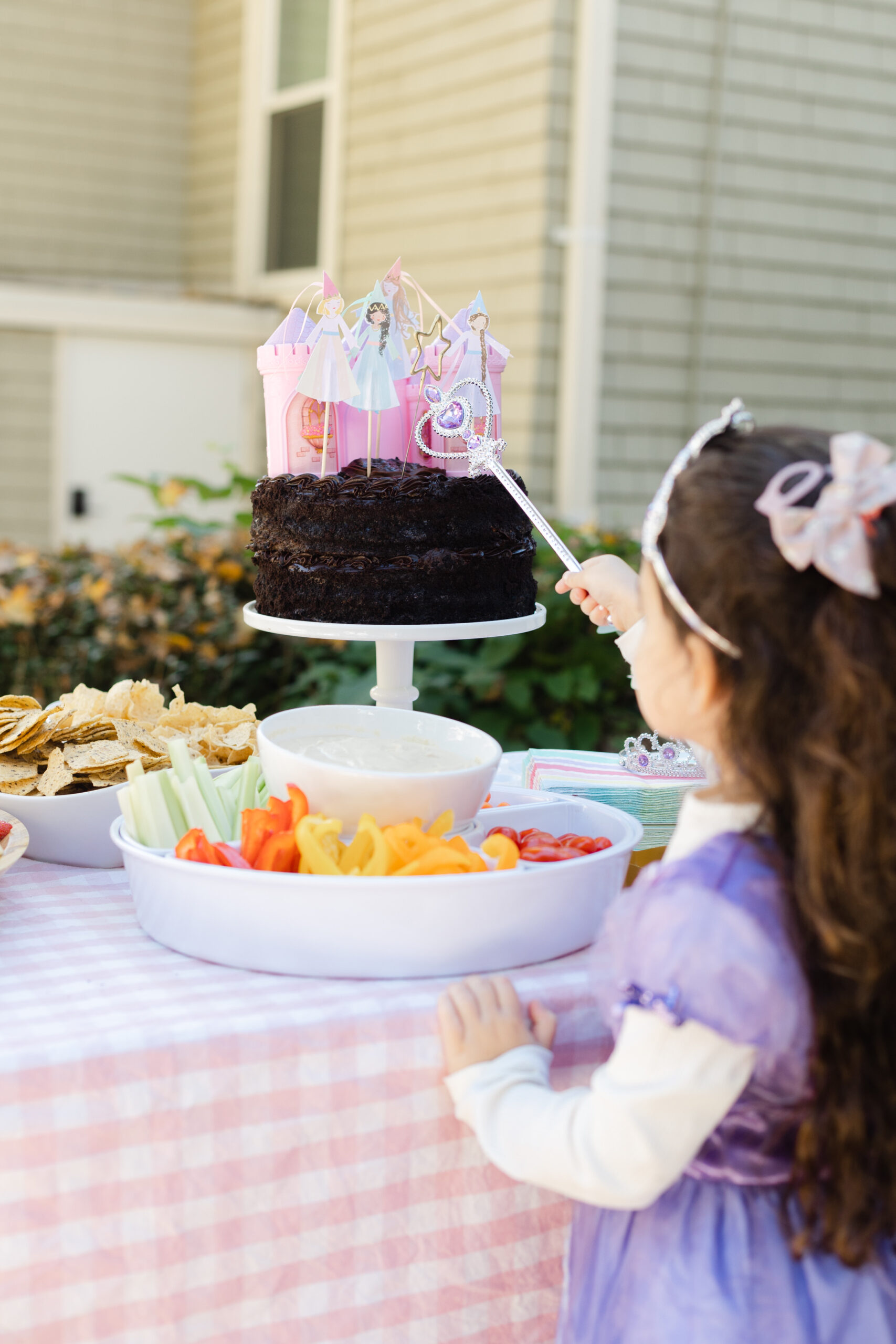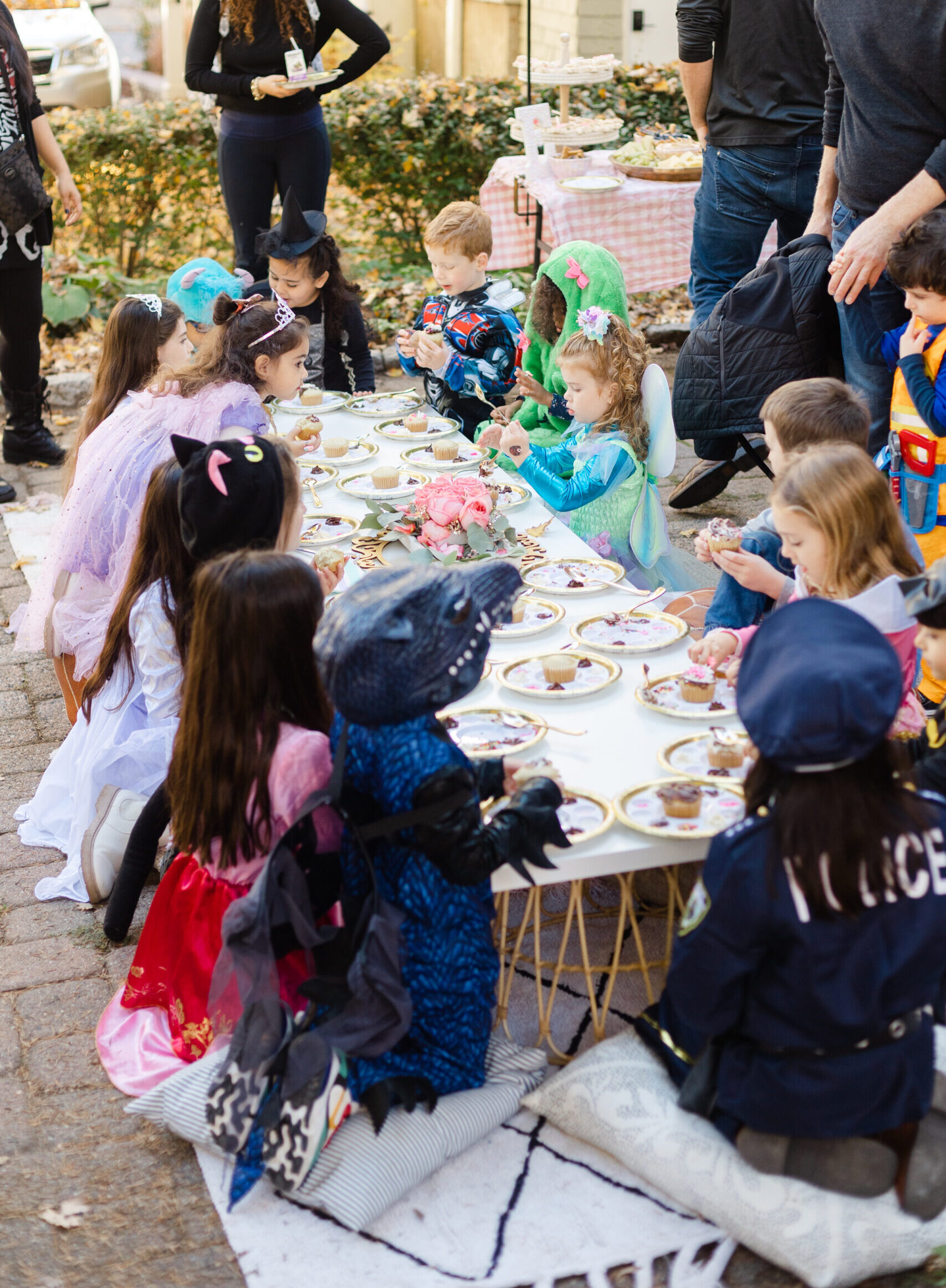 How to Throw an Adorable Costume Party
First things first, to throw a truly adorable costume party, be sure to ask all of your little guests to come dressed up in their favorite costume. Having the party in October was a surefire way to have kids arrive in the best costumes, though Emme and her friends would have happily played dress up any day of the year, I'm sure.
Emmeline dressed up as Sofia the First and she had the best time twirling in her purple princess gown and all of her favorite princess accessories.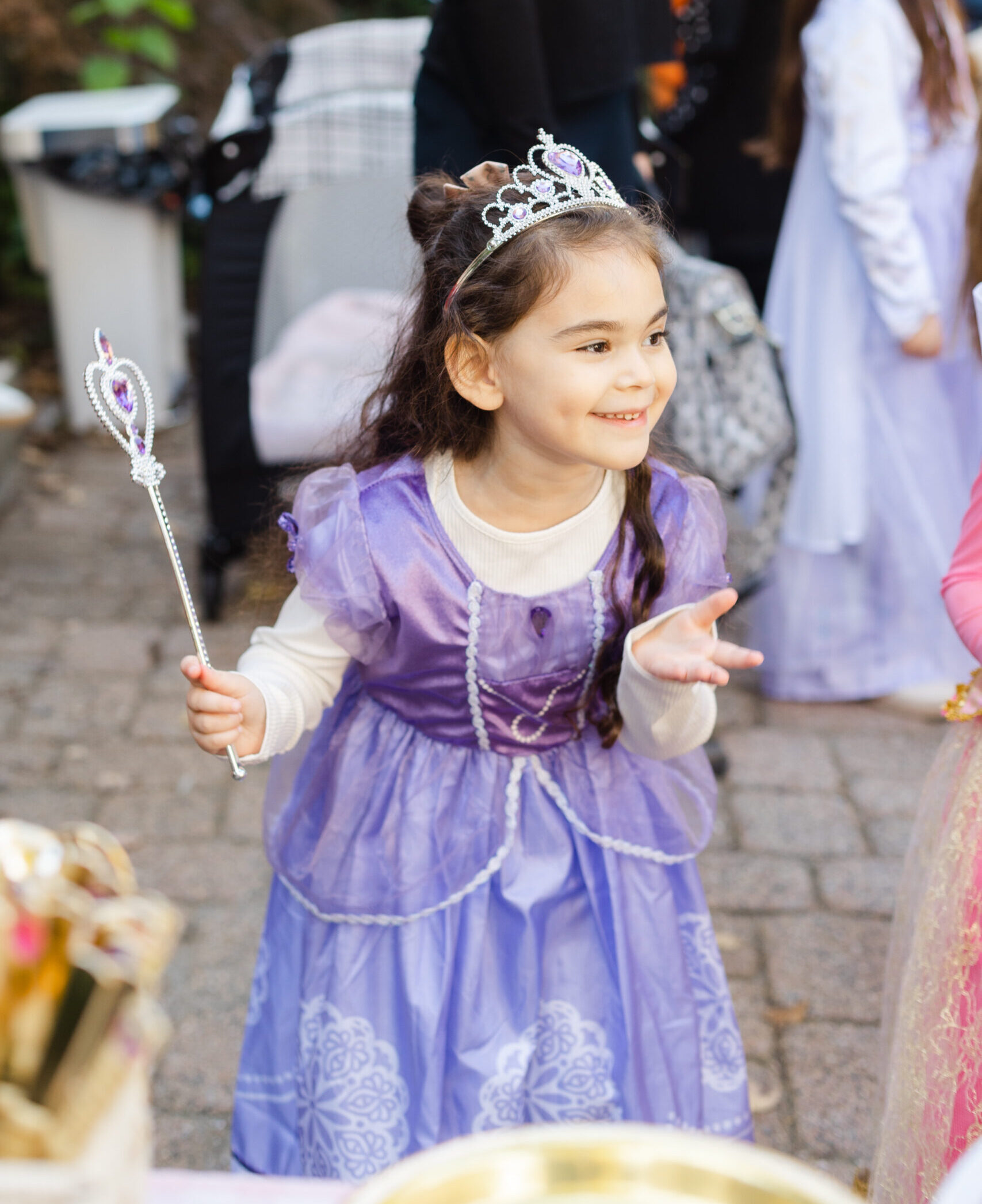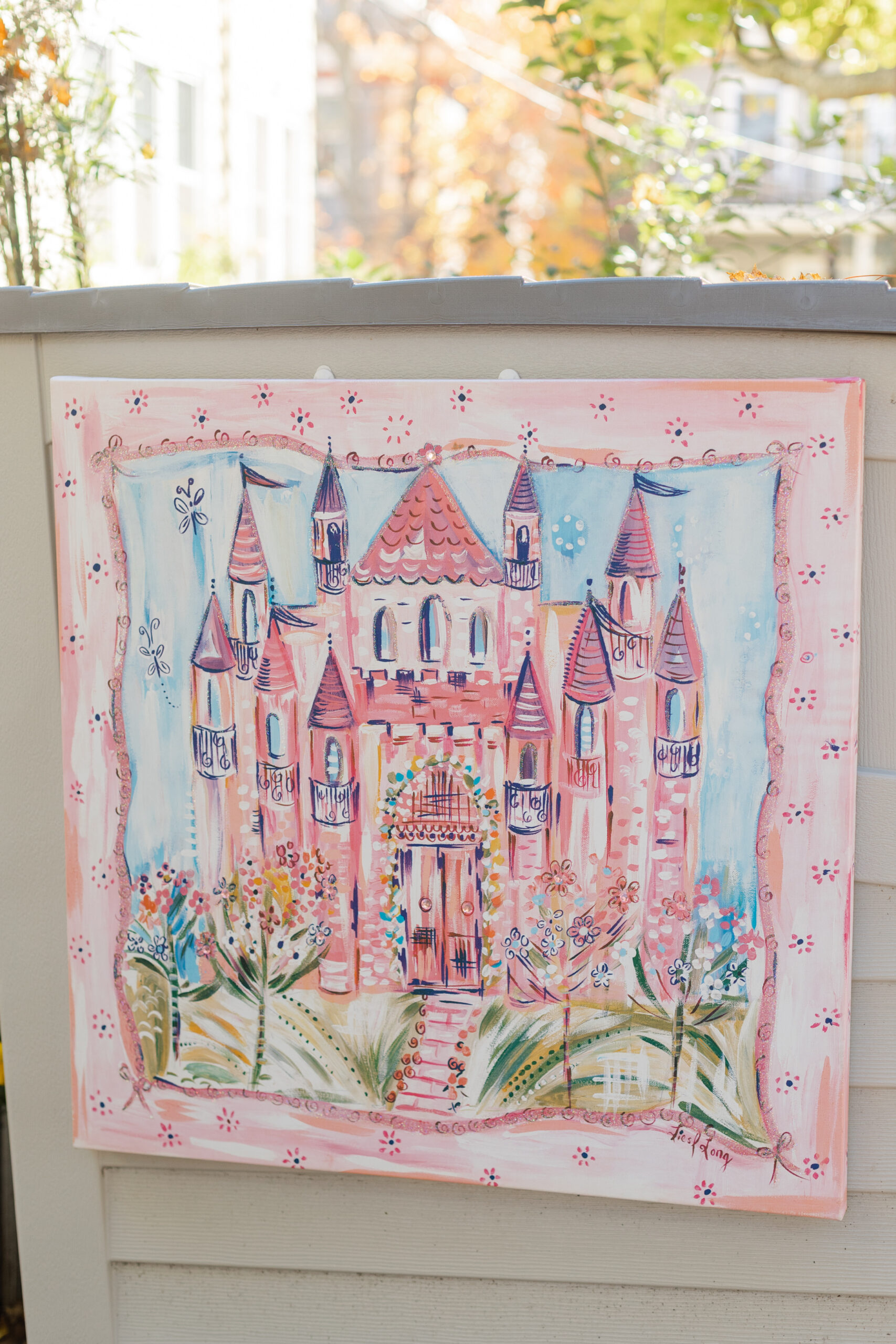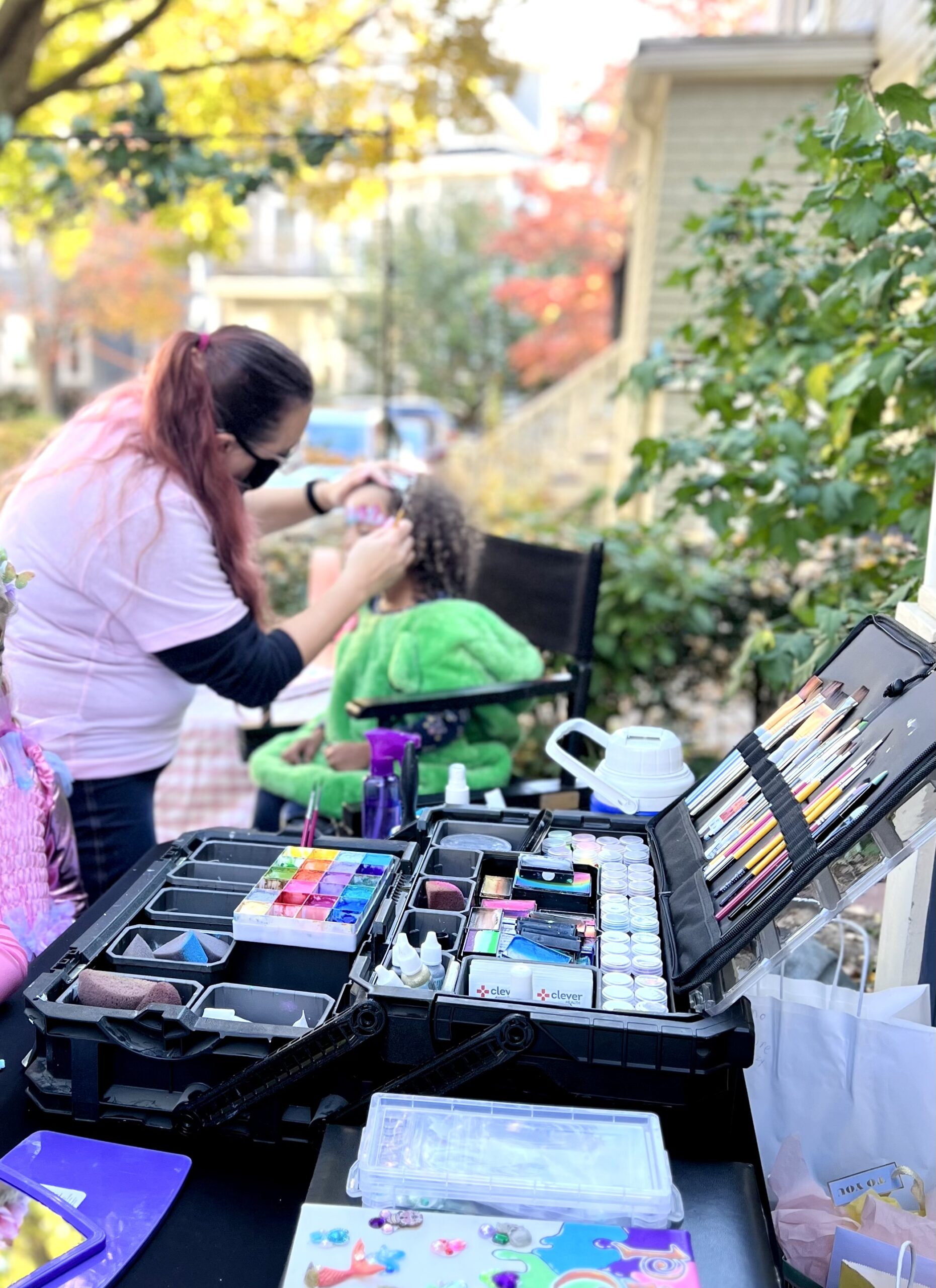 Birthday Costume Party Ideas
Face Painting
We hired a local face painting company to paint all of the kids faces, and they even had temporary glitter tattoos that were a hit. The kids absolutely LOVED getting the chance to have their faces painted and each and every one of them eagerly awaited their turn sifting through a whole binder of options choosing their perfect face paint design.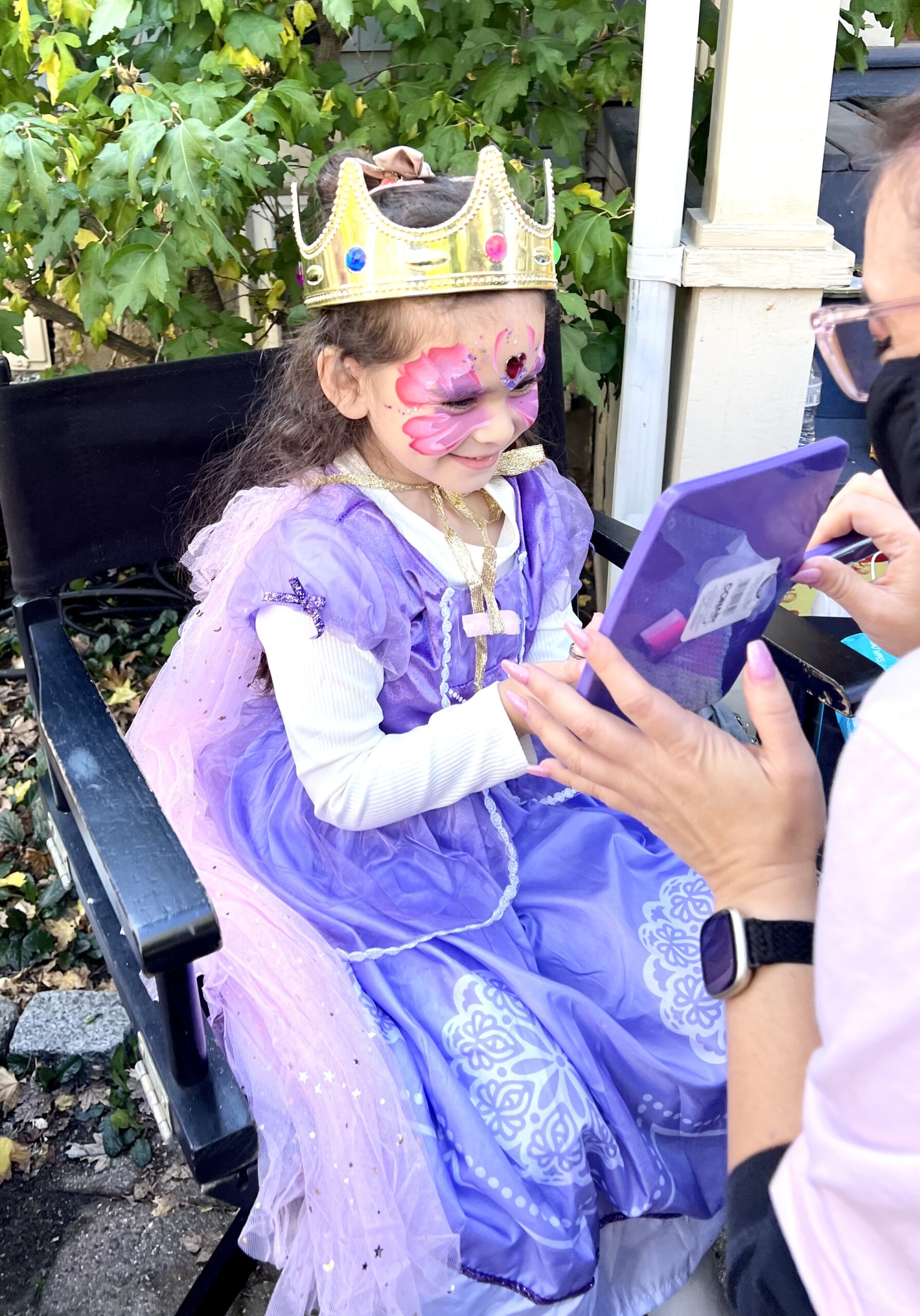 I can easily say that the face painting was the hit of the costume party and I had so many parents asking for the face painters' info after the party. I'm not sure how we'll top face painting at the next kids party!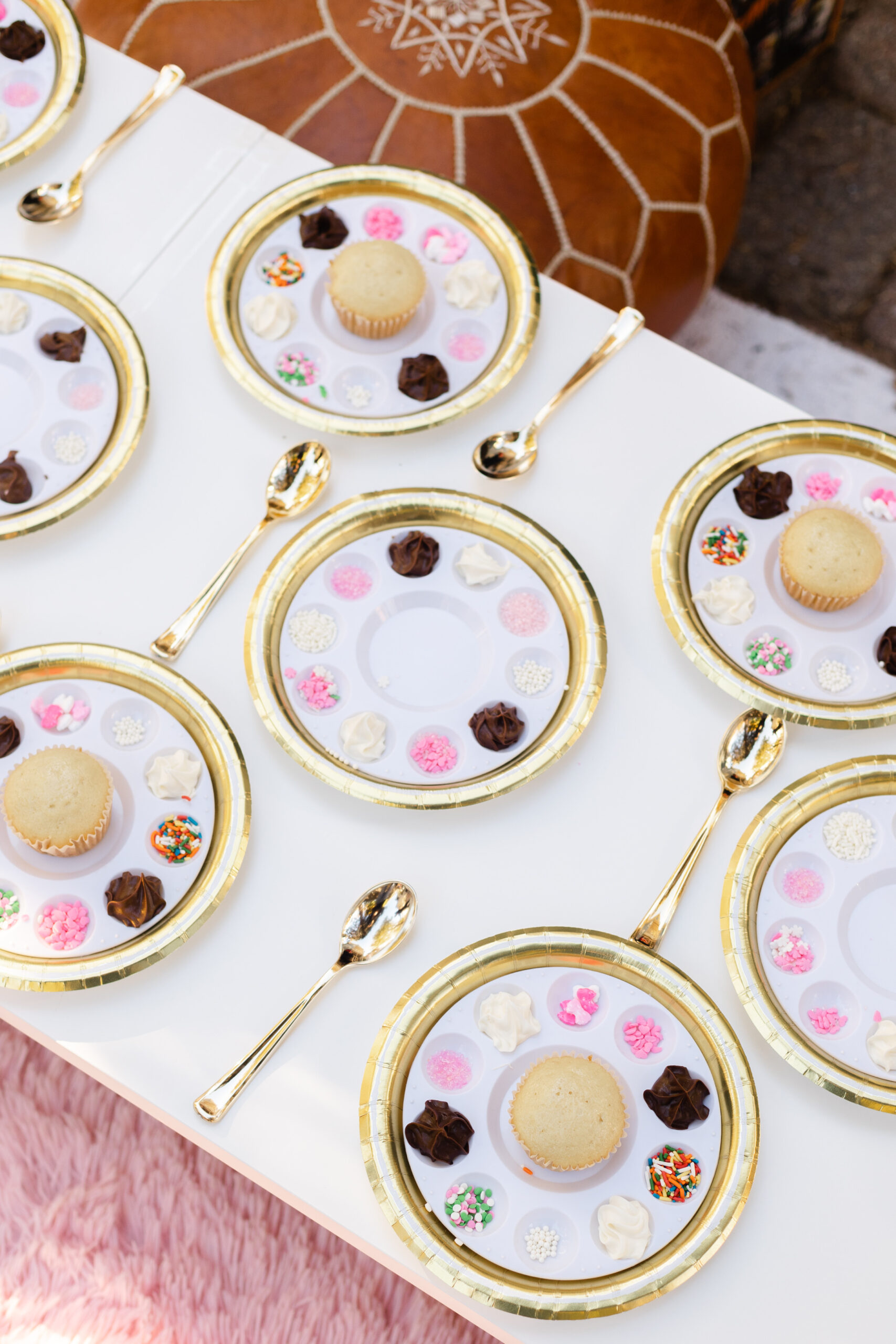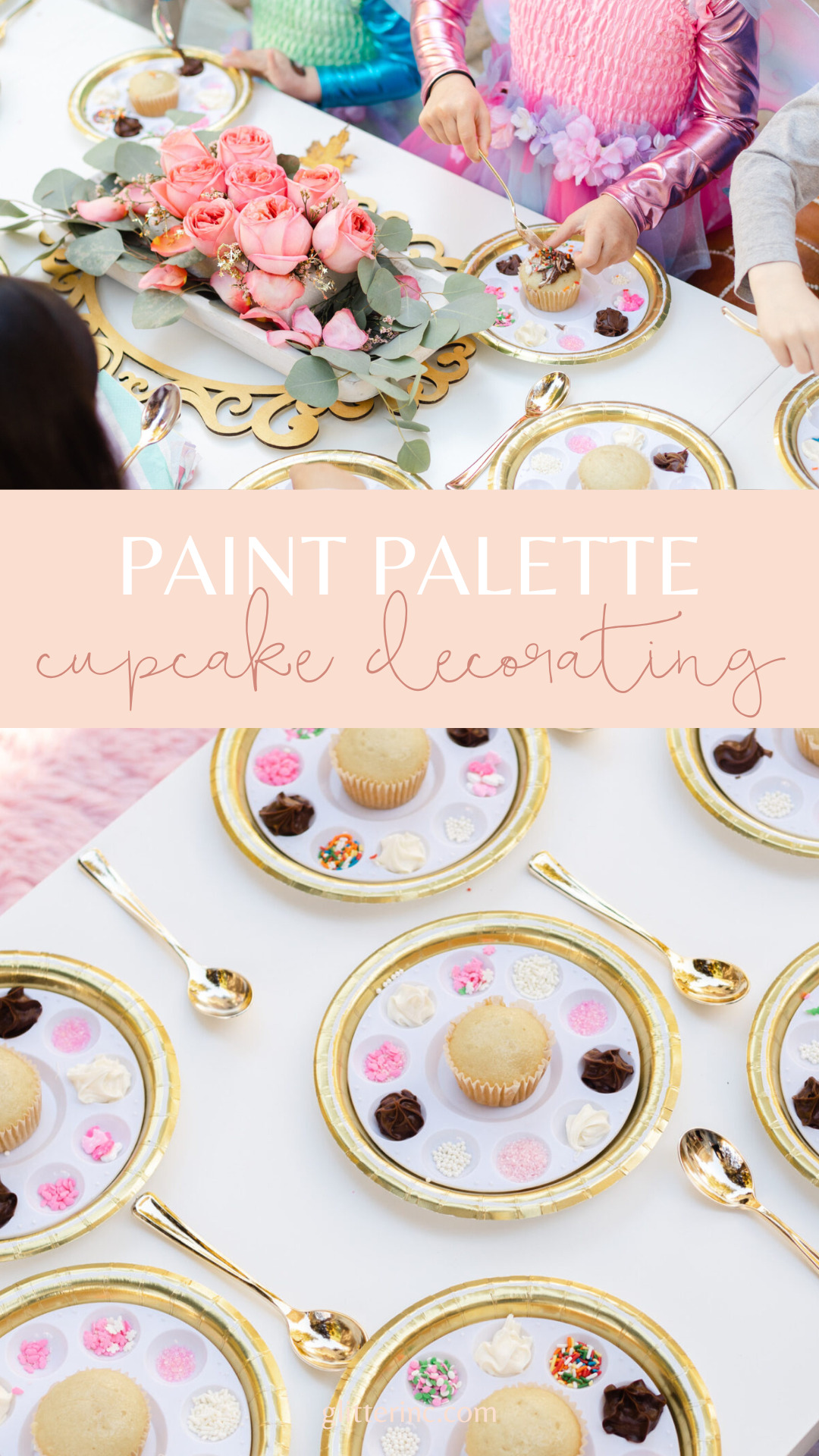 Cupcake Decorating
Emmeline adores baking, so when she asked for some kind of cookie or cupcake creation, I knew a cupcake decorating activity would be a wonderful fit.
I set up plastic paint trays to hold the frosting and sprinkles along with the unfrosted cupcake in the center.
For the cupcakes, I baked up two dozen super easy crazy cake cupcakes using our favorite vanilla crazy cake recipe. (This recipe for vanilla crazy cake and/or this recipe for chocolate crazy cake cupcakes are pretty much always in my recipe arsenal. The cake base couldn't be easier to throw together and the result is a perfectly delicious cupcake or cake every single time.)
The kids went wild for the paint palette cupcake decorating, and had such a great time spreading frosting on their cupcakes and decorating with all of the different sprinkles. Once I had the cupcakes baked (which I actually baked and stored in the freezer earlier in the week), all I had to do was fill the paint palette holes with frosting (vanilla and chocolate) and sprinkles.
The cupcake decorating paint palettes are so fun and customizable – think green and red for Christmas cupcakes, lots of red and pink sprinkles and frosting for Valentine's day, etc.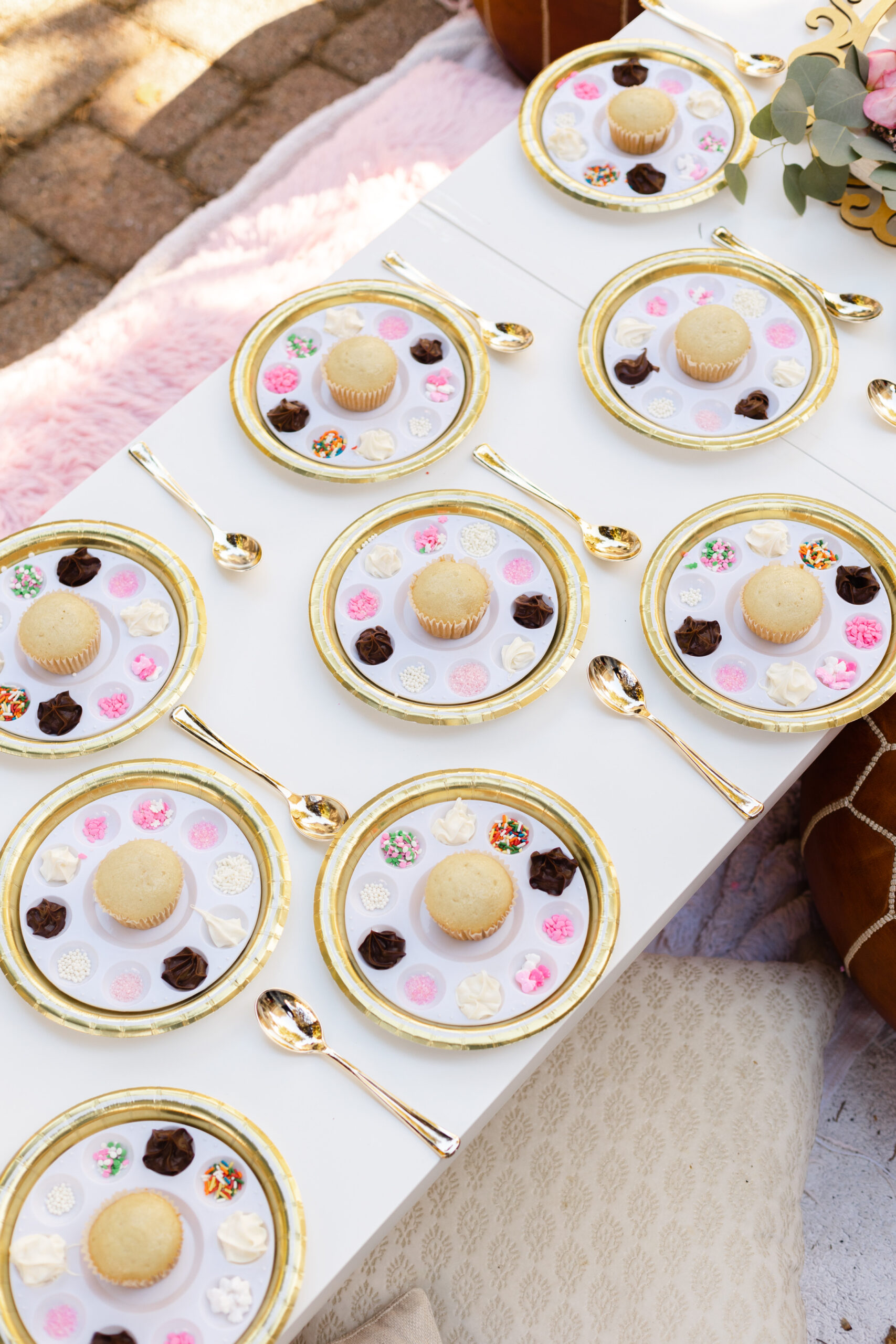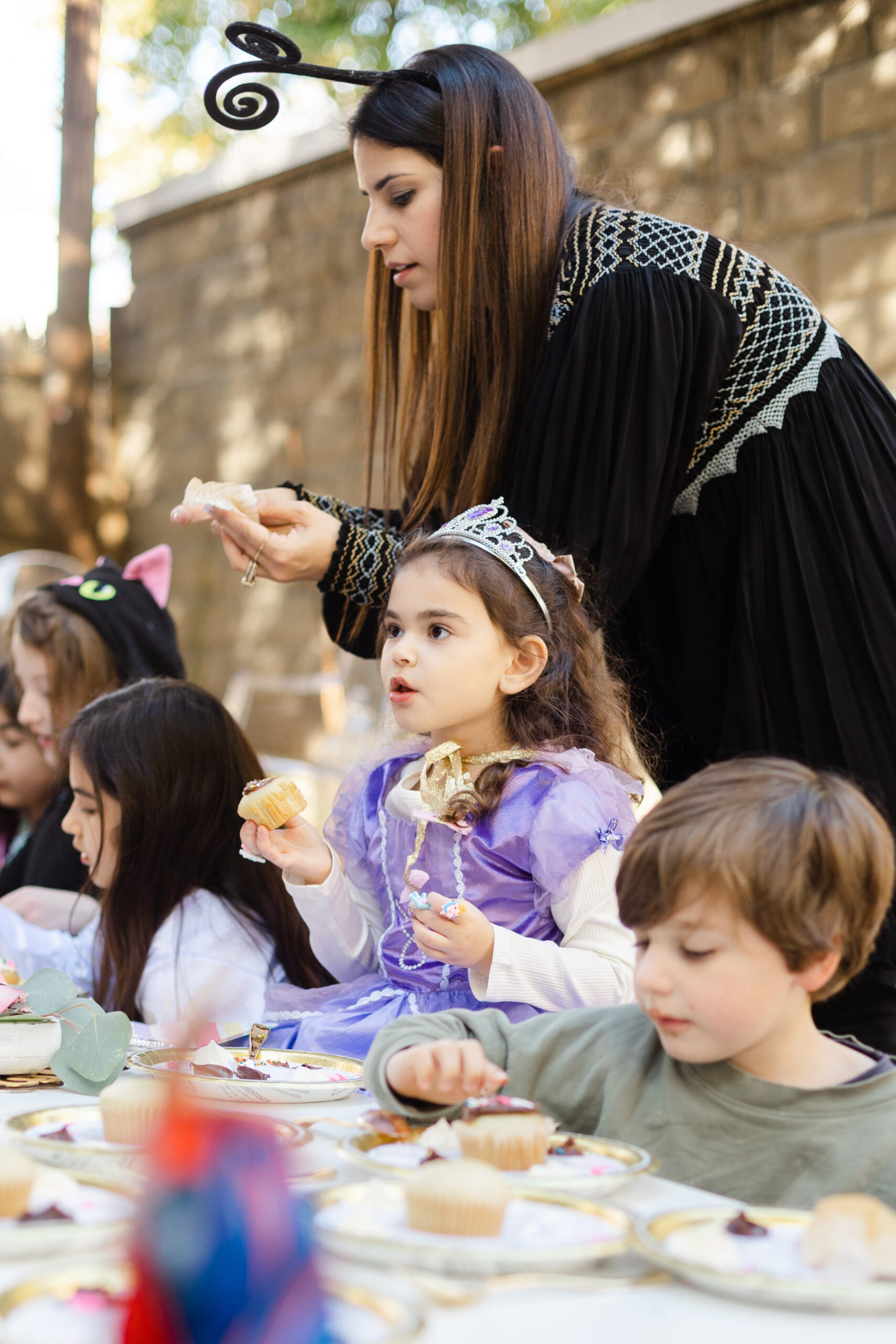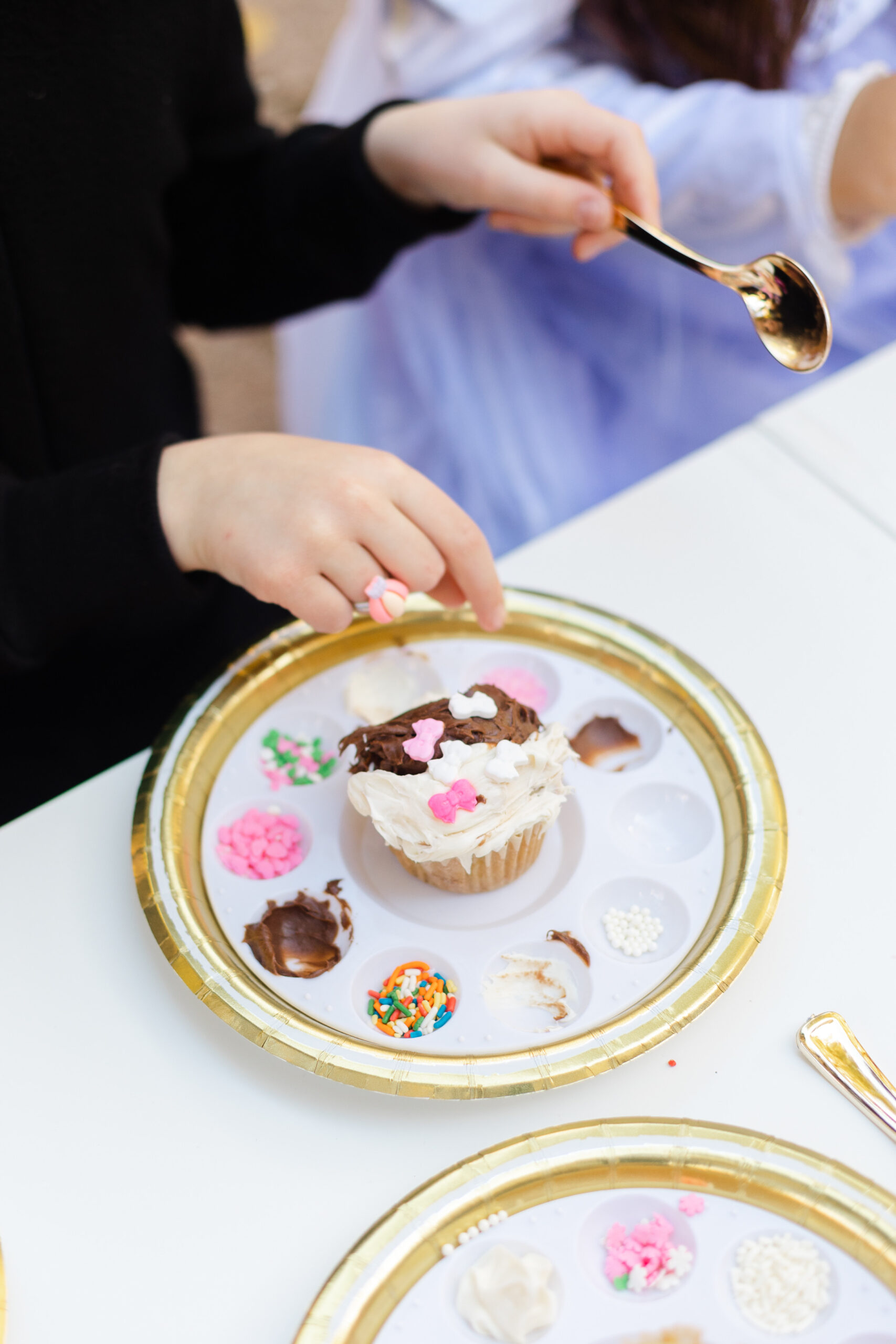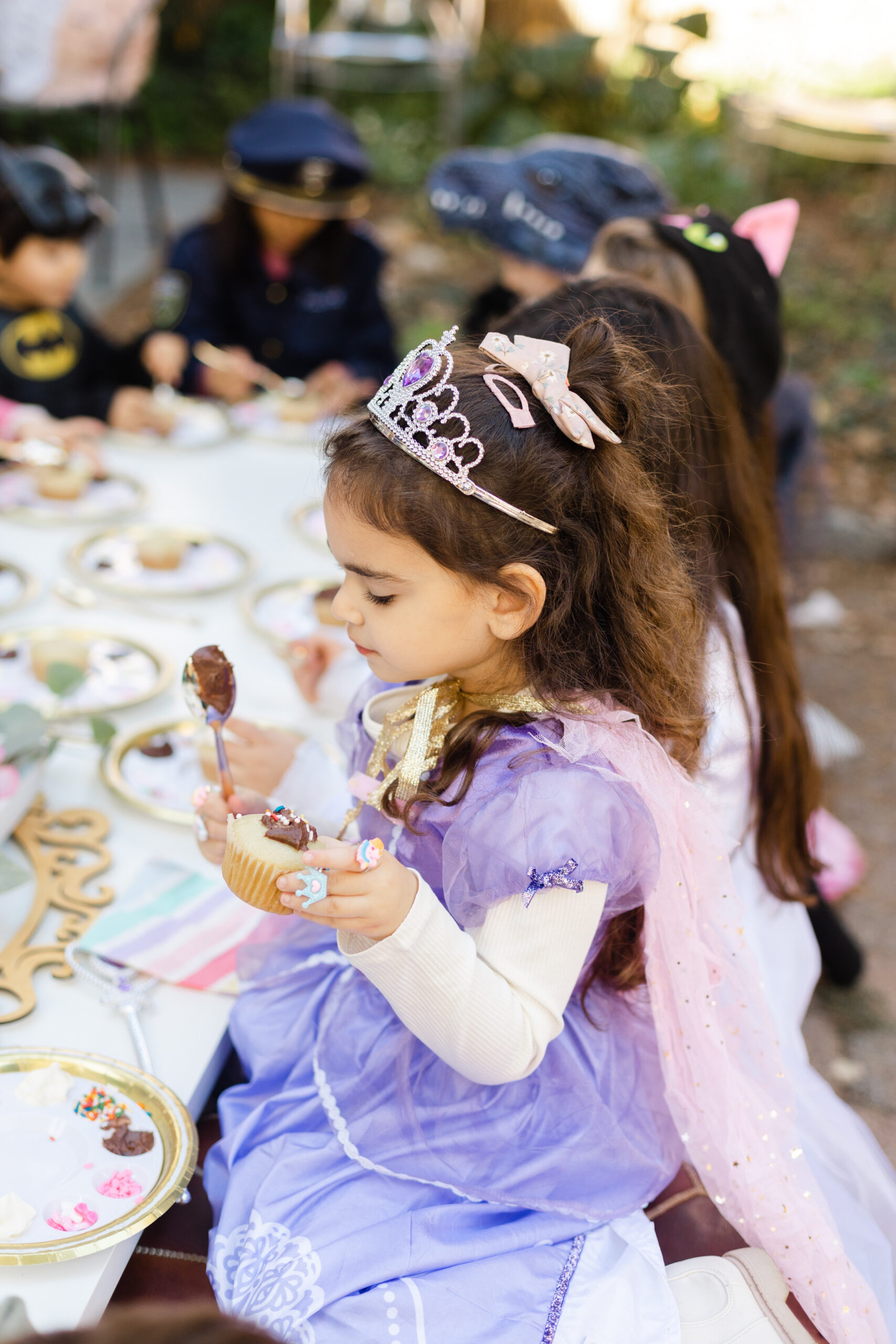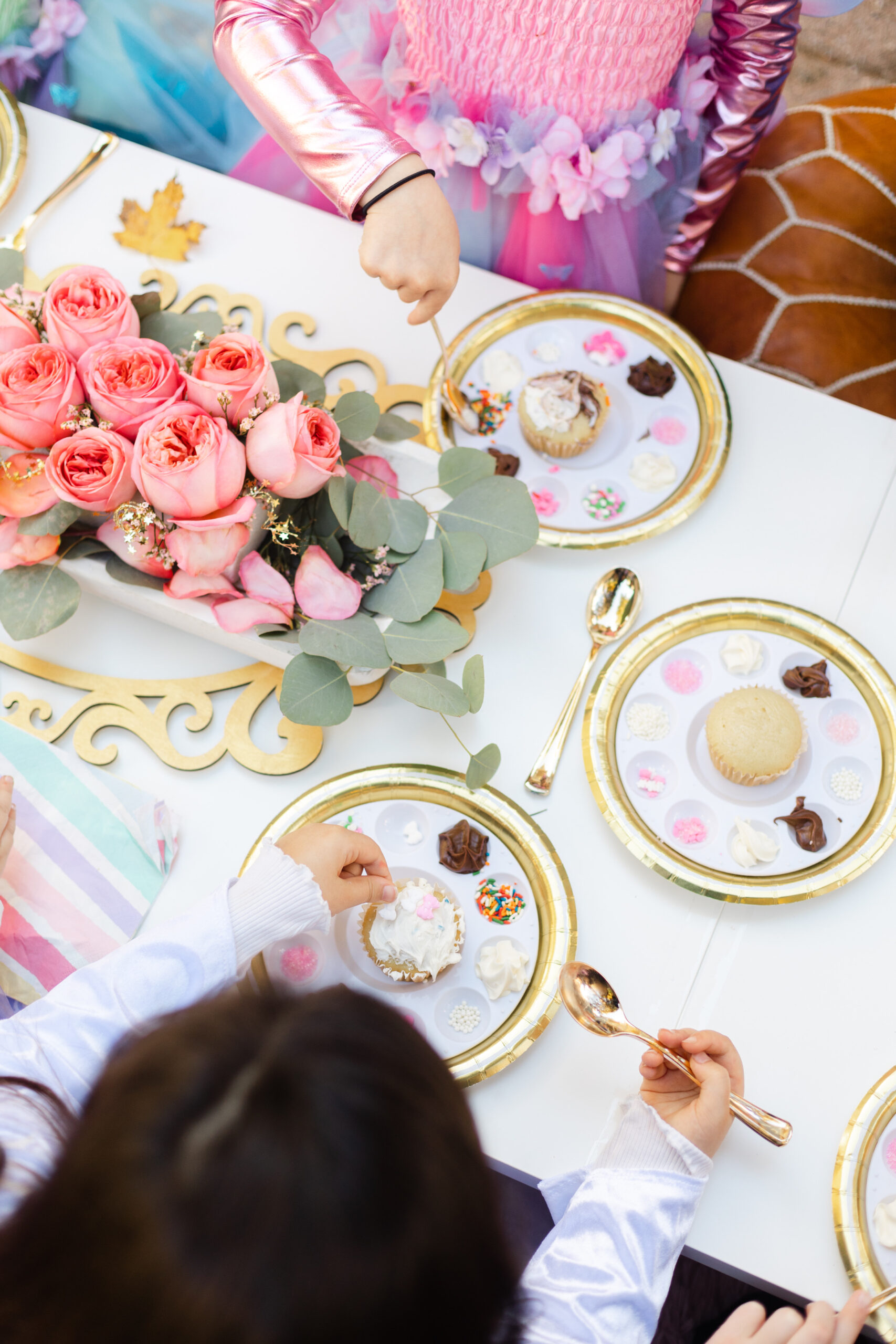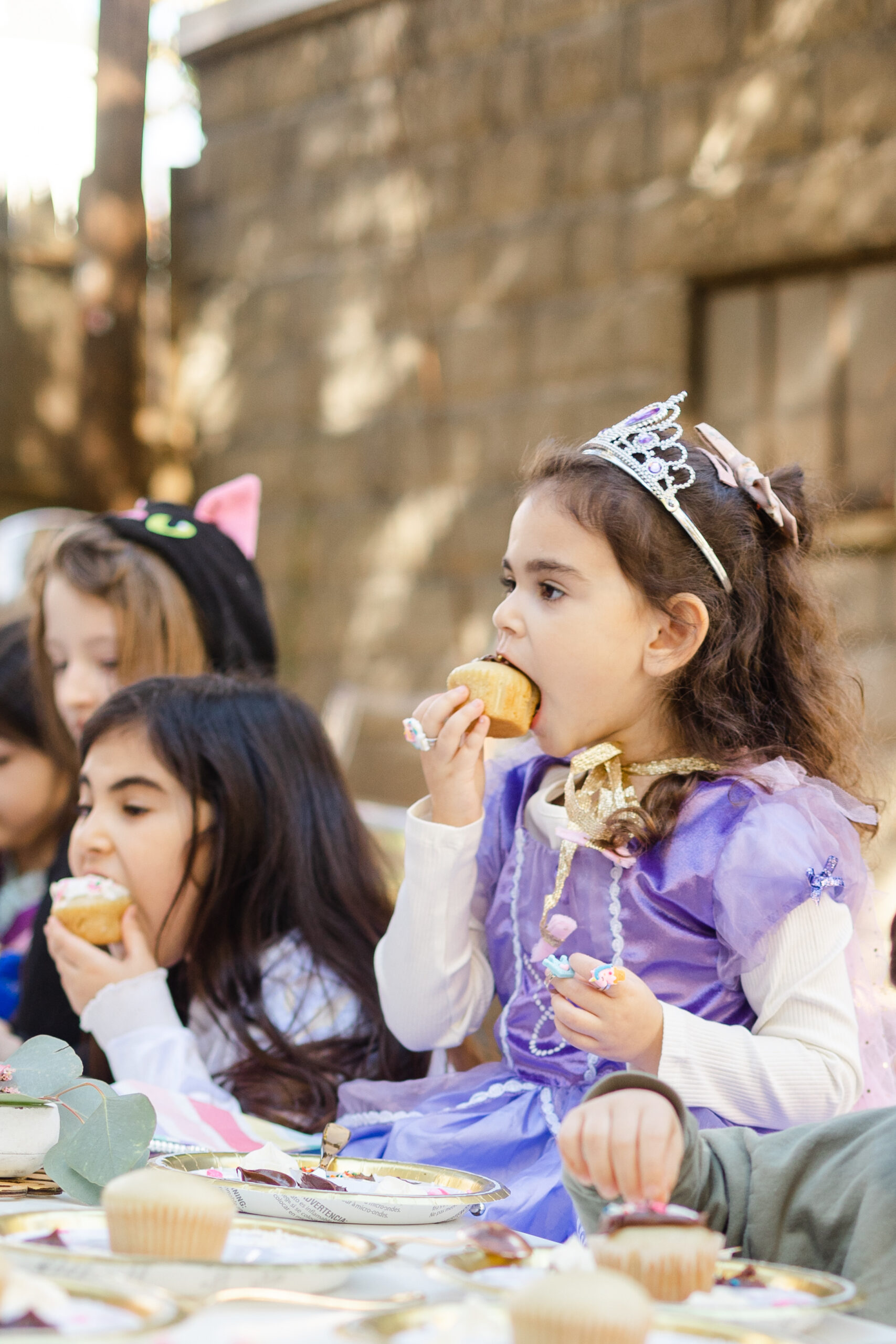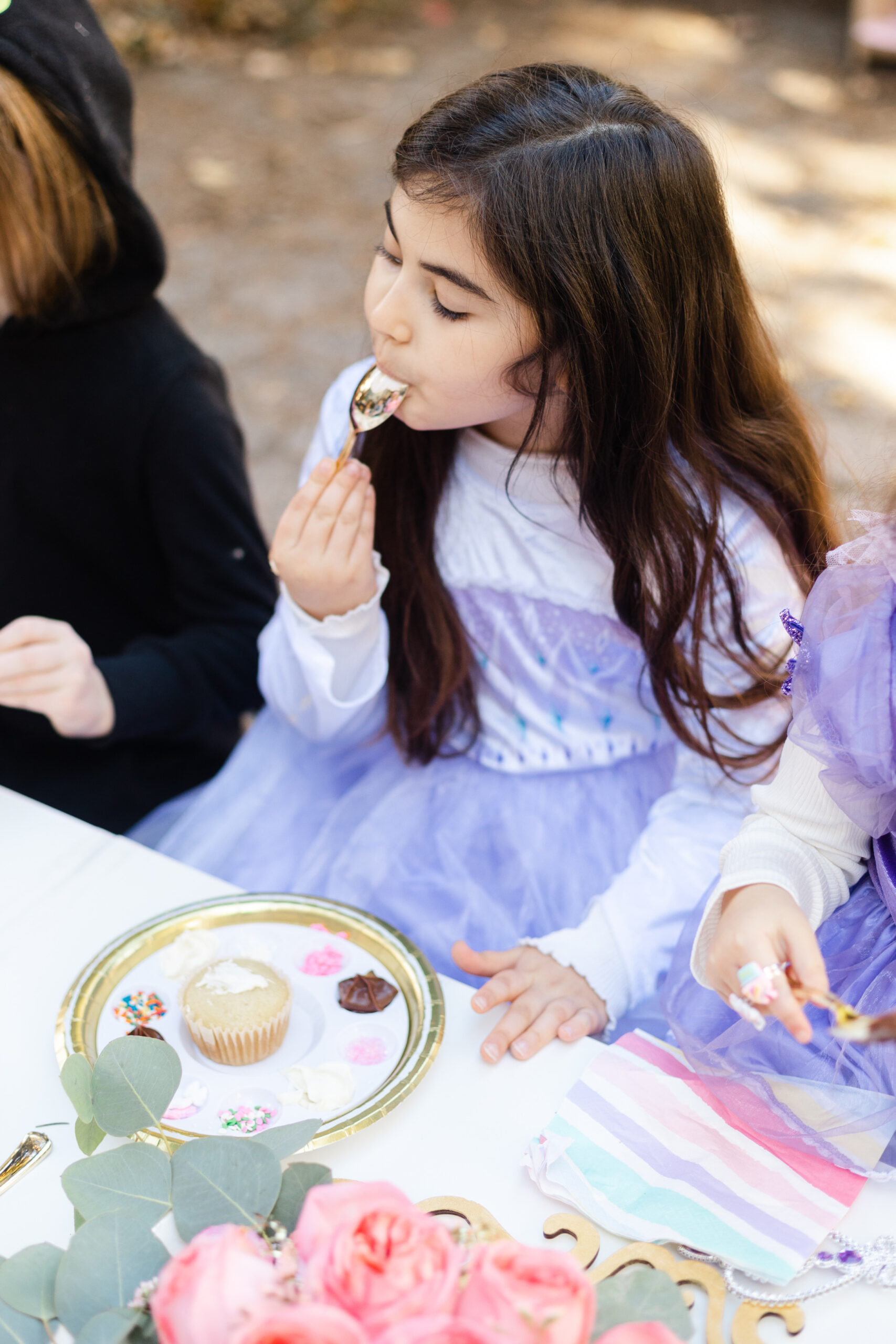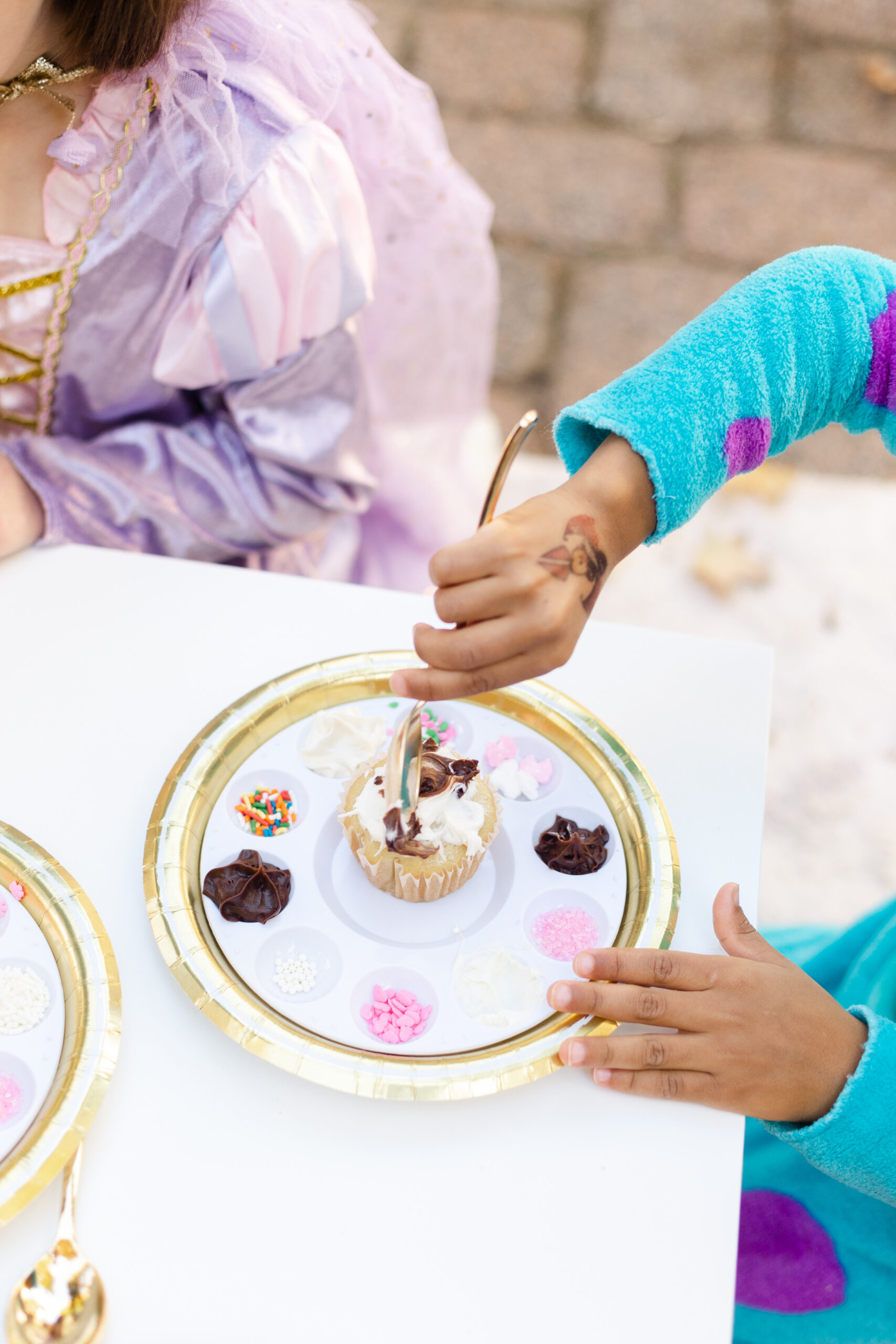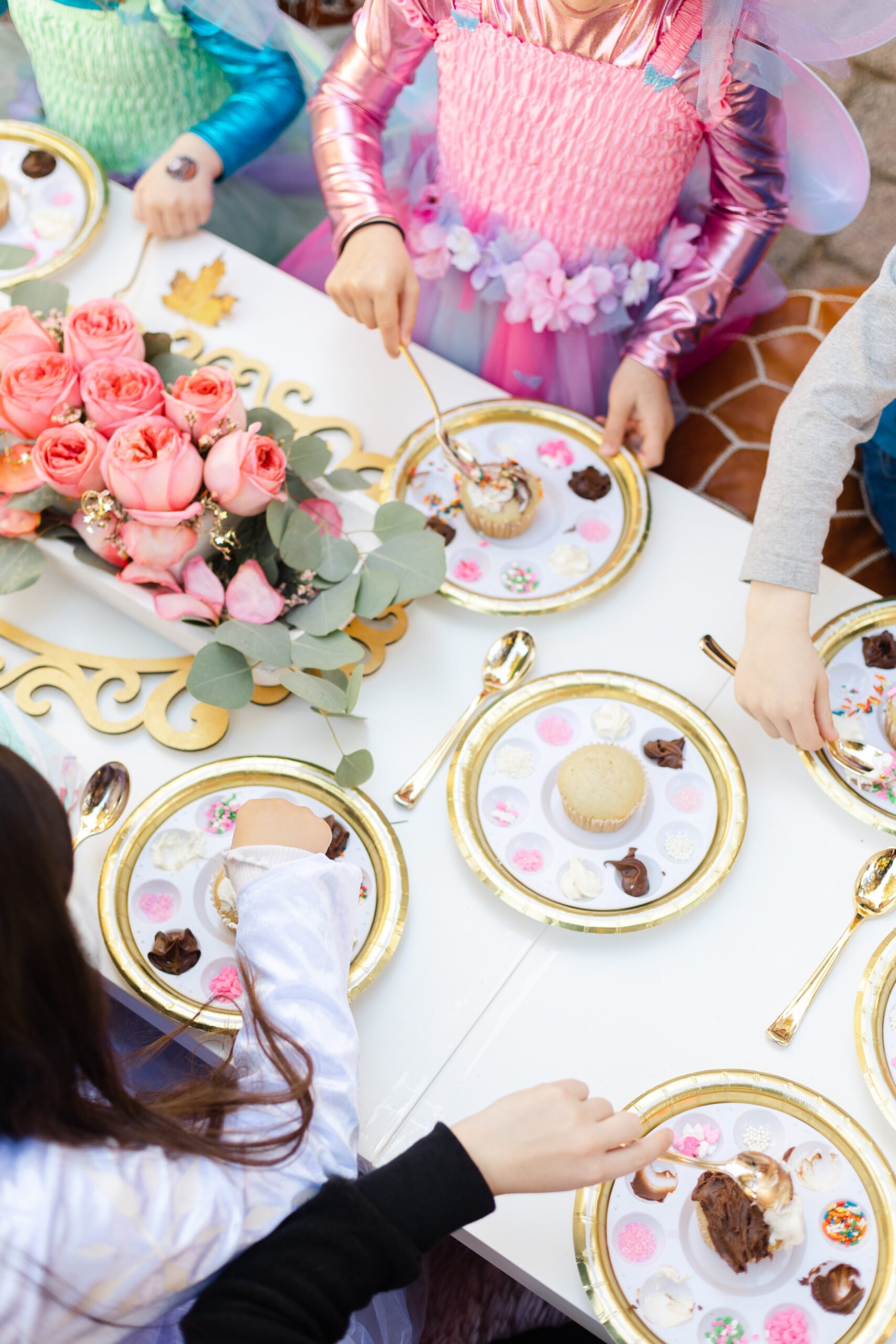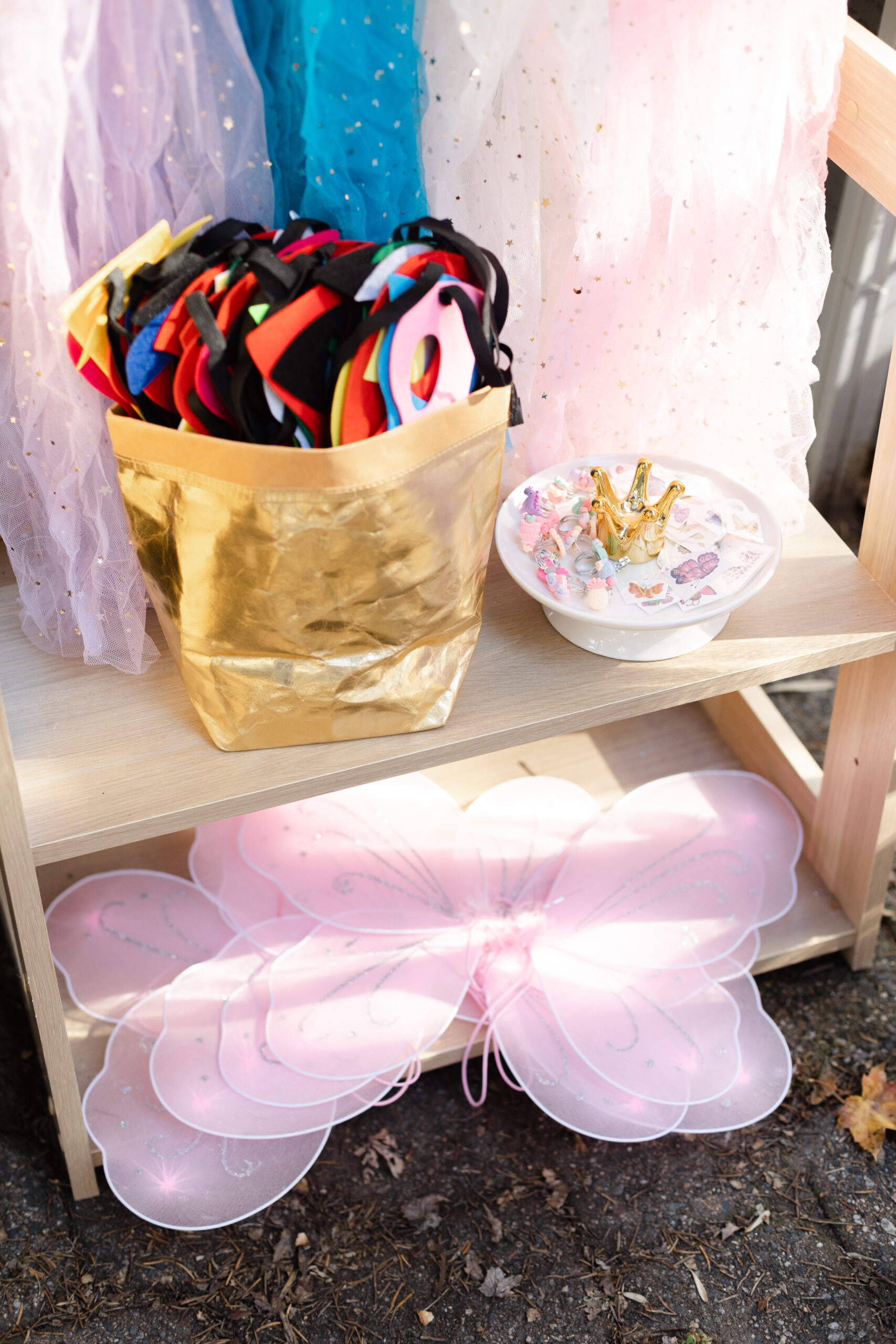 Costume Dress-Up Station
In addition to asking everyone to come to Emmeline's party in costume, we set up a mini costume dress-up station using a small wardrobe rack for the kids, complete with sparkly princess capes, wands, tiaras, rings, temporary tattoos, and superhero masks.
All of the dress-up items were such a huge hit and kids were running around in crowns and masks throughout the party.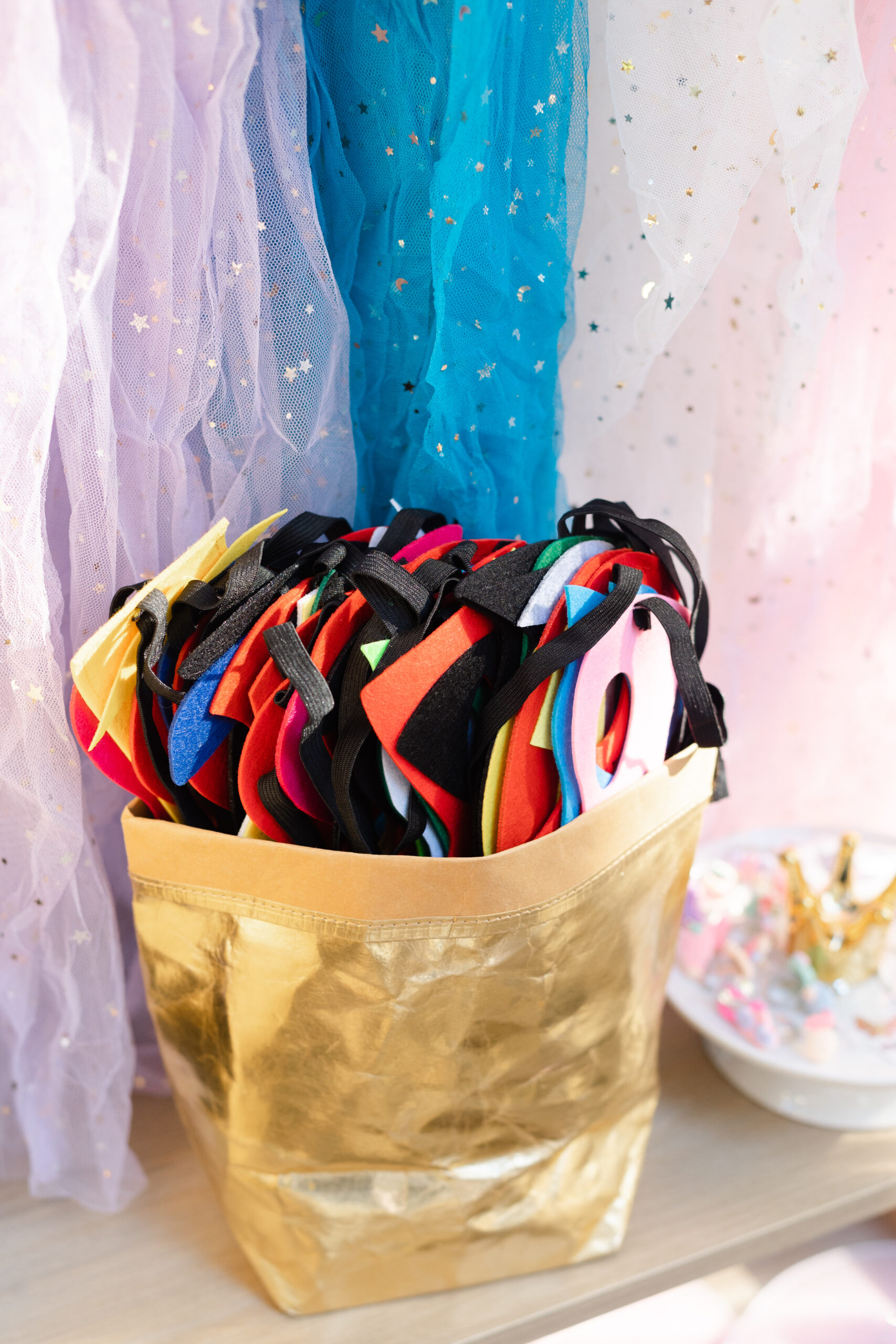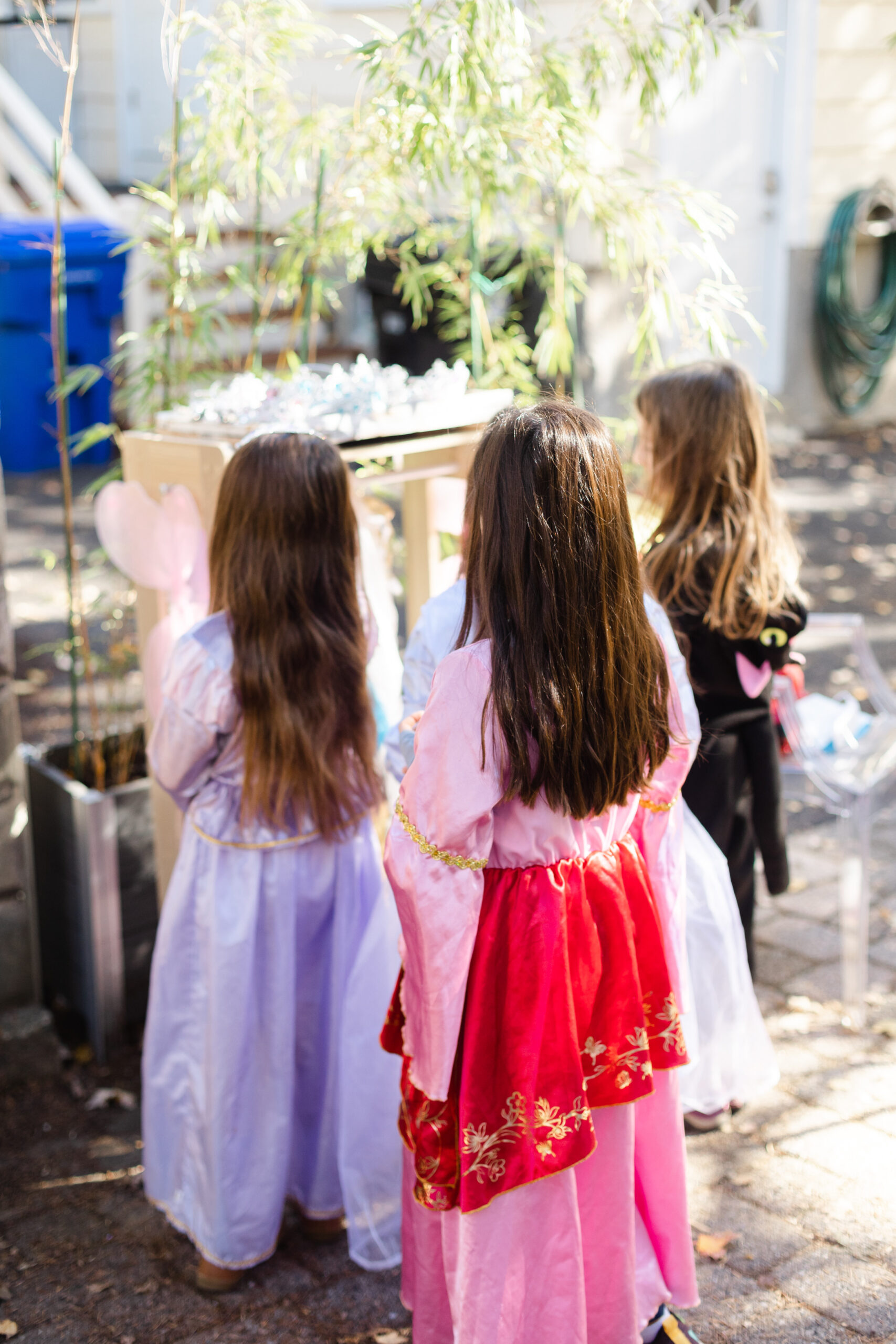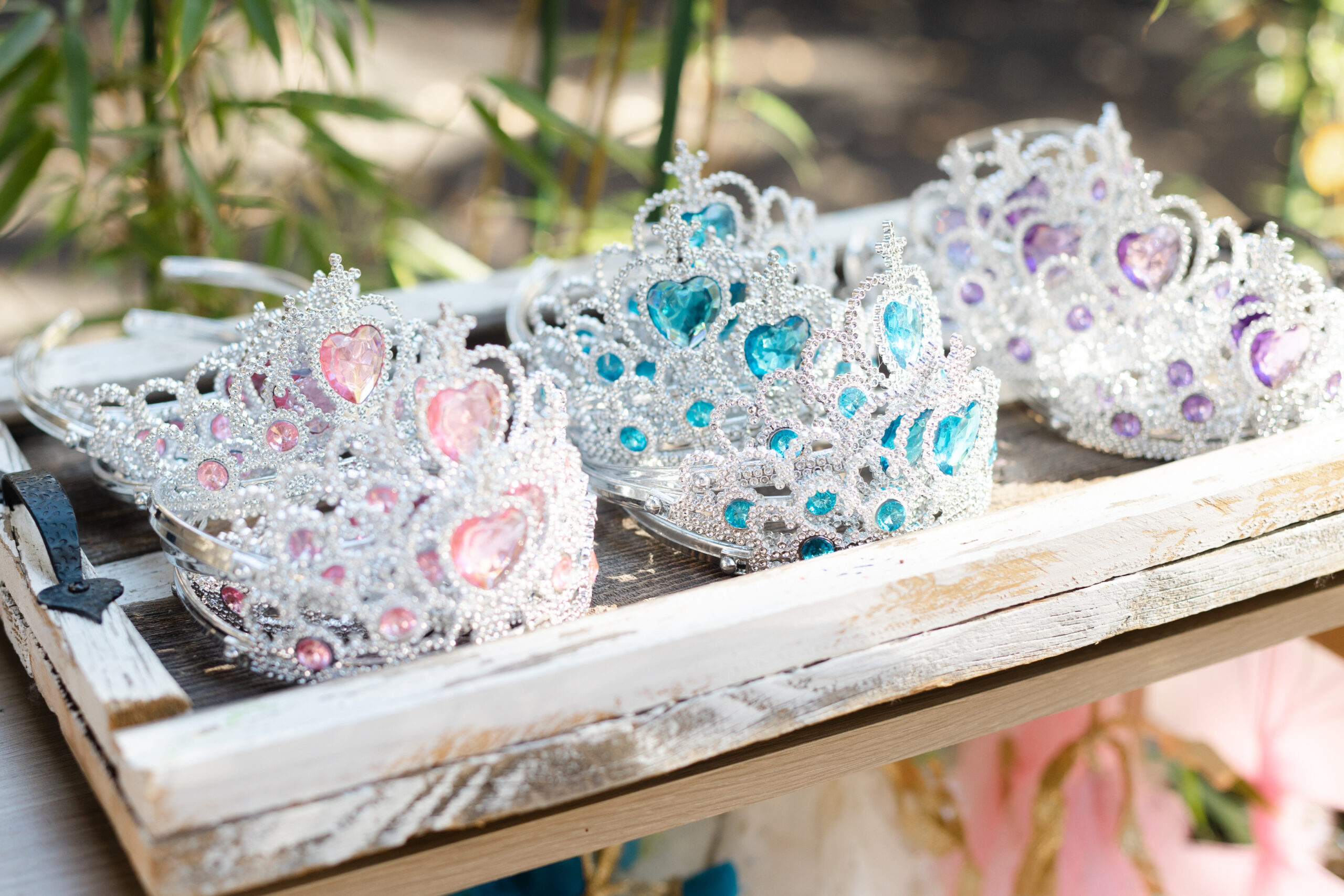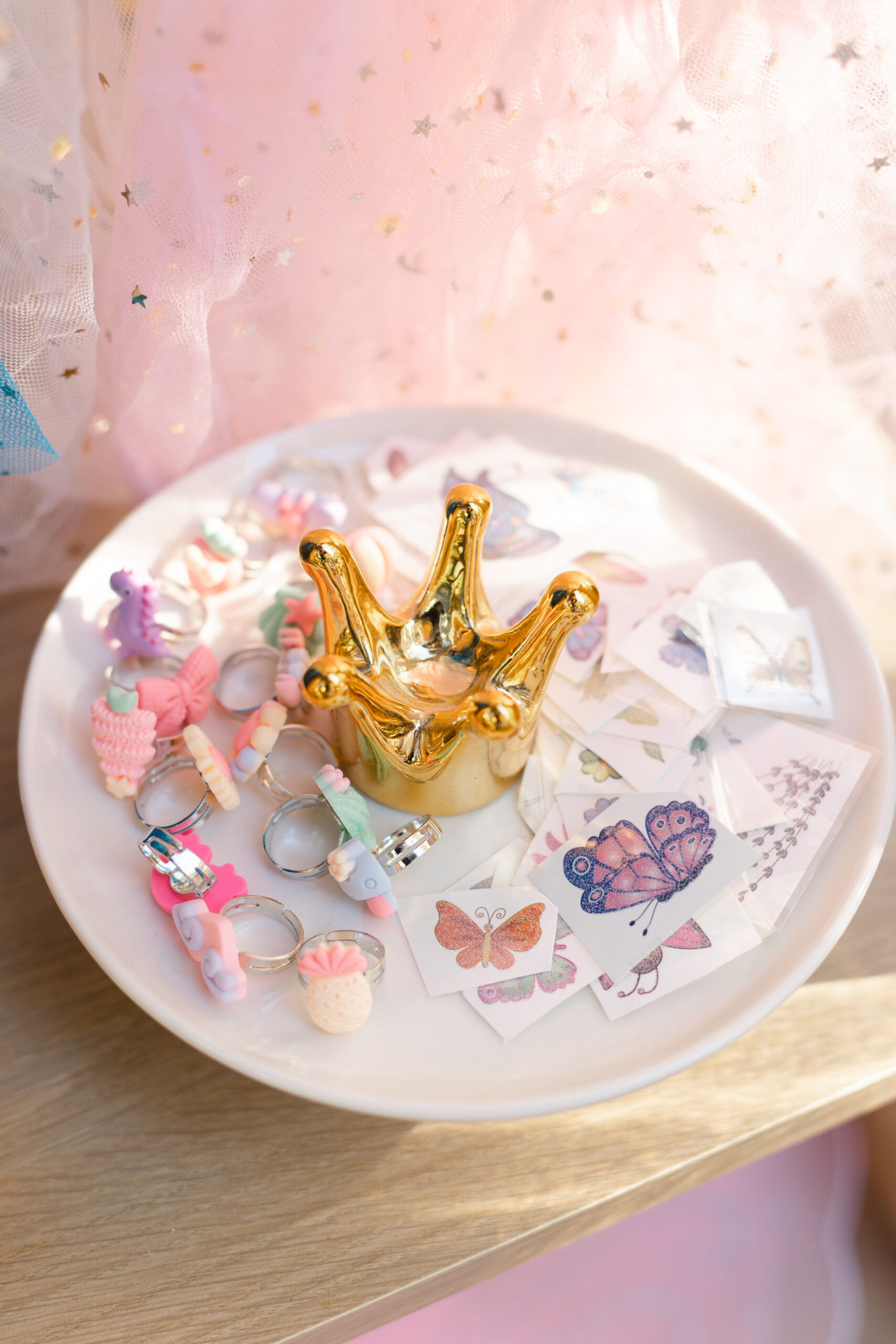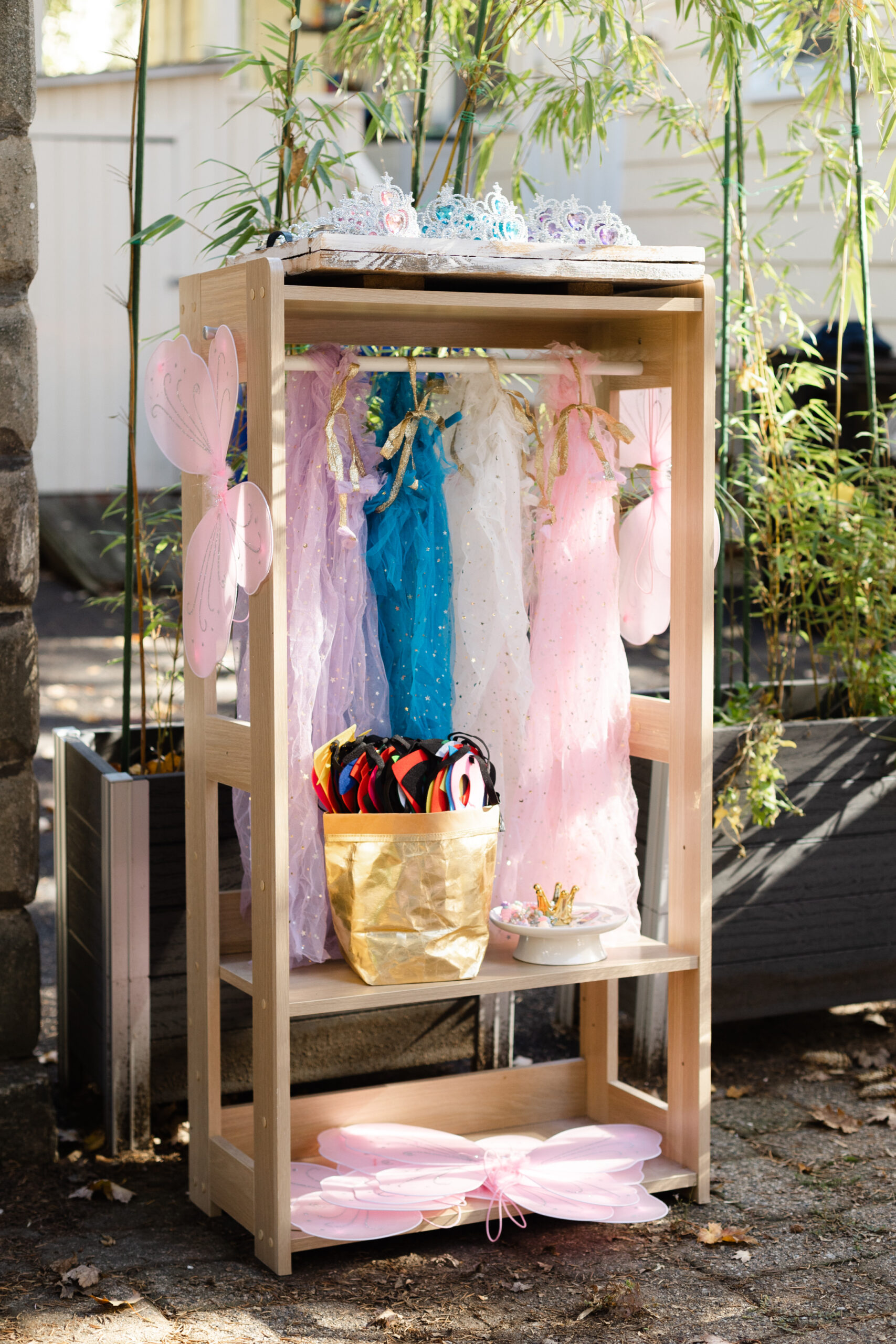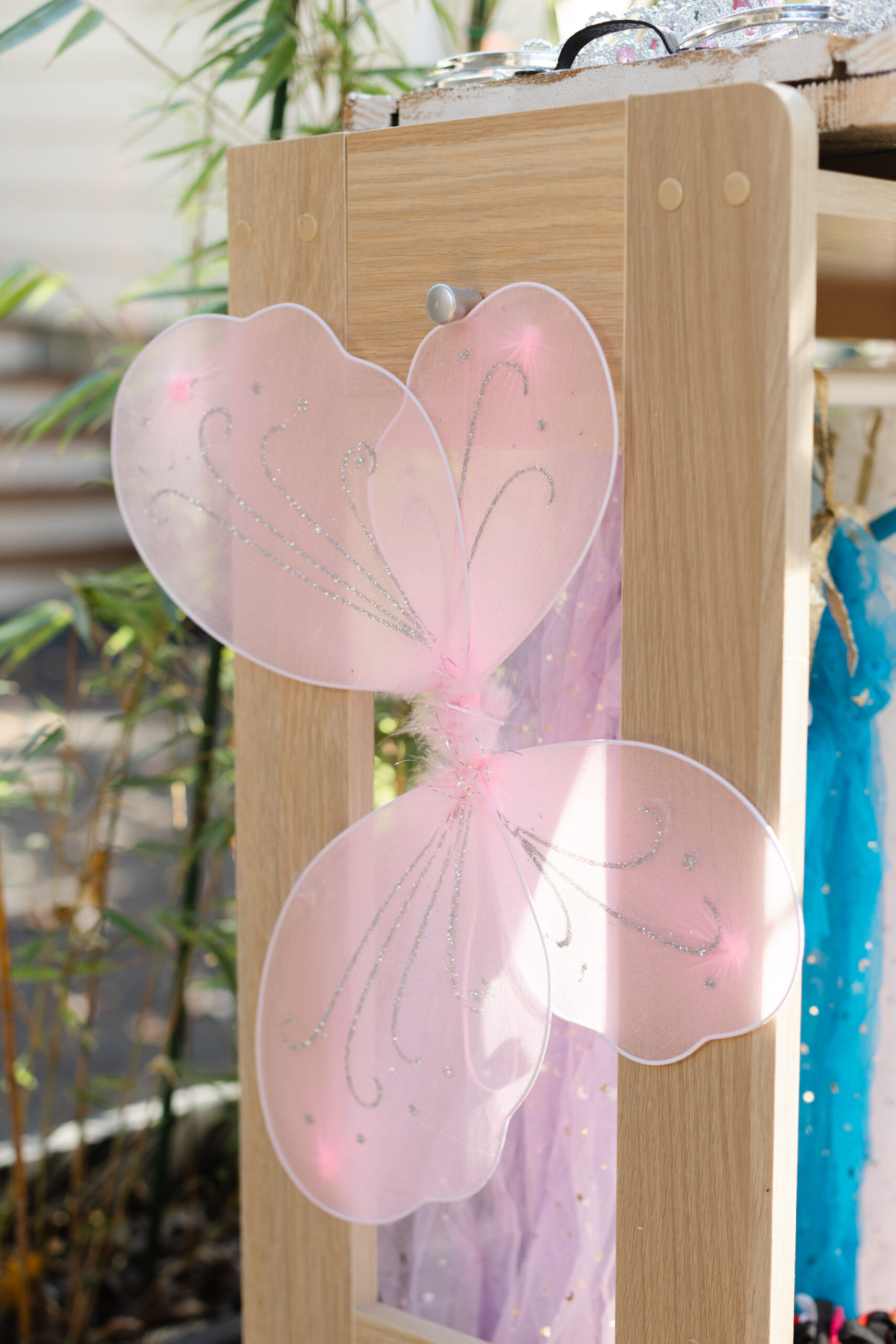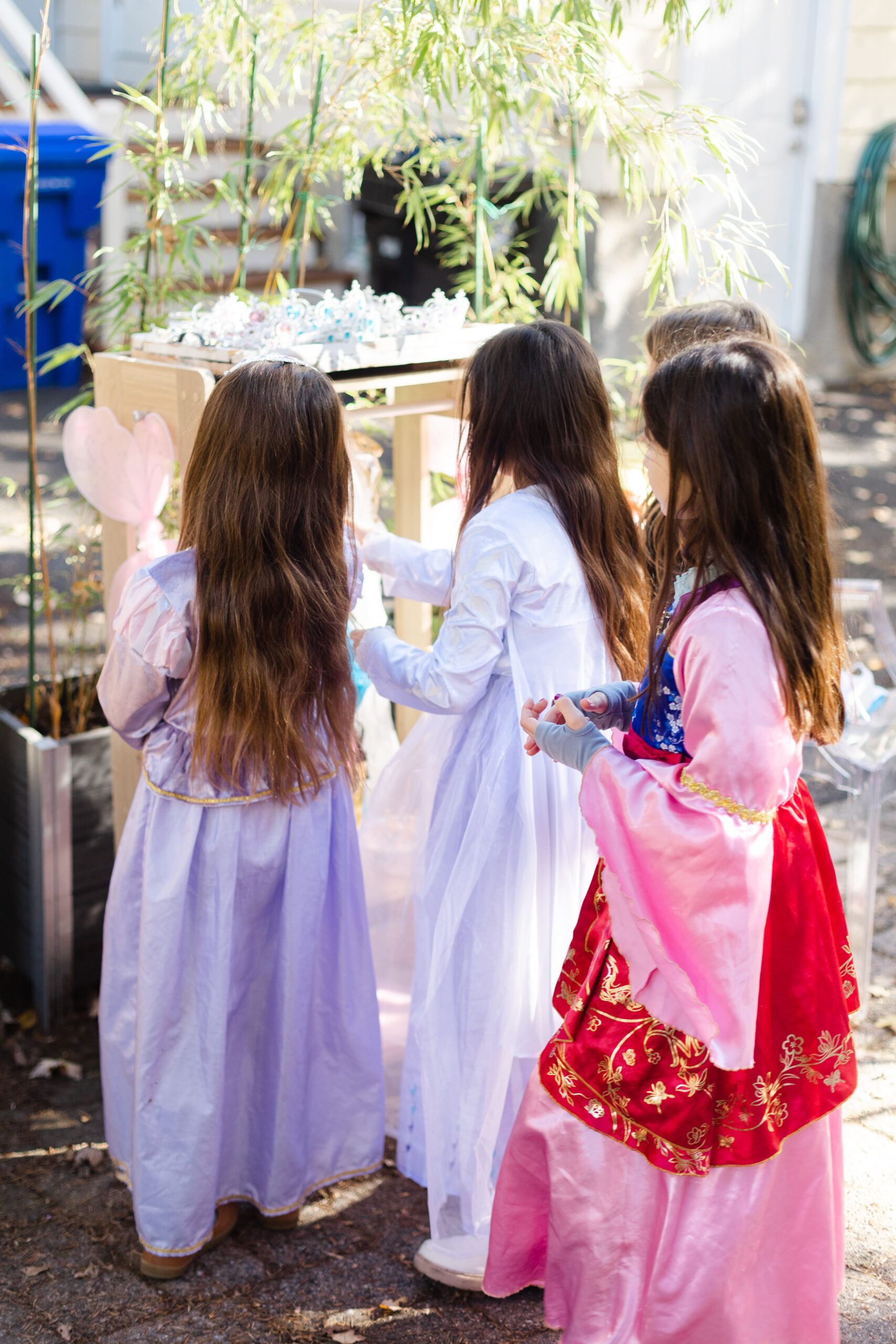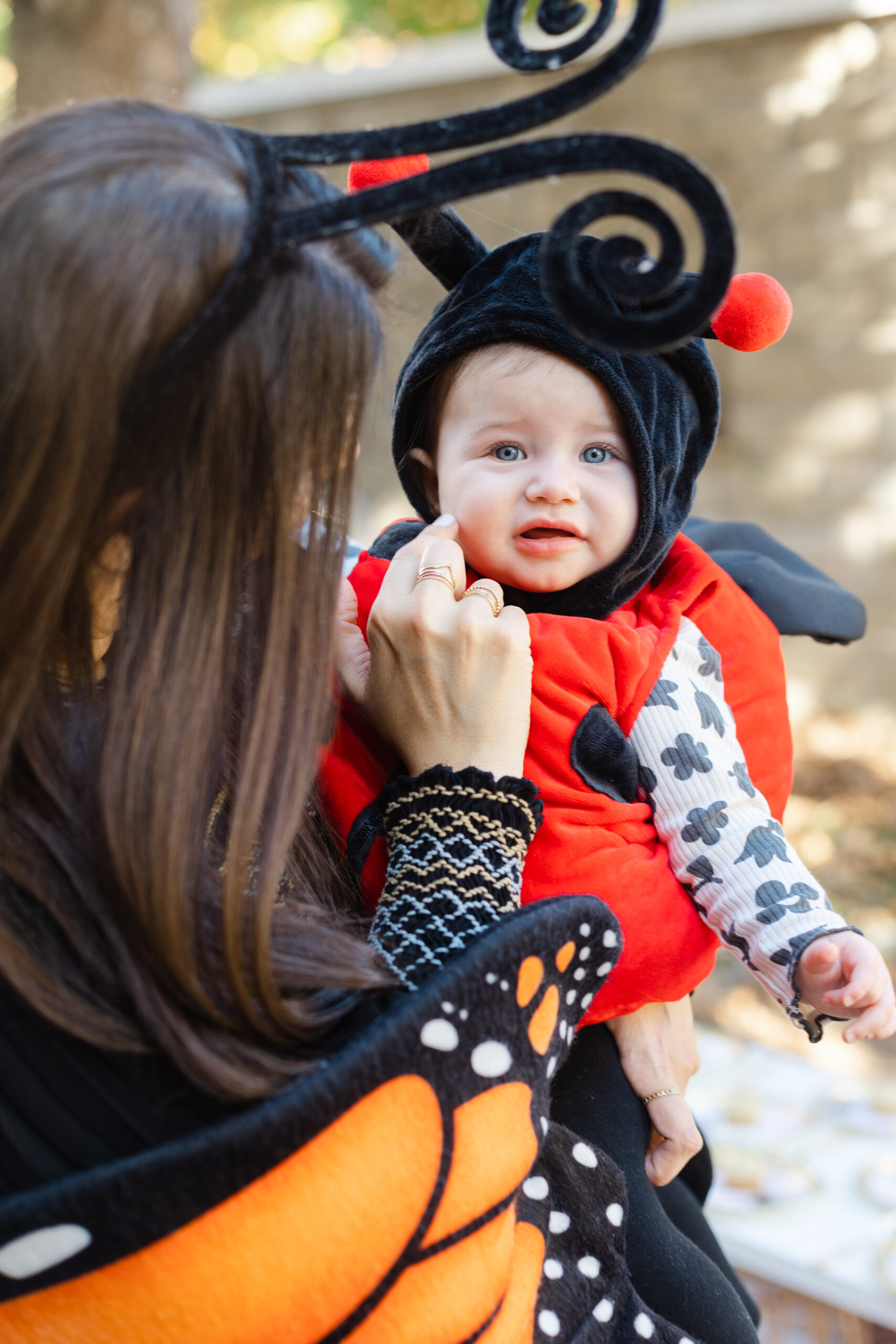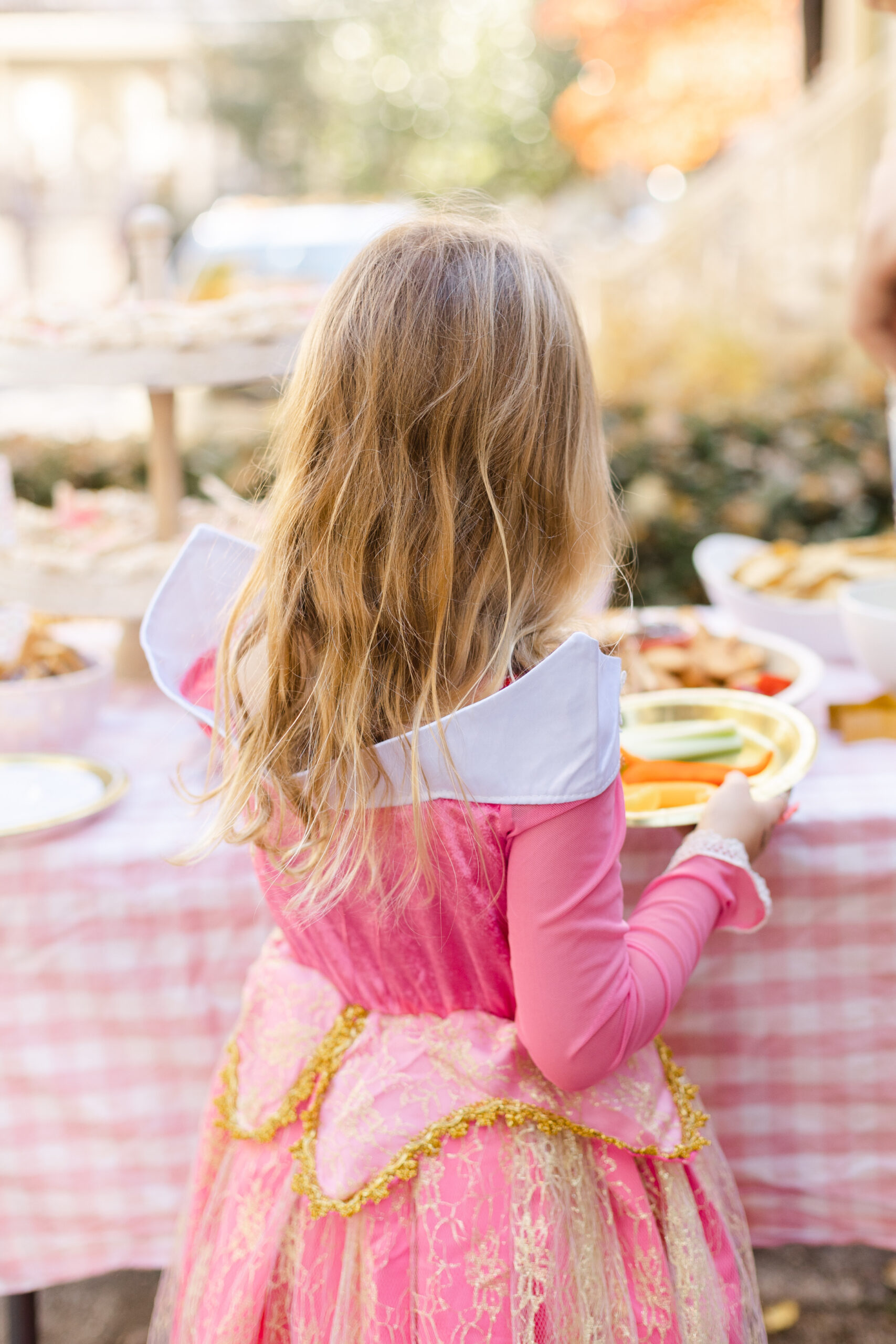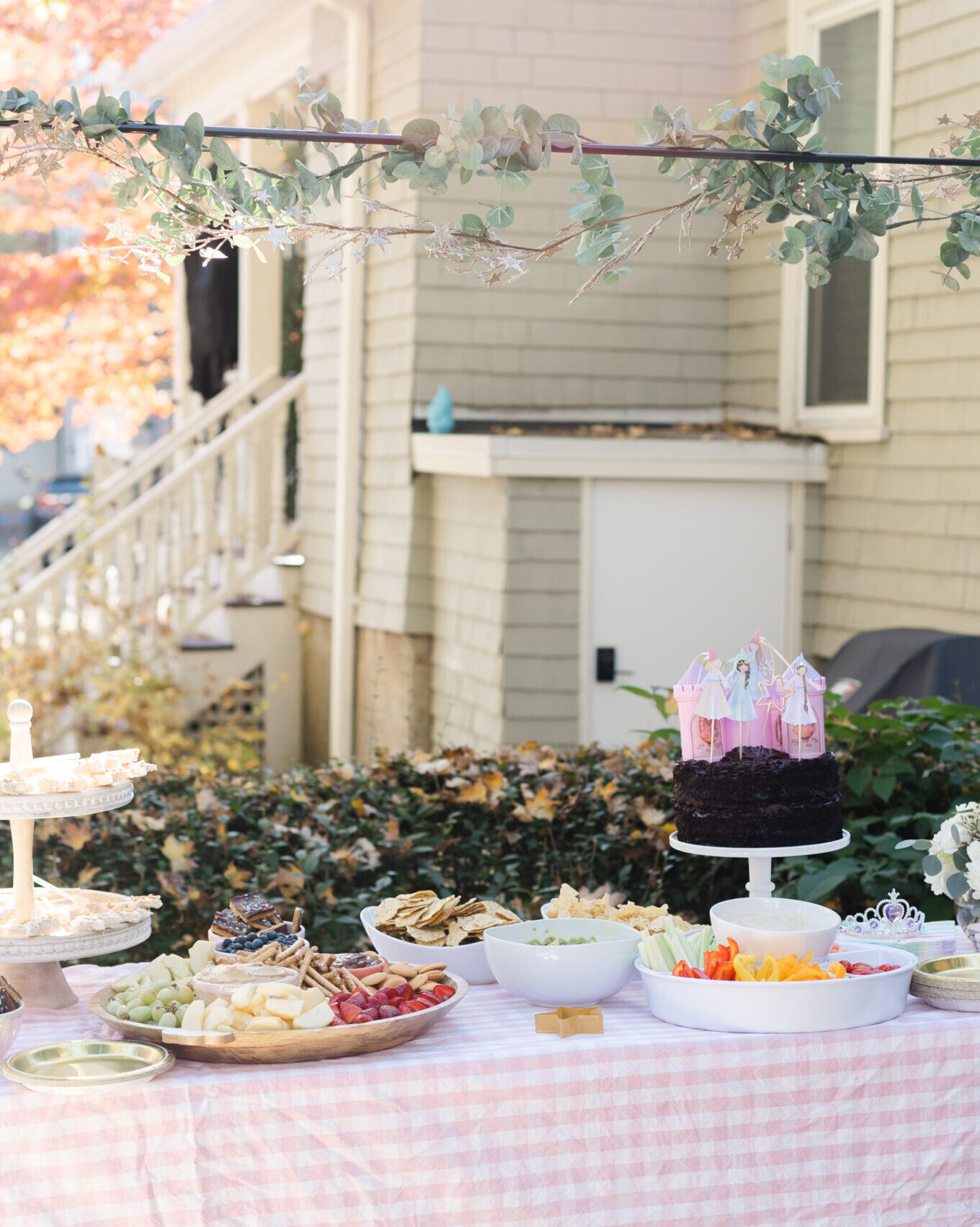 On the Costume Party Birthday Menu
For the party food, we kept it simple:
homemade guacamole and tortilla chips
hummus and cut up vegetables
pumpkin dip and Nutella with cut up fruit, vanilla wafers, and pretzels
And of course, chocolate birthday cake!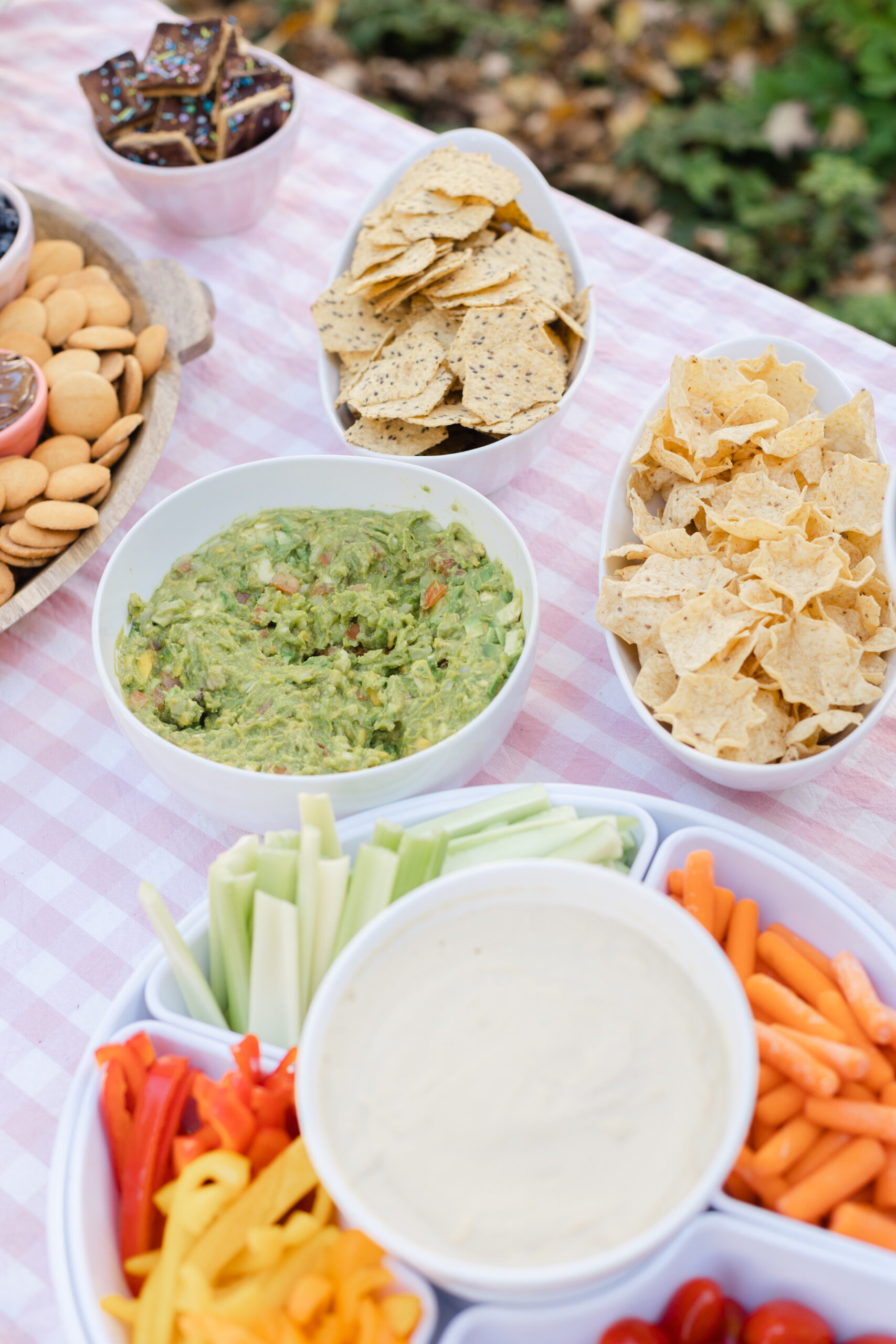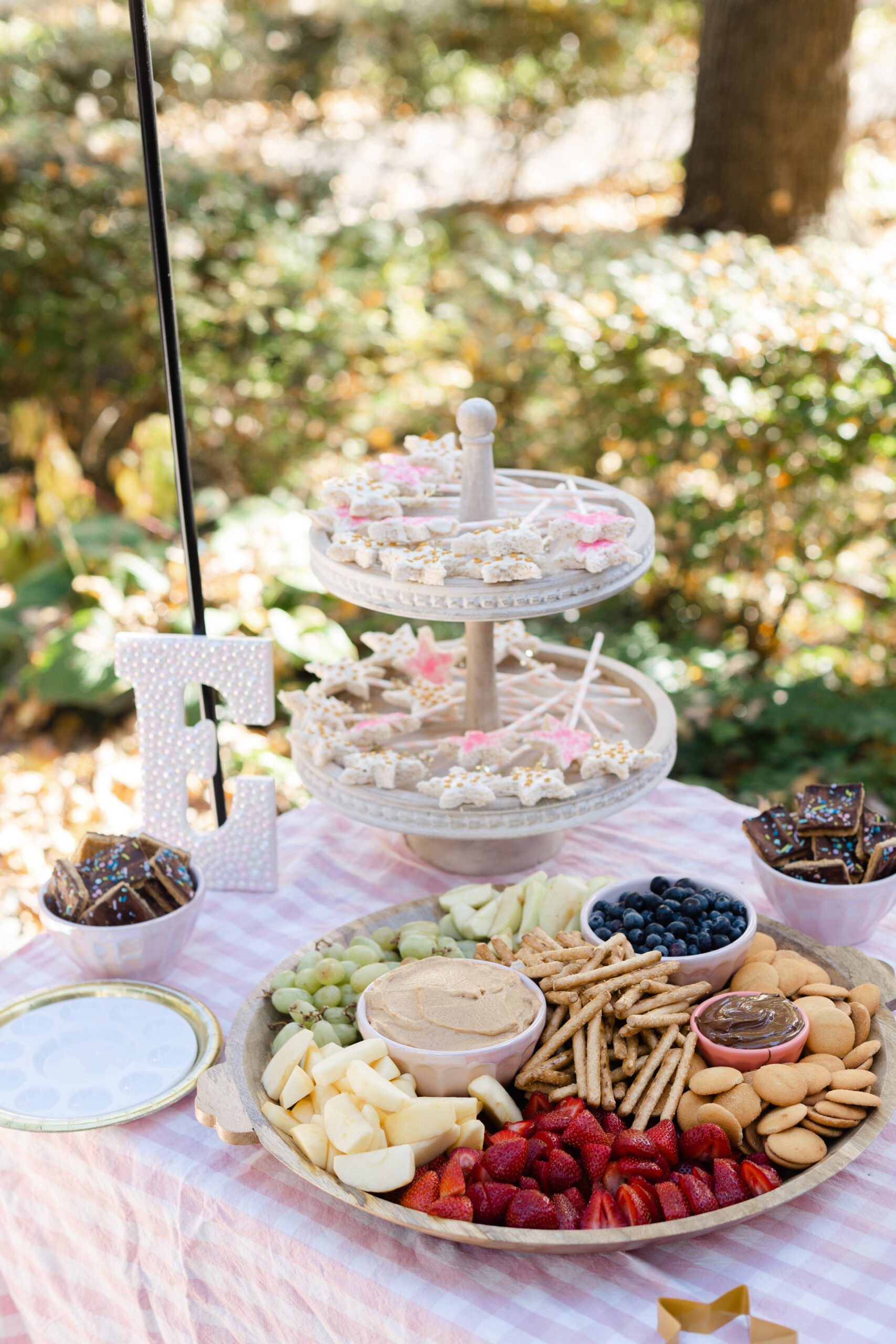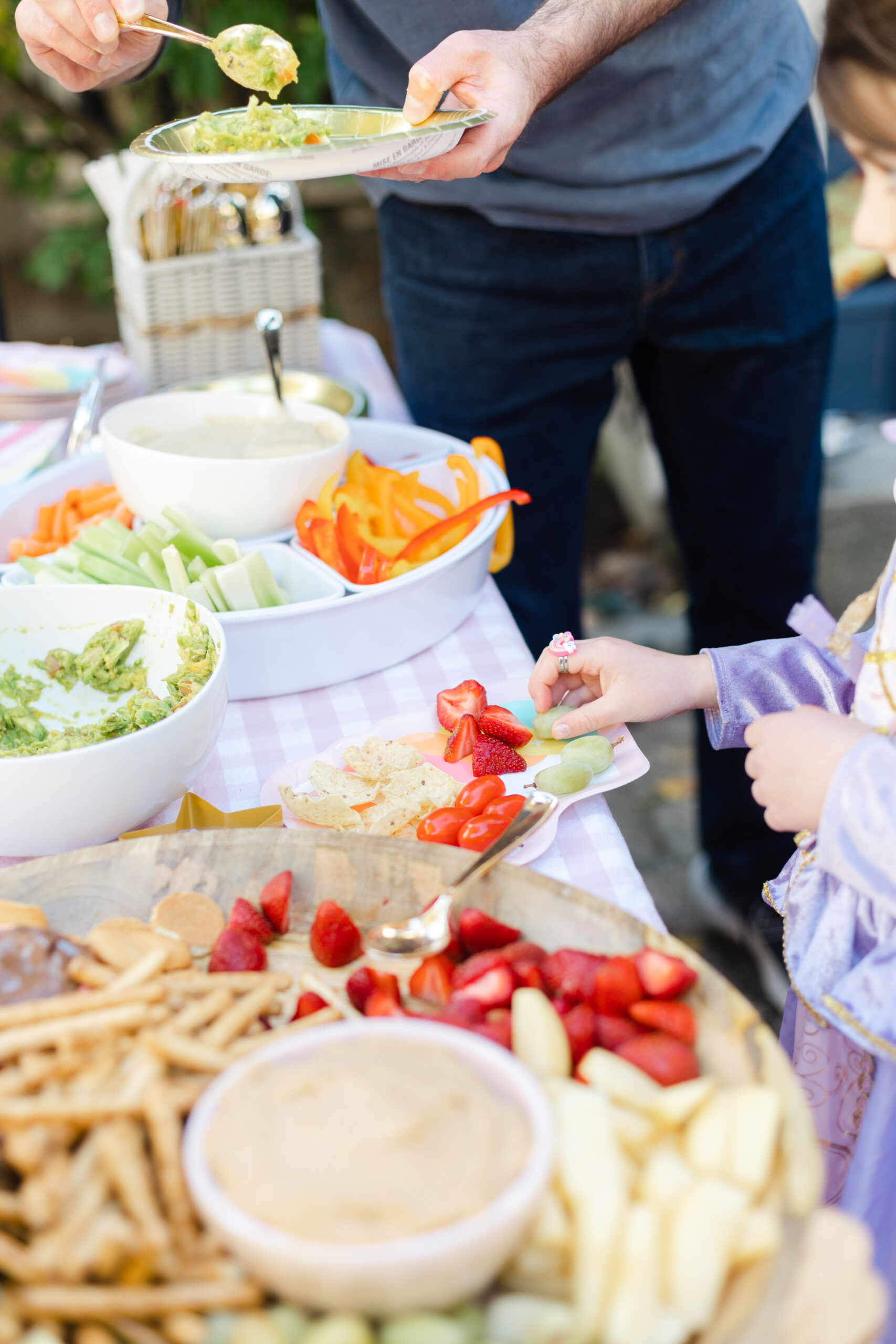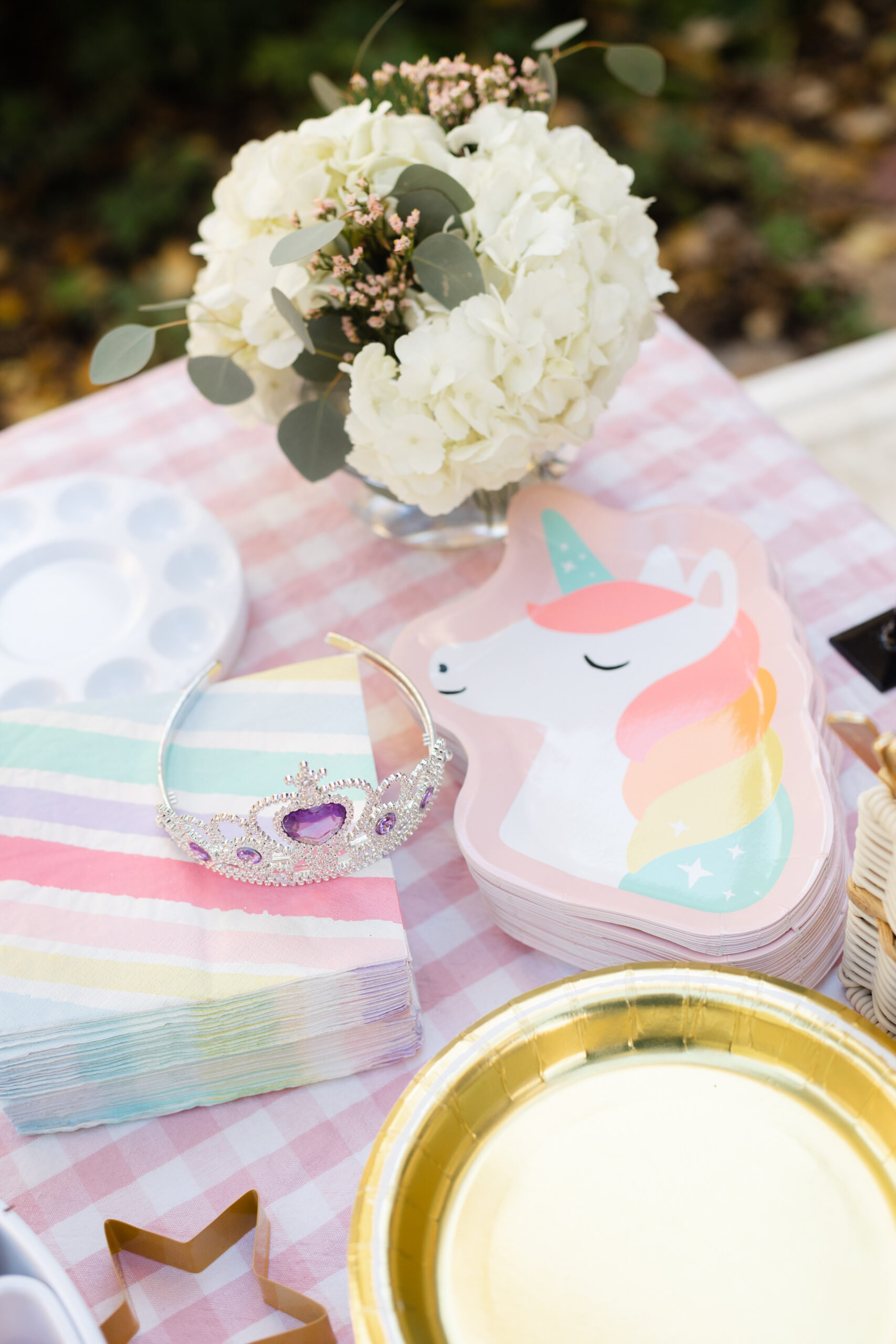 Most of the party plates, cups, plastic cutlery, and napkins were from Target and Amazon. We also used a lot of leftover plates and napkins from previous parties. Forever addicted to that pink, gold, and rainbow color palette!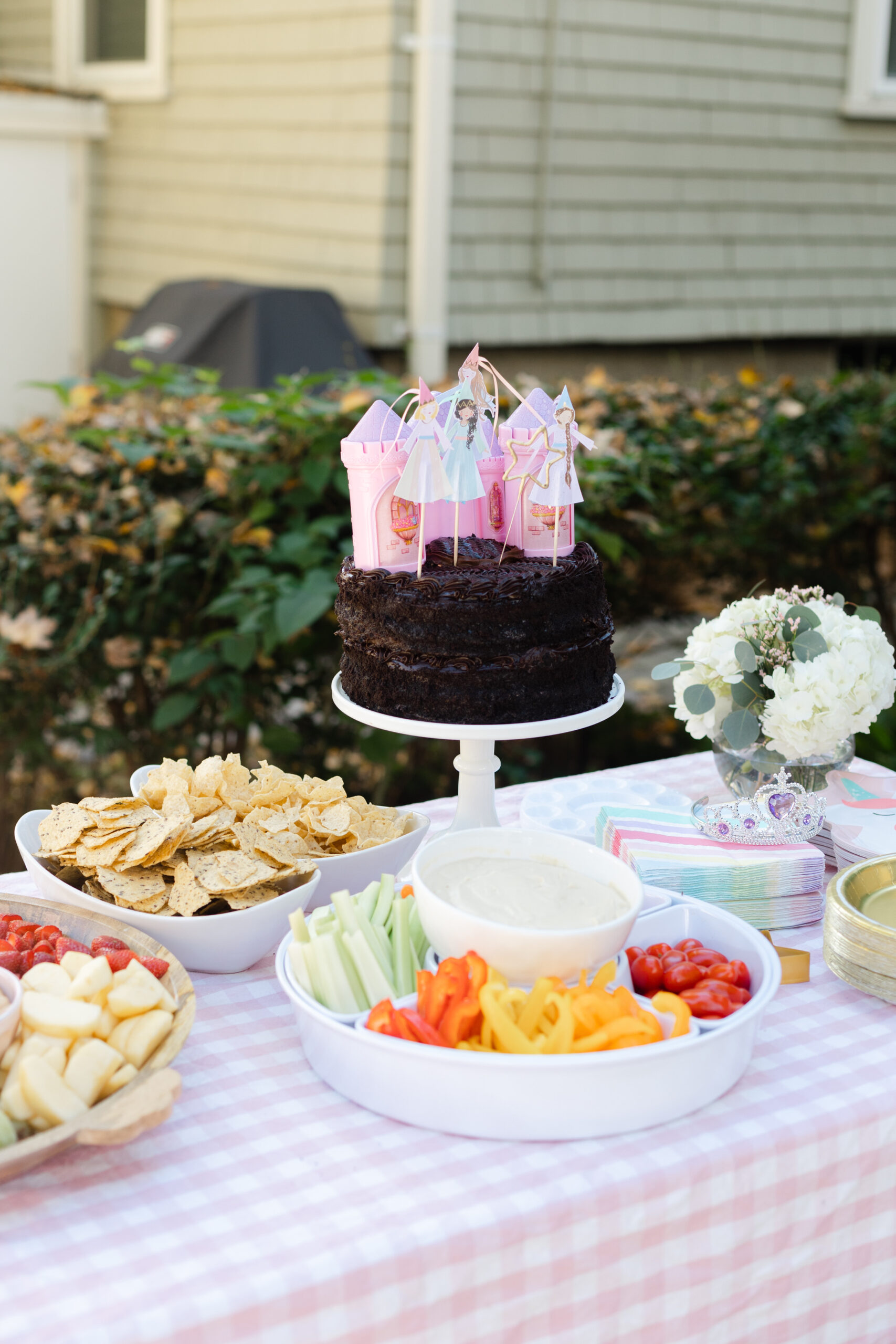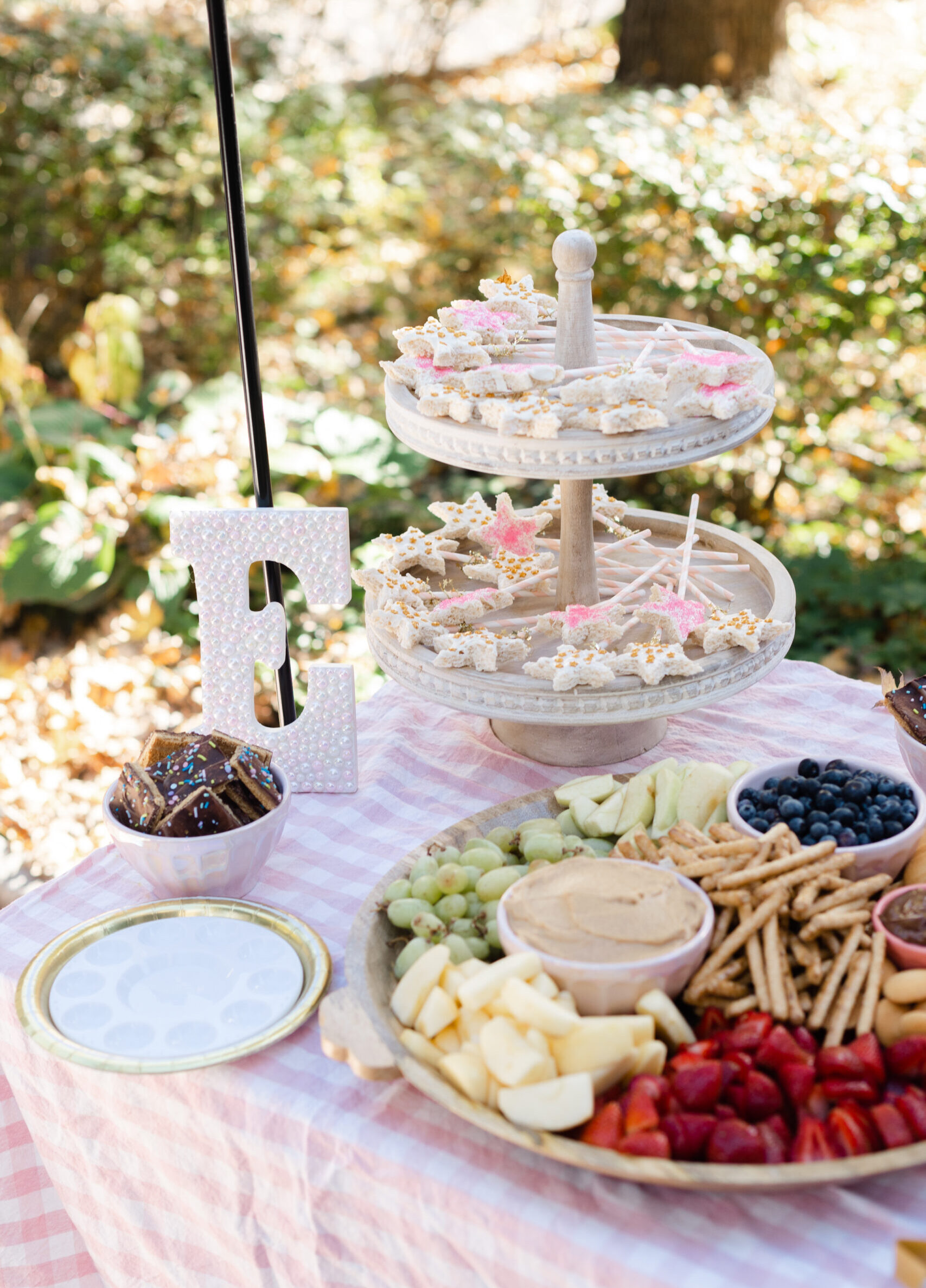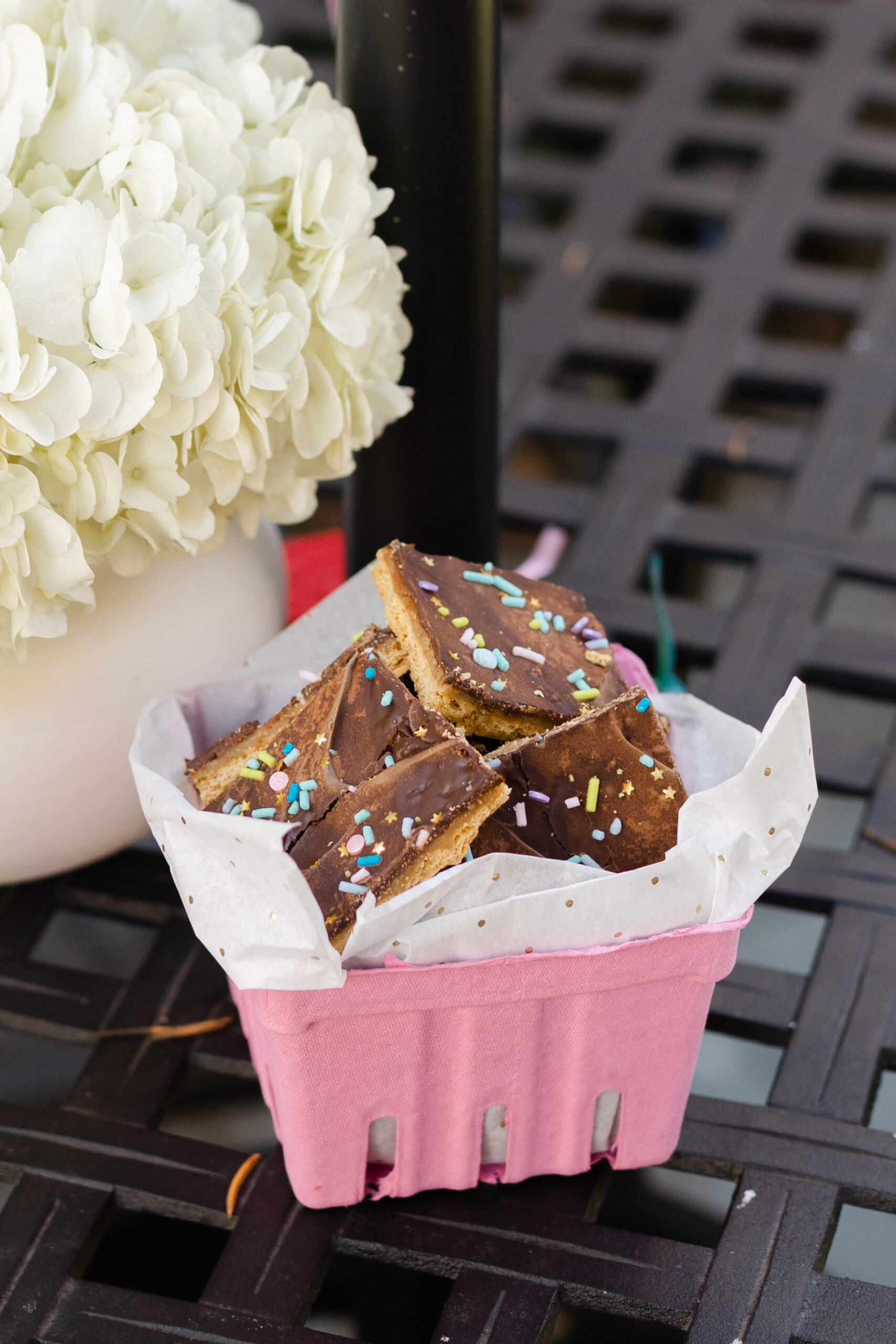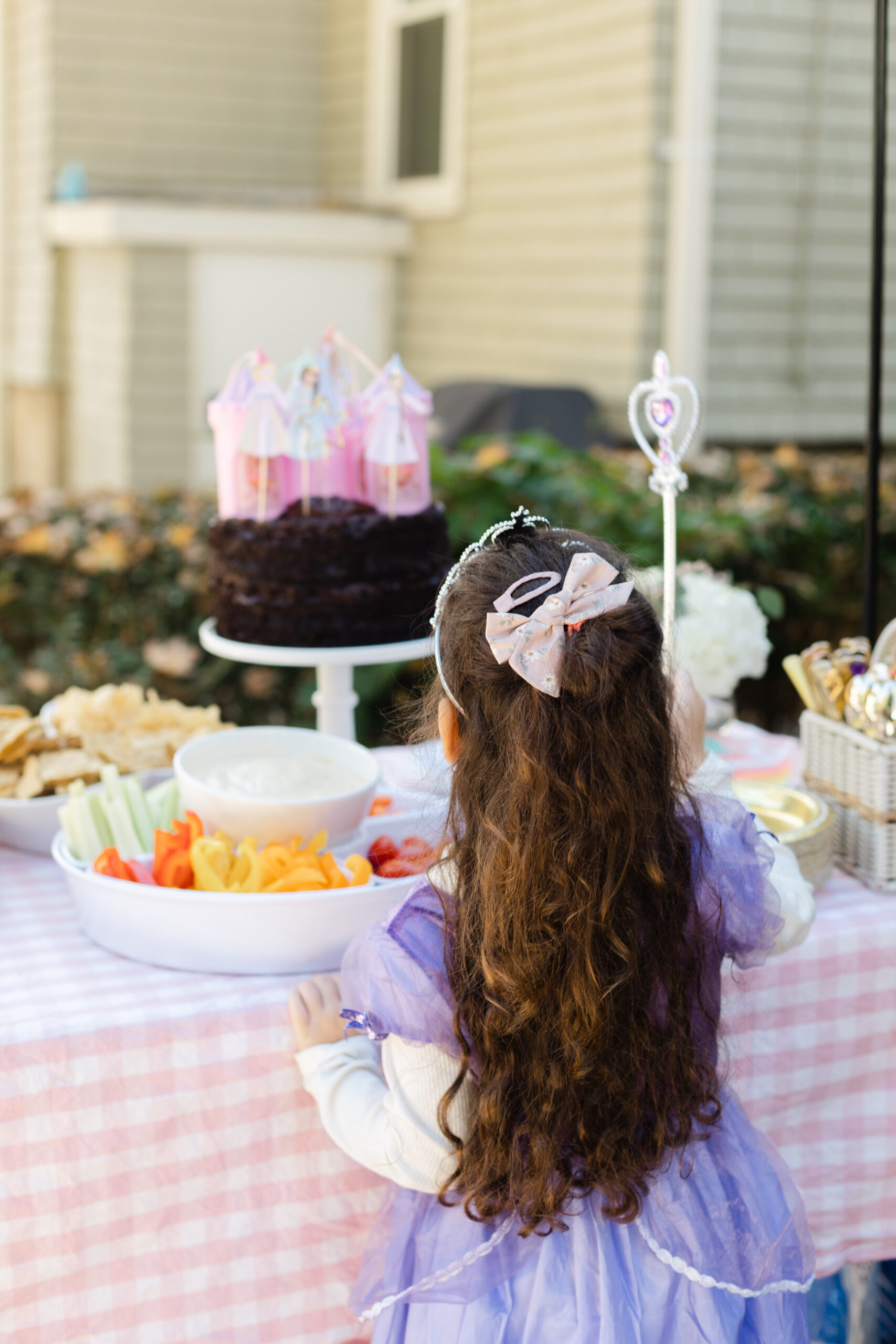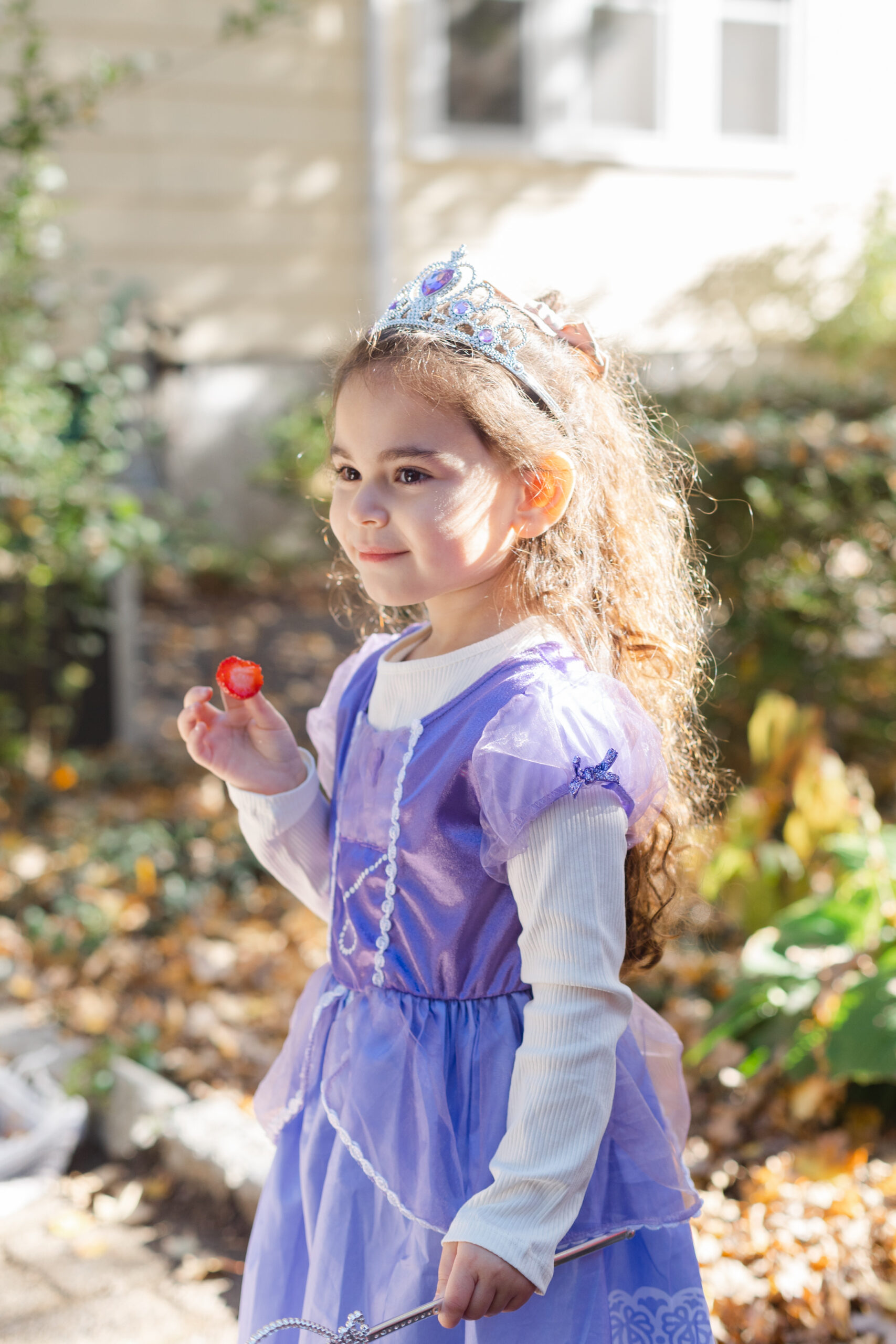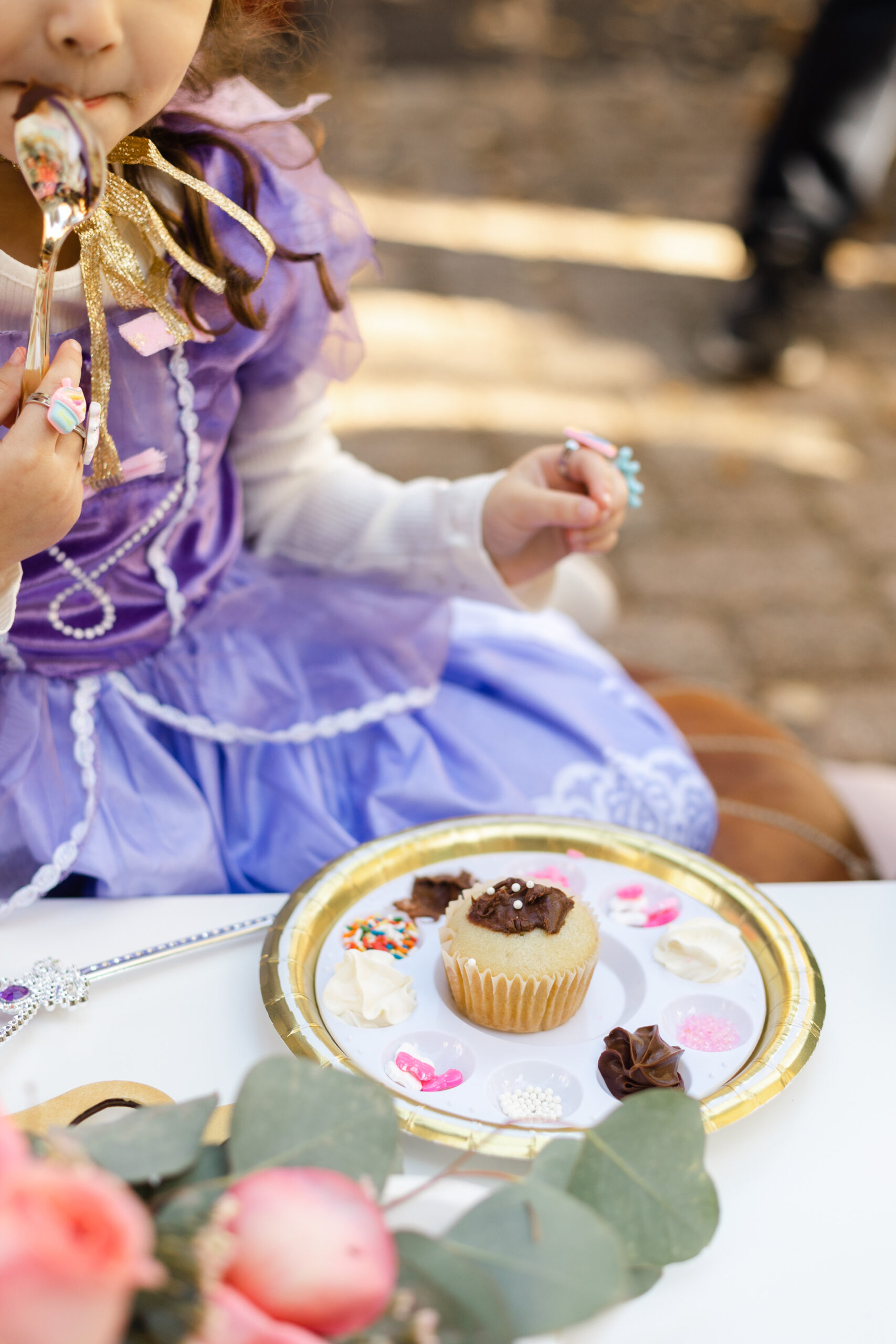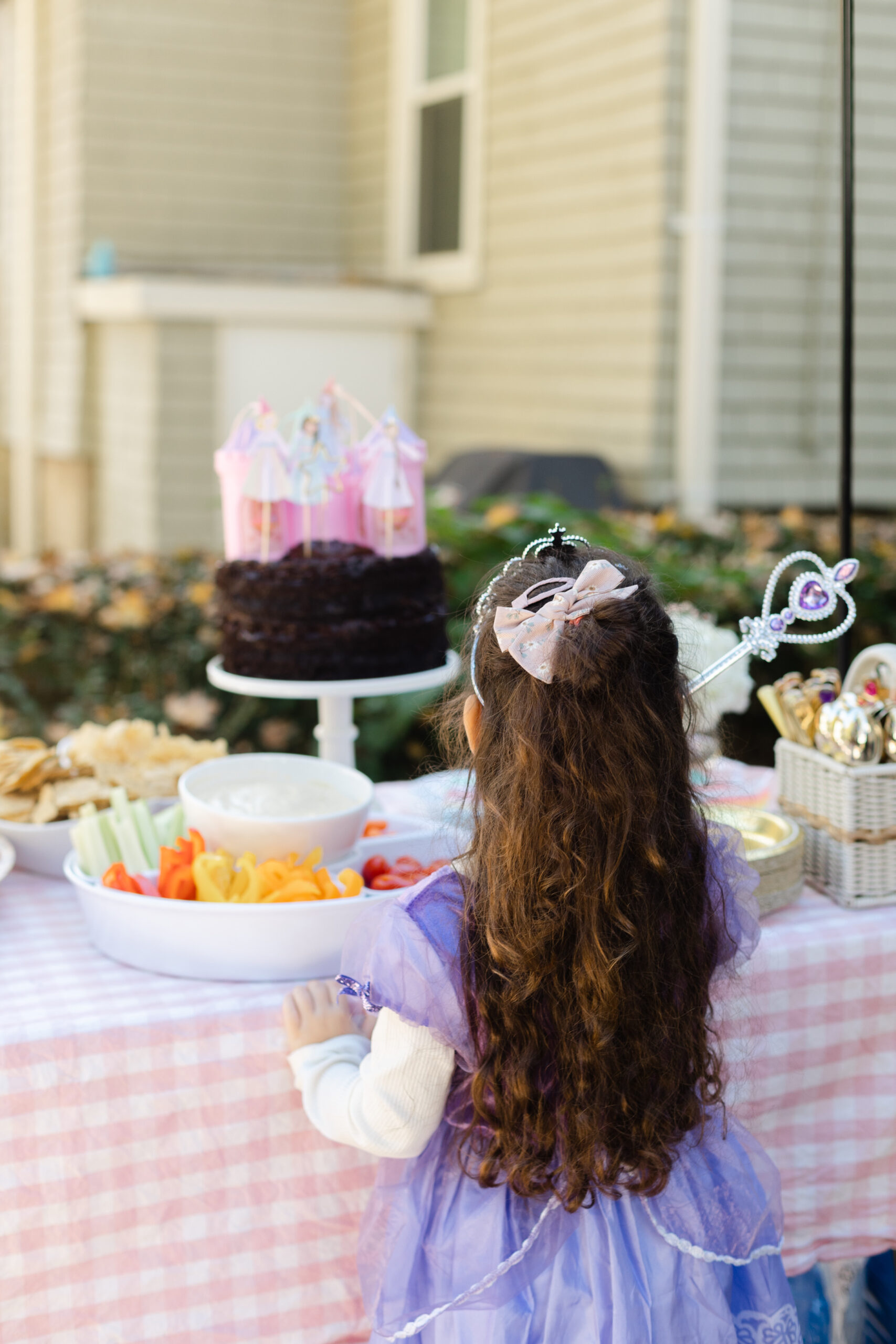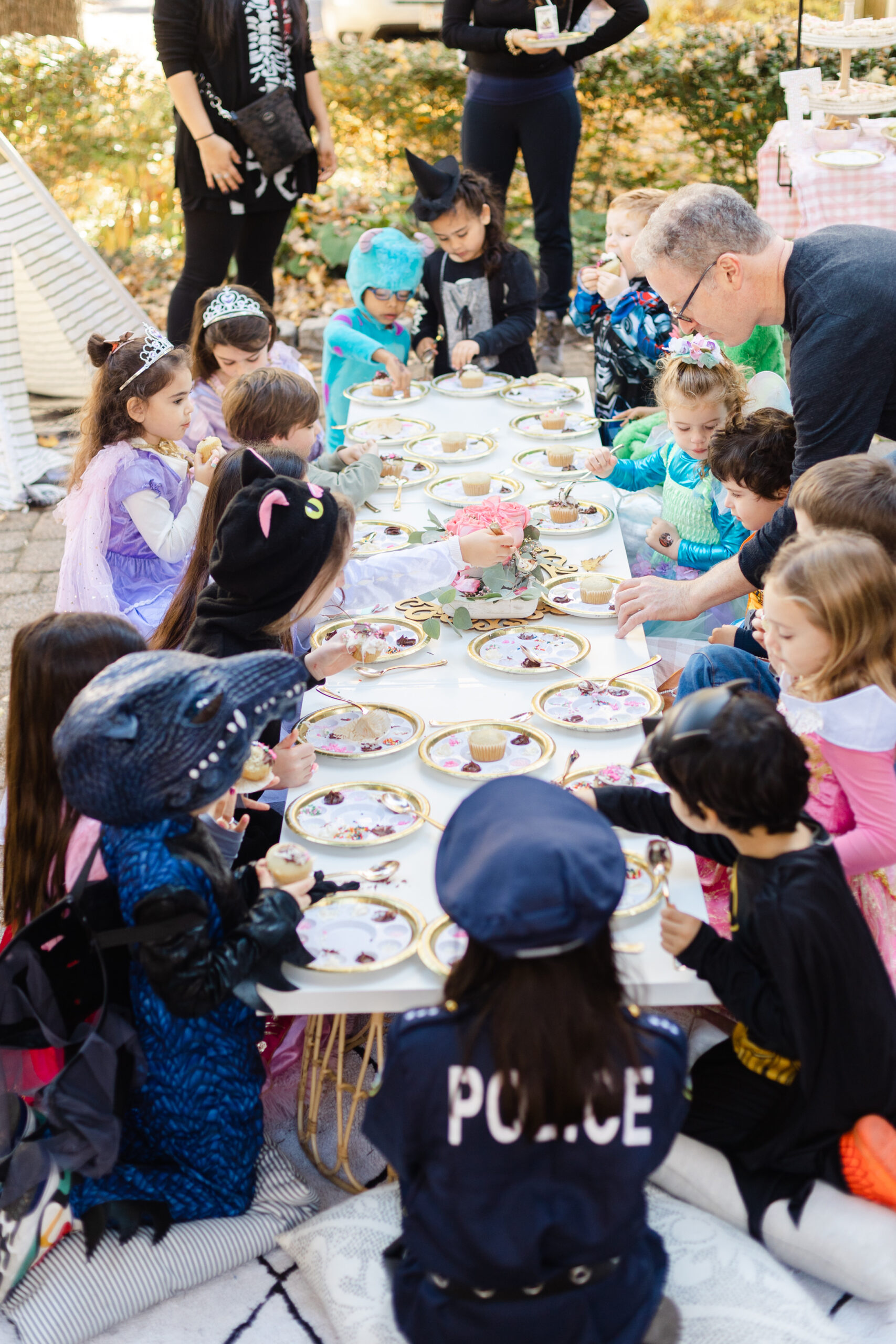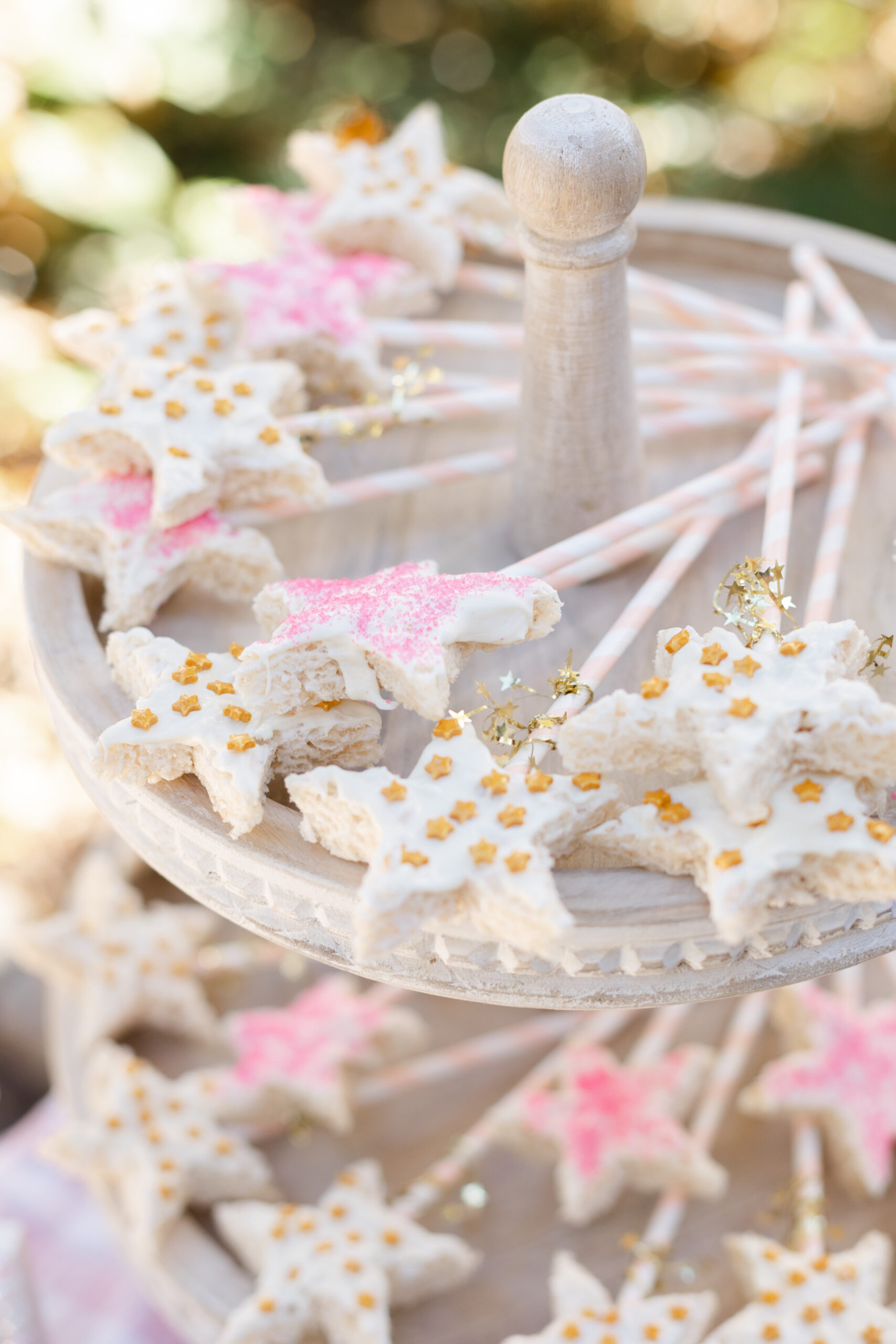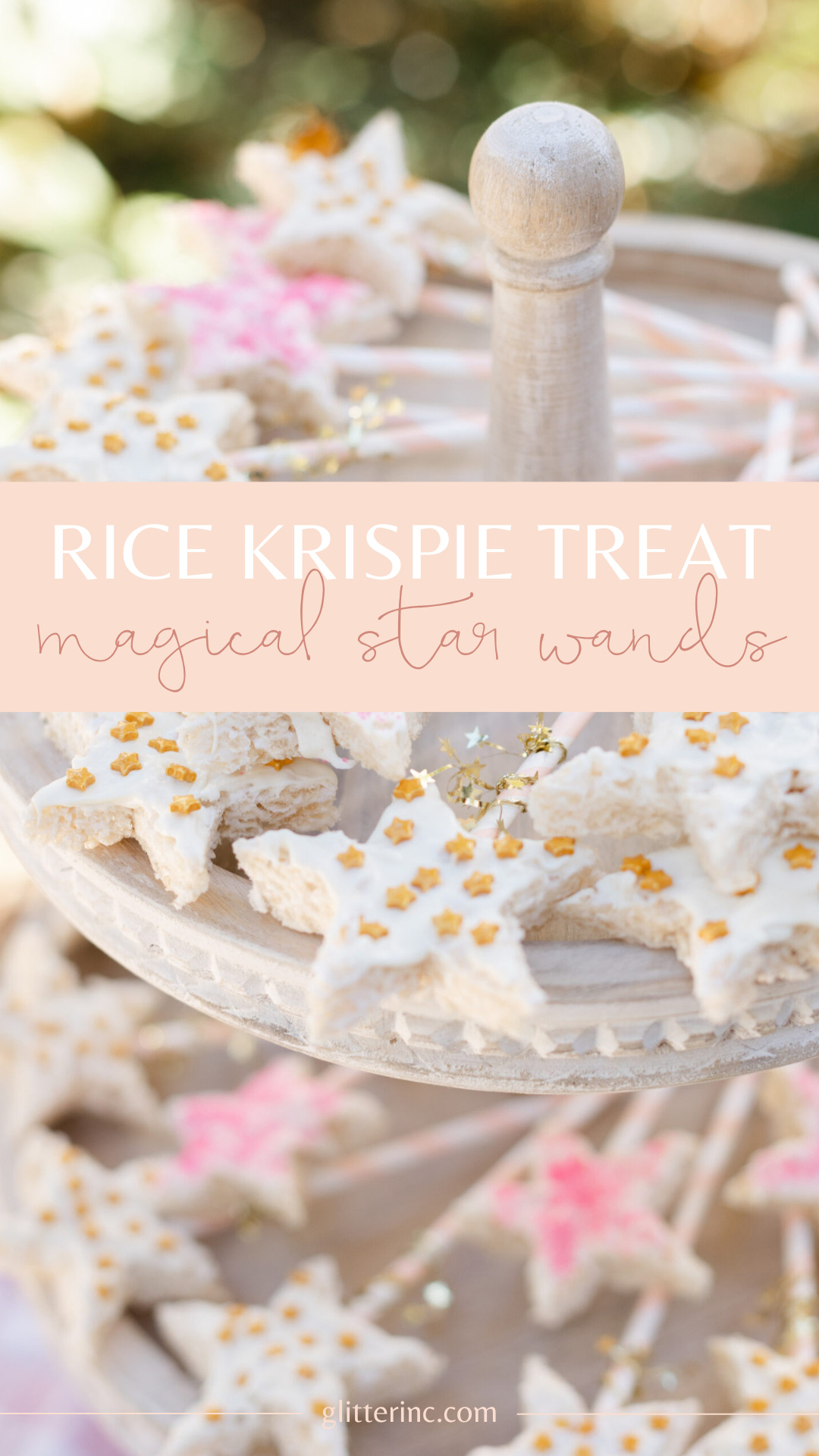 Rice Krispie Treat Princess Star Wands
The Rice Krispie treat star wands were a very big success!
We made Rice Krispie treats and used a star cookie cutter to make our stars, then stuck them on pink striped paper straws and decorated with star garland wire, frosting, and edible gold stars, sprinkles.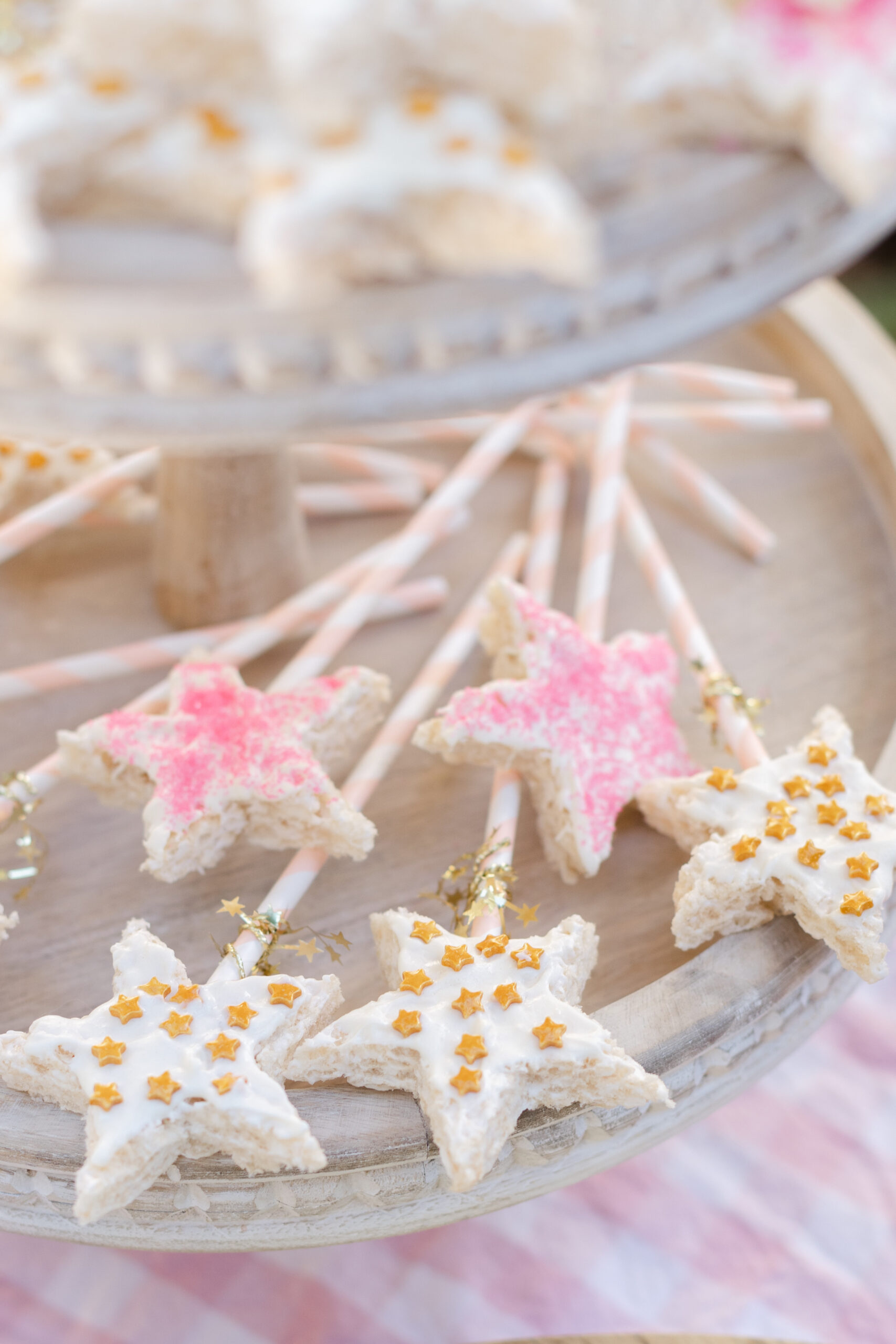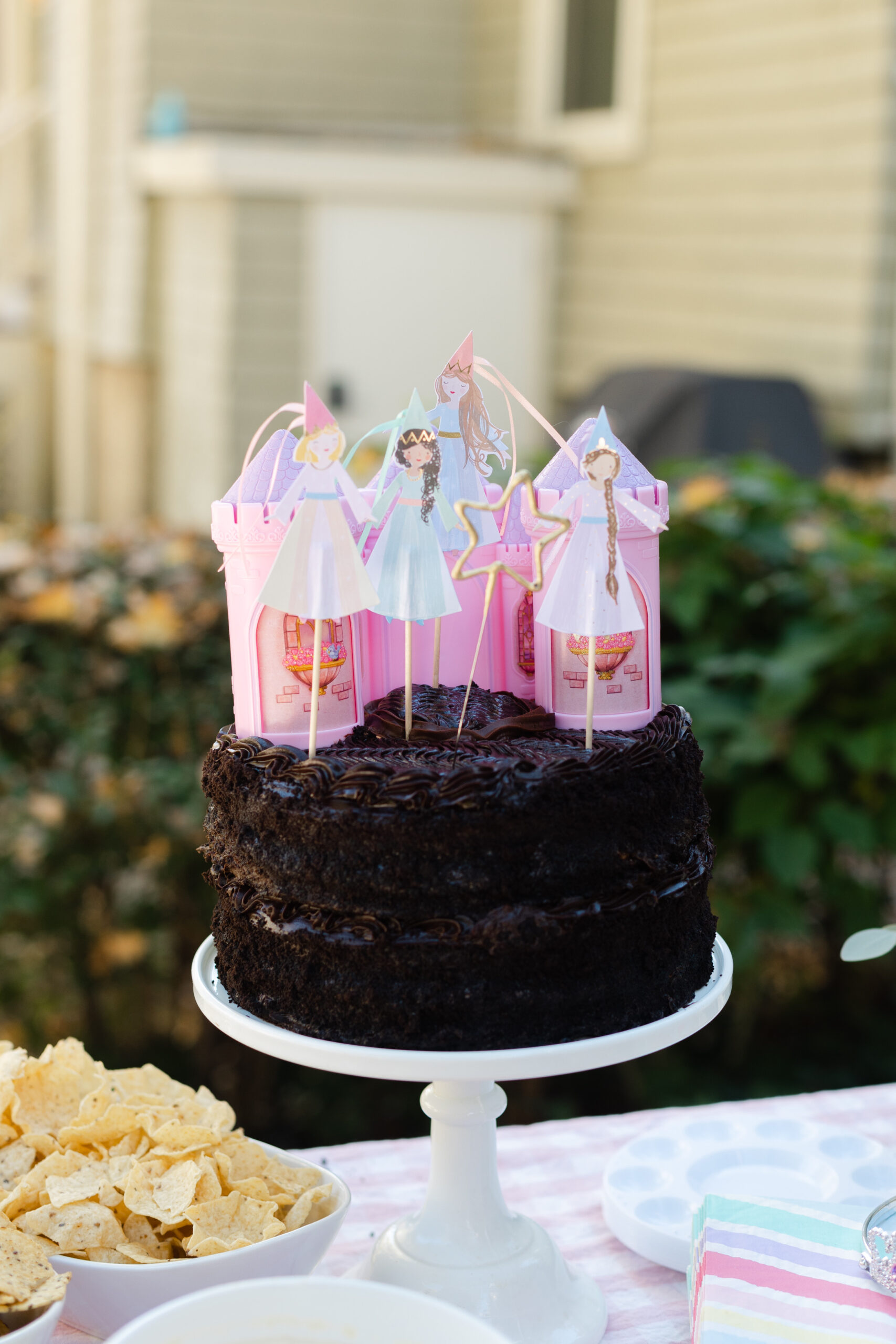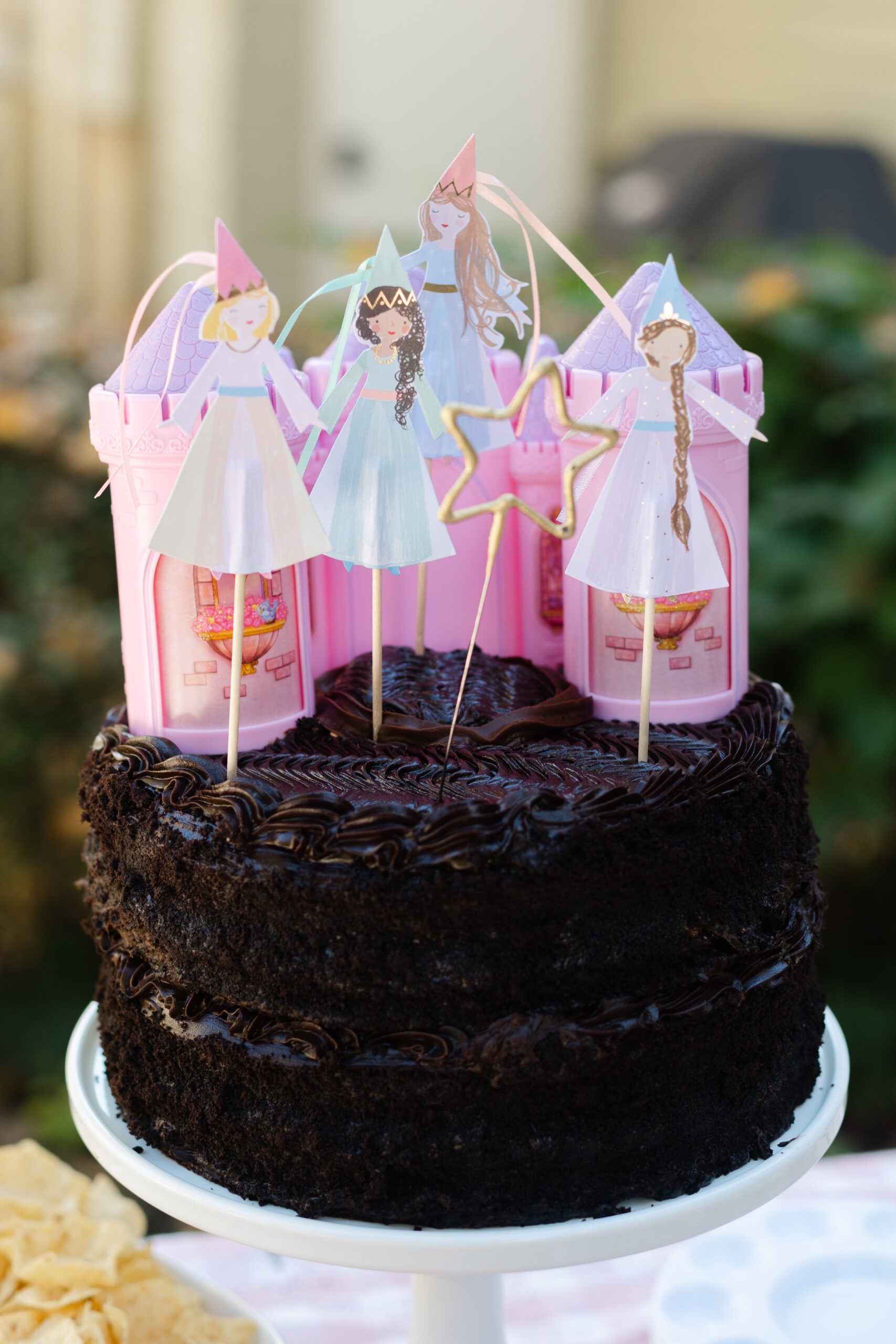 Princess Cake
I found these great princess castle cake toppers on Amazon. They gave our stacked store bought cakes an instant facelift. Our girls are still playing with the rotating castle turrets and princesses weeks later.
The Meri Meri magical princess princess cake toppers matched the Meri Meri Princess Garland and the Meri Meri Felt Happy Birthday Garland, which I loved!
I also filled our store bought chocolate birthday cake with sprinkles. Highly recommend!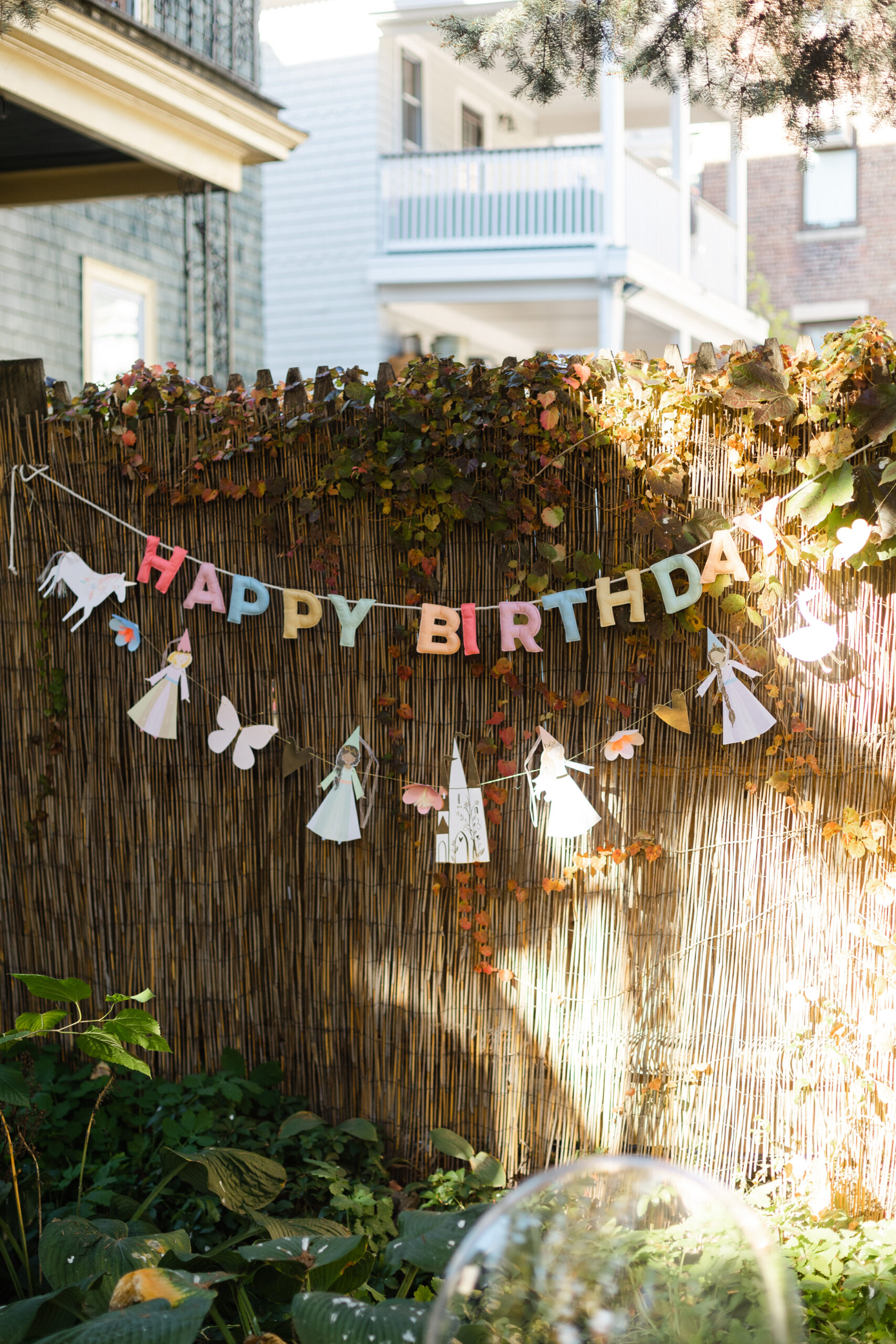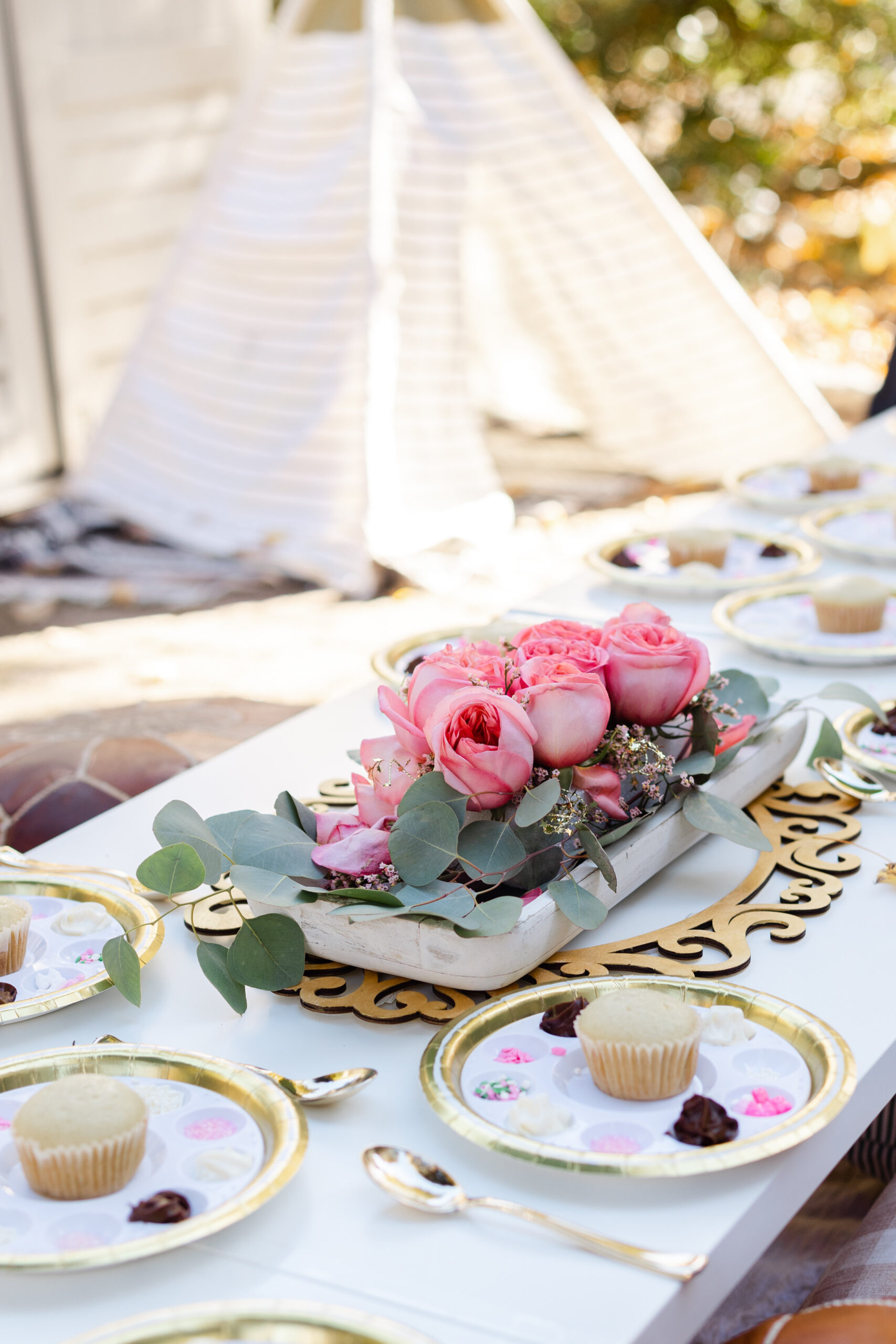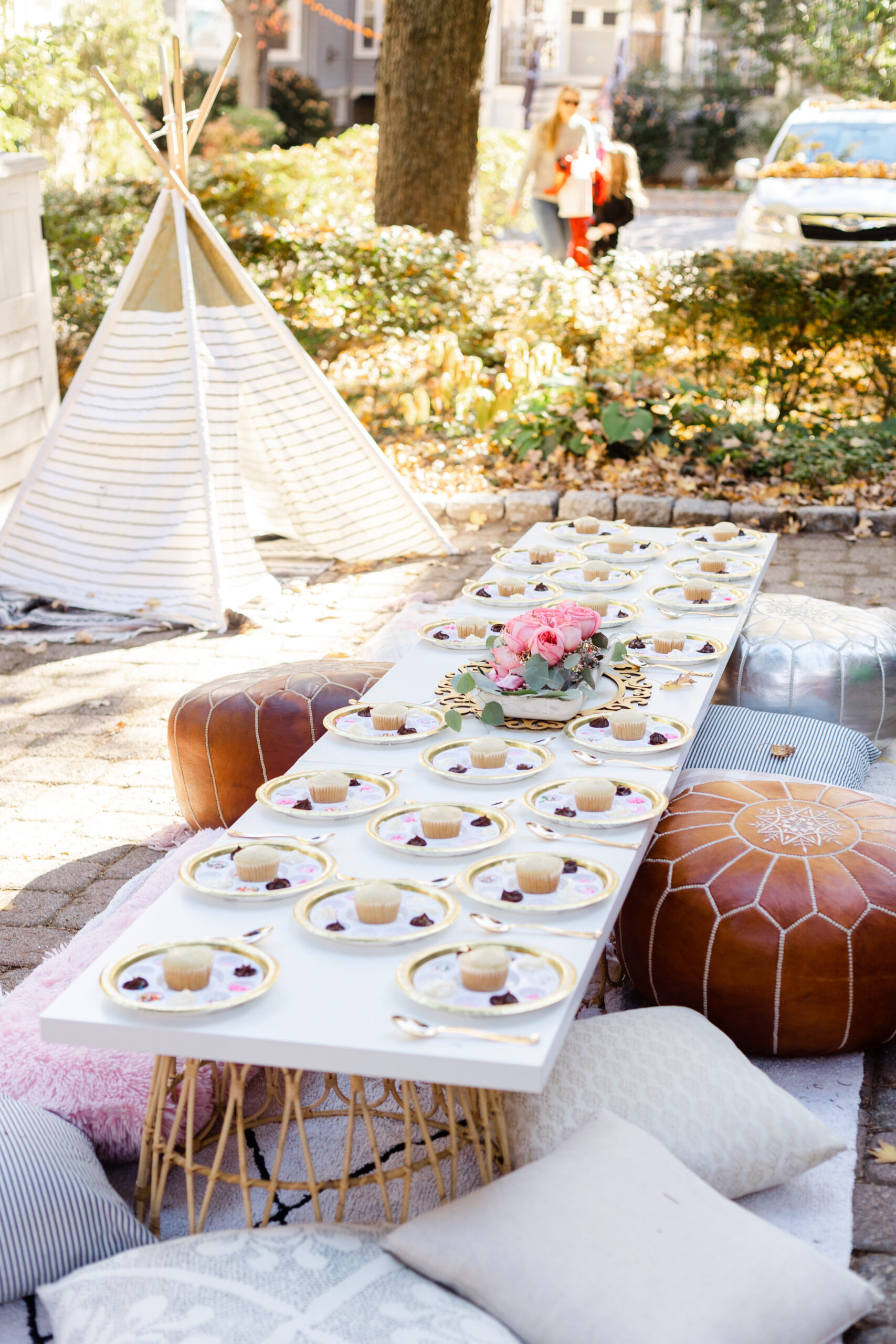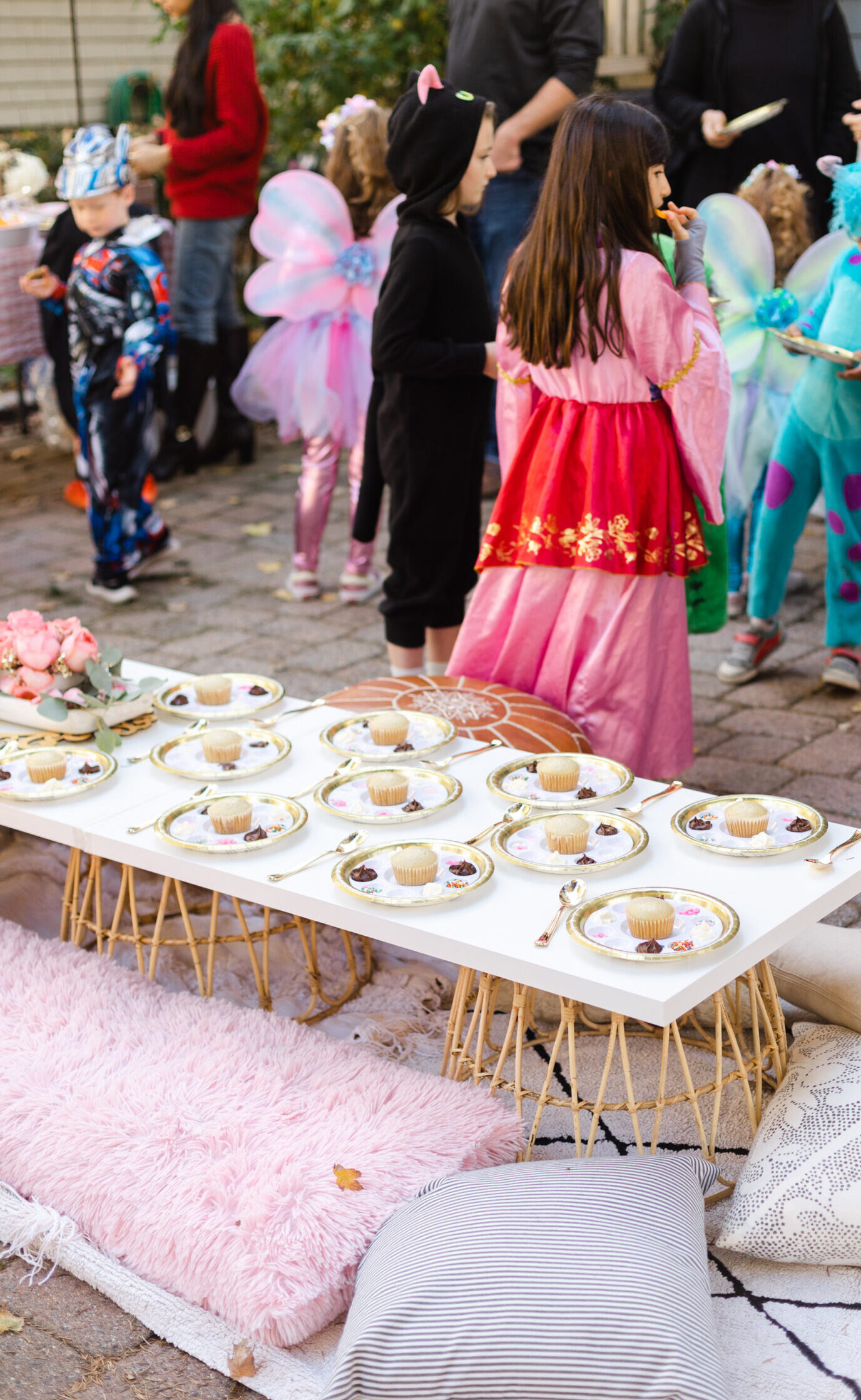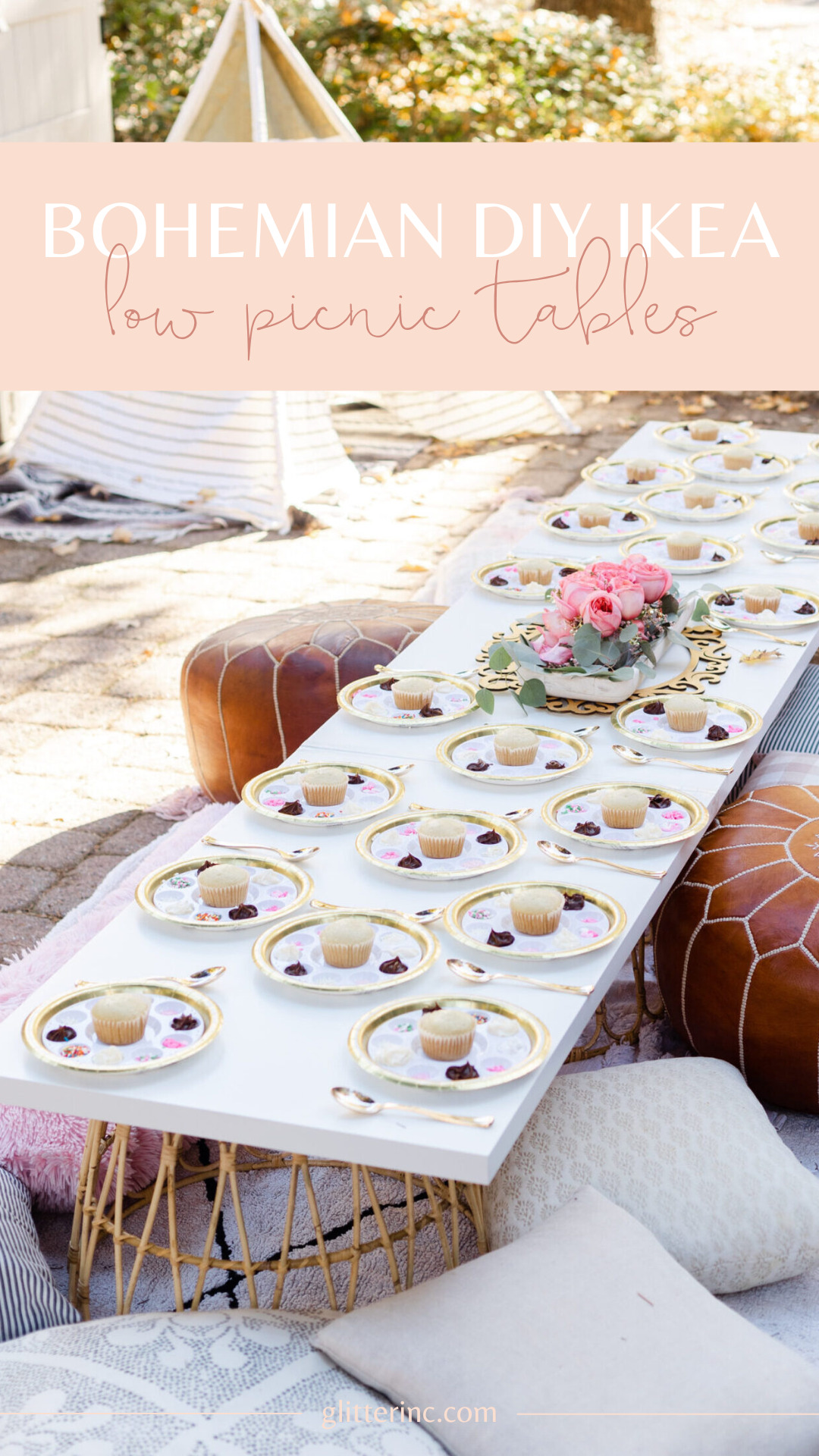 How to Create the Bohemian DIY IKEA Low Picnic Tables for a Party
I had been dreaming of setting up the bohemian-inspired low picnic tables using IKEA LINNMON tabletops and IKEA SNIDAD baskets (thanks to this awesome inspiration) and I was finally able to make that dream a reality for Emmeline's costume party!
DIY IKEA Low Picnic Table
To start, I cut off the handles of four IKEA SNIDAD baskets using sharp scissors. (Shoutout to my brothers fiancé, Nastasja, for the help!)
I laid out a few washable rugs where I wanted to set up our low picnic table, flipped the baskets upside down, spaced out in a row, and then set three IKEA LINNMON tabletops on top of the baskets. We just used tape to secure the tables to the baskets, but brackets would also work well!
After that, I styled the tables with a flower arrangement and brought out pillows, floor cushions, and poufs as our seats. This DIY was relatively simple to make and made a serious impact at the party. It was such a conversation piece and everyone was asking how I set this up.
I love that I can easily break down our low picnic table setup and store the tables stacked against the wall, and the baskets stacked up as well, for our next party!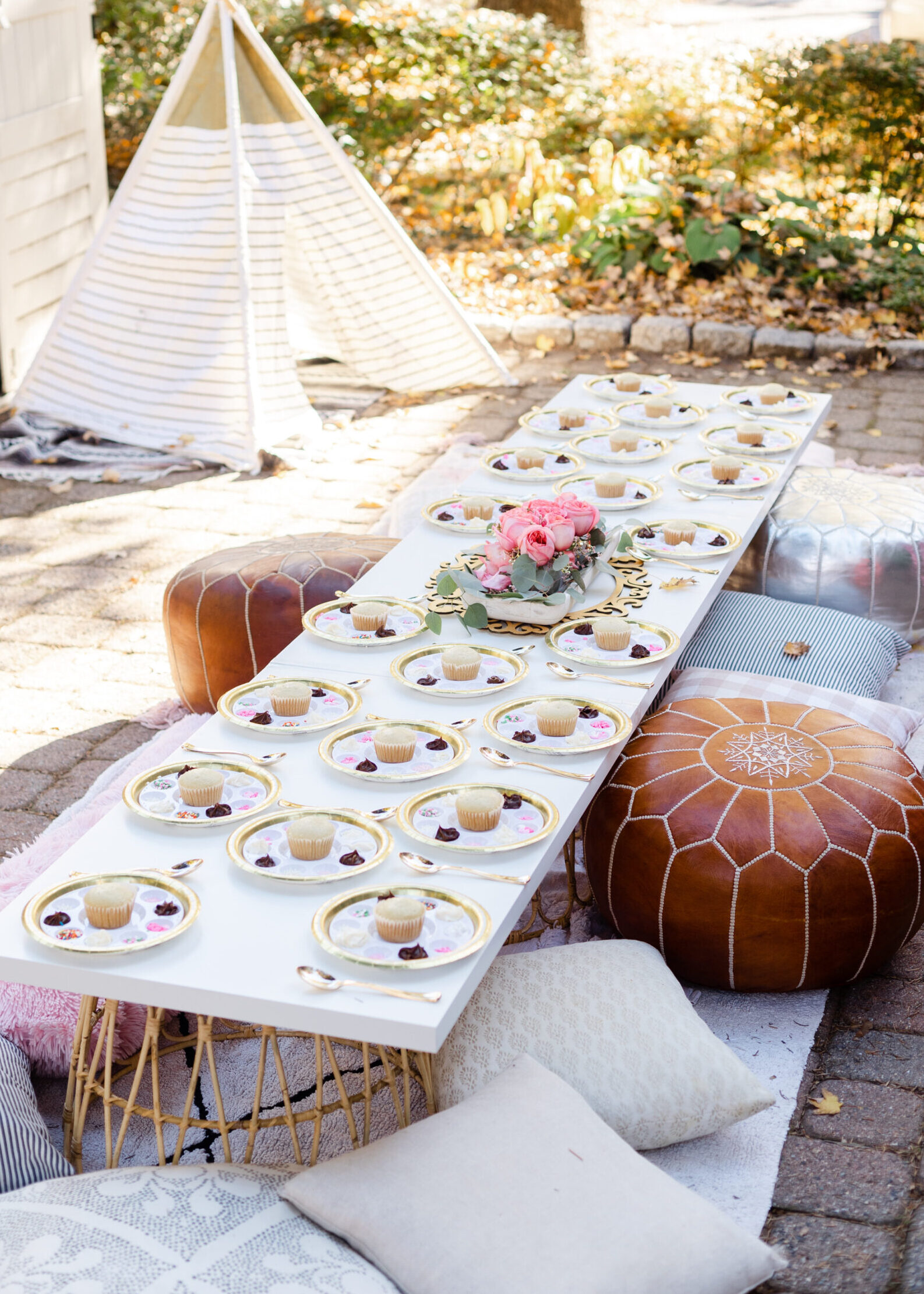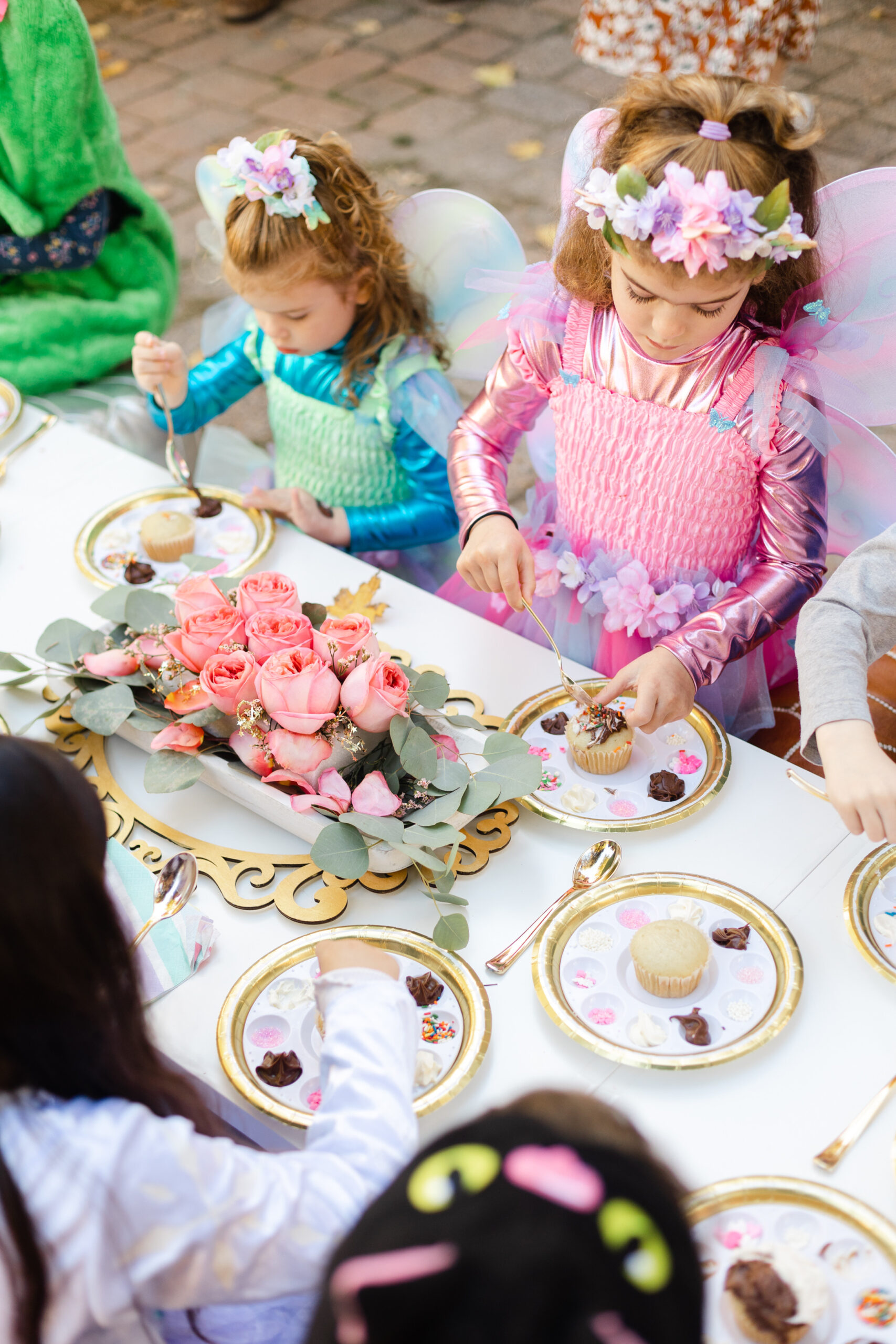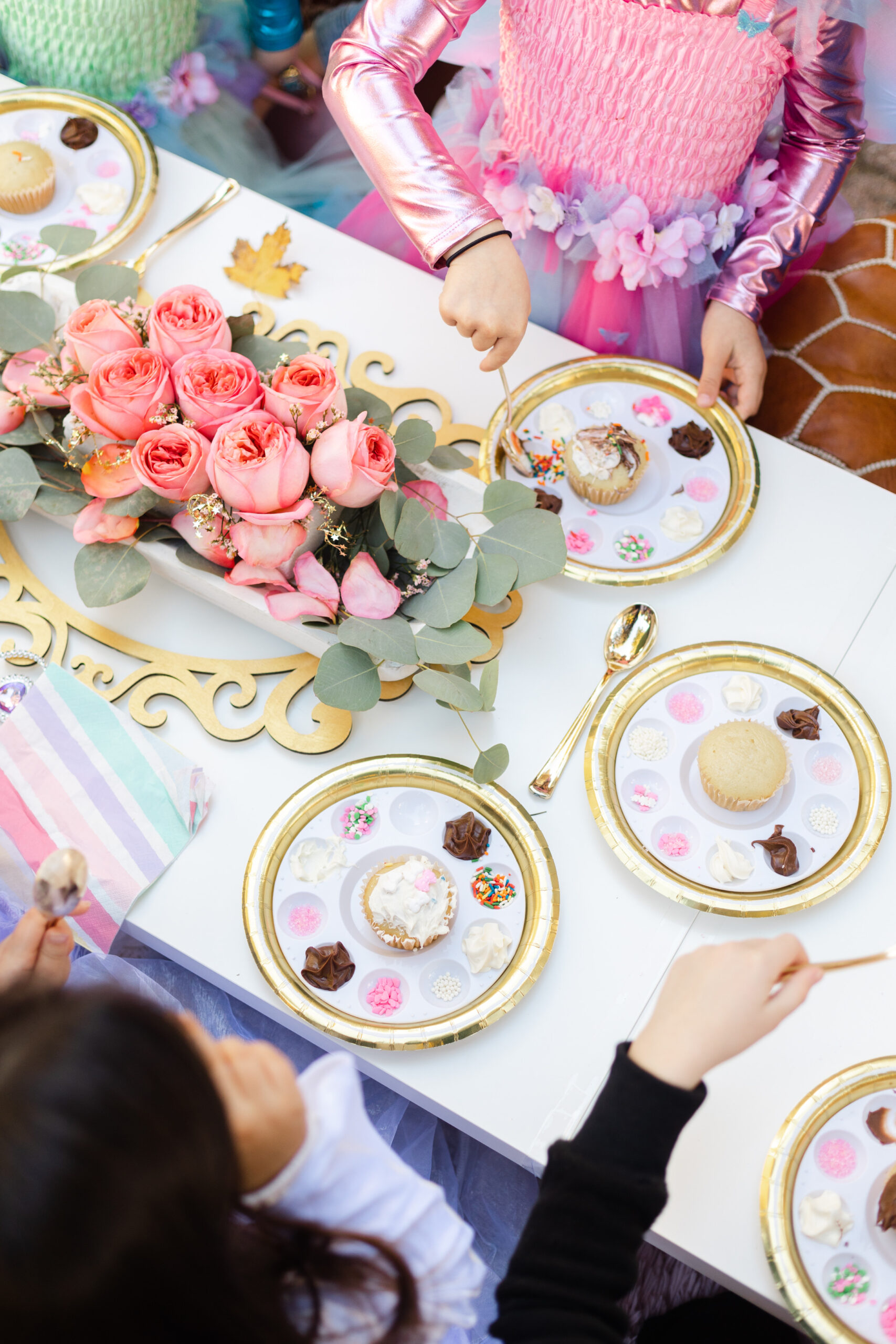 By the way, Sam of Golden Hour Photography took these beautiful photos and I'm completely smitten. Sam is based out of Boston in case you're ever looking for an amazing local photographer (who happens to be great with kids!)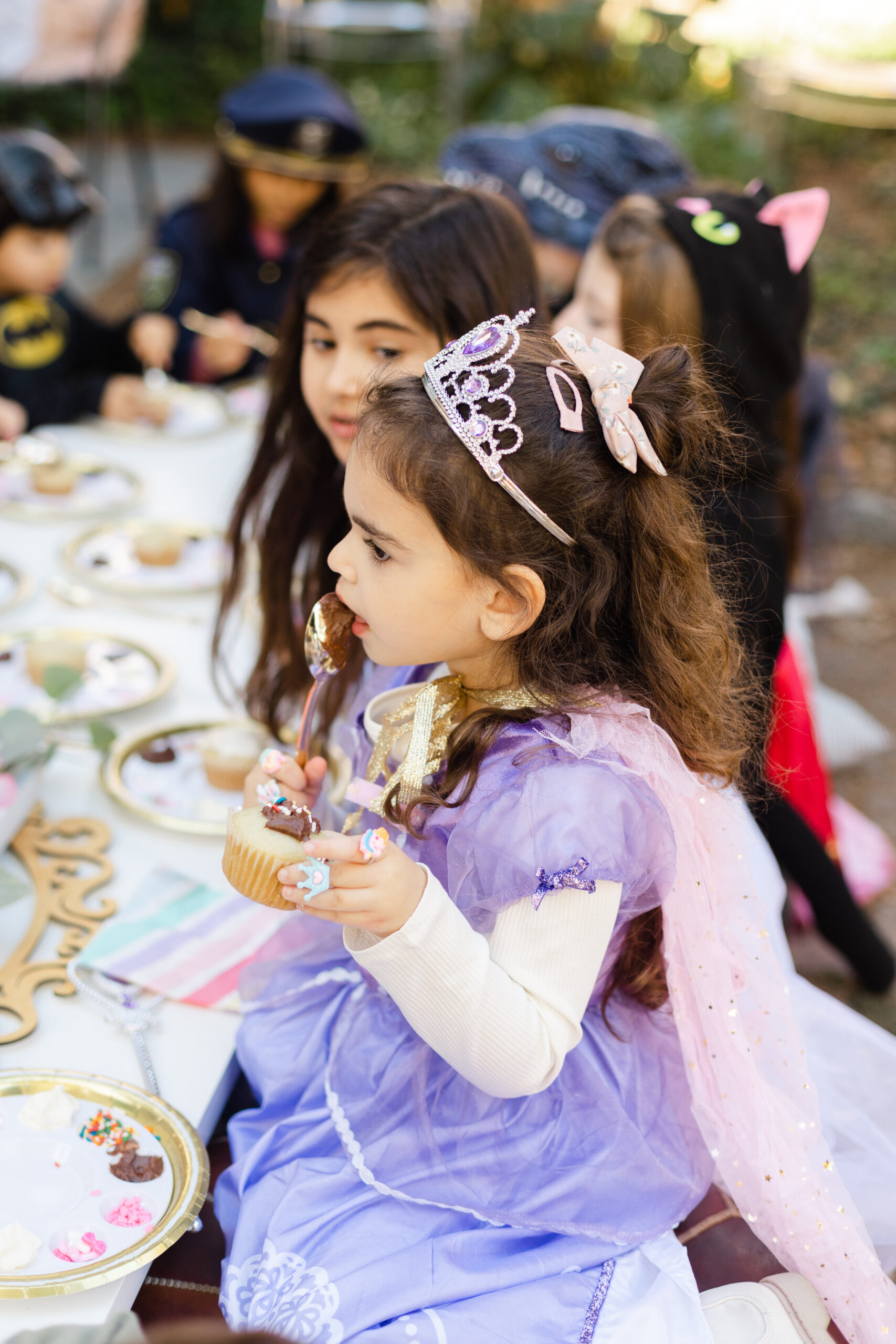 Another successful backyard kids party in the books! Any favorite birthday party details? Have you ever thrown a costume party?
SHOP EMMELINE'S COSTUME PARTY POST | CLICK THE IMAGES TO SHOP

IF YOU LOVED THIS POST, YOU CAN SEE MORE OF OUR LIFE WITH THREE LITTLE ONES HERE OR FOLLOW ME ON INSTAGRAM TO SEE THE LATEST.
You May Also Like:
Scarlett's 8th Birthday Mermaid Splash Party
Scarlett's 3rd Magical Mermaid Birthday Party
Emmeline's Backyard Garden Party
Scarlett's First Birthday Bohemian Party
Scarlett's 2nd Birthday Festival Backyard Party
I hope I've helped inspire your next kids party. Thanks for stopping by and happy celebrating!