Last weekend our little family headed to our first ever Christmas tree farm for a few family photos. The idea: something truly festive and North Carolina-ish. Yeah, yeah, I know Christmas tree farms are everywhere, but they're not in Miami; at least not real ones!
I prepared like crazy, laying out our outfits before hand, picking the perfect place, having plenty of snacks and toys to tame our wild little toddler. Truth is, I nearly forgot to take family photos for the holidays in the first place, but we were in a new hometown, with constant requests from our families for more photos of Scarlett and our family, and our last family photos were taken weeks after Scarlett was born. Whoops! (For the record: she's now 17 months old.) Thankfully, my friend Ana swooped in and saved the day, and thus our holiday family shoot finally came together.
Despite my preparation for the big day, we had a few bumps in the road. We ran around the house like lunatics the morning of the shoot, trying to iron shirts and find Scarlett's missing boot (I was determined to find that boot!), but once we made it to the Christmas tree farm and started snapping photos with the amazing Ana of Galizes Photos, I swelled with pride and love. As a blogger, I sometimes forget to get in front of the lens – I'm always the one snapping photos. And though I cherish the memories, having those tangible moments with all three of us – moments I can print and frame and press into books and send to family and print on holiday cards and look back on for years to come – they really are so special and worth the pre-shoot morning chaos. Needless to say, I probably wore the wrong black dress that made me look slightly pregnant (for the record: I'm not!), Scarlett refused to take even one step in those cute boots I searched endlessly for and she munched on raisins through most of the shoot (so those raisins she loves so much will most definitely adorn our gallery wall for years to come), I forced my poor husband to take off his glasses and he stumbled around half-blind for the duration of the shoot, and Ana, our photographer, was a patient saint. Still, I am so grateful and lucky and in love. And hey, at least we got this photo out of it. I just love it.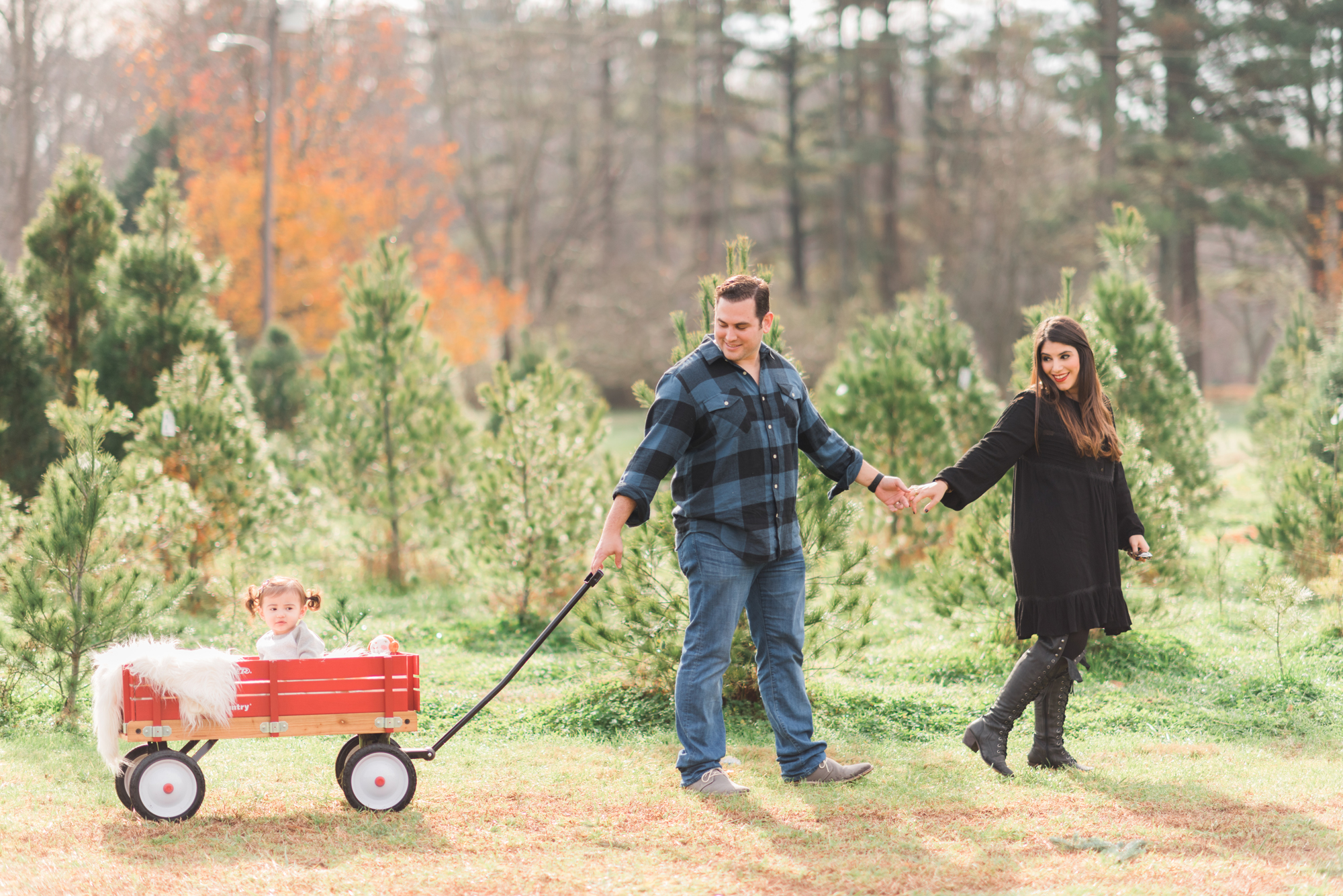 HOW TO SURVIVE A HOLIDAY FAMILY PHOTO SHOOT:
Prepare in advance. Have all of the outfits, clean and ironed, ready and waiting the morning of the shoot.
Wear comfortable shoes.*
Make sure everyone gets in a good meal before the shoot (wearing something other than their shoot outfit.) And I'm not just talking about the babies here. (I'm looking at you, hubby.)
Plan the shoot around nap-time. We went at 10am because Scarlett really only needs one afternoon nap a day now.
Check the weather before you go. And then check it again. We lucked out and it was a gorgeous day. Ana also knew just where to shoot to get the perfect amount of light. (Told you she was awesome!)
Bring ALL OF THE TOYS to distract your little ones. (Including a new book – Scarlett got Brown Bear, Brown Bear, What Do You See? from her Aunt Dara! – or toy – and a Blabla Kids doll from her Bubby – if possible. We love the $1 and $3 bins at the front of Target; cute little toys, inexpensive activity books, etc.)
Second that for snacks. We had raisins (clearly), fruit squeeze packs, graham crackers, veggie straws, and plenty of milk and water. Basically, anything that was relatively mess-free.
Bring a blanket, in case it gets cold or your little one needs something to crawl on.
Try to bring a cute prop for your photos. We borrowed a classic red Radio Flyer Wagon and I found this adorable holiday tin basket in the $1 bin at Target for Scarlett to hold and use to collect fallen branches. She got a real kick out of it and it was cute in photos!
Keep it short and sweet. A family photo shoot shouldn't last more than an hour-to-an-hour-and-a-half. Try to remember it's a lot for your little ones. And with a great photographer, an hour or so is totally do-able.
Go with the flow! Maybe you dreamed of taking the world's cutest photograph with your whole family lined up on swings, but your littlest won't stop crying. It's time for a new plan (and a snack!) You can always come back to the swings.
I dare you not to cry once you get the photos back. I may or may not have bawled like a baby and sent photo after photo to my husband at the hospital texting him things like, "Look at our baby!!! I CAN'T GET ENOUGH."
Yeah, I'm kind of obsessed with that wagon.
By the way, this perfectly sums up our photo shoot.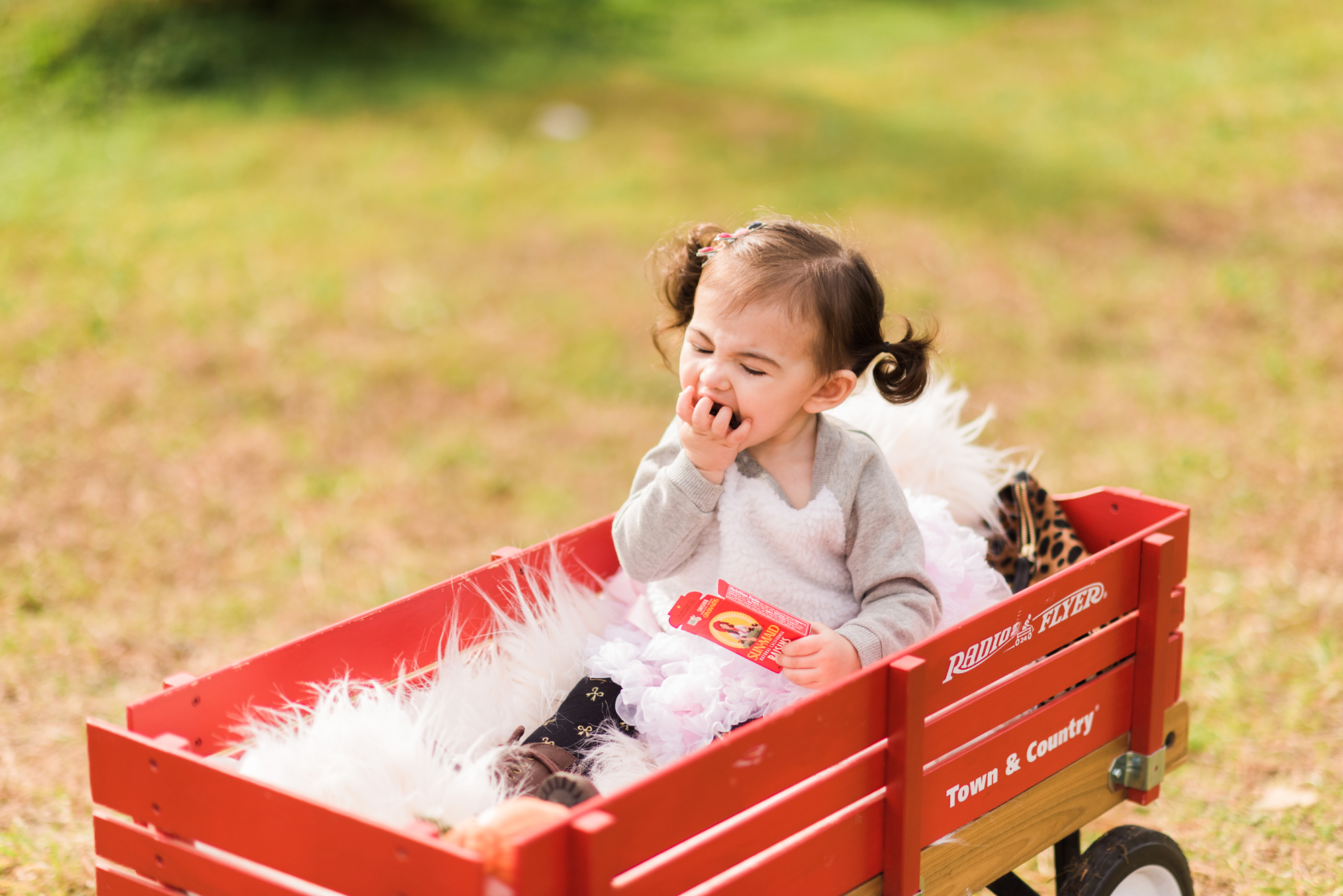 And then we ran out of raisins.
And she was officially done with the wagon.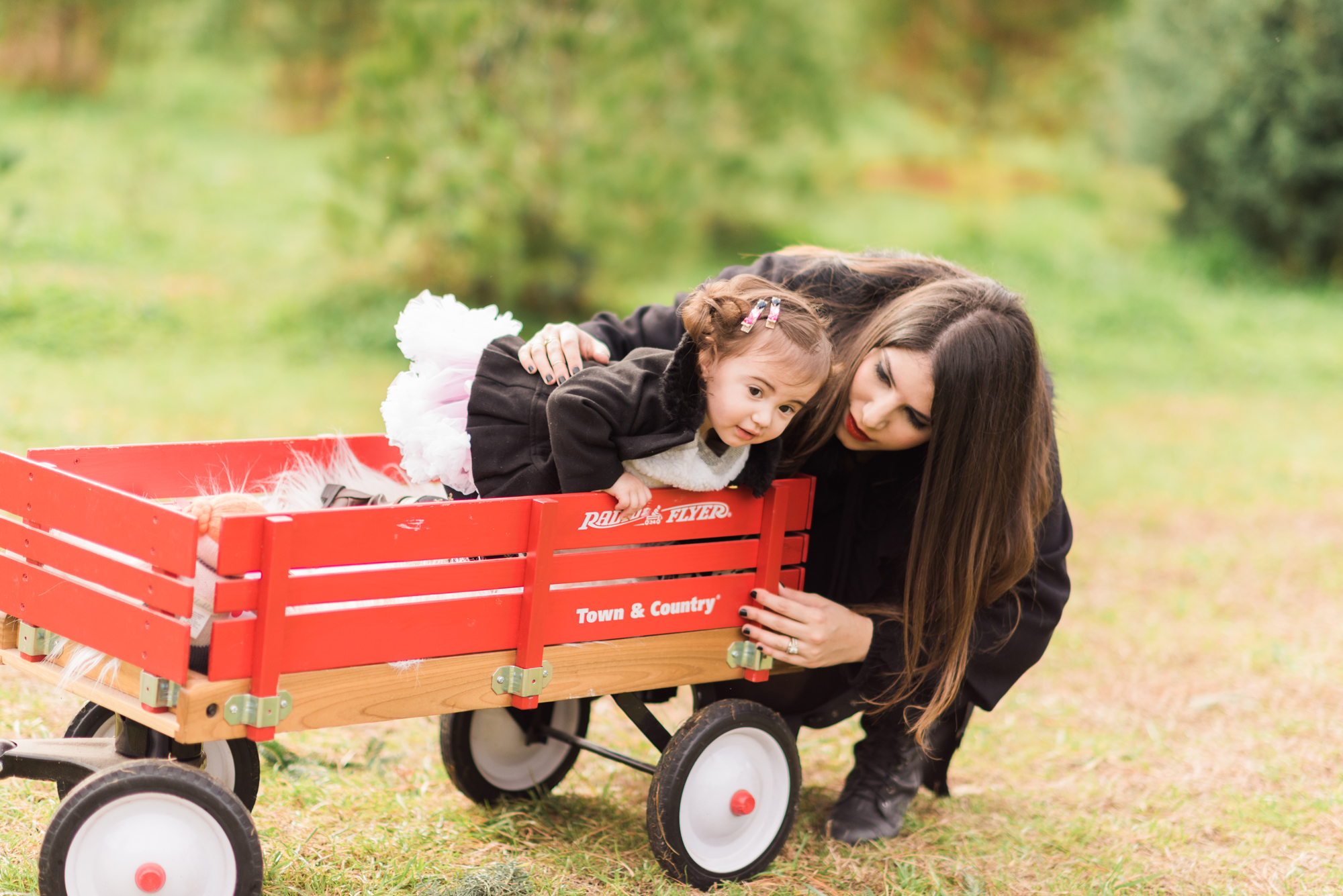 But Daddy found a slice of tree stump, and all was right with the world again.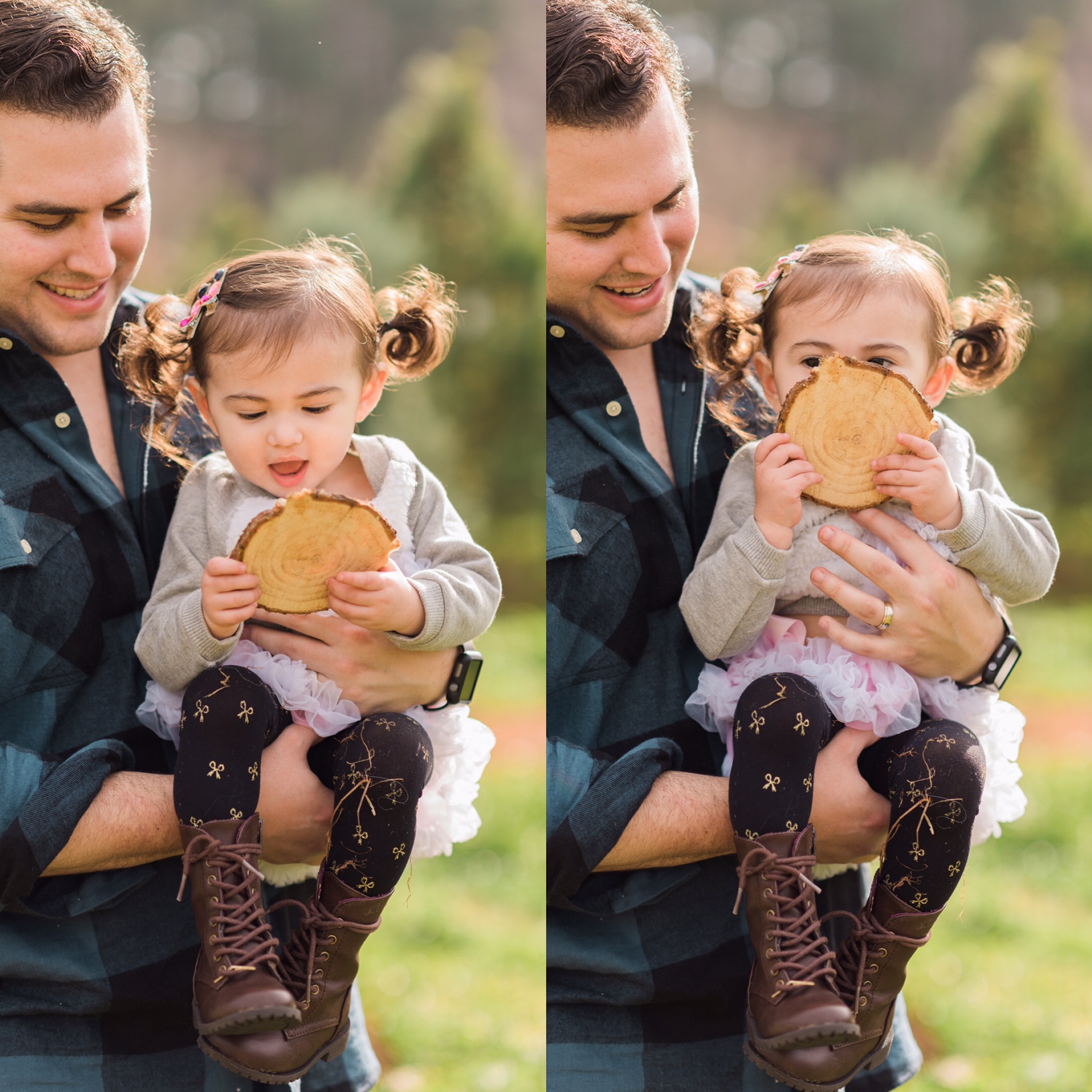 And then of course, there was a mailbox. So we spent at least five minutes taking her new book in and out of the mailbox. Which was just fine by us. We could have been playing in the garbage can, and I still would have been happy to have a few photos where she looked happy.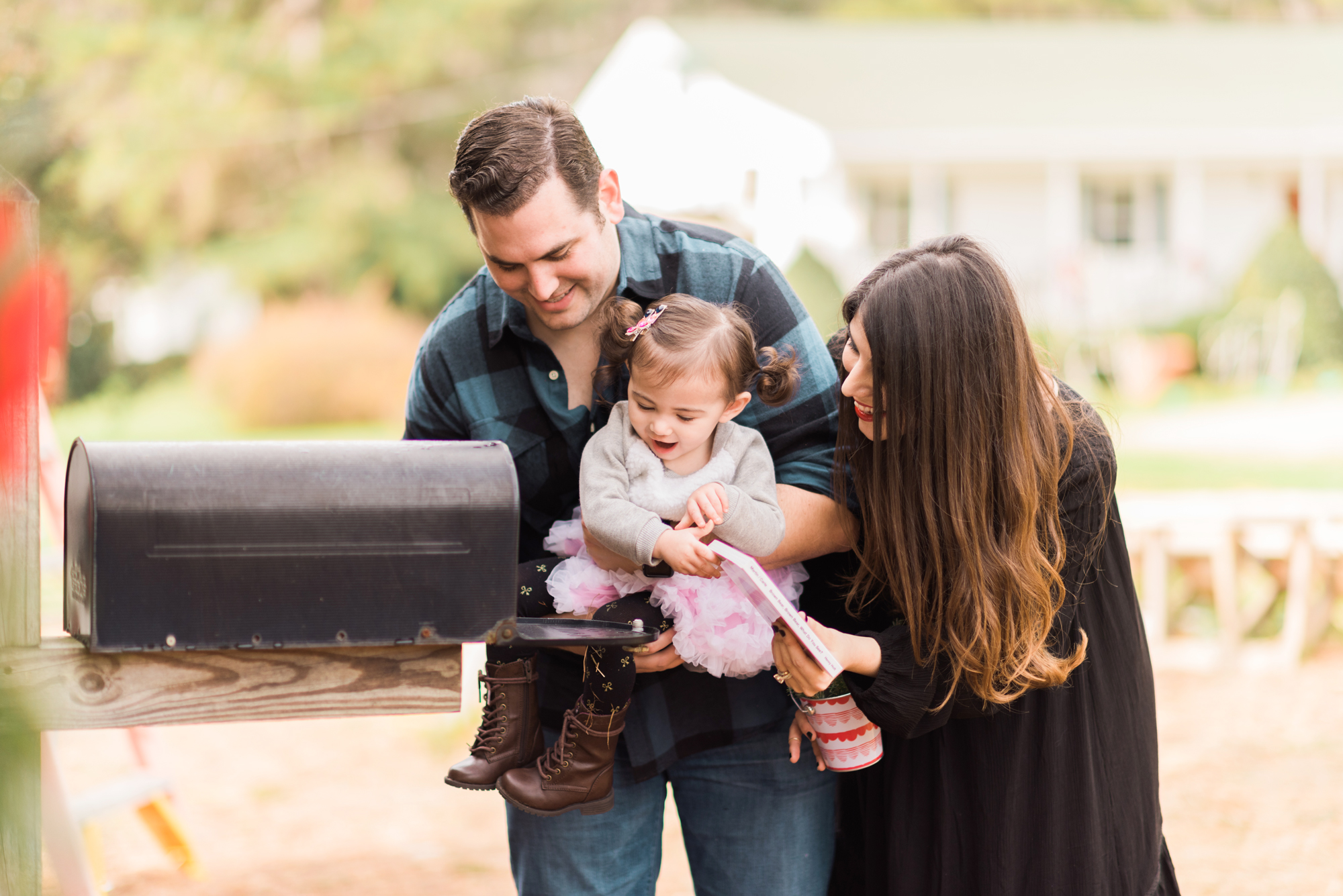 After that, we spent a lot of time reading the same book to Scarlett, over and over again, because without that distraction, she kept writhing in our arms and throwing herself dramatically to the ground.
We got one chance to photograph her standing, because she crawled the rest of the visit (even though I promise you, she can walk.)
*But I think that one might have been Mommy's fault … those adorable boots I insisted she wear, they were a tad too big (read: gigantic) on her. Mom fail.
And look: we got cute photos! I call that a WIN.
SHOP THE STORY / CLICK LEFT & RIGHT ARROWS TO EXPLORE

On Lexi: Free People Sweet Treat Mini Dress // Free People Joe Lace Up Boots // Lipstick: YSL in No. 1
On Mike: Plaid Flannel Shirt // 7 for all Mankind Jeans // Steve Madden Boots
On Scarlett: Carters Sparkle Sherpa Sweatshirt // Pink Tutu // Black and Gold Sparkle Bow Tights // Toddler Girls Brown Boots // Sparkle Hair Clips // Radio Flyer Wagon // Blabla Kids doll // Threshhold Faux Fur Blanket
Photos by Galizes Photos // Location: Boyce Farms
This post contains affiliate links, which means that if you click on one of the product links, I'll receive a small commission. Thank you so much for clicking through and helping to support this little blog business of mine! Read more about our site, privacy, and disclosure policies here.