Special thanks to PishPosh Baby who gave us a discount on the Bugaboo Donkey2 so that we could try it out! This post also contains affiliate links, which means that if you click on one of the product links, I'll receive a small commission. Thank you so much for clicking through and helping to support this little blog business of mine! Read more about our site, privacy, and disclosure policies here.
We're sharing a detailed look at the all new 2019 Bugaboo Donkey2 + that can now accommodate 50 pounds per seat. Our review is a look at the Bugaboo Donkey2 as it functions in Mono mode and Duo mode both with the Bugaboo Comfort Wheeled Board plus our other favorite accessories. 
Ahh, strollers … I could write a novel. So instead, I'll write a whole bunch of blog posts, detailing our favorite strollers and double strollers, and just what we love (and don't love) about each of them.
Because seriously guys, I sometimes wonder if strollers are a bit of a gateway drug for expensive parenting purchases. I don't know what it is about strollers, but I am basically a woman obsessed … obsessed with finding the holy grail of strollers.
And let's be real: they all serve very different purposes; travel strollers, city strollers, single strollers, double strollers, convertible strollers, tandem, side-by-side, the list goes on and on.
Of course, of course, of course, you can totally (and happily) survive with one good stroller, I am just very, very into strollers; and hey, I'm a blogger, so let's just call it research, mm, kay?
For a more detailed look at some of our other double strollers, check out these posts:
UPPAbaby Vista (and How We Use it For Multiple Kids) Review
Our Review of the Baby Jogger City Mini GT Double Stroller
Baby Jogger Summit X3 Double Jogging Stroller Review
Now let's get to what you really came here for …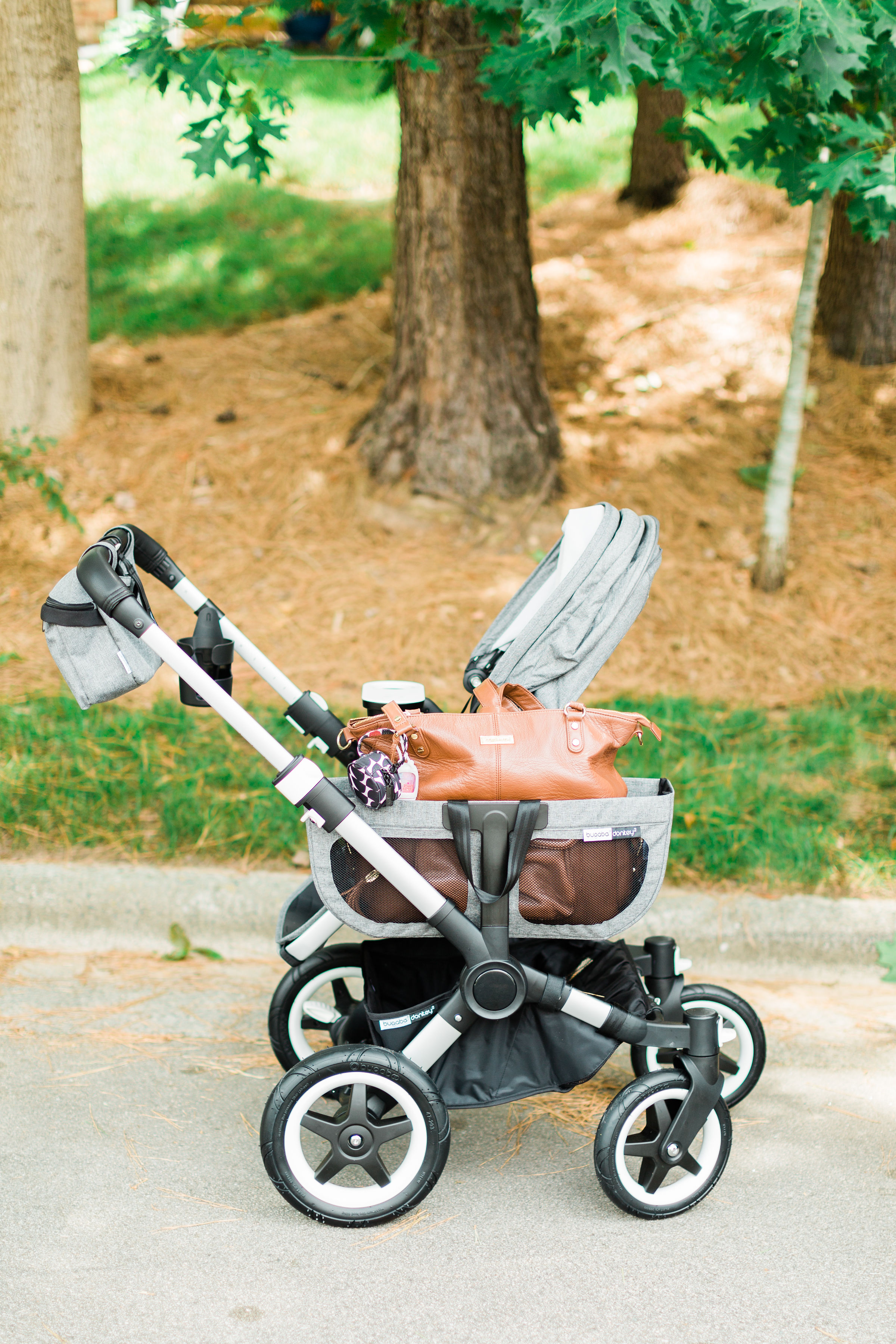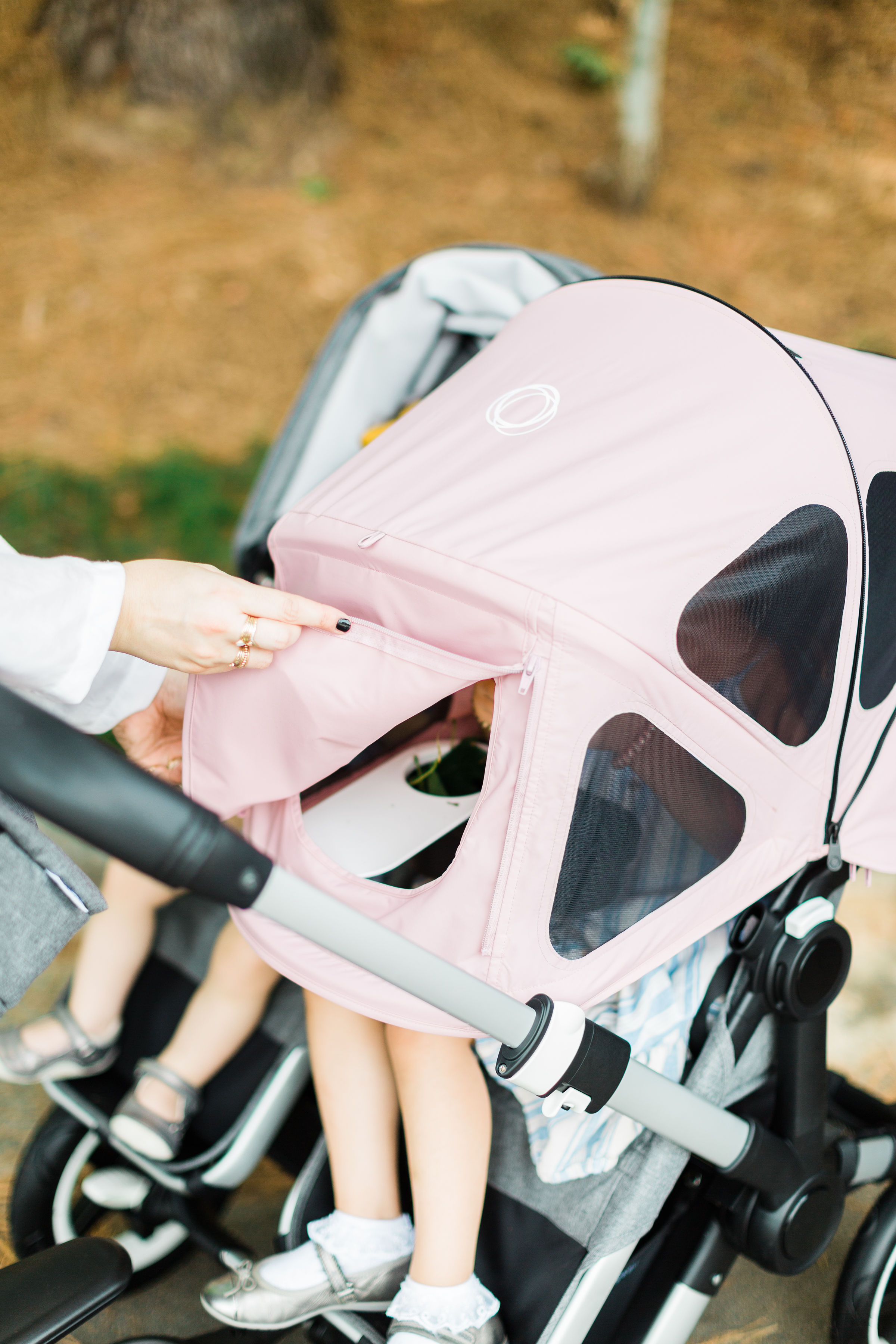 The Brand New Bugaboo Donkey2 + Stroller
Bugaboo, and specifically the Bugaboo Donkey, was always one of those strollers that I kind of admired from afar. It's FANCY. And pricey. And honestly, though I had one serious crush on it, I figured this girl could just dream about owning a Bugaboo at a safe distance.
Still, despite it's perceived fanciness, Bugaboo strollers are POPULAR. And in many bigger metropolitan cities, and especially all throughout Europe, they are REEEEEEEAAAALLLLYYY popular.
The Bugaboo Donkey in particular, in all likelihood, is SO popular – aside from it's gorgeous design – because parents love its ability to grow with their family from birth to toddler years. It goes from the bassinet mode for a newborn to a travel system (with a car seat attached) to a single stroller mode (Mono mode) to a double stroller (Duo mode) with the addition of a second seat, and can even accommodate a third child with the comfort wheeled board, making it possible to push around three kids at once!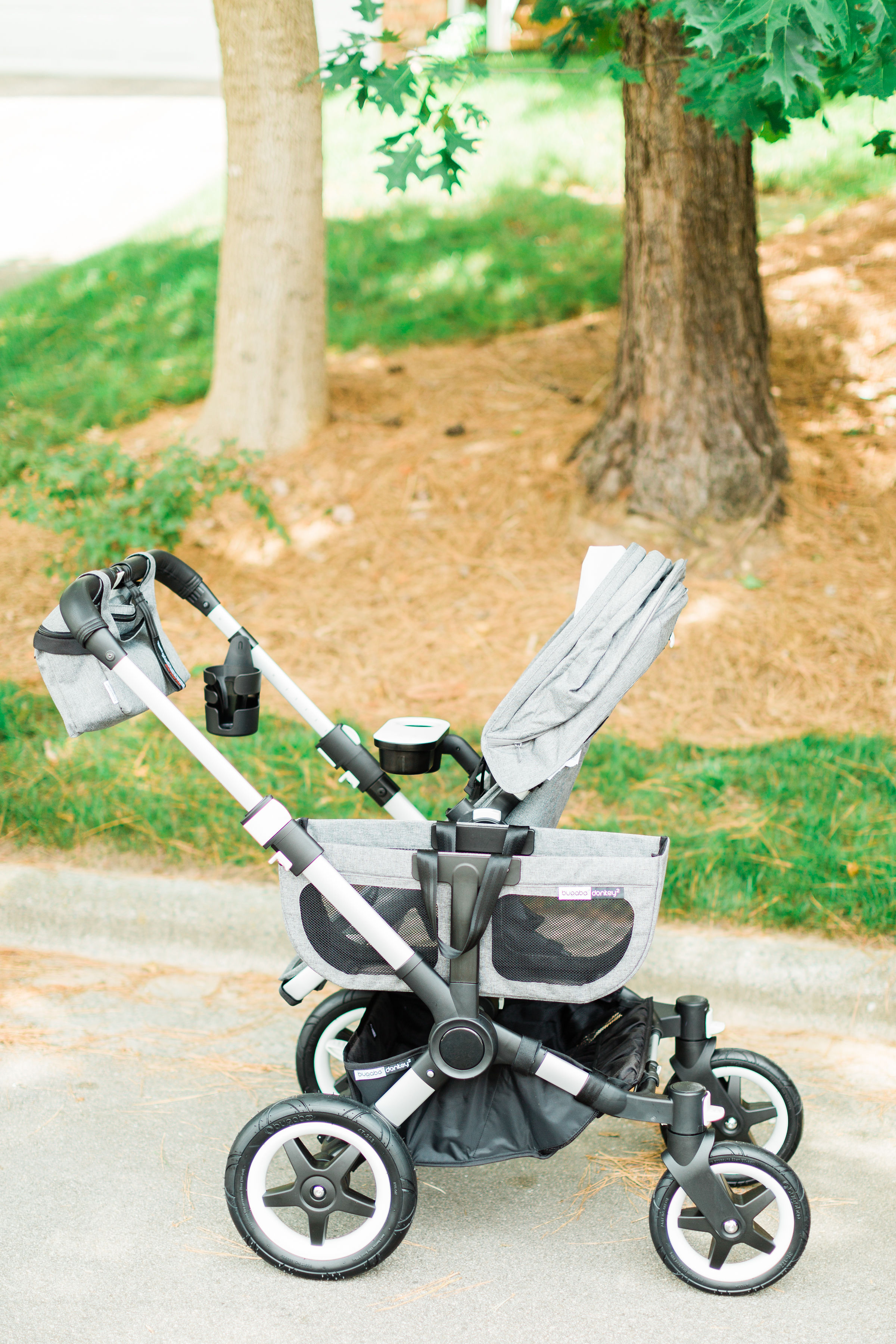 But the real magic lies in just HOW the stroller grows to accommodate multiples: unlike every other single-to-double stroller on the market, the Bugaboo Donkey expands, width-wise, to add a second seat. This is HUGE for parents looking for a double stroller that isn't tandem seating (more on that later). The stroller actually grows/expands to become a side-by-side stroller, with two seats of equal size that can then parent-face interchangeably. Guys, that's monumental with two kids. Being able to face one or both of your kids towards you, or away/facing the world, with a few easy clicks is SO FREAKING COOL.
Our Review of the All New Bugaboo Donkey2 + Stroller
This review is for the newest version of the Bugaboo Donkey2 + Stroller; the 2019 model, and how we use the Donkey in Mono mode, as a single stroller, in Duo mode, as a double stroller, and with the Bugaboo Comfort Wheeled Board, which can accommodate up to three kids comfortably.
We have the Bugaboo Donkey2 + in Aluminum, the Bugaboo Donkey2 Duo Extension Set + in Aluminum, and the fabric is the Grey Melange color. We also have the Bugaboo Donkey Breezy Sun Canopies in Soft Pink. We purchased everything at PishPosh Baby, and let me just say, they were amazingly helpful.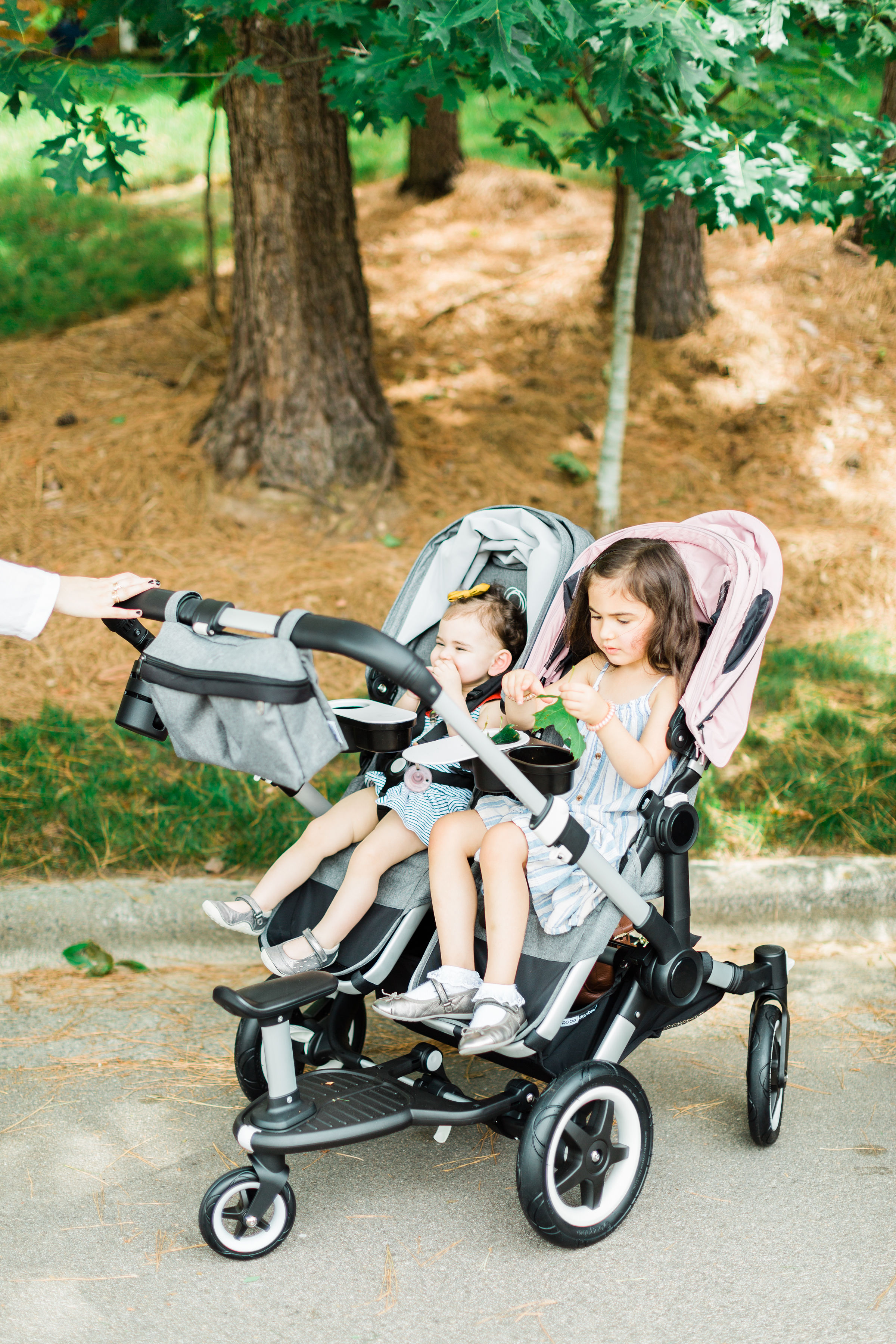 A Note on Seat Weight Limits:
If you purchased a Bugaboo Donkey2 + Stroller designed in 2019 (check the barcode at the bottom of your stroller for the production date), you have the all new Bugaboo Donkey that CAN accommodate 50 pounds per seat. The language on their website about weight is confusing, but I have triple confirmed with Bugaboo, online stroller groups, and the amazing folks at PishPosh Baby (who also confirmed with Bugaboo directly), that the all new Bugaboo Donkey2 + Stroller designed in 2019 can indeed hold 50 pounds of child per seat. This is a big deal in Bugaboo world, since for the longest time, the Donkey could only accommodate 37.5 pounds per seat.
The height on the seats is still not amazing though. Our 5 year old can sit comfortably in the seat, but she is starting to look a little long for it. With the hood down, her head still has plenty of clearance, so if she needs to sit in the seat for a longer walk, it really isn't a problem for her, comfort-wise. These photos were taken at the start of the summer when Scarlett hadn't quite turned 5 yet, and now that she's about 5 and a 1/4, she mostly rides on the Comfort Wheeled Board and Emme sits in the toddler seat with the Bugaboo Donkey 2 in Mono mode.
Tandem Versus Side-By-Side: Comparing Bugaboo Donkey to UPPAbaby VISTA
I would say that the Bugaboo Donkey Stroller is most commonly compared to the UPPAbaby VISTA Stroller. Both are amazing, fantastic, wonderful top-of-the-line strollers, and I love each for different reasons.
The main and most obvious difference between the two strollers, when used as double strollers, is that the UPPAbaby VISTA becomes a double stroller by essentially stacking the seats and making it a tandem stroller. The Bugaboo Donkey Stroller and the all new Bugaboo Donkey2 + Stroller becomes a double stroller by expanding width-wise to become a side-by-side stroller.
By the way, don't be fooled by the Bugaboo Donkey2's side-by-side seats in Duo mode – it's still narrow enough to manage a standard doorway at 29.1 inches. (And we live in Boston, where narrow old doorways are everywhere. So far, we haven't encountered a door we couldn't get through.)
While I LOVE the UPPAbaby Vista as a single and double (especially when I had a baby and a toddler), kids age out of the Vista as a double pretty quickly since the Rumble seat is only suitable for children from 3 months to 35 pounds. Scarlett, our 5-year-old, weighs around 32 pounds, but she's still too big for the Rumble seat length-wise, and though she could sit in the regular seat, that would require her to sit on top, putting the baby down below, which is not my favorite configuration since I can't easily see the baby and the oldest can't easily hop in and out being on top and so high up.
Bugaboo Donkey Stroller Features To Love
The Bugaboo Donkey Stroller is the only stroller on the market that I know of that can basically shape-shift from a single to a double, width-wise. If you've ever pushed a double stroller, side-by-side doubles are just easier to push and maneuver than a tandem, especially where there's an uneven distribution of weight in a tandem; i.e., the older child sitting on the bottom makes the push on a tandem cumbersome.
The seats on the Bugaboo Donkey stroller can also forward-face (a.k.a., world face) or parent face individually, which is a huge plus for us, since we like hang out little ones parent facing so that we can chat with them, feed them, keep a close eye on them when they're young, etc. The UPPAbaby VISTA also has seats that can independently forward-face (a.k.a., world face) or parent face, though it does require specific adapters and, as mentioned before, it will always be tricky to see the child on the bottom/lower seat because of the design of a tandem stroller.
If you are looking at the UPPAbaby VISTA as a potential stroller to grow with your family, definitely read Our Review of the UPPAbaby Vista (and How We Use it For Multiple Kids).
The Updated 2019 Donkey2+
A few of our absolute favorite features of the new Bugaboo Donkey2 Stroller are:
the all-terrain tires (which drive so smoothly anywhere we go and have major swivel power); also, the tires are flat-less – a.k.a., the tires will never go flat and never need to be pumped (The Bugaboo Donkey 2 is easy to push and maneuver with one hand. No terrain is too rough for these big foam-filled tires, which also makes going up onto and off the sidewalk smooth and seamless.)
all-wheel suspension (seriously, this stroller drives like an absolute dream)
a high seat and bassinet height allows you to bring your baby closer to you
the enormous canopy shade with pop-out UPF-50+ sunvisor – the hood on this stroller is IMPRESSIVE
an adjustable handle bar that can accommodate even the tallest of stroller pushers (even my 6'5 brother can comfortably push the girls in their stroller)
adustable leg rest on the toddler seat
a roomy basket underneath the stroller
intuitive one-step fold (closing this stroller is a breeze, though I wish opening it back up was a bit simpler)
deep one-hand recline (helpful for sleepy babies; Emme has definitely napped in this stroller)
blue/yellow attachment indicator confirmation, so you know everything is clicked in securely
white plastic tabs are obvious indicators of different functions of the stroller and points where things can be adjusted and locked into place, etc.
washable and removable fabrics (with fabric swap kits available)
a convenient zip in weather shield and insect/bug shield (that's included)
a bassinet for new babies (that's included)
one-touch parking brake
car seat compatible with adapters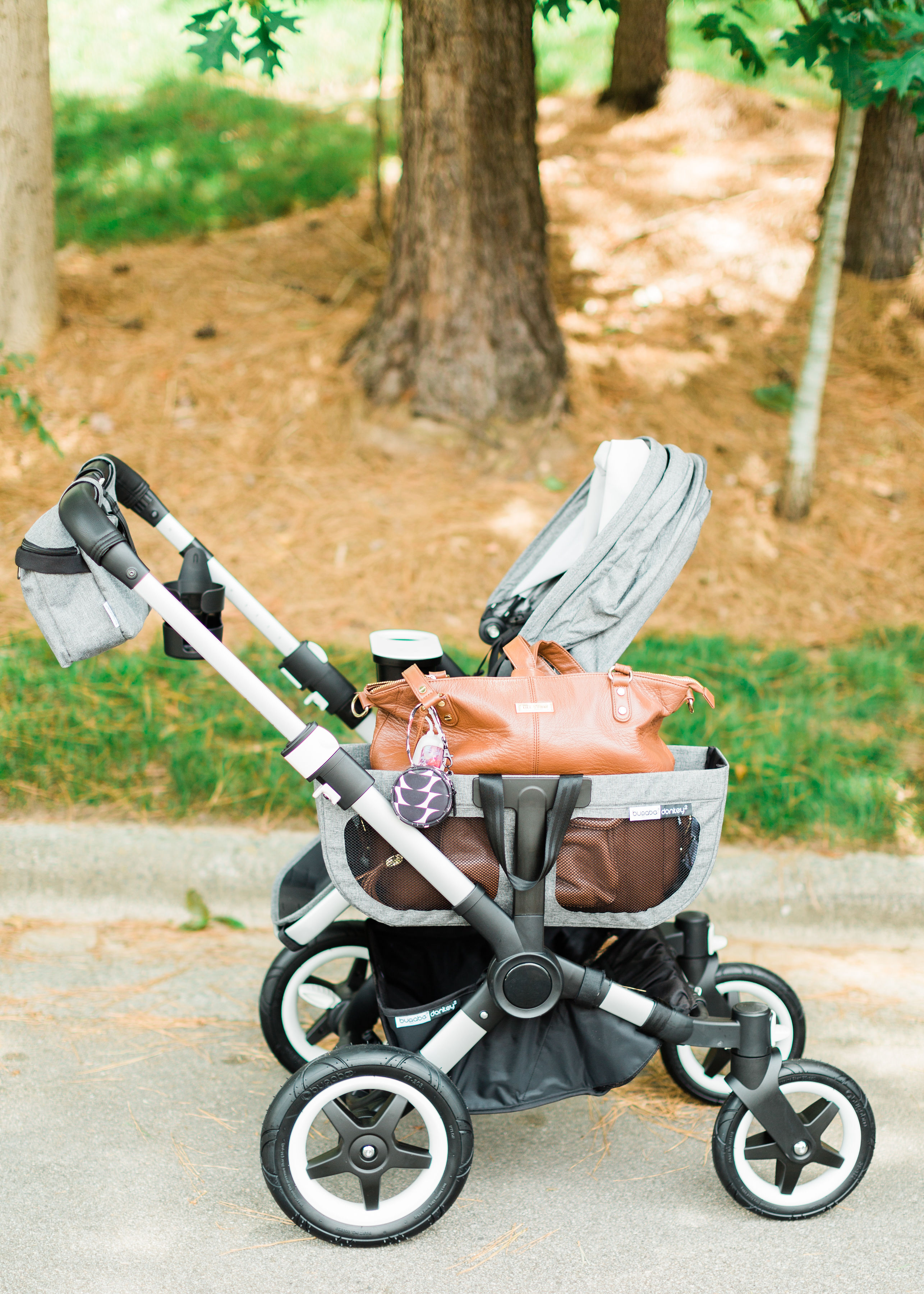 Bugaboo Donkey – The Cons:
Like any product, there are always a few drawbacks. While I LOVE this stroller, it's gorgeous design, and it's versatility, a few things that bother me include:
the weight: this stroller is heavy, and getting it in and out of trunks, etc. can sometimes be a bear (though in truth, it's no heavier than most of its competitors). I will say, that I find it easier to just take the seats off and put it away piece by piece. Honestly, if I had a garage, and could just roll my stroller in and out, without ever having to deconstruct and reconstruct it, I would probably use it non-stop.
the basket is not as humongous as that of the UPPAbaby VISTA – when the Dinkey is in mono mode, the side basket is super helpful, but if you have both seats on – in duo mode – all you have is that under-carriage basket, and while it's roomy, it's not enormous the way the UPPAbaby VISTA basket is.
opening the stroller is not 100% intuitive; you have to press and pull up on the slider buttons on either side of the handlebars, one at a time. And for some reason, I can't always easily press down on them to open the stroller. I've struggled opening it on more than one occasion. (Admittedly, this might just be user error!)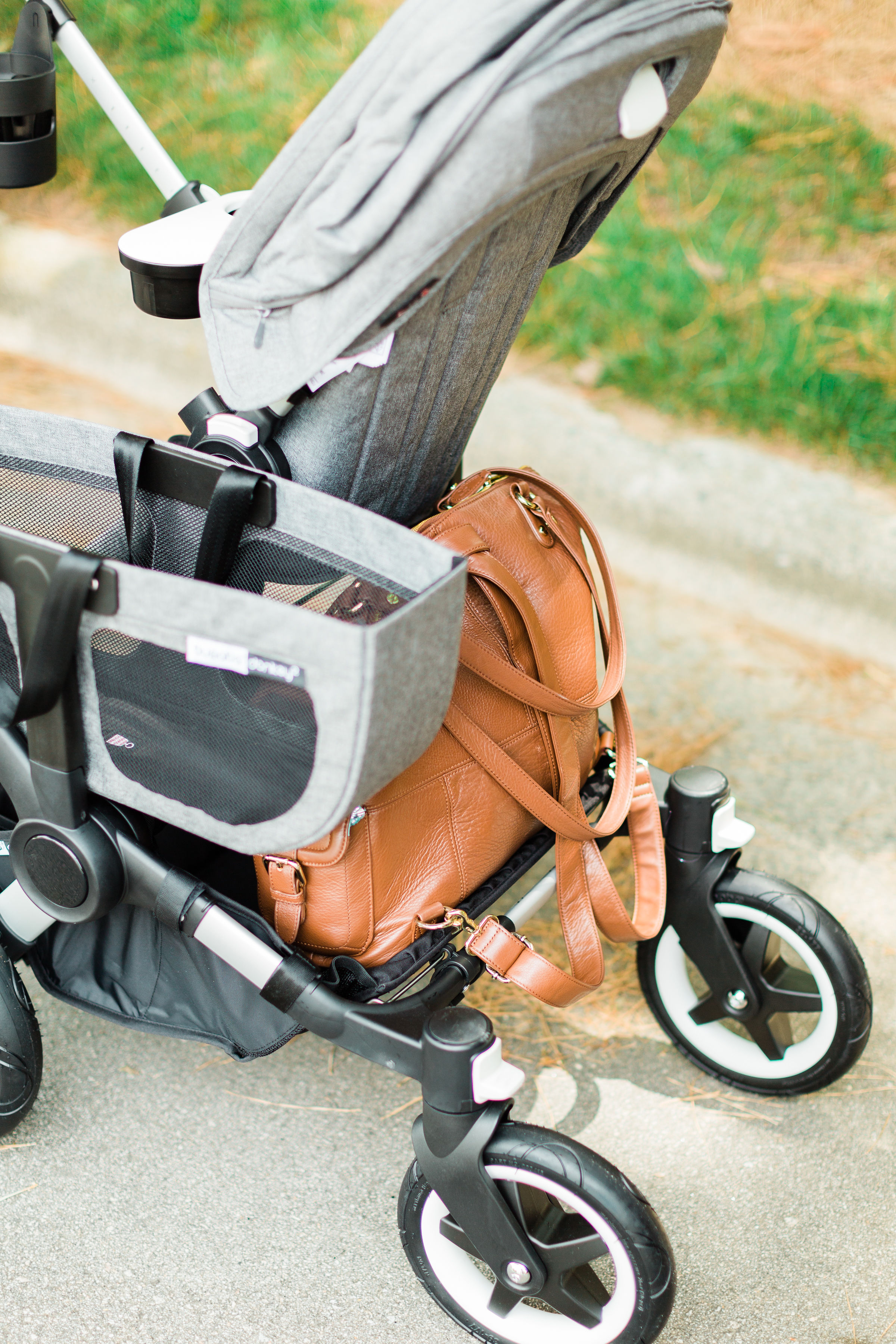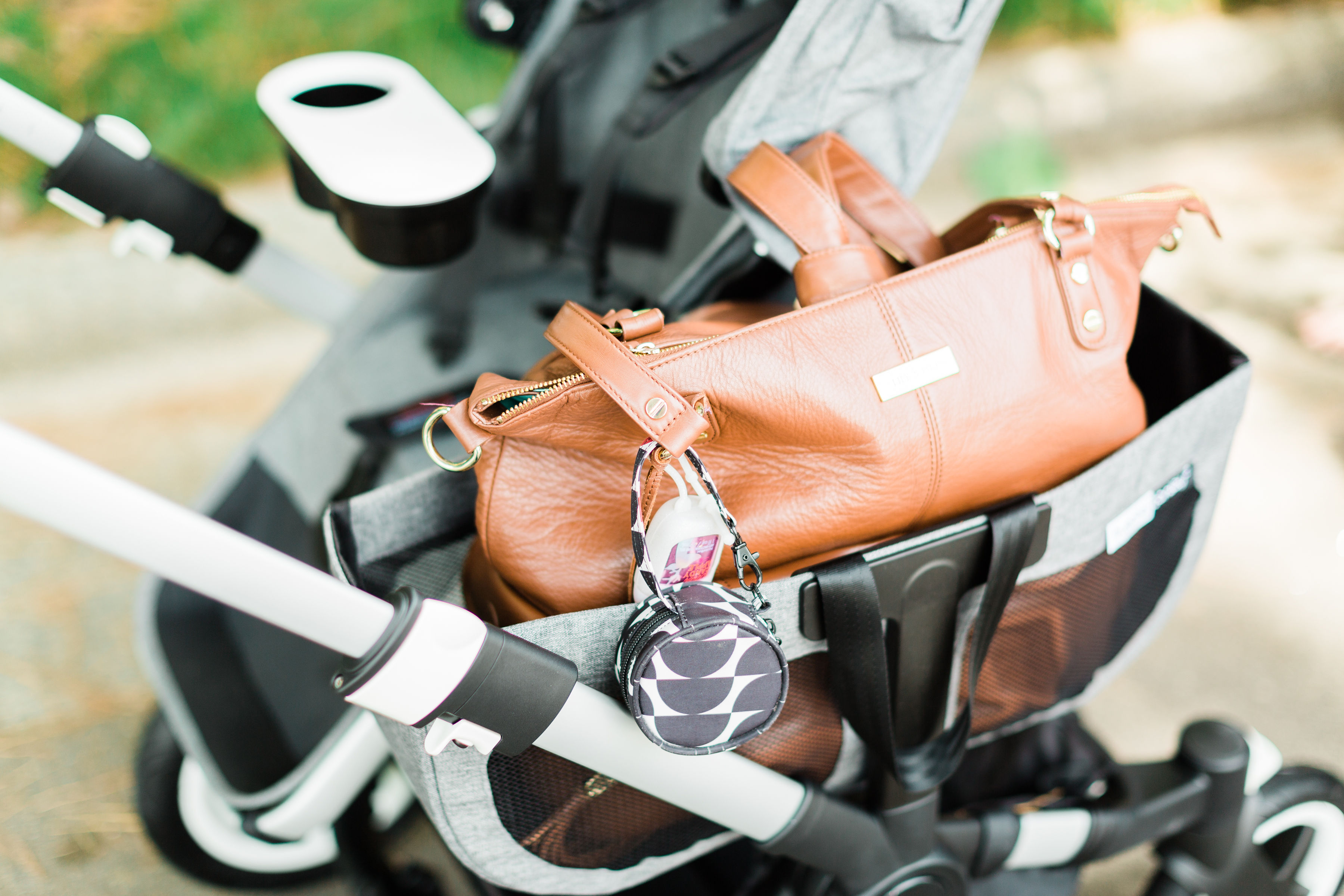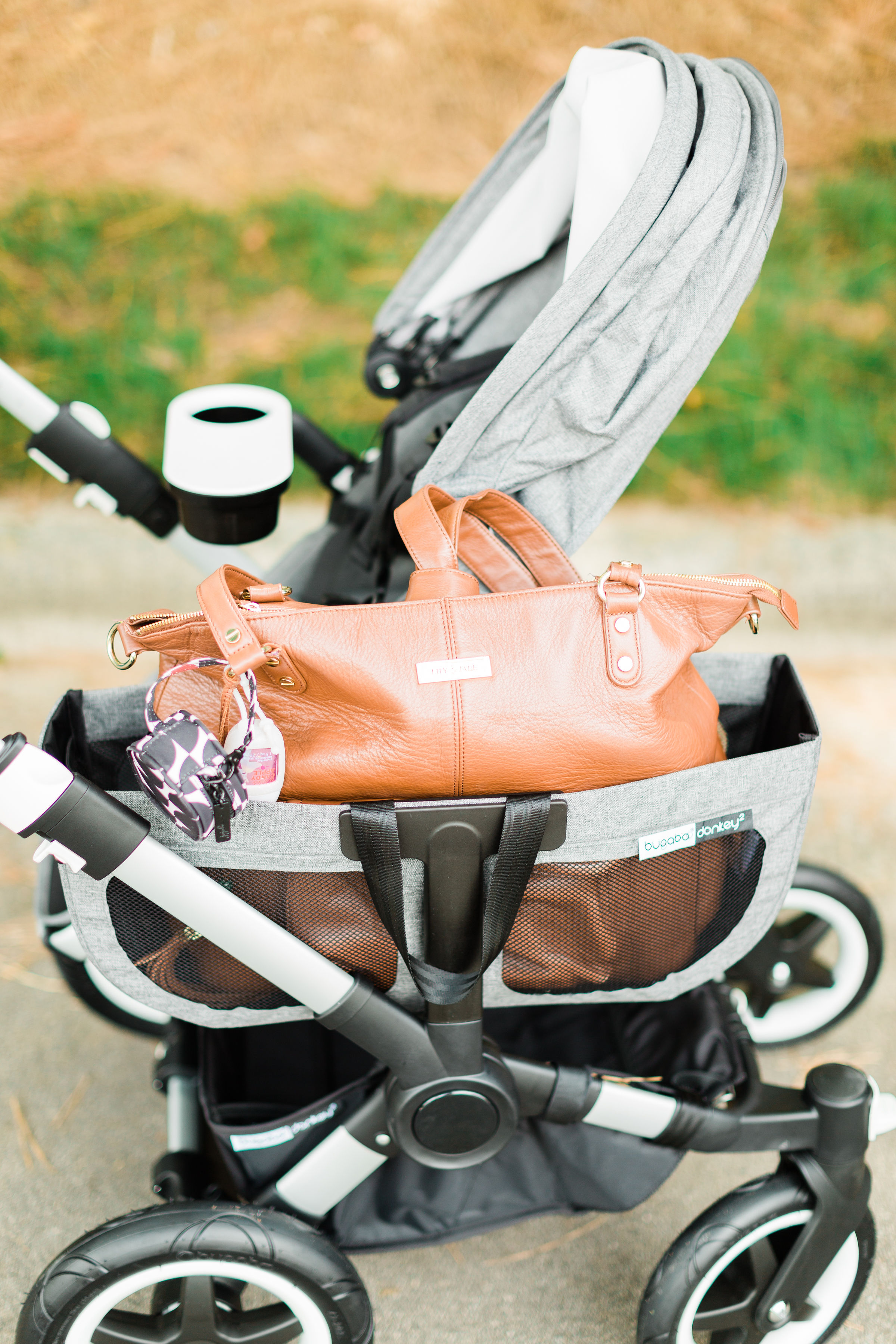 Pictured here: Lily Jade Diaper Bag (You can read my review of the Lily Jade Meggan and Madeline here.)

Our Favorite Accessories for the Bugaboo Donkey2+ Stroller:
Bugaboo

Snack Trays (These are totally awesome. I love that they have a lid that slides on and off, and a large-ish cupholder. I also love that I can pop them off and wash them easily. They replace the leather handlebars that come with the Bugaboo Donkey2 +.)

Bugaboo

Parasol+ (So nice to have an umbrella that attaches to the stroller for rainy city days. We walk everywhere living in a big city, so this is a big help.)

Bugaboo

Comfort Wheeled Board + Donkey/Buffalo Adapter* (more on that below)

Bugaboo

Donkey Breezy Sun Canopy (We have two, one for each seat, in Soft Pink. These are AWESOME for summer! They allow so much breeze in and the girls really love the pink color. These probably make our stroller stand out most of all.)

Bugaboo

Cupholder (I absolutely love this cupholder. I've tried A LOT of stroller cupholders and this one actually stays on.)

Bugaboo

 Stroller Organizer (We have our Bugaboo Stroller Organizer Bag in the Grey Melange color. I am OBSESSED with this stroller organizer. I love the design of this stroller organizer and have started using it on our other strollers as well. If you need a great stroller organizer that can hold loads, this is it!)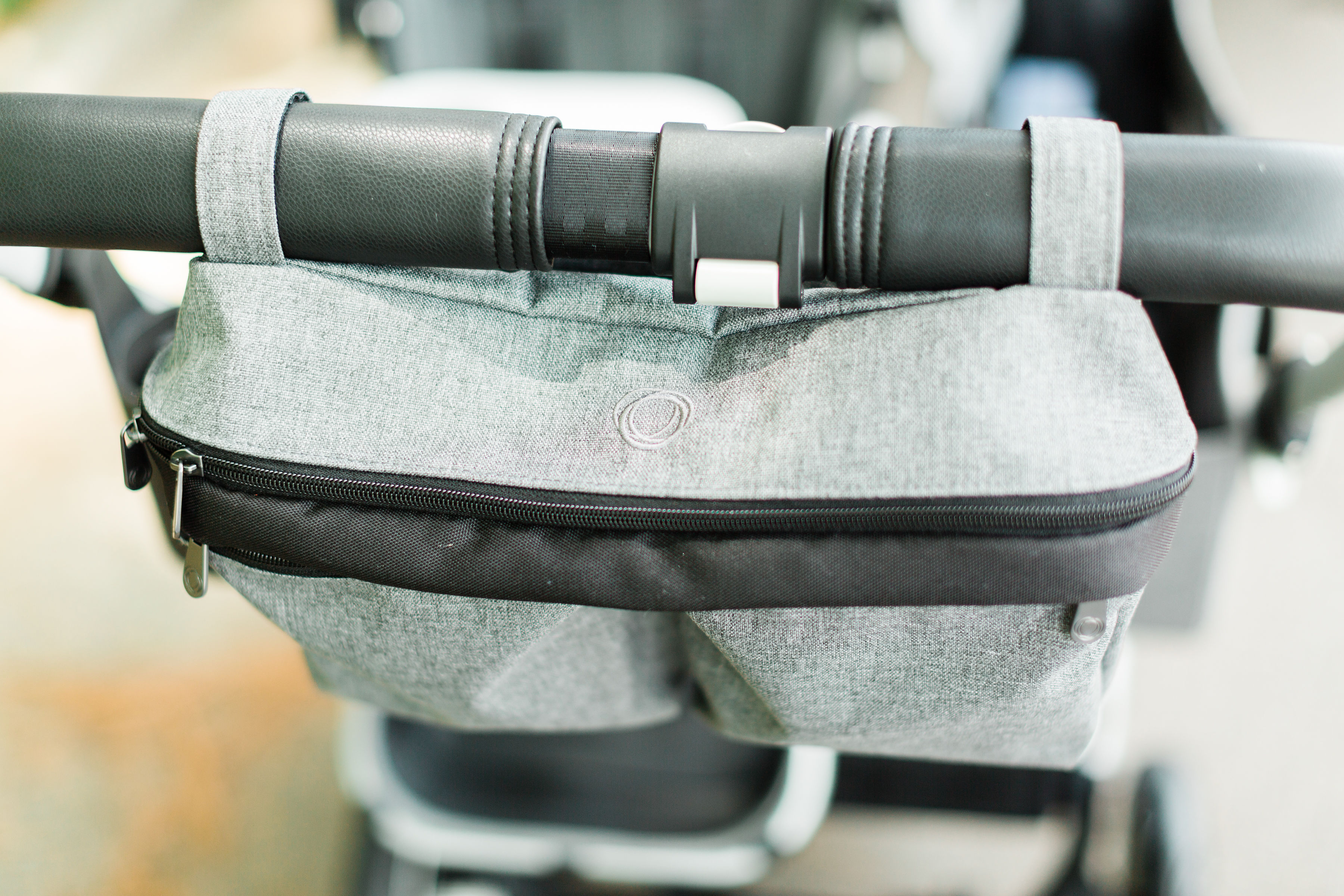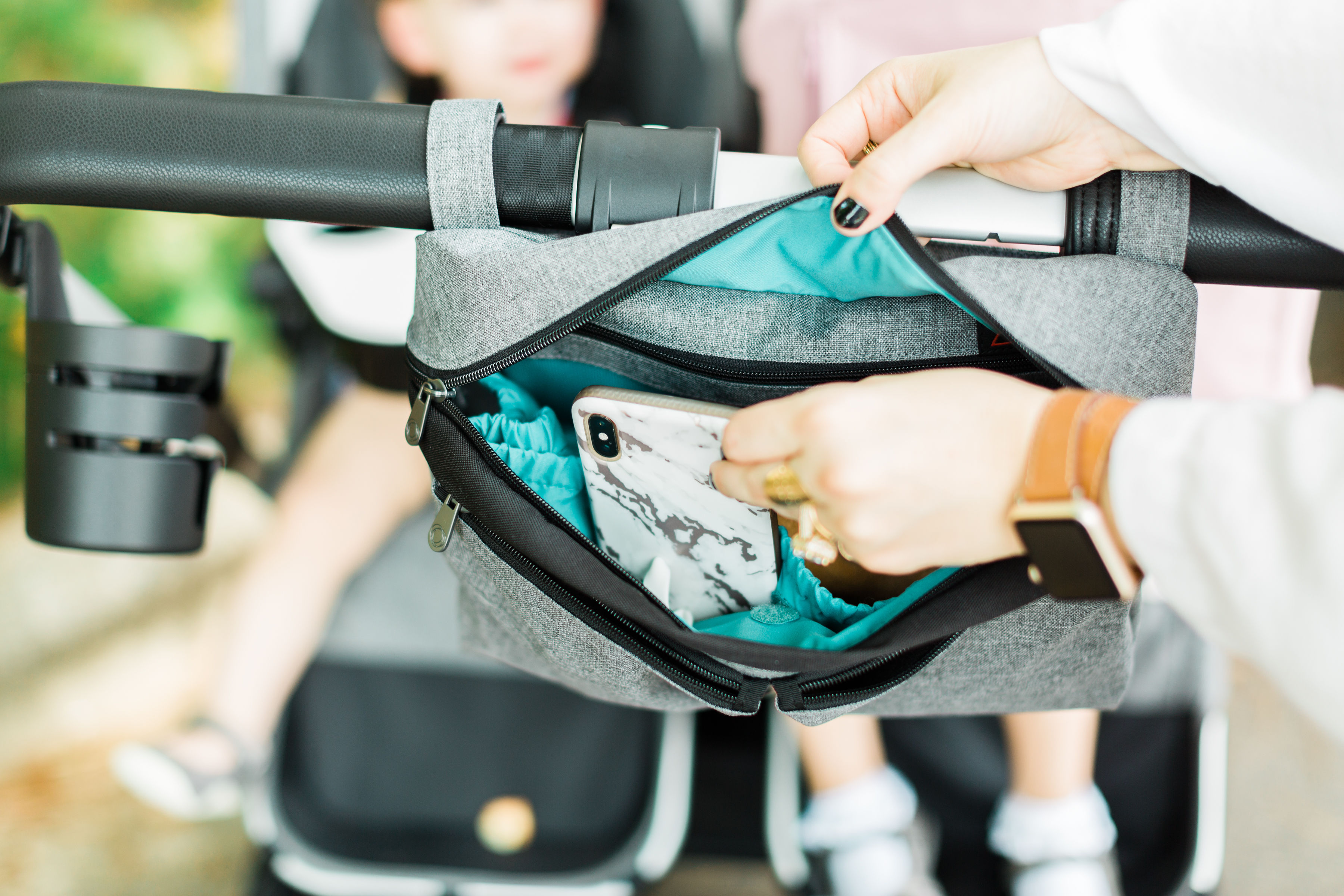 Seriously, so much room in this stroller organizer. If you're looking for a spacious stroller organizer for any stroller, get one!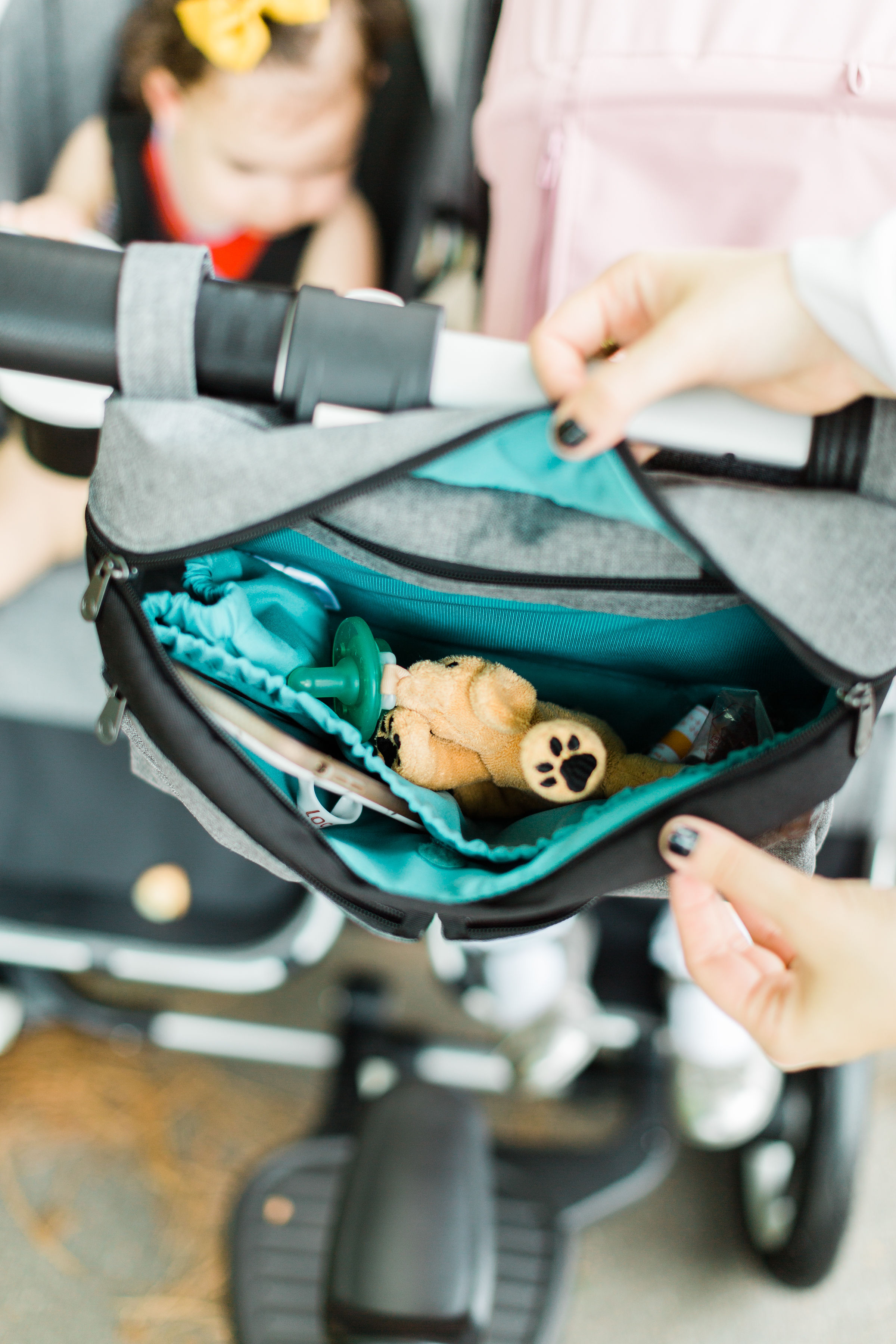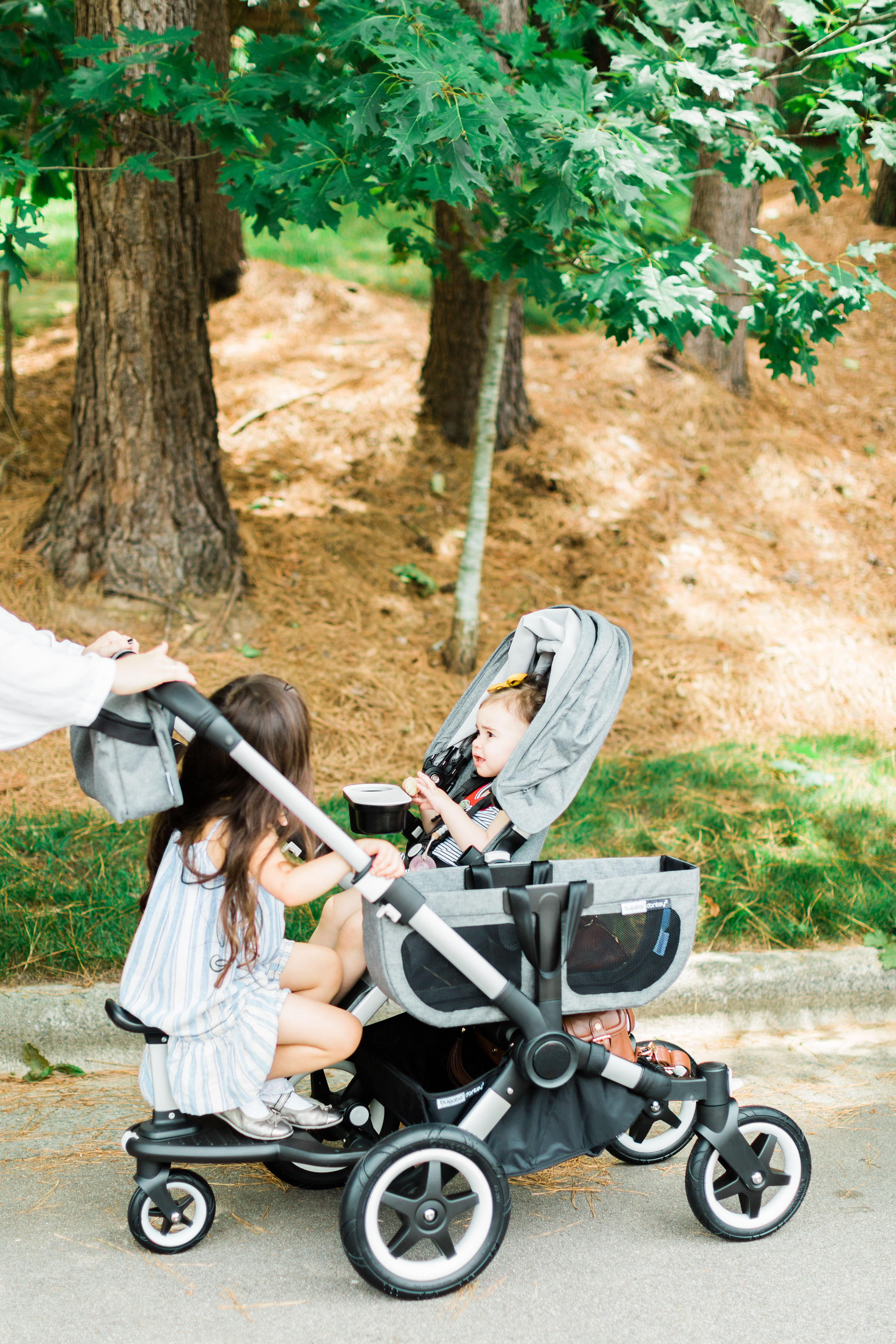 Bugaboo Comfort Wheeled Board
I am in love with the Bugaboo Comfort Wheeled Board. I think it handles bumps and city streets really well and our 5 year old seems secure on it.
My husband, who takes longer steps and is considerably taller than me (for reference, I'm 5'2), hates it. He says that he can't stop kicking the board when he walks. I, on the other hand, think the board is pretty great. Mostly because it has a little seat on it, which I find to be a bit safer for young kids than a typical stand-on ride board. I can also pretty easily walk alongside the board and still be pretty squarely behind the stroller's handlebar. If you turn the toddler seat around, the rider on the Comfort Wheeled Board has even more room to sit comfortably.
The Bugaboo Comfort Wheeled Board can be used either when the stroller is in Mono or Duo mode. If you use it on the stroller in Duo mode, you can comfortably fit THREE KIDS on one stroller. To me, the ability to accommodate a growing family is priceless. Especially, if you live in a big, crowded city or travel to busy places like cities, Disney, Europe, etc.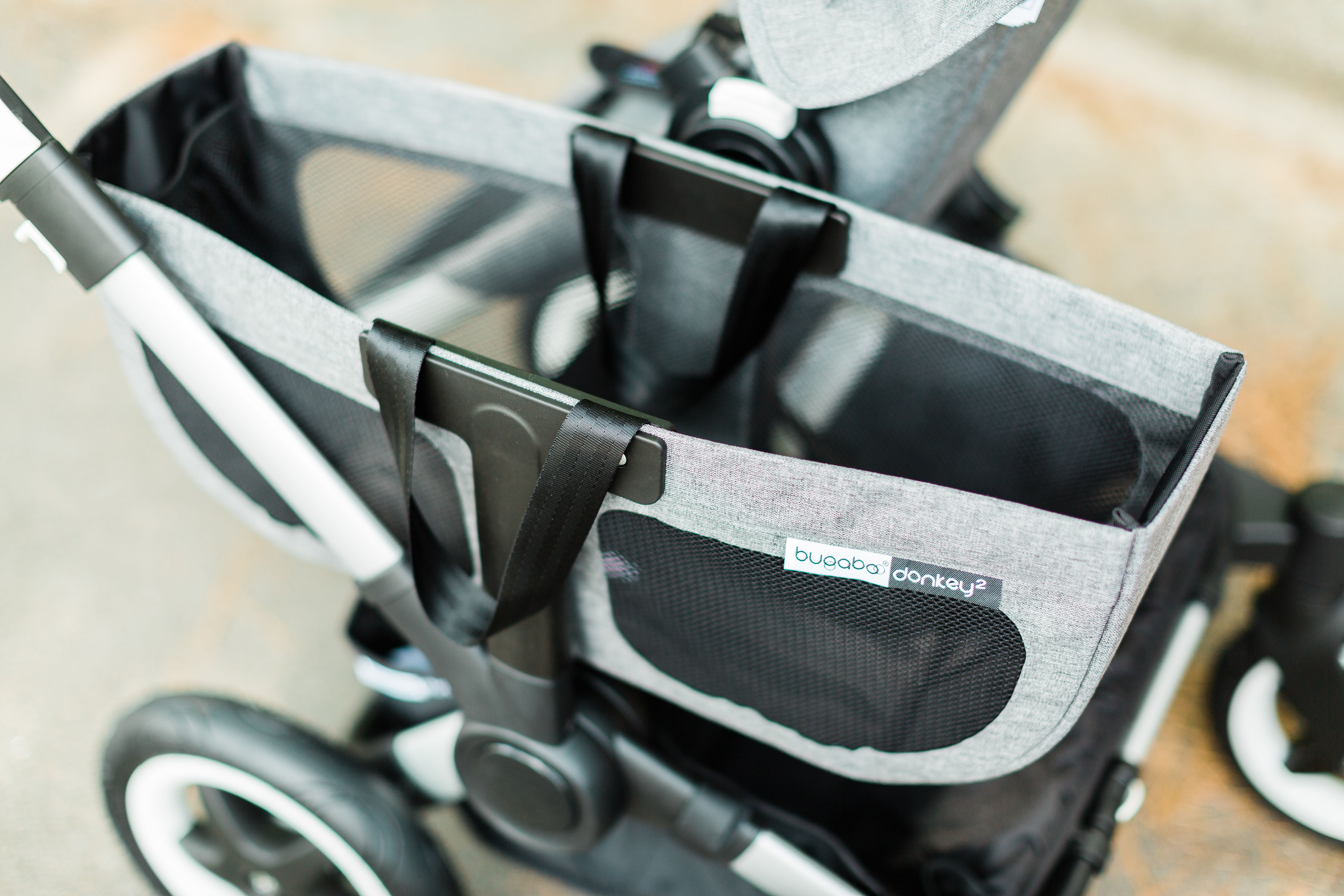 And as I mentioned earlier, I do really like using the Comfort Wheeled Board with the stroller in Mono mode with Emme (23 months) sitting in the toddler seat and Scarlett (5 years old) sitting on the Comfort Wheeled Board. I am an especially big fan of this mode because Scarlett is getting older and likes the freedom to hop on and off that the Comfort Wheeled Board provides, and I love having the side luggage back. It is the best thing ever, and makes everything SO accessible at the top of the stroller. Such an ingenious storage addition to a great single mode stroller.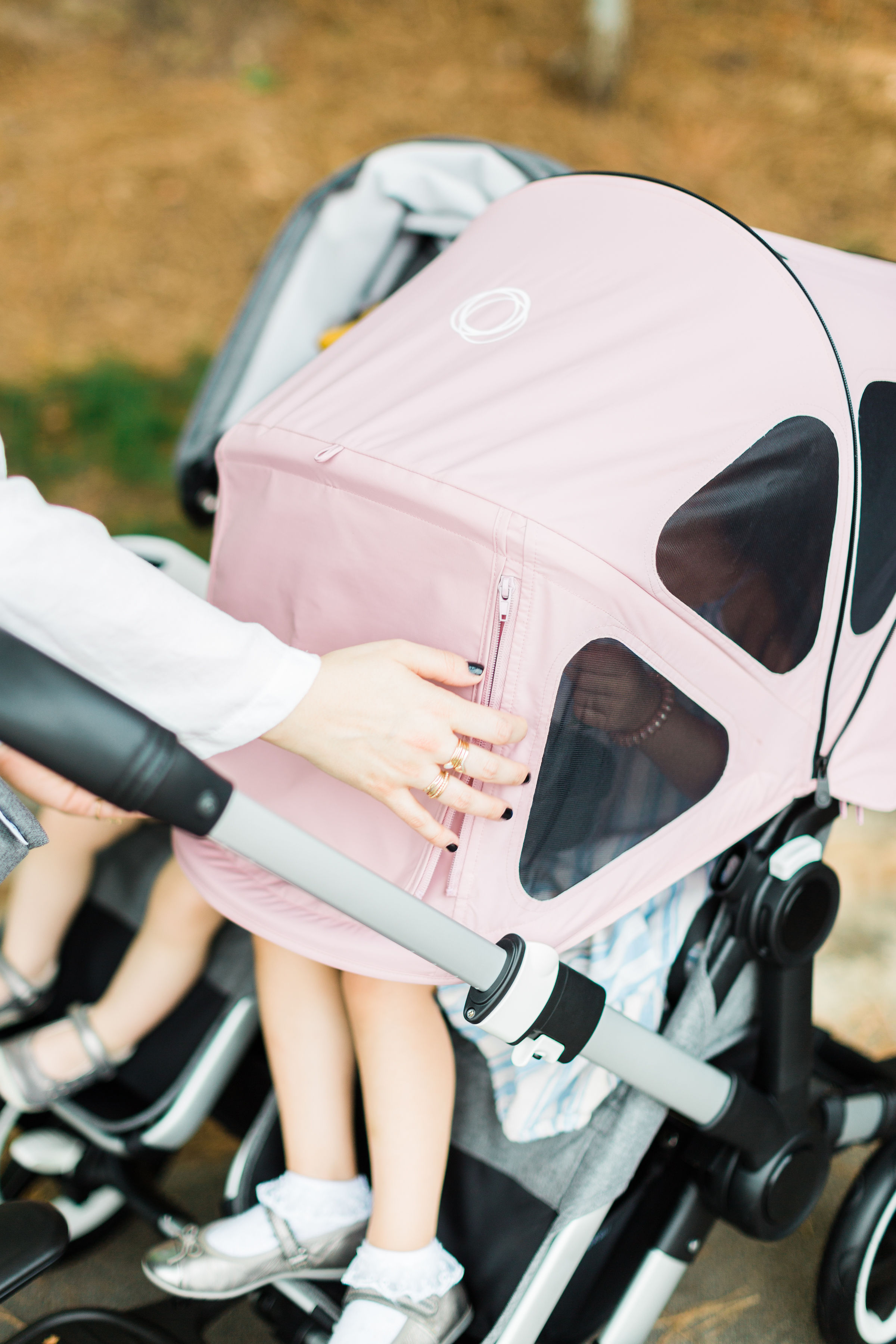 The details and design on the Bugaboo Donkey2 + are unparalleled. The stroller just feels LUXE.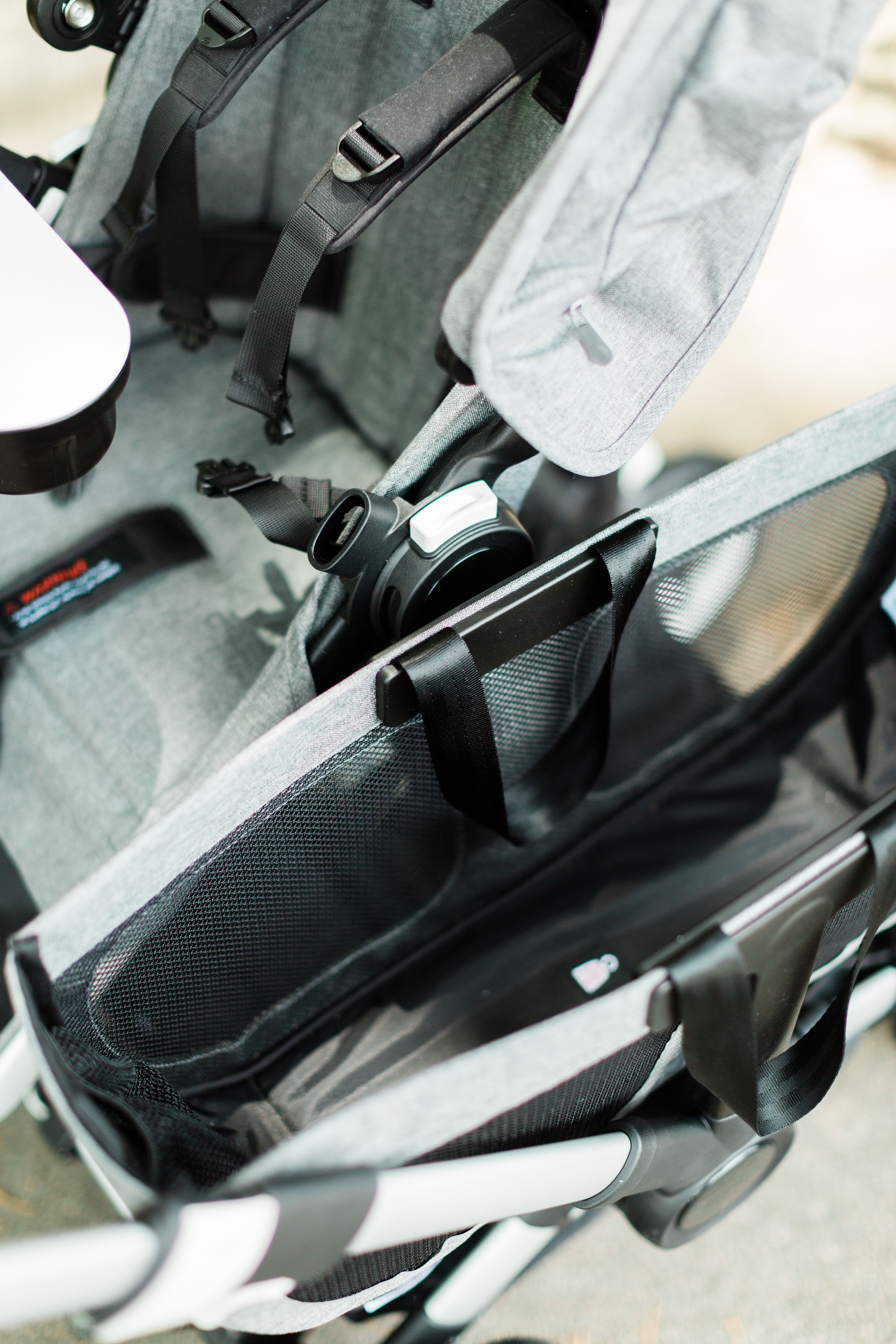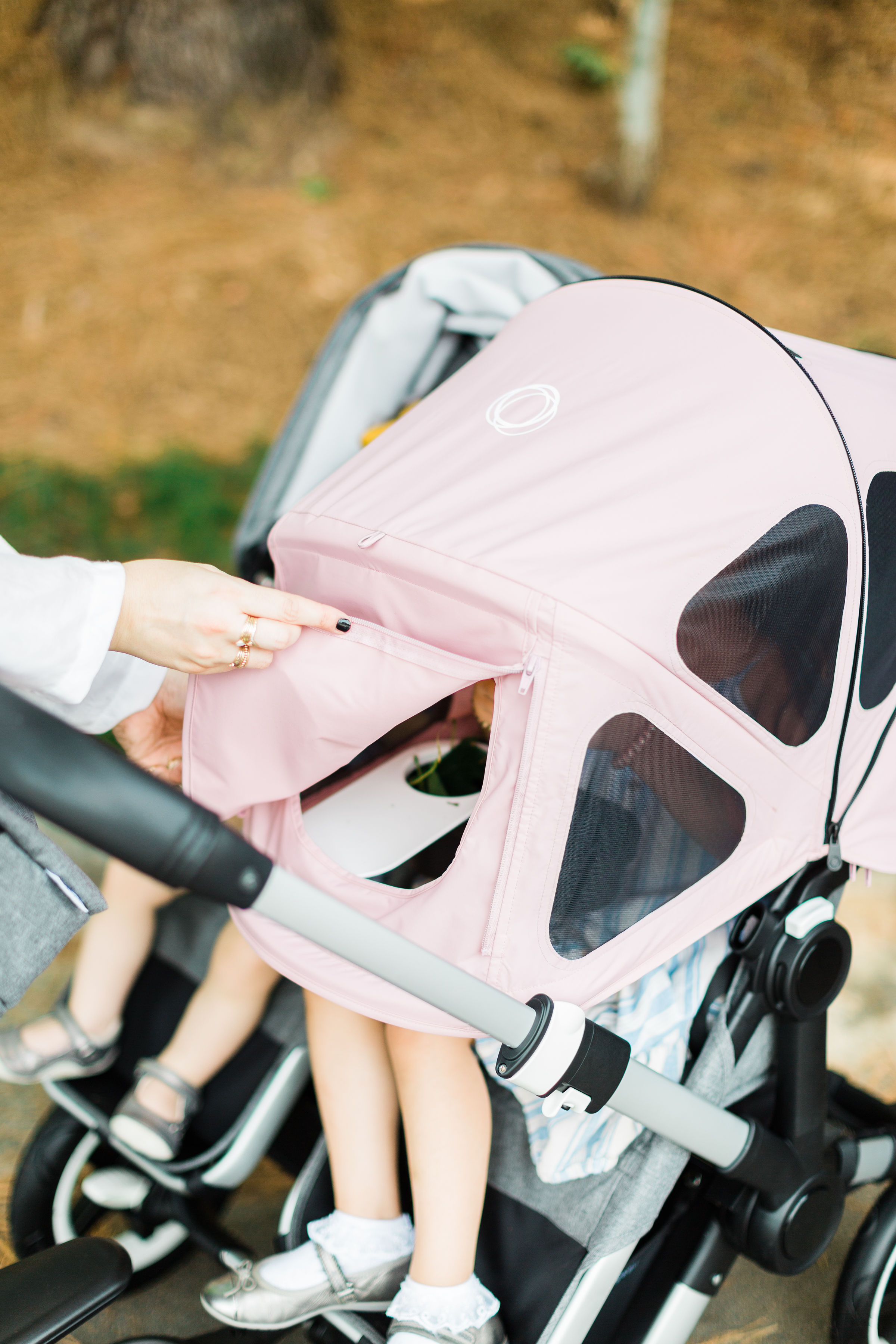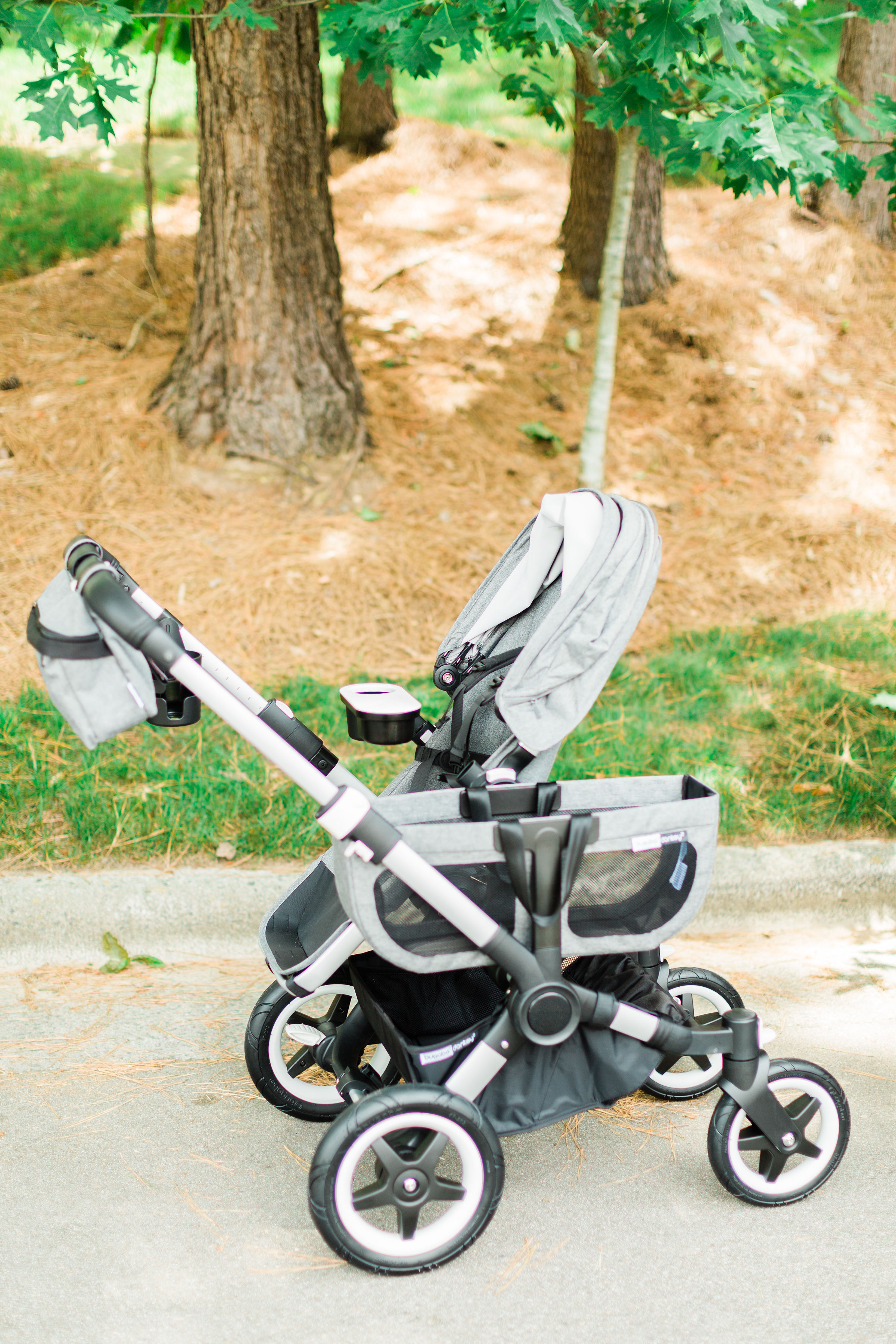 Final thoughts on the Bugaboo Donkey2 + Stroller:
I like it. A lot.
I like it so much that I'm already dreaming about what other Bugaboo strollers I might someday want to own. 🤦🏻‍♀️
The push on it is a total dream. Seriously, amazing tires and steering and totally up to the task of city living. The side luggage when using the stroller in Mono mode is F-A-B-U-L-O-U-S. The stroller looks and feels really beautiful and luxe. I get stopped EVERYWHERE we go, asking about our stroller. A woman stopped in her car, right on the side of the road to ask me about it. The fabric and color options are stunning.
If I had a garage, and could easily roll my stroller in and out, without ever having to fold and unfold it. I would probably use it non-stop. Since I don't have a way to leave it assembled, and have to "build" it every morning and collapse it each time I come back, it's not great for running our oldest daughter to the bus stop, etc.
I have a few more baby gear and stroller posts coming up over the next few months. For instance, sharing our favorite gear for city living. I'll be sure to go into more detail then about how we make it work in a big city.
If you have any questions at all about the all new Bugaboo Donkey2 +, leave it in the comments, get in touch on Instagram (@glitterinclexi), or shoot me an email!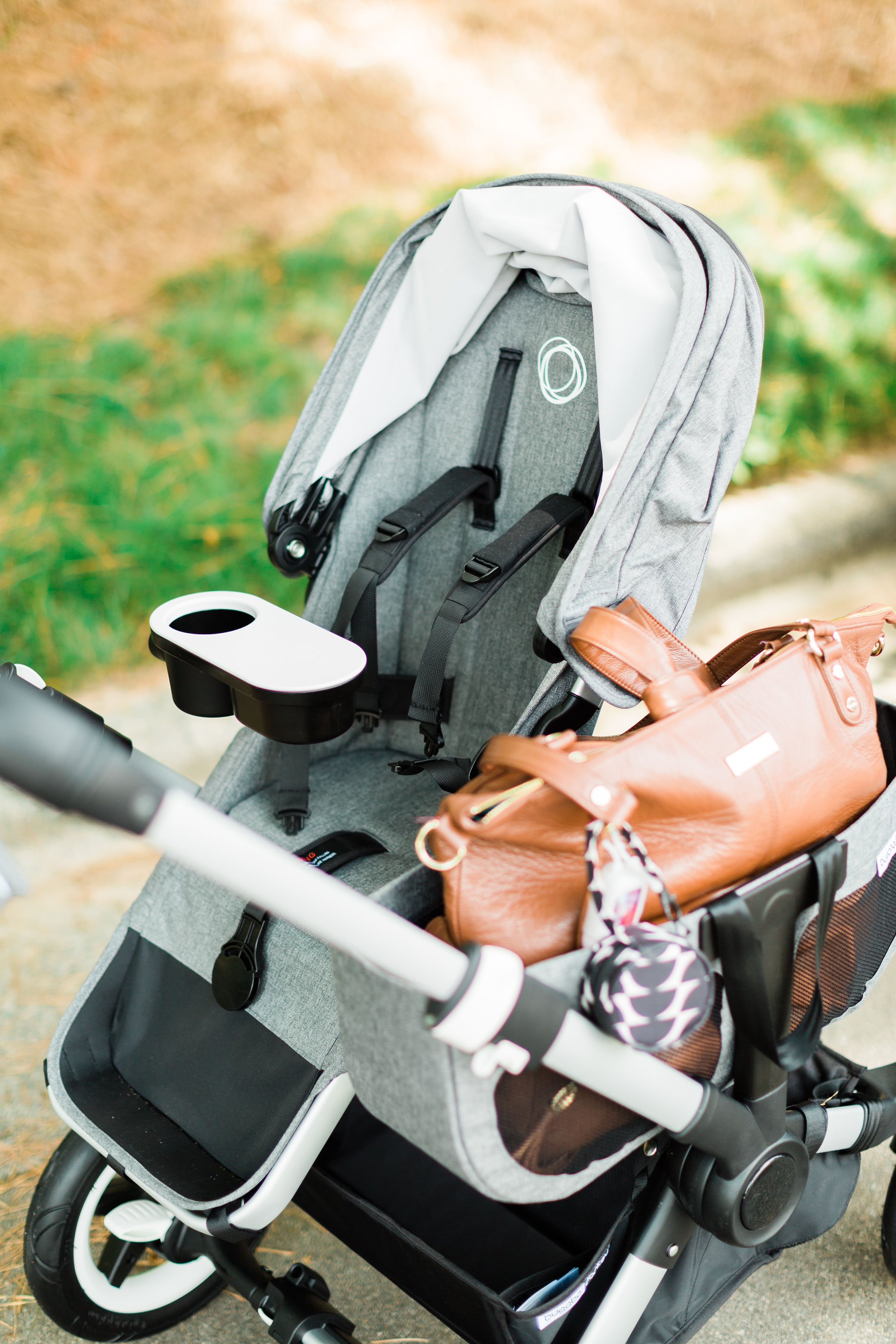 IF YOU LOVED THIS BABY GEAR POST, YOU CAN SEE MORE OF OUR LIFE WITH TWO LITTLE ONES HERE; PLUS SOME OF OUR MOST POPULAR BABY POSTS, INCLUDING: 
How We Taught Our Baby to Sleep Through the Night
Must-Have Baby Items for the First Year: What You Really Need on Your Baby Registry
Our Favorite Board Books for the Baby and Toddler Years
How to Make a New Mom Survival Gift Basket
Shop The Bugaboo Donkey2 + Review Post | Click Left & Right Arrows To Explore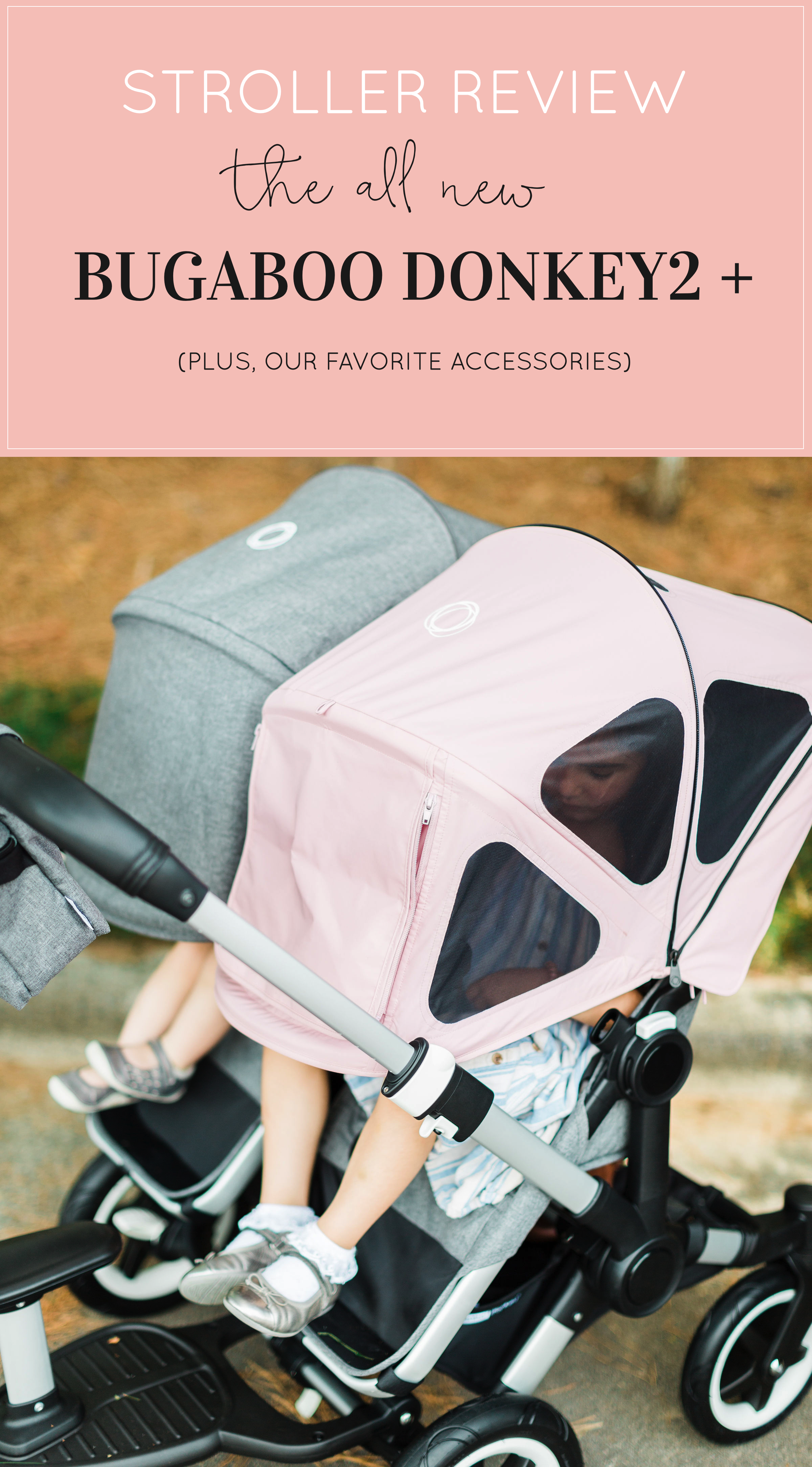 Photos by Annie Timmons Photography for Glitter, Inc.