This post contains affiliate links, which means that if you click on one of the product links, I'll receive a small commission. Thank you so much for clicking through and helping to support this little blog business of mine! Read more about our site, privacy, and disclosure policies here.
Serve a beautifully spooky Halloween charcuterie board chock full of snacks the whole family will love! This frightfully delicious snack board is perfect for Halloween celebrations, a no-fuss dinner after a night of trick-or-treating, even a festive afternoon snack throughout the month of October. Happy snacking!
Happy month of all things Halloween!! Because I'm basically Halloween obsessed, I love finding little ways to celebrate the impending spooky holiday in every way possible. Yep, I'm a bit EXTRA.
Halloween pajamas for the kids? Check. A bookshelf of Halloween books? Check. Halloween approved snack board? Check, check, check!!
And if you're looking to start a few fun Halloween family traditions, we have even more favorite traditions, including a roundup of the best Halloween movies for kids, matching Halloween pajamas for your little ones, and plenty of spooky party inspiration and recipes!
And snacks!! We looooove snacks …
So today, I'm sharing our first great big Halloween snack board of the season – – basically, a charcuterie board stuffed to the gills with spooky snacks to welcome a month of Halloween festivities — that our kids fully approve of!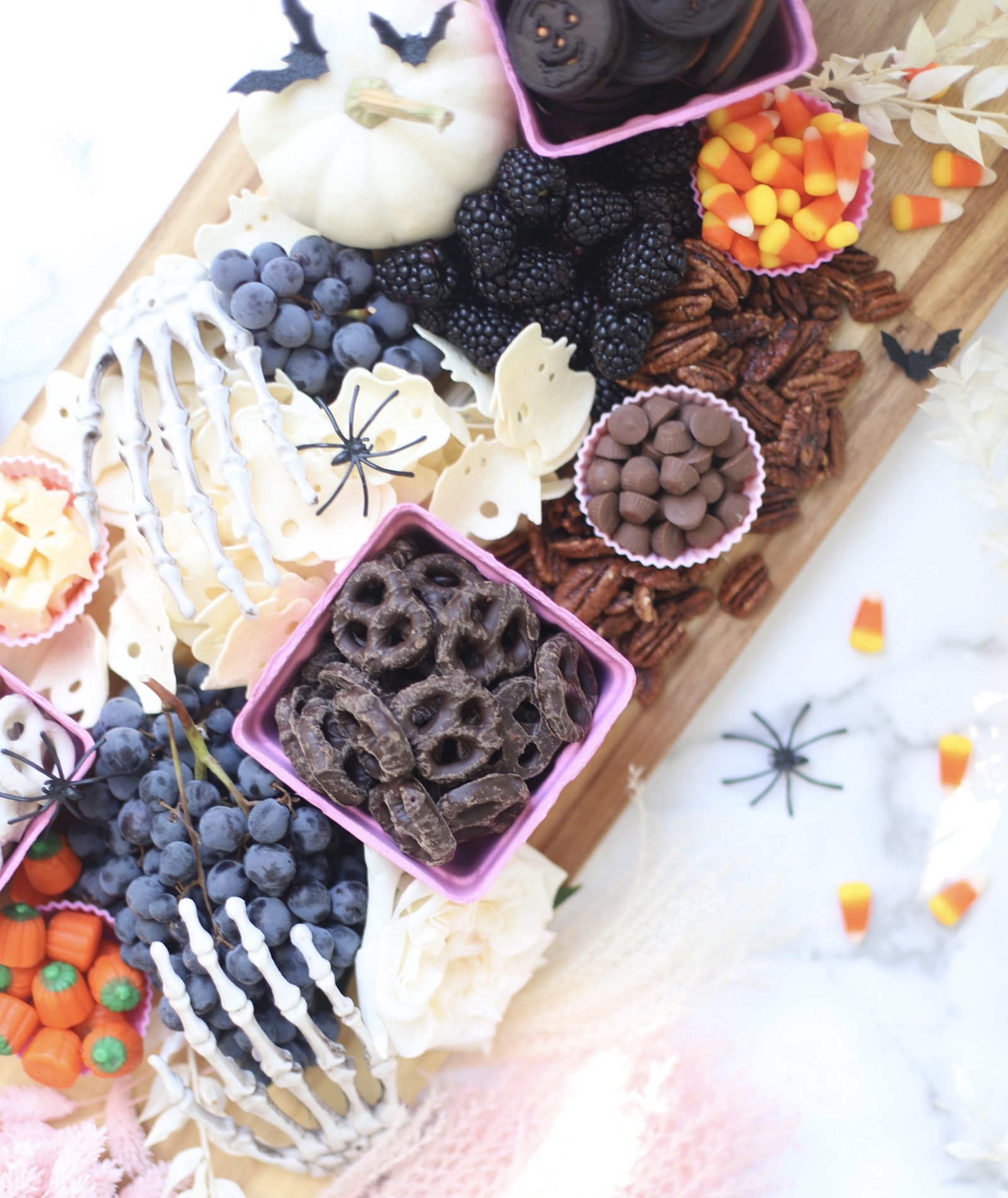 A Halloween snack charcuterie board is the perfect after-school Halloween treat, Halloween party treat, or easy Halloween dinner. Seriously, SUCH a fun no-fuss Halloween dinner: add in a bit more protein, like cold cuts and cured meats, cheeses and crackers, and you really do have the perfect no-cooking-required dinner at the end of a fun night of trick-or-treating!)
Without further ado, here's how we made our over-the-top Halloween snack charcuterie board (and you can too!)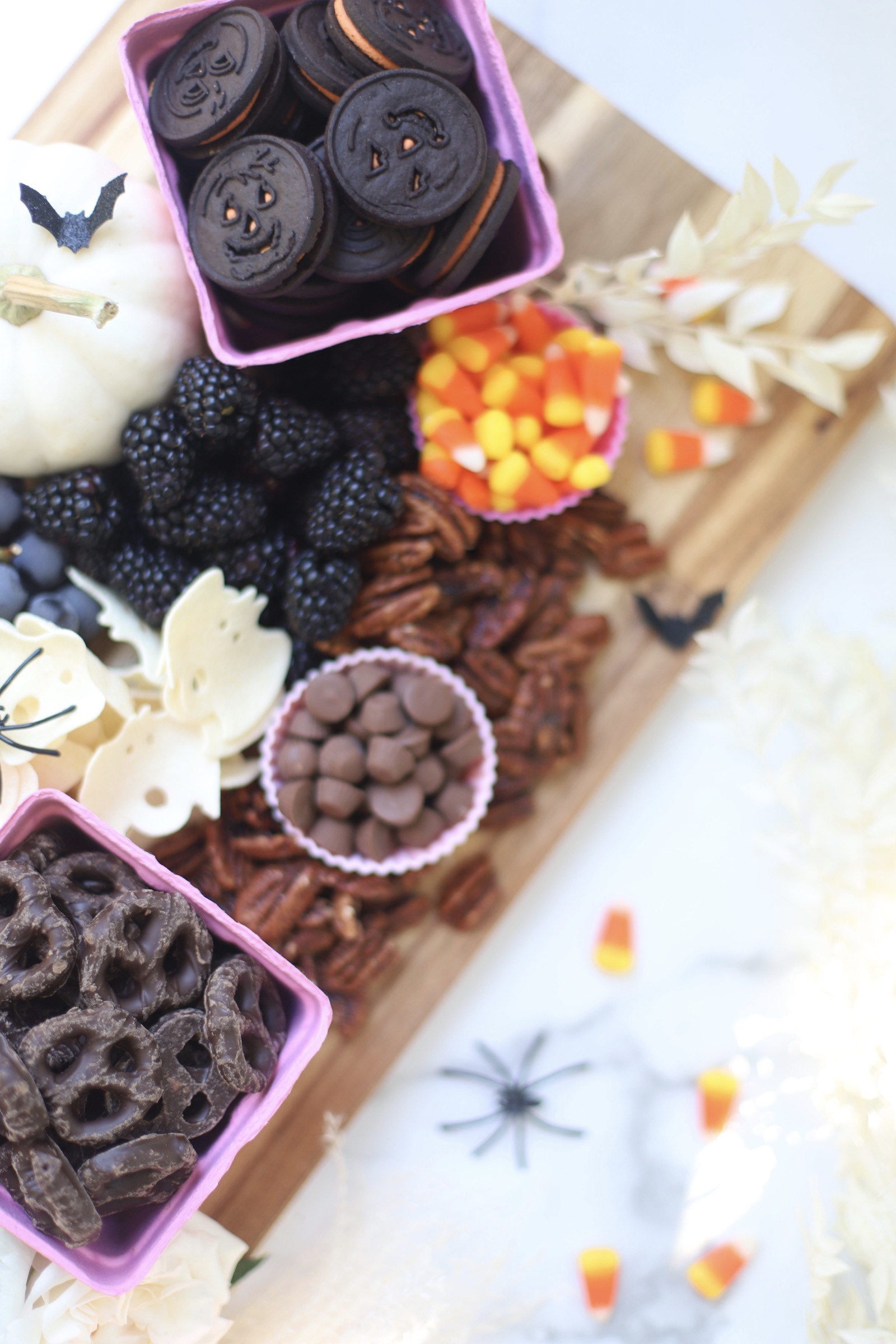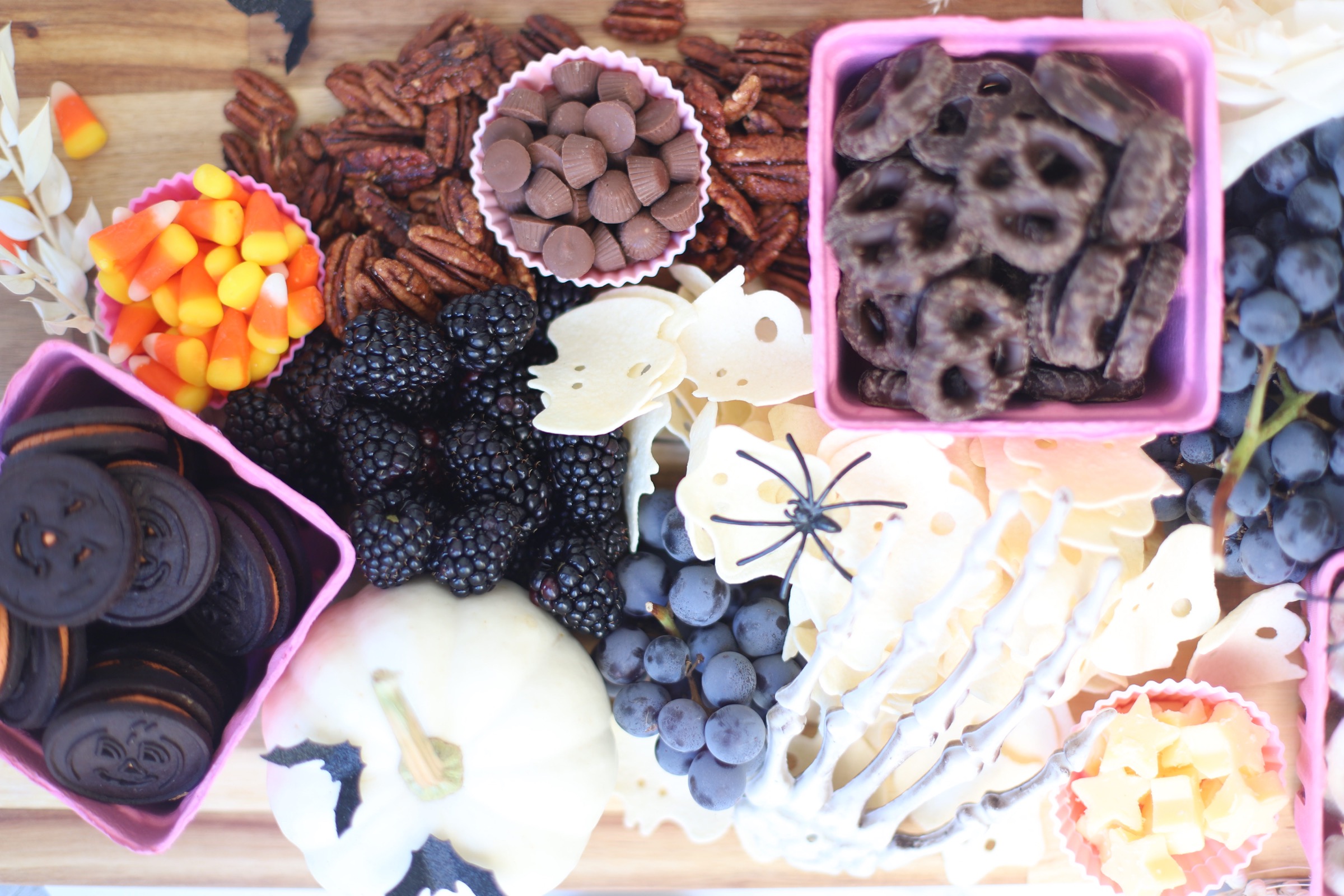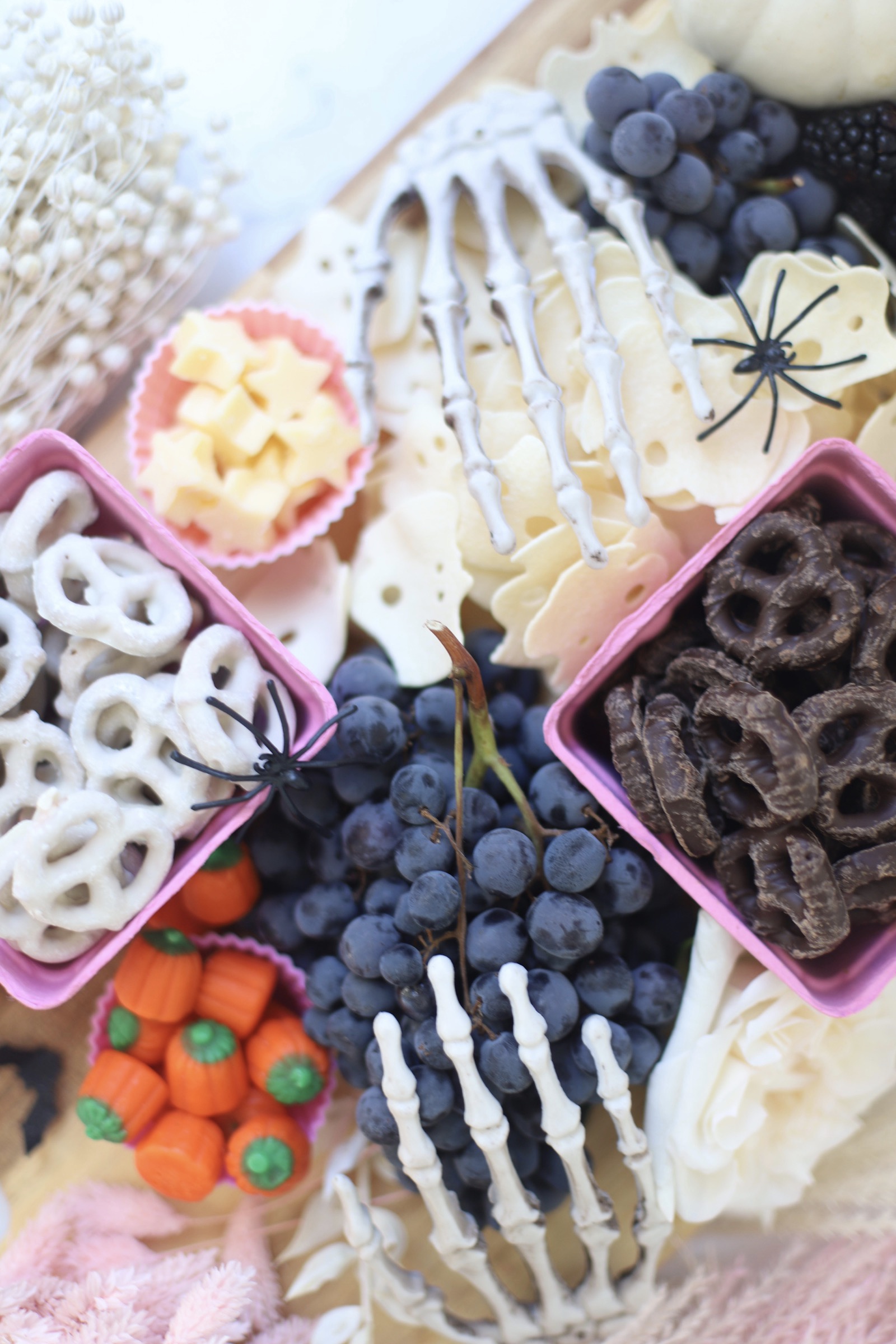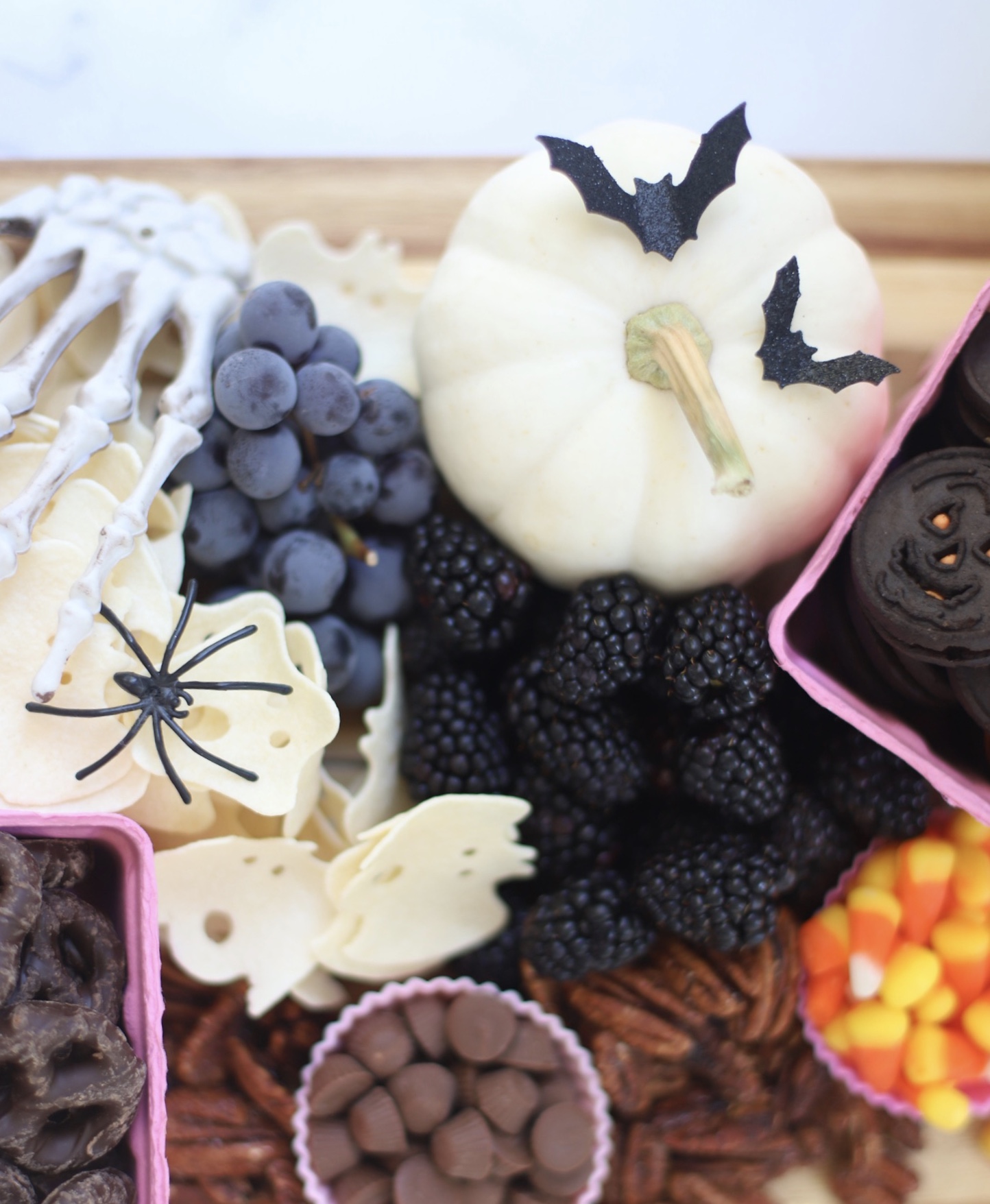 How to Make the prettiest spooky Halloween snack charcuterie board around:
Shop with a color palette in mind.
For instance, I snagged black grapes, blackberries, dark chocolate covered pretzels, etc. for a spookier, night-time look.
Use a large cutting board or charcuterie board as your base.
We love the Ikea SMÅÄTA acacia chopping board and World Market's Extra Large Acacia Wood Paddle Cutting Board.
Play with shapes and textures.
I found these great little vegetable cookie cutters that cut out teeny tiny shapes, like the cheese stars on this charcuterie board. They also double as a fun way to jazz up your kids' bento lunches. (I also really love this set because it comes with 20 tiny animal forks; the girls love them for fruit, etc.)
Use different bowls, cups, and containers to hold and divide up your snacks.
Silicone cupcake liners are great for holding small treats like candies, jelly beans, mini marshmallows, etc. These berry baskets are perfect for holding dry goods like pretzels and popcorn. (We used the white berry baskets for an Easter party and they were SO cute.)
Decorate your board with a few spooky accessories.
I topped our charcuterie snack board with plastic spiders, plastic skeleton hands, mini white pumpkins, mini bats, and a few bunches of flowers from Fifty Flowers. I also found these really cute kids' plastic Halloween plates in the dollar section of Target a few years back, and they seem to come out with new versions each year. Pottery Barn Kids also has super cute Halloween plates, cups, and flatware. Our kids love when I break out their Halloween plates!
Stock up on all of the good snacks.
Trader Joe's is my charcuterie board go-to, though any grocery store will do. Have fun with it. Mix sweet and savory, or stick to one or the other; whatever your heart desires. For this Halloween snack charcuterie board, I tried to make it super kid-friendly:
Trader Joe's Ghosts and Bats Chips
Cheese Stars
Mini Chocolate Peanut Butter Cups
Yogurt Pretzels
Dark Chocolate Covered Pretzels
Grapes
Blackberries
Trader Joe's Halloween Joe Joe's Cookies
Candied Pecans
Other fun ideas: mini marshmallows, Peeps Halloween Marshmallow Ghosts, purple potato chips, banana chips, cheetos or cheese puffs, peanuts, etc.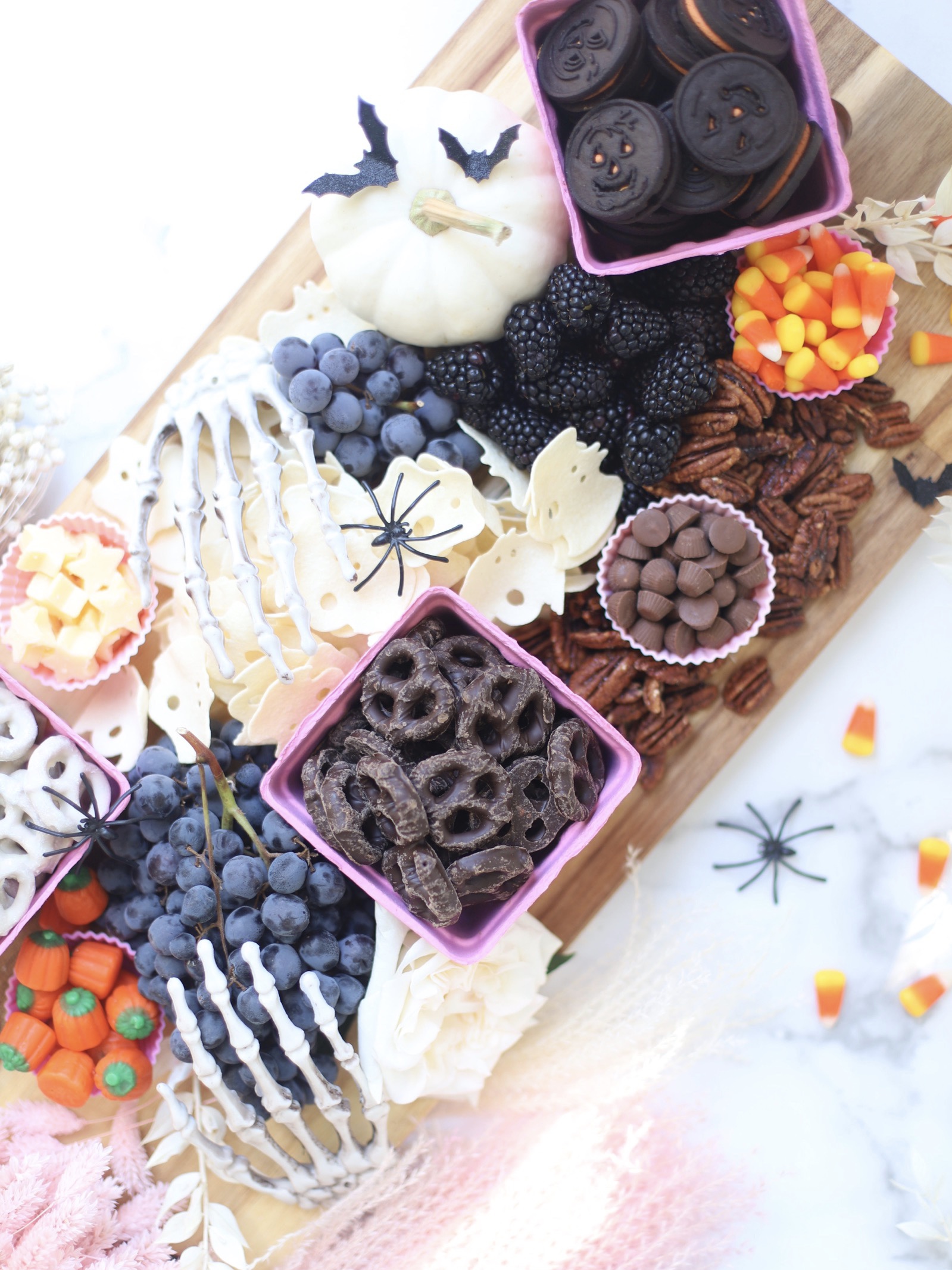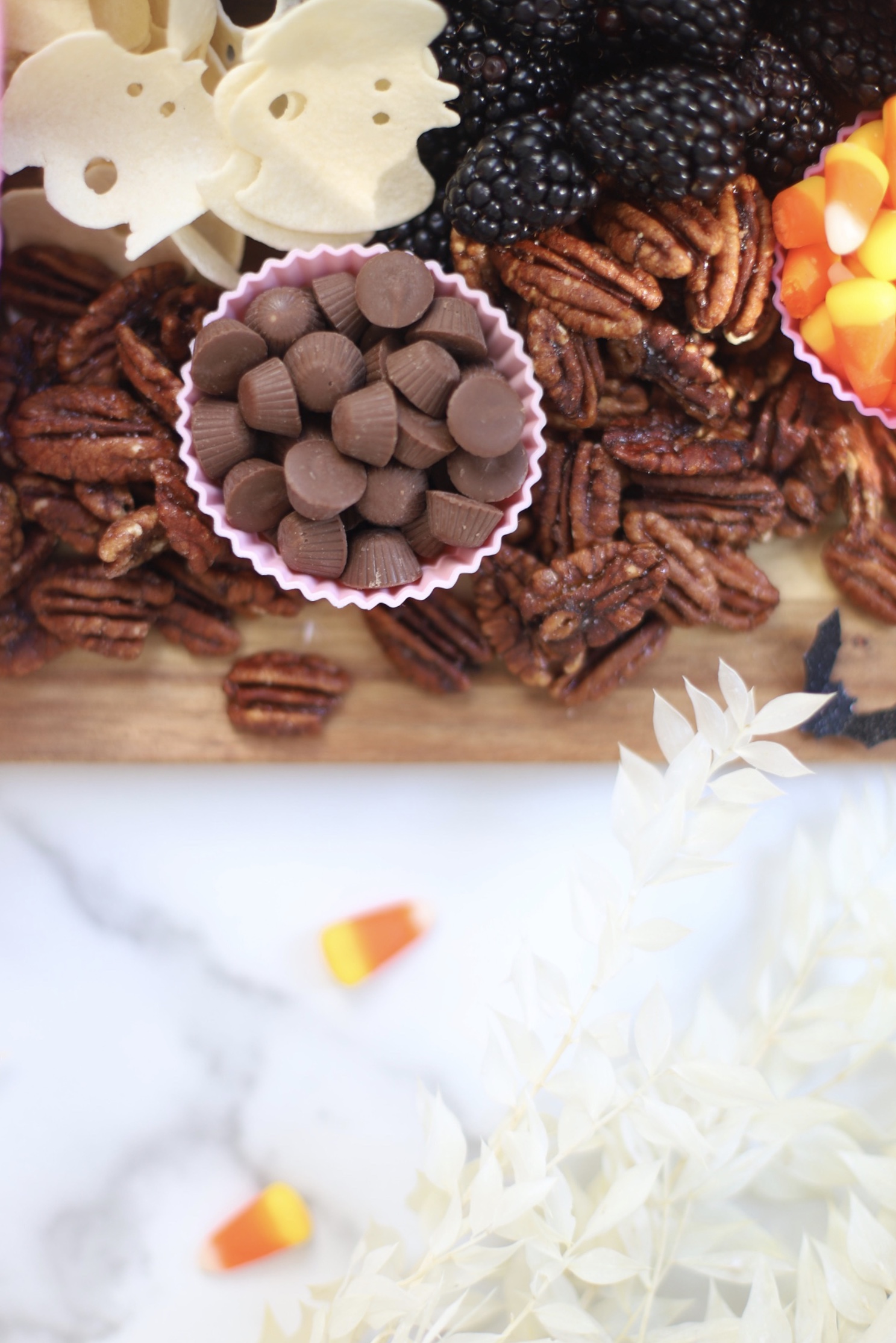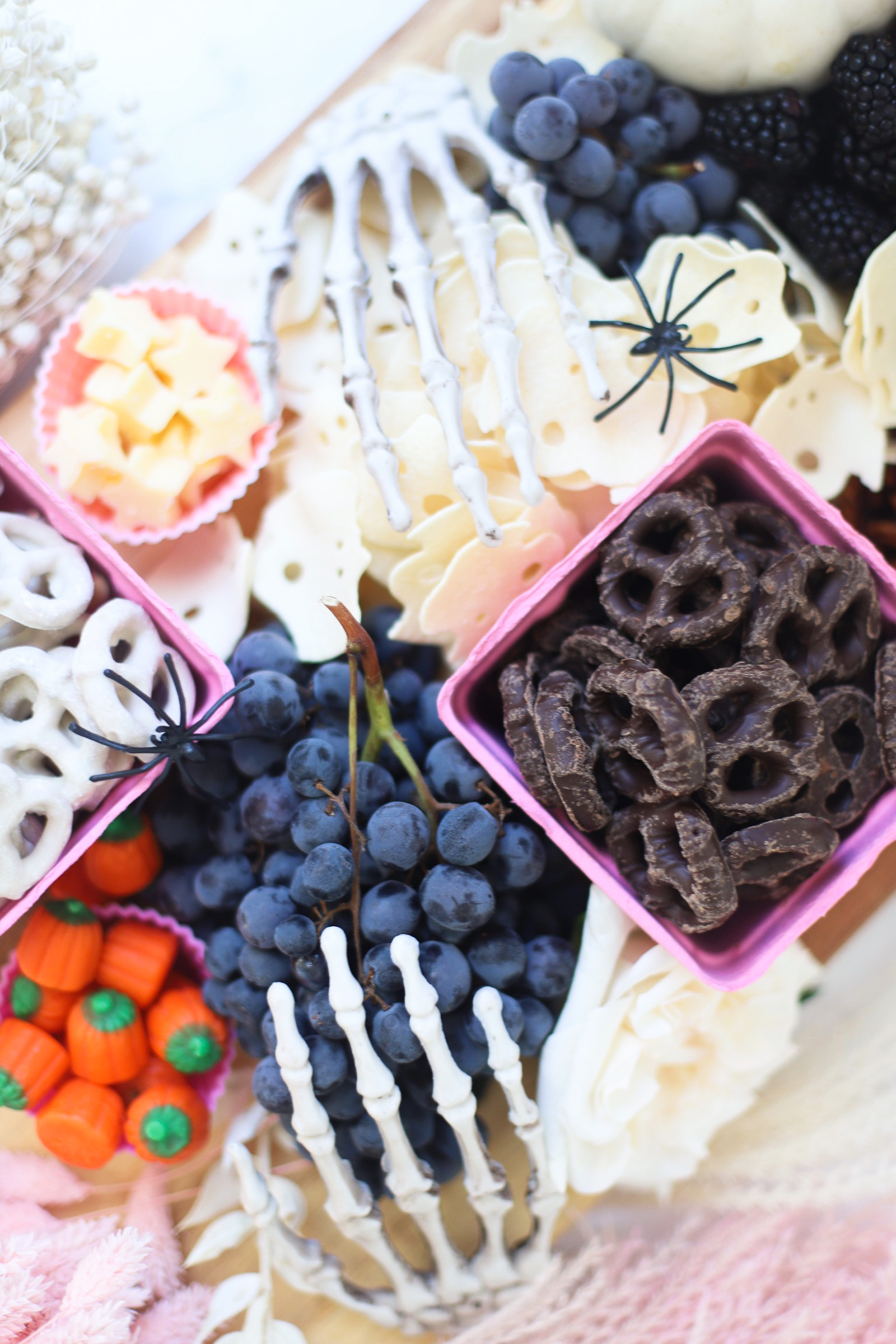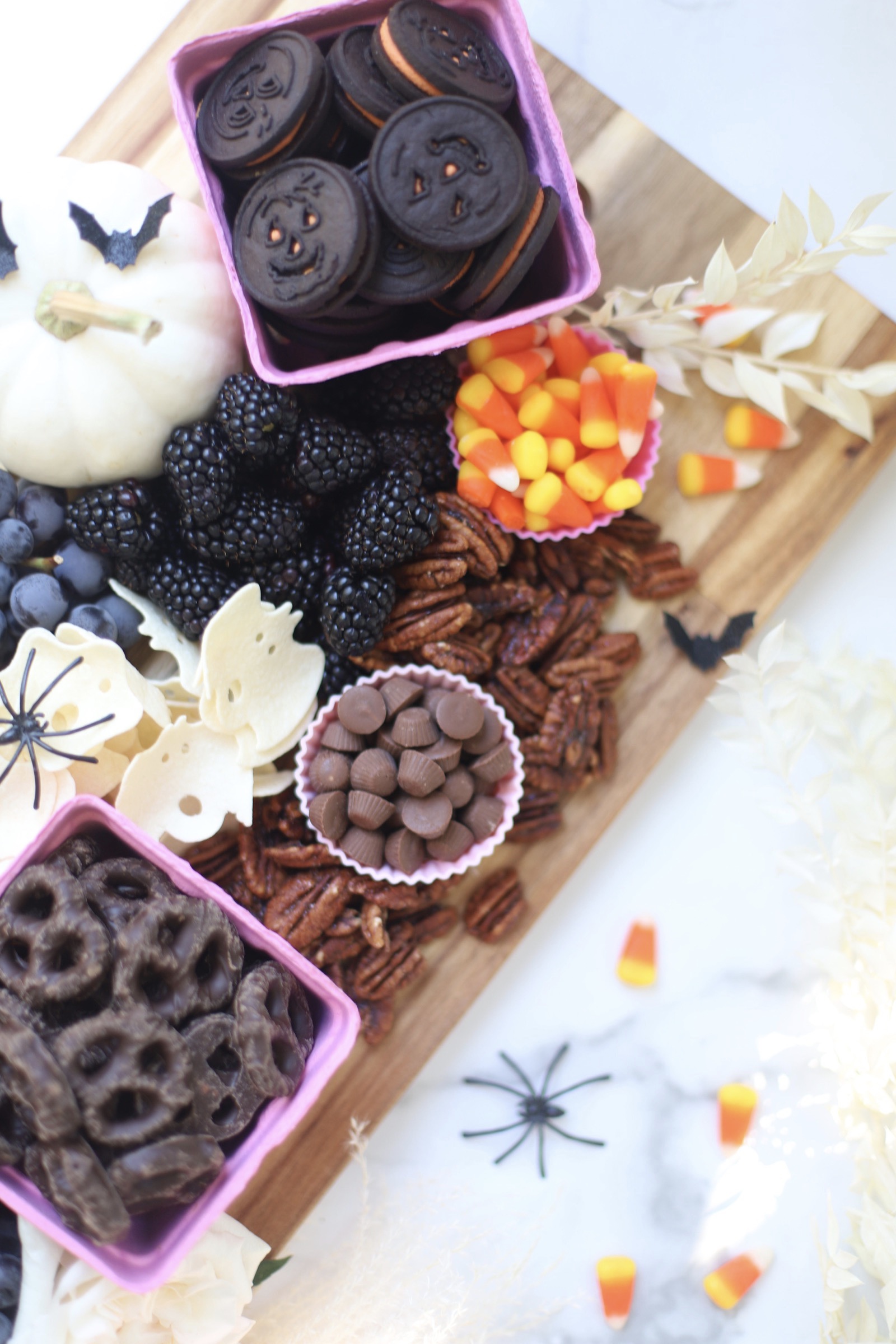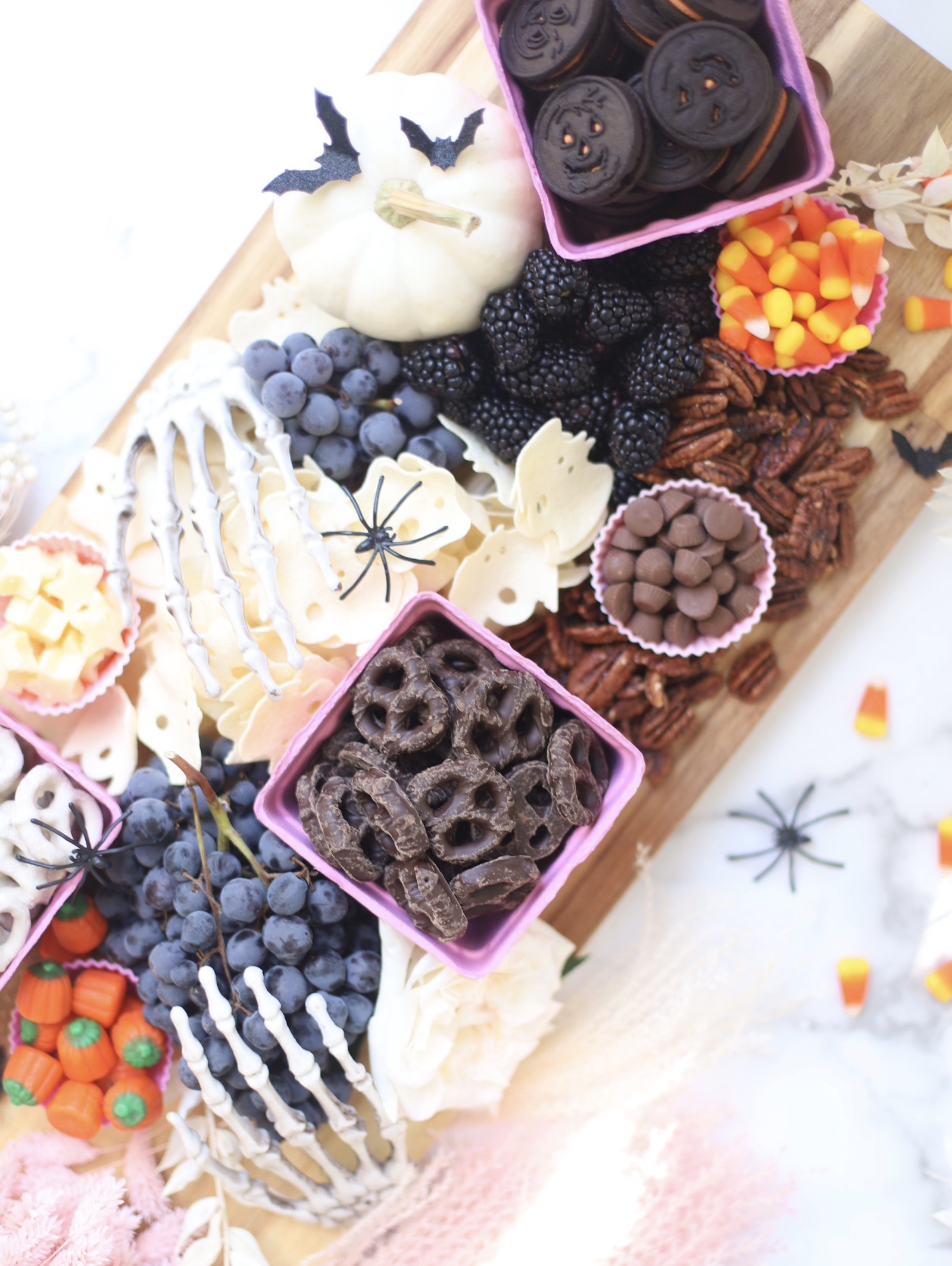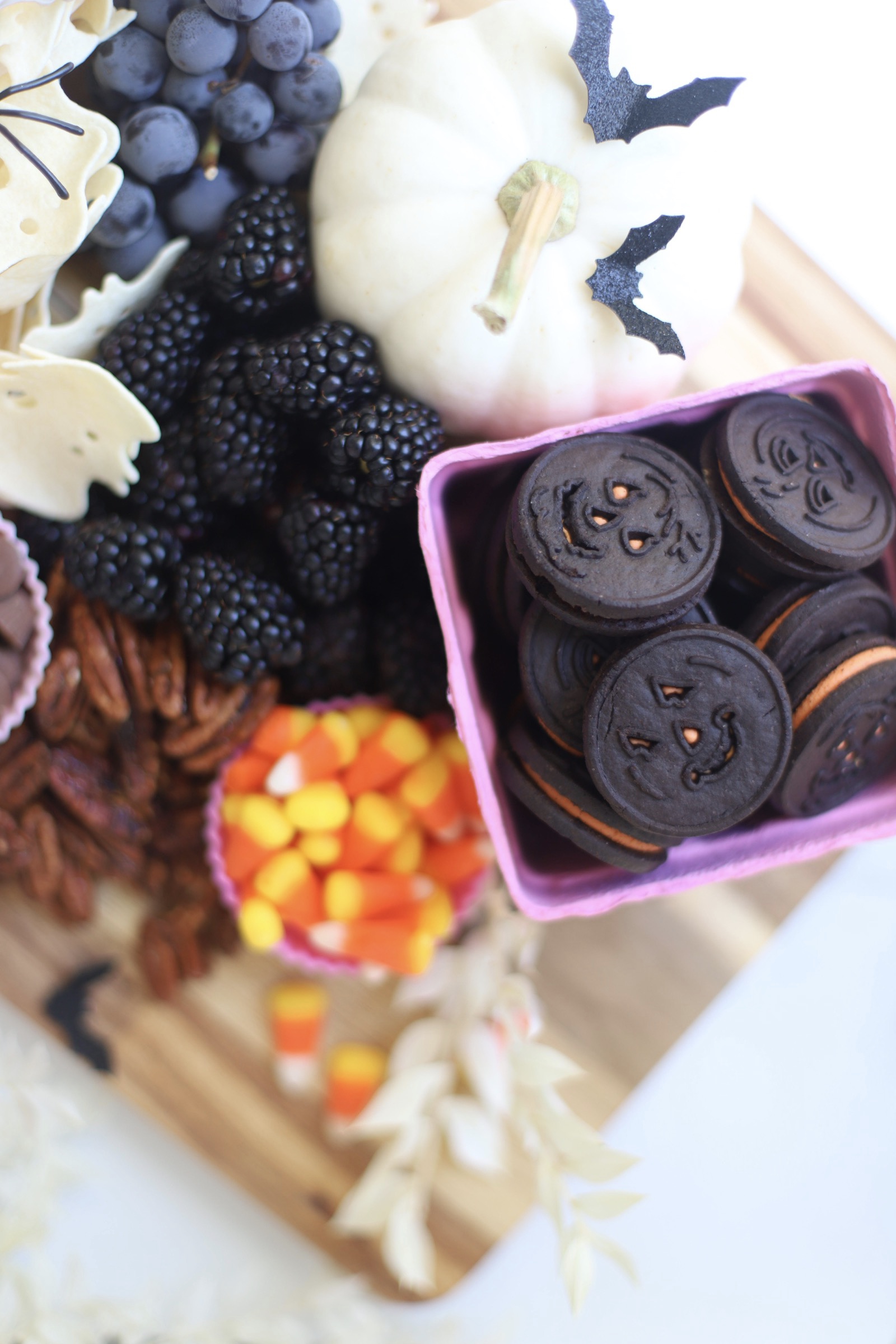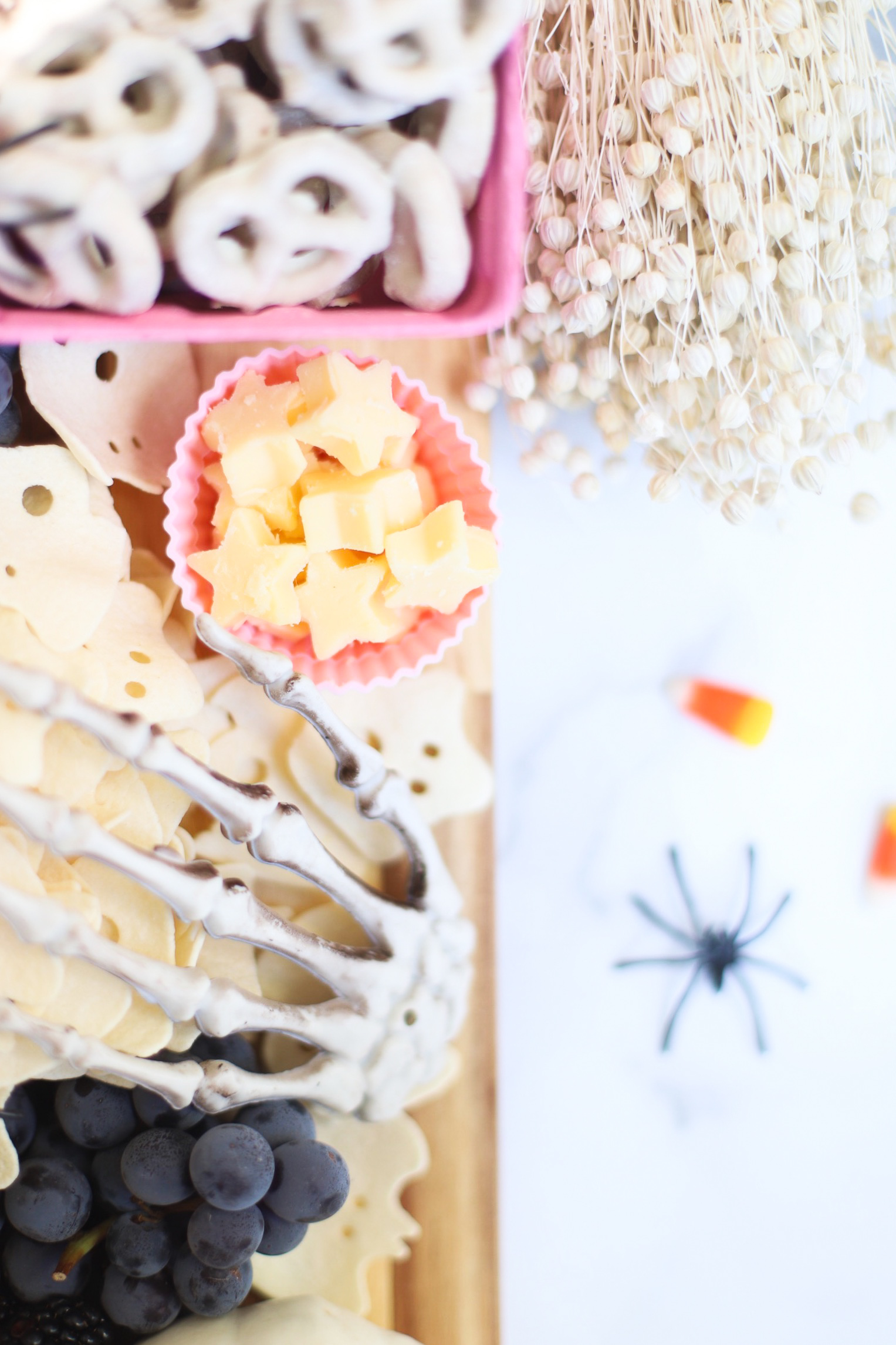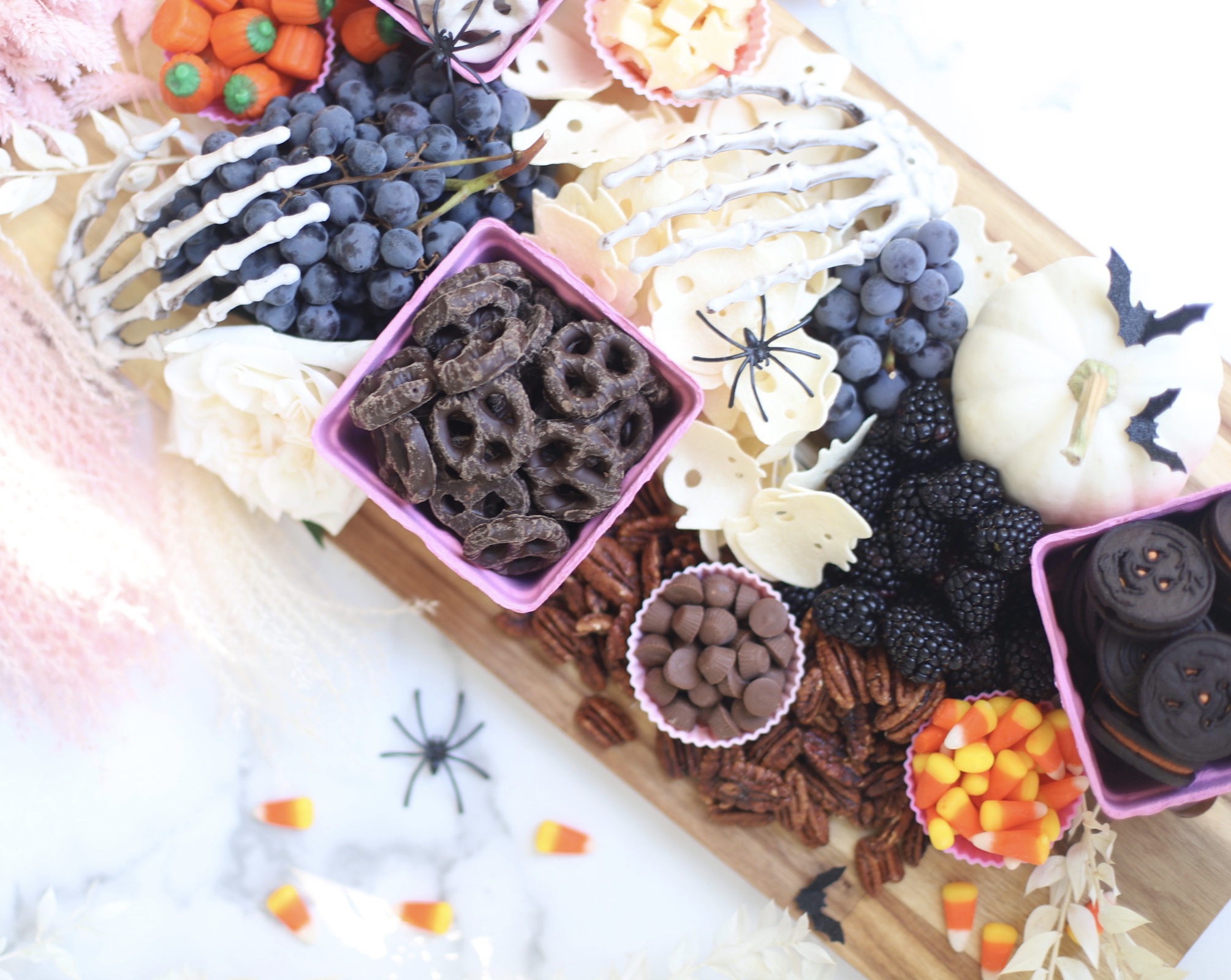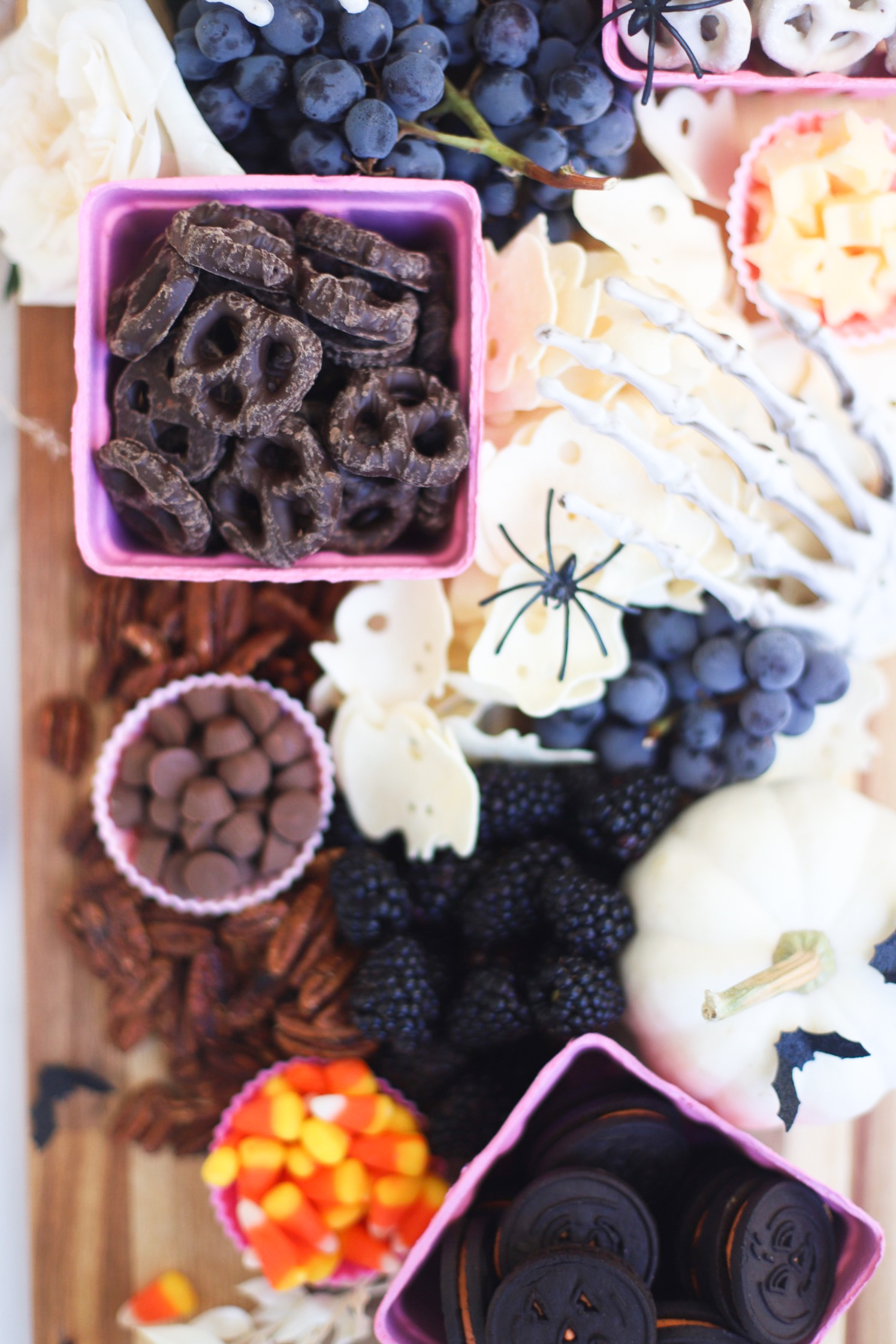 Are you a fan of making your own at-home charcuterie boards? They're the perfect snack board, are so easy to put together, and they're the perfect no-fuss, no-cook food for a crowd!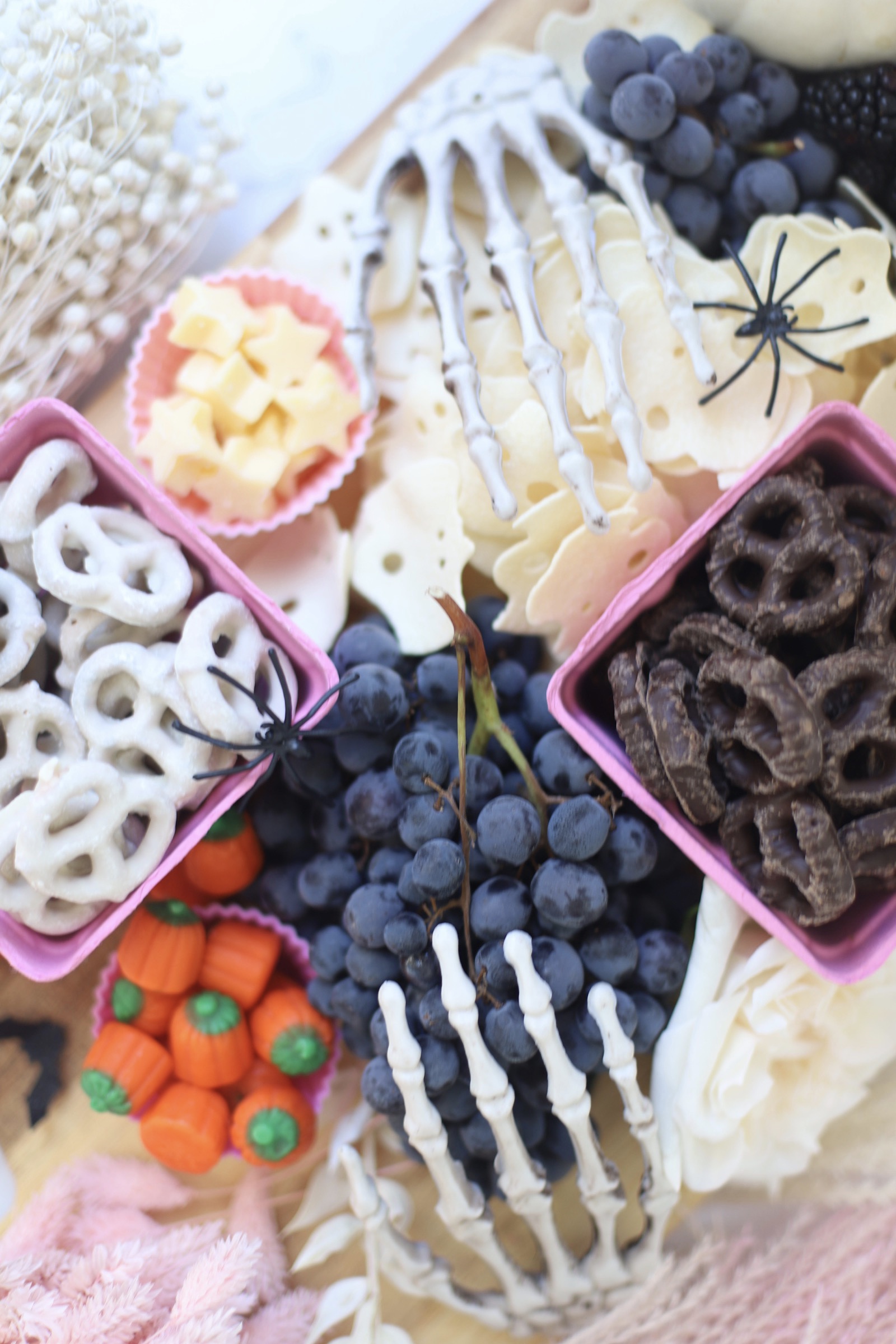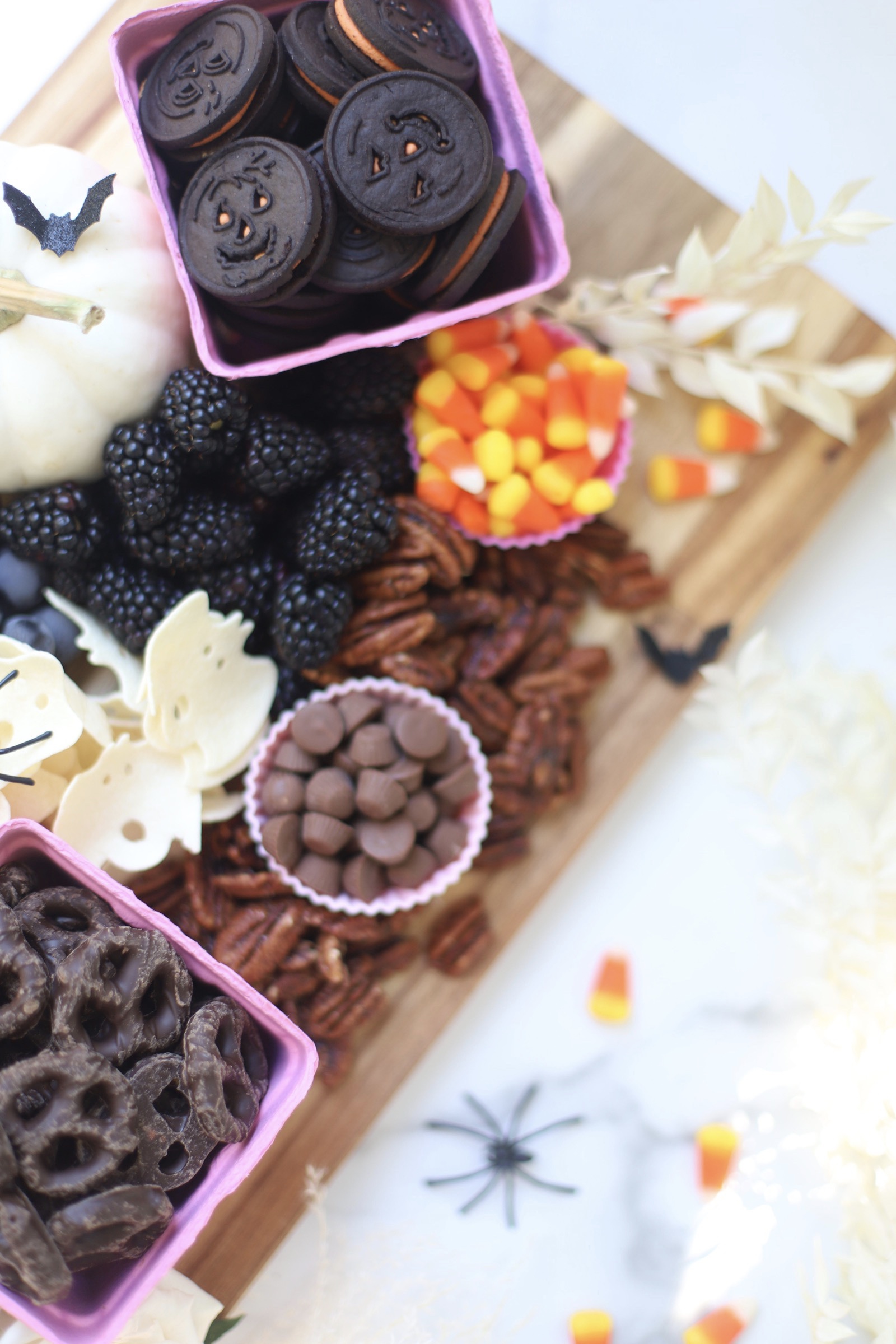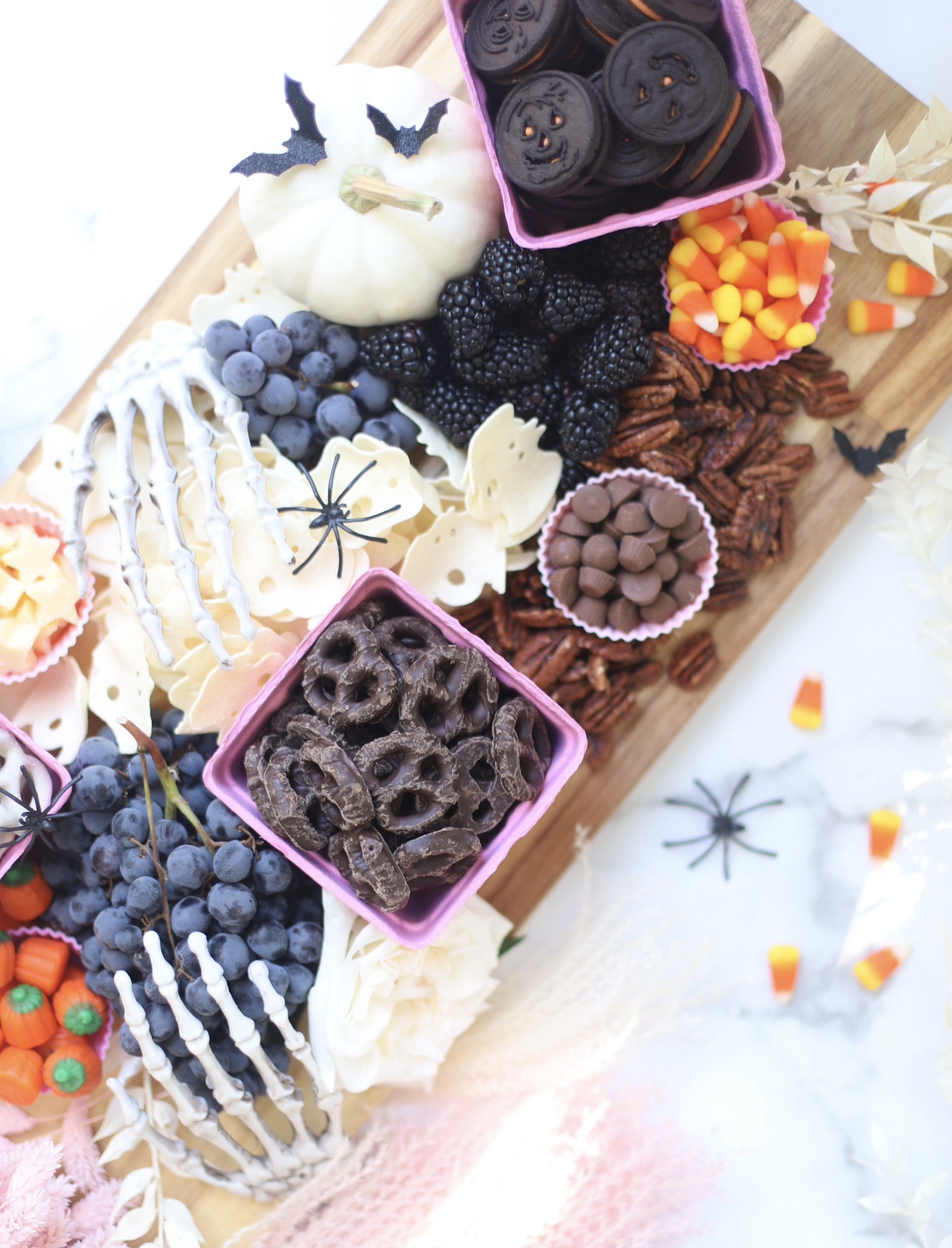 Even More Halloween Inspiration from Glitter, Inc.:
"Eat, Sip, and Be Scary" Halloween Party Station
Halloween Reading List: 16 Not So Spooky Halloween Books for Kids
Haunted Halloween Eyeball Crazy Cake Cupcakes
10 Adorably Awesome Halloween Costumes for Families, Kids, Toddlers, and Babies
Our Favorite S'mores Cookie Bars
Halloween "Puppy Chow" Muddy Buddies
Pumpkin Cake with Fluffy Chocolate Frosting
SHOP THE HALLOWEEN CHARCUTERIE SNACK BOARD | CLICK LEFT & RIGHT ARROWS TO EXPLORE
If you make your own Halloween snack charcuterie board, be sure to tag me on social media (@glitterinclexi) so I can live vicariously through all of your sweet creations!