UPPAbaby sent a stroller and accessories for review. This UPPAbaby VISTA post contains affiliate links, which means that if you click on one of the product links, I'll receive a small commission. Thank you so much for clicking through and helping to support this little blog business of mine! Read more about our site, privacy, and disclosure policies here.
It's finally here! Our review of the UPPAbaby VISTA (and how we use the stroller as a double for two kids under three); plus details about configurations using the RumbleSeat, MESA Car Seat, and PiggyBack Ride-Along Board. Get excited!!
It wasn't until motherhood that I truly started to fan girl over products; namely: baby gear. I mean, how dorky is that? I get inordinately excited about sleek new baby gear. Yep. I said it. And the UPPAbaby VISTA was one of those big ticket items on my baby registry the first time around (with baby girl number one), that I absolutely, 100,000% had to have.
UPPAbaby strollers have quickly become the "it stroller" and the UPPAbaby VISTA in particular is one of the MOST popular strollers on today's market. It's just so darn versatile. Goodness, did I ever want one.
Uppababy

Vista

Double Stroller Review

Fast-forward to baby number two, and the UPPAbaby VISTA Stroller has become all that and a bag of chips for our growing family. Why? Because the UPPAbaby VISTA stroller converts to a DOUBLE STROLLER. Plus, it has SO many configurations. And, if you really wanna go wild, you can clip on the PiggyBack Ride-Along Board, and stack three kids onto one stroller. Guys, this is pretty monumental in our current snot-covered, sleep-deprived, slap happy little world.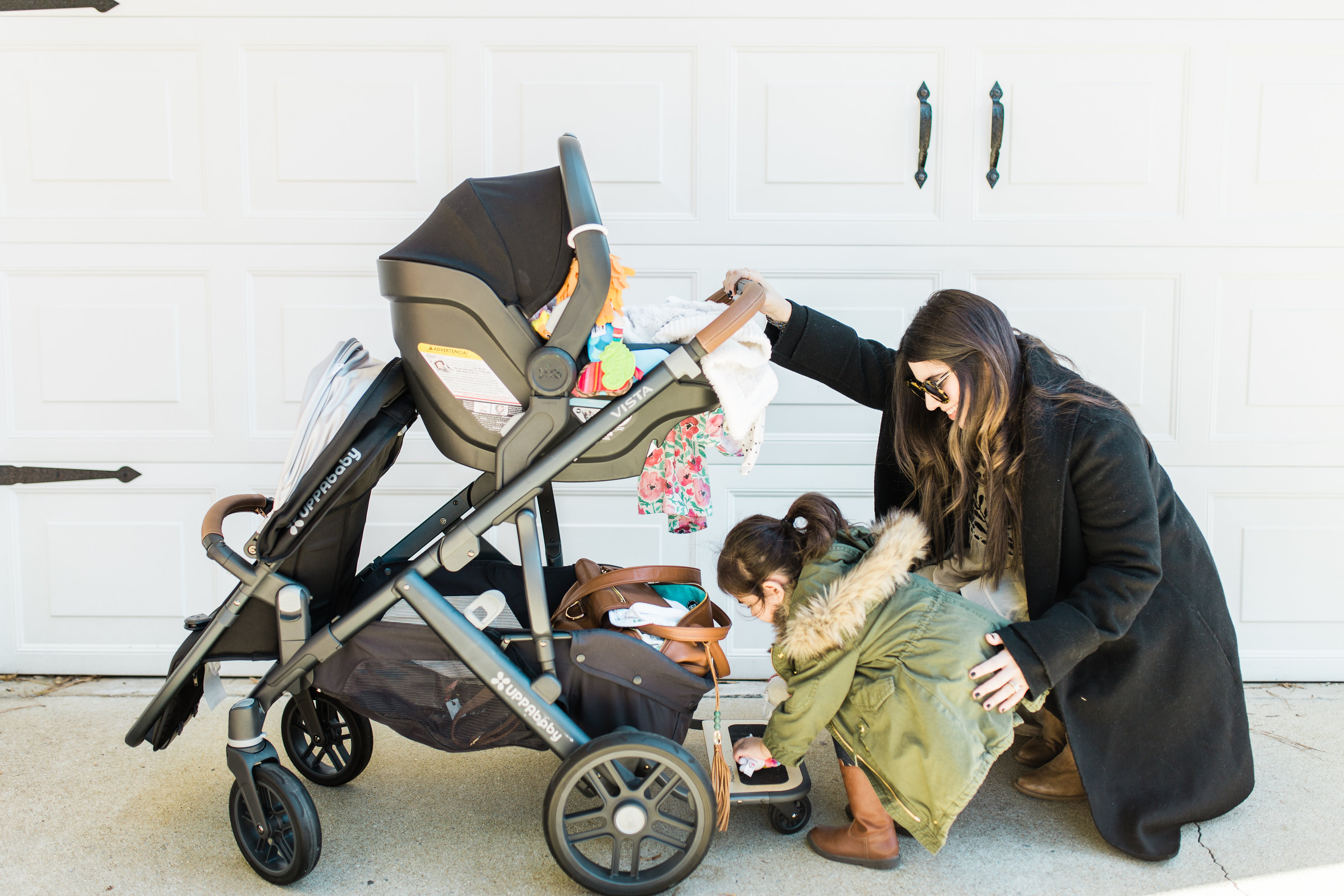 The UPPAbaby VISTA Stroller:
I think the reason the UPPAbaby VISTA stroller is SO popular – aside from it's gorgeous design – is that parents love its ability to grow with their family from birth to toddler years. It goes from the bassinet mode for a newborn to a travel system (with the MESA Car Seat) to a single stroller mode and finally to a double stroller with the addition of a second seat (a Rumble Seat where the seat attached to an additional lower spot on the VISTA stroller). You can even add a stroller board for an older child, making it possible to push around three kids at once!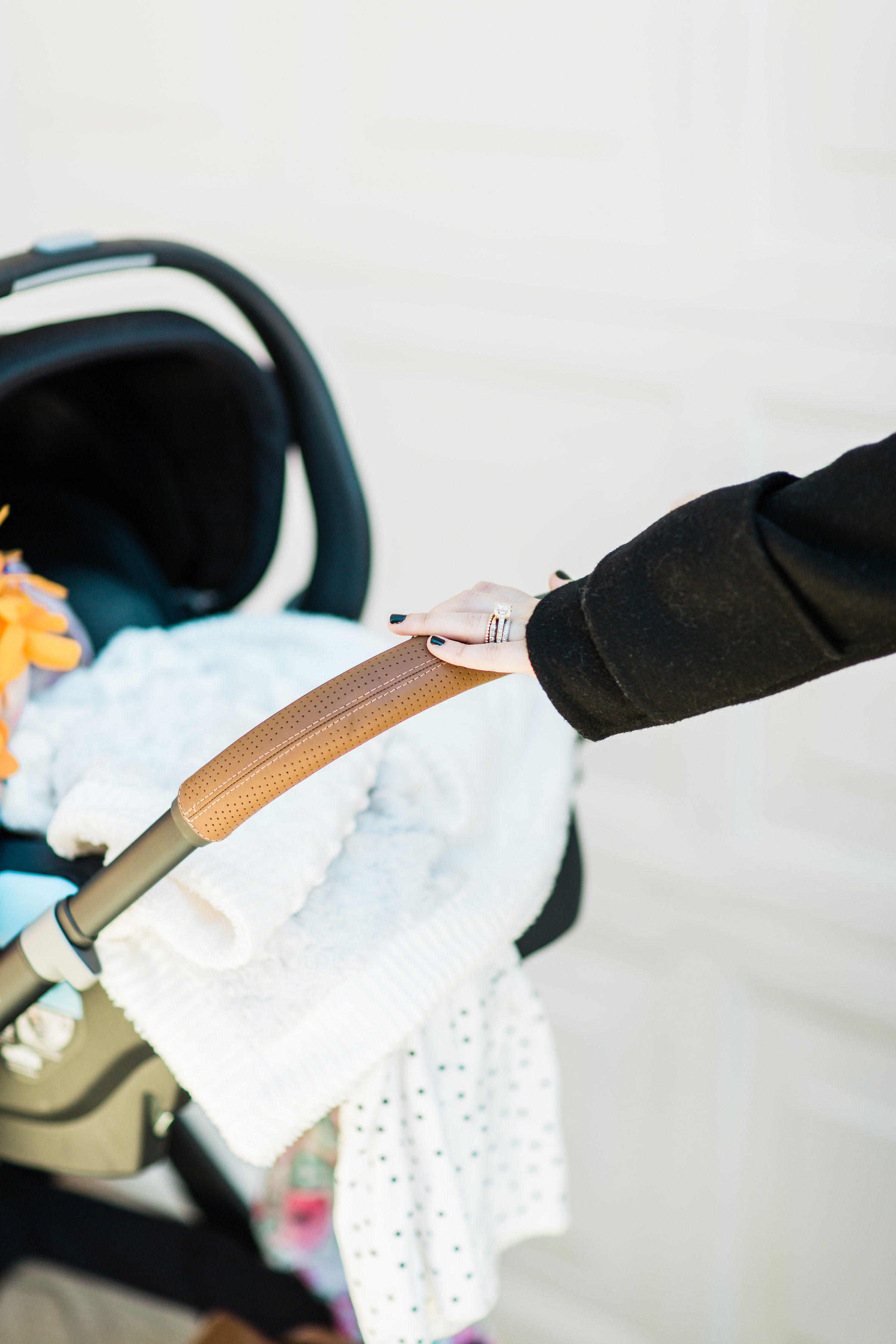 The UPPAbaby VISTA got some updates in 2017 including a narrower frame, better all-terrain tires, a slightly lighter weight, a few new accessories, an improved sunshade that has a huge canopy and pop-out UPF-50+ sunvisor, leather accents (that look SO chic!), and new colors. For 2018 there has been only a few minor updates and new colors: the bassinet is a littler longer now so it can accommodate a larger child, the front wheels are now made out of the same material as the rear, the handle bar and the bumper bar on all the VISTA models have the genuine leather cover (before it was only on some colors).
This review is for the newest version of the UPPAbaby VISTA Stroller; the 2018 model, and how we use the UPPAbaby as a double stroller.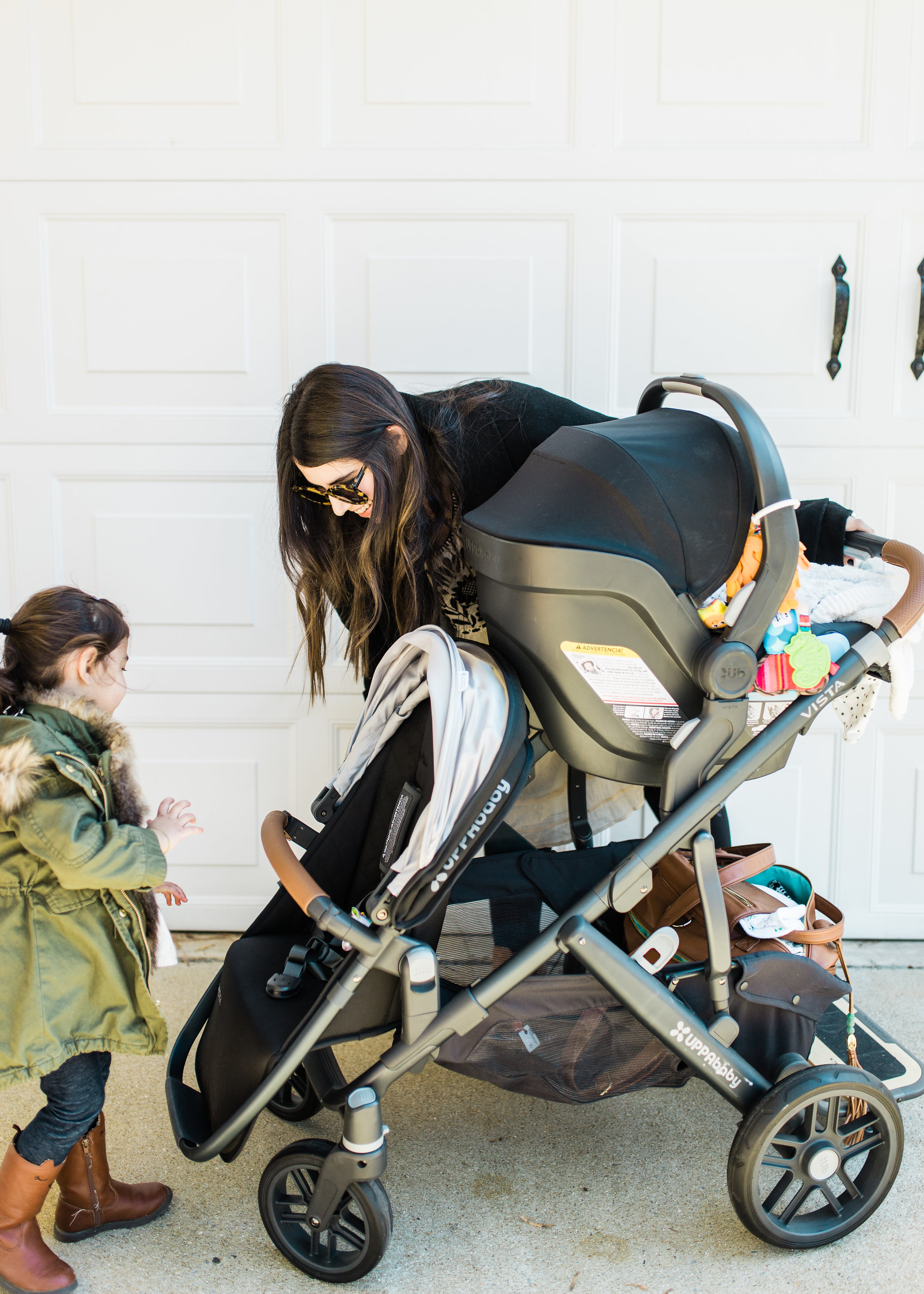 A few of our absolute favorite features of the new UPPAbaby VISTA Stroller are:
the all-terrain tires (which drive so smoothly anywhere we go and have major swivel power); also, the tires are flat-less – a.k.a., the tires will never go flat and never need to be pumped
all-wheel suspension
a high seat and bassinet height allows you to bring your baby closer to you
the enormous canopy shade with pop-out UPF-50+ sunvisor
an adjustable handle bar that can accommodate even the tallest of stroller pushers (even my 6'5 brother can comfortably push the girls in their stroller)
adustable leg rest on the toddler seat
an absolutely enormous basket underneath the stroller (my favorite basket on a stroller EVER; and we've tried a lot of strollers!)
intuitive one-step fold (closing this stroller is a breeze, though I wish opening it back up was a bit simpler)
deep one-hand recline (helpful for sleepy babies)
blue/yellow attachment indicator confirmation, so you know everything is clicked in securely
washable and removable fabrics (with fabric swap kits available)
a convenient zip in weather shield and insect/bug shield that's included
one-touch parking brake
awesome customer service and a 3 year warranty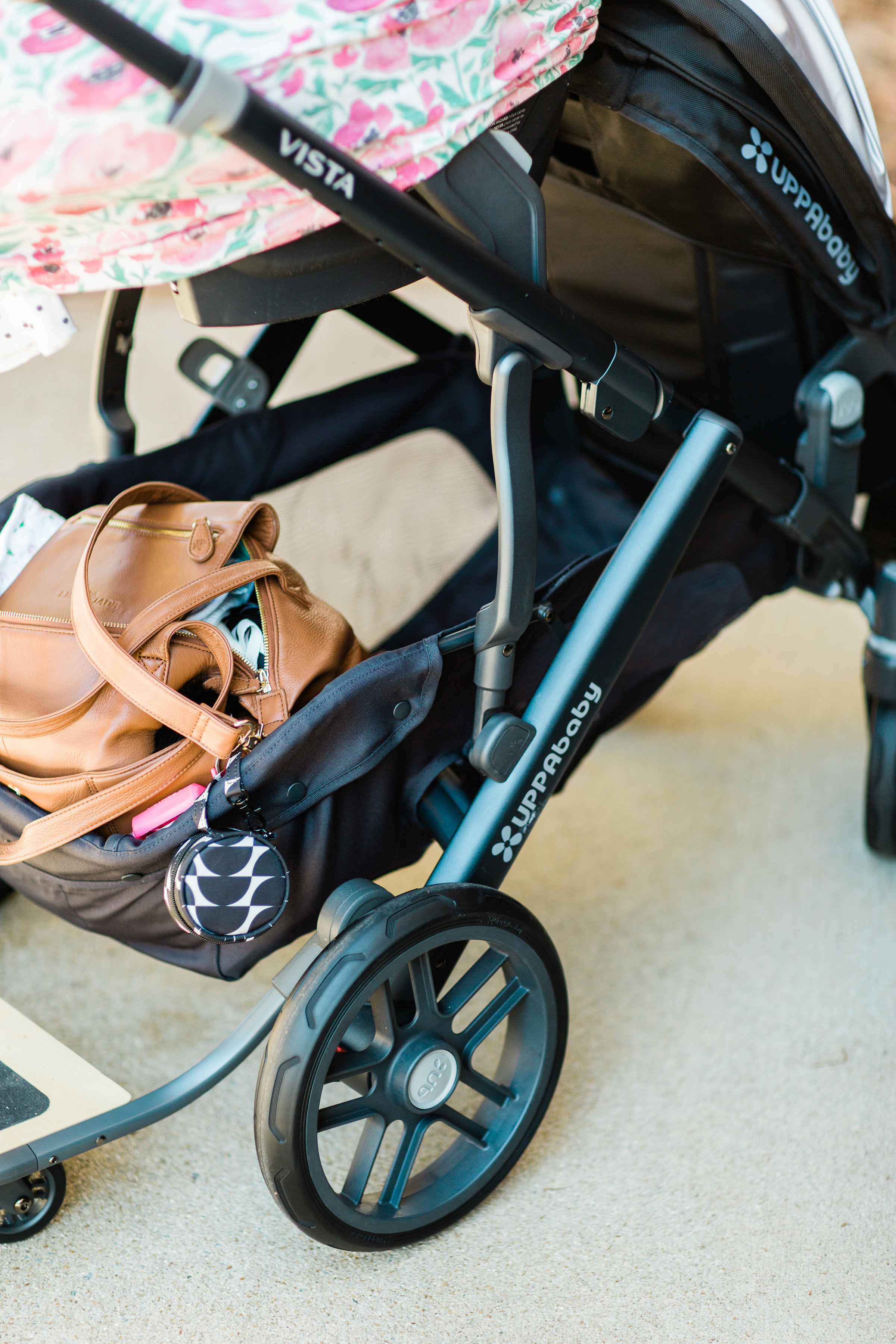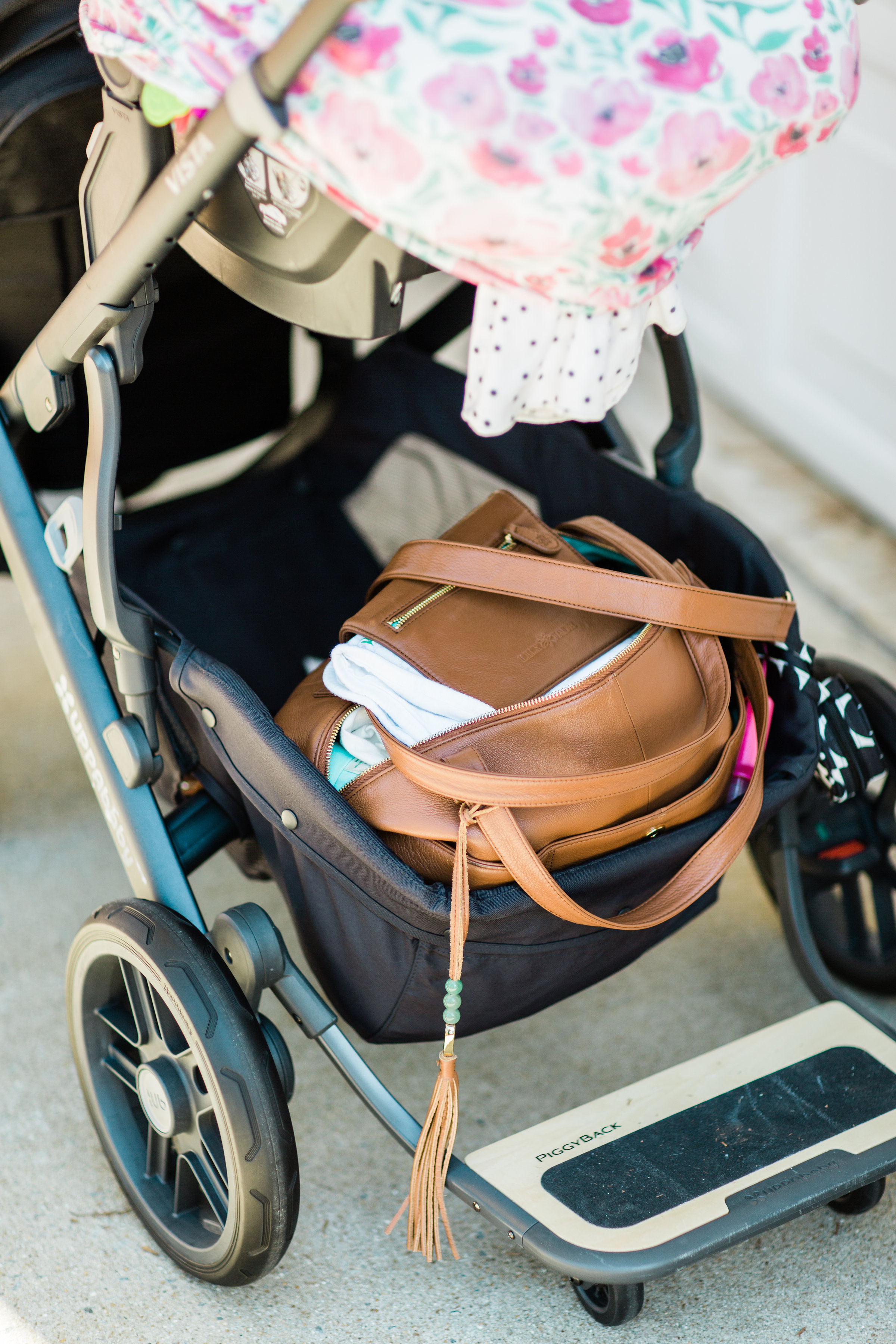 This basket is just so huge. I'm honestly not sure I've EVER seen a bigger basket on a stroller, and I've played with a lot of strollers. I seriously love that kind of storage.
If you live in a big, walkable city in particular, that amount of storage is key. When we travel to New York City to visit family, for instance, I'm able to easily push both girls, and stuff our coats, my huge diaper bag, and anything we buy into that basket. Winning.
Also, because it's a tandem double stroller – a.k.a., the seats stack front-to-back – making it less wide than a side-by-side double stroller – and more flexible to grow with your family, it's also ideal for city living, because you won't need to worry about not fitting through doorways, narrow aisles in boutiques, etc. You can easily remove a seat to push around one child; say, when the oldest is at school, making it a more versatile stroller for your differing day-to-day needs.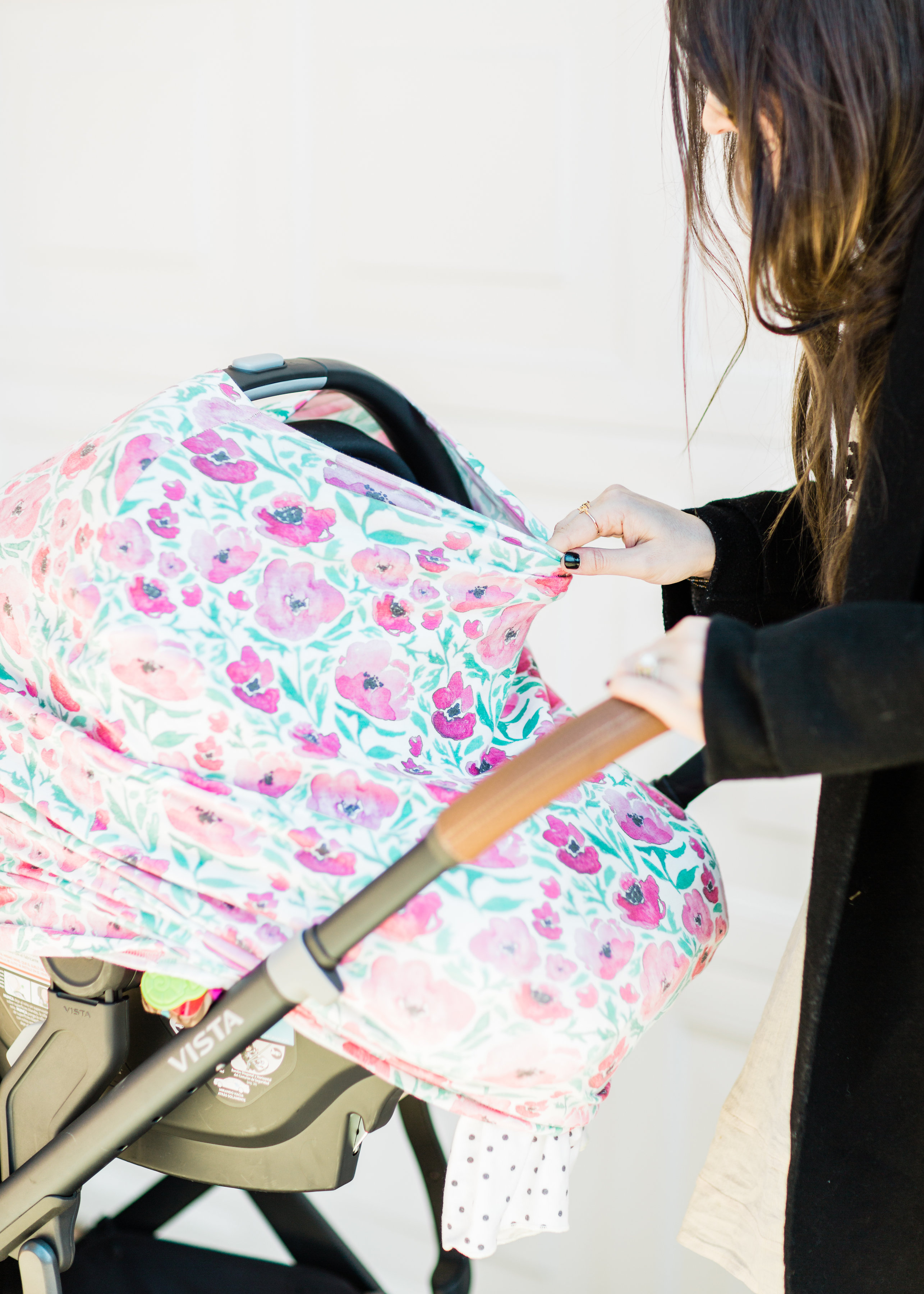 Such a smooth ride for a sleeping baby.
Buy the UPPAbaby VISTA Stroller here.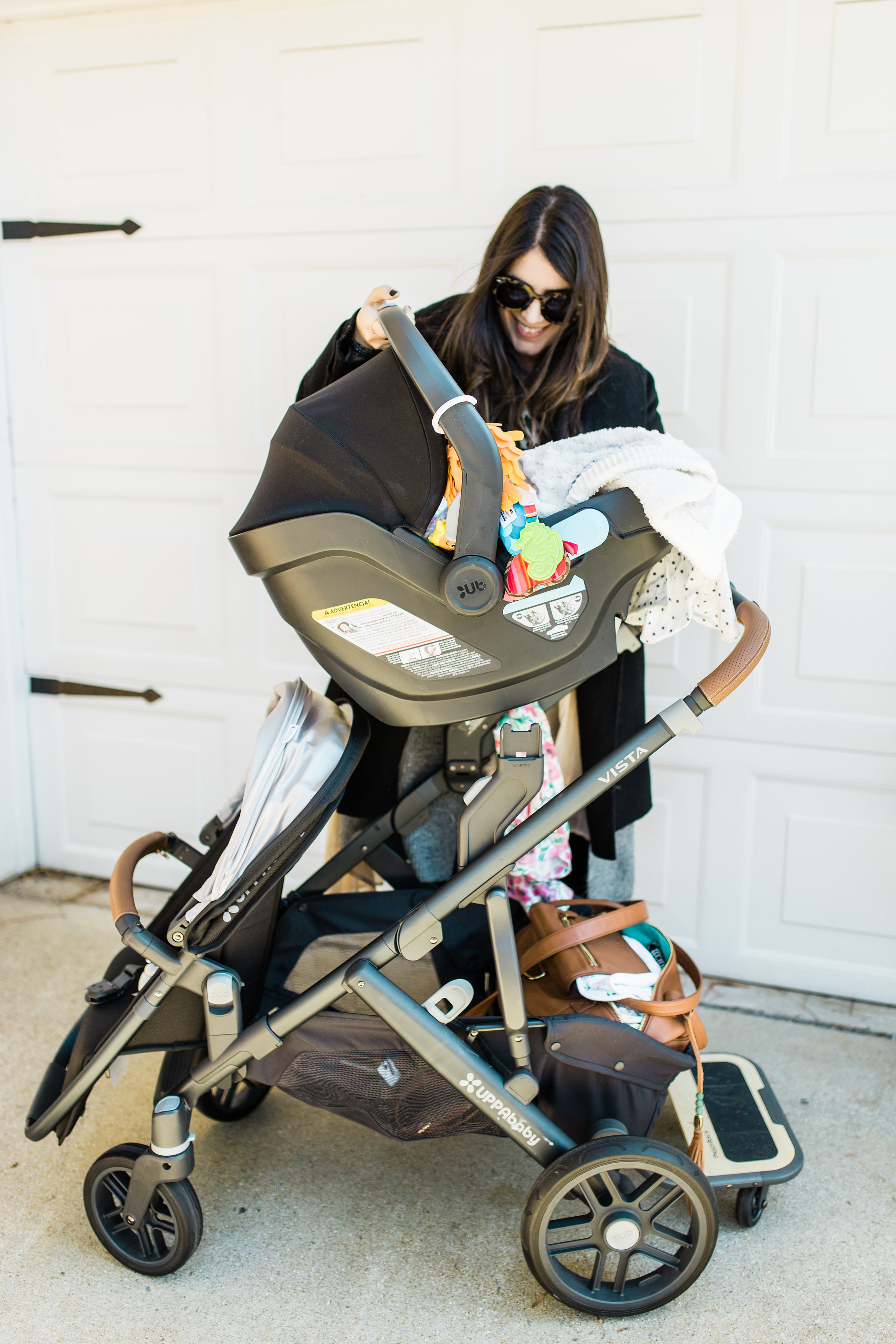 The UPPAbaby MESA Car Seat:
The UPPAbaby MESA Car Seat is a pretty awesome car seat all on it's own. It has a 5-star rating for a reason.
If you have an UPPAbaby VISTA or CRUZ Stroller, the MESA car seat is the way to go. Both the VISTA AND CRUZ are compatible with the UPPAbaby MESA infant car seat, and doesn't need an accessory adapter in the upper position. The MESA clicks in place on the VISTA where the toddler seat or bassinet would go. It also clicks in really easily, which I find so helpful.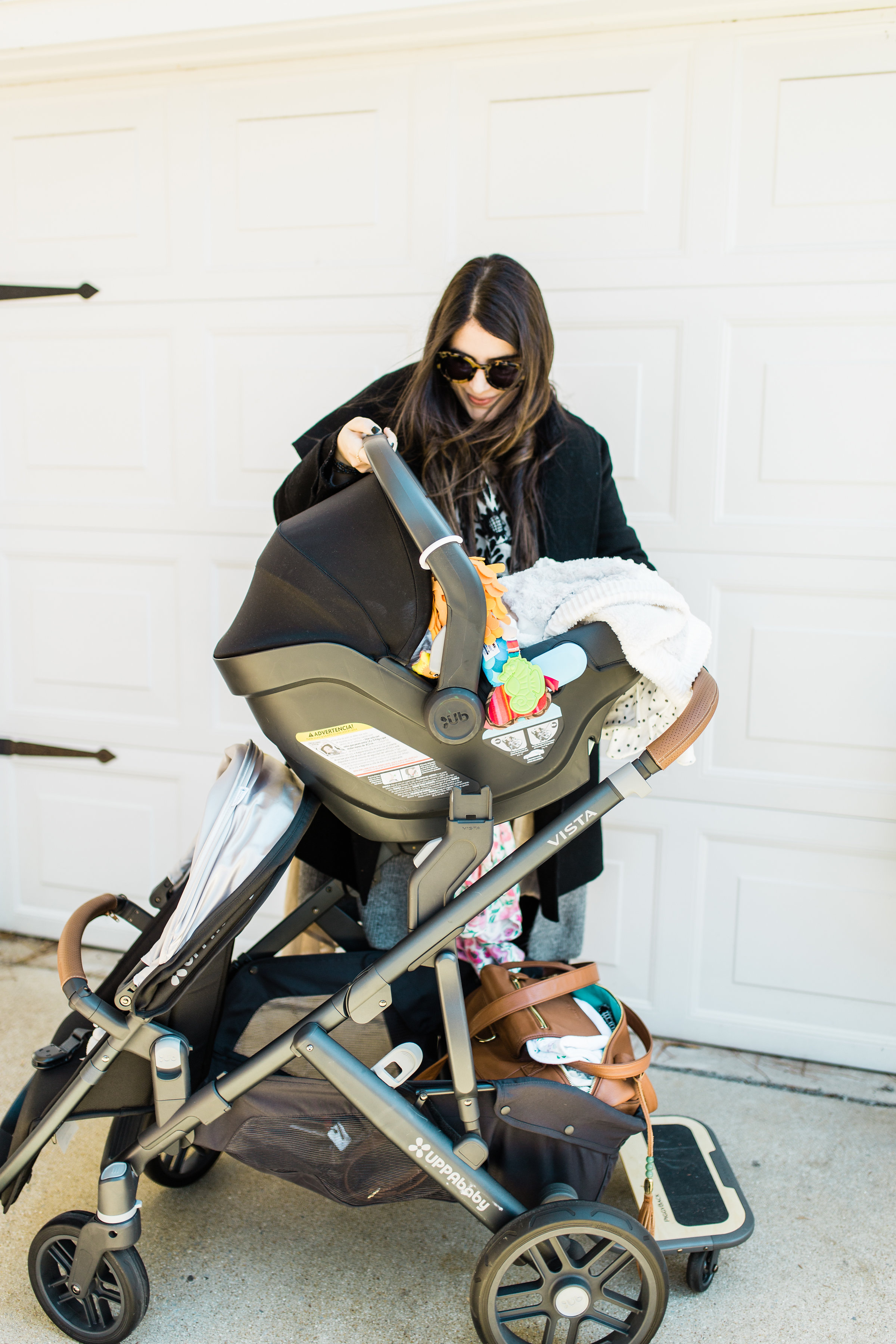 So far, I've liked using the car seat on the top position because I can more easily see the baby from that spot, I'm able to feed her easier that way, and having our toddler on the bottom has been great because she can climb in and out of her own seat (once we unbuckle her), which has been great.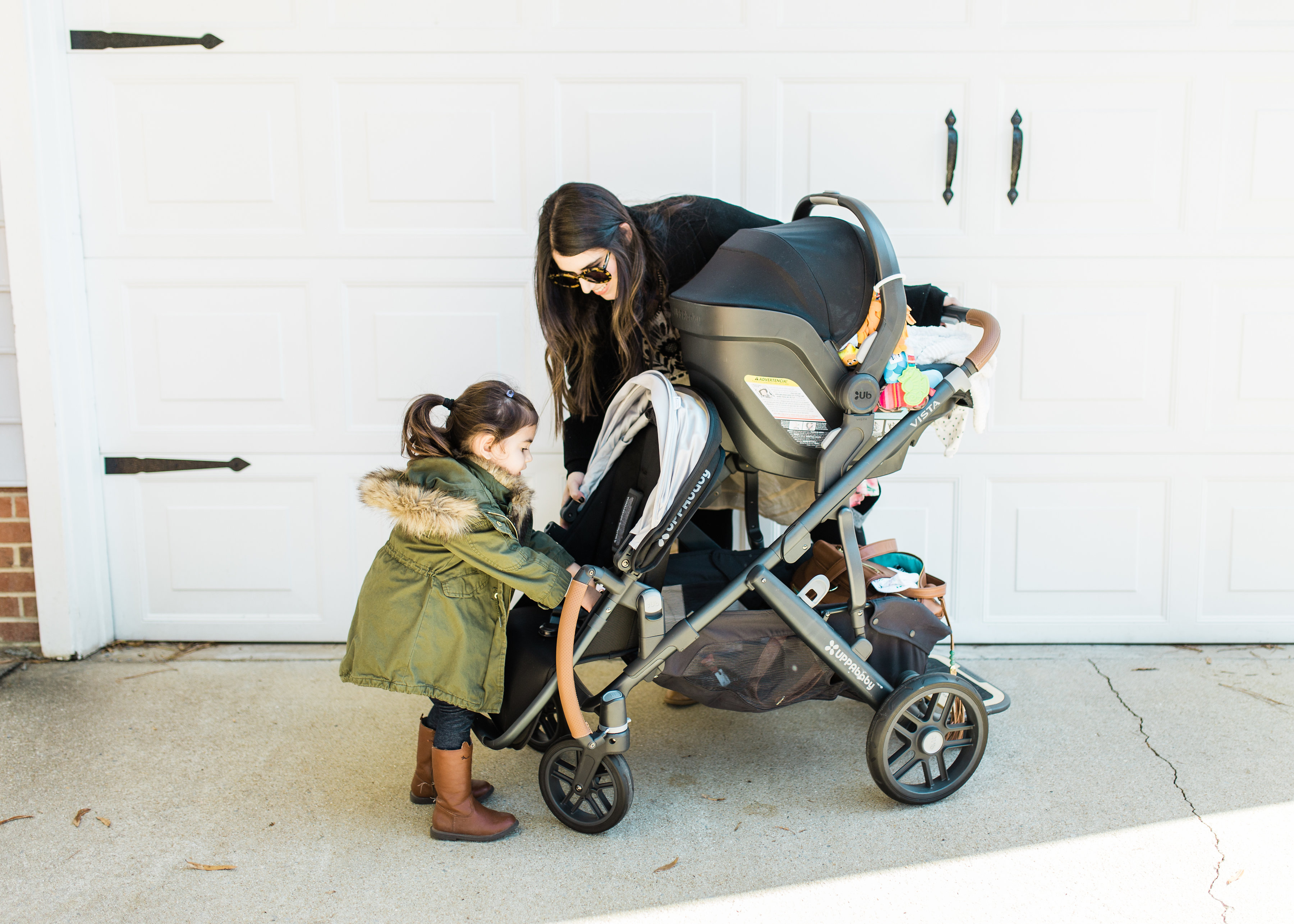 The handle bar that clips in over both the standard seat (the seat the VISTA stroller comes with) and RumbleSeat is super easy to swing open with the click of a button, making it easy to help our oldest little one and ind out.
NOTE: We ended up buying the UPPAbaby VISTA Upper Adapters to attach the MESA Car Seat to the top position because we found that when using the stroller as a double, there wasn't much room for the Rumble Seat on the bottom UPPAbaby VISTA Lower Adapters, along with a car seat on the top.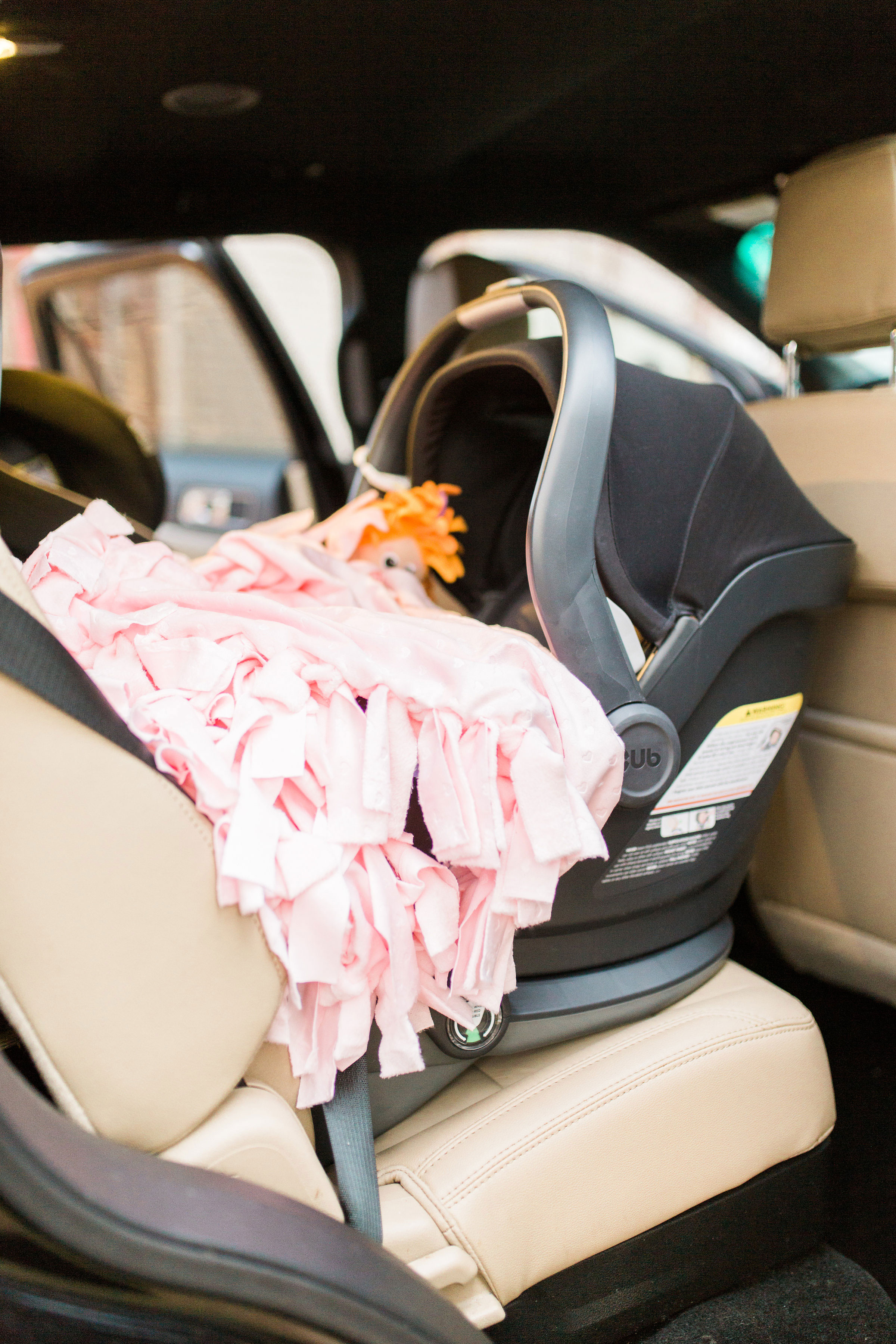 The MESA Car Seat itself has such a sleek design, can be used with or without the base that it clicks in, which is great for travel (jumping in and out of cabs, flying, etc.), and is SO easy to install and use. According to the specs, it can be used for infants 4-35 lbs and up to 32" in height, though I'll admit, it's actually a bit smaller/tighter than infant car seats we've used in the past, and I'm not sure we'd use it past the first 12-ish months. (For reference: Emme is currently about 16 pounds and 6 months old, and though she fits comfortably, it doesn't appear like it will work once she's a little over a year old; at least by my best guess.)
The car seat also has an adjustable no-rethread headrest and integrated Side Impact Protection.
Buy the UPPAbaby MESA Car Seat here.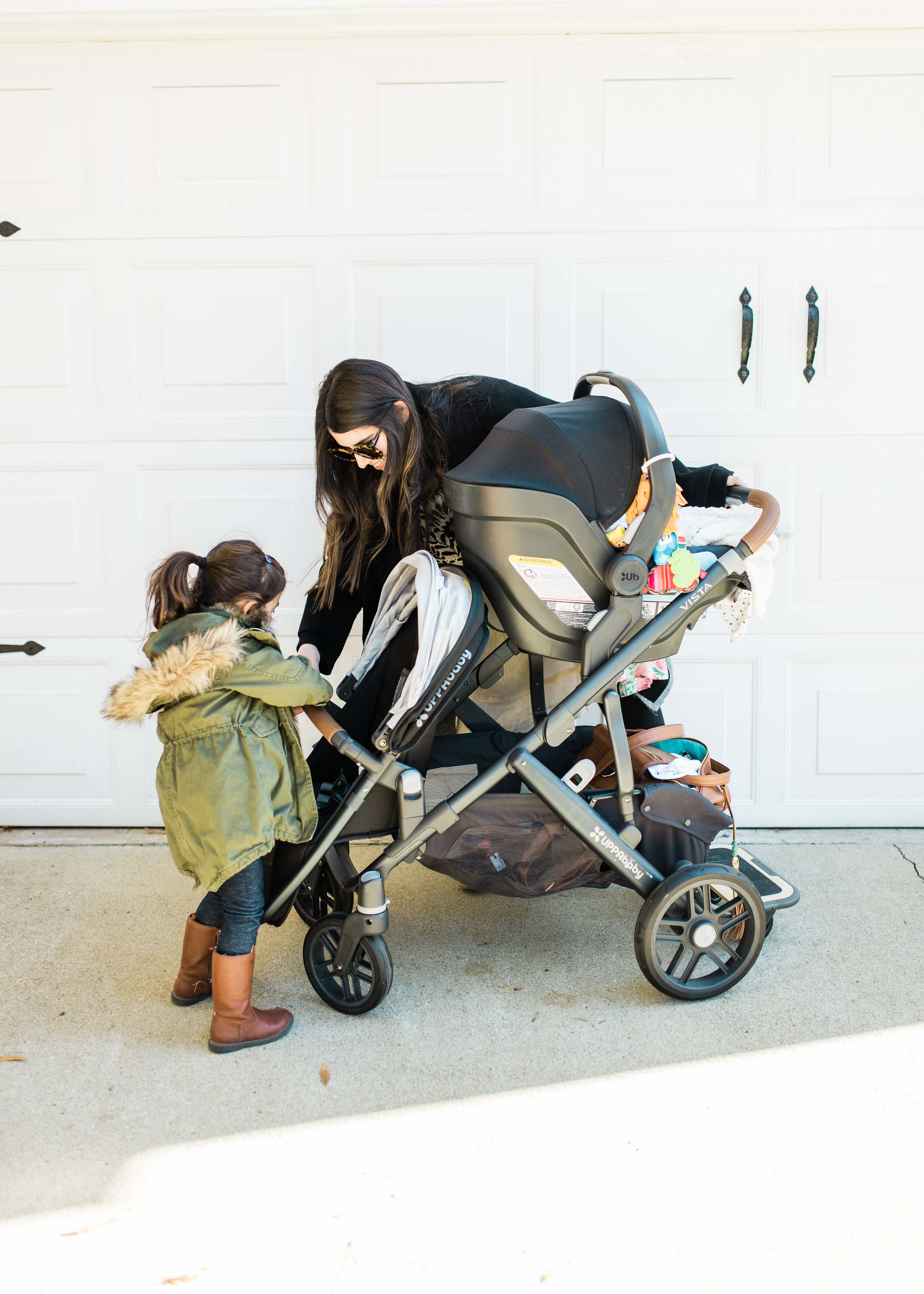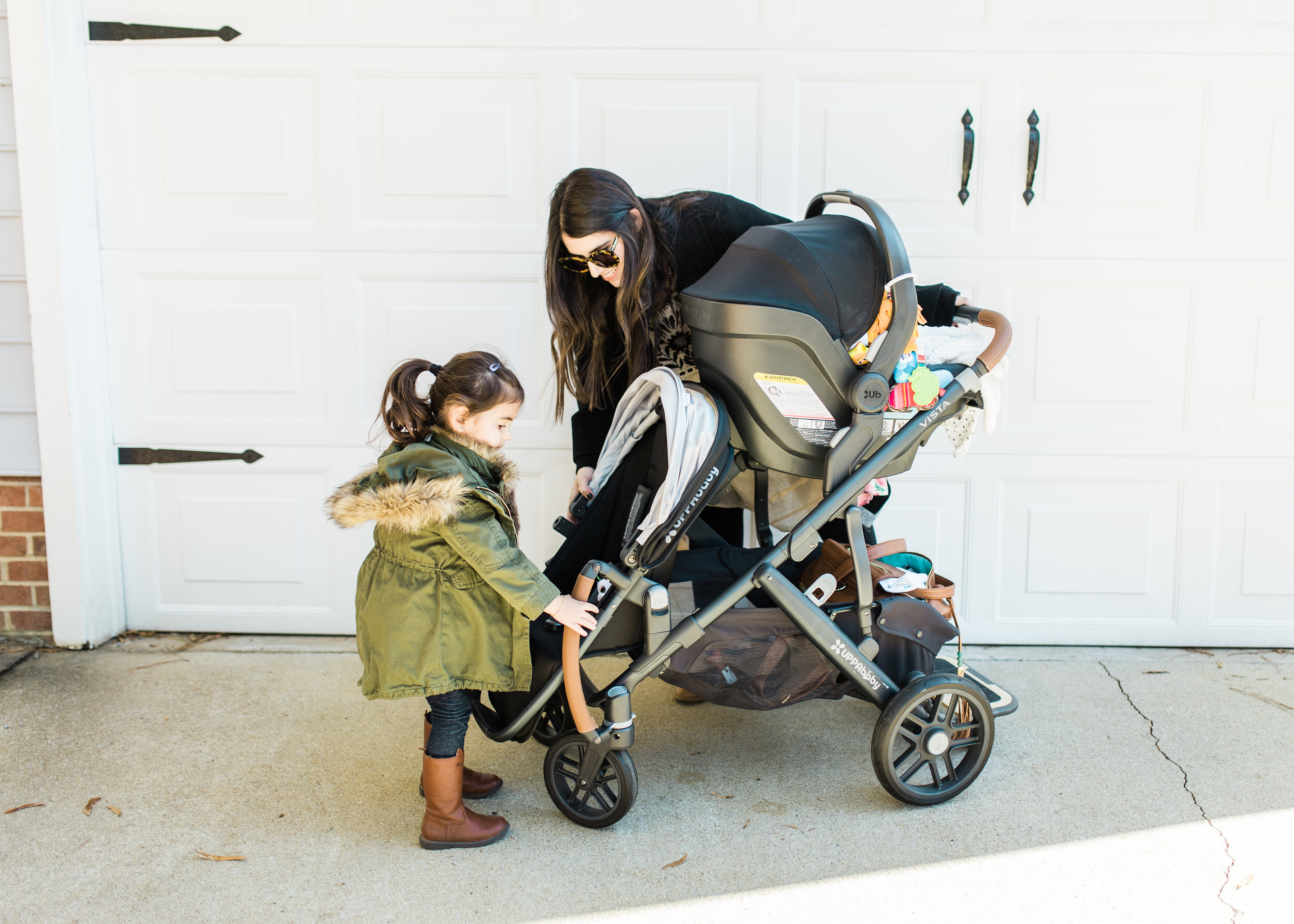 The UPPAbaby RumbleSeat:
The new 2018 RumbleSeat is the perfect way to add on to your UPPAbaby VISTA stroller, creating a double stroller. Although the RumbleSeat is expensive for a stroller add-on, it really does make your UPPAbaby VISTA a workhorse of a stroller, transitioning your beloved stroller into a really great double stroller. The RumbleSeat is suitable for children from 3 months to 35lbs or 36 in, whichever comes first. It can be positioned forward and rear facing with multi-position recline and clicks in like a breeze. (i.e., no tools required.)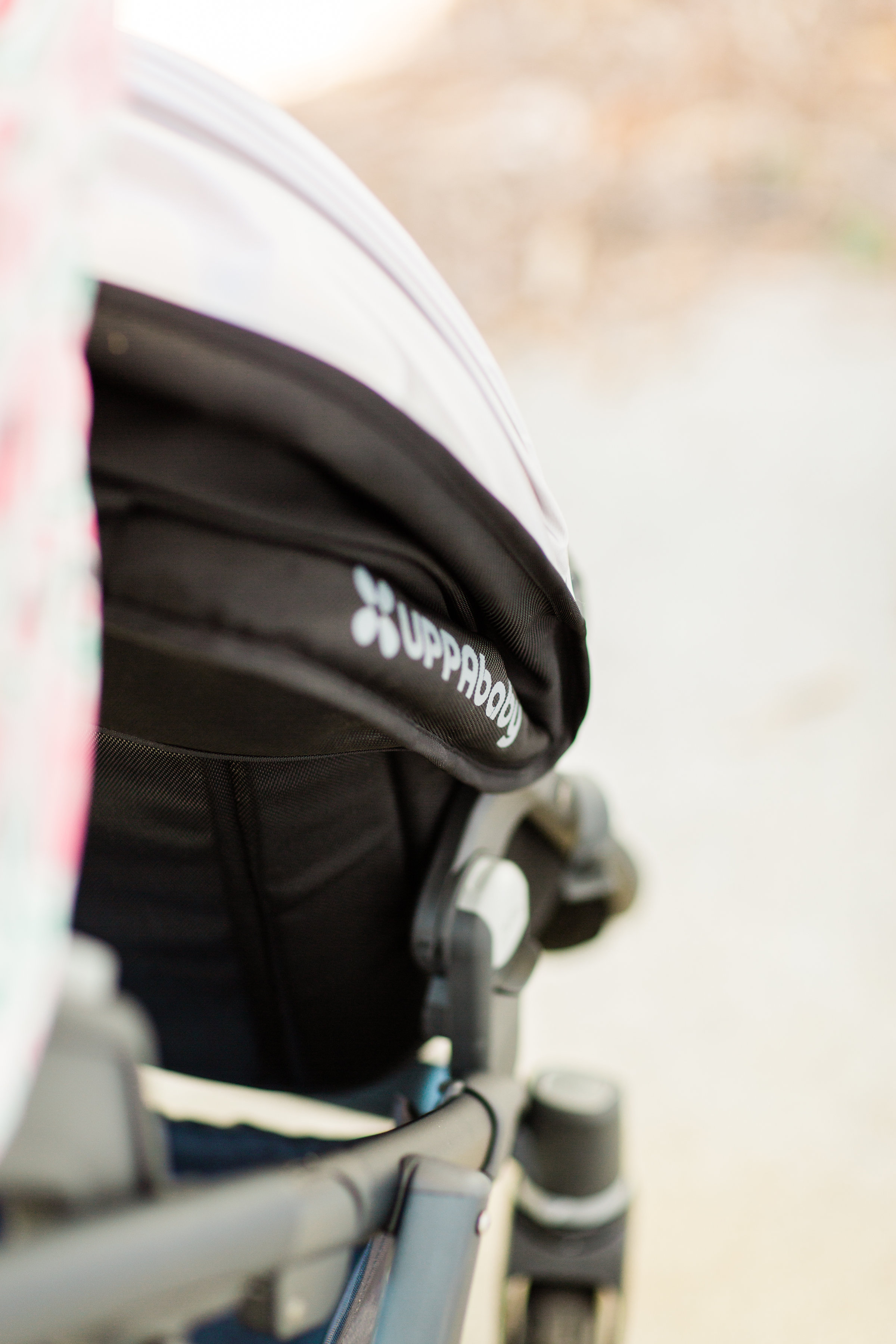 The RumbleSeat also comes with UPPAbaby's awesome removable canopy with extendable, pop out UPF 50+ sunshade.
We recently added the UPPAbaby Snack Tray to our toddler's RumbleSeat, making days out even easier.
Again, you'll need the UPPAbaby VISTA Lower Adapters to attach a RumbleSeat.
Buy the UPPAbaby RumbleSeat here, and the UPPAbaby VISTA Lower Adapters here.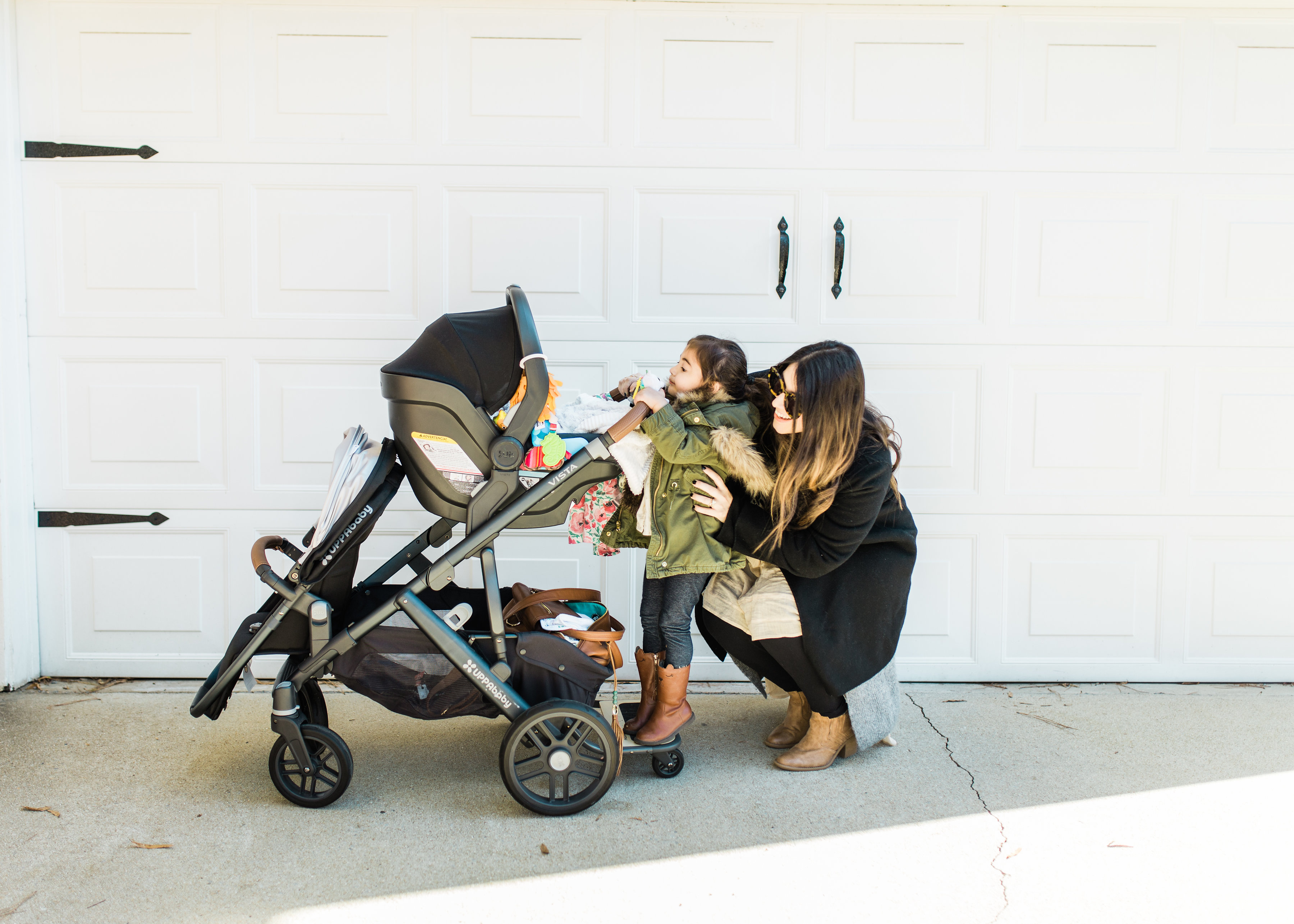 The UPPAbaby PiggyBack Ride-Along Board:
The PiggyBack Ride-Along Board feature has been the most exciting update for our toddler. The Piggyback lifts out of the way when not in use and the stroller itself can fold with the Piggyback attached so there's no need to remove it beforehand. The Ride-Along Board is made with natural, eco-friendly wood and has a non-skid surface that prevents slipping so your little ones can ride safely in style. It's also suitable for children up to 55 pounds, so despite the cost for a stroller accessory, you'll get plenty of use out of it.
Buy the UPPAbaby PiggyBack Ride-Along Board here.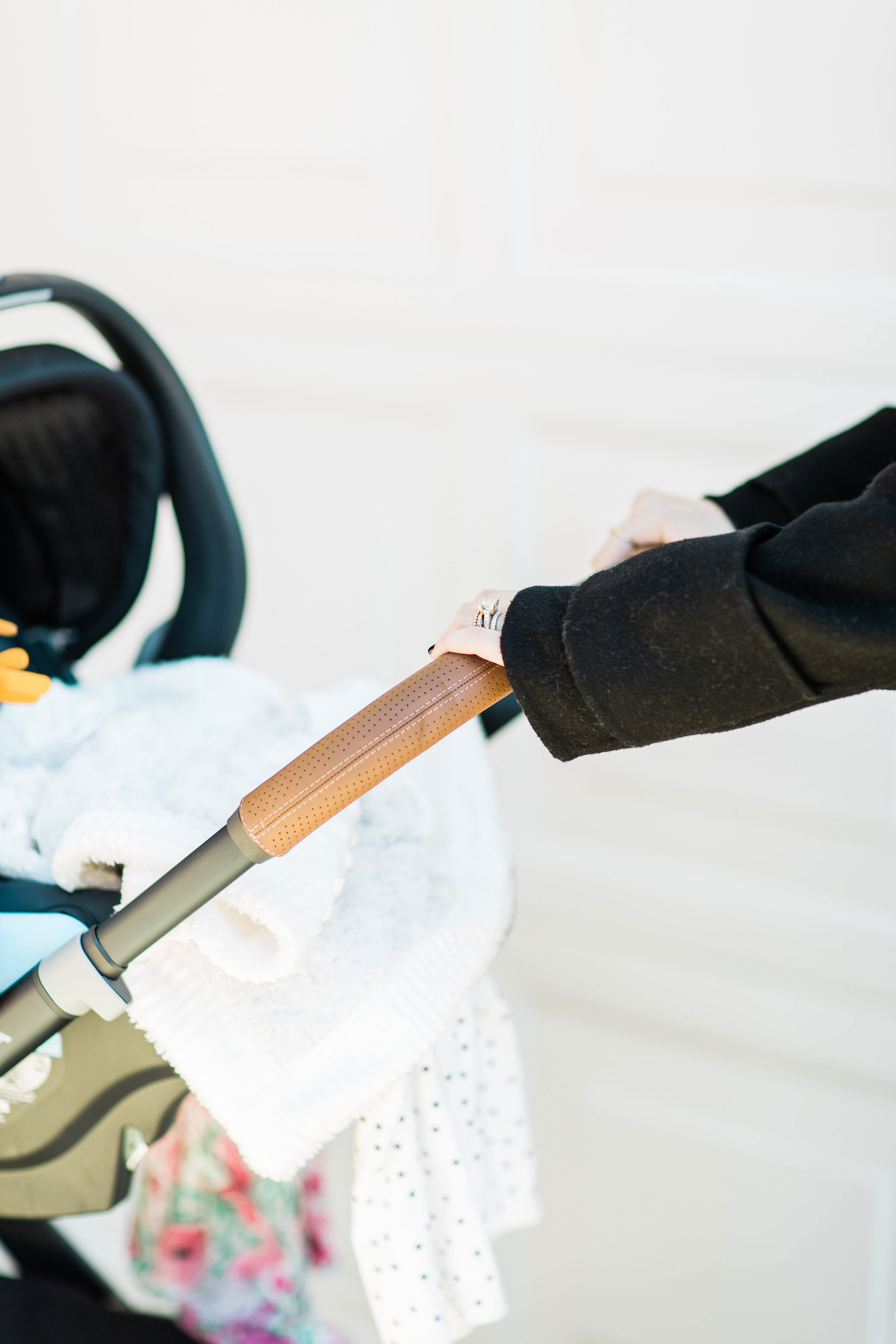 UPPAbaby VISTA – The Cons:
Like any product, there are always a few drawbacks. While I LOVE this stroller, it's gorgeous design, and it's versatility, a few things that bug me include:
the weight: this stroller is heavy, and getting it in and out of trunks, etc. can sometimes be a bear (though in truth, is no heavier than most of it's competitors)
the RumbleSeat will only accommodate a child up to 35 pounds; that's a bummer because once your child typically hits about 3 years old, you can't really use it for both kiddos (the toddler seat will accommodate kids up to 50 pounds, but it needs to be on the top rungs, putting your younger child on the lower rungs; which I find a bit awkward … it would be nice to have the youngest up closest to me)
opening the stroller is not 100% intuitive; there's a little latch you have to un-catch, but it always seems to re-close on me (admittedly, this might just be user error!) 😂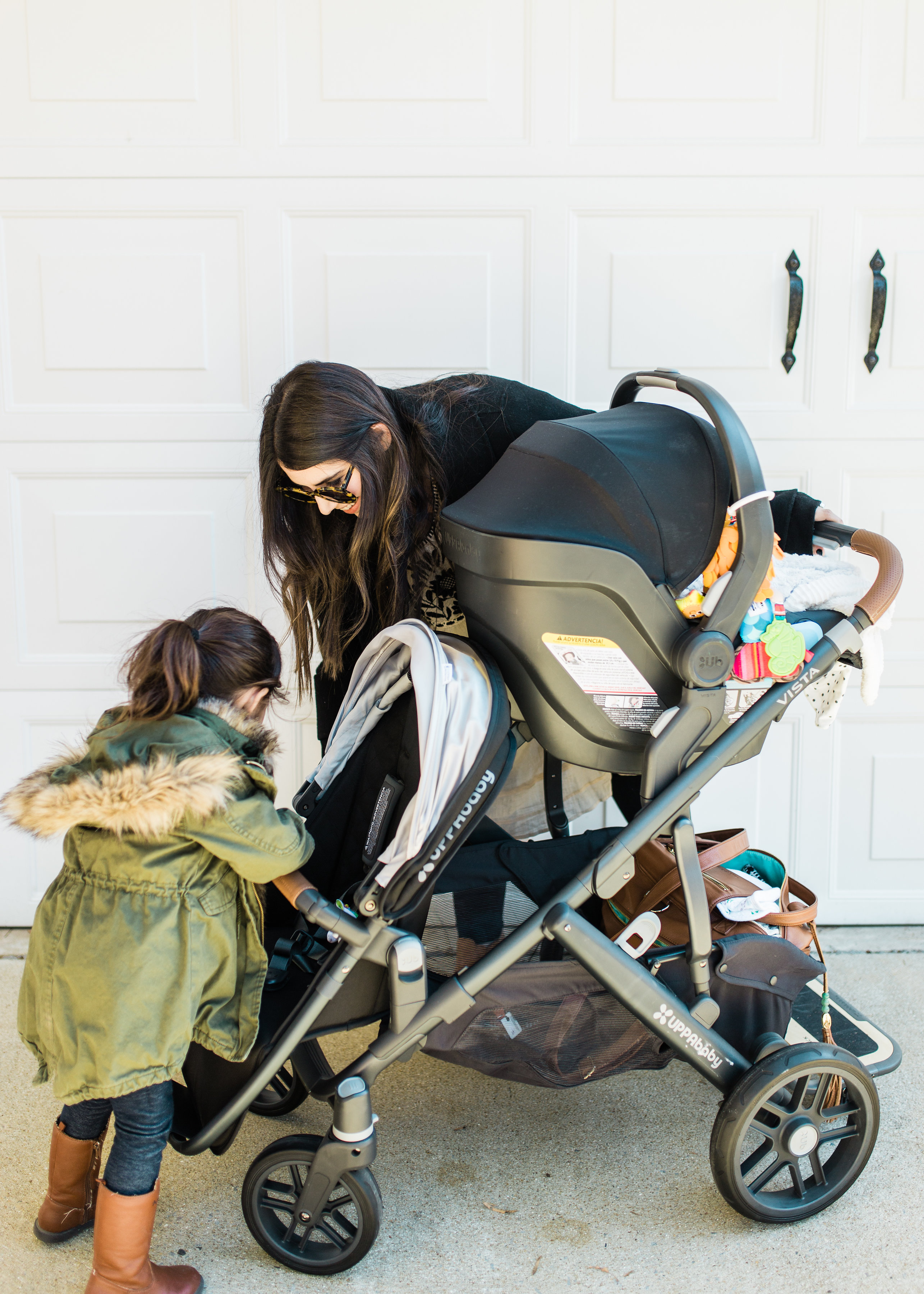 Remember, to turn your UPPAbaby VISTA Stroller into a double stroller, you'll want to buy the additional UPPAbaby VISTA RumbleSeat, the UPPAbaby VISTA Upper Adapters and the UPPAbaby VISTA Lower Adapters. It allows so many more comfortable stroller configurations for your little ones. You may also want to buy the UPPAbaby MESA Infant Carseat to make this a complete travel system.
You can buy the 2018 UPPAbaby VISTA Stroller here, or on Amazon with free Prime Shipping.

If you loved this UPPAbaby VISTA double stroller review post, you can see more of our life with two little ones, plus all of our favorite baby gear, here.
Photos by Annie Watts Photography for Glitter, Inc.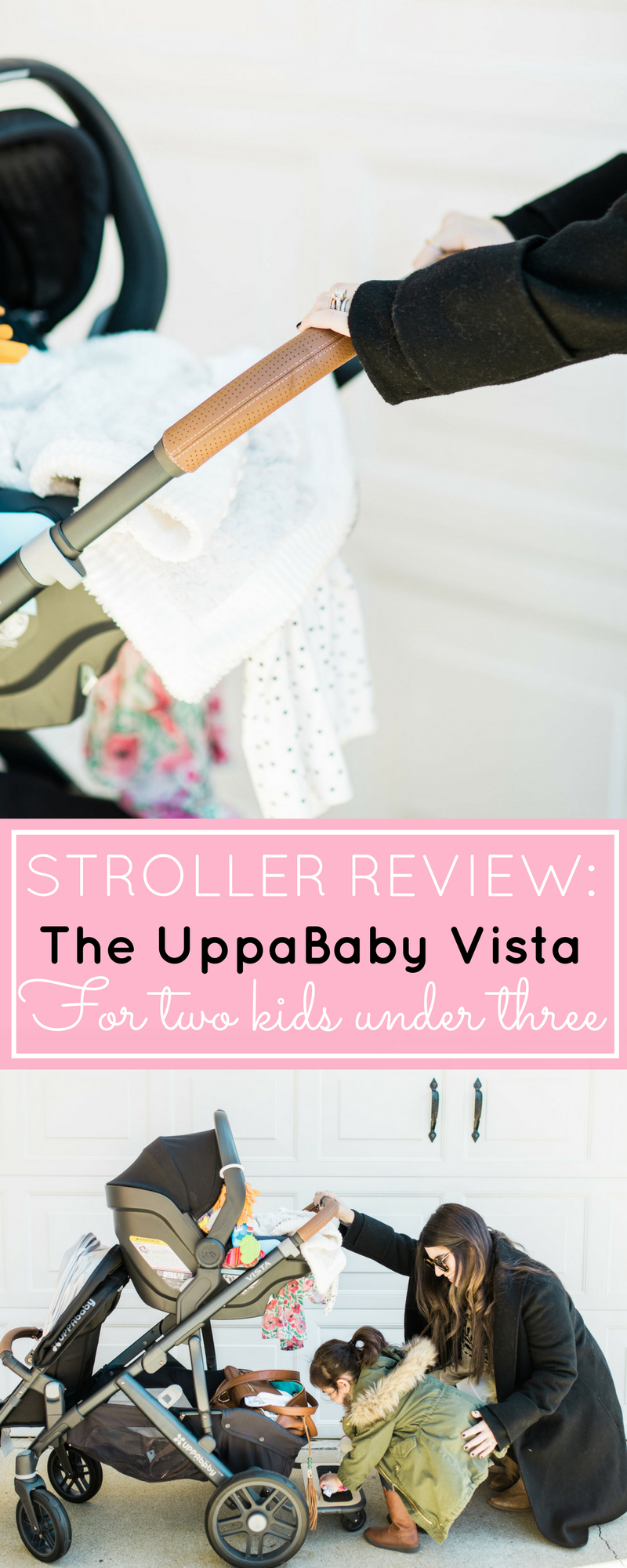 SaveSave