I am WAY too excited about today's post. I have been crushing on Lily Jade diaper bags for what feels like an eternity, and last Fall, I finally went for it, during a sale, of course, and snatched up my first ever Lily Jade diaper bag; the Meggan. And then, as fate would have it, Lily Jade asked me to collaborate on a review post AND diaper bag giveaway, and I jumped at the chance. Which means, I get to share with you the brand new and improved Lily Jade Madeline diaper bag in Camel with Jade lining, plus a side-by-side look at my Meggan in Brandy and Jade, what's in my Lily Jade diaper bag, and one very awesome GIVEAWAY at the very end of this post!
Like most stylish mamas, I was loathe to give up my beautiful handbags for a … gasp … DIAPER BAG. I actually relented so much that hubby and I invested in a rather pricey designer tote bag that I deemed my "diaper bag" those first few months. Well, that lasted about three months into having a newborn. Don't get me wrong, that beautiful tote still makes an appearance for special occasions and trips, and I love it SO much, but I just couldn't bring myself to put dirty diapers inside it, and everything was getting lost in the endless cavern that is a tote bag. Then I switched to a nylon designer diaper bag, that I liked, but didn't love. It still LOOKED like a diaper bag, and admittedly, nylon, even in black with fancy designer hardware, just wasn't my style. I've had other diaper bags over the years, and though they were very cute, they always looked and felt like a diaper bag.
I remember spotting a favorite blogger or two rocking a Lily Jade diaper bag in various Instagrams, and I was always surprised to see it actually was a diaper bag (and not just a great and functional leather bag). And then I sort of fell down the rabbit hole that is Lily Jade's Instagram feed. Nothing will have you dreaming of a Lily Jade diaper bag, more than their feed.
Here's why: the bags don't look like diaper bags. They look like gorgeous designer leather bags. The kind you would save up months for. The kind people constantly ask, "Where did you get that bag?" And then fellow mamas find out your bag is actually a diaper bag, and they're demanding answers. I've been stopped countless times, just to get the details on my Lily Jade diaper bag. It is so pretty in person, and the fact that it is a fully functional diaper bag, makes it pretty unbelievable.
And, fun bonus, my husband LIKES these bags. He doesn't mind carrying them at all. He's always been great with carrying my purses, diaper bags, etc., but it's nice not to have to force him into carrying a diaper bag with a baby duck print on it.
So let's dive right in, shall we? Say hello to my brand new Lily Jade Madeline bag.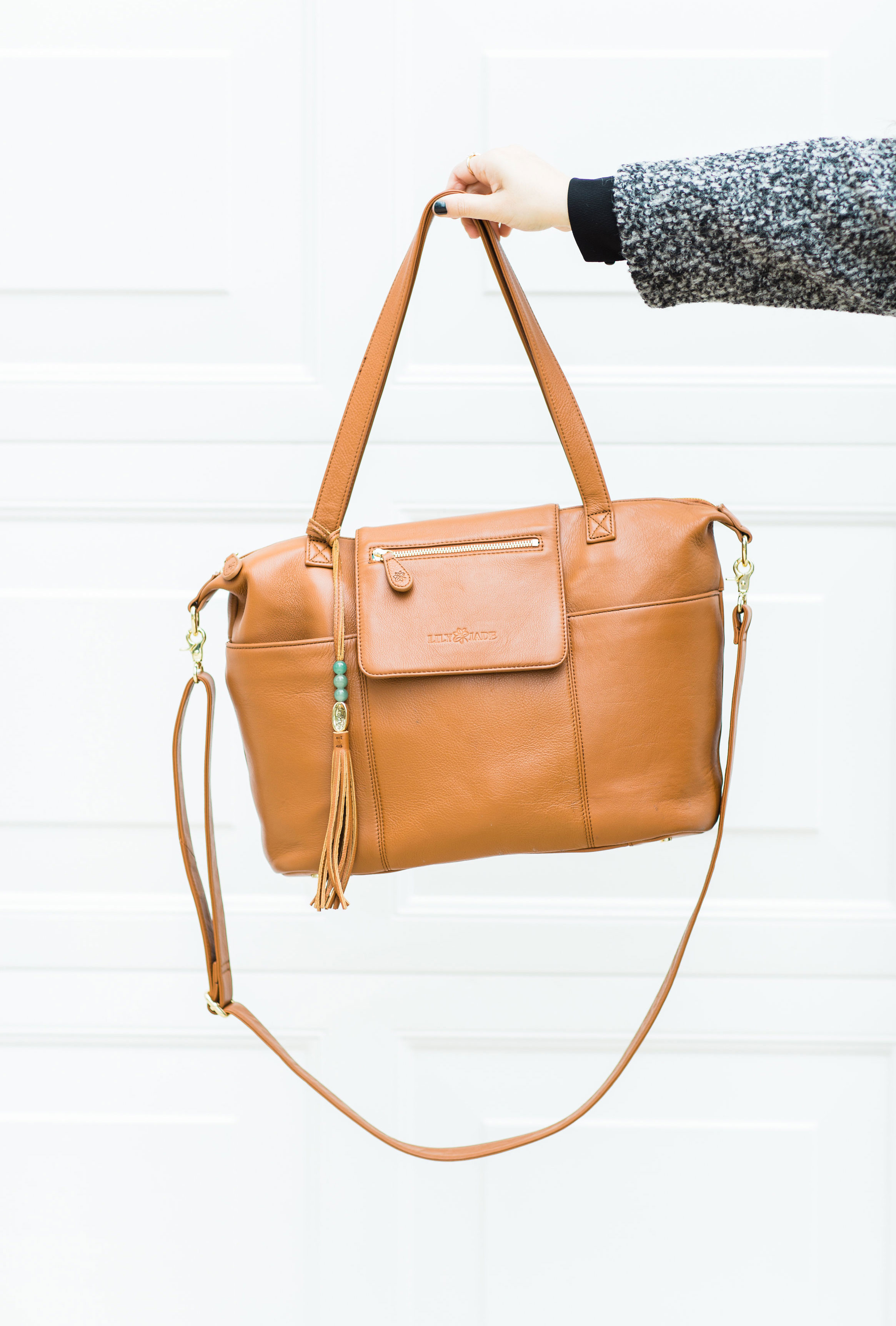 Here's a peak inside my Lily Jade Madeline bag; insert included. By the way, the insert is a washable 12 pocket organizer with two small handles that tuck away when not in use. It also includes a matching changing pad.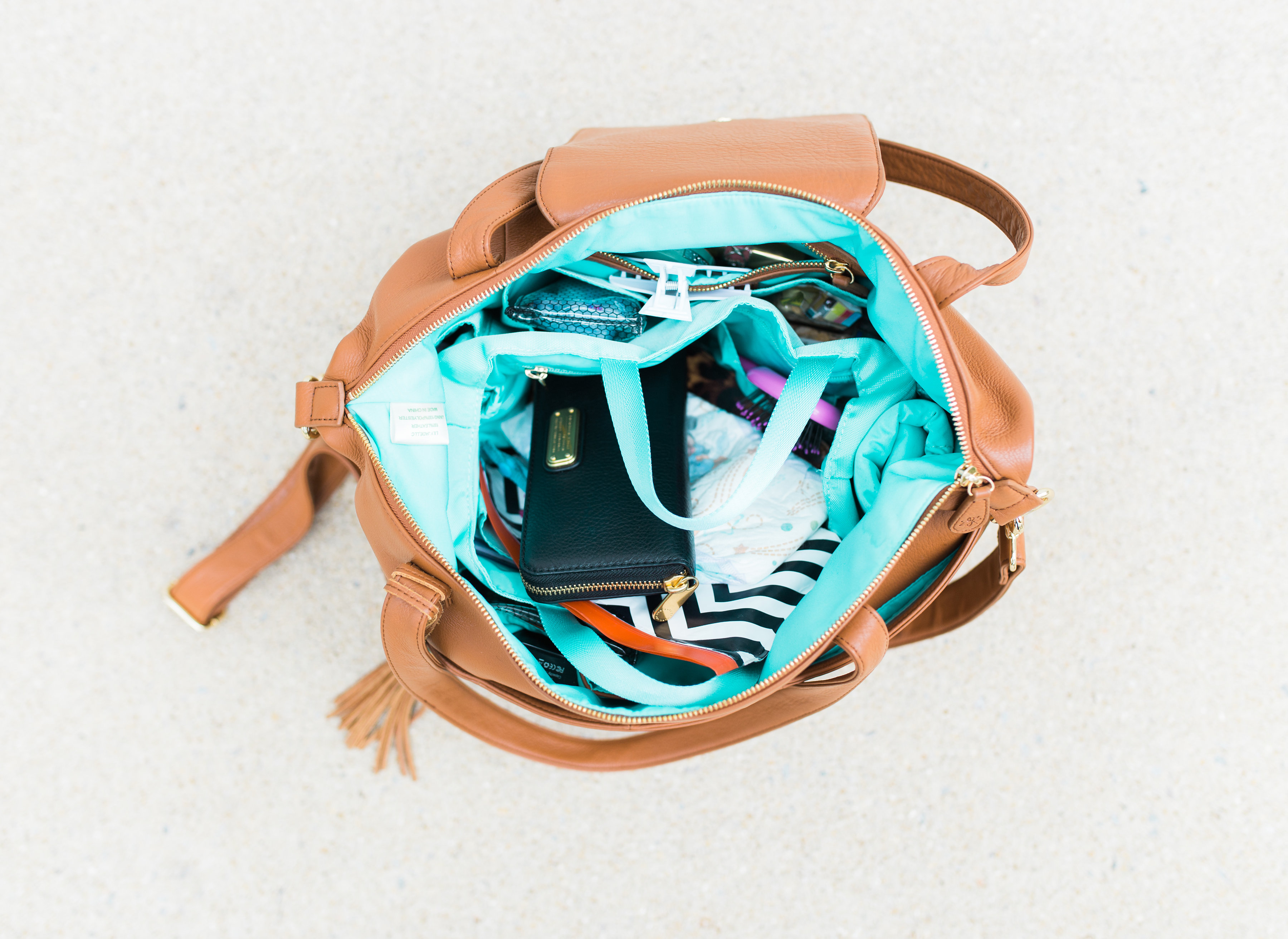 We had just come back from a trip (thus the passport, extra activities, etc.), and I was easily able to use the Madeline for travel. The small zipper compartment at the top flap of the Madeline is great for travel too because you can slip your ID in there when going through security at the airport, etc. Little details and compartments like that, the kind that are so well thought out, are what really made me fall for Lily Jade.
WHAT'S IN MY LILY JADE DIAPER BAG?
I like to use these Travelon zip pouches for everyday use (and especially for travel) to keep extra organized. The pockets in the Lily Jade organizer are amazing, but I also really like having at least two diapers, wipes, diaper cream, and a change of clothes in a separate Travelon pouch, so that I can just grab the pouch and a changing pad – without having to bring the whole diaper bag – into the bathroom. This is a lifesaver on planes and in small bathrooms. The larger pouches are pretty flat, and slip right into the Lily Jade, just behind the insert.
I'll also use the small zip pouches for things like medicine, and my own makeup.
Then I organize my keys and Tile, wallet, phone, iPad (I've been reading like crazy and I love all of the free books you can check out from the library; plus, it never hurts to have an iPad on a long day out when the little one starts to melt down!), an external battery charger for long days on the go, a small hair brush (we love these!), sunscreen, antibacterial, Shout wipes, sunglasses (for mommy and mini), extra clips and hair ties, a sippy cup for Scarlett and often a water bottle for me, and snacks, into the Lily Jade insert.
The pockets in the insert are all nice and deep, so you can easily fit a baby bottle, sippy cup, your own water bottle, etc. What I really love about the Madeline are the huge pockets on the front of the bag as well. They're deceptively HUGE pockets, and can fit bottles in those pockets as well. Having a place to keep bottles on the outside of the bag is a big help when you've got the case of a leaky sippy cup.
It really can hold it all!
The Lily Jade Madeline has an adjustable, detachable extra long strap for messenger carry or backpack carry. All of the straps are soft and wide, making it really comfortable, no matter how you carry it. Each bag has a pretty leather tassel with natural stone beads that really dresses it up.
As for wearing the bag …
It can be worn as a shoulder bag; probably one of the quickest ways to just grab your bag and go. And I love the option of either using the long strap or the handles. The handles are extra soft and extra long, so it sits extremely comfortably on your shoulder using the double handles.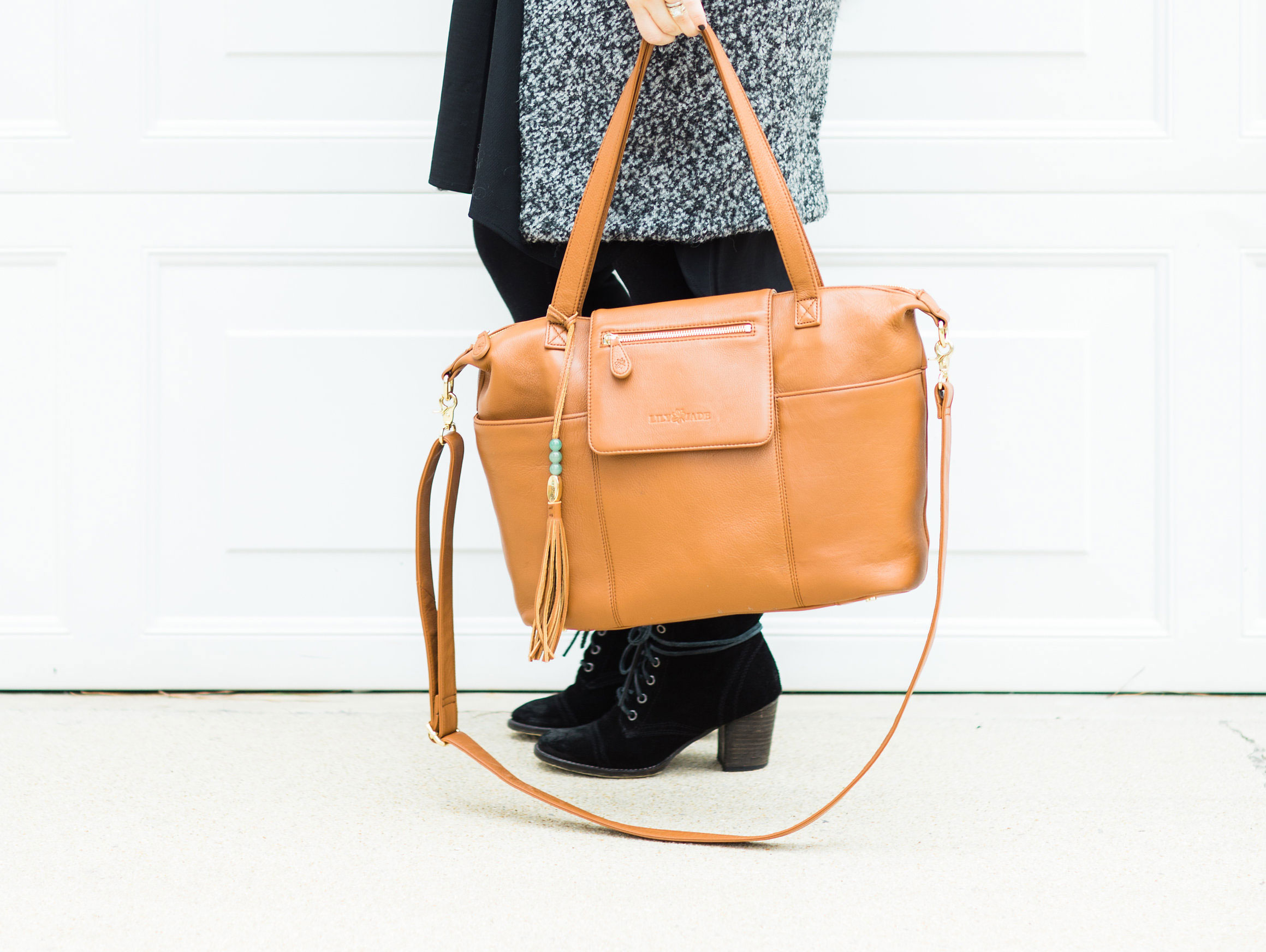 It can also be worn using the long strap as a crossbody or messenger bag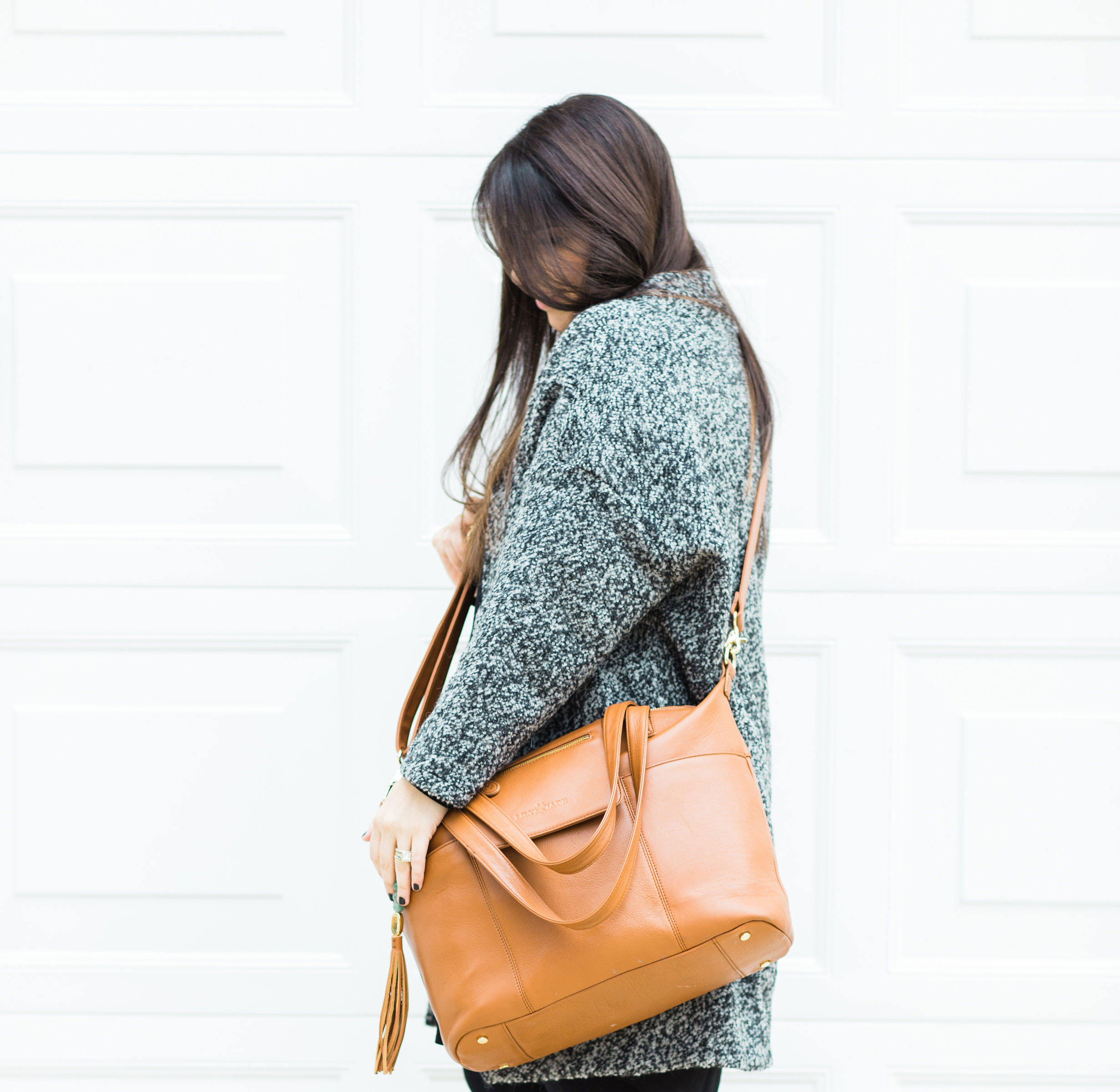 I also really like the depth of this bag. It's easy to reach into – especially from the crossbody position.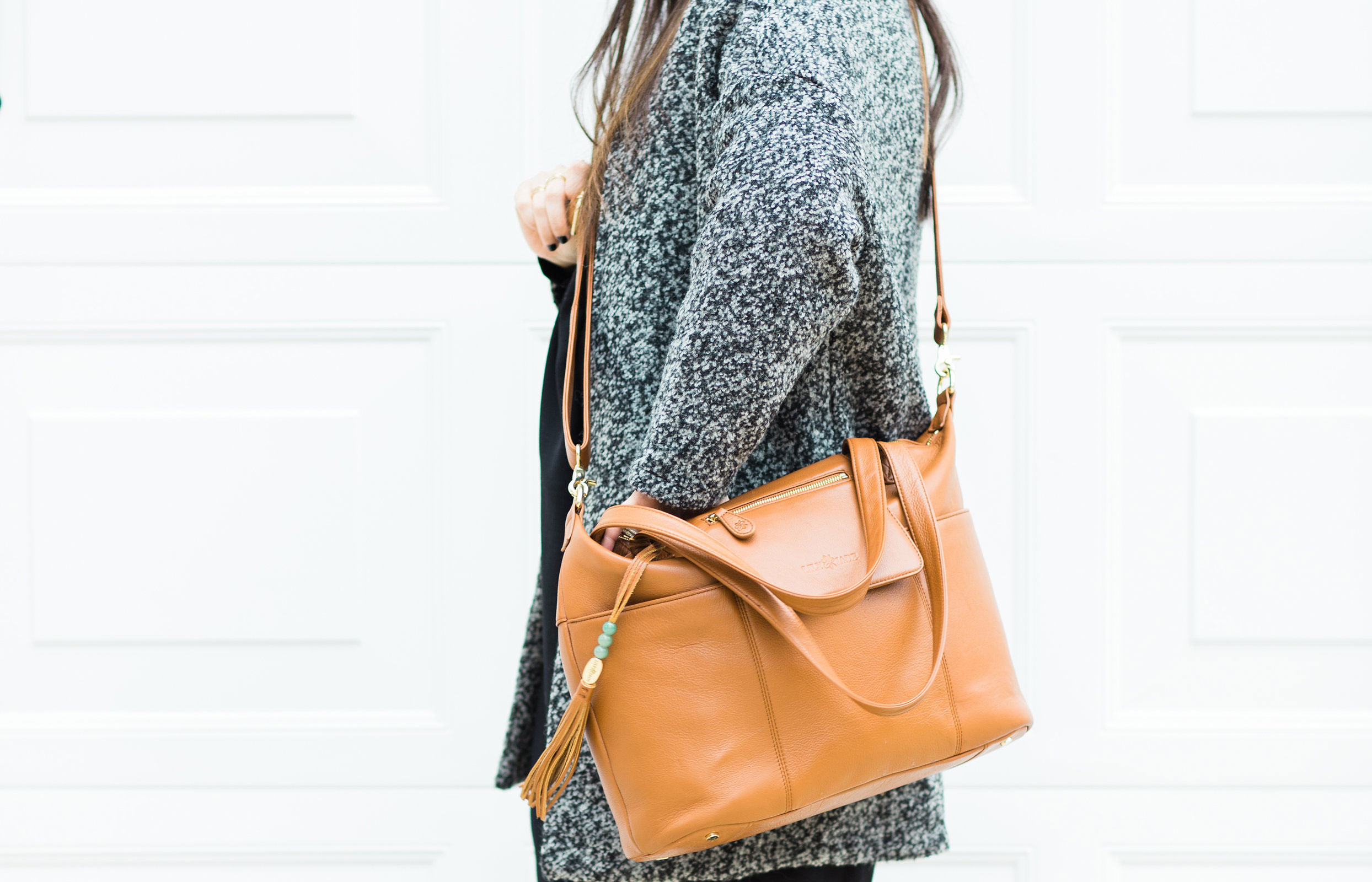 And … drumroll, please … it can be worn as a backpack! This is a huge selling point for most parents because having a backpack option on a diaper bag means you can go completely hands-free. When you're out and about with babies and kids, having the freedom to move around is pretty priceless. The backpack style is also probably the most comfortable, and keeps all of that weight off of one shoulder when you've really packed a lot for the day; i.e., a day at the Zoo or Disney.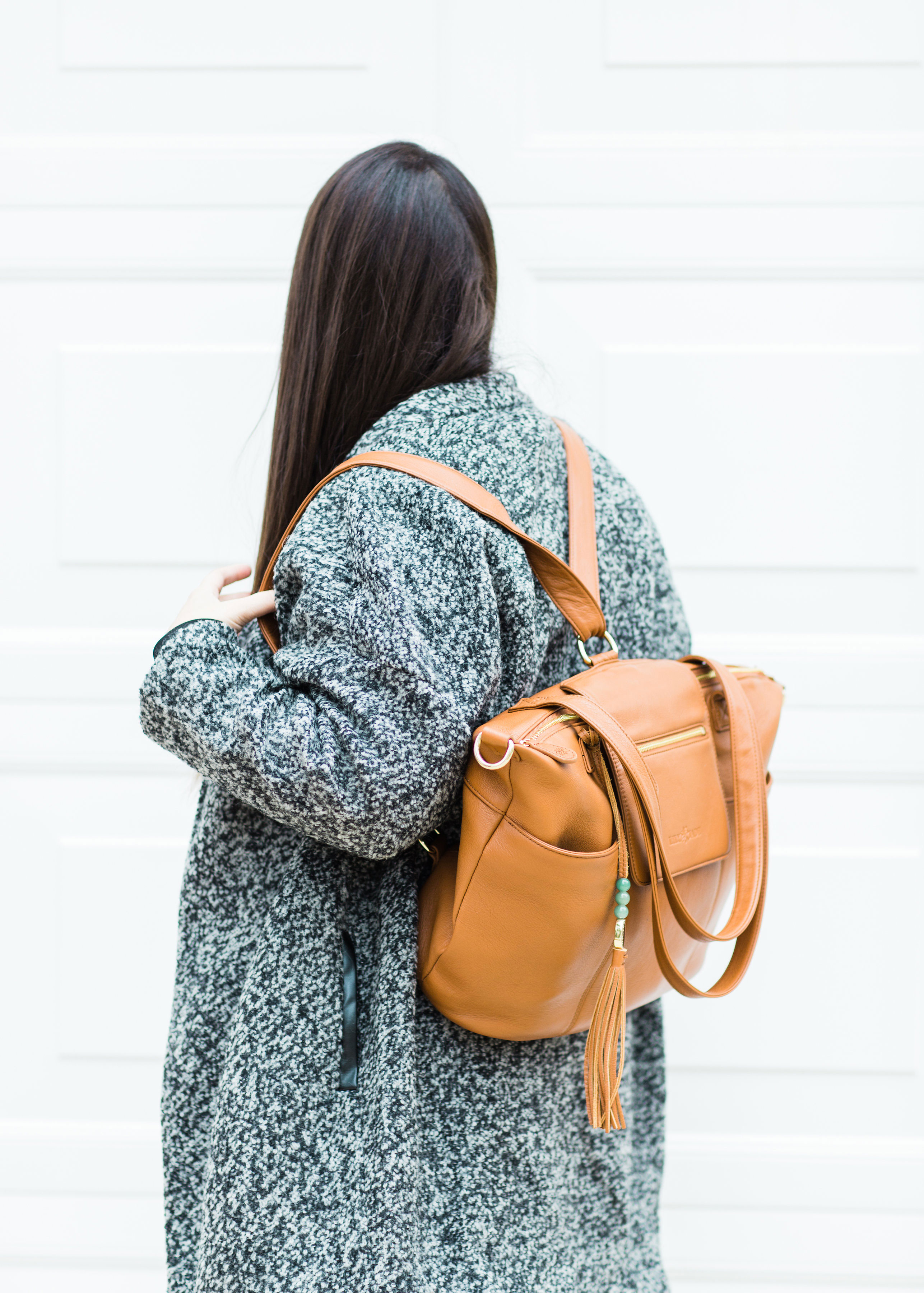 I actually also own the Lily Jade Meggan in Brandy with a Jade lining, so I wanted to show you a quick comparison of the two bags – the Madeline and the Meggan (two of their most popular bags!) – side-by-side.
Before I forget, all of the Lily Jade bags have magnetic closures, so even if it looks like there may be complicated buckles, don't fret, they're just for show, and actually smoothly and quietly (key, with a sleeping little one!) open and close using magnets.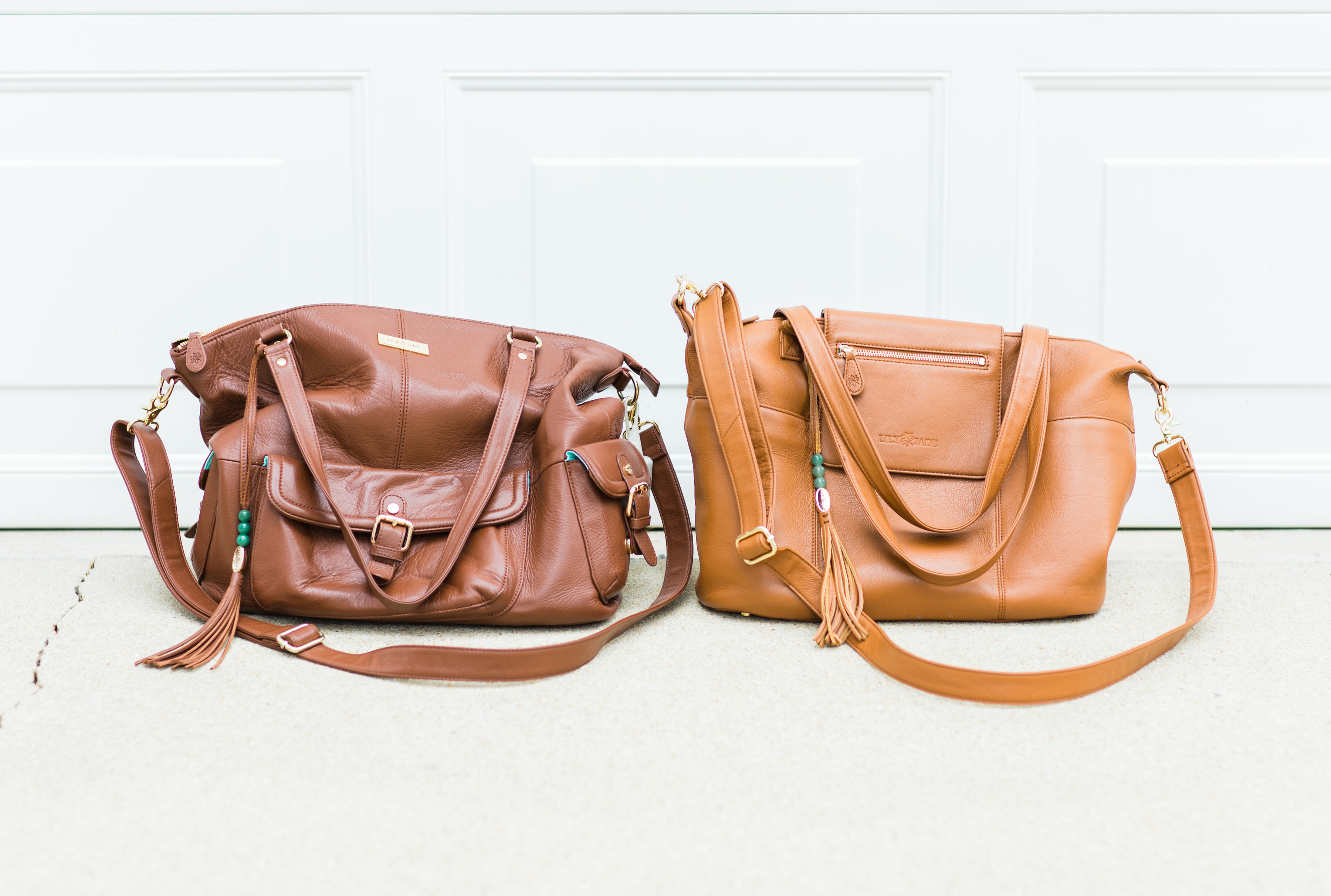 I love that both have the jade lining and large jade insert, so I can easily swap bags by simply pulling out the insert in one bag, and tuck it into the other bag, when I want to bring that bag for the day. It's also a great excuse to stock up on Lily Jade bags! (Yeah, I'm a little bit addicted.)
The Meggan is a bit taller, though it's hard to tell from the picture since the leather on both is so soft, and it's hard to keep them standing upright. Especially without the insert in them. The Meggan also has the adjustable, detachable extra long strap for messenger carry or backpack carry and the wide leather double straps for shoulder or arm carry.
And here's a picture we snapped before a recent vacation, with the Meggan on it's own. It's a great travel bag because it can fit SO much. Think everything I mentioned earlier in this post, plus lots of toys, a baby blanket, and more.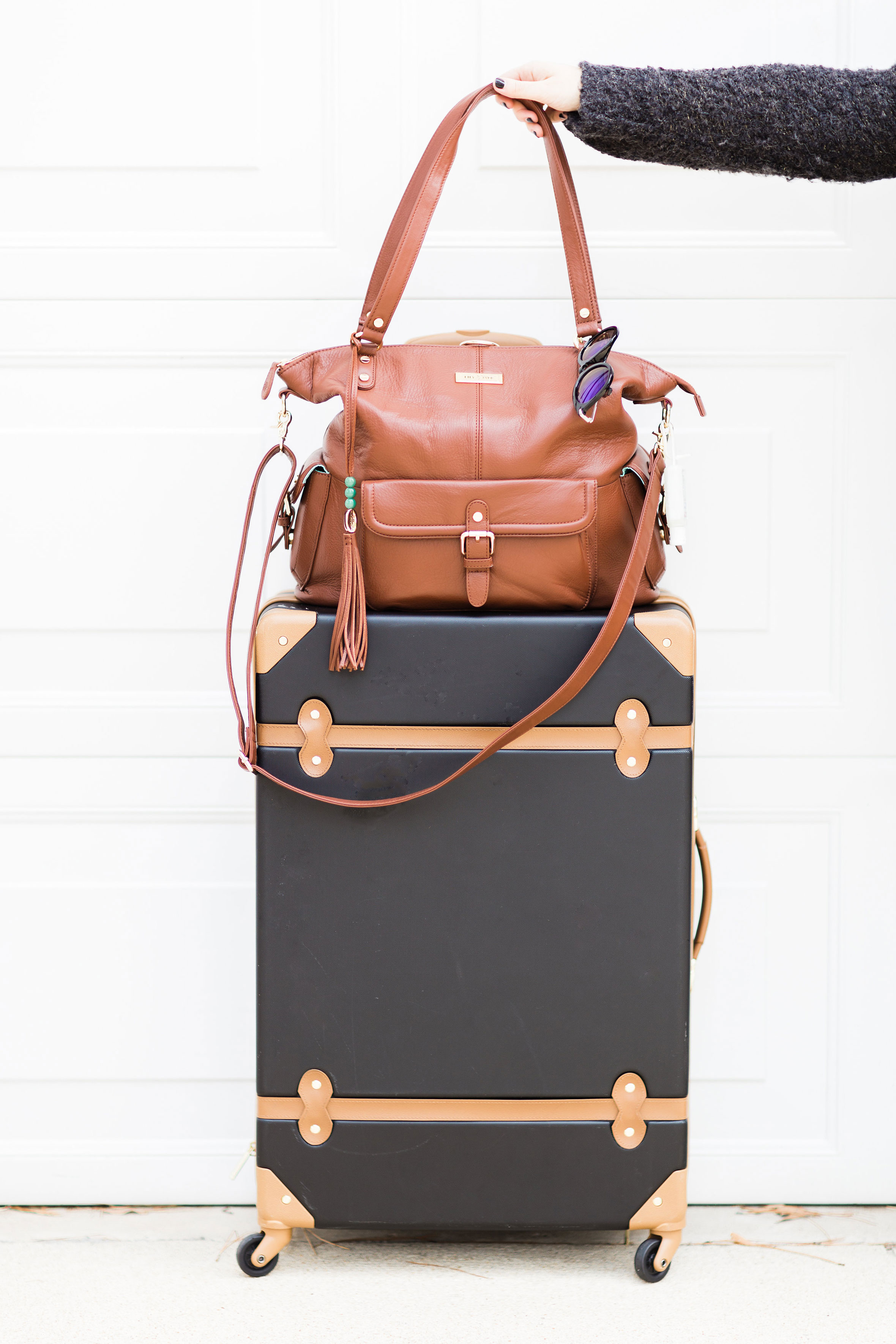 And now what you've all been waiting for …
THE GIVEAWAY
I'm GIVING AWAY a $350 credit to Lily Jade so you can snatch up your very own Lily Jade diaper bag. Oh yeah, you read that right: you could WIN any designer Lily Jade diaper bag of your choosing!
Enter using the Rafflecopter widget below:
Disclaimer: Glitter, Inc. is not responsible for prize fulfillment, and prize will be sent directly from Lily Jade. Entry ends on March 7th, 2017 at 12:00AM EST. Please note entries will be verified. Open Internationally. No purchase necessary; void where prohibited. One winner will be chosen at random through Rafflecopter. The winner will be notified by email. The winner will have 48 hours to respond or a new winner will be chosen. By entering into this sweepstakes, the entrant acknowledges that they are eligible for this sweepstakes according to all laws set forth by their state of residency.
Lily Jade sent me a diaper bag for review. All thoughts and opinions are 100% my own. Thank you so much for supporting the sponsors who help to make Glitter, Inc. possible!
Photos by Annie Watts Photography
This post contains affiliate links, which means that if you click on one of the product links, I'll receive a small commission. Thank you so much for clicking through and helping to support this little blog business of mine! Read more about our site, privacy, and disclosure policies here.