This post contains affiliate links, which means that if you click on one of the product links, I'll receive a small commission. Thank you so much for clicking through and helping to support this little blog business of mine! Read more about our site, privacy, and disclosure policies here.
Put together the cutest DIY Valentine's Day Kids Gift Basket in a super functional storage box that your kids can use again and again for holding their crafts, school supplies, and more!
Admittedly, I am that mom who likes to go all out for the holidays, and Valentine's Day happens to be a favorite of mine. I mean, what's not to love about celebrating LOVE?! Plus, it comes with pink and hearts and flowers and lots and lots of chocolate; so yeah, my kind of holiday.
This year, I decided to make our girls their own individual gift baskets; a.k.a., gift boxes for Valentine's Day filled with crafts, sweet Valentine's Day books, and more!
DIY Valentine's Day Gift Boxes for Kids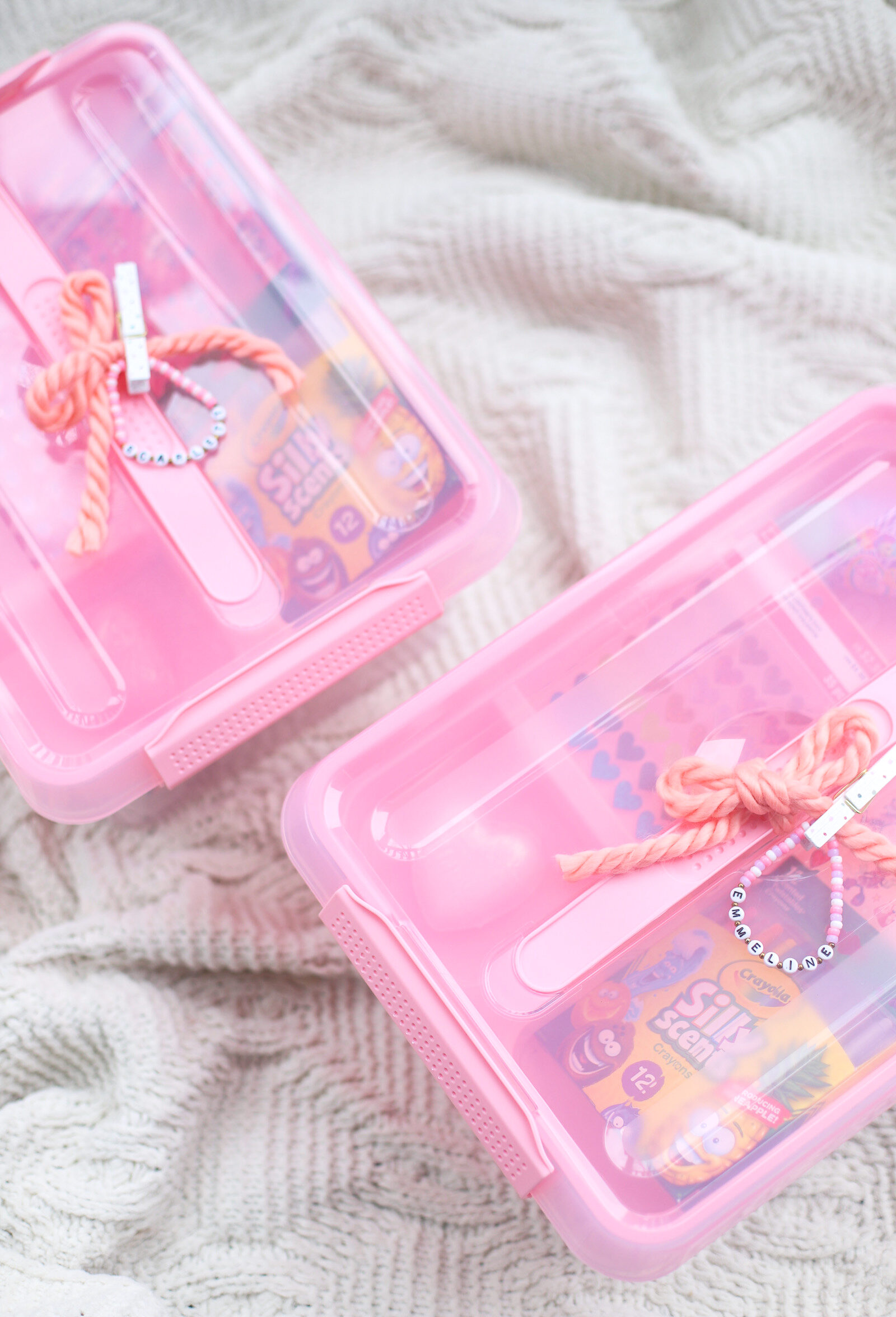 I loved shopping for adorable Valentine-themed gifts, and putting it all in a super useable storage box just made sense. We're currently living in a city apartment where space is tight. Using something super functional, that can double as craft storage or a place to organize and store favorite toys and accessories seemed like the perfect solution.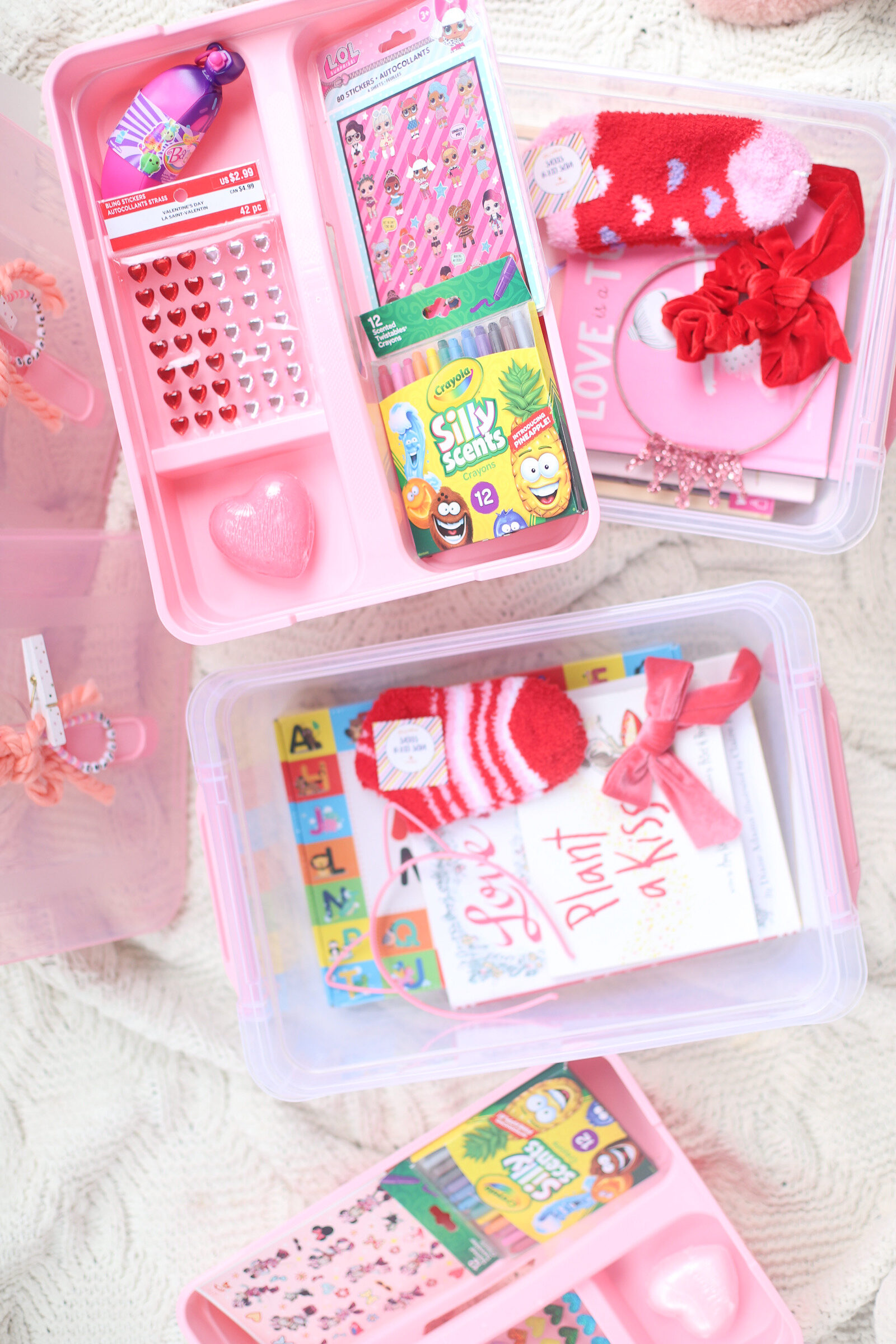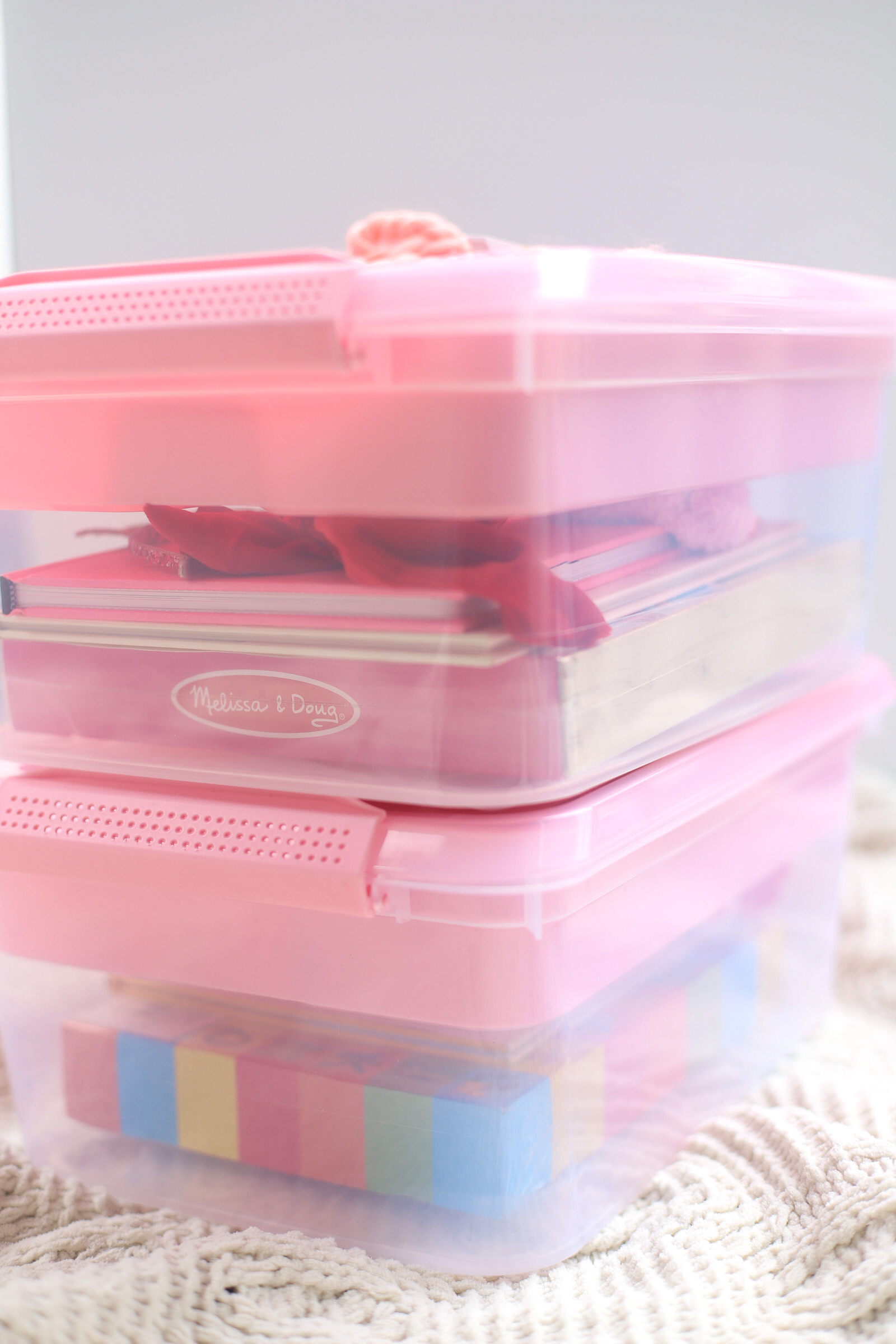 Our Favorite Storage Boxes for All of the Things
I used the 14.5qt. Latchmate Blush Storage Box with Tray by Recollections from Michaels. You can also find the Latchmate Storage Boxes on Amazon!
These storage boxes are the absolute best. They come in a ton of sizes and colors, are often on sale, and are perfect for organizing school supplies, homeschooling, crafts and craft projects that you want to keep sorted, baking items like cookie cutters, toys – especially those with small parts and pieces, legos, puzzles, games, the list goes on and on.
I bought the storage boxes in the blush pink color to fit the Valentine's Day theme, but they also come in white and a really pretty turquoise color.
By the way, we also have the smaller divider containers that "nest" into the trays or can be used alone to organize drawers and desks. They're also totally great! (You guys, the storage organizer obsession is real over here.)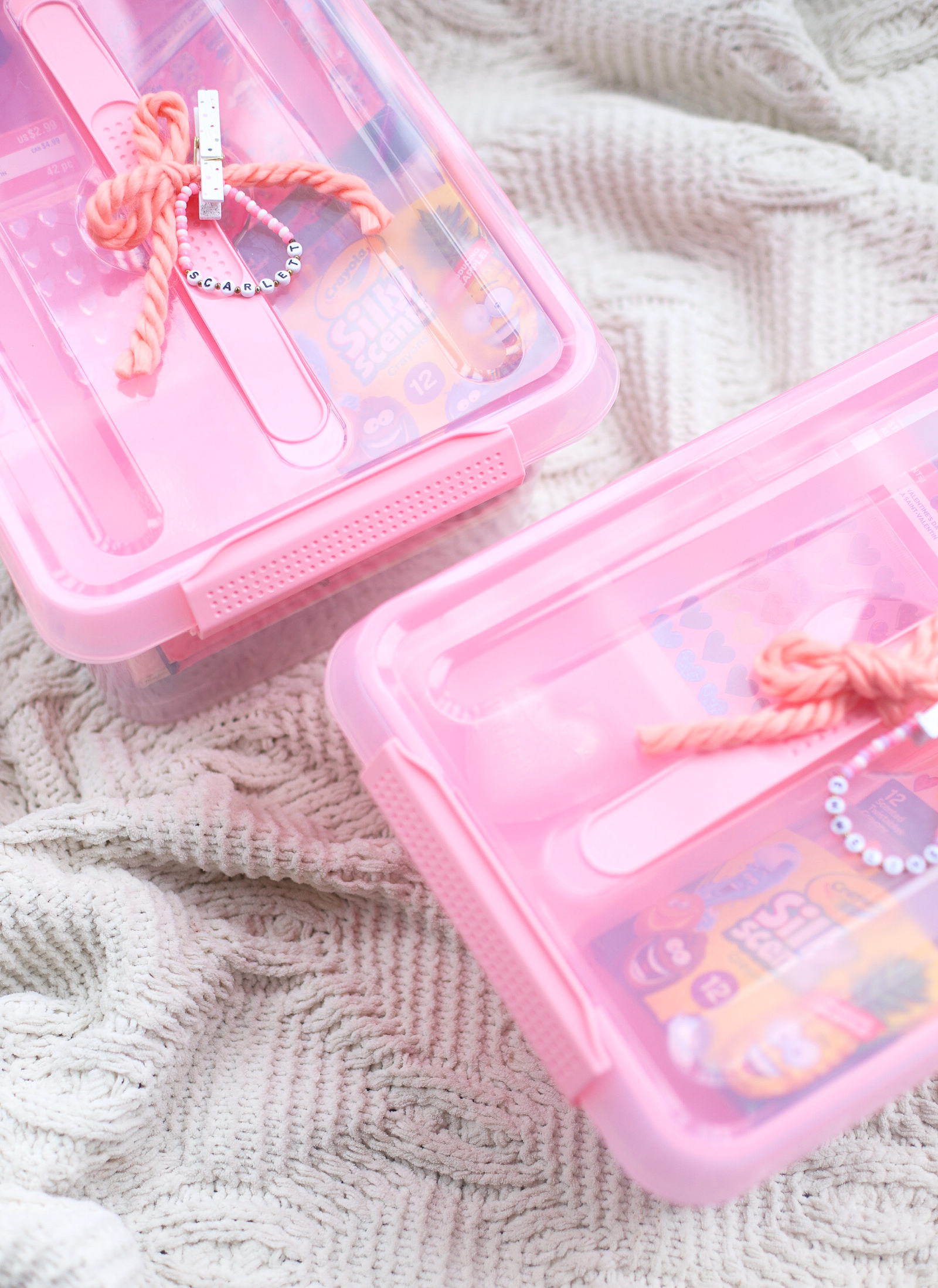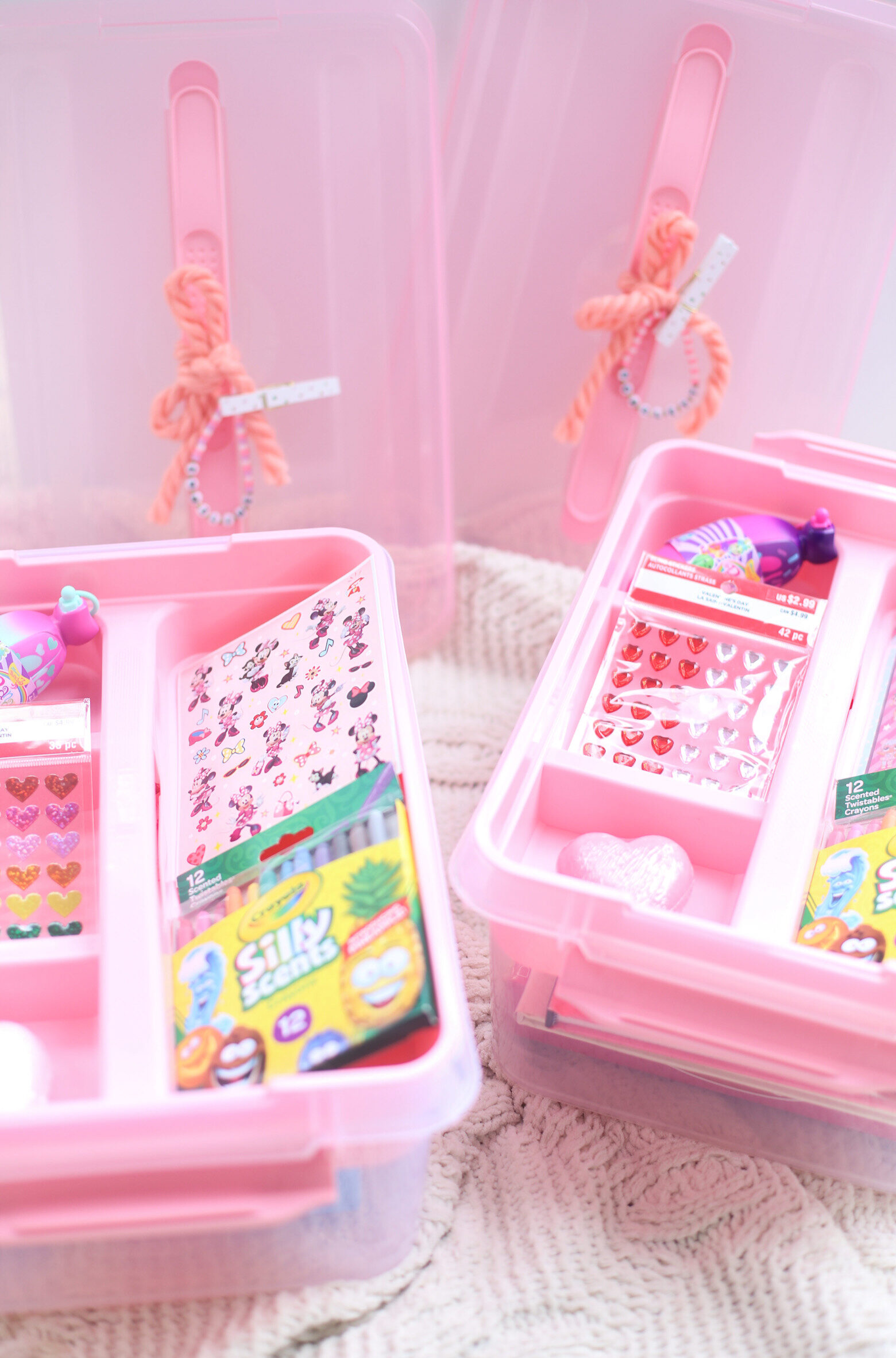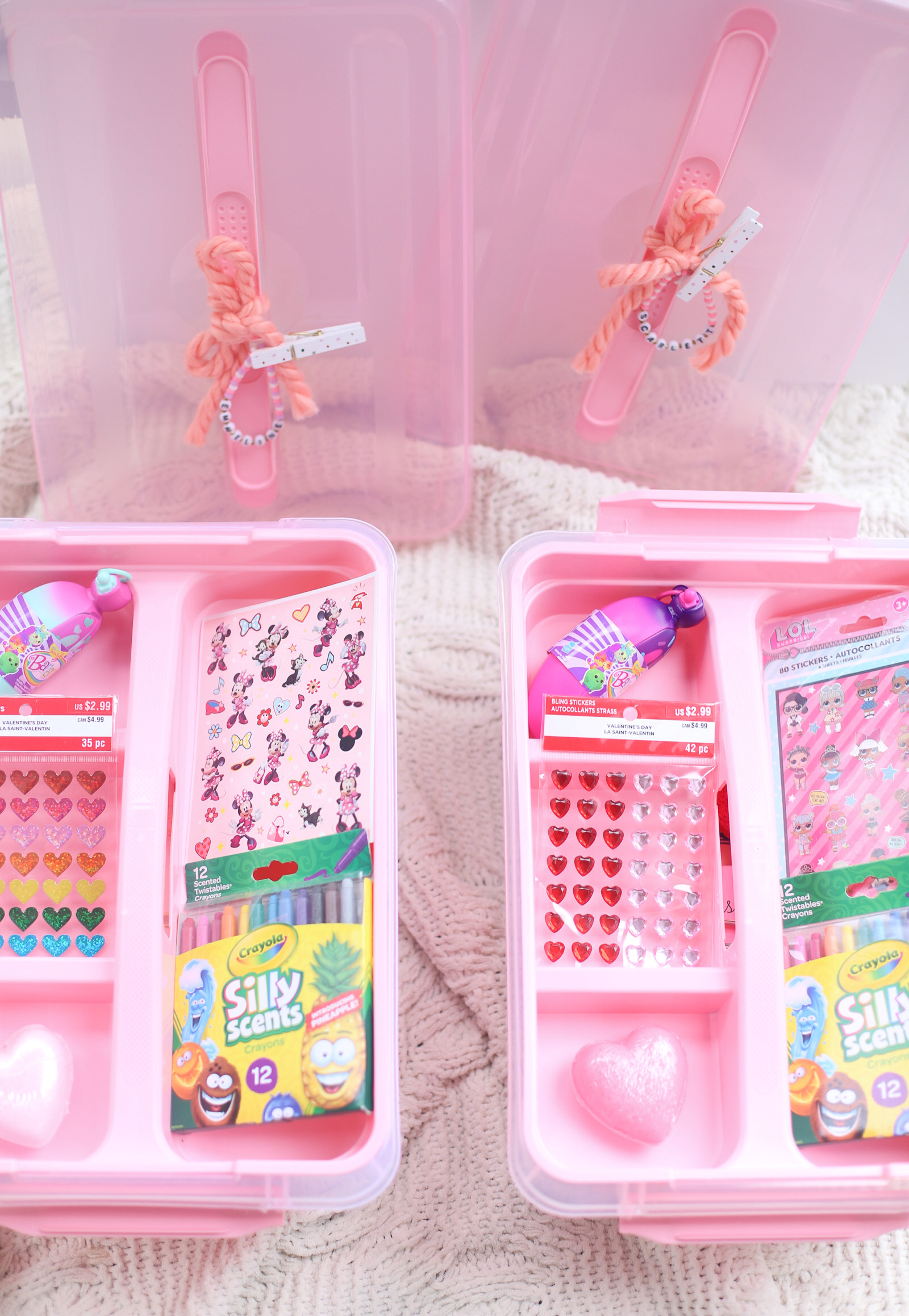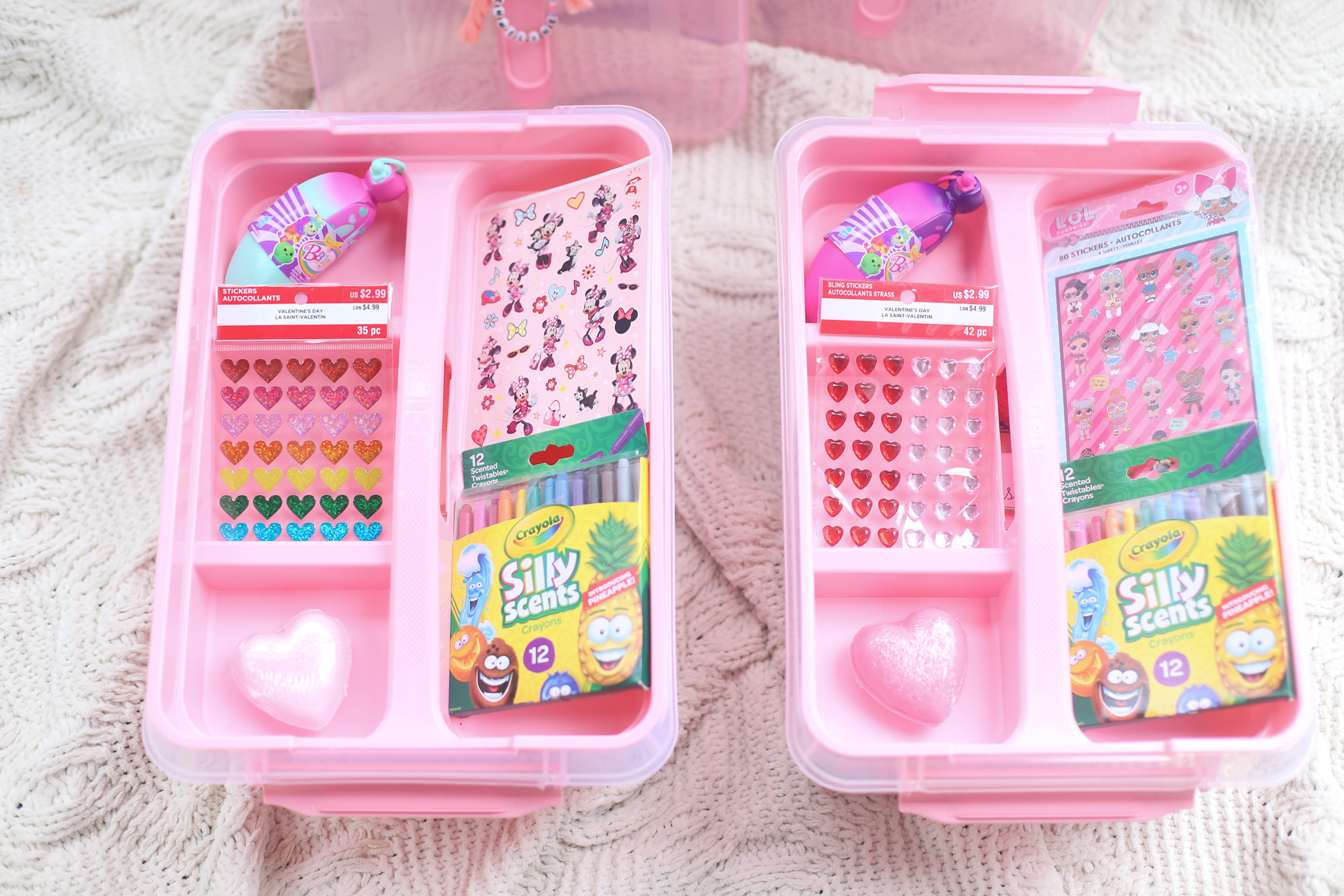 How to Put Together A DIY Valentine's Day Kids Gift Basket Storage Box
Start by shopping for and collecting everything you want to put in your kids' Valentine's Day gift.
Arrange everything so that it fits well into your storage box or gift basket. (For more gift basket inspiration, you can see our kids super cute Easter baskets from last year right here.)
Top your gift with ribbons or yarn tied in a bow. I'm currently in love with big, chunky yarns (love this brand too!) and use them to top most of our packages and presents these days. I think they add such a fun and whimsical touch and the texture is GREAT.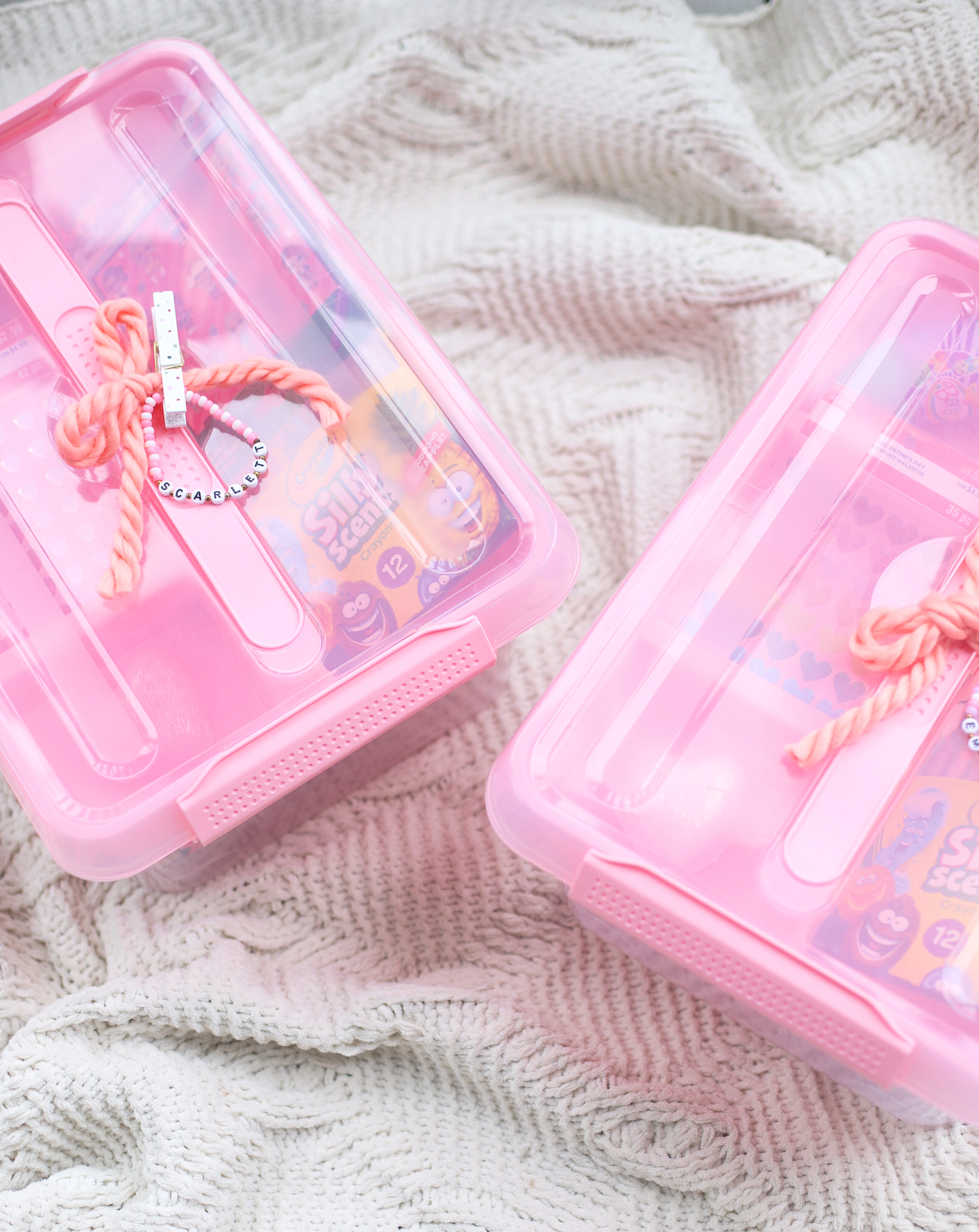 Attach a gift tag with the gift recipient's name on it. I went all out and attached little personalized beaded bracelets for each of our girls – Scarlett and Emmeline – using decorative clothespins. Clothespins are another adorable way to secure gift tags to gifts. That and big binder clips.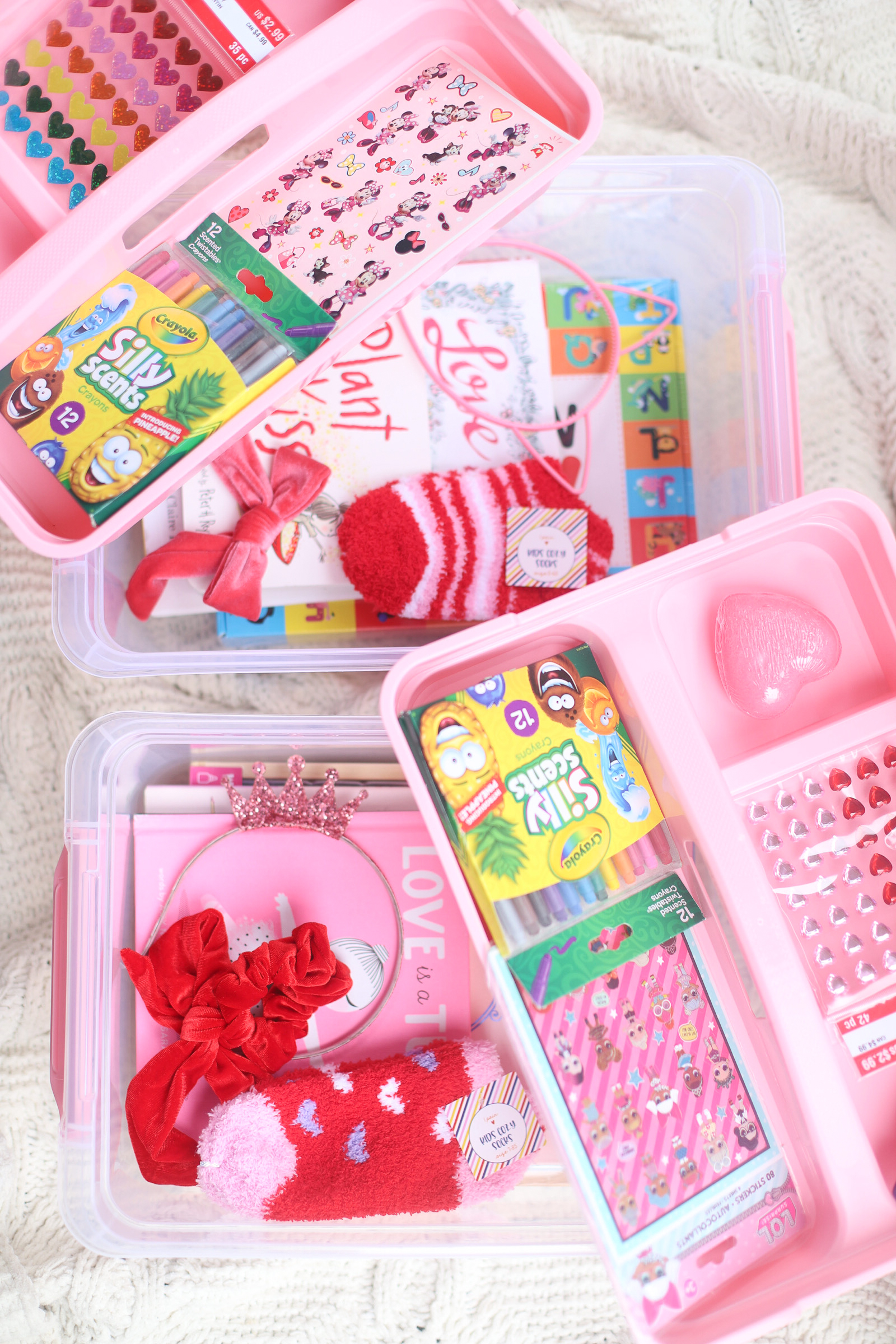 What We Put in Our DIY Valentine's Day Kids Gift Basket Storage Boxes
Each kiddo got two Valentine's Day books. I absolutely love giving books as gifts, not only because I want to encourage our kids' love of books and reading, but because buying books and adding them to our growing collection makes me endlessly happy and I know we'll cherish any books that I buy for years to come. I wrote a whole post featuring all of our favorite books about love and friendship to celebrate Valentine's Day, plus details about our little Ikea shelf wall of books that I use to rotate out and display seasonal and holiday books.
Our girls are super into stickers, so I got them each heart stickers (on sale at Michaels!) and a few other sticker packs – Minnie Mouse stickers for Emme and LOL Surprise stickers for Scarlett.
If you haven't yet tried twistable crayons for your kids, grab a pack, stat. So much easier than regular crayons because they don't snap and break. I grabbed two packs of scented twistable crayons and I think they're going to love them!
How CUTE are these heart-shaped bath bombs?! Our kids are obsessed.
I tried not to make the Valentine's Day gift box too much about toys. The girls already have so much stuff, so I went with something small and cute.
I always like to give the girls some kind of learning activity or craft. Melissa & Doug makes some of my favorite activity crafts in a box
I got Scarlett a Melissa & Doug Hearts and Flowers Wooden Bead Set for jewlery-making and for Emme an adorable set of ABC Magnets to use on our refrigerator, her chalkboard, for learning games and activities, etc.
I found these adorable Valentine's Day fuzzy pink and red socks for $1 a pair in the Target dollar section! 🙌🏻
Hair Accessories
Each girl got a headband – pink kitty cat ears for Emme and a pink glitter crown for Scarlett; plus a velvet bow scrunchie in red for Scarlett and a pink velvet bow for Emme. (Those packs of velvet bows from Amazon are the best!)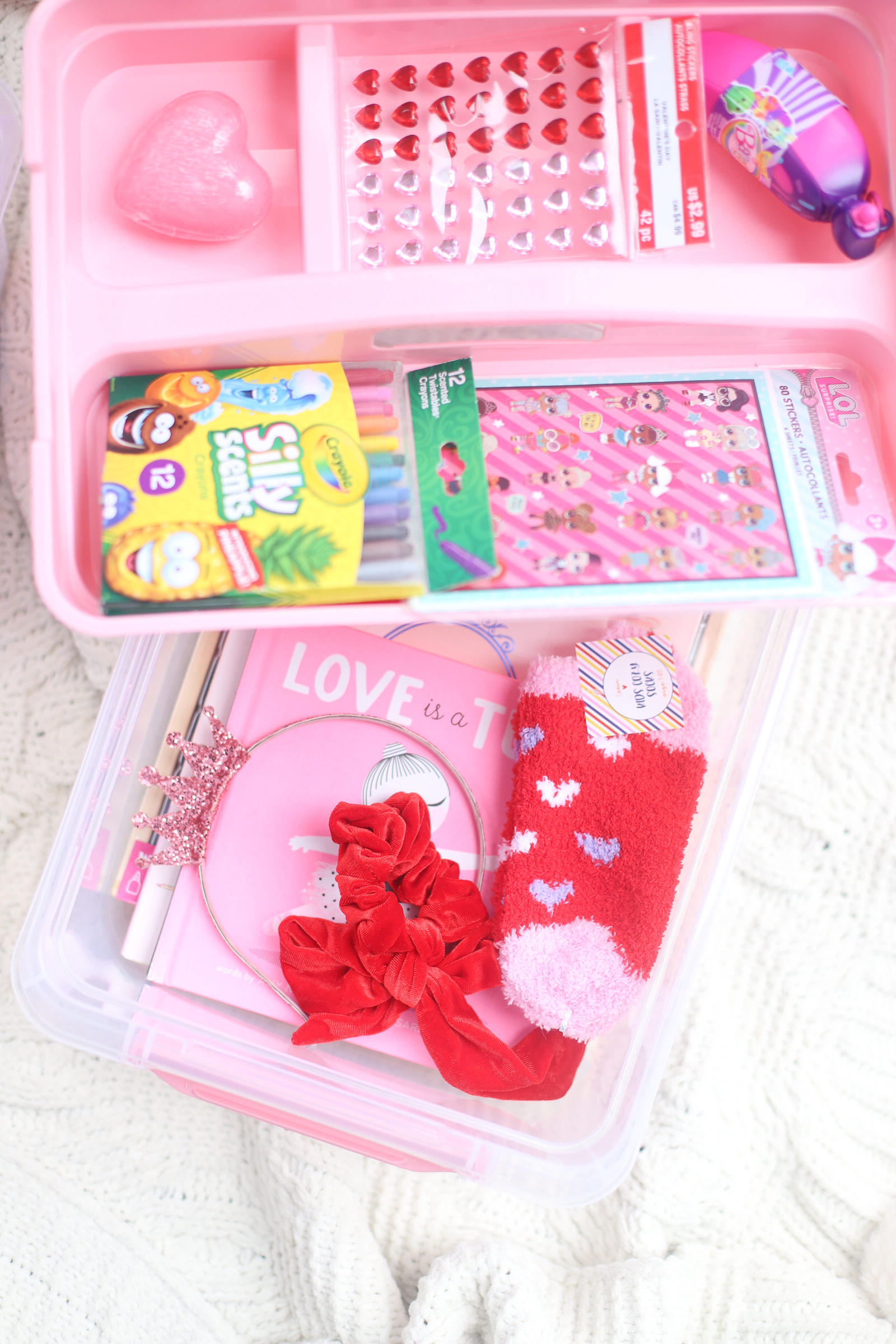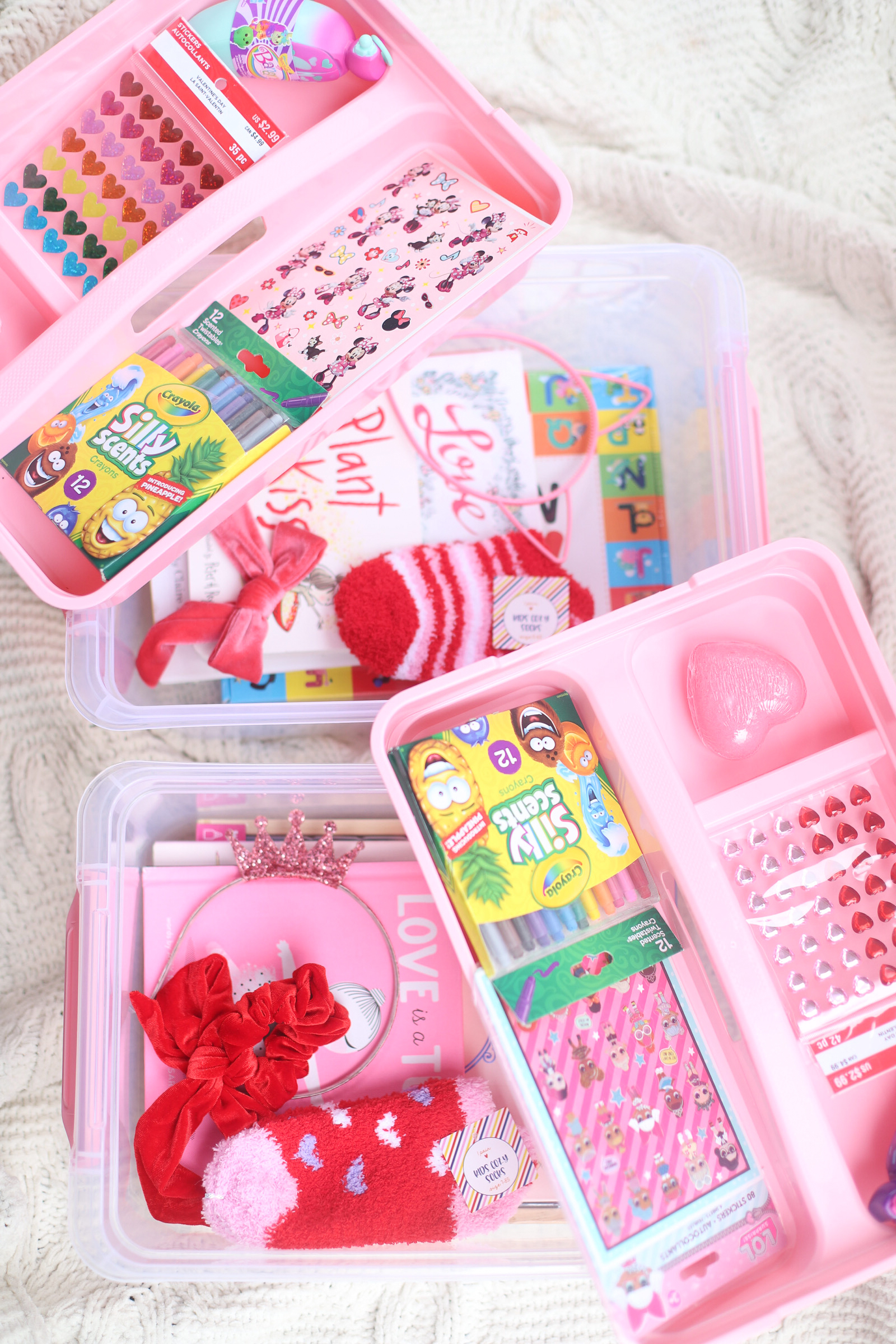 Do you give your kids gifts for Valentine's Day? Have you ever made a gift basket for anyone for the day of love?
Looking for more fun activities and crafts to do with and for your kids?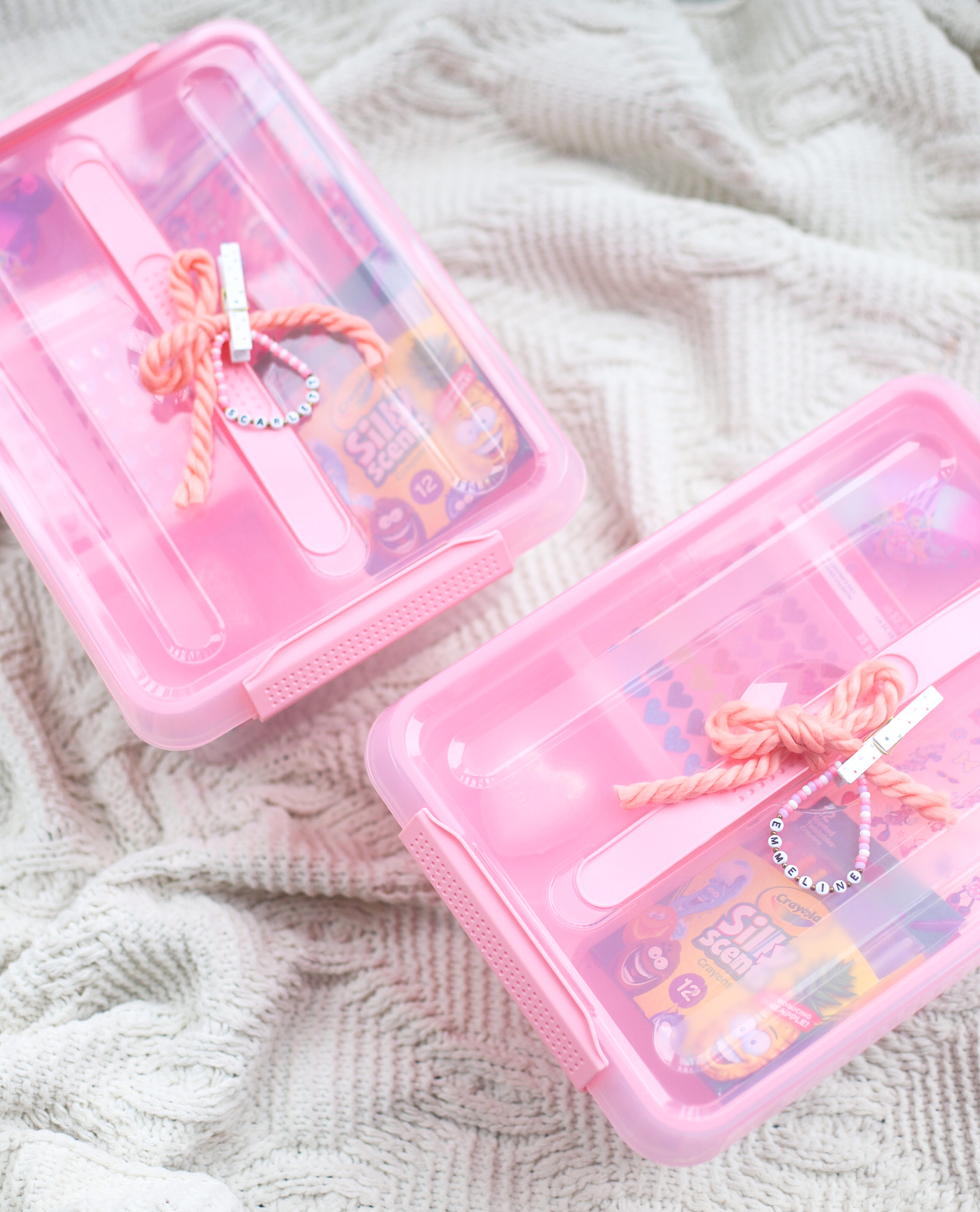 IF YOU LOVED THIS KID-FRIENDLY VALENTINE'S DAY DIY, YOU CAN SEE MORE OF OUR LIFE WITH TWO LITTLE ONES HERE AND ALL OF OUR CRAFTS HERE.
Shop The Post | Click Left & Right Arrows To Explore