This post contains affiliate links, which means that if you click on one of the product links, I'll receive a small commission. Thank you so much for clicking through and helping to support this little blog business of mine! Read more about our site, privacy, and disclosure policies here.
Looking for a fun activity to do with your baby? Make an easy, magic sensory toy using an empty wipes container and inexpensive colorful scarves, and watch your baby go crazy for their new game. This is perfect play time entertainment for a one year old!
I don't know about you and your baby, but my little ones are obsessed with pulling wipes out of wipe boxes, tissues out of tissue boxes, toilet paper off of the roll, etc. When they're young. Truly, if I don't keep one hand on the lid of the wipes box while changing our baby's diaper, she can manage to pull out a good dozen wipes in the seconds it takes me to realize just what it is she's doing.
I knew I needed to come up with a solution; and since I live for a good craft, especially one that I can do with and for my kids, I was all for creating a DIY "wipes" box toy.
I spotted these adorable sensory play kits that included what they called a "Magic Tissue Box." They were actually part of a monthly subscription service for baby play kits. And while I adore the idea, this mama is on a serious budget. (Especially with our big move to Boston mere weeks away!)
DIY Colorful Scarf Magic Wipes Box Baby Sensory Toy
The idea:
Babies love to pull tissues and wipes out of containers and boxes and put them back in as they learn to explore containment.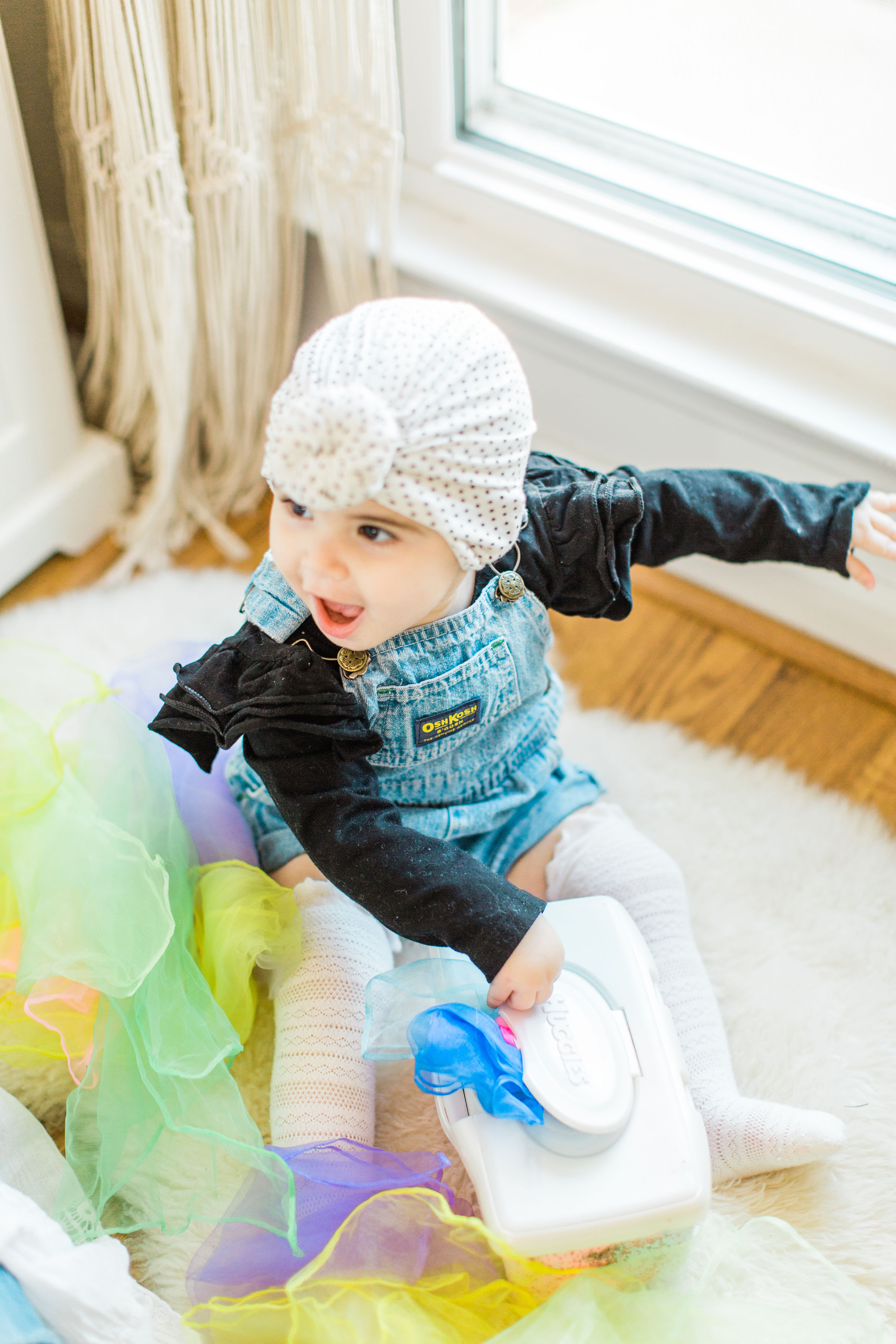 I knew I could create something similar for our one year old. For starters, we pretty much always have at least one (or seven) plastic wipes containers lying around the house. The tissue box is equally adorable, but most tissue boxes are paper, and I figured that would get destroyed by sticky baby hands in no time.
I mean, how cool is it that you can upcycle a plastic wipes container into a simple, yet adorable DIY magic tissue box baby toy?
And thus, our very own magic tissue box – a.k.a., the DIY colorful scarf magic wipes box sensory toy – was born.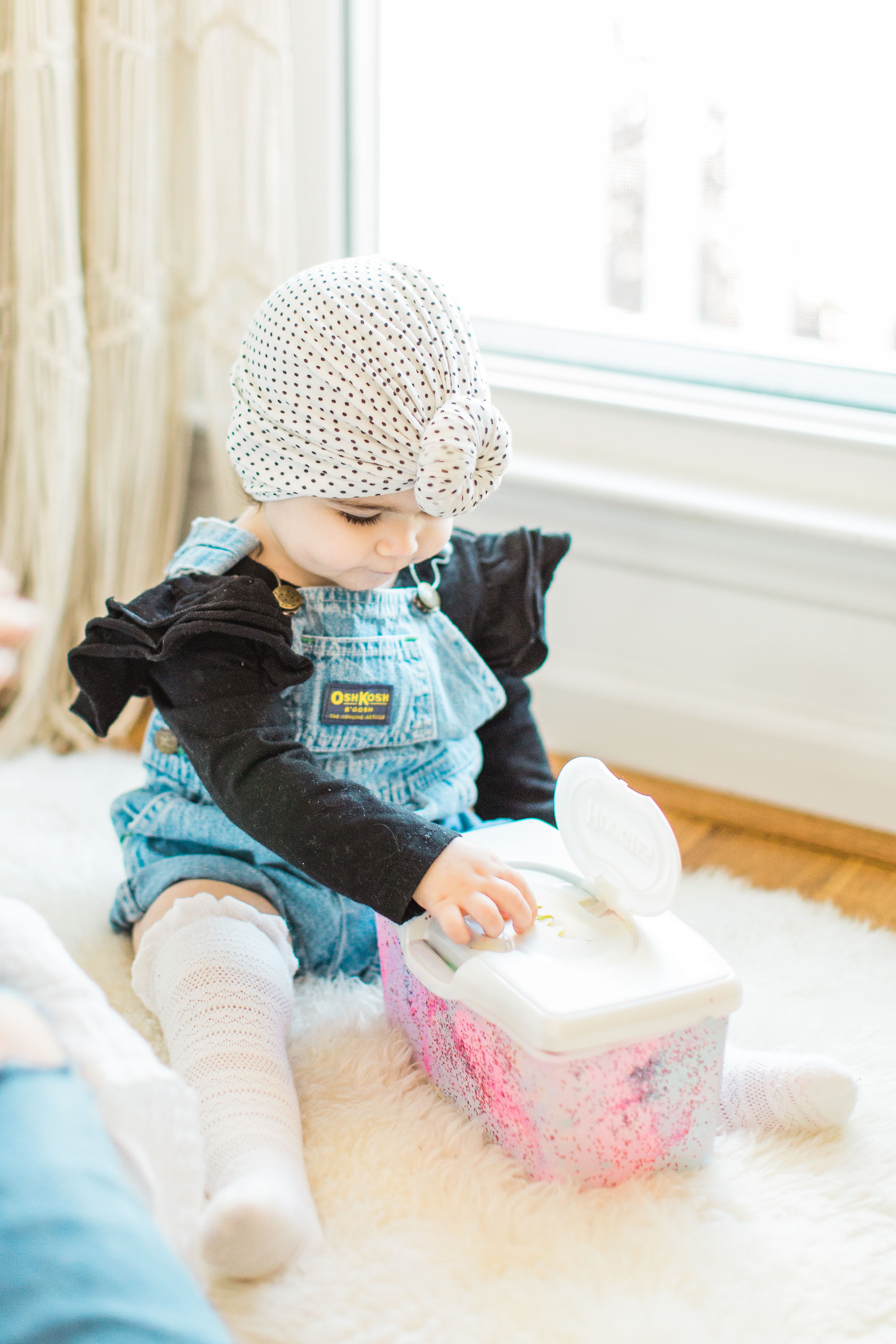 Because we're just a little bit extra, my oldest daughter, Scarlett (aged four), and I decided to paint the plastic wipes box that we planned to use to make the DIY magic wipes box first. We also topped our painted creations with glitter because DUH.
Obviously, you don't need to paint your wipes box. Your baby will be plenty happy to pull scarves out of a regular old wipes box. It's mostly the novelty of finally getting to pull out all of the wipes or tissues to their heart's content.
If you don't use wipes that come in a disposable wipes container, try one of these reusable wipes dispensers from Target.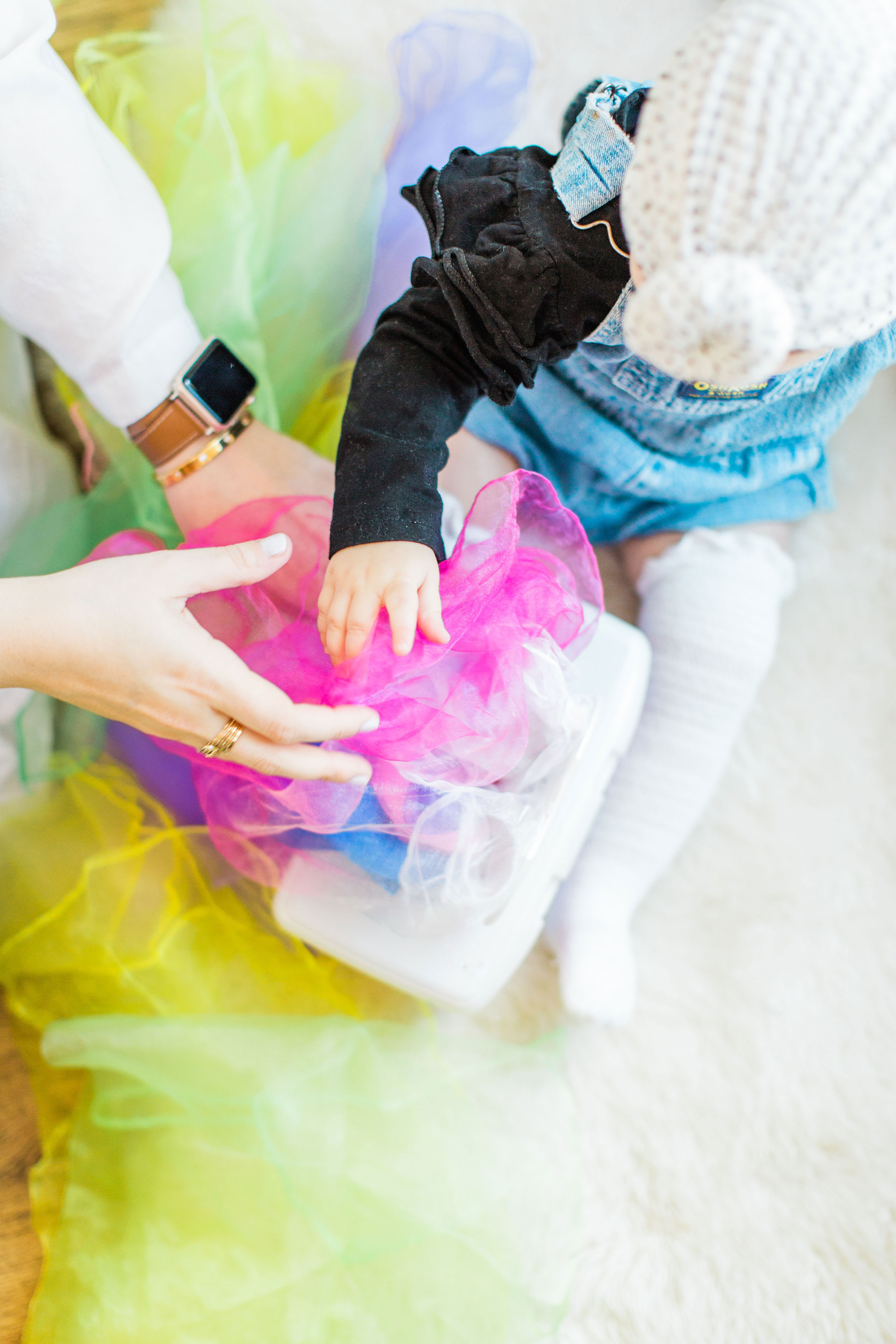 Once our painted wipes boxes were dry, we stuffed them with these colorful scarves we found on Amazon.
You could easily use cut up pieces of fabric or ribbons for this DIY Magic Wipes Box Sensory Toy.
I already knew the girls loved scarves like this because they're often used in baby and toddler music classes that we take Emme to and in our older daughter's ballet class. I searched and searched on Amazon, and these Wobe Magic Scarves had the best reviews, were affordable and came with a bunch, and I Ioved that they had a kind of ombré/gradient effect.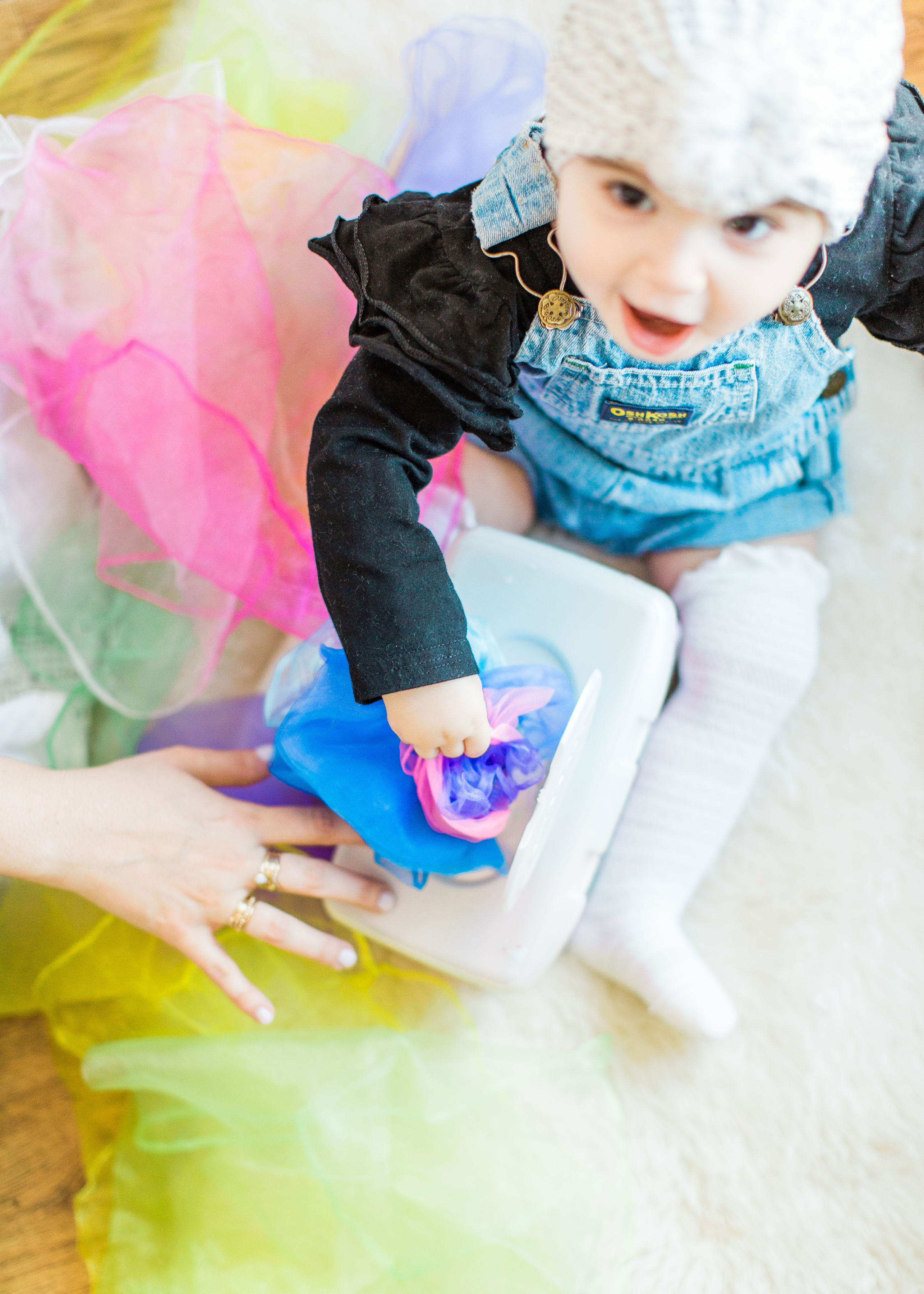 Now that we own these colorful scarves, I can tell you that they are a huge hit in our house.
They hold up really well, and we use them all of the time.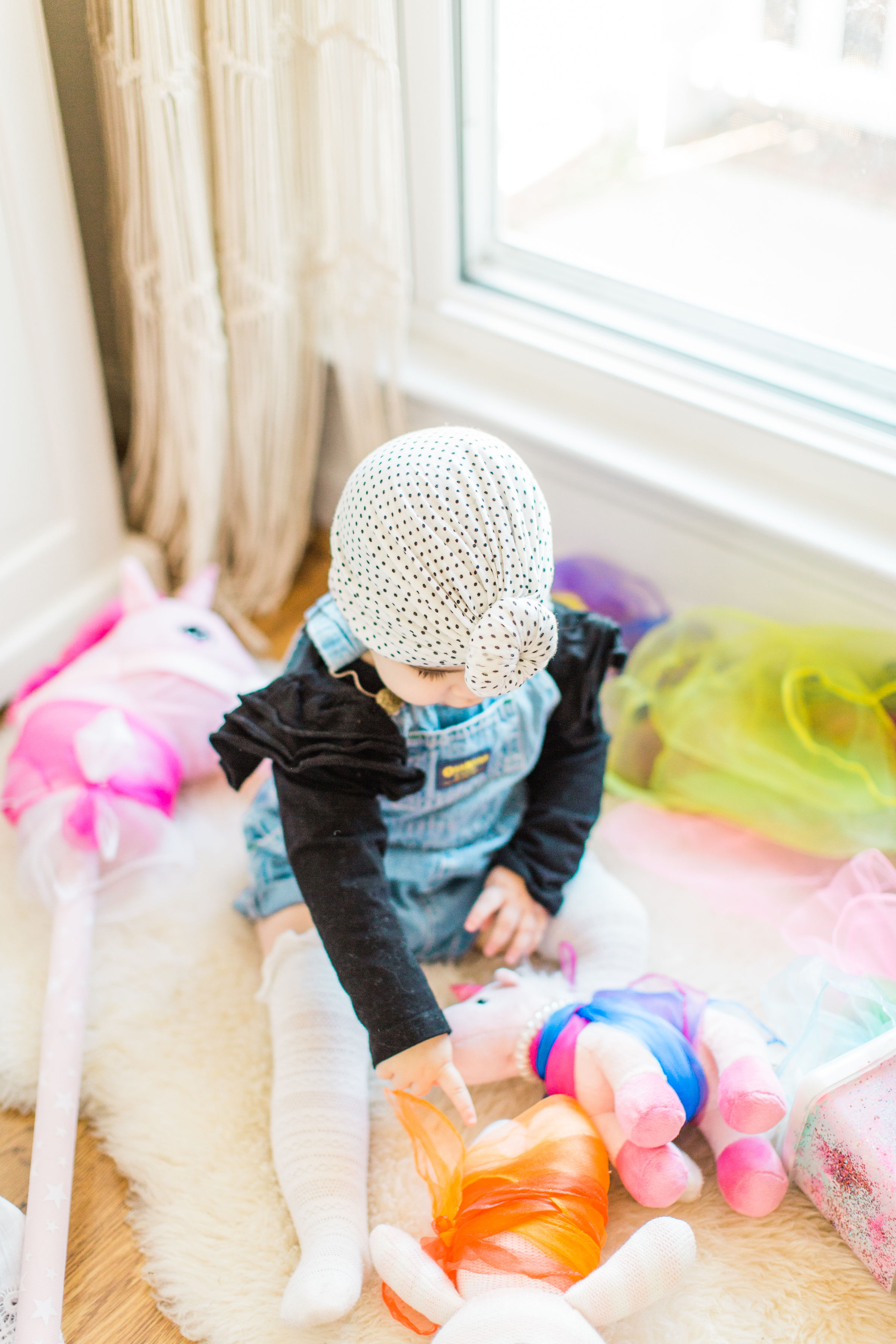 Emme loves playing her magic wipes box sensory activity. And Scarlett is obsessed with wearing the colorful scarves as butterfly or fairy wings, putting them around her waist like a "princess skirt," and dressing up ALL of her dolls and stuffed animals in her "fashions."
This DIY magic wipes box is such a fantastic way to reuse an old container and to introduce tactile play to a baby. Babies have so much fun experiencing new colors and textures. It's also a great way to introduce problem solving.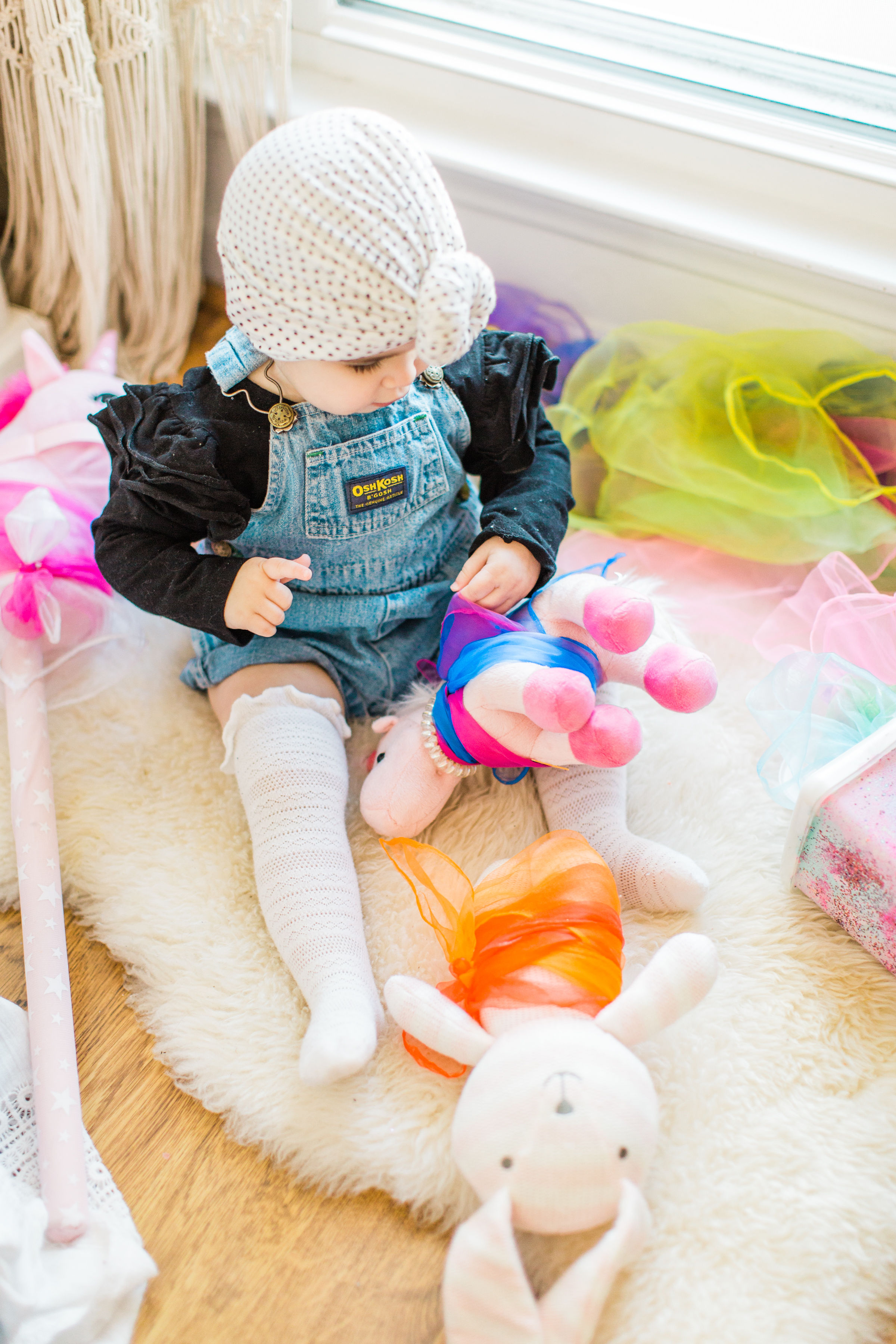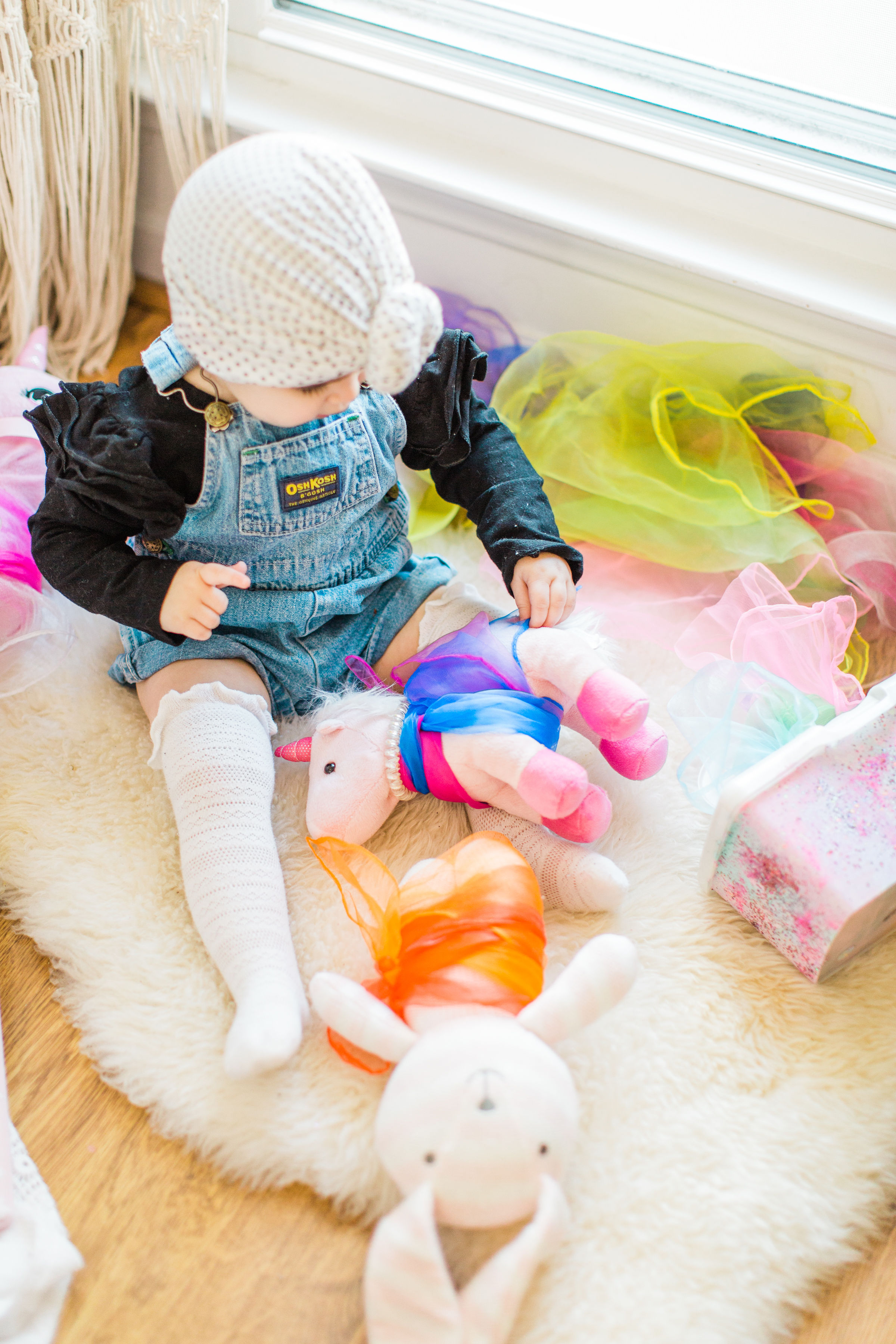 These magic colorful scarves are seriously the gift that keeps on giving.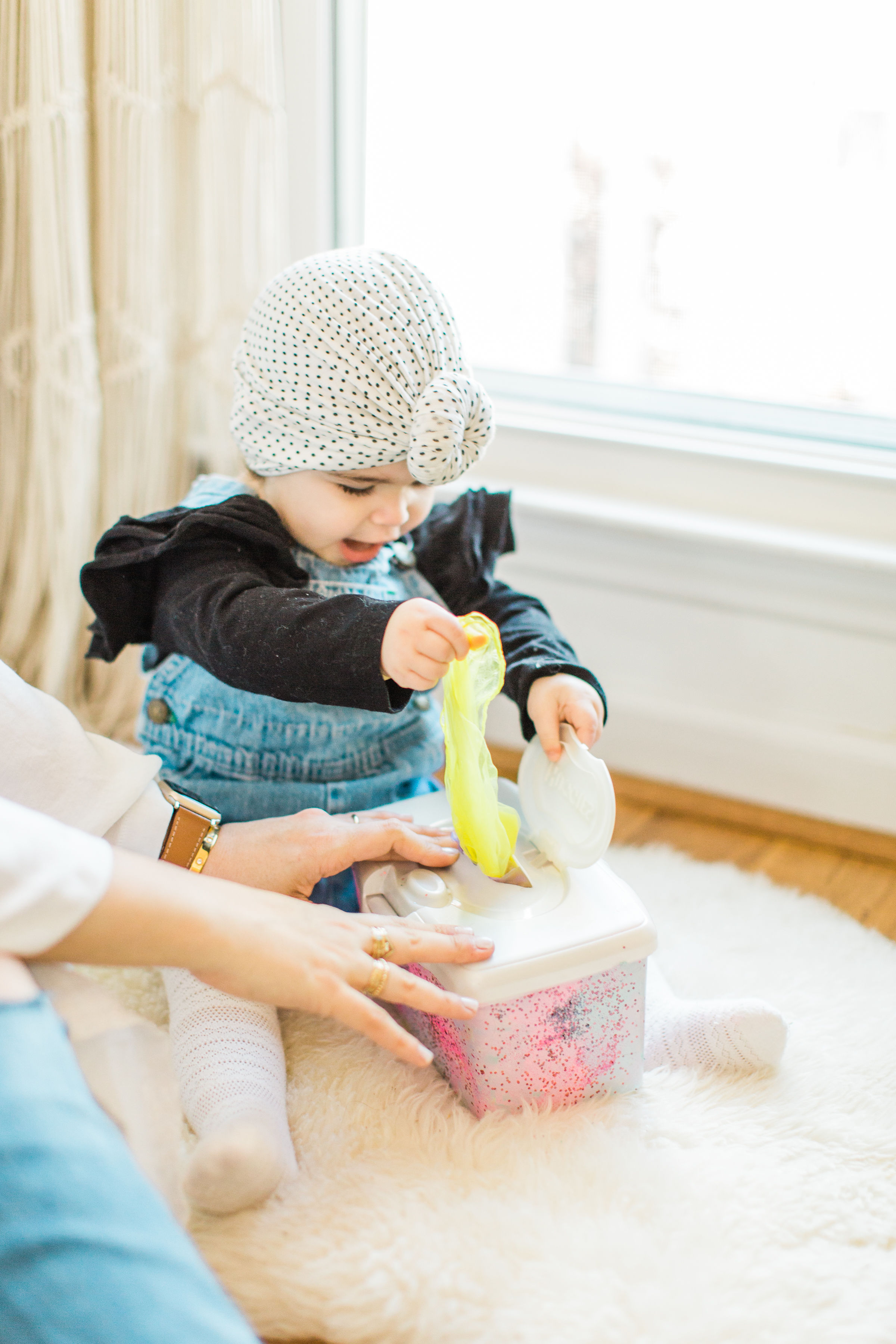 So let's talk about how to make your own DIY colorful scarf wipes box!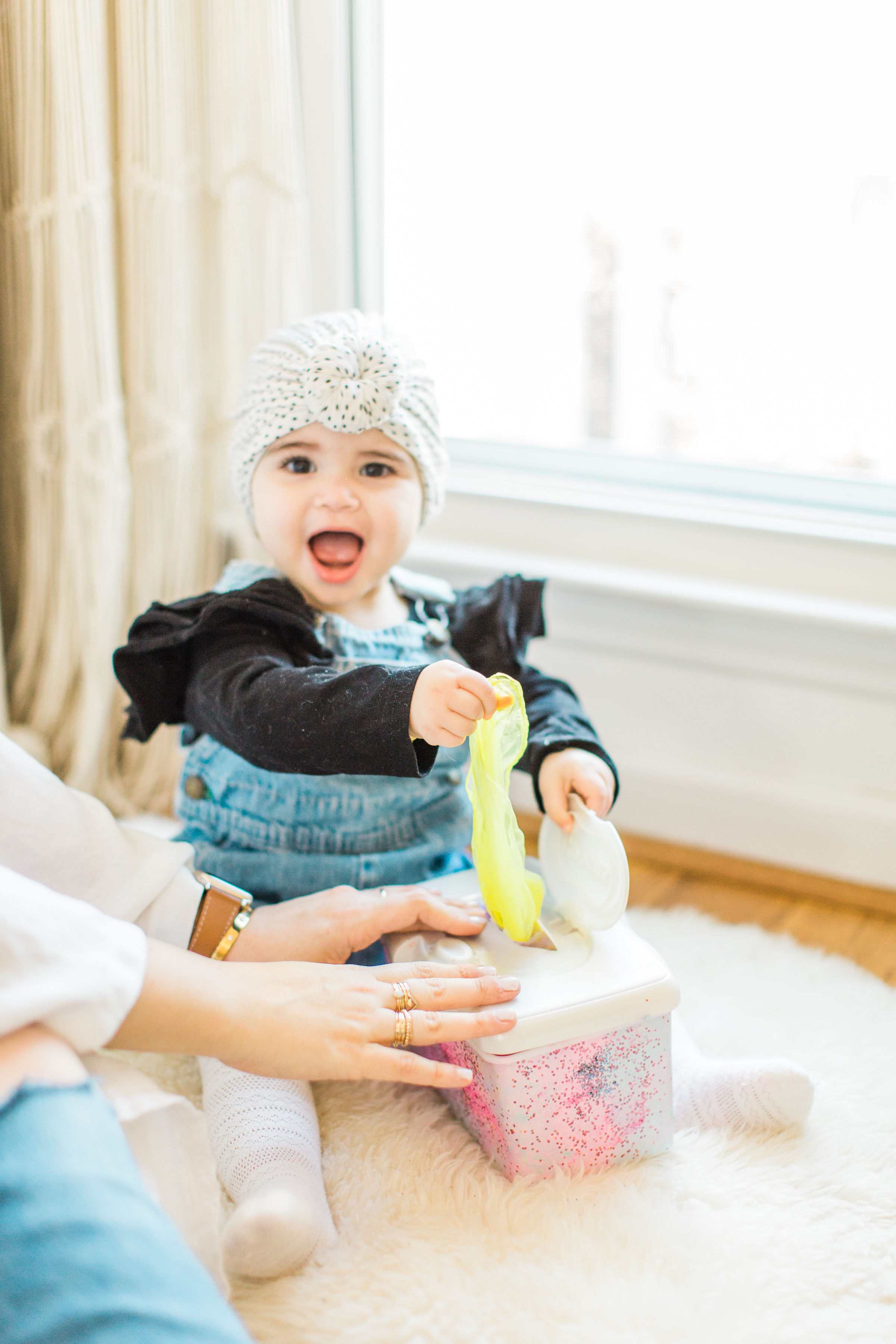 How to Make a DIY Colorful Scarf Magic Wipes Box Sensory Toy
WHAT YOU'LL NEED
1 empty plastic wipes container
colorful scarves or cut up pieces of fabric or ribbons
DIRECTIONS
Fill your empty plastic wipes container with a bunch of scarves. I like to place the scarves or pieces of fabric in one at a time, rather than in a big balled up handful, just to ensure that they're easy for little hands to pull out one at a time.
Shut the lid and then demonstrate to your baby how to pop open the lid (you'll probably need to help with this step), and then show them how to pull the fabric, piece by piece, out of the container.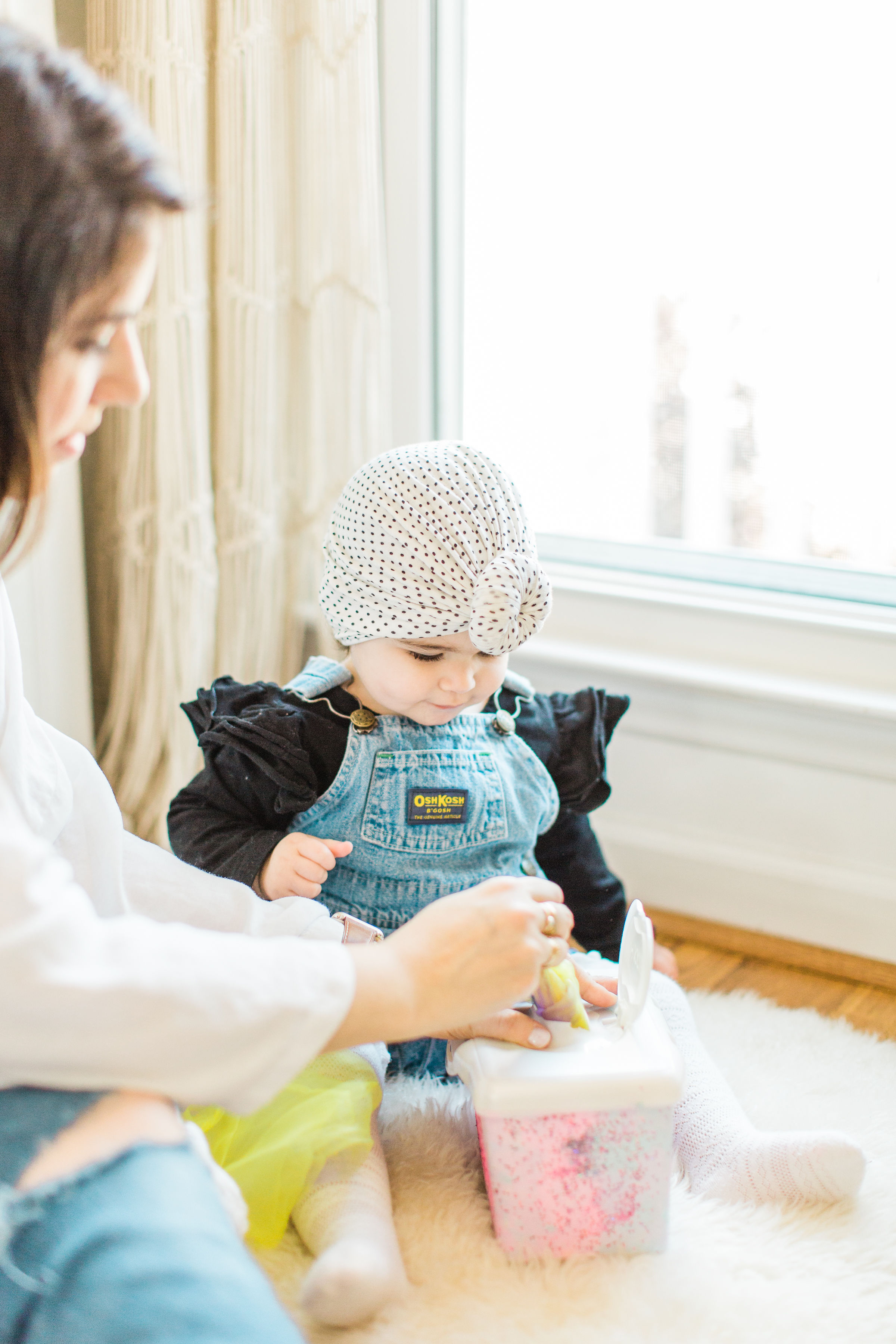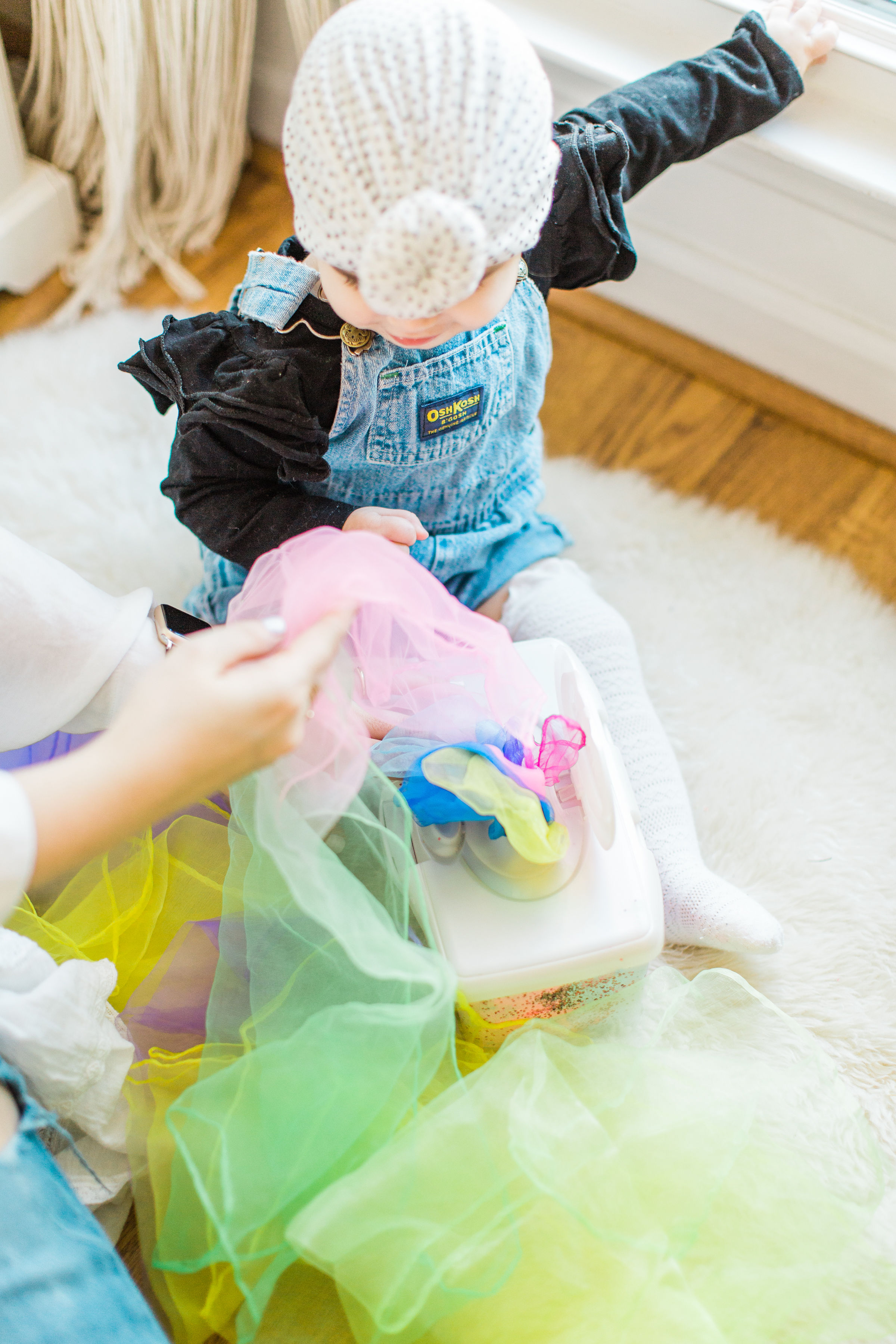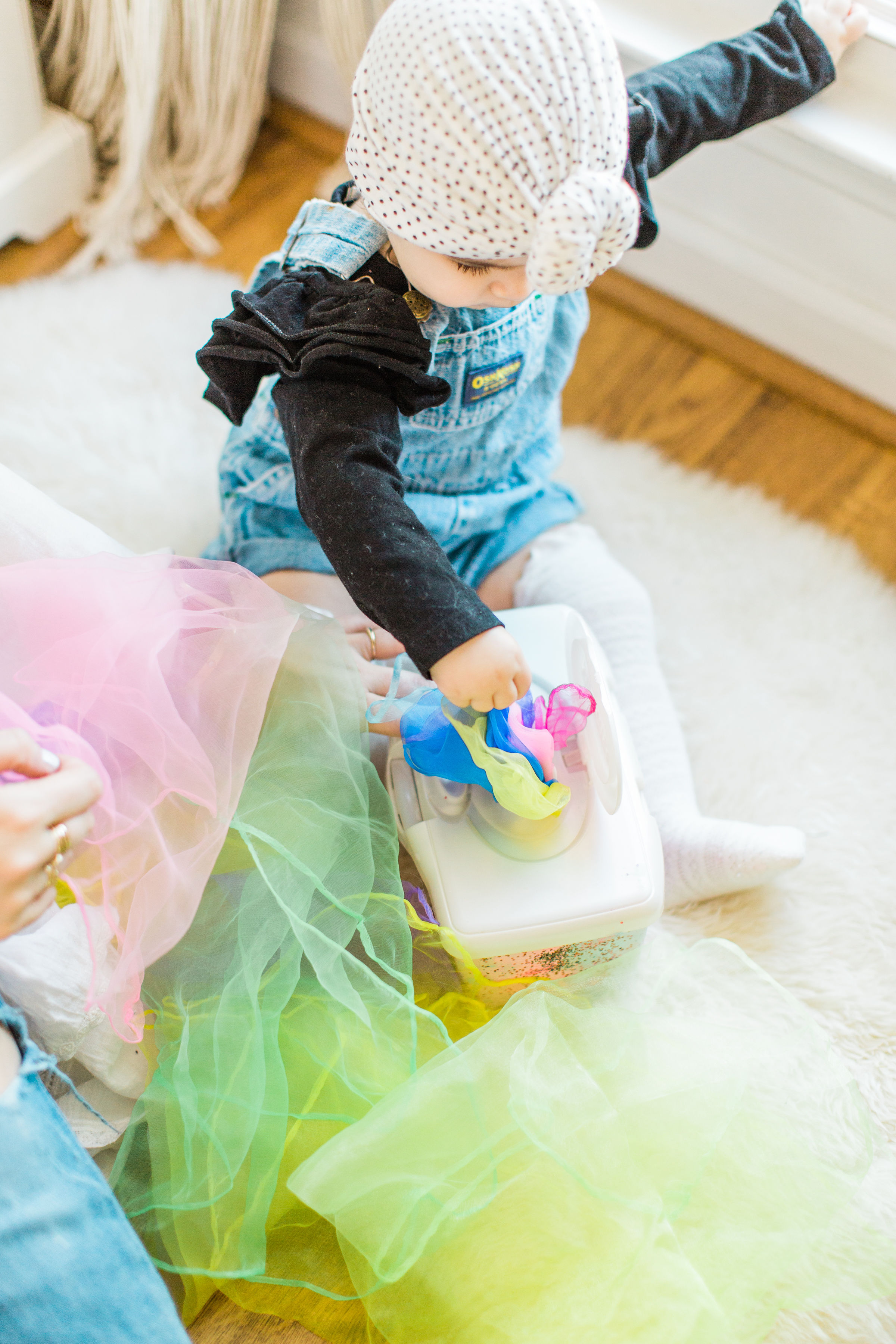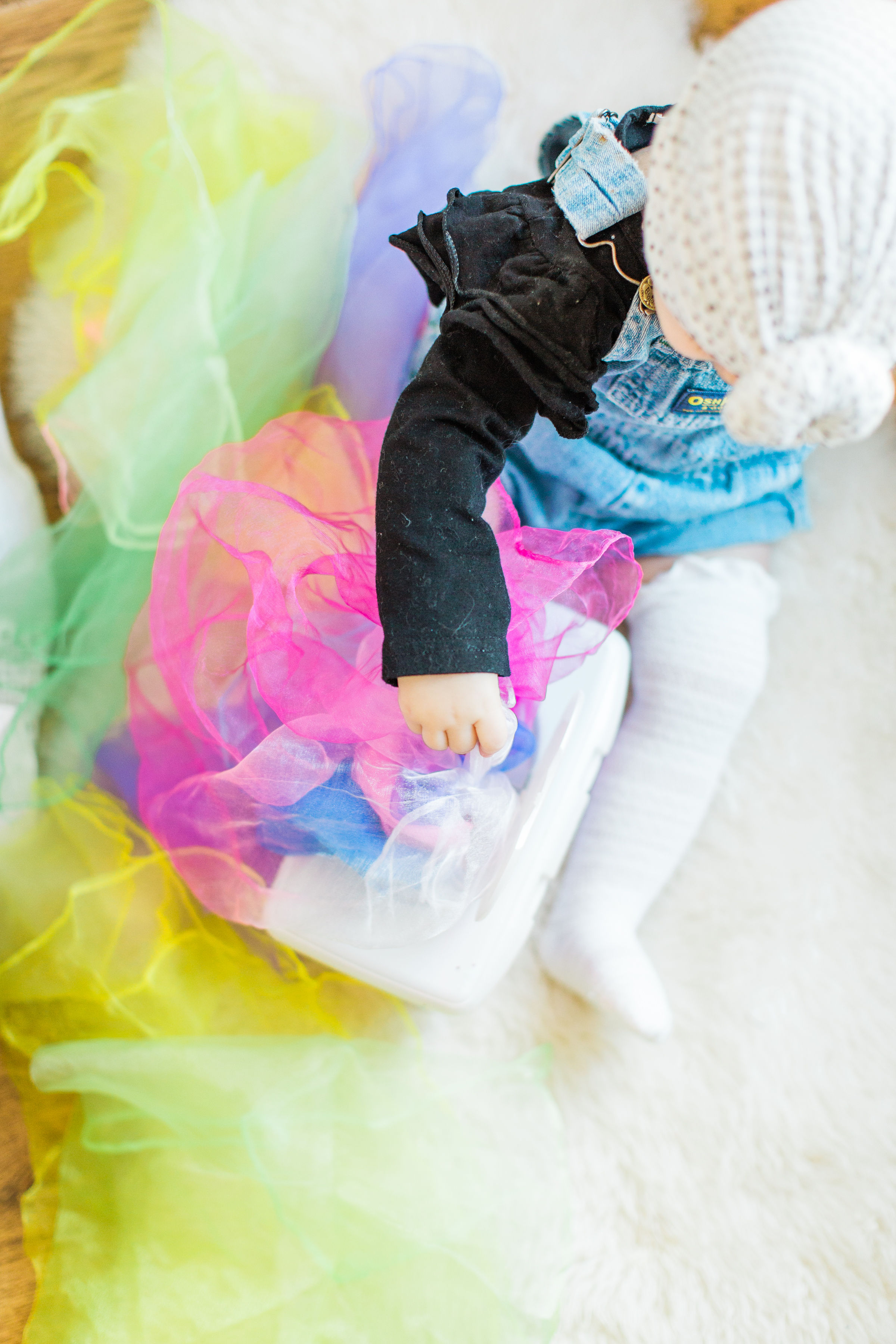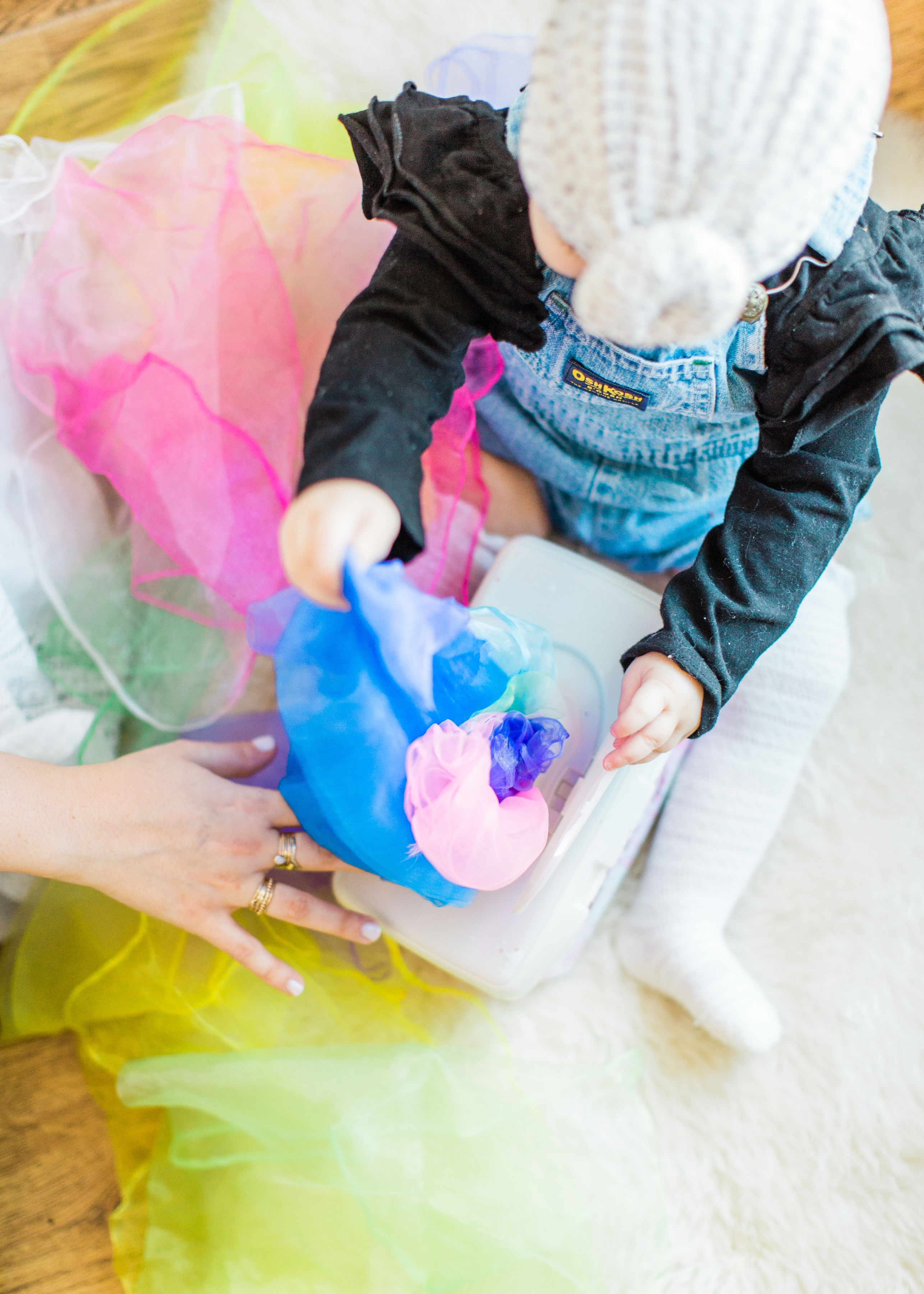 I'm so glad we got creative with this one and made our own DIY Magic Wipes Box Sensory Toy; our baby just adores playing with this activity and her big sister loves helping her discover new ways to play.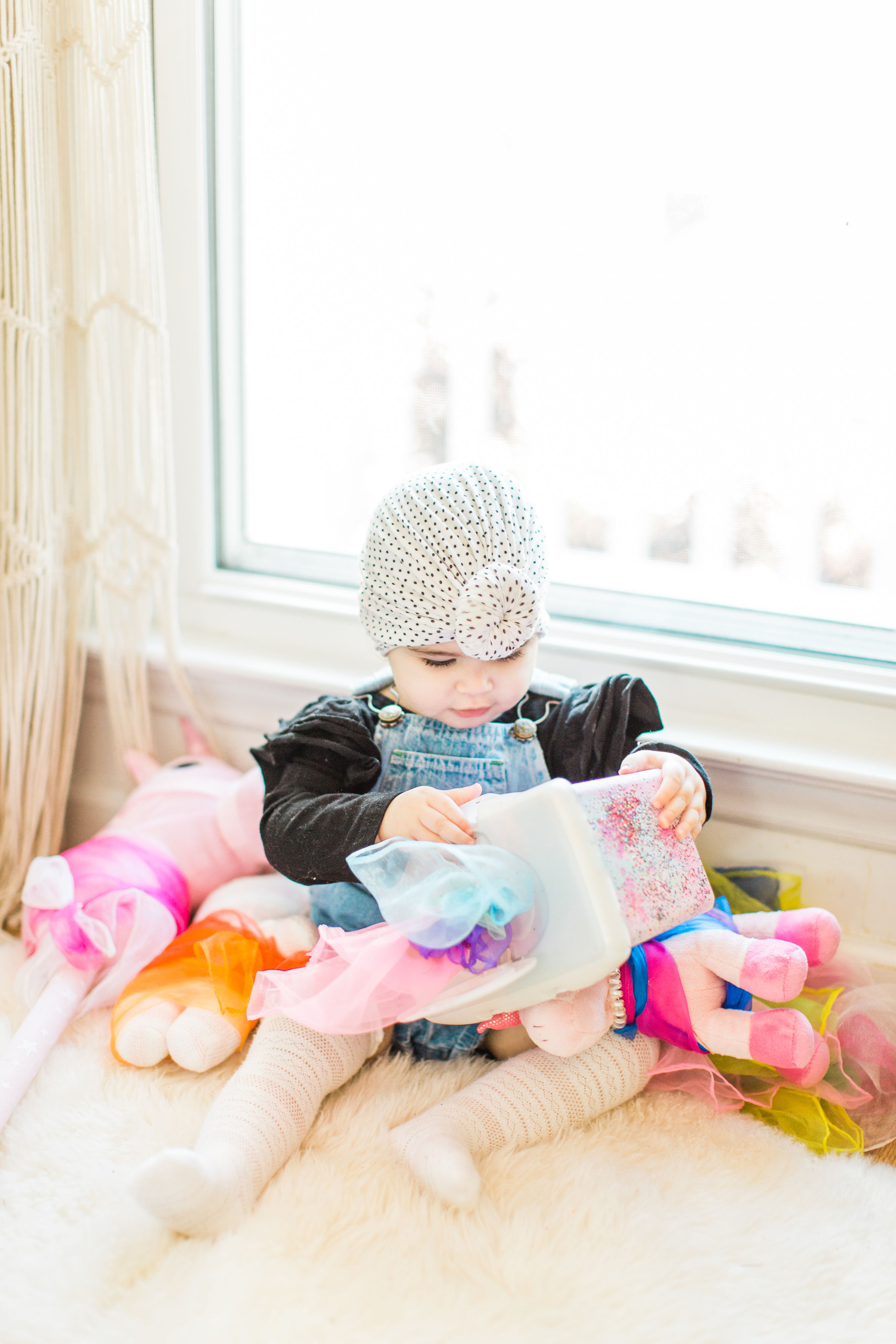 The activity has even taught our baby how to clean up.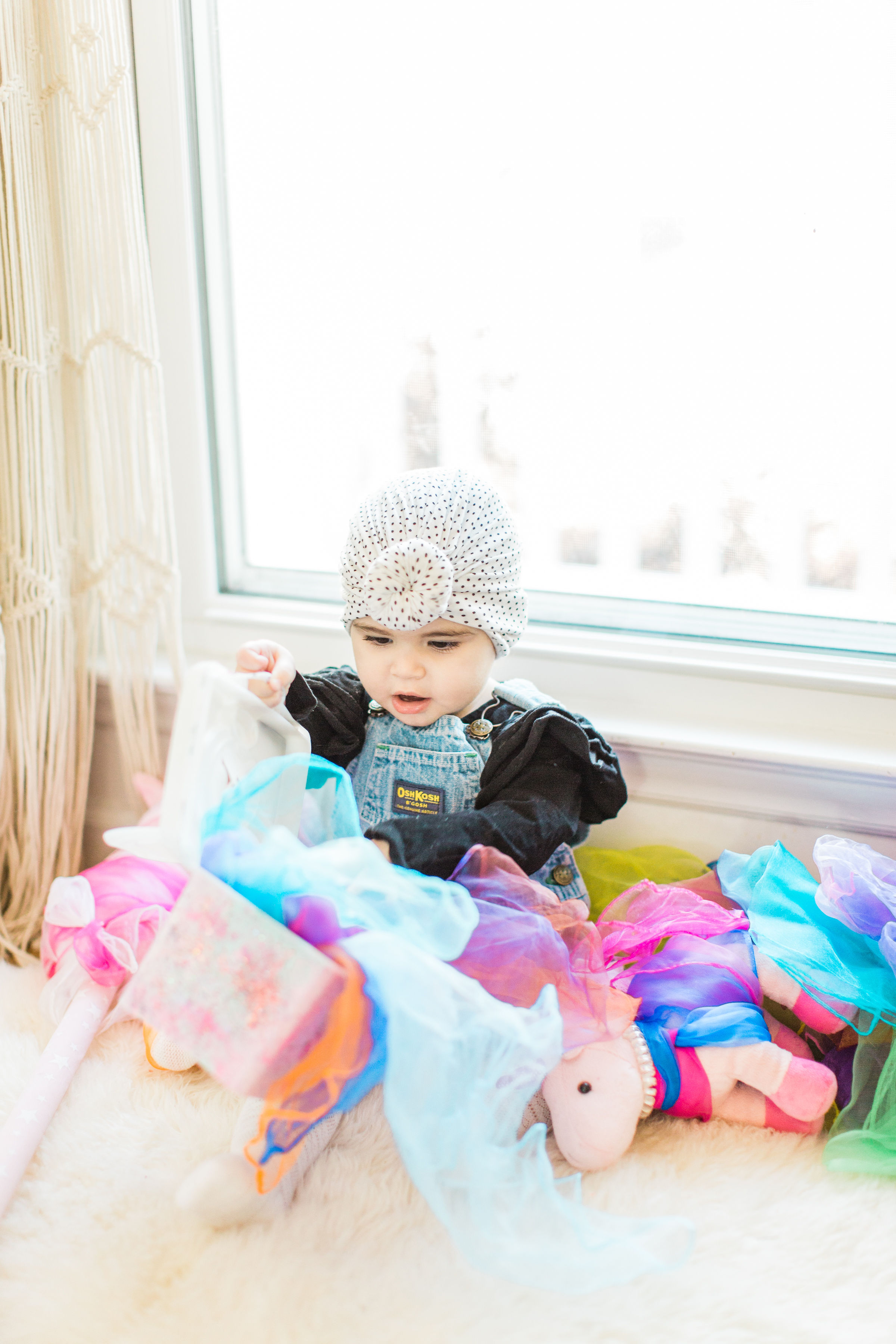 Emme's become a really big fan of putting all of the scarves; a.k.a., "wipes," back inside the wipe box to help clean up. We all sing-song, "No more mess!" when she's done, and she always looks SO proud of herself. It's too cute.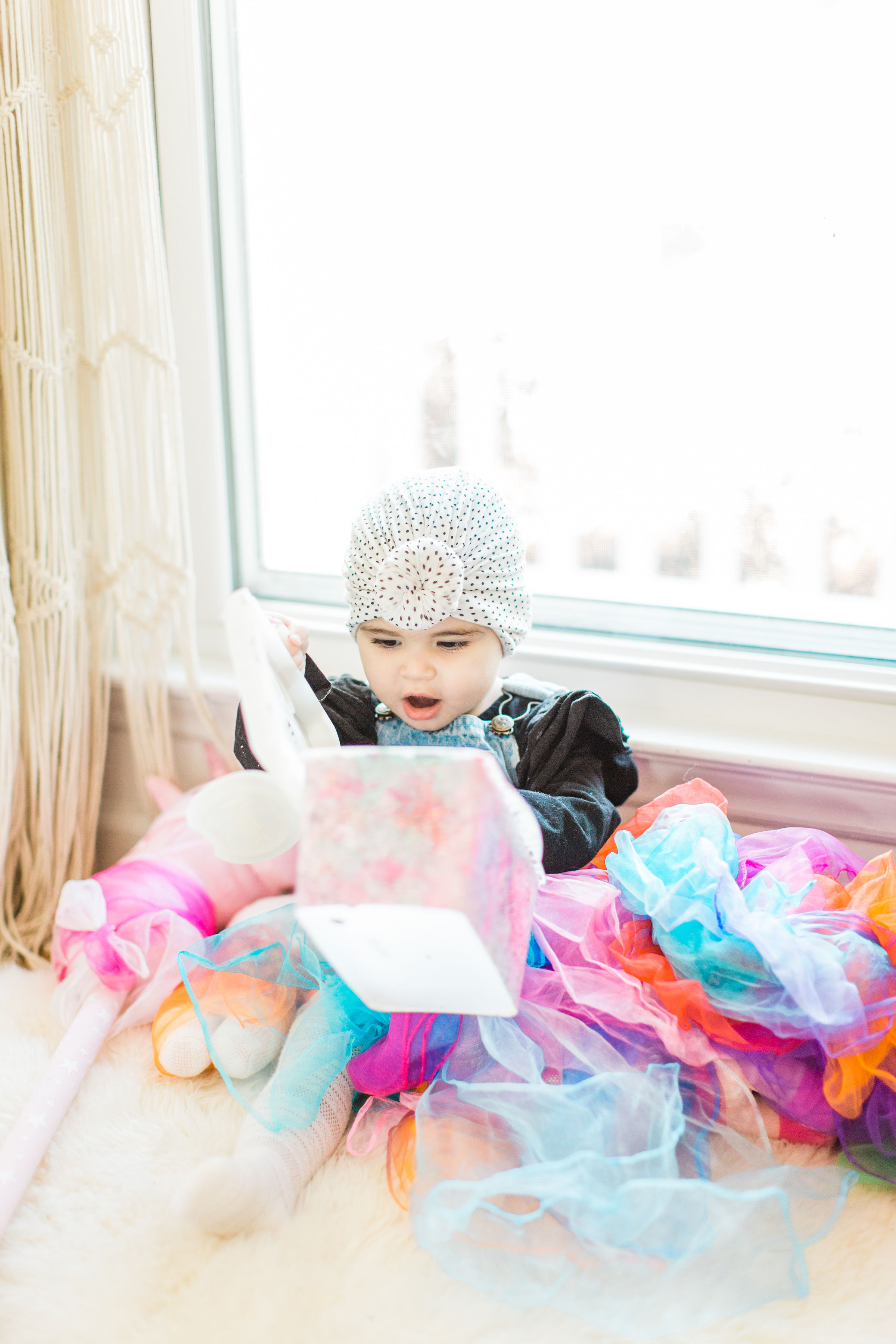 And then, of course, she takes them all back out again. 😂
SHOP THE DIY MAGIC WIPES BOX SENSORY TOY ACTIVITY POST | CLICK LEFT + RIGHT ARROWS TO EXPLORE
Looking for more fun activities to do with the kids?
IF YOU LOVED THIS BABY-FRIENDLY DIY, YOU CAN SEE MORE OF OUR LIFE WITH TWO LITTLE ONES HERE.