This post contains affiliate links, which means that if you click on one of the product links, I'll receive a small commission. Thank you so much for clicking through and helping to support this little blog business of mine! Read more about our site, privacy, and disclosure policies here.
Want a fun activity to do with your kids? Create the best ever water beads sensory bin, complete with our favorite water bead accessories, for endless hours of entertainment and bonus fine motor skills development.
School's out and our summer is in full swing, even in the midst of a great big move and a whole lot of last days. Particularly because we're packing and organizing and focusing on de-cluttering to adapt to living in a new, much smaller space in Boston, I've made a real effort to sort and organize the girls' toys and activities.
I am in NO way a super organized person. Our lives are a bit messy. There's probably glitter permanently embedded in our area rugs. And there's definitely cookie dough mashed into my wedding rings.
Still, with two young kids, an at-home business to run, and a husband who works A LOT, I'm slowly teaching myself to find little ways to stay more organized, and thus, less cluttered.
By the way, if you don't happen to be one of those incredibly tidy people by nature, a.k.a., you're the kind of parent who doesn't actually like to clean (Gasp! Me! Me!), I've got you covered with 5 awesome (and simple) cleaning hacks to tackle the mess!
One of the big ways I've learned to stay more organized, is with the kids toys and activities. Though things may not go exactly where they should at clean-up time, we're aiming for putting things away where they belong, as we finish using them, and so far, so good. Having things where they belong has taken such a stressful load off of my shoulders, and makes for happier playtime AND cleanup.
I figure, if my oldest daughter can handle putting things back where they go at preschool, she can do the same at home. Basically, I'm borrowing all of my clever activity and learning ideas from Scarlett's brilliant teachers!
Now let's talk about our latest at-home activity: WATER BEADS!!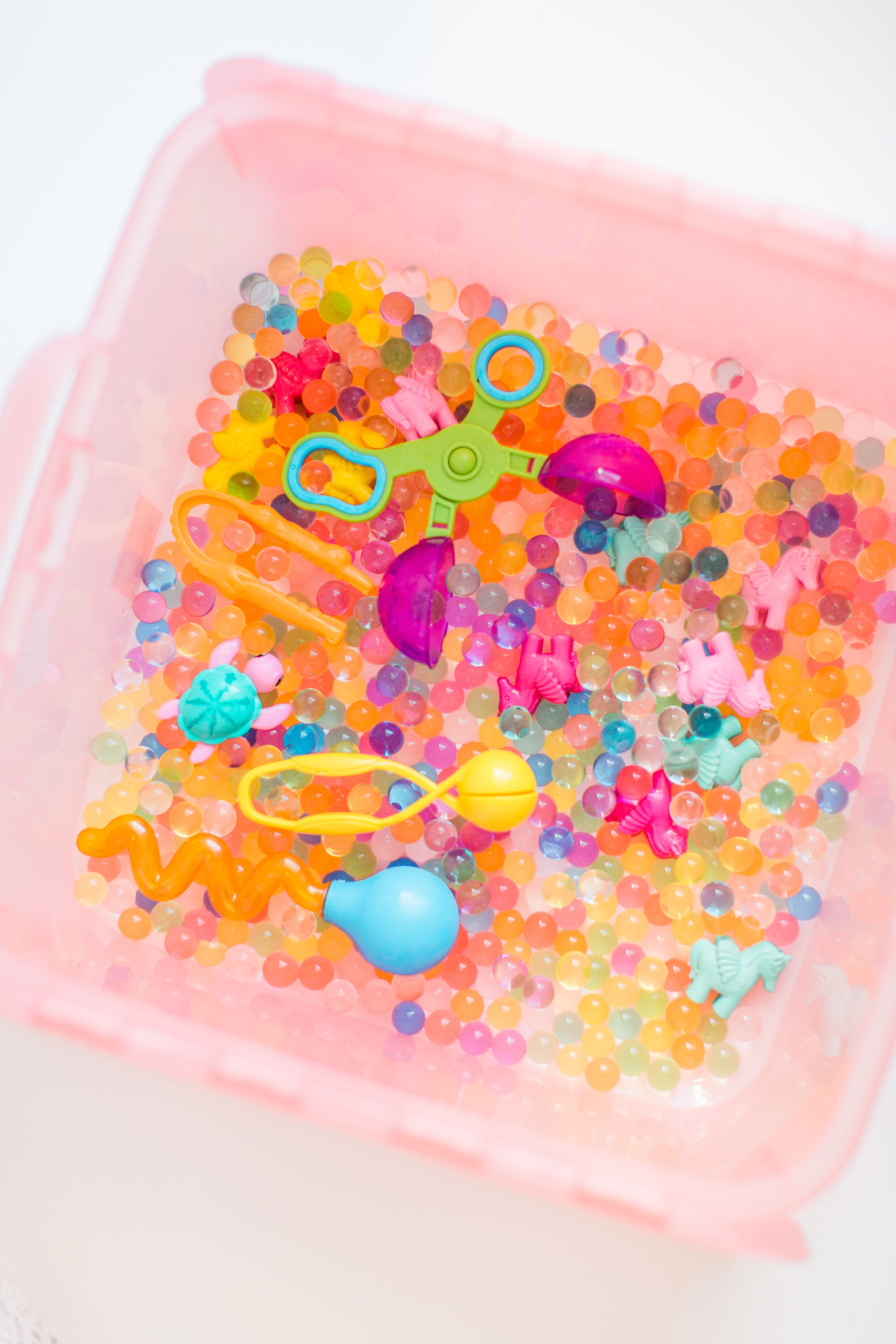 The Best Water Beads
Every season, I like to keep a few activities, easily contained sensory bins, and crafts up my sleeve. Water beads tick off all of those boxes and then some!
Now full disclosure, I am a research queen. Seriously, I actually LOVED our legal research class in law school. Such a nerd.
When I decided to order a pack of water beads for our oldest daughter to try out, I researched like a madwoman. I wanted water beads that grew pretty big and din't pop easily.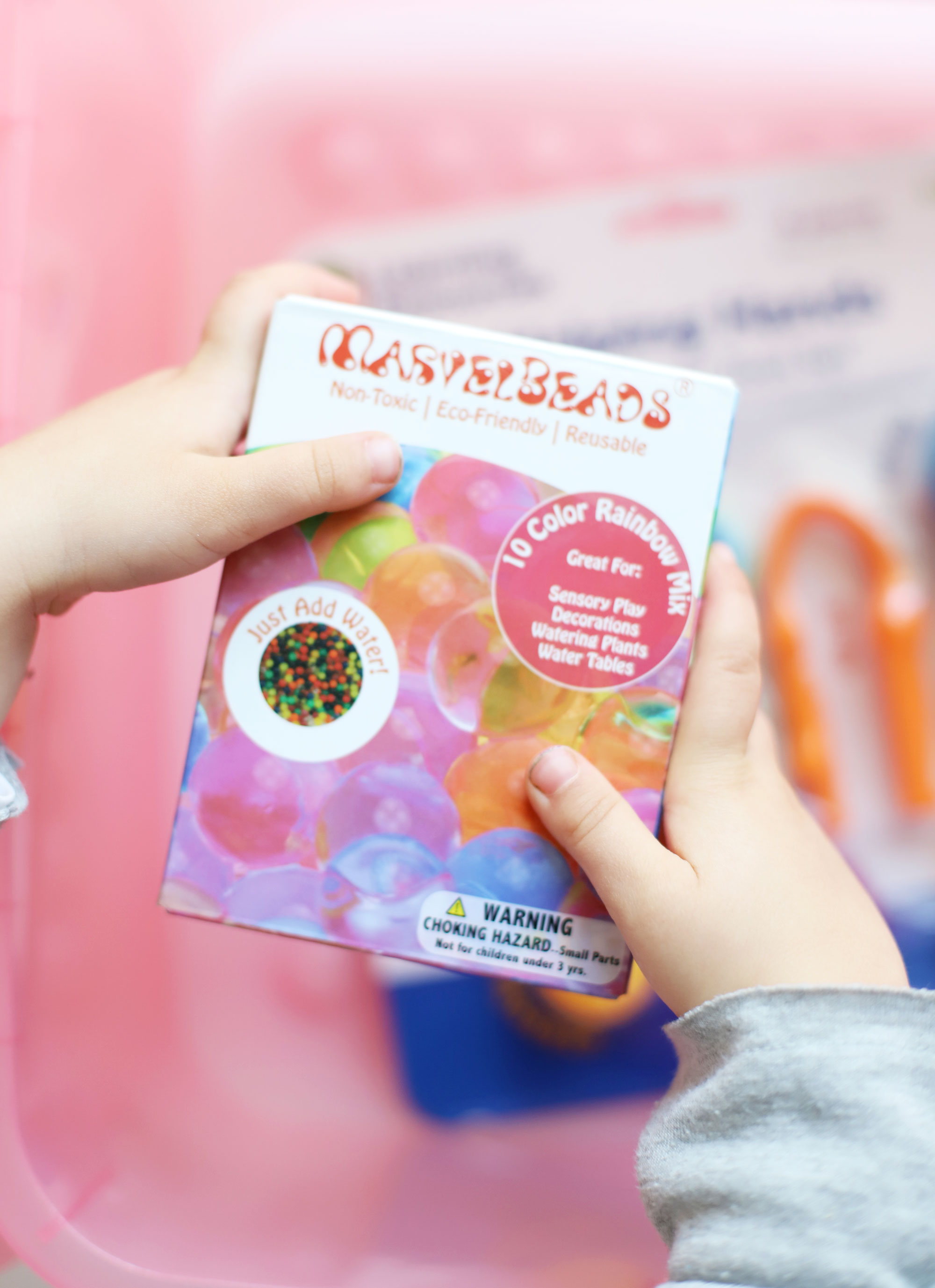 I scoured Amazon reviews, and finally, came upon MarvelBeads Water Beads. They're super affordable – $5.99 buys you endless hours of play, they're non-toxic, reusable, and they come in such a beautiful variety of colors.
These water beads are the best!
NOTE: One teaspoon of the dry beads grows to SO many water beads once they soak up the water. A small container of the MarvelBeads Water Beads will create dozens upon dozens of batches of the water beads.
Water Beads are not only colorful, smooth, and squishy (a.k.a., a total sensory winner), they're a great learning tool, helping kids kids with color recognition, counting and fine motor skills.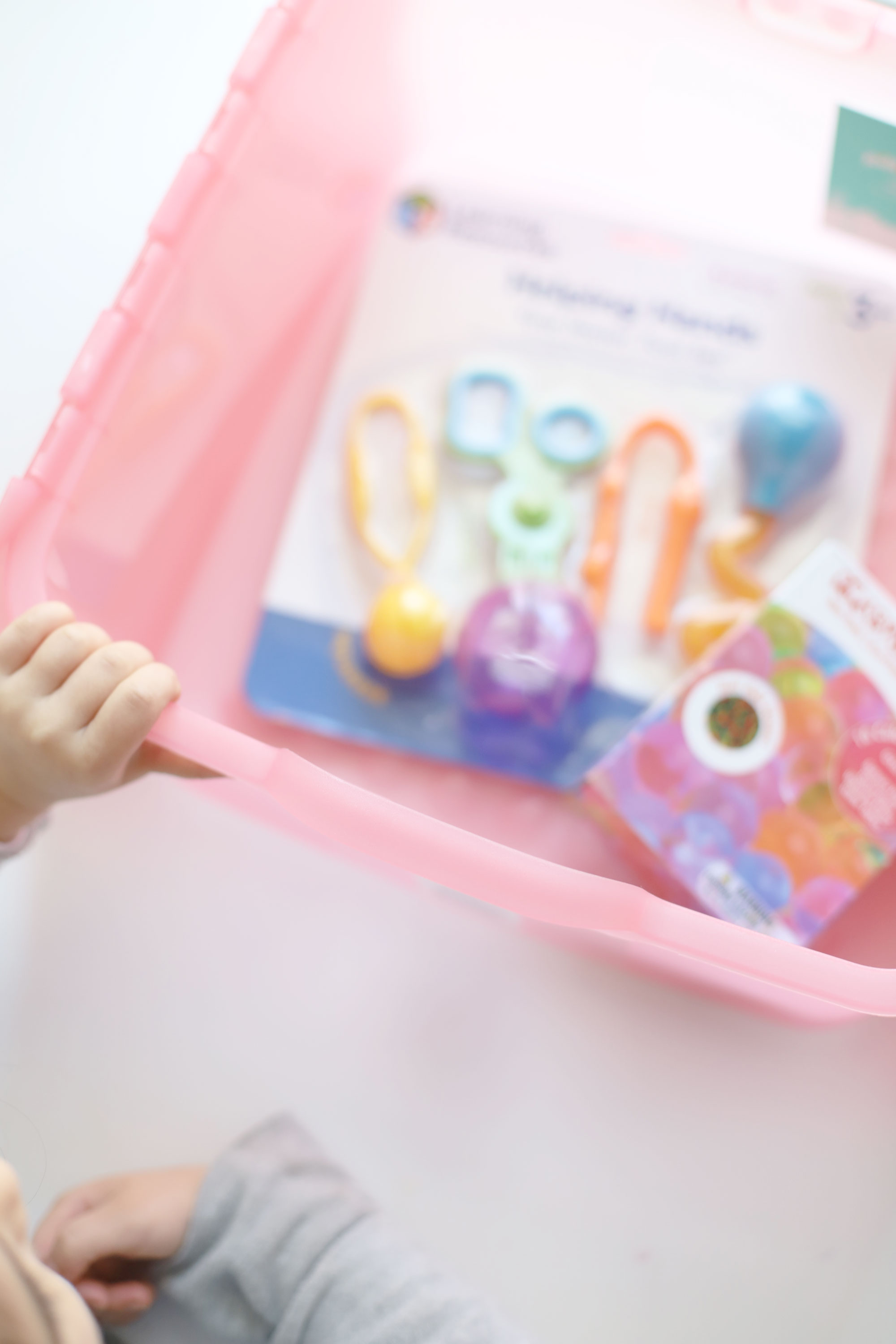 We like to take out our bin of water beads during Emme's nap time. Scarlett, 4 years old, can sit at her table playing with her water beads for a good uninterrupted hour.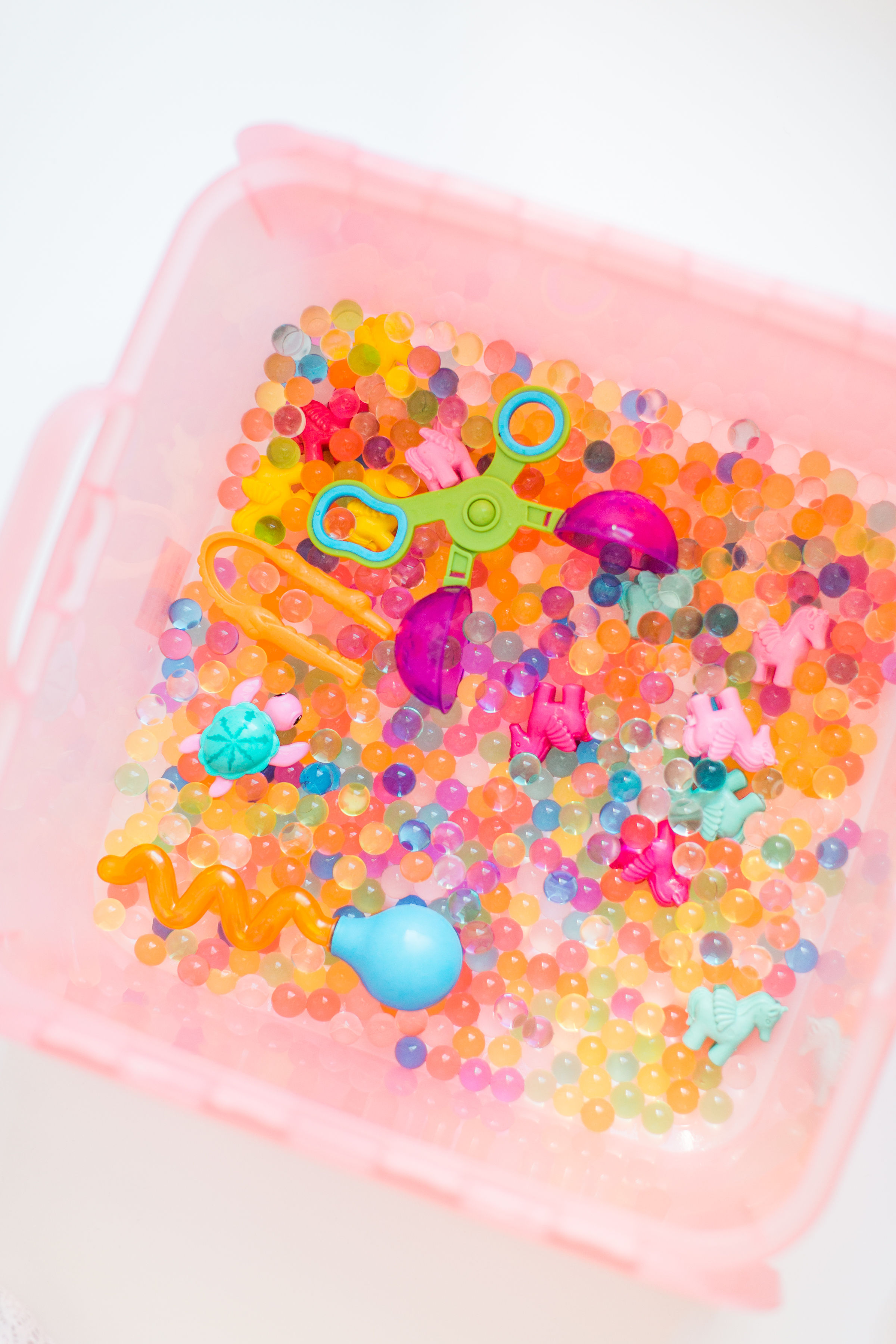 Water Beads Sensory Bin
Now let's talk about our water beads sensory bin, our favorite water beads accessories, and just how we play with water beads for pretty unlimited imagination and fun …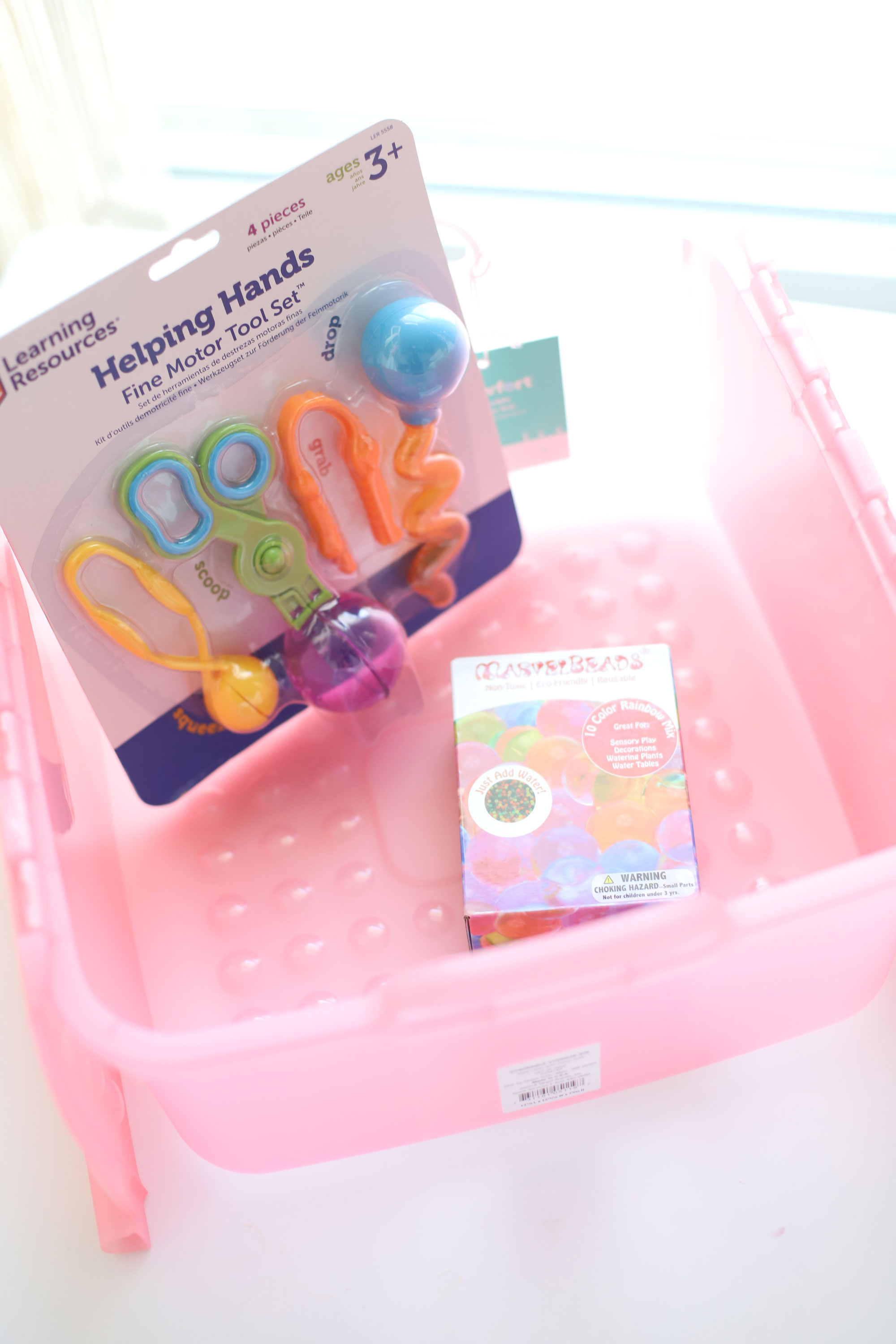 Our Favorite Water Bead Accessories
I like to add in one new activity to Scarlett's water beads bin each time we break out the bin, to make the experience a little bit different and unique.
Plastic Storage Bin With a Lid
I've said it before, I'll say it again – we love, love, love Target's Pillowfort Toy Storage Bins. They're sturdy and durable and the lightweight design with carrying handles makes it easy to move around where you need it. They also come in three really cute colors: pink, blue, and grey.
We have four of these bins now, and currently keep our kinetic sand dinosaur dig activity in one, water beads and accessories in another, arts and crafts supplies in the third bin, and magna-tiles in the fourth bin. I also have my eye on the large size for toys. The medium size are particularly great because two of them fit stacked up in an Ikea cube (in one of the many Ikea storage shelves) PERFECTLY.
Once we're done playing, we just clean up our mess, put everything back into the bin, close the lid and put it back on the shelf for the next time.
I also use this Brother label maker to label our activity bins.
Measuring Cups
Throw in a stack of plastic measuring cups and work your kids to measure out different amounts of water beads. This is an awesome learning tool, teaches kids an important skill, and kids really do love scooping up and measuring the water beads.
For scooping, of course.
I absolutely love these water beads tools. We always keep this set in the water beads bin. The different tools help to build fine-motor skills and strengthens hand muscles needed for writing. Plus, they're adorable and fun to play with. Winning!
Small Toys
Whether it's dinosaurs, bath toys, turtles, plastic mermaids, ponies, the list goes on and on; adding in a few toys to the water beads really allows Scarlett's imaginative play soar.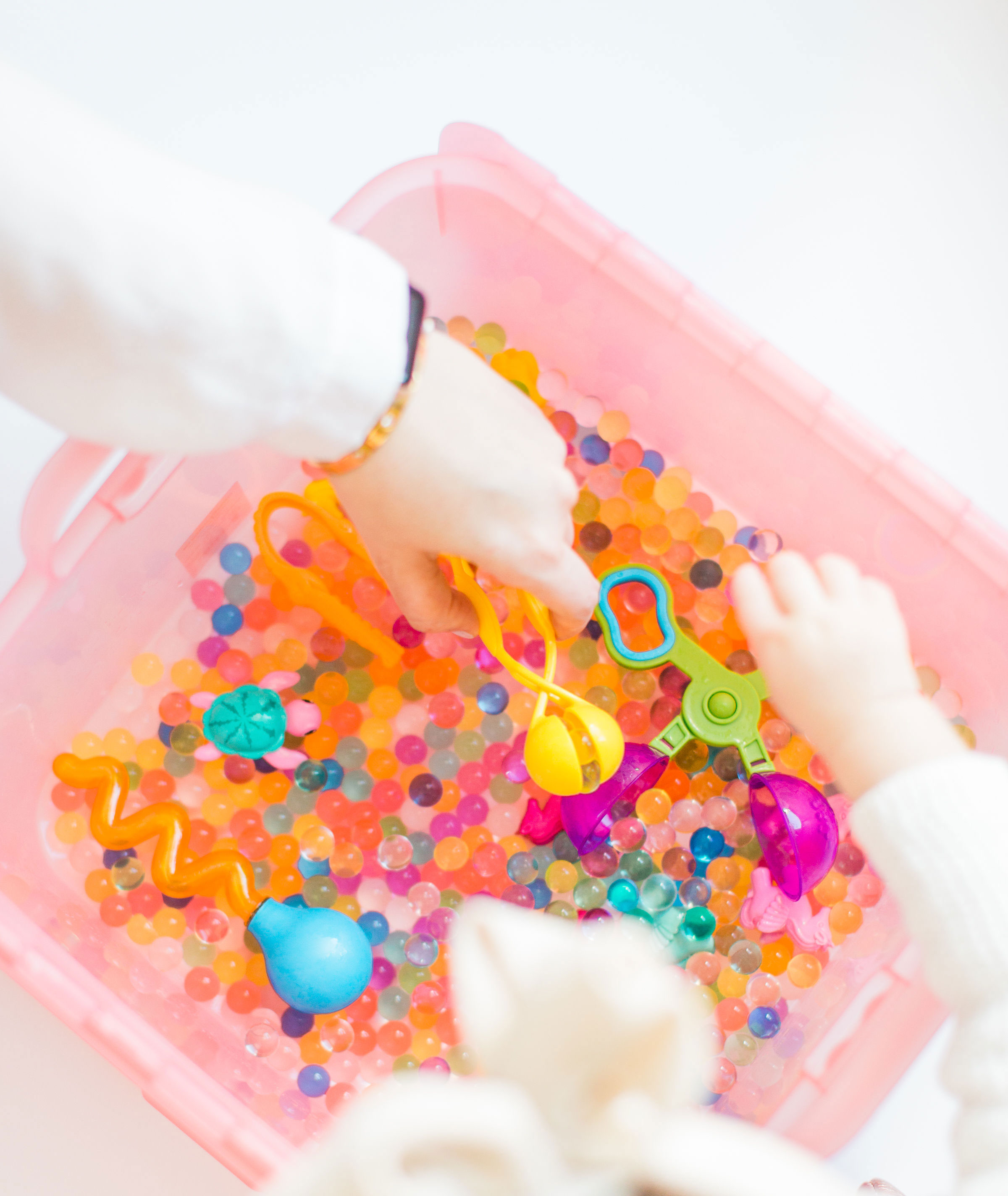 For Scarlett's birthday, I'm thinking of scooping up this Barbie Glam Pool that she can use with her water beads. I think she would be totally obsessed.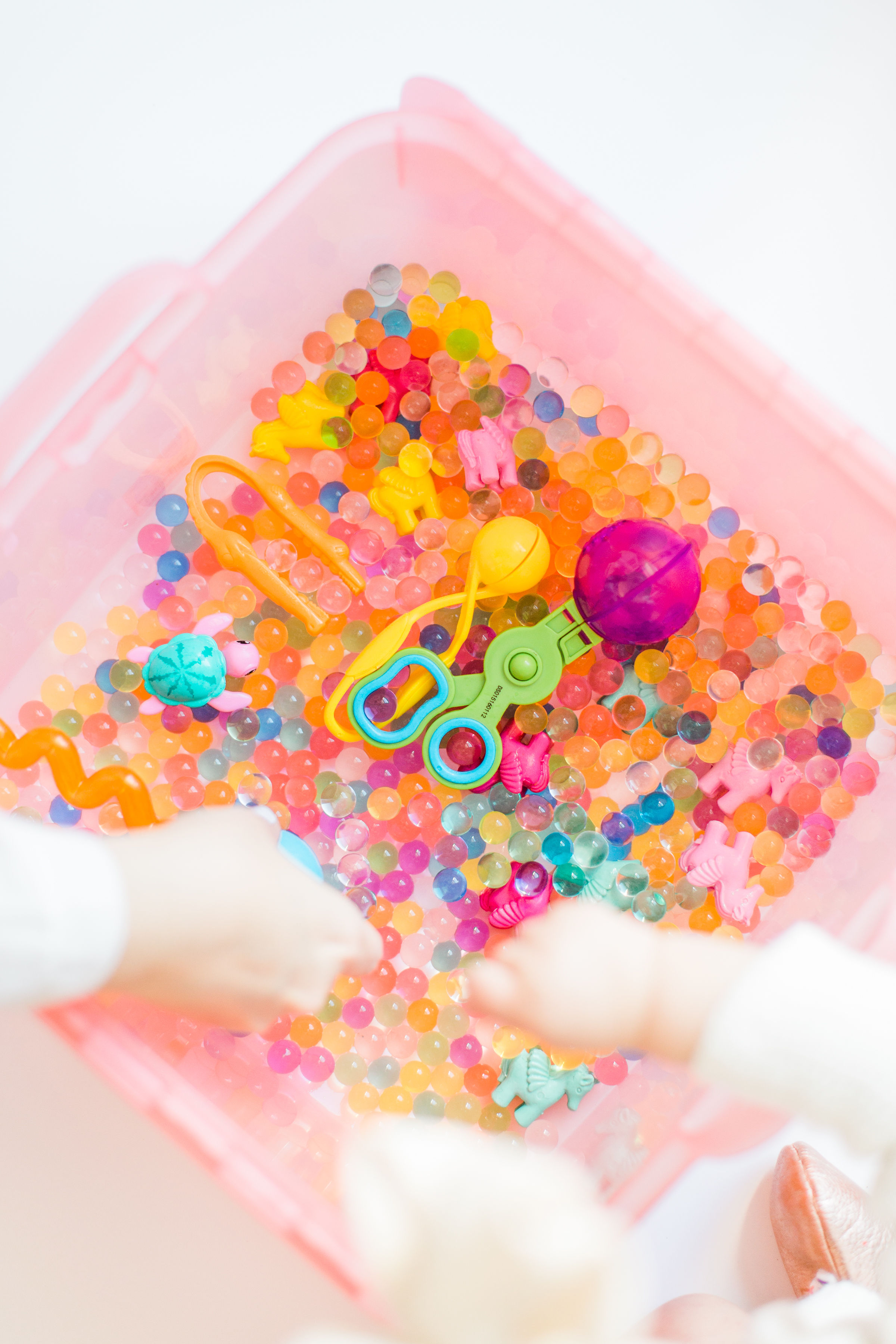 Have your kids tried water beads yet? Ask your little ones! Most preschools actually love and regularly use water beads in sensory play and kids absolutely love them!
Shop The Best Water Beads Sensory Bin | Click Left & Right Arrows To Explore
Looking for more fun activities to do with your kids this season?
IF YOU LOVED THIS KID-FRIENDLY DIY, YOU CAN SEE MORE OF OUR LIFE WITH TWO LITTLE ONES HERE.