This post contains affiliate links, which means that if you click on one of the product links, I'll receive a small commission. Thank you so much for clicking through and helping to support this little blog business of mine! Read more about our site, privacy, and disclosure policies here.
Create your own DIY kinetic sand dinosaur dig. This kids activity is an awesome, mostly mess-free way to dig into sensory play, all in one convenient bin.
As school starts to wind down, and summer quickly approaches, I'm all about finding fun, simple, and inexpensive activities to keep the kids entertained. Plus, with all of these rainy days we've been having, I like to keep a few indoor activities, easily contained sensory bins, and crafts up my sleeve. This DIY dinosaur dig ticks off all of those boxes and then some!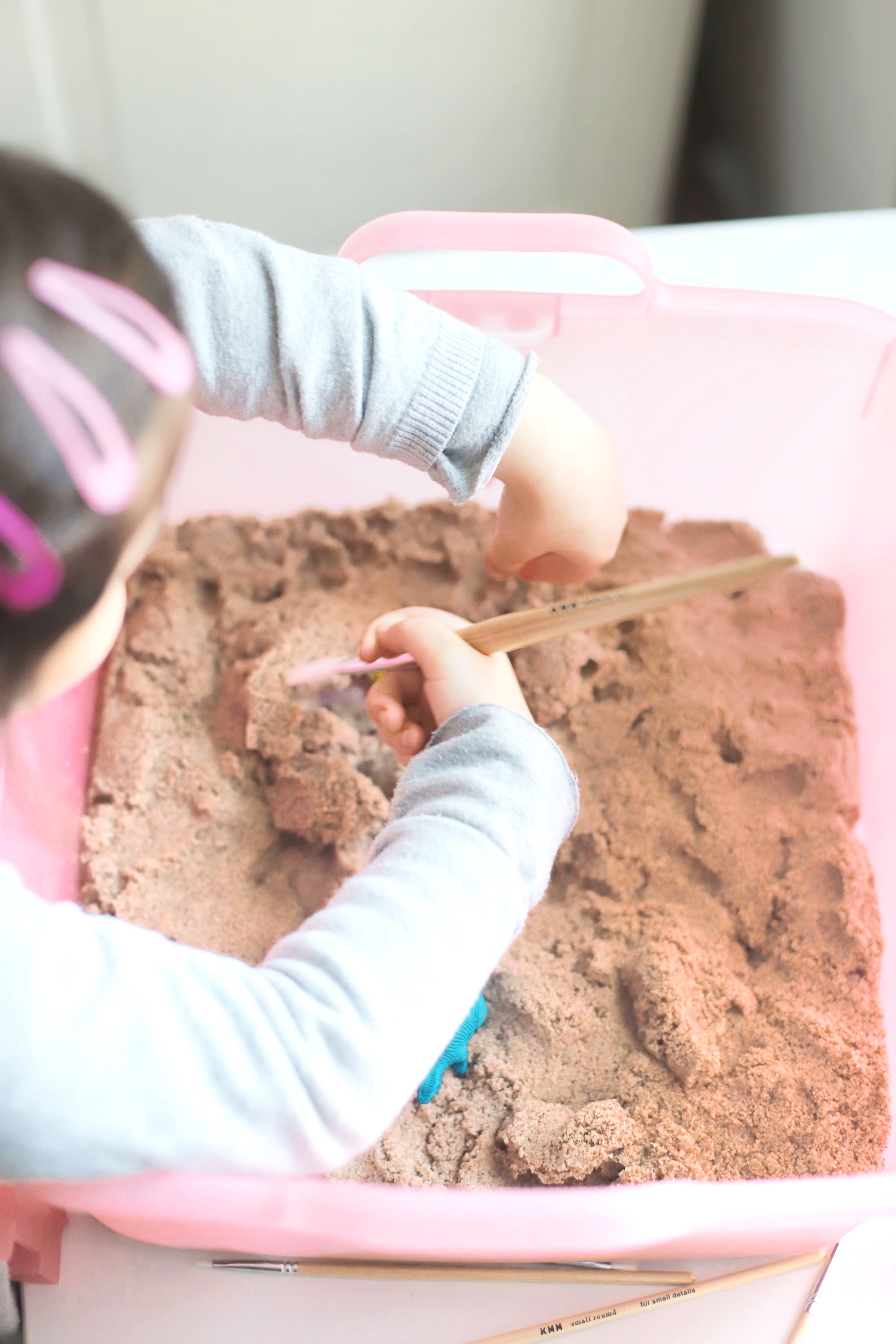 Believe it or not, despite being a craft-loving family, up until this DIY project, we had never actually played with kinetic sand. I know, I know – clearly we had been living under a prehistoric rock.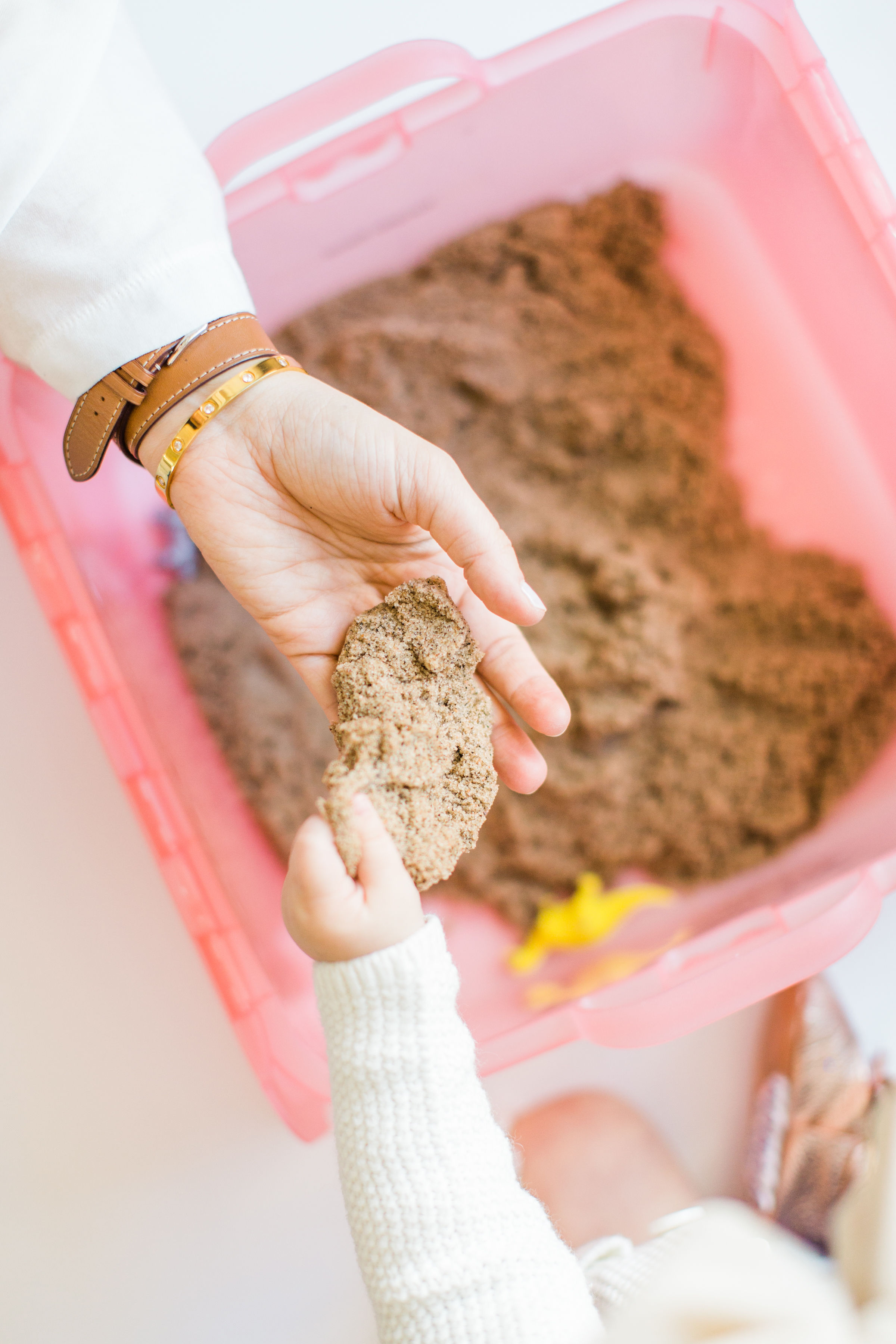 If you're not familiar with kinetic sand, it is totally awesome. Basically, this fancy schmany sand feels like beach sand, yet holds and molds together like play dough. It's actually really fun to play with mold, and surprisingly soothing to handle. It also never dries out and is easy to clean up. #science
You can find kinetic sand at Target, on Amazon, or at Walmart.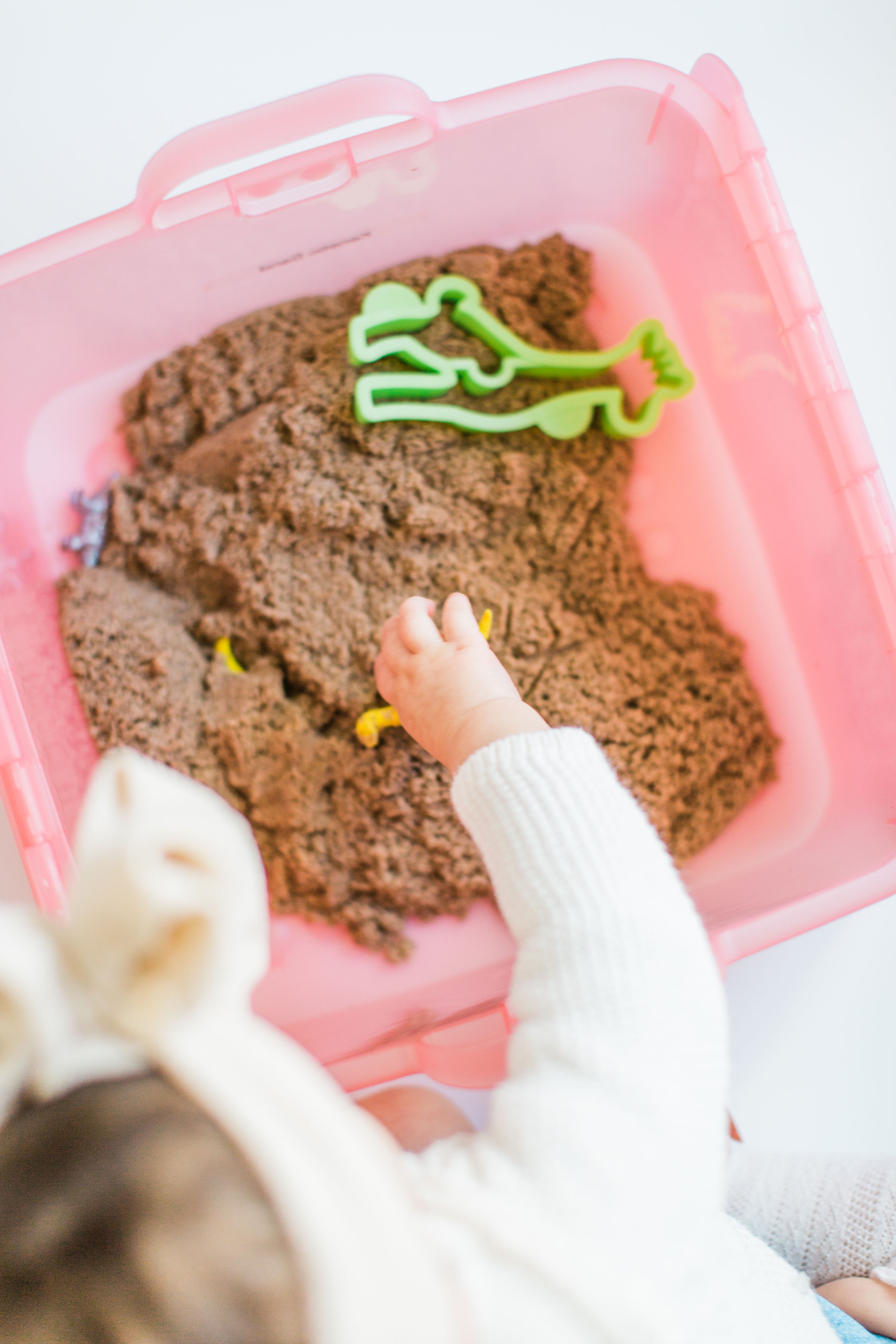 As for the DIY kinetic sand dinosaur dig, I have to give credit to the super talented @amylouhawthorne who shared this adorable kids activity on her Instagram. I loved how simple and adorable the project seemed, and once we created our own kinetic sand dinosaur dig, we realized the possibilities for fun and creativity were pretty endless with this one.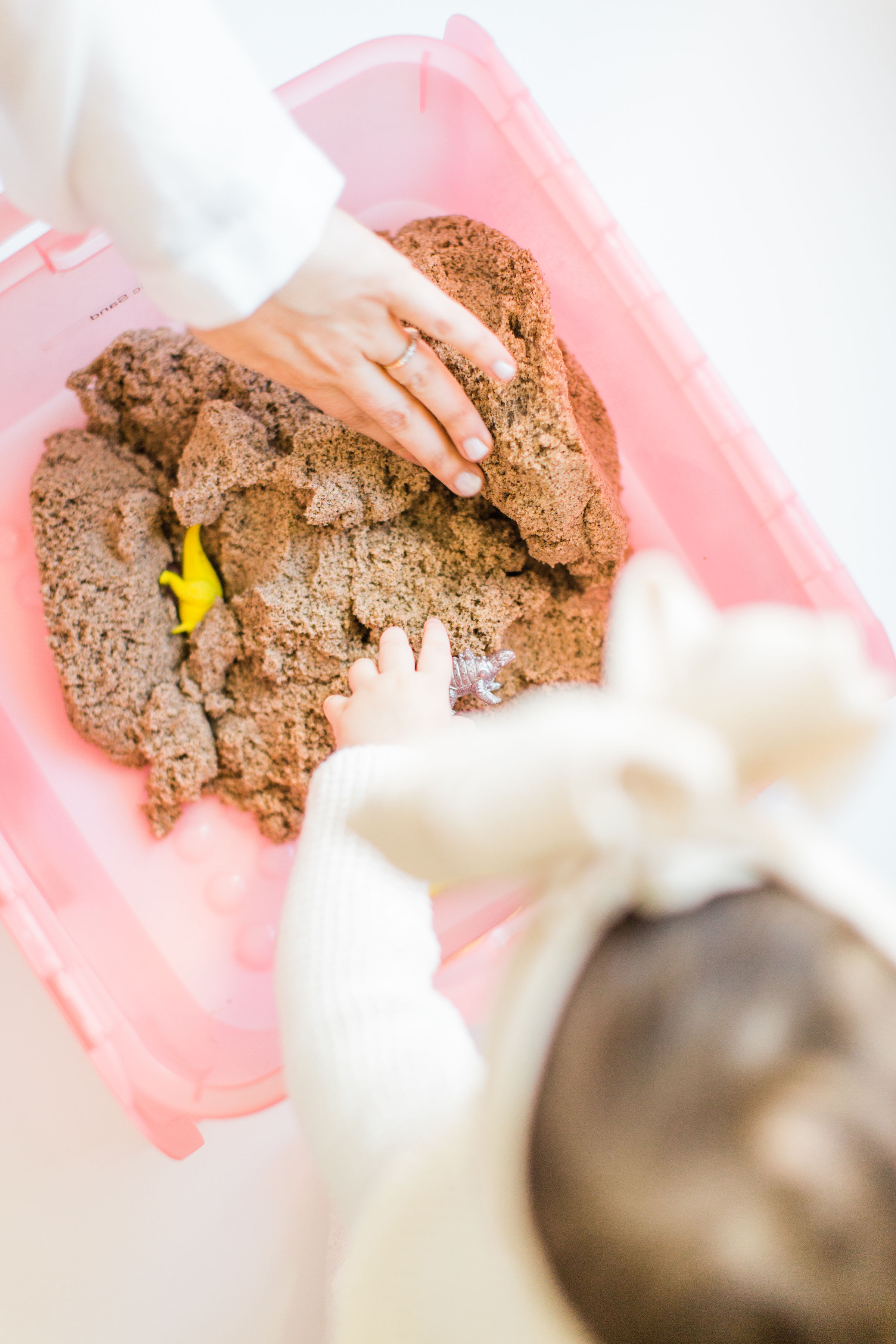 How to Create a DIY Kinetic Sand Dinosaur Dig Sensory Bin
Create your own DIY kinetic sand dinosaur dig that doubles as an easily contained and convenient sensory play bin. This activity is an awesome, mostly mess-free way to dig into sensory play. Pun totally intended! 😉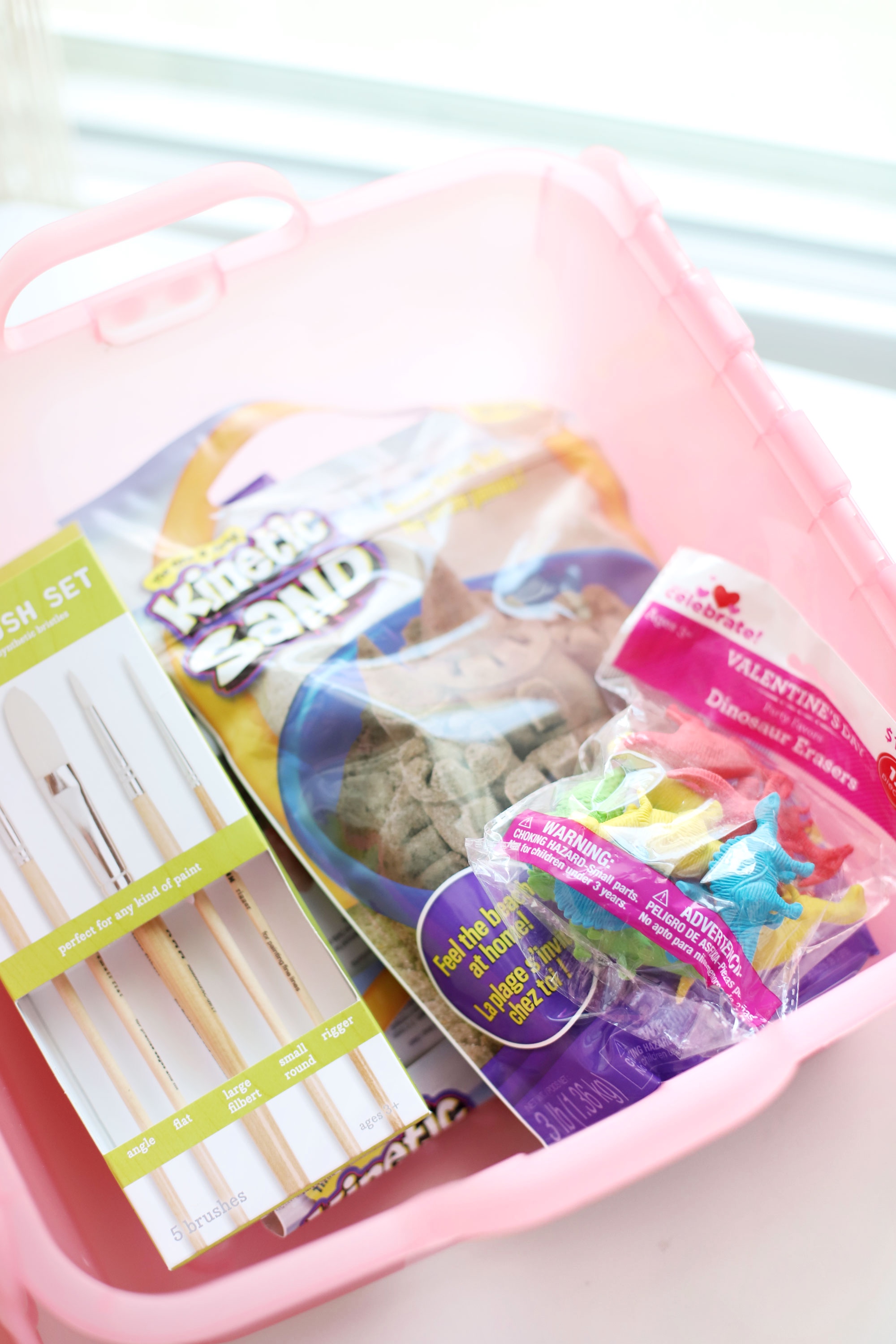 WHAT YOU'LL NEED
DINOSAUR DIG SET-UP
Empty the contents of your kinetic sand bag(s) into one plastic storage bin with a lid.
Bury miniature dinosaurs in various places beneath the kinetic sand.
Toss in paintbrushes, shovels, scoops, plastic cookie cutters, toy cars, etc., and let your kids' imaginations go wild.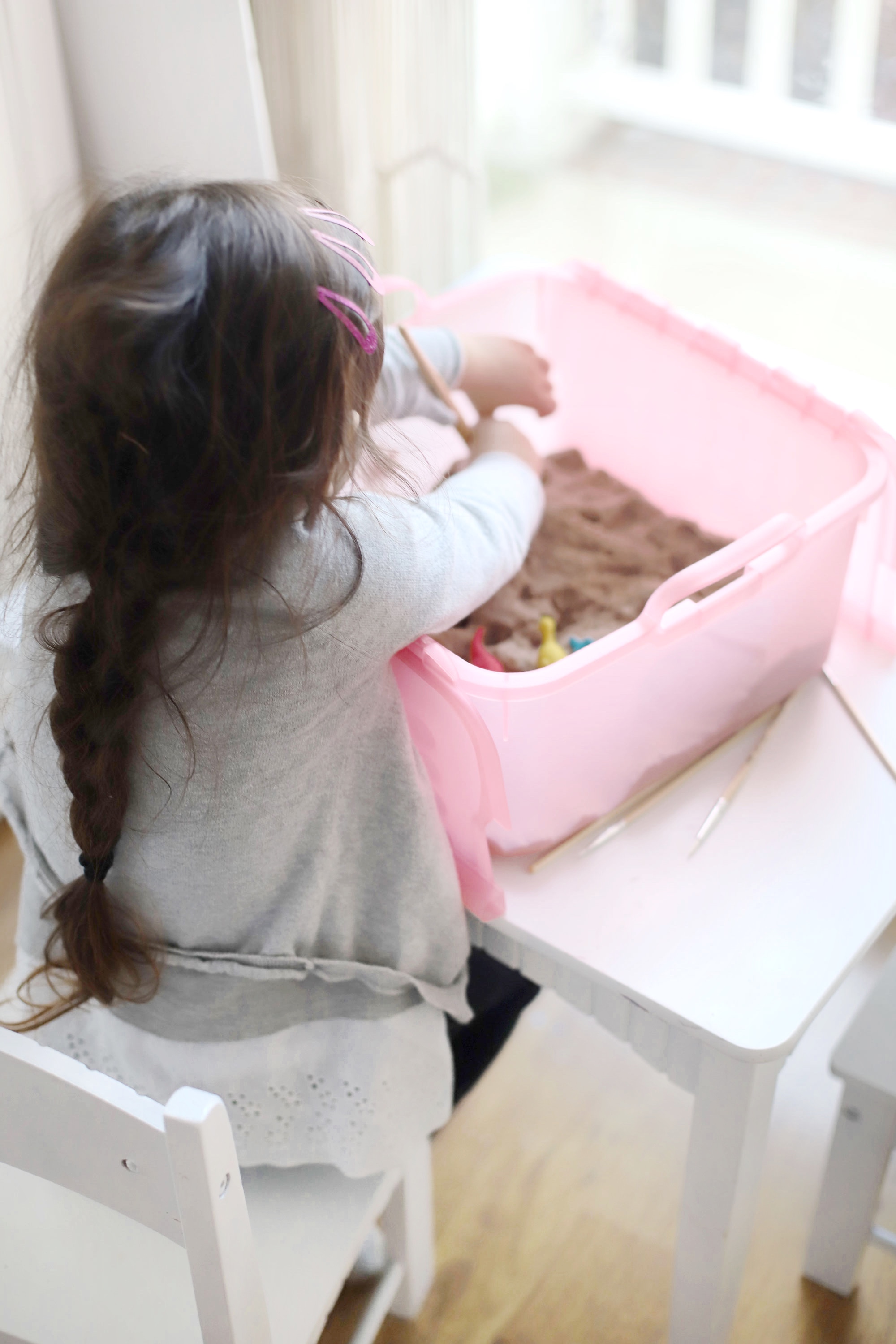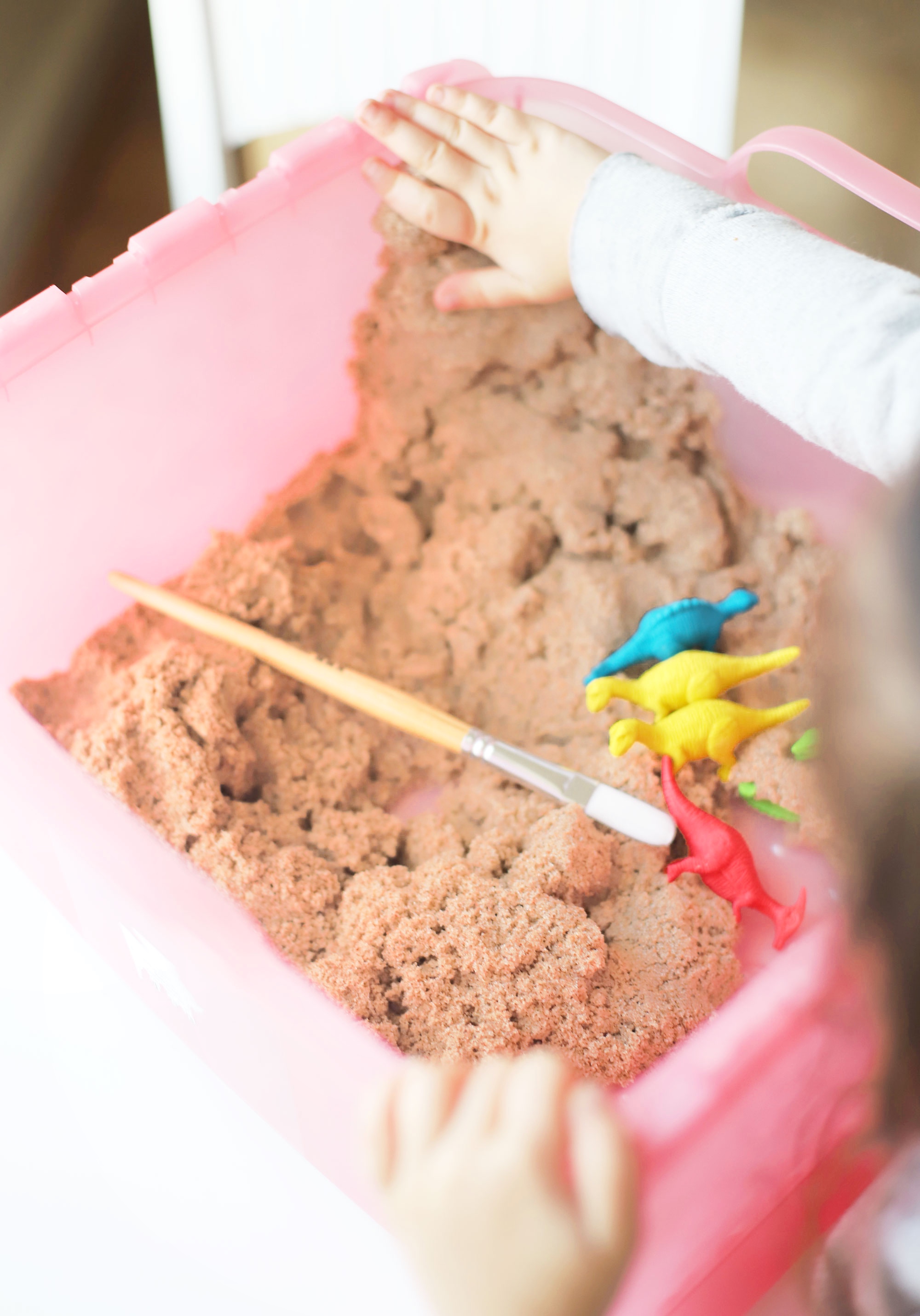 You can typically find small plastic dinosaurs at the dollar store, Walmart, or Target. We've also had a lot of luck with dinosaur erasers from Target or Amazon. I like the dino erasers because they're a bit softer, don't have sharp points, etc., so they're better for our toddler.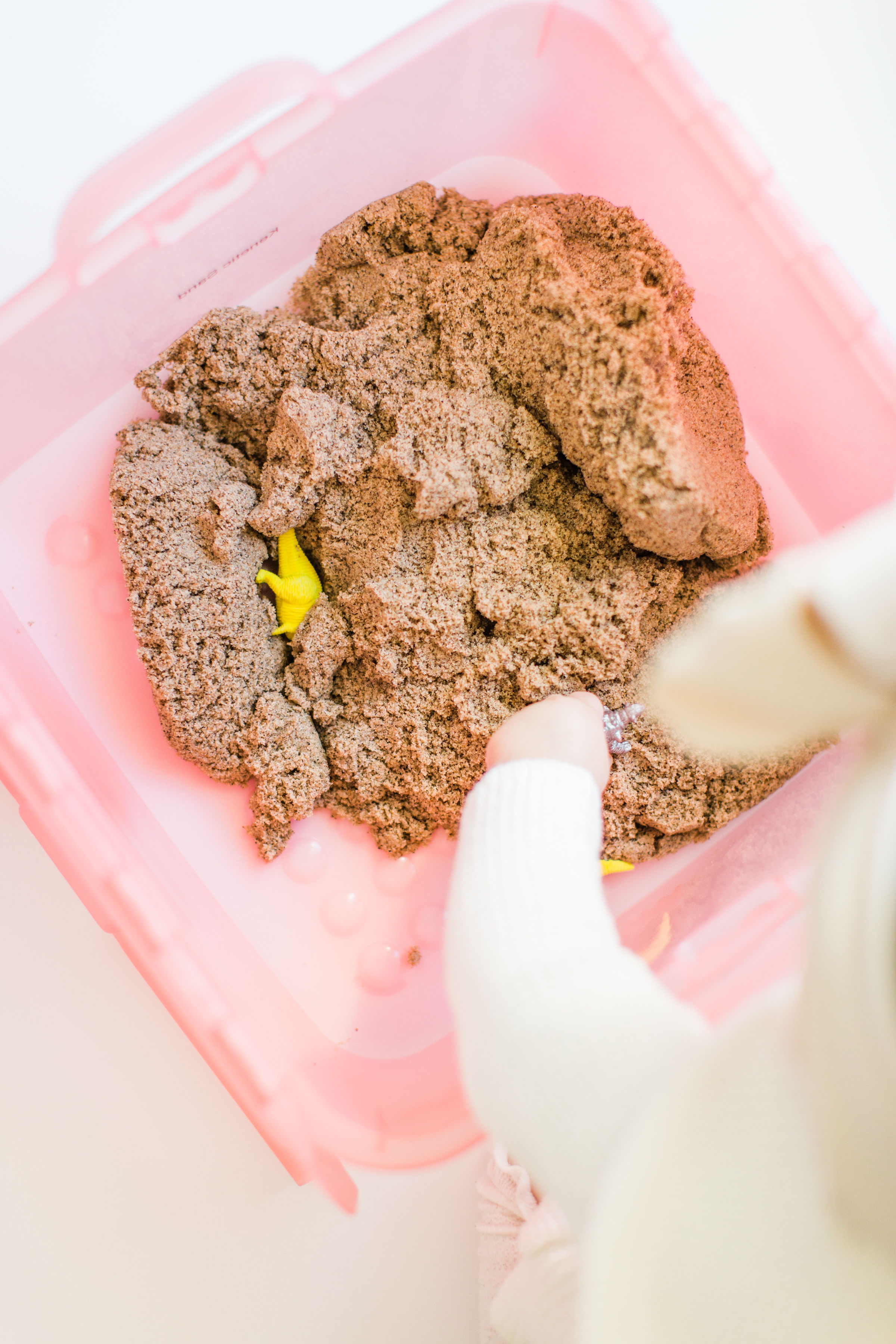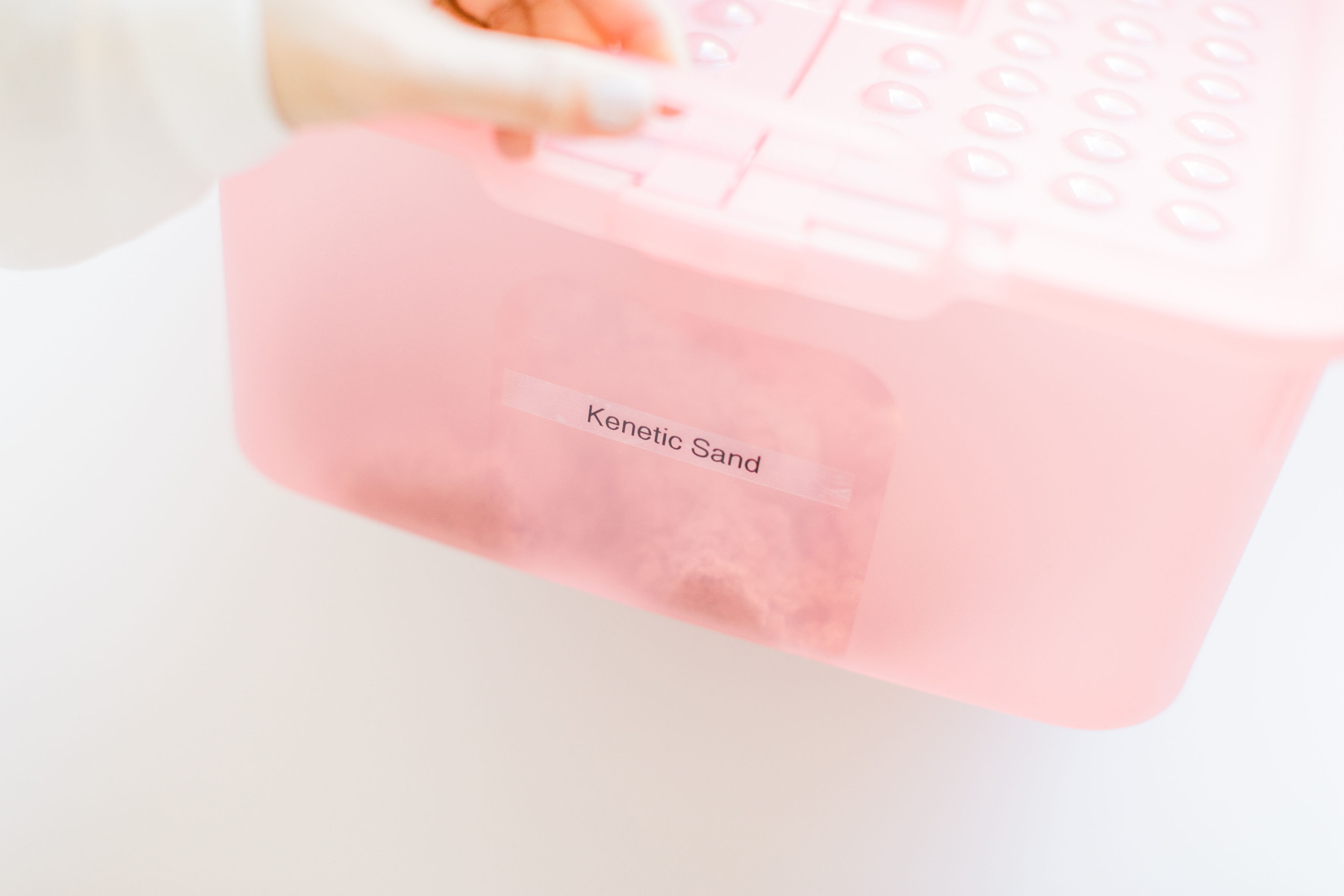 We use these great buckets from Target; they're the Pillowfort Toy Storage Bins. They're sturdy and durable and the lightweight design with carrying handles makes it easy to move around where you need it. We have four of these bins now, and currently keep our kinetic sand dinosaur dig activity in one, water beads and accessories (more on that soon!) in another, arts and crafts supplies in another, and magna-tiles in another. I also have my eye on the large size for toys. The medium size are particularly great because two of them fit stacked up in an Ikea cube (in one of the many Ikea storage shelves) PERFECTLY.
I also use this Brother label maker to label our activity bins.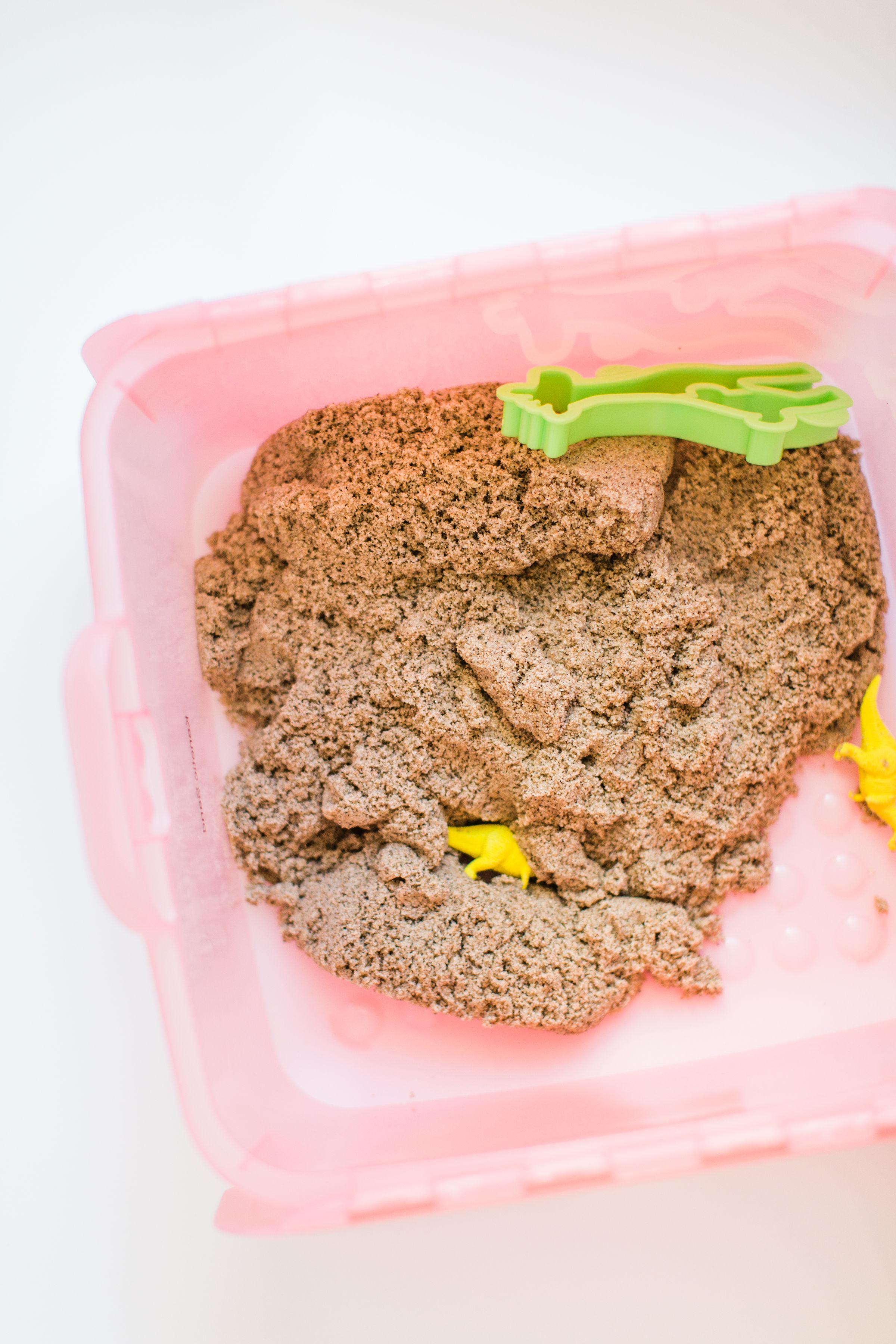 The kinetic sand also doesn't dry out in these bins, which is awesome.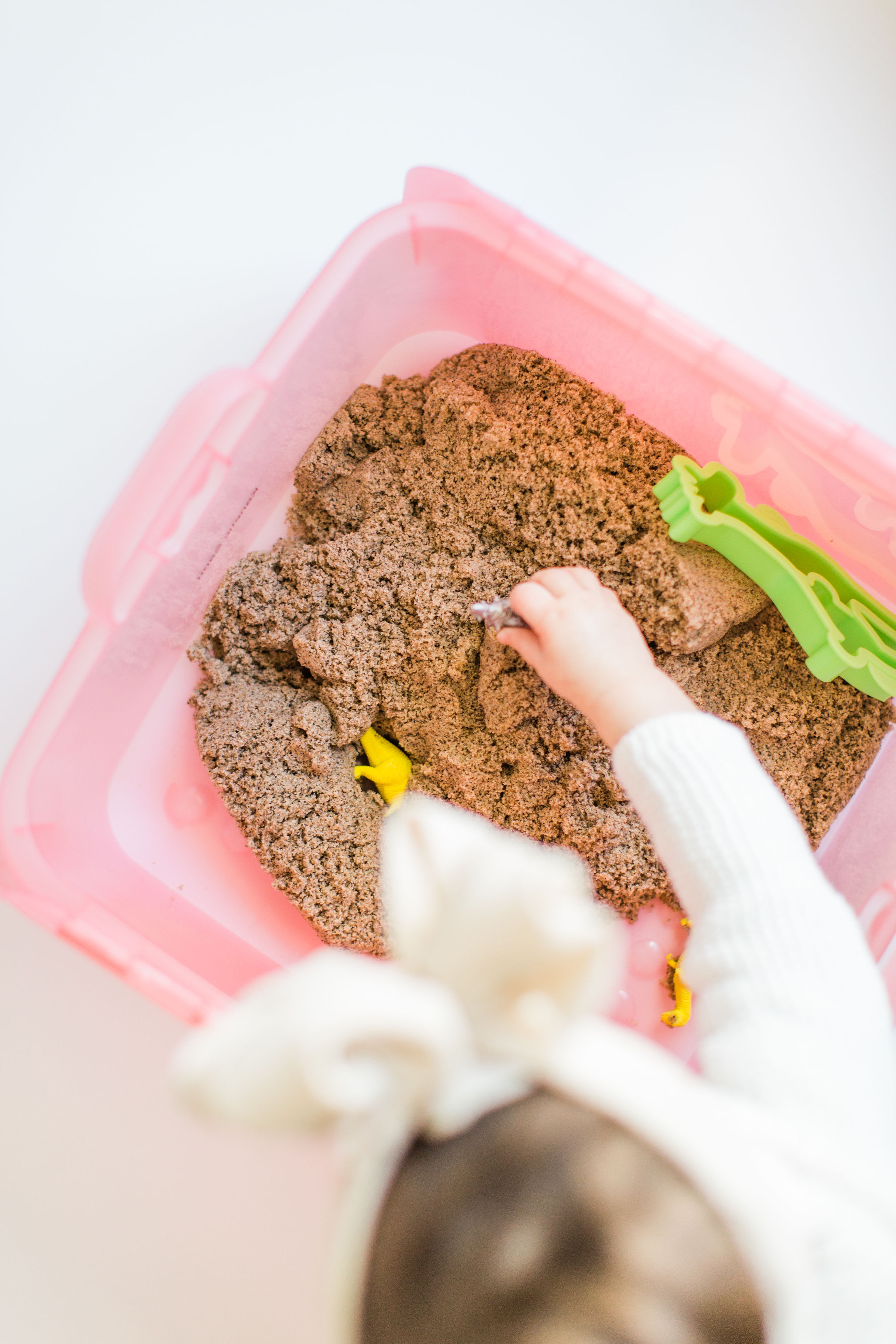 Once we're done playing, we just clean up our mess, put everything back into the bin, close the lid and put it back on the shelf for the next time.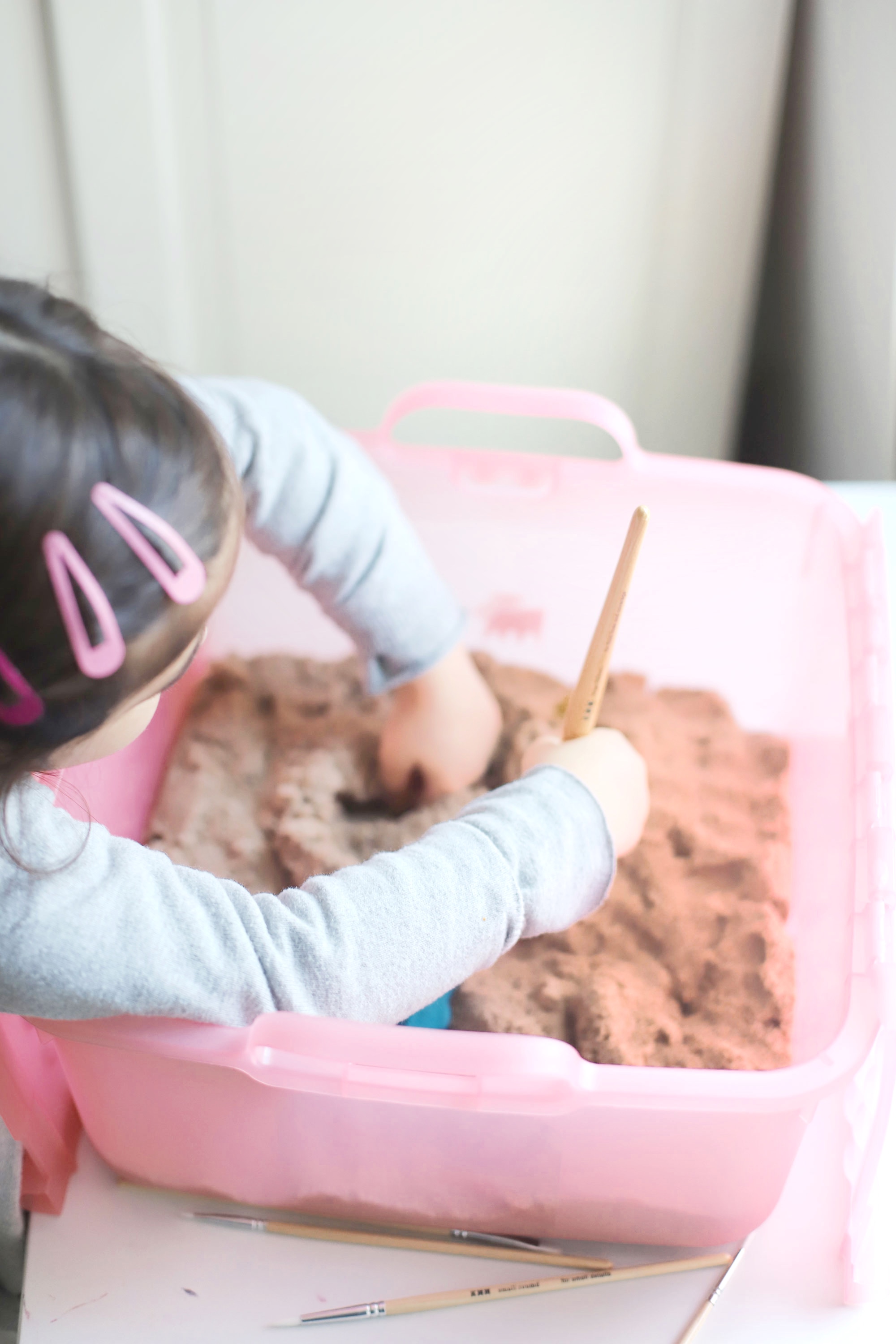 Our oldest daughter really loves using the paintbrushes to clean off her dinosaur "fossils." She can play on her own in this dinosaur dig sensory bin for a good hour.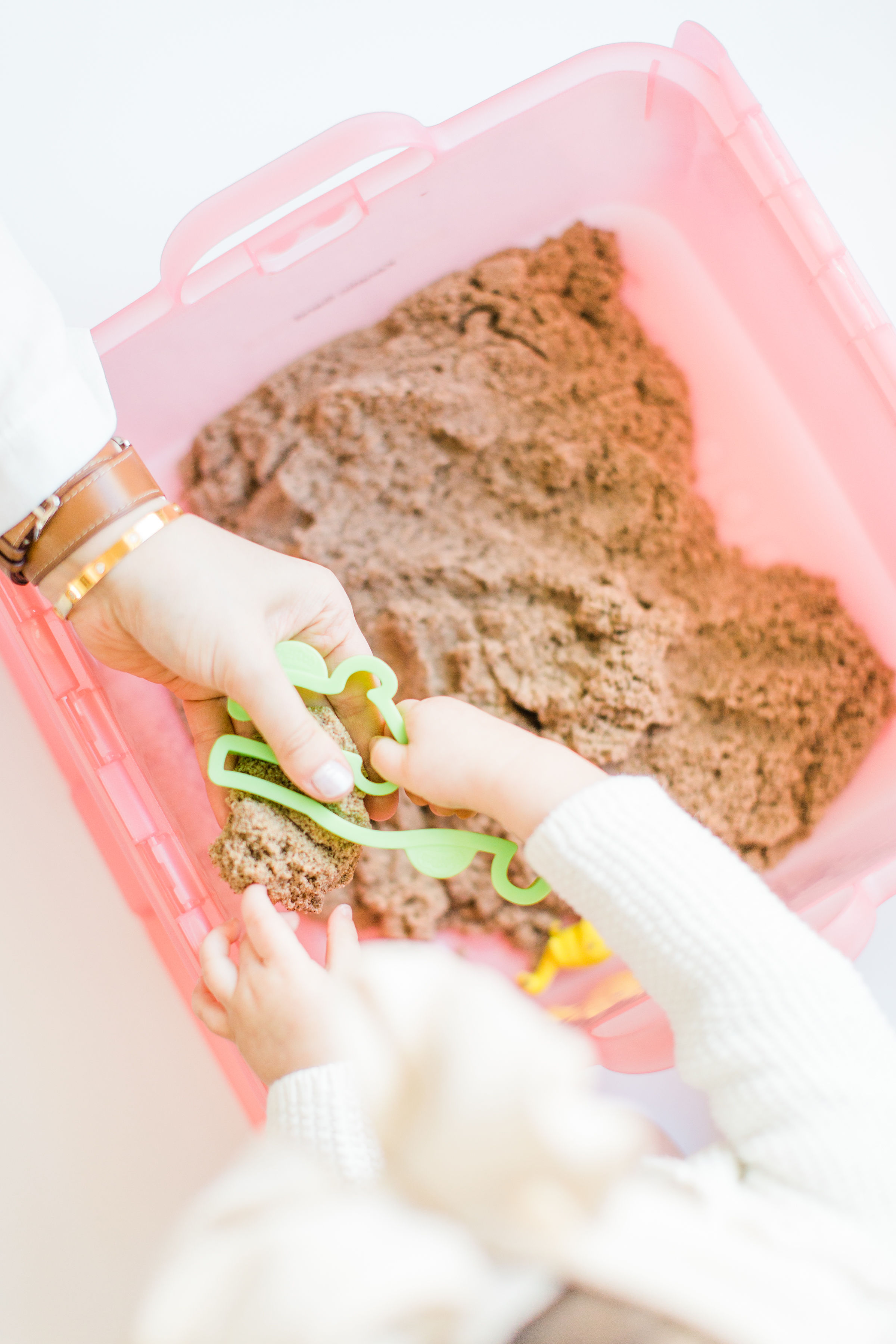 I'll also often throw in plastic cookie cutters, small plastic shovels or scoops, etc.
I like to add in one new activity to the girls' DIY kinetic sand sensory bin each time we break out the bin, to make the experience a little bit different and unique. Most recently, we added plastic cookie cutters into the mix, allowing the kids to make new shapes and molds with their kinetic sand. They were a big hit.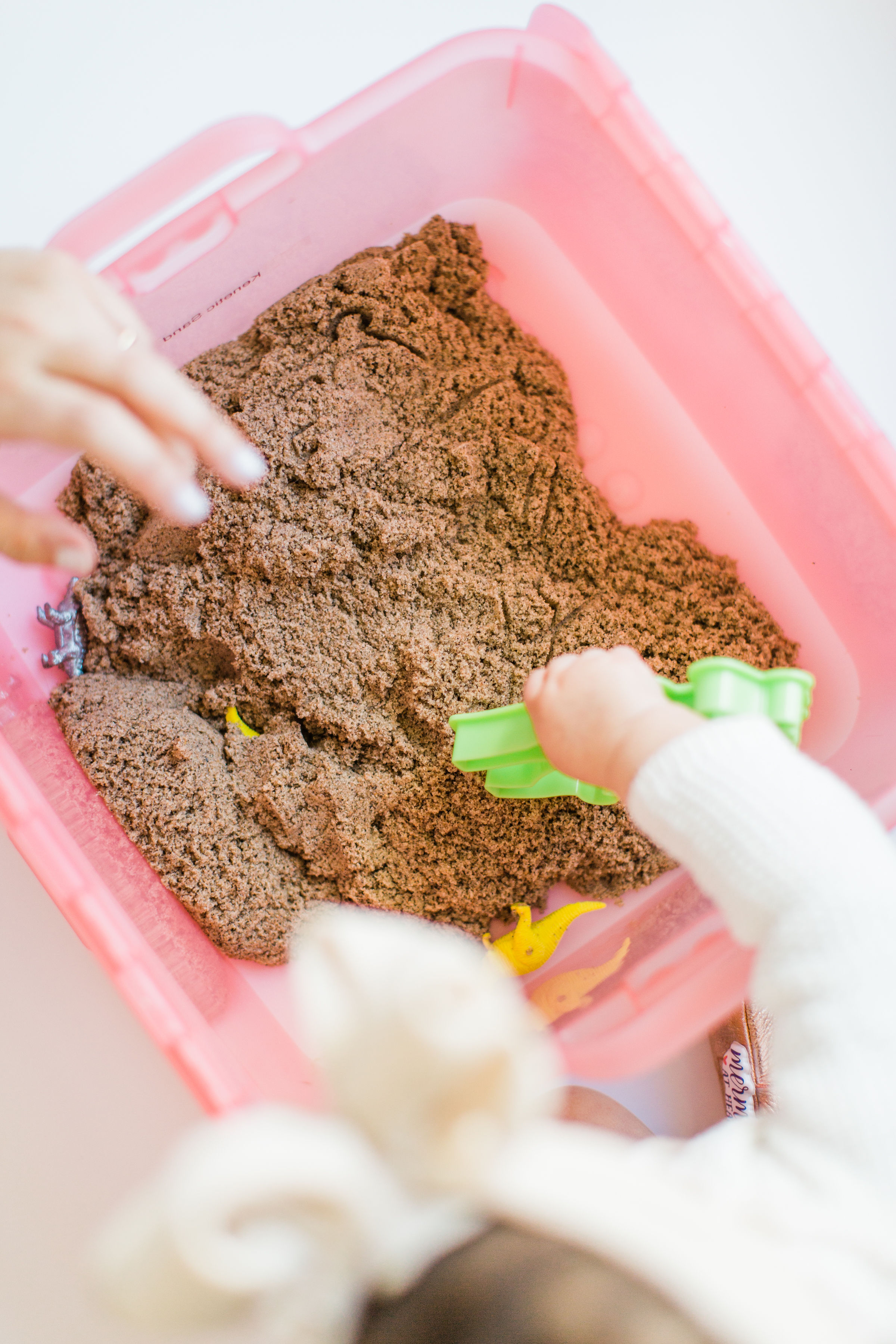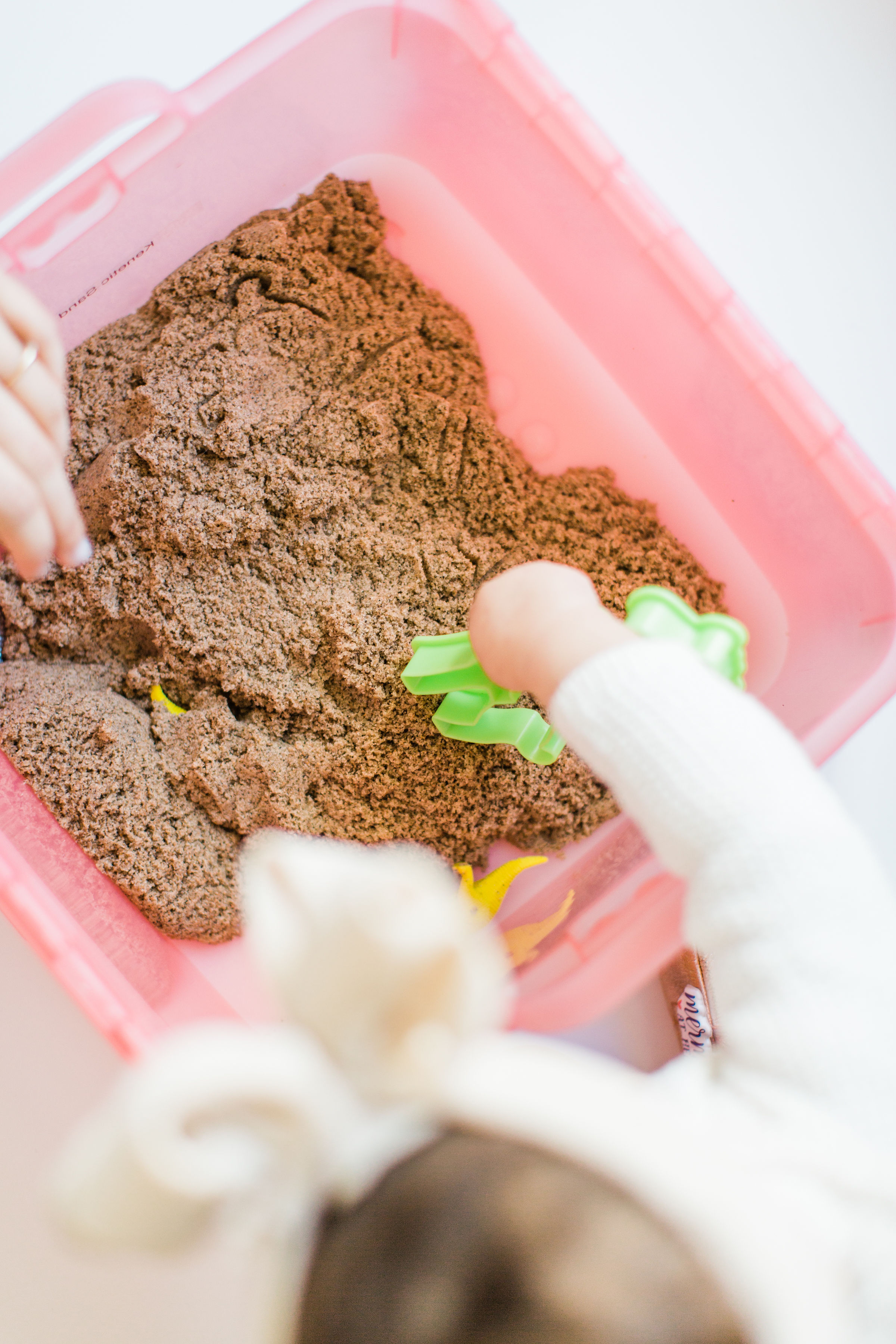 So there you have it: a super fun and entertaining indoor activity for toddlers and kids alike. This DIY kinetic sand dinosaur dig sensory bin is sure to keep your little one's imagination running wild.
SHOP THE DIY KINETIC SAND DINOSAUR DIG POST | CLICK LEFT & RIGHT ARROWS TO EXPLORE
Looking for more fun activities to do with the kids? Try our super pretty DIY painted rocks, simple DIY snow globes or this super easy 3-ingredient glitter slime!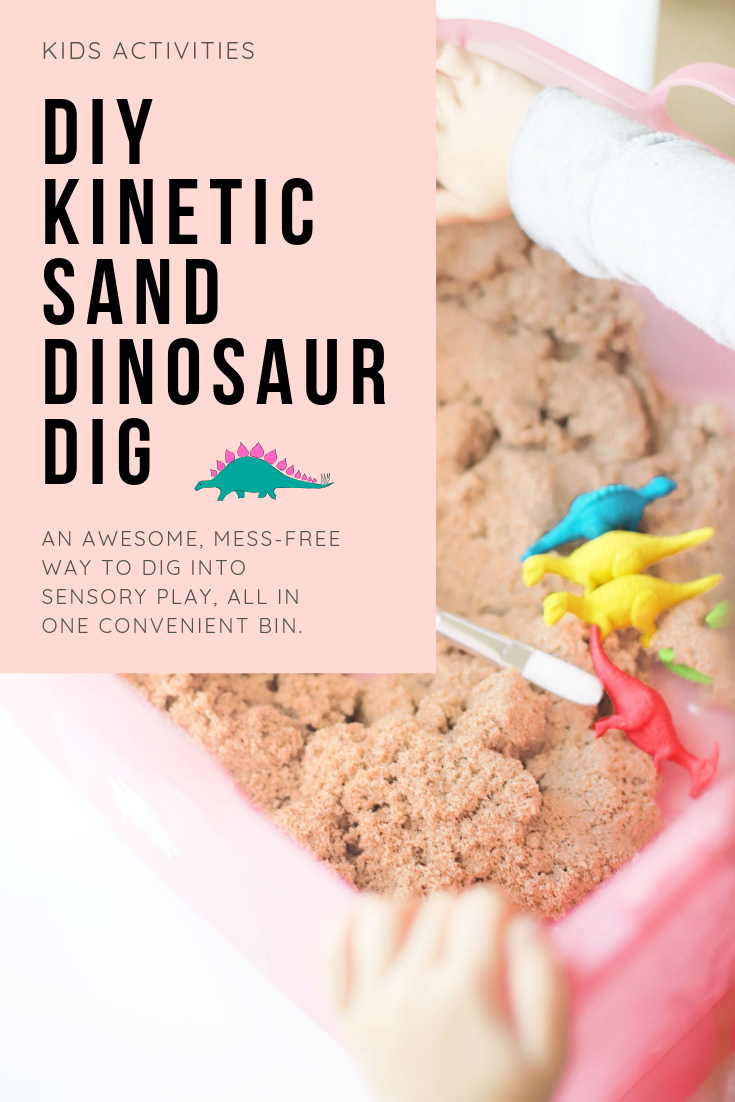 IF YOU LOVED THIS KID-FRIENDLY DIY, YOU CAN SEE MORE OF OUR LIFE WITH TWO LITTLE ONES HERE.