This post contains affiliate links, which means that if you click on one of the product links, I'll receive a small commission. Thank you so much for clicking through and helping to support this little blog business of mine! Read more about our site, privacy, and disclosure policies here.
This awesome fluffy slime is a super simple upgrade to classic slime, and the best part: you probably have all of the ingredients in your home to make the DIY recipe. Plus, kids are obsessed with the fun texture! It's truly a perfect kids activity.
Our family loves making DIY slime. We've already made pink glitter slime, purple slime, and gold glitter slime – and have big plans to create a recipe for Halloween slime in October by trying our hand at green or orange glitter slime with googly eyes in it. Truly, it's the craft my kids never tire of.
If you're looking for a fun summer (or fall or winter or spring) craft to do with your kids, you're not going to want to miss our great recipe for foolproof 3-ingredient glitter slime – one of our most popular DIY – and video tutorial – posts to date!
I think what makes DIY slime SO popular with kids (and parents alike!) is how simple it is to make and how fun it is to play with. If we let our girls help with any kind of recipes, and especially if we let them use the measuring cups, they're sold. When the end result is SLIME = oh my gosh, it's kiddo bliss.
Sooooo … when we realized that by adding just an extra ingredient to our 3-ingredient glitter slime, we could make FLUFFY slime, we were all over it! It's a super simple upgrade that makes homemade slime all the more fun.
And yes, fluffy slime is exactly what you think it is: fluffier, squishier slime. I mean, what's not to love?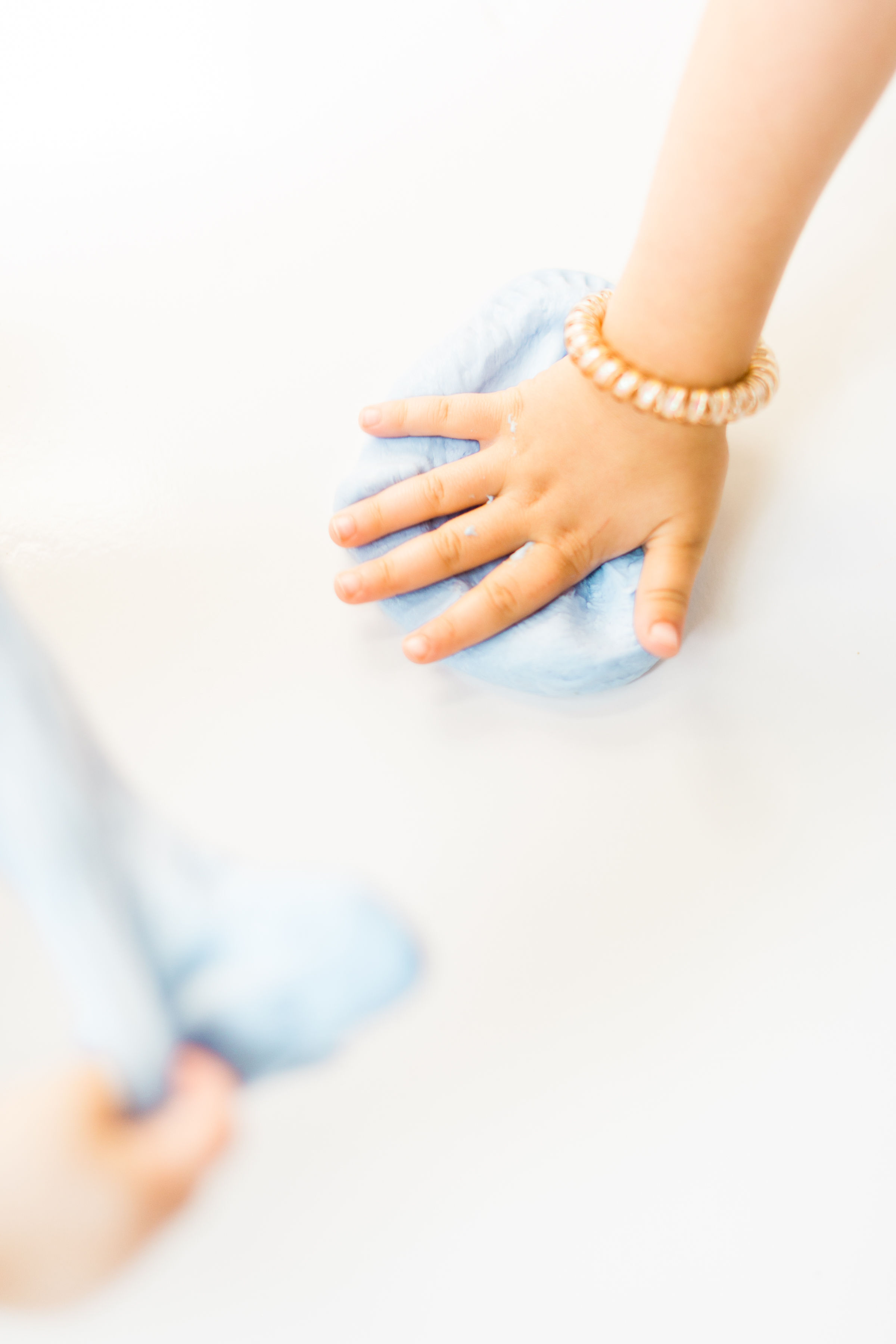 How it Works
Classic DIY slime is a kid-friendly recipe that typically takes just 3 ingredients to make. As if that's not awesome enough, you probably already have the commonly used household item ingredients in your own bathroom and kitchen needed to make this slime; i.e., no frenzied trips to the grocery store to snag everything you'll need.
If you're looking for a classic slime recipe, our basic slime recipe can be found here: How to Make 3-ingredient Slime. (Plus a slime video tutorial!)
To make DIY slime, you'll need school glue* (like Elmer's glue), baking soda, food coloring (optional), and saline solution (a.k.a., contact lens solution.)
A Note on Borax: We like to use contact lens solution instead of pure borax in our slime recipes. Essentially what "activates" the glue mixture to make it slime is a combination of boric acid and sodium borate. A contact lens solution, like Renu Fresh Contact Lens Solution, has both! And contact lens solution is easier to use and more widely available than Borax.
*I've actually learned to keep our favorite Elmer's Liquid School Glue (a.k.a., traditional white glue) in the craft cabinet, so that we can make homemade slime any 'ol time! And of course, hubby and I both wear contacts so the contact lens solution is an easy one to have on hand for us.
What Makes Fluffy Slime Different
Then, if you want to take your slime up a notch, and you plan to whip up a quick batch of homemade fluffy slime, the only additional "secret" ingredients you'll need are shaving cream and a little bit of water. Yep; shaving cream is the secret ingredient for making fluffy slime.
The amount of shaving cream you add will change the texture and consistency of the fluffy slime. Basically, the more shaving cream you add, the "fluffier" your slime will be.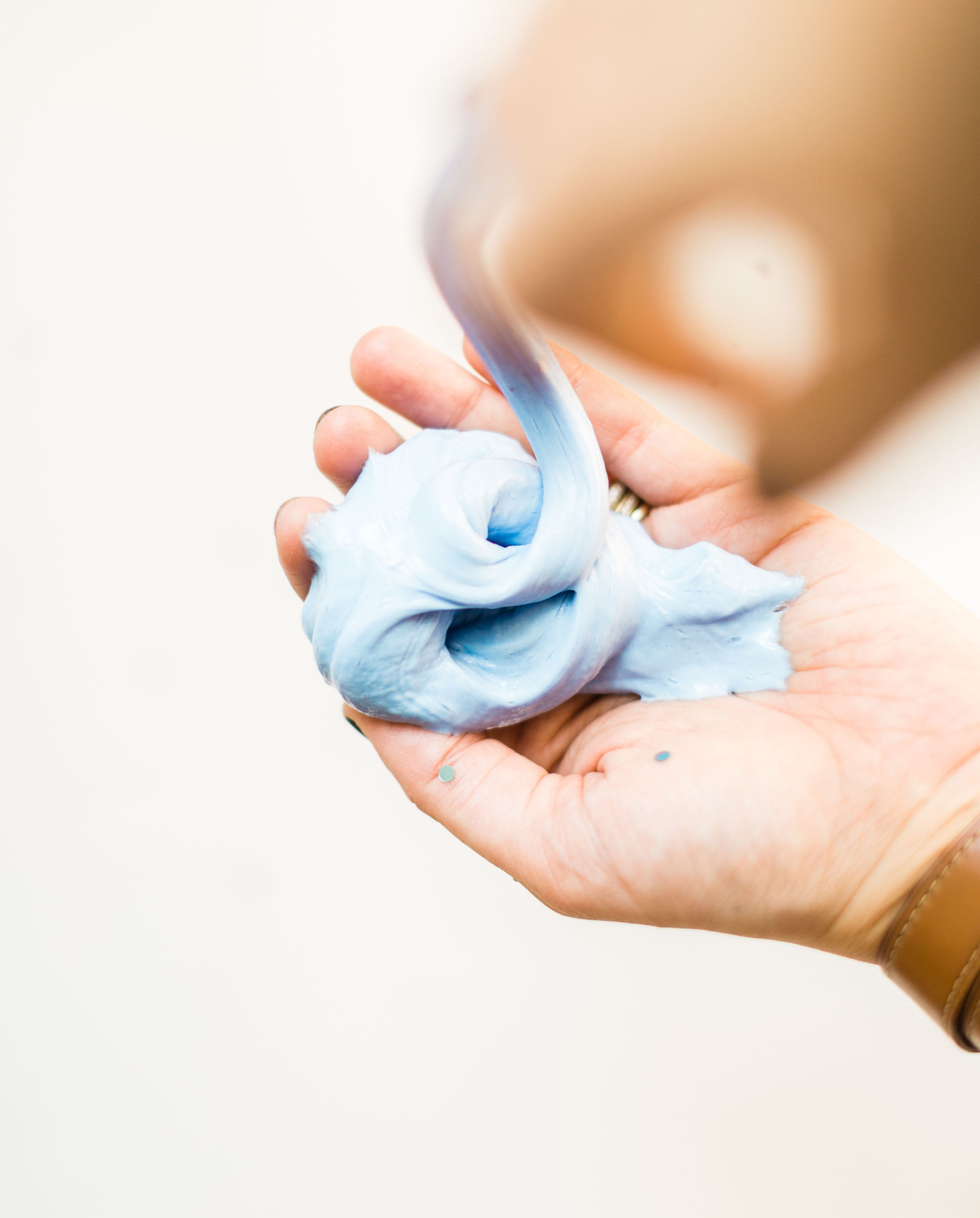 We also decided to throw in a handful of chunky glitter at the end because you know we can't resist a bit of glitter and sparkle! Want to make any DIY more fun? Just add glitter! (And I'm pretty sure Scarlett now thinks that glitter is basically a required ingredient in homemade slime.)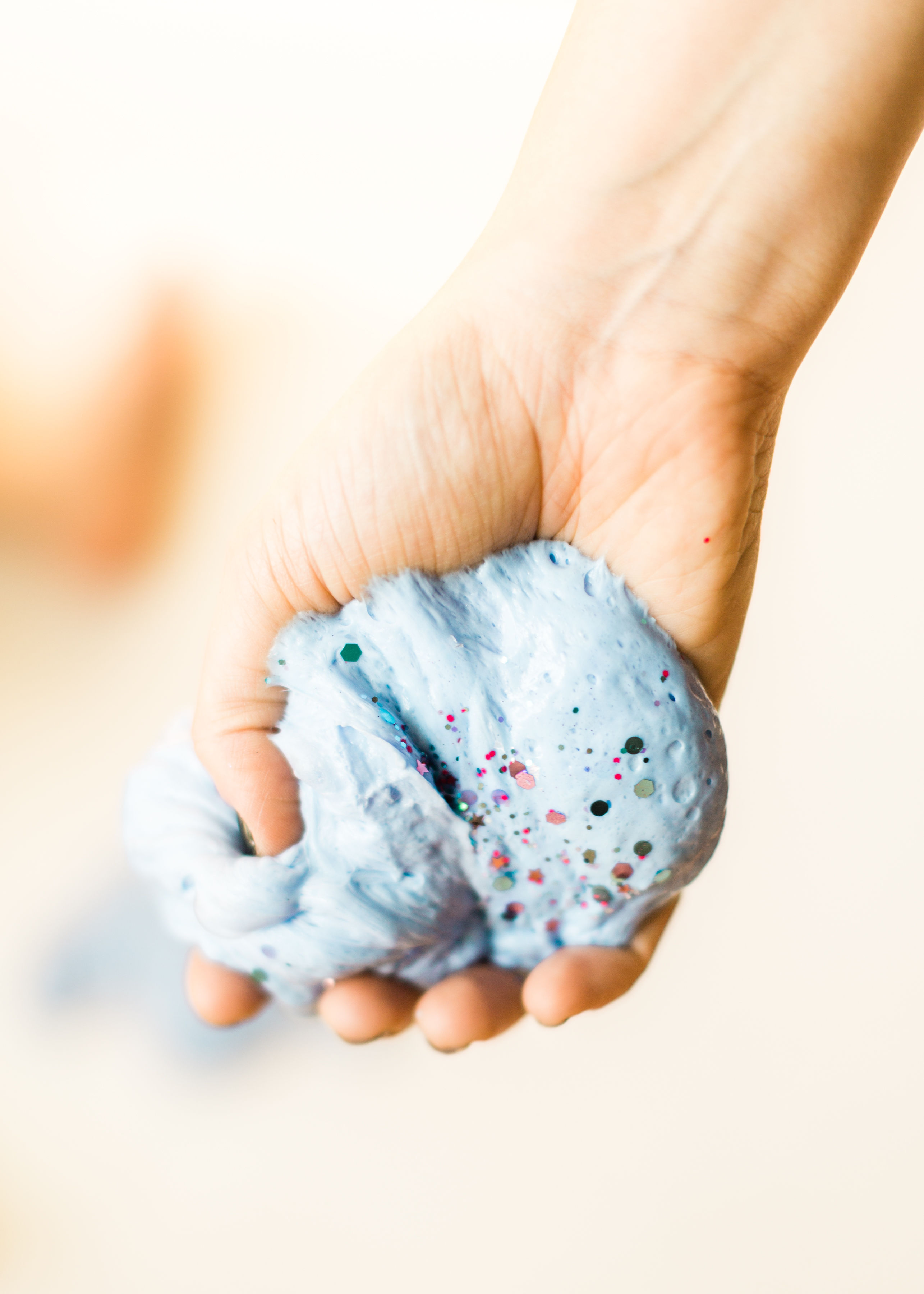 Storing Your Fluffy Slime
One batch of this homemade fluffy slime will last quite a while if you store it properly.
Once your kiddo is done playing with their fluffy slime, put it in a ziploc sandwich bag or tupperware container with a lid that seals well, toss it in the fridge, and use it again and again.
I will say that the fluffiness will only last about a day or so. If you plan on storing it for future use, just know that the shaving cream in the fluffy slime settles and the next day it won't be as fluffy. Of course you and your kids can keep on playing with it, but the consistency after storing it will feel more like regular slime. Our kids loved it all the same.
You can also "gift" slime to friends. These little zip top bags are perfect! I also have my eye on these new Target's (re)zip Leak-Proof Stand Up Storage Bags.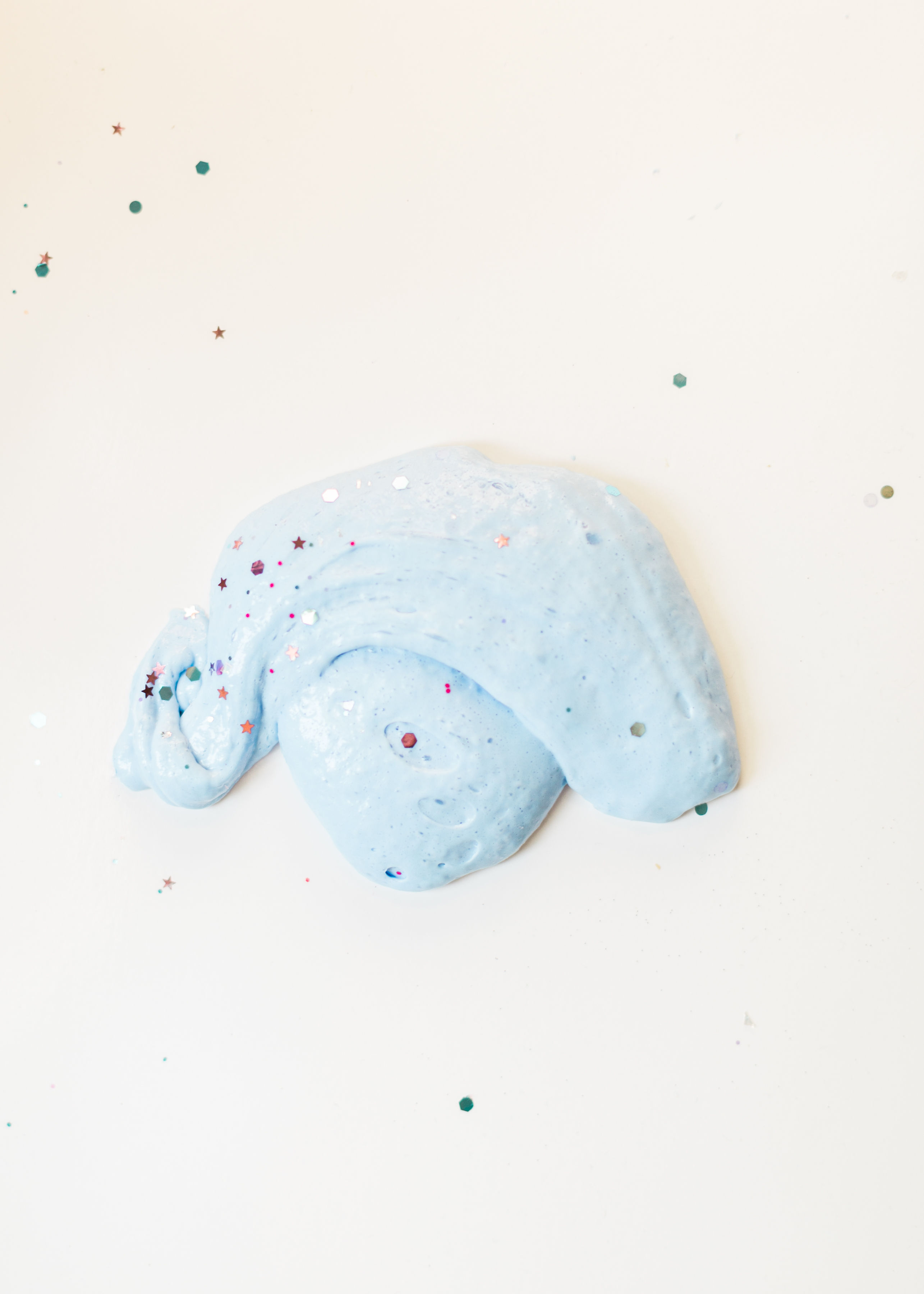 How To Make Fluffy Slime
Make a quick and easy batch of this fluffy slime recipe for hours of endless play!
Make a quick and easy batch of this fluffy slime recipe for hours of endless play!
Instructions
Empty glue into a bowl.
Add 1/4 cup water and ½ tablespoon of baking soda. Mix together with the glue.
Add in shaving cream and mix again.
Add in a few small drops of food coloring and mix to color your fluffy slime mixture. (Optional.)
Slowly add in 1½ tablespoons of contact lens solution and blend into glue mixture until slime starts to take shape.
Knead the slime mixture with both hands until fully formed.
Notes
*Note: The brand of contact lens solution needs to have boric acid and sodium borate in the ingredient list. This is what interacts with the glue to form the slime.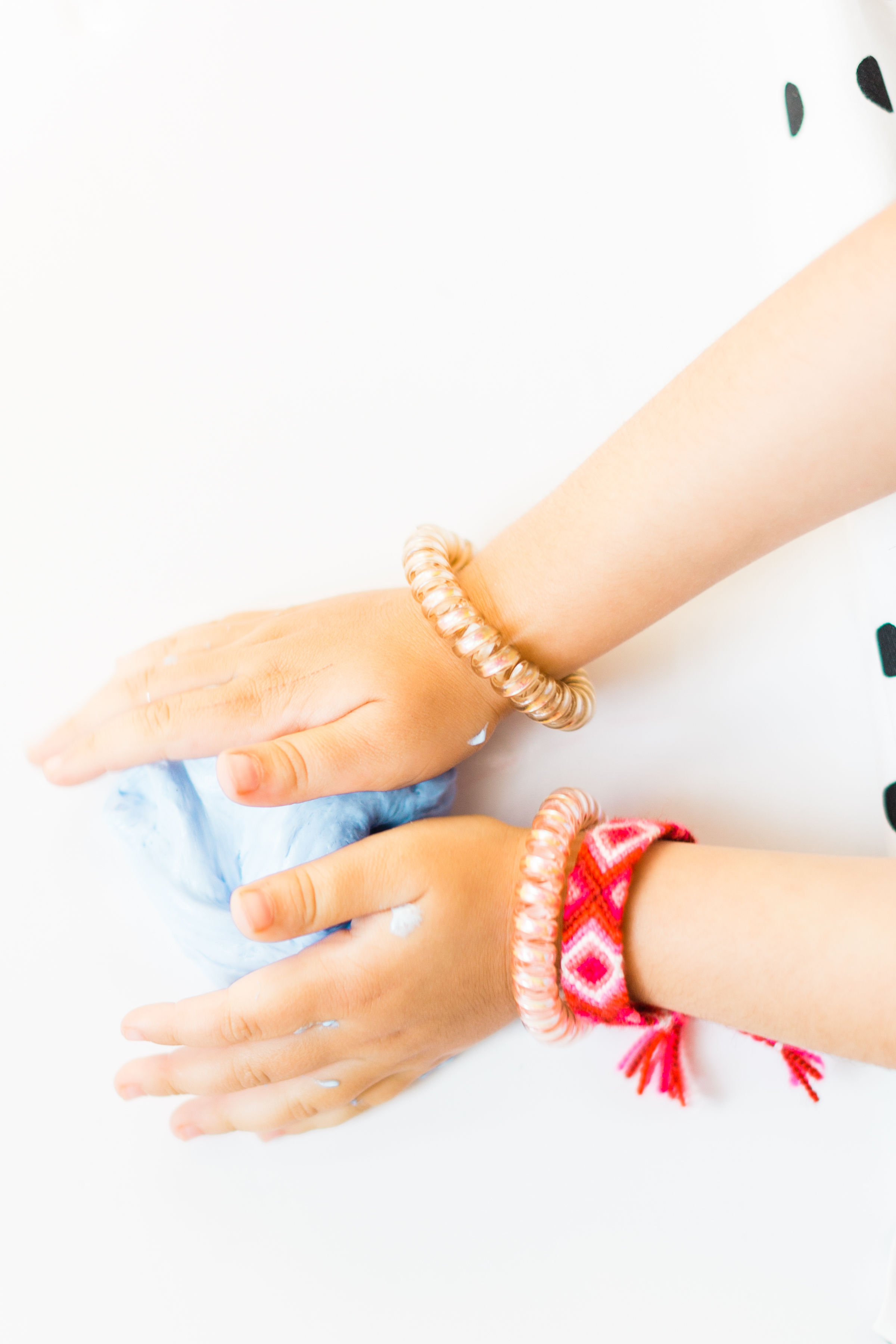 Once you've made your fluffy slime recipe, if the slime still feels a little too sticky add a tiny bit more contact lens solution and try mixing again. Just be sure not to add too much contact lens solution or else your slime will start to get hard.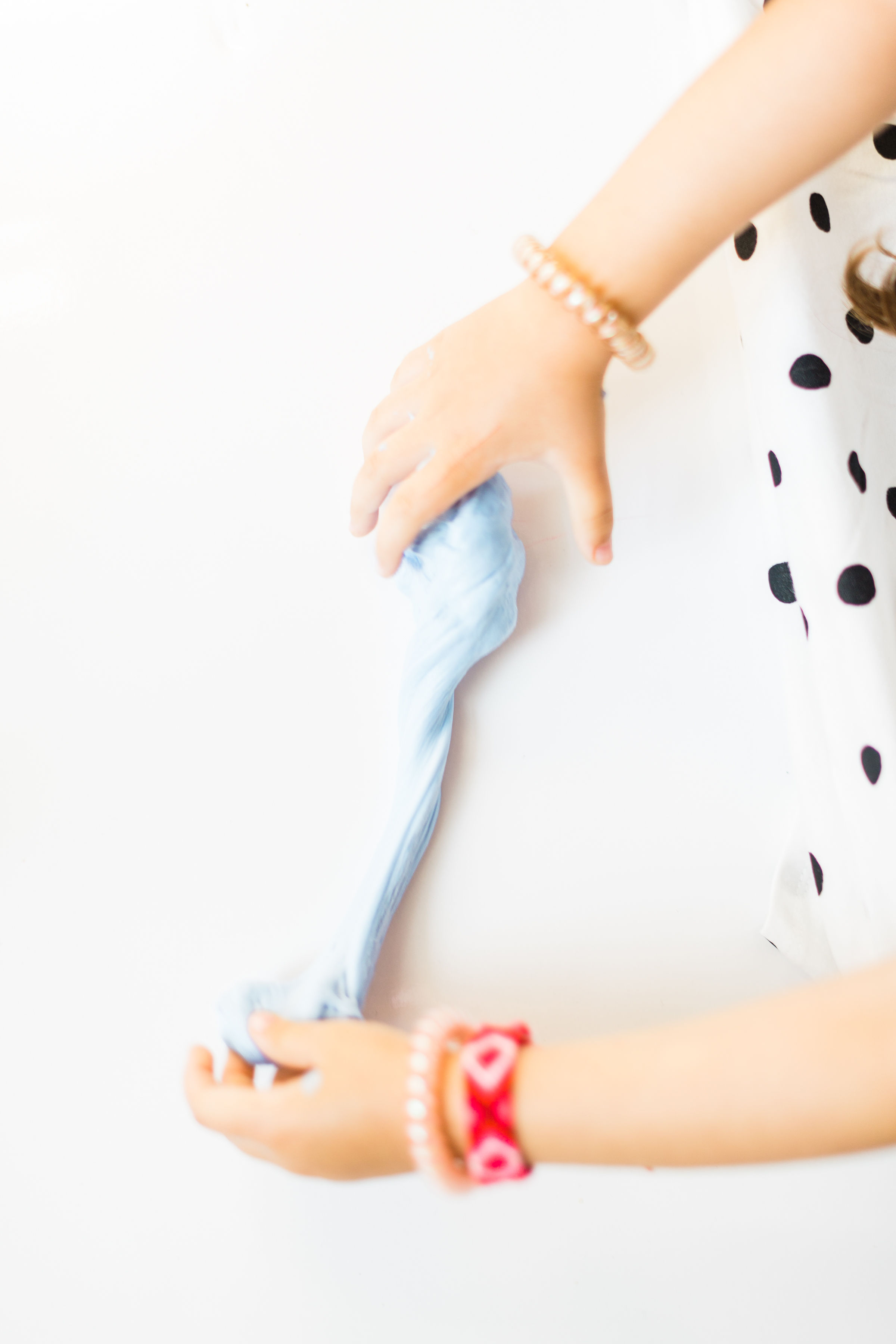 Voilà! Super easy fluffy slime your little ones will adore playing with … especially because they made it themselves!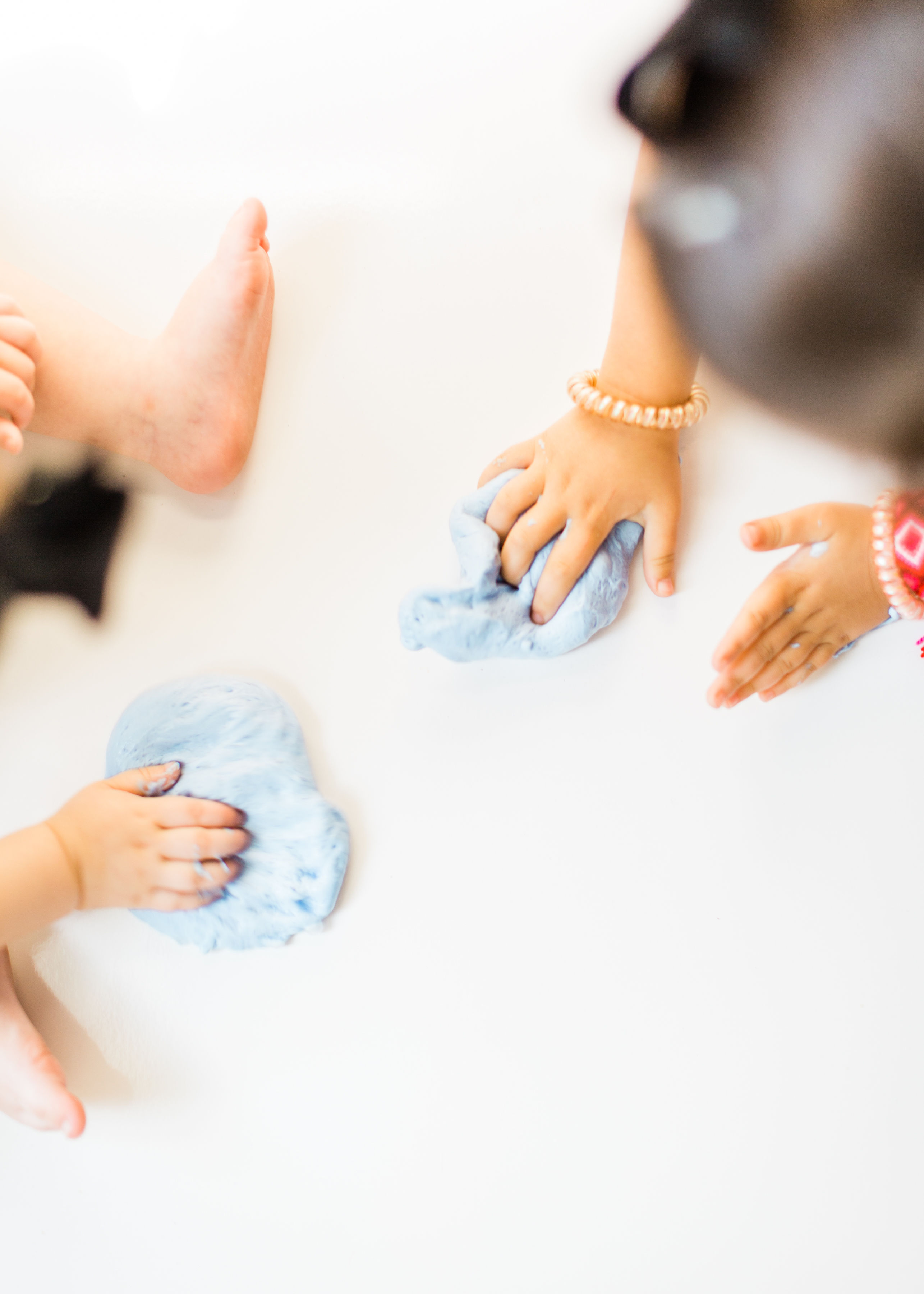 Have you ever made your own homemade slime? How about fluffy slime?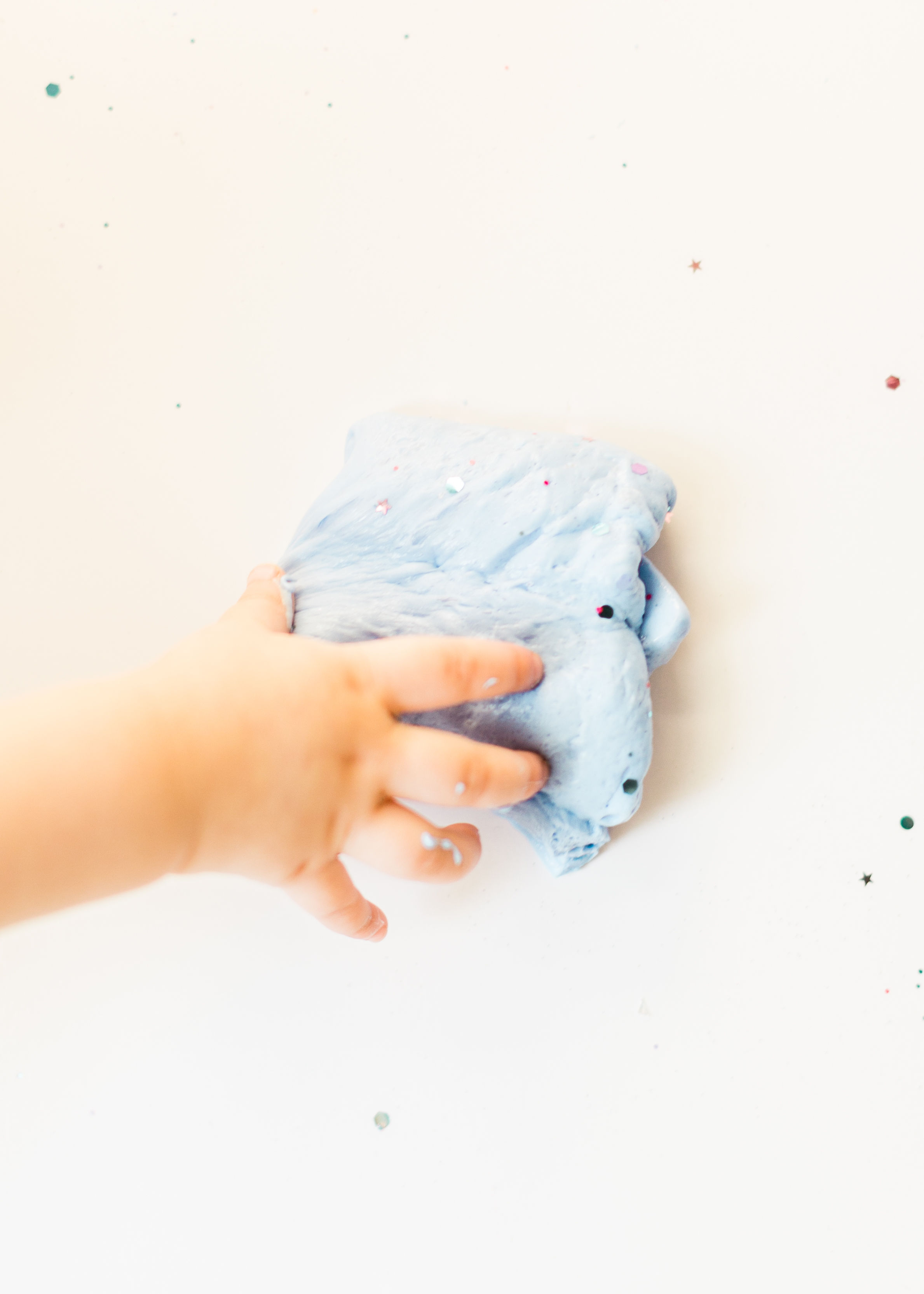 As you can probably tell, we're a big crafting family, and we all really love doing fun arts and crafts together. The kids always feel so accomplished and proud of their creations, and it's a really great way for us parents to get involved.
Plus, it's been a huge help for making these long summer days extra fun!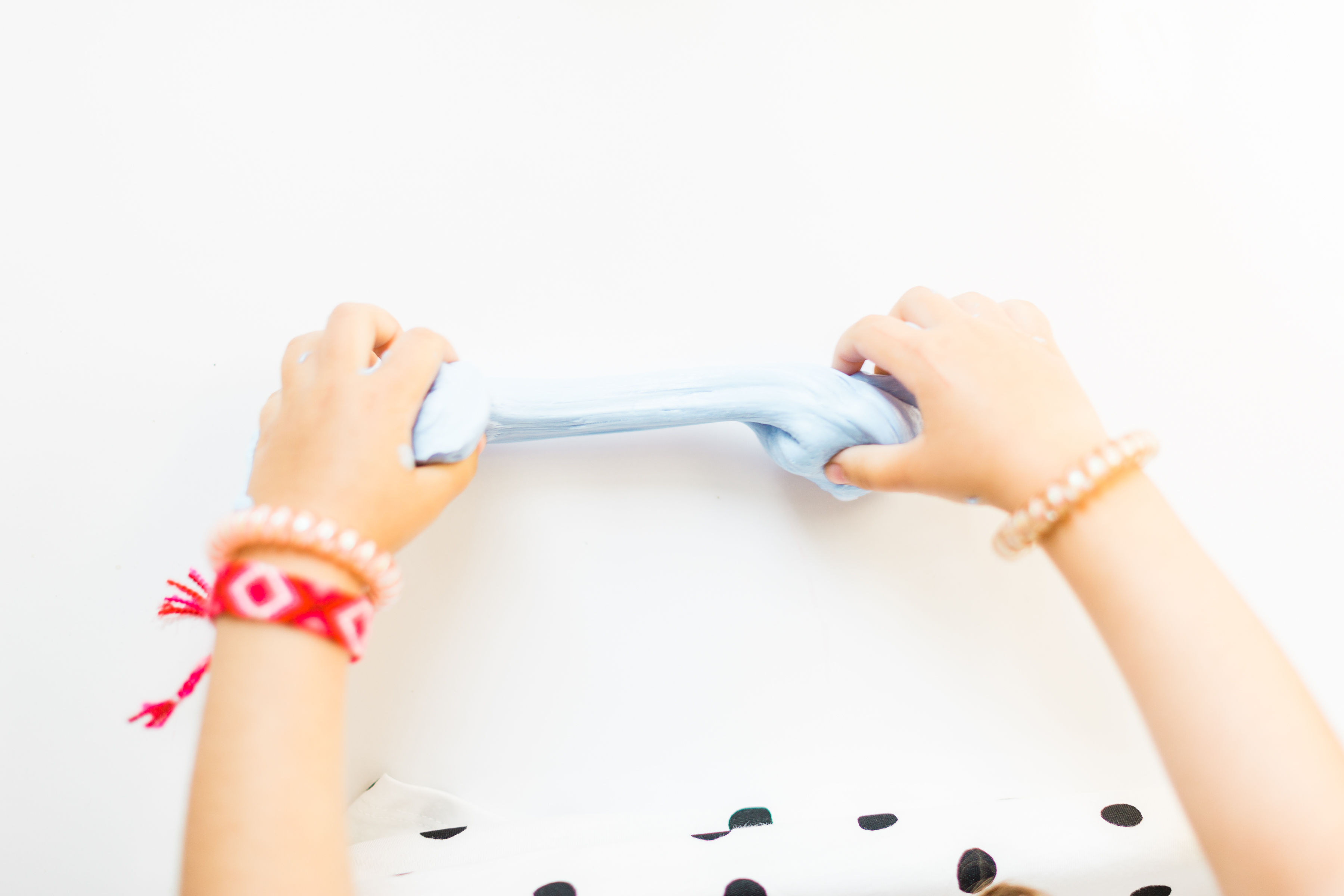 SHOP THE HOMEMADE FLUFFY SLIME POST // CLICK LEFT & RIGHT ARROWS TO EXPLORE

Looking for more fun activities to do with the kids?
IF YOU LOVED THIS KID-FRIENDLY DIY, YOU CAN SEE MORE OF OUR LIFE WITH TWO LITTLE ONES HERE.
Photography by Annie Timmons Photography for Glitter, Inc.