This post contains affiliate links, which means that if you click on one of the product links, I'll receive a small commission. Thank you so much for clicking through and helping to support this little blog business of mine! Read more about our site, privacy, and disclosure policies here.
These bakery style dairy-free blueberry muffins are made in one bowl, come together in minutes, and are incredibly delicious and moist, bursting with fresh blueberry flavor and finished with perfectly crusty, sugary tops!
These days, I'm all about super simple recipes that result in serious comfort food. Half the joy of baking is getting to dig into your delicious creations, so getting there all the quicker is a-okay with me!
And having a classic blueberry muffin recipe in your repertoire is always a good idea. Whether you have fresh or frozen blueberries on hand and nothing to do with them, need to bring something to a brunch or are hosting a morning event, or just want a really delicious muffin to dig into with a big 'ol cup of coffee, a bakery style blueberry muffin is the ticket.
We're always on the hunt for dairy-free recipes (our oldest daughter can't have any dairy), and I've been looking for a super moist dairy-free muffin for a long time. I've made several attempts and until now, hadn't found a muffin recipe without dairy that we absolutely loved. Most dairy-free muffins just aren't moist enough, or they're missing that perfectly crusty top. Luckily, this dairy-free blueberry muffin recipe right here: this is the one!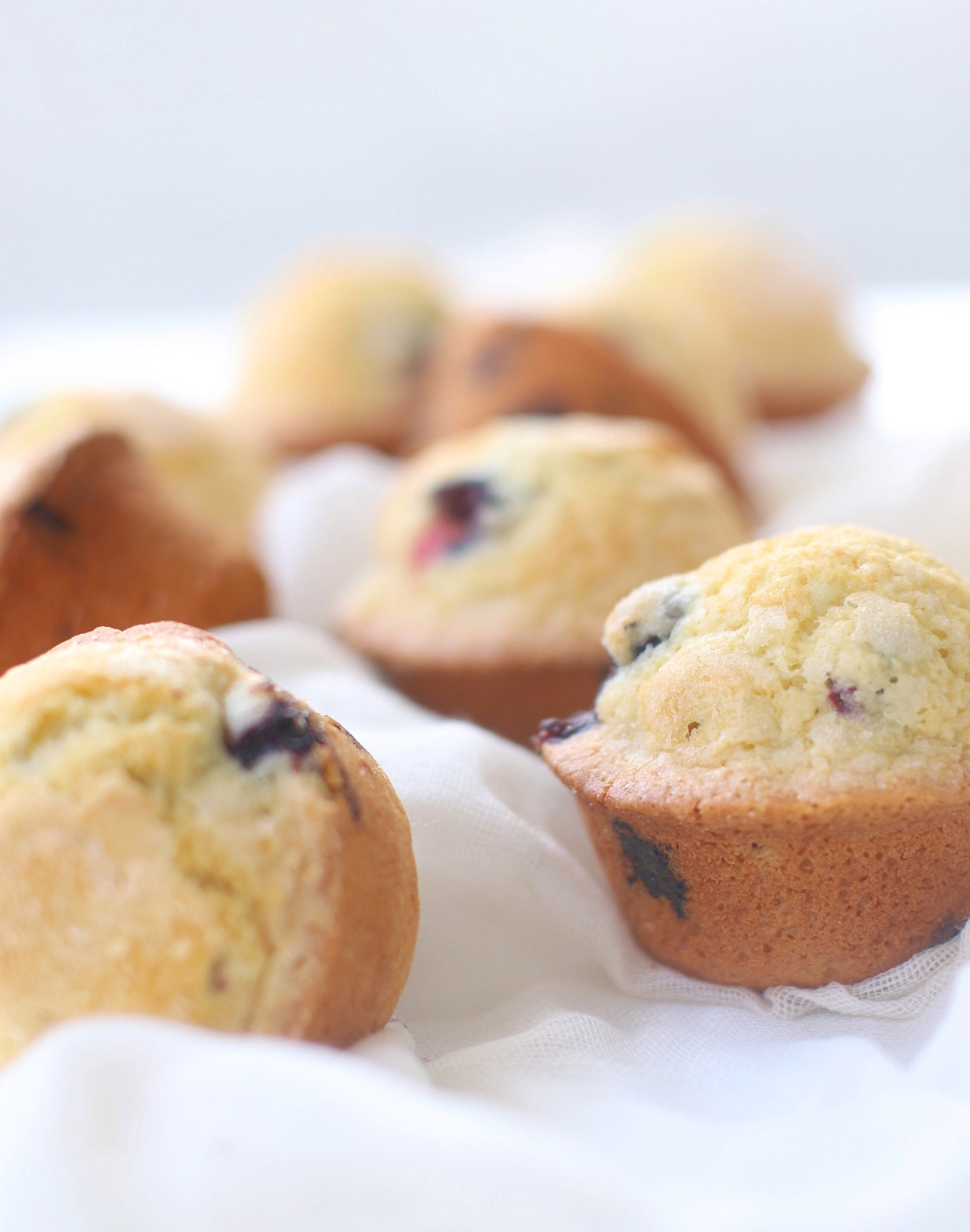 These one bowl dairy-free blueberry muffins are so easy to make, delicious, and moist.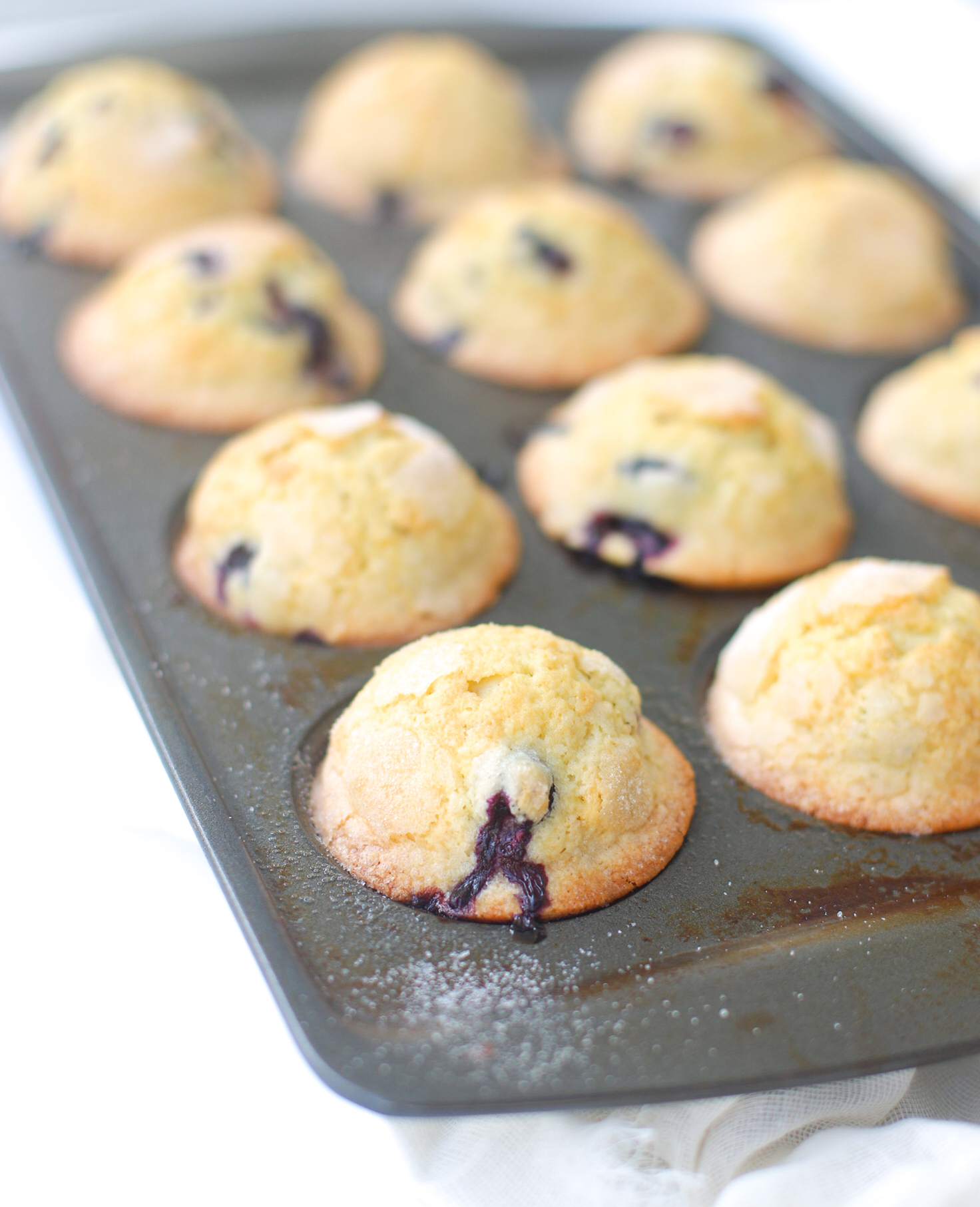 There's no funky technique to these bakery style muffins, no crazy ingredients, and yet, they taste JUST as good as muffins fresh from your favorite bakery. And though they are in fact dairy-free, you would never ever know it. Basically, you should definitely, 100% make these your new go-to blueberry muffins.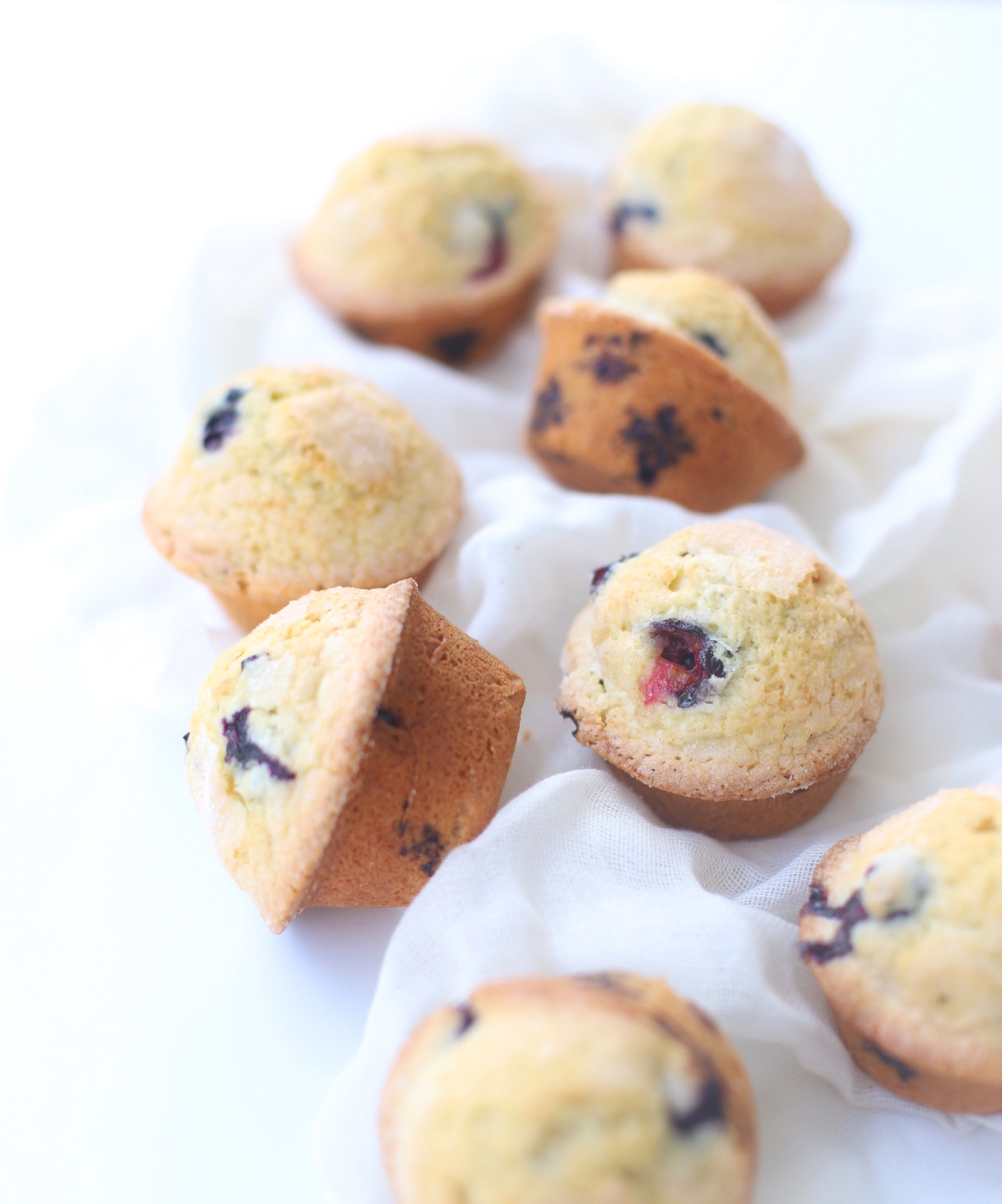 How to Make Bakery Style Dairy-Free Blueberry Muffins
To make these blueberry muffins, you'll mix the dry ingredients in a large bowl. After that, add in the wet ingredients and mix it all together. Gently fold in the blueberries. Evenly fill your muffin dough into a greased 12-muffin pan, sprinkle the tops of your muffins with granulated sugar, and then bake the muffins for 30 minutes. Be sure to let your blueberry muffins rest for 5 minutes before removing them from the pan to cool completely.
How to Store Your Muffins:
Your blueberry muffins should keep in an airtight container at room temperature for 3 days.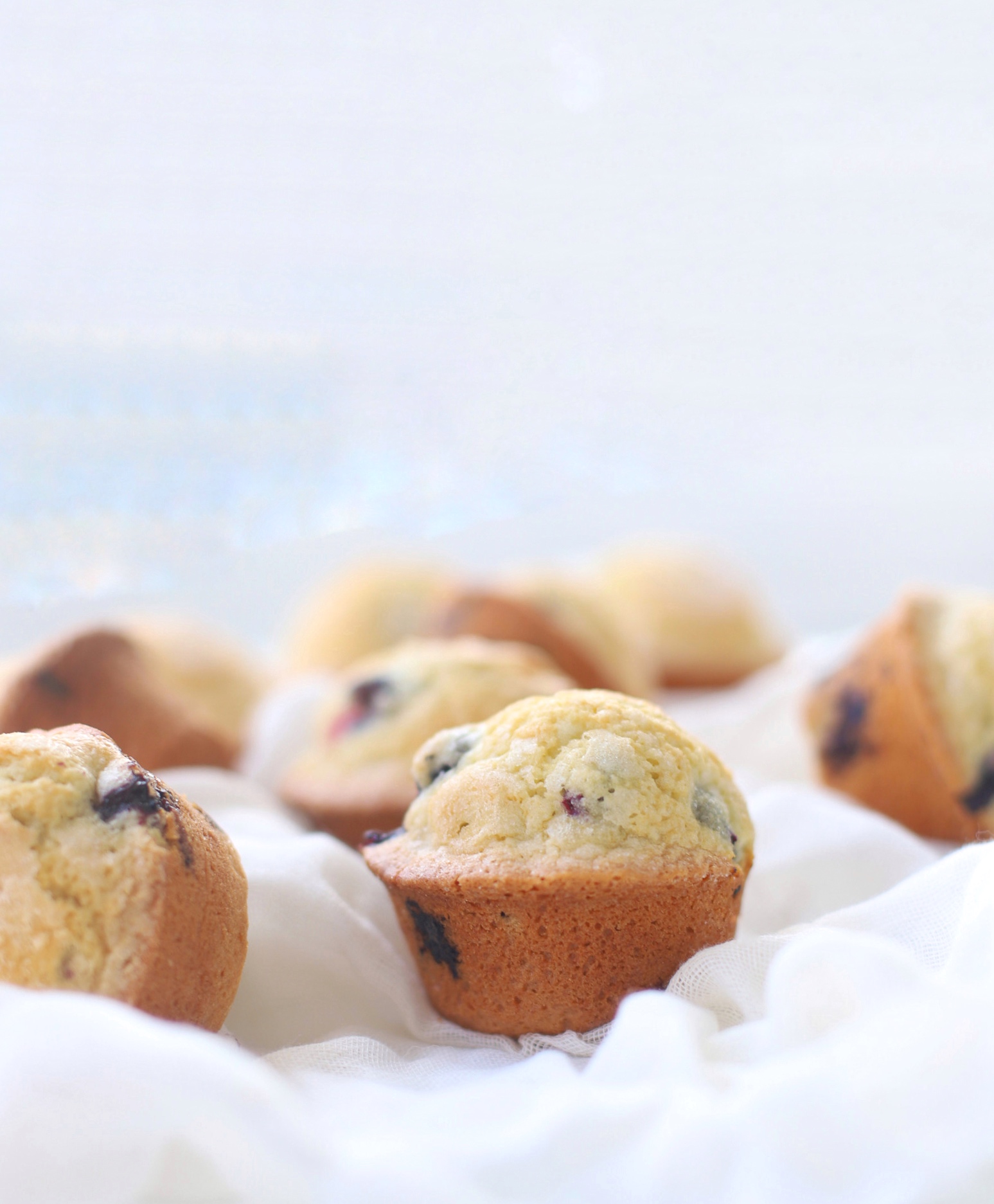 How to Gluten-Free Blueberry Muffins:
These blueberry muffins can totally be made gluten free. Just substitute out the flour in this recipe for your favorite gluten free flour blend! It's that simple!
How to Make Vegan Blueberry Muffins:
To make these blueberry muffins, substitute the egg with a flax egg. To make a flax egg, mix together 1 tablespoon of ground flax seed with 2 1/2 tablespoons of water. Allow the mixture sit for five minutes until it becomes gelatinous.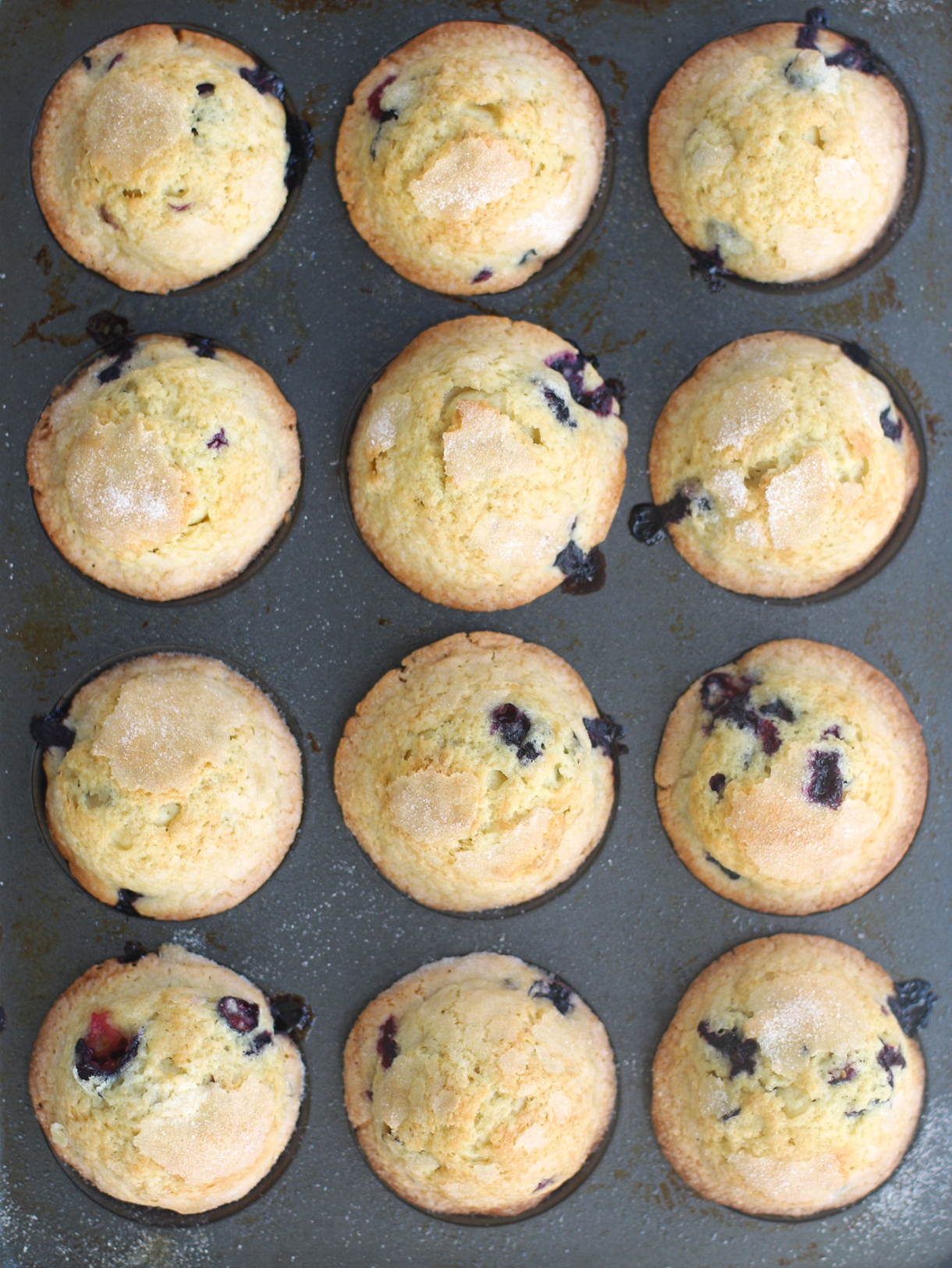 Yield: 12 Muffins
Bakery Style Dairy-Free Blueberry Muffins
Prep Time: 10 minutes

Cook Time: 30 minutes

Total Time: 40 minutes

These dairy-free blueberry muffins are made in one bowl, come together in minutes, and are so delicious and moist!
Ingredients
2 cups of flour or gluten free flour blend (leveled)
2 teaspoons baking powder
½ teaspoon fine sea salt
1 cup granulated sugar (plus more for topping)
½ cup vegetable oil or melted coconut oil
2 eggs (or 2 flax eggs if you want these to be vegan)
½ cup unsweetened almond milk or soy milk (regular or vanilla)
2 cups fresh or frozen blueberries
Instructions
Preheat oven to 350 F. Spray a 12-cup muffin tin generously with baking spray or place 12 muffin liners in the muffin tins.
In a large bowl, mix together the flour, baking powder, salt, and sugar.
To the flour mixture, add the oil, eggs, and almond or soy milk. Mix together.
Add in the blueberries and gently fold into the muffin batter. (Note: if you use frozen bluberries, they will tint the batter blue-ish purple.)
Using a large cookie scoop, fill each muffin tin with batter.
Top each muffin with a srinkle of about ½ teaspoon of granulated sugar.
Bake for 30 minutes.
Allow the frsshly baked muffins to rest in the muffin pan for 5 minutes, and then remove muffins to a baking rack to cool completely.
…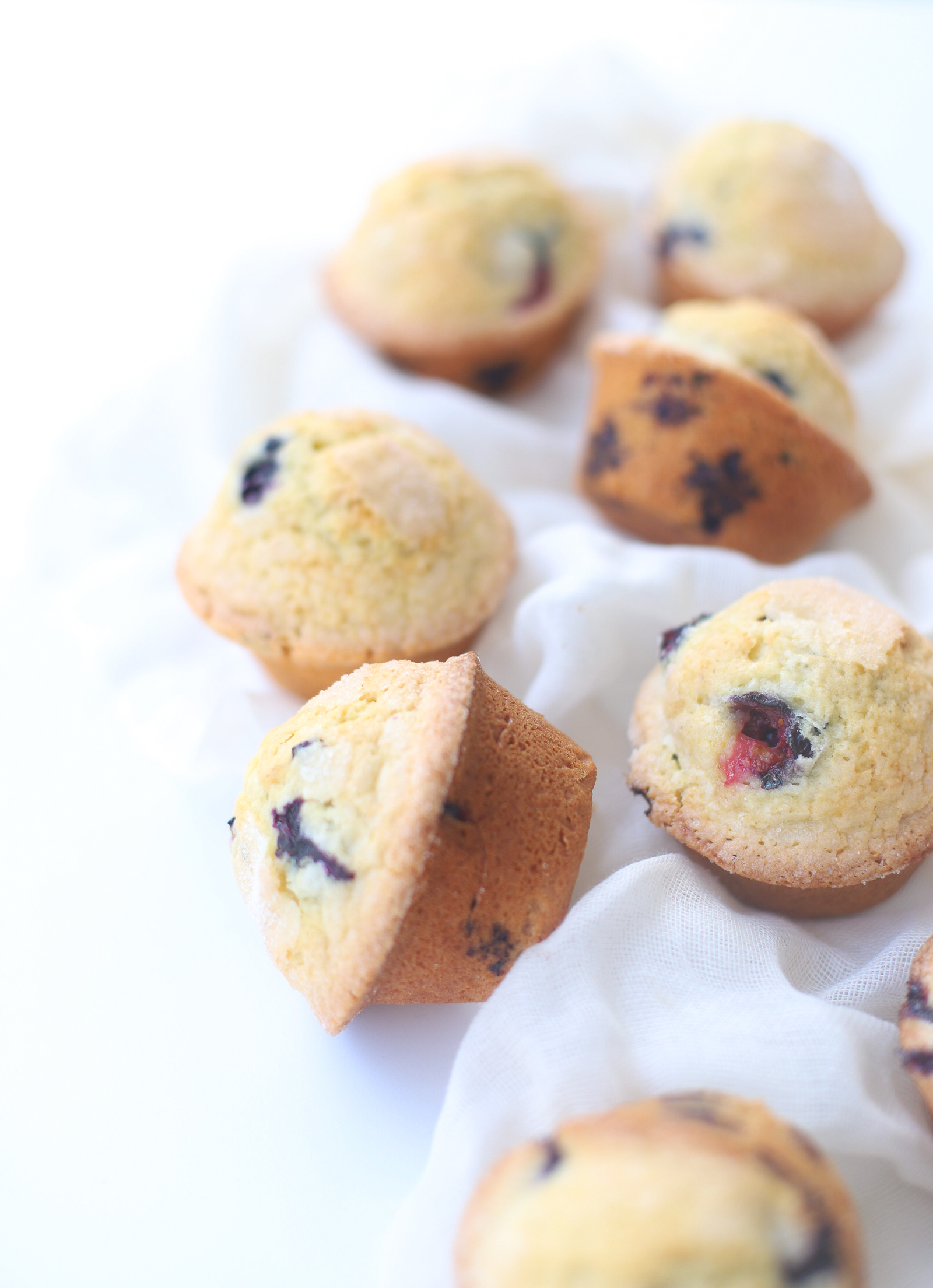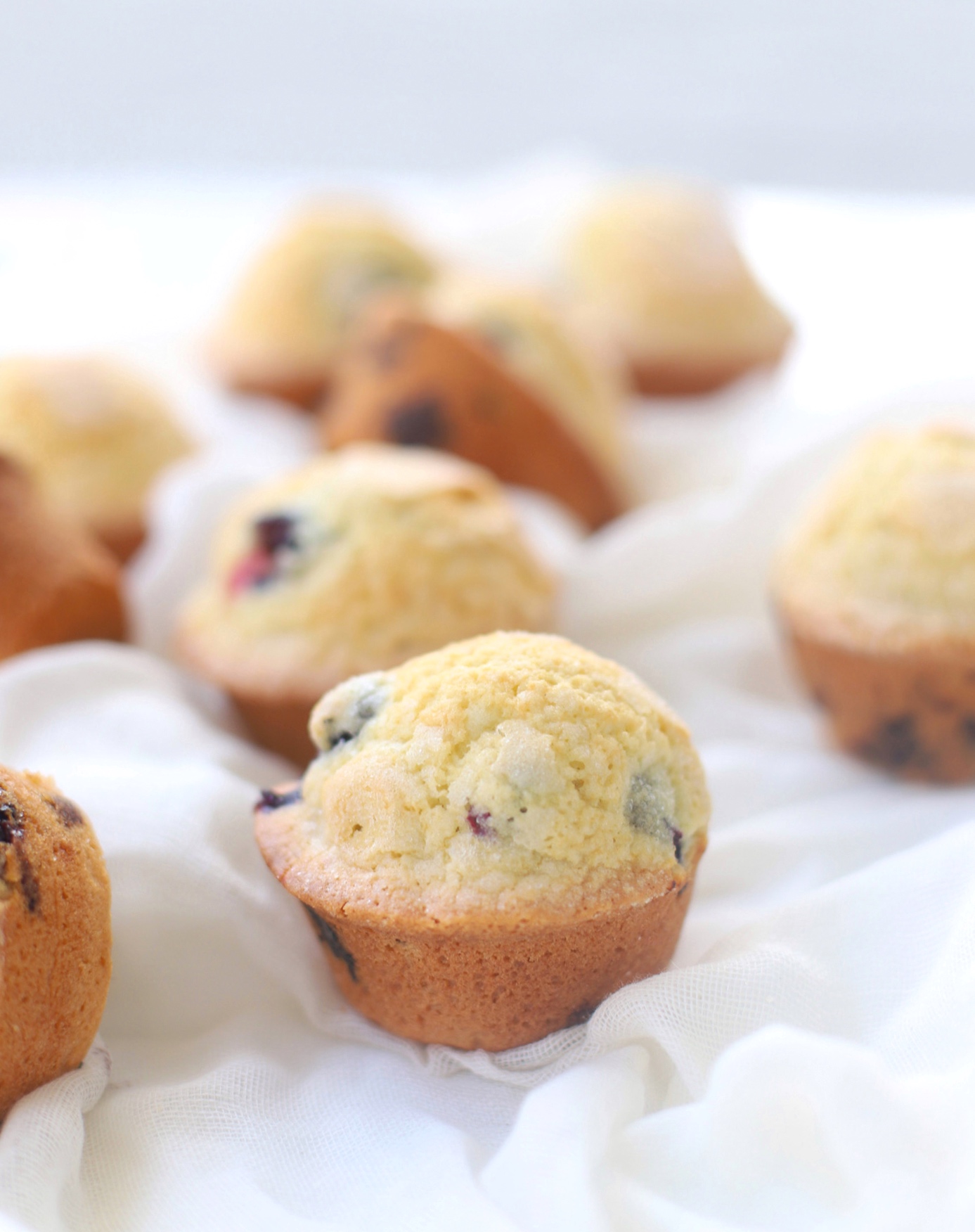 For more berry recipes, try these favorites:
Strawberry Yogurt Granola Crumble Muffins
Blueberry Lavender Streusel Muffins
Quick Strawberry Bread with Strawberry Glaze
Simple Strawberry Crostata; a.k.a., Galette
Old-Fashioned Blueberry Buckle Cake
Strawberry Cheesecake French Macarons
SHOP THE DAIRY FREE BLUEBERRY MUFFINS RECIPE POST | CLICK LEFT & RIGHT ARROWS TO EXPLORE

Be sure to head to our recipe page to check out what else we're dreaming up in the kitchen. If you make your own bakery style dairy-free blueberry muffins, tag me on social media (@glitterinclexi) so I can live vicariously through all of your delicious creations! Seriously, send those pictures my way!!