This post contains affiliate links, which means that if you click on one of the product links, I'll receive a small commission. Thank you so much for clicking through and helping to support this little blog business of mine! Read more about our site, privacy, and disclosure policies here.
Say hello to the most amazing Lemon Blueberry Layer Cake. Three layers of moist, lemony cake, speckled with bursting blueberries; filled and topped with a melt-in-your-mouth icing. This is a ridiculously decadent cake that tastes light and sweet all at the same time.
Maine has got blueberries everywhere; huge blueberries, tiny wild blueberries, blueberries by the carton-full at every roadside stand. Scarlett is absolutely obsessed, grabbing blueberries by the handful with her chubby little hands. She also stuffs dozens into the corners of her cheeks so that she looks like a little squirrel stained blue. It's just about the cutest thing ever. So I figured it was the perfect time to share another amazing blueberry recipe (this old-fashioned blueberry buckle cake has become one of my favorites).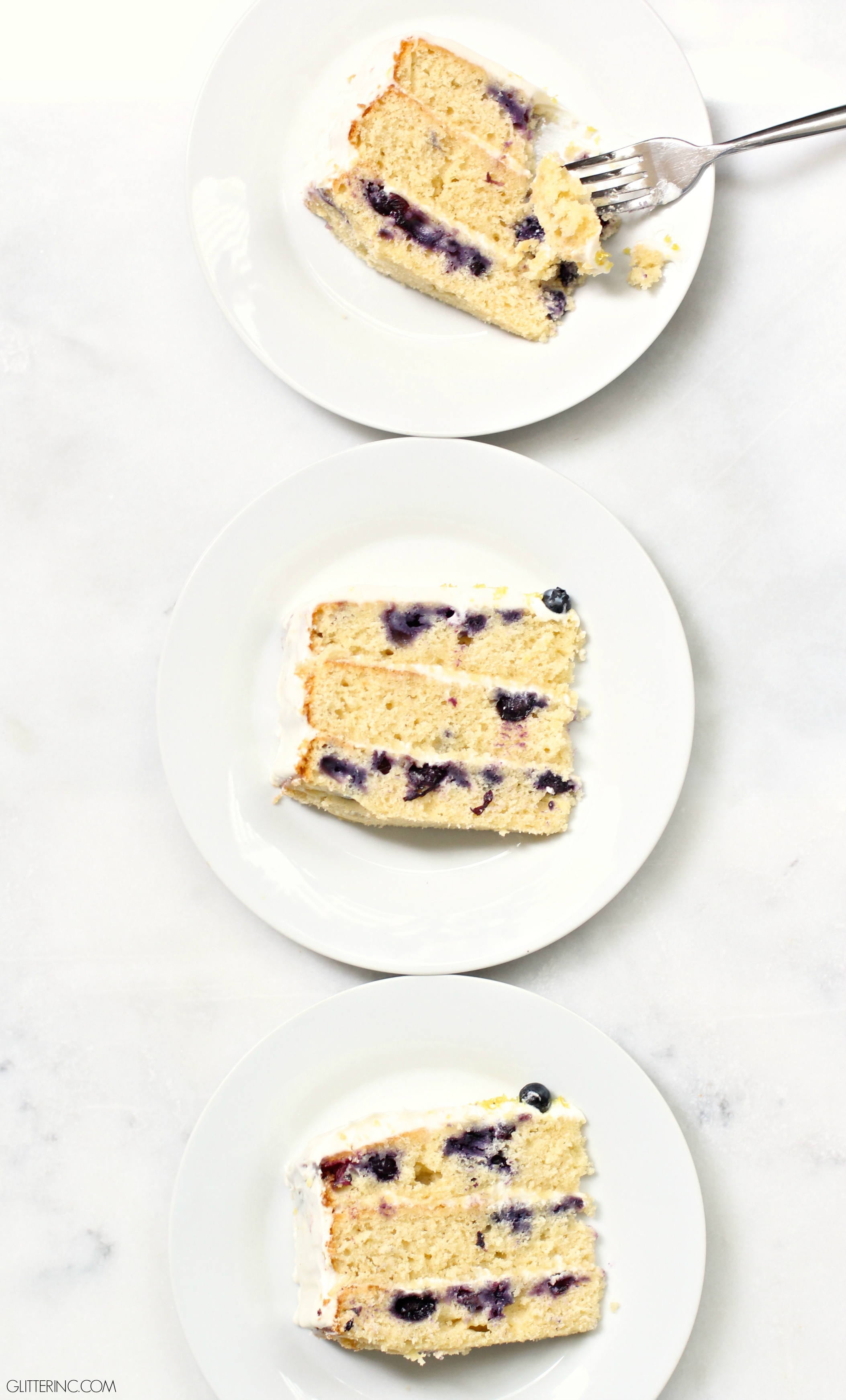 Take it away Rachel …
Ah, blueberries. It's finally blueberry season! And I'm excited. Just last week while vacationing up in Michigan, my mom, grandpa, and I picked nearly 20 pounds of the sweet and tangy berries. Seriously, 20 pounds!! For those of you in the same situation as me (too many blueberries to know what to do with,) here's a not-so-conventional way to use 'em up: Lemon Blueberry Layer Cake.
Lemon Blueberry Layer Cake
Three layers of moist, lemony cake, speckled with bursting blueberries, and spread with a melt-in-your-mouth icing. A ridiculously decadent cake that tastes light and summery all at the same time. Plus, you likely have all of the ingredients in your kitchen already! So really, you have no excuse not to make this amazing cake ASAP. Then share a slice with family and friends – because that's what summer is all about.
LEMON BLUEBERRY LAYER CAKE
INGREDIENTS
For the cake…
1 cup butter, softened
1 ¼ cups granulated sugar
½ cup light brown sugar, packed
4 large eggs, room temperature
1 tbsp. vanilla extract
3 cups all-purpose flour, sifted
1 tbsp. baking powder
½ teaspoon salt
1 cup buttermilk
3 medium lemons, (zest & juice)
2 cups fresh blueberries
1 tbsp. all-purpose flour, (for coating the berries)
For the icing…
8 ounces cream cheese, softened
½ cup butter, softened
3 ½ cups powdered sugar
1 – 2 tbsp. milk
1 tsp. vanilla extract
Pinch of salt
Zest of 1 lemon (optional)
DIRECTIONS
Preheat your oven to 350 degrees and lightly grease and flour three 8 inch round cake pans.
To make the cake, begin by beating the butter and sugars (granulated & brown) until light and fluffy, about 2 minutes. Add the eggs and vanilla and beat for another 2 minutes. Scrape down a few times as everything combines.
Next, combine the dry ingredients (flour, baking powder, and salt.) Slowly add them into the wet ingredients. Once fully combined, add the buttermilk, lemon zest and juice. Stir until just combined – be careful not over-beat!
Lastly, toss the blueberries in 1 tablespoon of flour (this will keep them from sinking to the bottom of the cake batter.) Fold them in lightly.
Evenly distribute the batter into the three floured cake pans, and bake them for about 20 minutes until a toothpick comes out clean. Allow them to cool as you make the frosting.
For the frosting, beat together the cream cheese and butter for about 2 minutes. Add in the powdered sugar, 1 tablespoon of milk, vanilla, salt, and lemon zest. Beat for 3 minutes until fluffy. (Add another tablespoon of milk to thin, if needed.)
To frost the cake, begin by placing the first layer onto a cake stand. (Tip: you may need to slice off a tiny bit off the top of each layer, using a serrated knife, in order to for the layers to sit flat on top of each other.) Lightly frost on top of each layer and around the sides of the cake. Refrigerate until the icing is firm, and serve!
NOTE: No buttermilk? No worries. I make this substitute all the time. Simply mix regular milk (1 cup) with a dash of vinegar or a squeeze of lemon juice. It works the same – and saves a trip to the grocery store!
Recipe adapted via Sally's Baking Addiction
Special thanks to Rachel of Sugar-Coated Inspiration for this amazing recipe! (Check out all of Rachel's posts for Glitter, Inc., here.)
If you make your own incredible lemon blueberry layer cake, be sure to tag me on social media (@glitterinclexi) so I can live vicariously through all of your sweet creations!
More Delicious Dessert Recipes from Glitter, Inc.:
Quick Strawberry Bread with Strawberry Glaze (So good!)
The Most Incredible S'mores Cookie Cups
Red Velvet Cupcakes (This is my very favorite red velvet recipe!)
The Best Sugar Cookies for Decorating
Easy, Fudgy, Chewy, Cakey Better Than Box Mix Brownies
Raspberry Crumb Breakfast Bars (Another brunch hit!)
Marbled Graham Cracker Toffee Bark
Levain Bakery Chocolate Chip Cookies