This post contains affiliate links, which means that if you click on one of the product links, I'll receive a small commission. Thank you so much for clicking through and helping to support this little blog business of mine! Read more about our site, privacy, and disclosure policies here.
This simple homemade strawberry cake was an instant hit in our house. Easy enough to make with your kids, and bursting with fresh strawberries and topped with a decadent strawberry frosting, you'll be amazed at how moist and delicious this cake is.
Every year for Valentine's Day, I like to come up with a sweet recipe I can make with the kids. Our girls love to bake and decorate their baking creations, so most of our kid-friendly Valentine's Day desserts involve frosting and sprinkles; a.k.a., a winning combination. (Remember these sugar cookies that we decorated with frosting and pink pop rocks? Those were a BIG hit!) And you know how I like to celebrate each and every one of the holidays.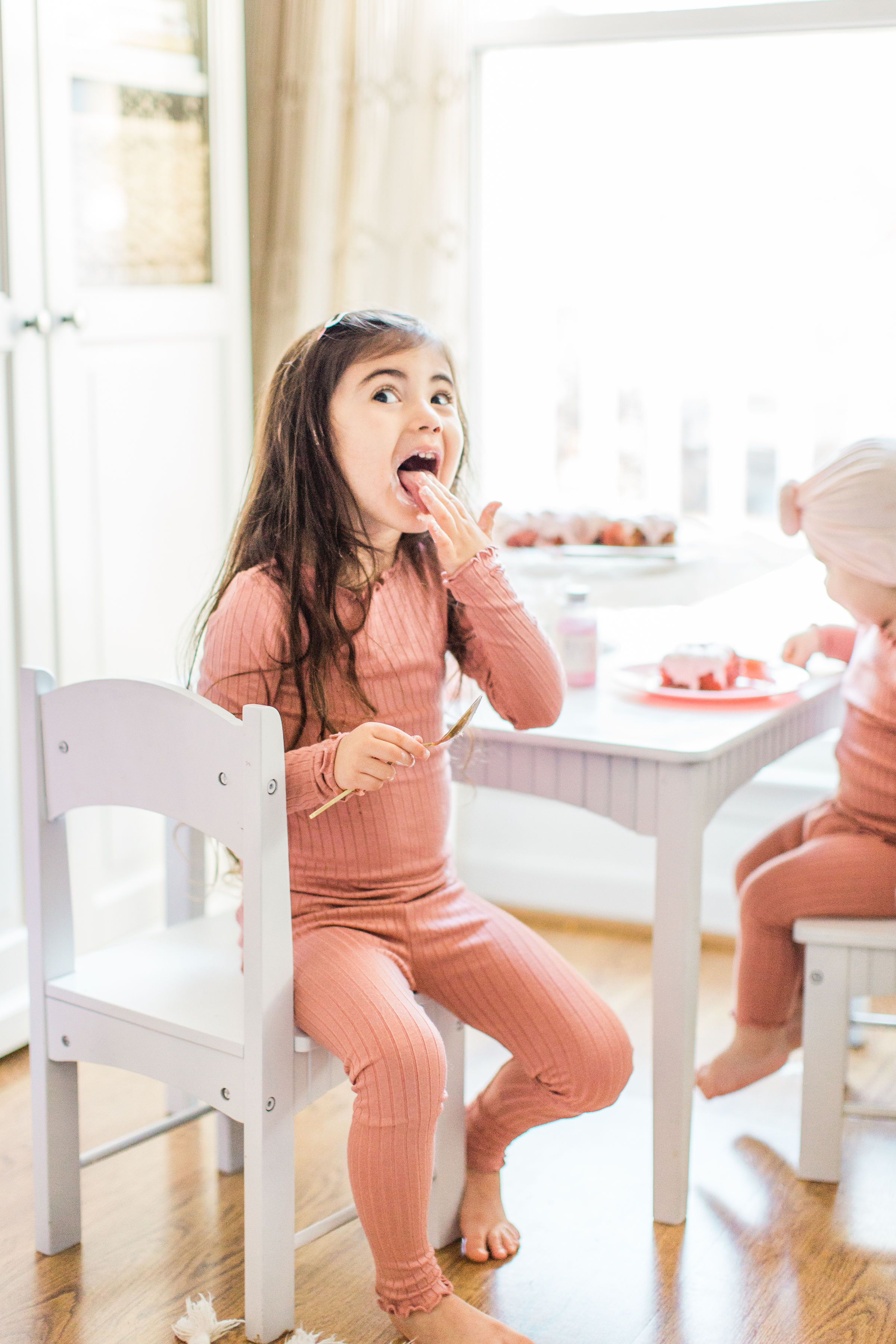 Plus, this strawberry cake is no exception to our delicious and colorful creations. It's pink! It's full of strawberries! We topped it with strawberry frosting and sprinkles!
Even Scarlett's hair got a taste of the strawberry frosting. I call that a success. 😂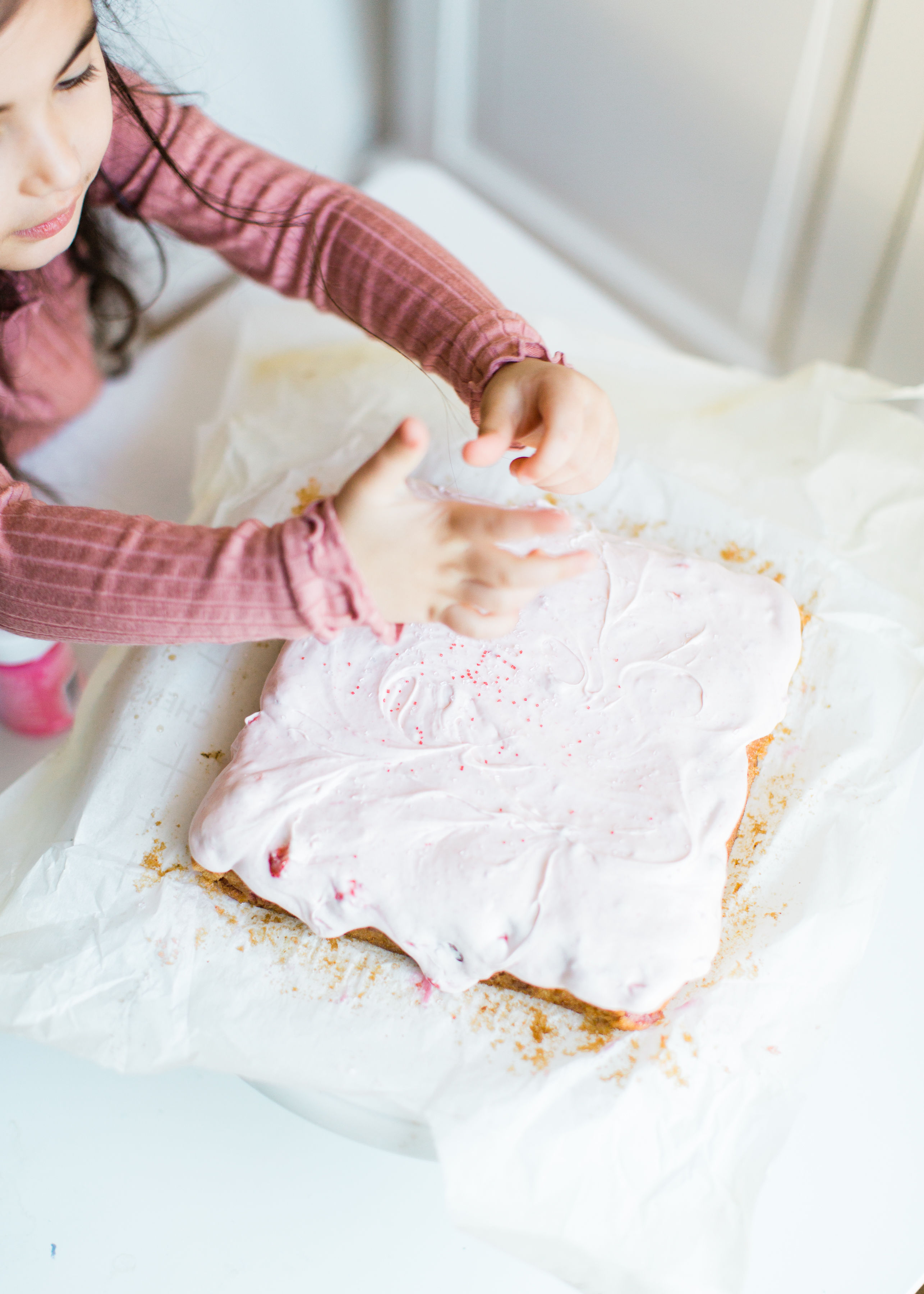 As for this strawberry cake, I knew I wanted to bake up something very festive; strawberry seemed like a perfect choice. And truth be told: I created this cake out of necessity. For starters, Scarlett ONLY wanted a very pink cake. We all also love strawberries. Plus, I had been wanting to play with this crazy cake recipe, to see what else I could do with such a magical cake base that is not only easy to make, but has has no eggs, milk, or butter.
The original vanilla crazy cake recipe is actually our go to homemade smash cake first birthday smash cake recipe and our favorite cupcake recipe. This strawberry version is just as moist and heavenly as the vanilla crazy cake, but the added strawberry flavor makes it taste unbelievably fresh and bright. We're talking fresh strawberries laced throughout both the cake and the frosting. Strawberry lovers: this cake's for you.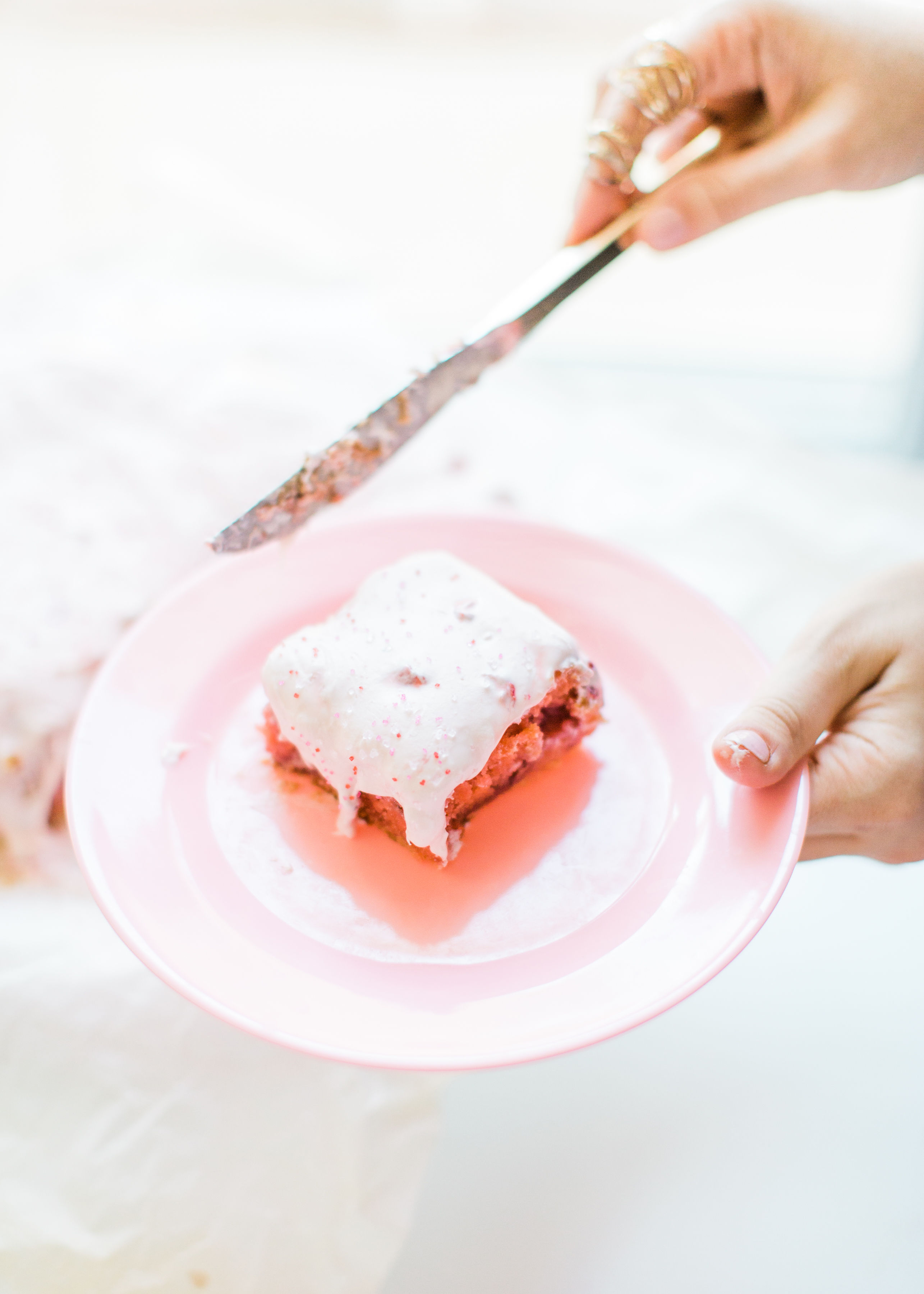 By the way, if you absolutely love all things strawberry, you do not want to miss these strawberry cheesecake macarons, this quick strawberry fruit bread with strawberry glaze (so good!), our go-to triple berry crisp, or this simple strawberry galette; a.k.a., easy pie.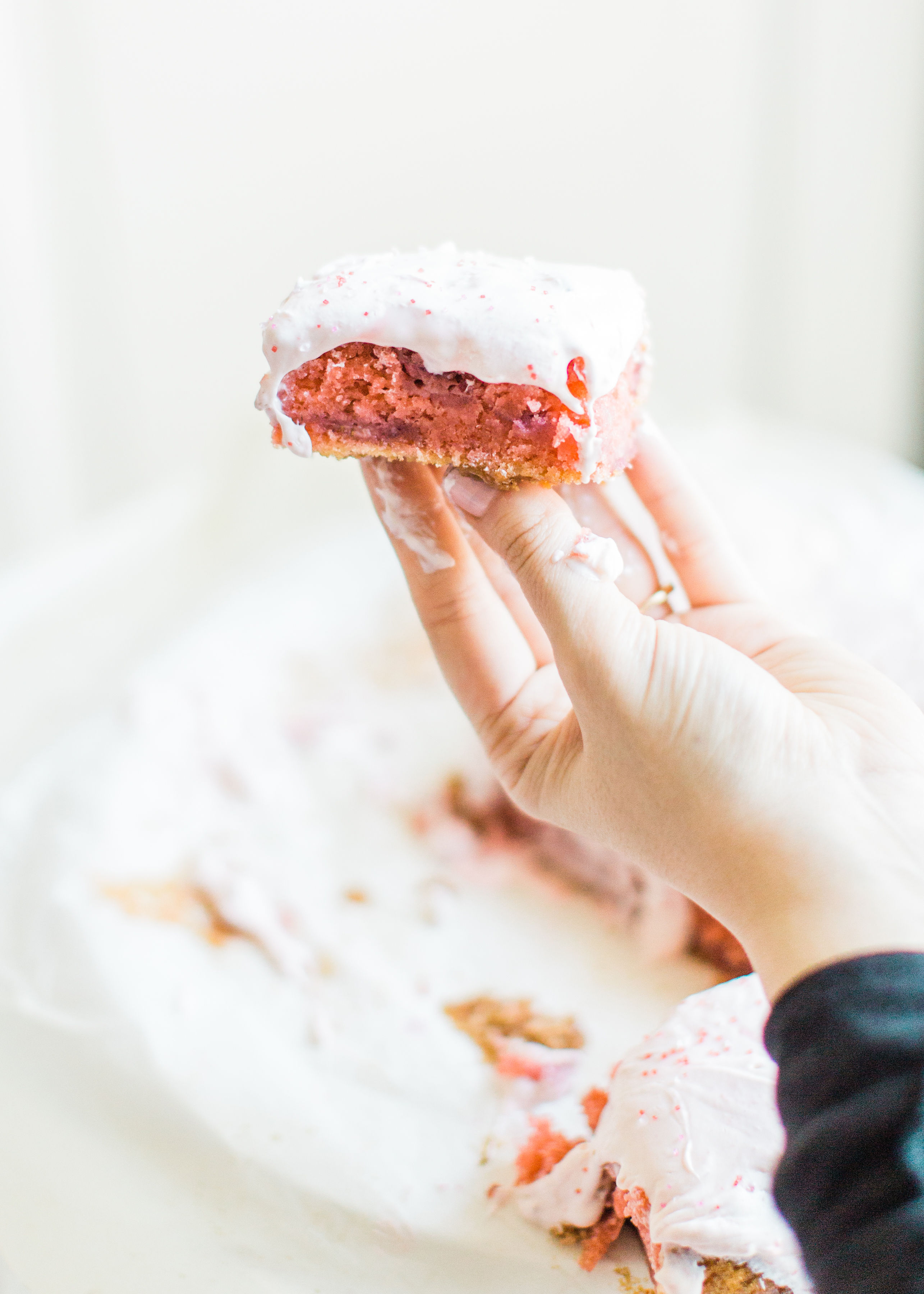 But back to the strawberry cake …
There are a few secrets to making this strawberry cake extra strawberry-y. (Can I dub that as a word?) The secret – and magical – ingredient to making this strawberry cake pink is actually one packet of strawberry jello. Plus, I like to add a cup of mashed strawberries, so there is plenty of fresh strawberry bursting through each bite.
Then of course, the strawberry cake is topped with strawberry frosting. YUM.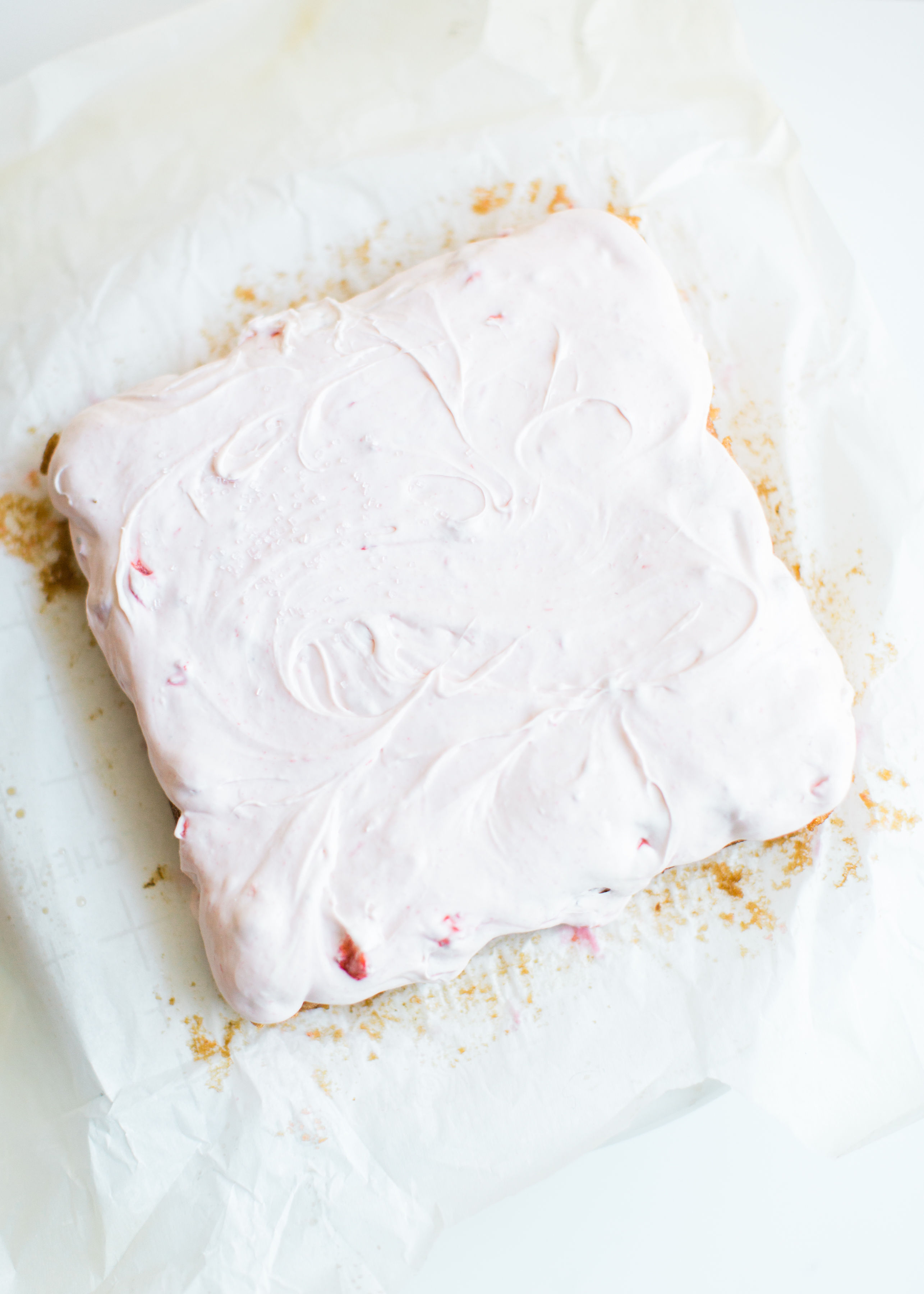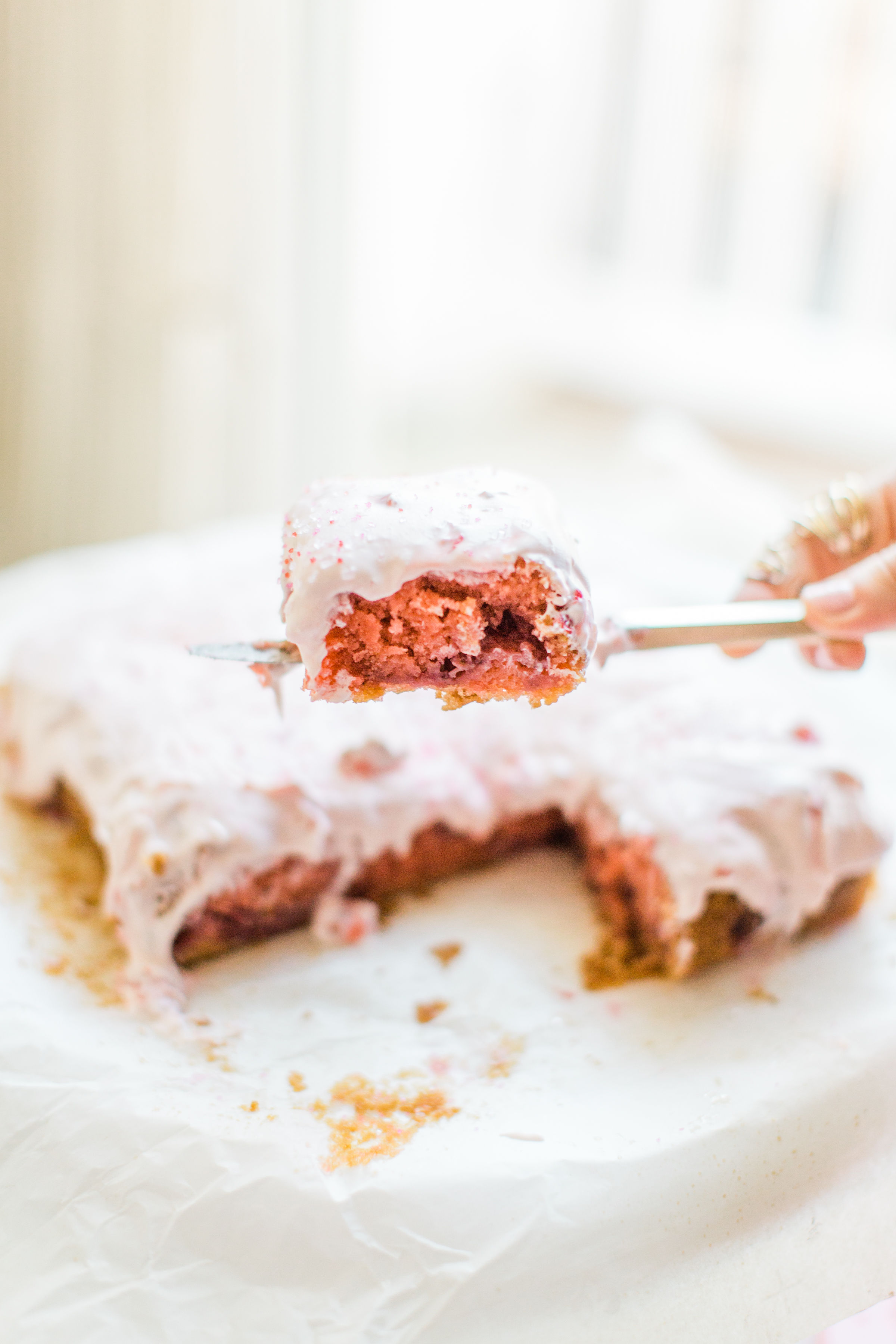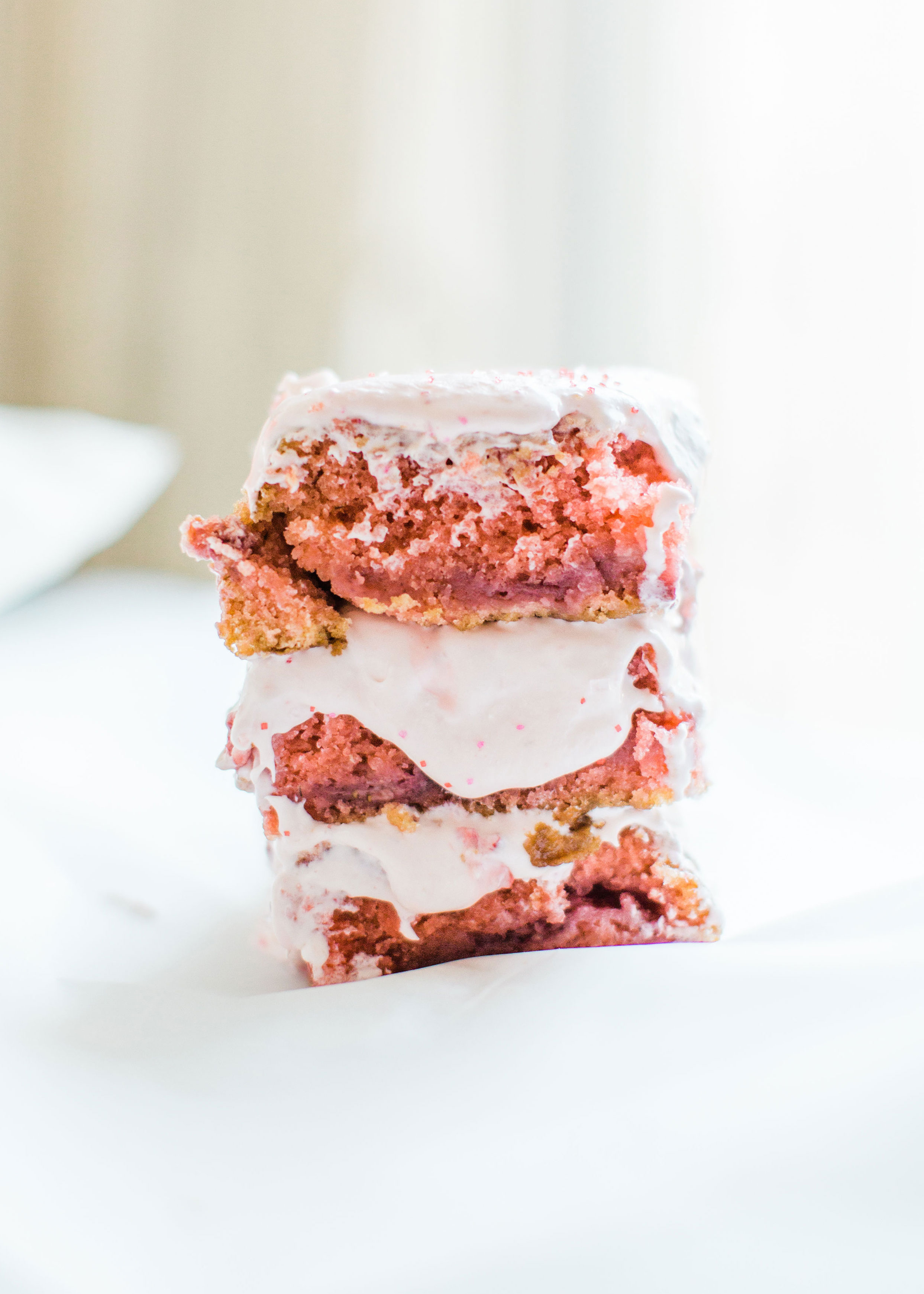 How to Make Easy Strawberry Cake (Your Whole Family Will Love!)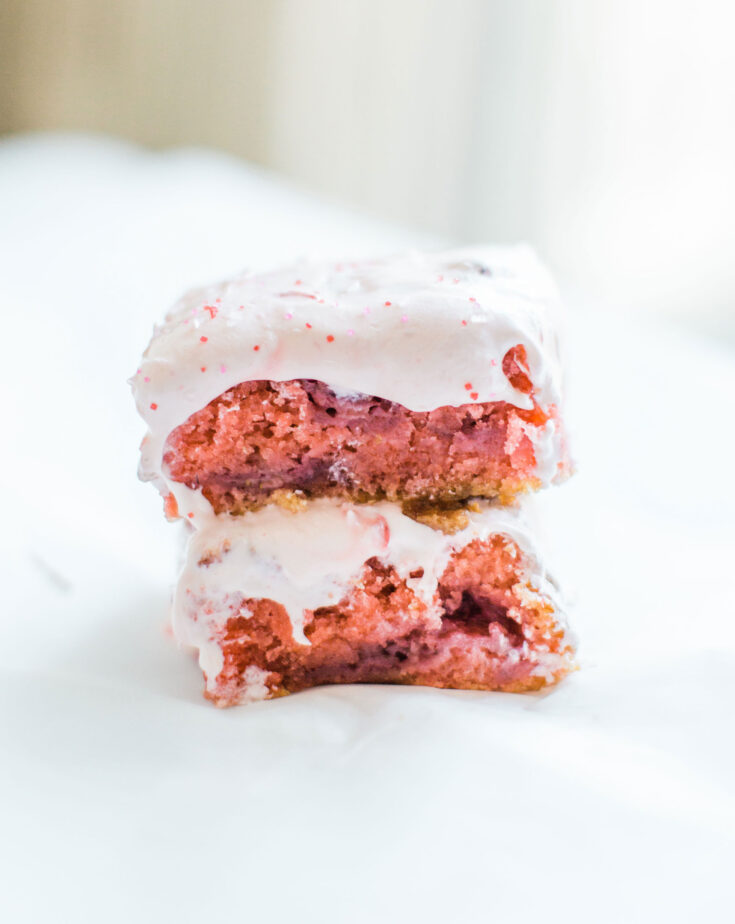 Yield:
Easy Strawberry Cake
Ingredients
FOR THE STRAWBERRY CAKE
1 1/2 cups + 3 tablespoons all-purpose flour
1 cup white sugar
1 tsp. baking soda
1/2 tsp. salt
1 package of strawberry jello
1 tsp. white vinegar
1 1/2 tsp.  pure vanilla extract
5 tbsp. vegetable oil or canola oil 
1 cup water 
1 cup of smashed or diced strawberries (can use fresh or frozen, thawed)
FOR THE STRAWBERRY FROSTING
1/2 cup (1 stick) butter*, at room temperature
4 cups powdered sugar, plus extra, as needed
1/4 cup milk*, at room temperature
1 teaspoon pure vanilla extract
1/4 cup smashed or diced strawberries (can use fresh or frozen, thawed)
Instructions
Preheat oven to 350 degrees F. Grease an 8″ square baking pan. I also like to line my pan with parchment paper and then spray that.
In a large bowl, mix the dry ingredients - flour, sugar, baking soda, salt, and the contents of one package of strawberry jello (I use about 3/4 of the package). Make 3 depressions in dry ingredients – two small, one larger. Pour vinegar in one depression, vanilla in the other, and the oil in the third larger depression. Pour water over all of it. Mix well until smooth. Gently fold in your mashed or diced strawberries. Pour batter into your prepared 8" square baking pan.
Bake on middle rack of oven for about 35 minutes. Check with toothpick to make sure it comes out clean.
Allow to cool completely before frosting.
To make the frosting, in a medium bowl, using either an electric hand mixer or in a stand mixer, beat the butter until light and smooth. Beat in powdered sugar, milk and vanilla until smooth and creamy. Beat in the smashed or diced strawberries, until smooth and creamy. (We actually make this frosting dairy-free/vegan by using almond milk or soy milk and Earth Balance vegan butter.)
Notes
*One of the reasons we love this modification on our favorite crazy cake is because it has no eggs, butter, or dairy.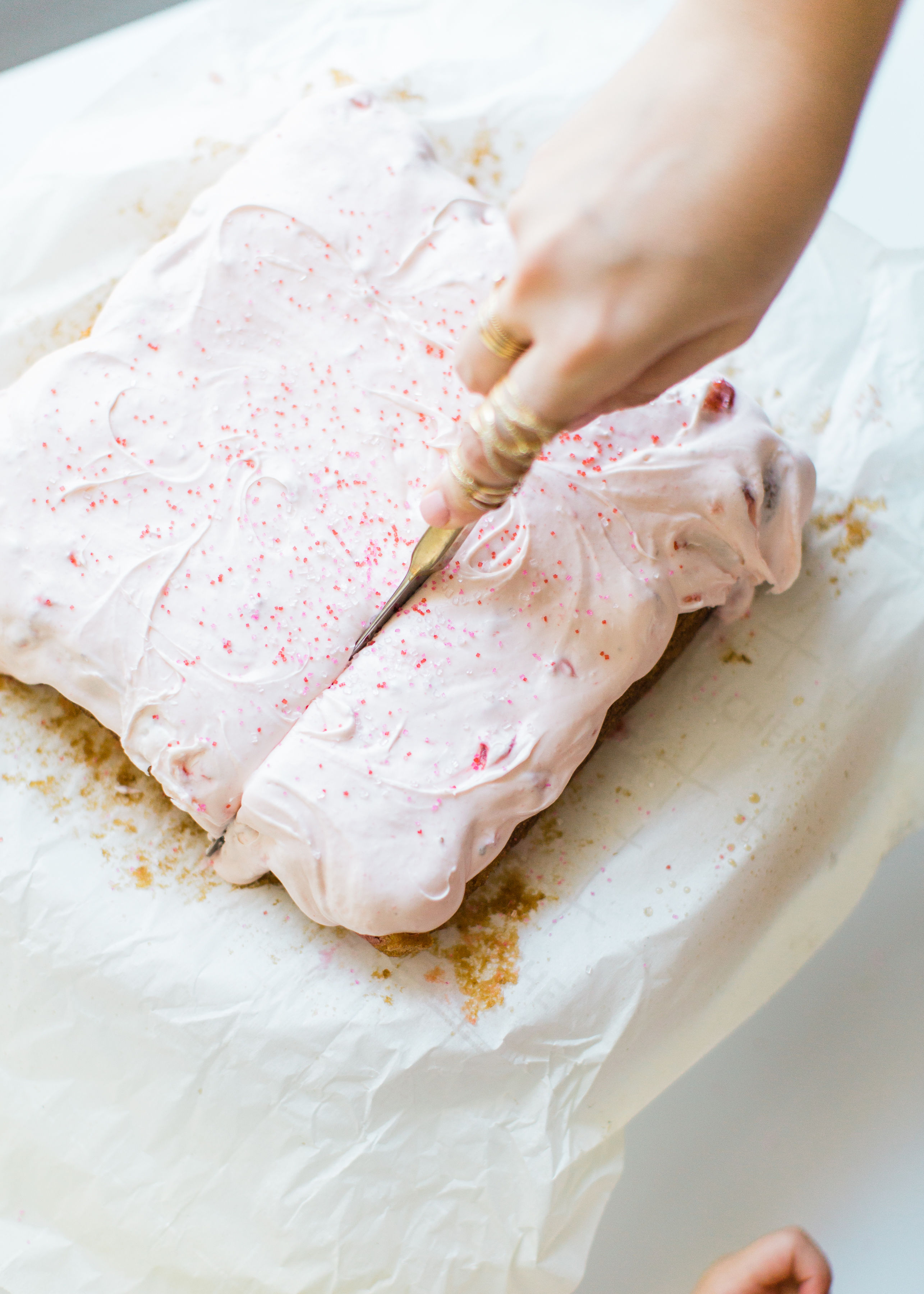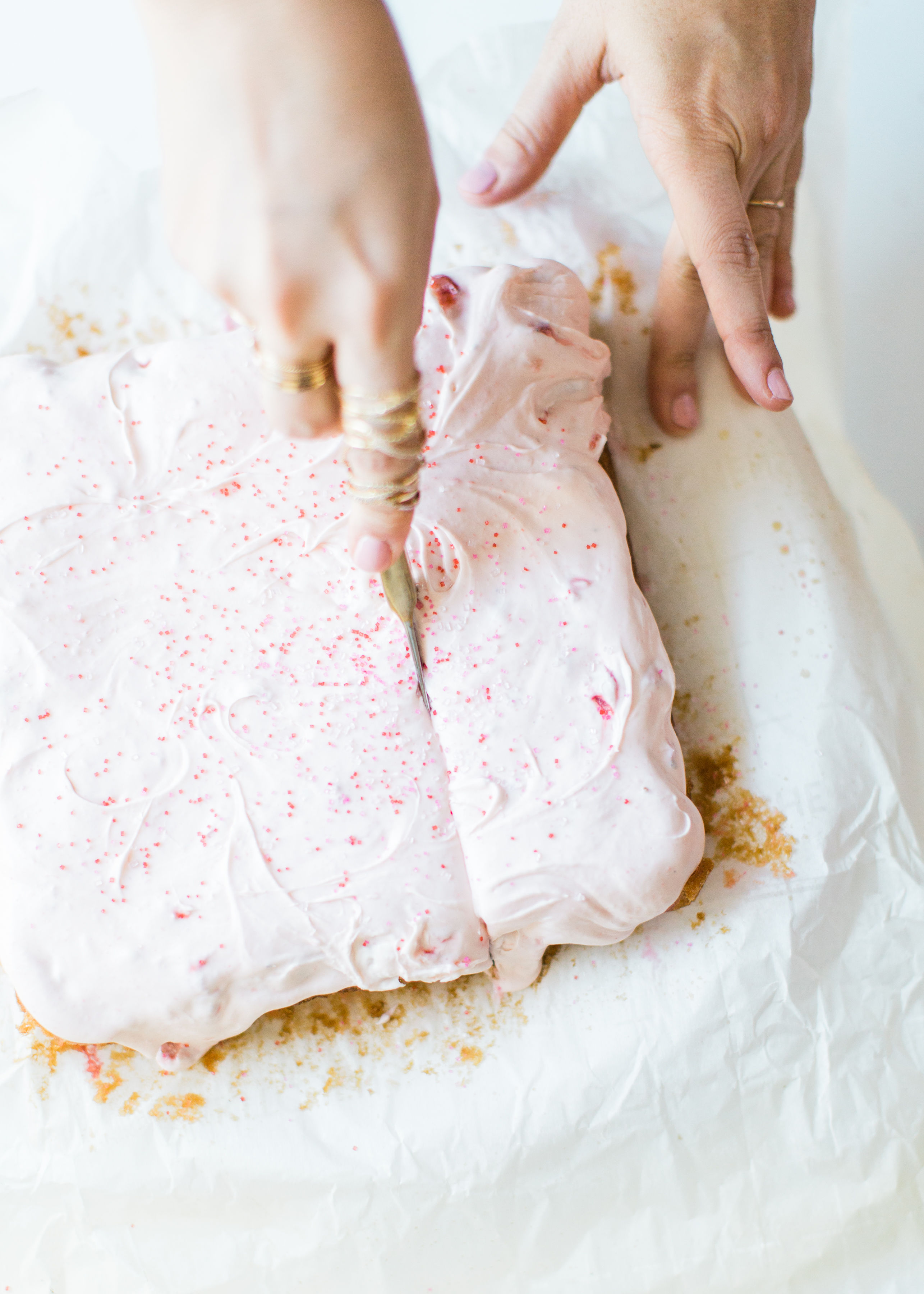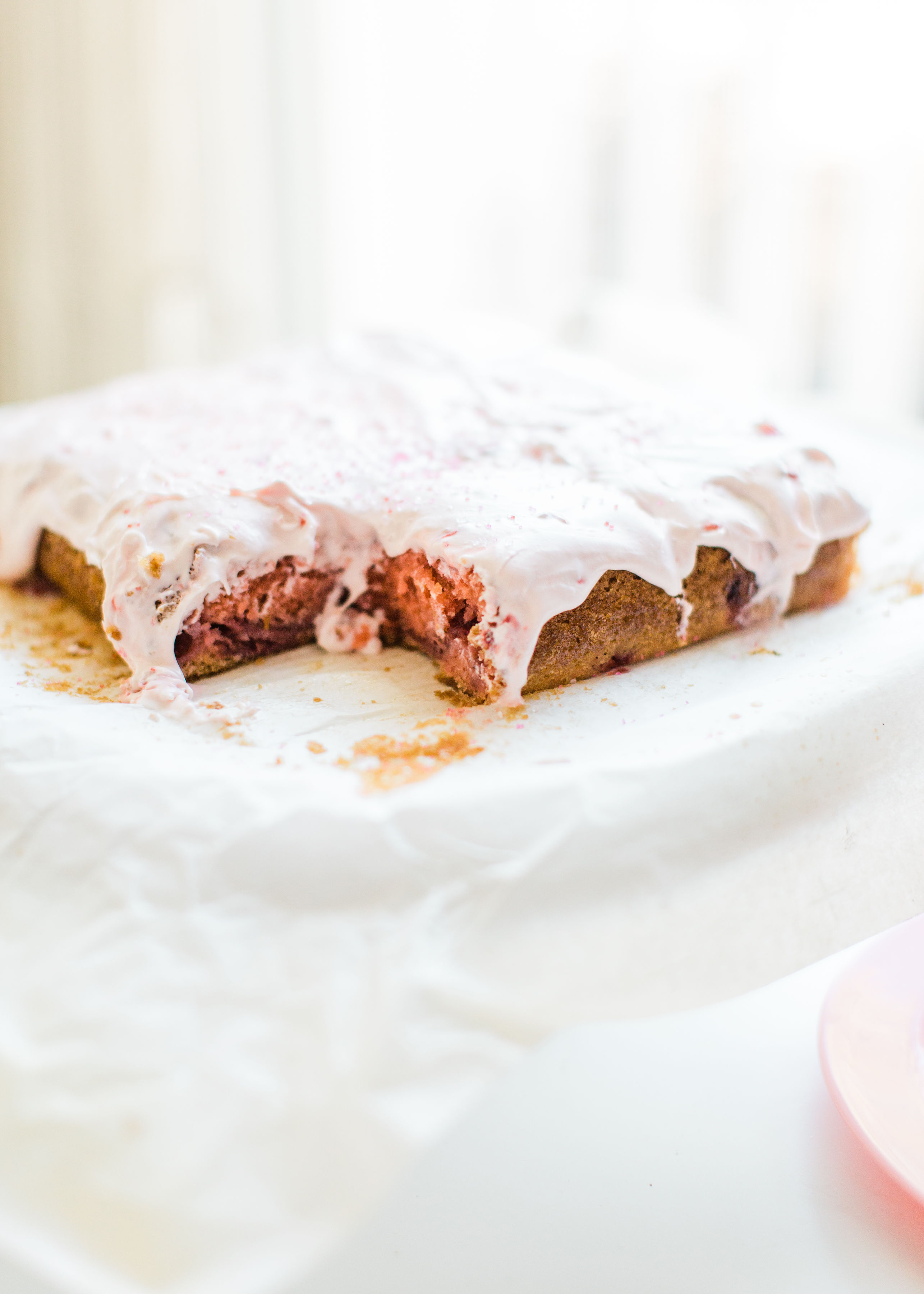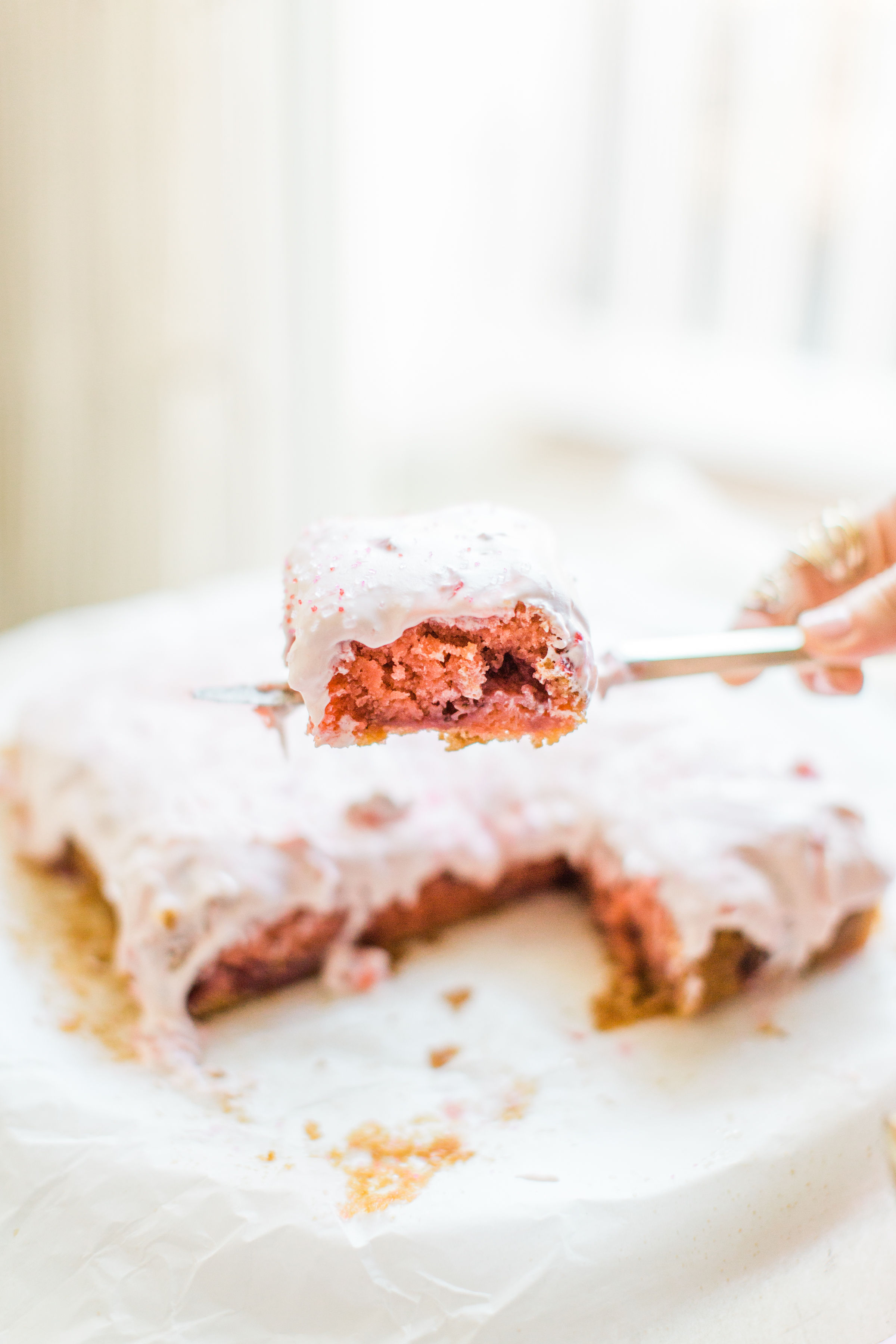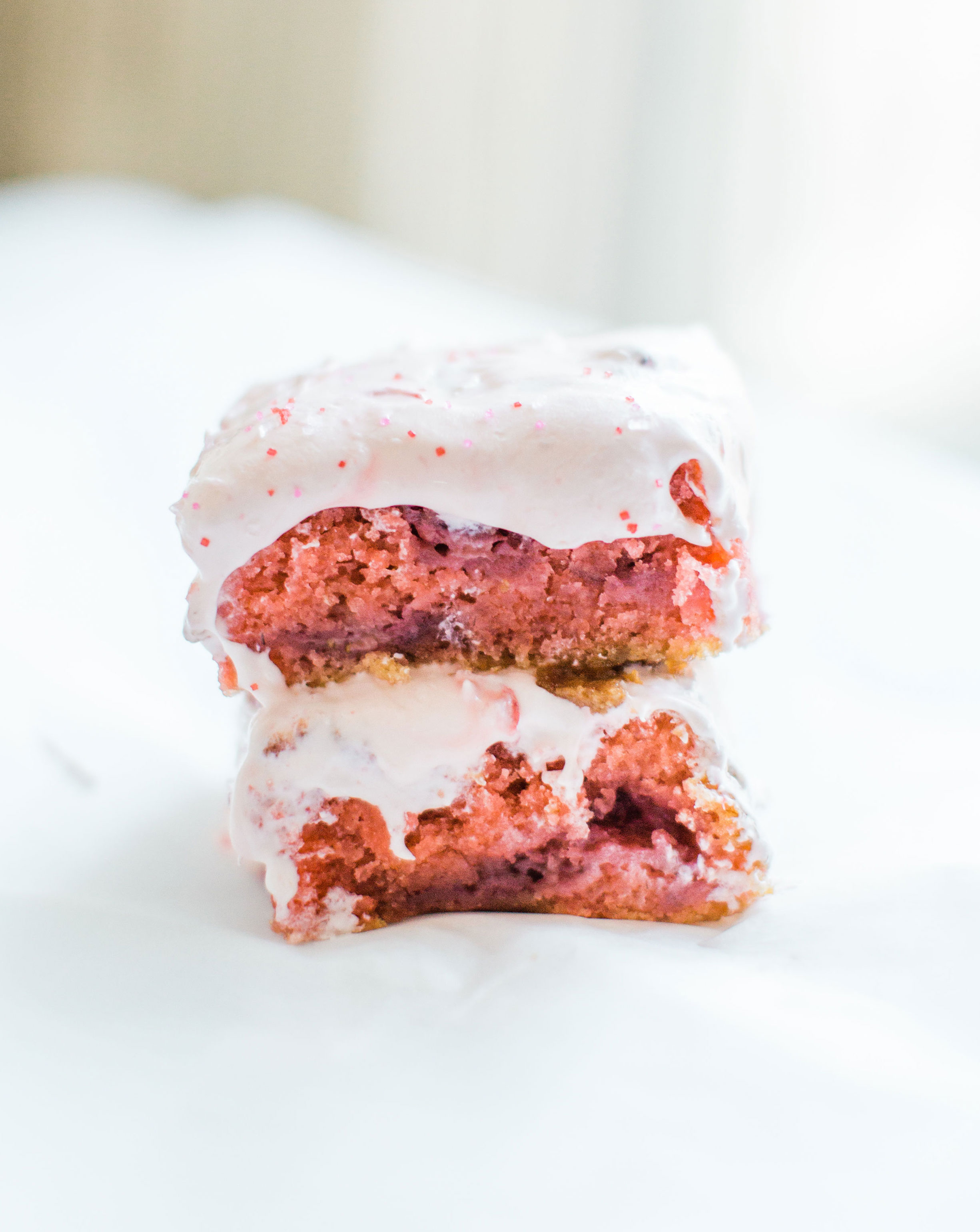 I love these simple crazy cake recipes because they're great to make with kids. Not only do the girls help me with measuring the ingredients, stirring the batter, etc., but they also always help me decorate. Scarlett has become a professional cake icer, and sprinkles are her specialty.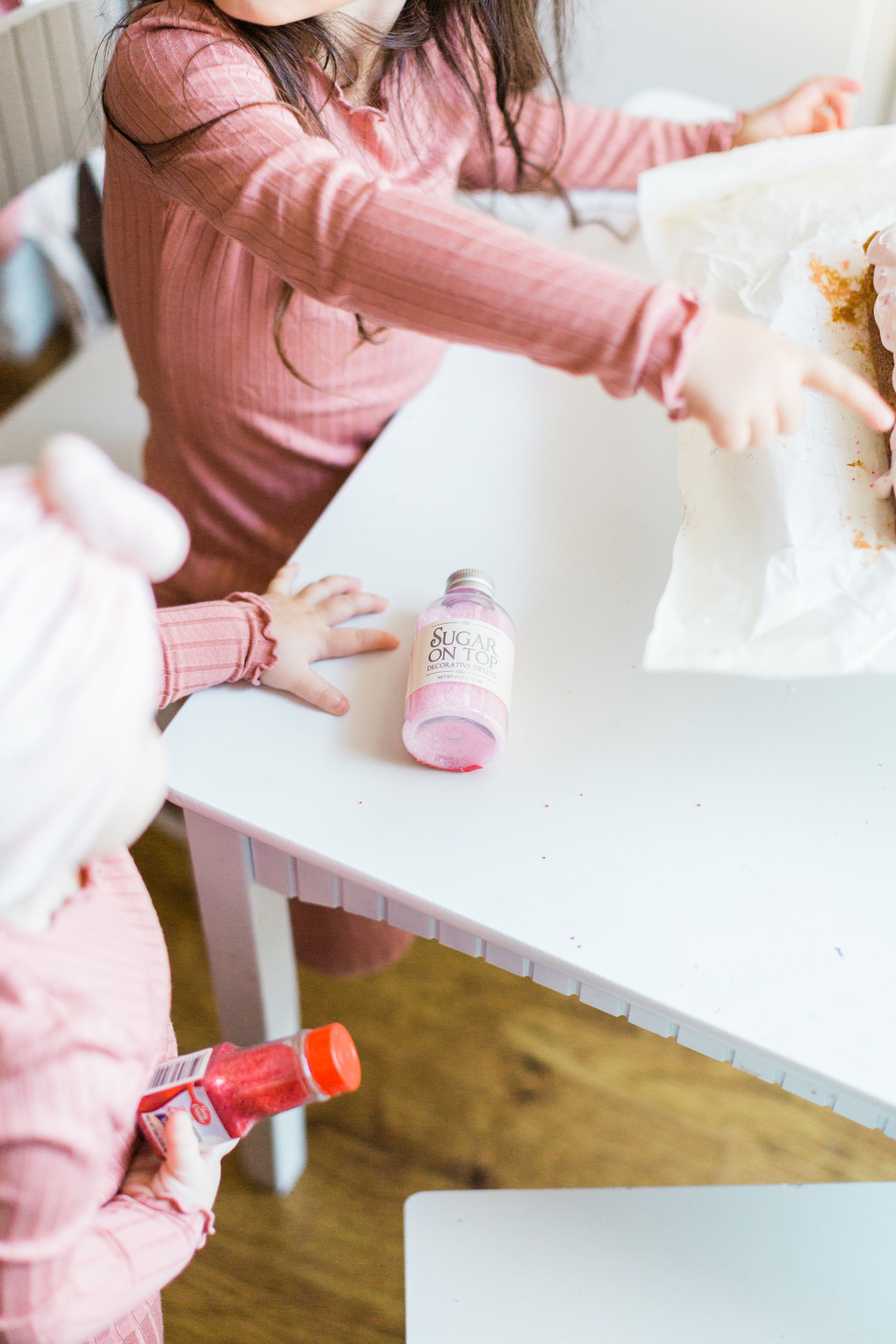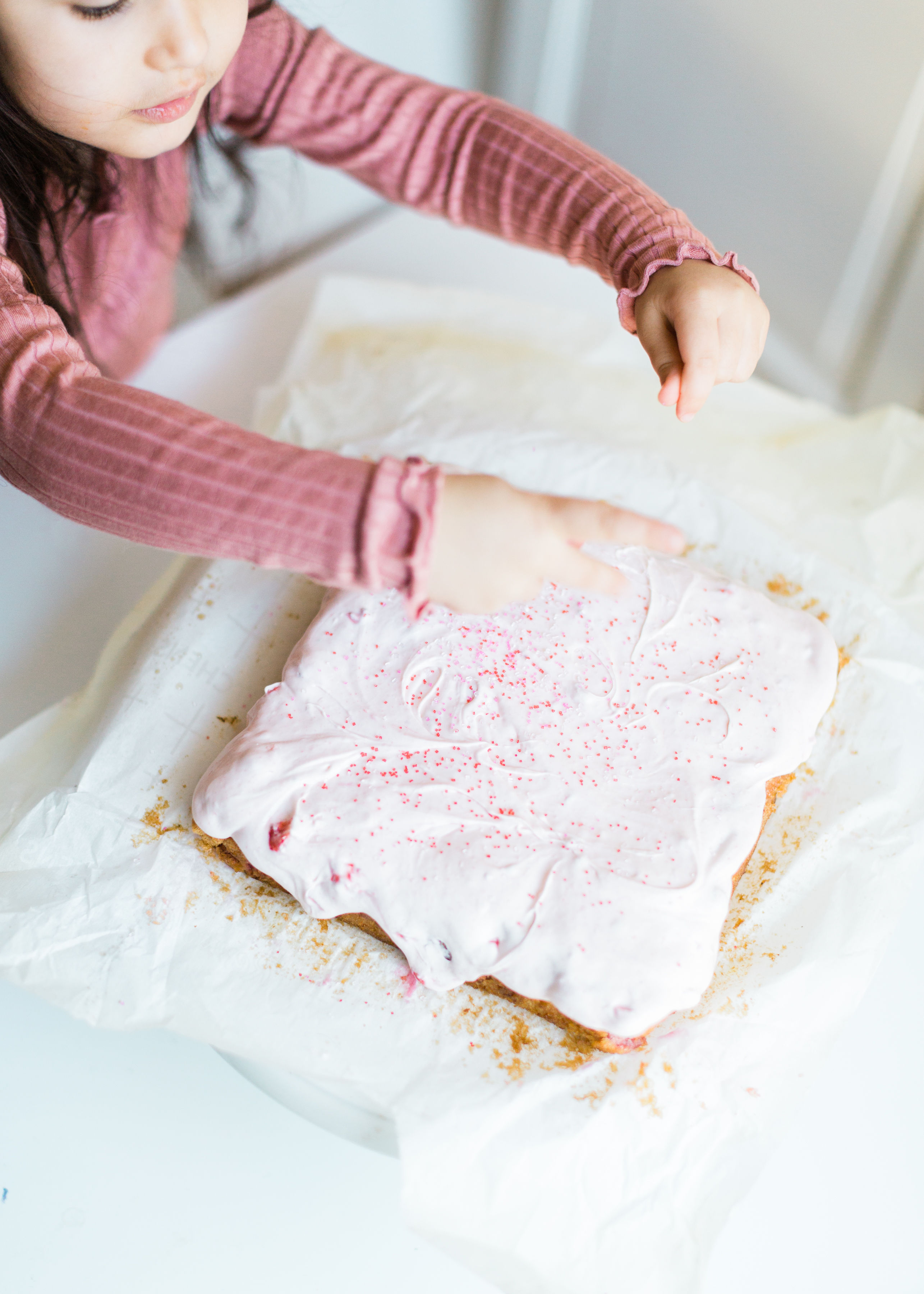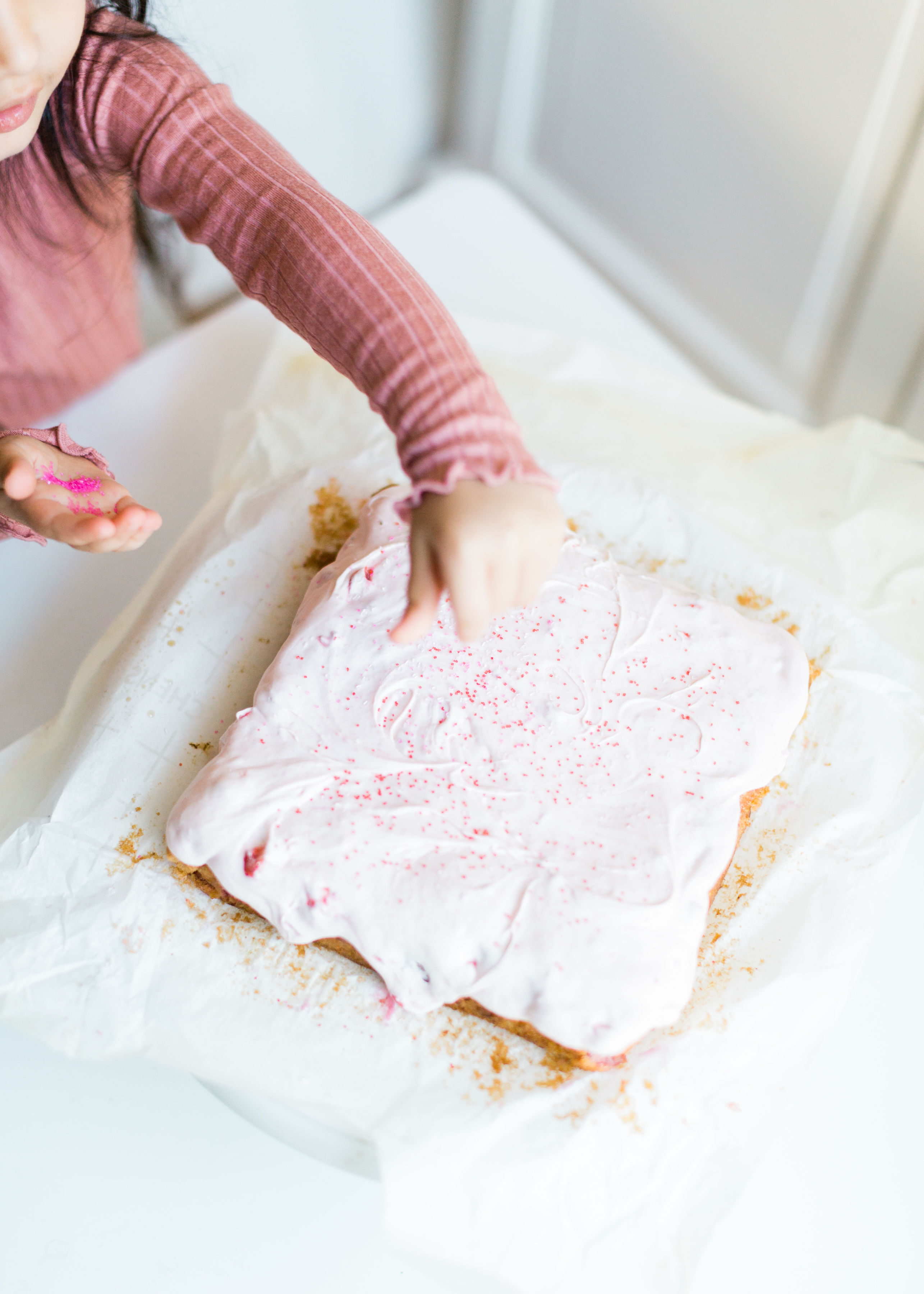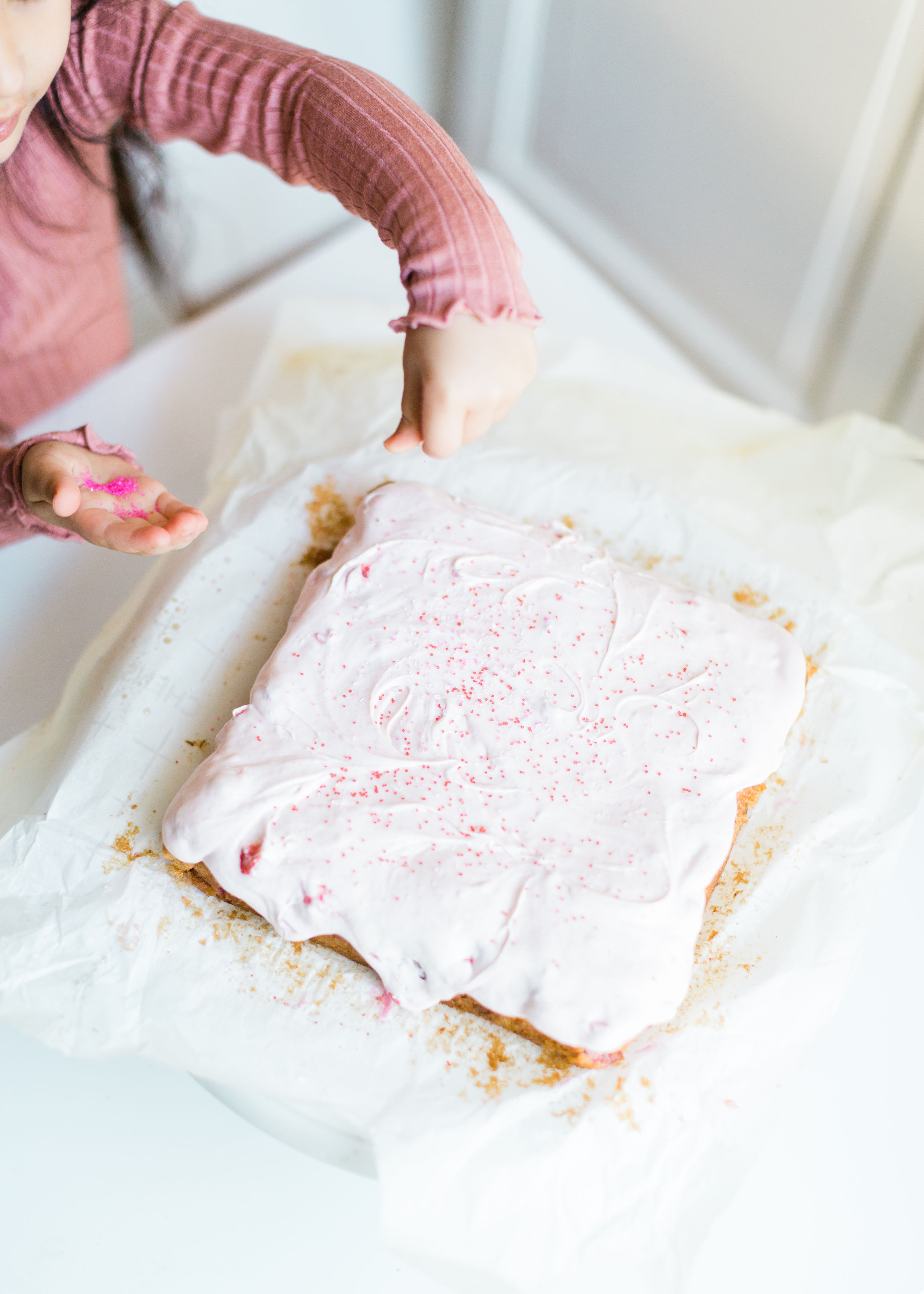 It's also tons of fun getting to eat our creation. I love seeing the pride on our girls' faces when they've helped to make something we can all eat.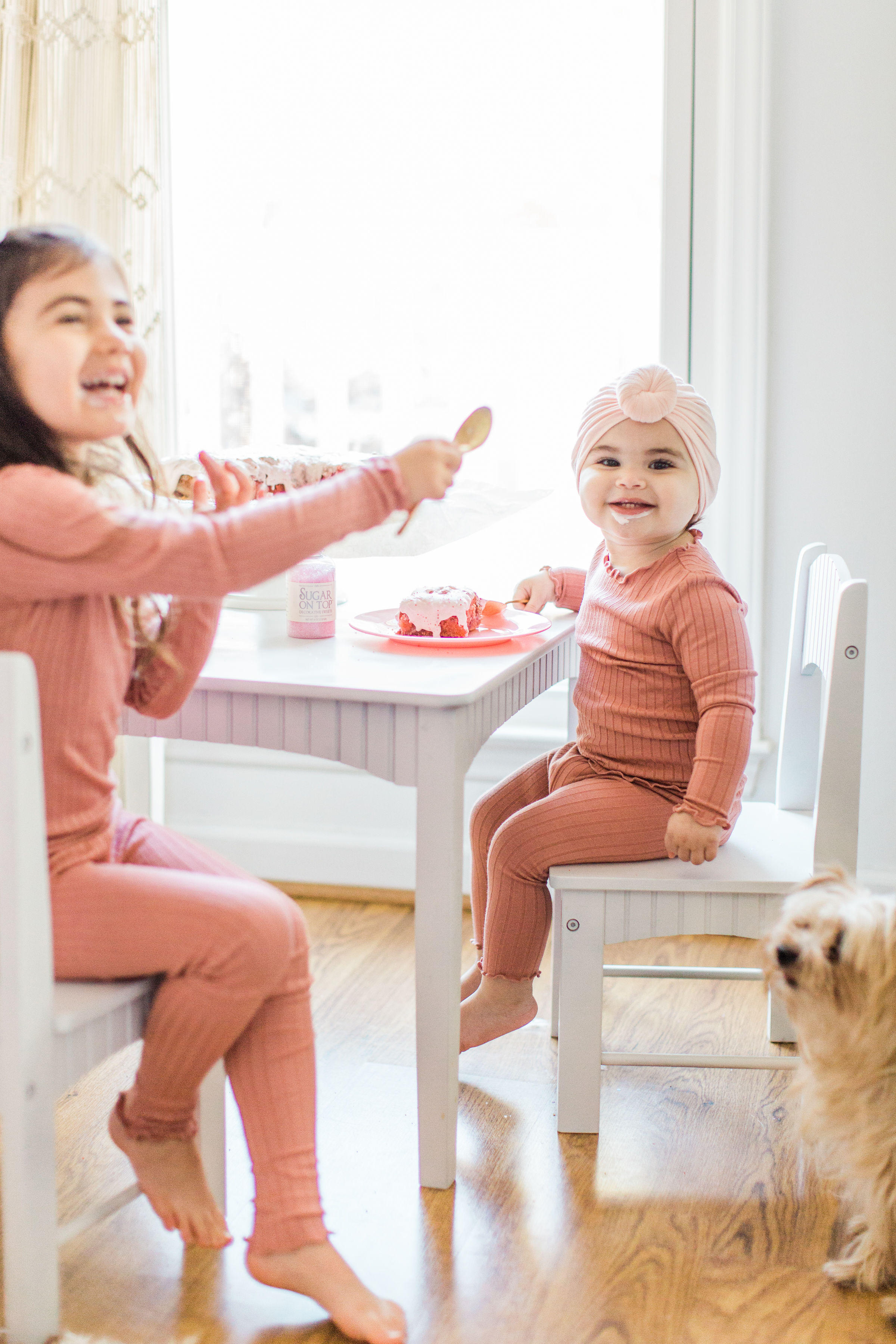 And now you should prepare yourself of picture overload …
I just can't resist smiling, frosted faces.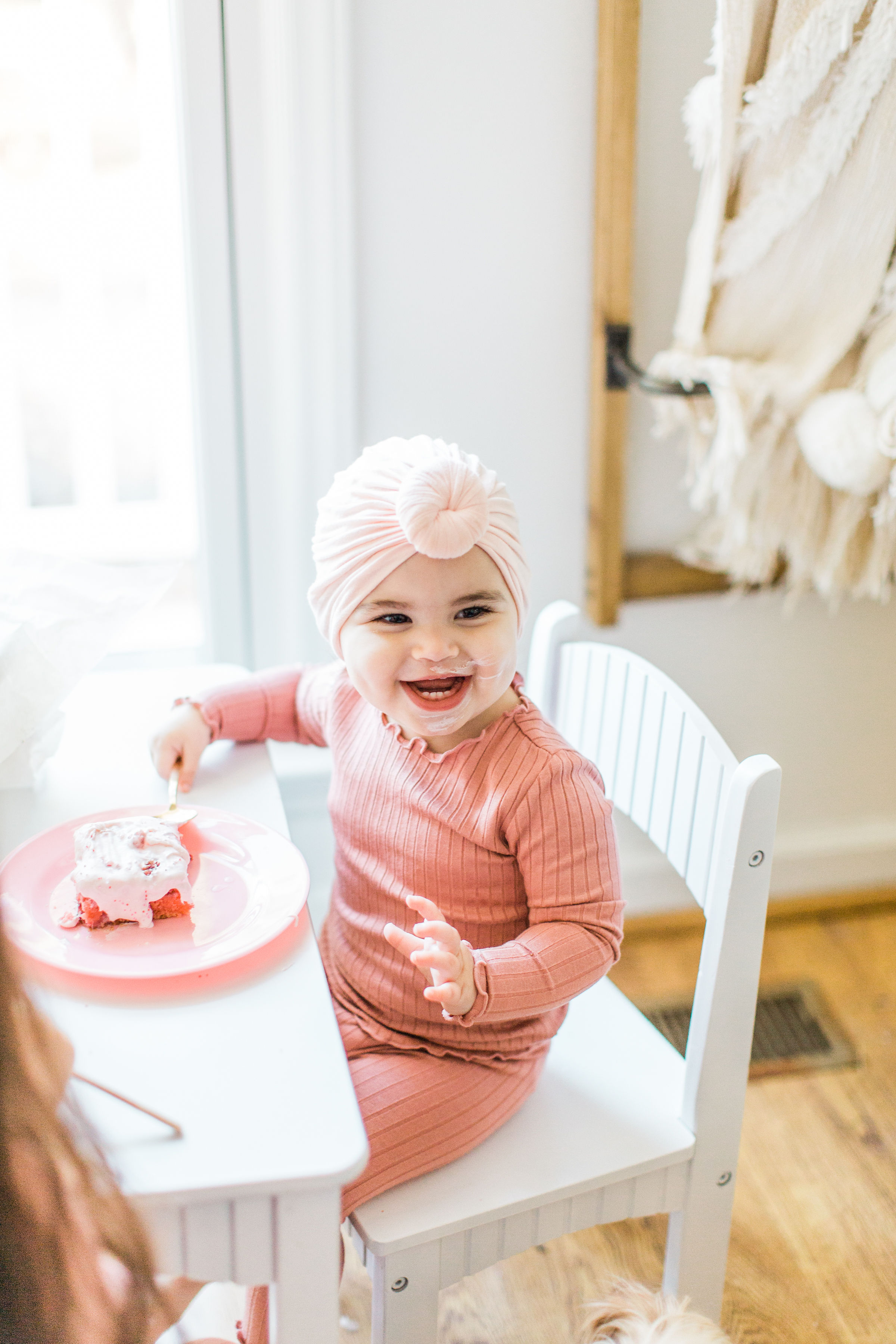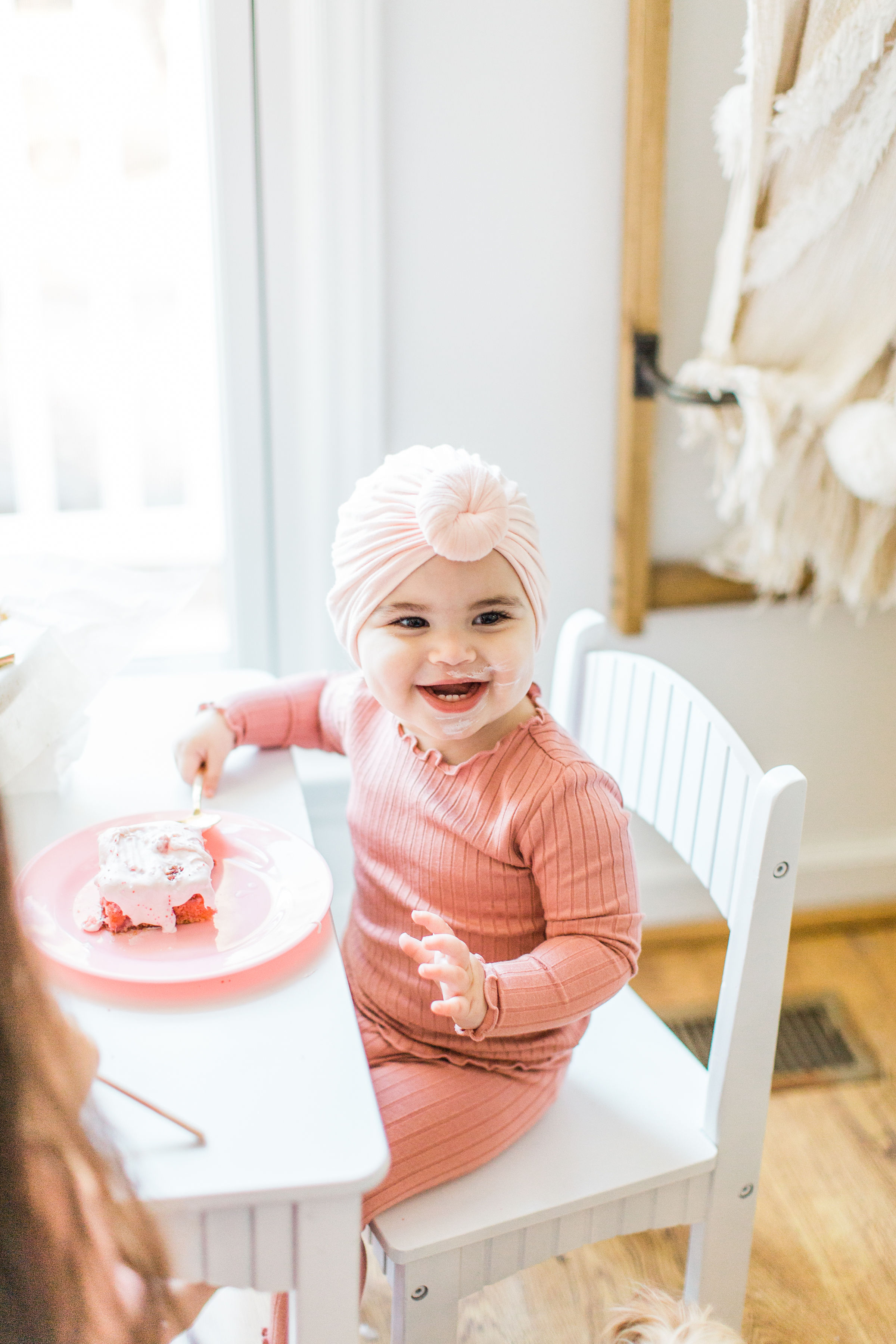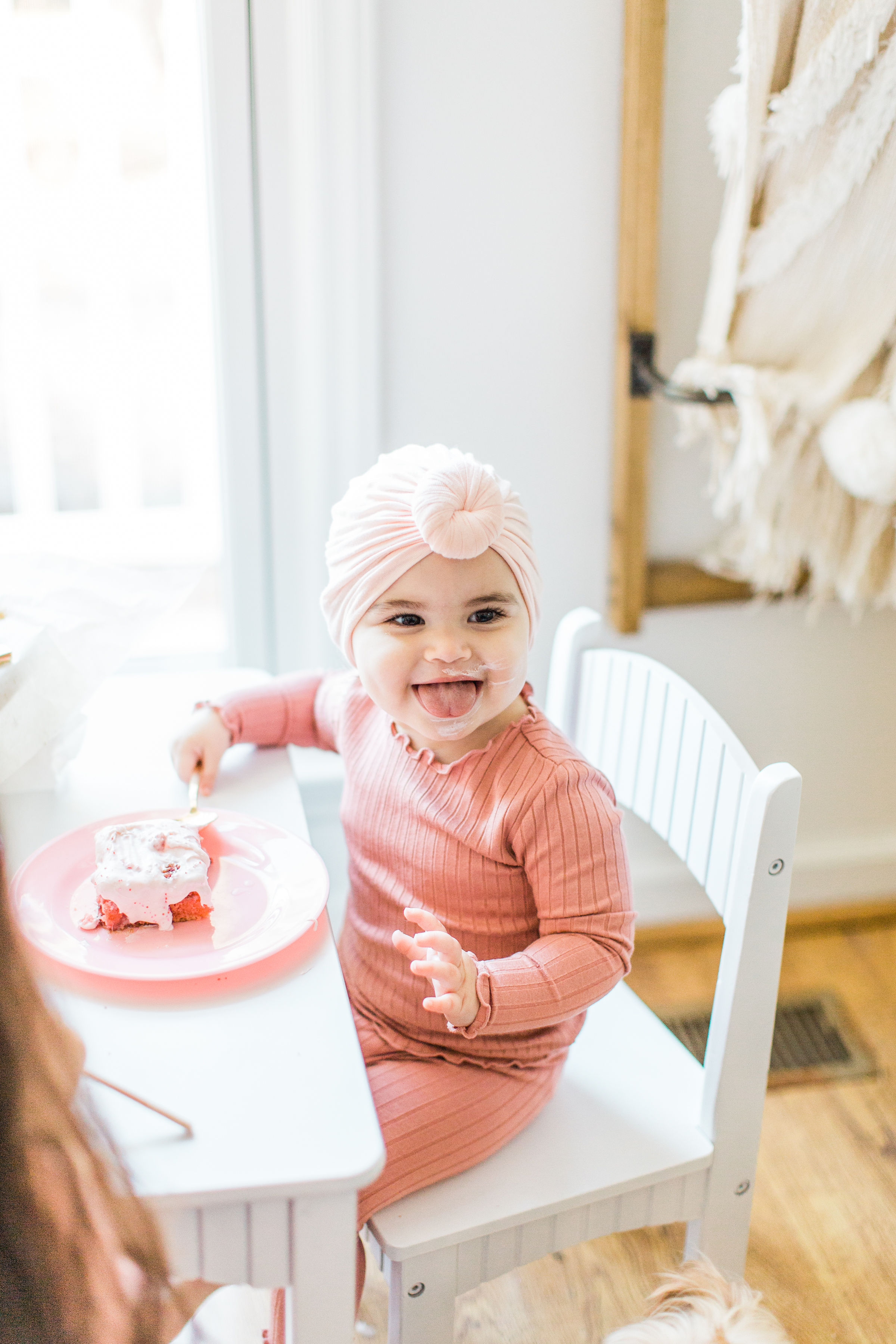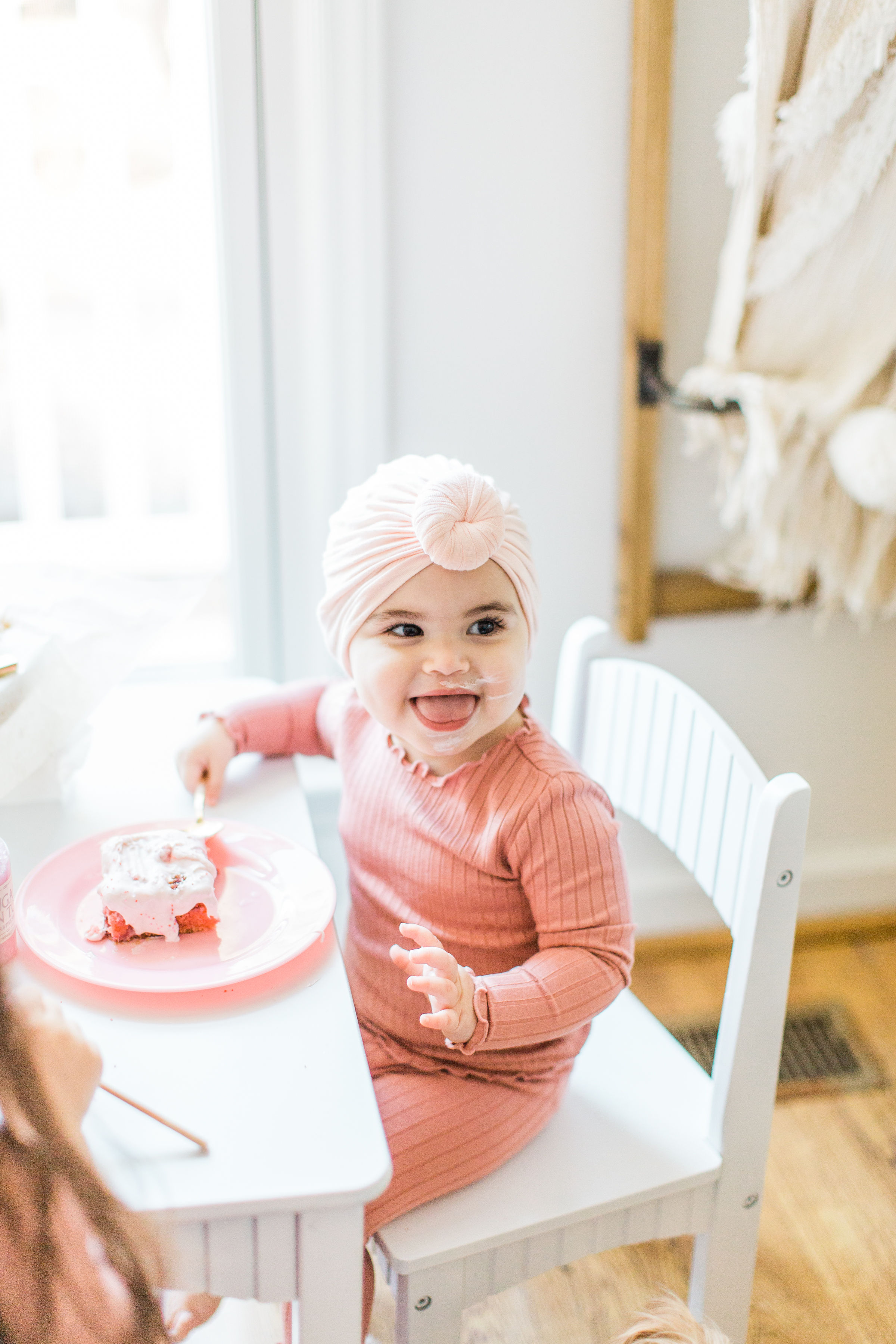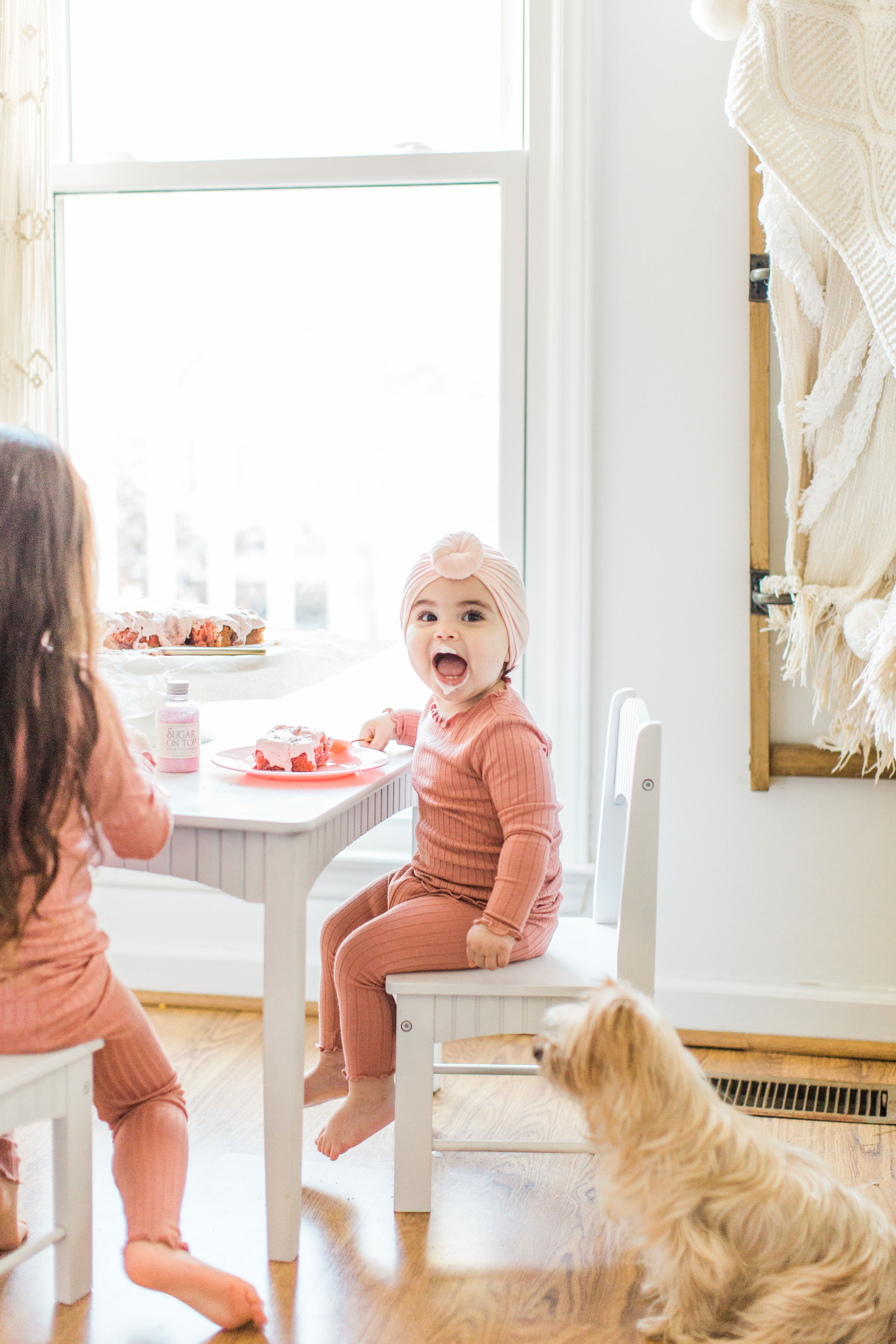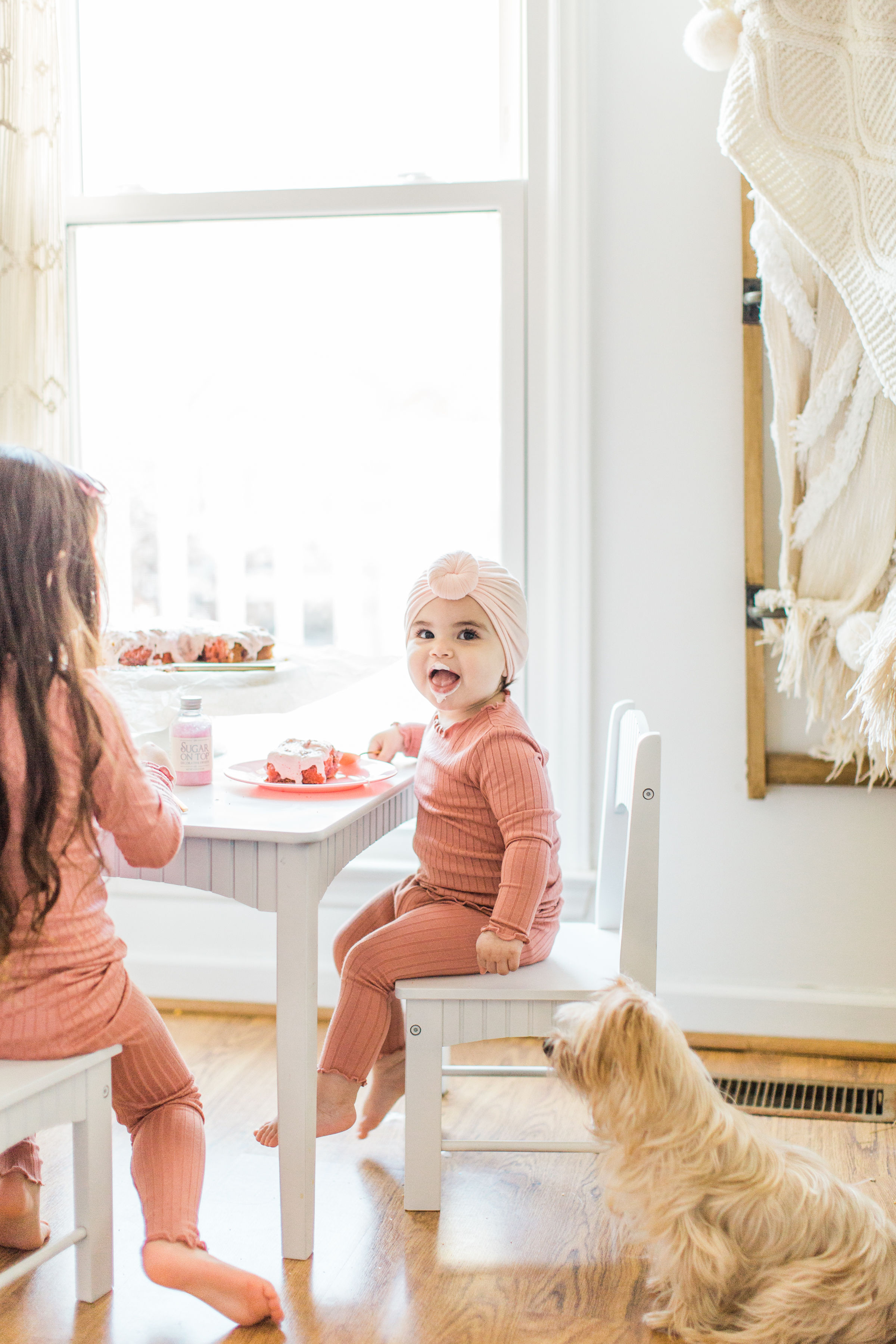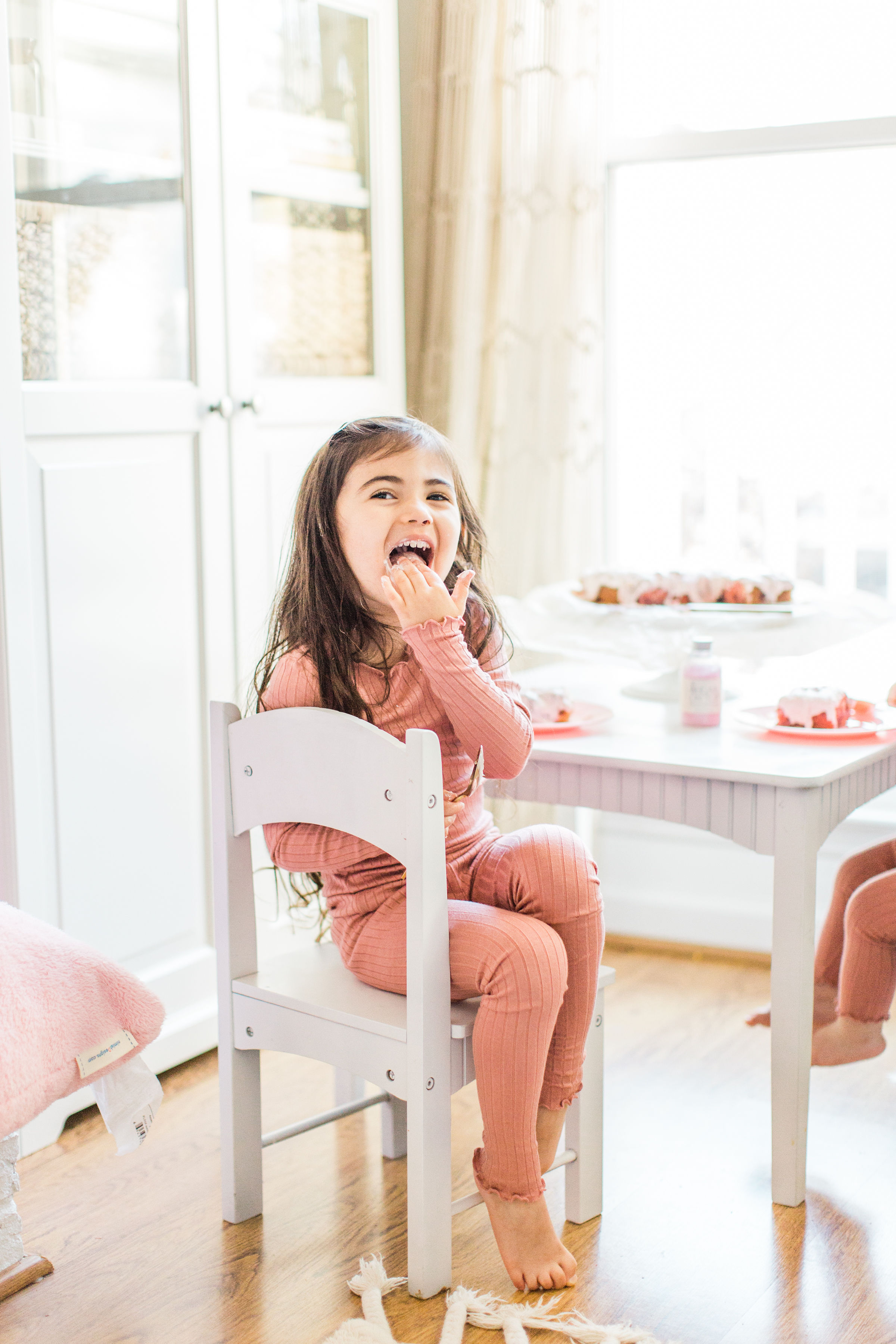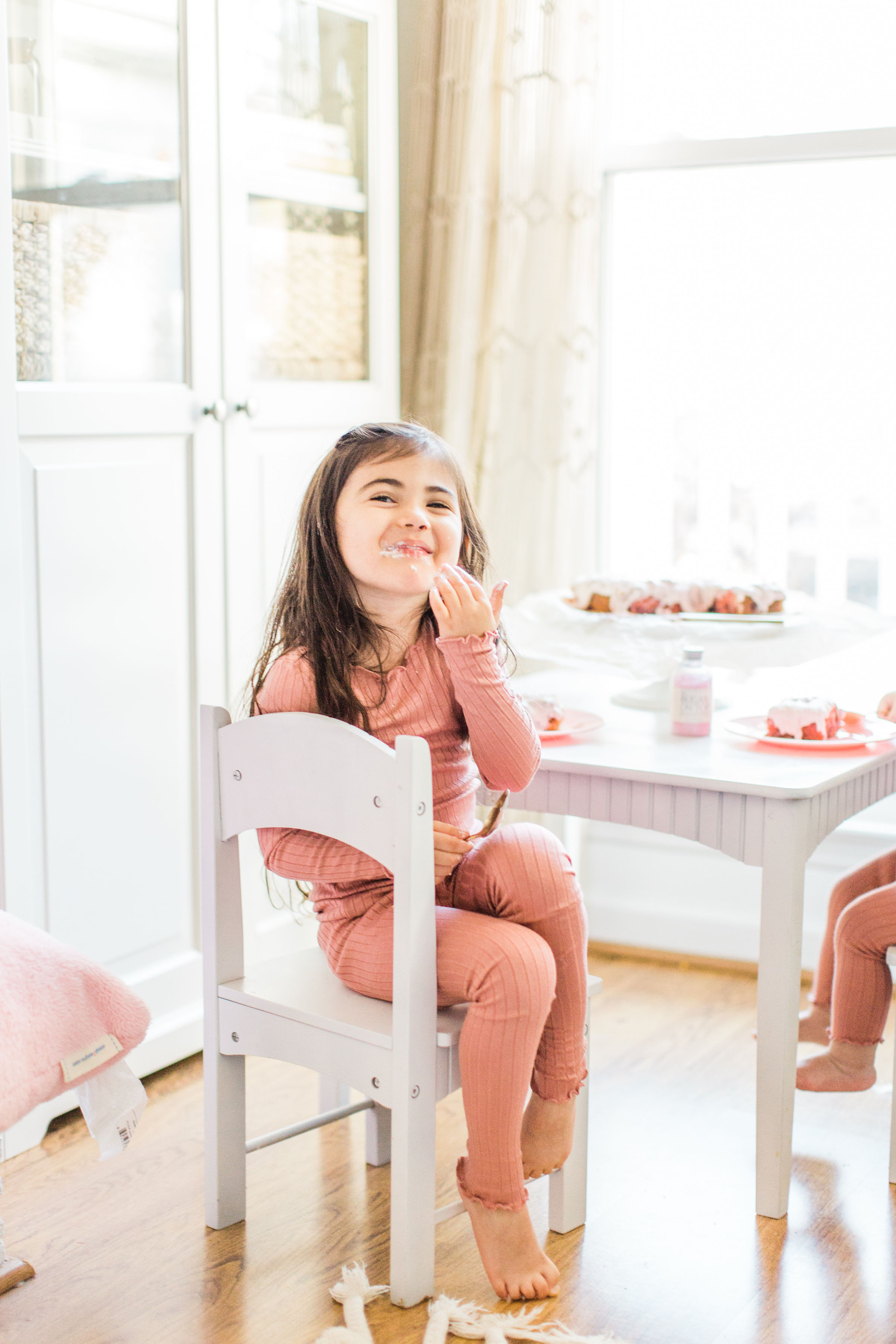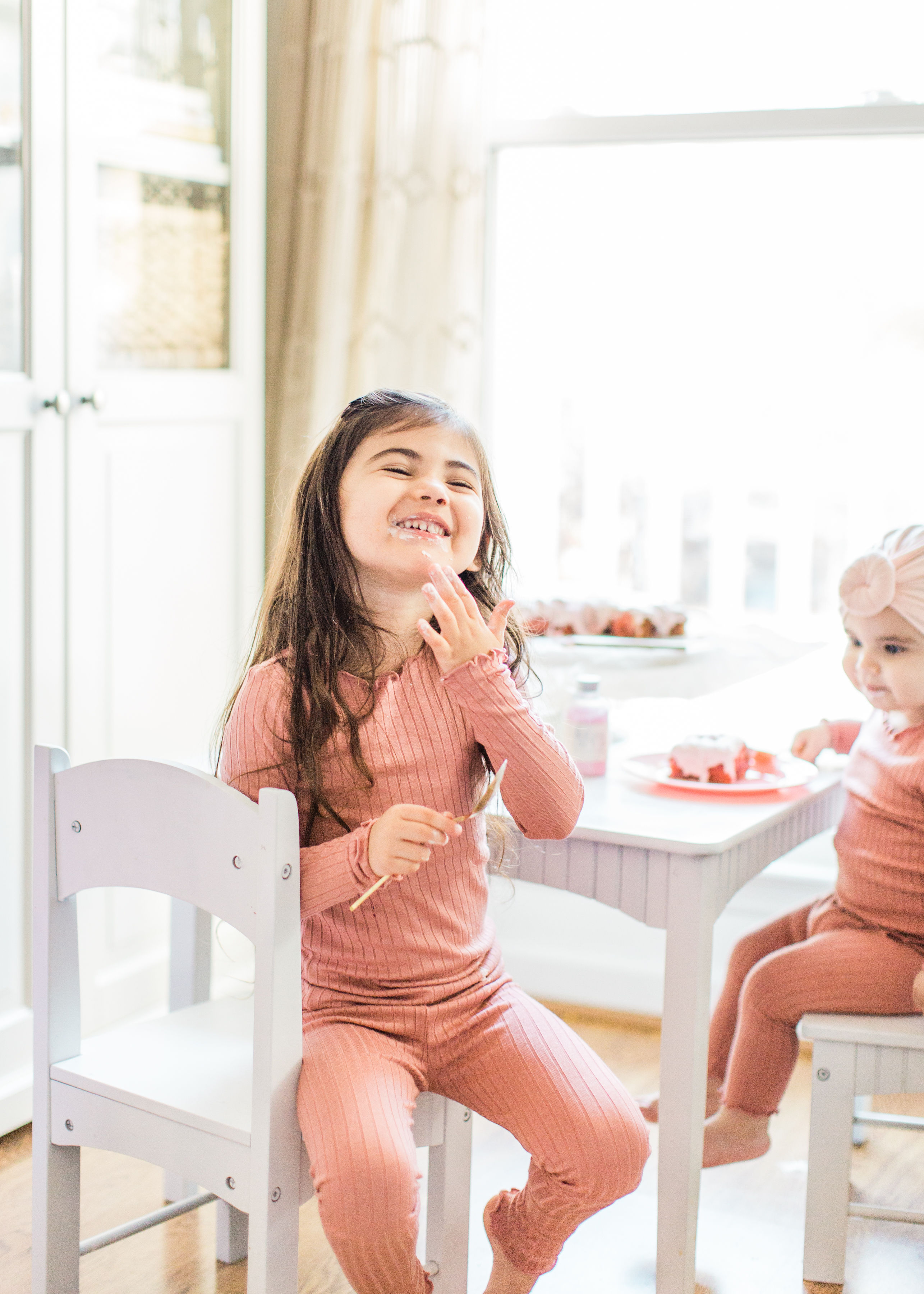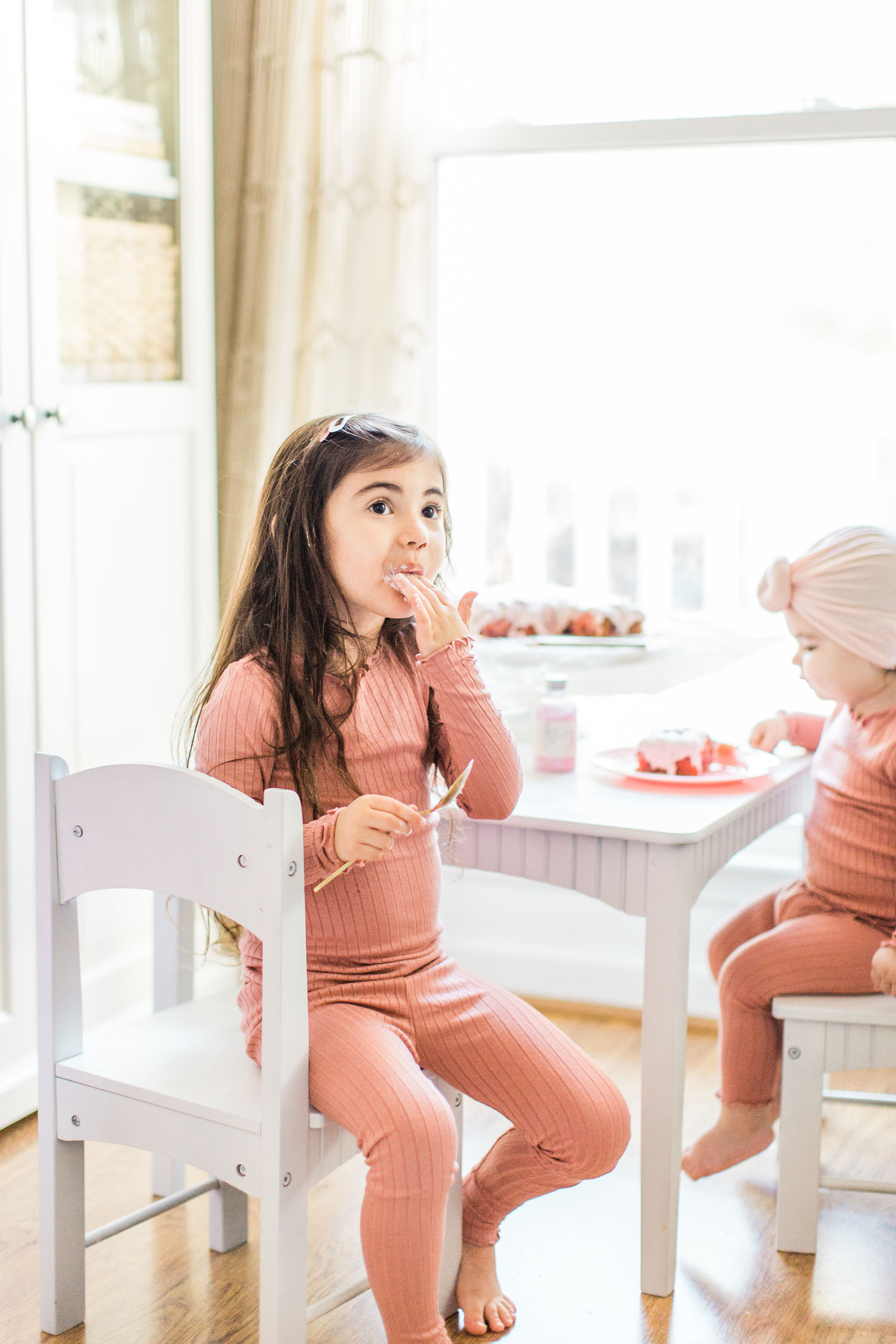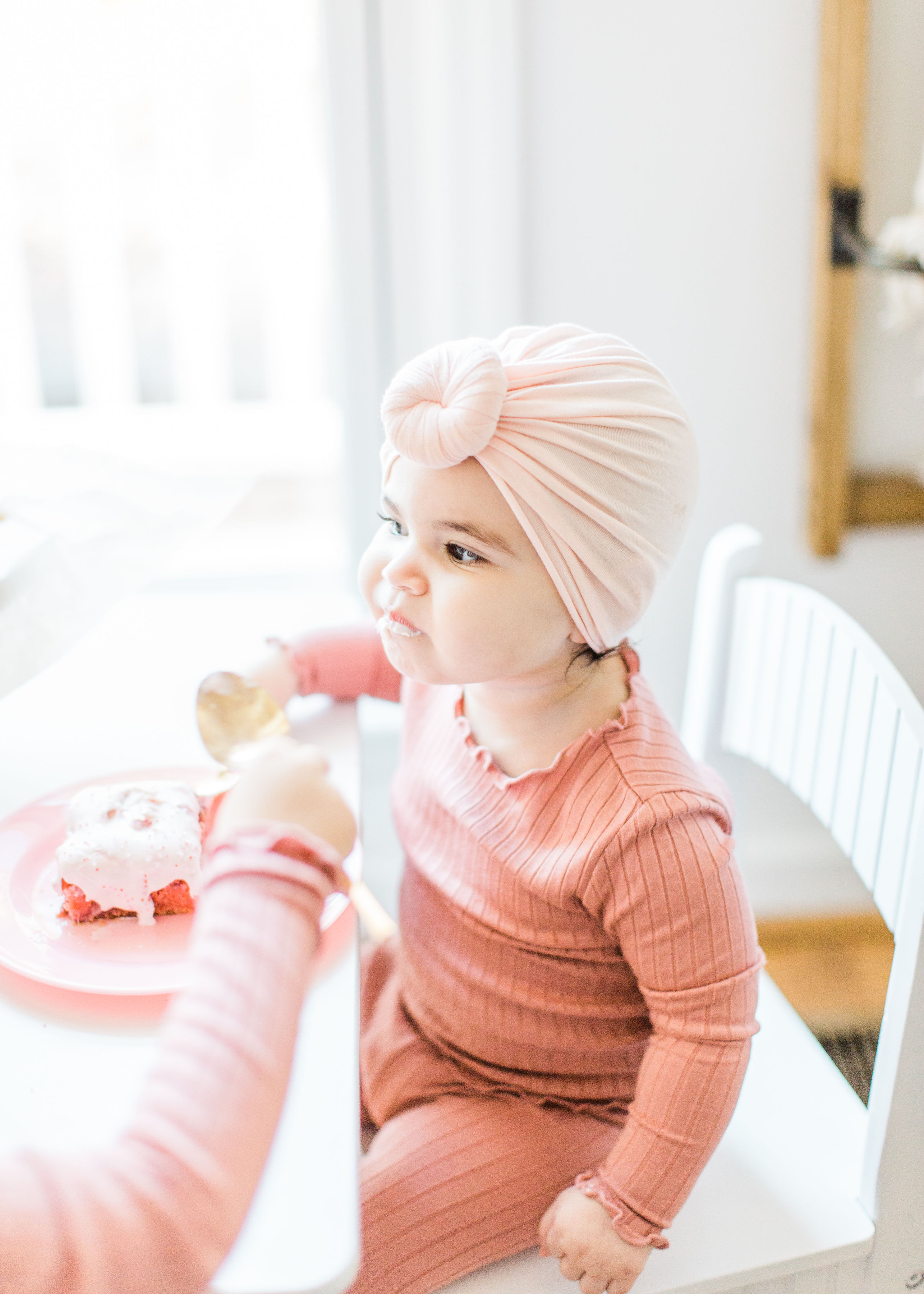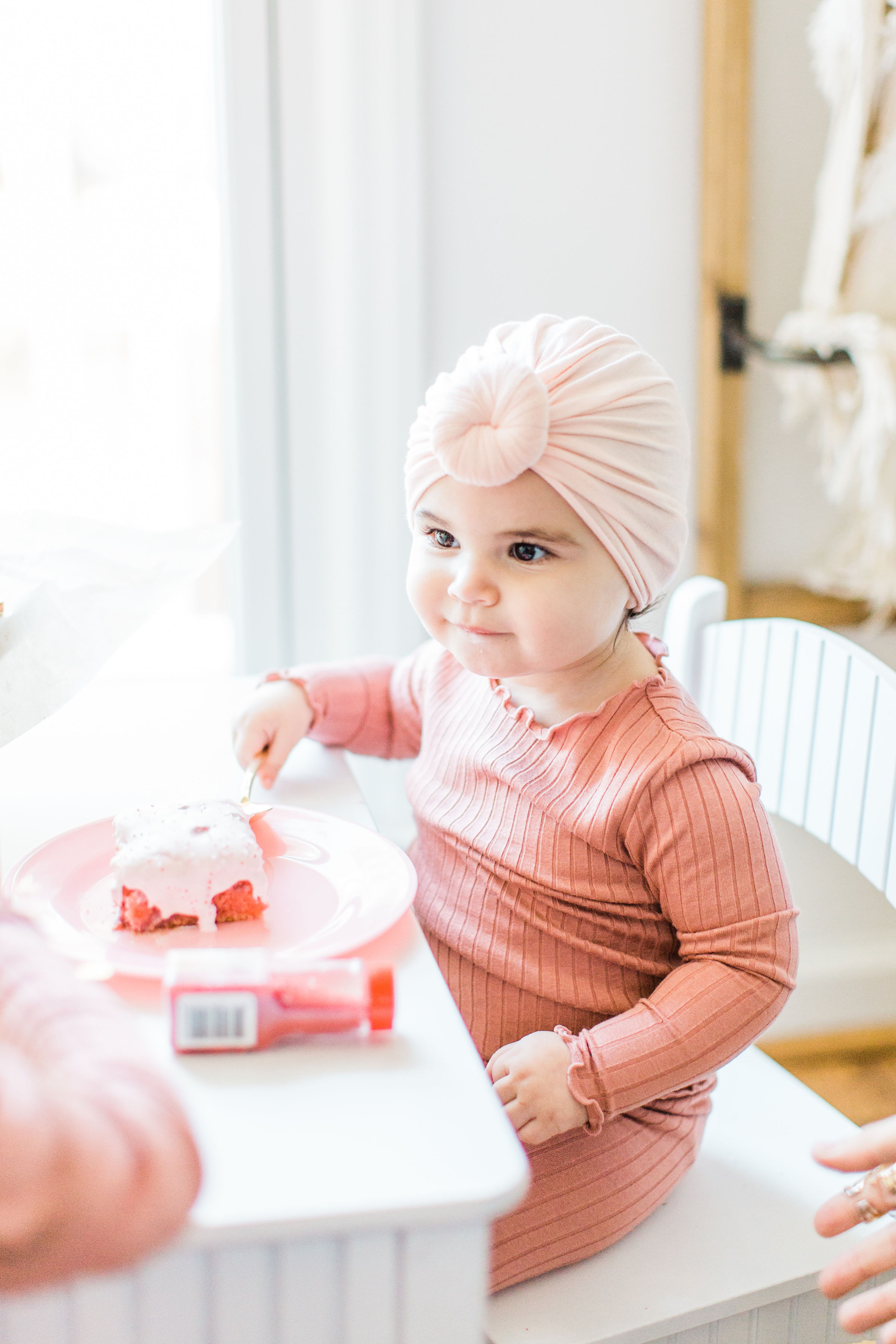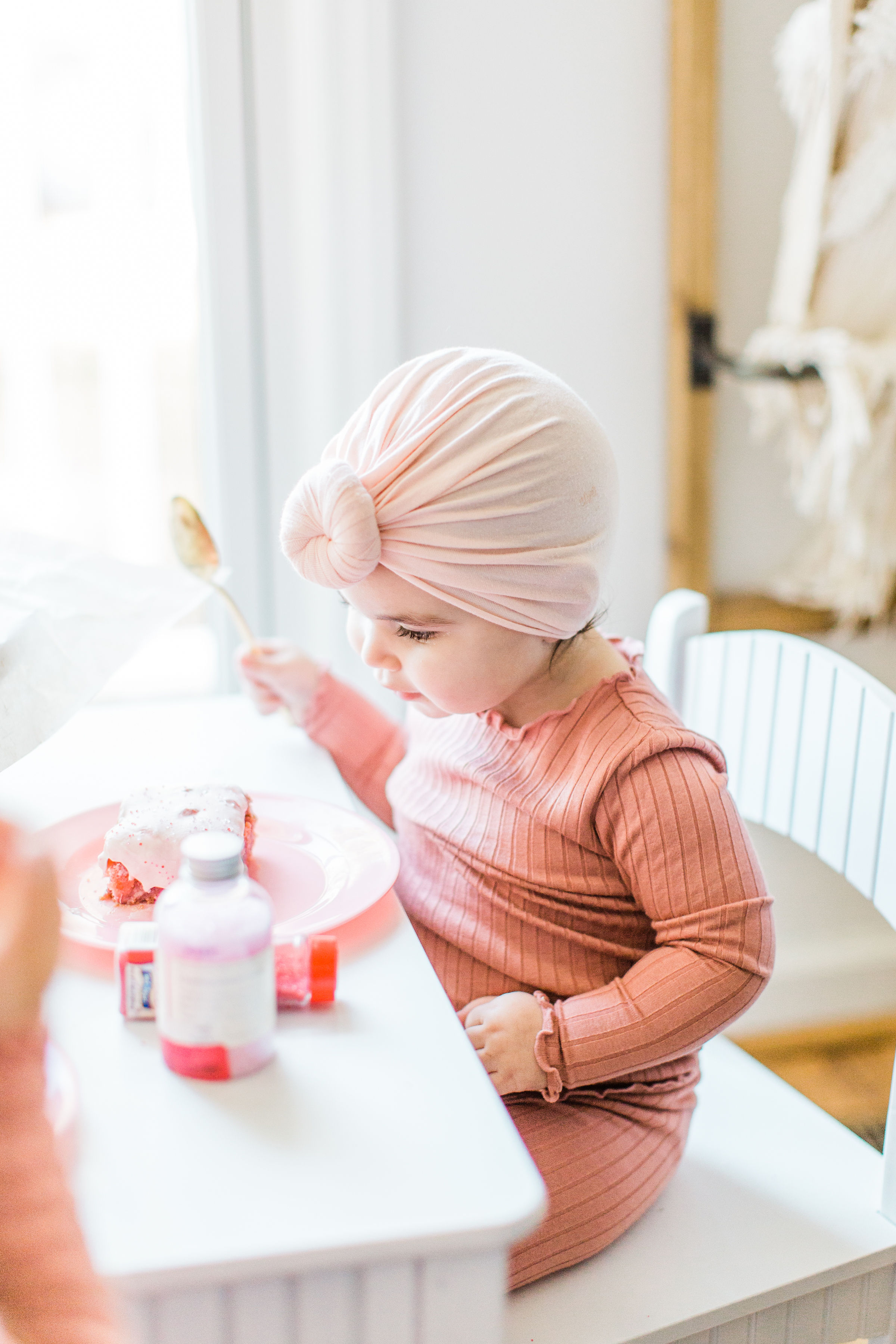 Oh, and there's a video. Emme's reaction to cake is epic. I.just.can't.help.myself.
But seriously guys, make this cake.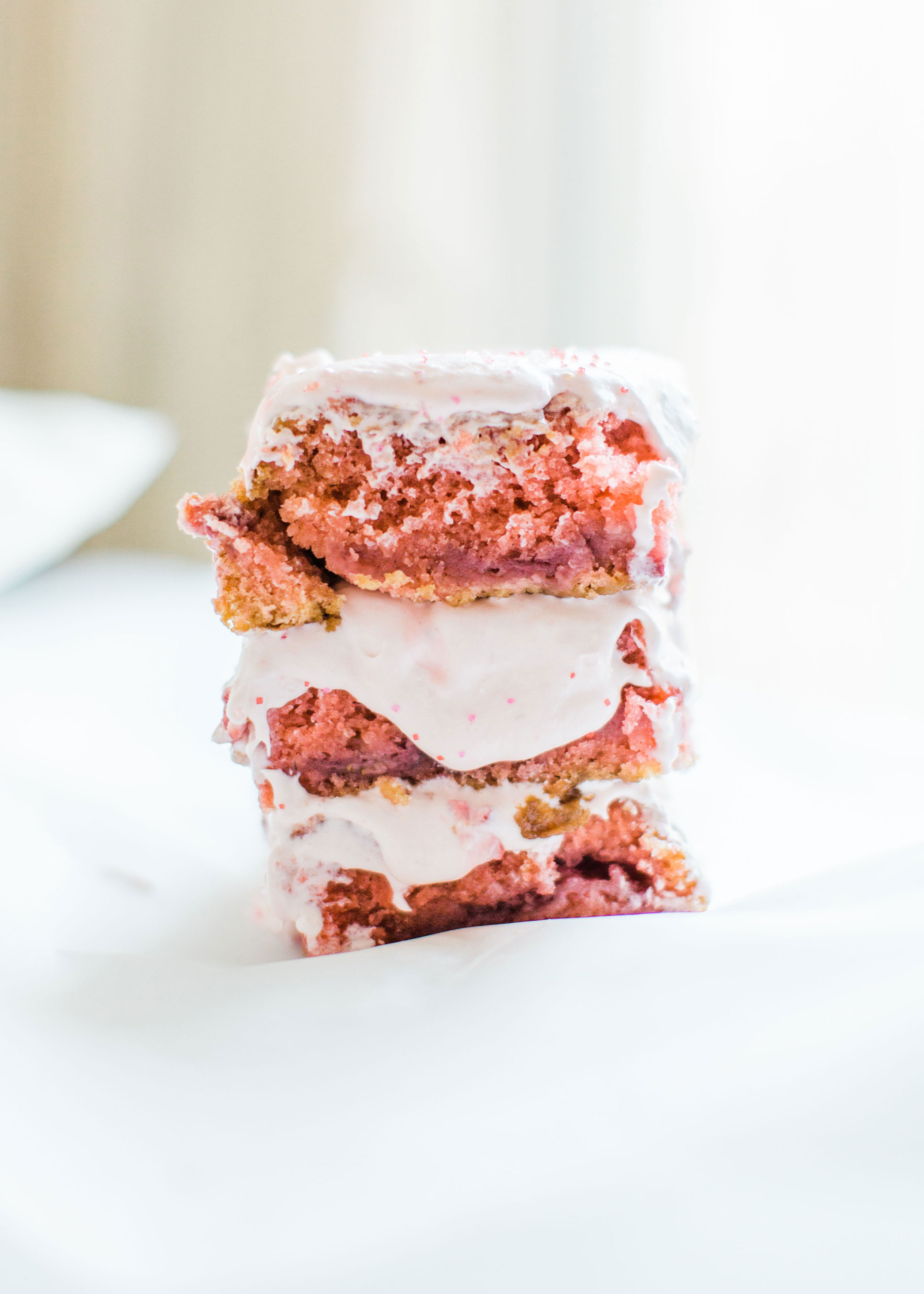 If you make your own easy strawberry cake, be sure to tag me on social media (@glitterinclexi) so I can live vicariously through all of your sweet creations!
More Yummy Dessert Recipes from Glitter, Inc.:
strawberry cheesecake macarons
quick strawberry fruit bread with strawberry glaze (so good!)
our go-to triple berry crisp
simple strawberry galette; a.k.a., easy pie
the best sugar cookies for decorating
chocolate and nutella covered strawberries
homemade raspberry marshmallows
easy, fudgy, chewy, cakey better than box mix brownies
marbled graham cracker toffee bark
copycat Levain Bakery chocolate chip cookies
SHOP THE STRAWBERRY CAKE POST | CLICK LEFT & RIGHT ARROWS TO EXPLORE

Love this yummy strawberry cake? Head to our recipe page to check out what else we're baking up in the kitchen! 
Photos by Annie Timmons Photography for Glitter, Inc.