Blueberry muffins are a classic, and rightfully so. A great blueberry muffin, with just the right weight, fluff, and sweet bursting blueberries in every delicate bite, is one fantastic breakfast (or snack). Add a pinch of lavender and a generous sprinkling of warm homemade streusel topping, and you might just be making these incredible blueberry lavender streusel muffins on repeat for ever and ever. They're that good.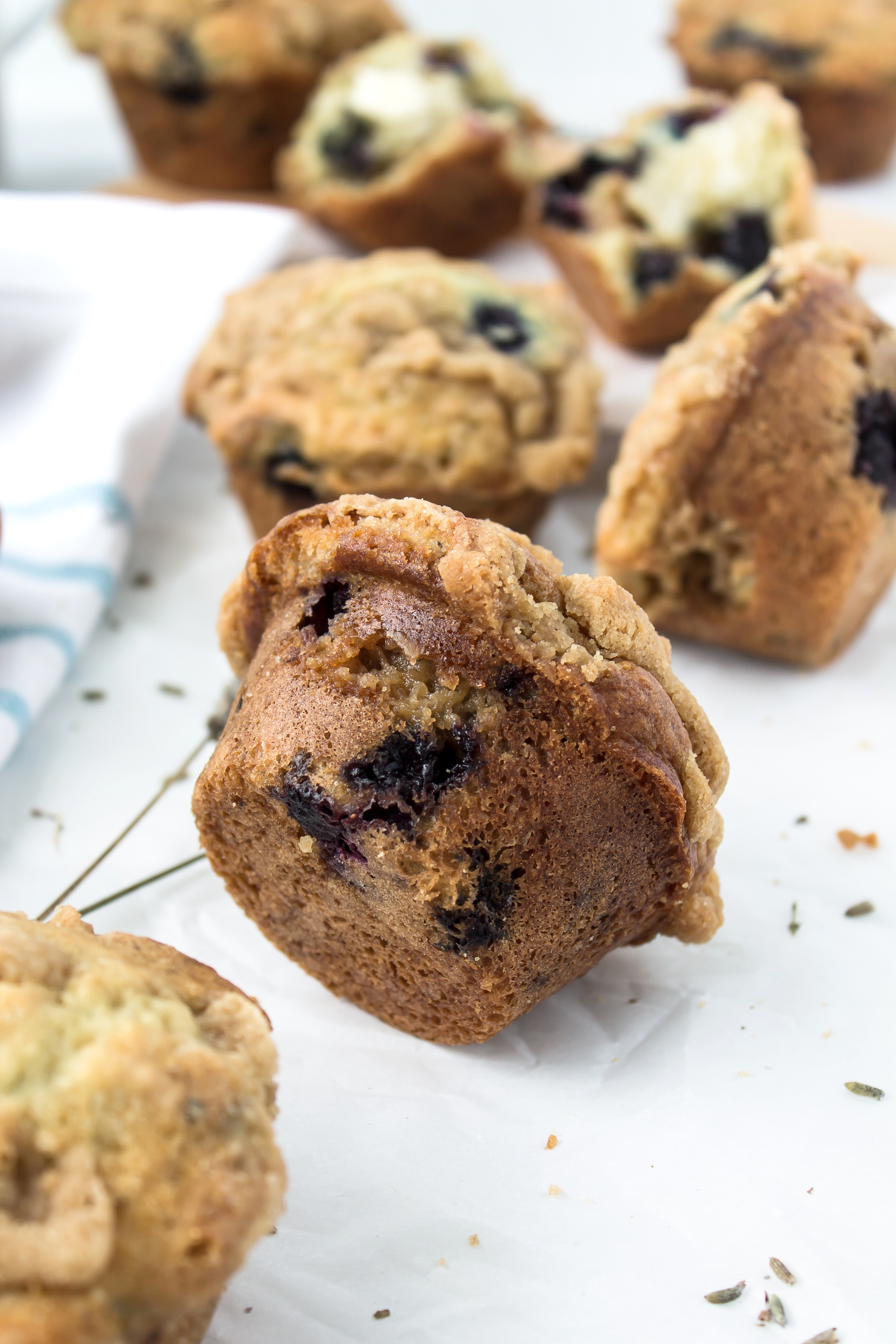 There's something about the delicate perfumed taste of subtle lavender laced throughout each bright, blueberry-filled bite, combined with a buttery-sweet streusel topping, that just gets it.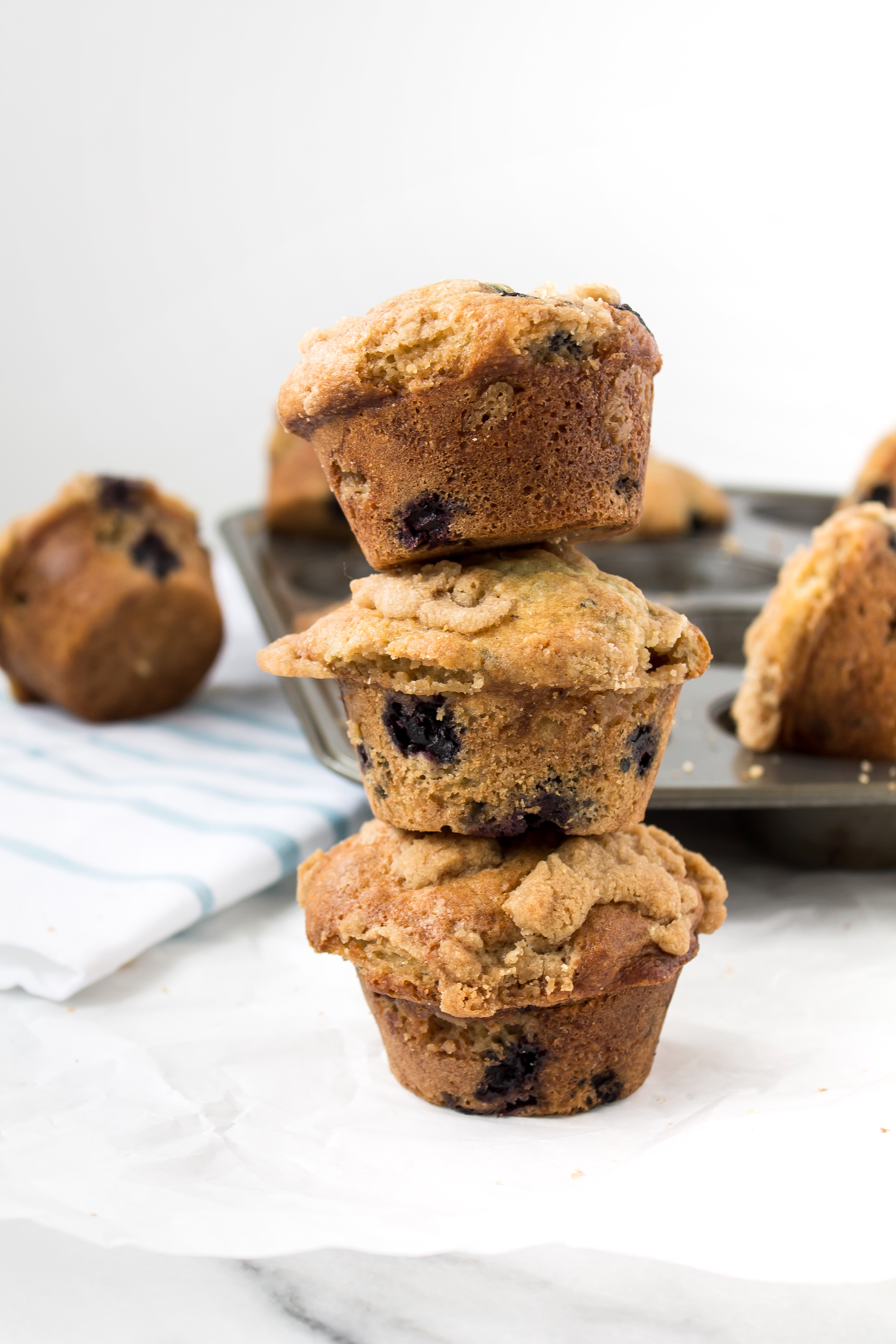 Our fantastic food contributor, Hope, dreamed up the recipe for these blueberry lavender streusel muffins, and the result is possibly the most perfect muffin ever.
From Hope:
These lavender blueberry muffins boast a unique and wonderful flavor. The deliciously moist muffins are filled with bursting blueberries and topped with crumbly brown sugar streusel. The amazing scent of the lavender buds is just enough to emanate from warm, steaming muffins without making them taste too floral.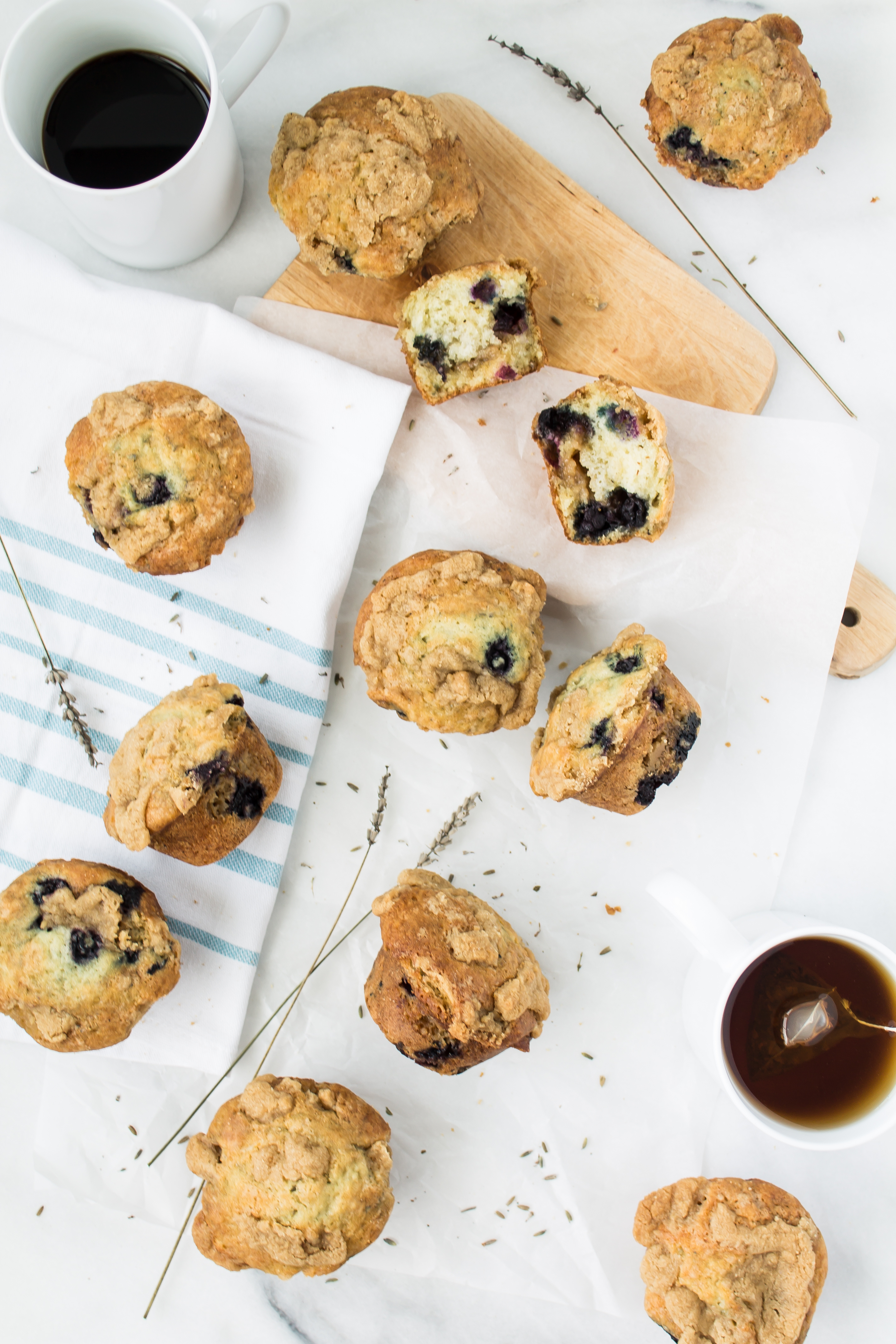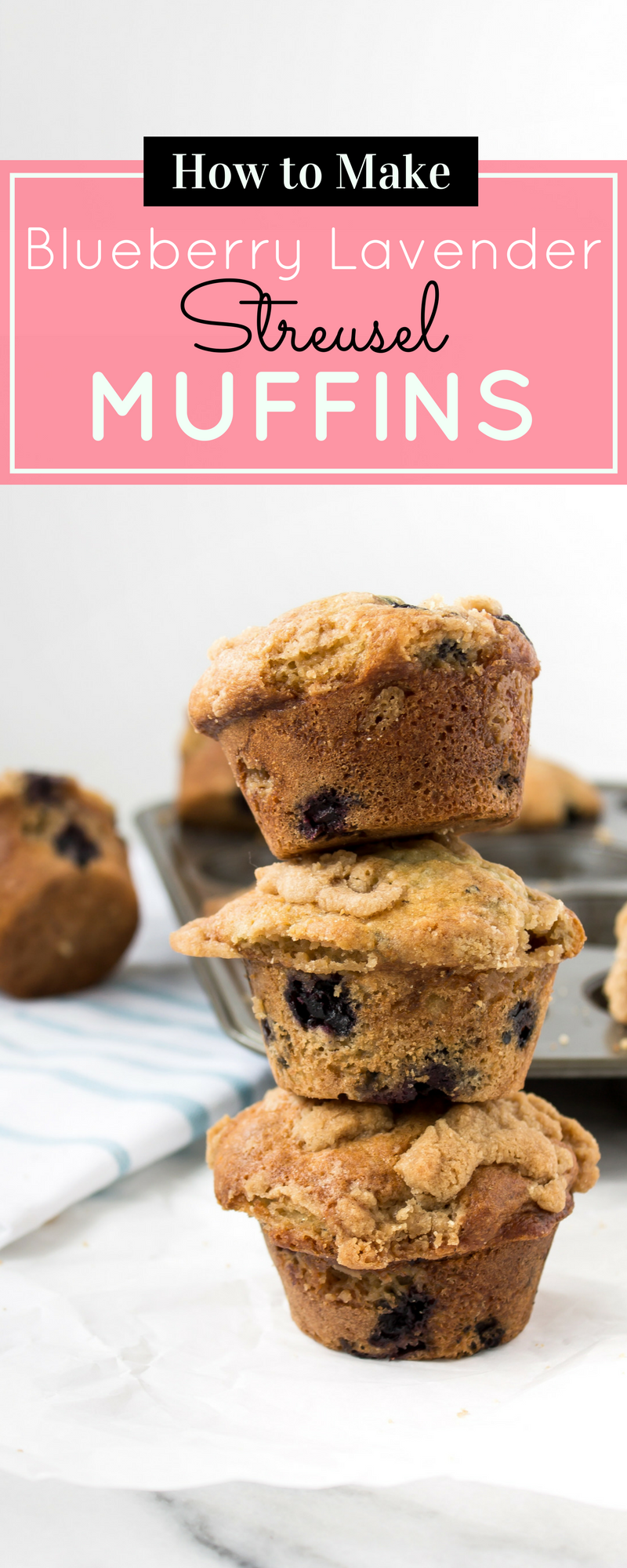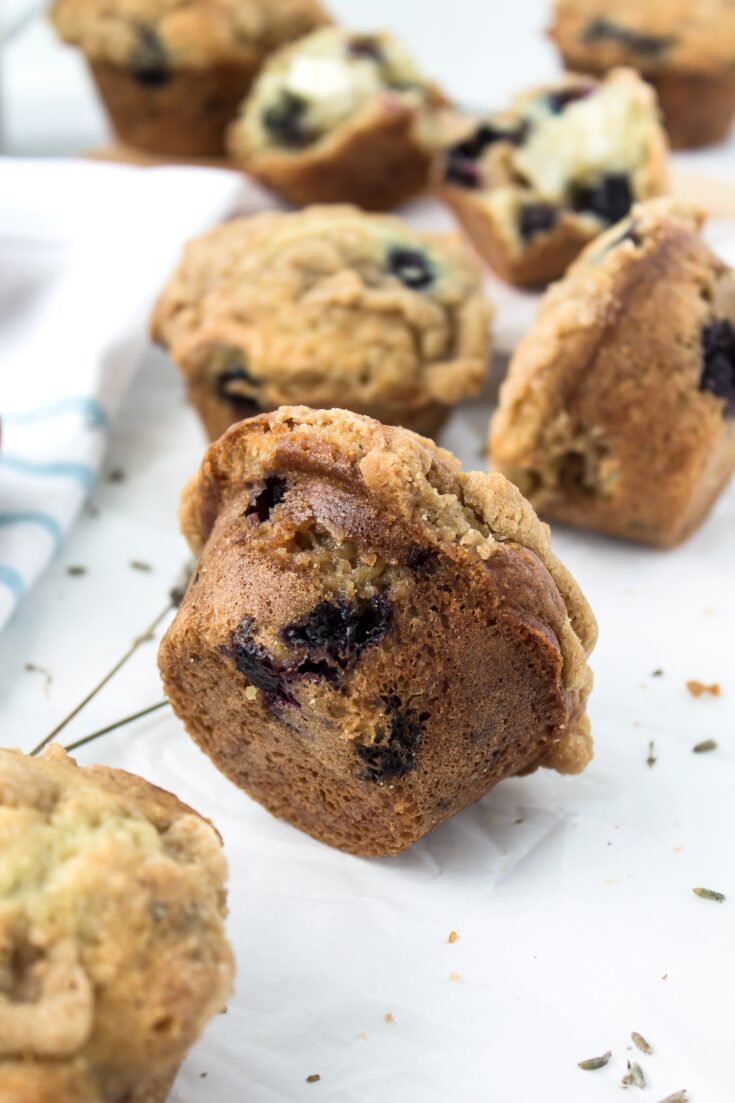 Yield:
Blueberry Lavender Streusel Muffins
A classic, and delicious, blueberry muffin recipe gets a modern and incredible upgrade with a pinch of lavender and a generous sprinkling of warm homemade streusel topping. The result is muffin heaven. 
Ingredients
Streusel
3/4 cup flour
3/4 cup loosely packed brown sugar
1 teaspoon cinnamon
6 tablespoons unsalted butter, softened
Blueberry Lavender Muffins
2 ¼ cups flour
2 teaspoons baking powder
1 teaspoon baking soda
¼ teaspoon salt
5 tablespoons butter, softened
5 tablespoons + 1 teaspoon (1/3 cup) butter, melted
¾ teaspoon dried lavender buds*
¾ cup sugar
2 large eggs
1 teaspoon vanilla
1 cup plain Greek yogurt
1 cup fresh or frozen blueberries
*You can find dried lavender buds on Amazon] and at certain [Target stores.
Instructions
Preheat the oven to 350 degrees F. Spray a muffin tin with nonstick cooking spray or line with muffin liners.
To Make the Streusel
In a bowl, whisk together the flour, sugar and cinnamon. Add the butter and mix it into the dry ingredients, then use your hands to bring the streusel together until it resembles the texture of sand. I take pieces of it and squeeze together.
To Make the Muffins
In a large bowl, whisk together the flour, baking powder, soda and salt.      
In the bowl of your electric mixer, beat together the butter, lavender, and sugar until fluffy, about 5 minutes, scraping down the bowl when needed. Add the eggs, one at a time, and beat until combined. Add the vanilla. Stir in the yogurt just until it is incorporated in, being careful not to over-mix. It is fine to have a few streaks of yogurt at this stage.
Add the wet ingredients to the dry ingredients. Stir the mixture together, just until the wet and dry ingredients are combined. The batter will be very thick. Fold in the blueberries until they are evenly distributed.
Fill the muffin tins with about 1 ½ tablespoons of the batter (I use a medium cookie scoop for this and it works so well!). Press down the batter with a spoon or your fingers so it covers the bottom of the cup, then sprinkle some of the streusel on top. Top the streusel with the remaining batter to make the muffin about 2/3 full. I filled my muffins higher than this, which created the muffin top you see here. If you want that, fill the cups with a bit more batter. Top the batter with what is left of the streusel, gently pressing the crumbs into the batter so they stay on the muffins.
Bake the muffins for 20 to 25 minutes, until the tops are set and a toothpick inserted to the center comes out clean. Remove them from the oven and let cool completely before removing from the pan.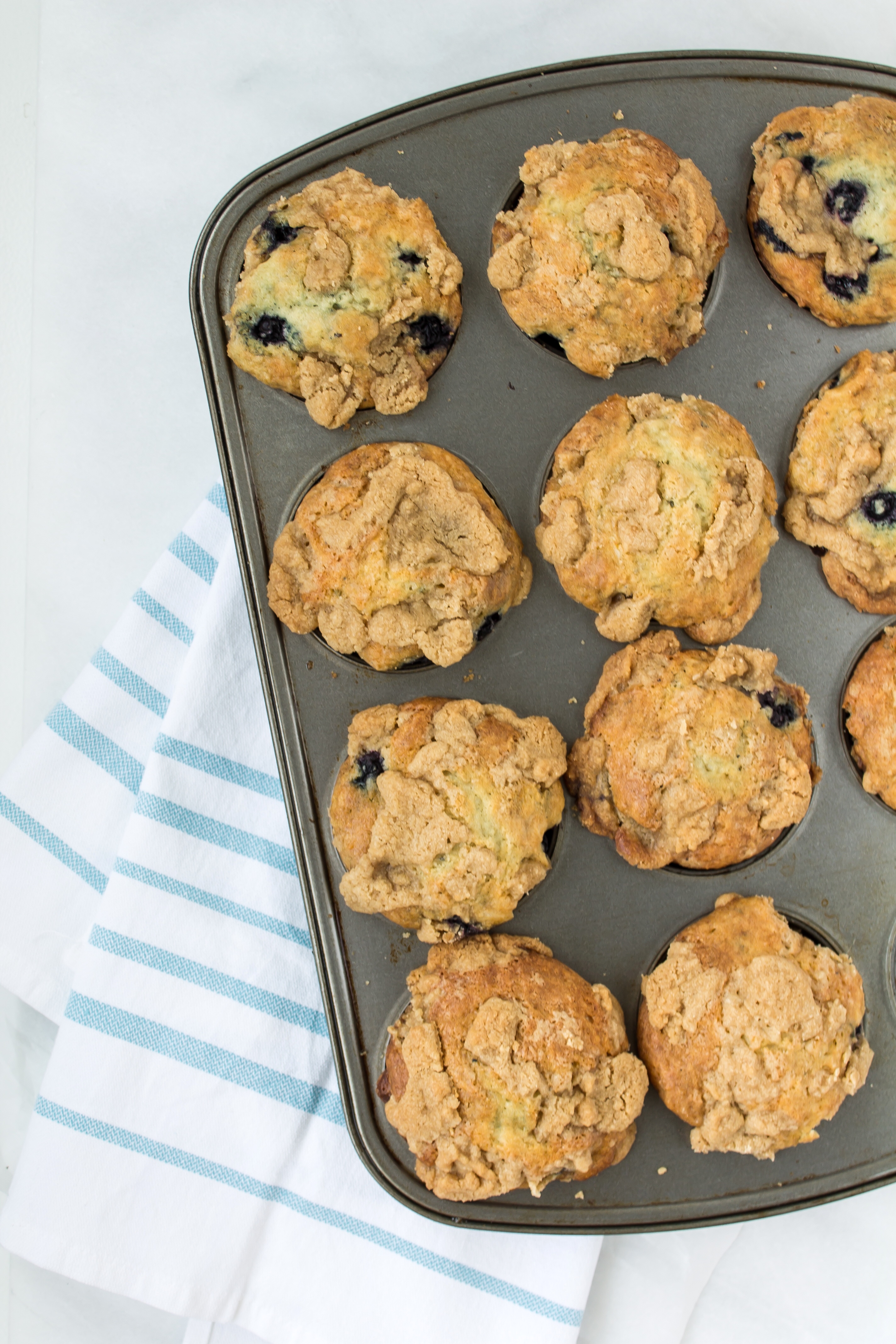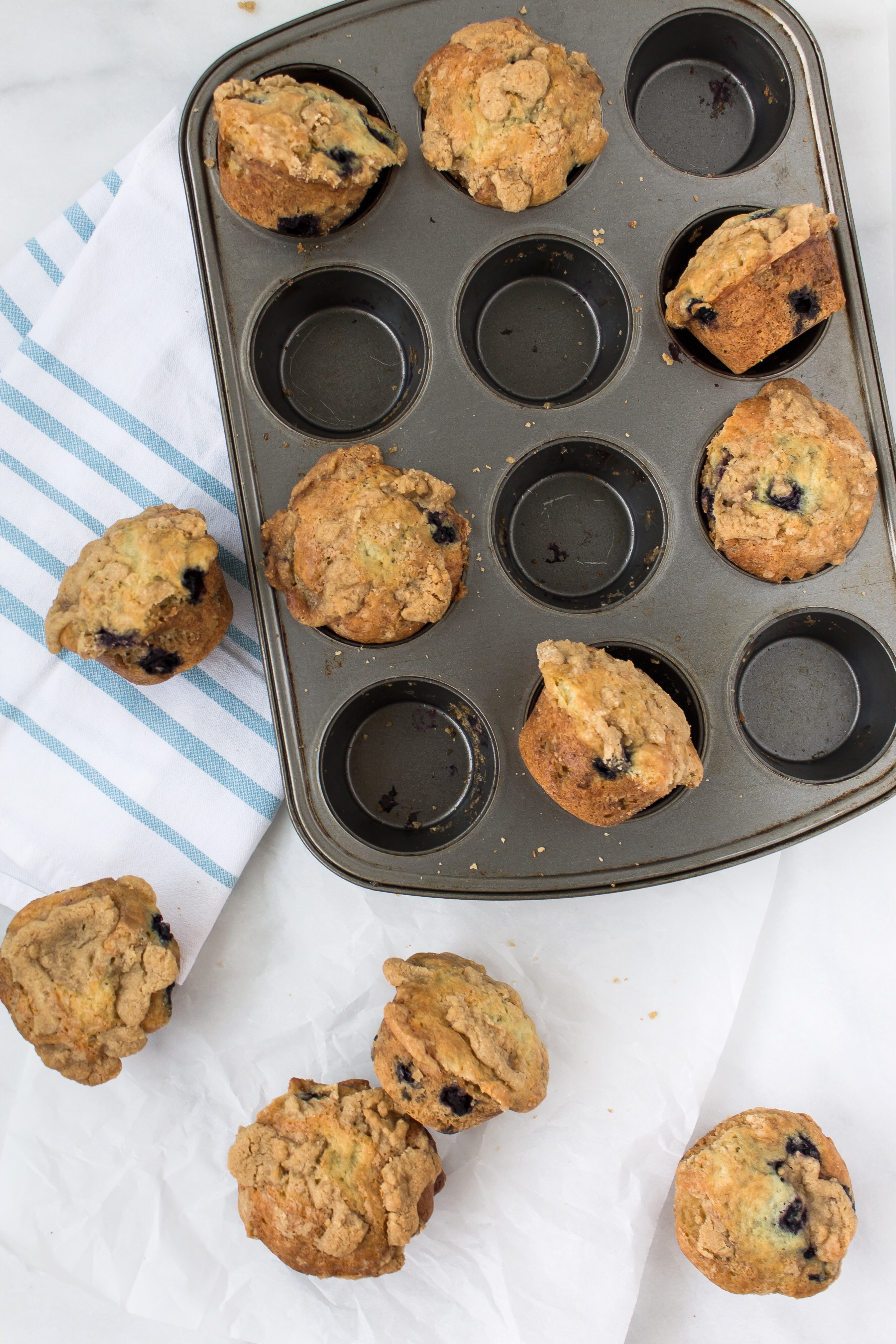 A truly great muffin is one that has that crusty outside and a perfectly moist inside, and these blueberry lavender streusel muffins totally achieve that, and then some.
Serve them warm with a cup of tea or coffee and squirrel them away so that you'll have a decadent breakfast every morning for a few days; that is, if you can keep them in the house that long.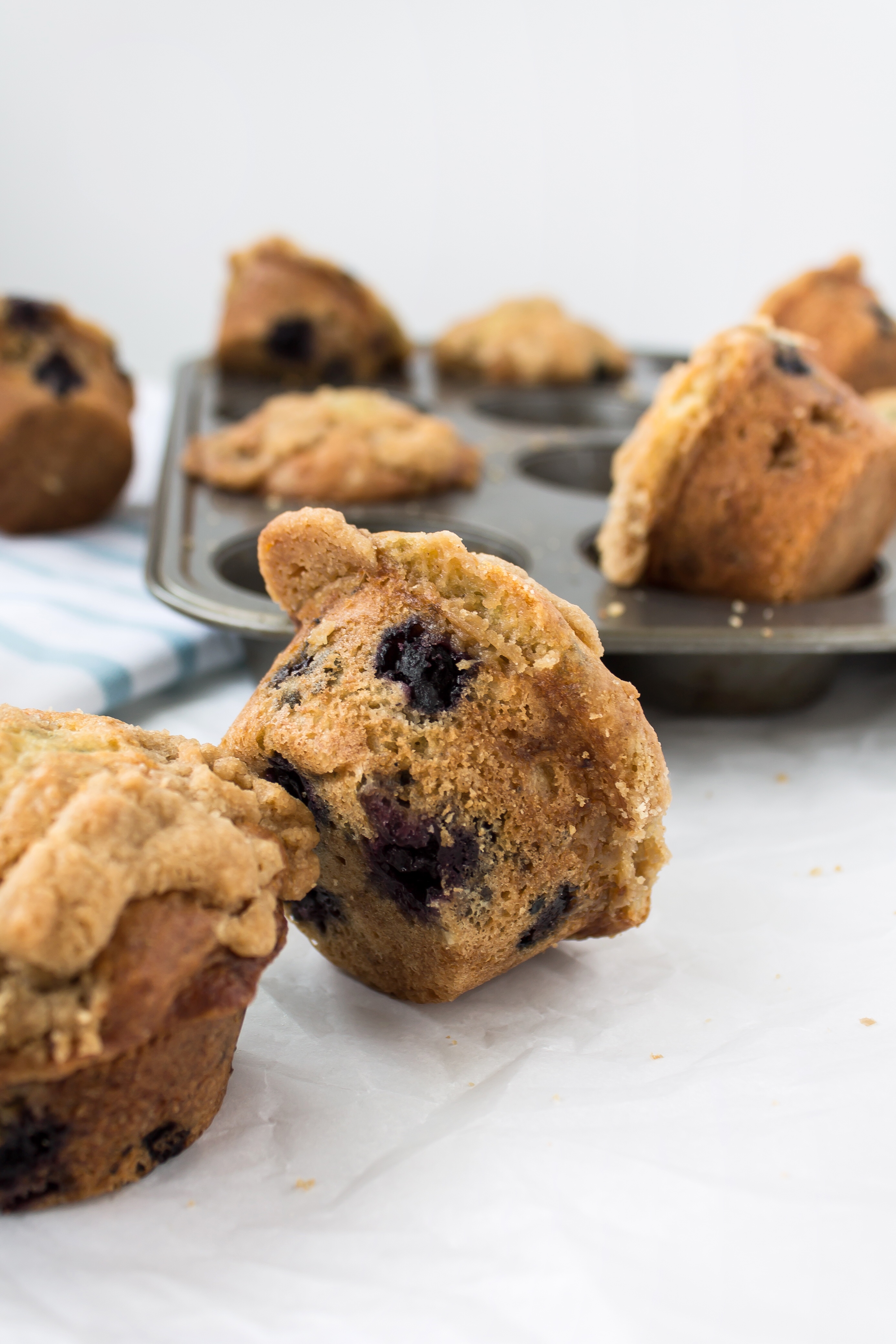 Love this recipe? Head to our recipe page to check out what we've been whipping up in the kitchen!
If you make your own blueberry lavender streusel muffins, be sure to tag me on social media (@glitterinclexi) so I can live vicariously through all of your sweet creations!