I love making bright, fresh, fruit-filled desserts in the Summer; especially this easy vegan triple berry crumble. Fruit crisp, or crumble, is similar to pie, but SO much simpler to make. A classic triple berry crumble can be prepped in just minutes, and most of the work is done in the oven. It's pretty much a foolproof recipe and the result is a juicy fruit filling nestled under a soft and crispy streusel oat topping. Heaven, I tell you.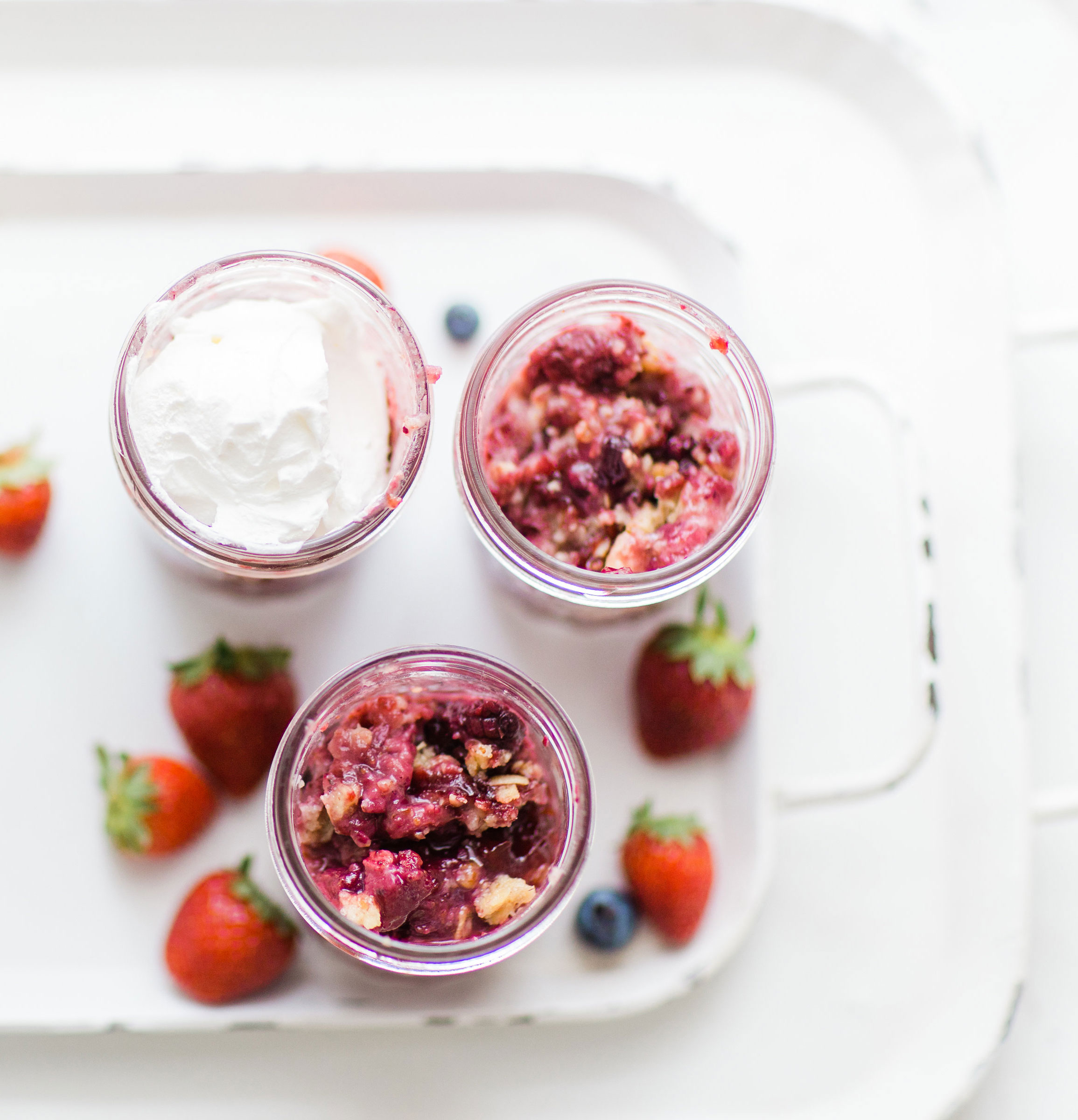 There also never seems to be a shortage of half-eaten containers of strawberries, blueberries, and blackberries in our refrigerator. I swear, you take home a container of berries, so excited to dive in, and then a week later you find the poor, sad remains of your perfect berries wilting in the back corner of your fridge.
On top of our normal refrigerator berry neglect, recently, we had so many strawberries from our trip to the strawberry fields, I knew I would make something with them. I had all of these visions of creative desserts – homemade shortcakes with cream and strawberries (by the way, this is still my favorite strawberry shortcake recipe, despite my 2012 picture-taking skills being pretty bad) or strawberries in one of our favorite cakes (say hello to perfect peach cake) or even a new take on macarons (though there's probably no chance at topping these strawberry cheesecake macarons) – but then I realized, what we make most often with extra fruit in the house, is a classic crisp or triple berry crumble, made vegan so that Scarlett can enjoy it too! (Scarlett is allergic to milk protein, so we're always experimenting with vegan and dairy-free recipes.)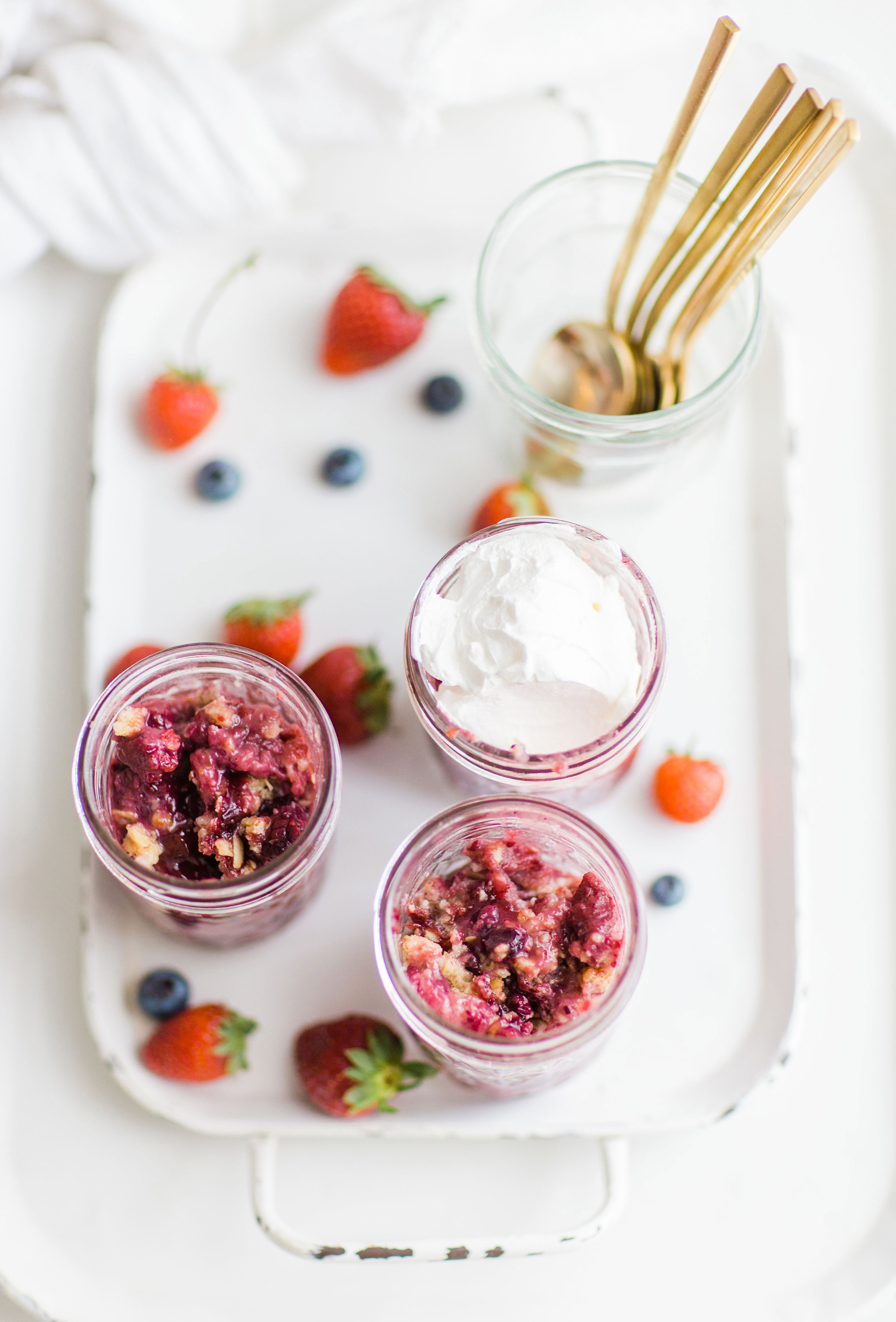 Aside from being packed with fresh fruit, which I love, especially in the Summer, this triple berry crumble is the perfect dessert because it is just so EASY to make. Seriously, I cannot stress that enough. When I'm craving dessert – which is basically always – a simple fruit crisp that I can throw together in about five minutes is pretty much perfection in my book.
You can also use a variety of fresh (ahem: long-forgotten) or frozen fruit. We love making triple berry crumble (strawberries, blackberries, blueberries, even cherries), apple crisp, or peach crisp, or really, any combination of those things. I mean, truth talk: everything tastes amazing all cooked and bubbly beneath a brown sugar streusel topping.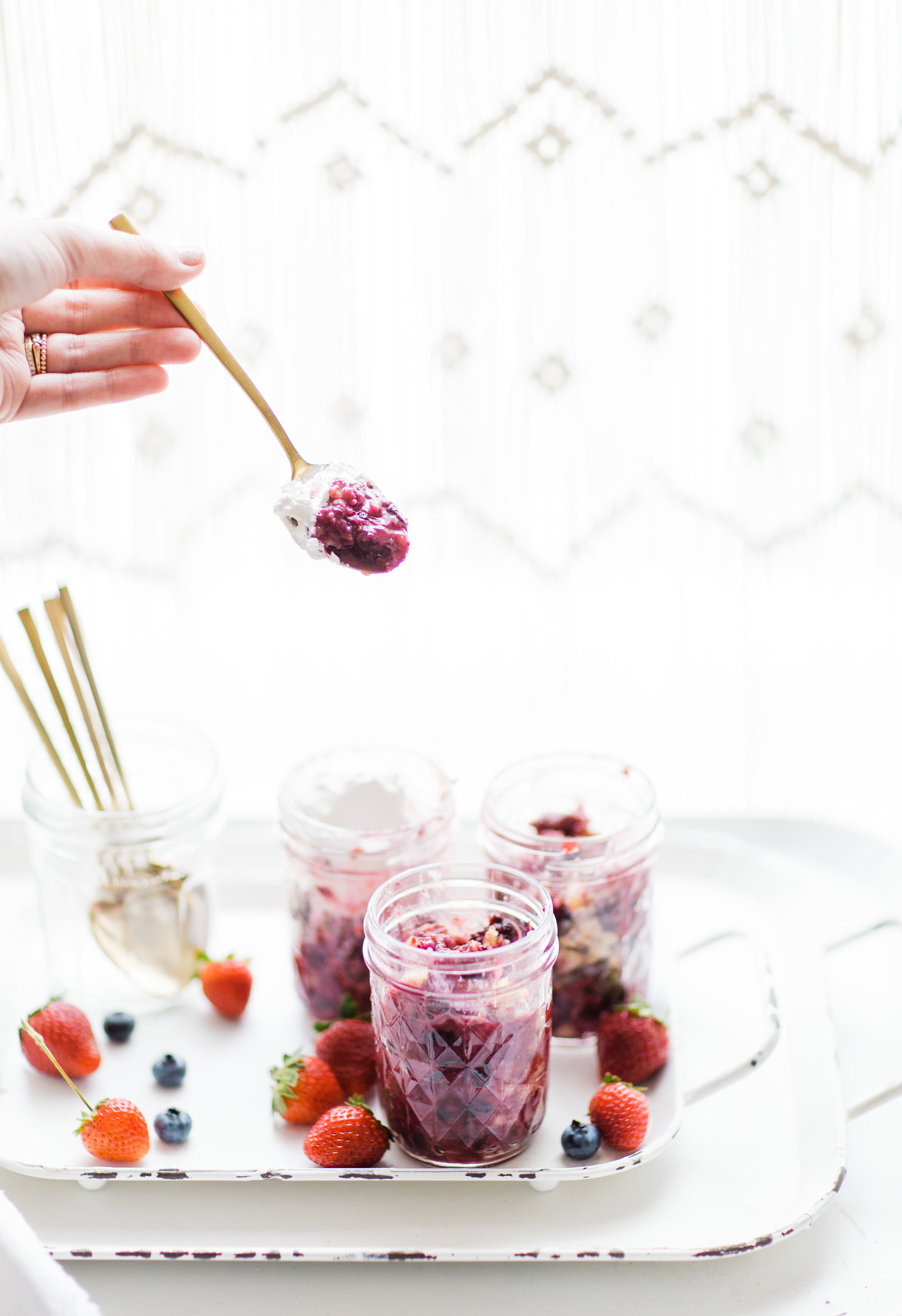 Typically, I'll bake up a batch in an 8×8 casserole-type baking dish or oven-safe skillet and then once it's relatively cooled, I'll create servings, ha, portions, in individual jelly jars or plastic containers with lids. When left to my own devices, I can easily eat an absurd amount of triple berry crumble on my own. In one sitting. I mean, it is fruit after all.

EASY VEGAN TRIPLE BERRY CRUMBLE
Prep Time: 5 minutes
Bake Time: 35 minutes
Serves: 6
INGREDIENTS
Filling:
3 – 4 cups of rinsed and peeled fruit (frozen works great in a crisp as well)
¼ – ½ cup sugar (¼ is usually plenty for us)
2 tbsp cornstarch or flour
1 tsp lemon juice (optional)
Streusel Topping:
1 cup all purpose flour (You can easily substitute this for almond flour or oat flour to make it gluten-free, and we often do this to keep it healthier.)
¾ cup oats
½ – 1 cup brown sugar (Again, I typically use about a ½ cup, but I prefer to keep the sugar down.)
½ tsp cinnamon
¼ tsp salt
6 tbsp vegan butter*, softened
*We use Earth Balance Vegan Buttery Sticks.
DIRECTIONS
Preheat oven to 350 degrees F.
In a medium bowl, gently toss together the fruit, sugar, cornstarch (or flour) and lemon juice together until combined. Pour the fruit mixture into an 8×8-baking dish (or oven-safe skillet); evenly spread out.
In the same bowl that the fruit was mixed in (we're all about less mess!), add the topping ingredients in the bowl and using your hands, mash together the softened butter and dry ingredients, creating a crumble. Sprinkle the mixture over the fruit.
Bake in the oven for 35 minutes (40 – 45 minutes if using frozen fruit) until the fruit is all bubbly and the topping is lightly golden. Allow to cool to a warm-ish temperature before serving; at least 15 minutes, so that it has time to come together.
NOTE: You can serve this triple berry crumble warm or chilled, and top with whipped cream, cool whip, or vanilla ice cream! Remember, if you want to keep the WHOLE dessert vegan, use whipped coconut topping or a dairy-free ice cream.
You can cover the leftovers and store in the refrigerator for up to 5 days.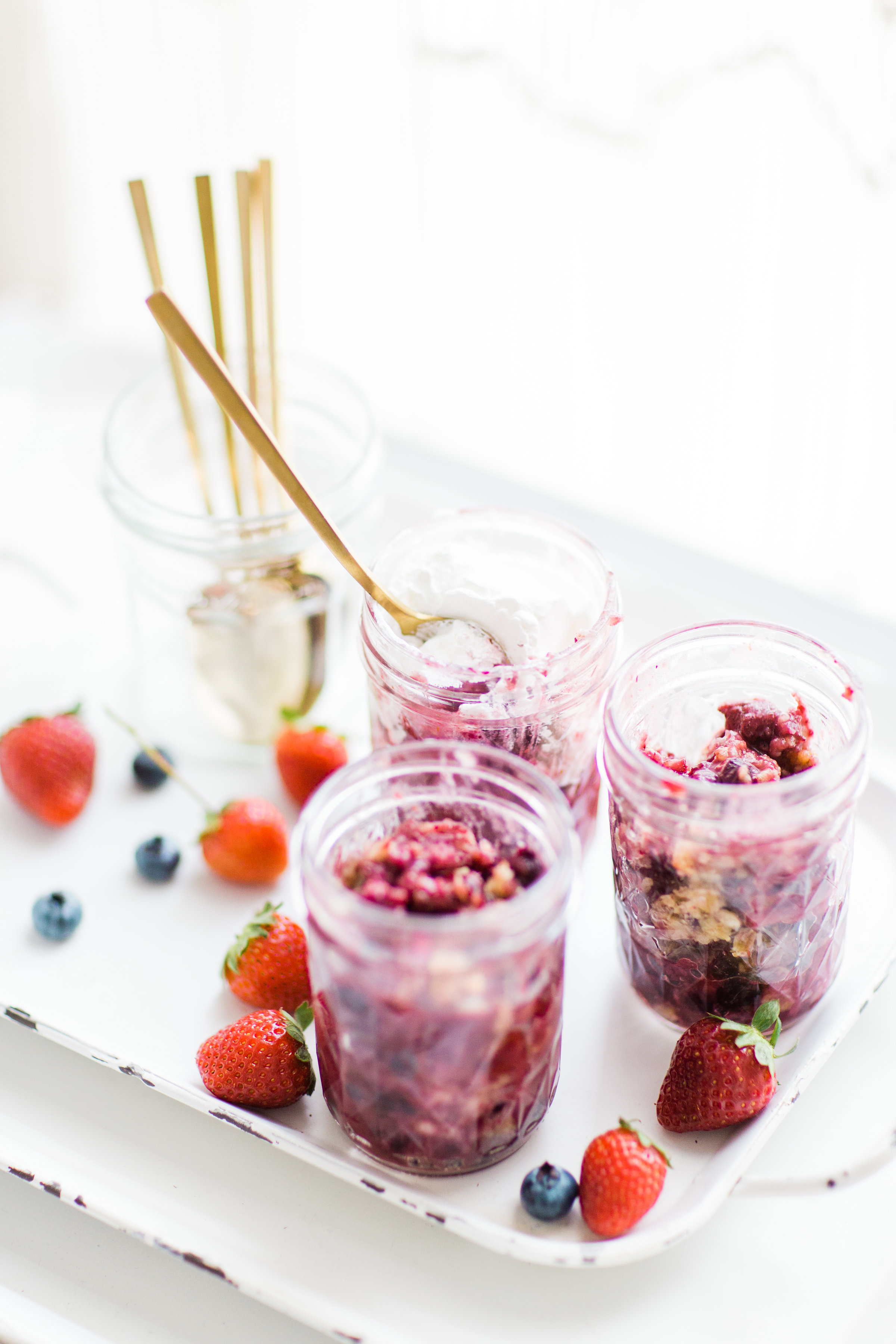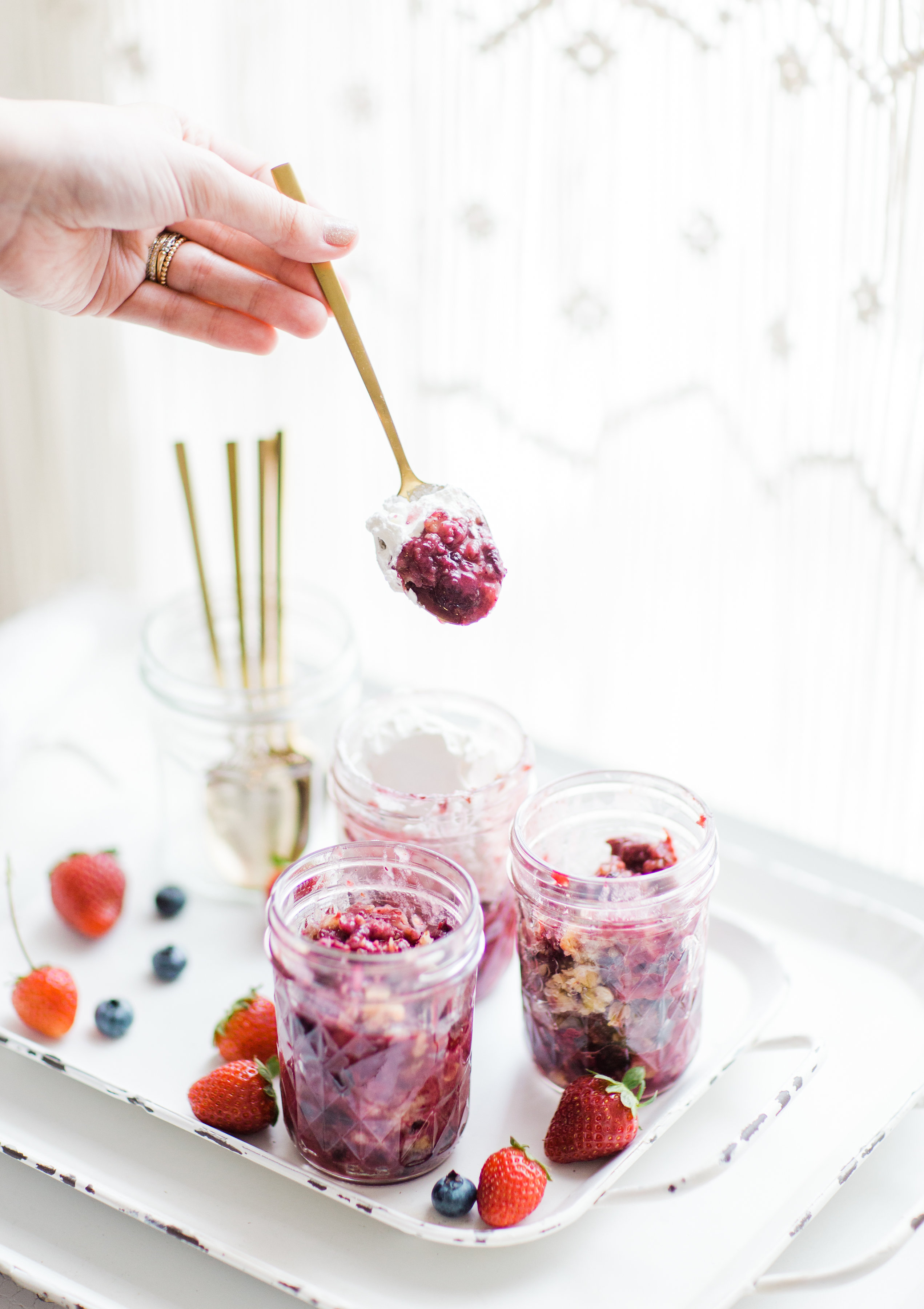 A crisp or crumble is great because so many different kinds of fruit can work here. I often switch it up with peaches or apples too, but in the Summer, berries are always aplenty!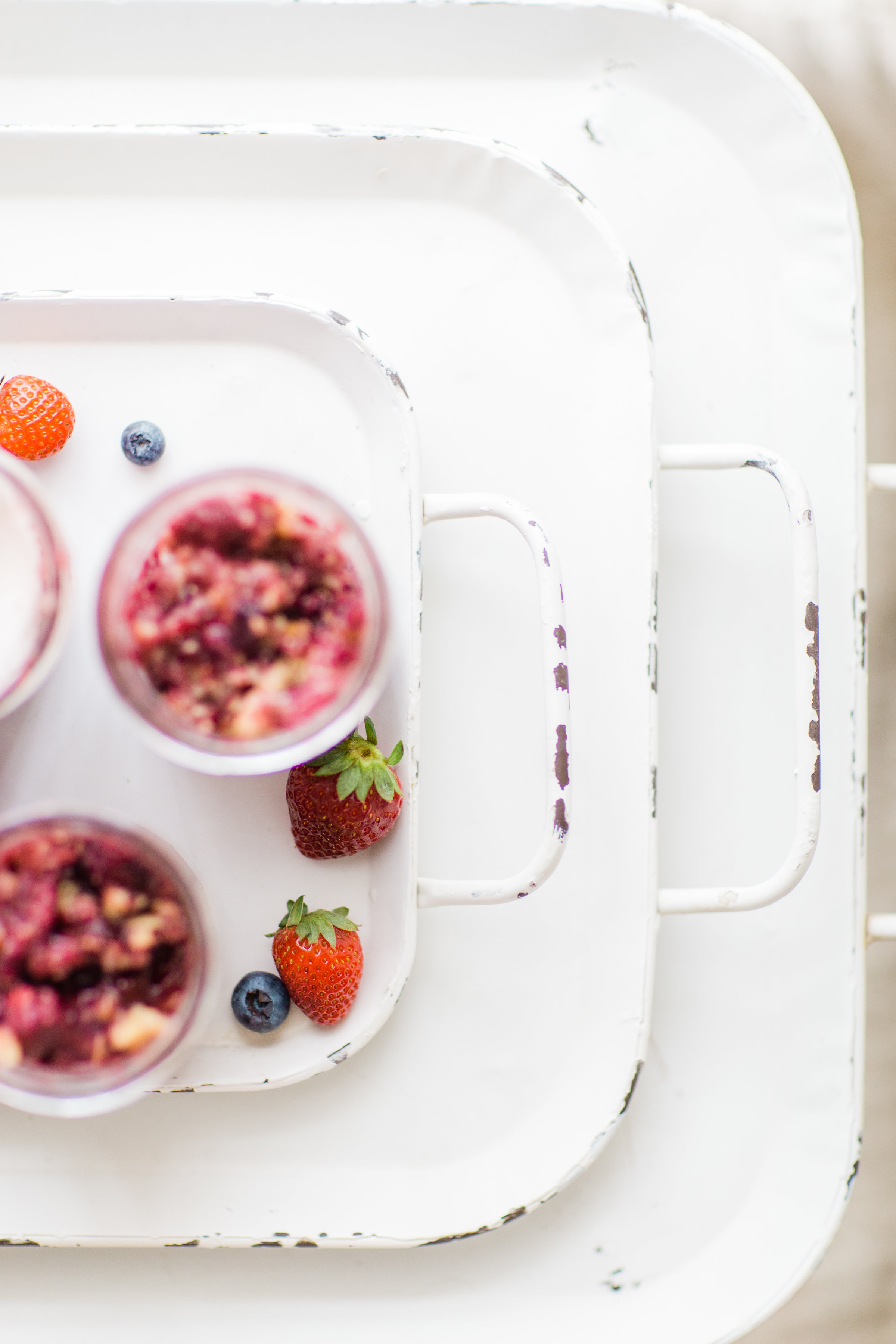 The triple berry combination worked so well here: strawberries, blueberries, and blackberries.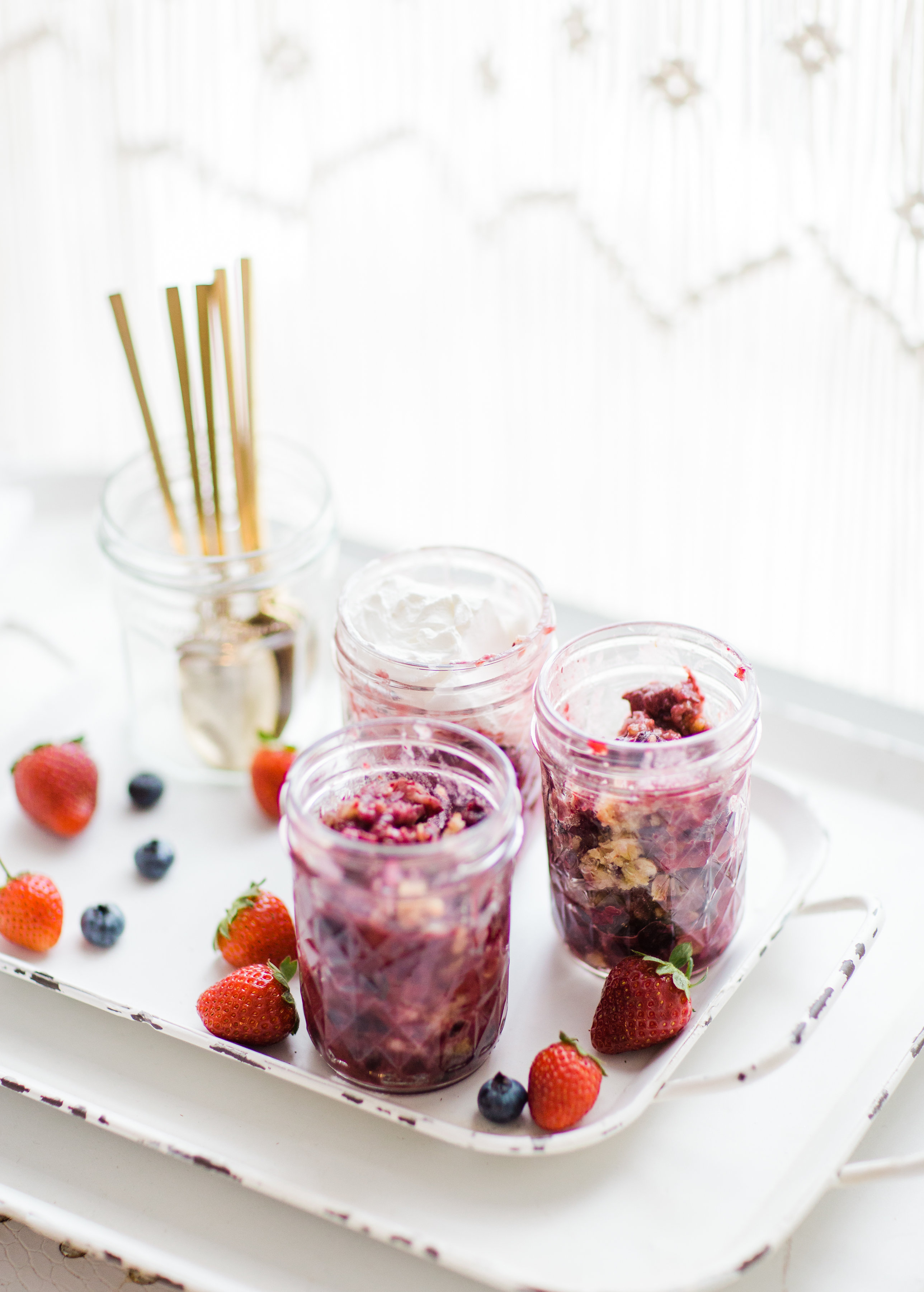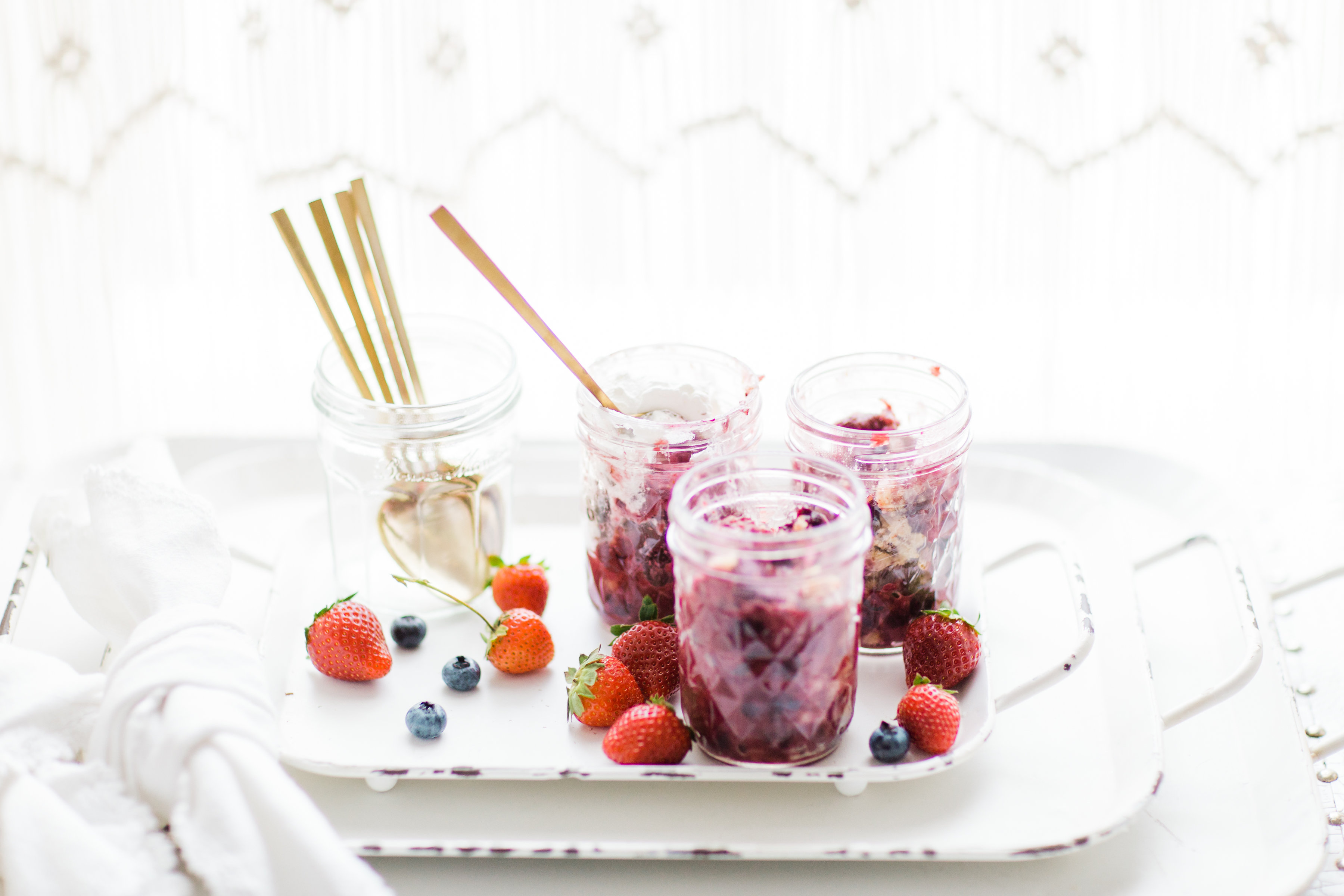 SHOP THE POST | CLICK LEFT & RIGHT ARROWS TO EXPLORE

Photo by Annie Watts Photography for Glitter, Inc.
This post contains affiliate links, which means that if you click on one of the product links, I'll receive a small commission. Thank you so much for clicking through and helping to support this little blog business of mine! Read more about our site, privacy, and disclosure policies here.