This post contains affiliate links, which means that if you click on one of the product links, I'll receive a small commission. Thank you so much for clicking through and helping to support this little blog business of mine! Read more about our site, privacy, and disclosure policies here.
Craving a simple dessert to use all of those fresh strawberries? Learn how to make a simple strawberry crostata; a.k.a., galette (or easy pie!) The combination of a delicate flaky pie dough – made extra easy with the use of store-bought crust, a sweet strawberry filling coated in an unexpected and delicious melty strawberry jam, and a sugar-studded crust, makes this dessert a stand-out.
Craving pie but looking for an easier way? I've got you covered!
Flaky pie dough, a sweet jam and fresh strawberry filling, and a sprinkling of turbinado sugar on the crust, makes this simple strawberry crostata; a.k.a., galette, the stuff of dreams. Crostata is basically a pie made easy, without the stress or intimidation factor of a double pie crust. Like an open-faced pie, or a pie without a lid, crostata is a simplified version of a really good thing – PIE – filled with any glorious combination of fresh fruit. In case you're wondering, a galette and a crostata are basically the same thing – one French, one Italian. Crostatas and galettes are typically free-form and rustic, with the dough edges folded up around a sweet pie-like filling.
And, if you really want to get dessert in the oven fast, you can totally use store-bought refrigerated pie crust. I did … and let me tell you: still.SO.good.
Here's the thing, you could totally make a crostata with homemade pie crust. And I'll happily share my favorite pie dough soon … but …. sometimes, it's summer, and it's hot, and you've got dinner on the barbecue, and what you really want is an easy summer dessert in no time flat. Well, I've got you covered! This simple strawberry crostata uses store-bought refrigerated pie crust, and then stuns with an elegant twist: a fresh strawberry filling, made extra rich and decadent with a layer of strawberry jam or preserves.
Oh my gosh, you guys … ALL pie should have a layer of preserves binding the fruit filling together. It's a magical consistency and taste, I tell you.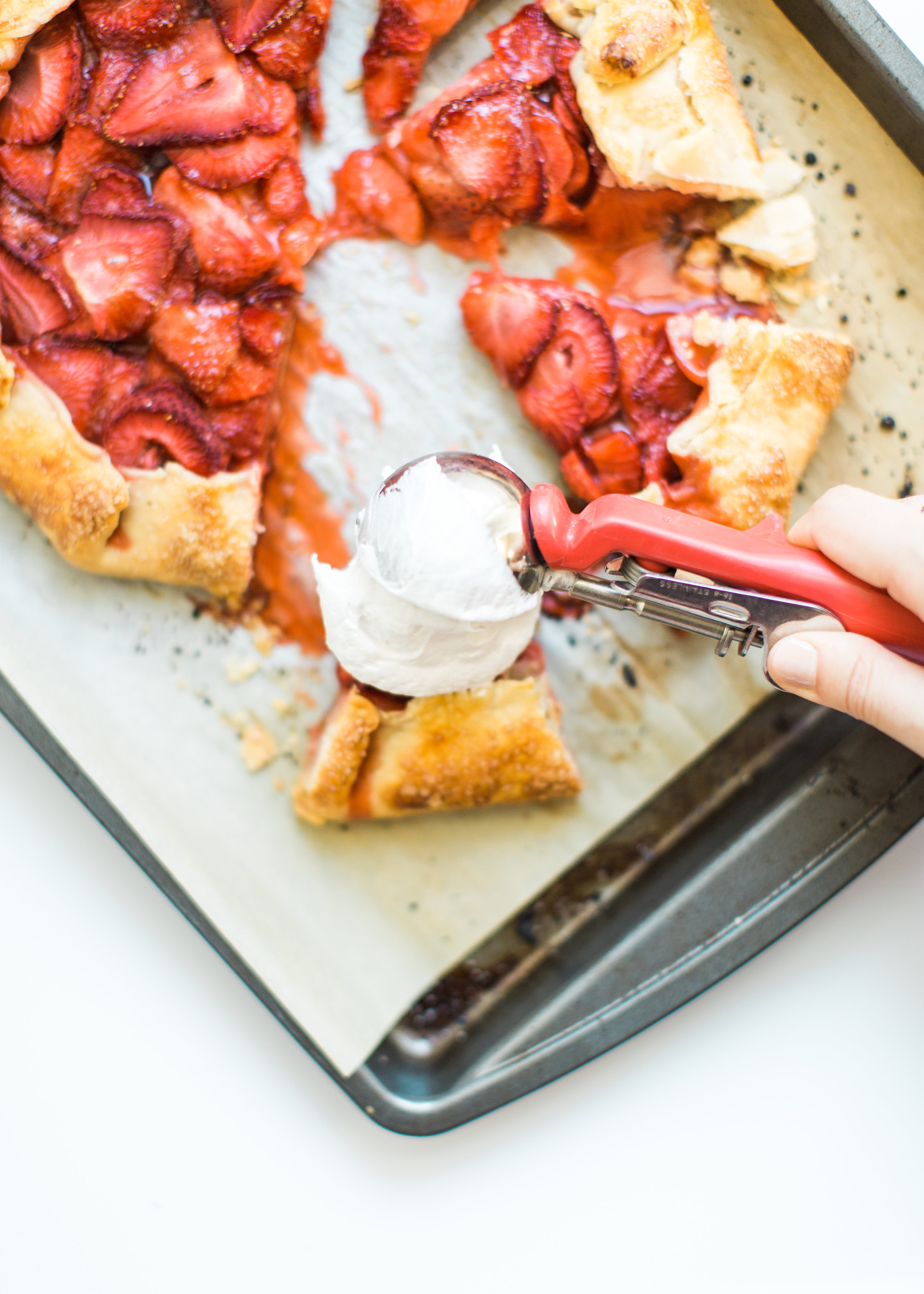 There is something about a warm slice of pie or crostata topped with a thick dollop of whipped cream, that tastes blissfully indulgent. Getting the chance to use the summer's freshest strawberries, well that's just the icing on the cake … err, the topping on the pie crust!
I love pie in all seasons. Crostata seems extra fitting in spring and summer. And you can switch up the filling of crostata depending on what fruit you have on hand. (Think apple, peach, or triple berry crostata … YUM.)
I love that this bright red strawberry crostata, in particular, feels extra festive and summer-ready.
So let's break it down …
How to Make a Simple Strawberry Crostata, a.k.a., Galette (or Easy Pie!)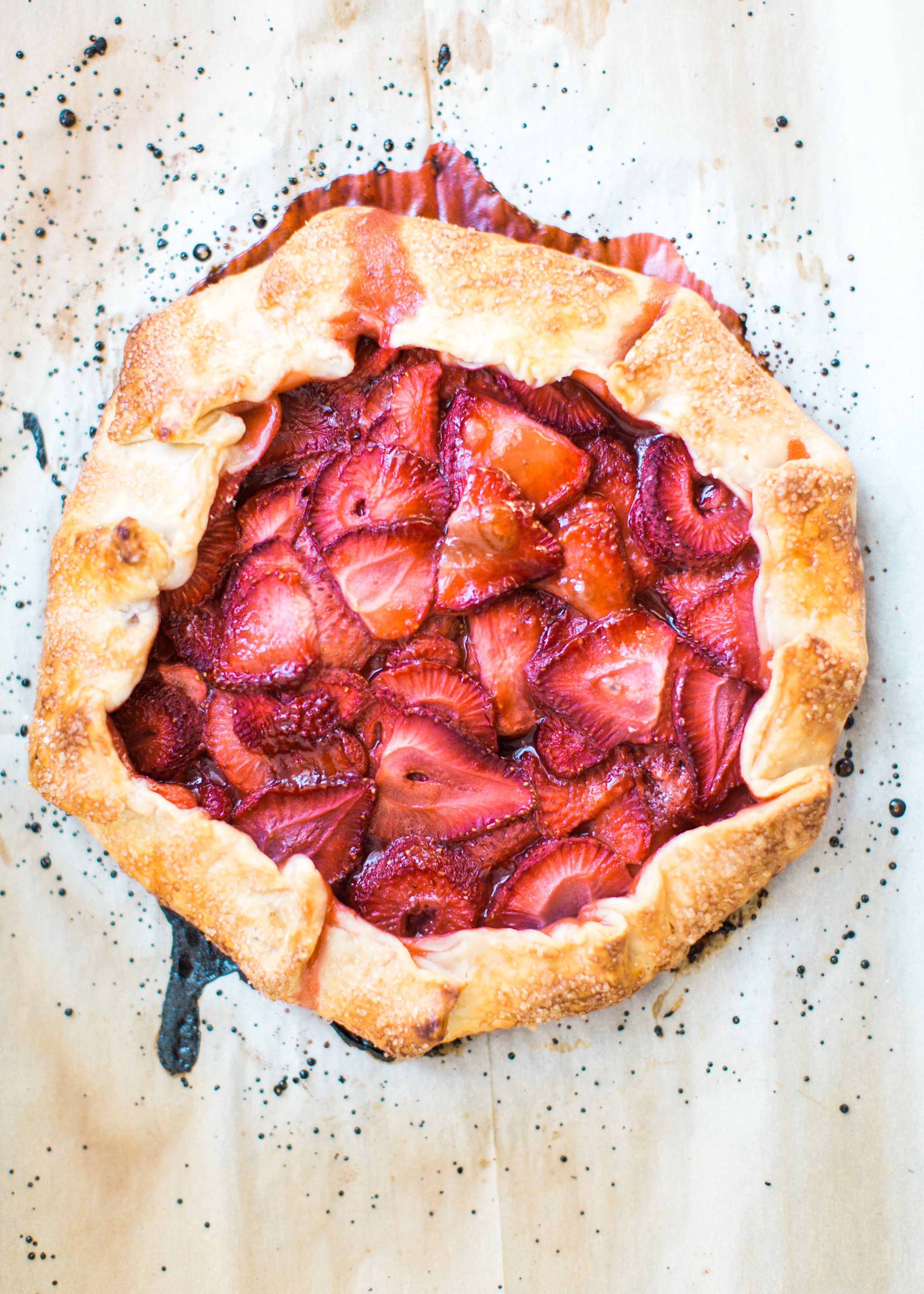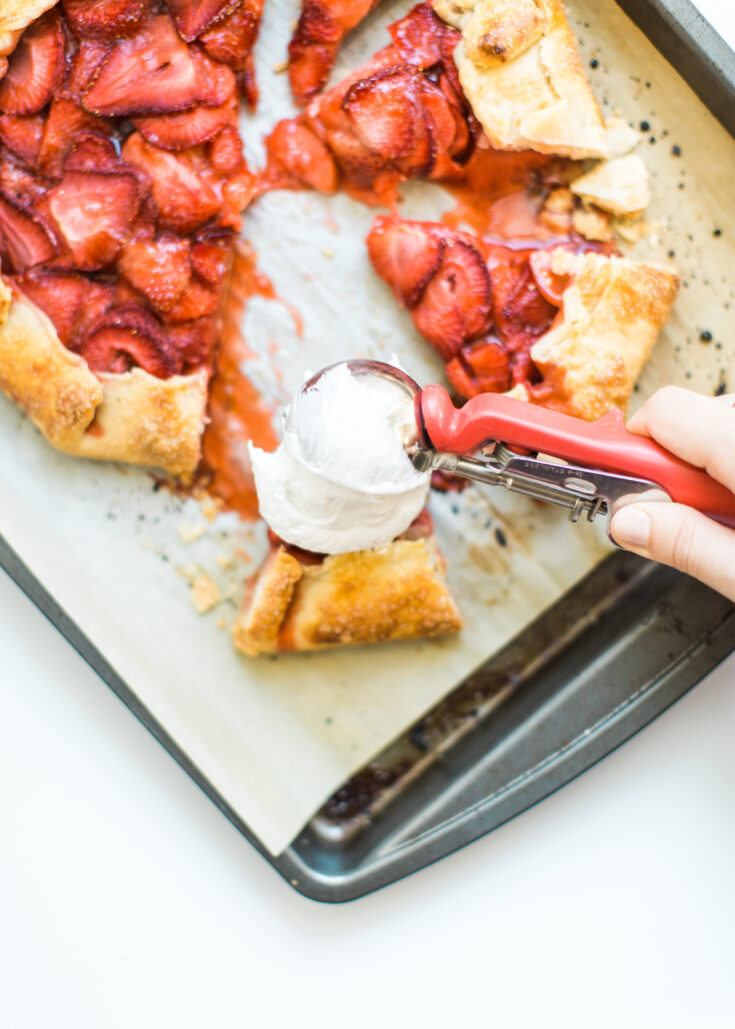 Yield:
Simple Strawberry Galette
Ingredients
CRUST
storebought pie crust, like Pillsbury
FILLING
1/4 cup strawberry preserves or jam
2 1/2 cups strawberries, hulled and sliced
1 tsp orange juice or lemon juice
1 - 3 tbsp sugar (depending on how sweet you like your filling)
1 tbsp cornstarch or flour
TOPPING
1 egg
turbinado sugar
Instructions
Preheat oven to 400°F.
Line a baking sheet with parchment paper. Spread a bit of flour down on the parchment paper and place dough disc on your parchment paper. I used BOTH dough discs in the package for a thicker pie/crostata crust. Gentle mold the two discs together, one on top of the other, to create a thicker disc. Use a bit of flour to work and mold the edges of the two pie dough discs together.
In a medium bowl, add strawberries and sprinkle with sugar, orange or lemon juice, and cornstarch; gently stir to coat. Set aside for about 15 minutes. Place jam in a small bowl and microwave briefly (about 10 seconds); whisk to loosen. Brush half of the jam over the dough, leaving a 1-inch border. Top with coated strawberry slices and brush with remaining jam. Fold dough along the border/edges up over the strawberries, pleating to make an edge.
In a small bowl, whisk egg for 15-30 seconds or until frothy. Using a pastry brush, brush egg wash over all visible dough. Sprinkle turbinado or rolling sugar over the edges.
Place into middle of oven and bake for 25 - 30 minutes, until crust is golden and fruit is tender. Let cool for 30 minutes before cutting and serving.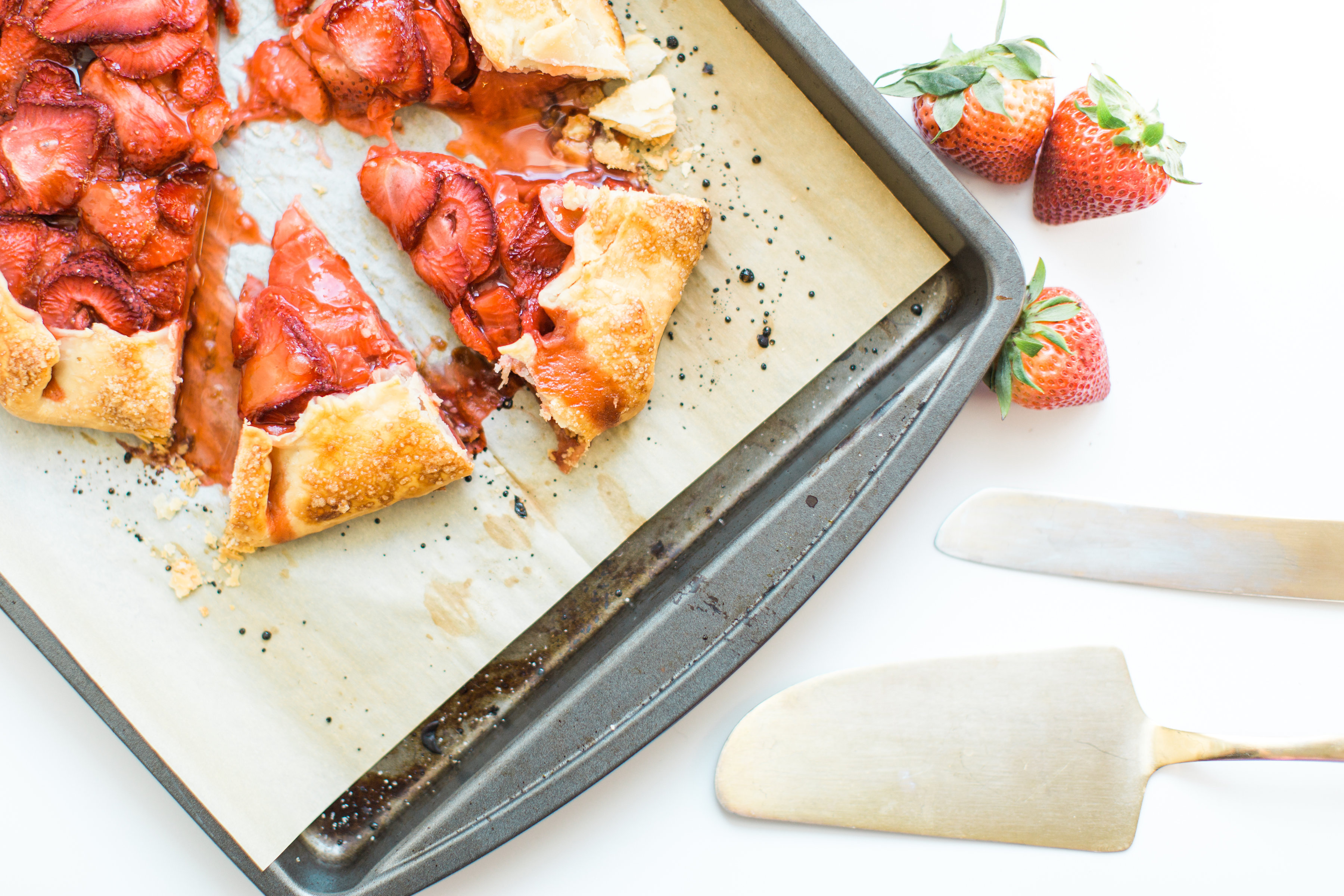 The toasted sugar along the edges of the pie crust adds such a sweet crunch to each bite.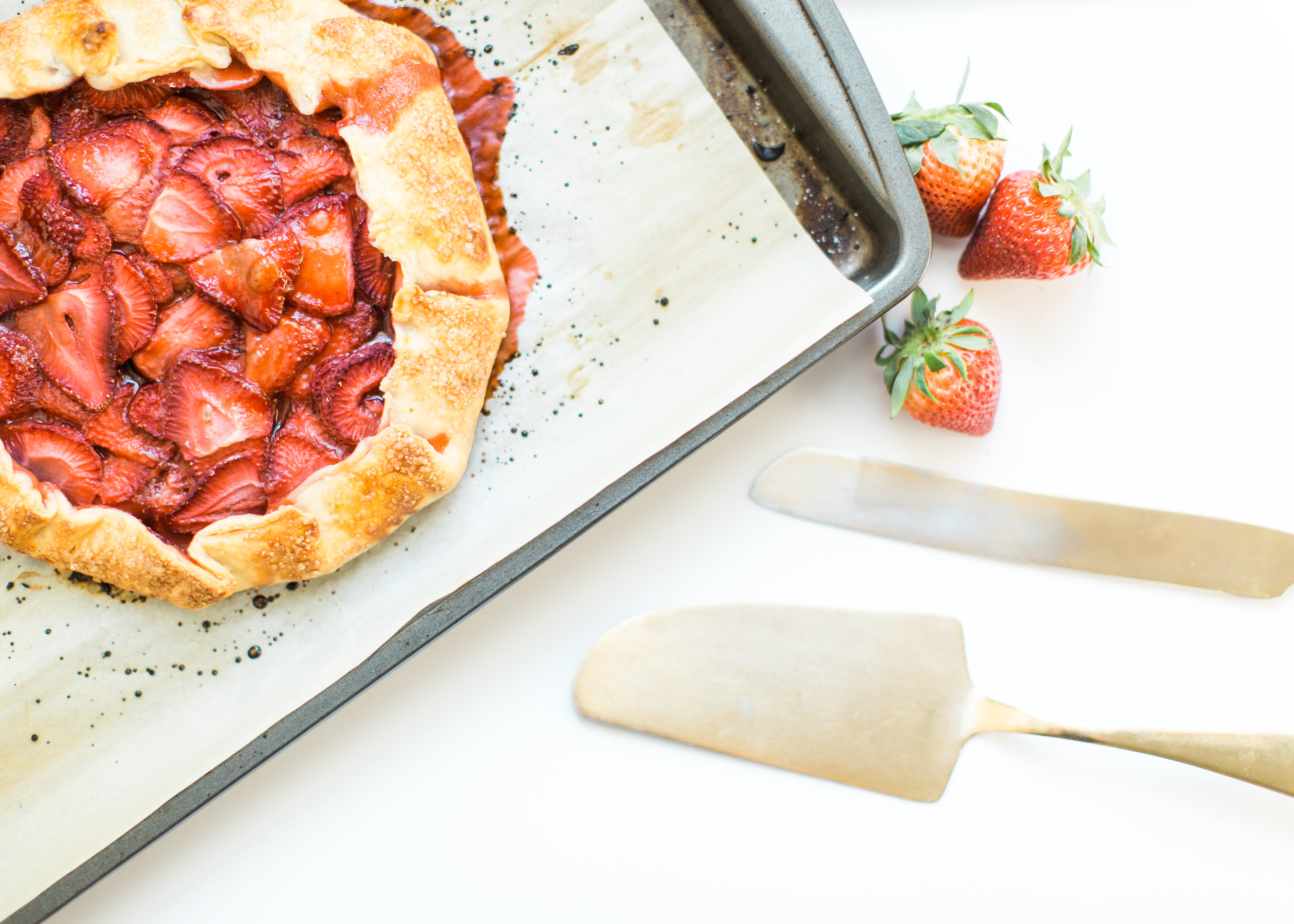 Fun Fact: this simple strawberry crostata is actually dairy-free! (Scarlett can't have any milk protein, so we're always experimenting with vegan and dairy-free recipes, in case you want to check them out!)
Pillsbury pie crust is actually vegan. I know; how cool is that? There's no butter or milk in the filling.
As for the whipped topping, we actually use So Delicious Cocowhip. It's delicious and our little girl LOVES it.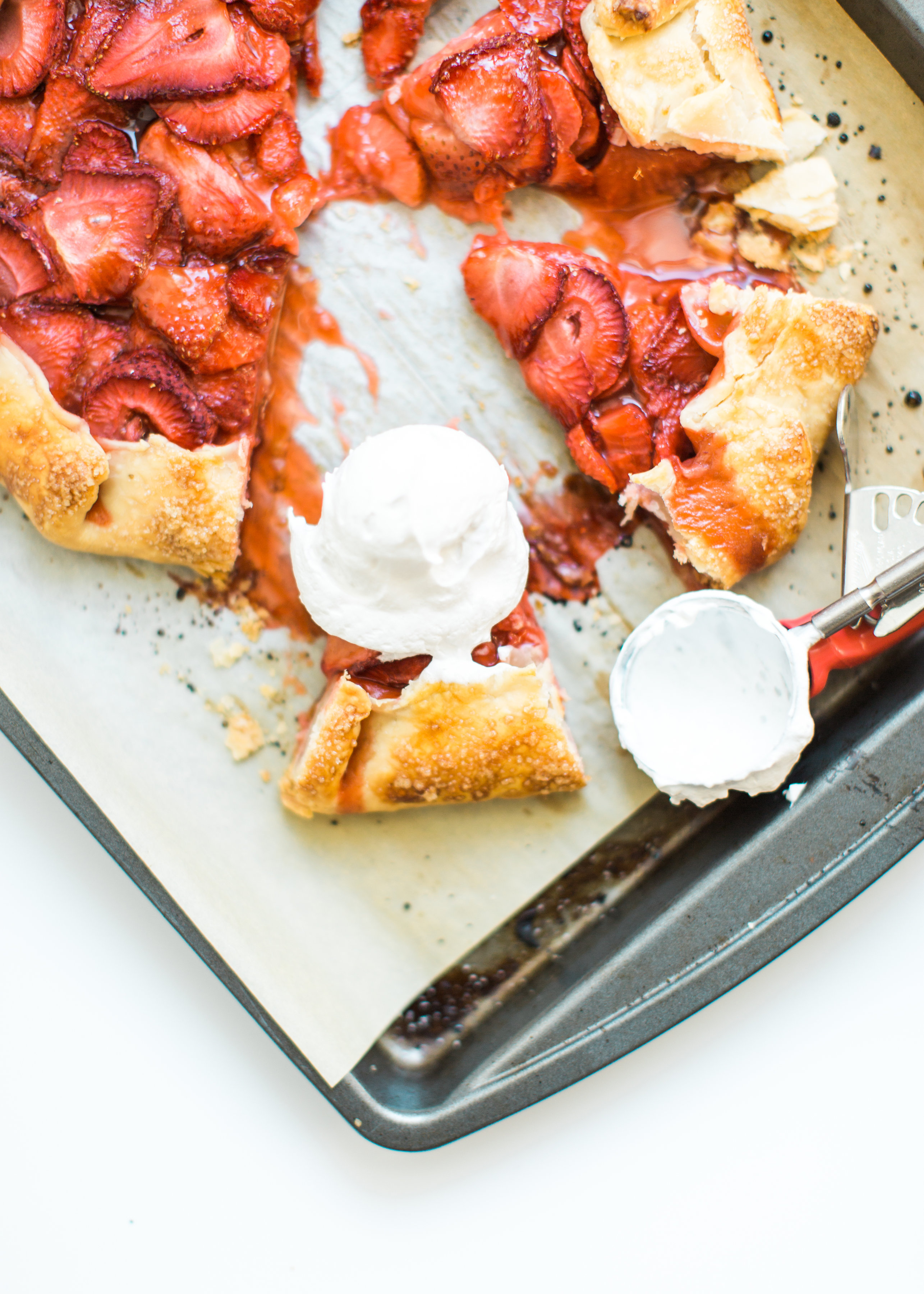 Serve this simple strawberry galette as dessert or at your next brunch and watch how impressed all of your hungry family/guests will be. Despite being relatively easy to make, a crostata always looks beautiful and impressive because of all of that glistening fresh fruit baked right in.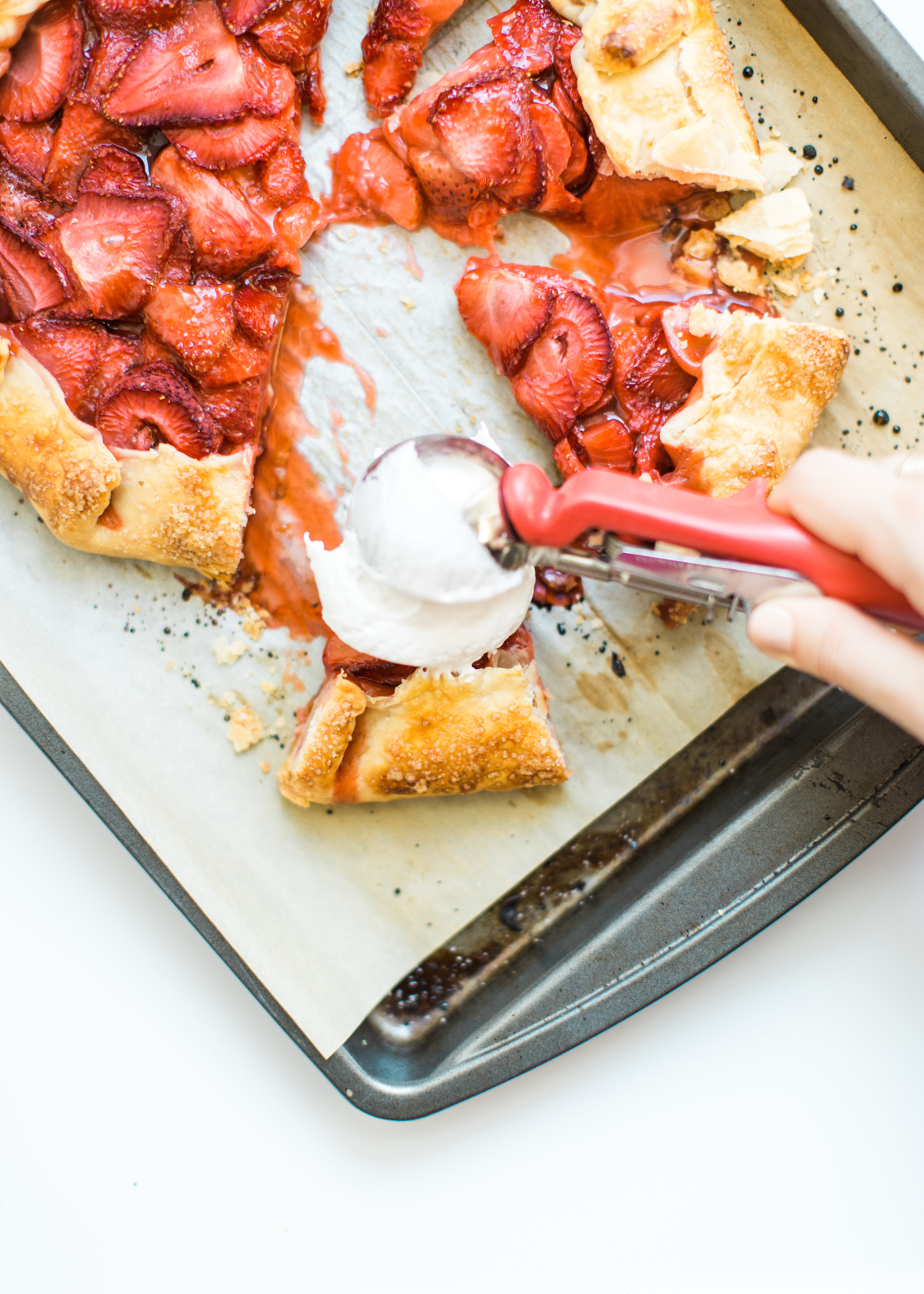 Don't forget to serve and top your simple strawberry galette with a whole lot of creamy whipped cream, vanilla ice cream, or your favorite whipped topping. 😉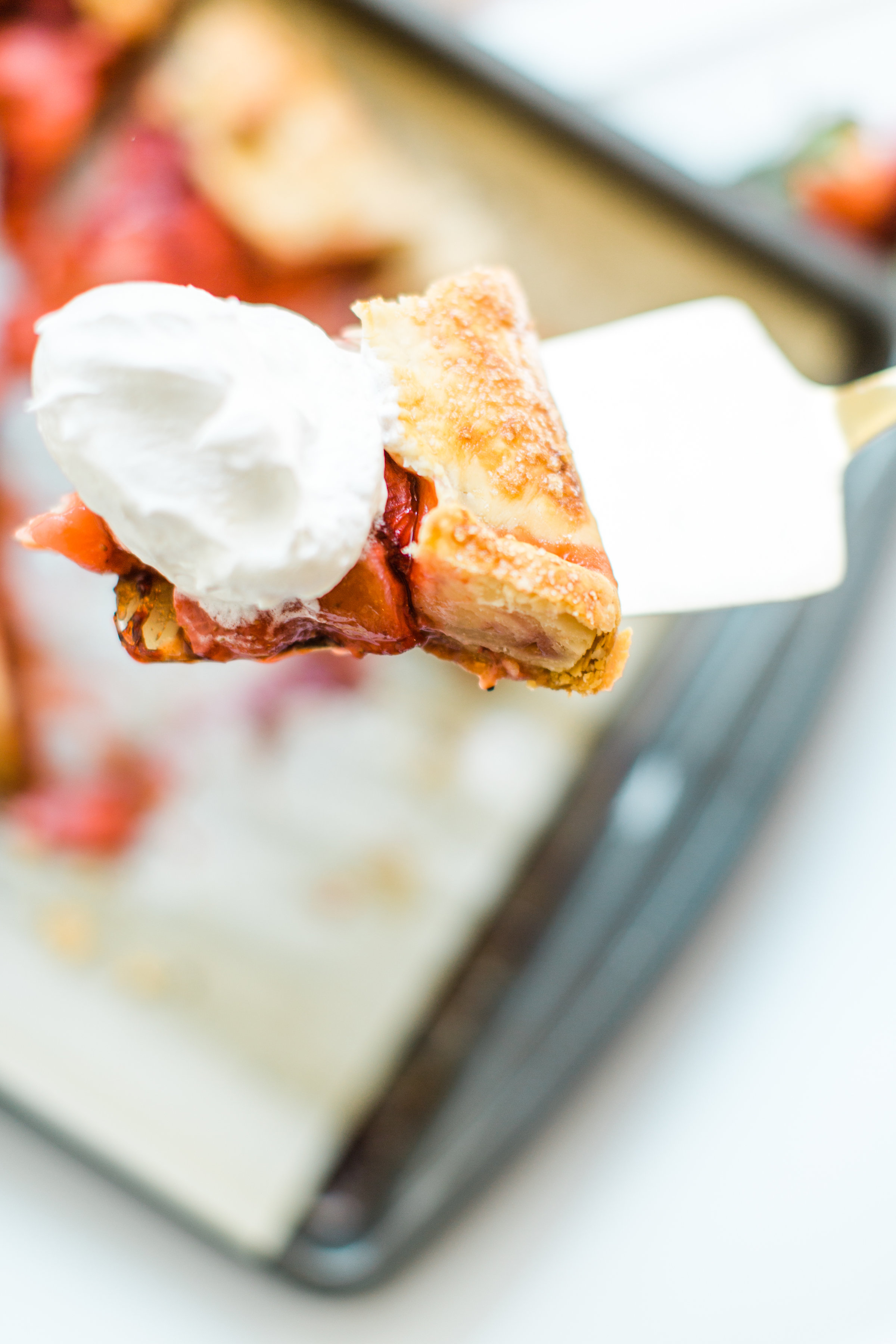 SHOP THE SIMPLE STRAWBERRY GALETTE POST | CLICK LEFT & RIGHT ARROWS TO EXPLORE

LOVE THIS STRAWBERRY GALETTE? HEAD TO OUR RECIPE PAGE TO CHECK OUT WHAT ELSE WE'RE WHIPPING UP IN THE KITCHEN!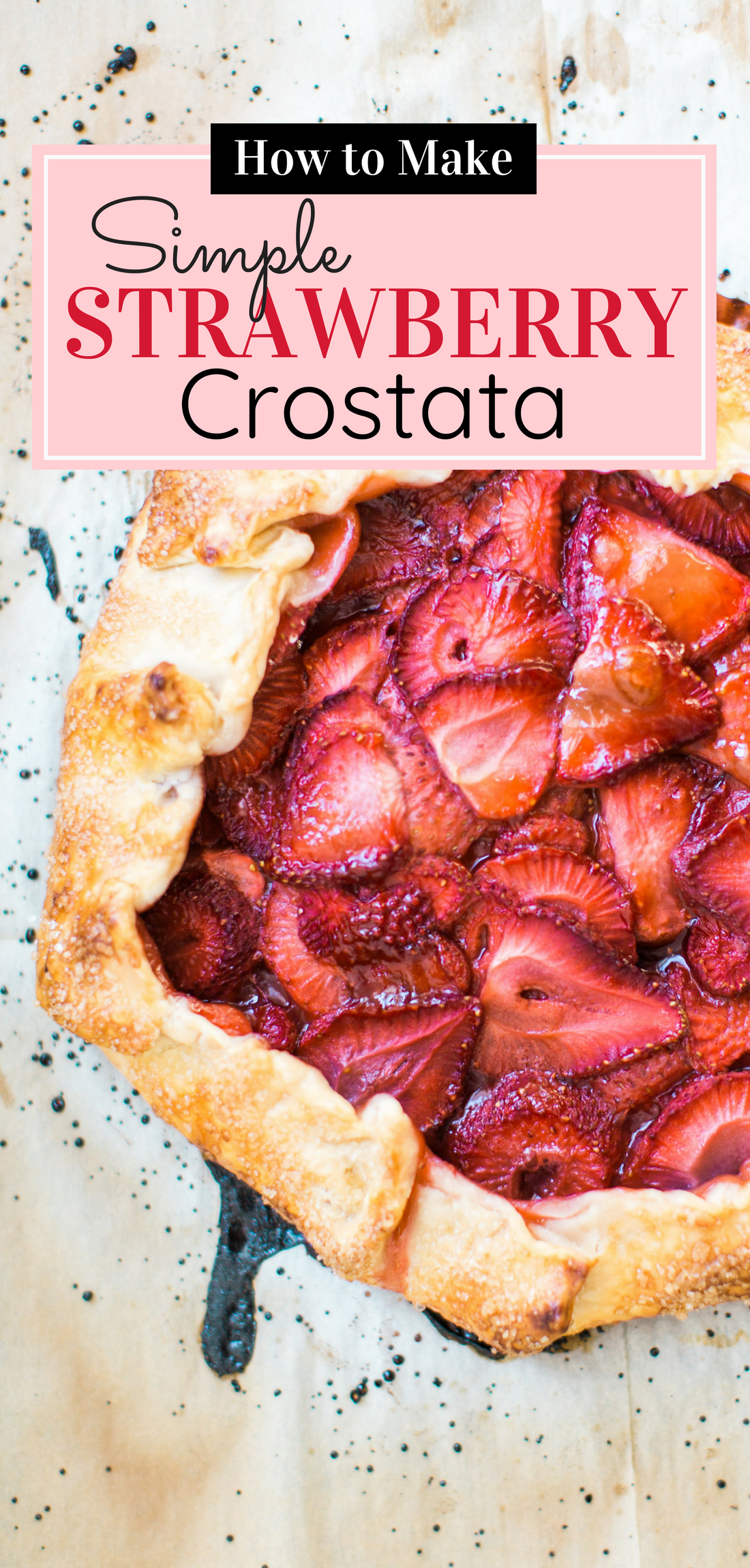 Photos by Annie Watts Photography for Glitter, Inc.
SaveSave
SaveSave
SaveSave
SaveSave
SaveSave
SaveSave
SaveSave
SaveSave
SaveSave
SaveSave
SaveSave
SaveSave
SaveSave
SaveSave
SaveSave
SaveSave
SaveSave
SaveSave