This post contains affiliate links, which means that if you click on one of the product links, I'll receive a small commission. Thank you so much for clicking through and helping to support this little blog business of mine! Read more about our site, privacy, and disclosure policies here.
I am eternally devoted to cake. Cookies and ice cream and candy – it's all sweet – but cake, that's my favorite … moist, subtly sweet, dense warm cake (I just gained ten pounds thinking about it.) And today, Rachel of Sugar-Coated Inspiration is sharing a very old, very amazing, recipe from her great grandmother's recipe book: blueberry buckle (basically a very fluffy blueberry crumb cake that you'll be making again and again.)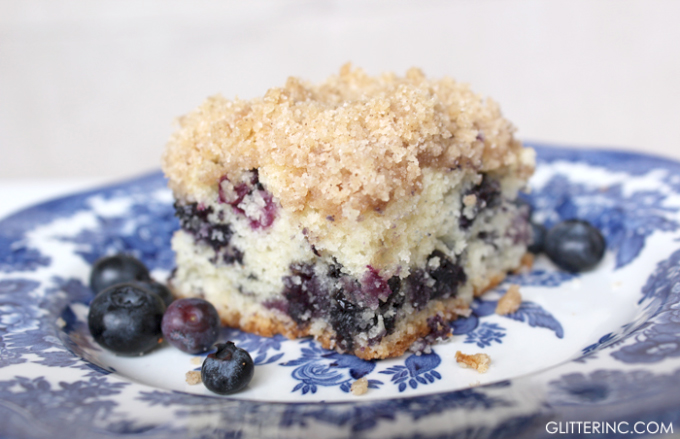 From Rachel: This Blueberry Buckle comes directly from my Great Grandma's own recipe book — which is literally falling apart! However, the recipes inside are unforgettable no matter how difficult they become to read. Her Blueberry Buckle is very similar to a crumb cake — except with warm, delicious blueberries inside. My mom has been baking it since I was little, it's a family favorite that's for sure.
The beauty of this cake is that it really works for every season using whatever fruit is freshest (any berry works really well here, but I'm also excited to try this cake with diced apples – sprinkled with a little cinnamon, of course – baked in.)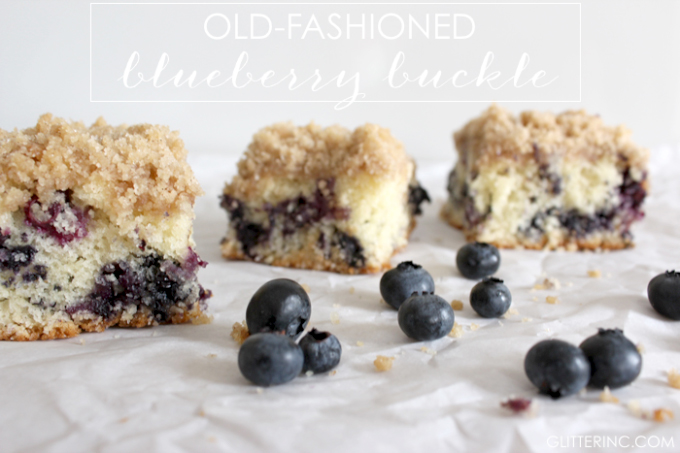 OLD-FASHIONED BLUEBERRY BUCKLE
Makes 9 servings
INGREDIENTS
For the cake …
¾ cup sugar
2 cups all purpose flour
2 ½ tsp. baking powder
½ tsp. salt
½ cup vegetable oil
1 large egg
½ cup milk
2 heaping cups of fresh blueberries
For the crumb topping …
½ cup flour
½ cup sugar
½ tsp. cinnamon
¼ cup margarine or butter (½ stick)
DIRECTIONS
Begin by preheating your oven to 350 F.
In a small bowl, combine all of the dry ingredients—sugar, flour, baking powder, & salt. Give them a whisk to combine. In a larger separate bowl, combine the wet ingredients—vegetable oil, egg, & milk. Whisk them together, as well. Then, slowly add the dry into the wet and beat until smooth with an electric mixer (about 1 minute). Refrigerate this batter for 30 minutes before adding the blueberries.
While the cake batter chills, start on the crumb topping. (I doubled the recipe above…because you can never have enough crumb topping.) Add the flour, sugar, cinnamon, and margarine into a bowl, and cut the ingredients together with two knives or a pastry cutter. (You may have to just use your hands toward the end to work everything together.)
After 30 minutes, remove the batter from the fridge, and carefully fold in two heaping cups of fresh blueberries. Pour the batter into a greased and floured 9 by 13'' pan. Evenly sprinkle the crumb topping over the batter.
Bake the Blueberry Buckle for about 35-40 minutes, or until the center of the crumb cake rises and a toothpick comes out clean.
Cool and enjoy!
Special thanks to Rachel of Sugar-Coated Inspiration for this amazing recipe!