A few years back, hubby and I started the Valentine's Day tradition of … drumroll … staying at home. Of course now, with an 18-month-old, it's easier to keep our Valentine's Day date night low key, but long before our baby girl was here, we actually relished in a night in on the sofa.
The key to keeping your inexpensive Valentine's Day date night at home romantic and meaningful is to put down your technology. I'm a repeat offender of breaking out my iPhone at the dinner table, but on a night that's meant to be special, it's a really good idea to put the tech away. Then of course, taking a walk down memory lane, snacking on nothing but yummy junk food, and watching classic (a.k.a., cheesy) romantic movies, all set the mood for adorable fun. Even if you're looking for something a bit more outside-the-box, I have a few cute ideas for you to make this Valentine's Day – in your living room – a memorable (and affordable) one.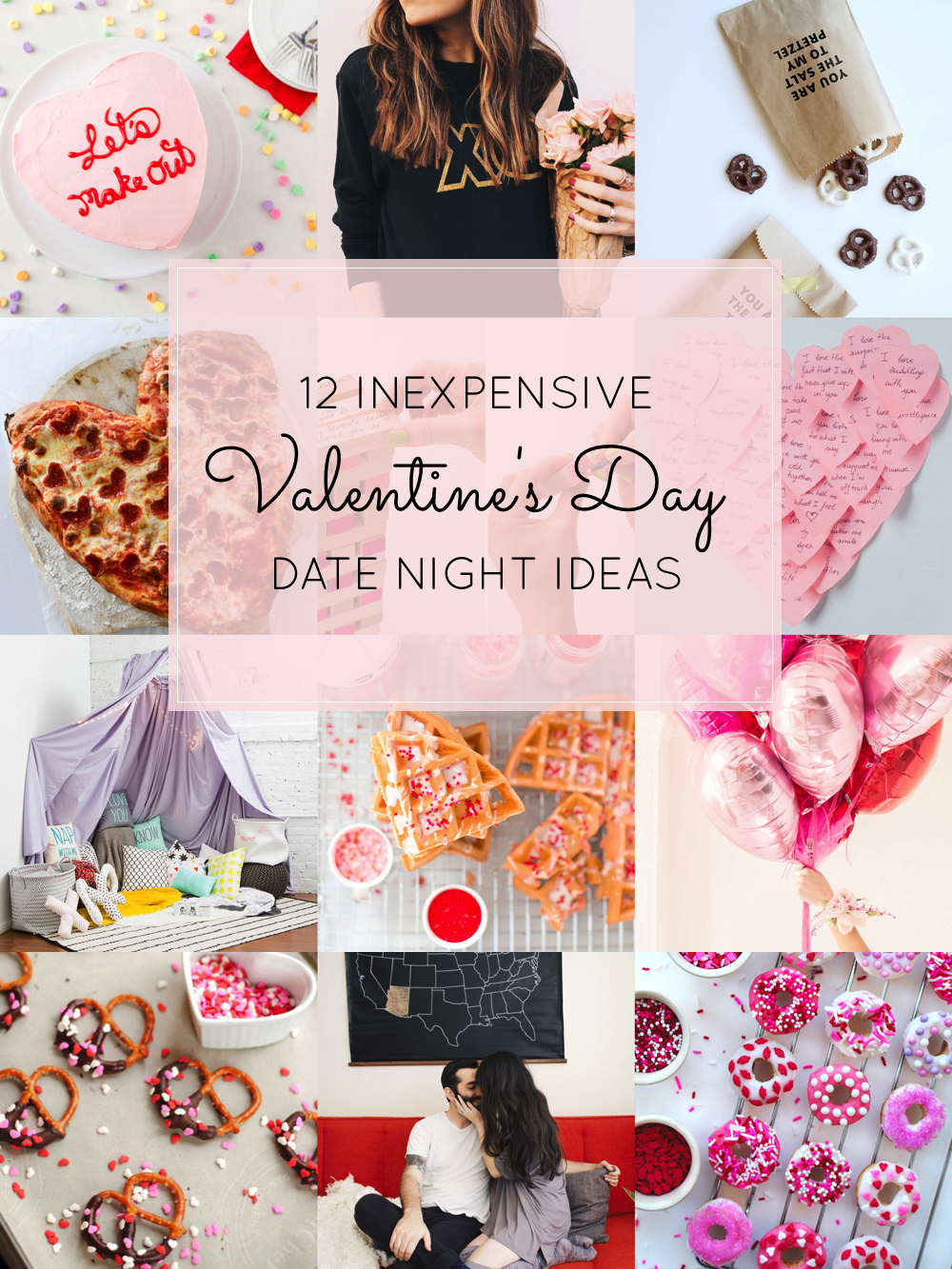 So without further ado, here are 12 inexpensive Valentine's Day date night ideas I think you and your special someone will love … (you know you want to get on the valentine's-day-on-the-sofa tradition bandwagon!)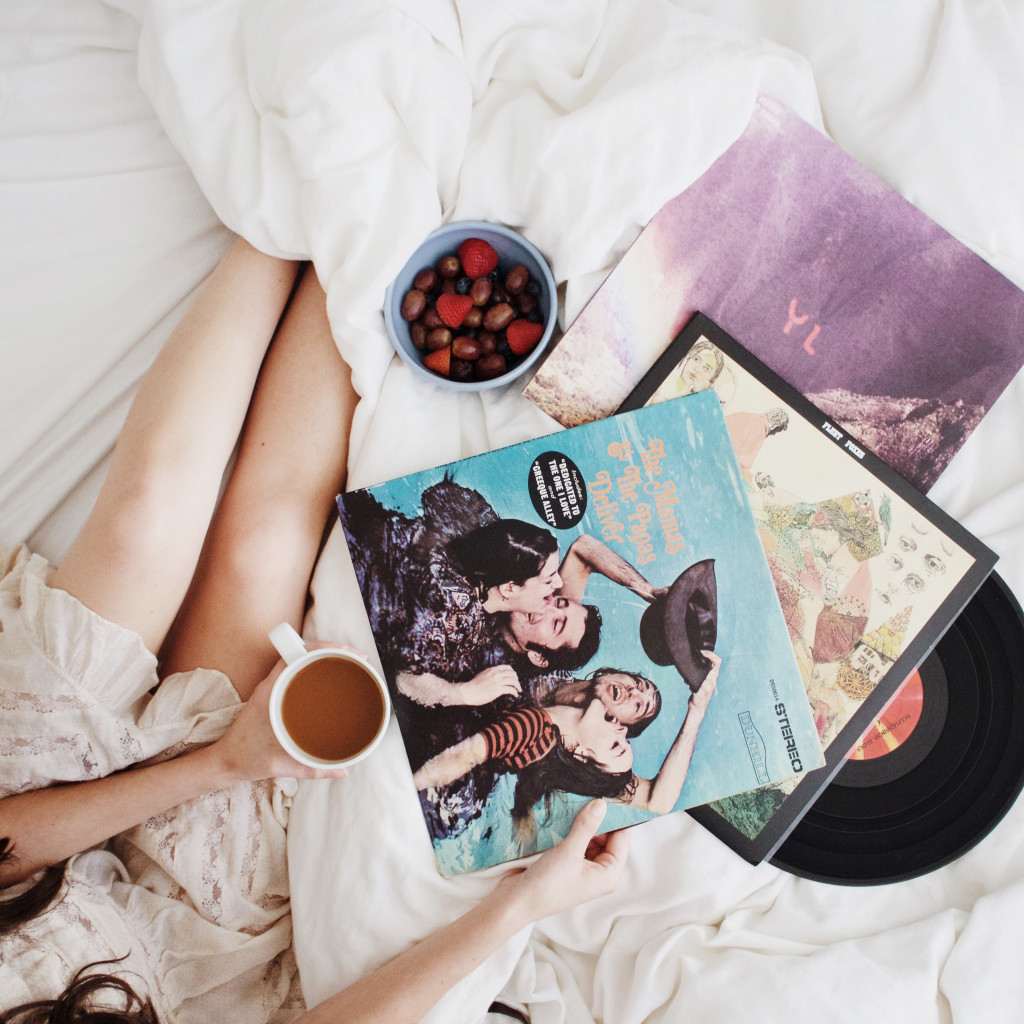 Throwback: Party like it's 1999, or whatever year you started dating. Make a playlist of the year's top songs and rent the year's movie hits to watch all night long – you'll be strolling through memory lane in no time. (image via New Darlings)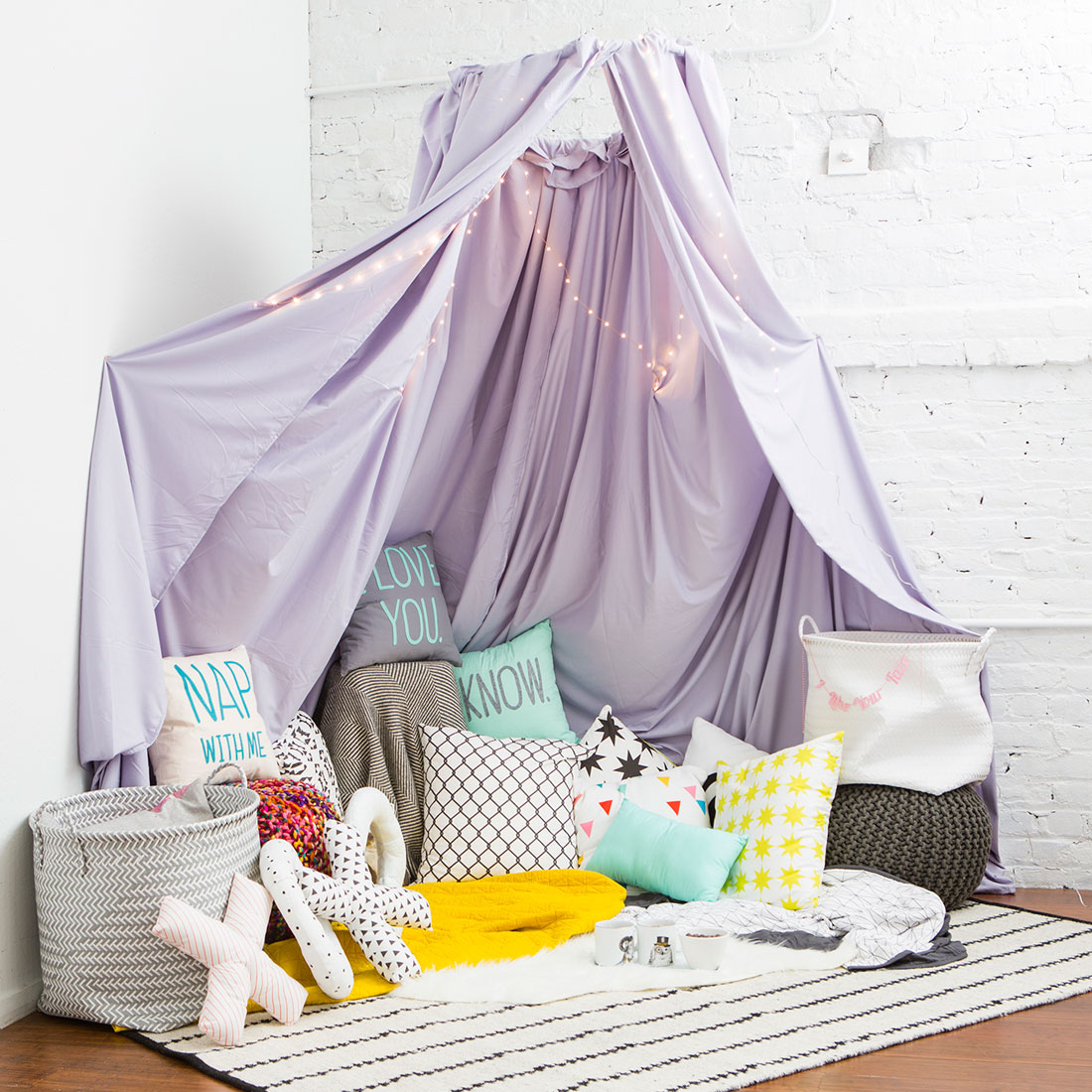 Grown-up Fort: Build a grown-up fort and camp out for the night. Cheap and so much fun. (via Brit + Co.)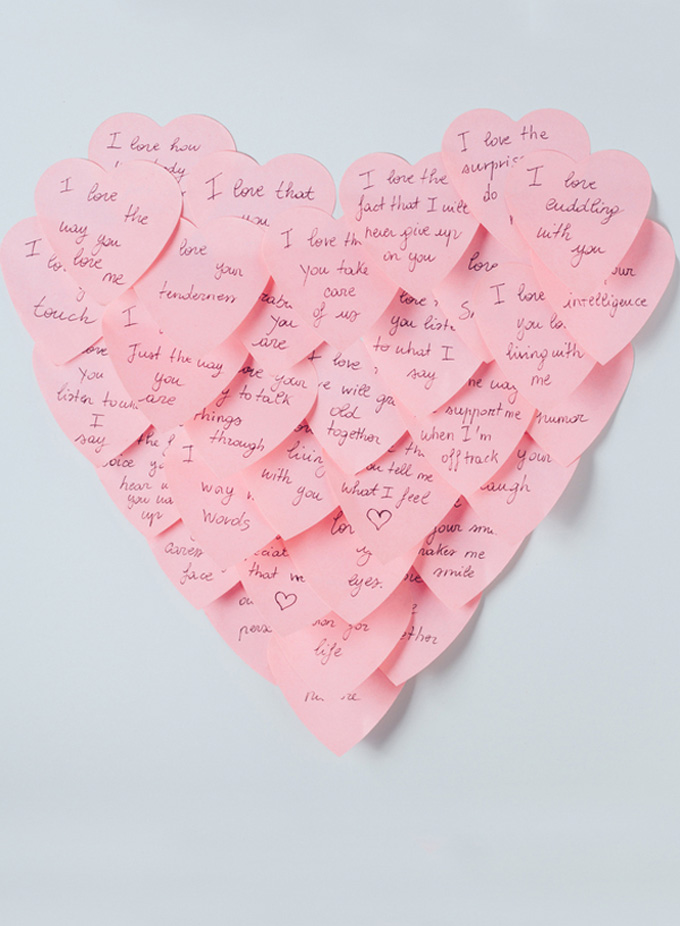 "Why I love you": Leave "Why I love you" messages all over the house. Cut out hearts from construction paper, use pink post-it notes, or buy a package of the inexpensive Valentines, leave love notes on each one and hide them all over the house for your special someone. If you hide a few well enough, they'll get to enjoy the gift for months! (Don't be afraid to get cheesy with it: "I love the way you remember to put the toilet seat back down;" "I love when you spare me, and do all of the dishes early in the morning;" "I love how good you smell.") (image via A Subtle Revelry)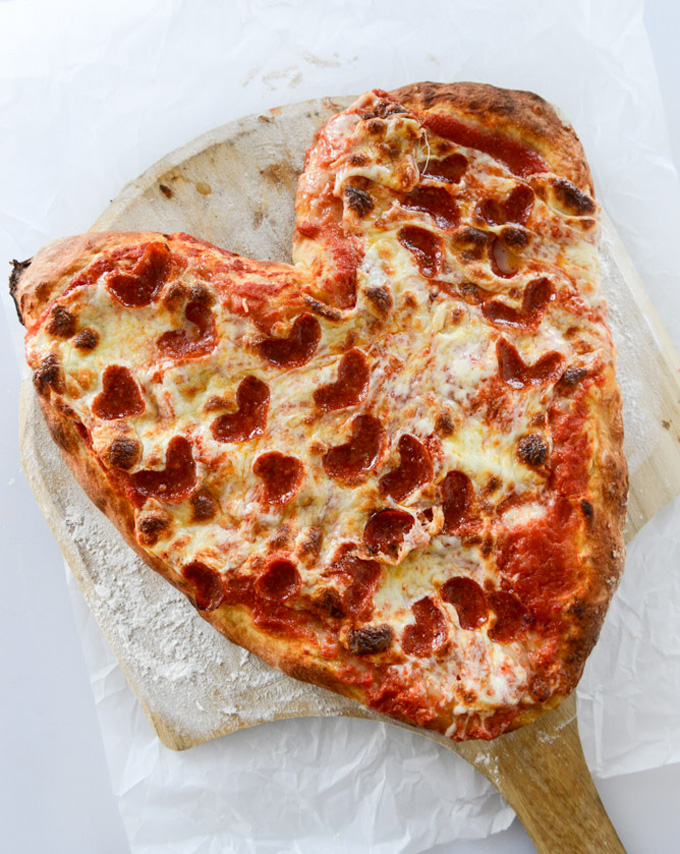 Pizza, duh: Make your own homemade Valentine's Day Heart Pizza from How Sweet Eats. Or, keep it simple and order your favorite pizza and glue this adorable printable sign from Oh Happy Day on top of the box.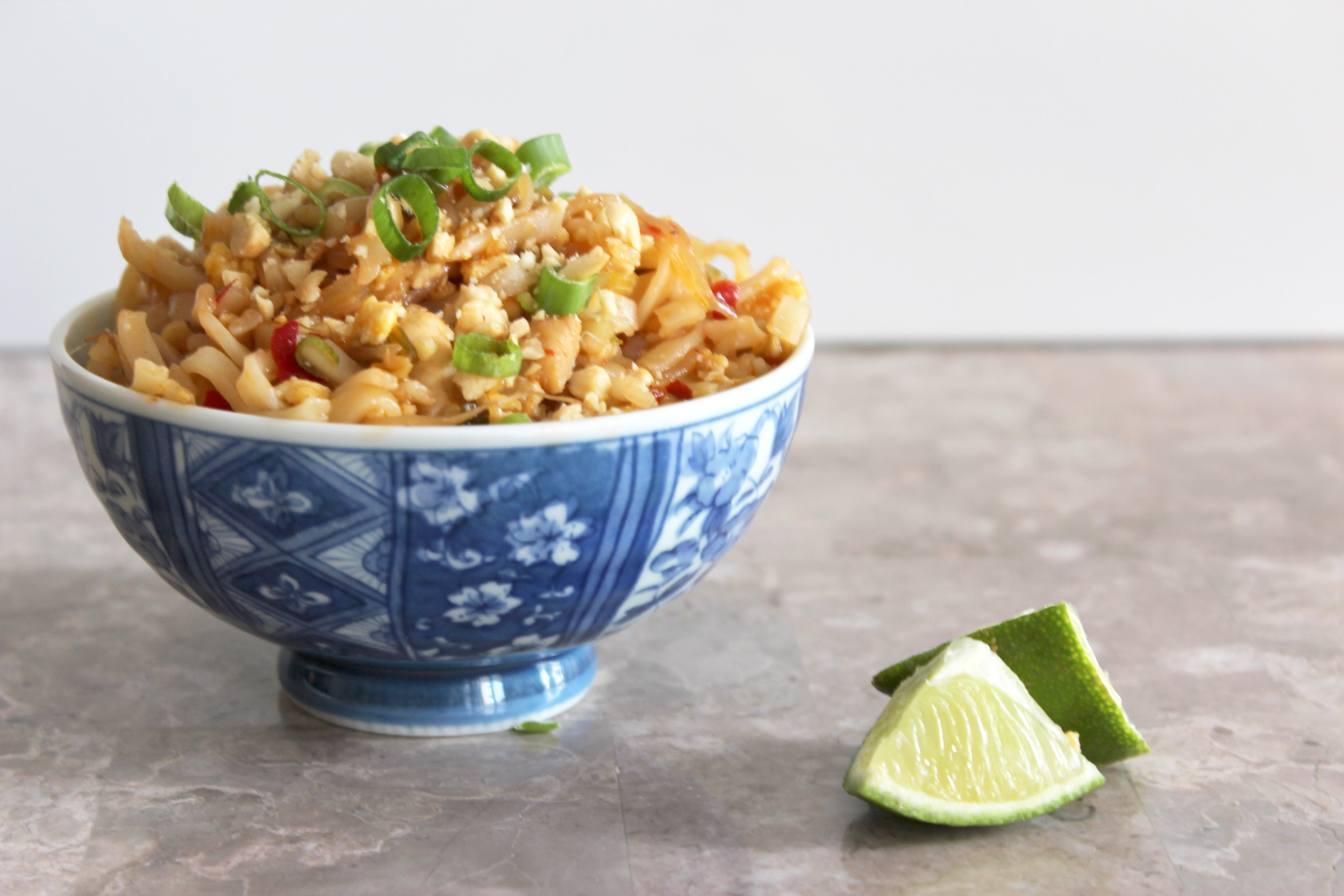 Cook: If you're feeling ambitious (and want to take a quick detour from the couch), cook something together. Be sure to have all of the ingredients ahead of time, or use a service like Plated to have the ingredients delivered to your doorstep, and then whip up something yummy, like this simple chicken pad thai, to share.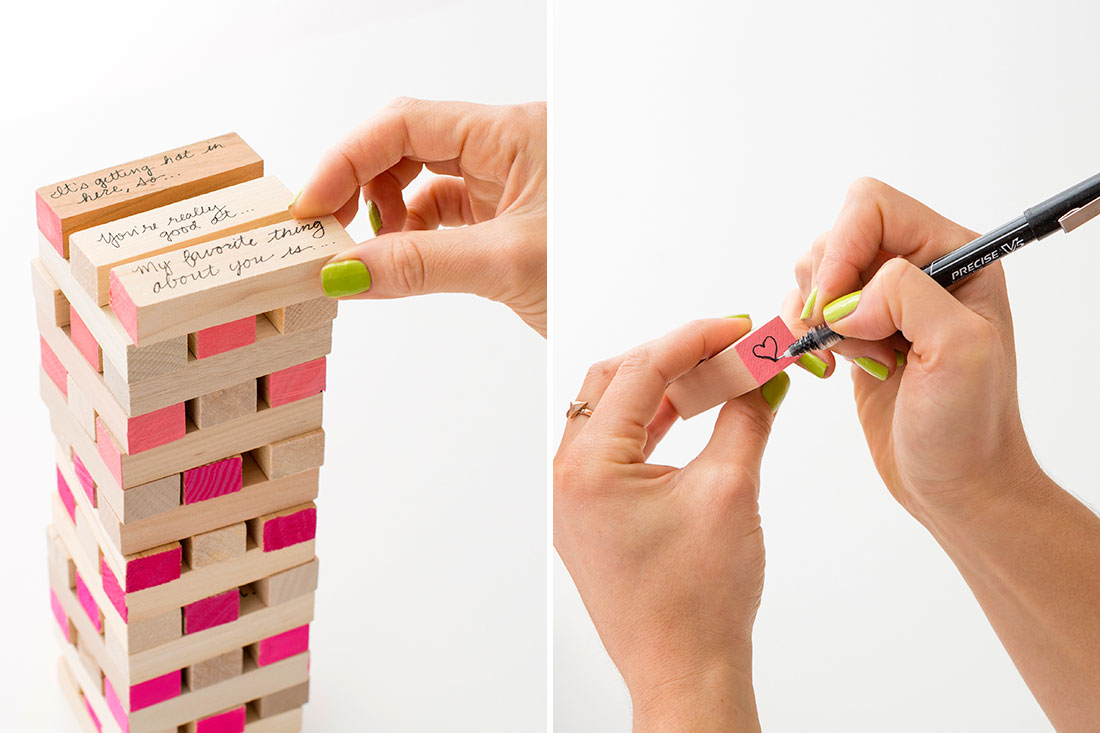 Games: Play a game of DIY Date Night Jenga from Brit + Co.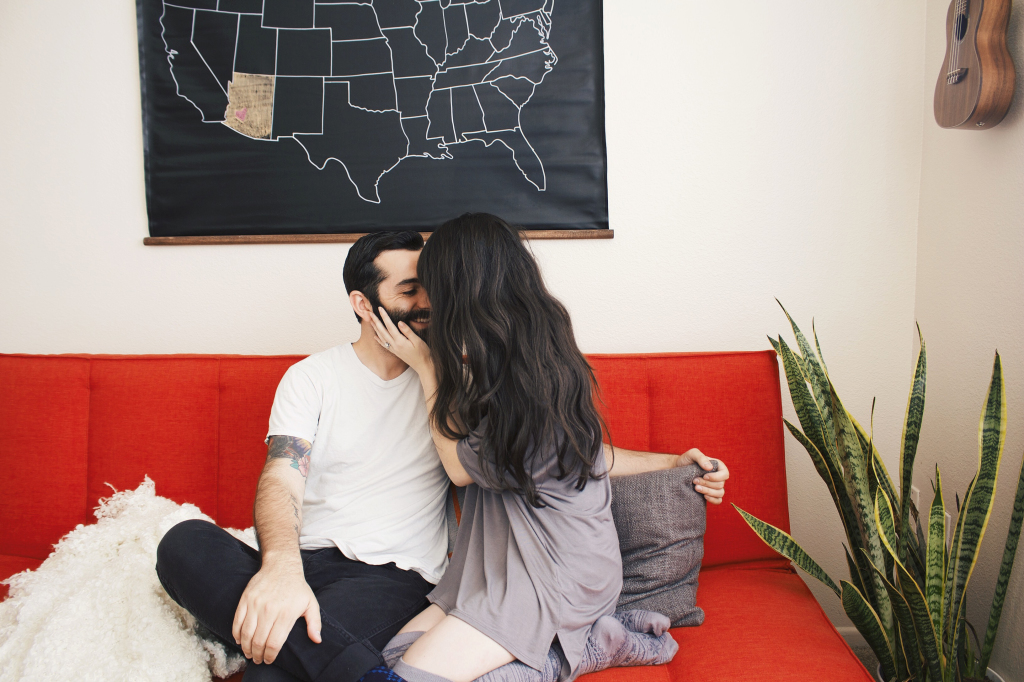 Dream of Travel: Plan your next vacation. Really plan it. Get out a pen and paper, make a list of the top five places you want to go, and start researching. I don't know about you, but planning our next adventure always puts a smile on our faces. (via New Darlings)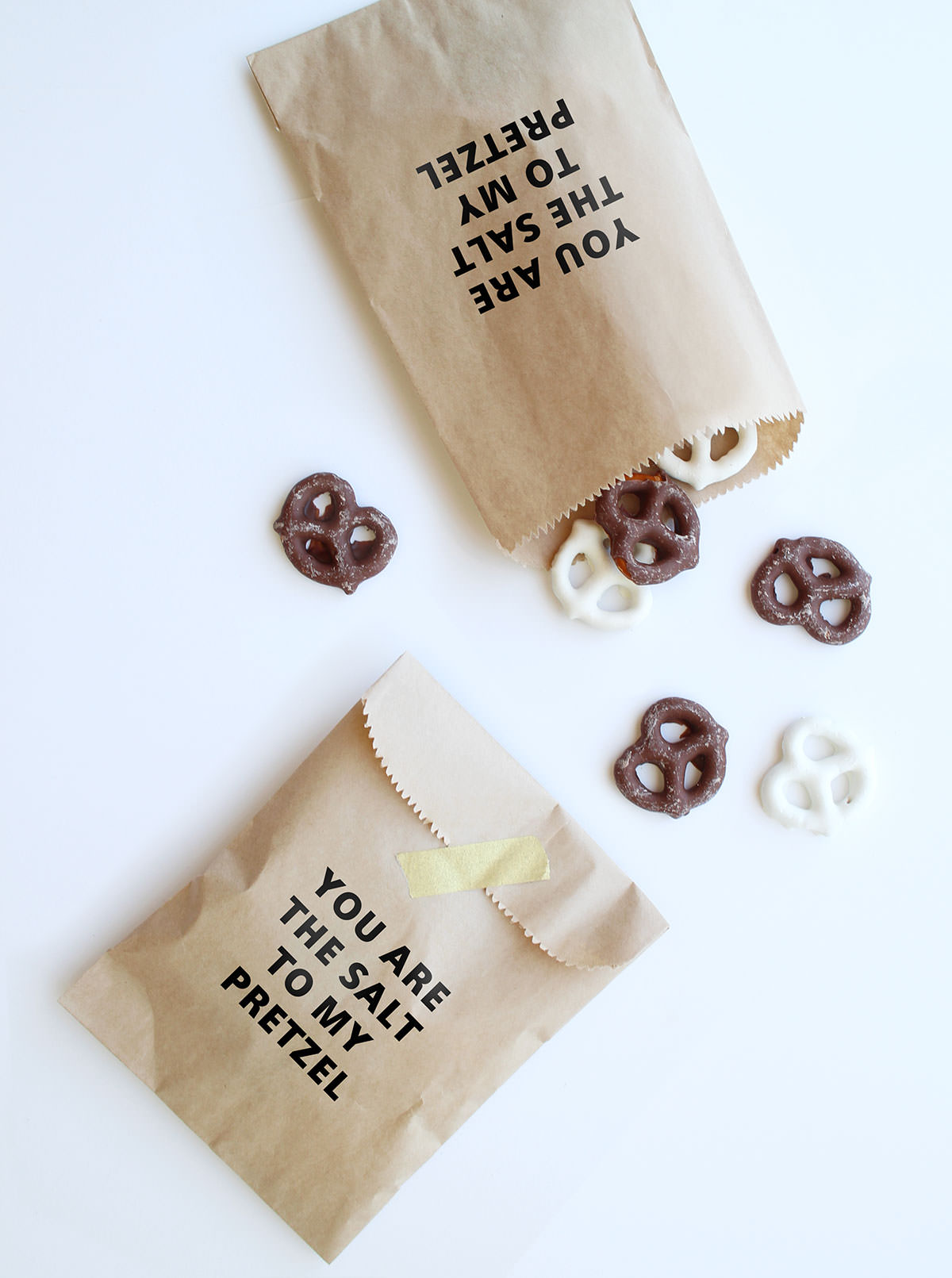 Snack time: Make snacks you can munch on while watching all of your favorite rom coms; i.e., chocolate-covered pretzels, valentine mini baked donuts, chocolate dipped krispie treats, etc. ("You are the salt to my pretzel" treat bags via Red Stamp)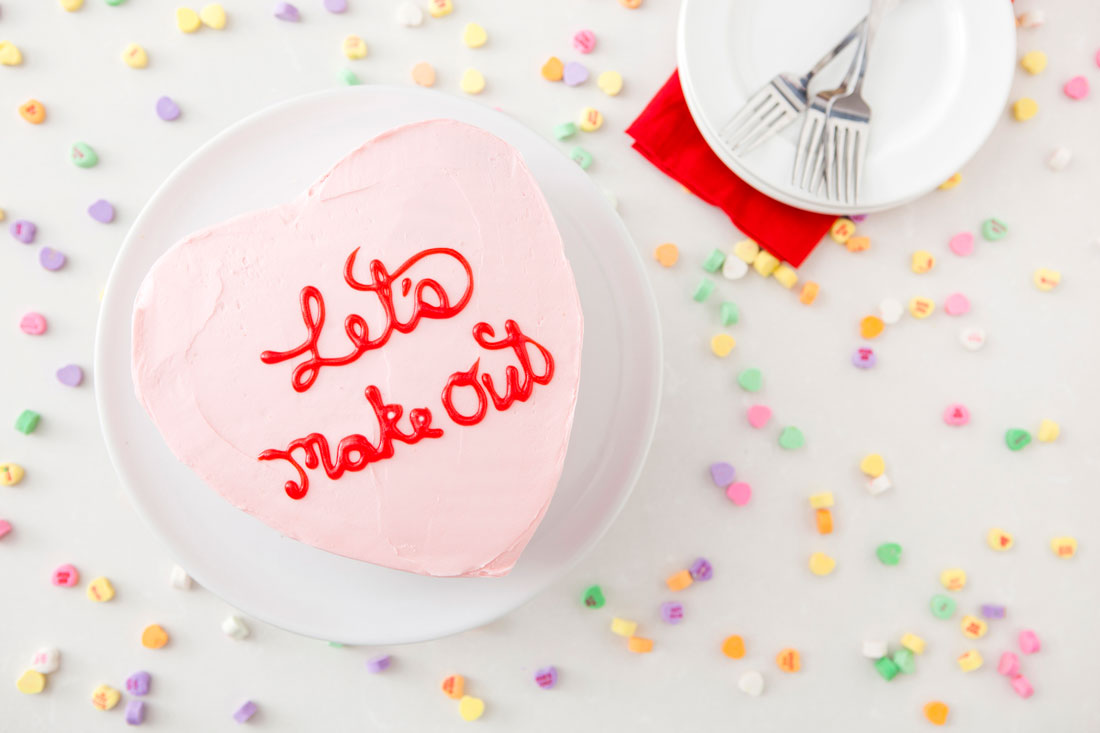 Cake: Wow your special someone with a homemade cake. I mean, cake is always a good idea. (Let's Make Out Cake via Brit + Co.)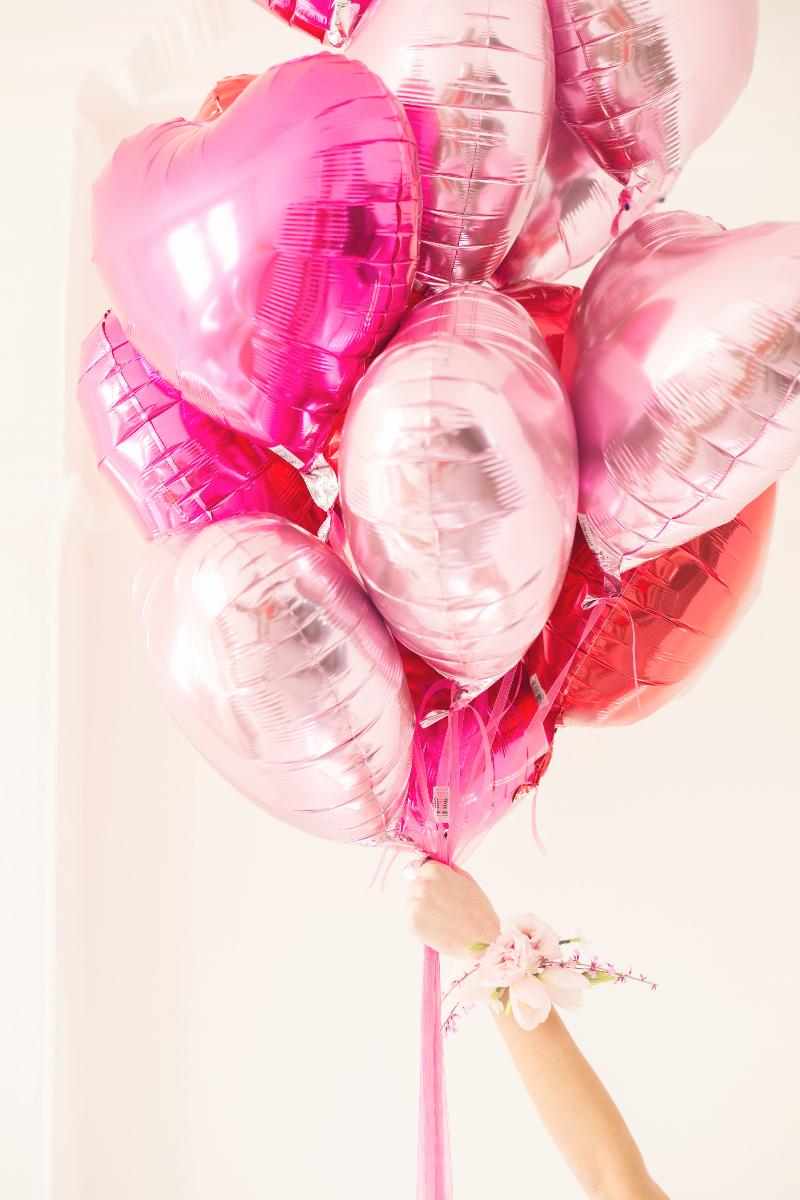 All of the balloons: Fill your living room with heaps of balloons. (image via Rock My Wedding // Photography by Julia And You)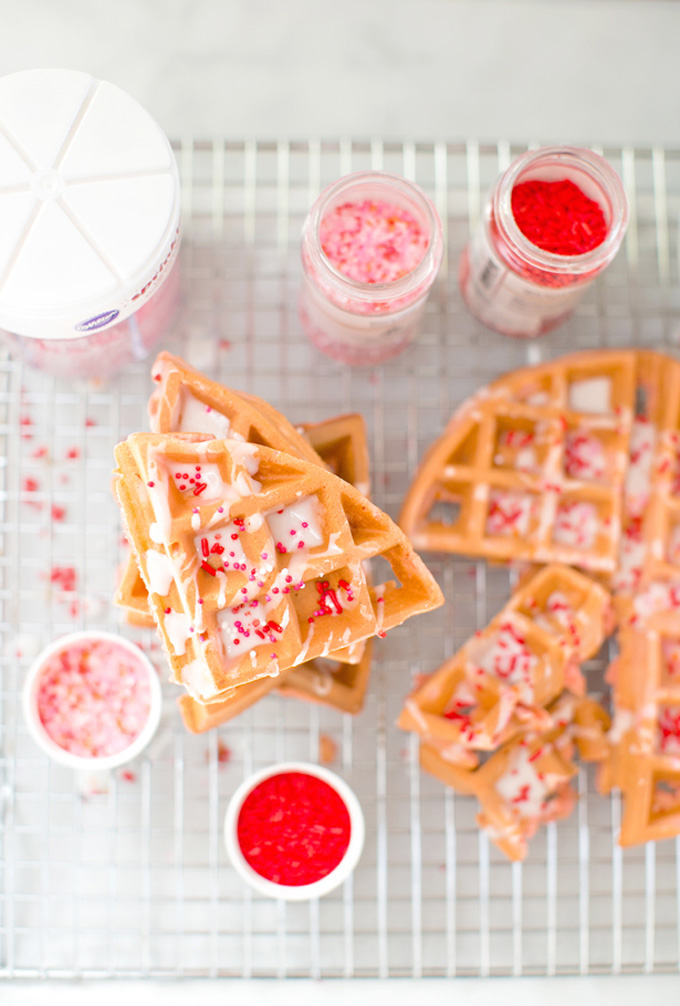 Breakfast for Dinner: Make breakfast for dinner with these pink Valentine's Day waffles via Hello Wonderful.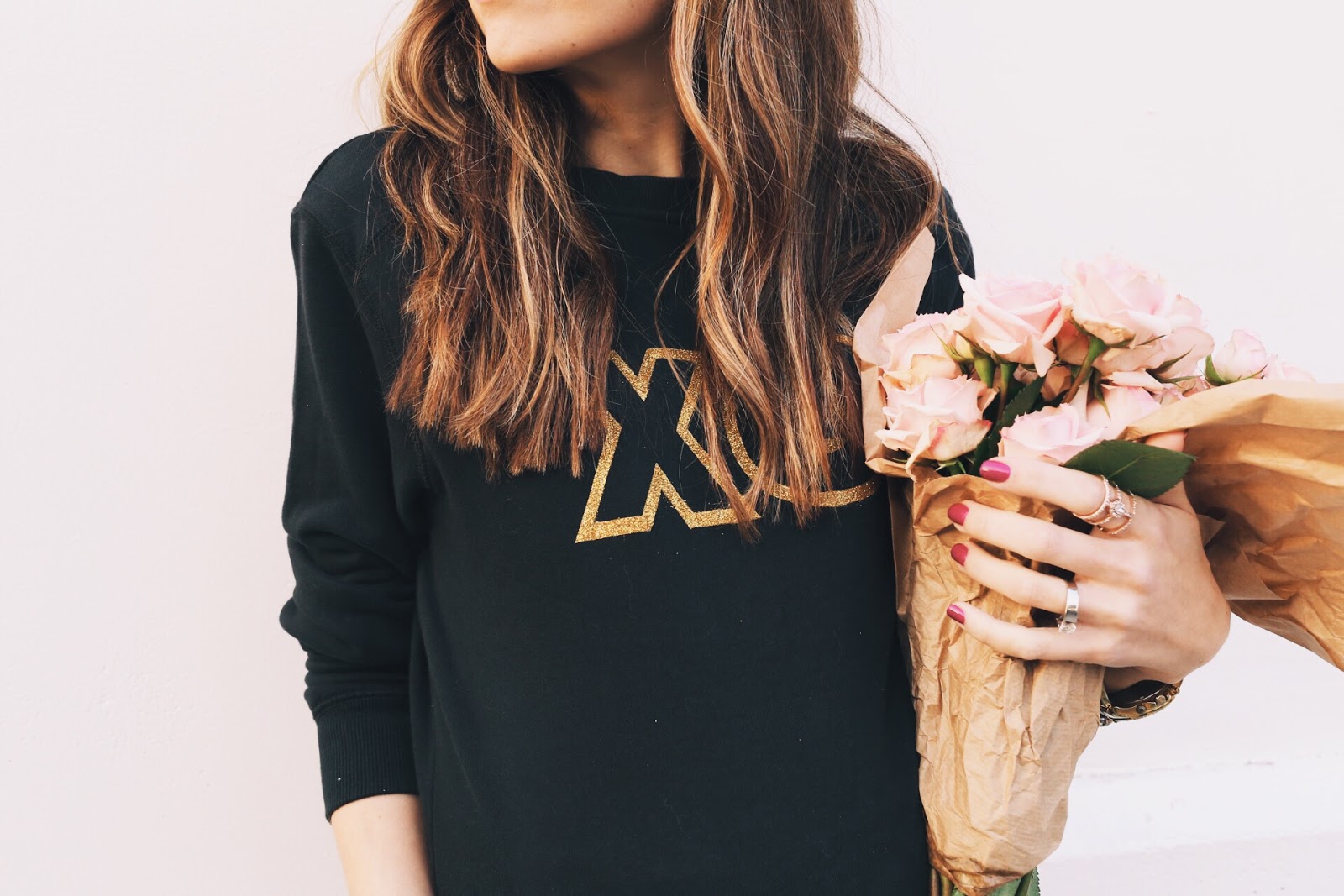 Have a Pajama Party: And of course, don't forget to dress up for the big occasion! PJ's mandatory. (Glitter XO Sweatshirt DIY via Merrick's Art)
How about you? How are you spending this Valentine's Day?
Psst … if you're looking for Valentine's Day dessert ideas, why not try the perfect sugar cookies for decorating (we used pink rock candy!), strawberry cheesecake macarons, big and fluffy homemade raspberry marshmallows, Oreo macarons,nutella-chocolate covered strawberries, or the best ever red velvet cupcakes with cream cheese frosting?