This post contains affiliate links, which means that if you click on one of the product links, I'll receive a small commission. Thank you so much for clicking through and helping to support this little blog business of mine! Read more about our site, privacy, and disclosure policies here.
Looking for a sweet way to surprise your Valentine? This DIY "heart attack" – a.k.a., tons of paper hearts spelling out the reasons you love your Valentine, splashed all over their bedroom door – is sure to surprise and delight kids and grown-ups alike!
This Valentine's Day, I wanted to surprise our girls with a sweet Valentine, and since I love a good holiday celebration, I thought, why not start the Valentine's celebrating on February 1st?
Whether you tape a Valentine's Day heart on your favorite Valentine's bedroom door starting on February 1st and each day after that until February 14th, or you surprise them with a "heart attack" explosion of paper hearts on their bedroom door the morning of Valentine's Day, this adorable "heart attack," full of affirmations and encouragement, is the sweetest way to spoil your Valentine with love.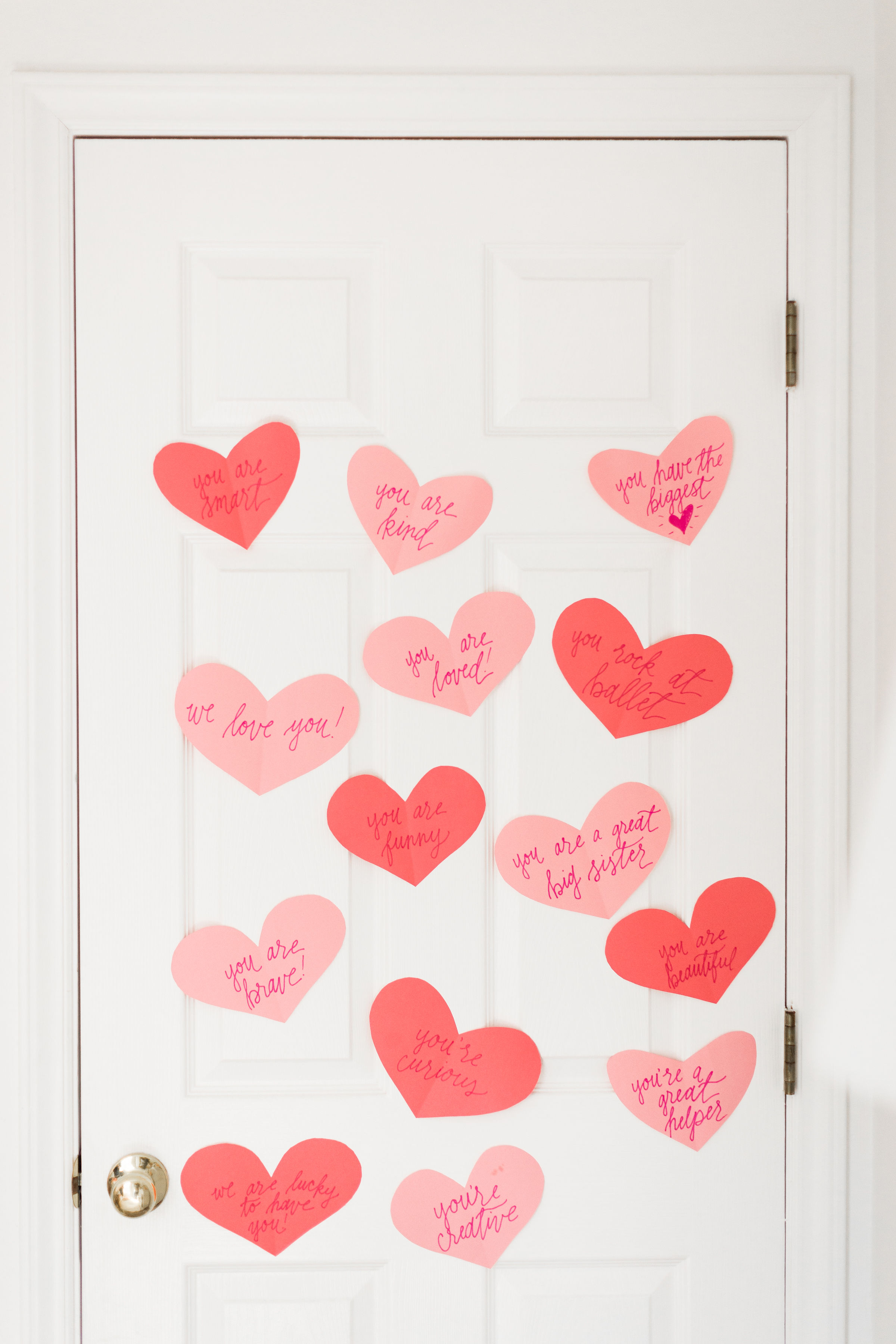 Not only is this DIY Valentine's Day "heart attack" simple to make (all you'll need is some construction paper, scissors, tape, and a marker), I love that this Valentine let's you tell your Valentine just how special they are.
I'm all for a Valentine that boosts your little one's confidence/self-esteem.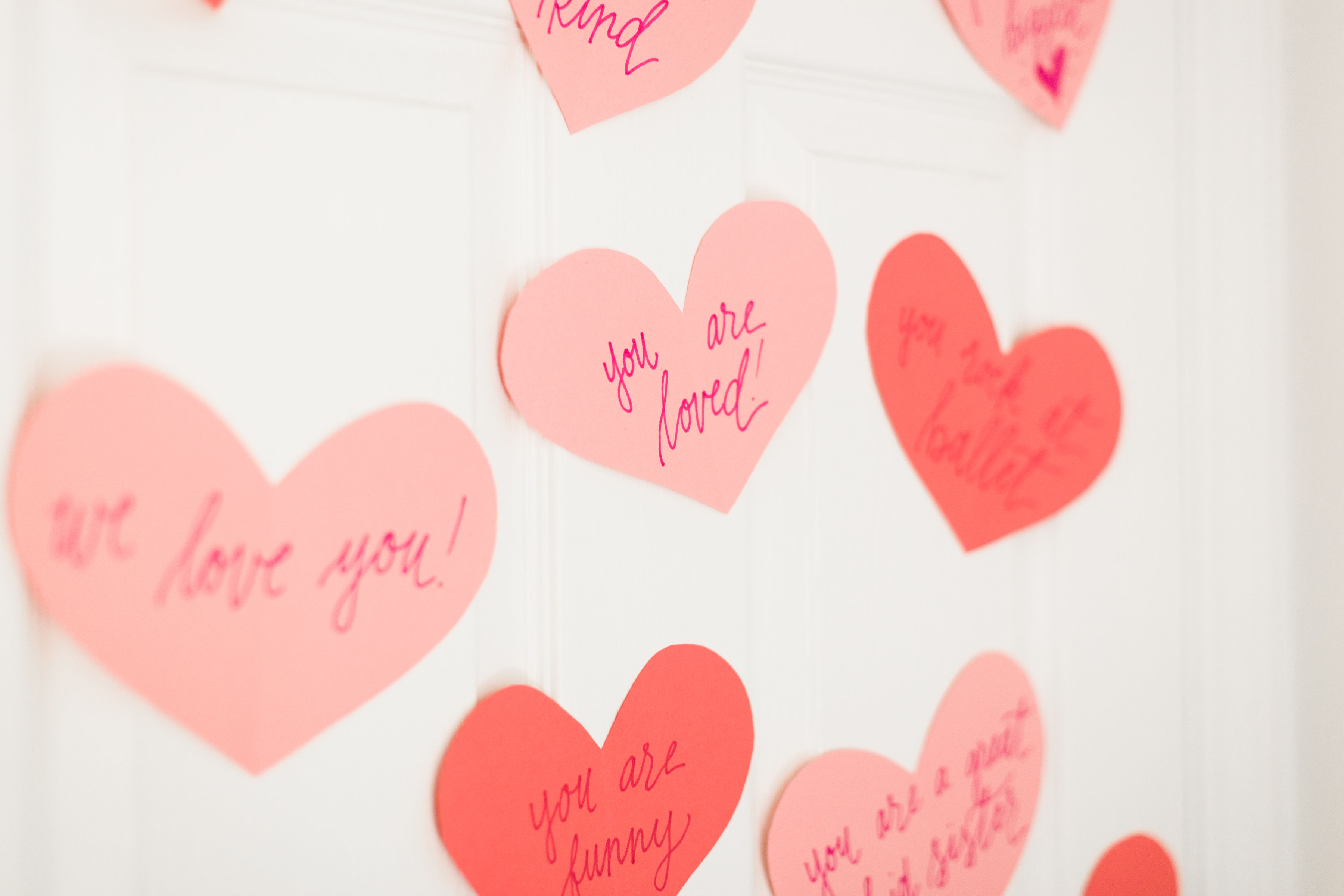 Basically, the night before Valentine's Day (or on February 1st if you want to start one-by-one leading up to the big day), cut hearts of all different shapes and sizes and write nice comments about each of your children (or special someone) on the hearts. Then cover each of their doors with the Valentine hearts, so that they wake up to the sweetest surprise.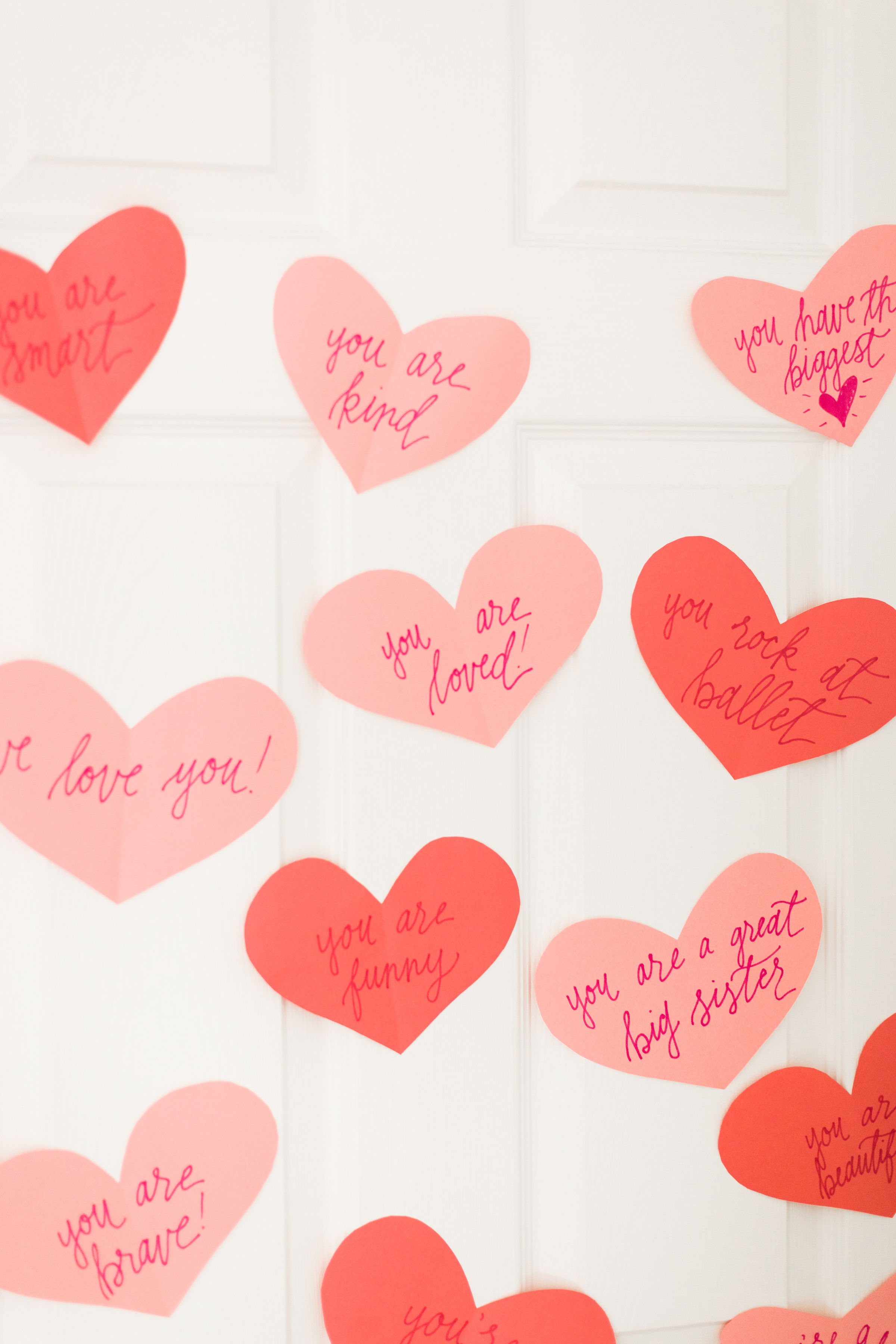 Get creative and share your heart.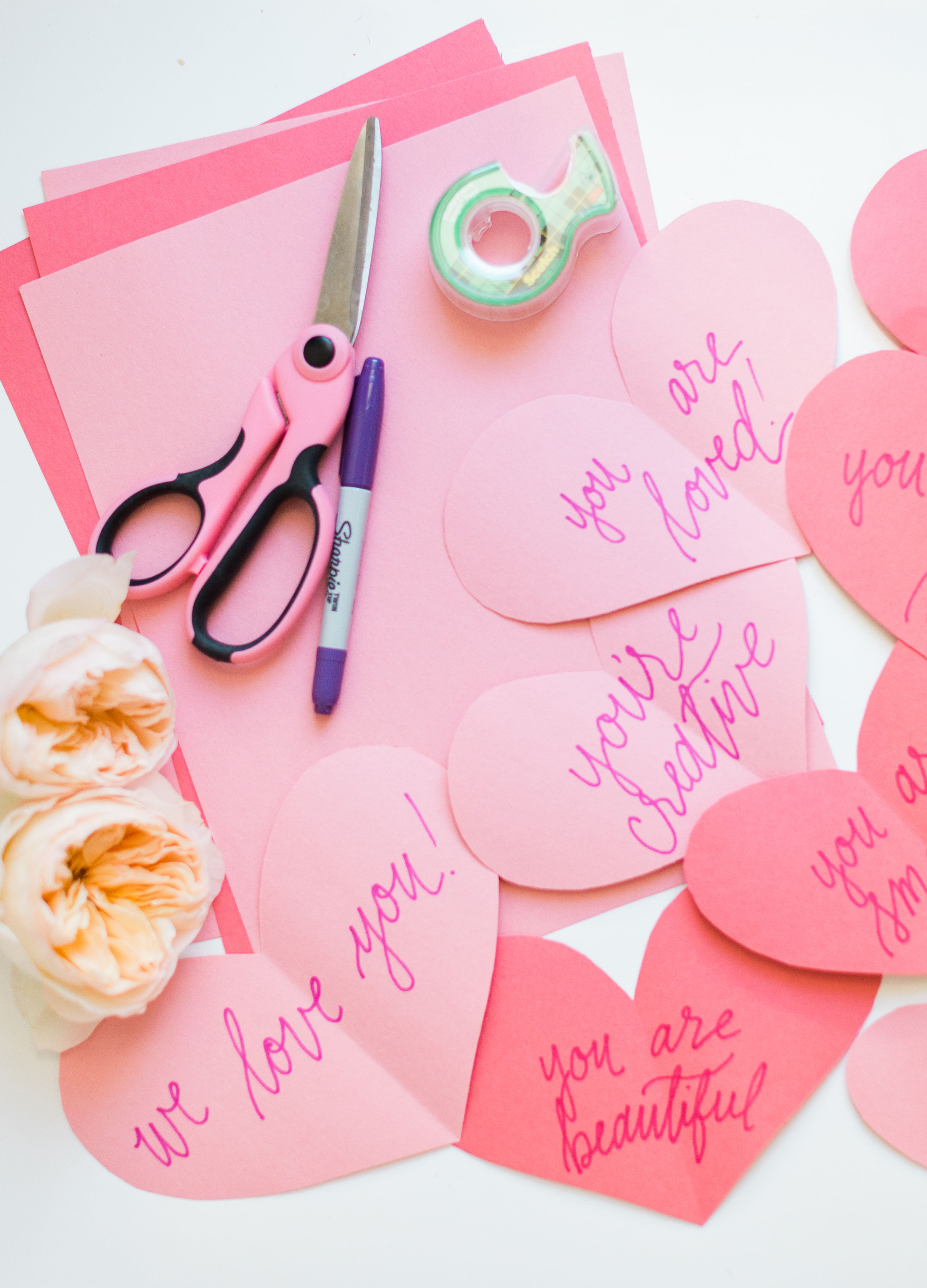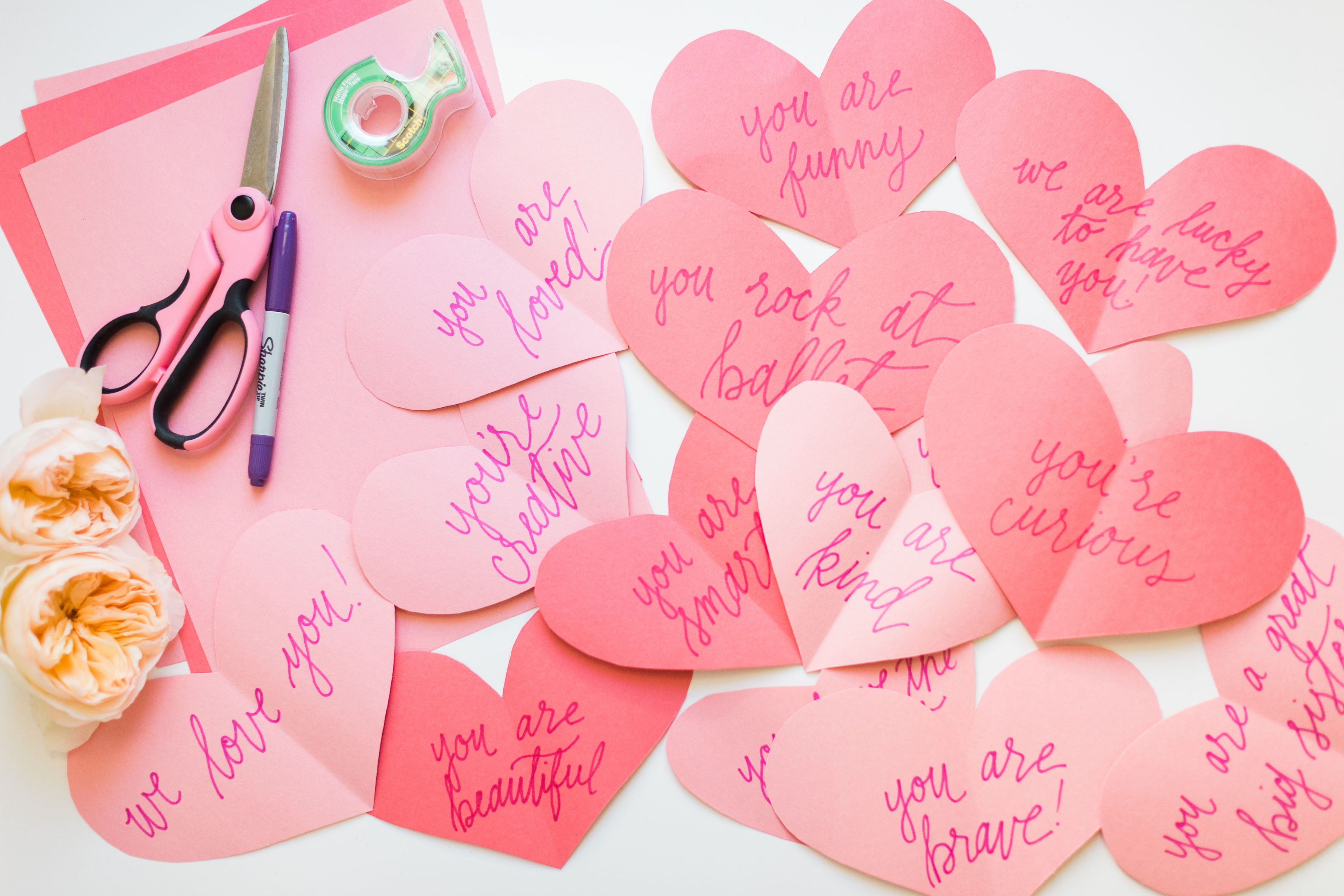 How to Make a DIY Valentine's Day Paper "Heart Attack"
WHAT YOU'LL NEED
construction paper
scissors
sharpie or maker
scotch tape
DIRECTIONS
Cut your hearts in various sizes. We chose the pink and red sheets of construction paper to fit our Valentine theme. I used the old school method of folding my construction paper in half and then cutting out half of a heart (unfold and you have a heart!) You could also trace a heart onto a flat piece of construction paper and then cut out your heart using that as a guide.
Write a positive phrase/affirmation/reason you love your Valentine on each of the hearts using a Sharpie or darker-colored marker.
Using your tape, affix each heart to your Valentine's door.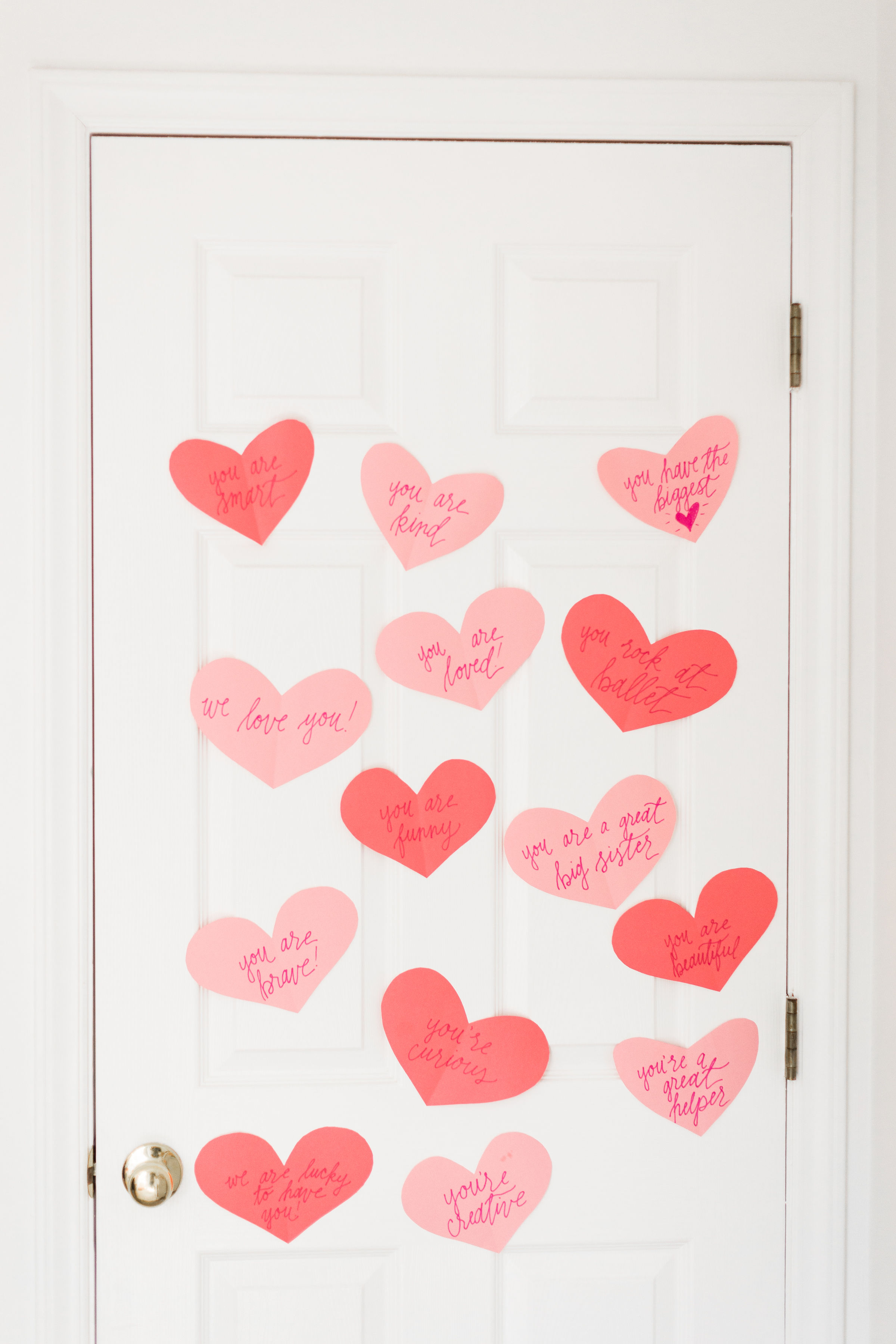 If you have loved ones that live far away, you could also easily send a "heart attack" by mail. You could even cut out a bunch of hearts and have your kids decorate several of the hearts, and then send a stack of the hearts to grandparents, cousins, Aunts and Uncles, etc. Slip in one or two photos of your kids (cut into heart shapes, of course!), and family will absolutely love the "heart attack" surprise!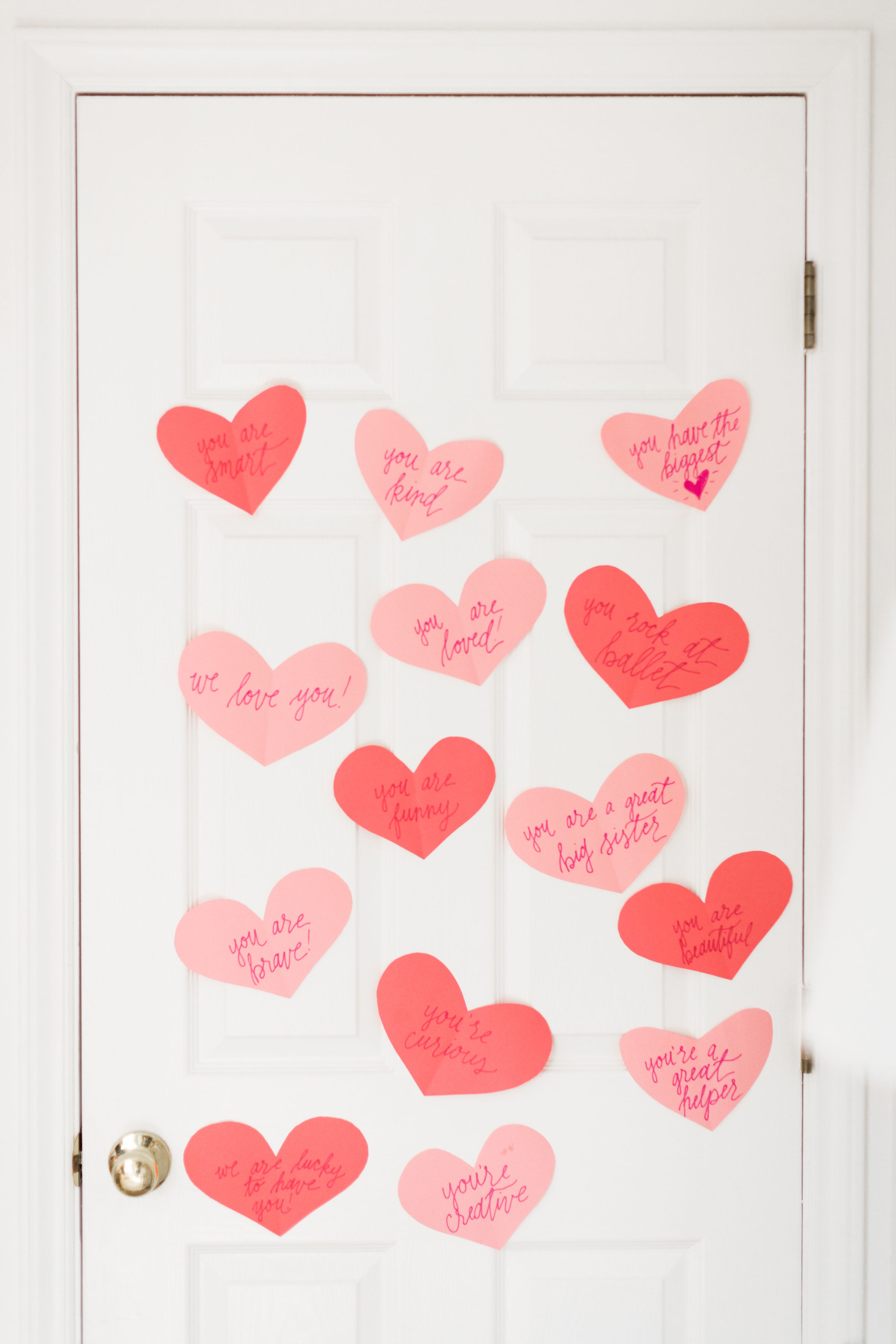 Officially doing this every Valentine's Day!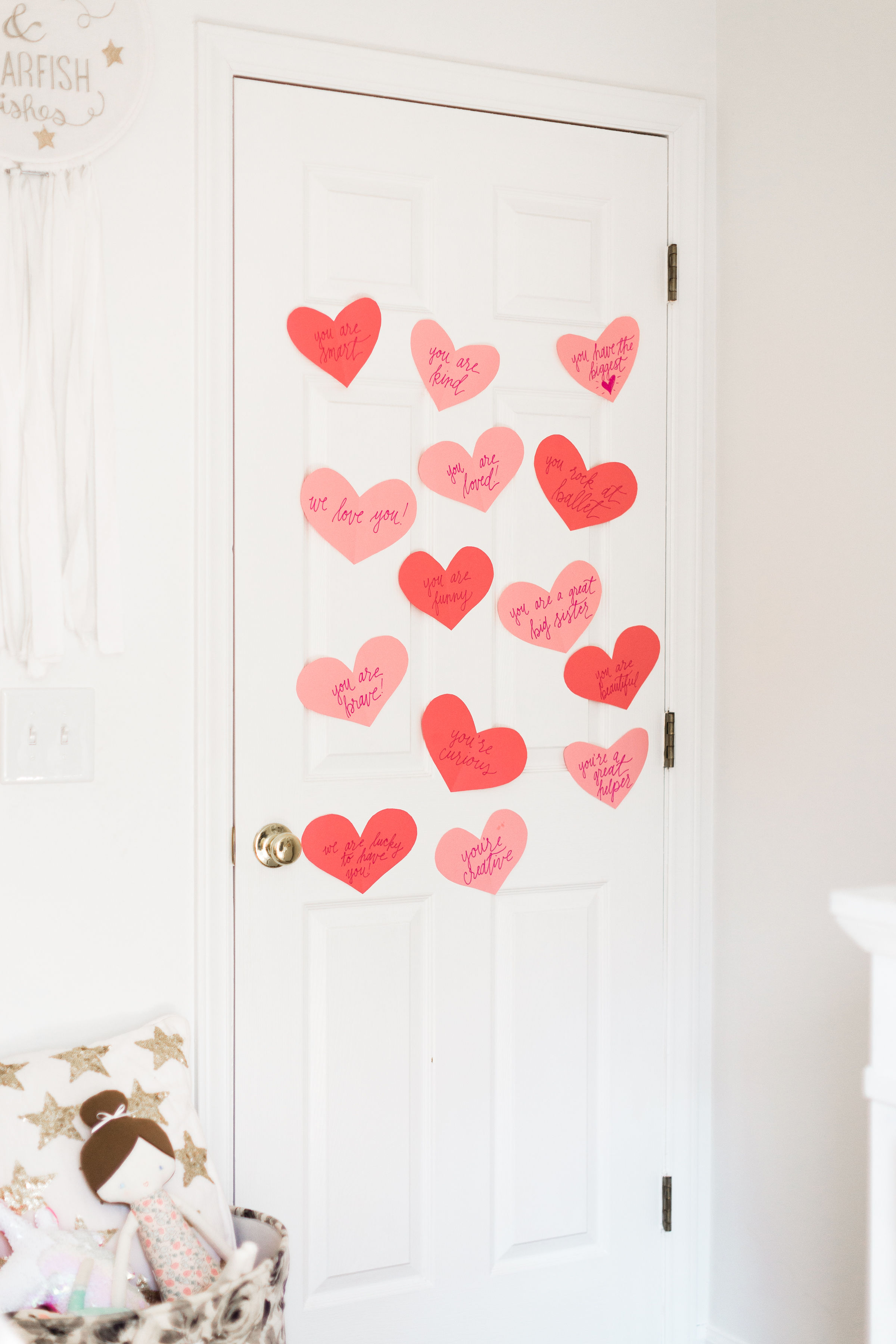 SHOP THE DIY "HEART ATTACK" POST | CLICK LEFT & RIGHT ARROWS TO EXPLORE

If you make your own DIY "heart attack" hearts for Valentine's Day, be sure to tag me on social media (@glitterinclexi) so I can live vicariously through all of your adorable craft creations! Love this DIY? Looking for more Valentine's Day crafting fun for the whole family? Make these toddler-friendly mess-free DIY Valentine's Day cards or whip up this delicious easy strawberry cake. And, if you're looking for even more crafts to make, head to our DIY page to check out what else we're crafting up.
Photos by Annie Timmons Photography for Glitter, Inc.