This post contains affiliate links, which means that if you click on one of the product links, I'll receive a small commission. Thank you so much for clicking through and helping to support this little blog business of mine! Read more about our site, privacy, and disclosure policies here.
I'll be the first to admit that I have been totally intimidated by French macaroons. They look so delicate and beautiful. But they are completely doable and delicious, and I'm here to tell you, you've got this!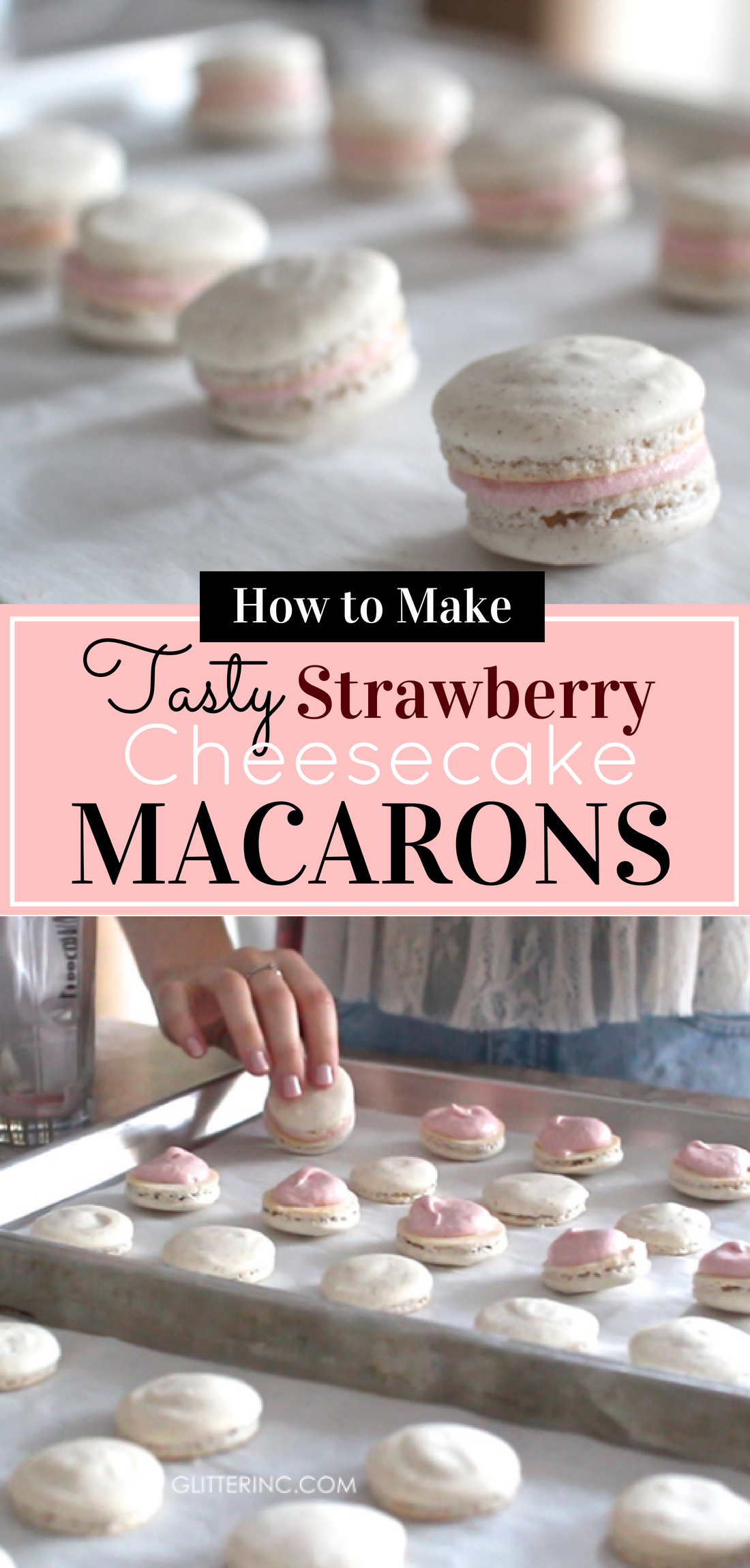 Rachel of Sugar-Coated Inspiration is going to show you (literally, with an amazing little video) how to create your very own homemade French macarons.  She also went a step further and chose a totally amazing recipe to teach today's macaron class:  strawberry cheesecake French macarons. So good.
From Rachel: In my opinion, there's nothing quite as impressive as homemade French Macarons – a cookie that is notoriously tricky to make. The main goal is to get that signature ridge, or "foot," lining the bottom of the meringue cookie. (I literally shrieked the first time my macarons came out of the oven with feet.) However, after making them at home a few times (pretending to be a professional pastry chef), I've realized that these delicious & delicate little cookies aren't nearly as difficult as I thought they'd be. And they're so impressive once you get them right!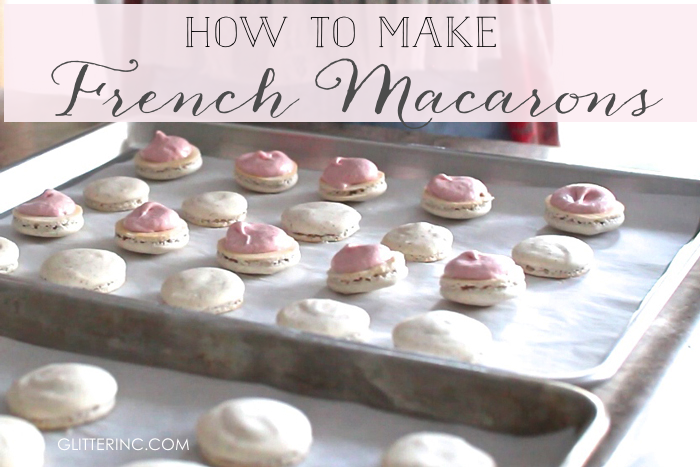 STRAWBERRY CHEESECAKE FRENCH MACARONS
Makes 20 Macarons
INGREDIENTS
COOKIES
1 cup almond flour
2 cups powdered sugar
3 room temperature egg whites
A pinch of salt
¼ tsp. cream of tartar
¼ cup granulated sugar
Seeds from ½ of a vanilla bean
FILLING
2 tbsp. salted butter
2 tbsp. cream cheese
¾ cup powdered sugar
1 tsp. vanilla extract
Up to 3 tbsp. fresh strawberry puree (fresh strawberries, blended & strained)
DIRECTIONS
Prepare yourself – these cookies are quite step intensive! However, they're really, really fun to make and so rewarding once they're finished! (Also, super delicious. Can't forget that.)
Start by sifting together 1 cup of almond flour with 2 cups of powdered sugar. Make sure to use a fine sieve, any larger lumps of almond that make it into the batter will result in a macaron that's a bit bumpy on top, rather than perfectly smooth.
Once the dry ingredients are sifted, prepare the wet ingredients (you're basically just whipping up a fluffy meringue!) Use a metal mixing bowl to whip up 3 room temperature egg whites. (For a shortcut to room temperature eggs, submerge them in warm water – in their shells – for 5 minutes.) As you beat the egg whites on high, add in a pinch of salt and the cream of tartar. Once the eggs begin to turn white and fluffy, you can slowly pour in the granulated sugar and add in the vanilla bean seeds. Continue to whip the egg whites until they form stiff peaks on the end of the beaters (takes about 8-10 minutes total.)
Now that the wet and the dry elements are ready, it's time to combine them. This is where it gets a little tricky. Two spoonfuls at a time, add the powdered sugar/almond flour mixture into the whipped egg white mixture. Gently fold the dry into the wet, making sure to keep the egg whites fluffy – be sure to watch the video for proper technique. Continue folding the dry ingredients in until everything has been incorporated (takes approximately 70 folds, if you're willing to count!)
Load the macaron batter into a piping bag, fitted with a large round tip, and pipe out 40 evenly spaced 1-inch circles onto two parchment lined baking sheets (20 on each sheet). Once your cookies are piped, be sure to tap the pan hard on the counter to release any air bubbles. Leave them out to dry for up to an hour. (This causes the cookies to rise up when baked, rather than spread out – creating the signature ridged "foot" around the edge of the macaron.)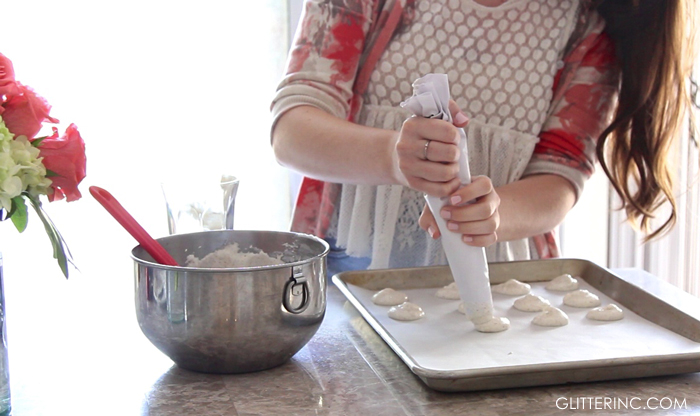 Preheat your oven to 300 F and, once the batter is no longer sticky to the touch, bake the macarons for 15-20 minutes. (Baking time can vary depending on your oven, so keep a close eye on them! If you can remove the cookies from the parchment without them sticking – they're ready.) Also, be sure to cook each baking sheet separately to make sure that the heat is distributed evenly.
As the macarons bake & cool, work on the strawberry cheesecake filling. Whip together the butter and cream cheese. Then, slowly incorporate the powdered sugar, until smooth. Finish with the vanilla extract & the fresh strawberry puree (add this in slowly, as well.) To make the fresh strawberry puree, simply blend around 5 -10 fresh strawberries, depending on how large they are, and then strain out the seeds. Use up to 3 tbsp. of the strawberry puree in the filling.
Final step! Yay! Group the macarons together in pairs, based on similar size. Pipe a bit of the strawberry cheesecake filling onto every other vanilla bean macaron, and sandwich the pairs together.
NOTE:  Macarons are supposed to taste better over time, so if you'd like, refrigerate them for up to 48 hours before serving. Be sure to bring them back to room temperature before eating them, though!
Recipe Adapted via Entertaining with Beth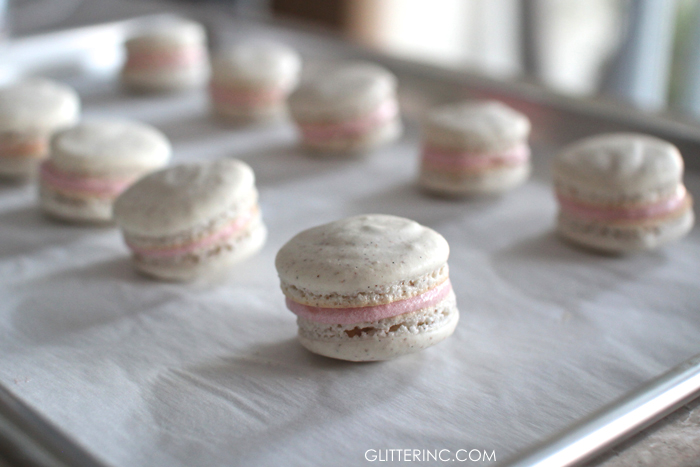 There is also an awesome troubleshooting guide on Food Nouveau. (It has the solution to any problem you might encounter while making macarons!)
And this ridiculously helpful video …
Special thanks to Rachel of Sugar-Coated Inspiration for this amazing recipe and tutorial!
Video Music: Siesta (creative commons license)