Guess what? A little project of ours (because, yes, Scarlett got to help out on this one!) was featured on Style Me Pretty Living over the weekend and I am SO excited to share a peek here as well.
As a crafty mama, it's hard not to want to try every arts and crafts project with my baby girl. My mom always made great craft projects with us as kids, and I just cannot wait. But when your little one is only 18-months old, and still learning how to use a spoon (without spilling chicken noodle soup all over her lap, of course), craft projects can feel a bit ambitious. Thankfully, our awesome sitter – who used to work at a preschool – mentioned an adorable, mess-free way to finger paint with your toddlers, and I loved the idea.
We had to try the craft project more than once – the first attempt was an epic fail: for the record, plain white paper does not withstand drowning in a ziploc bag filled with heaps of paint. Still, once we got ourselves a pack of cardstock that could hold up to our paint-filled bag, the project went off without a hitch. I'd call that a mess-free painting success. This really is a perfect "first art project" for toddlers and young kids.
So if you're itching to make an adorable Valentine's Day craft with your little ones (babies and toddlers included!), pull up a highchair and get painting! (Adorable pictures of Scarlett, included.)
WHAT YOU'LL NEED
Acrylic Paints
Cardstock Paper
Ziploc® Bags
Tape
Craft Glue
Scissors
Glitter Alphabet Stickers (We used gold glitter and silver glitter letters!)
Heart Doilies
DIRECTIONS
Place one sheet of white cardstock into a zip-top bag. (We used freezer-sized bags so that there was plenty of room for the cardstock sheet and for Scarlett to squish around her paint.)
Squirt various shades of paint into the bag and be sure to seal closed. Tape the bag to your child's high chair tray or a table.
Let your little ones squish and smack away. (You can also experiment with running various objects over the bag – q-tips, toy cars, etc.)
Carefully pull their masterpiece out of the bag and allow to dry fully.
Using your grown-ups-only scissors, cut out your heart shapes from the now-painted cardstock sheets.
Using glue and stickers, decorate away and make adorable Valentine's Day cards.
This is the, "Mom, I've grown bored of these pictures and I'm ready for a snack" face. Luckily for her, I also made these amazing sugar cookies that same day.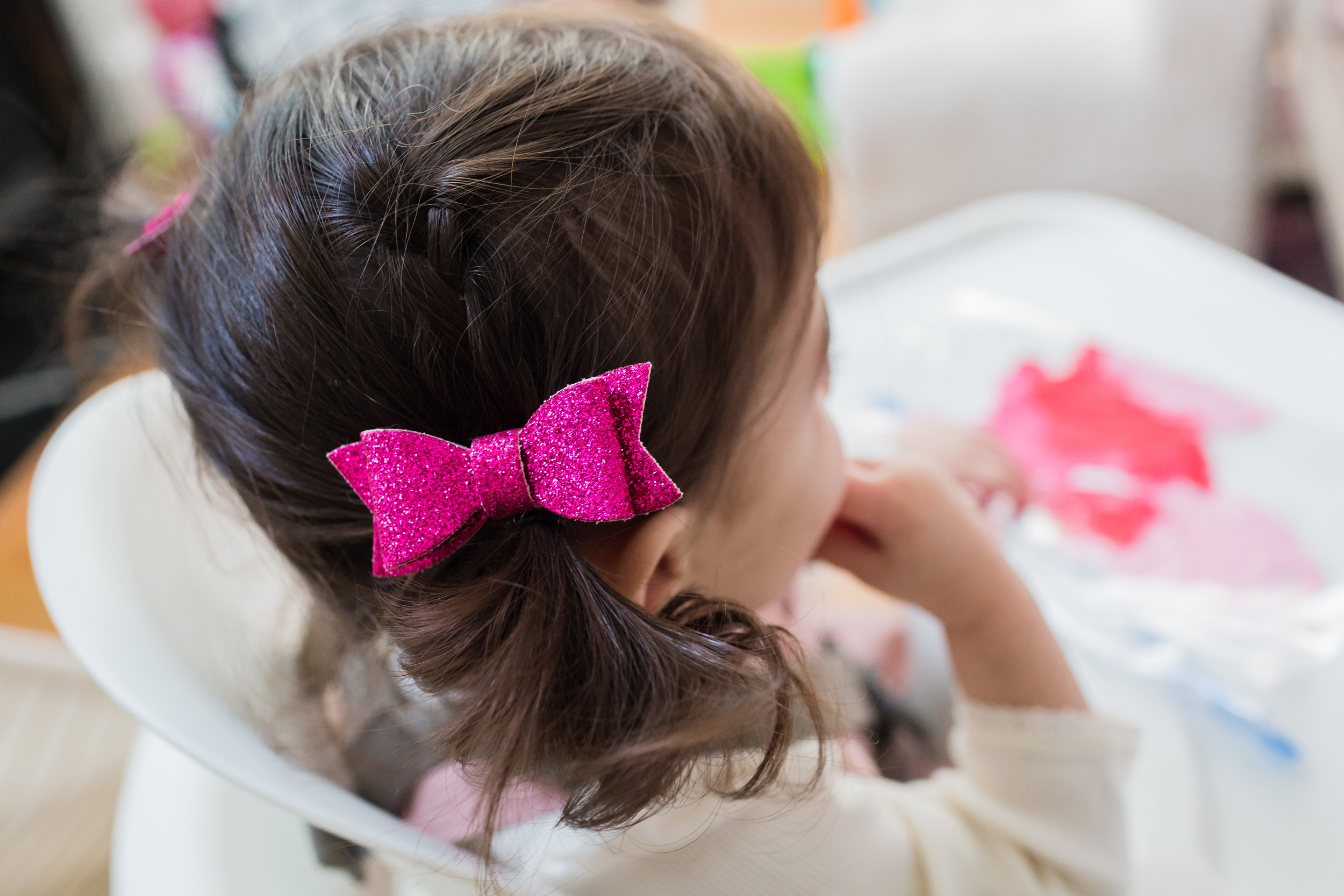 Let your little ones' painting dry completely and then cut, cut, cut.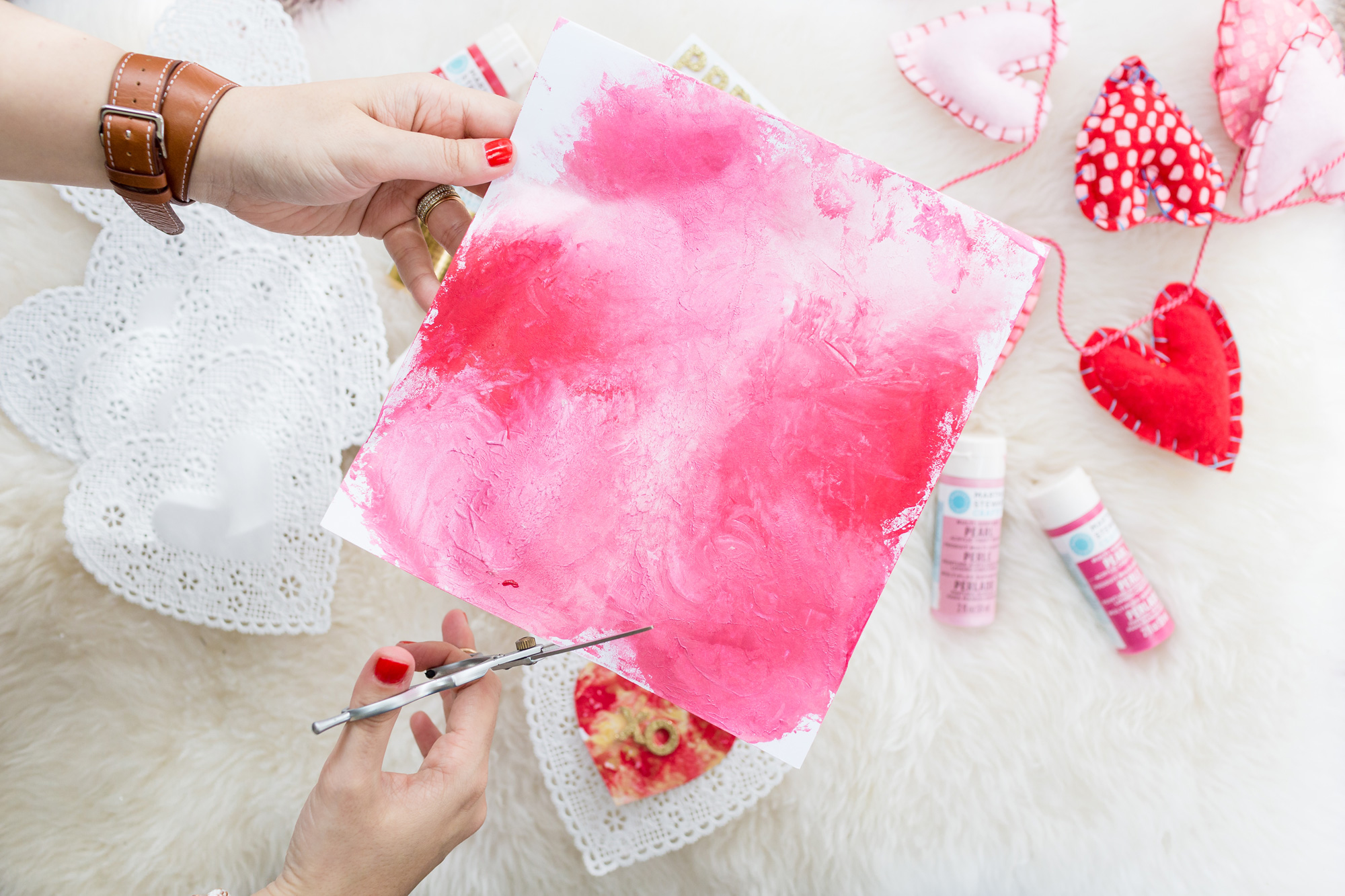 Time to play with stickers and glue!
And there you have it: one simple, mess-free, and adorable way to make valentines everyone will love. Happy crafting!
If you want to see even more adorable pictures, head over to Style Me Pretty Living.
CLICK THROUGH THE SLIDESHOW TO SEE STEP-BY-STEP PICTURES: