This post contains affiliate links, which means that if you click on one of the product links, I'll receive a small commission. Thank you so much for clicking through and helping to support this little blog business of mine! Read more about our site, privacy, and disclosure policies here.
Instant Pot, Crockpot, and Slow Cooker recipes are stress-free dinners at their finest and these 65 delicious and easy recipes will have you believing in dump-and-go meals from here on out.
One of my New Years resolutions was to cook less. Of course, as a busy mom of two, eliminating cooking entirely is not an option (plus, I like cooking, just maybe not the constant pressure of what to make!) One way I'm cooking "less" is to cook smarter.
By the way, you can read more about my "small step" New Years resolutions here!
And making dinner in an Instant Pot or crockpot is the epitome of cooking smarter. I love a good "dump and go" meal; as in, throw all of the ingredients in your slow cooker, crockpot, or Instant Pot, set the timer and go about your day, only to come back at dinner time to a delicious meal.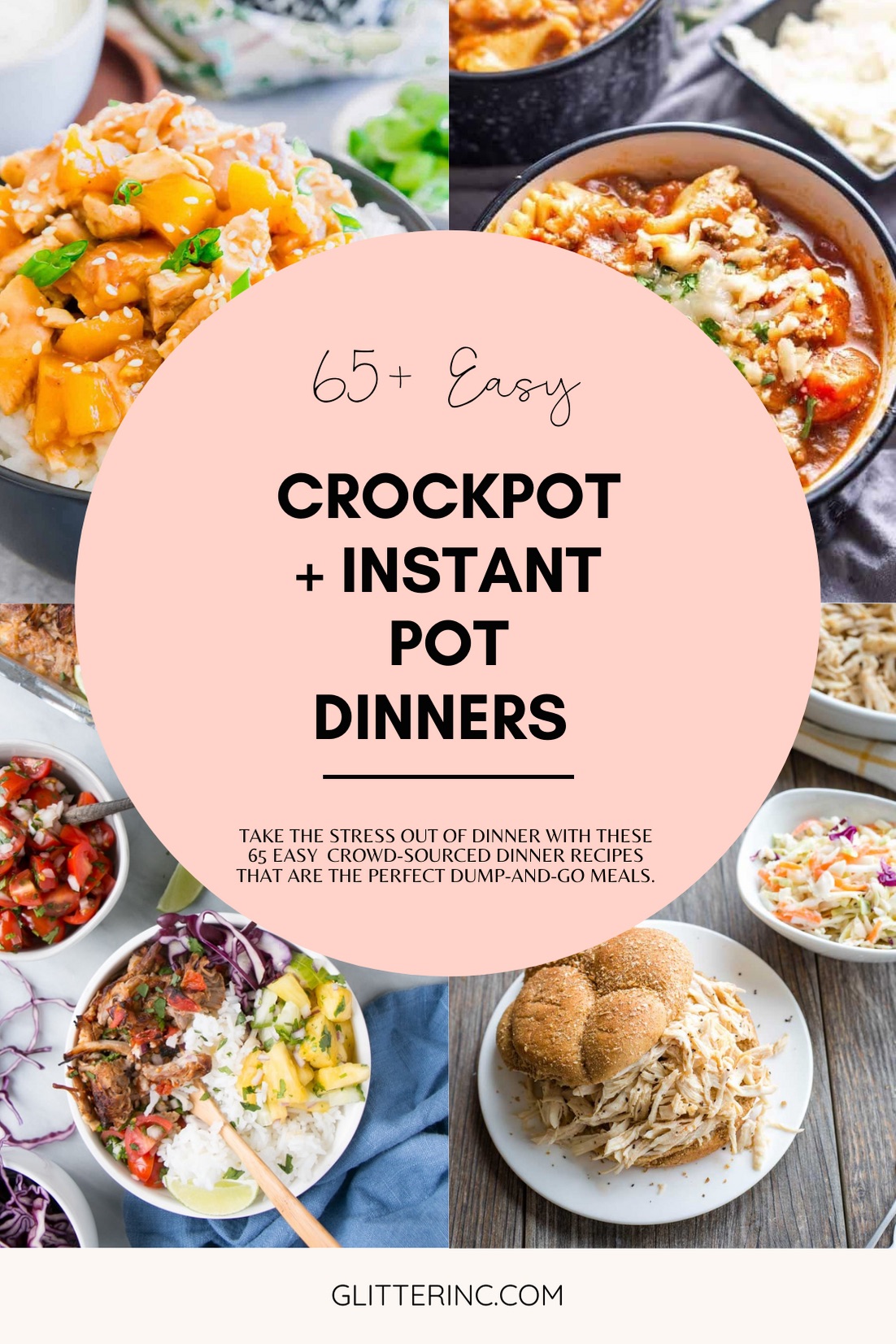 Crowd-Sourcing for the Best Easy Instant Pot, Slow Cooker, and Crockpot Dinner Recipes
So I reached out to a bunch of my favorite food bloggers asking for their absolute best, tried and true EASY instant pot and crockpot dinner recipes, and goodness did I ever hit the jackpot with these meal ideas!
A Note on Searching the Post for Crockpot Dinner Ideas:
This post is chock full of amazing and easy dinner recipes, though it is a lot to comb through. My advice is to search through the post for keywords based on what you have on hand for dinner or what you're craving.
To search any post, just use the keyboard shortcut by pressing the ⌘ Cmd key and the letter F at the same time.
So for example, say you have chicken for dinner tonight, just search the post for "chicken" and you'll find all of the easy slow cooker recipes using chicken. Same goes for the type of food you're in the mood for. Craving Asian takeout but looking for something a bit healthier? Search this post for "Asian" food and you'll find all of the Asian-inspired crockpot recipes. (Same goes for Indian, Italian, the list goes on!) Want a vegetarian or vegan meal? There's plenty of that in this post too!
65 Easy Instant Pot + Crockpot Dinner Recipes
This post is a treasure trove of delicious and easy Instant Pot, crockpot, and slow cooker dinner recipes, all of which take minimal prep work, involve fewer steps, and come out delicious every single time. Take the stress out of weeknight cooking and work a few of these 65 delicious dump-and-go recipes into your weekly dinner rotation!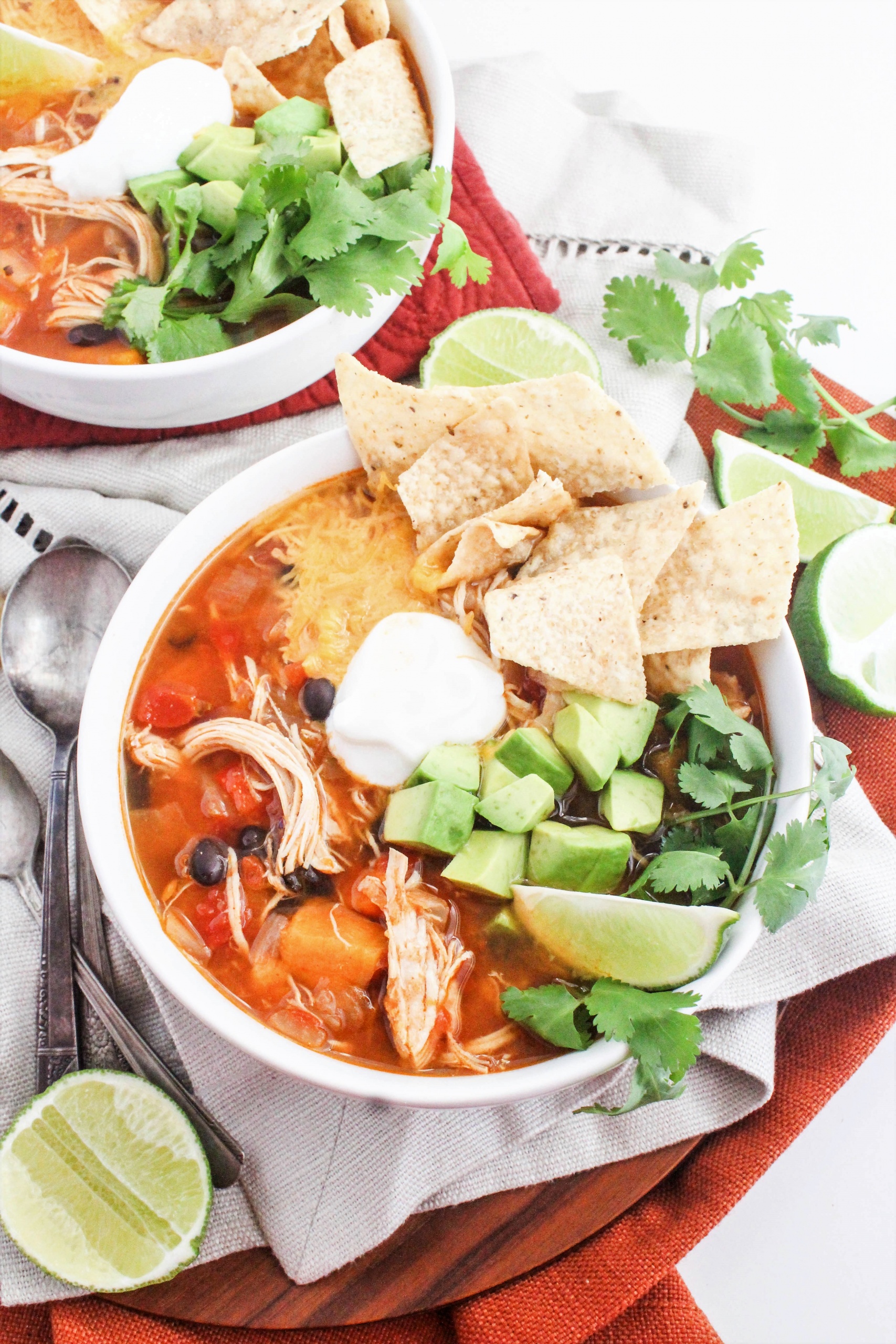 This hands-off Instant Pot Chicken Tortilla Soup recipe is so flavorful and comes together in under 30 minutes for a great weeknight meal! It's also a family-friendly crowd pleaser, especially because everyone can top their soup with all of their favorite fixings.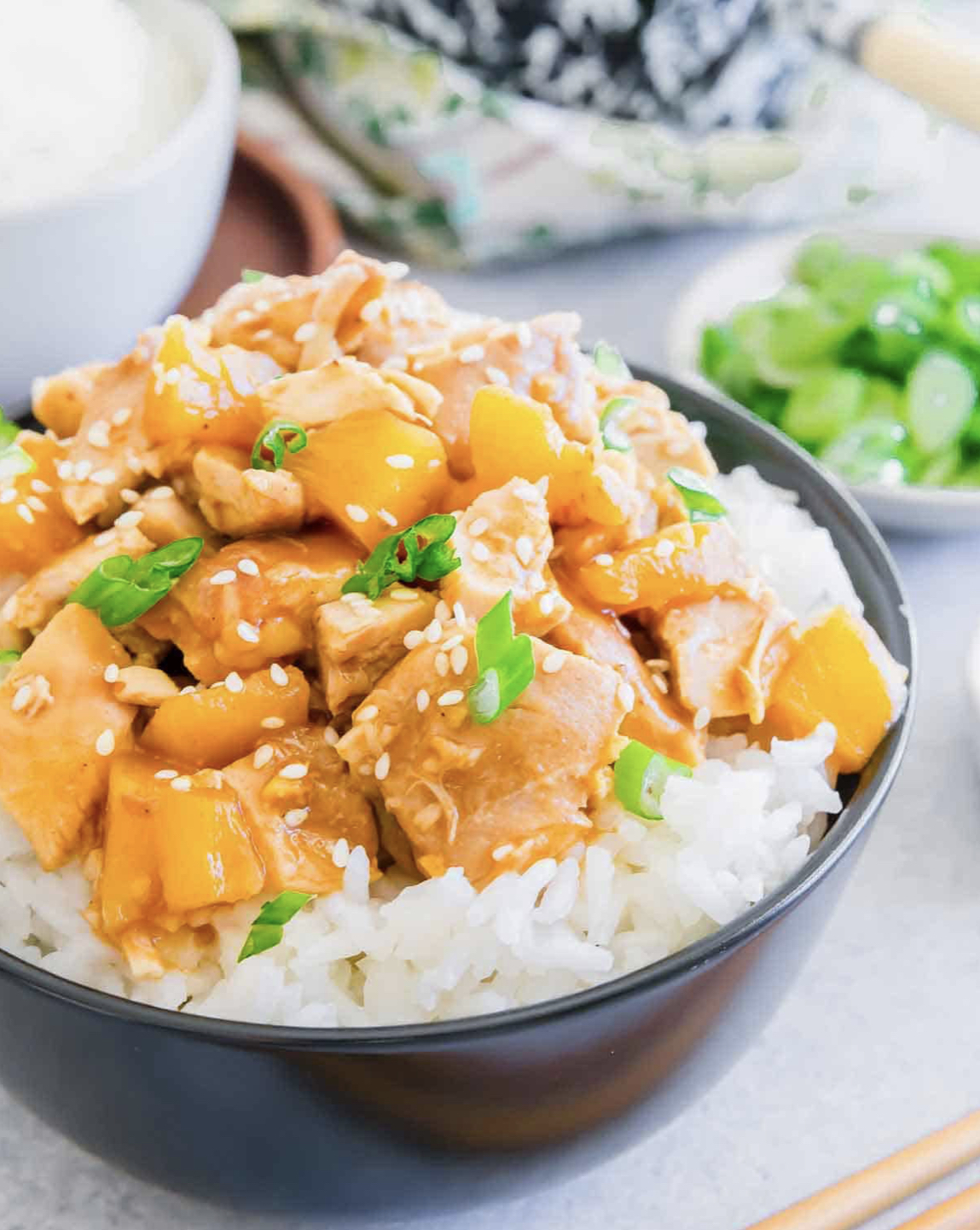 Skip the takeout and make this honey garlic chicken at home right in your slow cooker. With a sticky, sweet, totally addicting sauce (that's so much healthier than any Chinese or Asian takeout restaurant) and pieces of tangy sweet pineapple throughout, this EASY recipe will become a family favorite.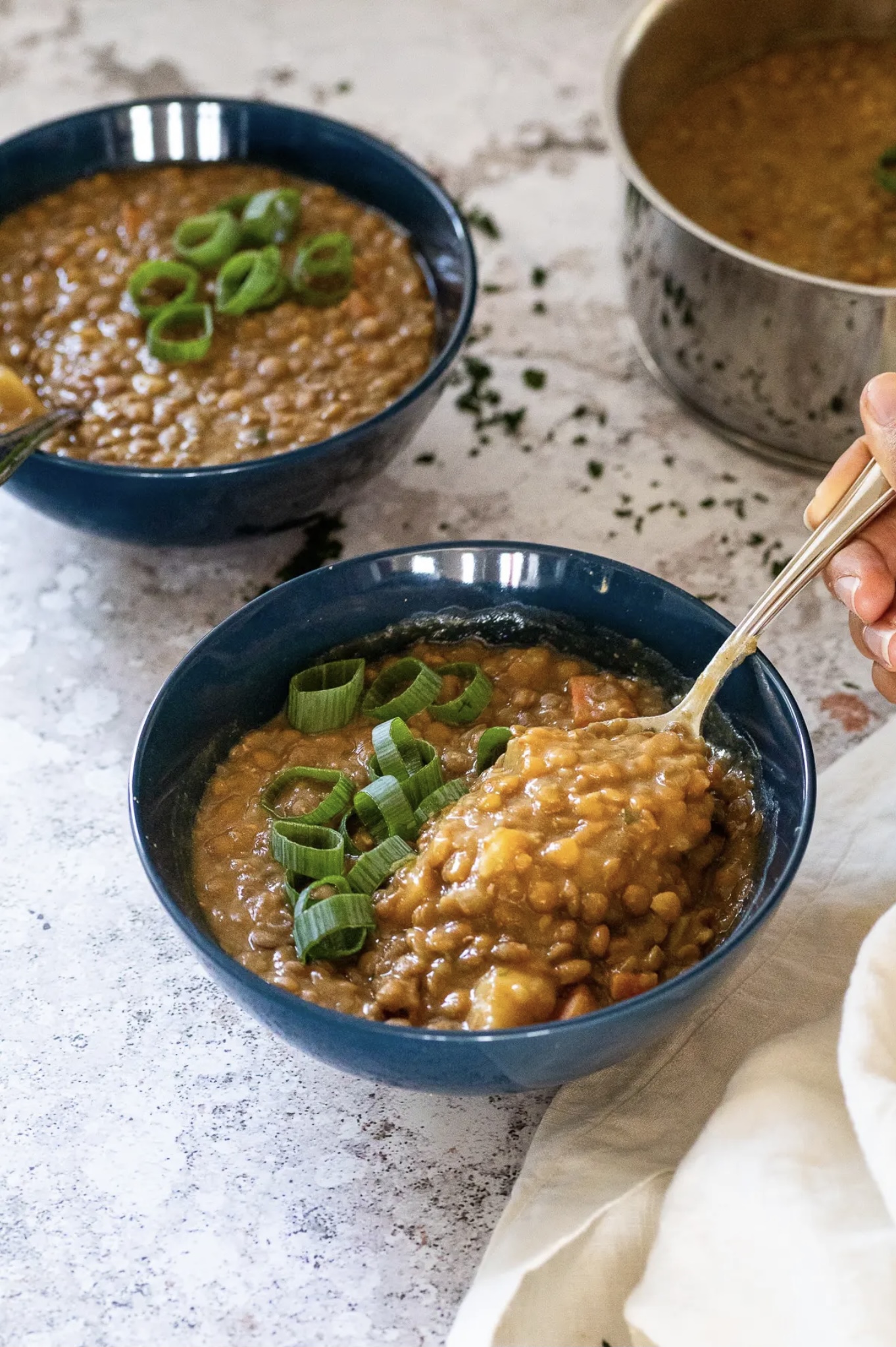 This vegan lentil soup is super easy to make in an instant pot and is bursting with rich, creamy, hearty flavor.
This recipe for Slow Cooker Chicken Marinara is a brilliant easy prep dinner. It takes only a few moments to put together. It can be prepared using standard pantry ingredients and the result is wonderfully flavorful.
This recipe for Greek Instant Pot Chicken and Rice produces flavorful and fluffy rice and tender chicken all in an Instant Pot. A new family favorite, this flavor-packed dinner is sure to be enjoyed on repeat.
This Slow Cooker Vegetarian Chipotle Chili is made with Quinoa, sweet potato, black beans, and fire-roasted tomatoes. The dump-and-stir crockpot chili recipe is packed with smoky flavor and is great for easy weeknight dinners. (Quicker Instant Pot instructions are also included in the recipe.)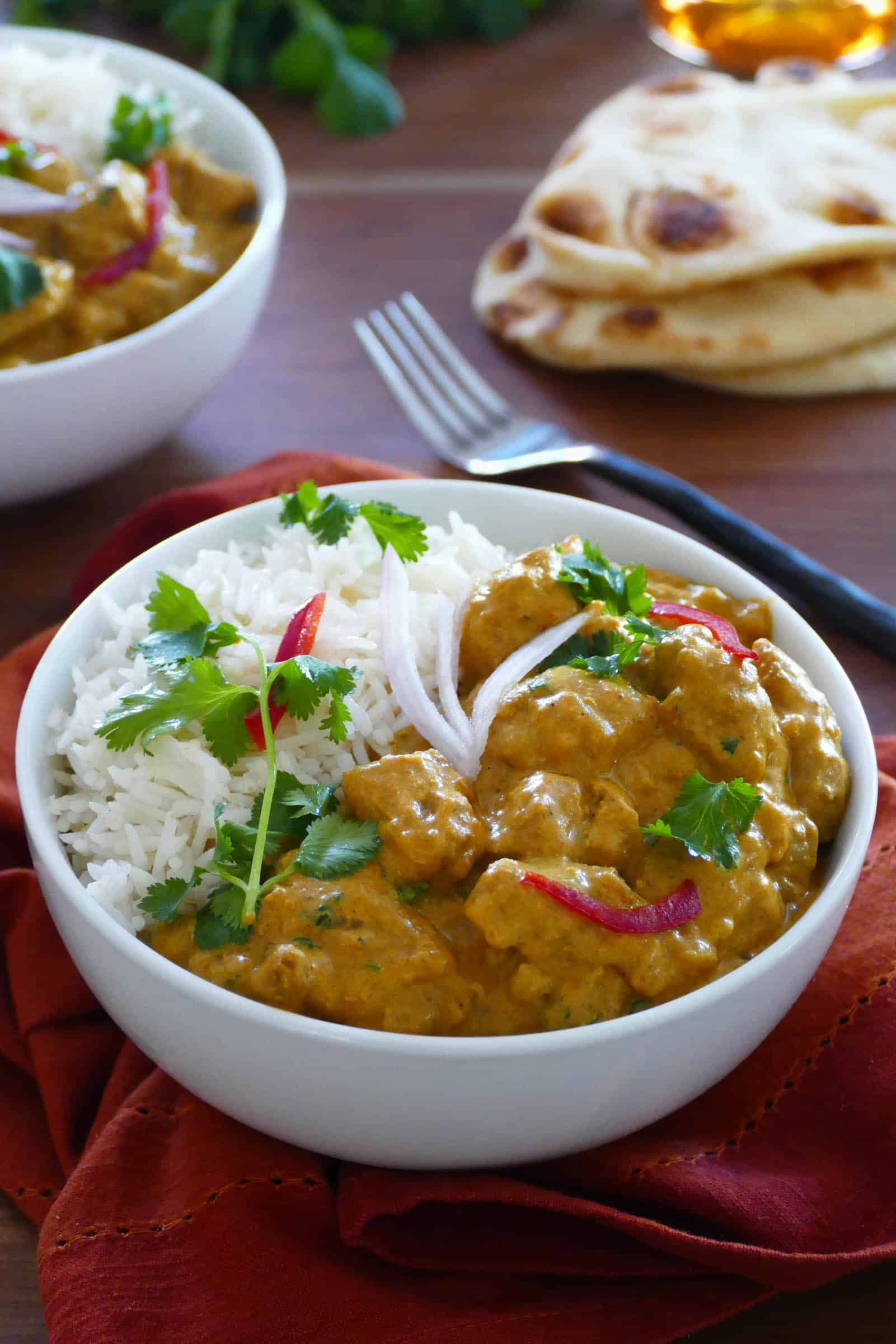 Chicken Korma is a mildly spiced coconut chicken curry recipe that's both delicious and easy enough to make on a weeknight; and the best part: this recipe is designed to be made in an Instant Pot. Put away the jar of store-bought korma sauce and make this curry from scratch with minimal effort.
Psst … this one is on my "must-make immediately" list!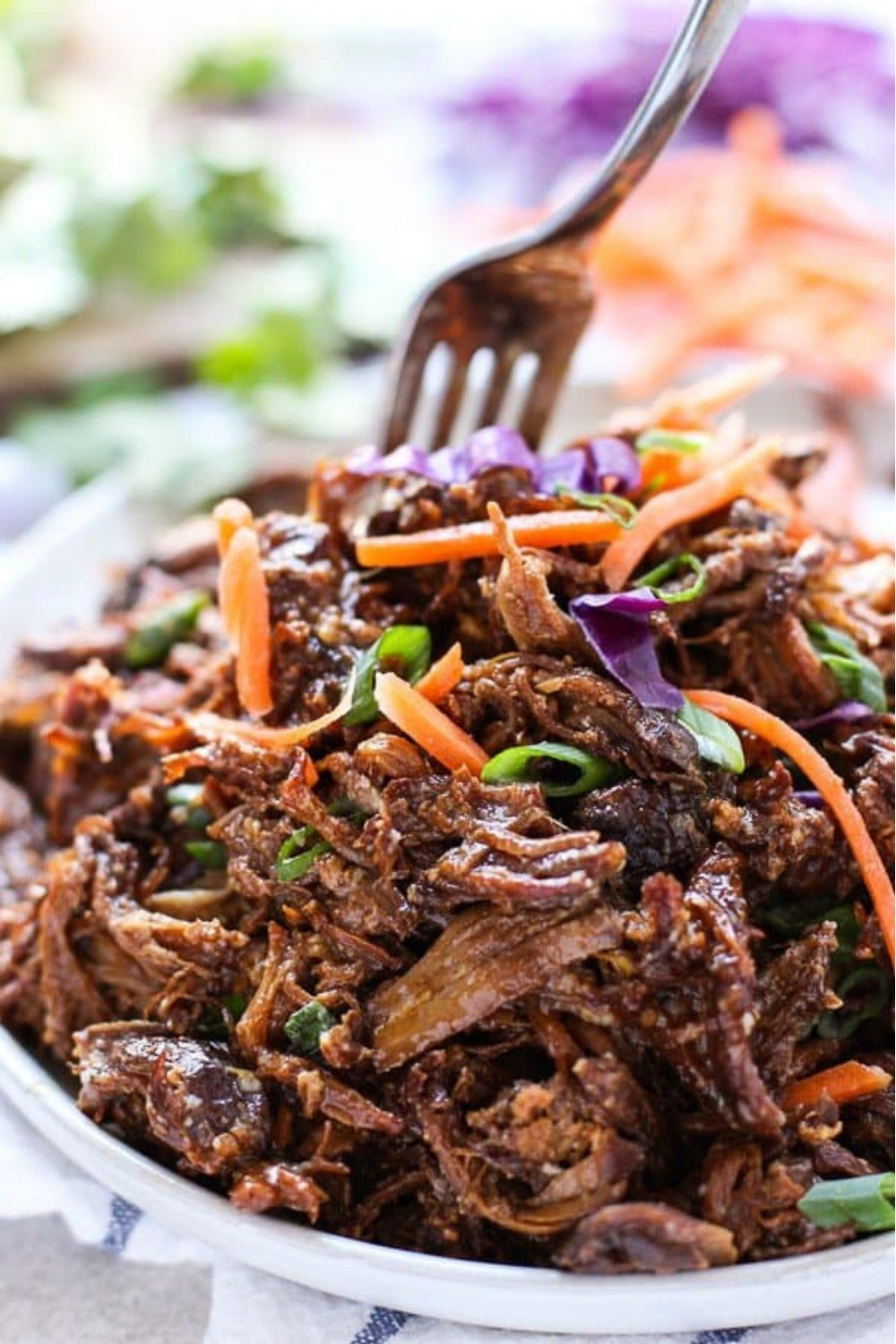 This shredded pork recipe is cooked in a crockpot or Instant Pot and is infused with plenty of delicious Asian-inspired flavors. Serve your Asian shredded pork with rice, noodles or as a filling for tacos. The recipe takes only a 10 minute active time – making it perfect for busy weeknights!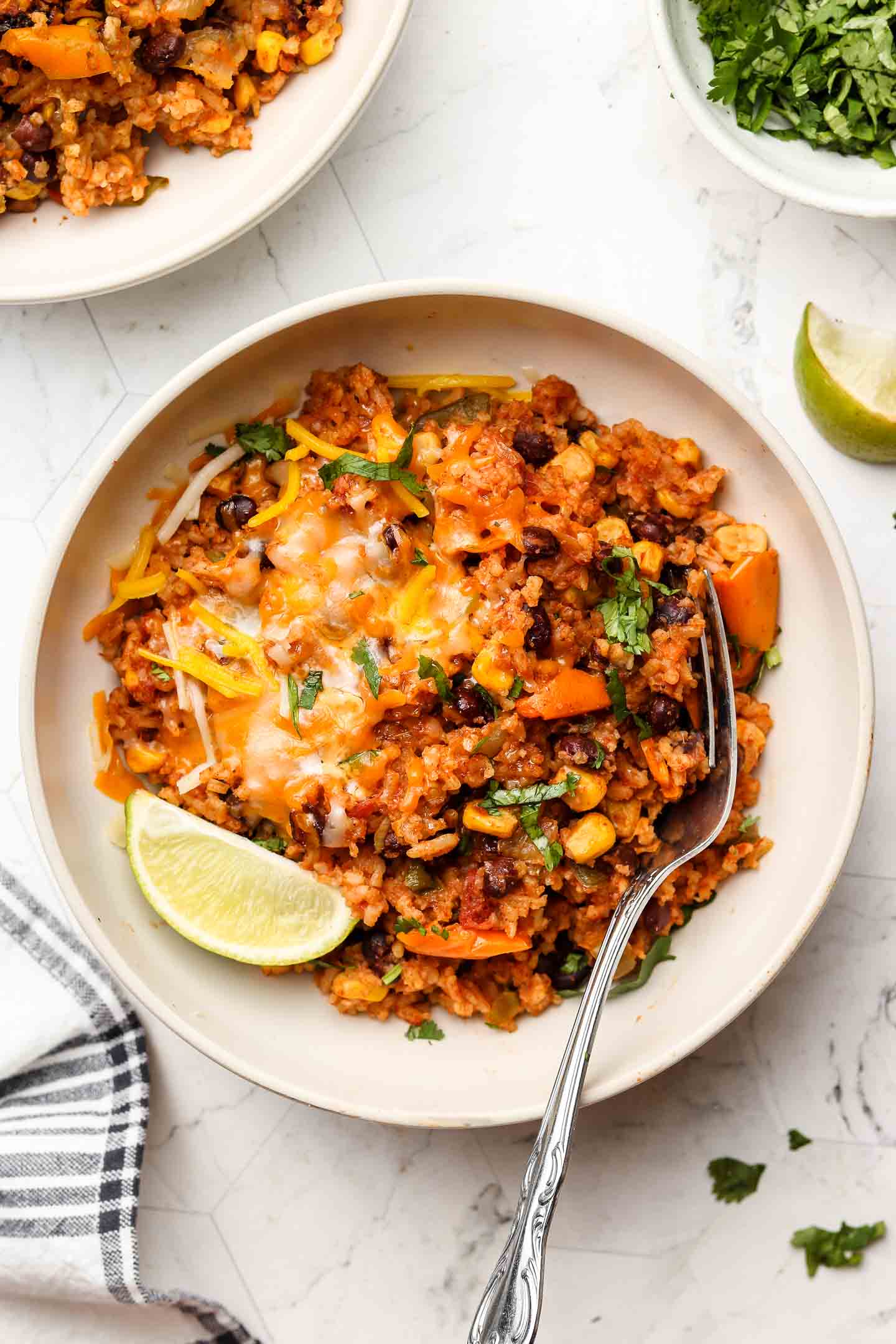 The easy recipe for these Vegan Instant Pot Burrito Bowls is a quick, fuss-free dump-and-go dinner made with just 8 pantry staple ingredients! This meal is BIG on flavor, hearty, and perfect for busy nights.
Korean Beef Bulgogi is made paleo-friendly and crockpot friendly in this healthy and delicious dinner recipe. This soy-free, refined sugar-free recipe is prepared quick and easy all in your pressure cooker.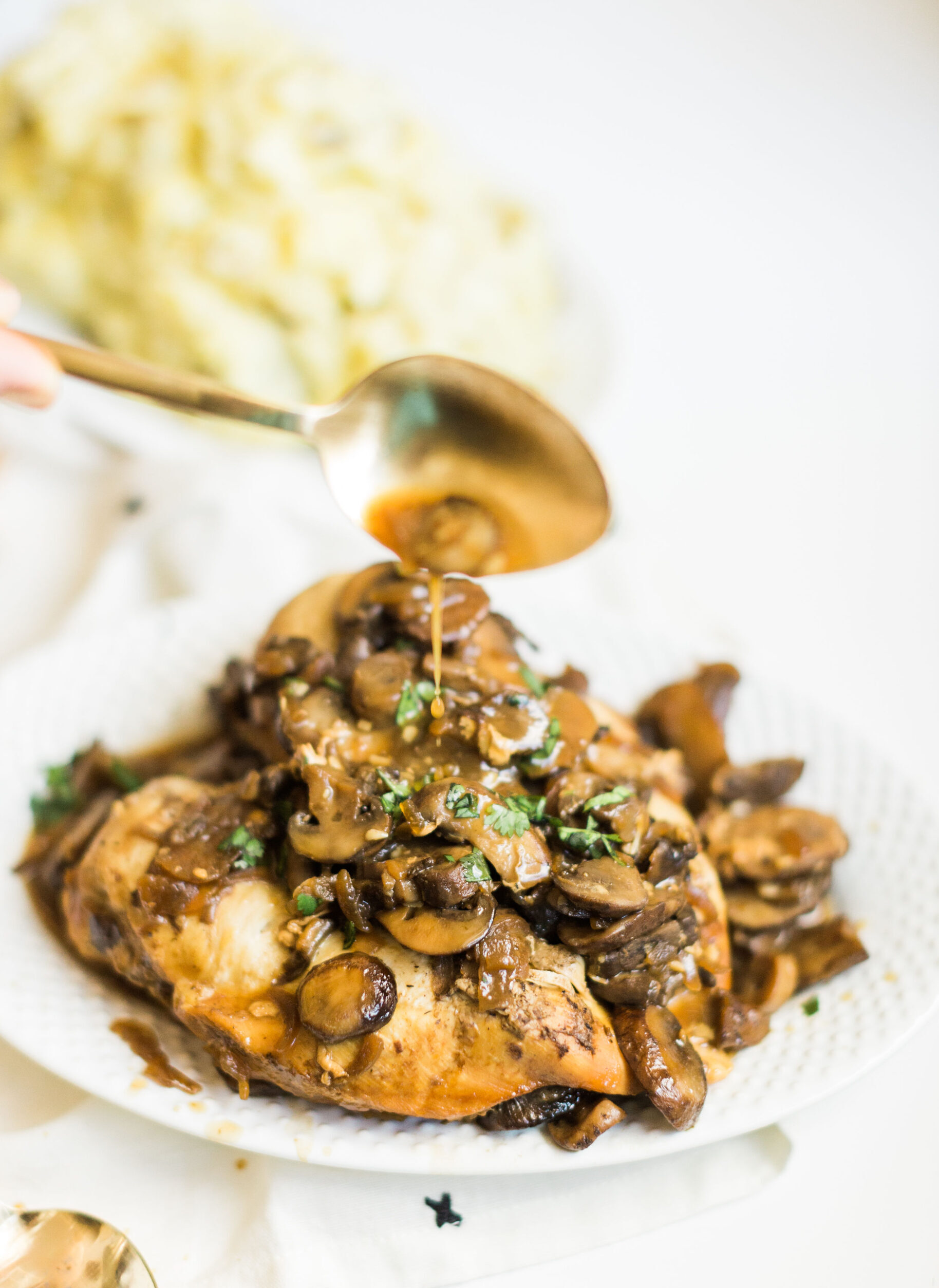 This easy and delicious Instant Pot chicken marsala is an explosion of flavor – seared chicken breasts in a rich mushroom and onion gravy – all thrown together in minutes in your crockpot or instant pot – no extra pans required. Serve the super tender chicken with mashed potatoes or pasta for a knockout dinner your whole family is going to love!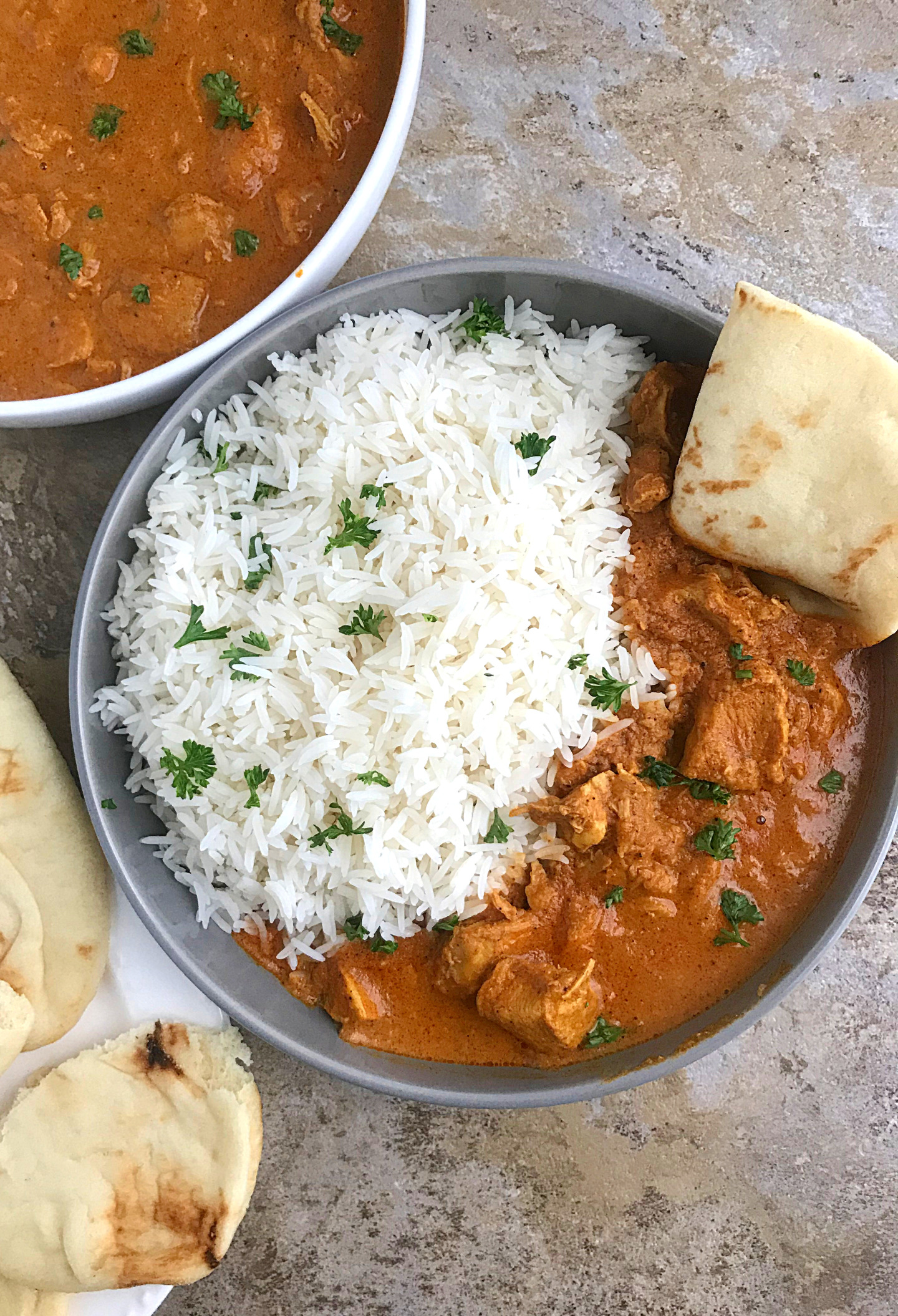 This recipe for the most delicious, easy to make and bursting with delicious flavors from the unique aromatic spices Chicken Tikka Masala is a total winner. If you are looking for for an easy Indian restaurant favorite to make in your instant pot, look no further.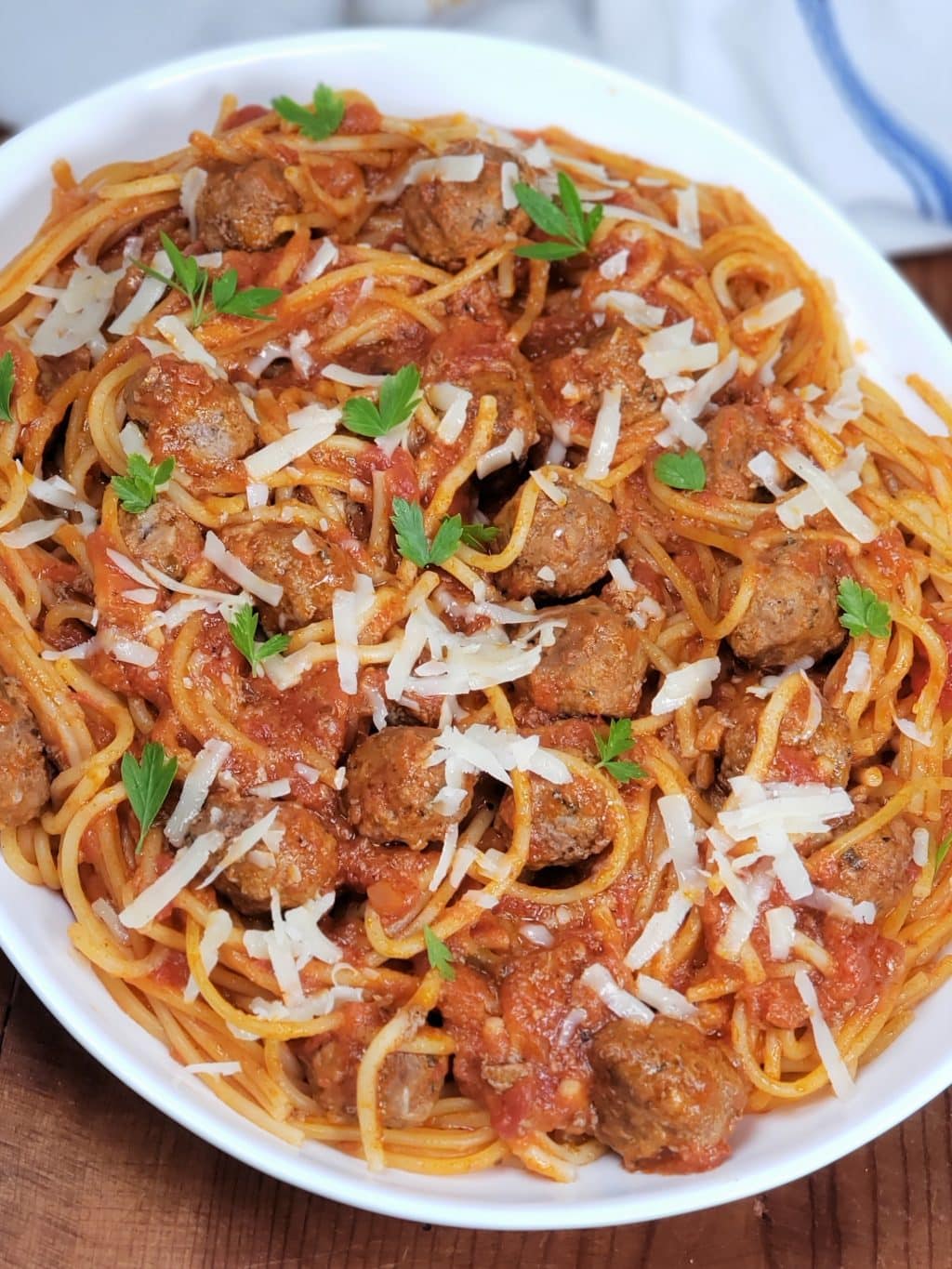 Did you know that you can make spaghetti and meatballs in your Instant Pot? How cool is that?! Instant Pot Spaghetti and Meatballs is a one pot dump and push dinner, using pantry items and frozen meatballs. The entire meal is ready in under 15 minutes. You can use frozen meatballs from the store, or homemade raw, then frozen meatballs that you meal prep ahead of time.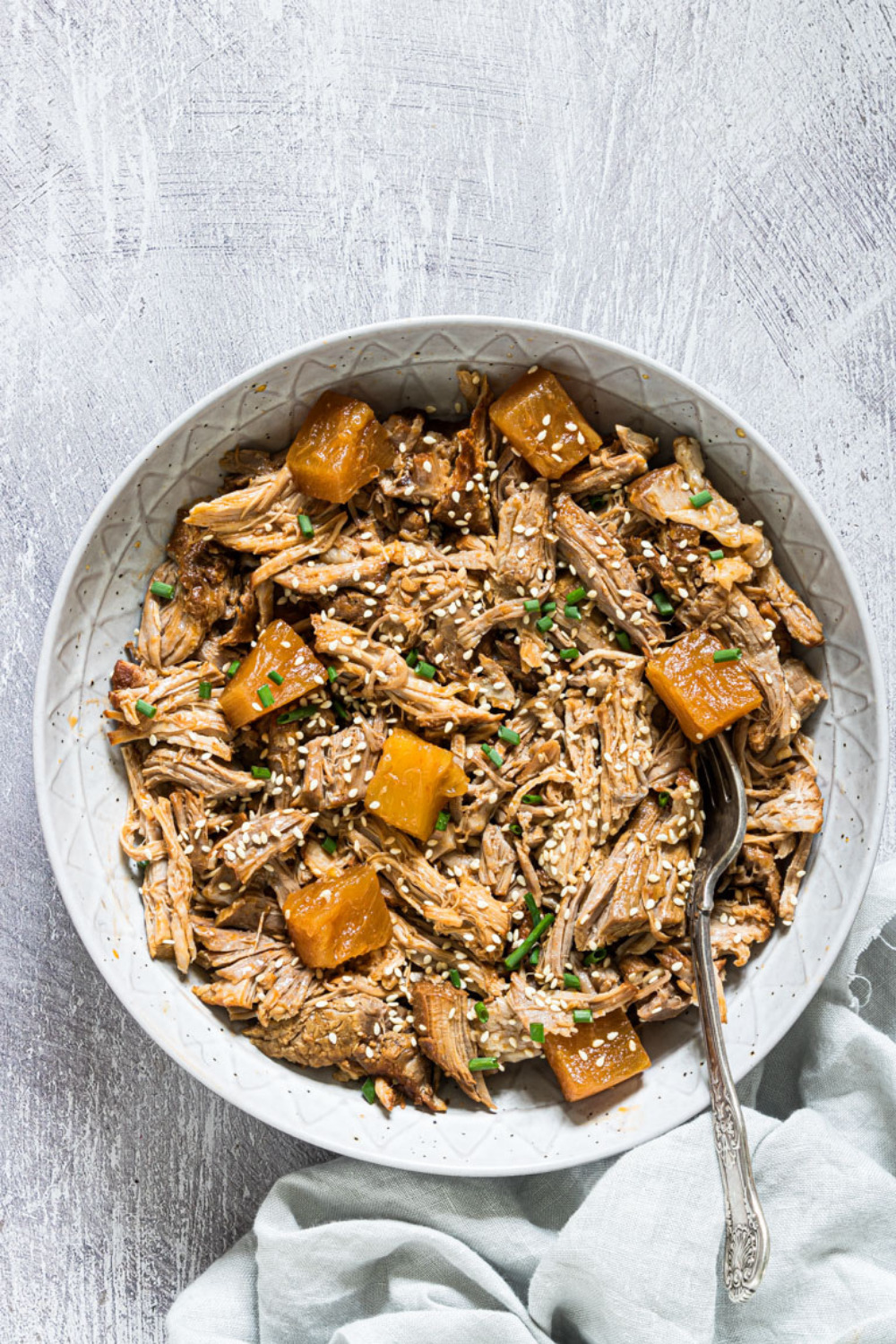 Hawaiian Instant Pot Pulled Pork is tender, tasty, and super kid-friendly. If you're looking for a recipe packed with amazing flavor that comes out delicious every single time, this is it.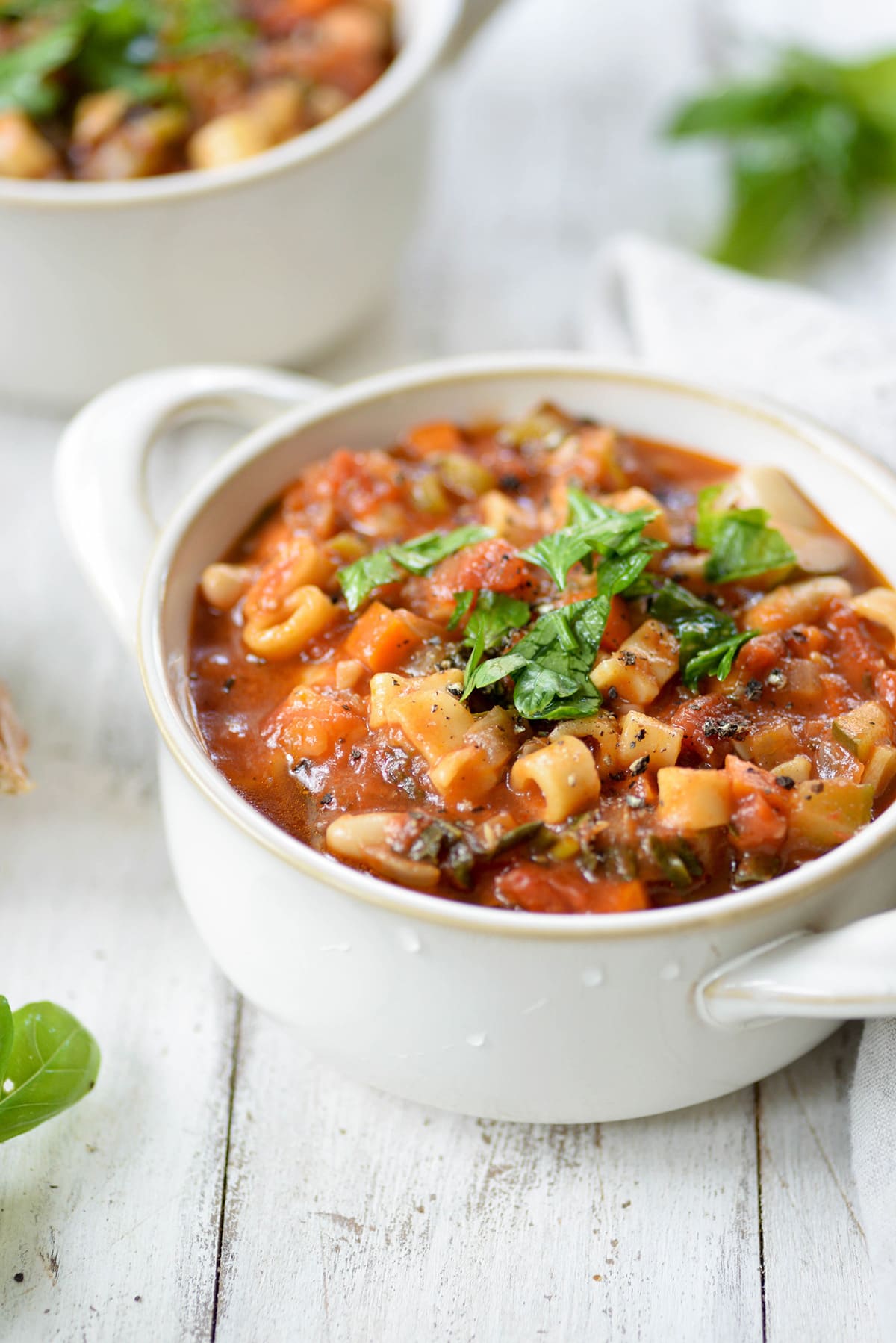 This hearty white bean and vegetable instant pot soup recipe is easy to make and a delicious vegetarian or vegan-friendly option that you can make in no time.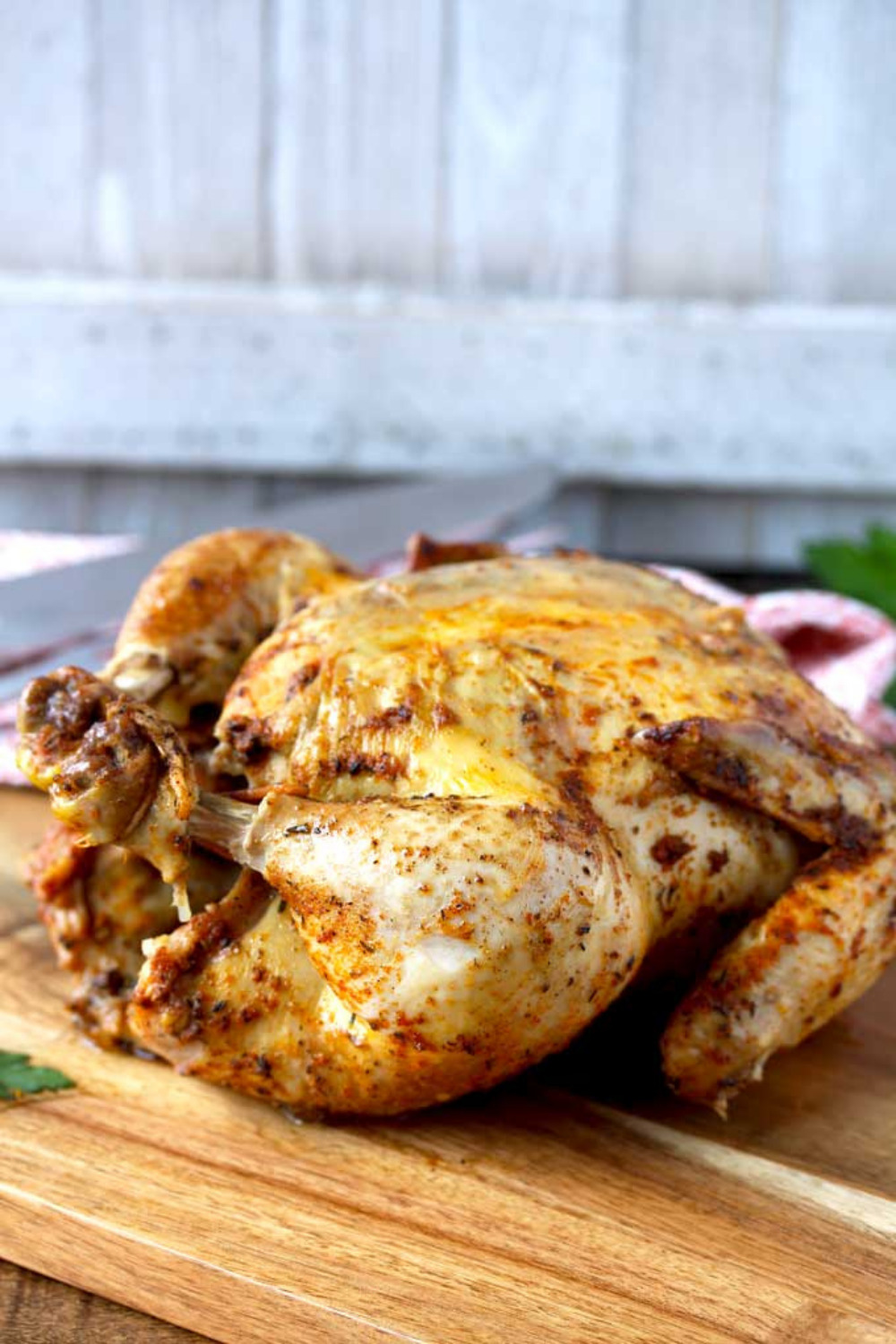 This Pressure Cooker Chicken is juicy, tender, flavorful and very easy to make. The whole chicken is a delicious rotisserie style Instant Pot Chicken that cooks in less than 30 minutes! (It's magic, I tell you!)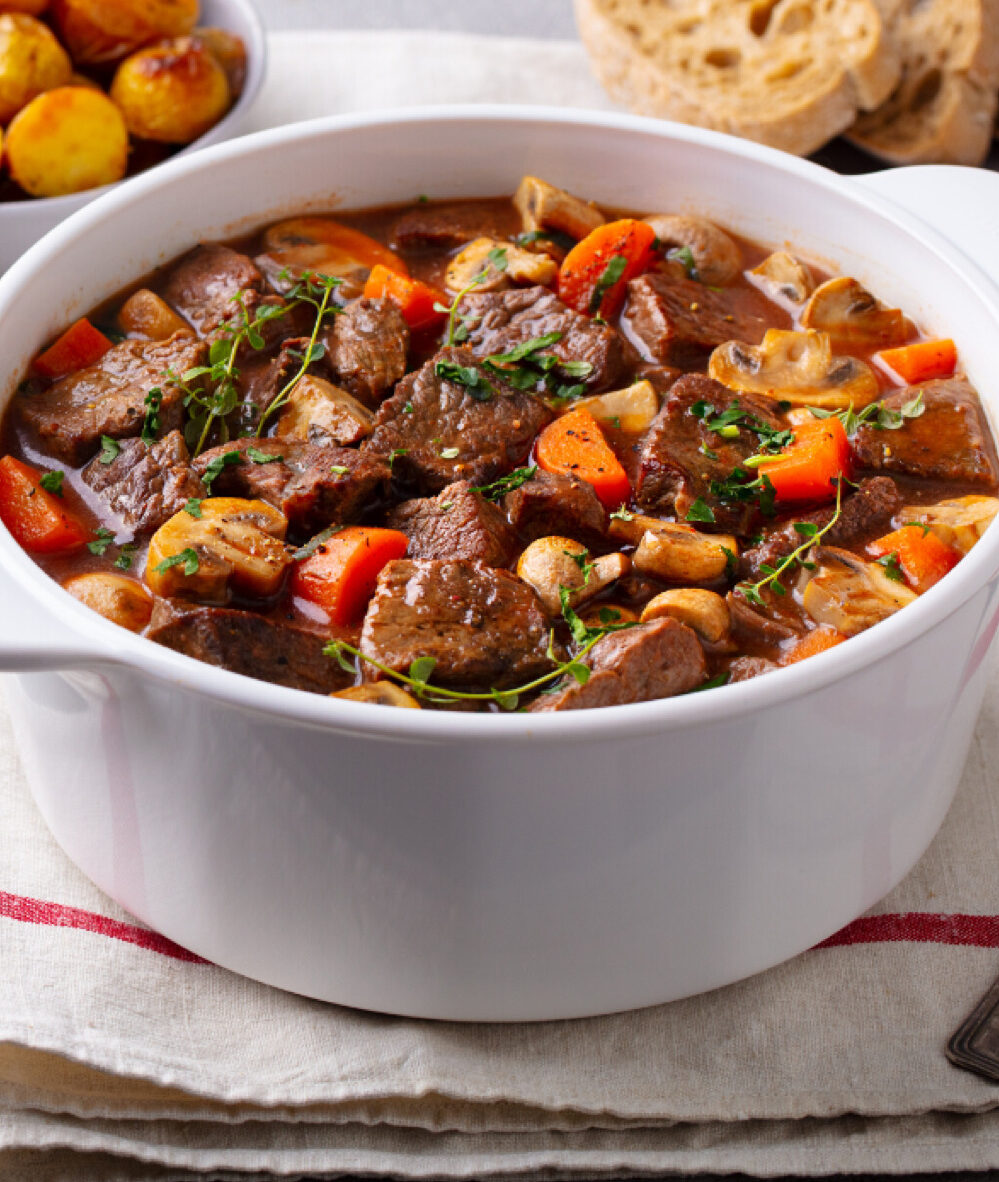 This super meaty Easy Keto Beef Stew is slow-cooked in a crockpot. It pops with flavor from low-carb vegetables and herbs. The best part is that this stew is a deeply nourishing meal for any day of the week, freezer friendly and takes minimal prep work to put together.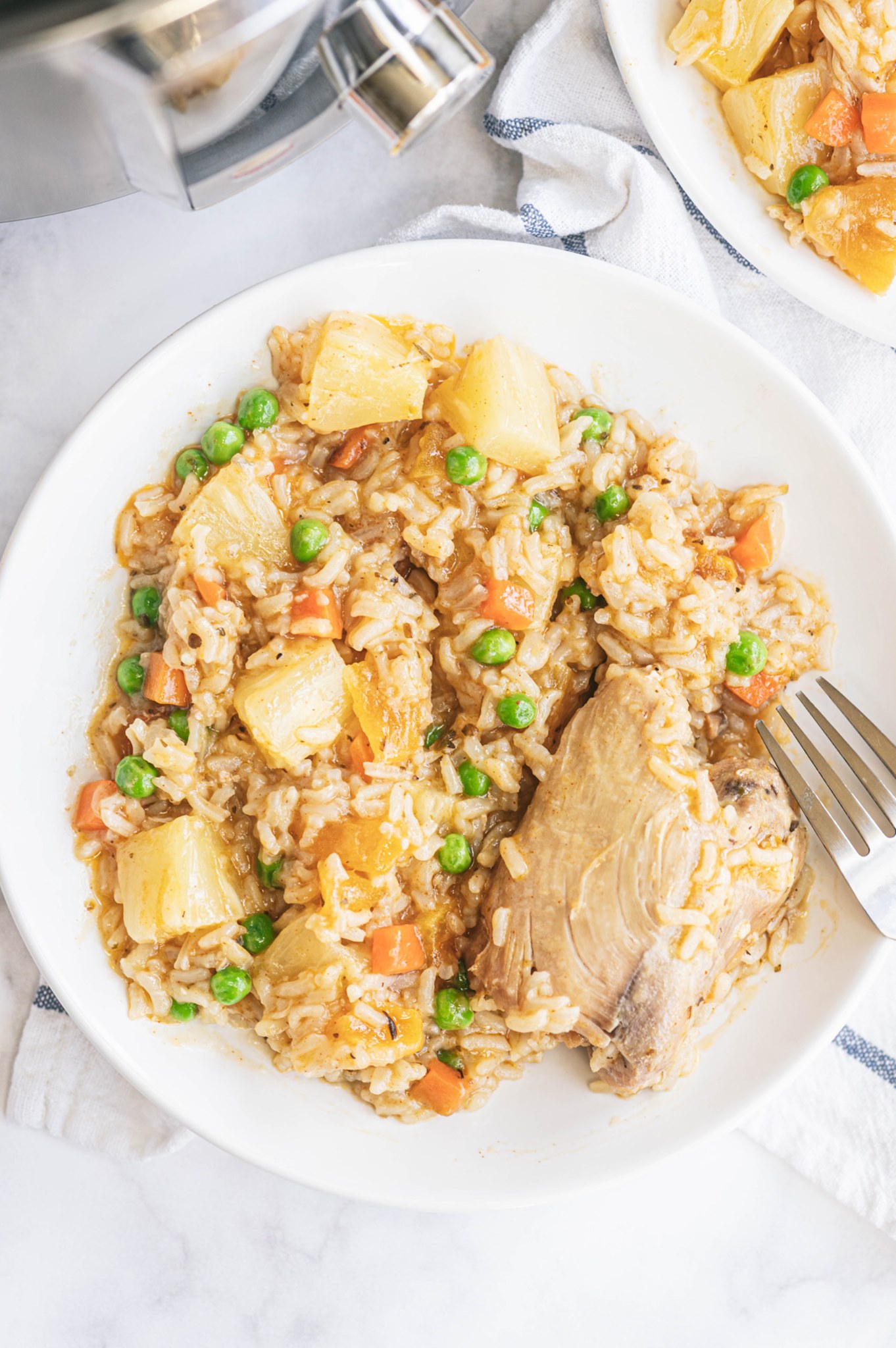 This easy and delicious Instant Pot Chicken and Rice is made with sweet and slightly tangy pineapple and dried apricots and is ready to serve in about 30 minutes, all in an Instant Pot. It's seriously a one-pot wonder.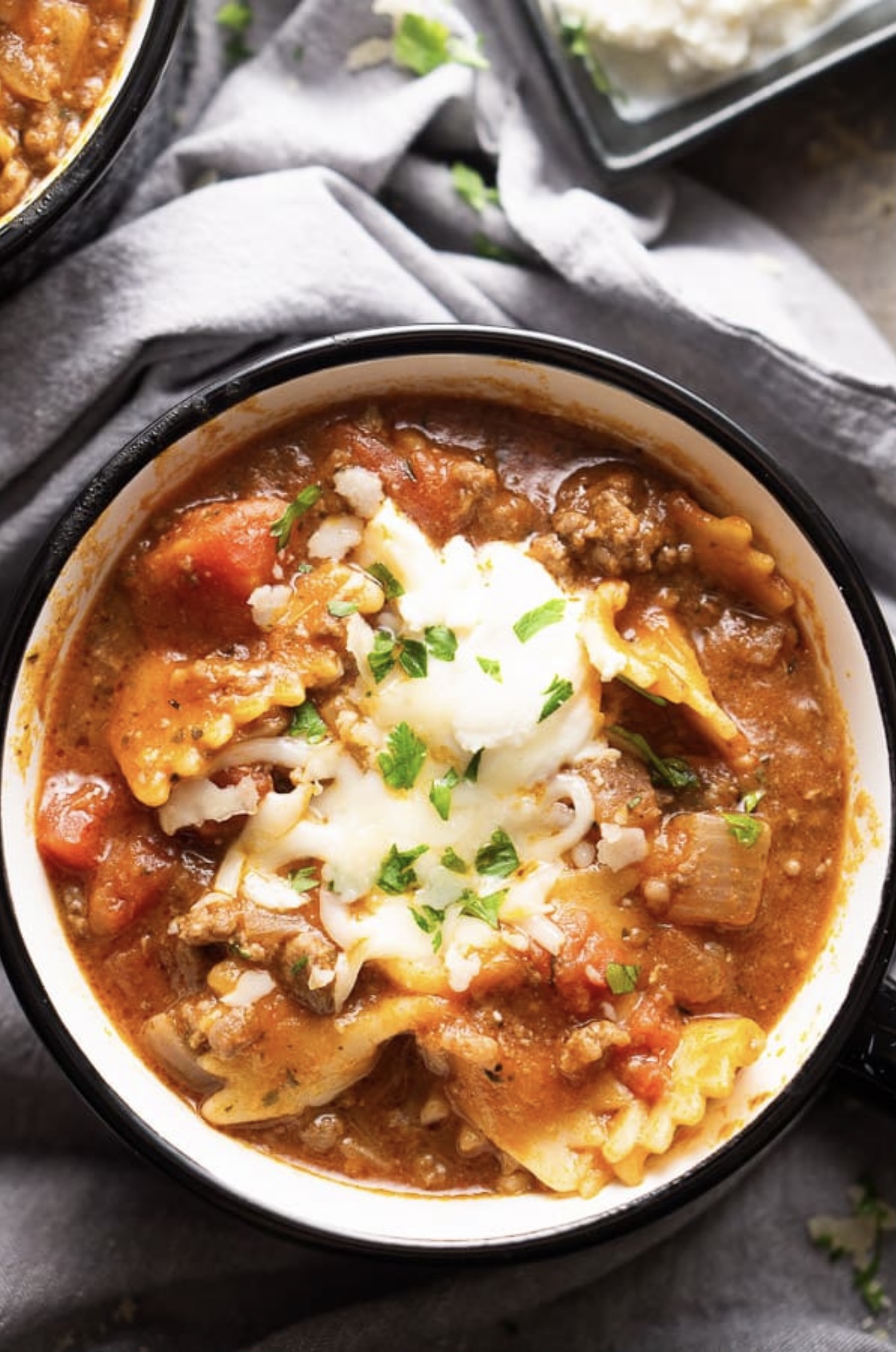 Lasagna Soup is the easiest way to make homemade lasagna without bothering with all of the steps involved in making lasagna. Zesty marinara sauce, lean ground beef, bowtie pasta, and 3 cheeses results in a delicious soup version of lasagna that will make your family cheer for more before their bowl is even empty! This instant pot recipe is extra perfect for non-cooks!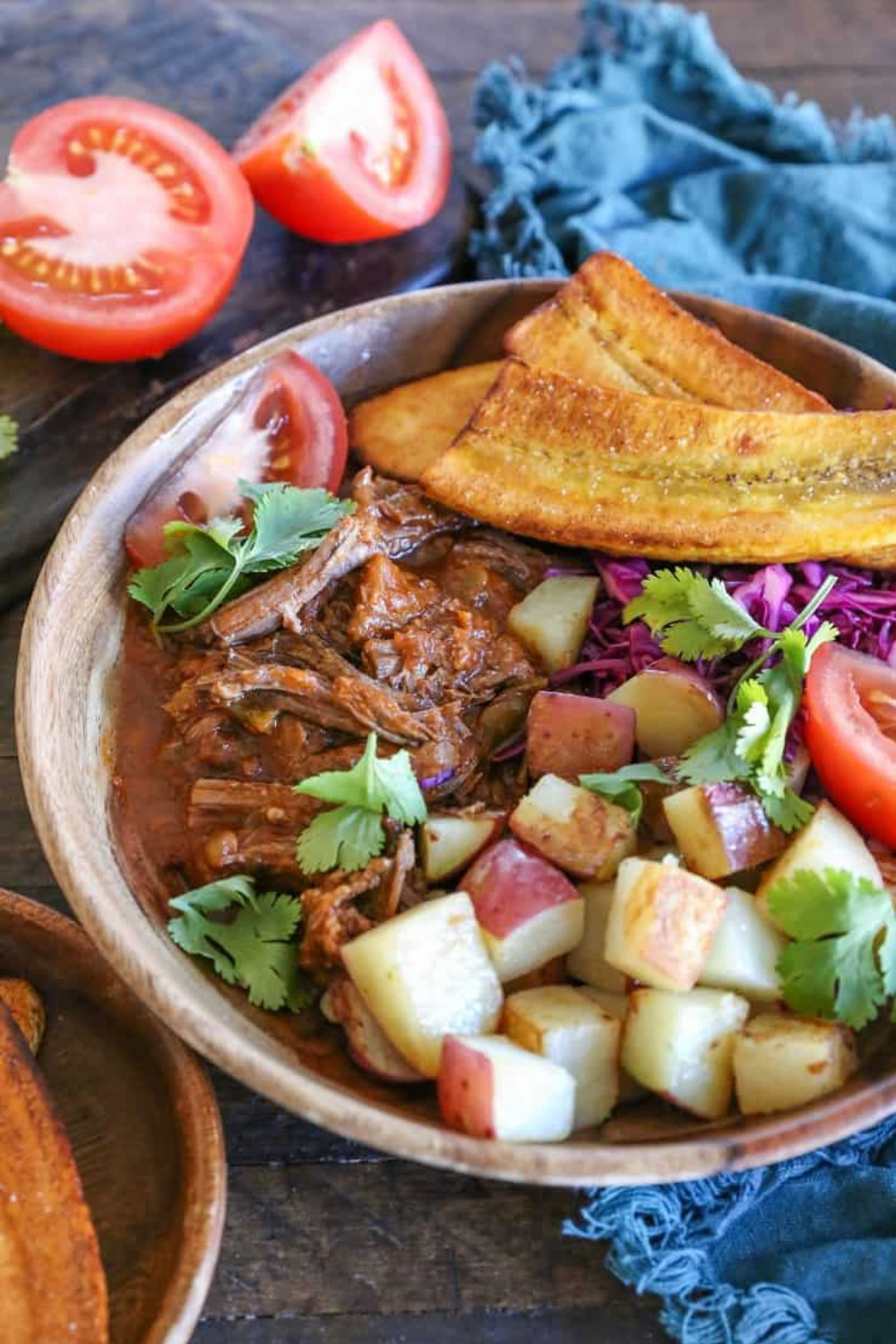 Cuban-style shredded beef in a classic chili-tomato sauce makes for a delicious dinner that is so versatile! Use it for burrito bowls over rice, in tacos, on top of a salad, or as filling in burritos. With slow cooker and pressure cooker instructions, you can make this delicious recipe in either your crock pot or Instant Pot!
This Instant Pot Keto Broccoli Chicken Bacon Cheese Soup is a low carb, gluten-free, creamy, cheesy, incredibly delicious soup with broccoli, and added protein including shredded chicken and bacon.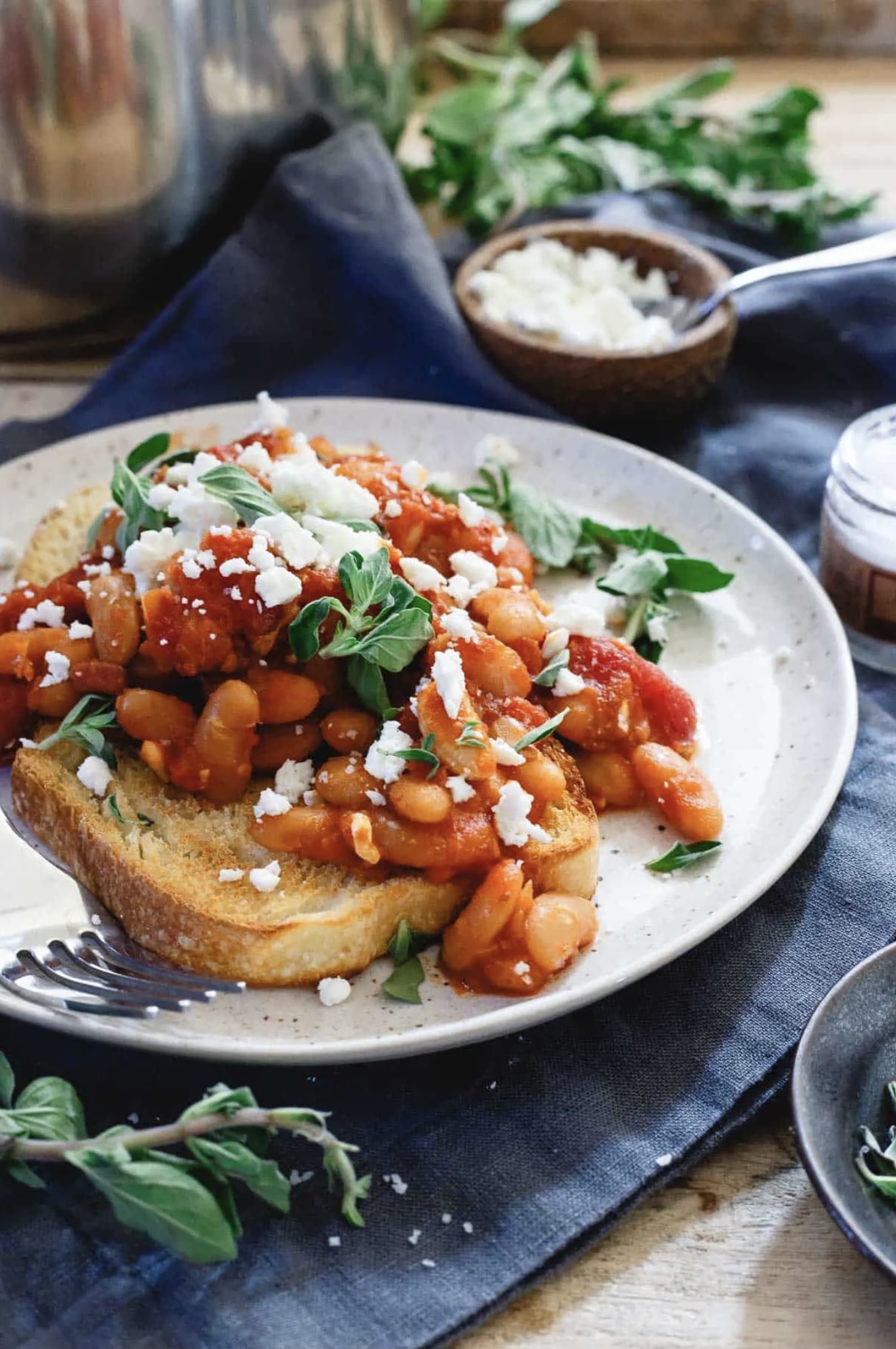 If you're in the mood for a simple, yet hearty vegetarian meal, look no further than these Instant Pot tomato and white beans that are made in a fraction of the time by using a pressure cooker or Instant Pot. It's a hearty meal made extra yummy by serving it over some toasted or grilled sourdough bread drizzled with a touch of olive oil.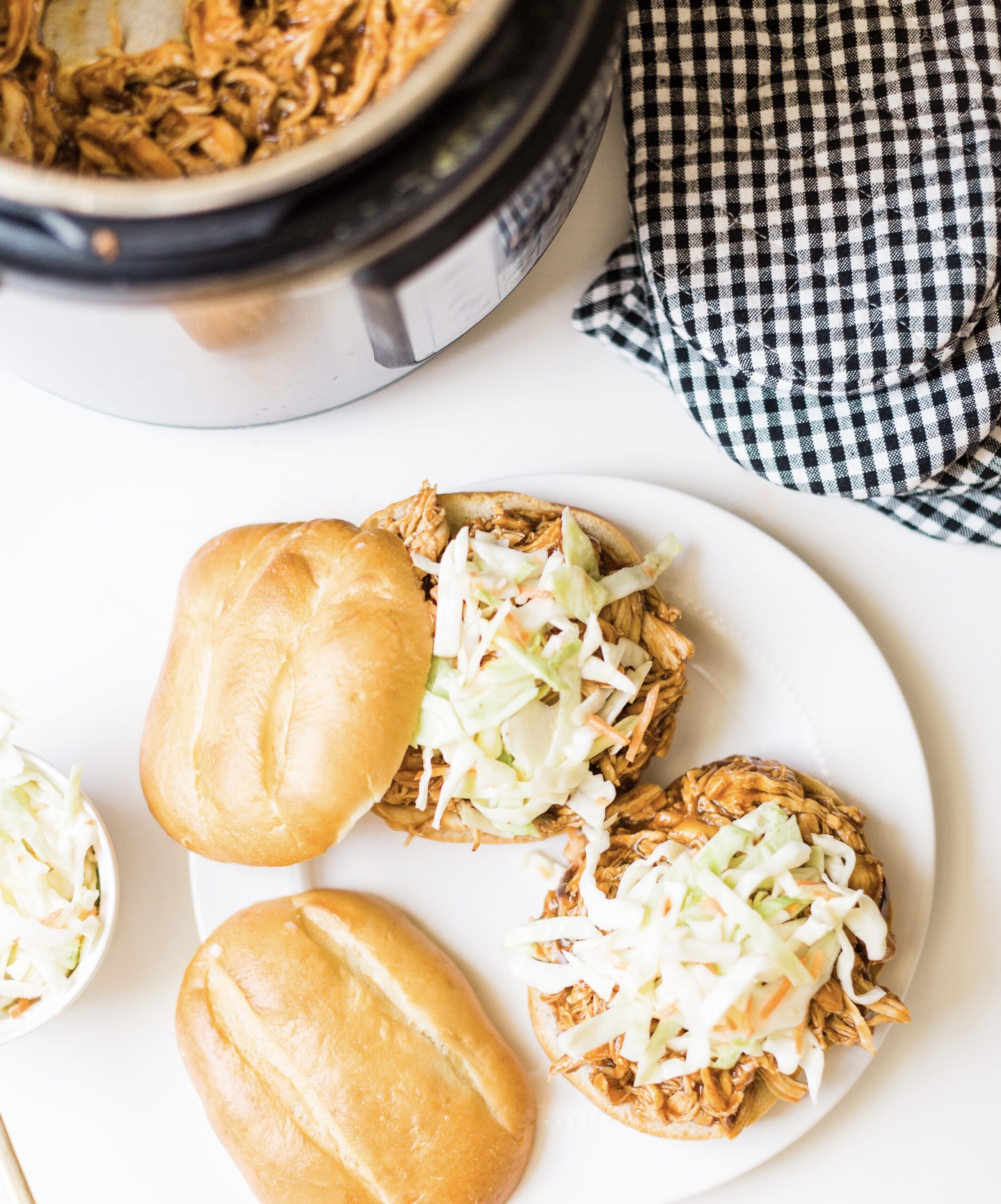 Skip grilling and make delicious, sweet and tender barbecue pulled chicken in your instant pot or slow cooker! Just throw a few ingredients right in the pot and let your crockpot do the rest. This is one of our favorite easy dinner recipes!
NOTE: This pulled chicken is so versatile! Sometimes I'll make a batch of the shredded barbecue chicken and serve it with corn on the cob or roasted sweet potatoes. Other times I'll use the pulled chicken to top pizzas or flatbreads for the yummiest barbecue chicken pizzas. We also top salads with this pulled barbecue chicken (add corn, beans, tomatoes, avocado chunks, and ranch dressing for a delicious bbq chicken salad!). And other times I'll make these yummy barbecue chicken sandwiches. Topped with coleslaw, for a hearty and delicious BBQ chicken sandwich. Any way I serve it, everyone in the family is a fan!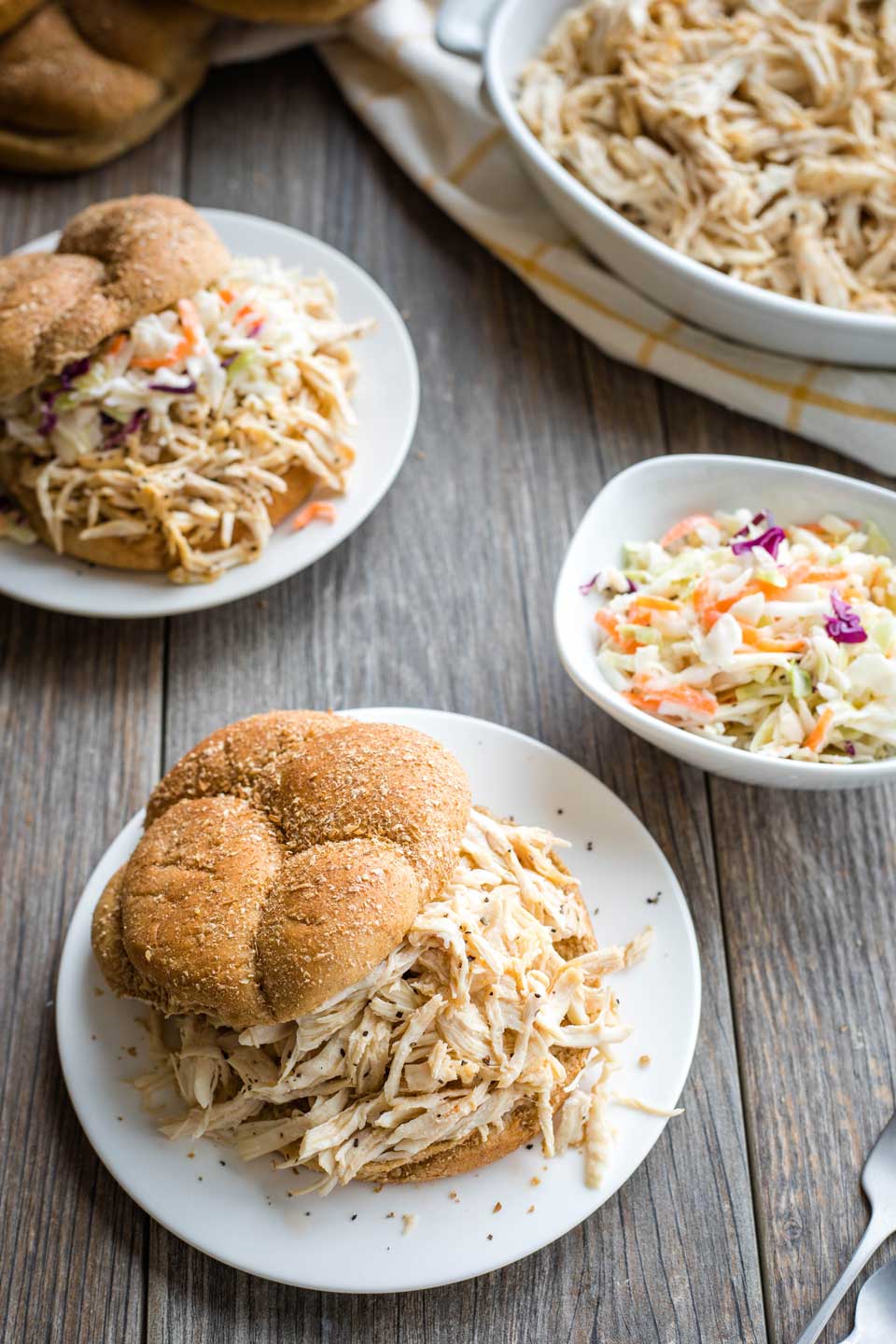 If you prefer a vinegar-based barbecue flavor, rather than a sweet BBQ pulled chicken (like my recipe above), this recipe for Carolina-Style Instant Pot Shredded BBQ Chicken should be right up your alley. These delicious, super EASY Carolina-Style Instant Pot Shredded BBQ Chicken Sandwiches are born from a fan-favorite slow cooker recipe. The result is that vinegar-y, pepper-y flavor you want in Eastern North Carolina BBQ, made in an Instant Pot.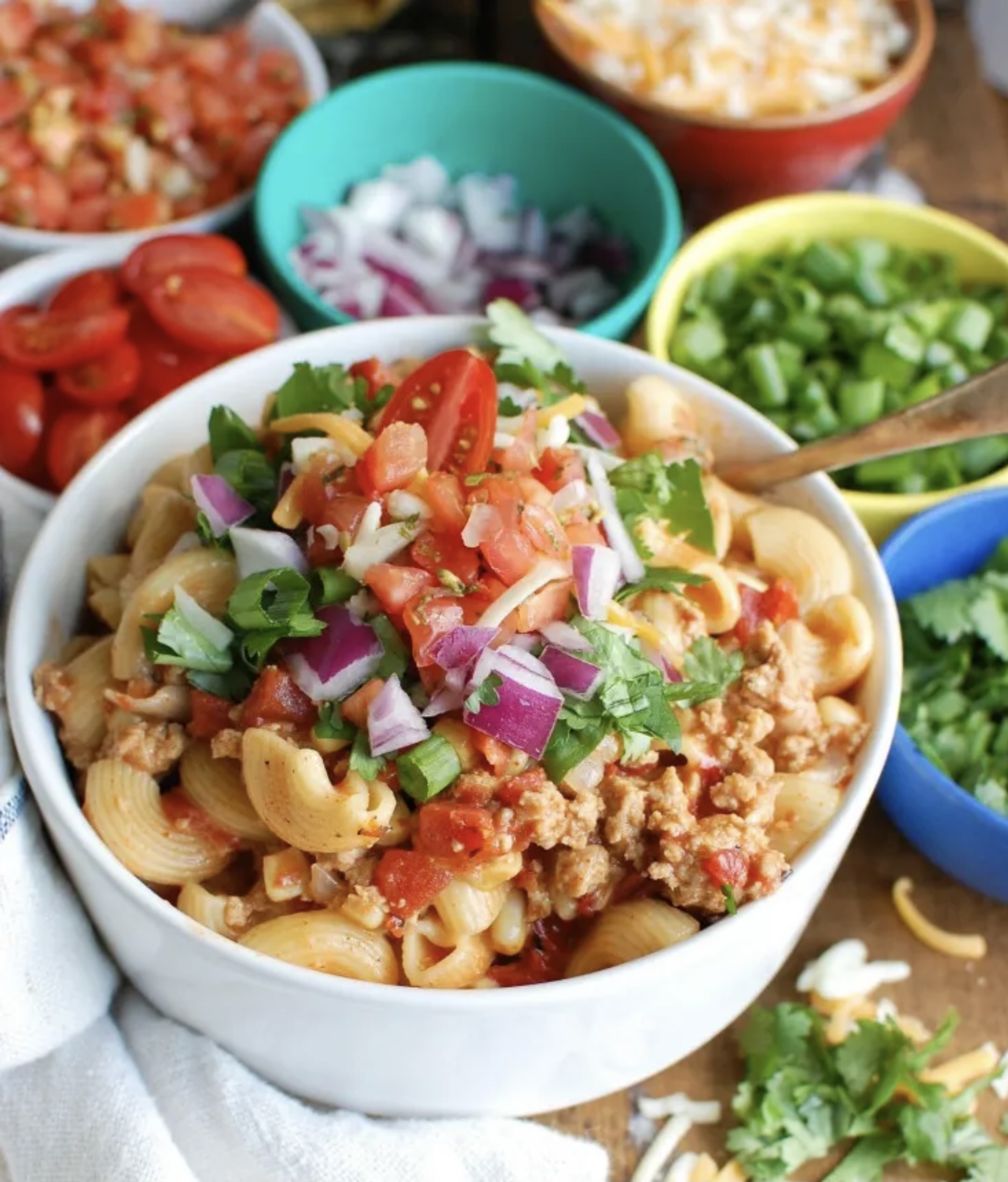 Instant Pot Turkey Taco Pasta is a flavor-packed dinner that the whole family will love. This meal cooked up in no time when using your Instant Pot or pressure cooker. The ground turkey, taco seasoning, and fired roasted tomatoes paired with pasta make this a fun alternative to taco night, toppings included.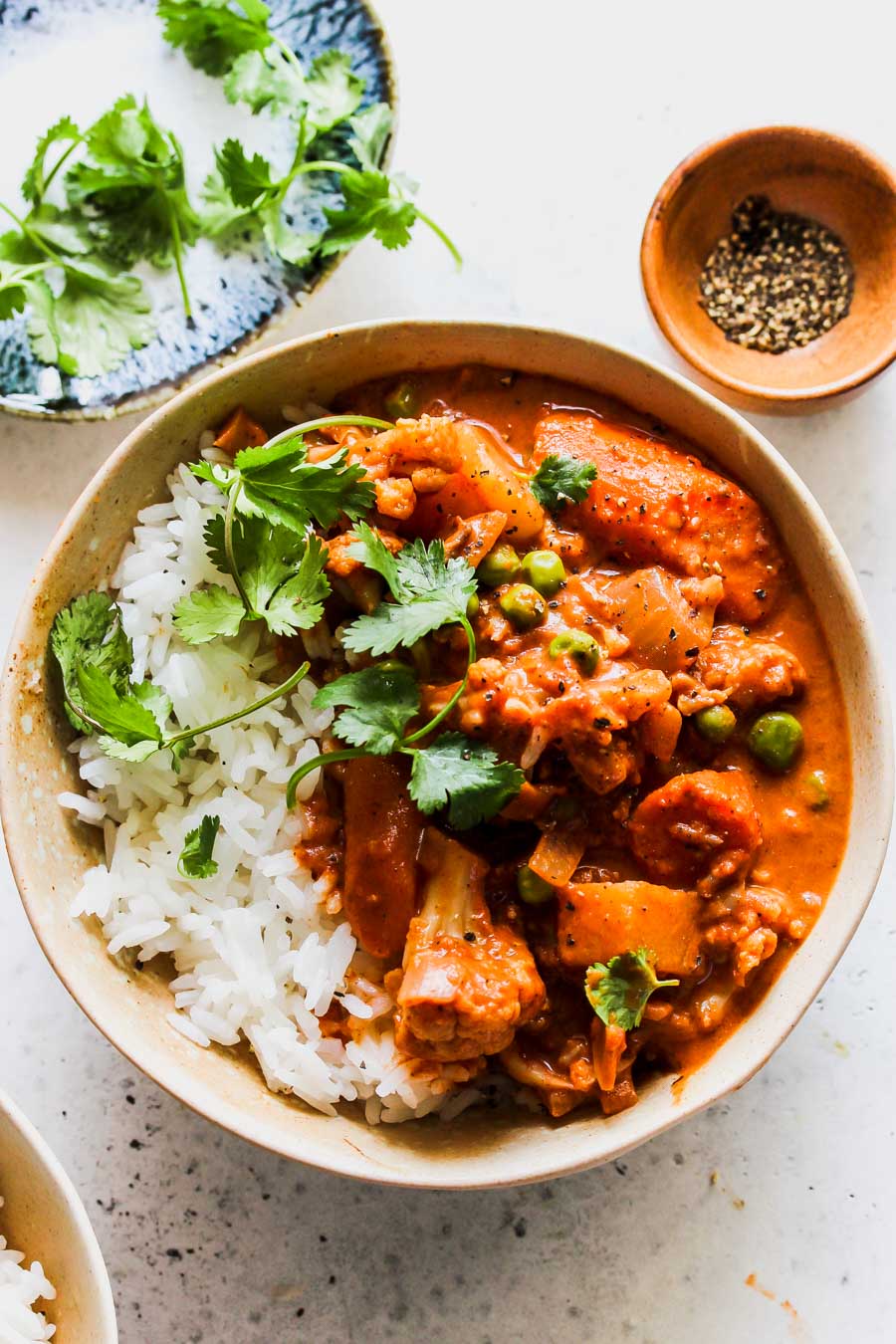 Slow cooker vegetarian tikka masala highlights the vibrant spices of a classic Indian kitchen in a hearty and delicious dinner. Serve this vegetarian tikka masala over basmati rice for a gluten-free and vegan meal.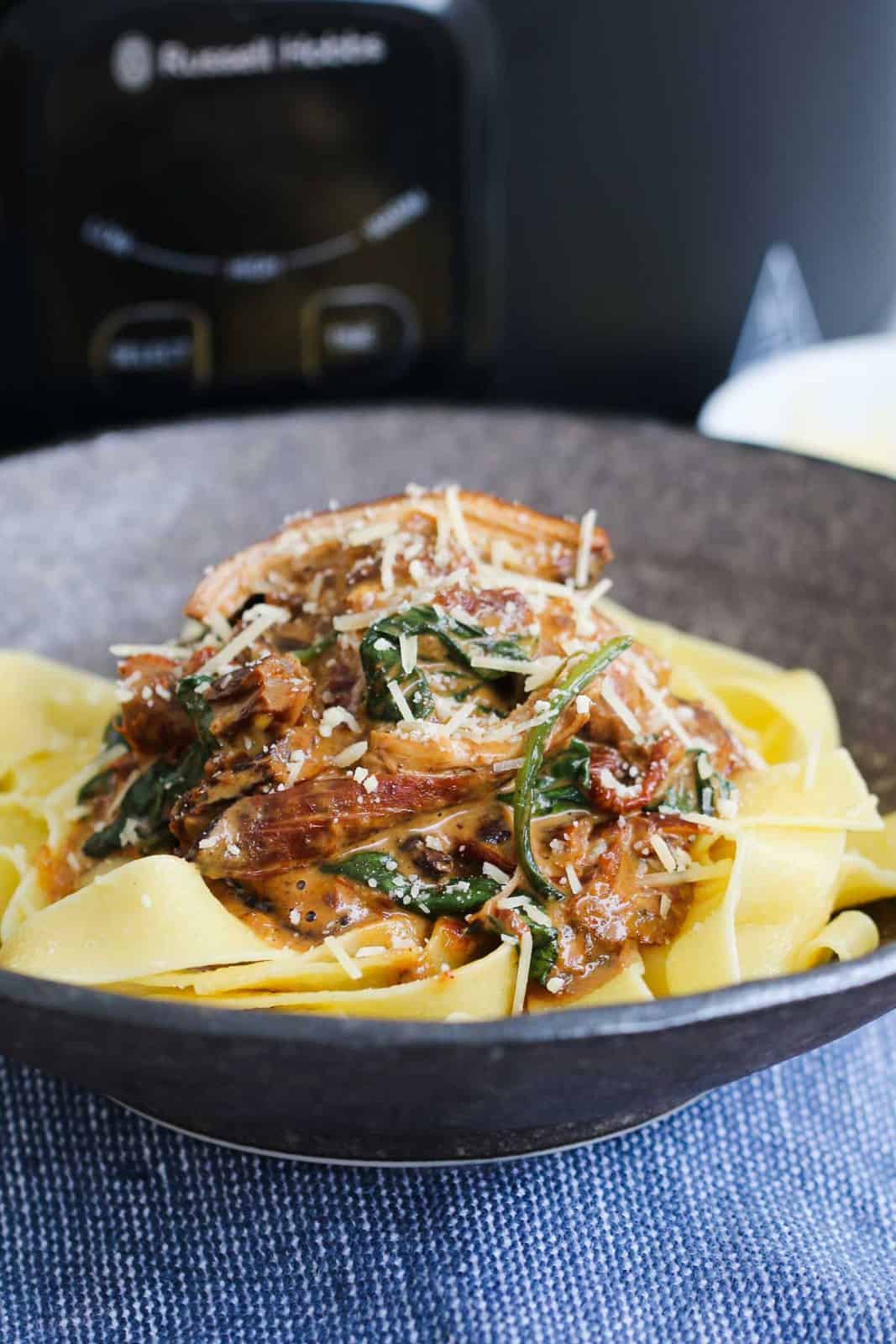 This Creamy Tuscan Slow Cooker Chicken with sun-dried tomatoes, baby spinach and parmesan cheese is the ultimate cold-weather comfort food in a bowl. Serve the easy crockpot dish with pasta for a simple meal the whole family will love.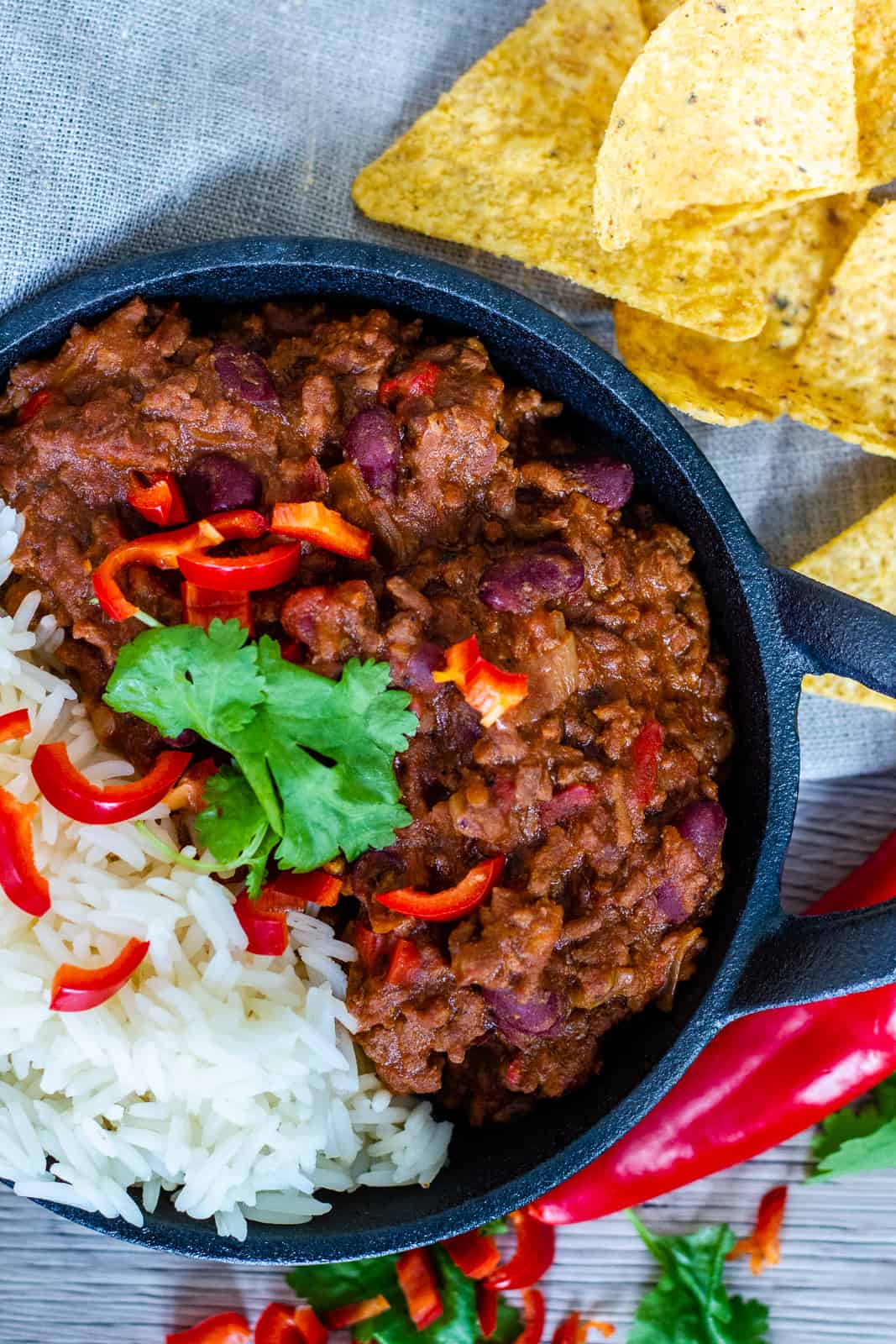 Slow Cooker Chilli con Carne is super yummy, quick and simple to prepare and perfect for a weeknight dinner. Or for batch cooking and saving for later! Full of beef, spices, tomatoes, and kidney beans, this meal is easy and healthy.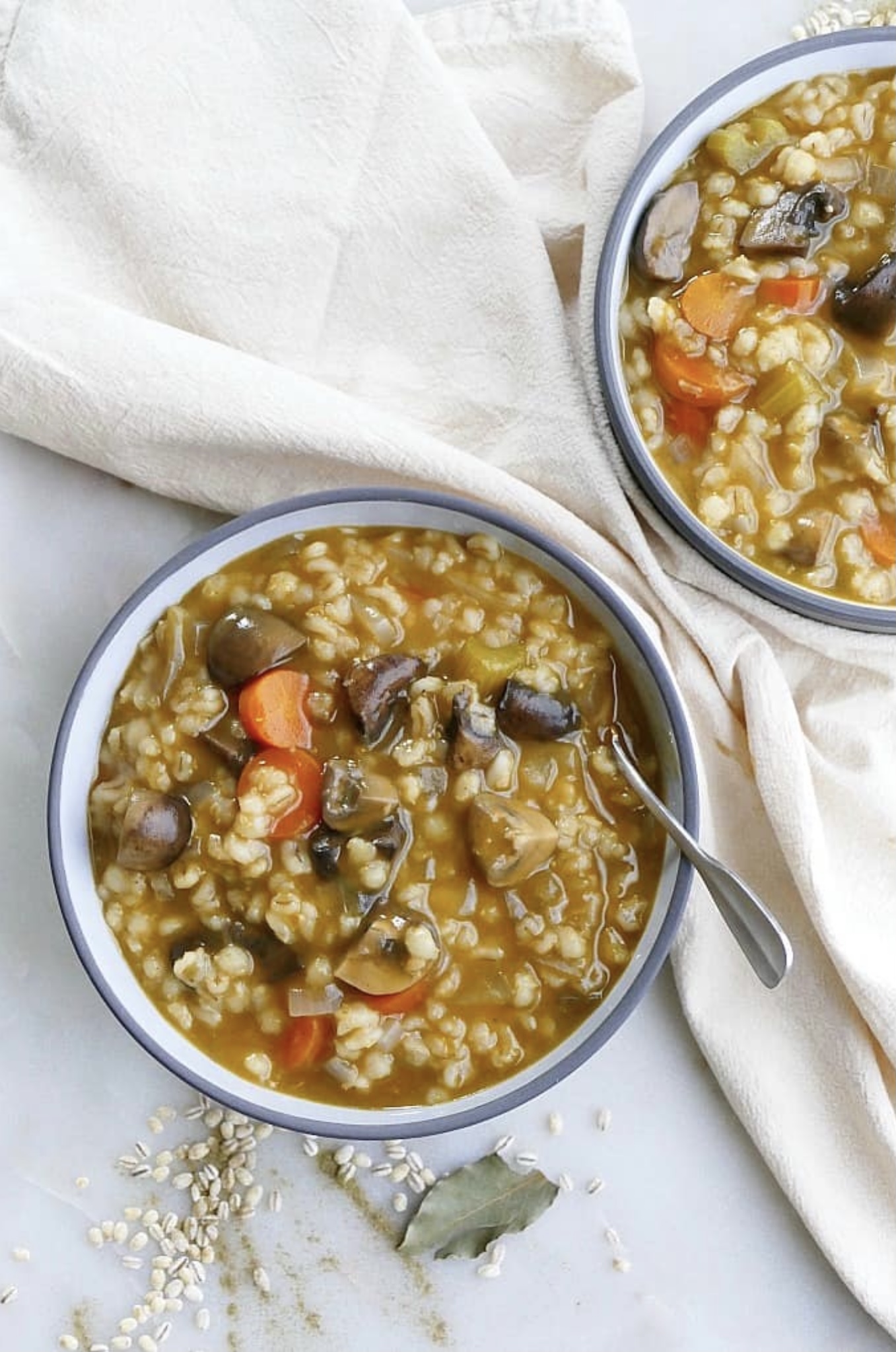 This classic Mushroom Barley Stew is an easy crockpot meal to make for dinner; and bonus: it's totally vegan. The whole meal has just a handful of ingredients and takes only 10 minutes to prep!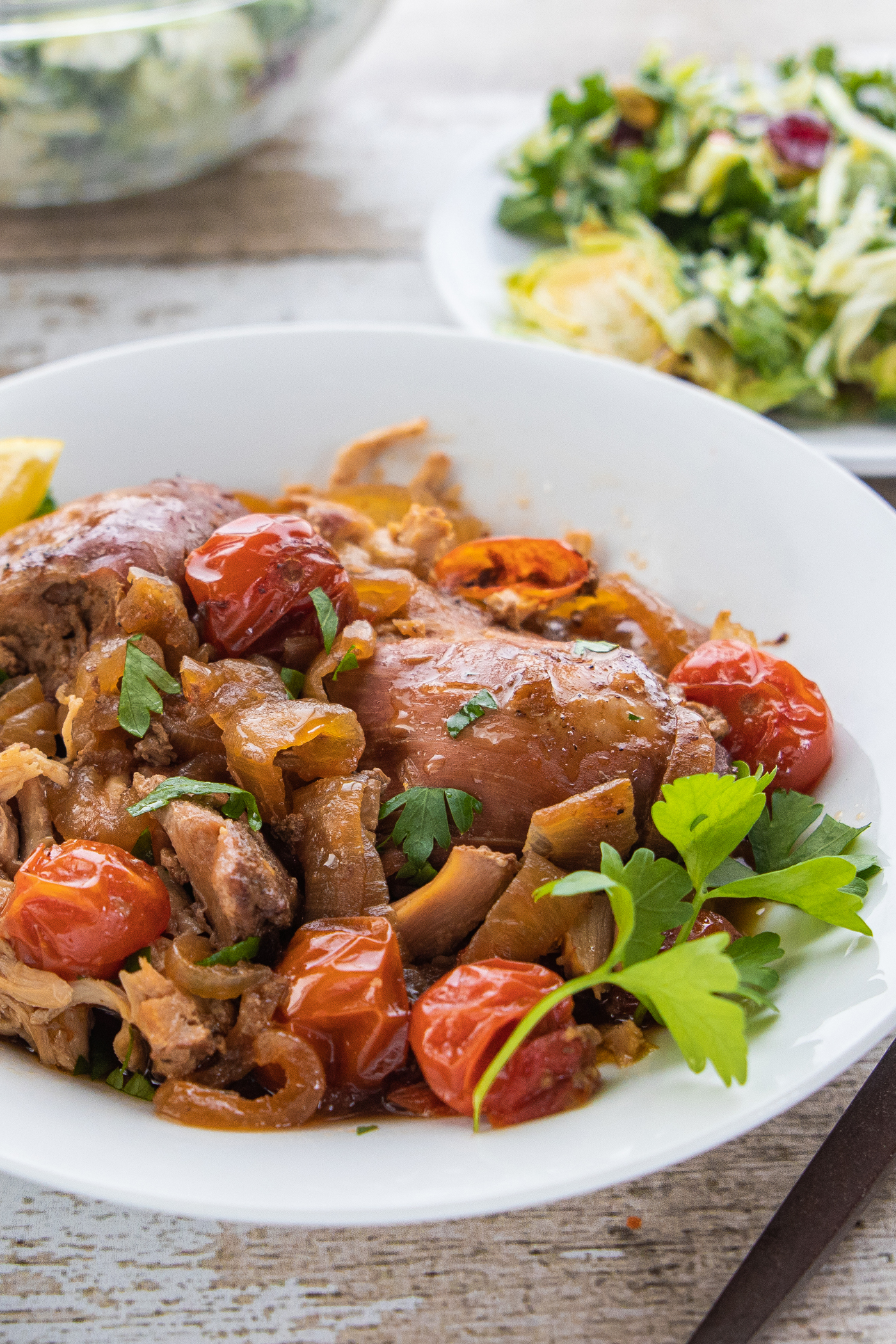 This slow cooker chicken and tomatoes dish cooks all day in the slow cooker so you have a healthy, homecooked meal with little-to-no fuss. Once it's done cooking, you can shred the chicken or leave it as-is. It's perfect to serve over rice or quinoa for a delicious and hearty dinner.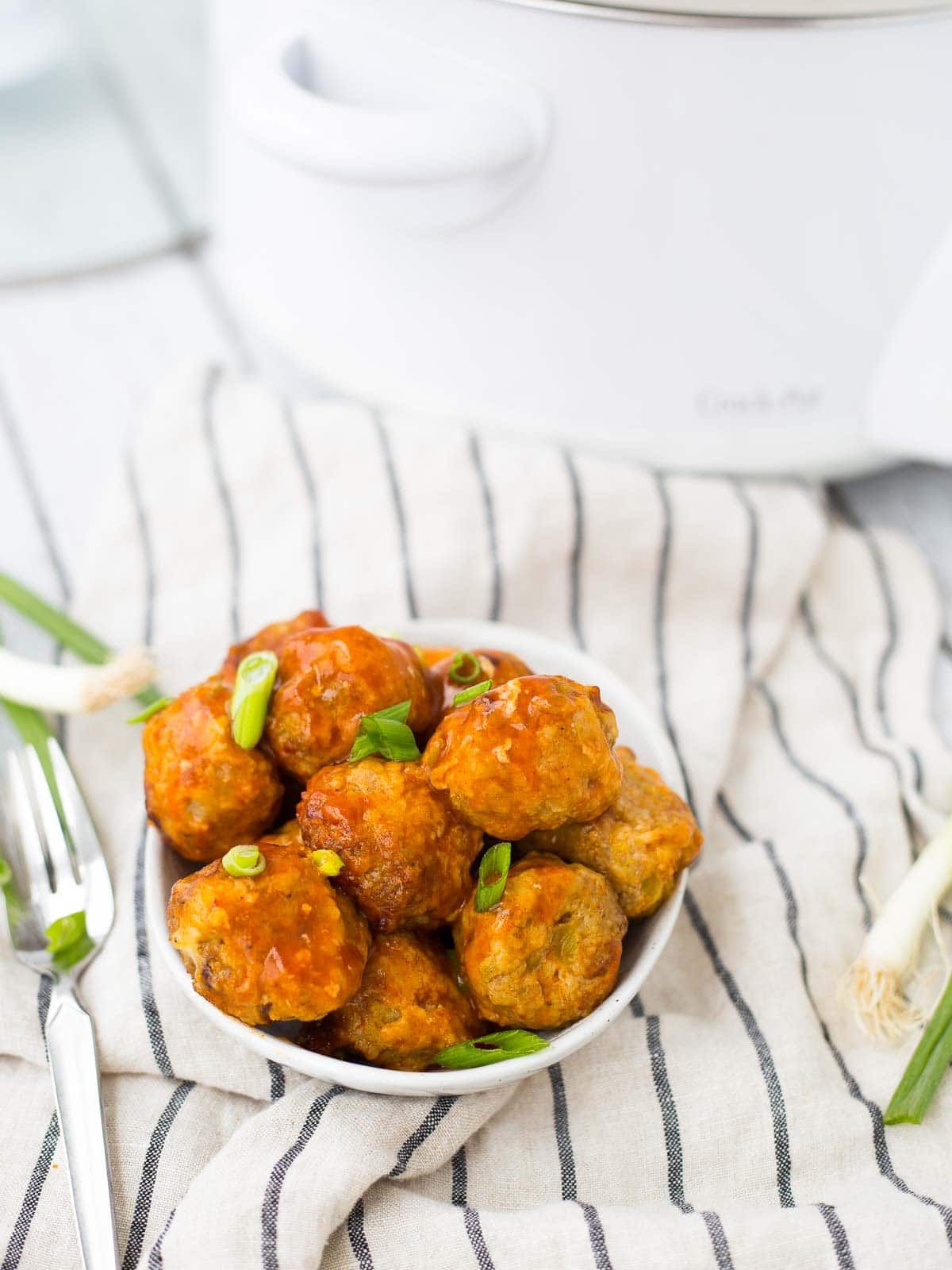 Perfect for parties or a busy weeknight, and always a family-friendly option, these turkey enchilada slow cooker meatballs are easy to make, healthy, and totally flavorful!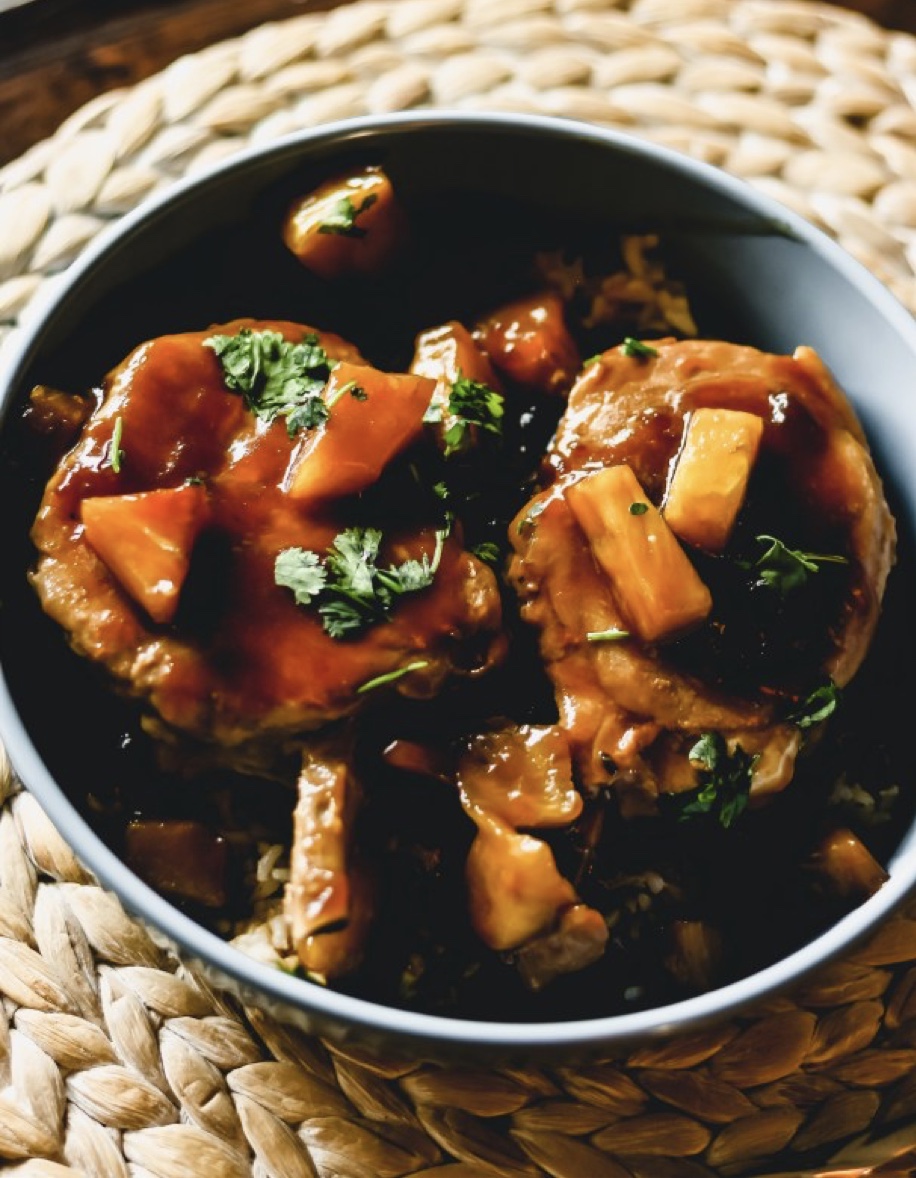 These Slow Cooker Hawaiian Pork Chops are tender, sweet, tangy, and the perfect Steakhouse quality meal that your whole family will love!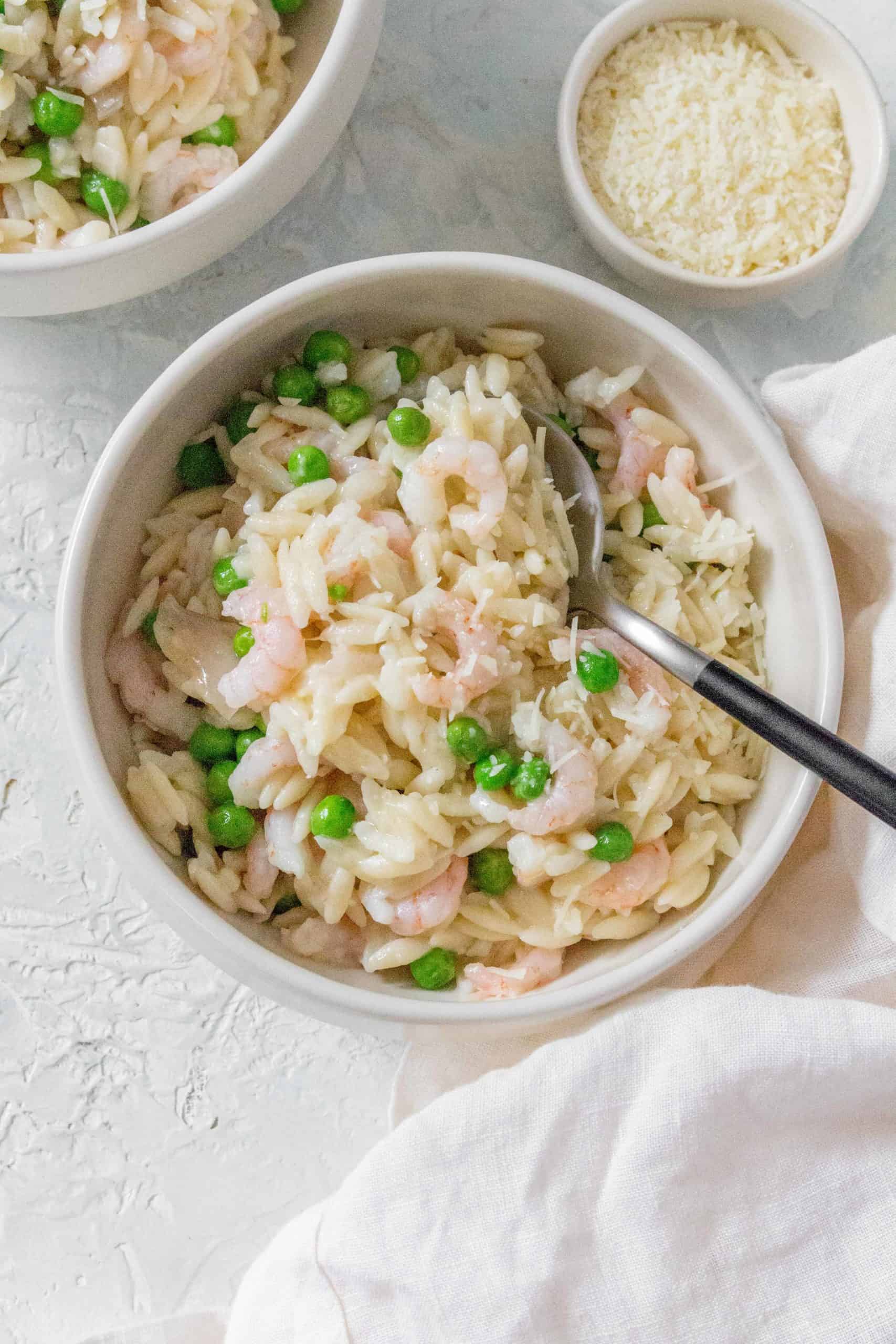 This Instant Pot Shrimp Risotto is creamy, full of delicious flavor, and best of all, is surprisingly easy to make!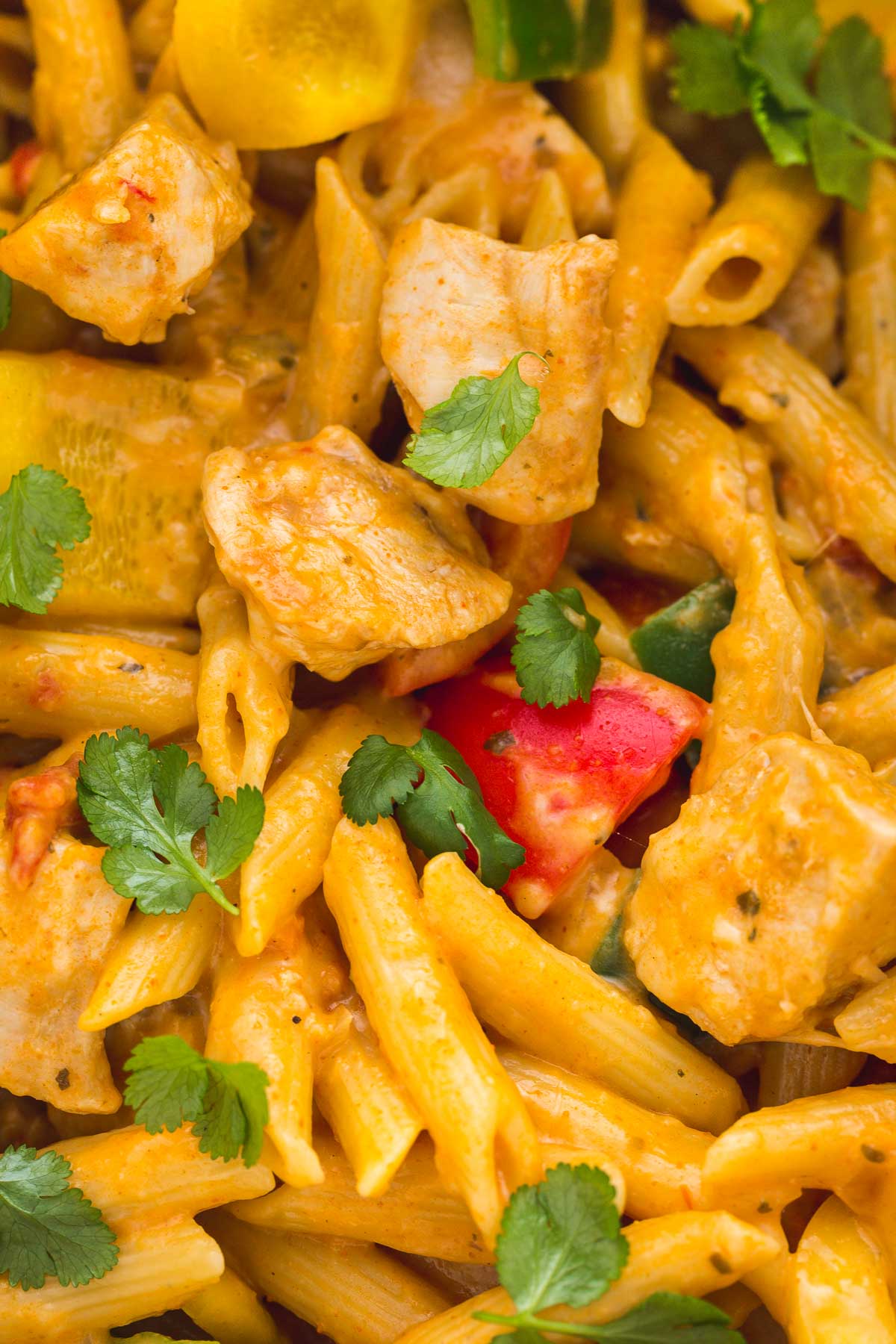 This Instant Pot Chicken Fajita Pasta is a unique spin on tradition al fajitas. The dish is a comforting and cheesy cooked-all-in-one-pot recipe and is perfect for a busy weeknight family dinner!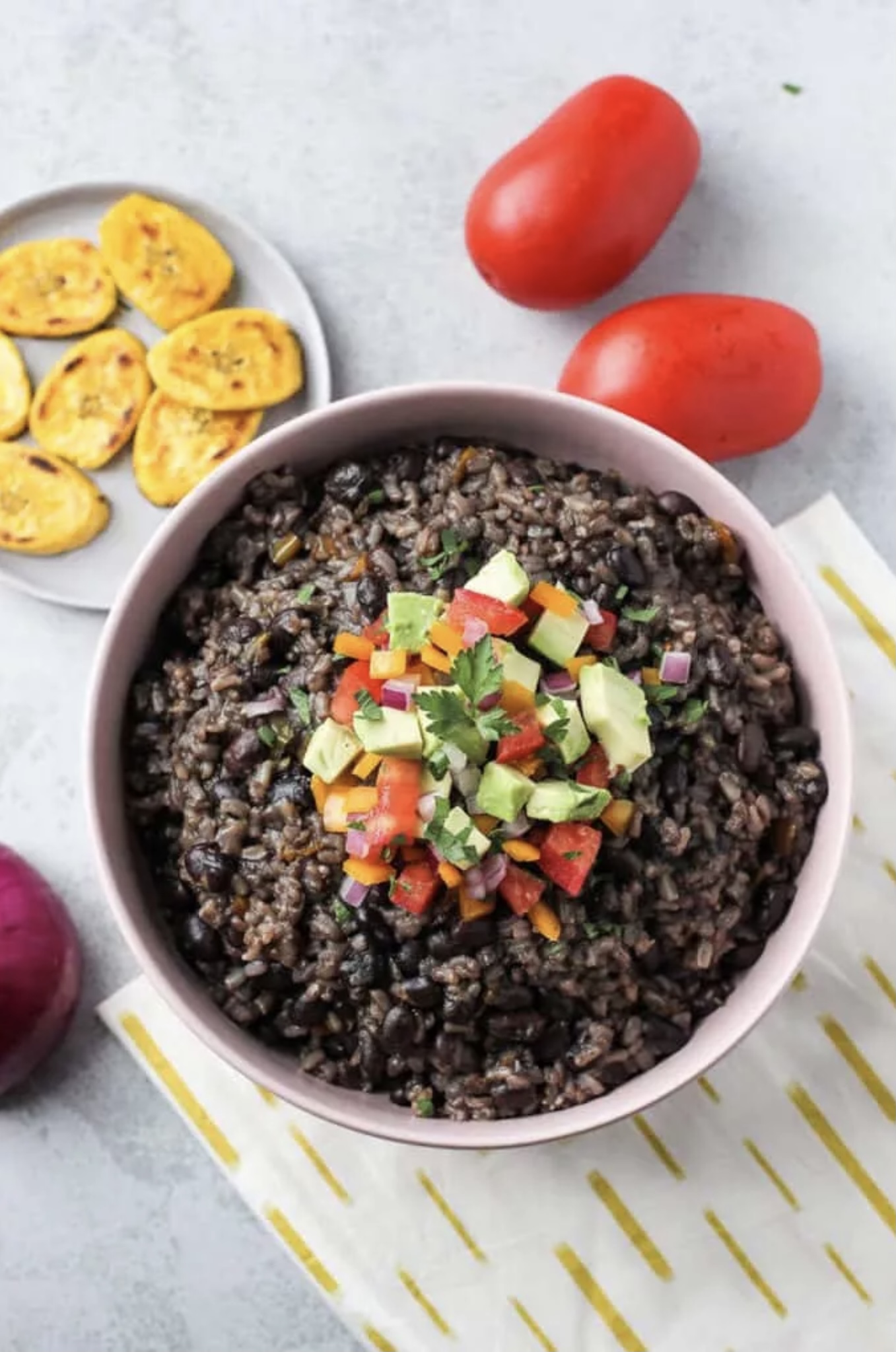 Growing up in Miami, Cuban style black beans and rice was easily one of my favorite dishes. This recipe turns the beloved classic into a delicious Instant Pot meal. Even better: black beans are loaded with plant-based protein and fiber! Combined with rice, this easy recipe makes a delicious main dish without much work!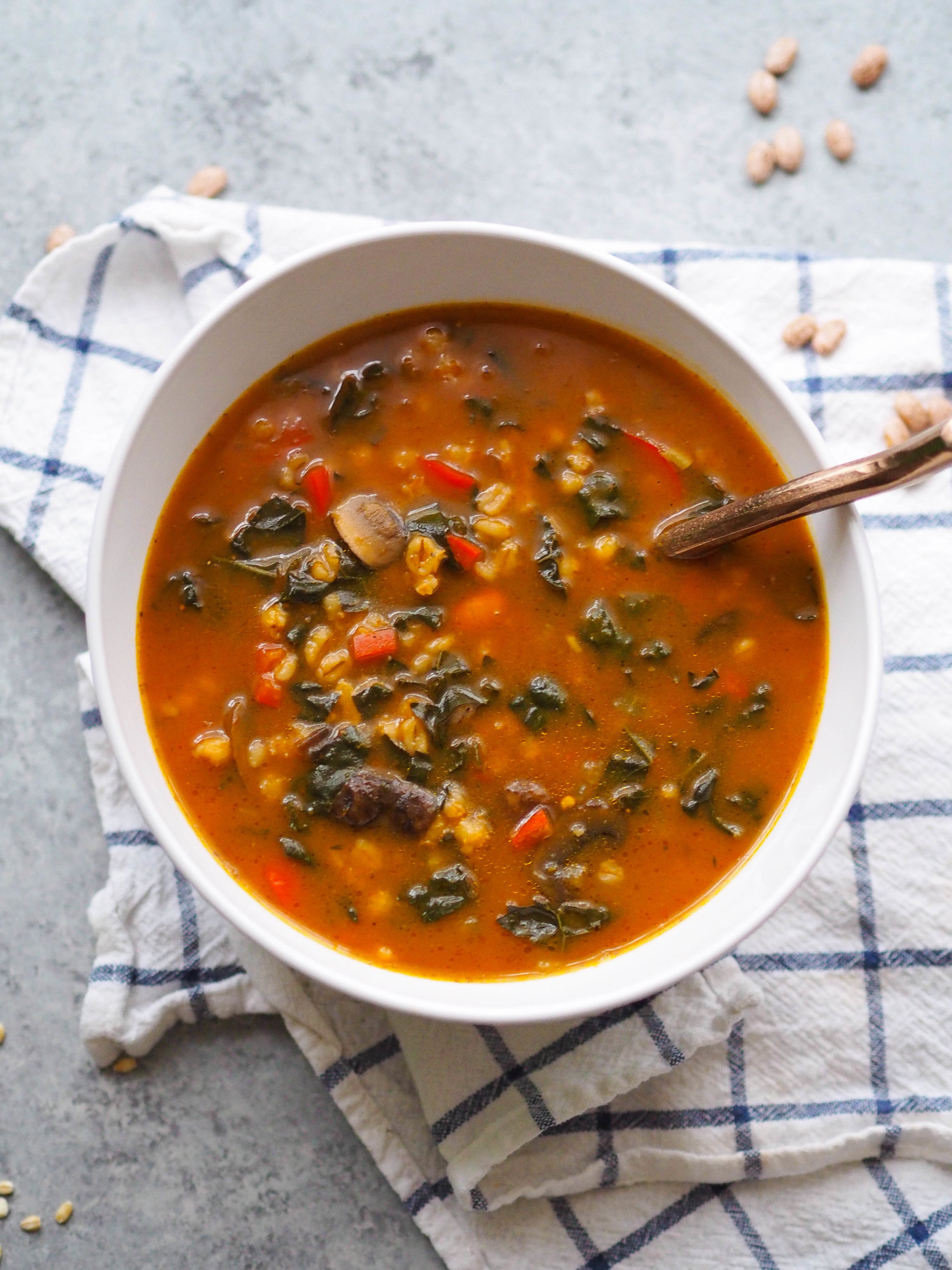 Warm up with a bowl of this instant pot vegan mushroom barley soup, made with pumpkin! This soup is so easy to make – just throw all of the ingredients in the instant pot and set for 40 minutes. You'll wind up with a richly flavored soup, thanks to the pumpkin and spices, packed with whole grains, beans and veggies. A perfect make-ahead winter dinner!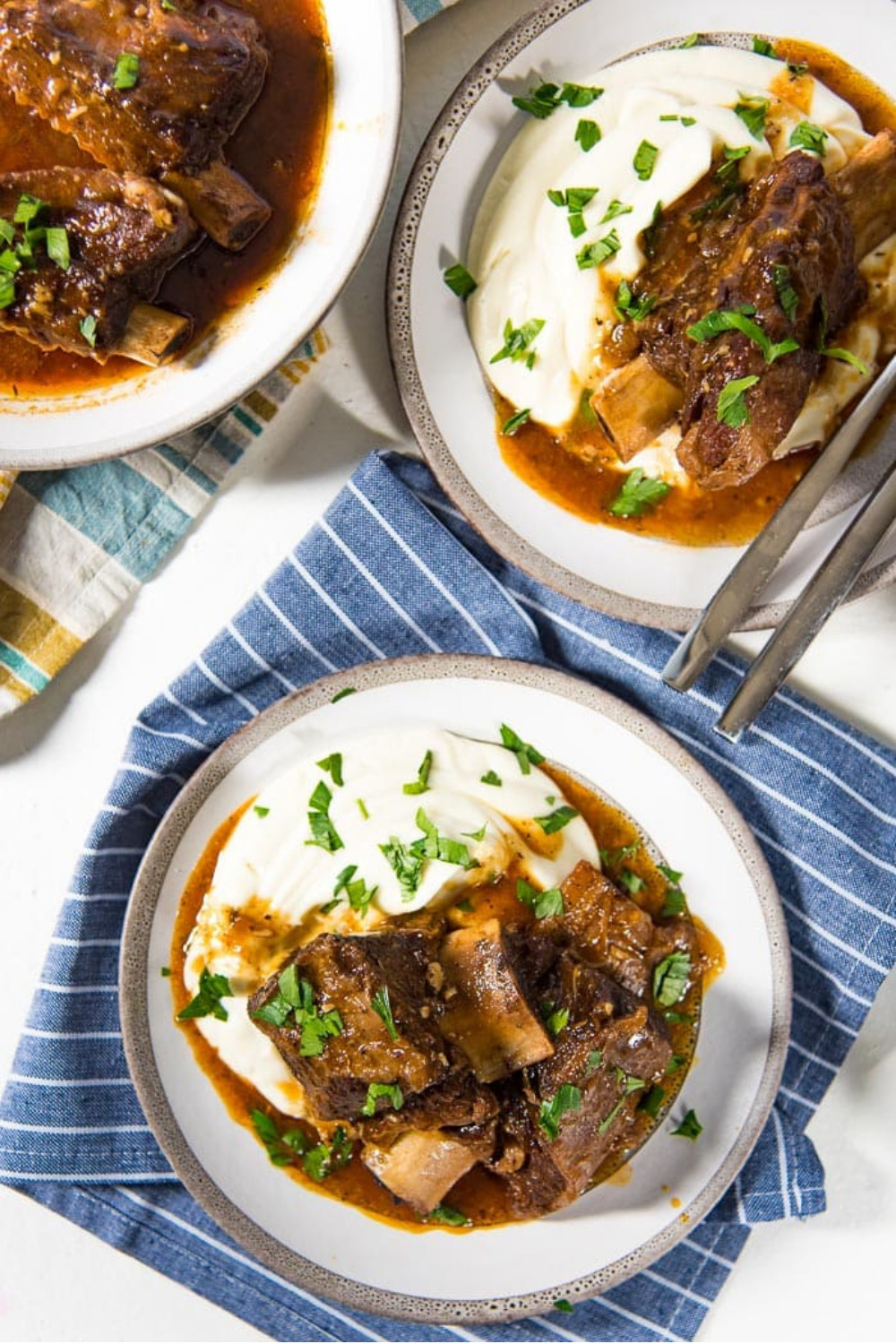 Making Short Ribs in an Instant Pot couldn't be easier! Try this recipe for tender, succulent, fall-off-the-bone braised short ribs, made even more delicious with a secret ingredient.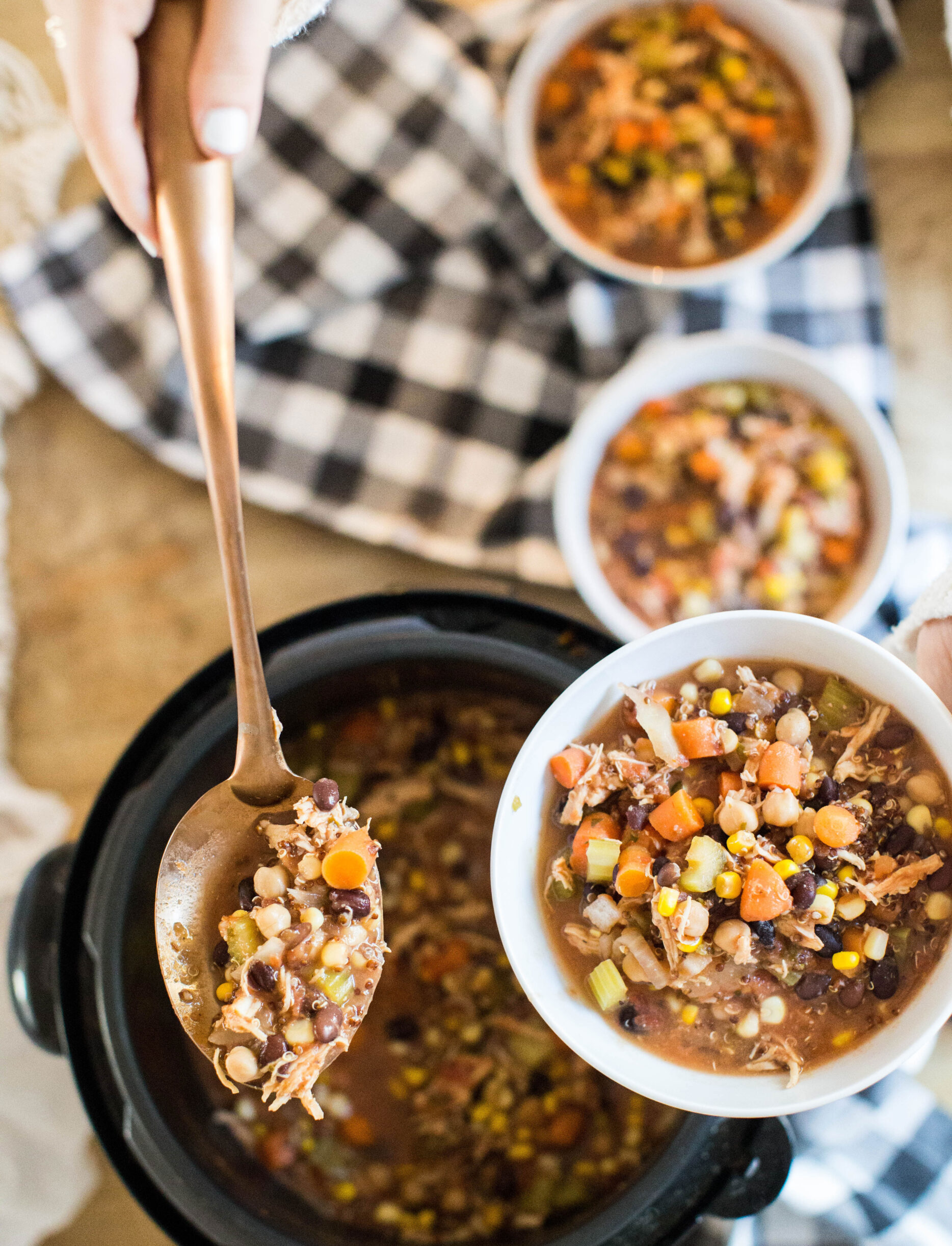 Our favorite crockpot chicken vegetable and quinoa soup is the perfect end to these easy and delicious weeknight dinner recipes for busy parents. It is healthy and hearty and requires so little work it's kind of embarrassing. This meal is packed with flavor, and tastes even more amazing topped with a bit of shredded cheddar cheese.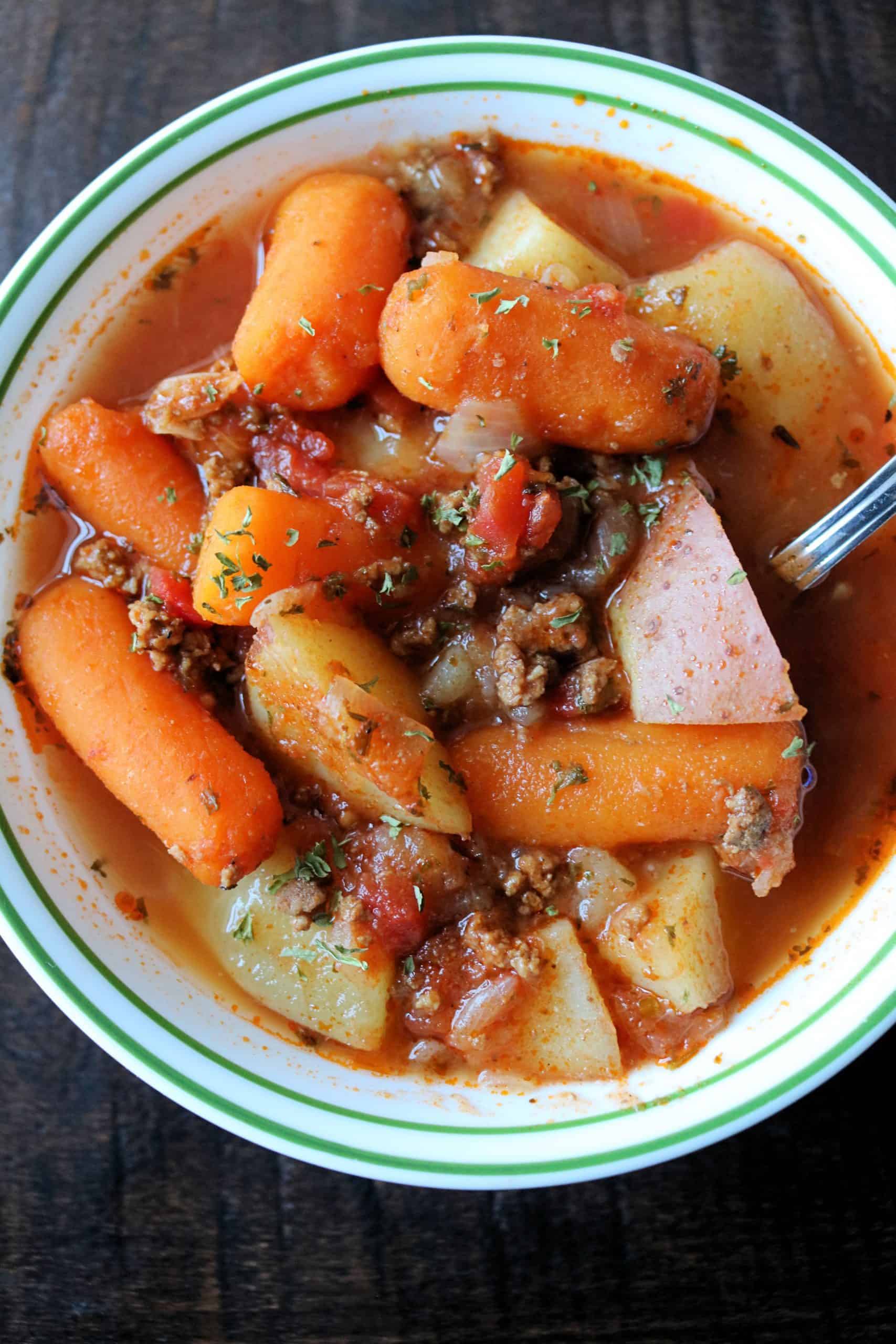 Give this Easy Instant Pot Hamburger Soup a try for a healthy weeknight meal! This hamburger soup has simple ingredients and is Whole30, Paleo, and Gluten-free.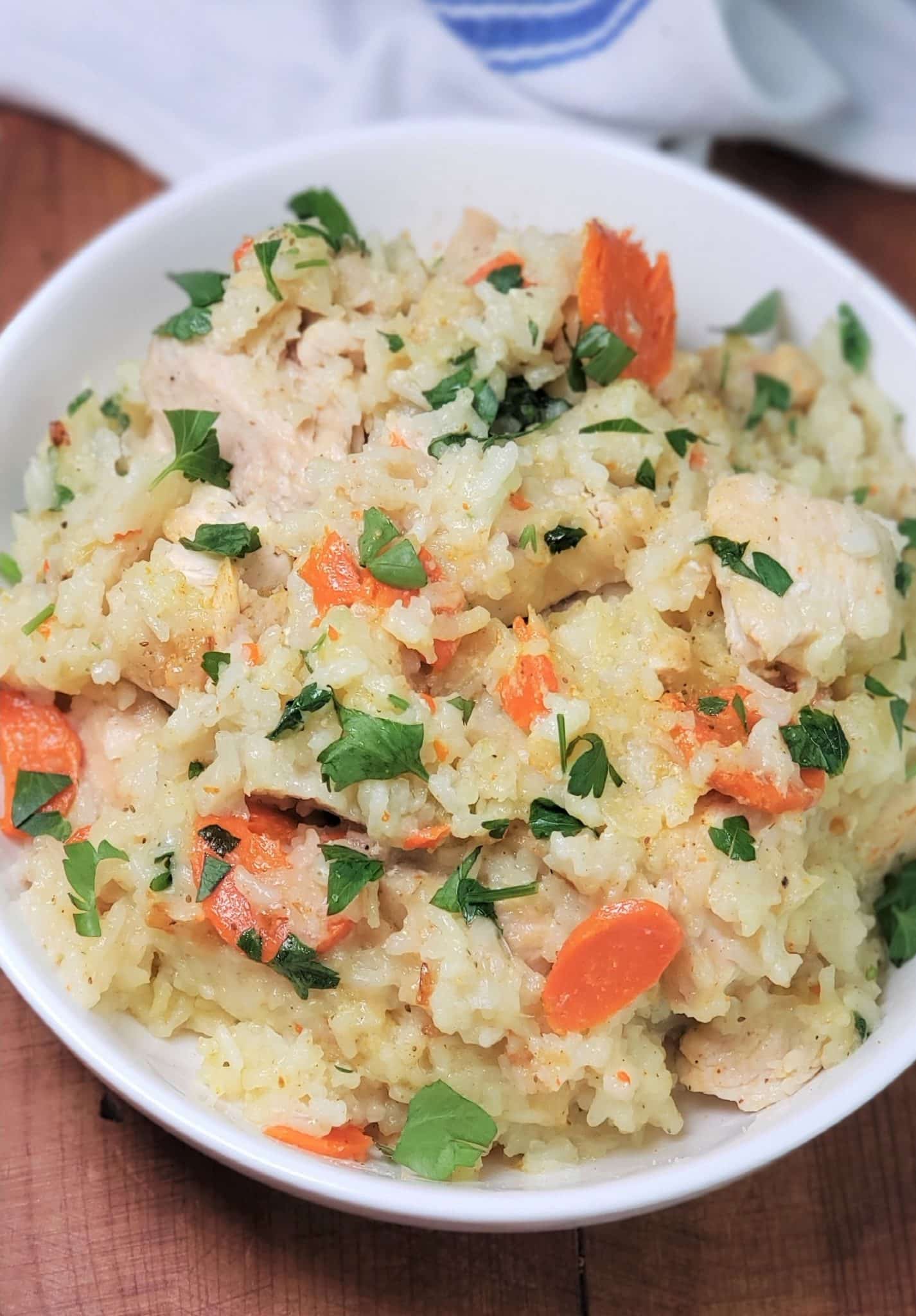 This Instant Pot Chicken and Rice is a must-make; as in, you will most definitely want to add this easy meal to your dinner rotation! An old-fashioned family favorite meal enjoyed by the whole family (and made in an instant pot) = amazing.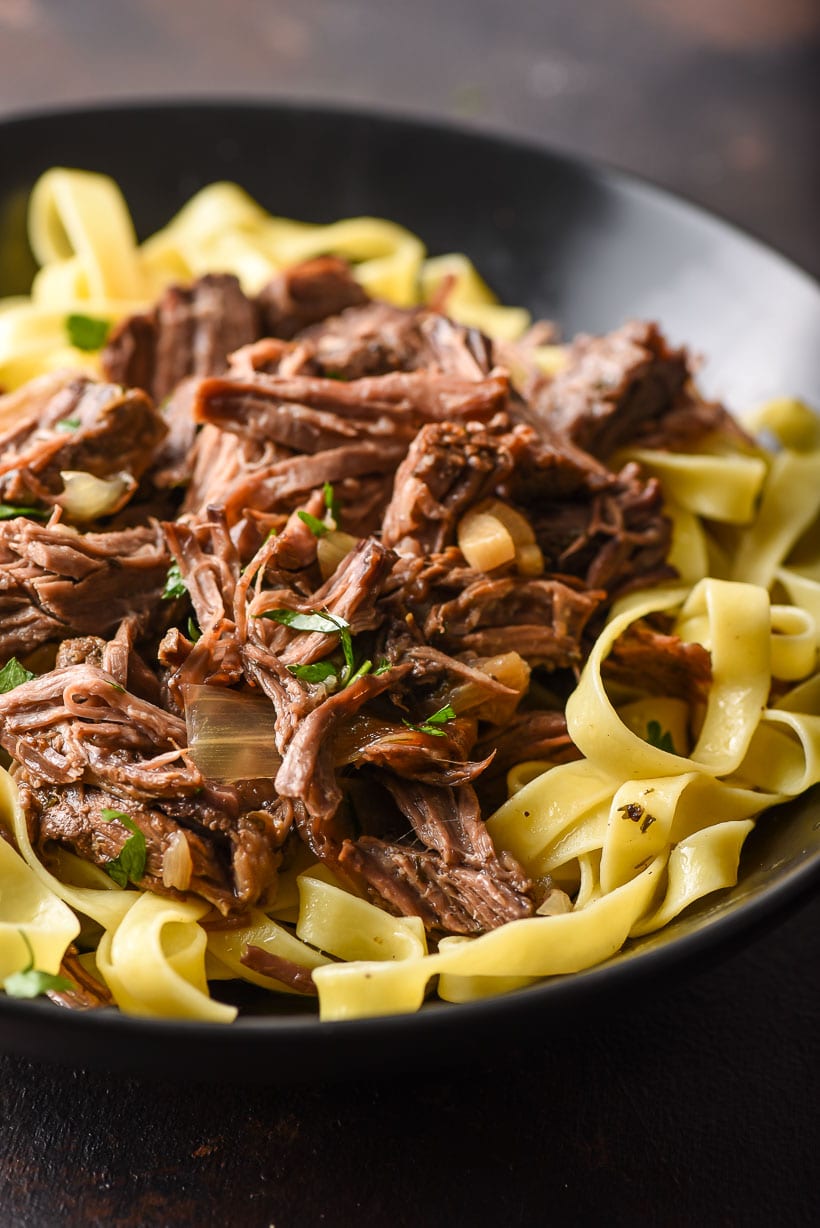 This Slow Cooker Shredded Beef recipes makes for the juiciest, fall-apart-tender pulled beef. You can use this versatile recipe to make dozens of different meals, including shredded beef sandwiches, tacos, on top of pasta, and more!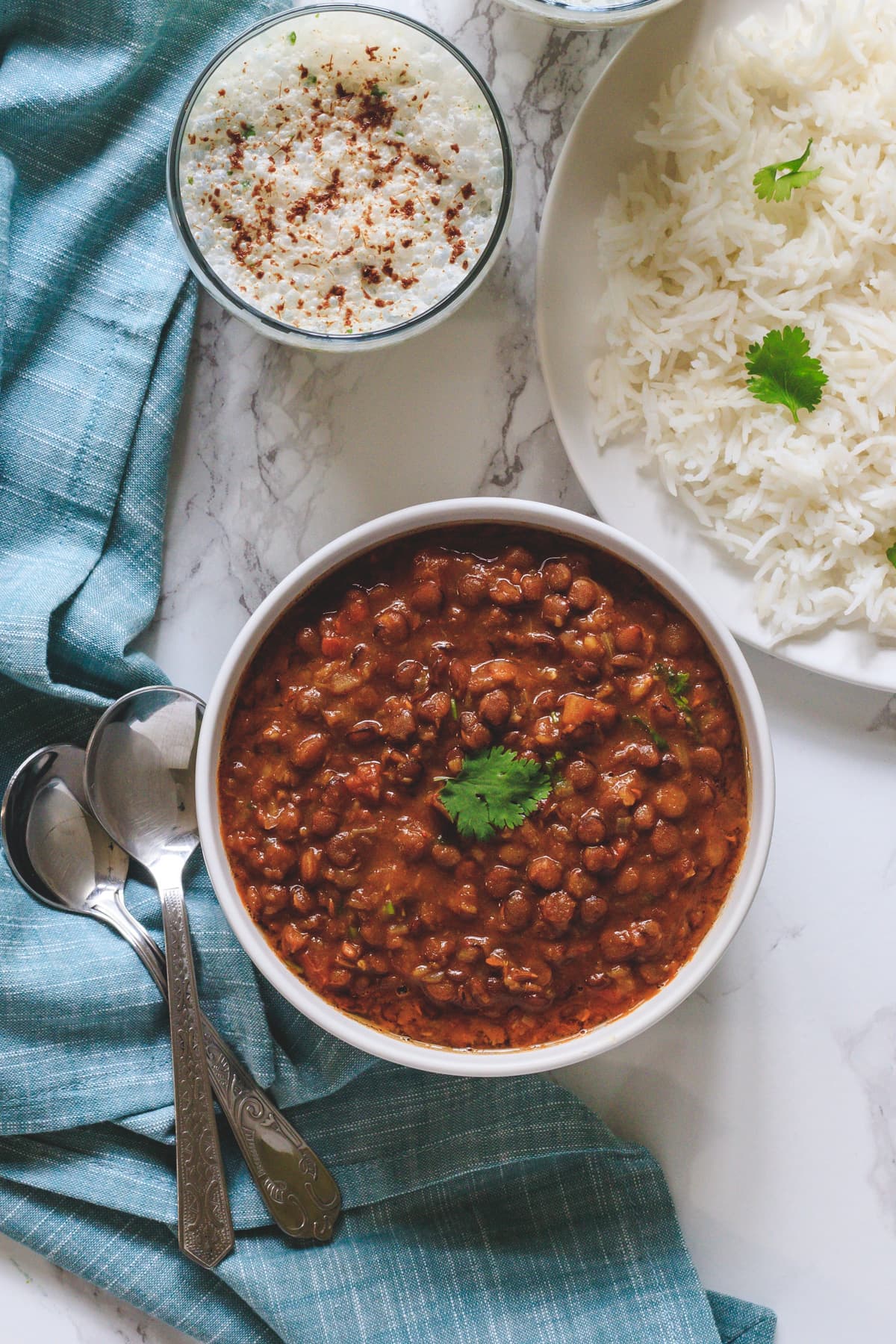 Whole masoor dal – a staple Indian lentil curry recipe is made even simpler in an Instant pot! Lentil curry makes for a healthy, flavorful, protein-packed vegetarian dinner (vegan as well) that is ready in just 30 minutes.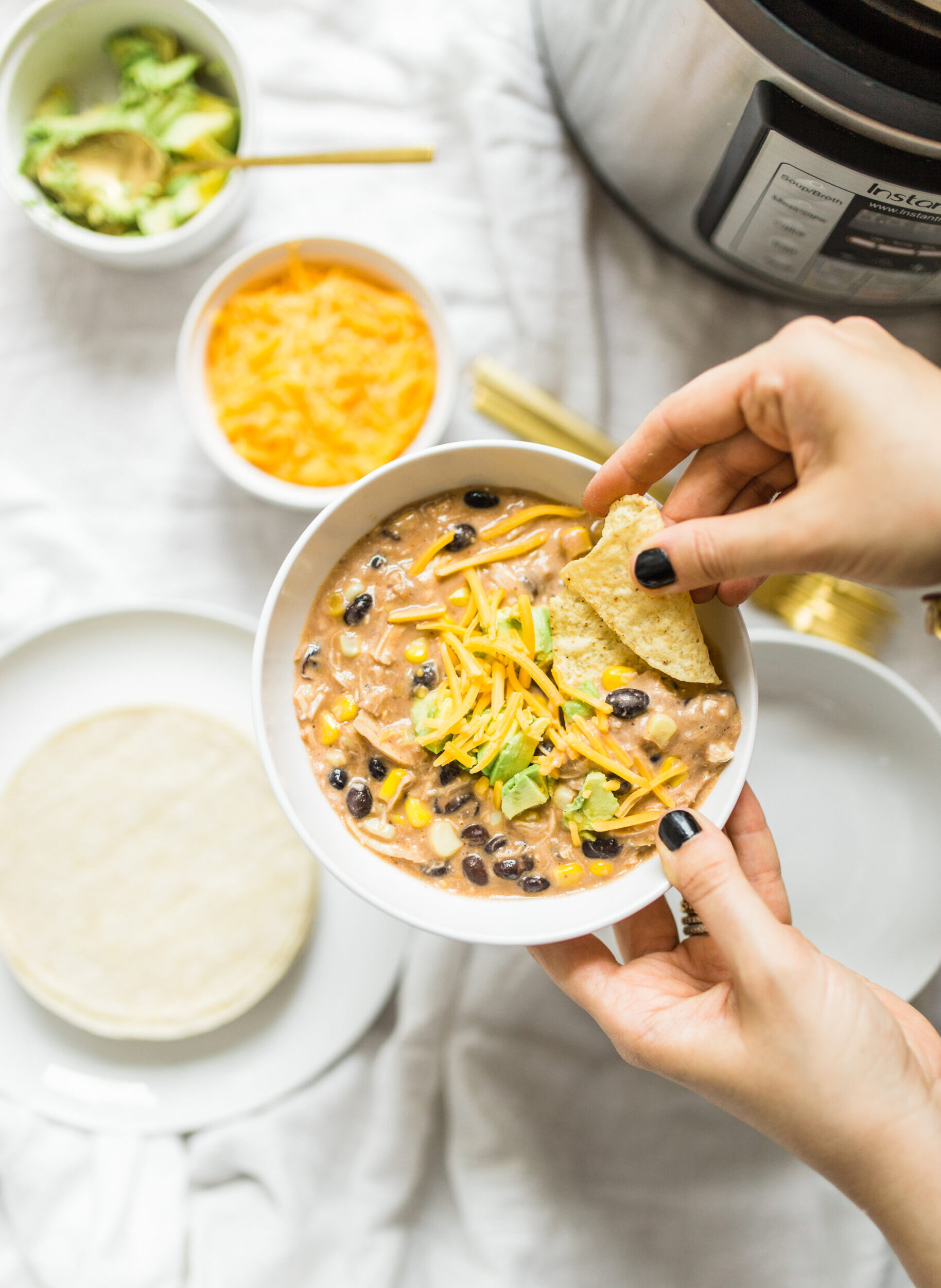 This easy tortilla-less creamy chicken enchilada soup can be made in a crockpot or Instant Pot – as in, dump all of the ingredients and forget it … until dinner time that is. This meal is delicious, hearty, and your whole family will love to eat it with all of the traditional taco toppings: shredded cheddar cheese, fresh avocado, cilantro, scallions, sour cream, salsa, chips, and a squeeze of lime.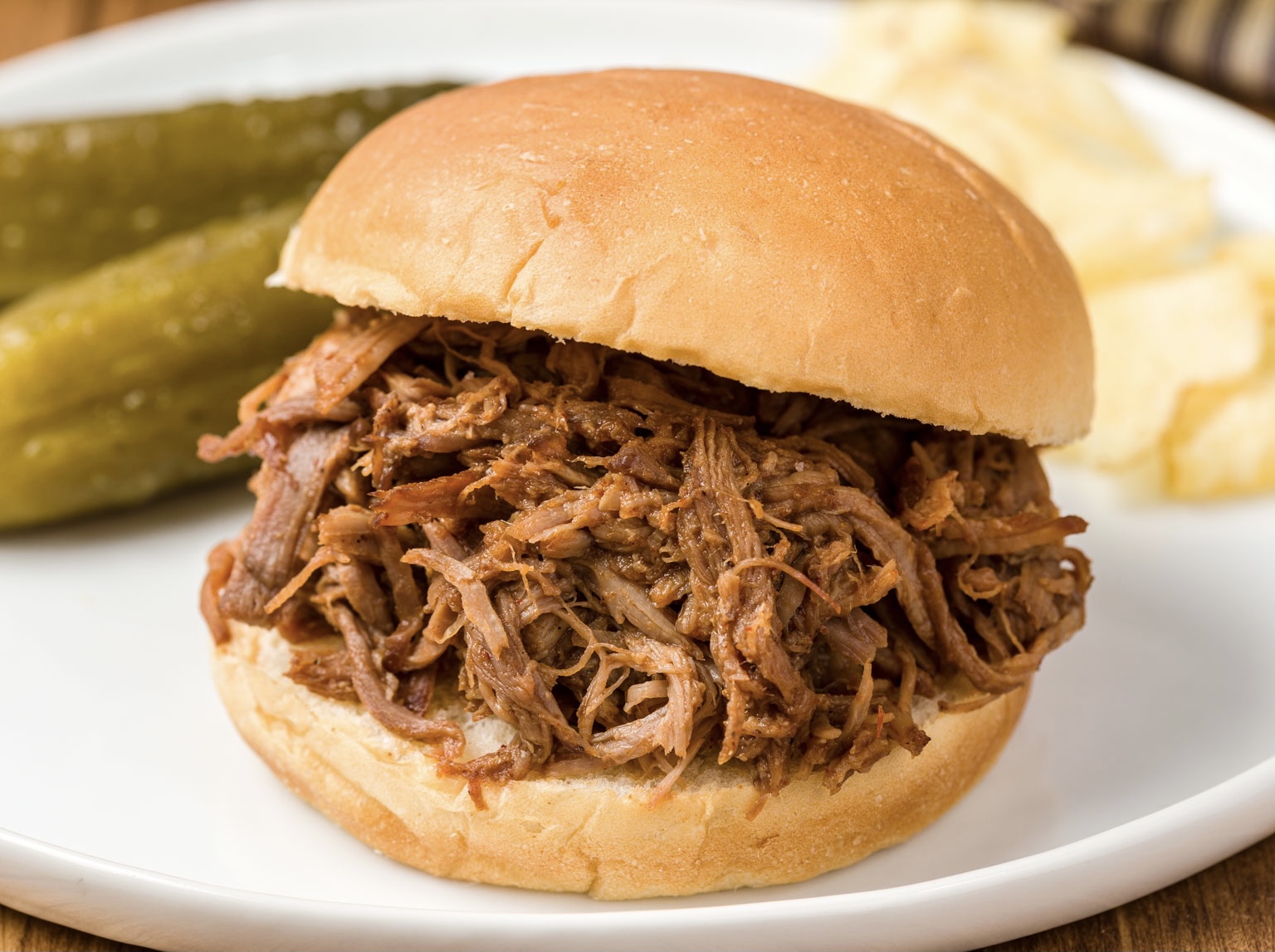 If you love classic pulled pork, this easy slow cooker pulled pork recipe is going to be a new favorite among the family. With only three ingredients, you can have it cooking in minutes and the result is moist, fall-apart tender, and super flavorful.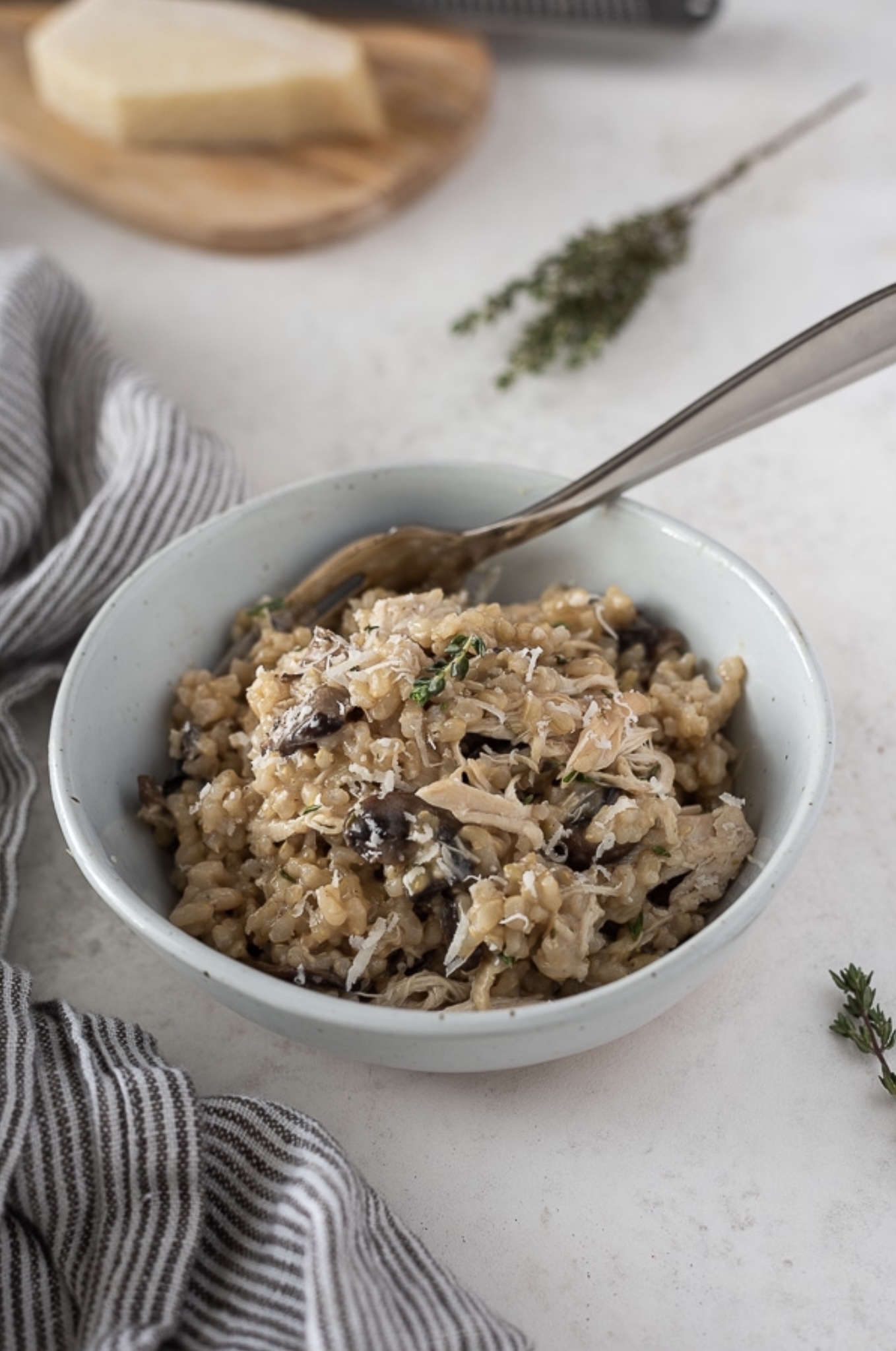 This Instant Pot Chicken and Rice is a creamy chicken and rice casserole made completely from scratch and all in just one slow cooker or Instant Pot. Bonus: it can also be made dairy free!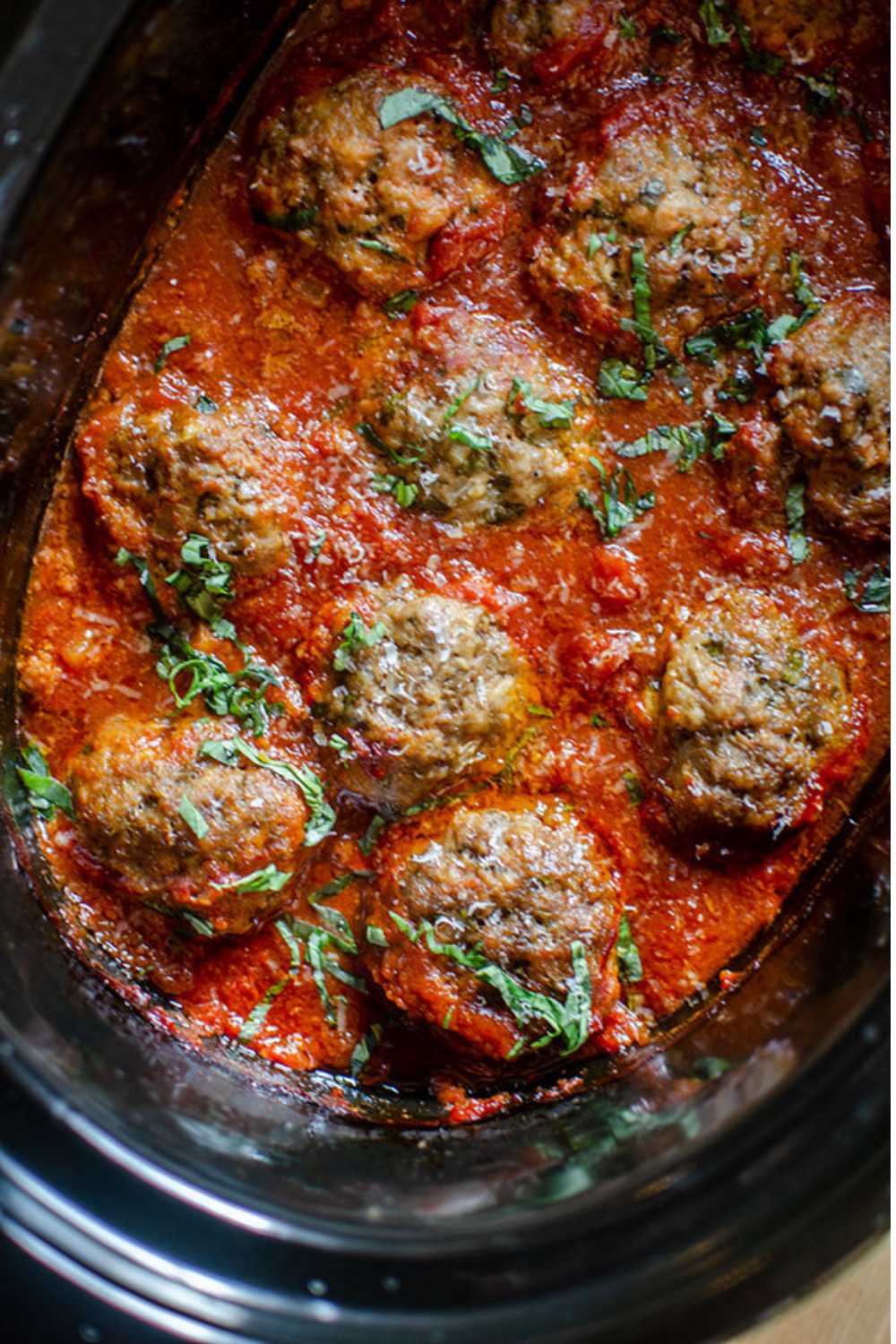 These slow cooker meatballs are a traditional, Italian style meatballs made with ground beef and pork, Parmesan cheese, herbs and spices, the only difference is, these meatballs are made in a crockpot. They are slow simmered in tomato sauce, to tender perfection in the slow cooker and are so good served over spaghetti.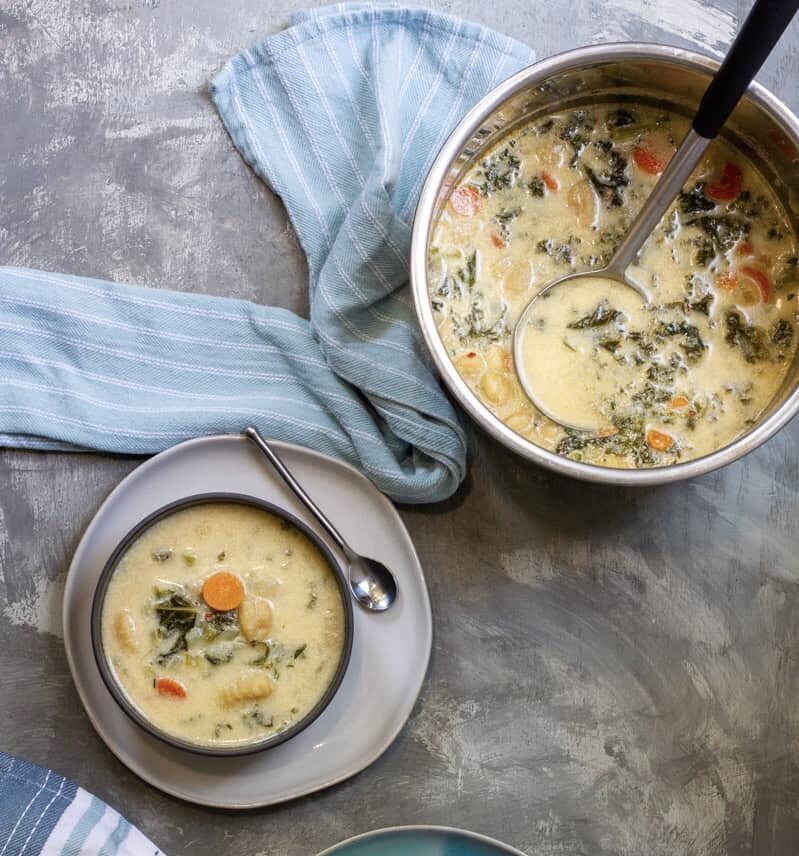 This creamy vegetable gnocchi soup is made with cauliflower gnocchi (or traditional potato gnocchi) and kale, and is a quick, easy, and completely delicious Instant Pot meal! (You can also easily make this soup on a stovetop; directions included.)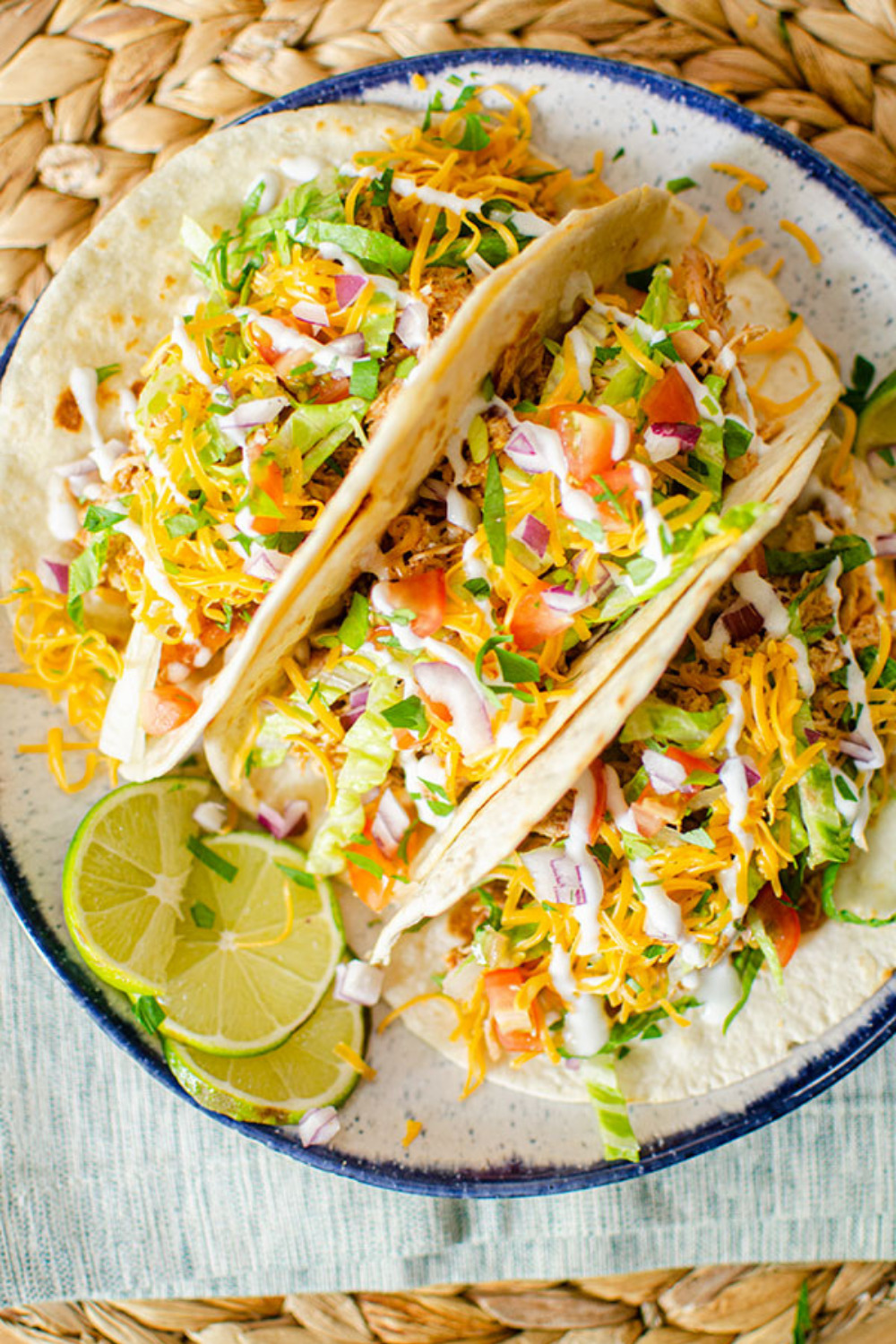 Put out an easy, no-fuss dinner on the table in no time with this recipe for slow cooker chicken tacos made with chicken breasts and yummy combination of tomatoes and Mexican seasoning. This recipe only takes 10 minutes to prep, making it an ideal crockpot meal.
Psst … If you're looking for an even easier take on these crockpot chicken tacos, try my two-ingredient crockpot salsa chicken tacos recipe!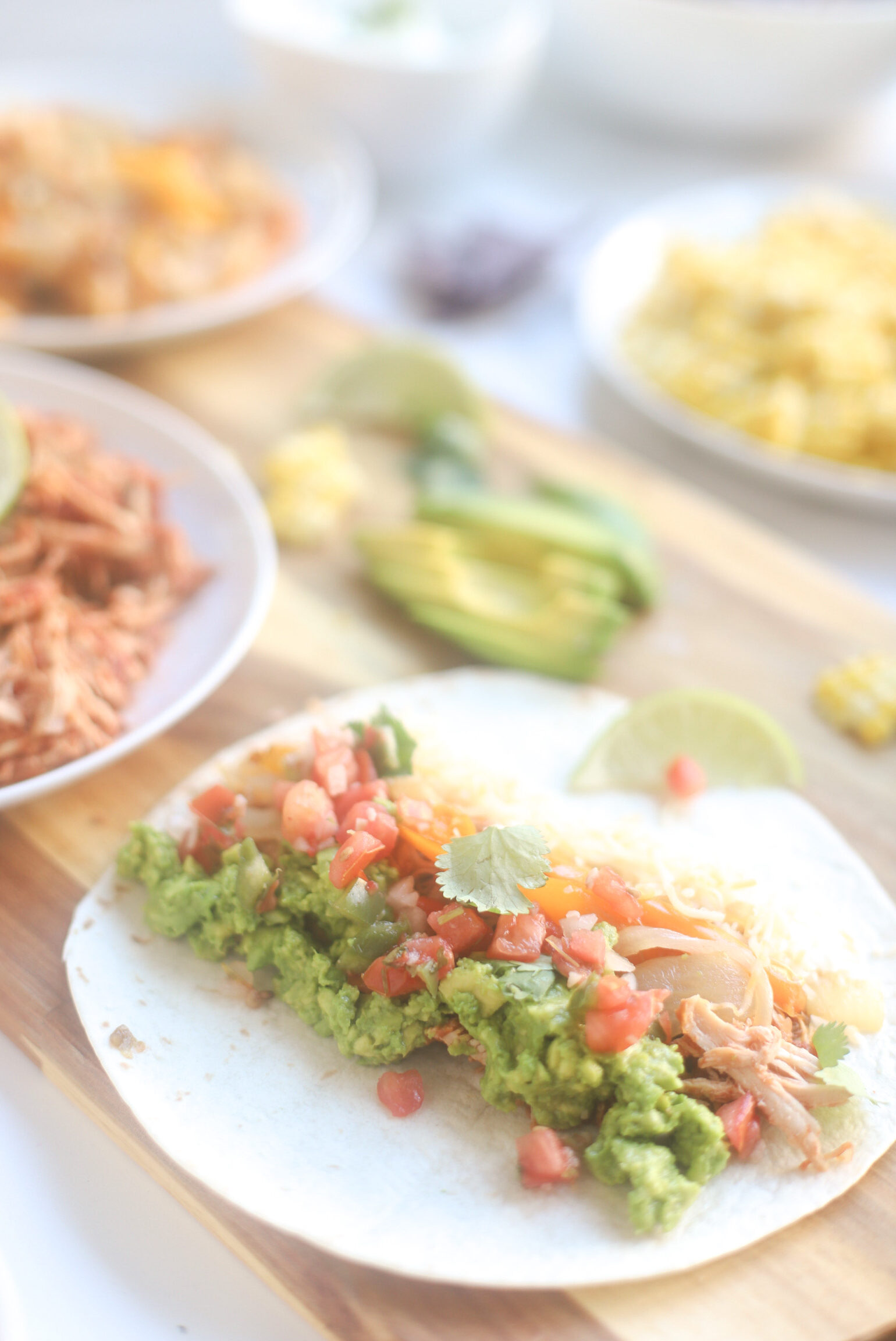 These crockpot or slow cooker chicken tacos are my weeknight dinner secret weapon! Made with just two ingredients (plus a pinch of seasoning), this delightfully tender salsa chicken falls apart beautifully in the crockpot and is the base of our favorite weeknight tacos.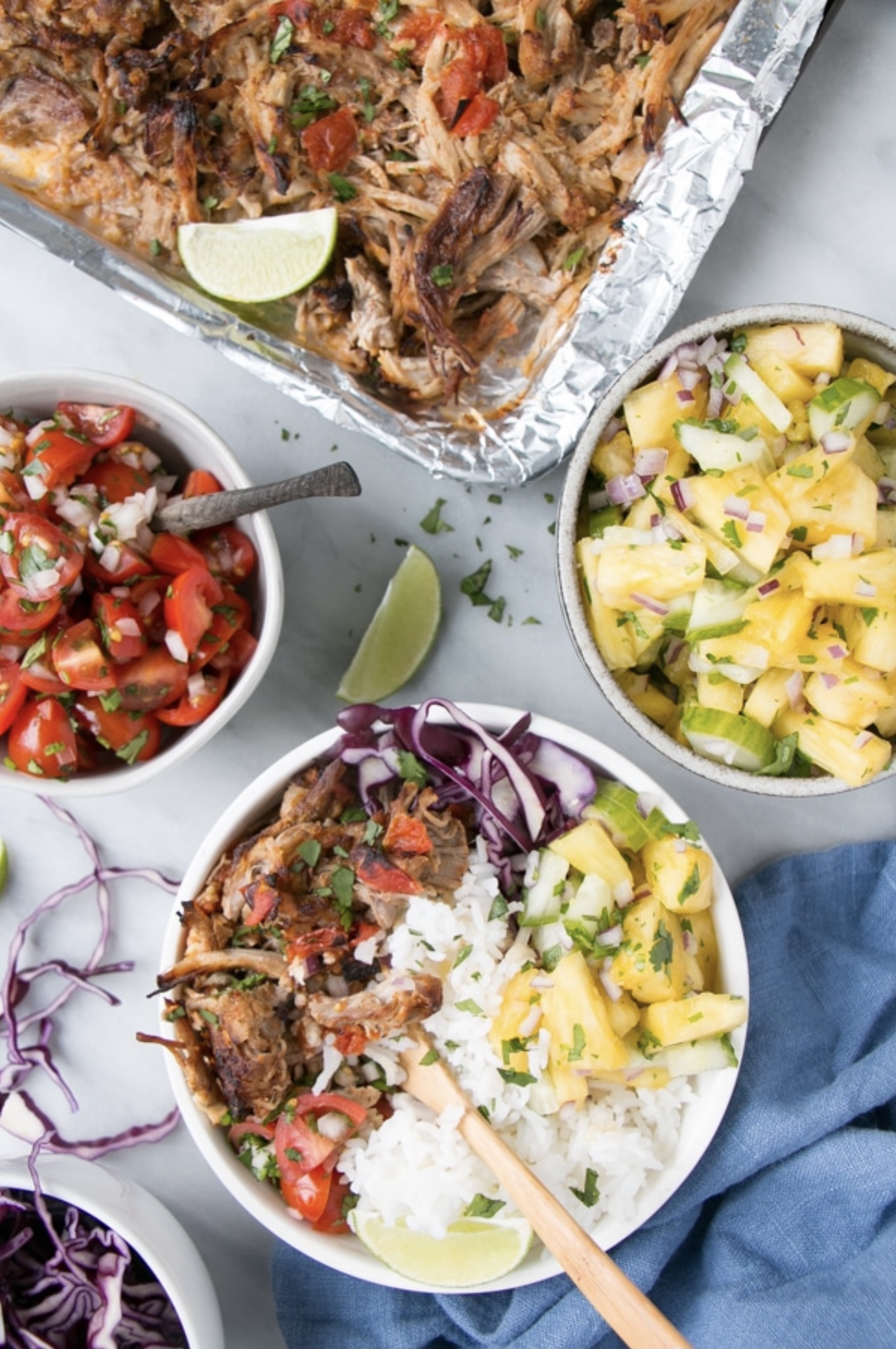 These Slow Cooker Pork Carnitas Burrito Bowls are flavorful, healthy, and packed with veggies, making for a delicious and nutritious dinner for the whole family. This recipe includes details on how to make everything in an Instant Pot as well.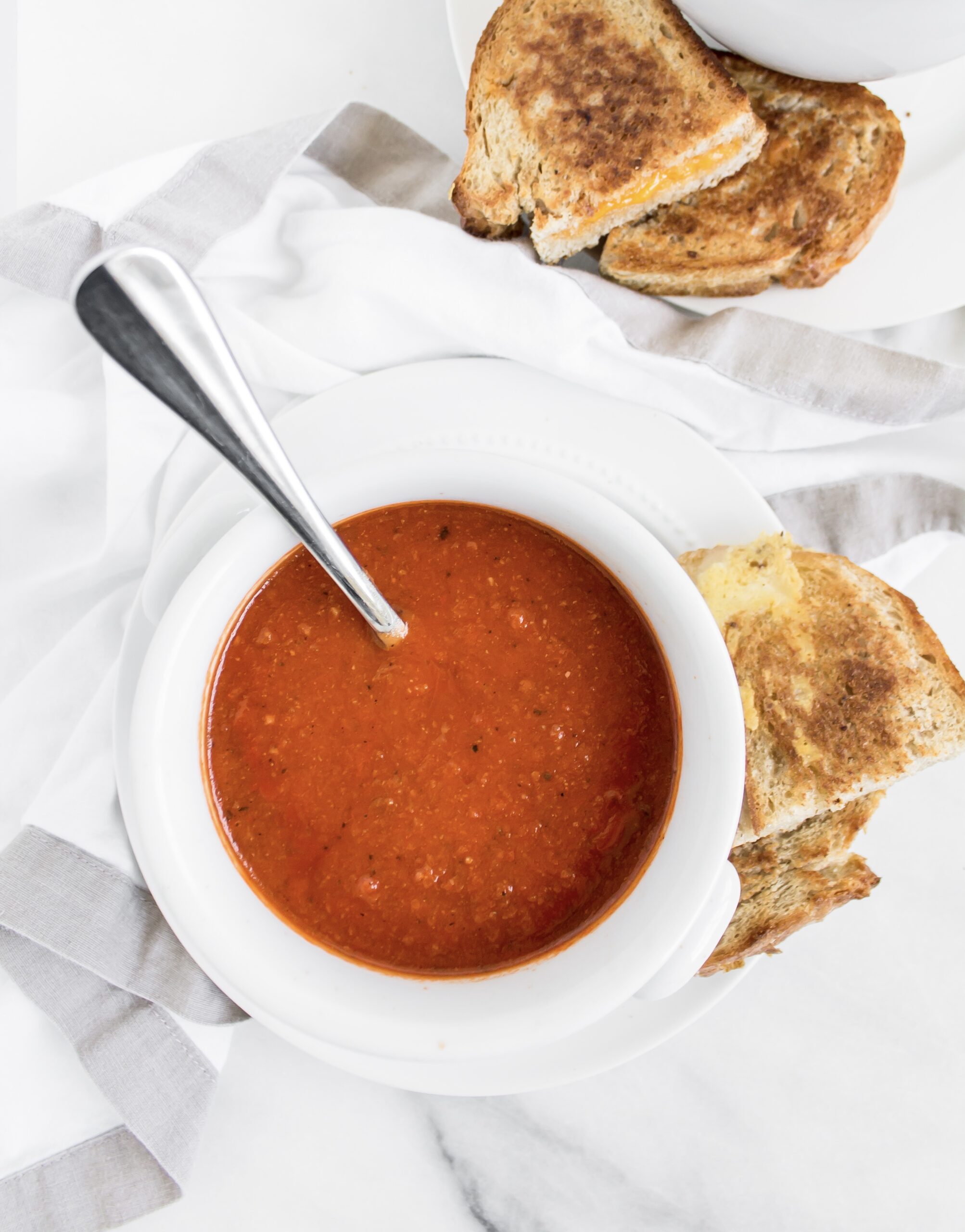 Looking for an easy and delicious healthier soup for dinner tonight? Look no further than this spin on classic tomato soup, made healthier and protein-packed. And, bonus: it can be made in a slow cooker or instant pot!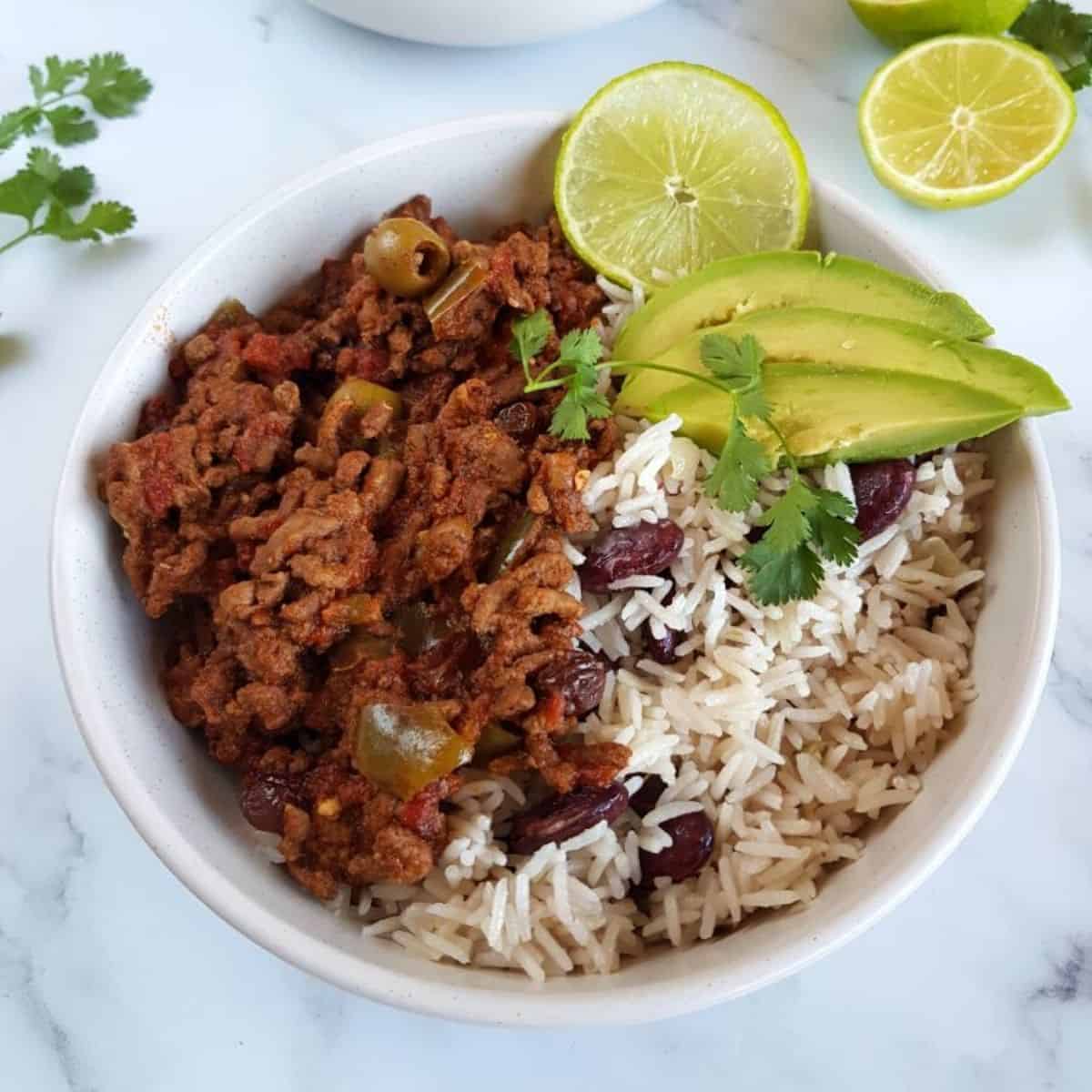 This crockpot picadillo is a traditional Cuban dish made with ground beef, peppers, tomatoes, raisins and olives. It has a unique but delicious flavor, and is a perfect hearty meal when served with rice.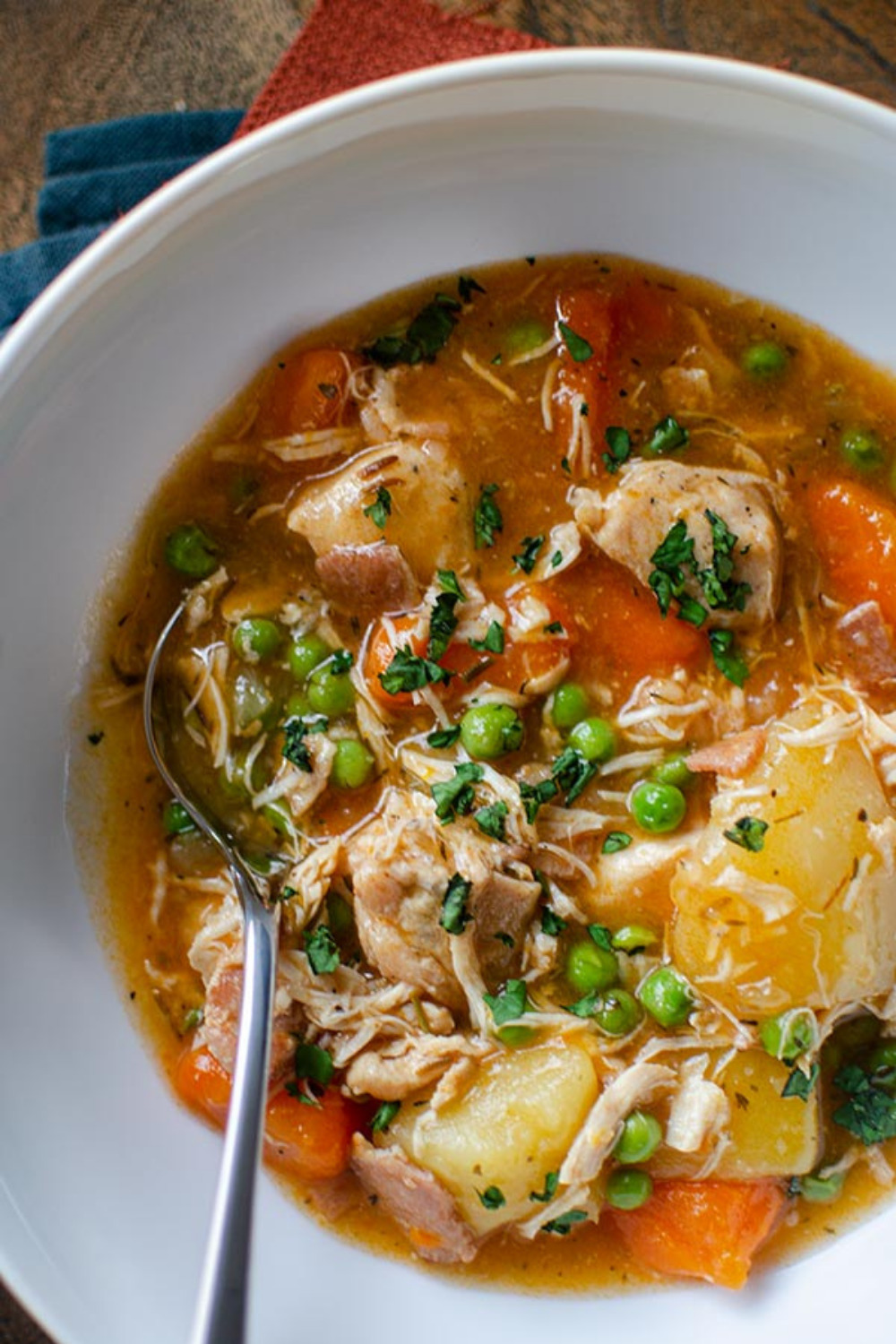 This pressure cooker chicken stew is the perfect comfort food, made with bacon, potatoes, carrots and peas for an explosion of balances flavor. Even better: this traditional chicken stew comes together instantly in a pressure cooker.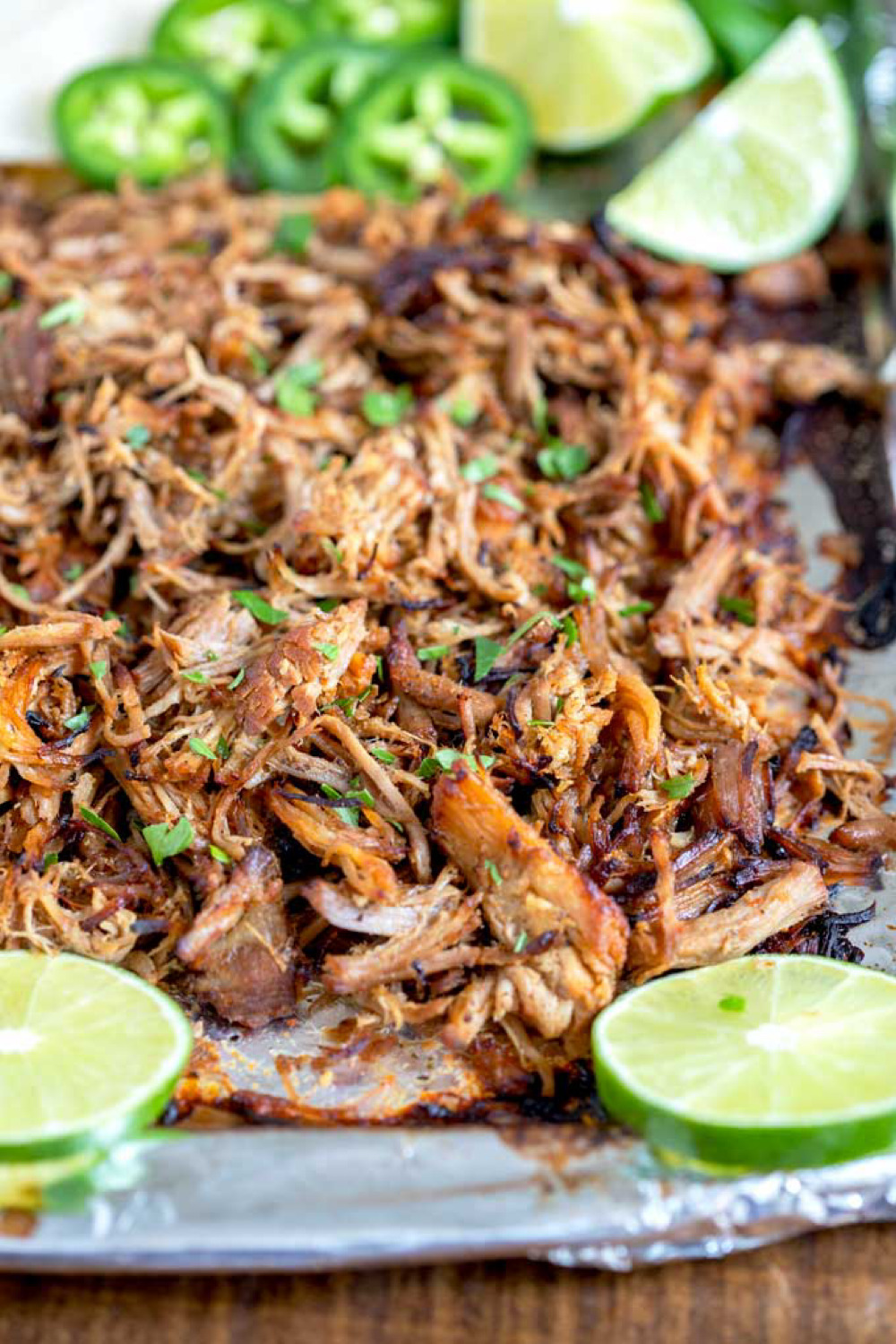 This pork carnitas recipe is made in a fraction of the time in the pressure cooker! Perfectly seasoned, tender and juicy carnitas with crispy bits.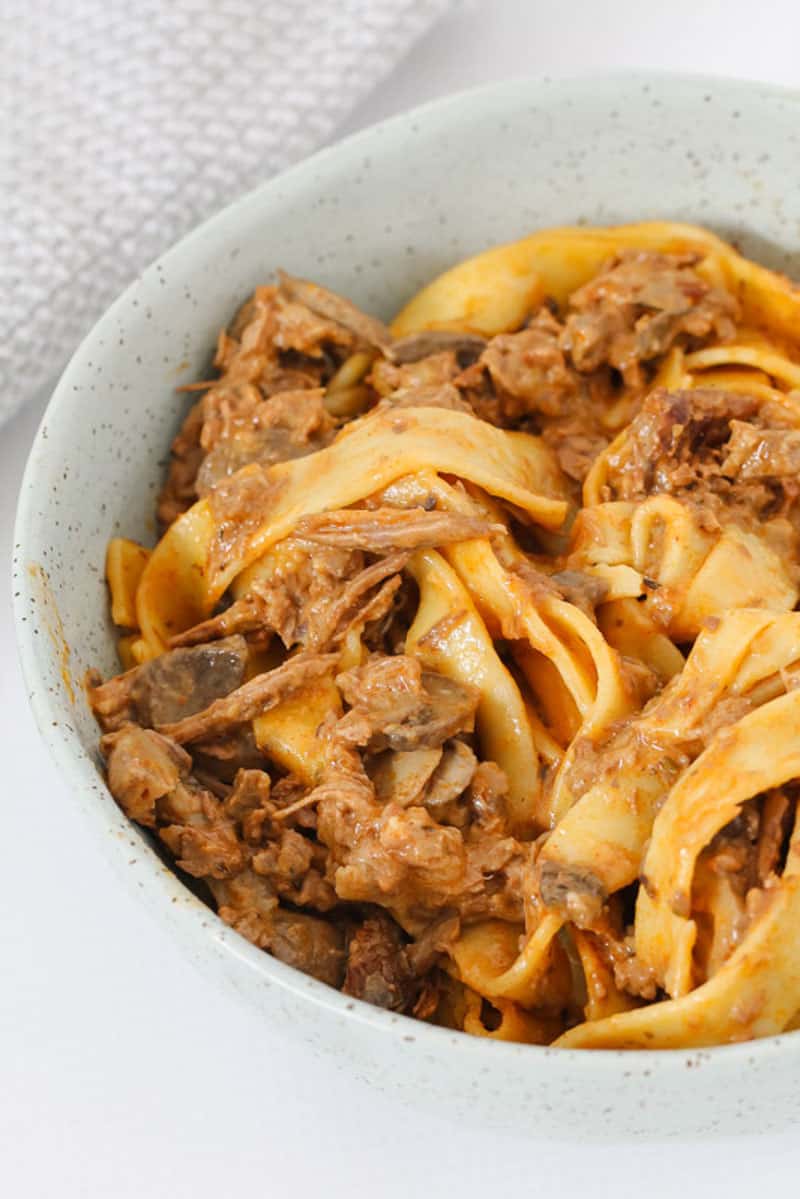 The well-loved dinner favorite beef stroganoff recipe gets an easy update in the slow cooker. Filled with tender beef in a creamy mushroom sauce, this meal is perfect when served with pasta.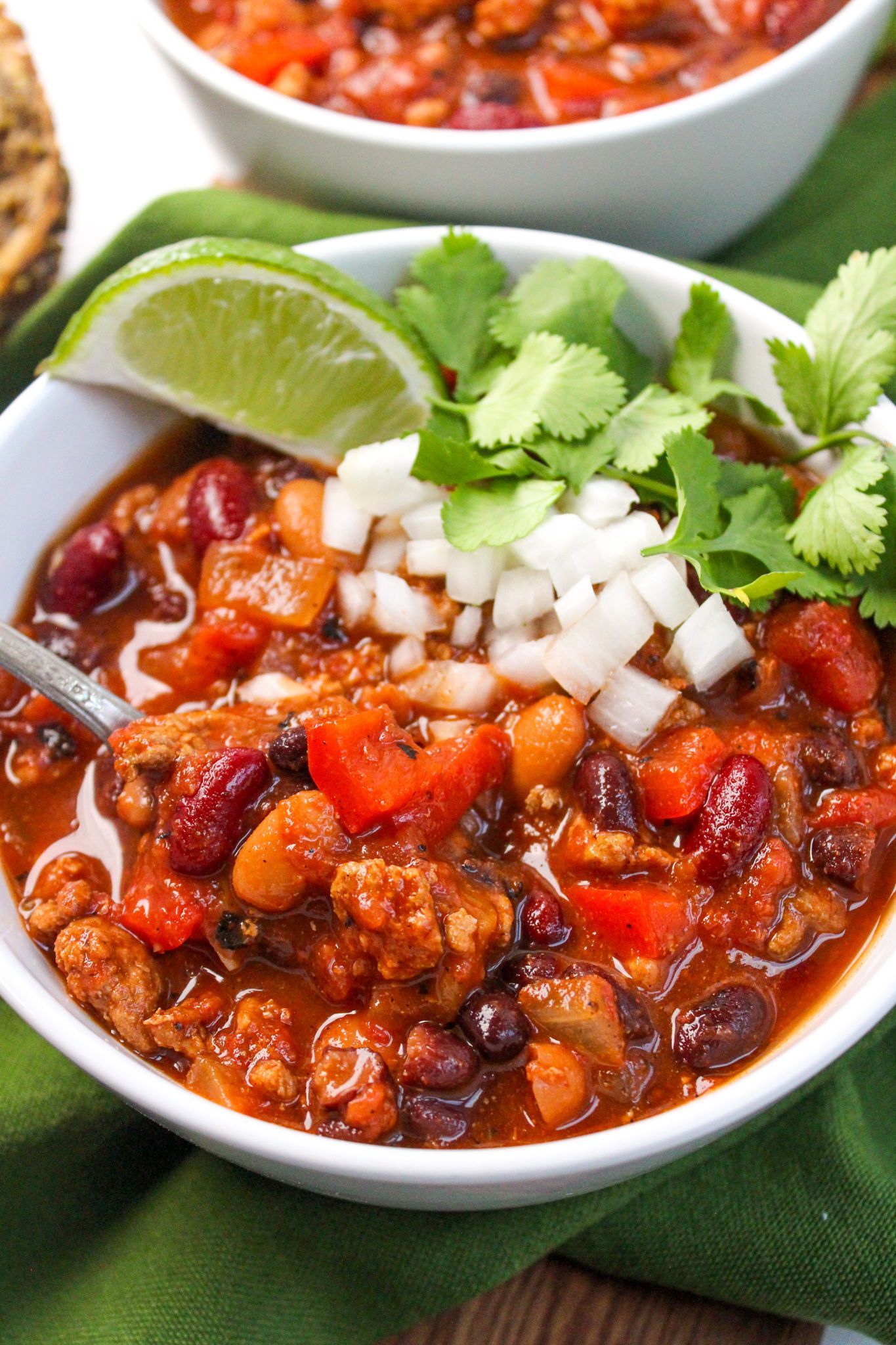 This crockpot turkey chili recipe is a super yummy and healthy comfort meal for a busy weeknight. The prep on this dinner is also versatile! You can either prep the chili in the morning and throw it in the crockpot so it's ready by dinnertime, prep it and freeze it for later, or cook it right then and there either on the stove top or in the Instant Pot! (Details in the post.)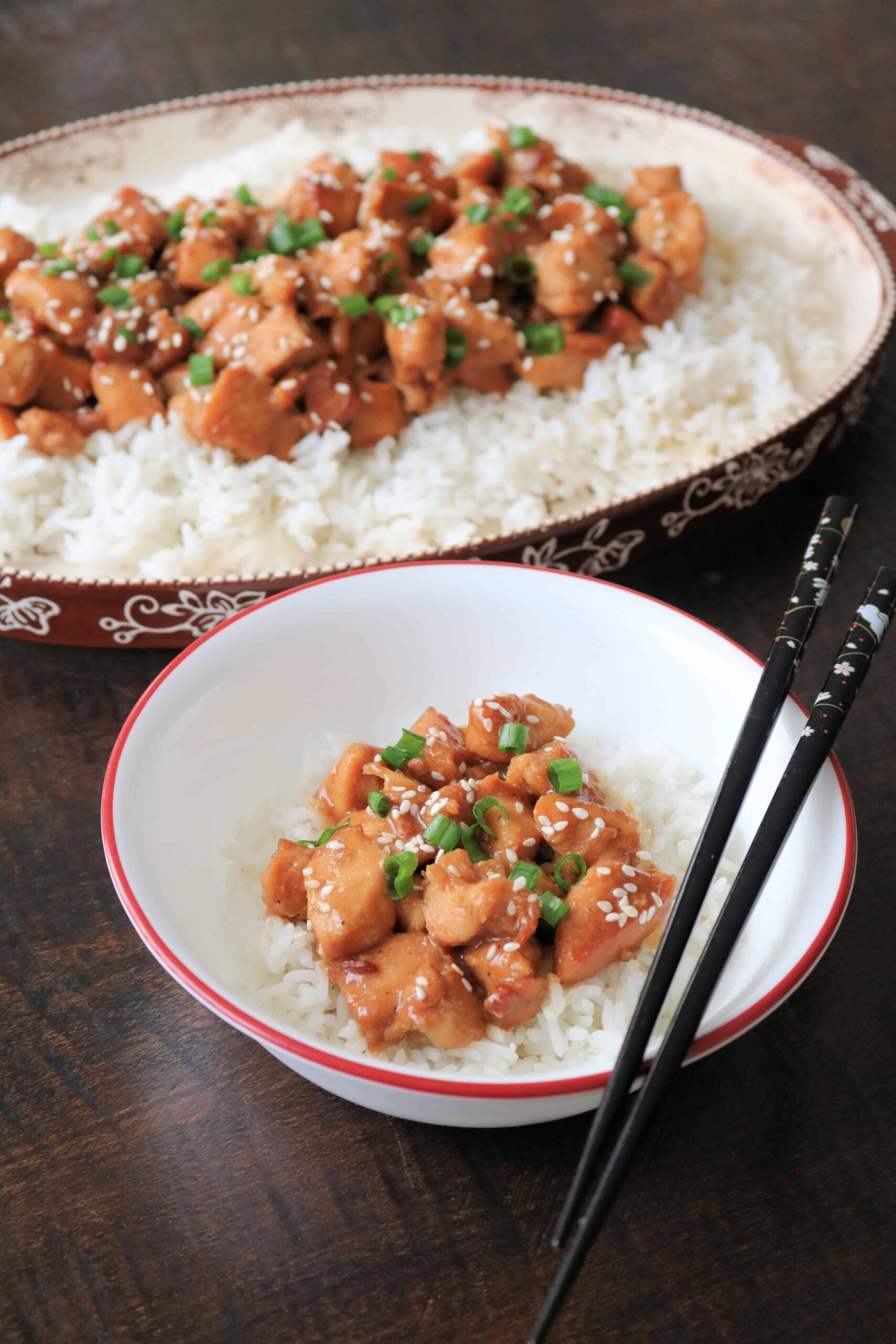 Craving Asian food at home? Try this delicious and easy Slow Cooker Honey Sesame Chicken! It's so simple to make in the crockpot in just 2 hours time, with little prep work, and is healthier than traditional take-out.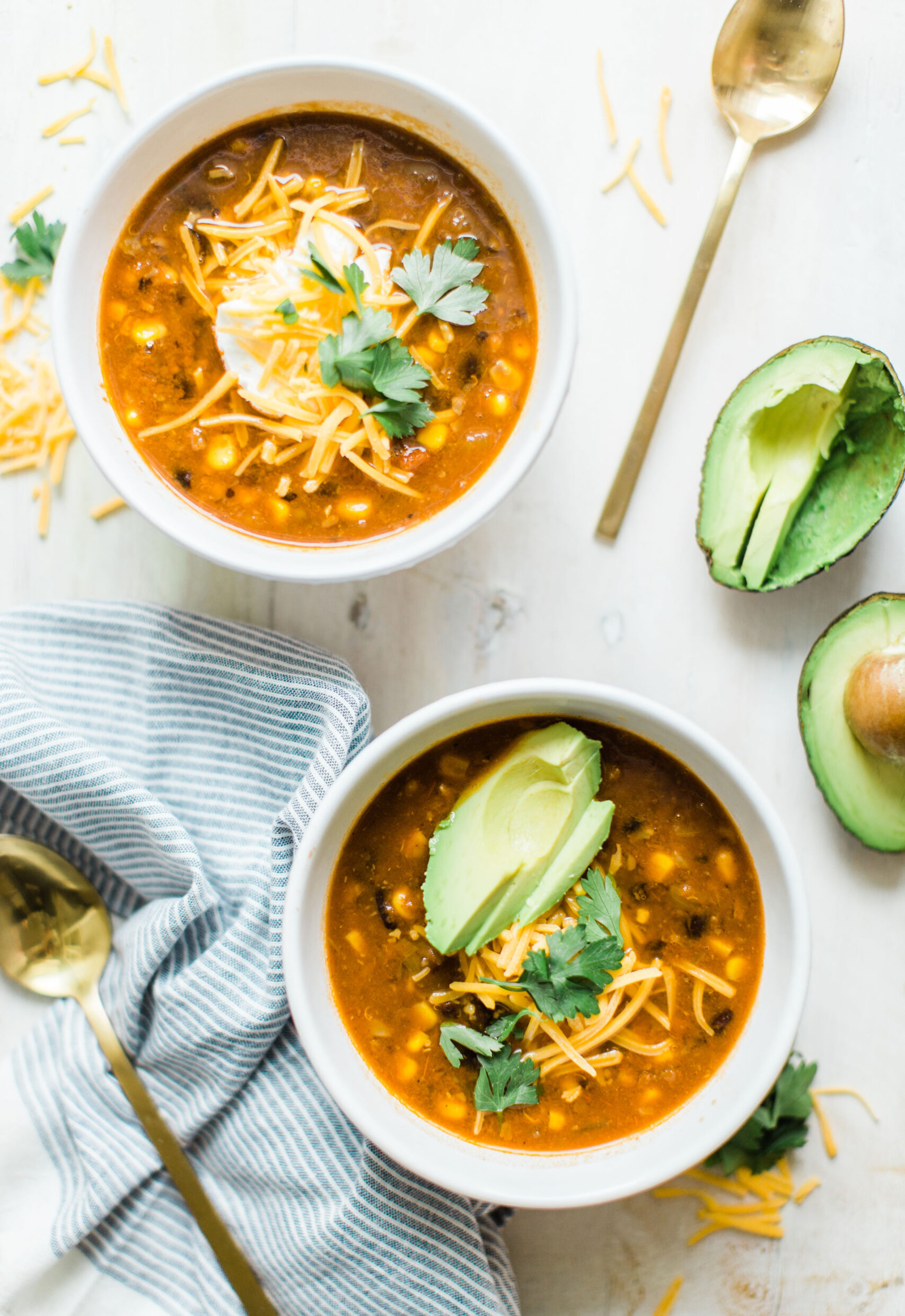 If you're a fan of the seasonal Trader Joe's Harvest Chili, but can't wait until fall to come around, or you're just looking to whip up a delicious family dinner on a budget, you are definitely going to want to make your own easy copycat crockpot Trader Joe's harvest chili. This soup is vegetarian, so yummy, and one of the most popular recipe's on Glitter, Inc.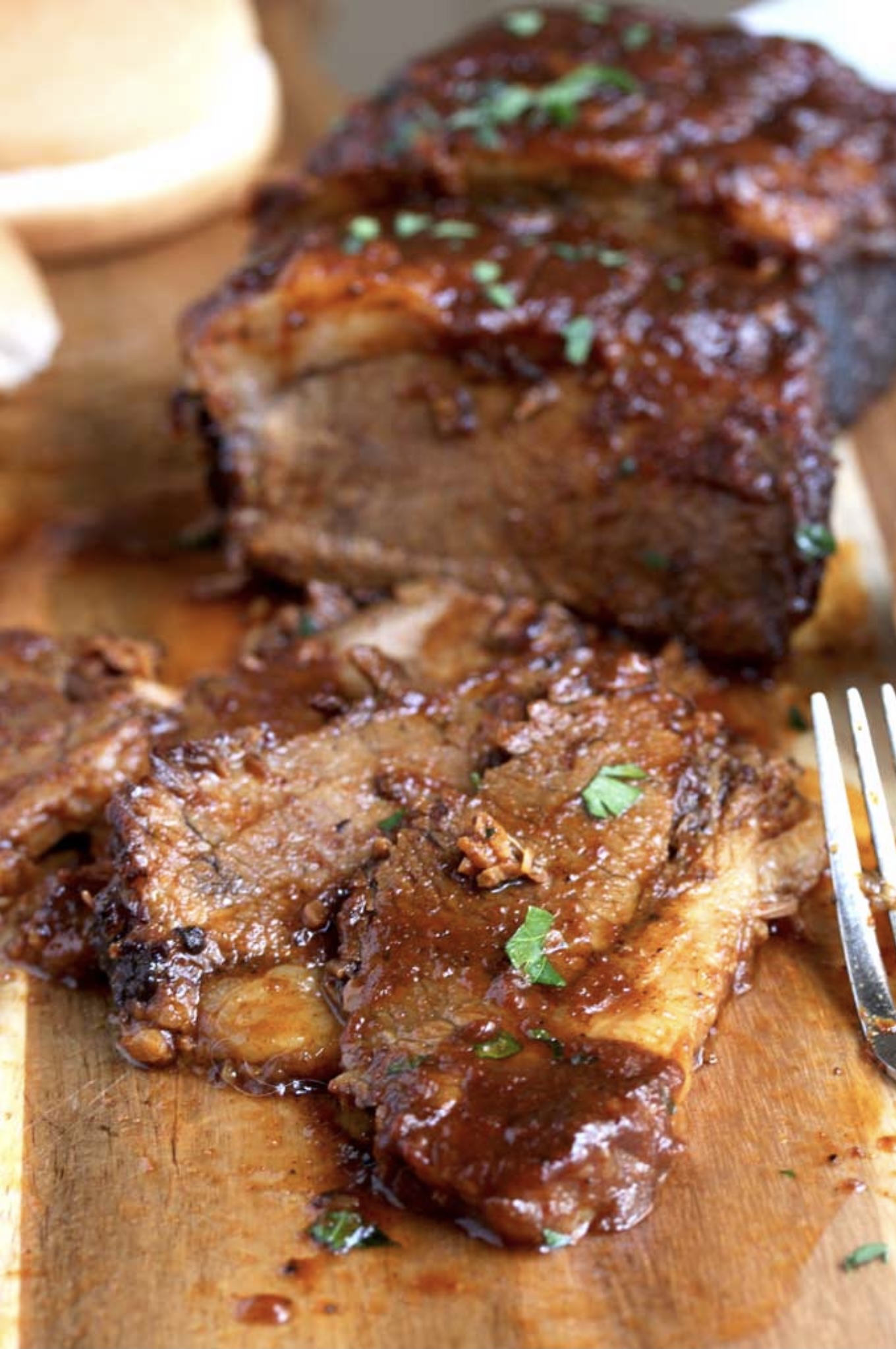 Did you know you can make a whole beef brisket in an Instant Pot? This Instant Pot Beef Brisket is the easiest, quickest and yummiest brisket recipe! The tender, melt in your mouth BBQ brisket is sure to become one of your favorite instant pot recipes ever!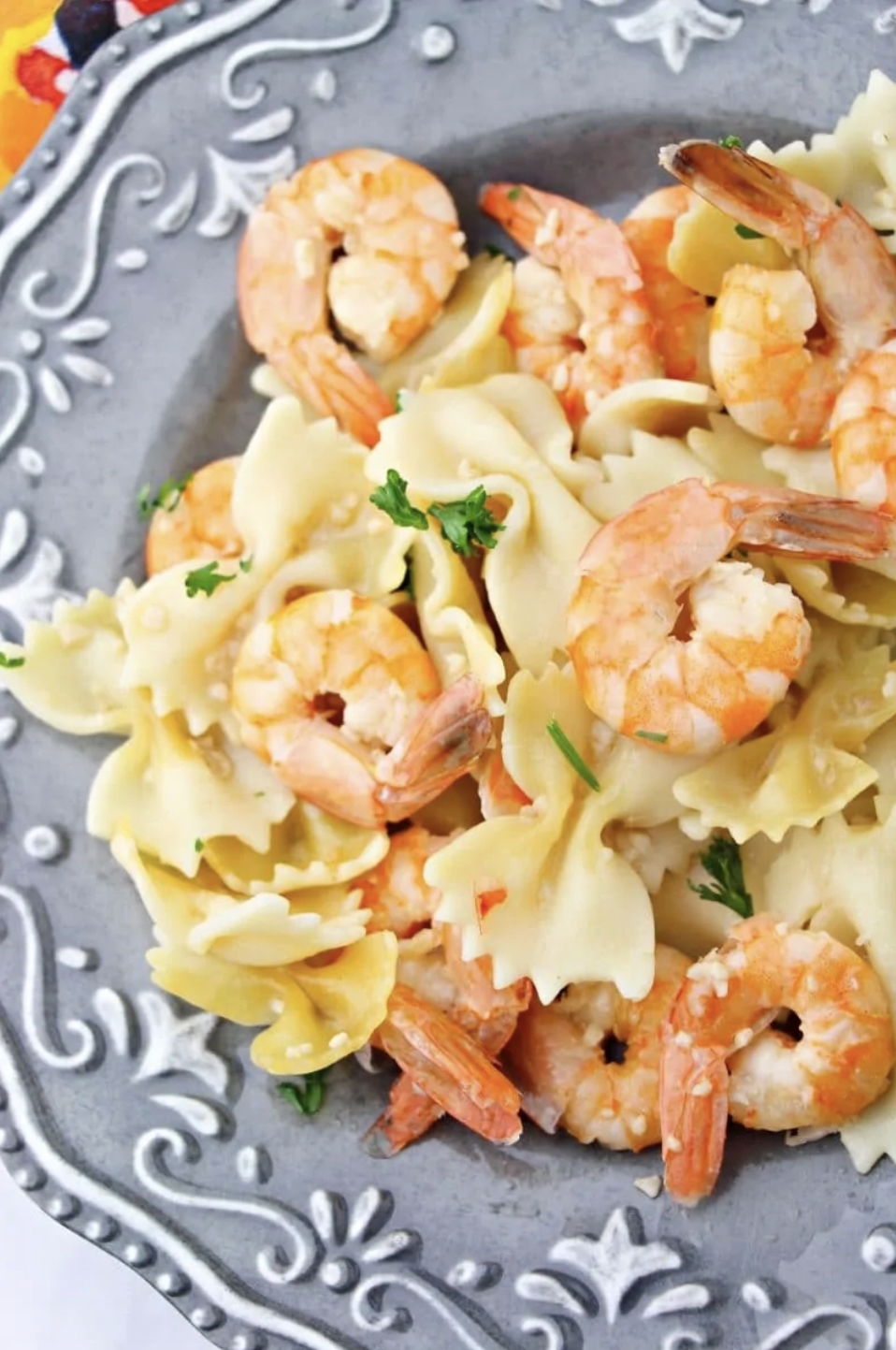 This delicious and oh so easy instant pot shrimp scampi recipe takes minutes to make and can be served over pasta or rice for a quick and yummy dinner the whole family will love.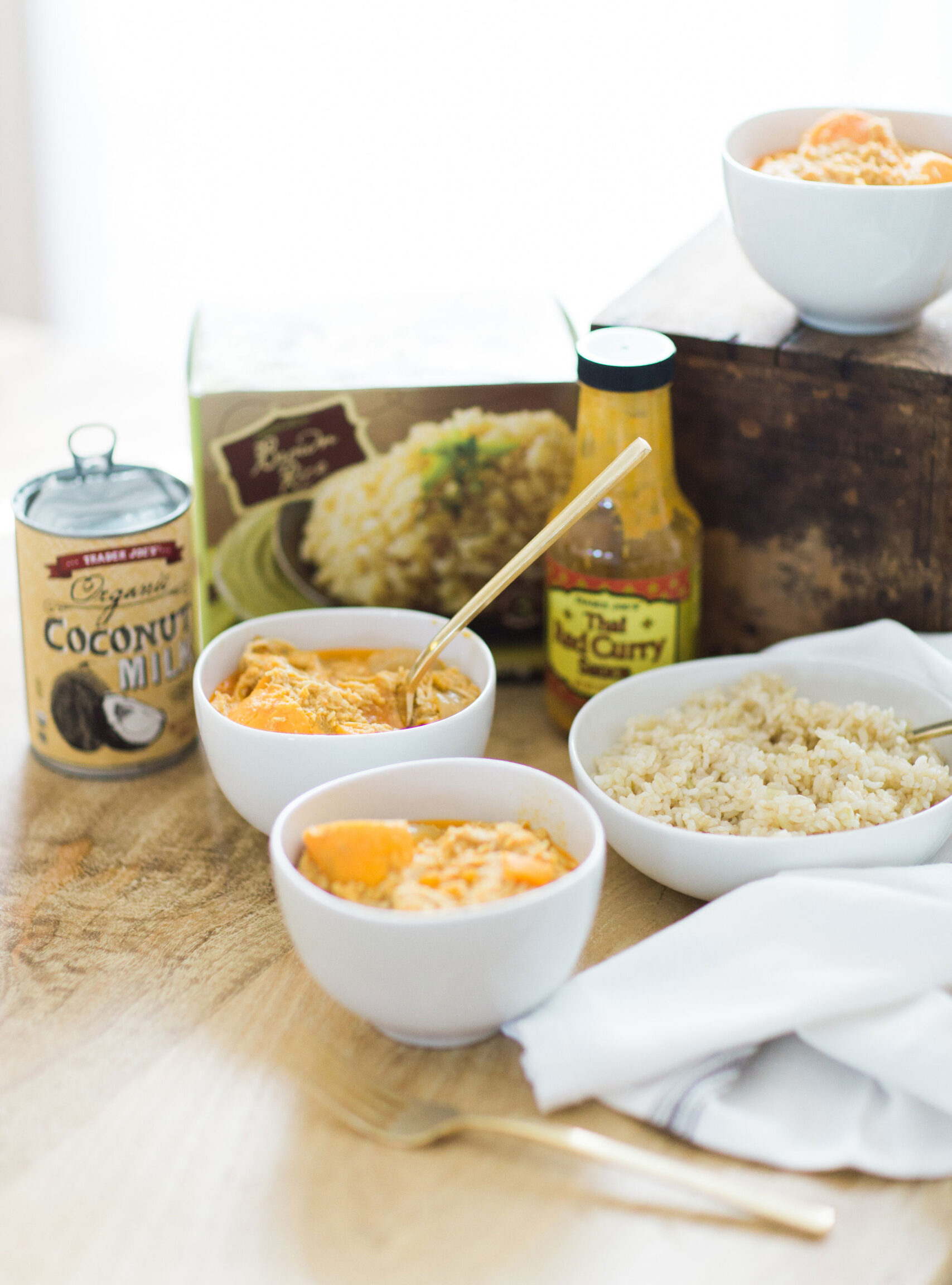 This 3-Ingredient Trader Joe's Thai coconut curry chicken recipe – in addition to being so super easy to make – is one of our family's favorite weeknight dinner meals. The resulting curry is subtly sweet, rich, fragrant, and oh so yummy. It takes all of 5 minutes to prepare and the whole thing can be made in your Instant Pot or slow cooker with just a few simple ingredients from Trader Joe's. It's dinner magic, I tell you!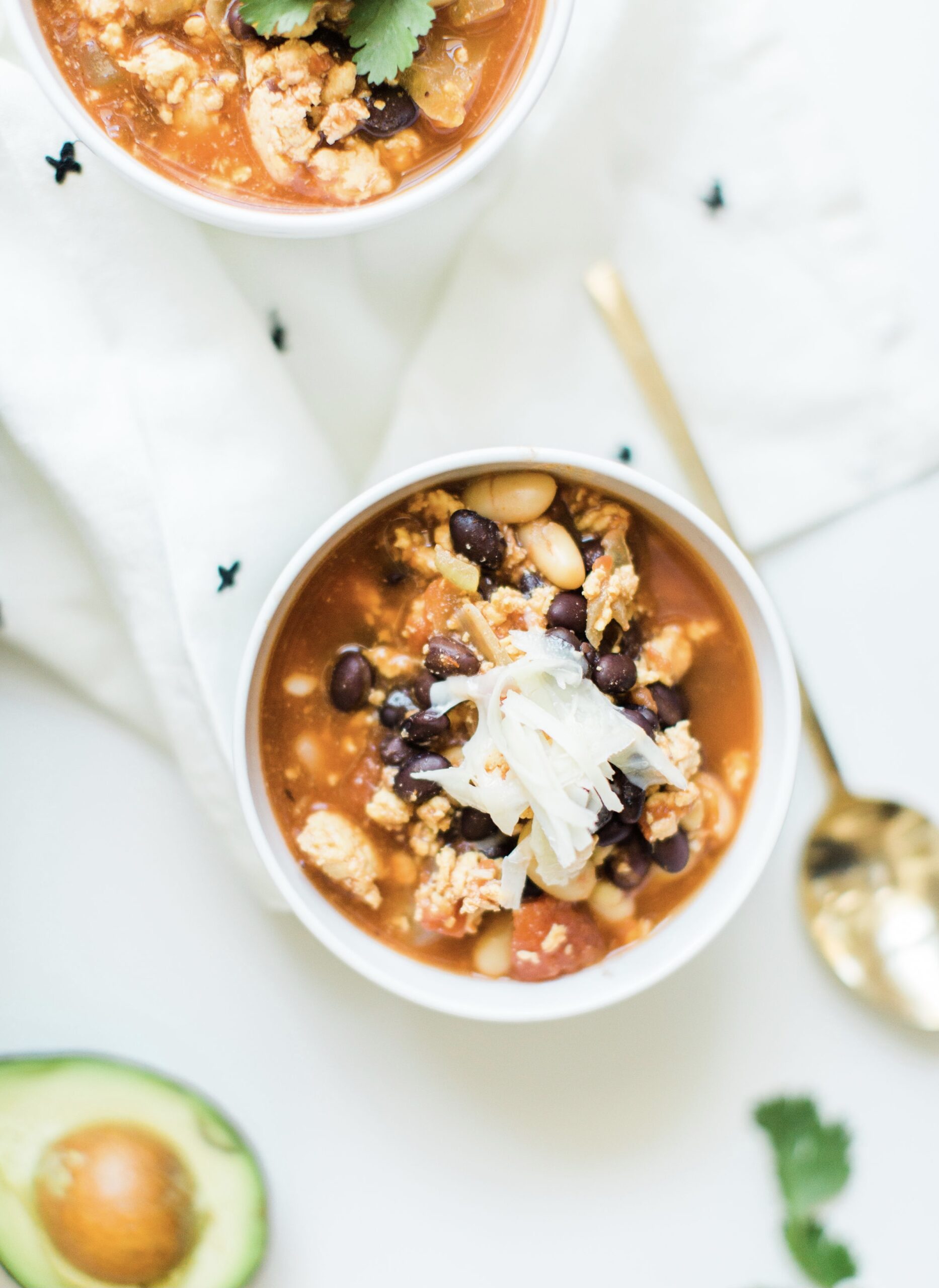 This super yummy ground chicken chili is one of our family's favorite meals. And the best part, it all comes together in an Instant Pot or crockpot. Serve this made ahead chili with yummy toppings and a side of cornbread and you've got yourself an incredible, hearty, healthy, and simple dinner.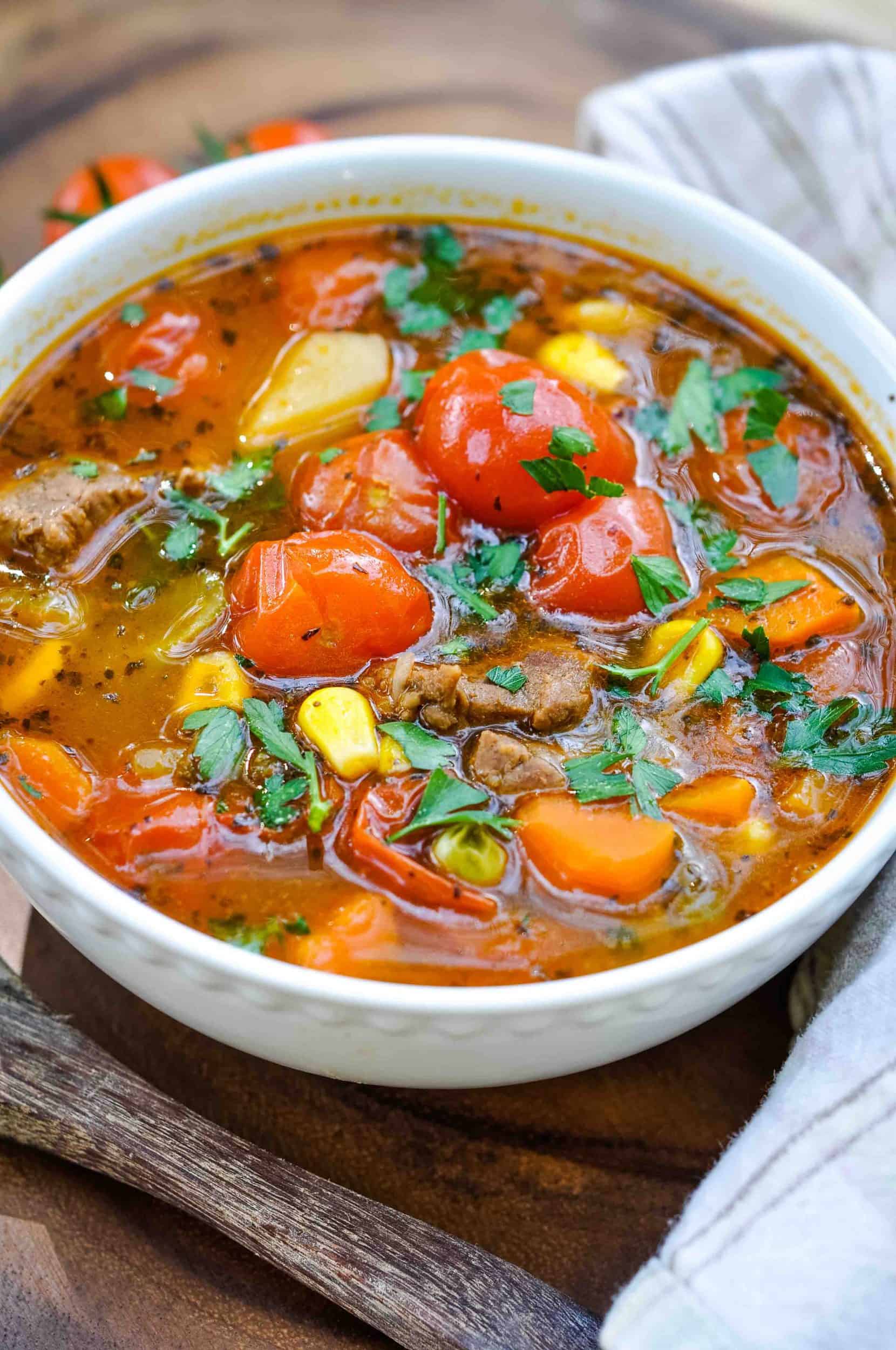 Made with tender chunks of beef, plus a variety of healthy vegetables and potatoes, and super-sweet cherry tomatoes. In fact, this heart and healthy soup is cold weather comfort food at it's finest.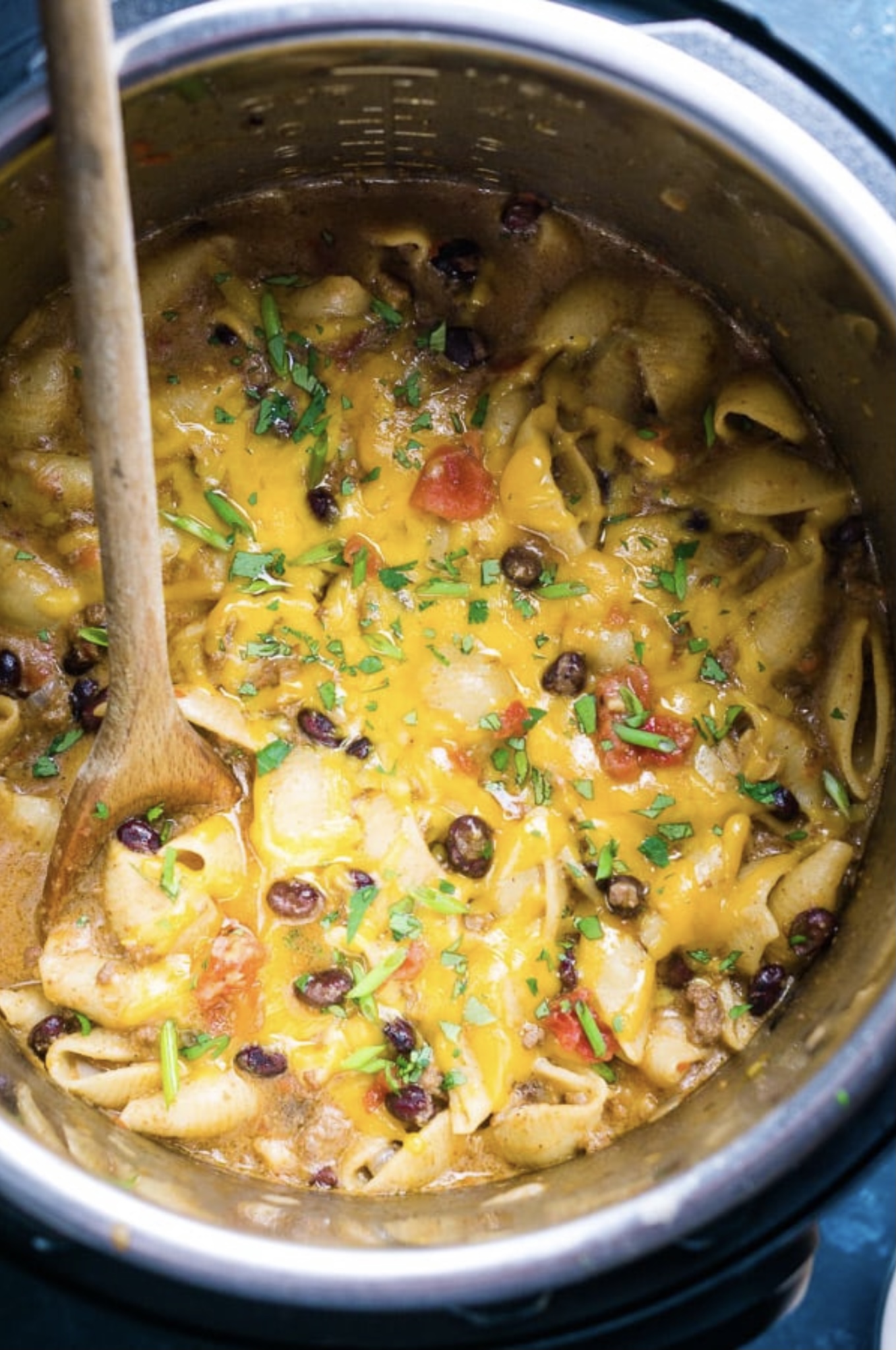 Taco Pasta is what happens when you combine all of the deliciousness of tacos and all of the greatness of pasta. This mouth-watering, one-pot Mexican pasta is perfect for cooking in either the Instant Pot or stove. Juicy beef, black beans, and shell pasta are taco-seasoned, cheese-covered, and ready to eat in 30 minutes!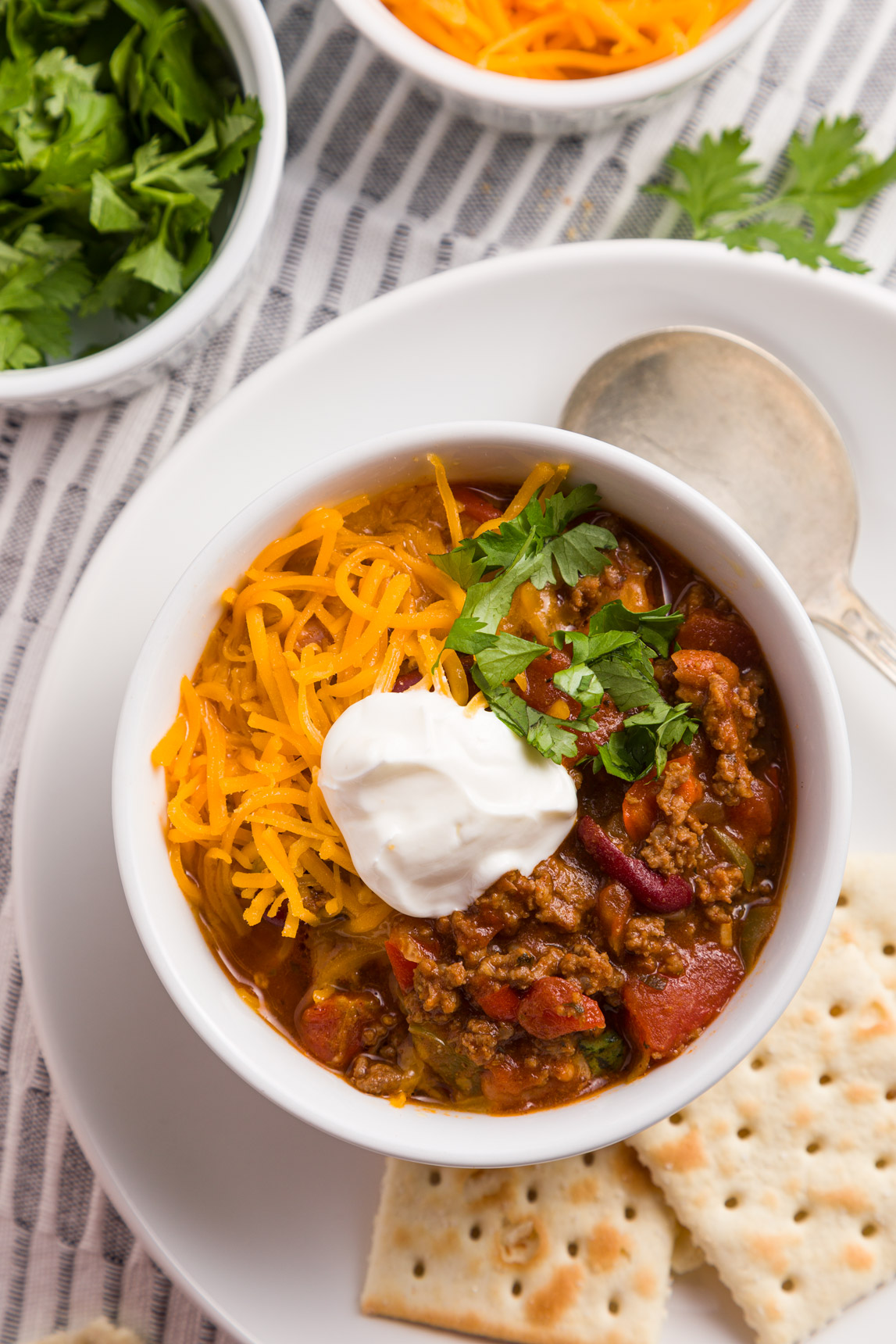 This crockpot or slow cooker beef chili is a hearty and protein-packed one-pot-meal that everyone will love. Bonus: this recipe freezes well and if you make it in big batches, it makes an unbelievably easy dinner since all you have to do is defrost, heat and serve.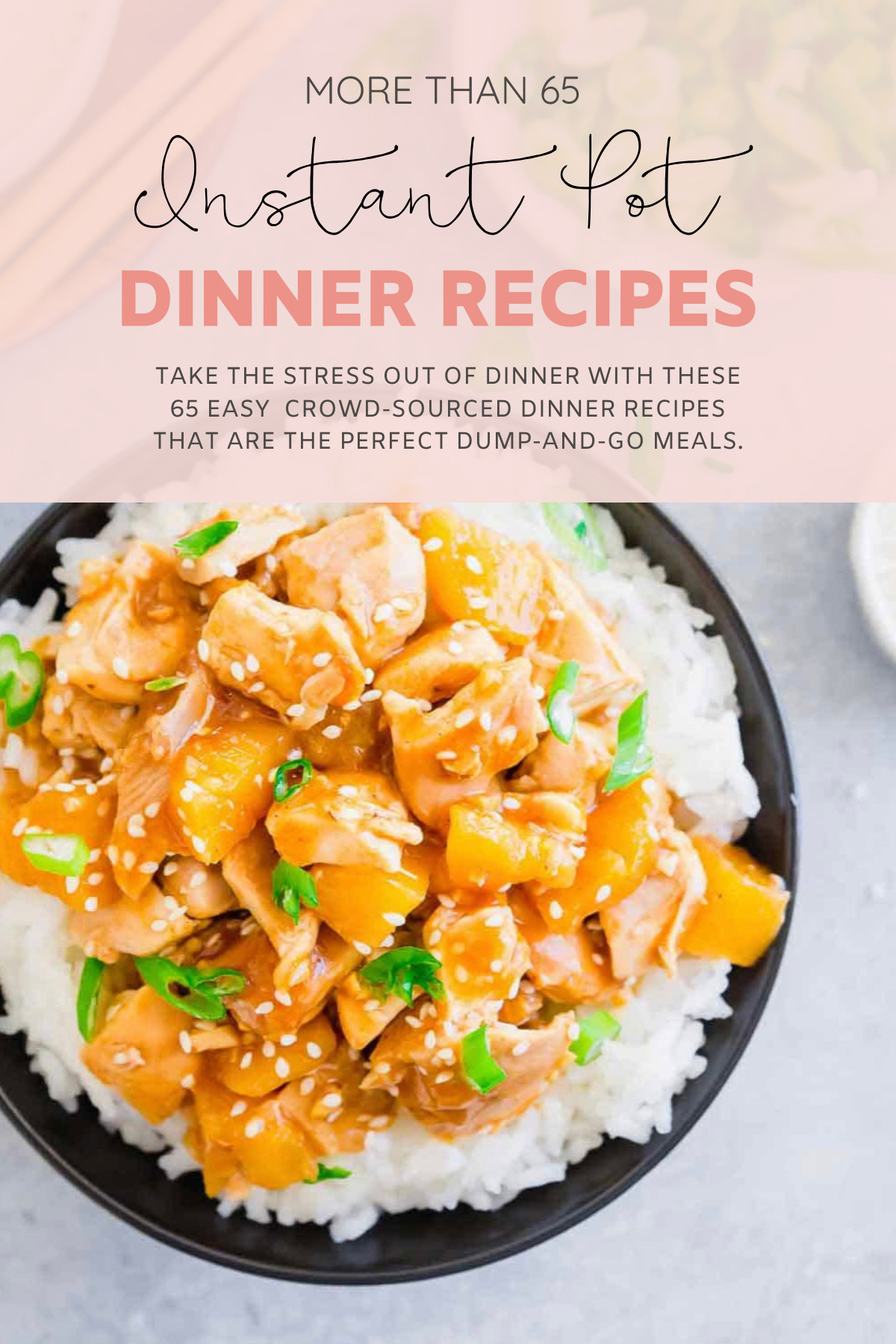 Love this Instant Pot Recipes Roundup? Head to our recipe page to check out what else we're dreaming up in the kitchen!
SHOP THE INSTANT POT AND CROCKPOT RECIPE POST | CLICK LEFT & RIGHT ARROWS TO EXPLORE

I'll be sure to update this post whenever I stumble across another amazing crockpot dinner recipe. If you try and love any of these yummy recipes, be sure to tag me on instagram @glitterinclexi or leave me a comment below!
Cover Image: Slow Cooker Honey Garlic Chicken via Running to the Kitchen