This post contains affiliate links, which means that if you click on one of the product links, I'll receive a small commission. Additionally, as an Amazon Associate I earn from qualifying purchases. Thank you so much for clicking through and helping to support this little blog business of mine! Read more about our site, privacy, and disclosure policies here.
Make getting dressed in the winter even easier with our winter capsule wardrobe! Sharing our first ever capsule wardrobe; including details on what exactly a capsule wardrobe is, how to shop smart and pull timeless pieces, plus 16 easy and chic outfit combinations to last all season long!
Now that the cold winter temperatures are sticking around for a good few months, getting dressed in the mornings can be dreadful. Throwing on a pair of joggers and a cozy oversized sweater is just so easy. 🙈 To help you feel a little more inspired and have a more productive day, I'm sharing our first ever capsule wardrobe! From cozy sweaters, warm coats, and boots, to pieces you can wear year-round, this winter capsule wardrobe is sure to brighten your days.
Wearable Winter Capsule Wardrobe Essentials
What is a Capsule Wardrobe?
The idea of a capsule wardrobe is to create a capsule – or edited collection of clothes that includes only the most essential or influential pieces from someone's closet (or in the fashion world, a new collection). A capsule wardrobe is essentially a condensed version of a seasonal wardrobe, meant to edit down to only the best and most functional pieces; a.k.a., those staple pieces that transcend seasonal trends and are super functional and wearable. A great capsule wardrobe is made up of pieces that can be worn again and again, styled in dozens of different ways, and makes the most of your seasonal closet.
Wardrobe Essentials
A capsule wardrobe helps you to be more intentional with your daily looks. It offers a more curated selection, regardless of fast fashion trends, and ensures that you have staple pieces you love and can rely on to work with a whole host of outfits.
If you live in warmer climates, it's easy to style all of these pieces with lighter layers you already have in your closet and if you live in colder climates, it's easy to layer most of these items!
A Wearable Capsule Wardrobe for Winter
For this capsule wardrobe, I'm also talking more about each of these items and why they're so amazing.
Need outfit ideas? I've included those, too! I'm showing you a bunch of gorgeous outfit combinations that can all be made using the same few pieces from this winter capsule wardrobe. And the beauty, of course, of any great capsule wardrobe, is just how many stylish and wearable combinations there are!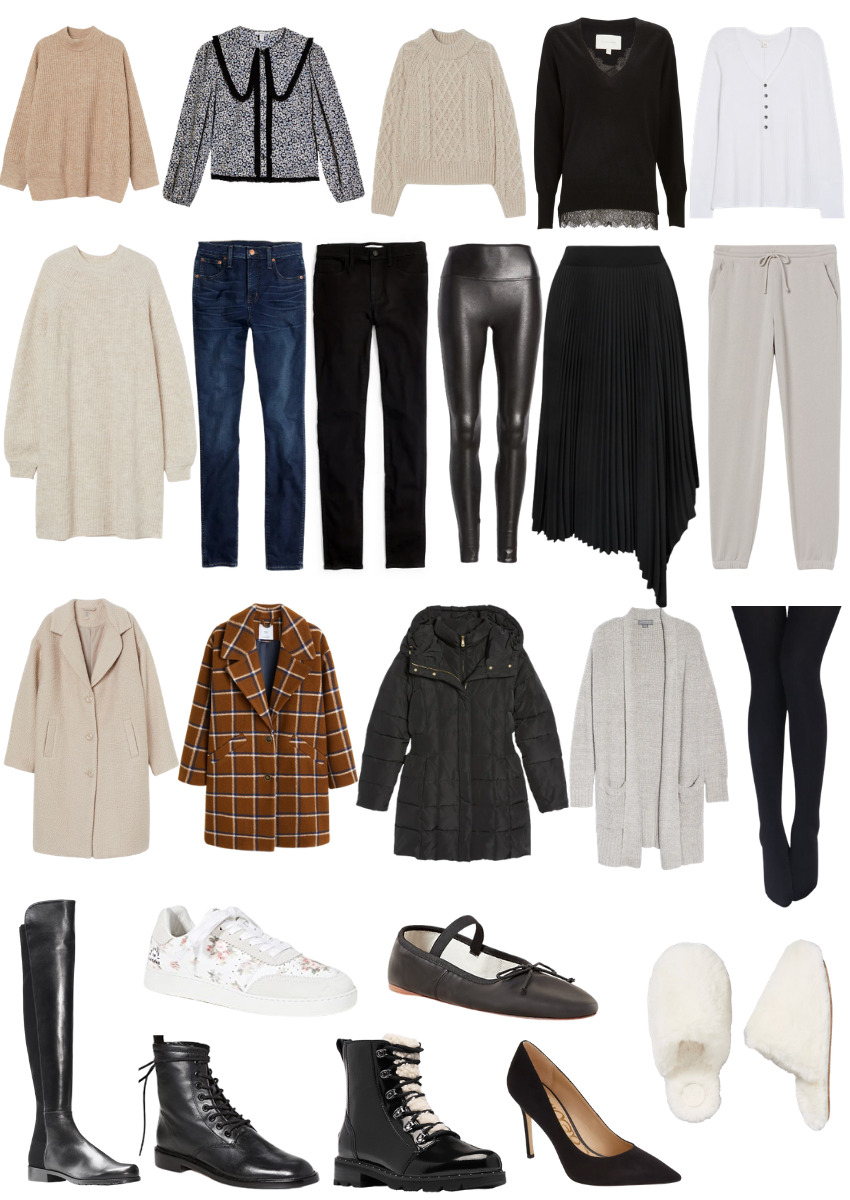 Winter Capsule Wardrobe
A cozy and oversized sweater is a must in any wardrobe! I love the slight mock neck on this one and the fabric will keep you warm all winter long. Bonus point: it's long enough to wear with leggings in public!
Can we talk about how darling this floral print blouse is? Between the butterfly collar and the black ruffle trim, this blouse is going to be a new favorite in your closet. It's easy to dress up with a fun skirt or down with jeans for running errands, and I promise you'll get all the compliments in this bold beauty!
I am such a sucker for anything with pearls on it so you can only imagine how excited I am about this sweater. Paired with the classic style of the sweater, you'll never want to take this beauty off.
I've always loved the layer sweater/cami look, but could never achieve it on my own, which makes this layered sweater perfect!! It's feminine, it's not too bulky, and the best part – it's EASY. Pair with your favorite leggings or denim and you're good to go!
The best top for casual days and lounging around the house! Whether you wear it alone or layer it under a sweater, henleys are a closet essential, especially in the winter.
Sweater dresses are always so fun to style in the colder months! Plus, they give you the best of dresses and sweaters, all in one garment. The raglan sleeves on this one give the dress a little more oomf and can easily be worn well into spring!
Dark wash jeans are a year-round staple in any closet and I promise you'll never want to take off this pair from Madewell. With a 10″ rise, they elongate the legs and are comfy enough to wear all day. Madewell seriously makes my FAVORITE denim.
Another great pair of skinny jeans to add to your winter wardrobe! Made from a stretchy material, these jeans are extra soft (perfect for weekend road trips!) and will pair with your favorite sweaters effortlessly.
Swap out your plain black leggings for these faux leather ones! Spanx is known for having some of the best leggings on the market and their faux leather ones are an easy way to dress up a casual outfit. I'm loving them paired with an oversized sweater and sneakers for working from home or on-the-go!
The movement and texture of this skirt is just … perfect. I love that you can dress it up for an event or even get a little edgier with it!
No wardrobe is complete without a great pair of sweatpants. I've been loving seeing all of the different ways people have been styling their sweatpants the last couple of months! Whether you pair yours with a sweatshirt and wool jacket, or with your favorite henley around the house, you'll never want to take this pair off.
A wool-blend coat is a must come winter! For under $100, the quality of this one is really great and it's soft, not scratchy. The light oatmeal color makes it really versatile, too, and is perfect to wear into spring!
Every winter wardrobe needs a statement jacket, in my opinion. How else are we going to keep things fun and interesting? The color contrast of this windowpane jacket is absolutely stunning but is still neutral.
I wouldn't survive the cold New England winters if it wasn't for my parka! Stay cozy, and still look human, all winter long with this puffer style parka. The cinched waist gives you shape and the armholes are large enough to fit all of the chunky sweaters I know you'll be wearing nonstop.
What if I could tell you that you could wear a Barefoot Dreams blanket all day long? Yup, it's true. The Barefoot Dreams long cardigan is the ultimate cozy knit perfect for all-day lounging and snuggling. Pair it with your favorite pajamas and loungewear around the house or wear it with a henley and jeans for running errands.
While sweater dresses sound cozy enough during the winter season, sometimes it's just not enough. Especially on those extra cold days! Instead of being cold in a dress or putting on jeans, give a pair of fleece-lined tights a try. This pair will keep you warm and they are under $20!
These boots are one of my most-worn pair of shoes in my closet! The style is timeless, they're easy to get on, and they go with just about anything.
White sneakers are a closet staple, and they're not just for the warm months! This floral pair is fun and flirty, and will bring a smile to your day, even when it's cold out! Pair yours with leggings, jeans, skirts, or dresses for a practical, but chic, look.
I recently purchased these combat boots and they're definitely going to be a go-to for me, especially when it's cold out! They're super comfortable and can be worn all day without any discomfort and add a fun element to any outfit. They do run big, so size down!
New England winters can be rough, making winter boots a must, but if we're being honest – the styles aren't very pretty. On the days that I'm dressed, having a boot that's practical, warm, and pretty is the icing on the cake!
Ballet flats are one of my all-time favorite style shoes and this pair is gorgeous! With an almond toe, buttery leather, and an elasticized top strap, these ballet flats add a feminine, flirty element to an outfit.
Another wardrobe classic, these Sam Edelman black suede pumps will quickly become your favorite. They're comfy enough to wear for hours on end and the modest style makes them the perfect office pump!
You didn't think I'd include cozy sweats, but not cozy slippers, did you? Anthropologie has outdone themselves again with these under $50 faux fur slippers. They will keep your feet snug and cozy all winter long! And if cream isn't your color, there are 8 other colors to choose from!
15 Winter Capsule Wardrobe Outfit Ideas
Whether you're hanging out at home, going into the office, working from home, or just running errands, these outfit ideas will help you tackle your day, all using one well-curated winter capsule wardrobe!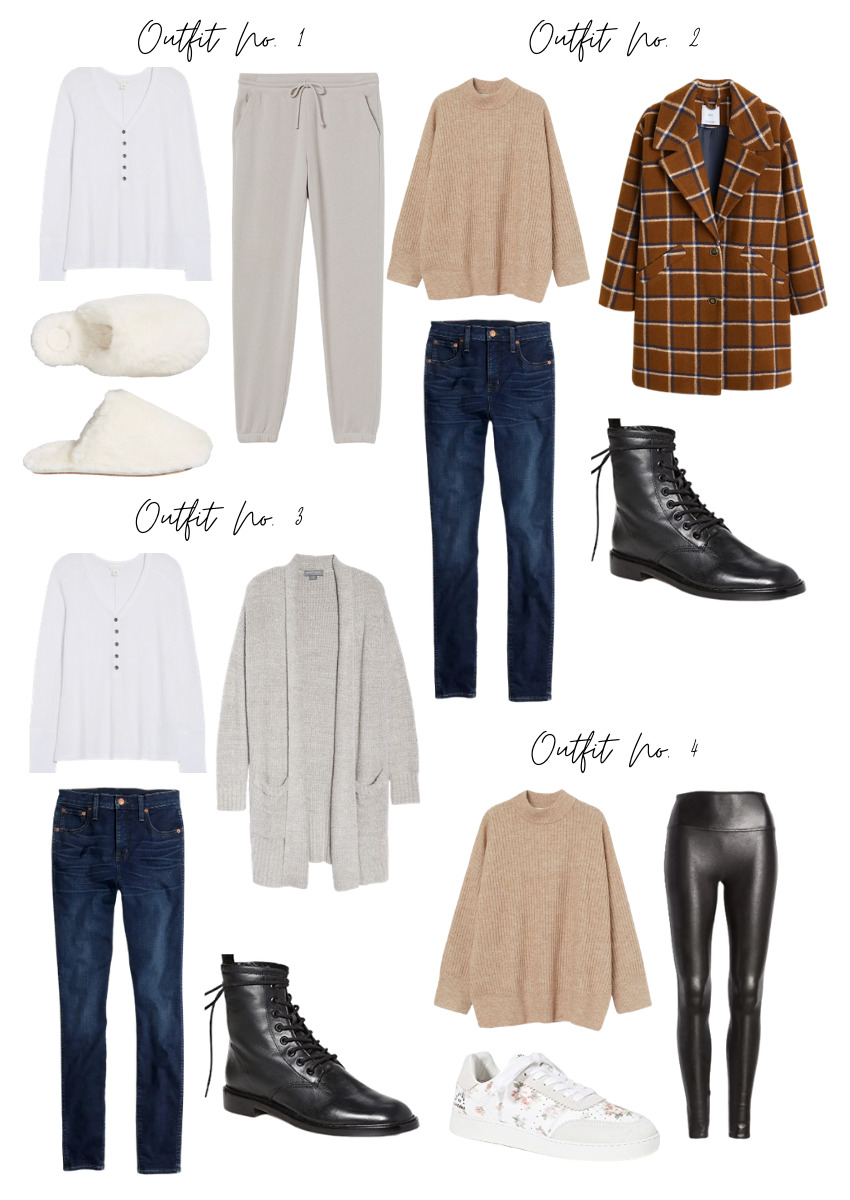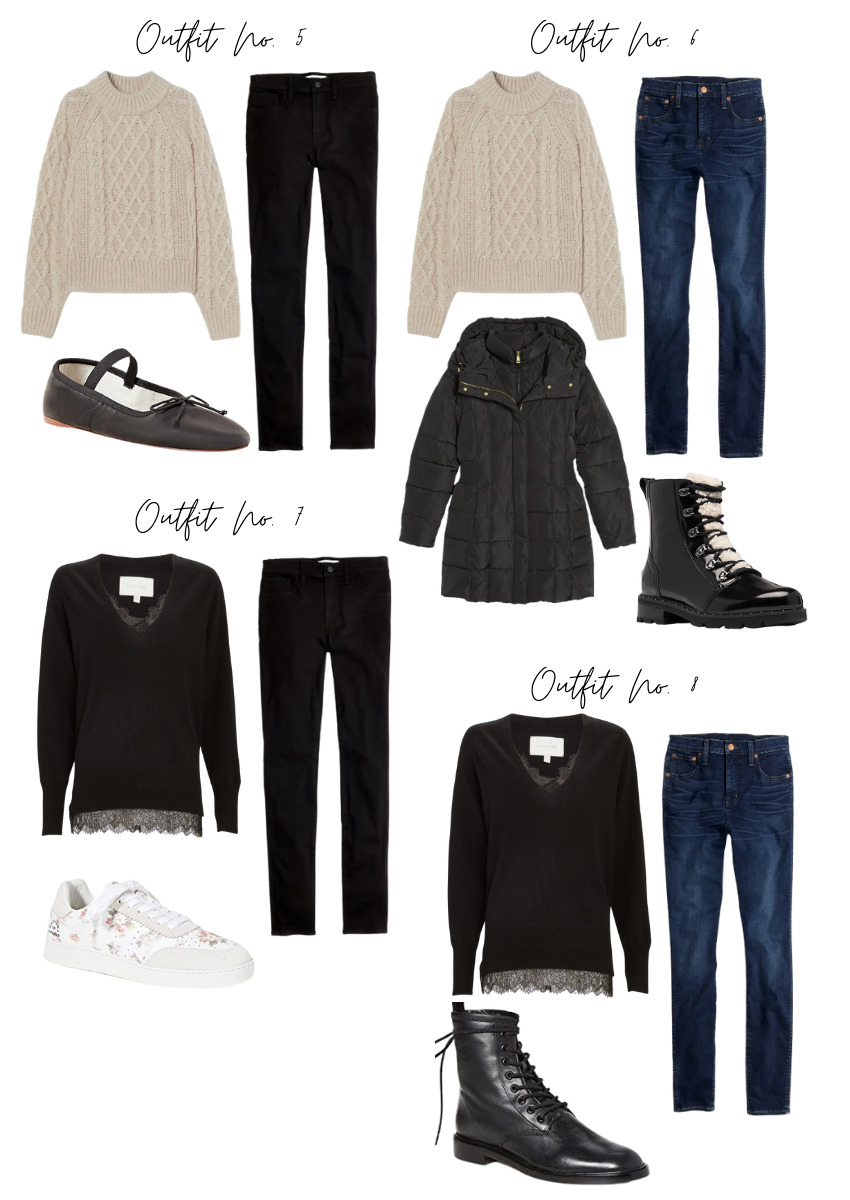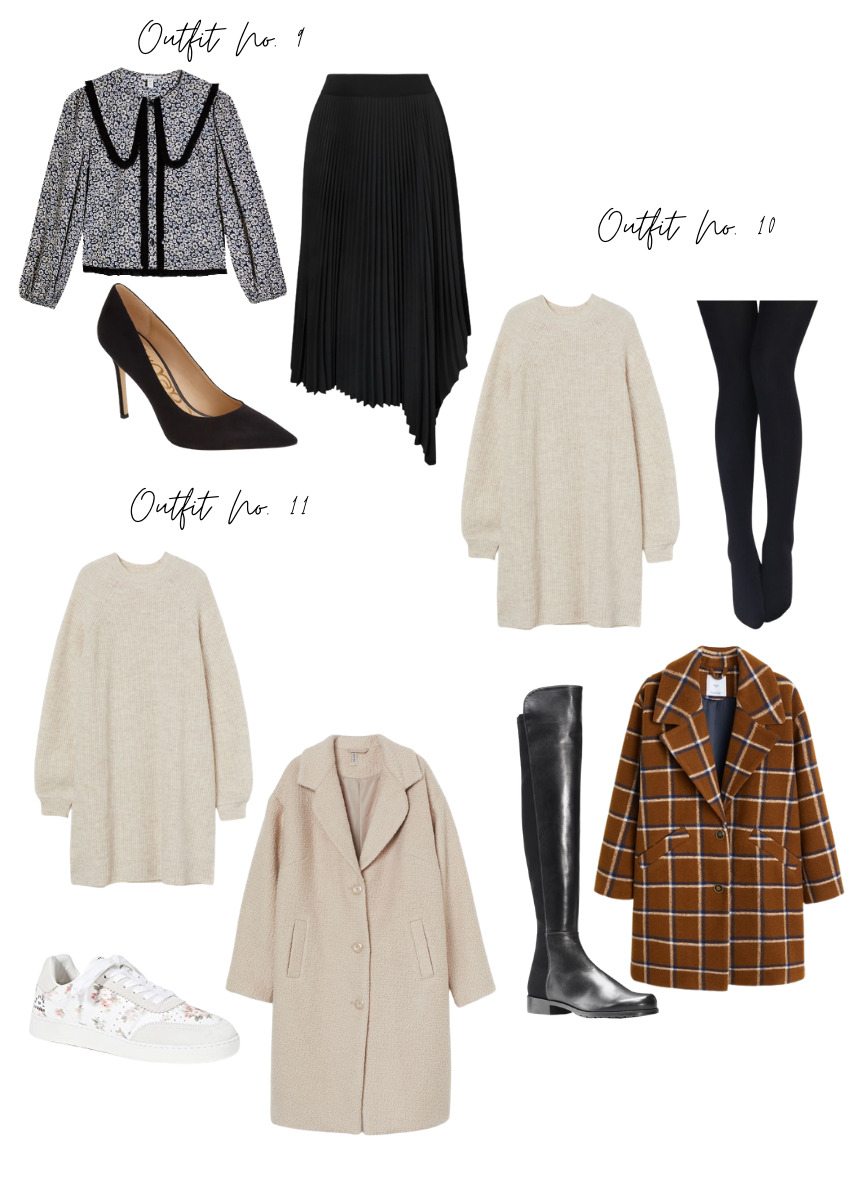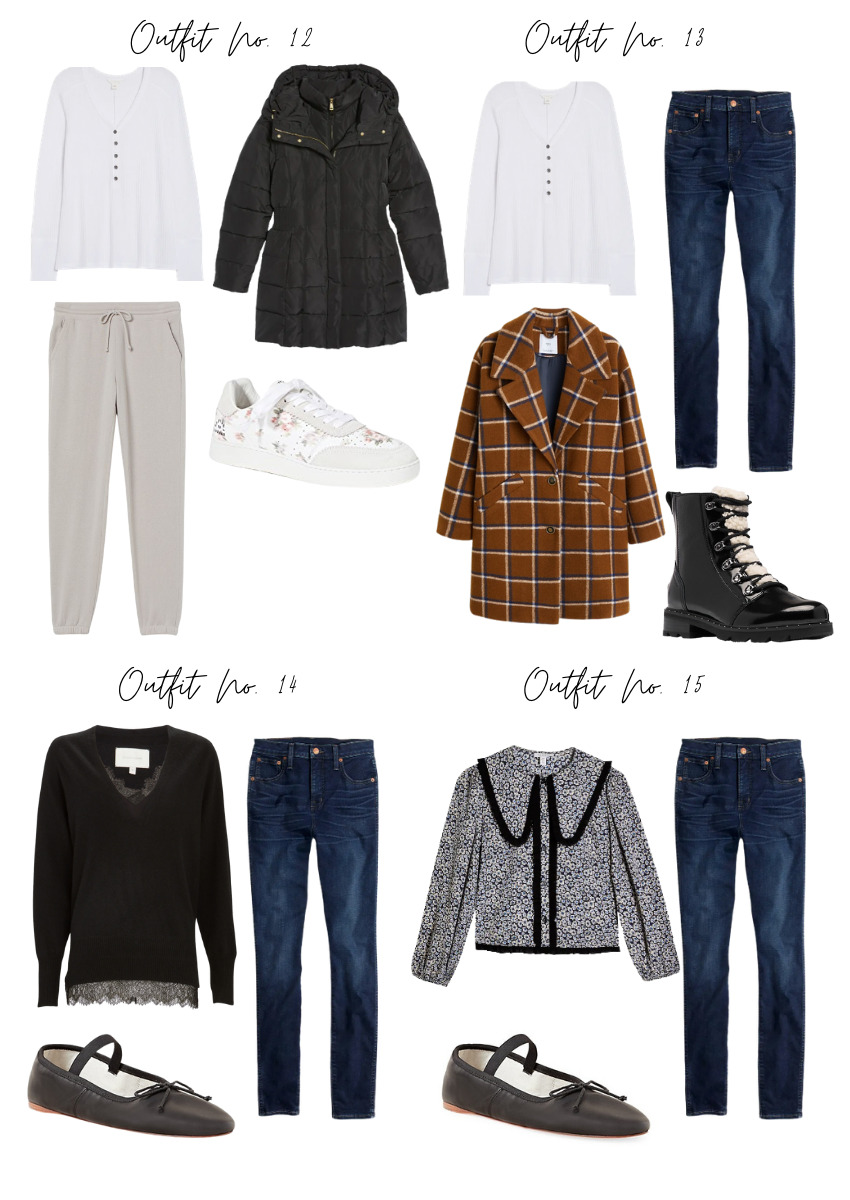 Have you ever put together a capsule wardrobe? Do you have a few staple pieces that you rely on each season?
Loved these winter capsule wardrobe picks? See more of my favorite finds right here!
SHOP THE WINTER CAPSULE WARDROBE | CLICK LEFT & RIGHT ARROWS TO EXPLORE