This post contains affiliate links, which means that if you click on one of the product links, I'll receive a small commission. Additionally, as an Amazon Associate I earn from qualifying purchases. Thank you so much for clicking through and helping to support this little blog business of mine! Read more about our site, privacy, and disclosure policies here.
This year, focus on these small step resolutions – or realistic intentions for the new year – not to add pressure, but to promote kindness to yourself, to make space for what is good, and to focus on what you love.
Never much for new year's resolutions – particularly because they always fee too big, too hard, too unattainable, too overwhelming – this year I'm setting out to follow a few small step resolutions or intentions in the new year. Basically, these slow start New Years resolutions are baby steps for being kinder to myself, healthier, and happier.
By the way, in case you're curious, this post – 7 Ways to Be Happier in the New Year – is still something I follow (and can learn from) day after day.
Do you make New Years resolutions? What small steps can you take for a happier, better new year?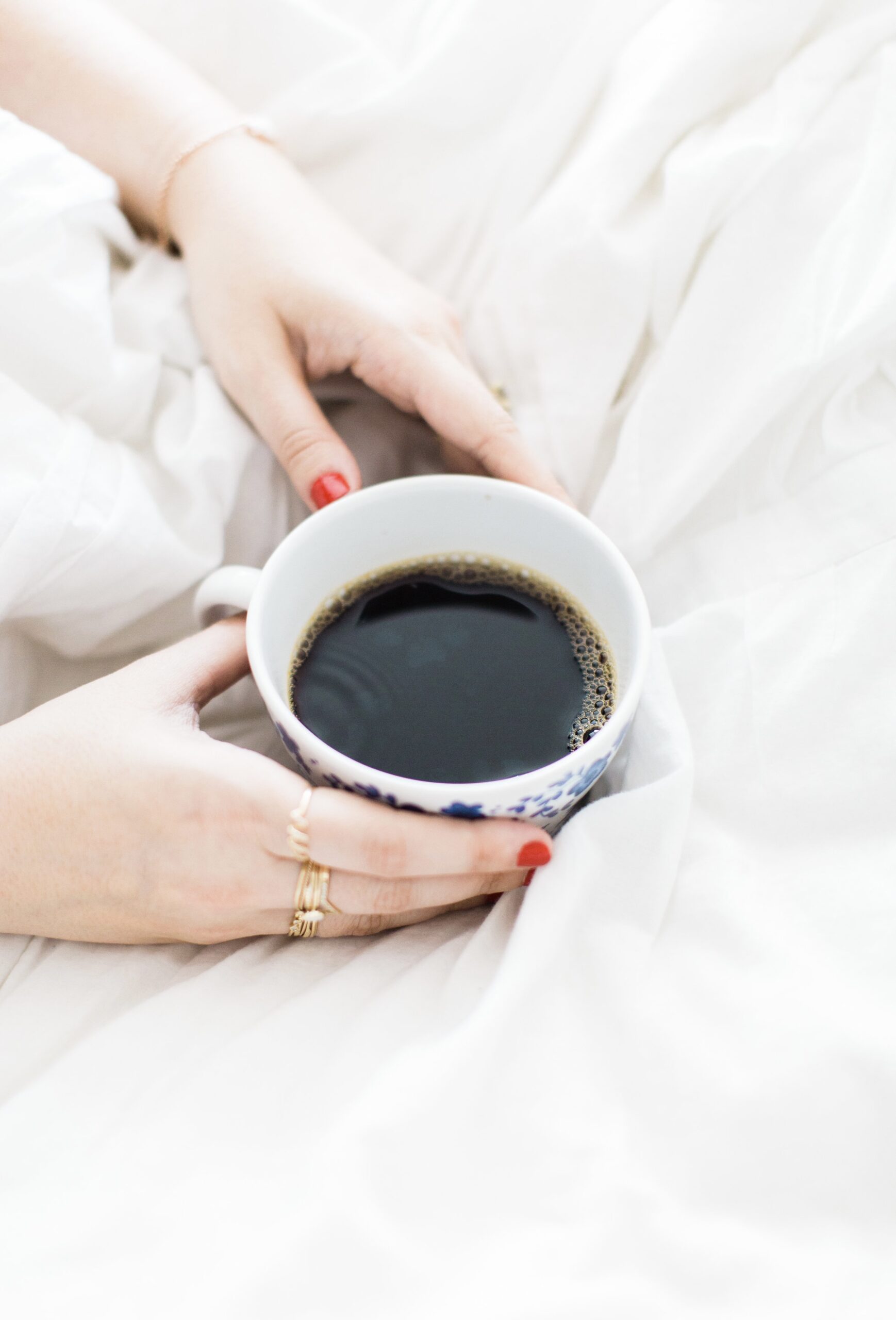 Small Step New Years Resolutions
Setting realistic intentions in the new year can take off some of the pressure of traditional, bigger resolutions, and focusing on a few small and attainable goals can help provide a sense of purpose and improve your well being in meaningful ways.
Setting Boundaries.
Whether it's boundaries in my daily schedule – like making time for breakfast (without answering emails), exercising (and finding a time that's actually all mine to do that), closing my laptop by 9pm (which I've actually been better at the last few months) – or boundaries between work, the kids, and home, I'm attempting to set better boundaries for myself and my family.
The pandemic has made all of the facets of life sort of bleed together. Working from home with kids is not for the faint of heart. 🙈
Defining times for what you need to get done each day, setting boundaries with things (or people) that add stress, and carving out a space for goals, is so important.
Making Room for Self Care.
Namely, figuring out what self care means to me, and setting out to achieve even a little bit of that. I always feel kind of clueless when others talk about self care. I've never been great at focusing on things that are just for taking care of me.
A few self care things I can easily add into my routine with a bit more frequency …
Beauty Routines
Whether it's a face mask now and then, double cleansing my face each night, painting my nails at home every other week, or blowing out my hair in the morning (which always makes me feel better and more ready for the day), I'm going to try to practice a little self care just because I should and want to.
Reading Before Bed
I love reading a good book before bed, and I actually find that when I don't read for weeks at a time, it always seems to correlate with my being more stressed. I want to read even more. It calms my mind and I also just plain old love it, so I'm going to attempt to make space for nightly reading (even if it's just for 5 or 10 minutes before bed). Plus, I find that if I read even a few pages of book before I fall asleep, then I go to bed thinking about my book rather than stressing about my to do list. 🙌🏻
You can see a bunch of my favorite books (and mini reviews) on the Glitter, Inc. BOOK CLUB page!
Do you practice self care? Any favorite self care things you do at home that you find makes a difference for your mental health?
Cooking Less.
I know that sounds silly, and I do actually love to cook, but this past year (or more specifically, the last 10 months in a pandemic), has quite literally drained me. I'm spread thin; working from home, taking care of the girls at home full time (including full-time virtual school for our oldest daughter), and running a business full-time from home, means everything else feels like an extra chore on top of my already full plate. Because I can't outsource childcare or some kind of cleaning service right now (we're staying in our lockdown bubble until we're vaccinated), I've decided to outsource something else: cooking.
Next week, we're trying out Home Chef. I've never needed to let anyone else shop for me or guide what I cook, because I typically like that task. But goodness am I ever tired. I'm hoping this eases some of the day-to-say stress of "what's for dinner". I promise to report back!
Being Gentler on Myself.
This one is probably in a similar vein to setting boundaries and making room for self care, but still, it needs to be said. And said again. Perhaps I should tattoo it on my forehead. This year, I'm resolving to be gentler on myself. I will be kinder to myself.
I will stop looking at the mirror in loathing. It's a pandemic. My hair will likely stay in this mom bun. Most of my makeup will probably continue to sit, unloved.
I'll probably remain a little soft around the edges too. That's okay.
I will walk outside on days that aren't so cold and walk on our new treadmill at home; but not because I'm trying to look a certain way or be someone I once was, but because it feels good to walk and move and I like it.
I will not beat myself up when I let my frustration get the best of me when I yell or shutdown. Kids are tough. I'll apologize. I'll model forgiveness. And I'll try again the next day.
I will not be perfect at home, at work, in my day-to-day life. I'll slip up. I'll make mistakes. That doesn't make me inadequate. I am a good mom. A good wife. A good provider.
I will not let others' creativity define my own. I will stop looking at how good or wonderful or brilliant or creative everyone else appears and focus instead on what I want to create, in my own time.
Exploring my Own Creativity.
I want to write a book. There, I said it. I put it on this blog, so now it's out there. It may take me twenty more years, but I want to start. Sure, attempting to begin a novel in the midst fo a pandemic, with my two young children home full-time, may not be the wisest move, but I'm tired of just thinking I could one day write a book. I want to write a book. Sooner, rather than later.
Plus, my awesome parents got me a subscription to Masterclass for Hanukkah, and so far, watching a few lessons of Margaret Atwood's has me totally inspired. Here's to hoping!
Saving more.
This year was the first year that Mike and I were actually able to save a little. He finally wrapped up fellowship (and YEARS of medical education and training) over the summer, and it has felt so good to finally be able to put money away for the future, and for our girls.
Even if it's a few dollars here or there, building savings feels somehow so liberating. We still budget everything, and our student loans feel all-consuming sometimes, but to be able to save for our future feels like a really good step in the right direction.
Continuing to Cultivate Relationships in New Ways.
I miss my family. I miss my friends. And I miss the connections I once made with other women through creative outlets. Through involvement with my kids' schools, through conferences and coffee dates. I miss date nights with my husband. I miss traveling with my favorite people in the world.
But if this year has taught me nothing else, it's that love transcends the typical constructs. FaceTime builds connection too. Zoom birthday parties and holidays, regular phone calls just checking in, random texts to say "I love you", these things hold meaning as well.
So I'll keep on calling just because. I'm going to write more letters. (Thanks sissy; your letters mean everything.) I'll text any time I randomly think of a friend; just so they know I'm thinking of them. Virtual coffee dates may be my gathering of 2021. More date nights on the couch with my husband too, because connecting with him regularly, without the noise of the tv or work matters so much.
And maybe … just maybe … I'll see my family face-to-face in 2021. I'll hold them tight and squish their faces and marvel at what a weird year apart it's been. And I'll love everyone all the more, because we stayed connected and found meaning in that too.
SHOP THE SMALL STEP RESOLUTIONS POST | CLICK LEFT & RIGHT ARROWS TO EXPLORE

So there you have it: my small step resolutions for 2021! Are you making resolutions this year?
Embrace small step resolutions or intentions, and tell me how you plan to be happier (and less stressed) in the new year! And check out 7 Ways to Be Happier in the New Year. Leave me a comment or say hi on on instagram, facebook, and twitter, and let me know about your wins. I wanna hear the good stuff!
Photo by Annie Watts Photography for Glitter, Inc.