This post contains affiliate links, which means that if you click on one of the product links, I'll receive a small commission. Thank you so much for clicking through and helping to support this little blog business of mine! Read more about our site, privacy, and disclosure policies here.
These family-friendly meals all start with pantry ingredients like beans, lentils, canned goods, pasta, rice, and broth, plus or minus some fresh staples and things that keep well in the freezer or refrigerator. These flexible recipes are all about using what you have on hand to make easy, delicious lunches and dinners!
During these uncertain times, more than ever, we're all cooking a whole lot more. We're home for what feels like an endless stretch and everyone is hungry. Is it just me, or is your family eating something like three times what they normally eat? 🤣
Truly, I feel like I have been living in the kitchen. 🙈 I make breakfast, lunch, and dinner, plus snacks, all day every day, and though I do truly love to cook, there have been plenty of points where I feel totally uninspired in the kitchen without a little recipe inspiration.
Cooking From the Pantry and Freezer
If you're anything like me, your pantry is stocked with things like beans, tuna, and canned tomatoes, there are frozen vegetables and chicken breasts and trays of ground meat in the freezer, and some days, despite all of the stuff, you just for the life of you can't seem to come up with what to make for dinner (or lunch.) But cooking from your freezer and pantry is just plain smart. Using what you have helps to stay on budget, and it teaches you to find creative uses for what's already in your home.
Trying new dishes, easy meals packing a whole lot of flavor, family-friendly dishes with a twist, etc., have really helped me to feel like spending this much time in the kitchen isn't all that bad.
I'm turning to tried-and-true classics from around the world and dishes that aren't too hard to make, aren't all that labor intensive, don't require a million steps or a lot of prep work, but satisfy everyone; things like pasta, soups and stews, casseroles, meals that can be made in an Instant Pot or slow cooker, sheet pan dinners, freezer meals, and more.
These 100+ Pantry Meals and Freezer Lunch and Dinner Recipes all use mostly shelf-stable ingredients, canned goods, dry goods, things you're likely to have in your pantry, freezer staples, and things that are still pretty readily available at the grocery store. These recipes are also flexible and substitutions for things you may not have shouldn't be a problem. These recipes help to make the most of what we have and will ease the "What's for dinner" stress.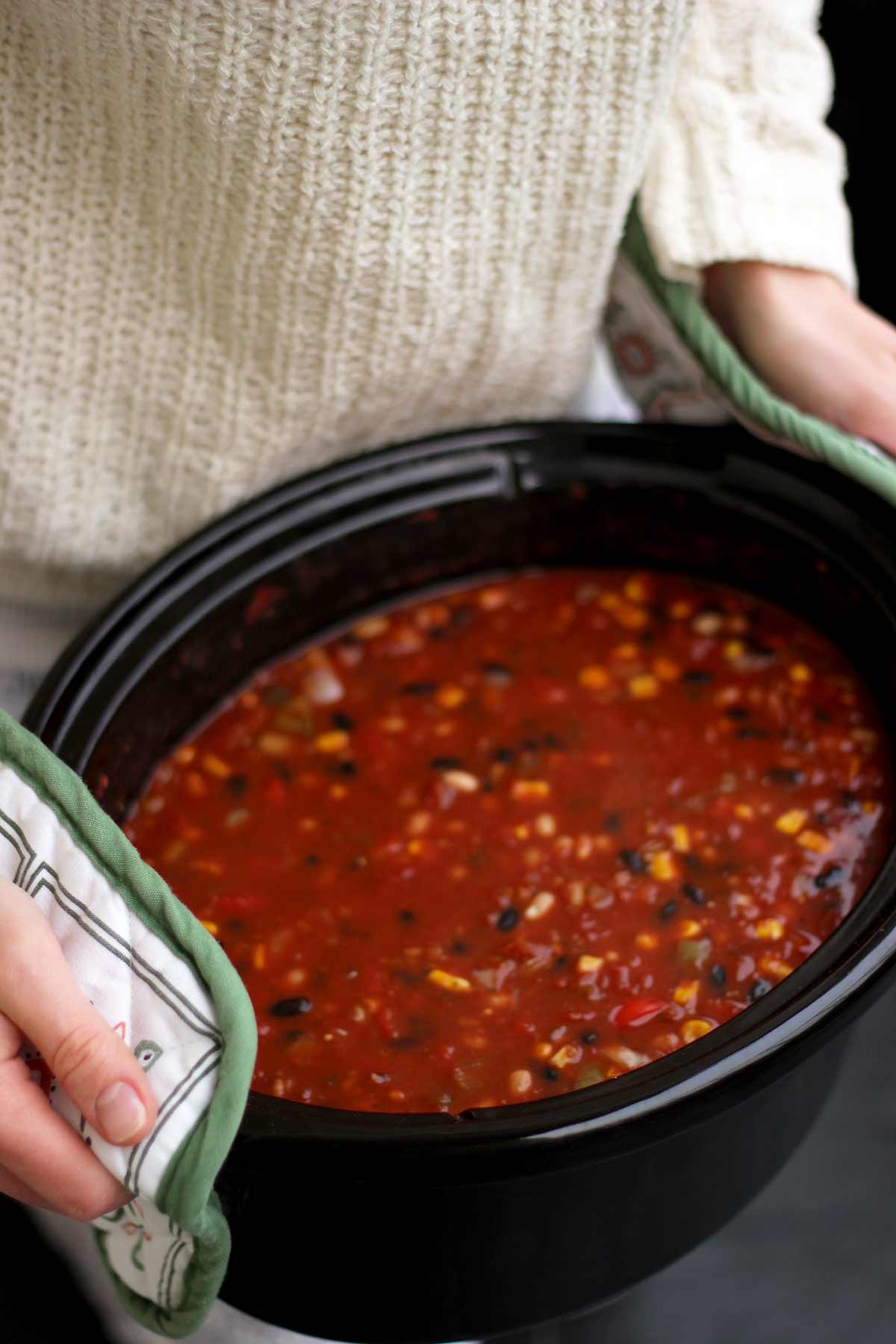 via Happy Kitchen
It also helps to keep a running tab of staple ingredients that will always be there to help you whip up an easy, healthy, hearty meal. These are a few of my favorite go-to pantry must-haves.
Standard Pantry and Shelf-Stable Staples:
Beans (canned and/or dry beans)
Lentils
Rice
Quinoa
Pasta
Canned Tuna
Canned Tomato Products (crushed tomatoes, tomato paste, diced tomatoes, tomato sauce)
Salsa
Enchilada Sauce
Canned Corn
Broth (chicken broth, vegetable broth)
Spices
Flours (all purpose flour, whole wheat flour, bread flour, gluten-free flour, almond flour, corn meal)
Sugars (white sugar, brown sugar, coconut sugar, turbinado sugar)
Honey
Oils (olive oil, peanut oil, coconut oil, avocado oil, toasted sesame oil)
Vinegars (apple cider vinegar, balsamic vinegar, red wine vinegar, rice vinegar, white wine vinegar)
Raw Nuts and Seeds
Jam and Jelly
Nut Butters (peanut butter, almond butter, sunflower butter, cashew butter, etc.)
Syrup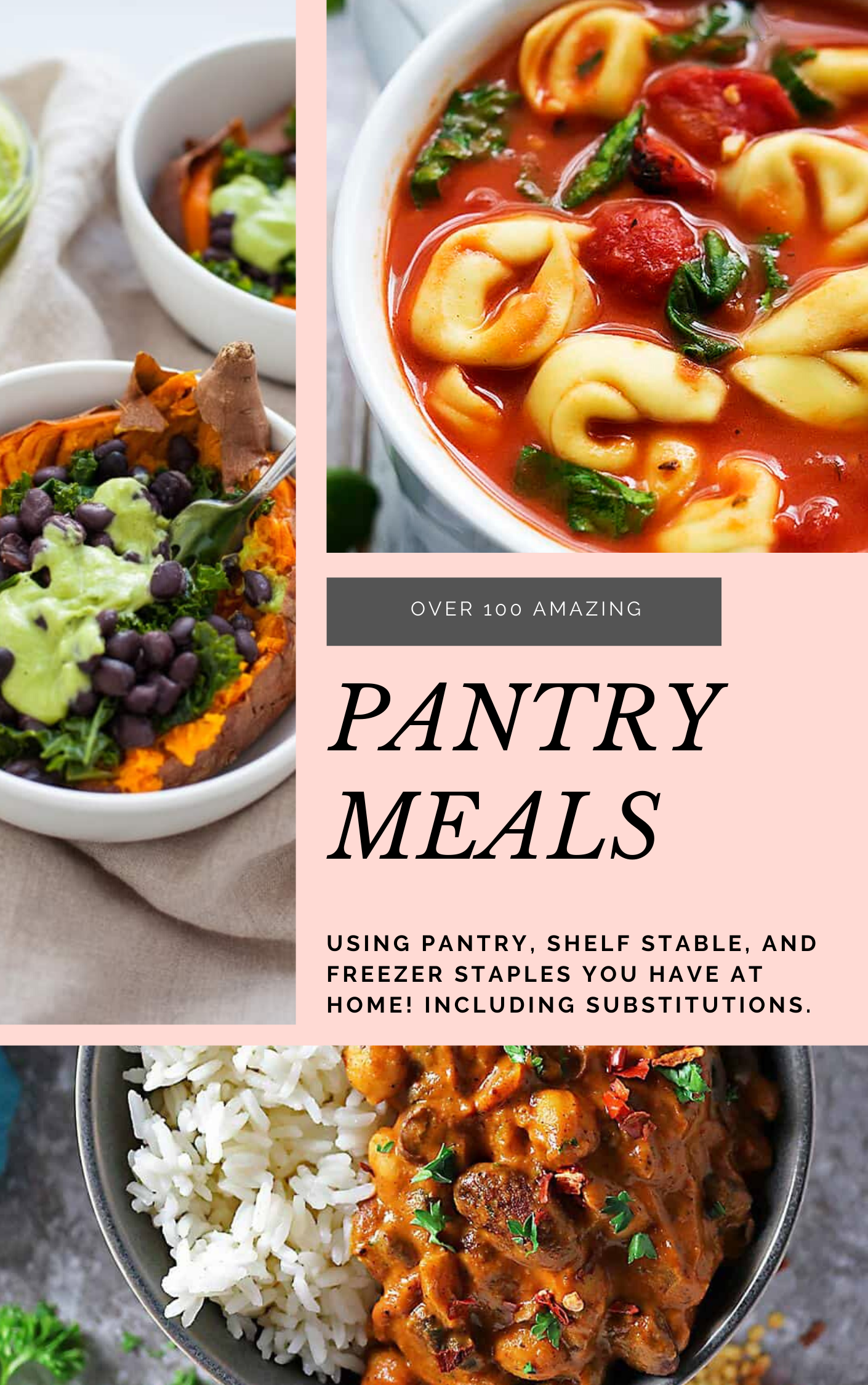 Over 100 Pantry Meals and Freezer Lunch and Dinner Recipes
Take the guesswork out of what to make for dinner with this huge list of easy pantry and freezer dinner recipe ideas. Having a list of pantry meals you can make in a pinch can help save you money and time. (In addition to your sanity!)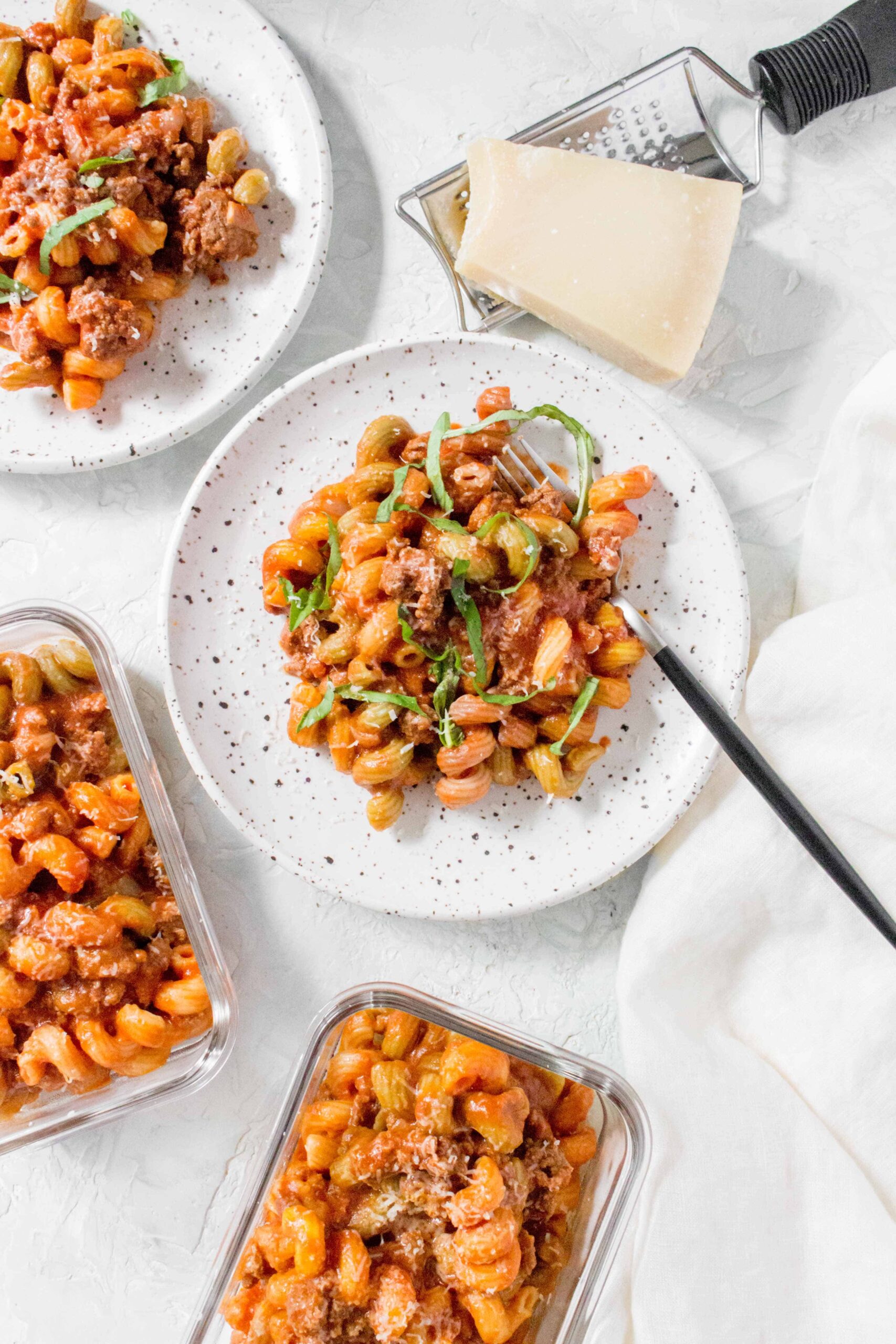 Ridiculously easy, comforting, and delicious, this Instant Pot Beef and Pasta inspired by Beefaroni is going hit the spot! Made with ingredients that are probably already in your kitchen!
This easy vegetarian black bean chili recipe is a great meatless meal to throw together with pantry staples when you don't know what's for dinner! Naturally gluten free.
When you just want a bowl of hearty noodles (because, carbs) covered in endless topping options that give you the power to make a bowl your very own, this simple ramen noodles recipe (made in under 15 minutes) might just be the key to at-home ramen bliss.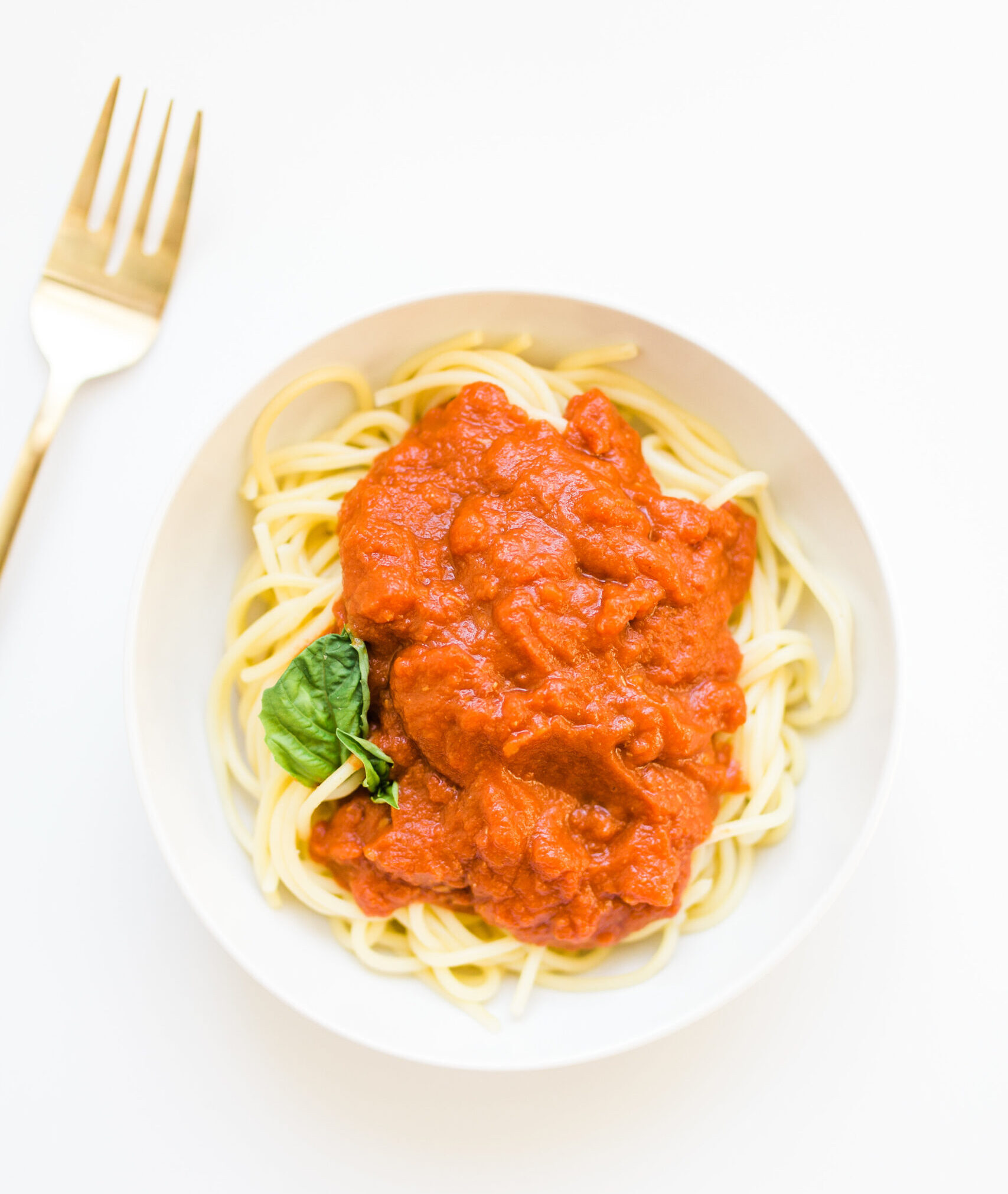 This 3-ingredient tomato butter sauce; a.k.a., the richest, most delicious marinara sauce, the one chefs and food bloggers alike love, is unbelievably simple to make, produces a velvety rich sauce, and is sure to become a staple recipe in your kitchen.
The ultimate vegan loaded sweet potato – packed with kale, black beans, and topped off with a homemade green goddess dressing. Perfect for a quick and easy weeknight meal.
This recipe is not glamorous. It's not fancy or time-intensive. But it's delicious, and simple, and truth be told: I make it for dinner all of the time. It's a huge hit in our house and proves for some pretty great leftovers.
This West African-inspired peanut soup recipe is a creamy and comforting, spicy vegan soup. Made with a combination of peanut butter, tomato paste and collard greens, this soup comes together quickly and is a great weeknight meal.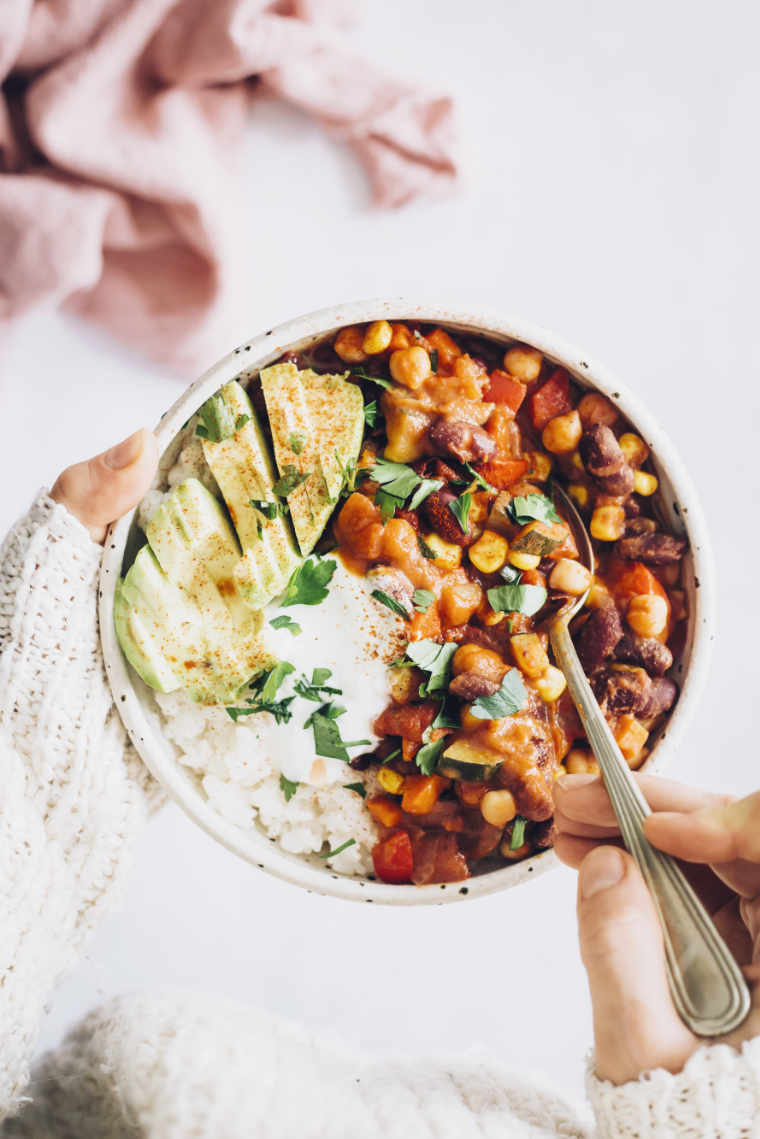 This hearty and super simple chili will be your next favorite go-to! Using only convenient staple foods, this meatless meal is whipped up in just 10 minutes and very nutrient-dense. You can use any veggies on hand, fresh or frozen, or omit them altogether!
These stuffed shells are cheesy, saucy, and stuffed with the most delicious ricotta and spinach filling. They're also easy to make a real crowd-pleaser.
This rich tortellini soup, served with a few ladles of good Parmesan-infused broth is the perfect easy meal. It's light and fresh and ridiculously simple to make.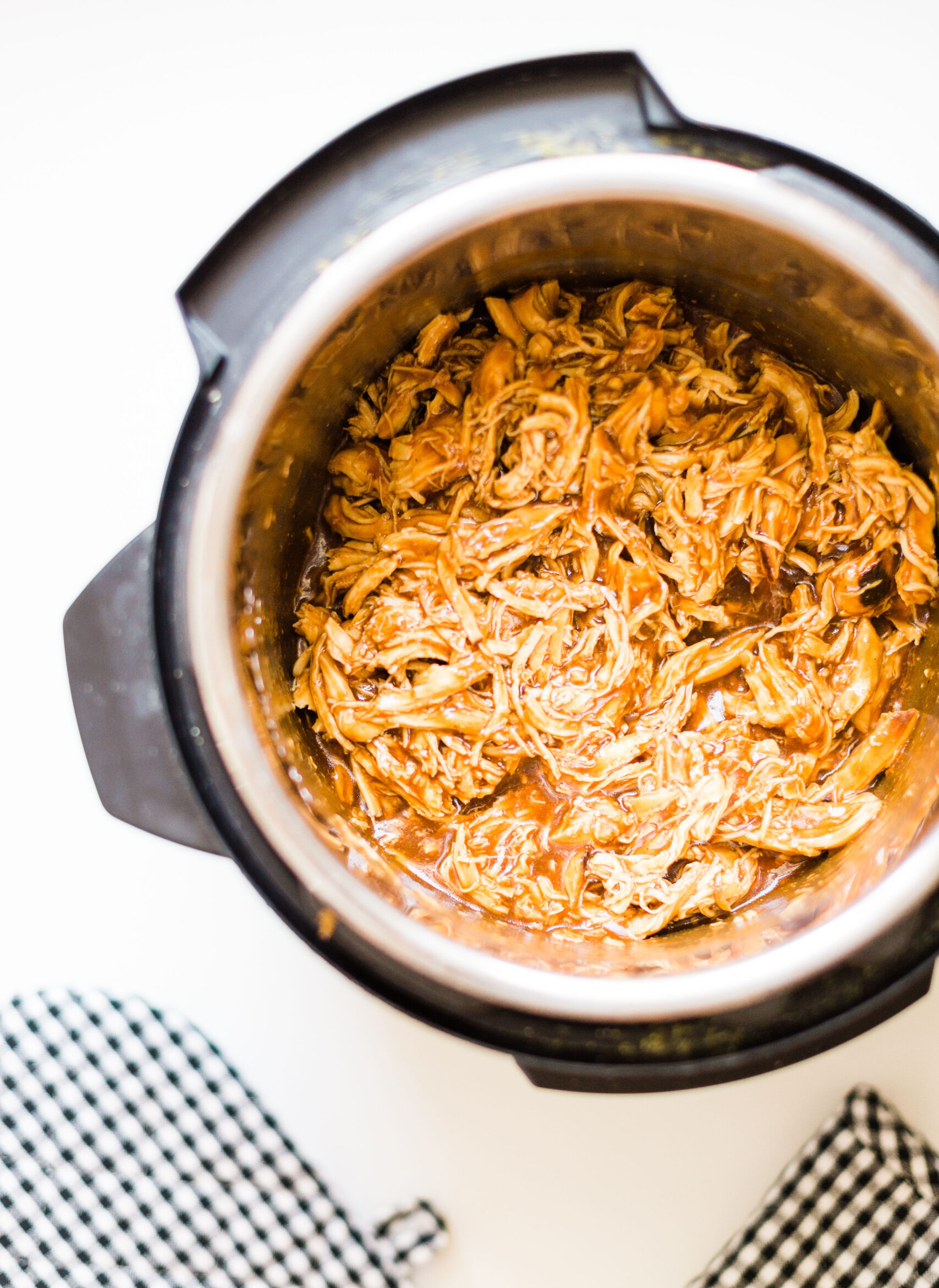 Skip the hot grill and make delicious, sweet, and tender barbecue pulled chicken in your slow cooker! Just throw a few ingredients right in the pot and let your crock pot or instant pot do the rest. Yum!
NOTE: Sometimes I'll make a big batch of the shredded barbecue chicken and serve it with corn on the cob or roasted sweet potatoes. Other times I'll use the pulled chicken to top pizzas for the best ever at-home barbecue chicken pizzas. We also top salads with this pulled barbecue chicken (add corn, beans, tomatoes, avocado chunks, and ranch dressing for a delicious bbq chicken salad … YUM!). And sometimes I'll make these yummy barbecue chicken sandwiches, topped with coleslaw, for a hearty and delicious BBQ chicken sandwich. Any way I serve it, everyone in the family approves!
Penne pomodoro is an easy pasta recipe that will please everyone in your family. Making this vegetarian pasta dish in the Instant Pot turns this meal into an easy one pot wonder, perfect for the busiest of weeknights or even for kids lunchbox!
Looking for an easy and delicious healthier soup for dinner tonight? Look no further than this spin on classic tomato soup, made healthier and protein-packed. And, bonus: it can be made in a slow cooker or instant pot!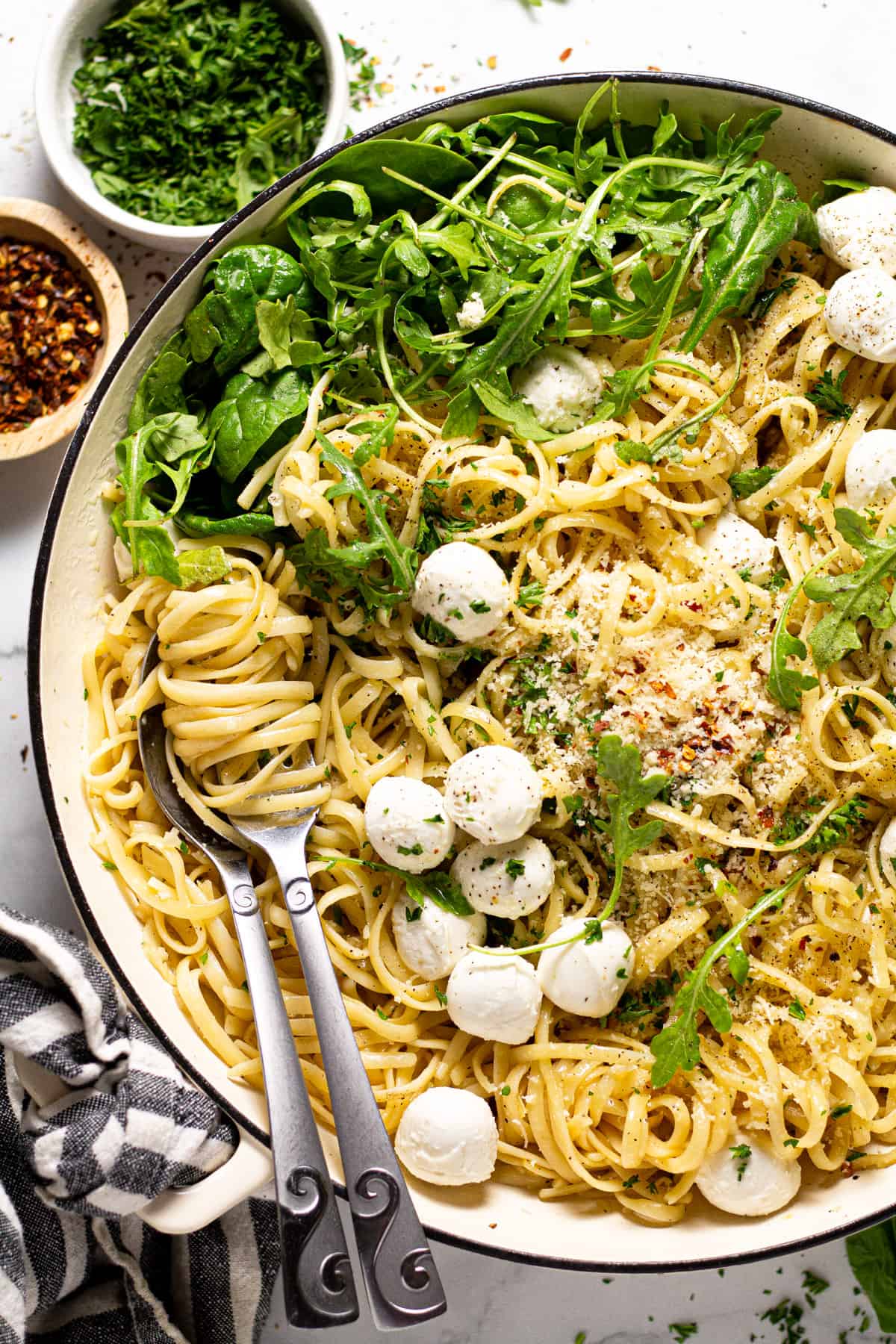 This vegetarian garlic butter pasta takes just 15 minutes from start to finish and uses only 6 ingredients! It's the easiest, most flavorful weeknight dinner ever and even the pickiest of eaters in your family are going to LOVE it!
Quick cooking delicious creamy tomato soup. This homemade soup can be on the table in just ten minutes! Use tomato sauce and tomato paste along with a few seasonings and you have the best tomato soup!
Our kids love pizza night, especially when we make our own. We buy Trader Joe's pre-made pizza dough (extra easy), and top it with our favorite toppings. This caprese pizza with basil, fresh mozzarella, tomatoes, and a simple-to-make balsamic glaze is always a winner. And tastes amazing!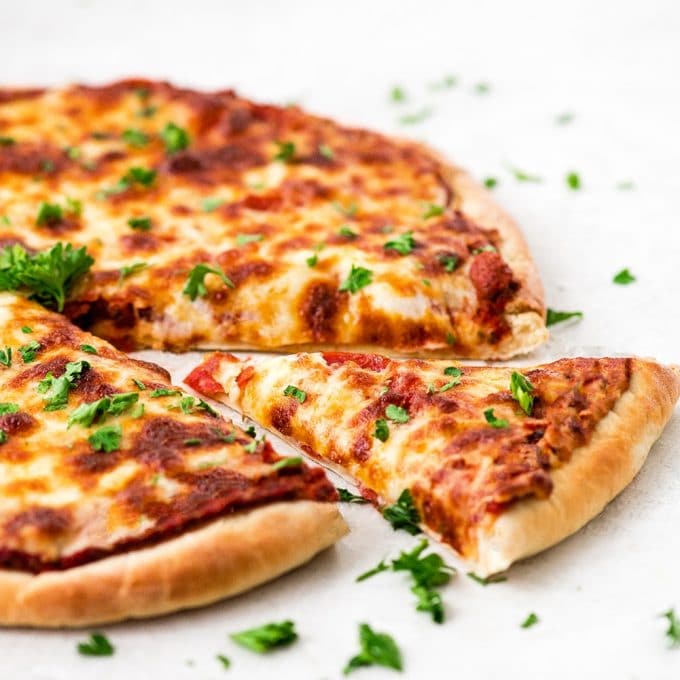 This Easy Homemade Pizza Dough recipe yields the best ever homemade pizza in 30 minutes FLAT! It's made with only 5 ingredients and does not require any rising!
If you don't have pre-made pizza dough, here's an easy homemade pizza sauce recipe.
Inspired by a traditional Indian recipe that combines two tasty, high-protein legumes, this already-vegan lentil and kidney bean curry makes a filling, quick, and easy dinner. Canned lentils + Canned kidney beans + Indian simmer sauce + a quick and delicious dinner.
This Hummus Flatbread is made using traditional pizza dough and is then topped with roasted red pepper hummus, red peppers and feta cheese and is a great tasty, vegetarian lunch, dinner, or snack.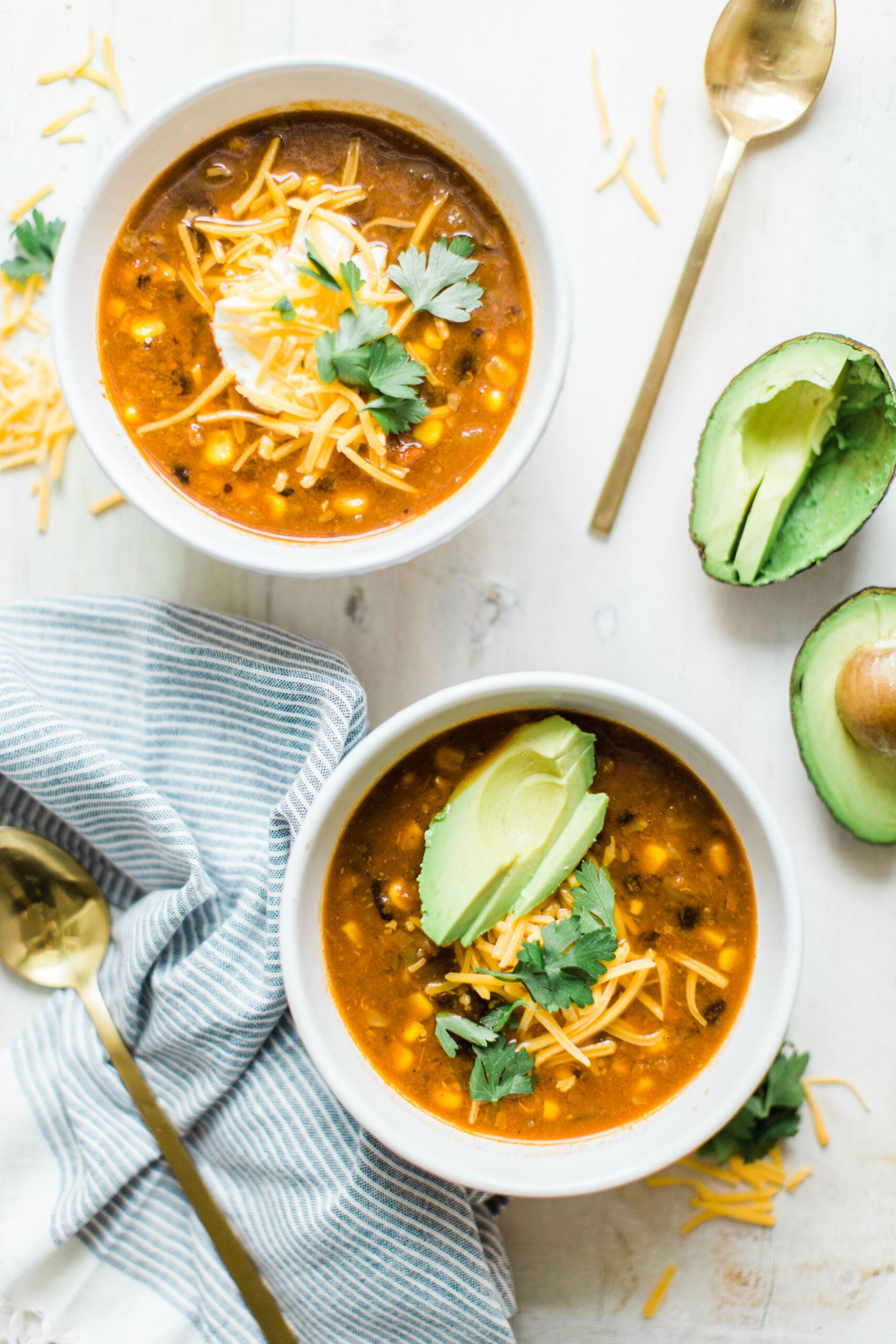 Obsessed with Trader Joe's Harvest Chili? Looking to whip up a delicious family dinner on a budget? Make your own easy copycat crockpot Trader Joe's harvest chili. (Say that three times fast!) This soup is vegetarian and so yummy.
A quick and easy pantry pasta that tastes super gourmet with just a few things you probably already have on hand. Pure comfort food when. you need it most!
This creamy chicken pot pie soup recipe is a great way to feed a crowd with affordable chicken, frozen vegetables and other pantry staples.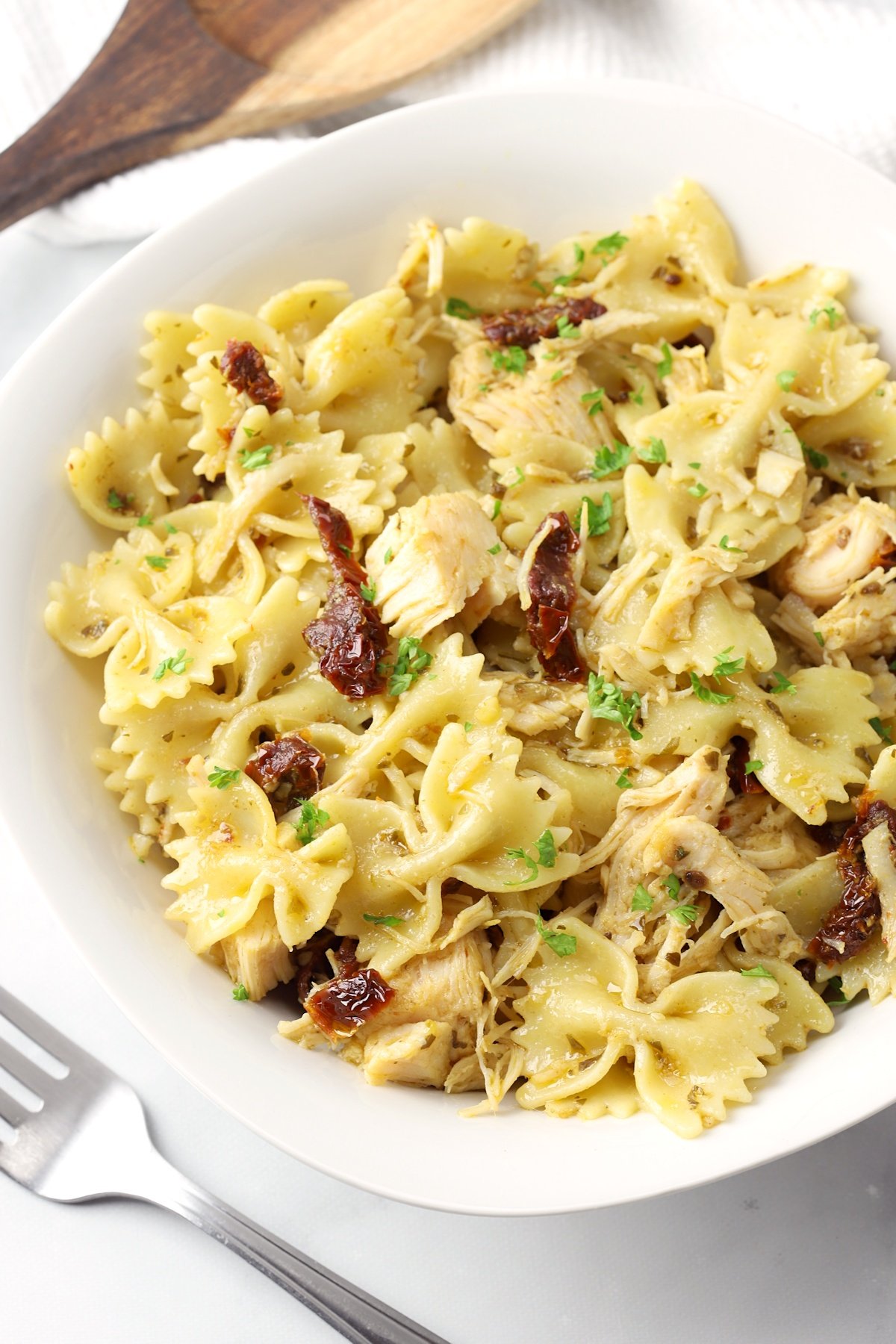 Pesto Chicken Pasta is an easy, 20 minute meal that's made with just five shelf-stable ingredients. Bow tie pasta and chicken are coated in a rich and flavorful pesto sauce.
This Black Beans and Rice is a gluten-free main dish made with sausage, bacon, and vegetables. It's a complete dish that is pure flavor –and comes with 2 methods to choose from: pressure cooker and stovetop methods.
Dinner is sorted with this delicious, healthy and hearty Sweet Potato and Lentil Curry. It's an easy one-pan meal that's ready in 30 minutes and made with pantry staples including chickpeas, tinned diced tomatoes and turmeric!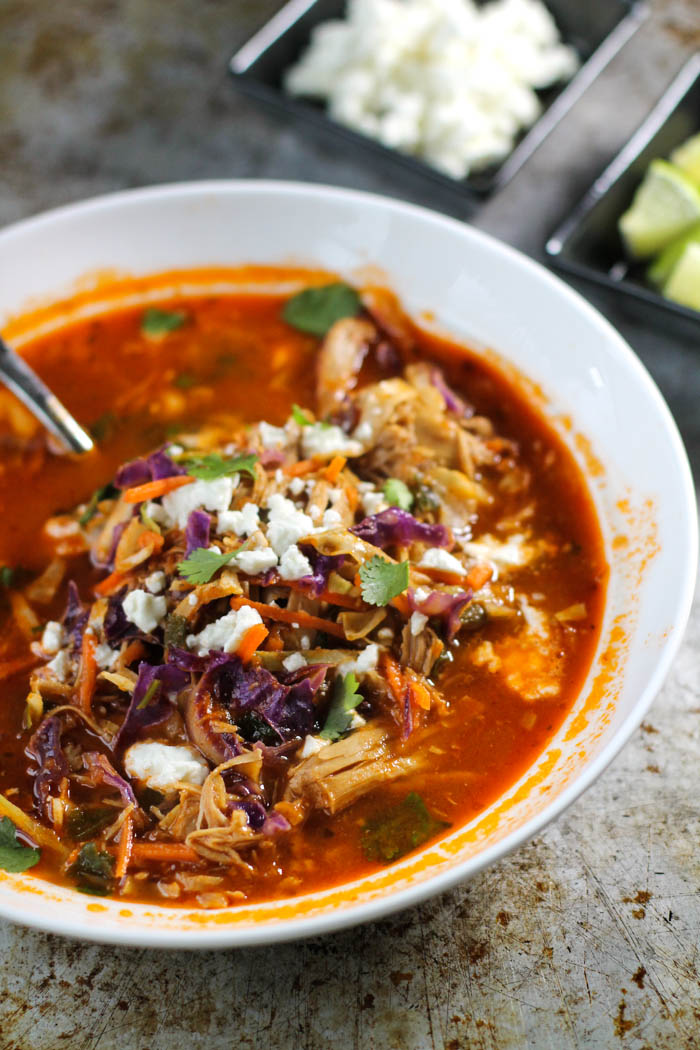 Simple to make and loaded with authentic Mexican flavor, this tortilla soup is a great family friendly dinner!
This super simple but yummy 3 ingredient pasta with tuna recipe from Bologna is probably the easiest Italian pasta recipe I know. Apart from pasta all you need is canned tuna, fresh or tinned tomatoes and an onion. Great with spaghetti too!
Goat Cheese Macaroni and Cheese with Peas is and updated version of the classic comfort food dish – goat cheese macaroni and cheese with peas – is deliciously creamy and cheesy, a touch decadent, with a perfect brightness added by the peas.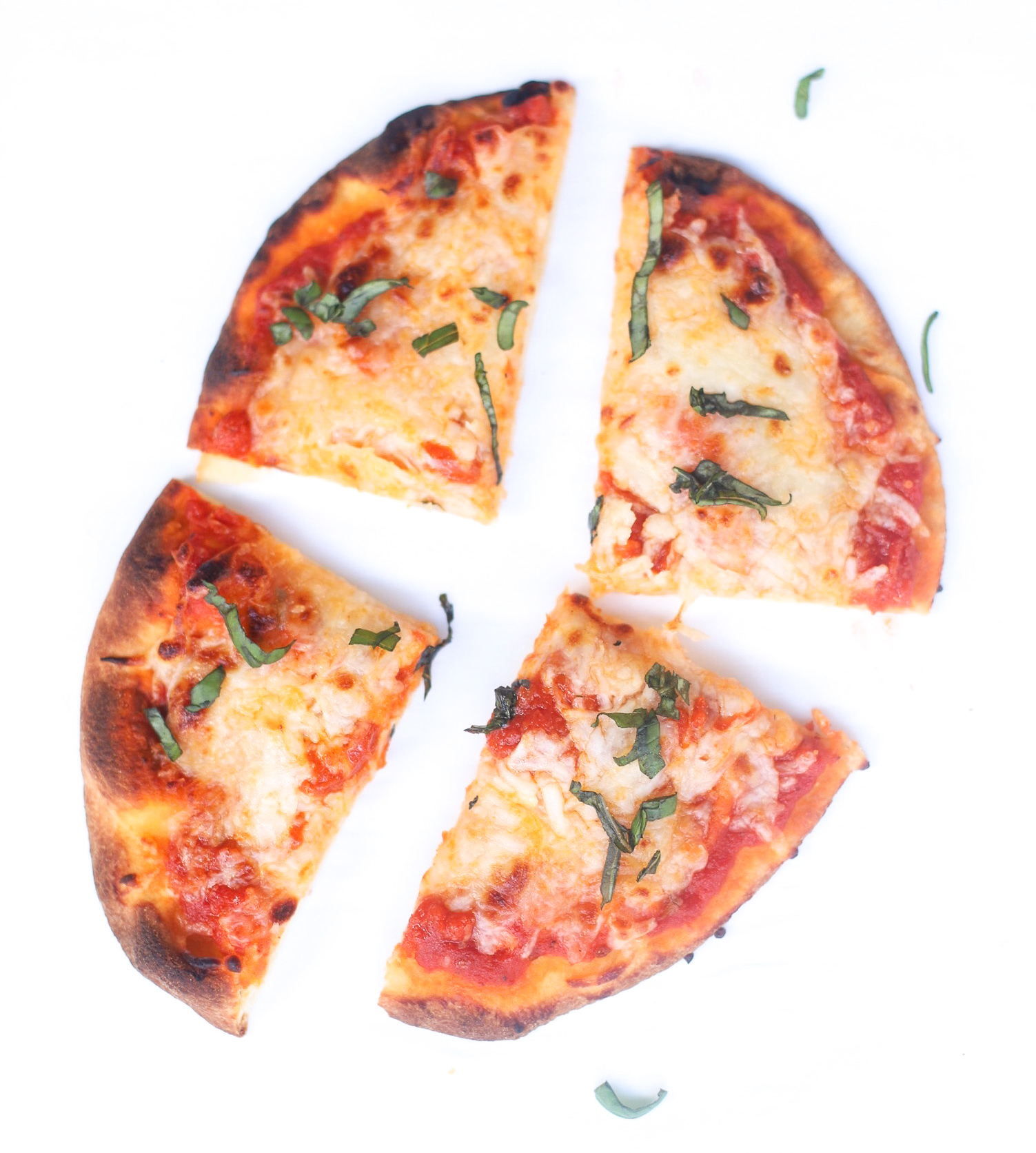 Dinner (or lunch) is a breeze with this simple twist on pizza; Osur Favorite 10-Minute Naan Bread Pizza! It bakes up with a crispy, golden crust, is topped with tomato sauce and bubbly cheese, and is so easy to put together. The whole family loves making and eating these delicious simple at-home pizzas.
All your need are tortillas, canned corn, beans, and cheese to make these quesadillas in no time. Then, get as fancy as you'd like with yummy toppings like sour cream, guacamole, salsa, etc.
I'm not sure there's anything quite like homemade macaroni and cheese, and the secret to amazing mac 'n cheese: the rich and creamy bechamel sauce. This recipe has it all. It's everyone's favorite and has been a classic in our house for years.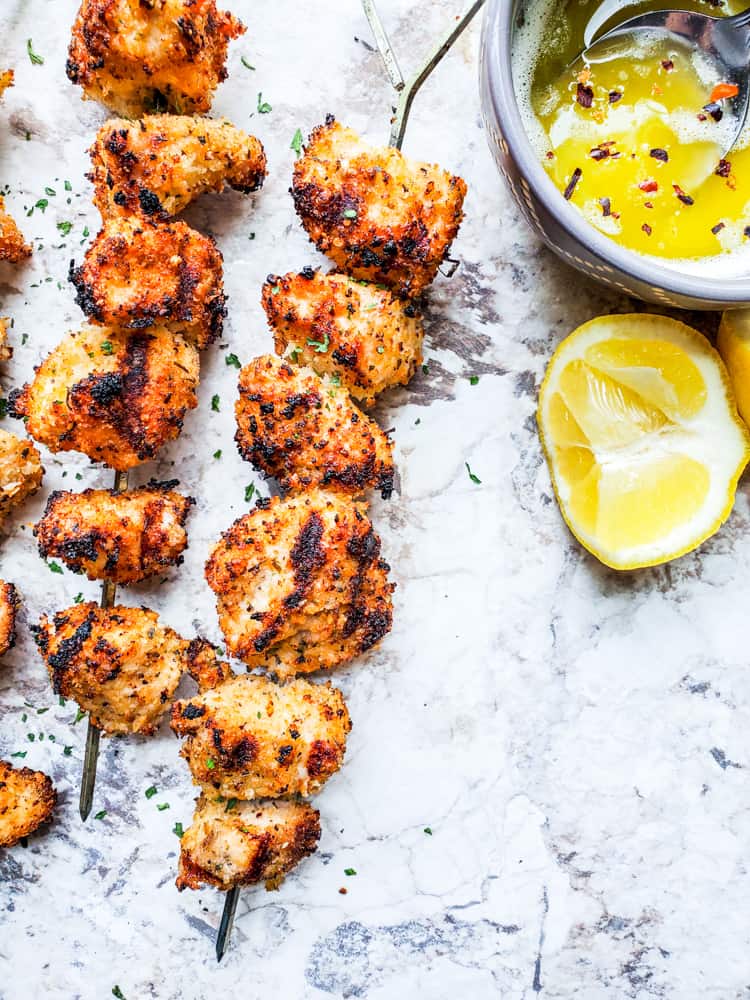 This Grilled Chicken Spiedini Recipe with Lemon Butter Sauce is perfect to grill! Plus, this crispy chicken spiedini is super simple and ready in about forty minutes!
Loaded with beef and secret spices, it's a hearty crowd-pleaser and a go-to week nigh dinner! It's also super simple to make and freezer-friendly!
This vegetarian lasagna is cheesy (of course), hearty, and loaded with vegetables, spinach and a simple tomato sauce.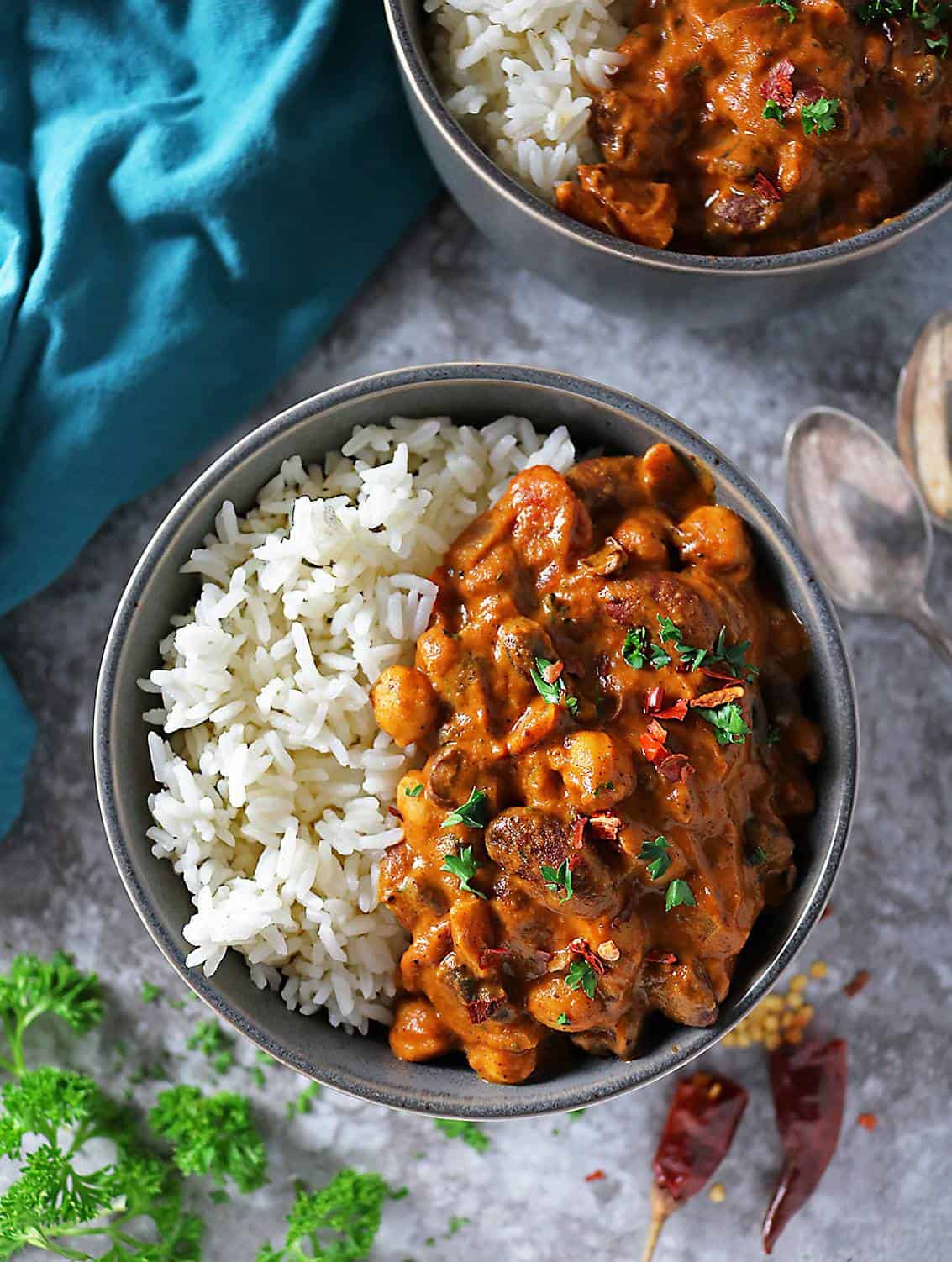 Gently spiced with coriander, cumin, smoked paprika and healing turmeric, this creamy, vegan, Easy Three Bean Curry can be whipped up in 20 minutes and is delicious served with some ready to serve rice.
This vegetarian skillet meal is made from pantry staples for a quick weeknight dinner!
This weeknight meal is healthy, delicious, and filling! Black Bean and Zucchini Chili topped with homemade cornbread and baked to perfection, with vegan with Gluten-Free options as well.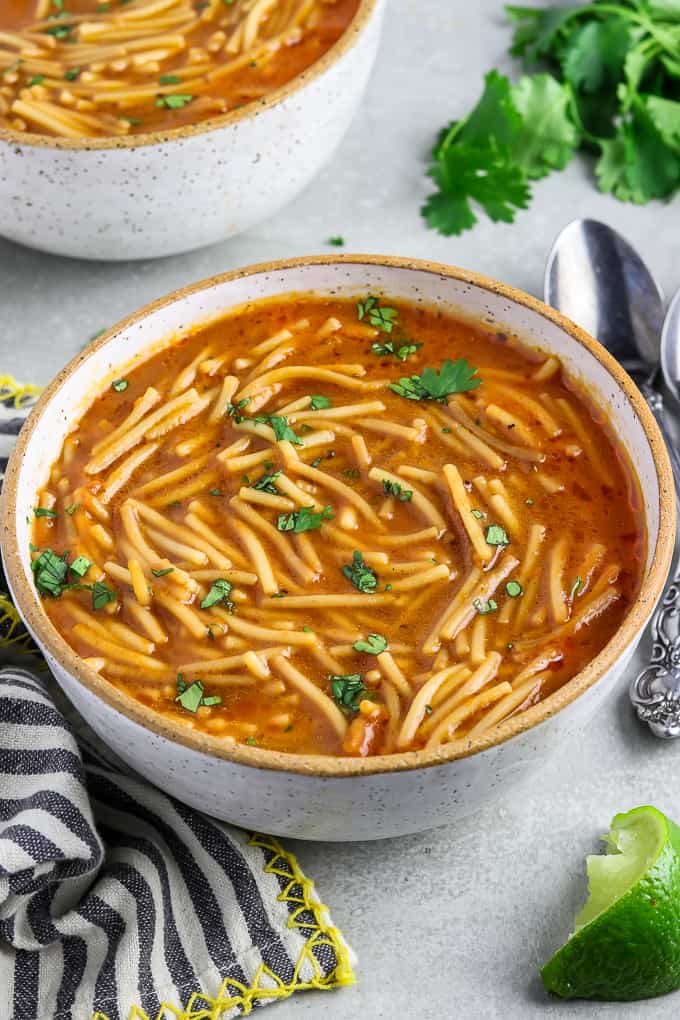 Sopa de Fideo – a savory Mexican Noodle Soup made with toasted noodles and a flavorful tomato-based broth. It's easy to make, requires simple ingredients and it's budget-friendly, too! The whole family will love this hearty and comforting meal!
A delicious and healthy meal recipe that's ready in 10 minutes and uses pantry staples!
This brilliant recipe from the New York Times basically mimics lasagna's edges, where sticky tomato meets crisp cheese, minus the noodles, plus white beans for protein. Scoop it up with crusty bread and you've got yourself a decadent meal.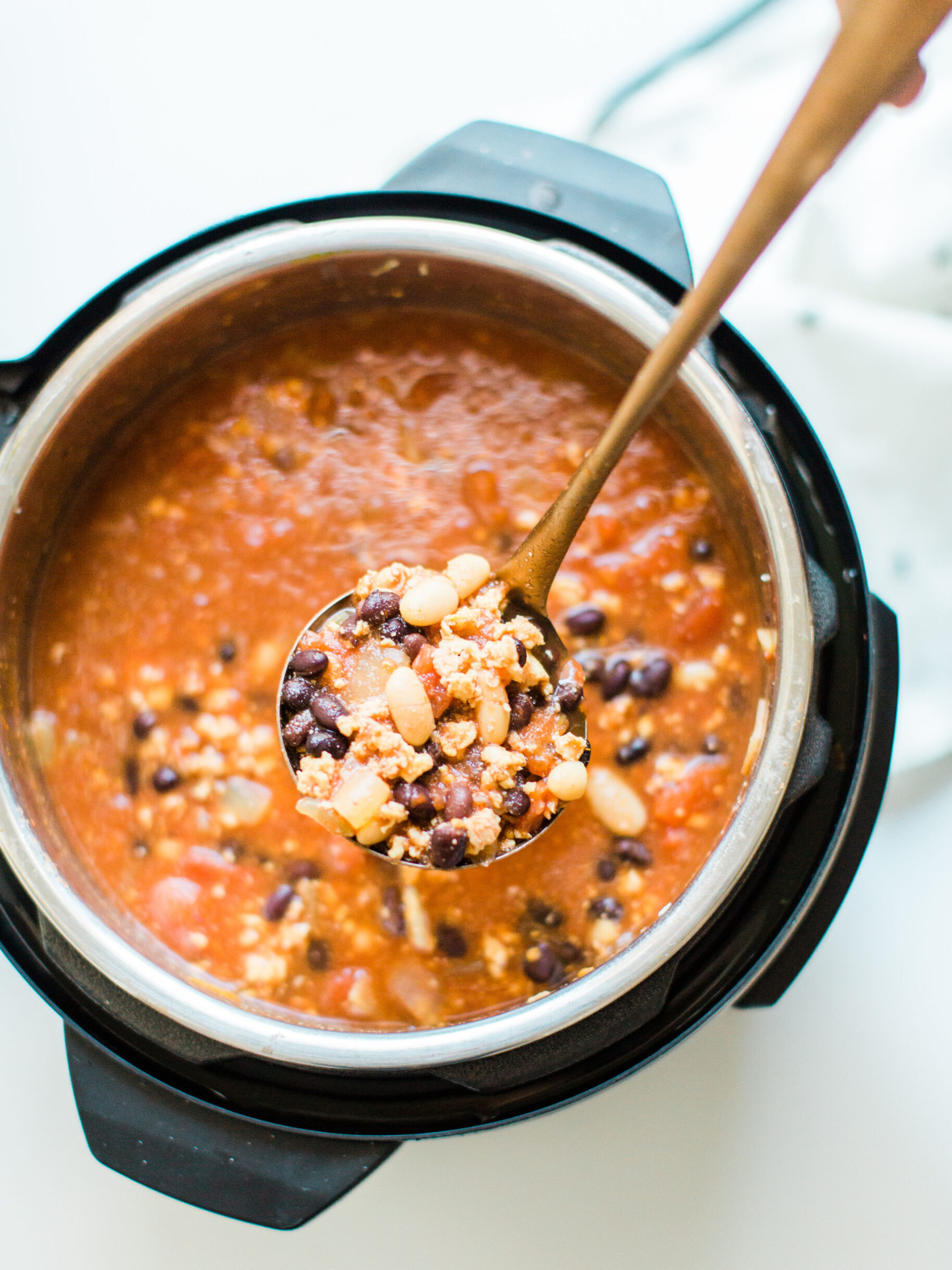 This super yummy ground chicken chili is one of our family's favorite meals. And the best part, it all comes together in an Instant Pot or crockpot. Serve this made ahead chili with yummy toppings and a side of cornbread and you've got yourself an incredible, hearty, healthy, and simple dinner.
Busy family? This One Pan Spanish Rice Bake is for you. Other than the produce, it's a pantry meal, and it also comes together in a single pot!
These vegan burritos are stuffed with brown rice, black beans, corn, vegan sour cream, and guacamole. Vegan burritos are the perfect comfort food and they're so easy to make! Perfect for a simple weeknight dinner.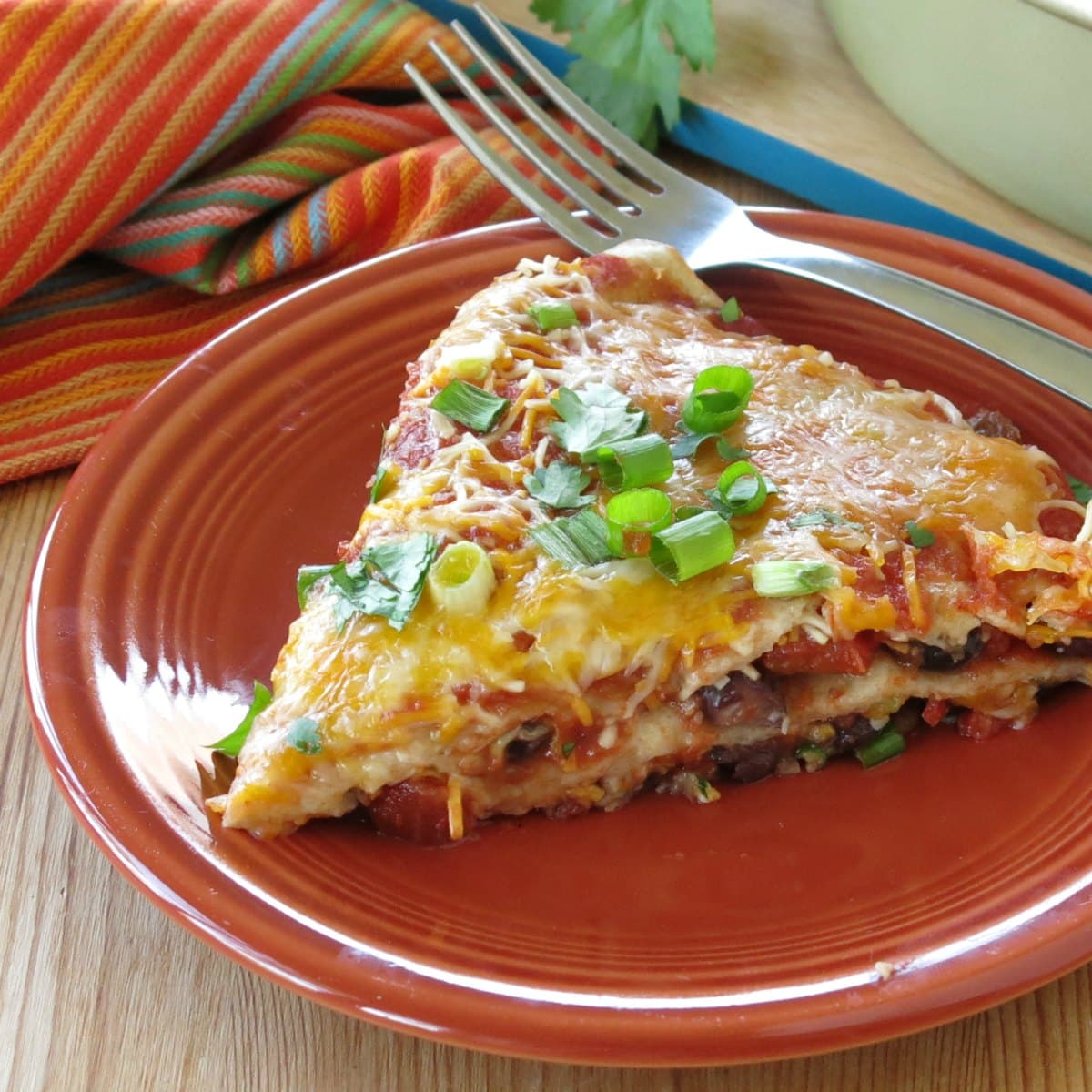 Don't roll! Make Stacked Burrito Pie Casserole instead. Layer your favorite Mexican ingredients, from your pantry 3 layers high and bake. It's that easy!
An easy to make, wholesome, vegan lentil soup, made with pantry/freezer ingredients.
Any time we're really stumped on what to make for dinner, nachos are the answer! This recipe combines a zesty black bean mix with cheddar cheese and homemade salsa and the combination is amazing.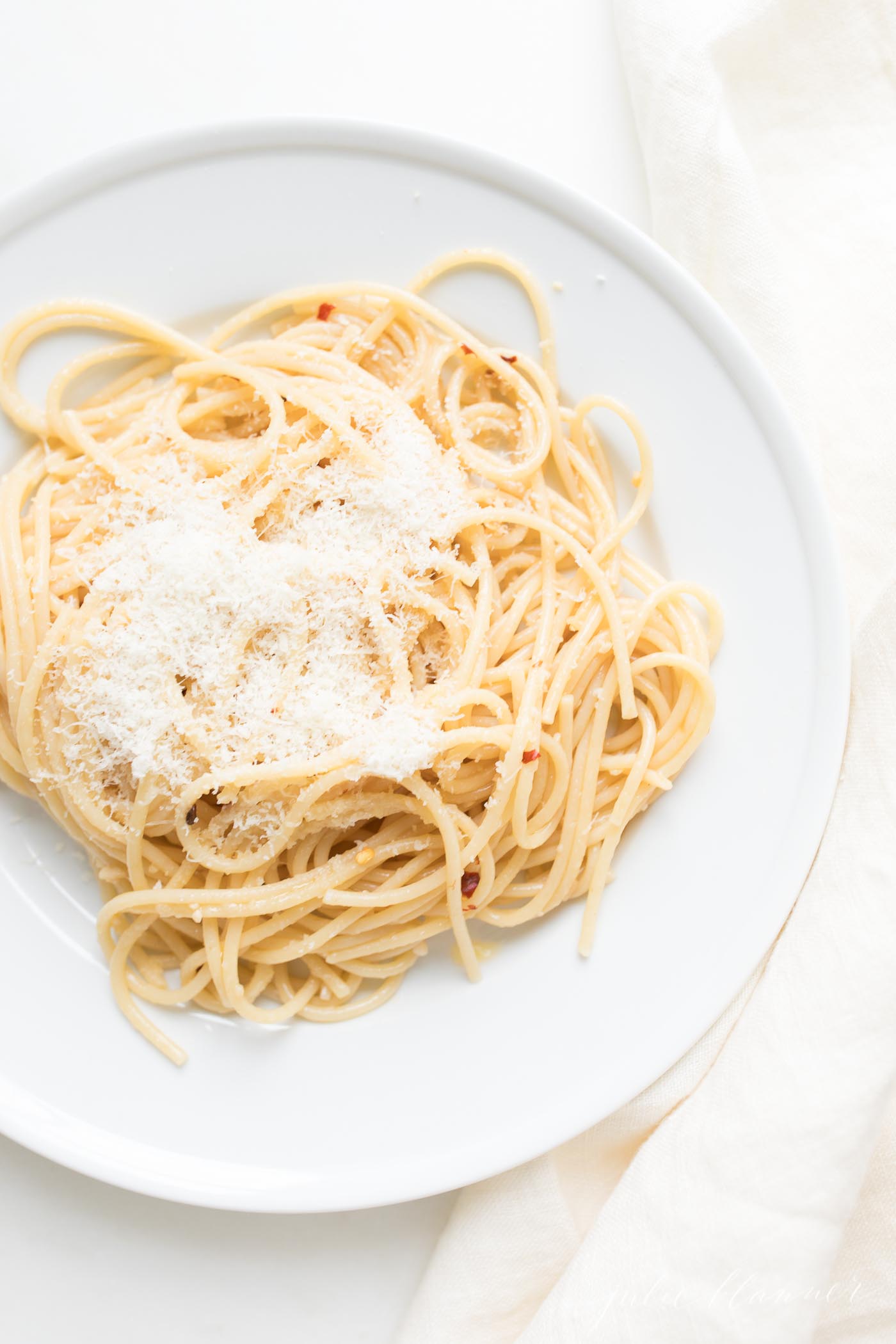 Light and flavorful three ingredient Aglio e Olio, a traditional Italian dish! The perfect weeknight dinner made with pantry ingredients in just ten minutes.
This 3-Ingredient Trader Joe's Thai coconut curry chicken recipe – in addition to being unbelievably easy to make – is one of our family's favorite recipes, any night of the week. I think it takes all of 5 minutes to prepare. Maybe less. And the very best part? The whole thing can be made in your slow cooker. As in, you throw all of the ingredients in. Let it slowly cook up into something magical. Lift the lid when you're ready to eat, and dinner is served!
This vegetarian white bean chowder is the perfect light weeknight dinner, side dish or entrée with wholesome ingredients. The recipe is meat-free, dairy-free, gluten-free, delicious and easy to make.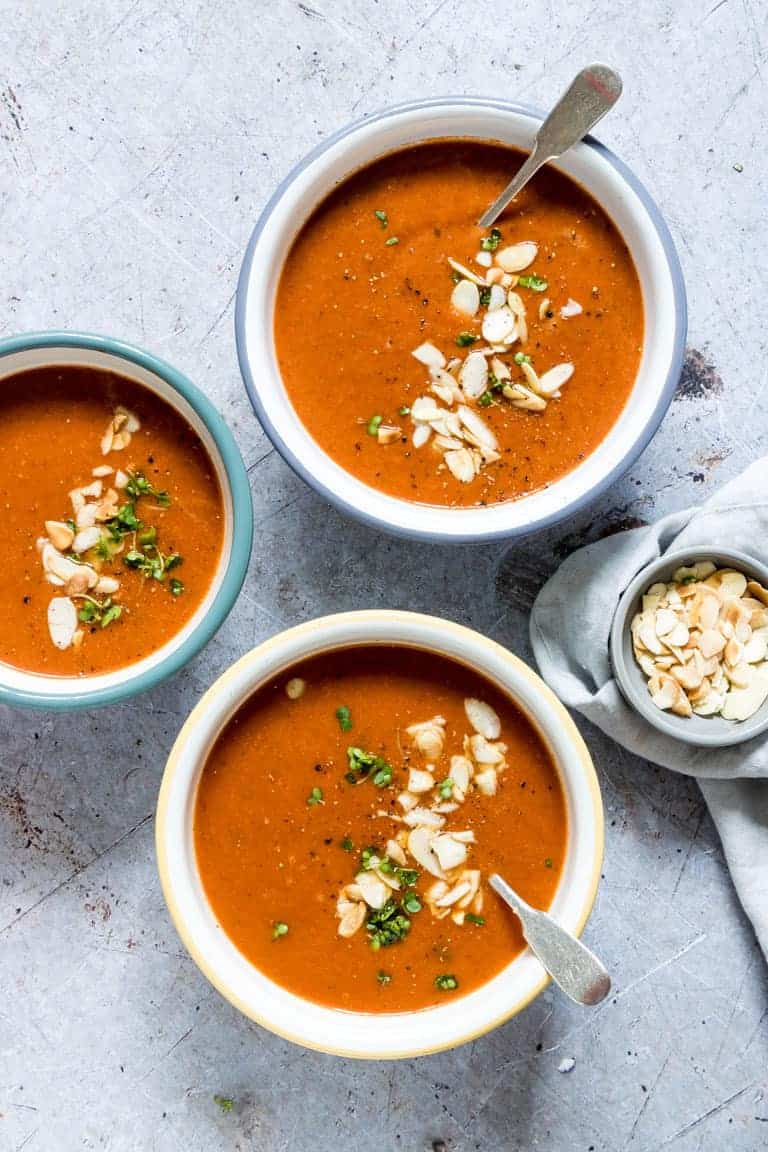 Creamy Instant Pot Tomato Soup is thick, hearty and so comforting. This delicious pressure cooker tomato soup is a healthy dump and start recipe that is made absolutely no oil at all
An easy one skillet chicken enchilada pasta dish that comes together in less than 30 minutes.
This Sweet Potato & Black Bean Stew is the perfect comforting dish, gets rave reviews, is easy to make, and is super budget-friendly!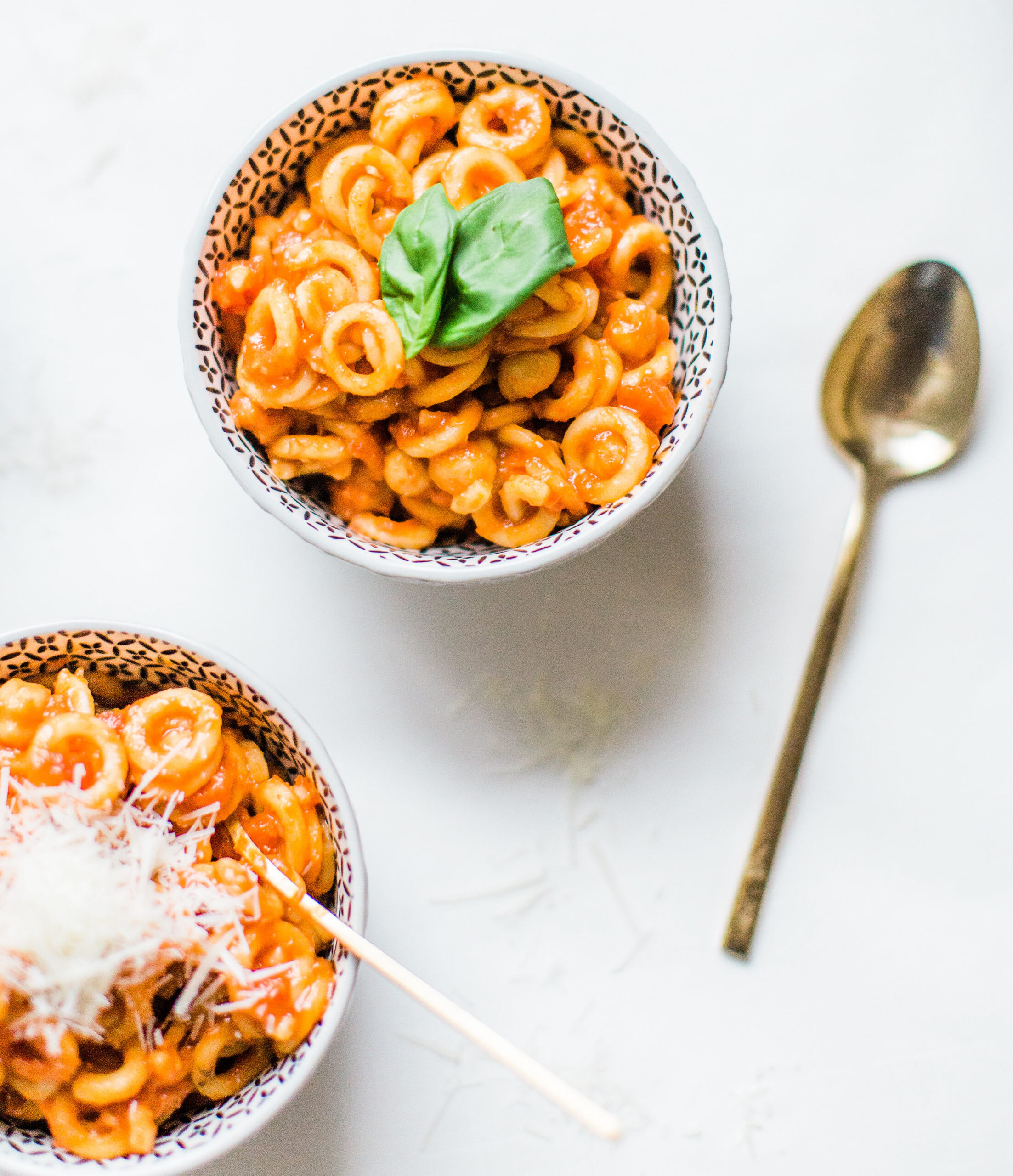 Looking for a delicious one-pot 30-minute vegetarian dinner your whole family will love? Pasta e Ceci; a.k.a., the classic Roman recipe for hearty pasta and chickpeas are the modern-day healthy Spaghettios. And OH MY GOSH, they are good!
This emergency preparedness recipe for New England clam chowder is a wonderful choice if you cannot get to the store. It uses all prepared or canned goods.
This Broccoli Chickpea Curry is a dinner staple that's so quick and easy to make using ingredients you probably already have! It's loaded with veggies and protein and has a secret ingredient to make it extra rich and creamy. It's also gluten-free and vegan.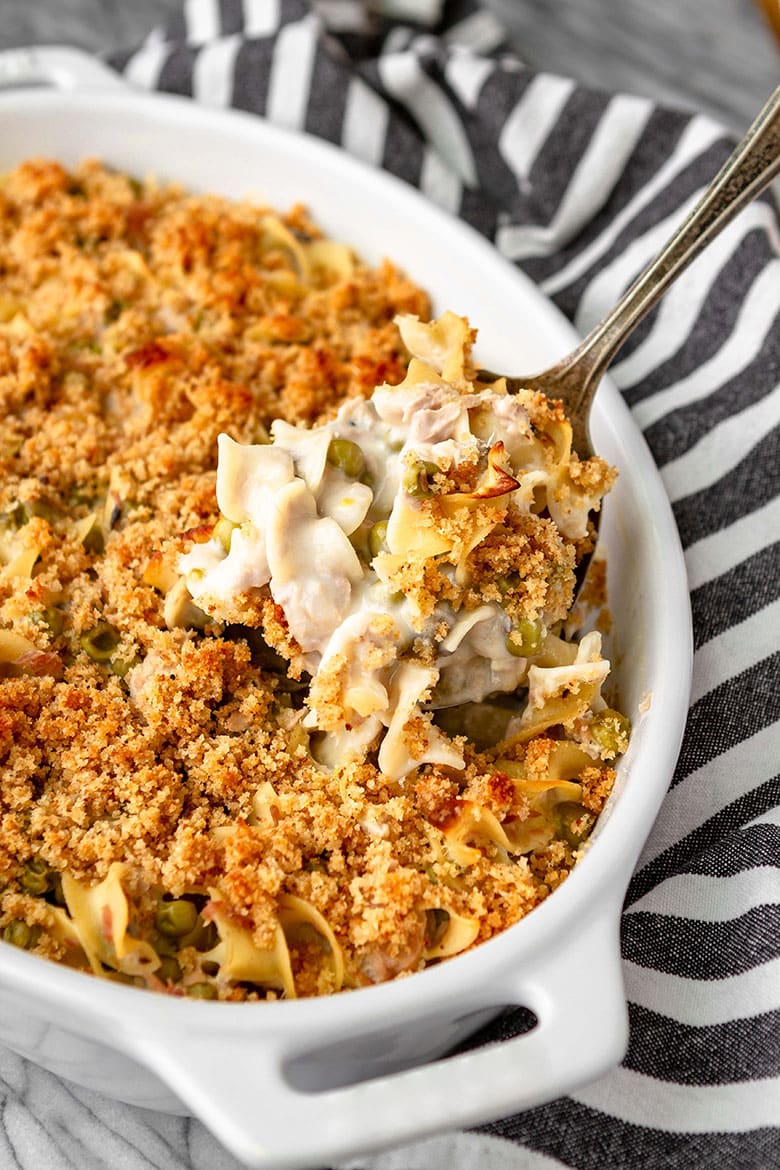 This easy tuna casserole with egg noodles was always one of my mom's go-to recipes when I was growing up… And I can totally see why. Tuna noodle casserole is quick to prep, tasty, and versatile!
This easy one-pot pasta feeds a family of six for under $10!
This soup has all of the good things in it – warming spices, healthy spinach and the lovely Middle Eastern addition of dried mint and lemon. Such a yummy combination.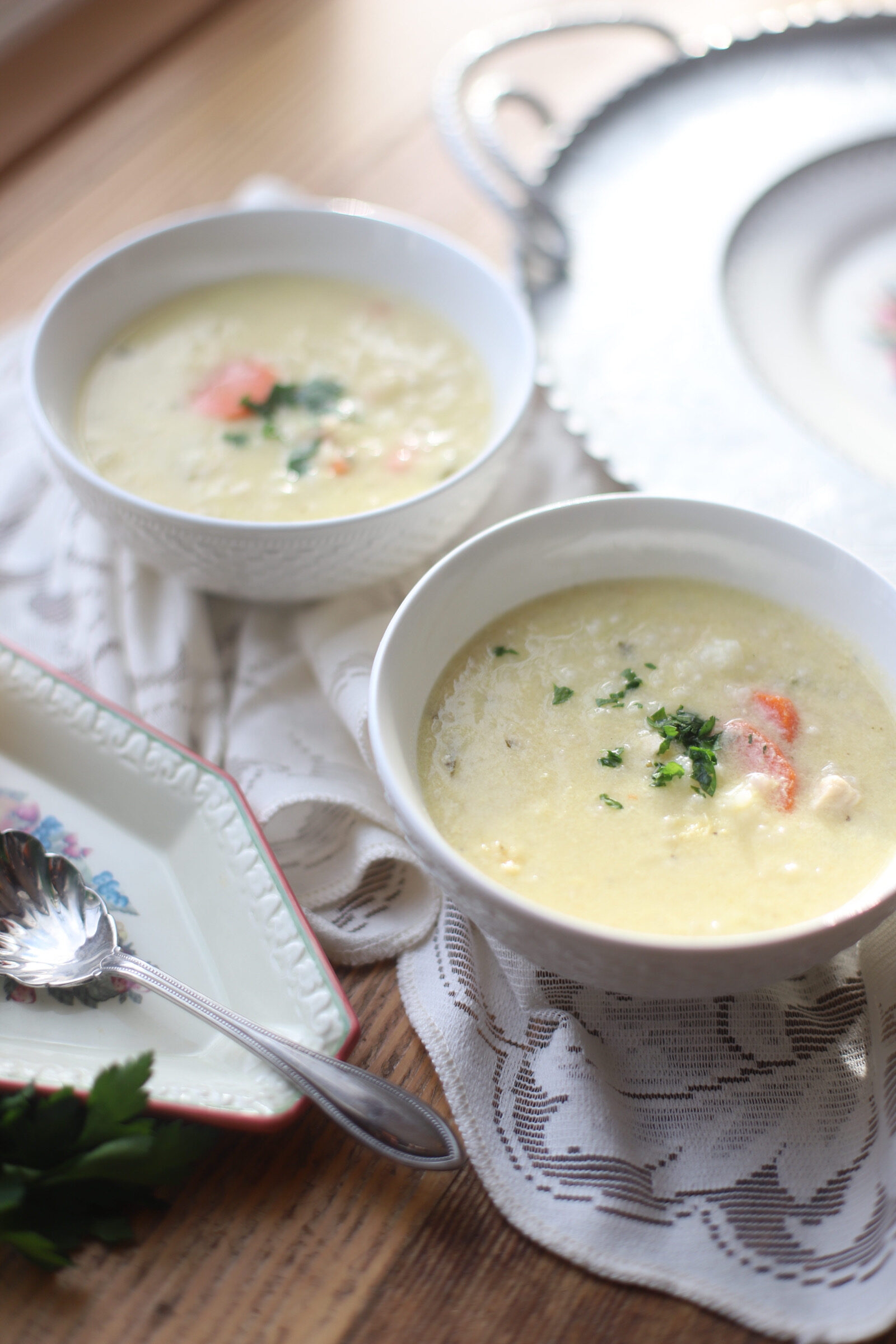 Chock full of hearty veggies, rice, and tender chicken in a bright lemony broth, this Greek lemon chicken soup is COMFORT in a bowl! Plus, it's a totally easy weeknight dinner because you can use a store-bought rotisserie chicken to make things just a little bit easier.
We know you'll fall in love with how easy it is to pull off this hearty, protein-packed dinner. But what will really win you over is its savory, smoky flavor, which leaves just the faintest hint of spice on your tongue. It's inspired by sausage and white bean soup, but we gave it a Southern twist.
The perfect vegan black bean soup recipe! It's healthy, easy to toss together and super flavorful. Instructions included for the slow cooker and stovetop.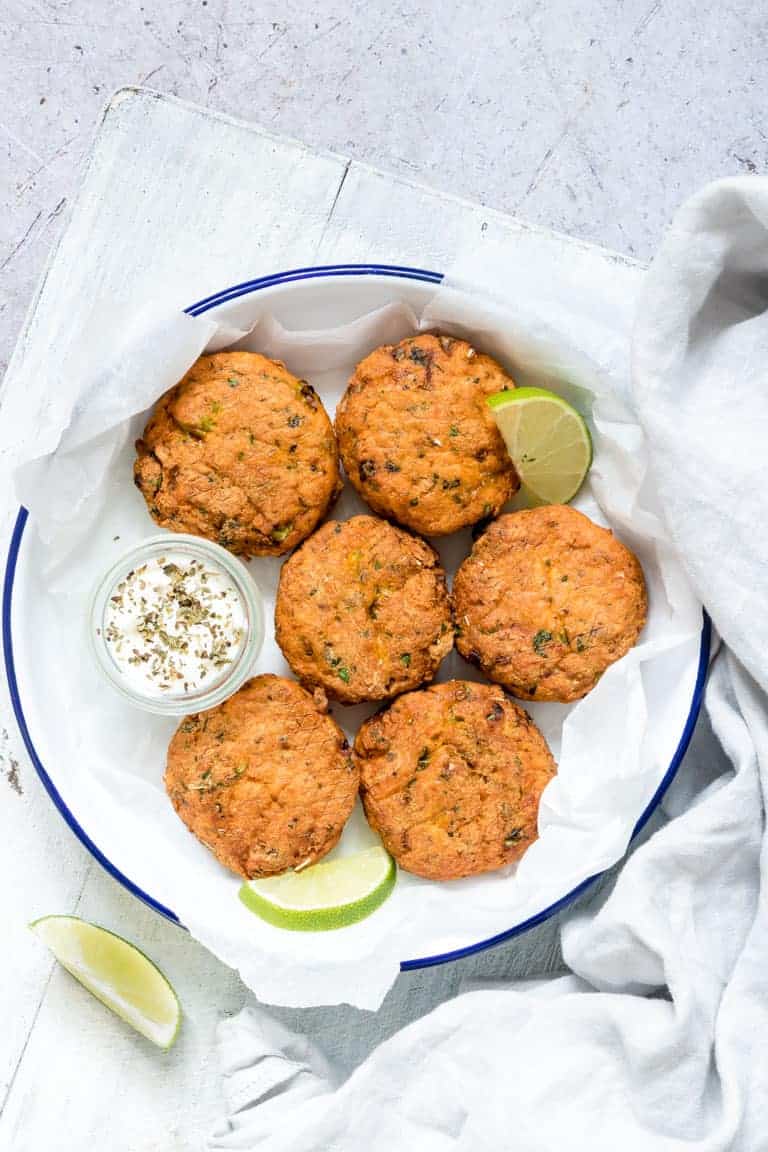 Air Fryer Salmon Patties are a quick and easy healthy pantry meal that is packed with flavor. Cooking salmon patties in the air fryer makes them nice and crispy on the outside, yet keeps them tender and moist inside.
When you just want a bowl of hearty noodles (because, carbs) covered in endless topping options that give you the power to make a bowl your very own, this simple ramen noodles recipe (made in under 15 minutes) might just be the key to at-home ramen bliss.
This Chickpea Tomato Minestrone is a simple but flavorful soup ideal for weeknight cooking!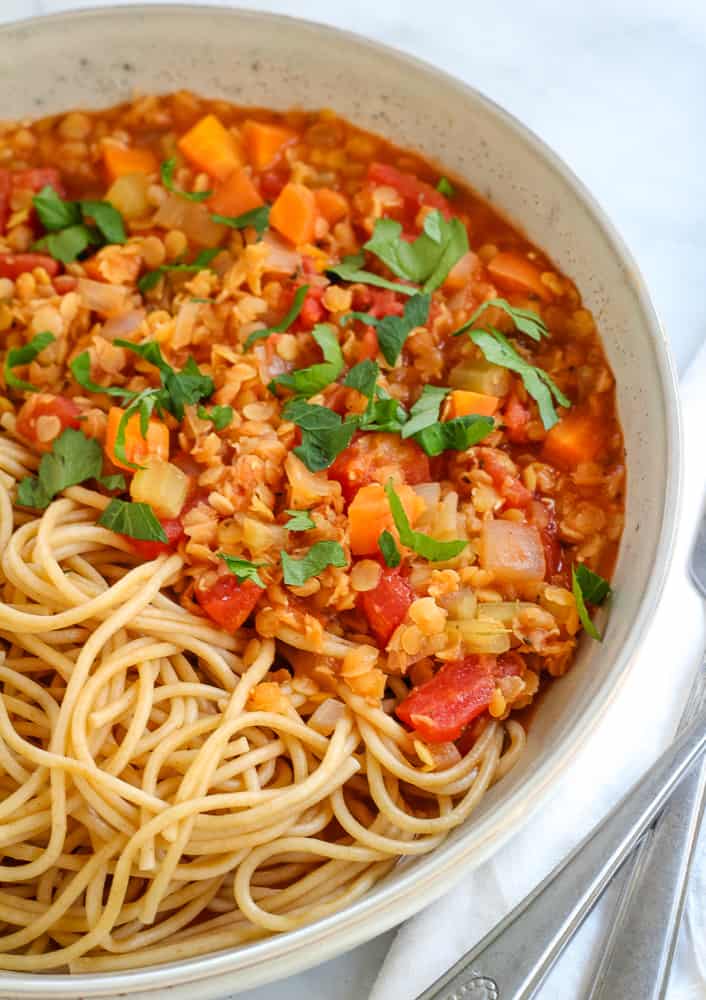 A comforting hearty Lentil Ragu over whole wheat spaghetti that is done in 30 minutes! It's got all the traditional flavors with heart healthy lentils making this a low calorie healthy pasta dish for the whole family!