This post contains affiliate links, which means that if you click on one of the product links, I'll receive a small commission. Thank you so much for clicking through and helping to support this little blog business of mine! Read more about our site, privacy, and disclosure policies here.
Need a little inspiration for what things to put in your kids' Easter baskets this year? Here are 35+ adorable books, games, and toys to fill those Easter baskets.
Earlier this week, I shared exactly what we're putting in our kids' Easter baskets this year, and I wanted to follow that up with a HUGE list of more than 35 adorable things you can put in your kids' Easter baskets, in case you're searching for fun and creative ideas, activities, toys, and games to fill those baskets. I'm rounding up a ton of fun Easter basket fillers, most of which are under $5 and $10, with some bigger items that are under $25.
I'm also including a bunch of really great books that you can include in your kids' Easter baskets because books are always a good idea. When it comes to gifting books for holidays and special events, try to make a habit of including a special inscription on the inside flap so that your kids will always cherish the time when you gave them that book.
Did you know I have a ton of great children's book recommendations on my BOOK CLUB page?
Back to those Easter baskets …
Everything included in this post are things our own kids either have and love (and I share why) or are topping their wishlists. All of the Easter basket gift ideas are extra special and are sure to make your kids smile.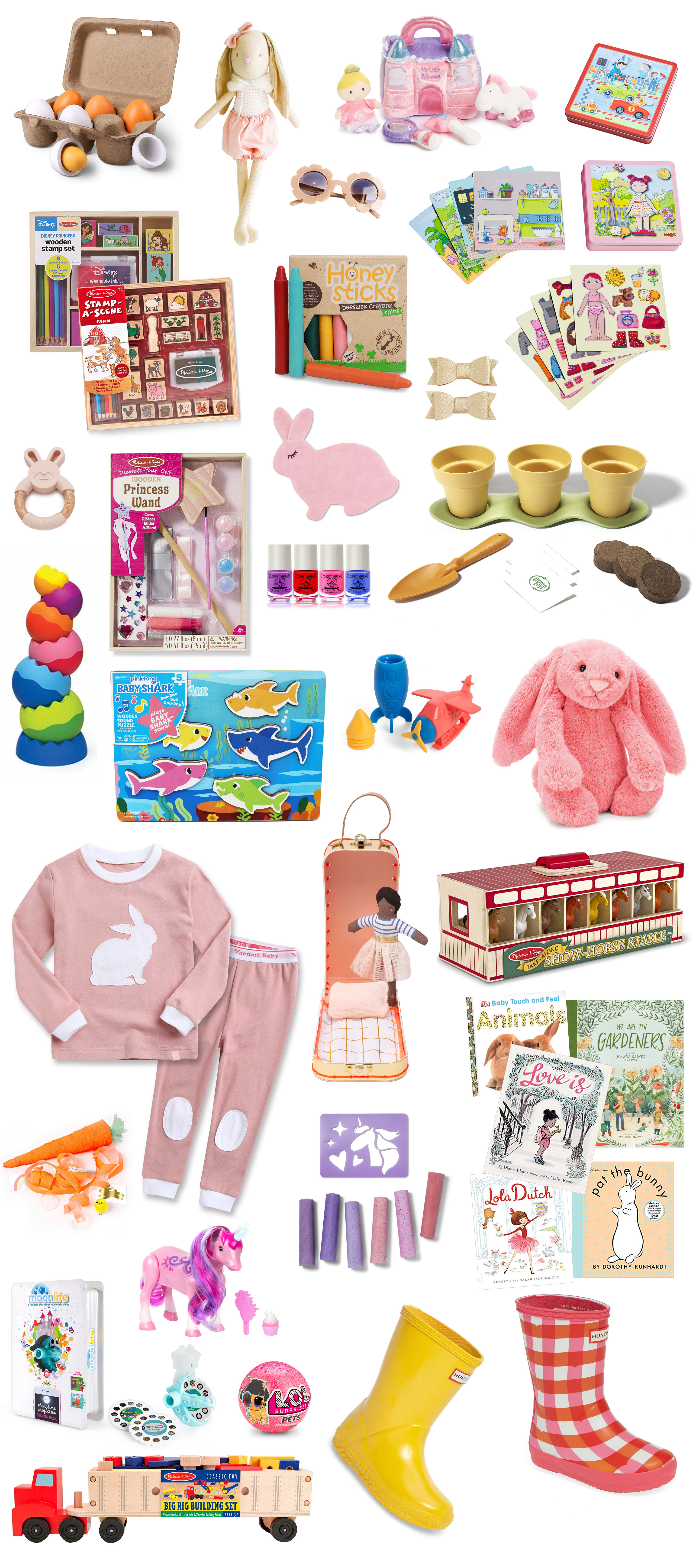 35+ Adorable Things to Put in Your Kids' Easter Baskets
It's like Jenga, with carrot sticks! Too cute.
Sturdy, wooden puzzle pieces trigger the popular Baby Shark Song. Features Mommy Shark, Daddy Shark, Grandma Shark, Grandpa Shark, and, of course, Baby Shark.
Colorful seaplane and rocket squirt toys made from nontoxic food-grade silicone offer endless fun during bath time or at the wading pool.
This would be darling in a play kitchen!
I always used to love these little surprise wrapped prizes as a kid.
Adorable for baby.
OMG, our 4 year old would go CRAZY for this set.
An adorable doll in a tulle skirt comes with a beautifully illustrated suitcase so that your little one can take her on travels or play at home.
I love that these non toxic crayons are chunkier, making them easier for toddler hands to hold.
Baby Bling makes the most darling bows and bow headbands. We always get new bows and hair accessories for the girls around Easter.
These are SO popular right now and this one, for under $10, includes 7 Layers of Surprises! (1) Spy Glass, (2) Secret Message Sticker, (3) Water Bottle, (4) Scooper, (5) Accessory, (6) Accessory and (7) L.O.L. Surprise! Eye Spy Series Pet.
We recently saw this set at Nordstrom and I couldn't believe how adoraable it was.
Our 4 year-old would absolutely LOVE this indoor gardening kit! As someone with a black thumb, I love that everything you need comes in this sweet little kit.
These are the spitting image of a much more expensive designer pair of kids' sunglasses, only these flower sunglasses are under $5 and just as cute! Already ordered two pairs for our girls.
Perfect for the upcoming spring showers. (I mean, how CUTE is this gingham pair?)
A two-piece tractor is packed with all of the pieces your little ones need to construct a building.
Another sweet baby gift for Easter.
Alimrose makes the most beautiful dolls.
Our girls have a few of these Little Live Pets and the unicorn is one of their favorites. Sparkles makes unicorn sounds and dances to her own music, her horn lights up and changes color, and she trots on the spot and nibbles at the included cupcake.
We actually have and love this sweet DIY project. Scarlett still uses her decorated wand.
Same idea: DIY projects with the kiddos are always fun.
Jellycat makes our most favorite stuffed animals ever. They are so soft and beautiful. We actually have three of these bunnies and Emme still cuddles with them every day.
These magnetic sets are adorable and perfect for travel.
It's no secret that I love Vaenit Baby Pajamas. You can see the girls in their matching pj's right here. And now they have these adorable printed pajamas (in so many cute bunny patterns and colors, I might add), and we are all over them.
Piggy Paint Scented nail polish is non-toxic, durable, comes in four really yummy scents, and is kid-friendly!
This non toxic, vegan, washable glitter chalk is adorable and for every Yoobi item you buy, a Yoobi item will be donated to a child in need, right here in the U.S. So cool.
These little race cars are so sweet. We love cars like this; they're great to keep in your diaper bag or in a busy bag because they're small enough and light enough to take anywhere, and our girls really like playing with them when we're waiting at restaurants, etc. They'll build whole highways out of sugar packets for their cars to drive on and more.
This set of 6 dual-colored, weighted spheres stacked atop a sturdy base is perfect for baby hands and tons of innovation and fun.
This clever Storybook Projector for Smartphones comes with 2 Stories and is super entertaining for kids. There are also several new books available now.
Easter Basket Books
Books are one of my personal favorite Easter basket stuffers/fillers. You can even write a little a note to your child and date it so that you know exactly what year you gave the book to your little one. This year we're giving the girls Love Is and Lola Dutch. (Both have beautiful stories with a lovely message, and gorgeous illustrations.)
There are also a ton of really sweet children's book recommendations on my BOOK CLUB page, highlighting some of our favorites to read with our own kids.
Target also has a great selection of Easter-themed children's books right now!
This is Joanna Gaines' new children's book, and also her very first!
This sweet book is perfect for baby's first Easter. In case you want even more awesome books for your little ones, we also shared our very favorite board books for babies and toddlers right here.
So there you have it: more than 35 adorable things to put in your kids' Easter baskets this year!
Do you have anything special lined up for your kids' Easter baskets? What are your Easter Sunday traditions?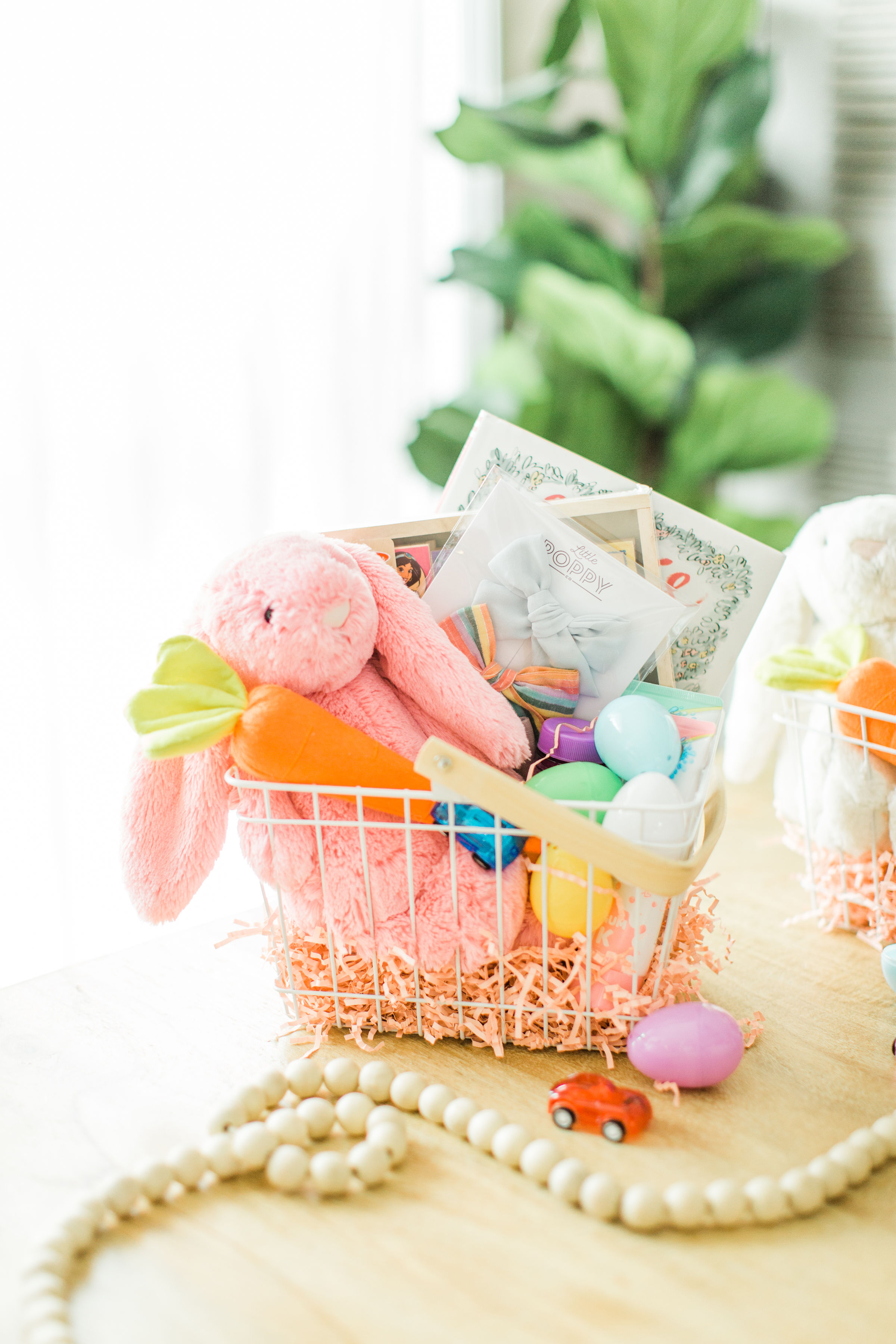 And, for even more amazing Easter inspiration, don't miss:
Everything We Put in Our Kids' Easter Baskets This Year
Some Bunny Loves You Kids Indoor Easter Picnic Party
The Cutest DIY Kids Easter Basket Station
Carrot Cake Scones with Cream Cheese Glaze
22 Amazing Brunch Recipes that are Perfect for Easter
The Yummiest Easter Bunny Sugar Cookies
Insanely Amazing Overnight Crème Brûlée French Toast Casserole (another perfect Easter brunch recipe)
Super Simple Sugar Cookie Fruit Pizza (the kids LOVE this)
SHOP THE BEST EASTER BASKET TOYS + ACCESORIES | CLICK LEFT & RIGHT ARROWS TO EXPLORE

SHOP THE BEST EASTER BASKET BOOKS | CLICK LEFT & RIGHT ARROWS TO EXPLORE

IF YOU LOVED THIS KIDS POST, YOU CAN SEE MORE OF OUR LIFE WITH TWO LITTLE ONES HERE.
Photo by Annie Timmons Photography for Glitter, Inc.