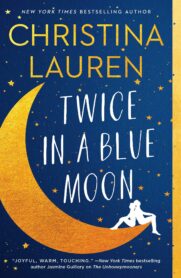 Twice in a Blue Moon by Christina Lauren
Twice in a Blue Moon by Christina Lauren
I'm a sucker for a great romance, and this book is most definitely a guilty pleasure kind of romance novel. Sure, romance novels get a bad rep, but when they're this good, why not get sucked in? Christina Lauren nails great character development; in this case, two great characters wrapped up in a world of celebrity. There's also a pretty big plot twist, and I'm impressed at how the authors manage to write about acceptance, even though it feels difficult both for the reader and the protagonist.
Pick this one up for a fun romance you can get sucked into.
From Amazon:
Sam Brandis was Tate Jones's first: Her first love. Her first everything. Including her first heartbreak.
During a whirlwind two-week vacation abroad, Sam and Tate fell for each other in only the way that first loves do: sharing all of their hopes, dreams, and deepest secrets along the way. Sam was the first, and only, person that Tate—the long-lost daughter of one of the world's biggest film stars—ever revealed her identity to. So when it became clear her trust was misplaced, her world shattered for good.
Fourteen years later, Tate, now an up-and-coming actress, only thinks about her first love every once in a blue moon. When she steps onto the set of her first big break, he's the last person she expects to see. Yet here Sam is, the same charming, confident man she knew, but even more alluring than she remembered. Forced to confront the man who betrayed her, Tate must ask herself if it's possible to do the wrong thing for the right reason… and whether "once in a lifetime" can come around twice.
With Christina Lauren's signature "beautifully written and remarkably compelling" (Sarah J. Maas, New York Times bestselling author) prose and perfect for fans of Emily Giffin and Jennifer Weiner, Twice in a Blue Moon is an unforgettable and moving novel of young love and second chances.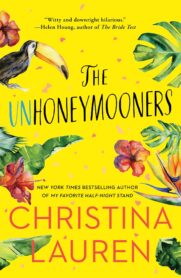 The Unhoneymooners by Christina Lauren
The Unhoneymooners by Christina Lauren
The Unhoneymooners was basically the gateway drug/book that got me addicted to Christina Lauren's novels. Christina Lauren is the combined pen name of longtime writing partners and best friends Christina Hobbs and Lauren Billings. Their books are lighthearted, sassy, and fun, with great writing and strong plots to carry them along. The real-life love stories, and totally relatable characters make all of the books great reads.
This book in particular is brilliantly penned, so funny, and will leave you smiling from ear to ear. Loved it.
From Amazon:
For two sworn enemies, anything can happen during the Hawaiian trip of a lifetime—maybe even love—in this romantic comedy from the New York Times bestselling authors of Roomies.
Olive Torres is used to being the unlucky twin: from inexplicable mishaps to a recent layoff, her life seems to be almost comically jinxed. By contrast, her sister Ami is an eternal champion . . . she even managed to finance her entire wedding by winning a slew of contests. Unfortunately for Olive, the only thing worse than constant bad luck is having to spend the wedding day with the best man (and her nemesis), Ethan Thomas.
Olive braces herself for wedding hell, determined to put on a brave face, but when the entire wedding party gets food poisoning, the only people who aren't affected are Olive and Ethan. Suddenly there's a free honeymoon up for grabs, and Olive will be damned if Ethan gets to enjoy paradise solo.
Agreeing to a temporary truce, the pair head for Maui. After all, ten days of bliss is worth having to assume the role of loving newlyweds, right? But the weird thing is . . . Olive doesn't mind playing pretend. In fact, the more she pretends to be the luckiest woman alive, the more it feels like she might be.
With Christina Lauren's "uniquely hilarious and touching voice" (Entertainment Weekly), The Unhoneymooners is a romance for anyone who has ever felt unlucky in love.