This fruit pizza recipe post contains affiliate links, which means that if you click on one of the product links, I'll receive a small commission. Thank you so much for clicking through and helping to support this little blog business of mine! Read more about our site, privacy, and disclosure policies here.
Learn how to make your own amazing cookie fruit pizza! This super simple and surprisingly dairy-free sugar cookie fruit pizza Recipe is not only super yummy, but the end result will seriously impress your party guests.
You know those adorable cookie fruit pizzas you see at parties and all over Pinterest? Well, have I got exciting news for you dairy-free party-throwers out there! You see, I was putting together a fun styled shoot/party for Easter (seriously, you do not want to miss this one!), and I knew I wanted a show-stopping, but simple, dessert for the kids. And of course, Scarlett is allergic to milk protein, which really makes our pretty dessert options kind of limiting. I had a hunch that there was a way to use quick and simple store-bought ingredient to create a super simple dairy-free cookie fruit pizza recipe, so to the store I went.
Fun fact: most refrigerated sugar cookie doughs in the cold section of your local supermarket are dairy-free. (Though of course, you could make your own dough; this dairy-free sugar cookie recipe is our favorite!)
Aaaaand, most store-bought tubs of frosting are too.
You guys: a dairy-free sugar cookie pizza could not be easier! And because we're using everyday yummy store-bought ingredients that everyone already loves, your guests will never know this dessert is actually dairy-free.
Fruit pizza recipe – a.k.a., dessert pizza – is the kind of dessert everyone will love (and be super impressed by, even though it took you all of 20 minutes to create!) And really, what's not be loved? It's a giant, chewy sugar cookie covered with a decadent frosting topping, and then layered with a ton of vibrant, fresh fruit. You get fresh fruit, rich, creamy frosting, and heavenly sugar cookie in every bite. The combination is glorious.
Trust me: save this recipe for your next family gathering, kids party, or backyard barbecue. It will be the talk of the party!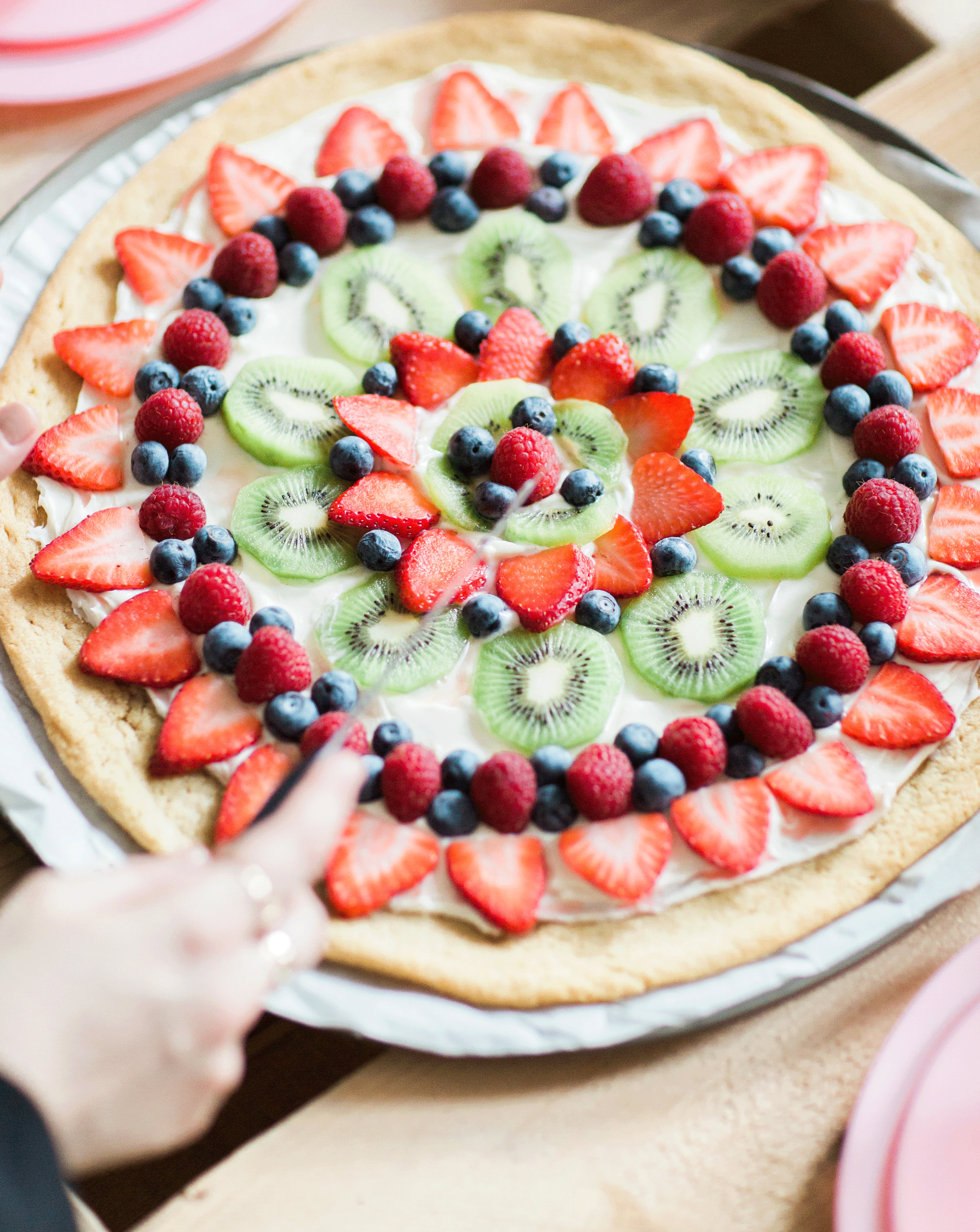 The real switch here is that while most sugar cookie fruit pizzas use a cream cheese frosting, to keep things dairy-free, I used a classic vanilla (or white) frosting. Trust me, nothing was missed. This dessert pizza is friggin' delicious.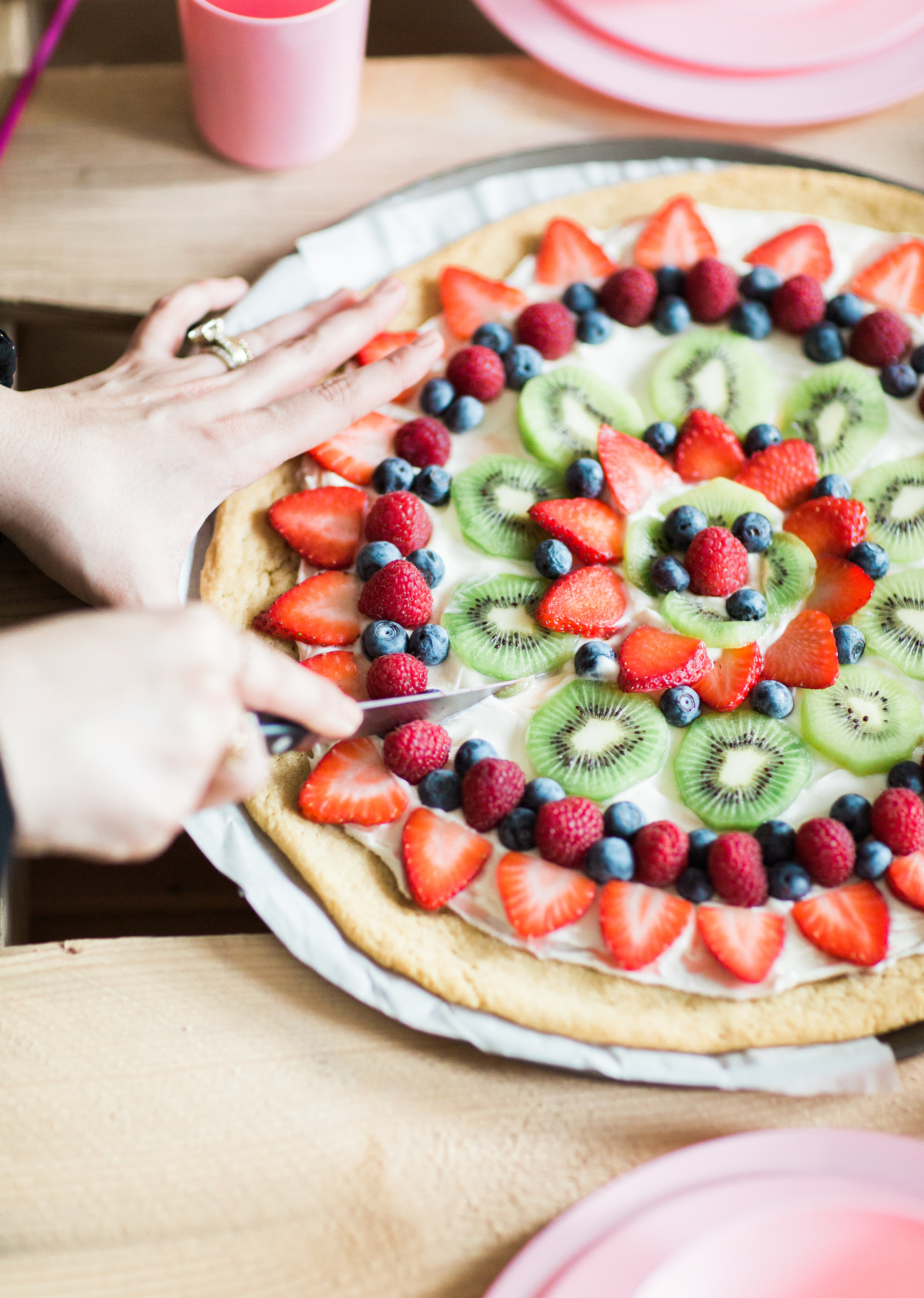 Anyhoo, here's how to make a super simple dairy-free sugar cookie fruit pizza (that you'll never, ever know is secretly dairy free!)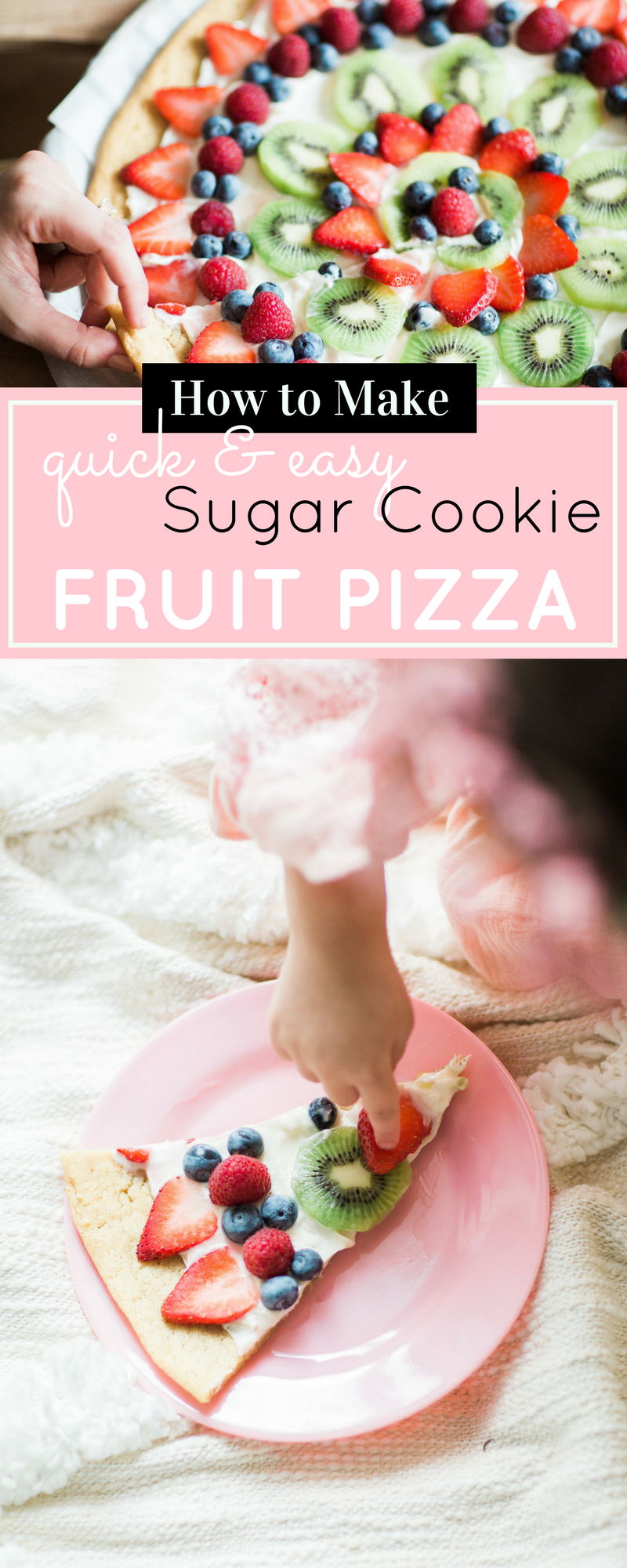 Yield:
Dairy-Free Sugar Cookie Fruit Pizza Recipe
Ingredients
dairy-free sugar cookie dough (or make your own dairy-free sugar cookie dough; this recipe is our favorite!)
dairy-free frosting
berries (sliced strawberries, whole bluberries and raspberries, etc.)
mandarin oranges (drained)
cut up fruit (sliced and peeled apples, bananas, grapes, kiwi, mango, peaches, etc.) 
Instructions
Remove your cold cookie dough from the refrigerator, allowing it at least 20-30 minutes to come to room temperature. This will make it softer when rolling it out into your pizza shape.
Preheat oven to 350 degrees (or whatever packages cookie directions say.)
Wrap a round pizza pan with aluminum foil and then put down a piece or two of parchment paper. (This makes your pizza easier to transfer after baking.)
Spray hands with non-stick cooking spray or coat hands in flour; then spread cookie dough into an even layer in bottom of prepared pizza pan. I used a combination of my hands and a rolling pin to shape my dough into a circle.
Bake 12 – 14 minutes until edges are golden. Cool completely on a wire rack.
Spread frosting evenly over cooled crust.
Using your cut up/prepared fruit, create a pattern from the center, out.
Serve immediately-ish and/or chill. (The strawberries will eventually start to run/bleed, if not kept cold.)
Don't be afraid to get creative with your fruit pattern! And trust me, no real artistic skill is needed here; just start laying fruit from the center, and it will look beautiful no matter what; because fruit is actually really pretty.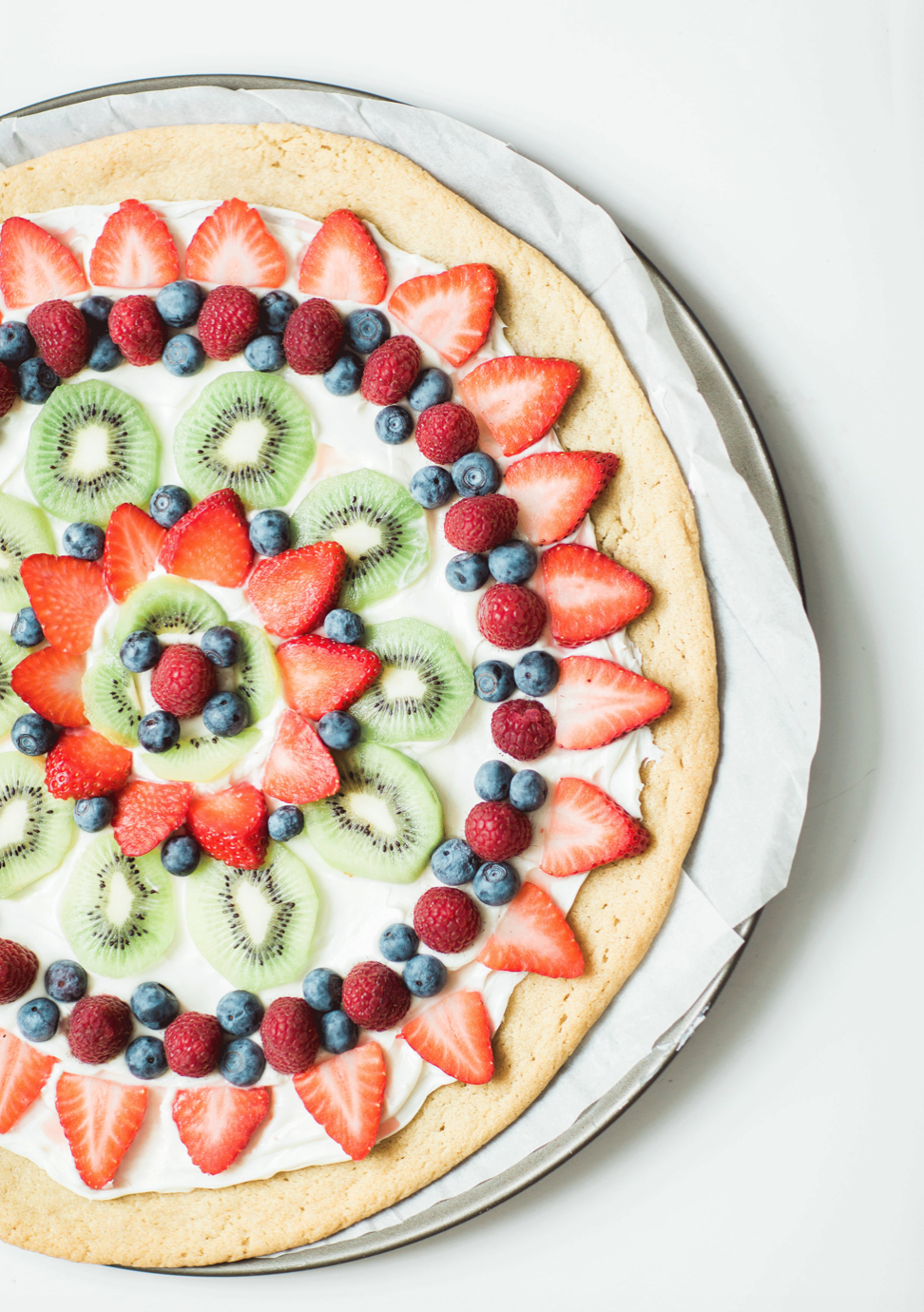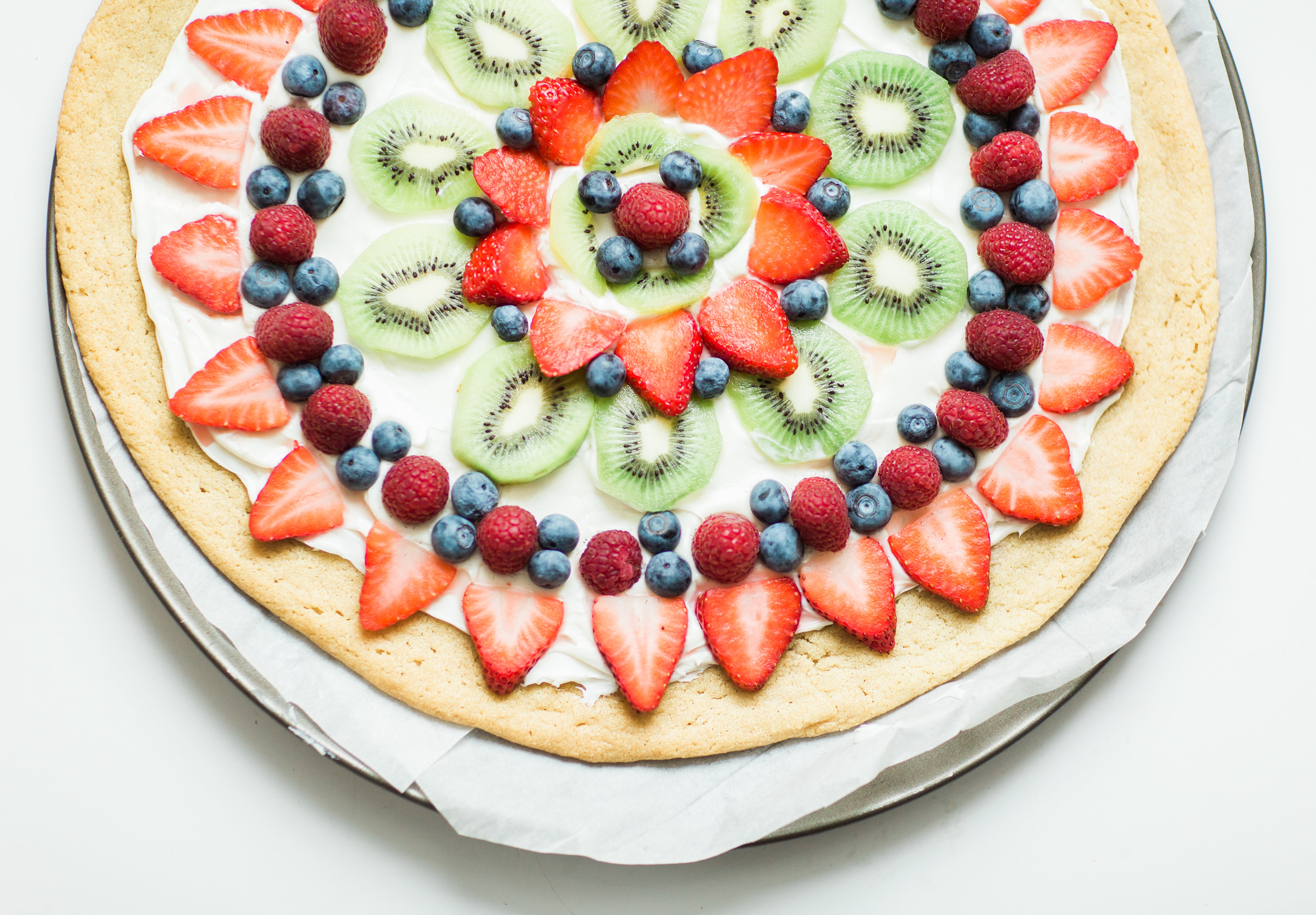 Try to serve your sugar cookie fruit pizza soon after making this, because your fruit will bleed/run a bit (especially the strawberries.) Your best bet is to frost and decorate your giant sugar cookie pizza just before your party or event.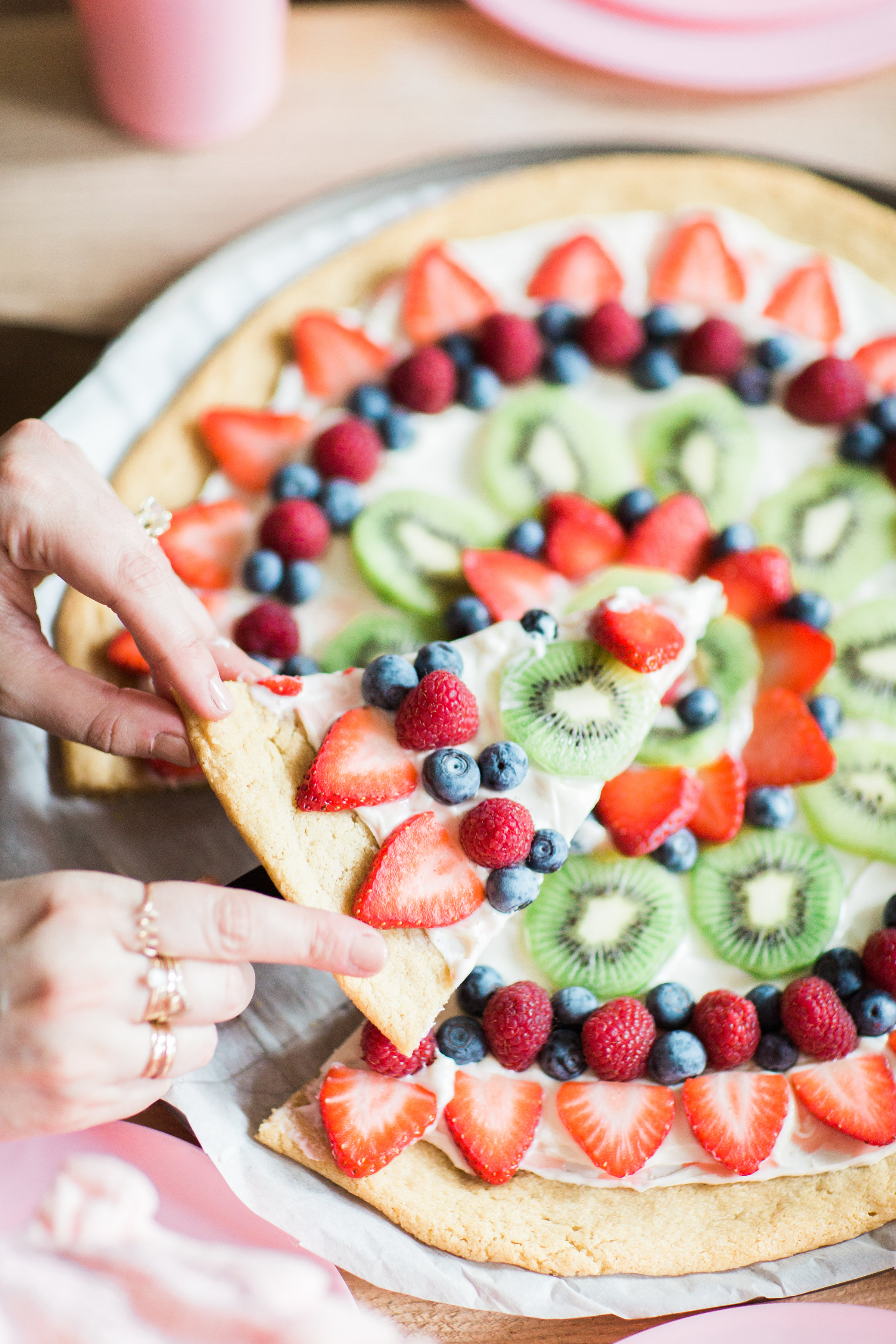 This sugar cookie fruit pizza was a huge hit with the kids and grown-ups alike!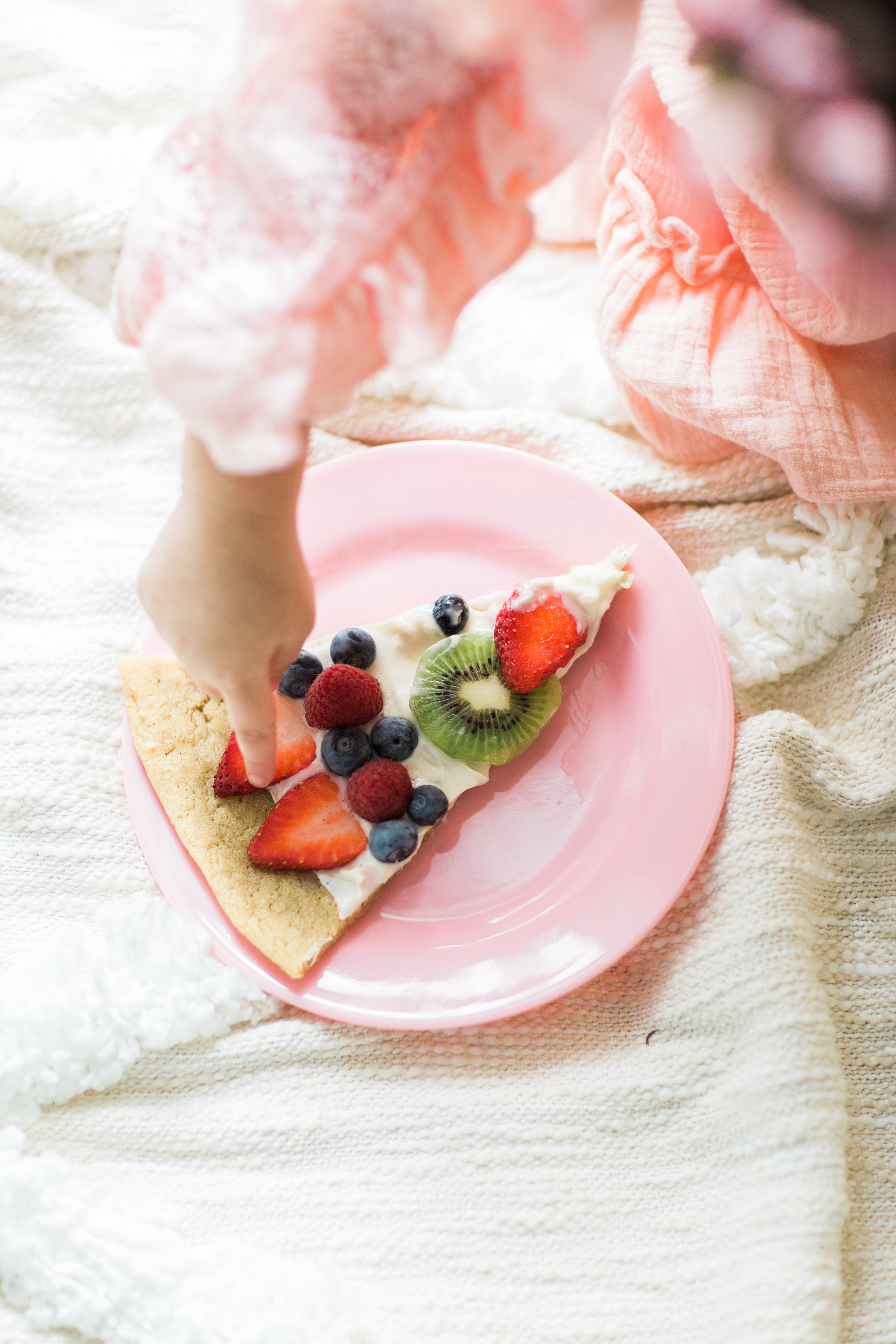 If you make your own dairy-free sugar cookie fruit pizza, be sure to tag me on social media (@glitterinclexi) so I can live vicariously through all of your sweet creations!
Love this dessert fruit pizza recipe? Head to our recipe page to check out what else we're whipping up in the kitchen!
Photos by Annie Watts Photography for Glitter, Inc.