This post contains affiliate links, which means that if you click on one of the product links, I'll receive a small commission. Thank you so much for clicking through and helping to support this little blog business of mine! Read more about our site, privacy, and disclosure policies here.
I've always looked forward to Easter, more than most holidays, for one reason in particular: the endless sweets. When I was little, my Easter mornings began with an extensive search throughout the backyard for an Easter basket (left behind by the Easter Bunny, of course). The basket was a kid's dream – filled to the brim with caramel stuffed chocolate eggs, jelly beans, pink peeps, and if you were extra lucky, a giant hollow milk chocolate bunny.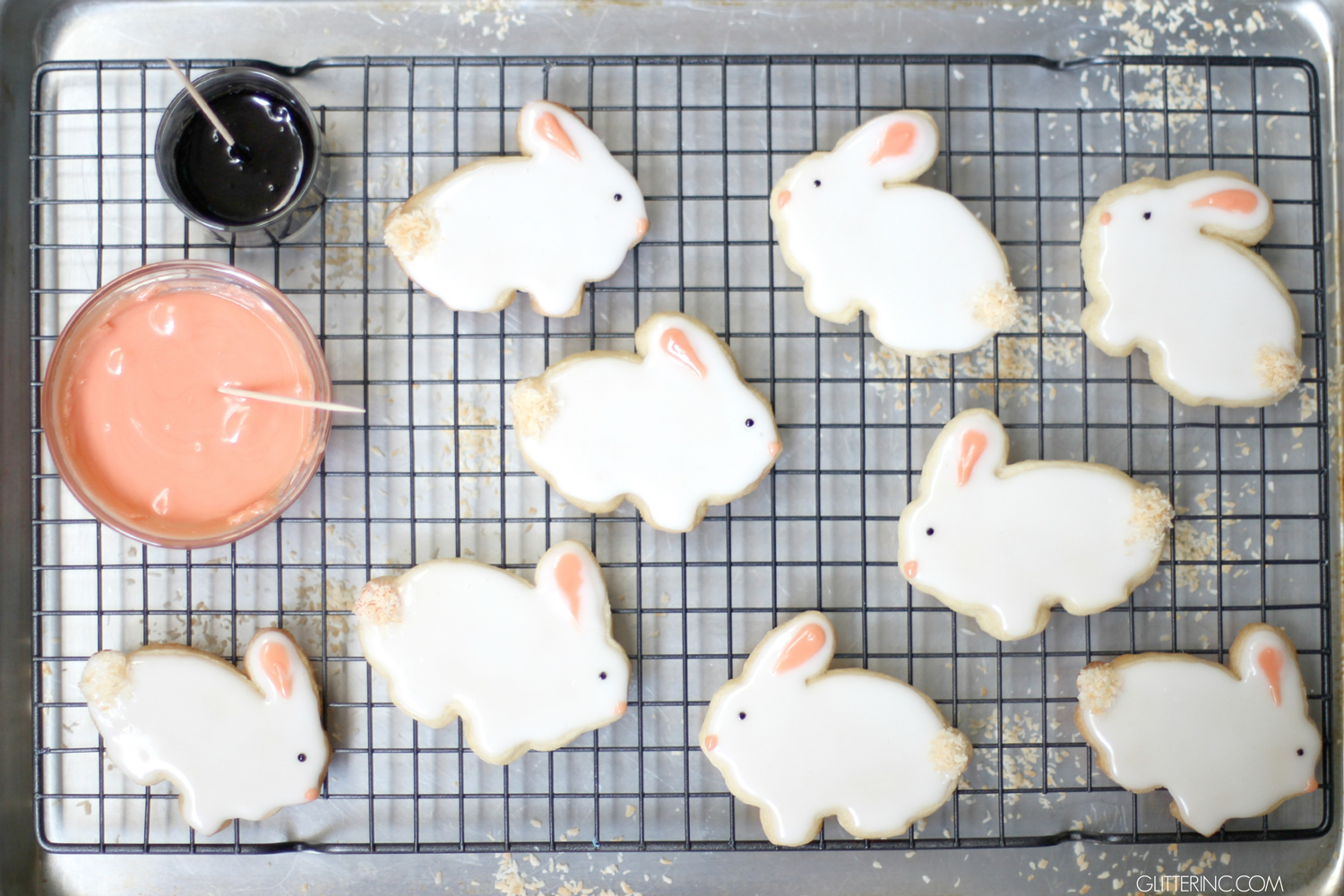 Although my days of waking up to candy-filled baskets from giant bunnies are long gone, I have yet to let an Easter holiday pass me by without indulging in (way too many) sweets. This year, I'm satisfying my sweet tooth with these adorable Easter Bunny Sugar Cookies! These cookies hold their shape nicely, and stay chewy in the center and crisp on the edges (like any great cookie should).
Easter Bunny Sugar Cookie Cutouts
Yields around 30 cookies
(depending upon thickness of the dough)
INGREDIENTS
For the sugar cookies…
¾ cups butter (room temperature)
¾ cup granulated sugar
1 large egg (room temperature)
2 teaspoons vanilla extract
2 ¼ cups all-purpose flour
½ teaspoon baking powder
For the royal icing and decorations…
1 ½ cups powdered sugar
5 teaspoons milk
3 teaspoons light corn syrup
¼ teaspoon vanilla extract (or any extract – almond, lemon, etc.)
¼ cup shredded unsweetened coconut (toasted)
Liquid food coloring
Toothpicks
A piping bag with a small round tip (or Ziploc bag)
DIRECTIONS
Sift together the baking powder and flour.
In another bowl, cream the butter and sugar until light yellow and fluffy. Then, add in the egg and vanilla and beat everything together.
Slowly add the dry into the wet until just barely combined. The dough will be fairly dry and crumbly.
Separate the dough into two equal parts. Roll them each out onto parchment paper until they are about ¼" thick. Chill for at least one hour to keep the cookies from spreading when baked.
Once chilled, preheat the oven to 350 F and cut shapes out of the chilled, rolled out dough using your cookie cutter. Place the shapes onto parchment lined cookie sheets and bake for 8-10 minutes – until lightly golden around the edges.
Next, prepare the icing while the cookies cool. Combine all icing ingredients into a small bowl, adding more milk if icing is too thick. (Keep the icing fairly thick at first, so that you can pipe an outline around the shape of the cookie. Once the outlines are piped, thin the icing with a bit more milk in order to "flood" or cover the cookies completely with white icing.)
Once the cookies are outlined and flooded with white icing, add a bit of toasted coconut (toasted at 350 F for 3-5 minutes) onto the tail of the bunny (while the icing is still wet.) Then, separate the remaining white icing into two bowls. Using food coloring, turn the icing both pink (2 drops red + 1 drop yellow) and black (a few drops of each color) for the eye, nose, and ear decorations.
Finally, using a toothpick, place an eye on the bunny cookie using a small dot of black icing. Then, fill in the ear with a bit of pink icing and add a dot of pink to the nose. Chill until icing hardens and enjoy!
TIP: The best way to pipe the outline around the cookie is with a piping bag and small round metal tip. But if you don't have those, cut a tiny hole in the corner of a Ziploc bag, fill with the royal icing, and pipe an outline onto the cookie.
Recipe and Photos by Sugar Coated Inspiration for Glitter, Inc.
Love this recipe? Check out all of our recipes here; and if you're looking for a different Easter dessert option, this super easy sugar cookie fruit pizza is INCREDIBLE.