This post contains affiliate links, which means that if you click on one of the product links, I'll receive a small commission. Additionally, as an Amazon Associate I earn from qualifying purchases. Thank you so much for clicking through and helping to support this little blog business of mine! Read more about our site, privacy, and disclosure policies here.
If you love a good dessert buffet, you and your guests will adore this simple and beautiful woodland winter holiday dessert bar – perfect for your next festive Christmas or Hanukkah celebration! Plus, all of my best tips for an easy and memorable dessert bar.
Dessert is my love language. Which should probably explain all of the balking that I do. Serving all of those baked goods, sharing them with friends, it all just makes me so happy.
I'm a firm believer that dessert, and a big, beautiful dessert buffet or dessert bar is always the way to go at any party or celebration.
No matter what kind of meal you have – informal brunch, sit-down dinner, you name it – ending a festive meal with a great big spread of all of those yummy desserts, ready for everyone to dig in and build their own dream dessert plate: that's the ticket.
We've been putting together dessert bars – a fancy way of saying "dessert buffet" – for years now at our parties, and of course, they are always a huge hit. We've done an ice cream sundae bar, a retro cereal bar, a dessert charcuterie (perfect for the holidays!), a DIY caramel apple bar, even a root beer float bar, and the list goes on and on.
Want even more holiday content? Right this way!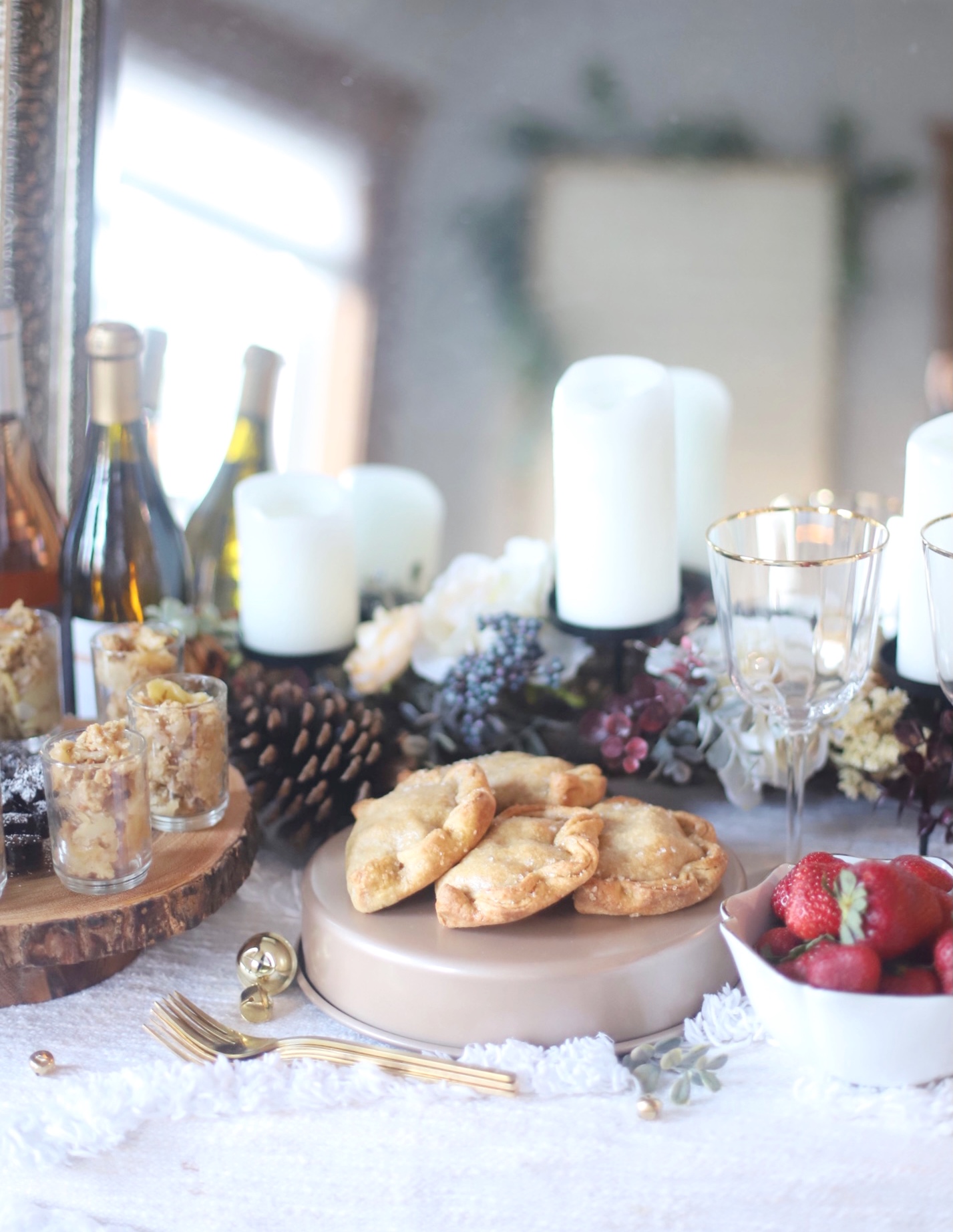 Woodland Winter Holiday Dessert Bar
An awesome dessert spread is always the talk of any great gathering, celebration, party, etc. Even when we keep it small, like this year with our little family, any time I lay out several dessert options, our kids get SO excited.
For this year's holiday dessert bar, I really wanted to embrace all of the fluffy beautiful snow right outside our door, so I came up with this simple winter wonderland holiday dessert bar, and I'm so excited to share it here with you today!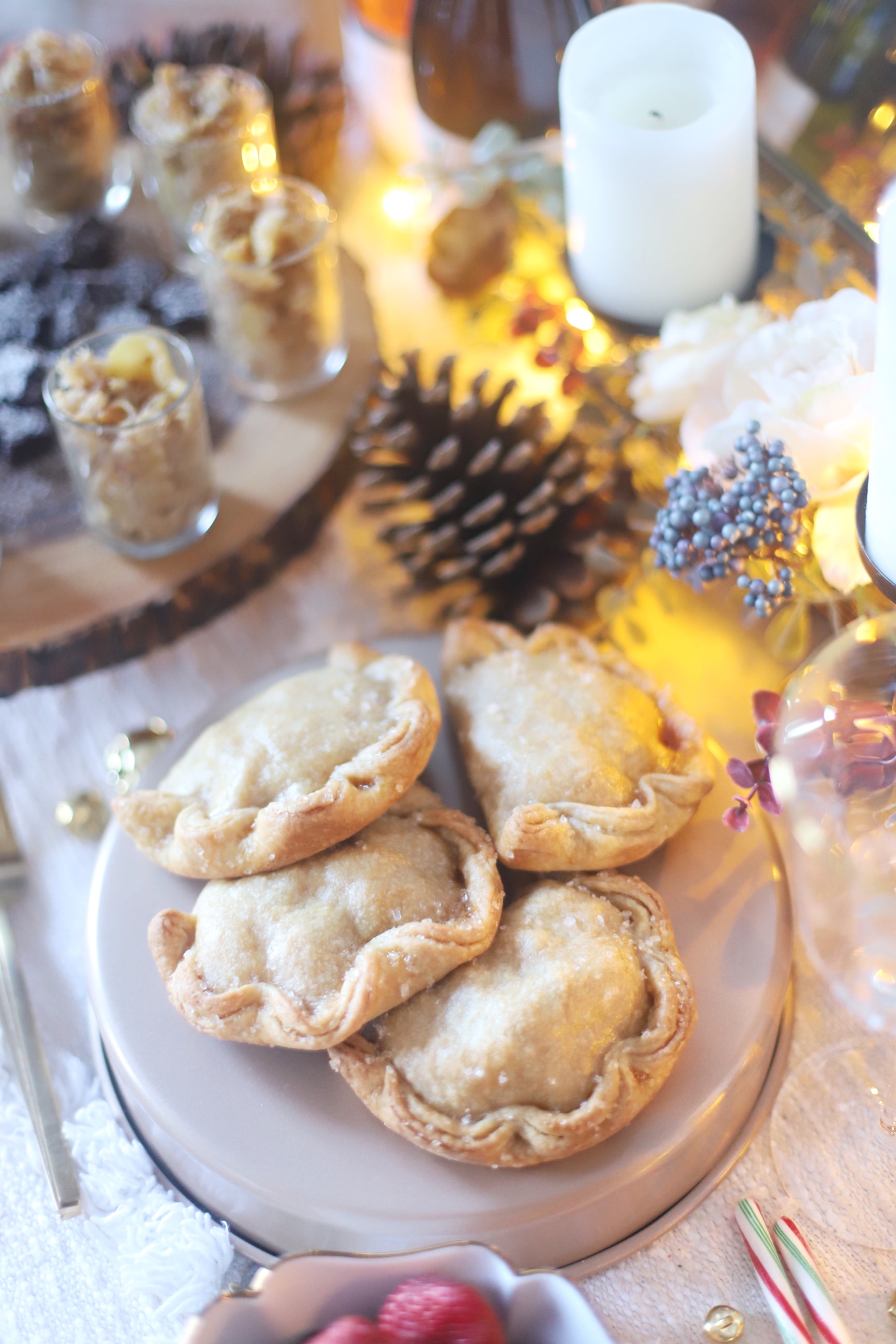 For this year's holiday dessert buffet, I pulled out a few of my favorite dessert bar tricks, and I'm sharing them here today!
If you follow me over on Instagram, I'm also giving a behind-the-scenes look at how I style everything over on my Instagram Stories! I'll be sure to save them to the BTS/Styling Story Highlight as well so that you can check out my dessert bar tips any time!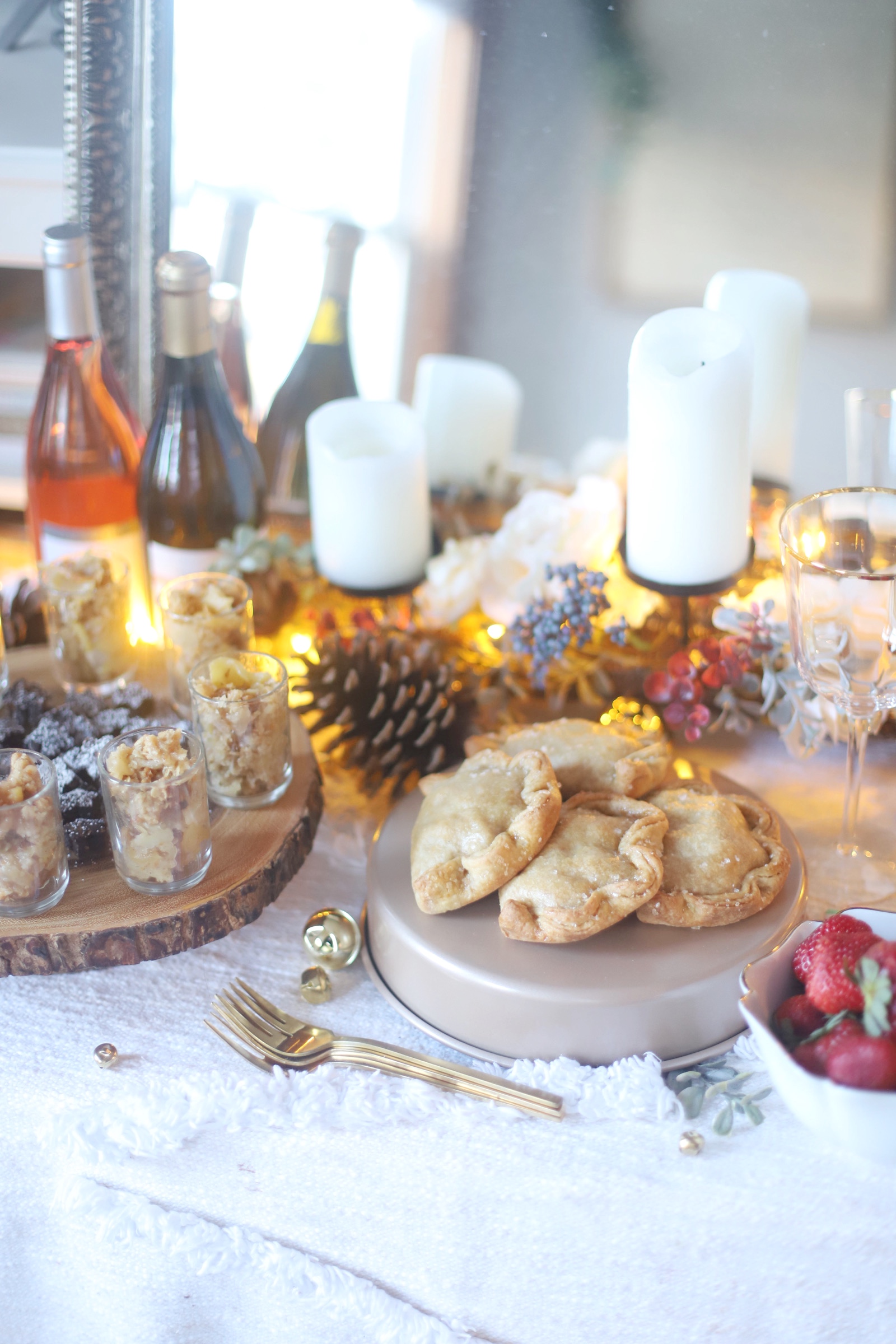 Tips for an Easy and Memorable Dessert Bar:
Serve the desserts in unexpected ways.
For this holiday dessert bar, I made "pie shooters." We've done these before – as pecan pie shooters for a Thanksgiving dinner – and they are always a fan-favorite. Rather than serving traditional pie in pie pans, scoop out your favorite pie or fruit crisp or cobbler into "shooters" – a.k.a., small glass votives (also available here) that you can buy by the dozen. You can out whipped cream off to the side so that your guests can top their pie shooters with the creamy topping if they want to.
I also used a small cookie cutter to cut out shapes for our brownies. (This set of small cookie cutter shapes is a favorite of ours!) You can easily use store-bought or frozen brownies, or make your own brownies from scratch (we love this recipe!) Making the brownies – or cookies could work too – into shapes – adds such a pretty an unexpected element to your dessert bar. I also topped out brownies with a sprinkling of powdered sugar to keep things looking like a winter wonderland.
I used store-bought frozen hand pies to make things extra easy and convenient as well. (Martha Stewart makes the yummiest frozen hand pies that you bake and serve warm and fresh out of the oven!)
Cupcakes, cookies, and cookie bars are all great choices as well!
Make sure all of your desserts are easy to take and serve.
You want all of your desserts to either be made in individual servings or easily scoop-able, sliceable, etc., by providing all of the right tools! Set out plenty of scoops, a stack of dishes, napkins, flatware, and anything else your guests will need to easily create their dessert plates.
Set out bowls of fresh fruit.
I always find that berries and cut up fruit go the fastest! You can also make fruit kabobs by using BBQ skewers and cut up fruit.
Remember, the goal of any great dessert bar is to add in those memorable and unexpected elements and to make all of the desserts really easy to grab and go!
Include a little candy.
Whether it's a bowl of chocolates or a few candy canes (for the holidays!) scattered around the dessert bar, having a few decadent treats is a fun way to offer something easy for you to add in and yummy for your guests that they might not normally eat.
Have fun with your theme.
I added in winter touches to our dessert bar, like twinkle lights, pinecones, winter florals, gold bells, and white pillar candles.
Remember to elevate.
One of my favorite simple tips for making any buffet spread standout: adding height and depth. Basically, rather than serving everything on flat dishes and platters, set food on cake stands, in bowls, on pedestals. In addition, it adds depth and layers to your buffet and makes it easier for guests to reach in and around to access all of the yummy things!
Don't forget the drinks.
Whether you set out hot cocoa, hot cider, wine, or a signature cocktail, including a special dessert drink can really take your holiday dessert bar to the next level.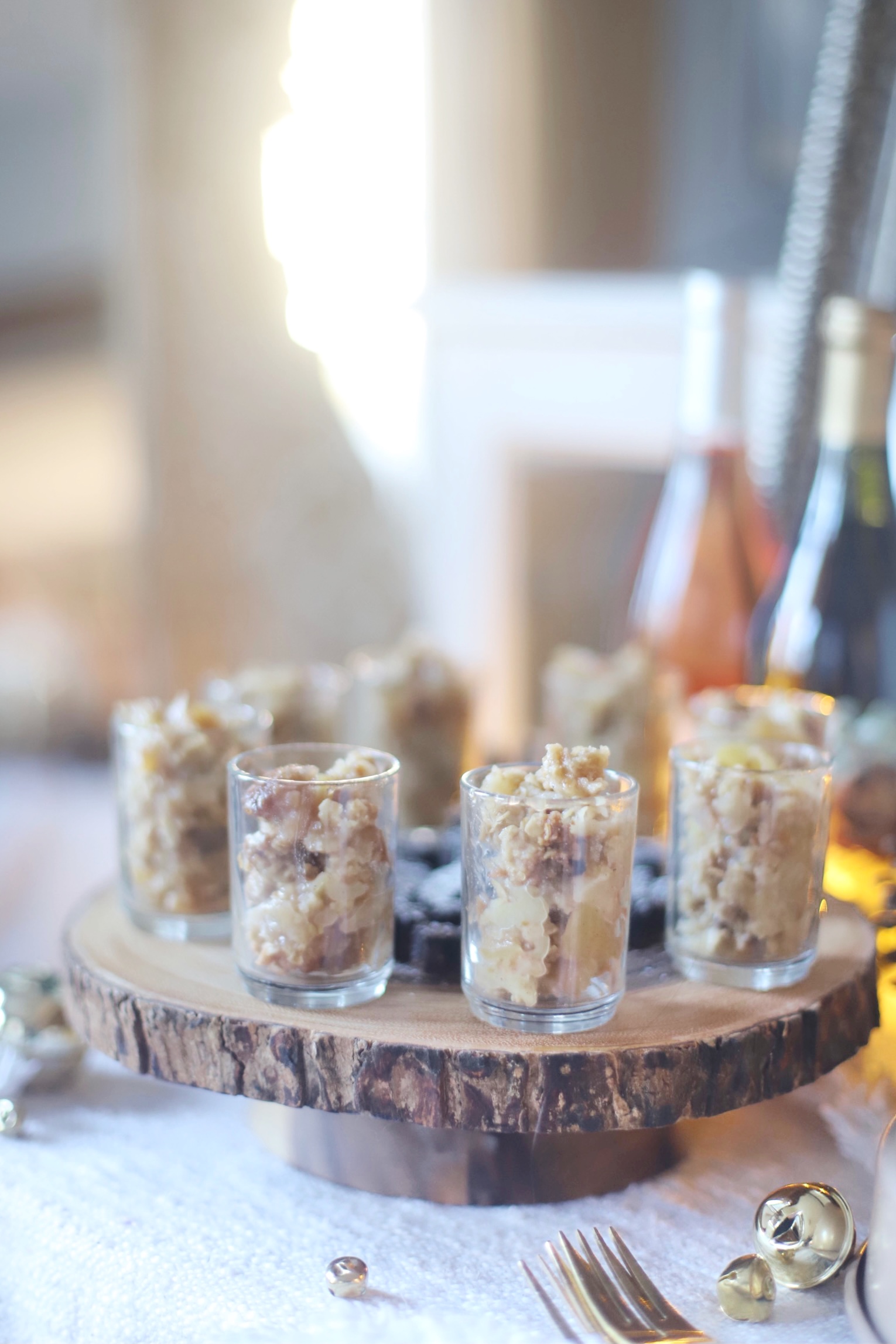 For this holiday dessert bar, I served apple crisp in our "pie shooters" (a.k.a., glass votives); yum!
By the way, I've had this wood slice pedestal stand from World Market for years and I LOVE how it adds in a rustic, woodland touch to our bars and buffets.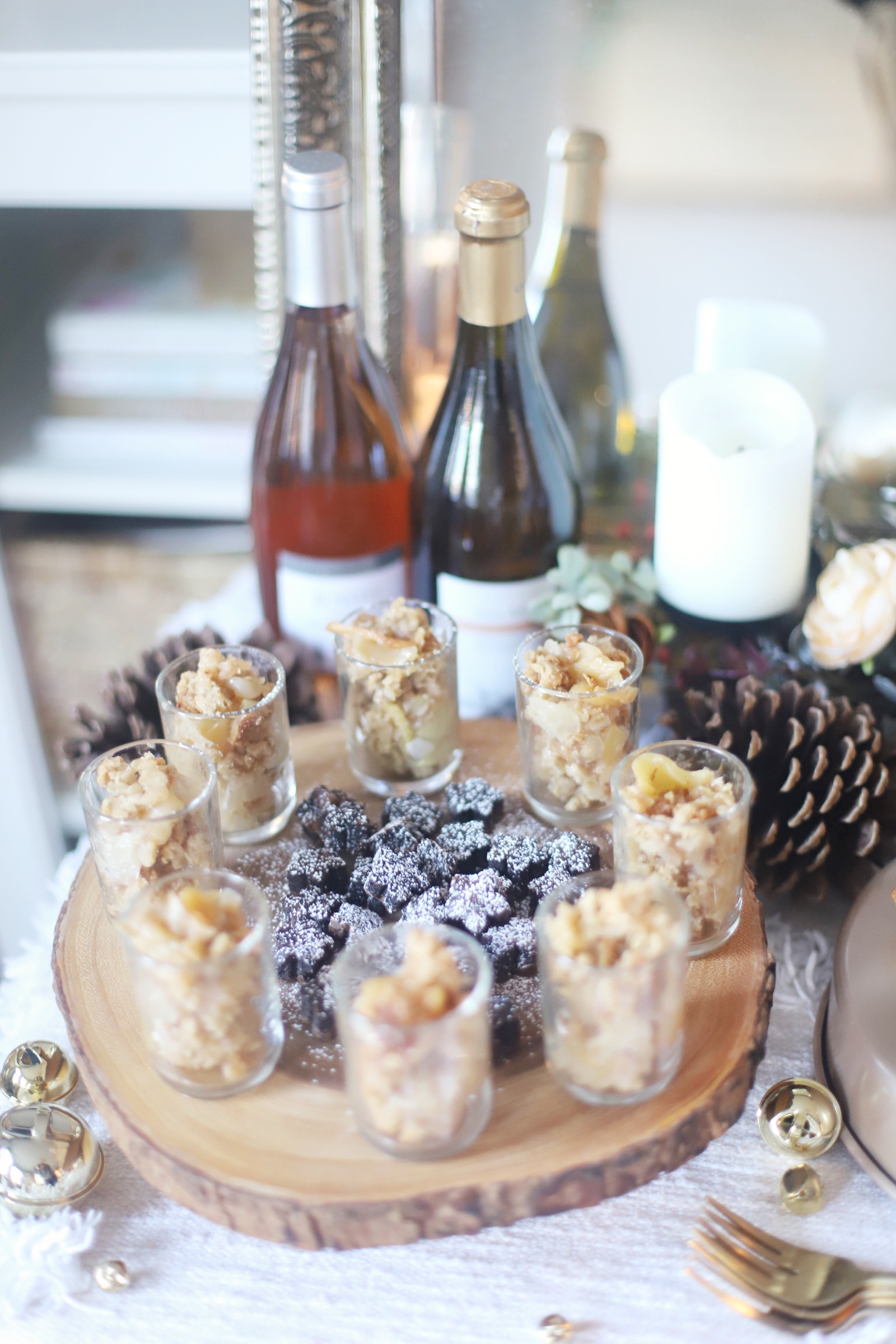 Brownies shaped like mini powdered-sugar topped stars = so much cuter than typical brownie squares!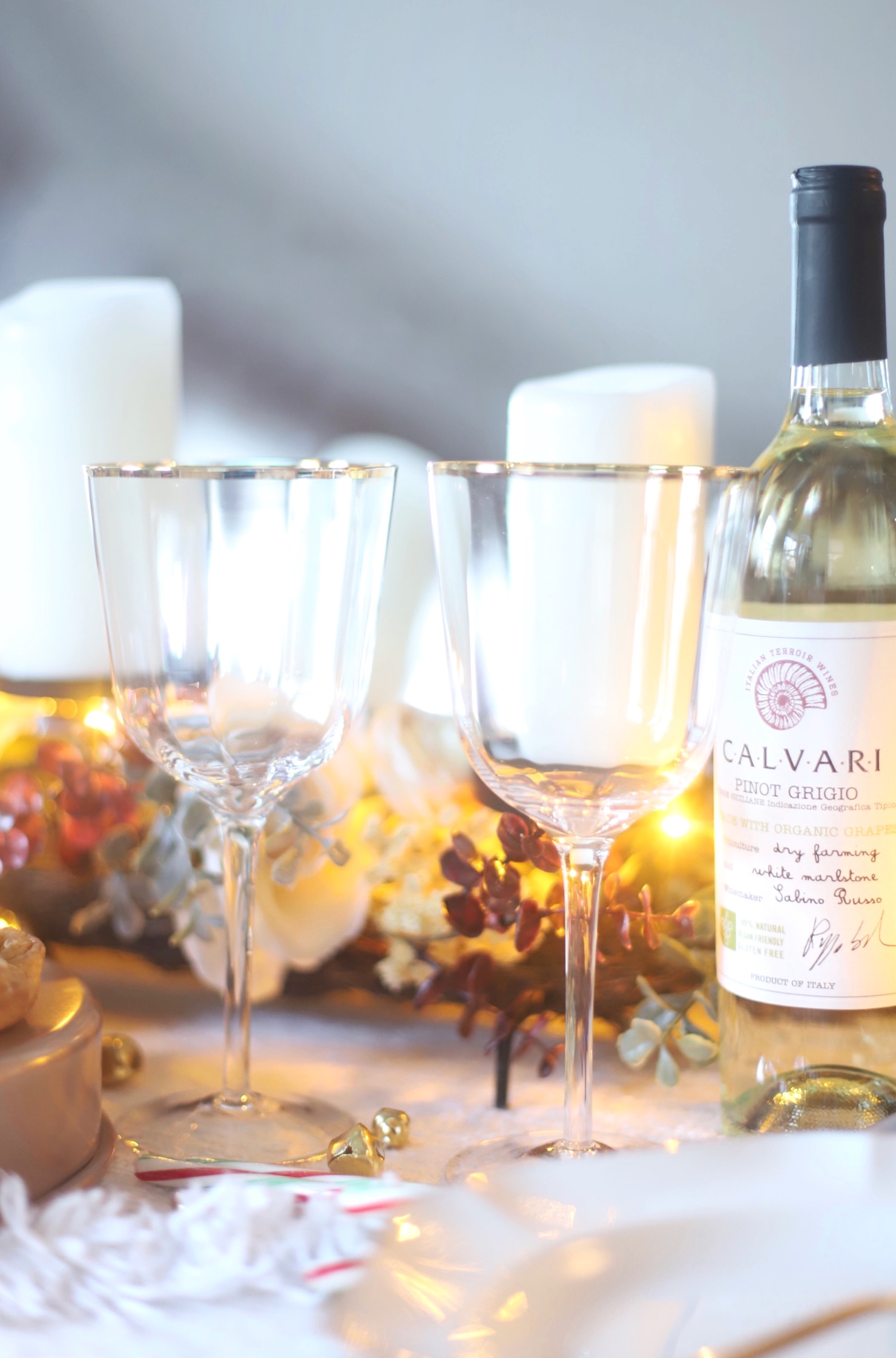 Don' forget the plates, napkins, flatware, and glasses! I broke out the fancy stuff for this holiday winter wonderland, because I love any excuse to add a touch of glam!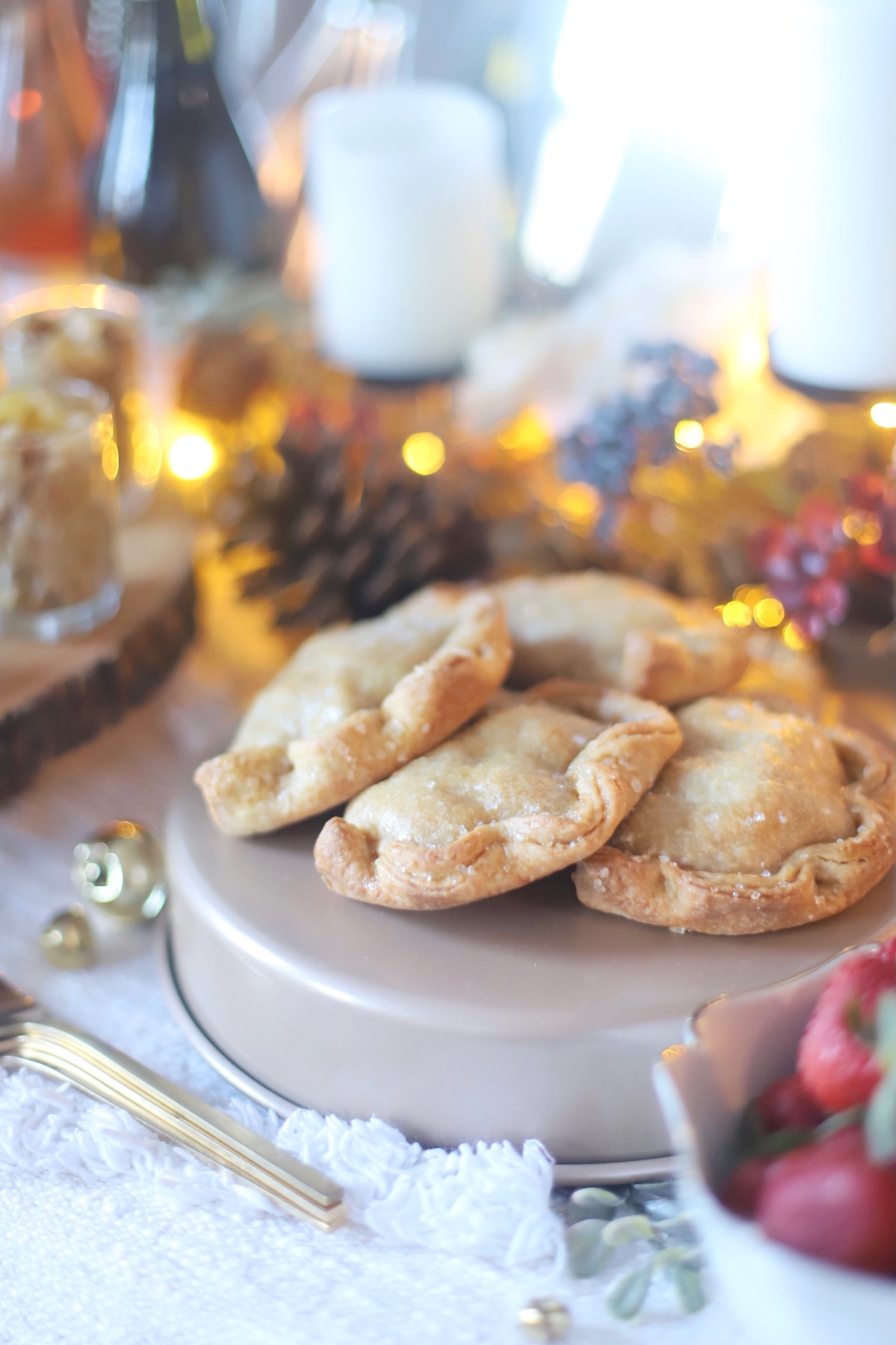 Check out Some of Our Other Favorite Dessert Bars:
Dessert Charcuterie (Perfect for the Holidays!)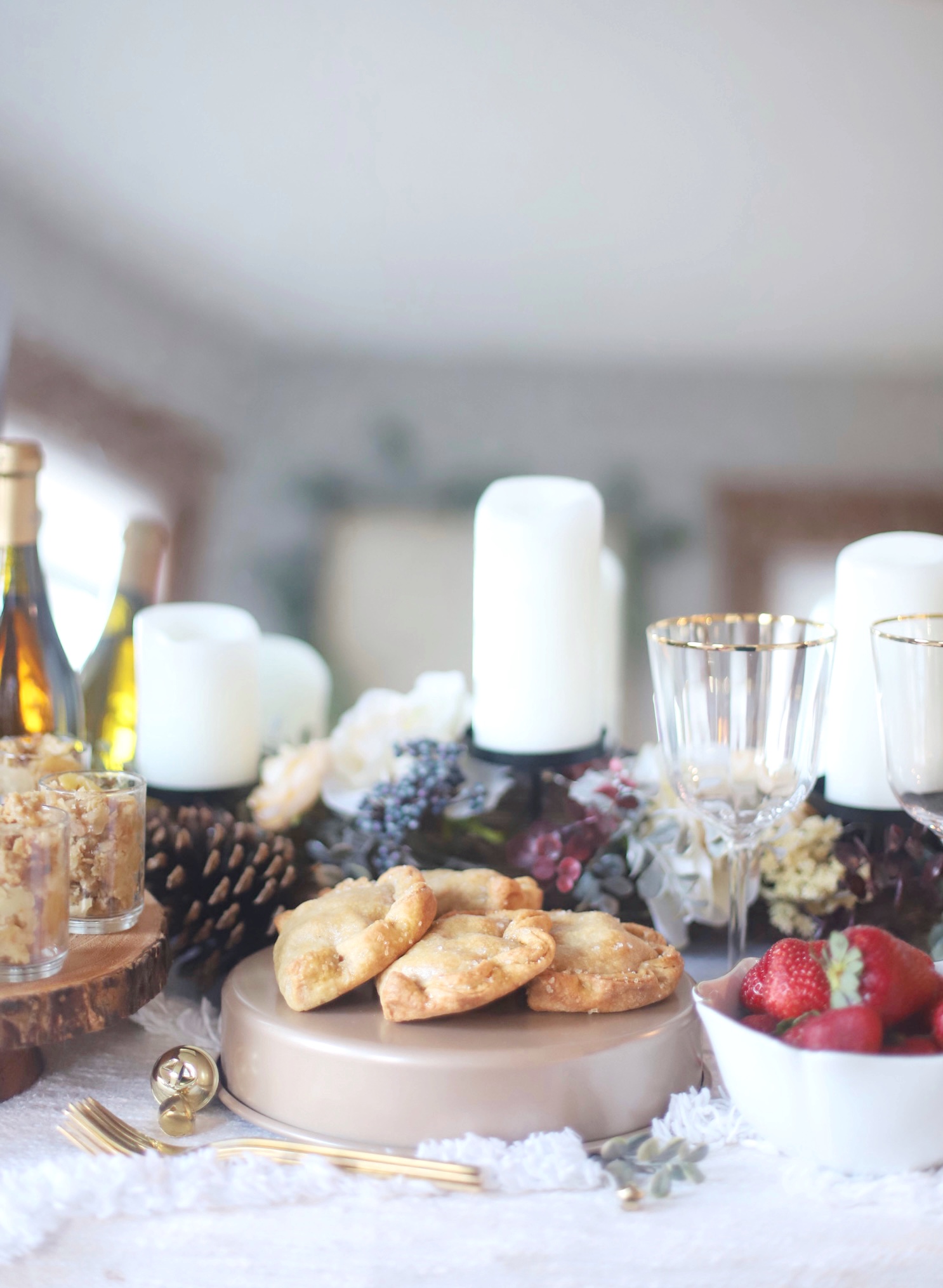 What about you? Do you love a good dessert bar or buffet? Any favorite holiday meals? I'd love to hear what you're serving up; I'm always looking for new ideas!
SHOP THE WINTER WONDERLAND DESSERT BAR | CLICK LEFT & RIGHT ARROWS TO EXPLORE

Love this easy and festive woodland winter holiday dessert bar? Check out all of our celebrations here and head to our recipe page to see what else we're dreaming up in the kitchen! And if you put together your own Christmas dessert bar, be sure to tag me on social media (@glitterinclexi) so I can live vicariously through all of your fa-la-la fun!