I've got holiday parties at the forefront of my mind and I can't stop planning menus. I've always loved having a great signature cocktail for a party (ahem; strawberry watermelon prosecco spritzers, pumpkin ginger bourbon punch cocktails, and sparkling blackberry lemonade spritzers) – and holiday parties in particular, in all their festive glory, totally deserve a memorable cocktail. Which is why, this sparkling pomegranate punch has me doing a little spiked happy dance. I mean, for starters, look at it!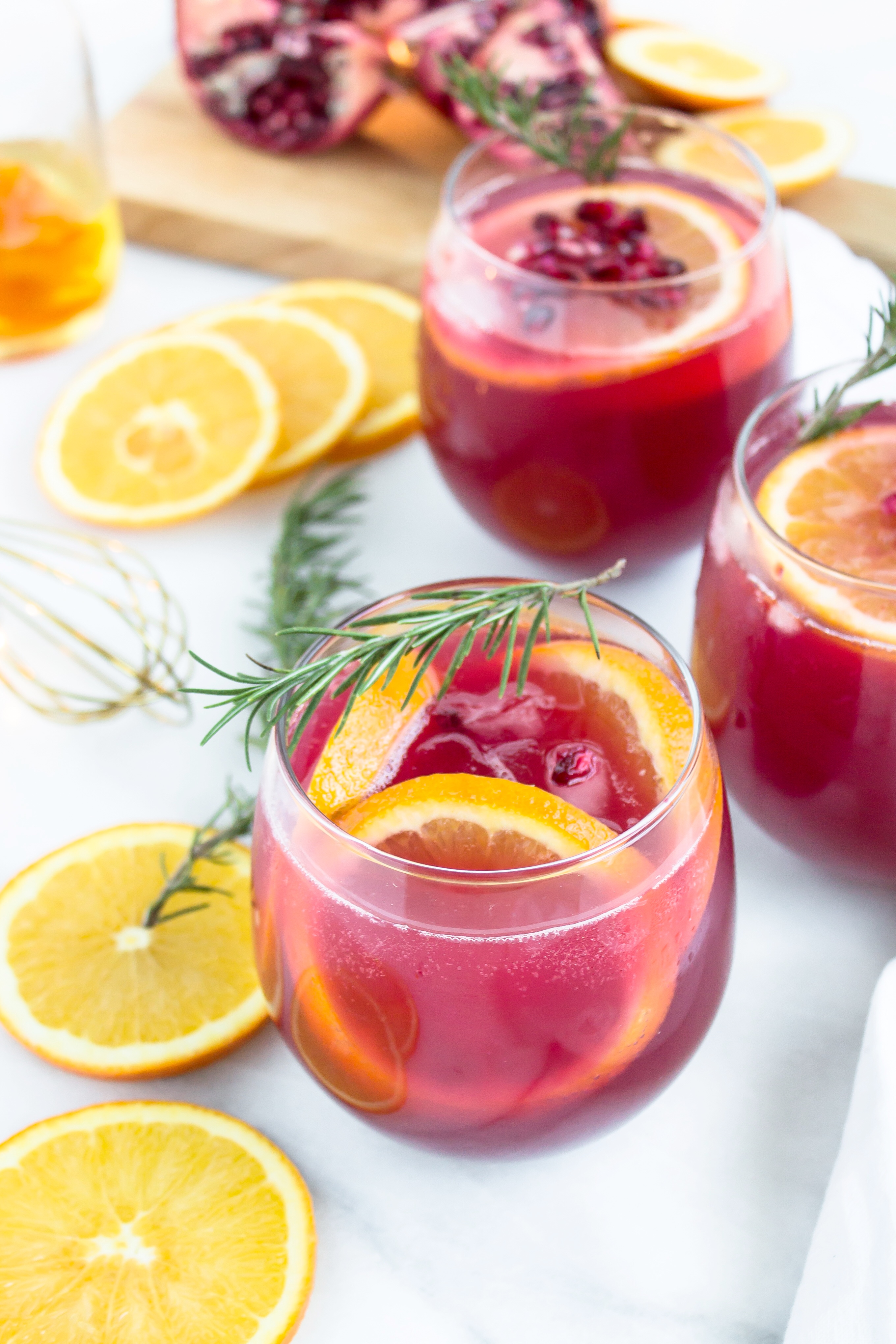 It's perfectly merry and bright and has the holiday color scheme on lock. But then of course, there's the whole delicious factor.
Hope, our food contributor, sure knows how to whip up an incredible cocktail.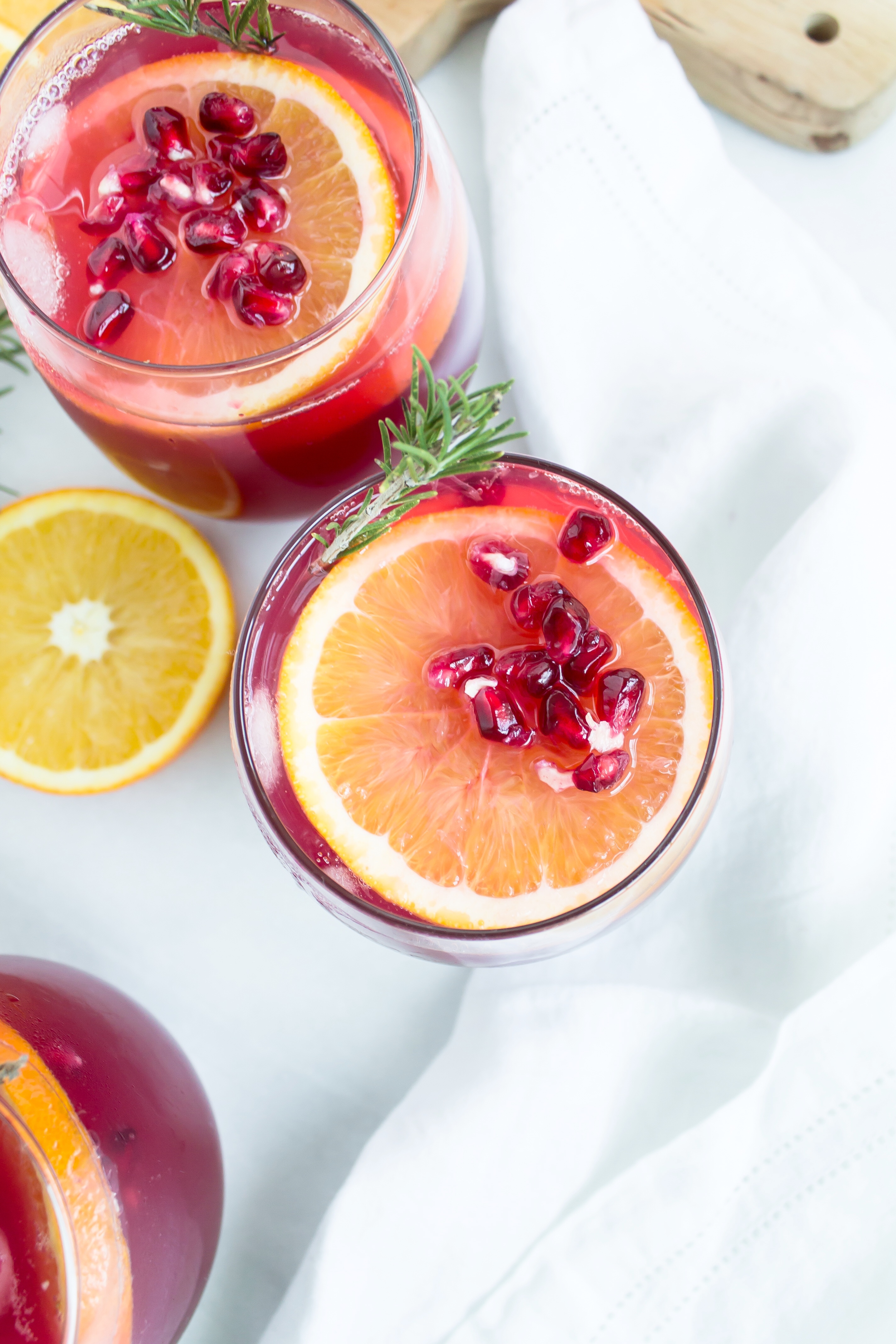 Hope, on her sparkling pomegranate punch cocktails:
As a hostess, I love serving a pretty, tasty, hands-off punch during the holiday season so I have more time to visit with friends and family. This sparkling pomegranate punch satisfies all of those categories. The pomegranate juice and orange slices create a beautiful, jewel-toned punch, while the delicious orange ginger simple syrup gives it a little tang and just the right amount of sweetness. With a splash of rum, the pomegranate punch is party ready!
This recipe easily multiplies, so you can make enough for a crowd of any size!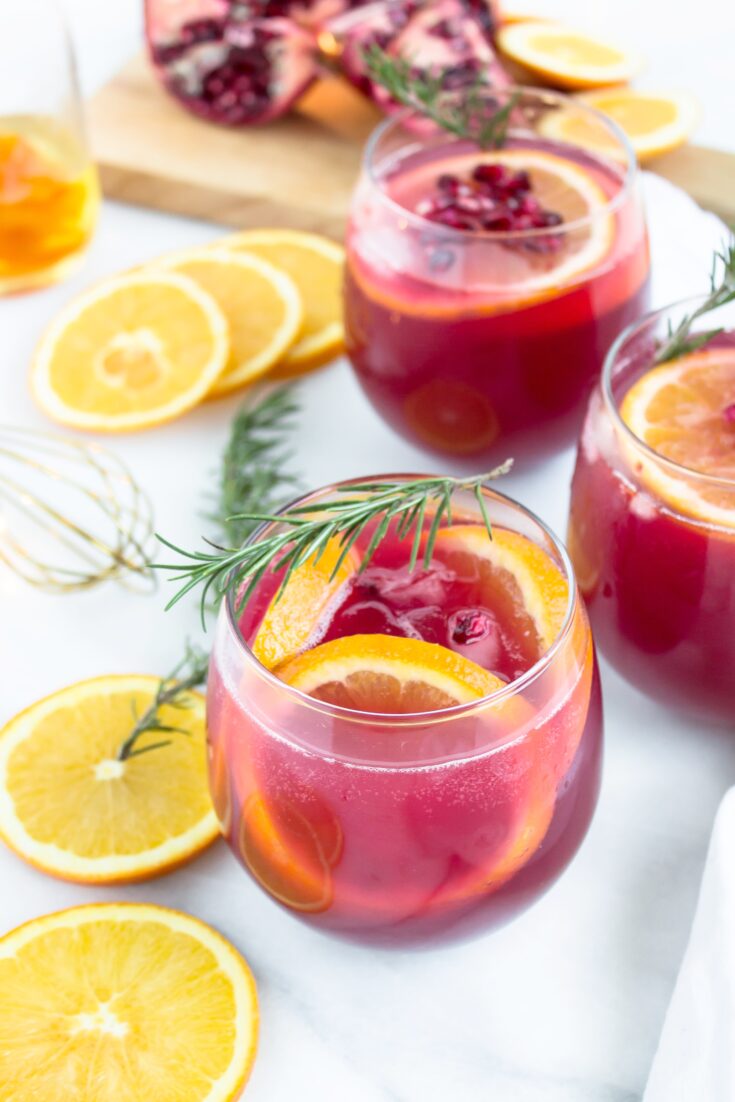 Yield:
Sparkling Pomegranate Punch
Ingredients
Sparkling Pomegranate Punch
3 1/8 cup (25 ounces) orange flavored sparkling water*
1 cup pomegranate juice
1 cup ginger beer
½ cup orange juice
½ cup to 1 cup Cointreau, or other orange liqueur, to your liking
4 tablespoons orange ginger simple syrup (recipe to follow)
1 orange, thinly sliced
seeds from ¼ of a pomegranate
*My favorite right now is the Trader Joe's cranberry clementine sparkling water
Orange Ginger Simple Syrup
1 cup water
1 cup sugar
1-inch piece of fresh ginger root
peel from 1 orange
Instructions
To make the orange ginger simple syrup:
In a small saucepan, combine the water, sugar, ginger root, and orange peel and bring to a boil. Whisk until the sugar dissolves and simmer for 1 to 2 more minutes. Set the simple syrup aside to cool to room temperature. You can make this ahead of time and store it in the fridge for a few weeks. If you make it ahead of time, store the ginger and orange peels in the same jar so they can continue to flavor the mixture.
To make the sparkling pomegranate punch:
Combine all of the ingredients together in a pitcher or large liquid measuring cup. If you are making this ahead of time, leave out the ginger beer and sparkling water until you are ready to serve.
To serve, add a few orange slices to each glass, fill with ice, pour in the punch, then top with pomegranate seeds. Cheers!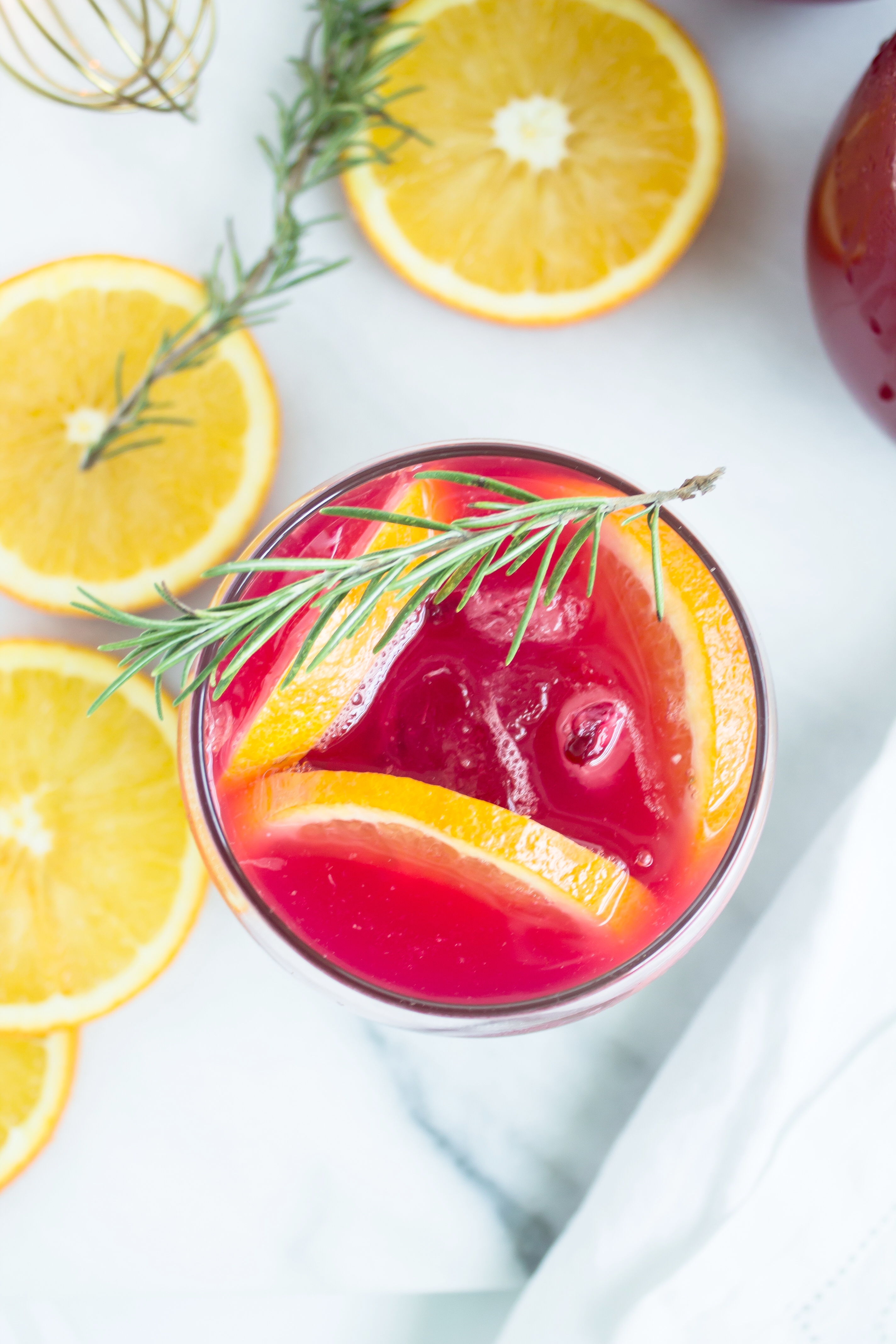 This punch also totally works without the alcohol. The combination of fresh pomegranate juice, homemade orange ginger simple syrup, and bubbly sparkling water is tangy and sweet and makes for such a yummy mocktail.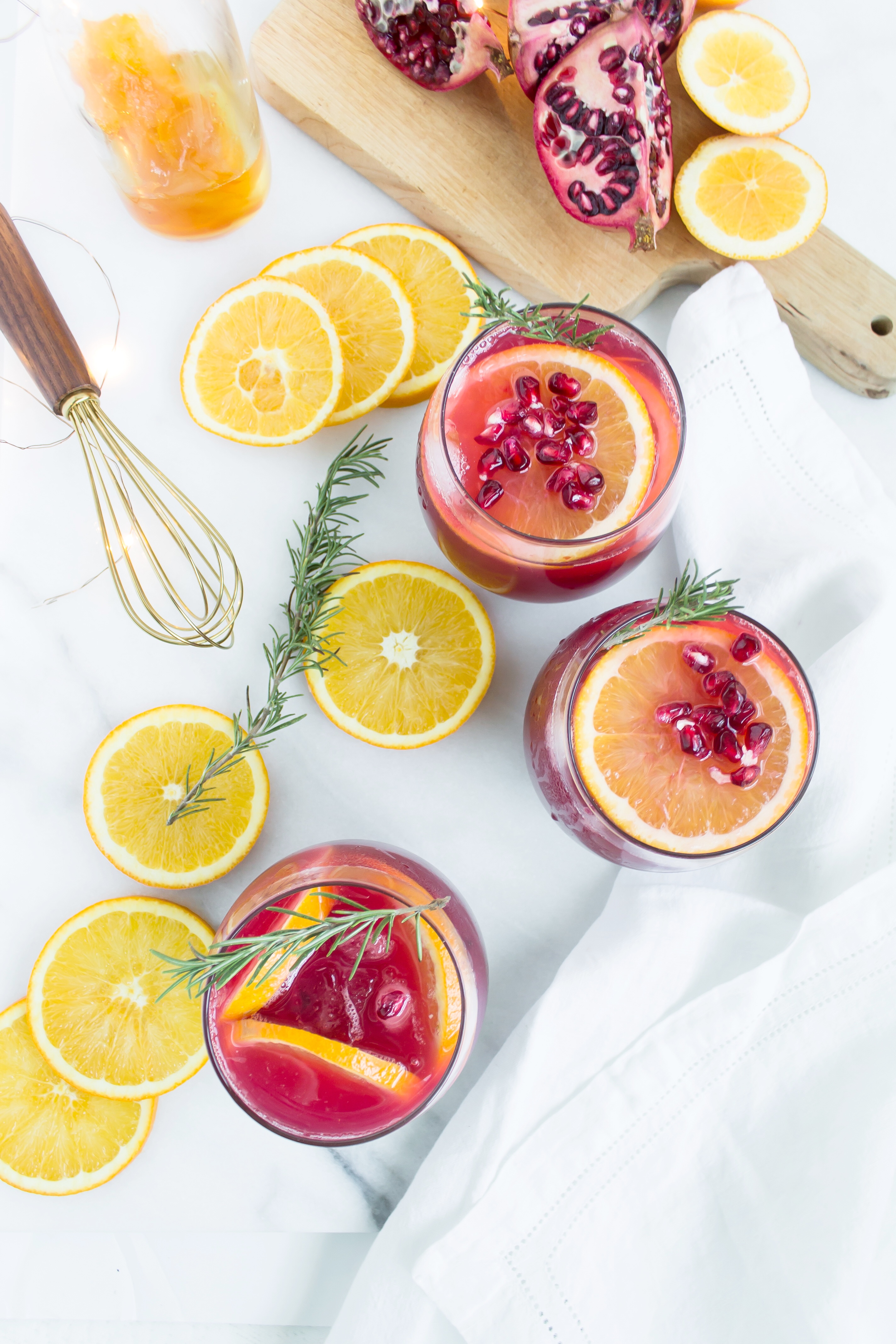 Love this party-perfect punch? Head to our recipe page to check out what else we've been whipping up in the kitchen!
If you make your own sparkling pomegranate punch cocktails, be sure to tag me on social media (@glitterinclexi) so I can live vicariously through all of your boozy creations!
Recipe and Photos by Hope Woodhouse for Glitter, Inc.