This is a sponsored post written by me on behalf of Star Market. All opinions are 100% mine. Thank you so much for clicking through and helping to support this little blog business of mine! Read more about our site, privacy, and disclosure policies here.
This is a sponsored post written by me on behalf of Star Market. All opinions are 100% mine.
Make play time extra fun this summer (or any season at all) with an easy and adorable ICE CREAM SHOP! An interactive ice cream shop and sundae bar, complete with a printable menu your kids can use to take the "orders" is every little kid's dream.
This summer we have been on a roll with fun and engaging activities to keep our kids happy and entertained. Like most kids, our girls love ice cream.
When I partnered with Open Nature® to share their incredible non-dairy frozen desserts, I knew an adorable ice cream bar was just the ticket.
Open Nature makes "better for you" ice creams and non-dairy frozen desserts. Made with great alternatives to traditional ice cream with sorbet, almond milk, cashew milk, oat milk, and coconut milk options and have no artificial colors or flavors and feature a clean ingredient deck.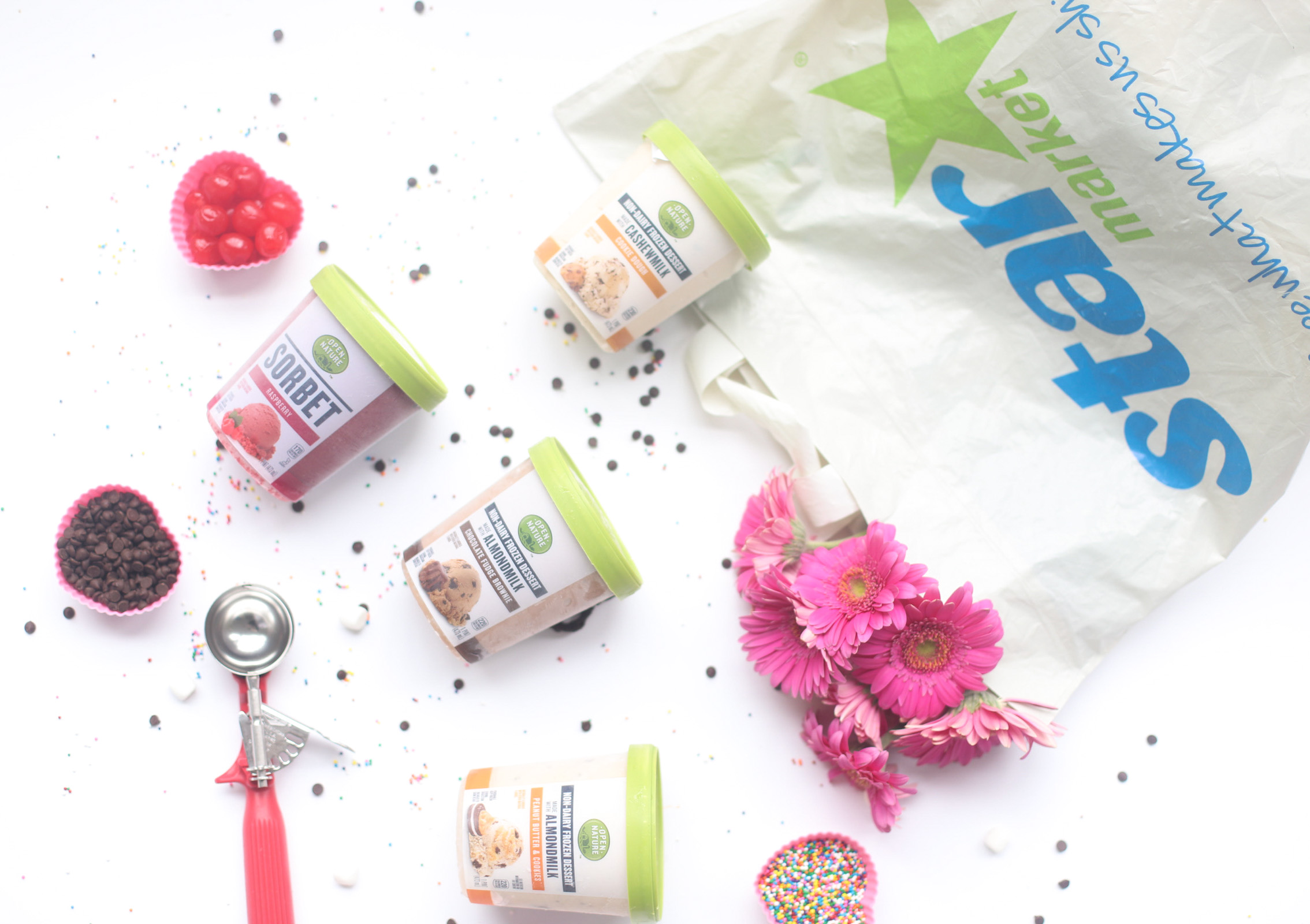 If you've been reading Glitter, Inc. for awhile now, you'll probably have noticed by now that we share a lot of vegan and dairy-free recipes and desserts because our oldest daughter, Scarlett, has MPIES (milk protein induced enterocolitis syndrome), which basically means she's essentially allergic to milk. I absolutely love trying new to us non-dairy treats, because it truly helps to give our sweet girl more options.
To make things even simpler, Open Nature non-dairy frozen desserts are available at our local Star Market here in Boston. Star Market even offers Grocery Delivery and DriveUp & Go™ for super convenient ways to shop! (So helpful these days.) You can also find these ice creams at the Albertsons Companies family of stores, including Albertsons, Safeway, ACME Markets, Jewel-Osco, Vons, Randalls, Shaw's Supermarket, Star Market, Tom Thumb and Vons or online.
How to Create a Simple Ice Cream Shop + Sundae Bar
Now let's talk about setting up your own easy ice cream shop and sundae bar! (Plus, details on those oh so cute printable menus!)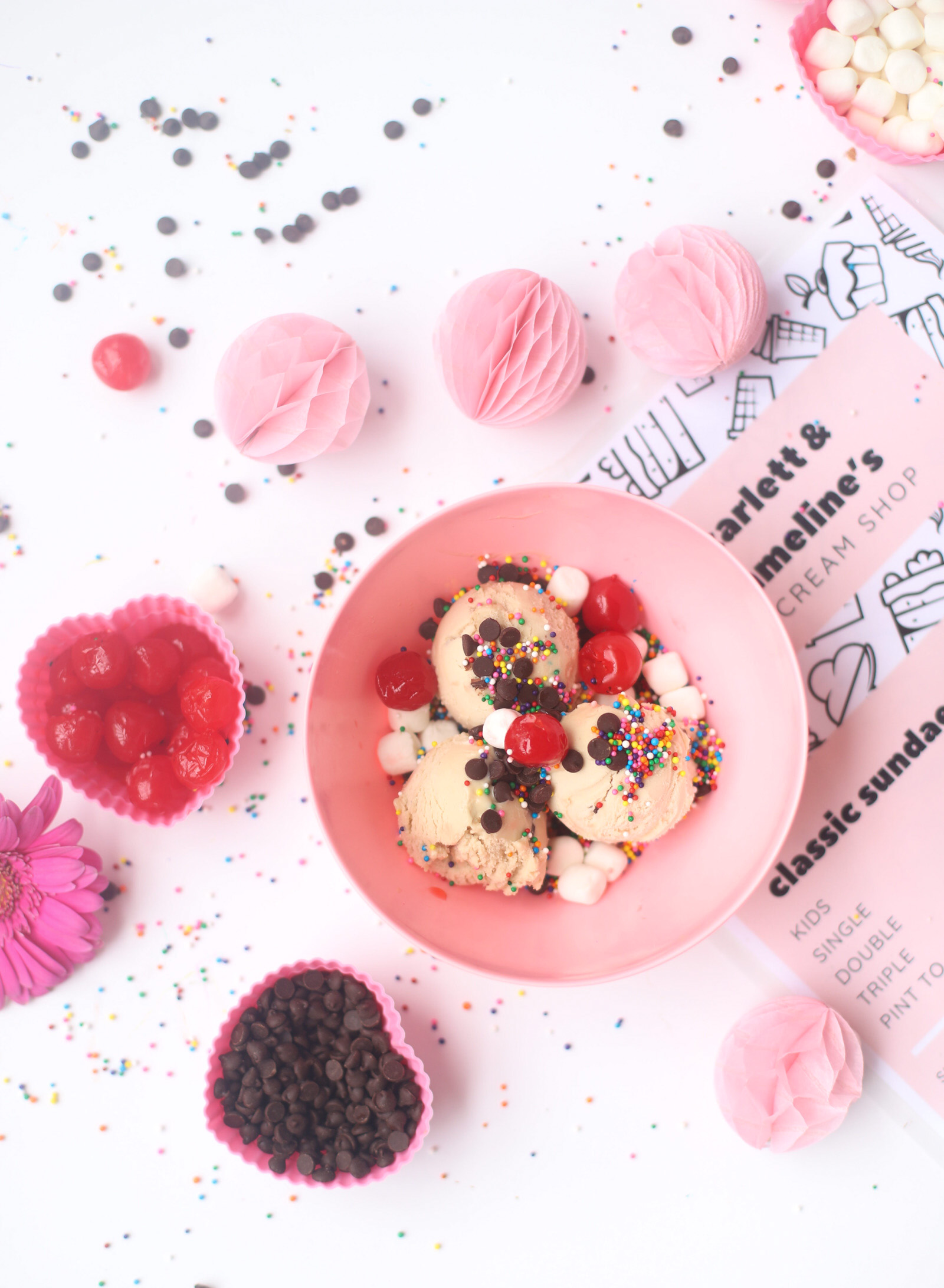 (1) Create the Menu.
I love incorporating imaginative play into the kids' day to day, so I knew an ice cream "sundae" menu would be such a simple and adorable way to make the day's ice cream activity stand out. I went to CANVA to create this simple Ice Cream Shop Menu. If you have and use CANVA, just search "Ice Cream Shop" and so many adorable, printable menu options will pop up.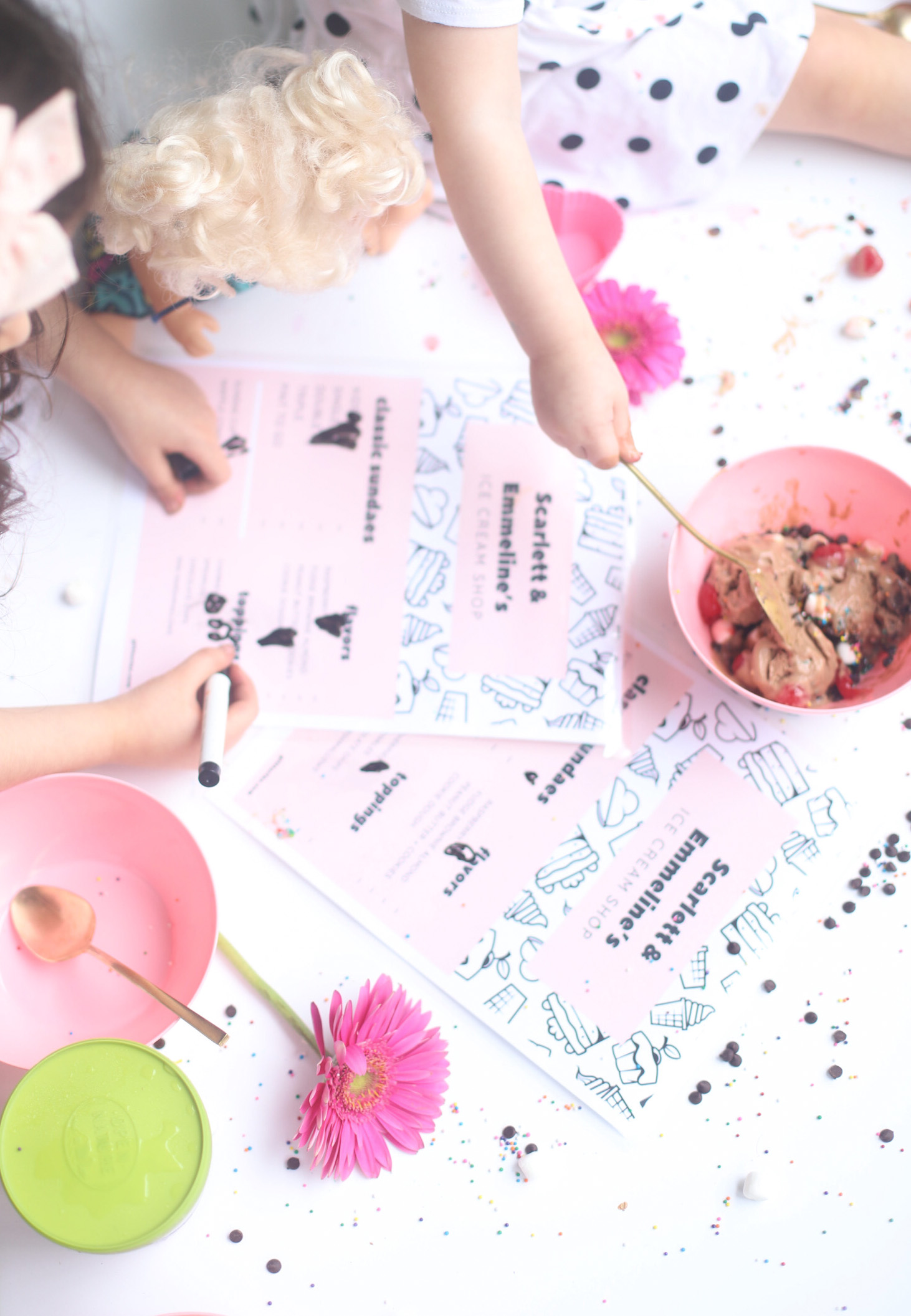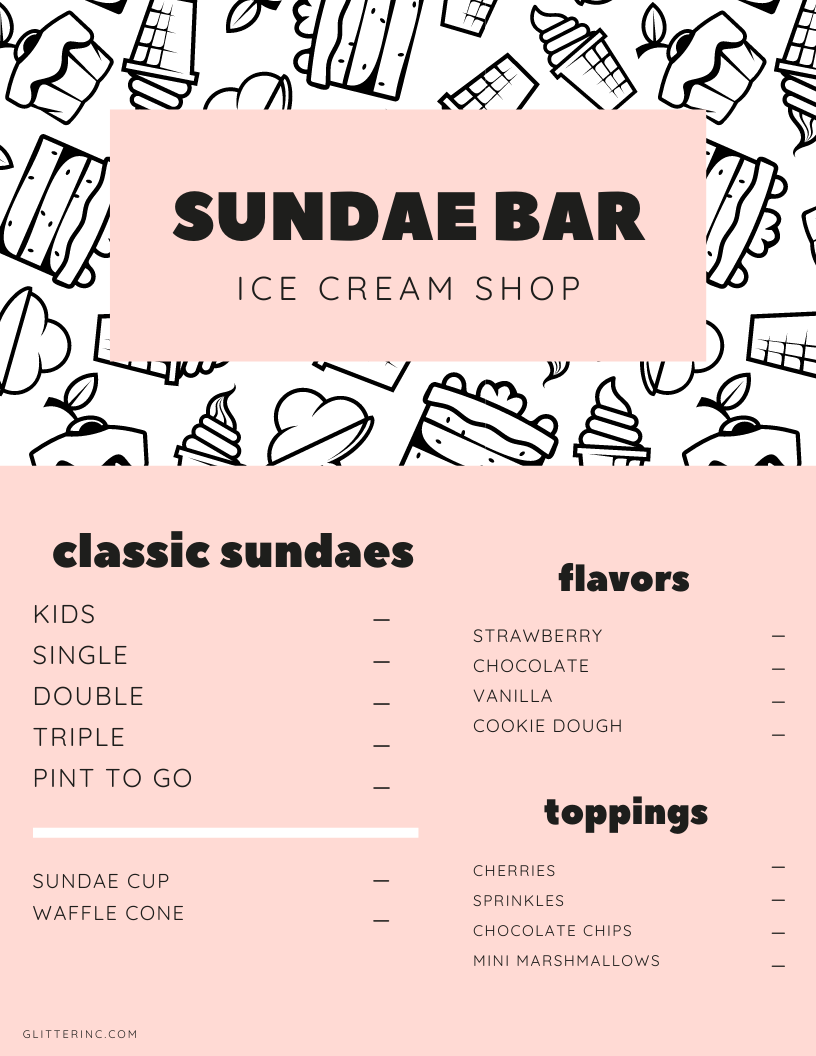 I also created a generic ICE CREAM SHOP Menu above that you can just print and use right away!
After I filled in our menu with the girls' names, the flavors of the Open Nature® ice creams and sorbet, and the toppings we had on hand, I printed two copies.
Then I laminated the menus. Laminating all of the things is basically my new summer obsession. My friend Lauren suggested snagging an inexpensive laminator and a pack of laminating pouches at the start of the summer for the kids' learning activities, and honestly, I can't stop looking for things to laminate now. (This paper cutter also comes in handy!) Laminating is a total addiction.
The best part of laminating pages for the kids' activities: the fact that they can write on the pages with a dry erase marker and then erase and do it all over again.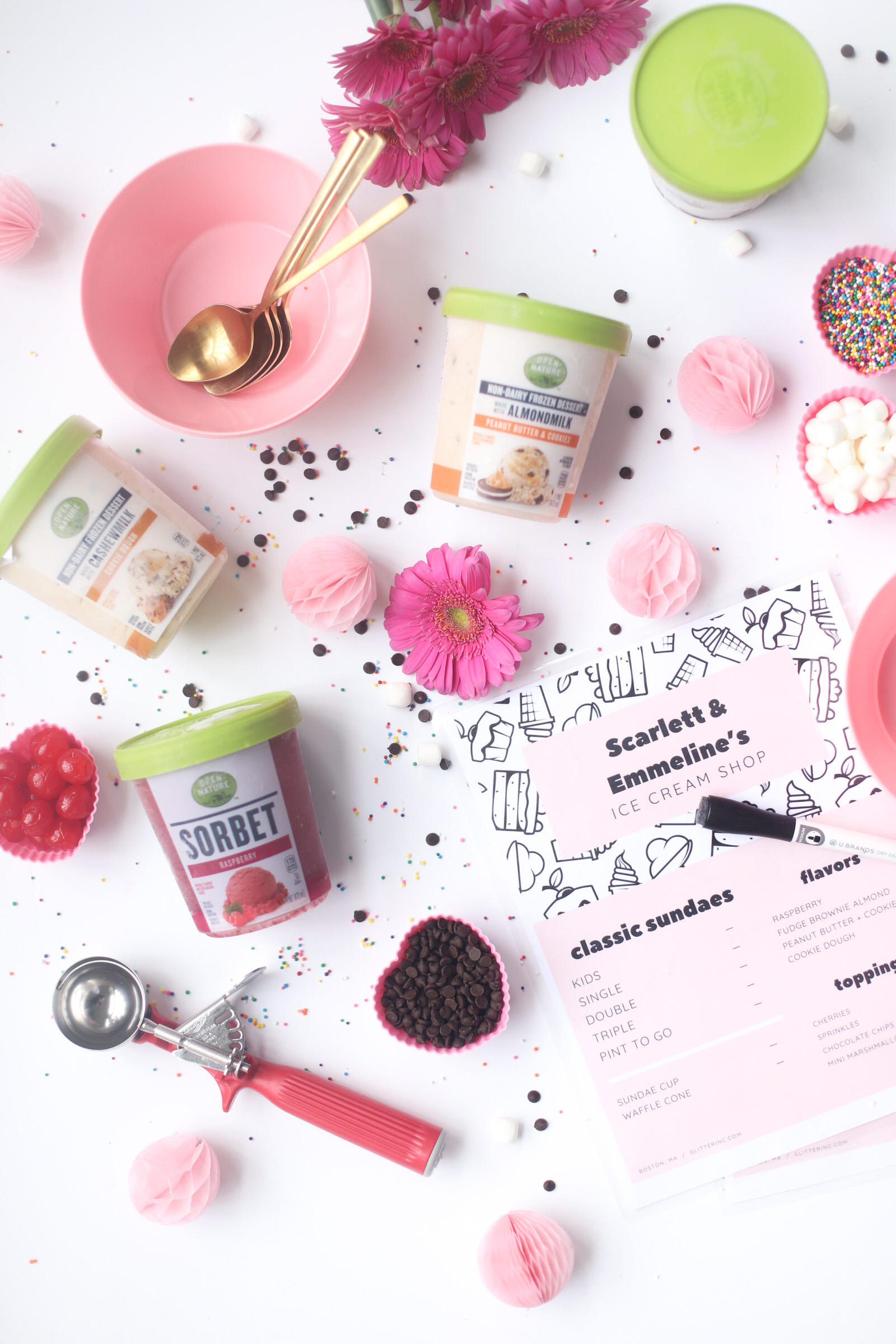 (2) Set out the ice cream sundae ingredients and tools.
I set out two ice cream scoops, a stack of plastic bowls and a bunch of spoons.
Then I put all of the toppings in their own individual ramekins (silicone cupcake cups, to be exact). So that the girls could easily pinch and sprinkle the toppings onto the sundaes.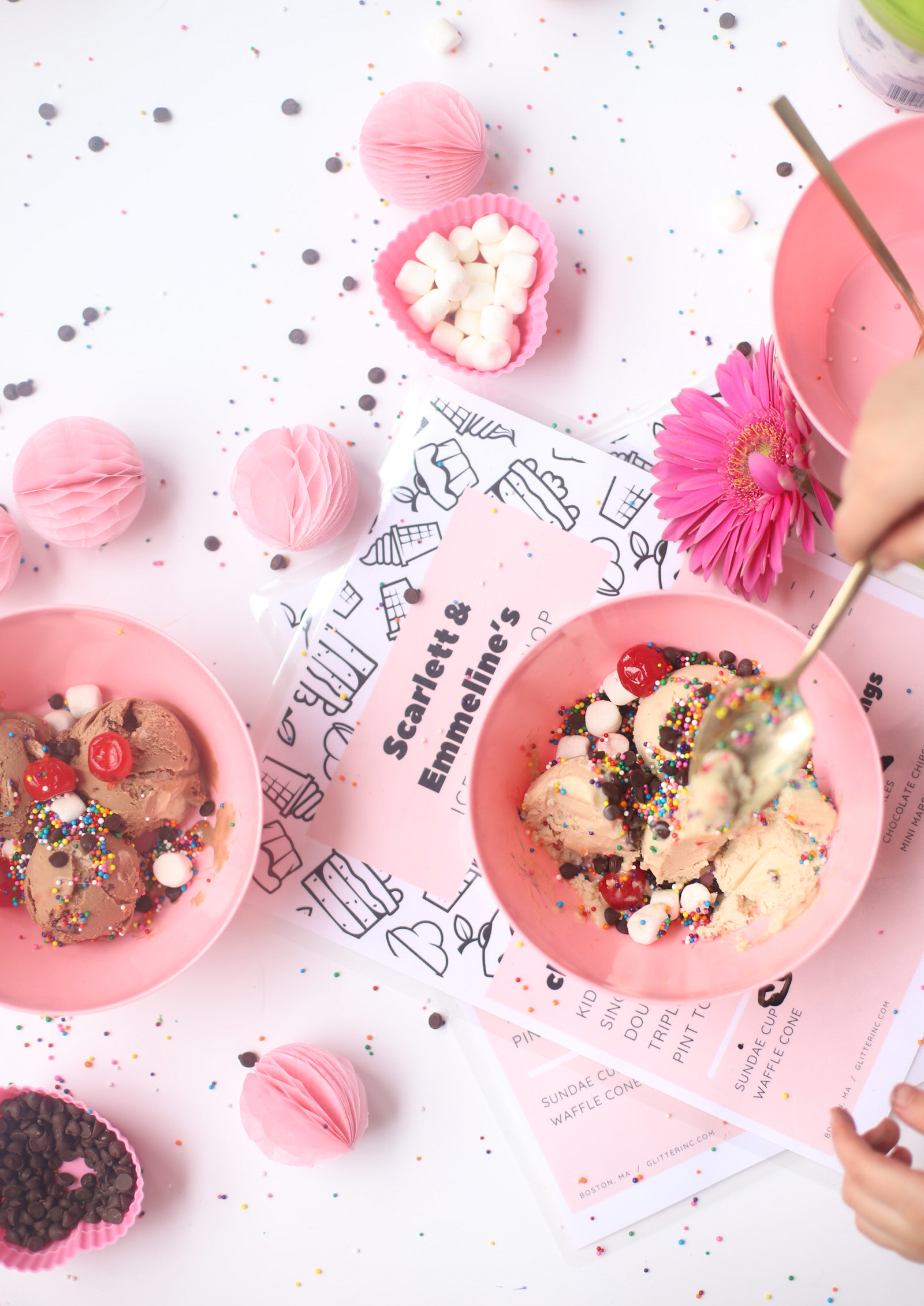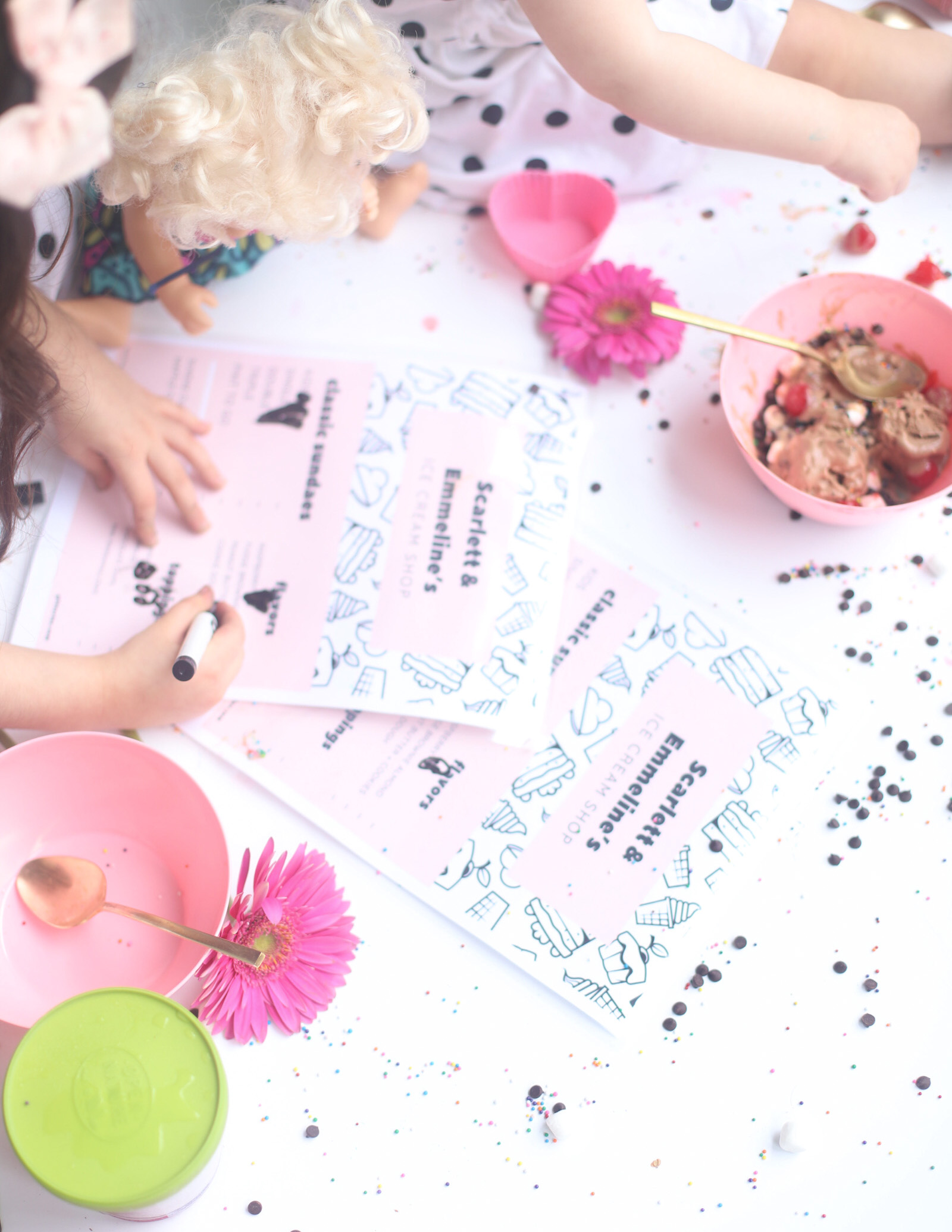 (3) Play and serve.
Last but not least, I popped the tops on the ice cream and sorbet containers and let the girls start making ice cream sundaes for the family.
Our girls are 2 and 6, so I helped our youngest with the scooping and serving.
Sprinkling all of the toppings onto the ice cream sundae bowls was easily the kids' favorite part.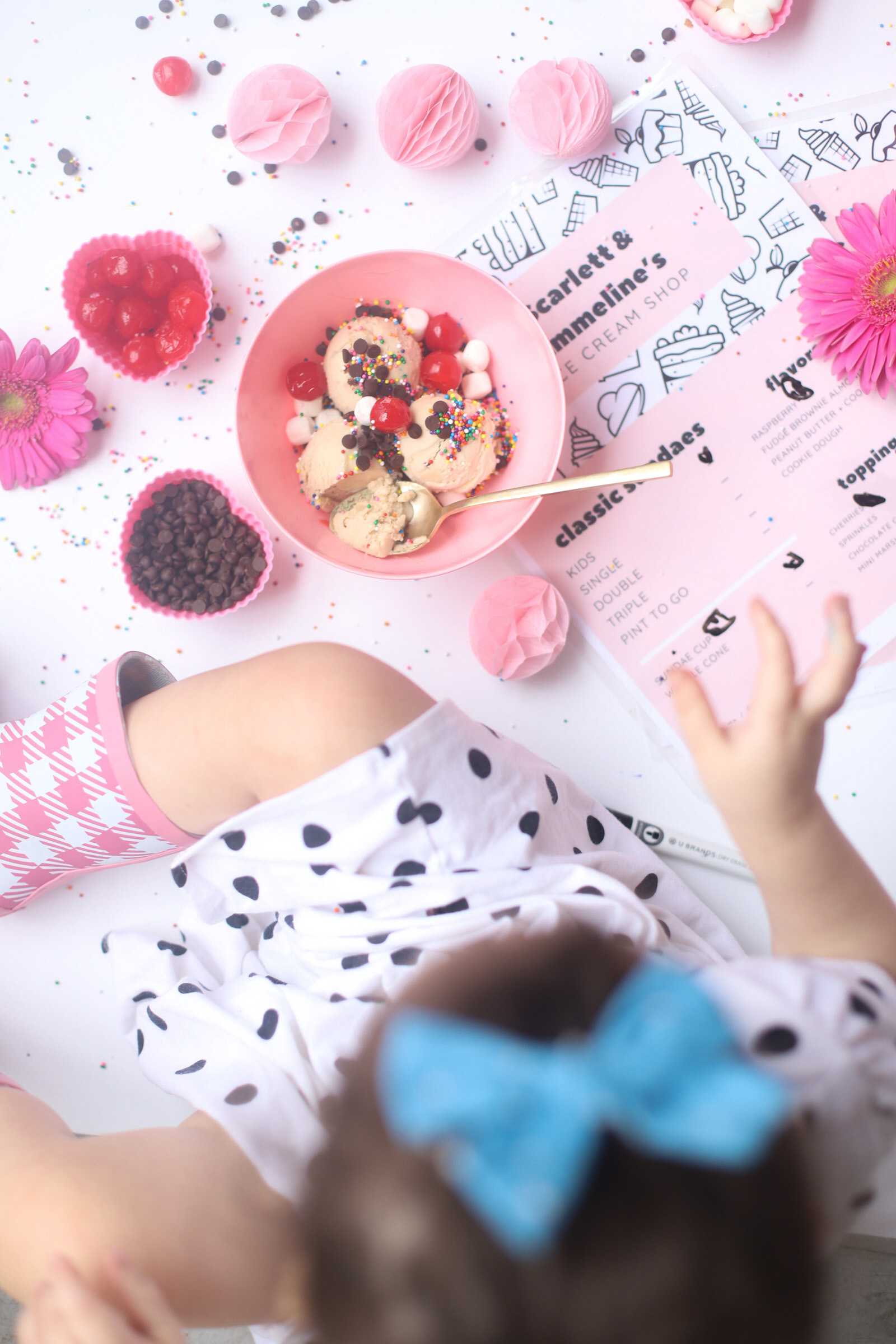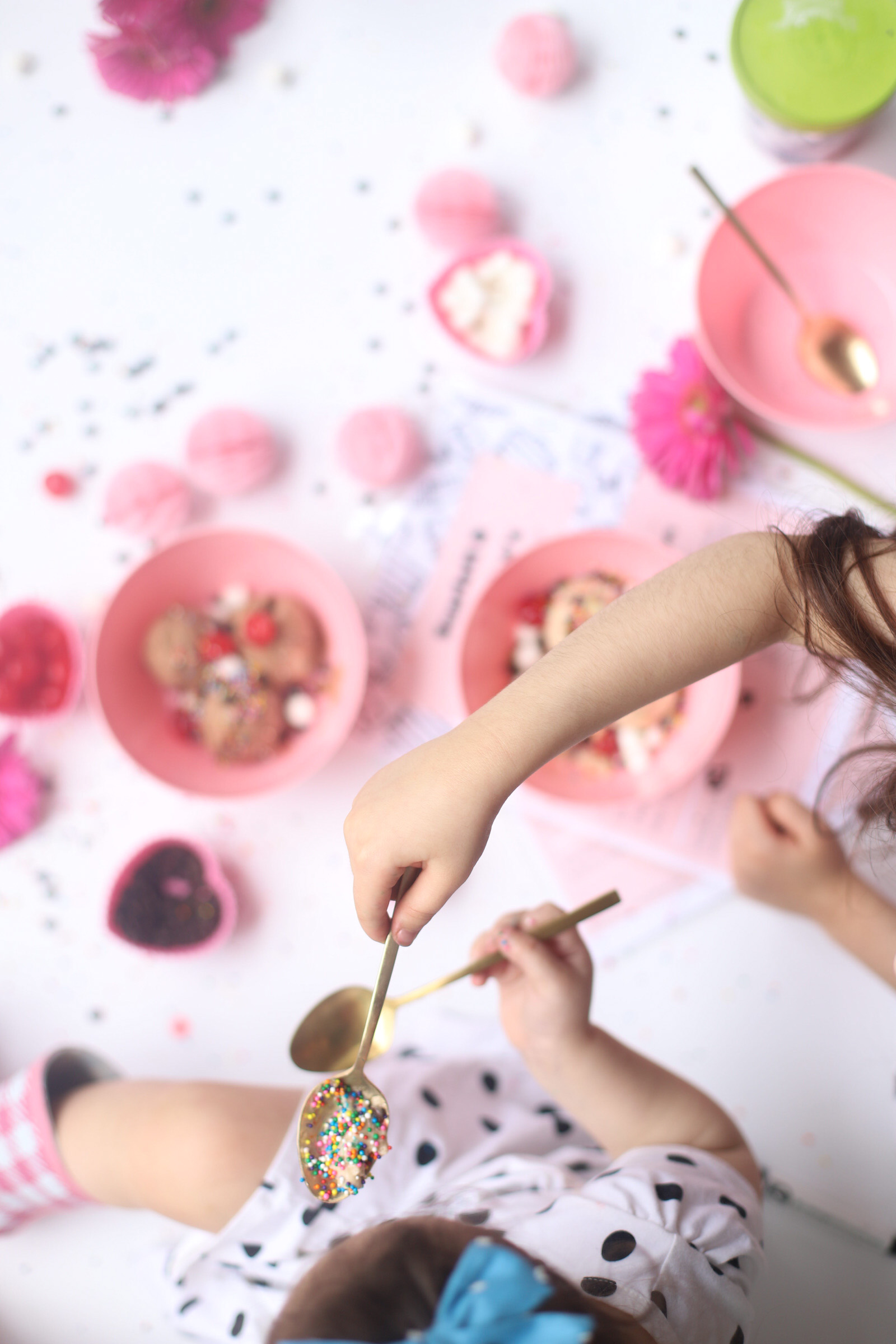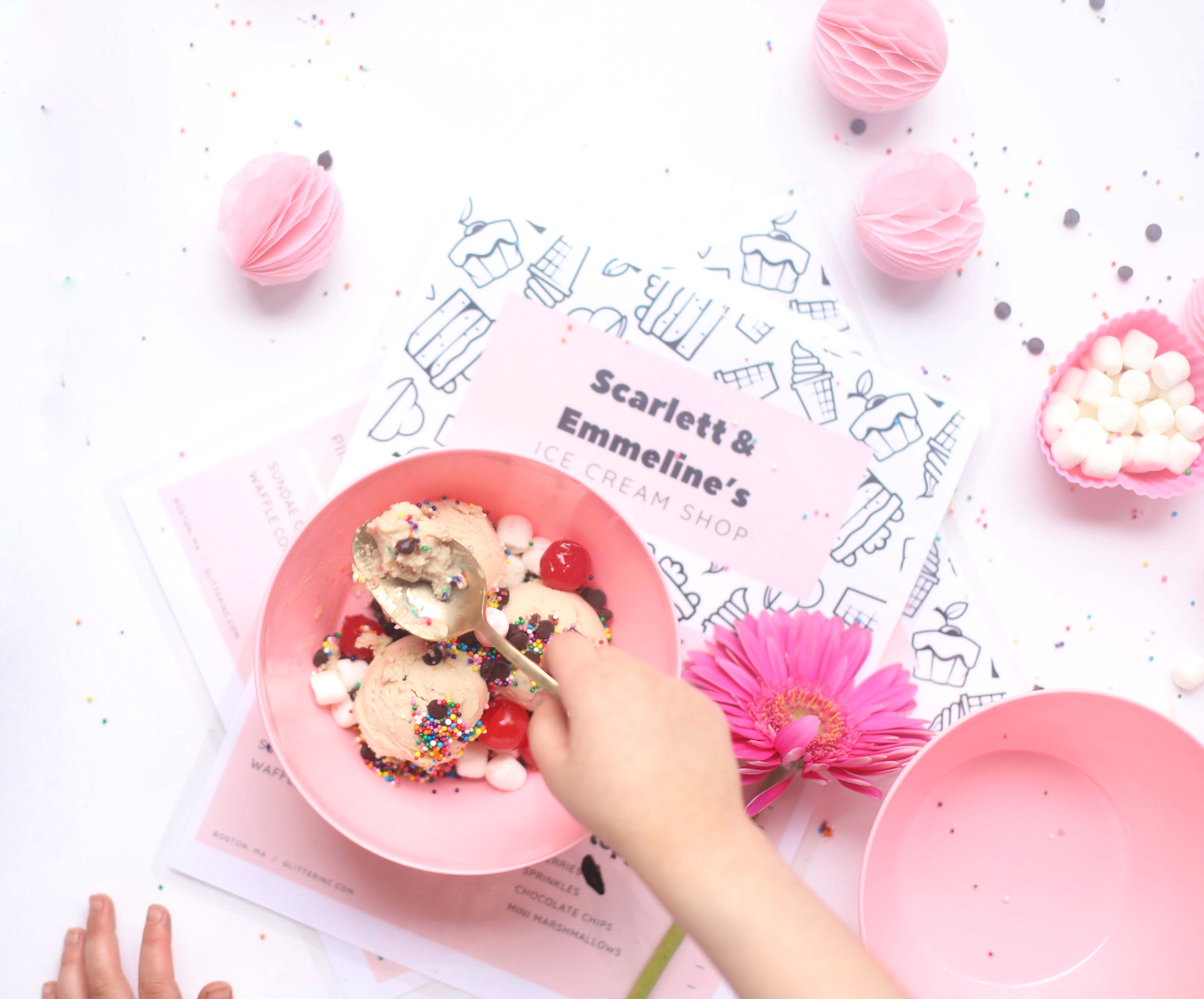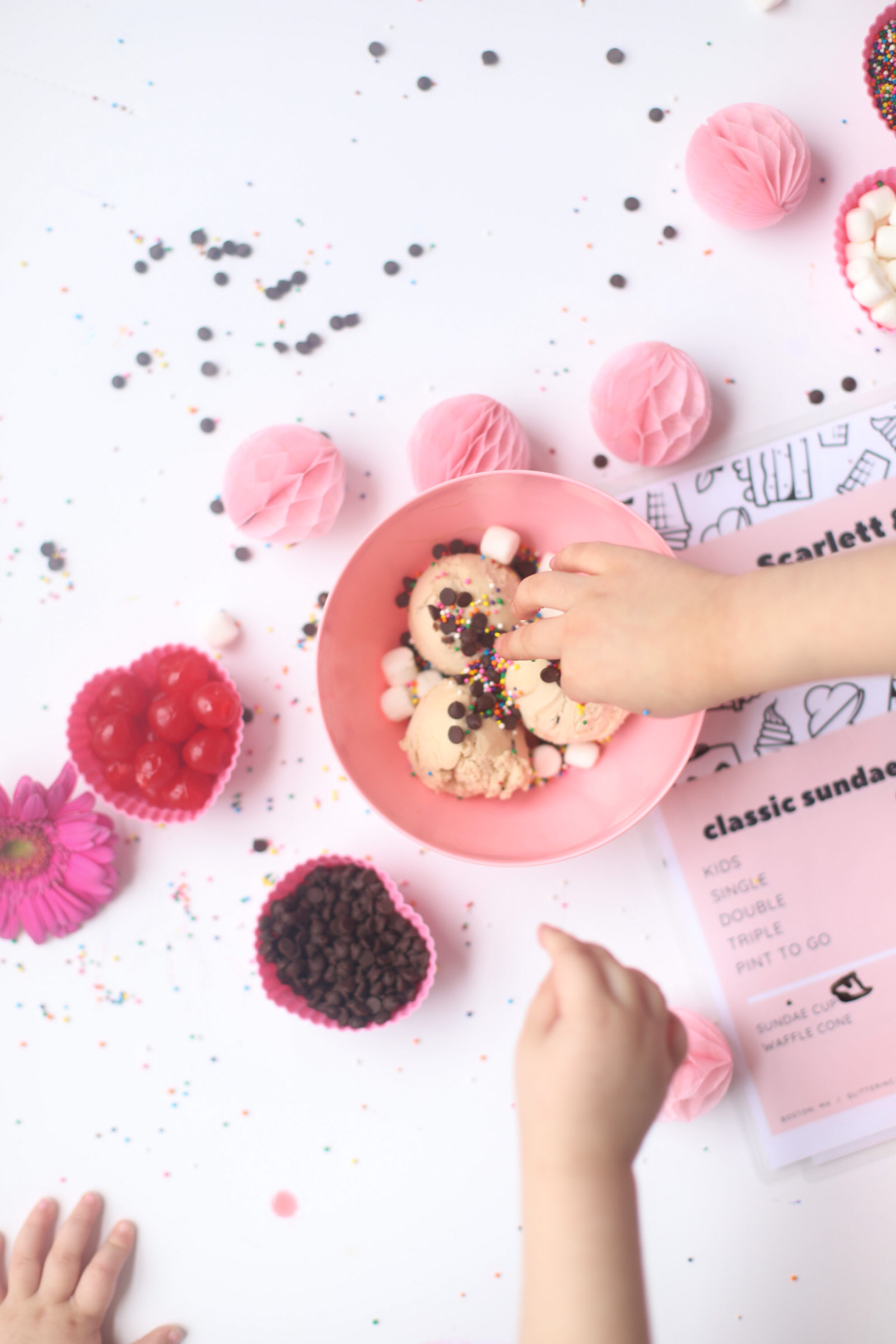 Creating our own ice cream shop + sundae bar was SUCH a fun activity and kept the girls entertained for a good hour.
The girls went crazy for their laminated menus and ran around the house taking ice cream sundae orders with their dry erase markers in hand. Adding in the "menus" was such a simple way to make an ice cream afternoon all the more sweet and special.
We also did our ice cream shop activity on the front porch since this was admittedly a messier activity. But seriously, happy kids, plus I got a big bowl of chocolate ice cream = summertime perfection.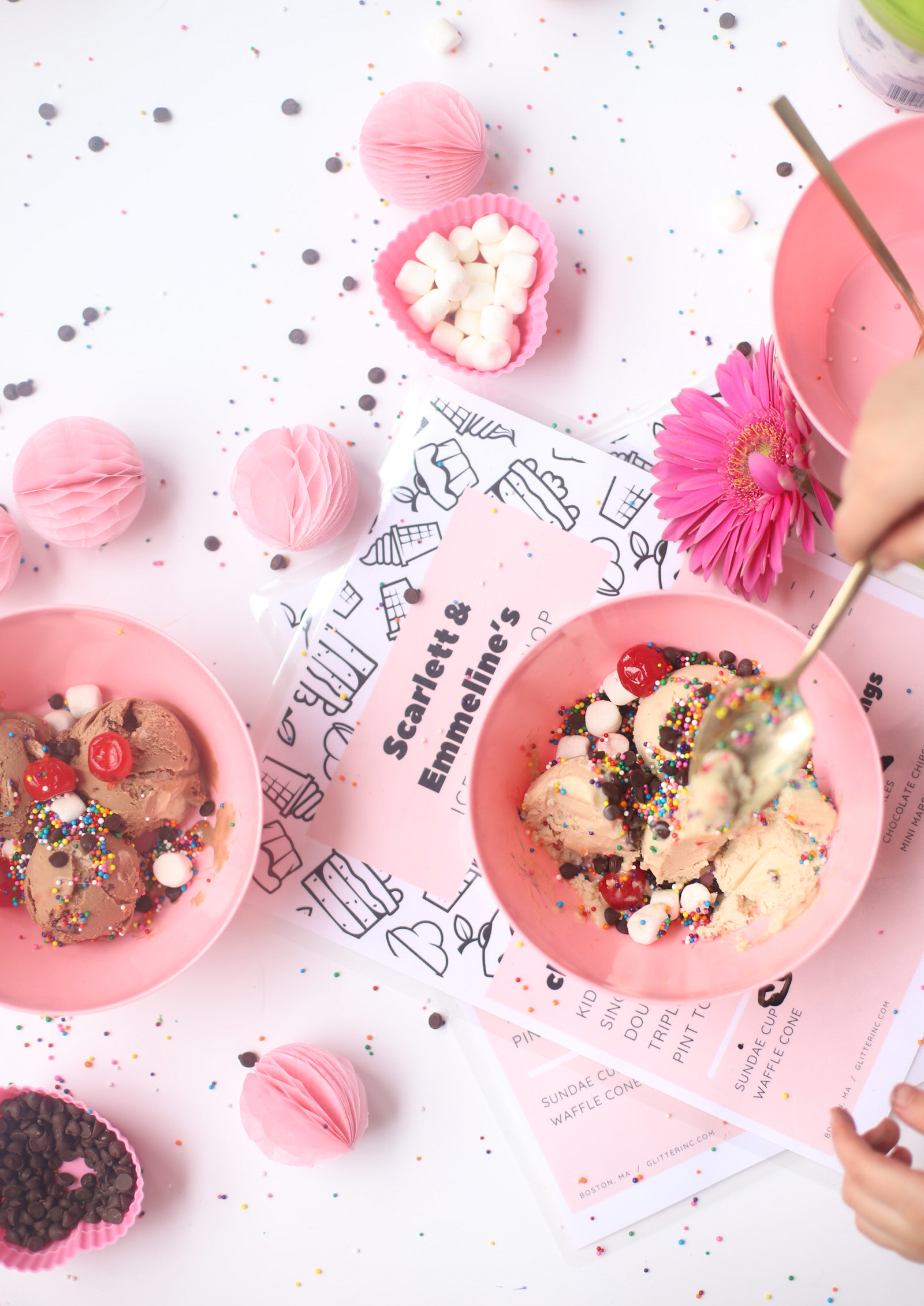 Let me know if you create your own easy and adorable ice cream shop and show me those sundae bar menus! You can comment below or tag me on instagram, @glitterinclexi. I love to see all of your fun activities and celebrations come to life!
IF YOU LOVED THIS POST, YOU CAN SEE MORE OF OUR LIFE WITH TWO LITTLE ONES HERE AND ALL OF OUR KIDS ACTIVITIES AND CRAFTS HERE.