This post contains affiliate links, which means that if you click on one of the product links, I'll receive a small commission. Thank you so much for clicking through and helping to support this little blog business of mine! Read more about our site, privacy, and disclosure policies here.
Dinner (or lunch) is a cinch with this simple twist on pizza; Our Favorite 10-Minute Naan Bread Pizza bakes up with a crispy, golden crust, is topped with tomato sauce and bubbly cheese, and is so easy to put together. The whole family loves making and eating these delicious simple at-home pizzas!
I don't know about you, but I have been cooking A LOT lately. More time at home for the whole family means a whole lot more meals prepared at home. From breakfast to lunch to dinner, I feel like I spend half my day in the kitchen during these weird times. Which means, I'm always on the hunt for easy meals that I can make quickly (and that I know the whole family will love!)
Pizza has always been a big hit in our house. My husband would probably say that his favorite food in the entire world is pizza, and my girls, well, they're kids; so yeah, pizza is an automatic favorite. And though I like making our own pizza dough (recipe coming soon!), some nights I really need EASY.
And lo and behold, have I ever got a simple and amazing pizza idea for you! This creative pizza recipe is destined to be a new household favorite; it's 10-minute naan bread pizza.
Believe it or not, you may actually find yourself loving naan bread pizza even more than the classic. It's that good!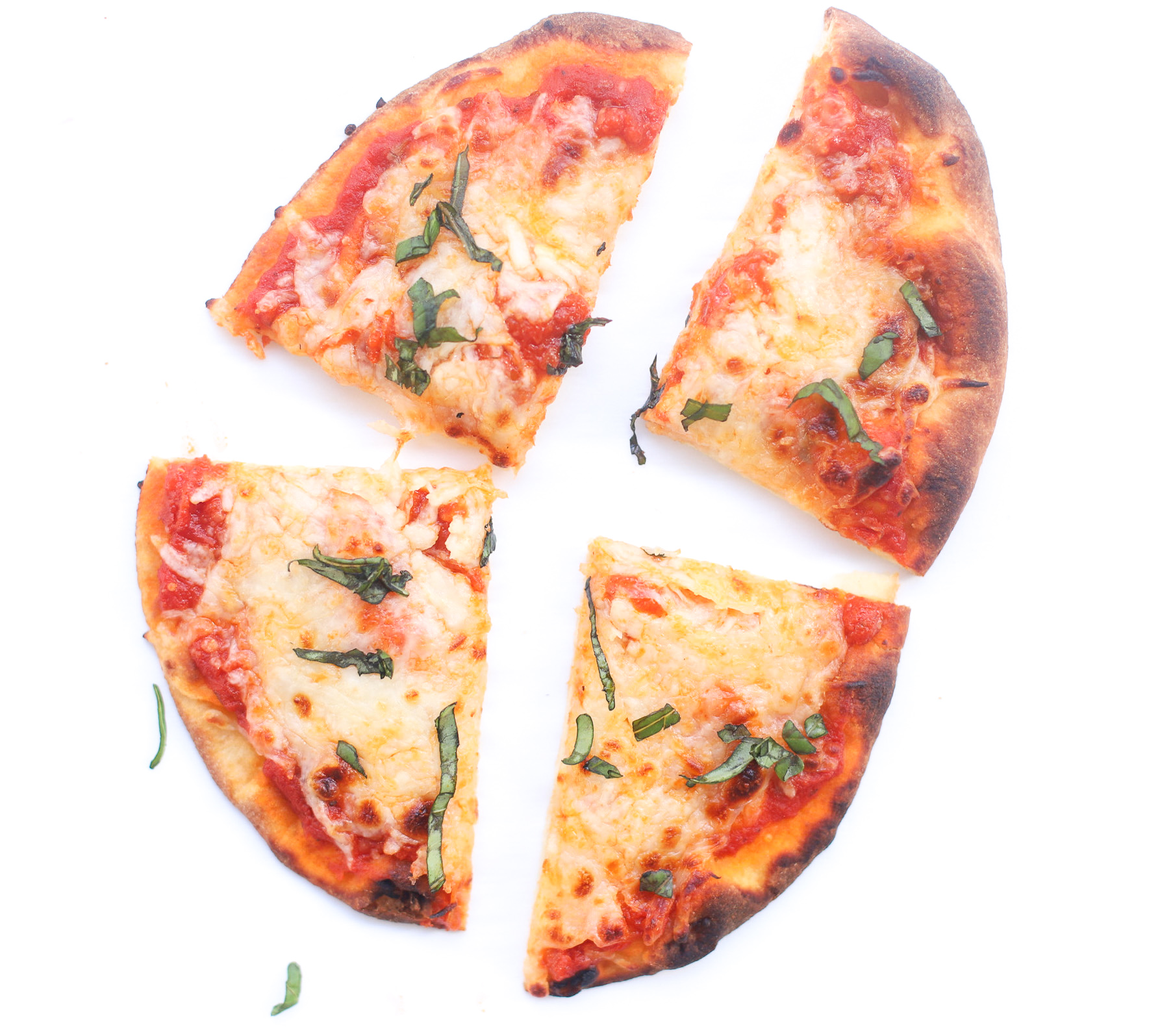 Our Favorite 10-Minute Naan Bread Pizza
Naan bread pizza is extra amazing because it bakes up with a golden crispy crust, is topped with classic tomato sauce and plenty of warm, bubbly cheese. The combination is so yummy! (Seriously, I might actually like crispy, chewy naan bread pizza crust MORE than classic pizza crust!)
The real beauty of naan bread pizza is just how EASY it is to make. Throw your toppings on the naan bread, place your pizzas on a pizza stone, pizza pan, or baking sheet lined with parchment paper, and bake for just 8 minutes; and dinner is served!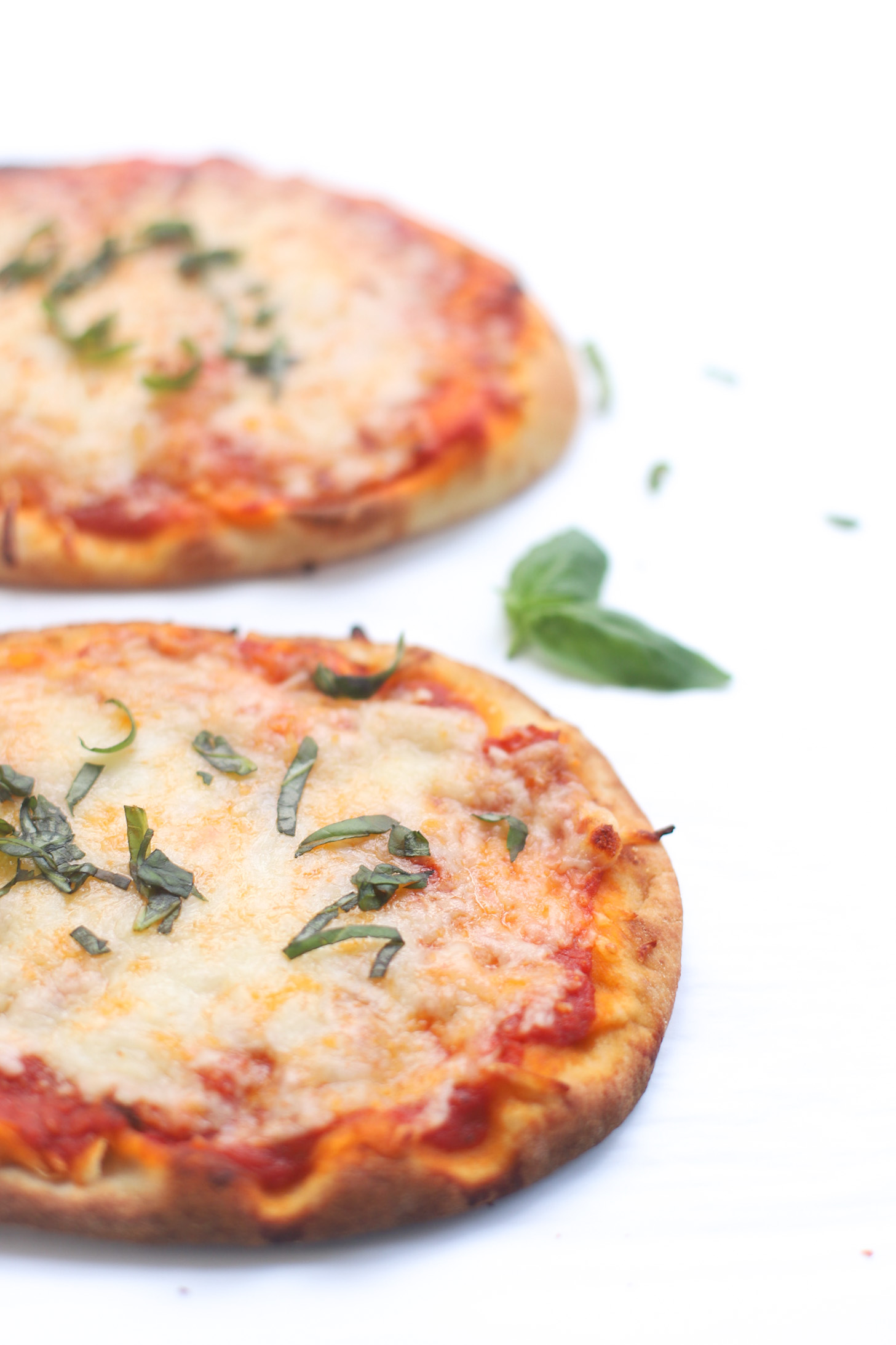 A Few Tips for Making Naan Bread Pizza:
Grocery stores all carry their version of naan bread. We love Trader Joe's naan bread and Whole Foods naan bread, but most grocery stores carry their own version and all are yummy, inexpensive, and serve as the perfect naan bread pizza base. You can also swap regular naan bread for whole wheat naan bread to make the recipe a little healthier.
You can top your pizza with either homemade tomato sauce or store-bought jarred pizza sauce or marinara sauce. Though I've always made our own tomato sauce, I've recently discovered Rao's sauces and it's kind of been a revelation. Granted, Rao's is pricier than typical store-bought jarred pasta sauce, they have really nailed the classic Italian tastes in their jarred sauces. I'm kind of blown away. All that to say, any one of your favorite tomato, pizza, or marinara sauce will work!
Next, you'll sprinkle shredded or sliced mozzarella cheese over the layer of tomato sauce. You can also add a little parmesan cheese or use an Italian cheese blend.
Additional Naan Bread Pizza Toppings
Roasted Vegetables
Thinly Sliced Onions, Zucchini, Mushrooms, etc.
Artichoke Quarters
Spinach
Cherry Tomatoes
Olives
Pepperoni
Ham
Cooked sausage
Fresh Chopped Basil
Balsamic Reduction
oregano
red pepper flakes
You can honestly top your naan bread pizza with just about anything your heart desires. Sometimes I'll add artichoke quarters, sliced fresh mushrooms, zucchini, or roasted cherry tomatoes. If you top your naan bread pizzas with raw vegetables, be sure to thinly slice everything so that it cooks down as well while your pizza bakes.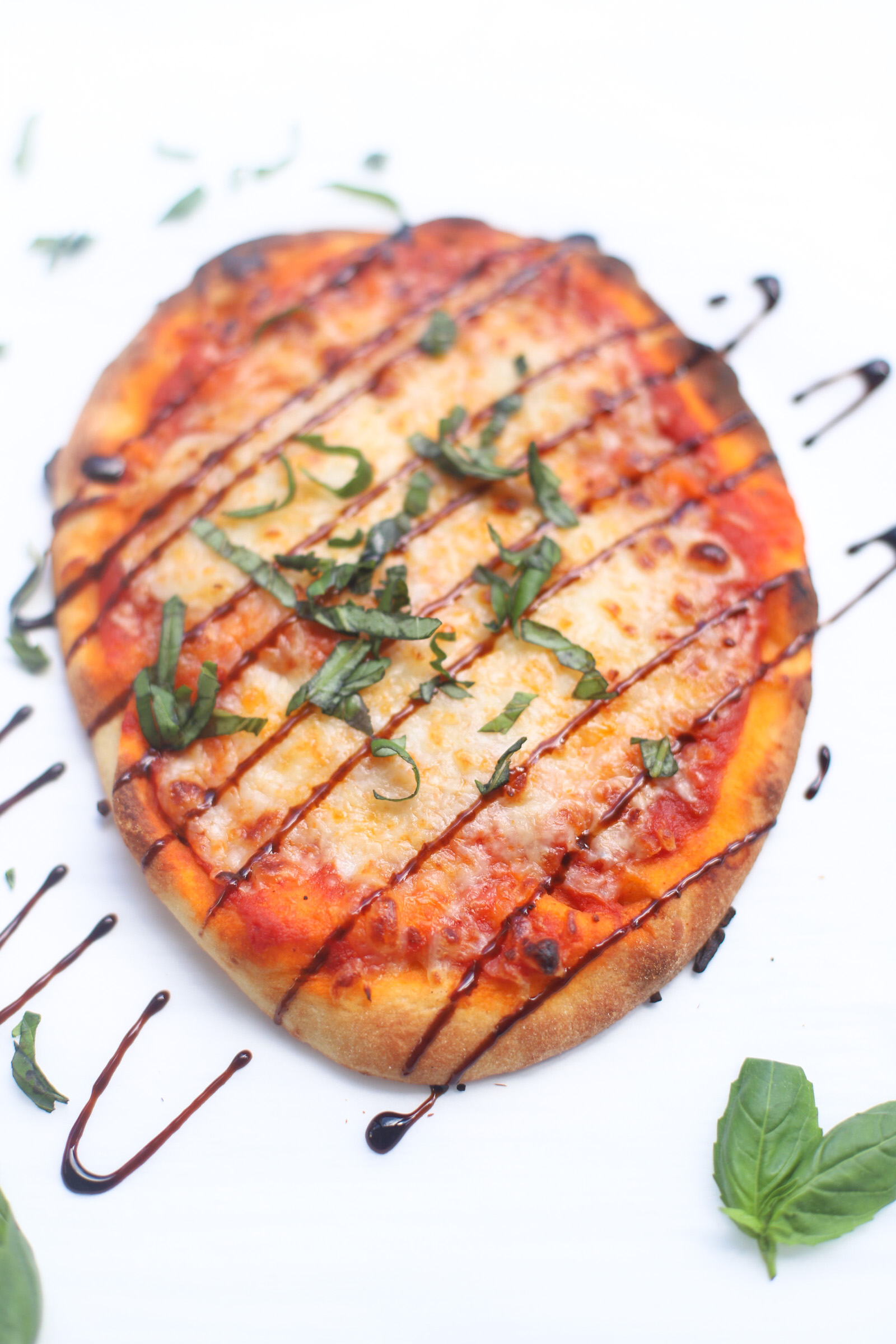 My absolute favorite way to eat and serve these naan bread pizzas is topped with chopped fresh basil and a drizzle of balsamic reduction. (Just remember to add the chopped fresh basil and/or balsamic reduction after you've removed your baked naan bread pizza from the oven.)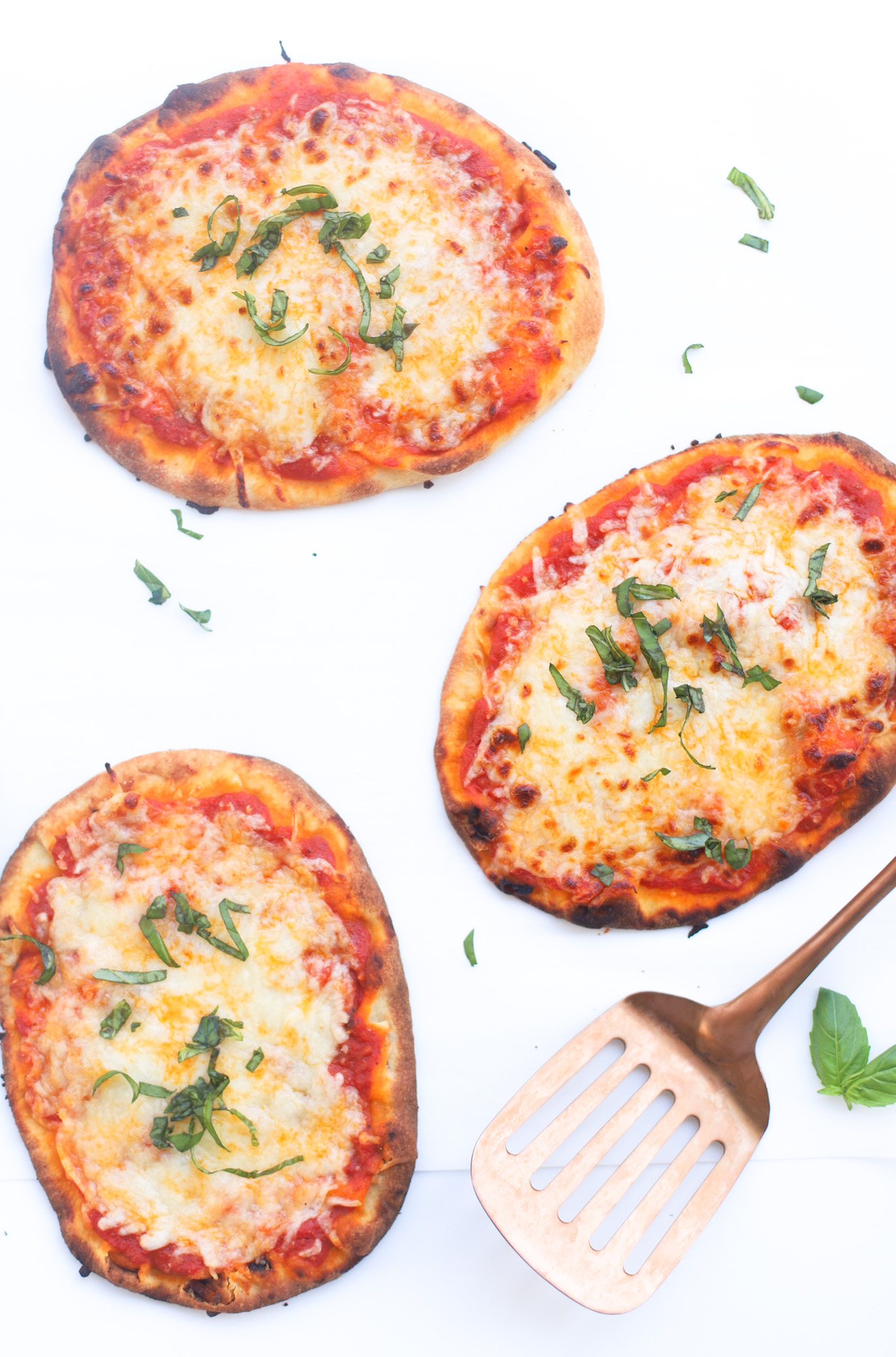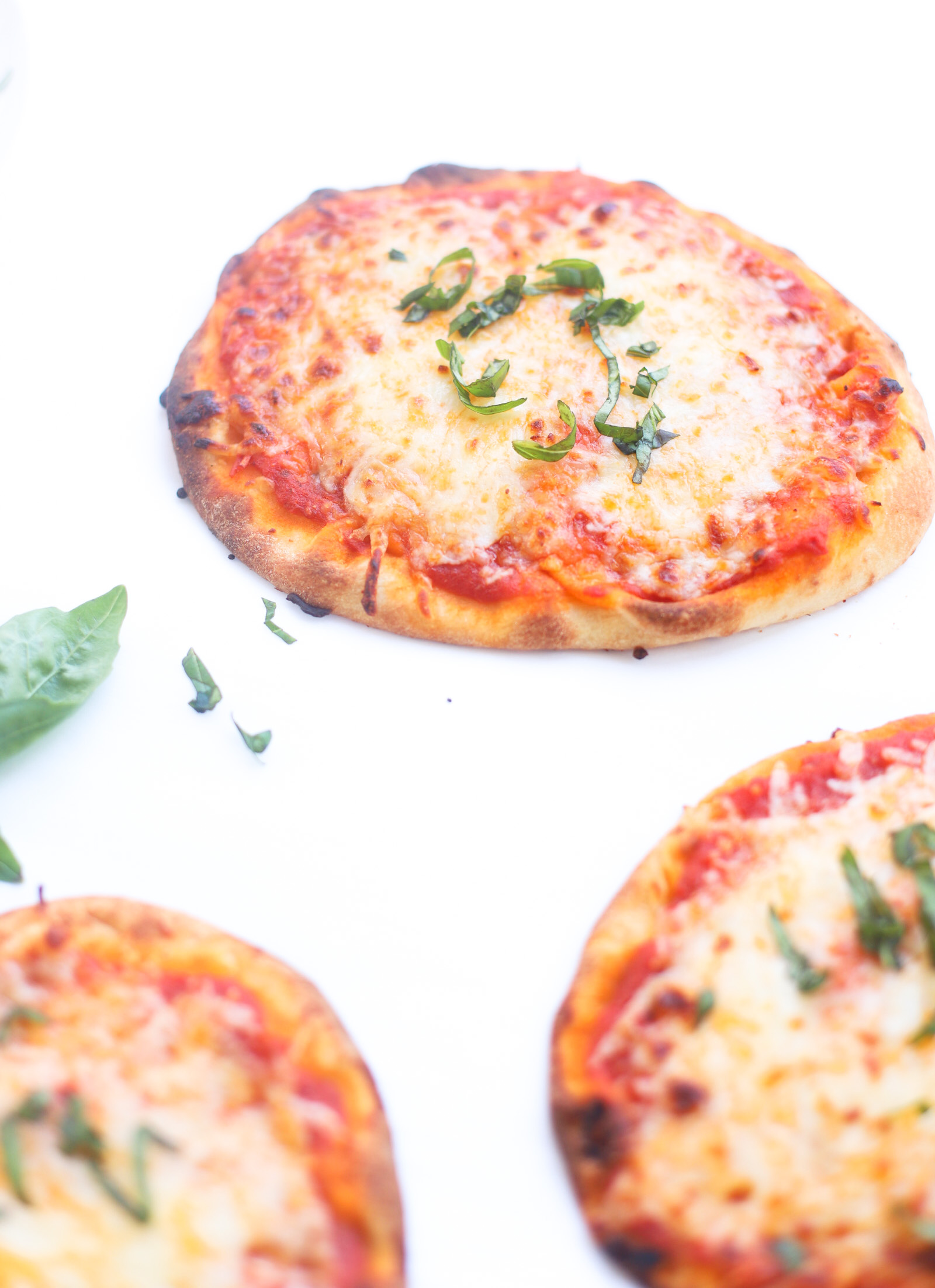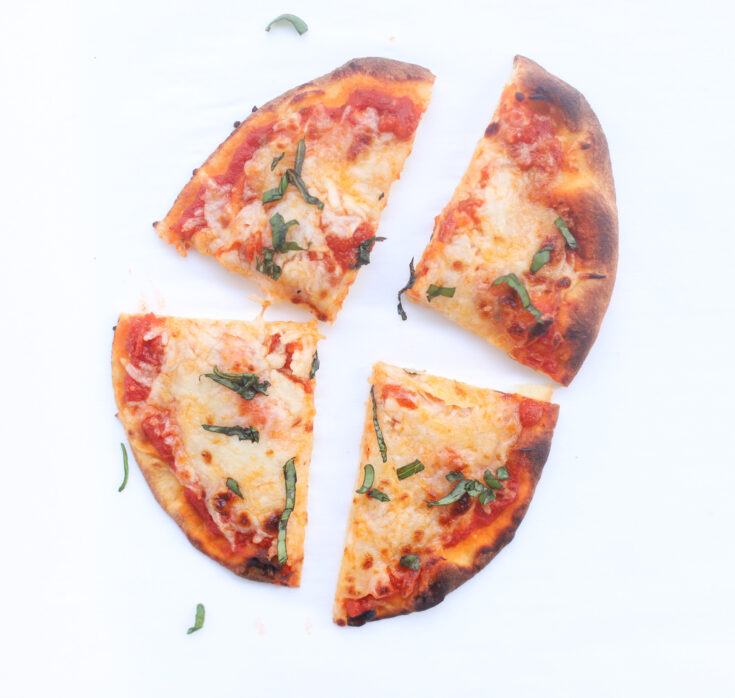 Our Favorite 10-Minute Naan Bread Pizza
Prep Time: 2 minutes

Cook Time: 8 minutes

Total Time: 10 minutes

Our Favorite 10-Minute Naan Bread Pizza bakes up with a crispy, golden crust, is topped with tomato sauce and bubbly cheese, and is so easy to put together. The whole family loves making and eating these delicious simple at-home pizzas!
Ingredients
4 naan bread
1/2 cup pizza sauce
1 cup mozzarella cheese, shredded/sliced
1/4 cup parmesan cheese, grated (optional)
2 Tbsp fresh basil, chopped (optional)
Instructions
Preheat oven to 425F. Line a cookie sheet with parchment paper or use a pizza stone or pizza baking pan.
Spread your pizza sauce evenly over the top of each piece of naan bread. Then sprinkle shredded cheese over the tomato sauce layer.
Bake your naan bread pizzas on the middle oven rack for 8 minutes - the crust and cheese should be golden brown when done. (If you like your cheese extra brown and bubbly, broil for an additional minute.)
Once you remove your pizza from the oven, allow to cool for at least two minutes, slice and serve topped with fresh basil, parmesan cheese, balsamic reduction, etc.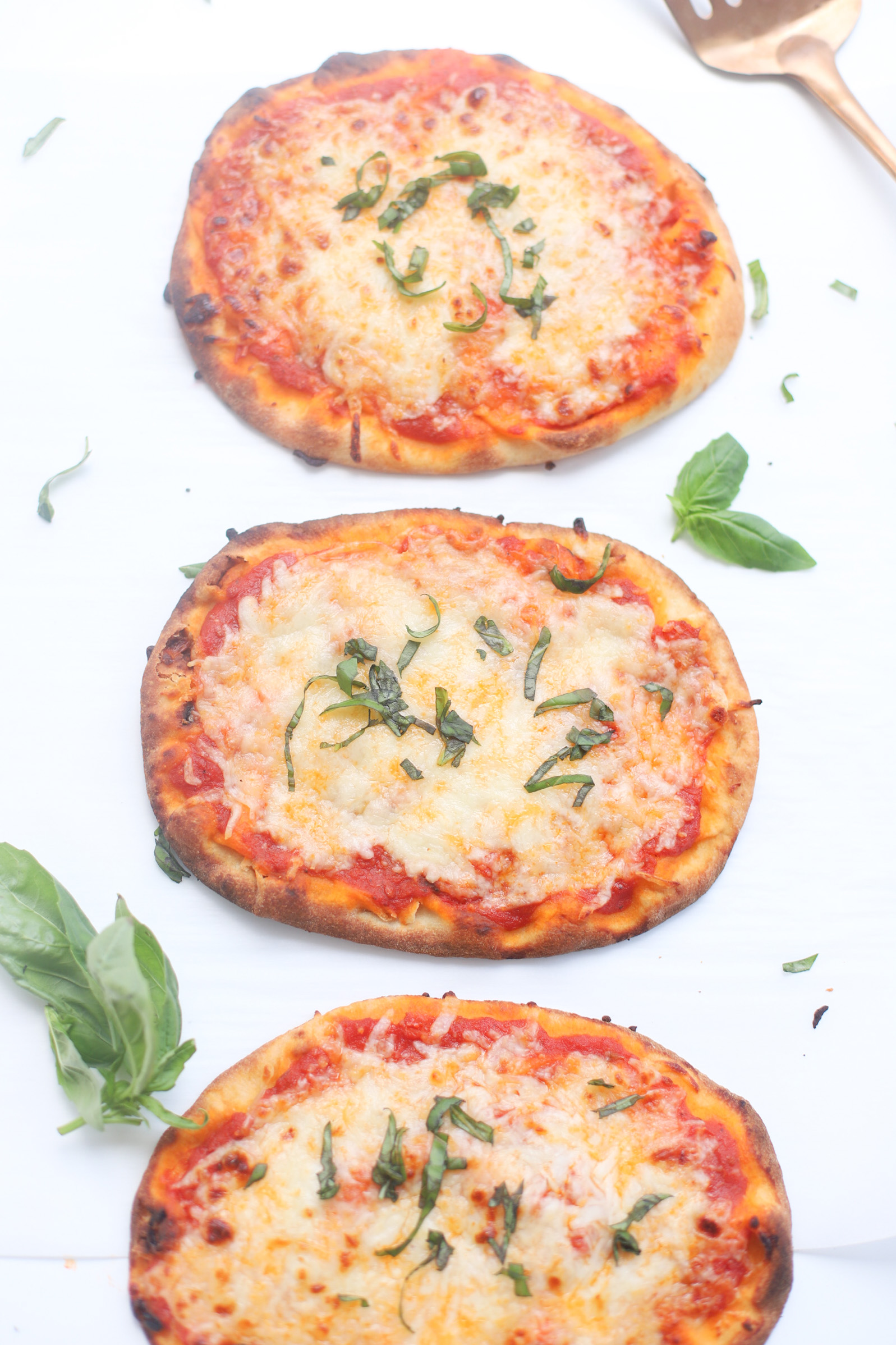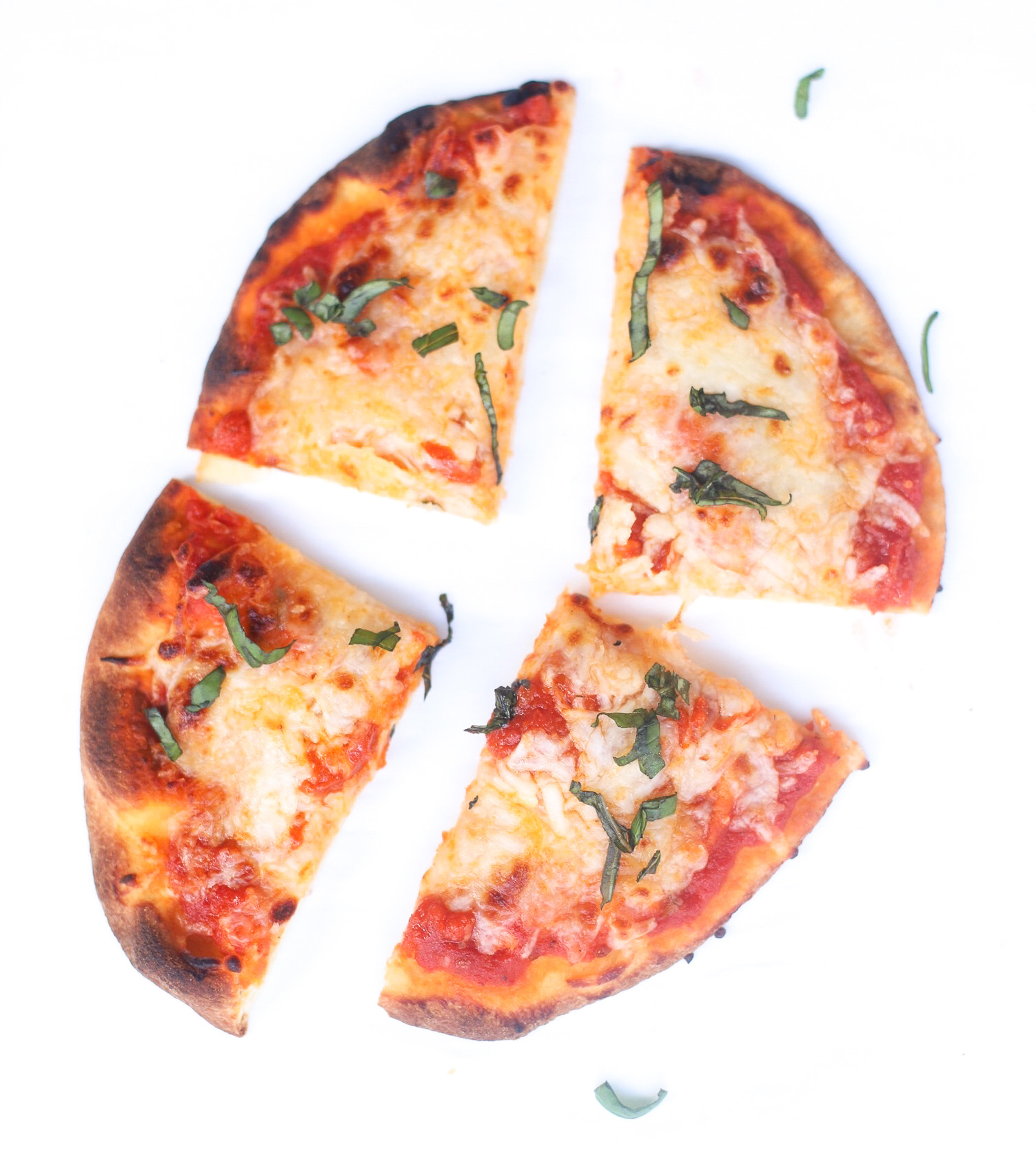 What are your favorite pizza toppings?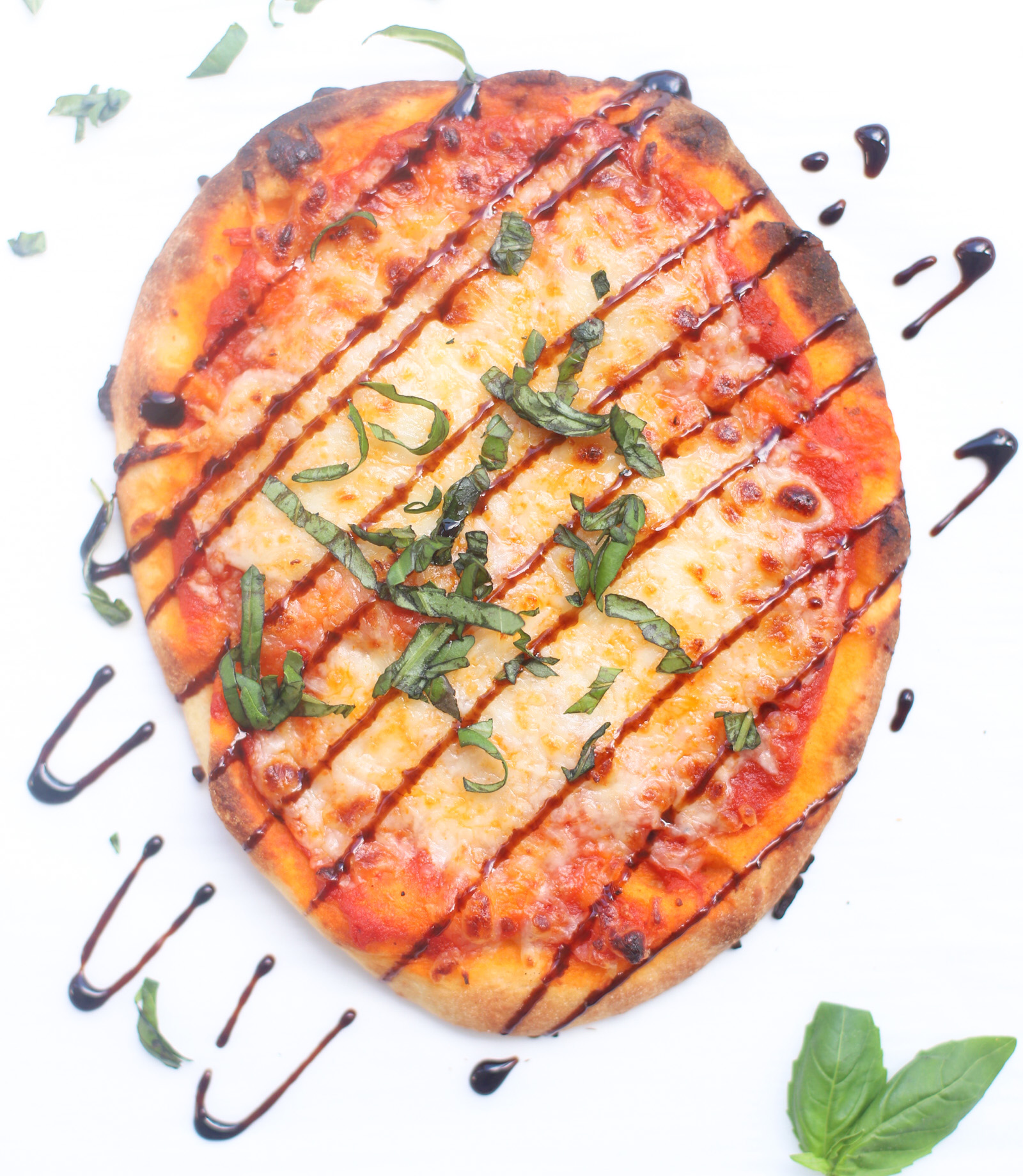 Have you ever tried topping pizza with balsamic reduction? It's SO good and totally elevates all pizza. here's something about adding that touch of rich sweetness to an otherwise salty, cheesy pizza that tastes incredible.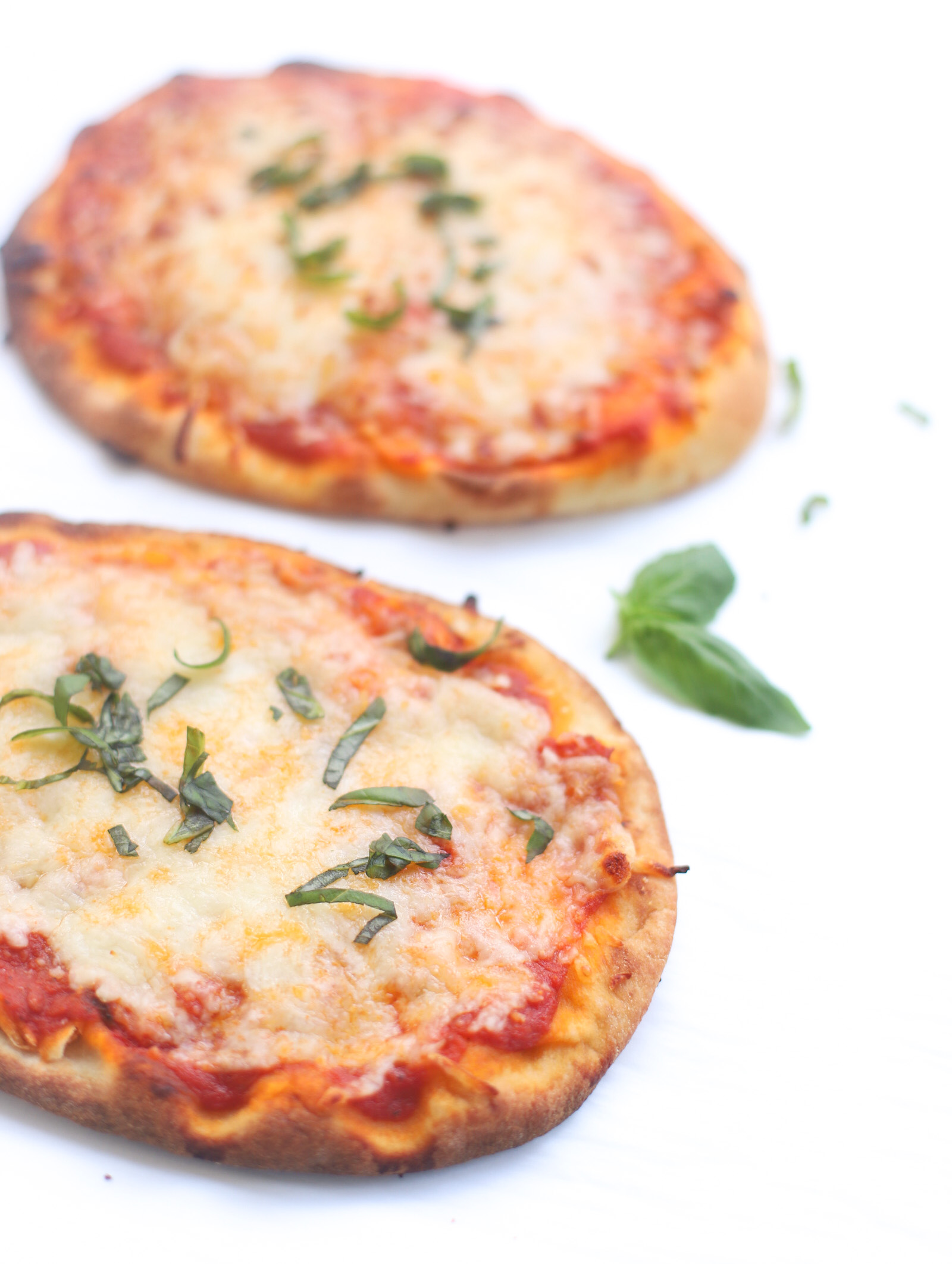 What about you? What easy lunch and dinner recipes does your family love? I'd love to hear what your favorite simple meals are! I'm always looking for new ideas!
SHOP THE NAAN BREAD PIZZA RECIPE POST | CLICK LEFT & RIGHT ARROWS TO EXPLORE

Love this 10-Minute Naan Bread Pizza Recipe? Head to our recipe page to check out what else we're dreaming up in the kitchen!