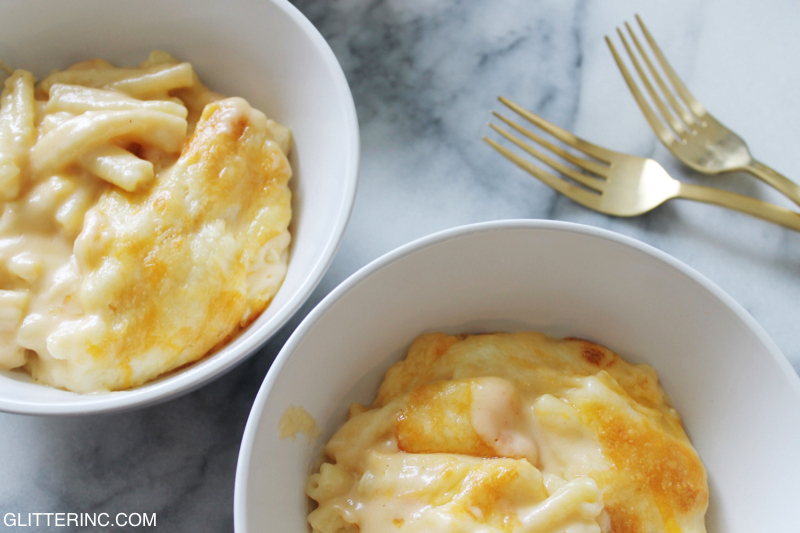 I'm not sure there's anything quite like homemade macaroni and cheese, and the secret to amazing mac 'n cheese: the rich and creamy bechamel sauce (that all starts with a roux … don't panic:  a roux is surprisingly simple, and one of my kitchen secret weapons).  My mom has been making the best mac 'n cheese for as long as I can remember, and a few of her tried-and-true tricks: nutmeg and mustard powder … strange, I know … but just the ticket, I promise you that.  I'll be back soon with a less fancy version of our classic macaroni and cheese … think Velveeta (it's the secret to all the very best homestyle mac on the planet, I tell you!), but until then, a fancified but simple-to-make version that will be an absolute hit.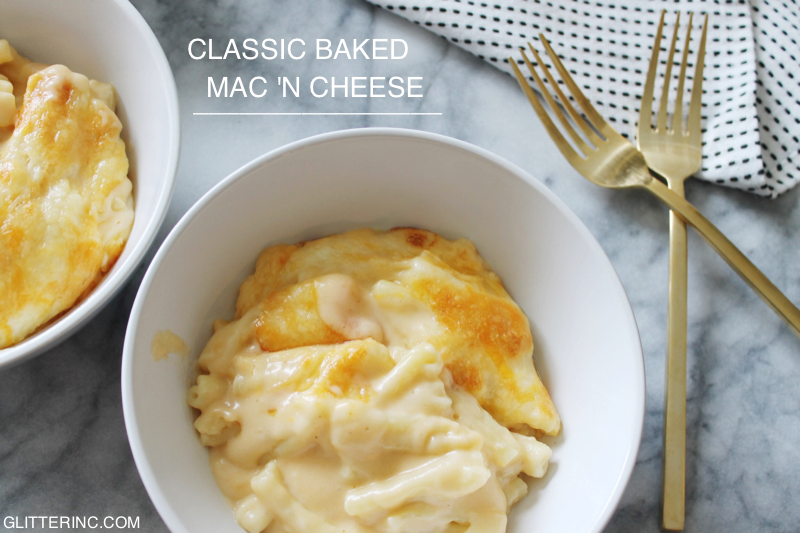 CLASSIC BAKED MACARONI AND CHEESE IN A BECHAMEL SAUCE
Serves 4 – 6.
INGREDIENTS
For the Bechamel:
2 + ½ cups whole milk
½ cup unsalted butter (1 stick)
½ cup all-purpose flour
1 teaspoon salt
½ teaspoon white pepper
½ teaspoon dry mustard powder
¼ teaspoon teaspoon nutmeg
For the Mac:
¾ pound dried pasta – usually one box of pasta (rigatoni and elbow macaroni work great!)
1 + ½ cups grated cheese (sharp cheddar and gruyere cheese are popular … see my thoughts on cheese, below*)
½ cup grated cheese
½ cup panko bread crumbs, toasted in the oven until golden (optional – I skipped it this time.)
DIRECTIONS
1.  Preheat oven to 350°F.
2.  Cook the pasta in salted boiling water until al dente.  Drain well and let sit.
3.  To make the Bechamel, in a large pot, melt butter over medium heat.  Once melted, add the flour and whisk (with a fork or whisk) constantly until the mixture turns light brown, about 3 minutes.  (By the way, melted butter, plus whisked in flour, and you've got yourself a roux!)  Lower the heat.  Slowly pour in milk 1 cup at a time, whisking constantly.  The mixture will begin to thicken once the first cup is added, but will thin out as all of the milk is added.  Bring the heat back to medium heat and whisk constantly for 2 to 3 minutes as the sauce thickens.  Sauce will become silky and thick.  To test the thickness, dip a metal spoon into the sauce.  If the sauce coats the spoon and doesn't look translucent or slide off the spoon like milk, it's done!  Stir in salt, white pepper, dry mustard powder, and nutmeg.  Bring heat back down to low, and gradually stir in your shredded cheese.  Mix until cheese is melted and thoroughly combined (it will have the consistency of fondue).  Just watch that you're not burning the bottom … you can always just pull the pan off the heat or turn the heat off altogether.  Taste and season accordingly.
*Truth: macaroni and cheese is my go-to for getting rid of too many leftover random pieces of cheese in the refrigerator.  This time I threw in shredded cheddar cheese, a few random slices of American cheese, some parmigiana, and shredded mozzarella … it all works, it all tastes good.*
4.  Add the cooked pasta to the warm sauce.  Pour the mixture into a heavy baking dish, top with additional shredded cheese and breadcumbs (optional) and place in the heated oven for about 15 minutes – just until the top is golden brown and bubbly.
Recipe loosely adapted from Joy the Baker (via The Mac and Cheese Cookbook) and my mom's awesome recipe (which I swear she just sort of makes up as she goes!)